Winter comes to our Garden.

All of the photos in this section were taken in 1991 or 1994.
There are links to other photos at the foot of this page.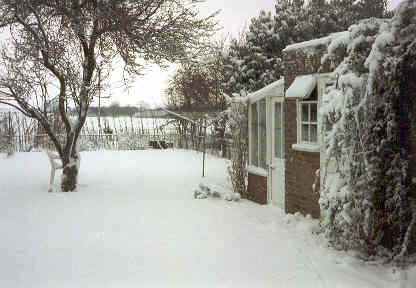 Coming from the north of Scotland, where my biological thermostat was set in childhood, I am amazed at how little snow we get. Hertfordshire does not get a lot of snow, and High Wych in particular seems to be in a little weather pocket that escapes any that is going. I remember coming for my first job inteview in Harlow, wearing wellingtons to get through to the station in Aberdeen, and finding only a dusting of fine snow in the hedgerows of Essex. But winter does come every year, and we did get snow sometimes. This was the view at our back door,1991.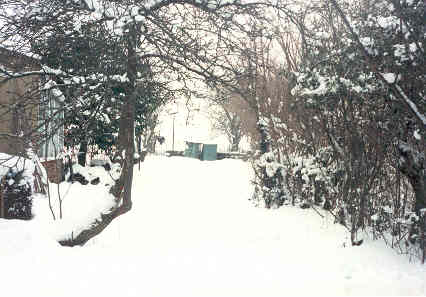 This was the rear of the side garden in 1991. We didn't remember any snow in 1994, it must have come and gone in a weekend. But,we do remember that there was snow in 1991. The snow looks quite deep. I had not yet made that part of the garden rabbit proof, as it now has a chicken wire fence all round it.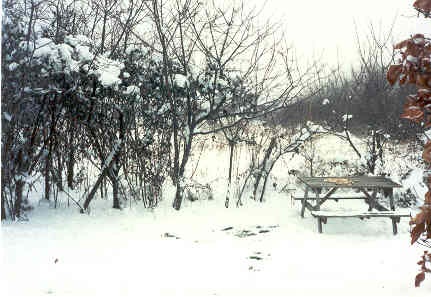 Still in 1991, this is to the front of the side garden. It seems to be before we got a birdtable. I should have put out some water for the birds, too.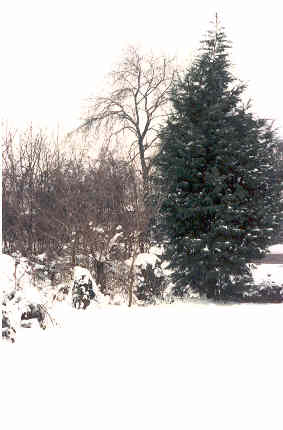 This is the very front of the side garden (1991).
The fir tree stands out well against the snow.









Links to home page and other garden photos :

Links to other photos :

Links to home page and early and school days


Links to family pictures