Down the garden in July/02

All of the photos were taken in July, 2002 as part of a series the gardening year, which I started in May, 2001. There are links to other photos at the foot of this page. Fruit picking got under way with a vengeance. We picked the last of the gooseberries, but the first runner beans at the end of July. We continued with rhubarb, picking about 12lbs in the month. Plums were also ready, and we picked 62lbs in the month - more of this below.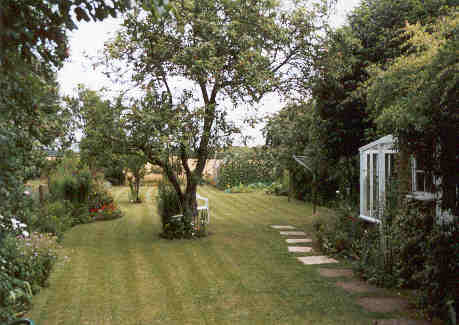 Starting with the usual view out from the back door, and a bit of colour in the distant borders.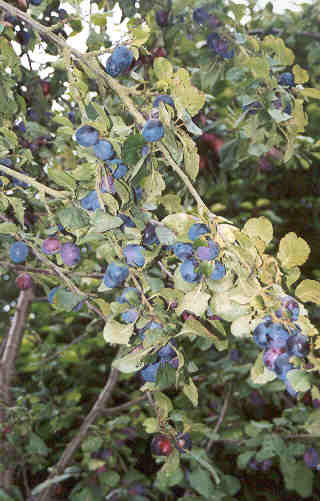 The first plums to be ready were the small black Rivers ones in the rearmost tree. We started picking on 16.07.02, and had picked 62 lbs by month end. These are Victoria plums almost ready, but not quite.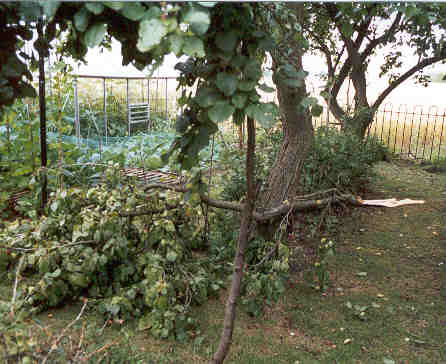 But as mentioned last month, disaster struck. The plum crops were so heavy that we lost a lot of branches which broke off the trees. I remember Mr Fish had said this tends to happen with plums, but it was not just side branches, but thick trunks that broke off. This is the Victoria plum at the back of the garden. I picked the unripe green plums and weighed them - it was 96 lbs. I left them to ripen, but they just went mouldy. We couldn't find any recipes for green plums - chutney with green tomatoes, but not plums.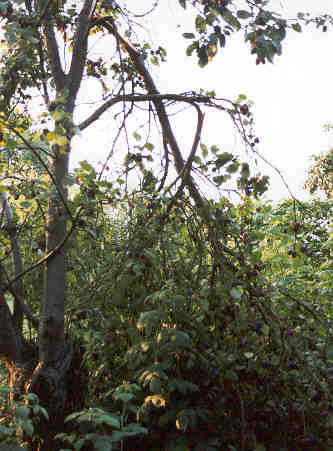 Similar damage to the Rivers plum in the side garden, and we lost about a third of the tree. It may be nature's way of pruning, but its very severe. I tried propping up the branches, but it was no good. Even the newest young plum trees had broken branches.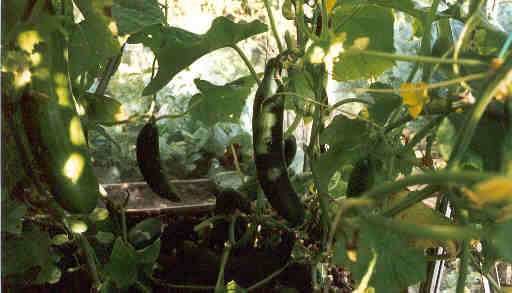 To a possibly happier picture. We always try to grow cucumbers and tomatoes in the same greenhouse, although its not the done thing. Cucumbers like humid conditions, but tomatoes do not. Well we had a bumper crop of cucumbers. We couldn't use them quickly enough which means they then start to produce seeds rather than growing more cucumbers, but we still had plenty. Next month you will see what happened to the tomatoes.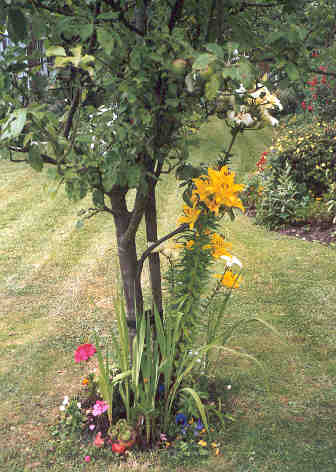 It is July, so lets see some colour. This is a mini flower bed under the Cox apple tree. The big flowers are lillies.






Links to home page and other garden photos :

Links to other photos :

Links to home page and early and school days


Links to family pictures