Down the garden in April

All of the photos were taken in April, 2002 as part of a series the gardening year, which I started in May, 2001. There are links to other photos at the foot of this page. April was quite a good month weather wise, and I got the vegetable garden ready for the plants next month. We also got a second greenhouse, and I got cracking with seed planting, and then pricking out.



Starting with a picture from the end of the month, to show the new greenhouse, in a sunny spot at the back of the garden. The old one served us well, and is still in use, but is in partial shade, and never as productive as expected. I got the "new" one second hand, for £140. Its 8ft by 10ft - pity it wasn't 12ft. I got it already dismantled, with no instructions. I assembled the ends and sides first, but couldn't work out how to join them together. The logical places would have meant glass on the inside, which I knew was wrong. A neighbour's greenhouse gave the clue - recessed bolts, not the external joints intended for extending the greenhouse later if required.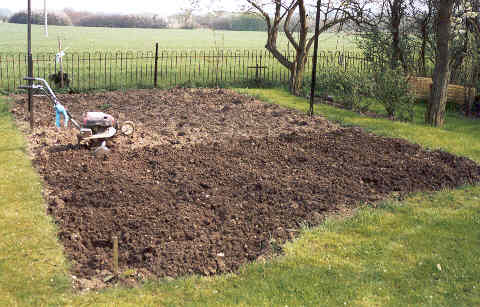 Back to the start of the month, before I got the new greenhouse. I am half way through rotovating the vegetable plot, breaking up the rough pre winter lumps into a fine tilthe ready for the compost.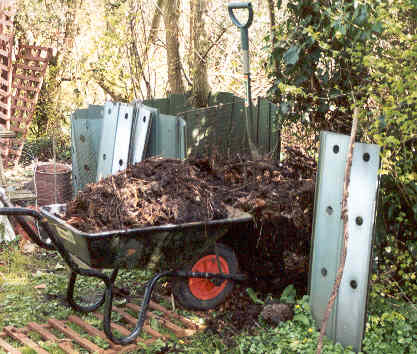 The compost heap has been broken into, and is being carted to the vegetable plot, where is is dumped roughly on the suface, and then a second rotovation churns it out of sight evenly through the soil. It was a good load of well rotted compost - about 20 full wheel barrow loads in total. The emply compost heaps are now ready for another years composting.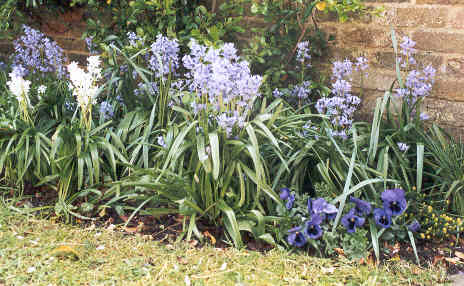 Just to show that things are growing and there is some colour to be seen - these are pansies and bluebells beside the garage.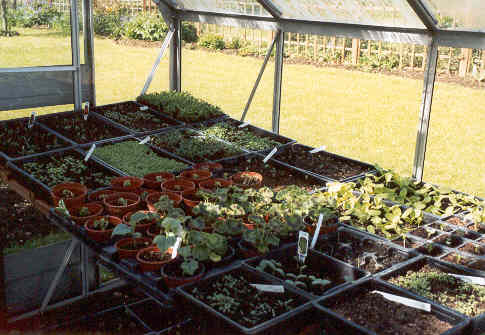 Now at the end of the month I have two greenhouses completely full of seed trays - goodness knows where I will put all the plants, as most of the borders have also been sown directly with seeds -hardy perrenials. Any way, better too much than too little, if only I could bear to throw anything out. This is a view from inside the new greenhouse.






Links to home page and other garden photos :

Links to other photos :

Links to home page and early and school days


Links to family pictures