Down the garden in February

All of the photos were taken in February, 2002 as part of a series the gardening year, which I started in May, 2001. There are links to other photos at the foot of this page. Like January, February was quite wet, with a few frosts. There were some nice days, but it was cold, with no heat in the sun.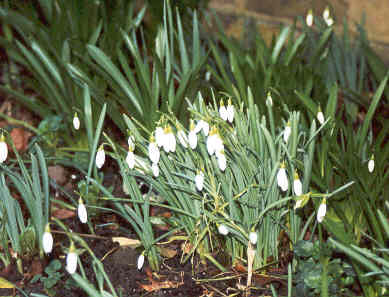 Always a welcome sight when the snowdrops appear. These really herald the start of the outdoor gardening year. Soon it will be the daffodils, and the tulips, and the rest will all follow. But the snowdrops come first, so welcome !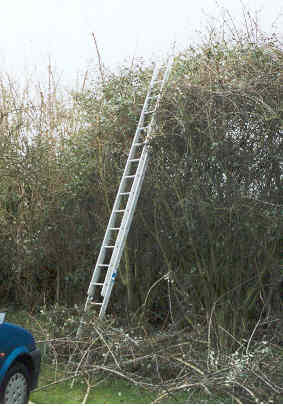 Still not a lot happening in the garden in February, so its a case of time on our hands to do some chores. I'm not sure when its the best time to trim the boundary hedge / trees, but I've found it easier to do before the leaves appear - you can see what you are doing and there is less bulk to tidy away. And hopefully new growth will soon appear and restore the natural look.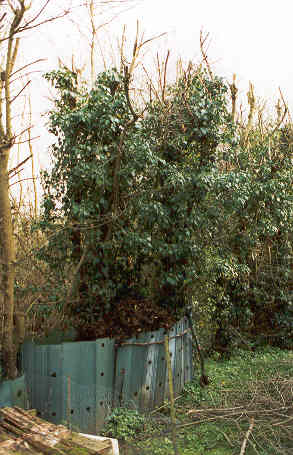 I'm still working my way down the side garden, tree lopping. If you look very carefully at the compost heaps, you will see that one is empty, and one is overflowing.

I have three compost heaps in a row. Just before the start of the season I take anything from the top of heap 1 that has not fully rotted, and put it into heap 3. Then heap 2 gets emptied completely, unrotted material to heap 3, and fully rotted to heap 1. Then the same is done with heap 3. So heaps 2 and 3 are now back in use, and eventually heap 1 will be emptied onto the garden, and then be back in play.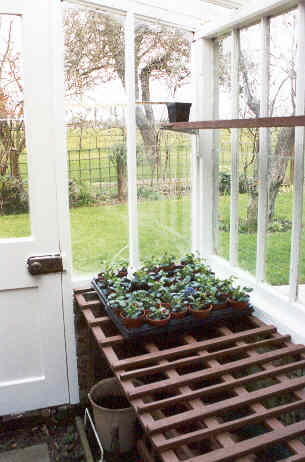 Concluding the chores, the greenhouse / conservatory has been cleaned, rotten wood replaced, and all given a coat of paint - three coats really. The top two coats are always Dulux Brilliant White Weathershield, which seems to survive a little longer. Each year it takes me ages to do all this, and I promise myself that this will be the last time, and that the wooden structure will be replaced with maintenance free aluminium. But I never get round to it, and end up with the wooden bits that need replacing. I have switched to using glazier's putty in a cartridge which makes application so much easier.





This is a view of the other end of the greenhouse. Yes they are the same plants as in the previous picture. I bought some tiny winter pansies, about 30 for 10p each from B&Q, repotted them, and will grow them on before planting out. I also did the same with even cheaper plug plants from Wilkinsons. These are tiny plantlets which are sold in a gel, and again are grown on before planting out.
Generally the greenhouse is a store during winter - the wooden walkways are given a coat of Cuprinol, and stored in the dry, along with netting, canes, etc.

At the back are pots of early potatoes in compost - you just add extra compost as the stalks appear. Also there is an old baby's bath for mixing compost - usually a mix of three scooops of sharp sand per bathfull of economy compost - you need to improve drainage.






Links to home page and other garden photos :

Links to other photos :

Links to home page and early and school days


Links to family pictures