Down the garden in December

All of the photos were taken in December, 2001 as part of a series the gardening year. There are links to other photos at the foot of this page. We saw a light dusting of snow in December, but it didn't last, and there were some nice days when I could get out and do something in the garden.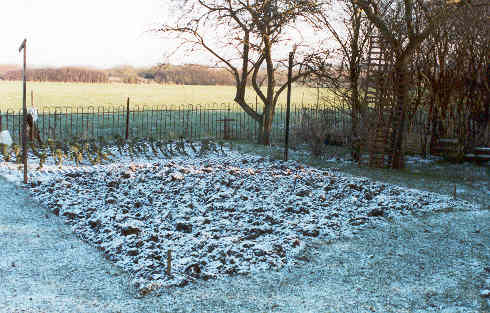 This is a view of the vegetable plot covered with a little snow. The snow did not last long, but at least I was able to get a picture of it before it went. No vegetables to see other than the remains of the sprouts - at least they have had a frost on them.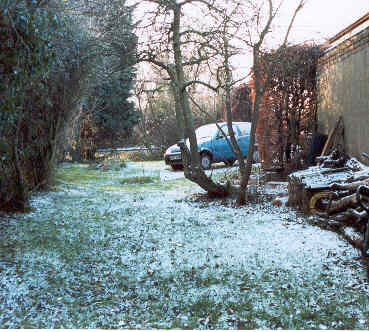 Also a dusting of snow in the side garden. Jamie's car is in its parking spot - our garage is not big enough to hold two cars.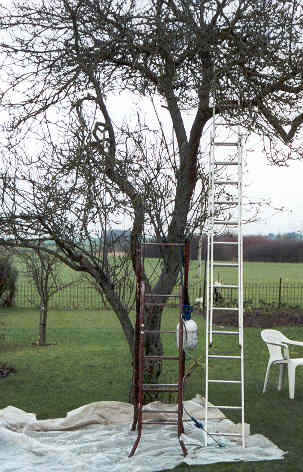 There were some fine days in December. I was able to get out into the garden, and do quite a few house keeping chores. Usually I avoid chemicals, but this year I did spray the fruit trees (or as much of them as I could). Our apples taste all right, but sometimes have skin blemishes, and for safety we have to cut into them before eating to check that they do not have any little visitors. So, I sprayed them, and myself in the process, with winter wash, and we will see what difference this might make. I am all right ,so far.



When the ground was not too wet, nor covered in frost, I was able to plant some more raspberry canes. I had more than could fit into the rear side garden, so I started a new line of fruit in the front side garden. If you look closely you can just see the canes poking up from the trench.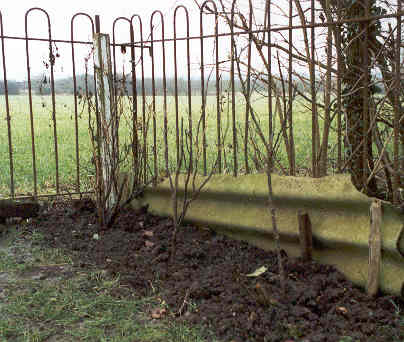 Still in the house keeping mode, I was also able to move some of the blackcurrant bushes into the back rear garden. Previously they were crowded in with the raspberry canes in the side garden, but hopefully will survive moving and benefit from a bit of extra space. So the back of the rear garden now houses all the gooseberry and most of the blackcurrant bushes.




Links to home page and other garden photos :

Links to other photos :

Links to home page and early and school days


Links to family pictures