Our lovely old apple tree - a victim of the storm of 1990.

All of the photos in this section were taken between moving into the house in 1989, and losing the tree to a storm in 1990. There are links to other photos at the foot of this page.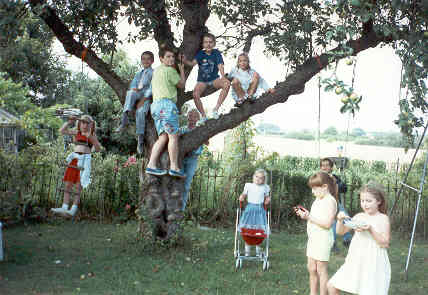 This particular picture was taken in happier times in 1989.
It's Jamie and Kirsty and eight friends. Seven are playing in or hanging from the tree - it was a big tree. I got a better idea of its size when I came to dispose of it, after it fell in the storm in 1990. So we only got one years pleasure from it. We think it was as old as our house, so it lasted 90 years. The apples came later than those on the other eating apple tree. I think it was a Worcester. They were lovely sweet apples, which kept well. If only the storm could have spared it.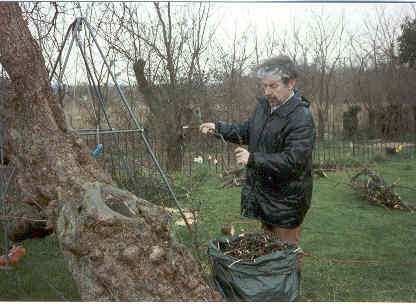 This is 1990, and the Saturday following the storm when I have started to clear up. I thought about just leaving it at a funny angle, so see if it continued to grow, but decided it was probably a waste of time - best to get it over and done with.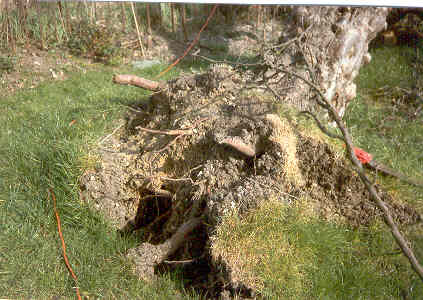 There were huge roots which took a lot of shifting. It was a case of digging down, to expose as much as possible, and using levers to break and lift. The levers were old scaffolding tubes, with the fulchrum very near the roots to get maximum advantage. If a lever is long enough, and strong enough, you can move the world. Well they do work, but it takes a lot of effort.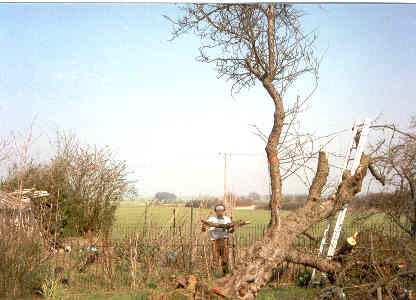 I started off with a chain saw borrowed from Bill but when I saw how much strain I was to put on it, I went out and bought my own one. Thank goodness for Black and Decker. Their tools are not for the professionals, but ideal for periodic use, and the one I got did the job, and continues to give good service.











Still at work with the chain saw.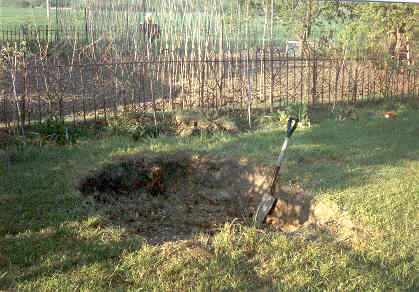 All gone !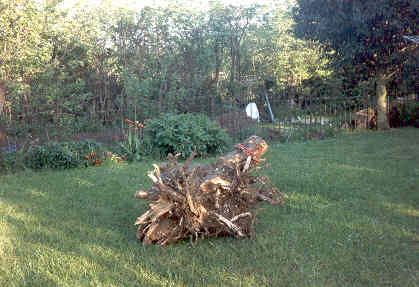 That is what I dug up. It was manoevred down the garden and into the side garden on rollers. And I slept soundly that night. The apple tree was eventually cut into logs, which we burned on our fire over several years. Its a reasonably hard wood, but very sweet smelling, and it burns without spitting. It was very nice at Christmas to put a log on the fire, and remember the old tree.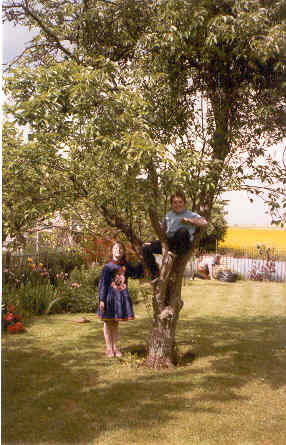 Life goes on, and the other eating apple tree had been spared (as had the cooking apple in the side garden). But it wasn't really big enough to climb, by one, let alone seven. We got another apple tree to fill the space where the old tree had been, but it will never grow to the same size.




Links to home page and other garden photos :

Links to other photos :

Links to home page and early and school days


Links to family pictures