This is a sub section of Early and school days which was split as follows.
The school got its name from its founder - Robert Gordon, a wealthy merchant who died about 1728. The oldest part of the school,the Auld House, dates from the 1730's - although a grade A listed building of great architectural and historic significance it is still in daily use. Gordon's is steeped in a proud tradition and learning, constantly changing and updating through the years. It is now a co-educational independent school, but when I attended (1957 to 1963) there were no girls to distact us - or rather none at school. My first year intake had been a mixture of new boys and those moving up from Gordon's primary school, and there was a boarding facility at Sillerton House - now desirable flats in the west end of the city.
It was a very young and insignificant Iain that joined Gordon's. I think I had scraped in at an entrance exam and attended as a fee paying pupil at no small sacrifice to my parents. This was the Scottish tradition of self sacrifice - you try to give your children the best education you can - and in turn they repay the debt by trying to give their children a similar opportunity.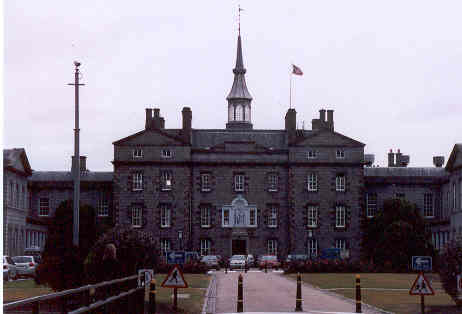 Any way, here I was at Gordons with a second chance and I simply had to buckle down to apply myself to serious study and hard work. And there was a lot of hard work, and a lot of homework, and new subjects to be studied with rigour. And this was all in the most competitive of surroundings no longer a big fish in a little pond, but a small one in a very big sea - against the top stream intake from lots of schools in Aberdeen, the surrounding area, and further afield. And so I did my best and enjoyed variable success depending on the subject.

But looking back main memories are more of lifelong friendships and reasonably happy times. We worked hard and played hard. And there were all sorts of leisure activities - the school choir, inter school debates, rugby at Seafield, the school swimming pool with Andy Robb, (and assembly announcements of Ian Black's latest weekend swimming competition medal), Oxfam fund raising to be organised, the first trip abroad to Switzerland, etc. etc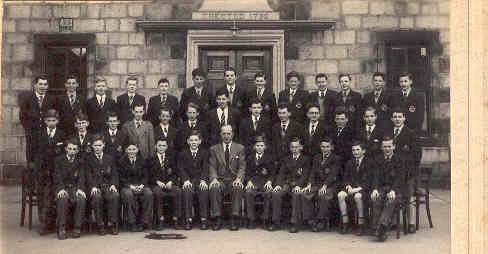 This was a class photograph taken about 1960. I am in the back row at the extreme left. Its not the clearest of photos which is mostly me using low resolution to speed loading. The inscription above the door reads "erected 1732".

Every so often in a school's life, an especially strong academic year seems to come along - and the concentration of talent and high standards shines through. And then you have be good to keep up, and very good to get ahead. We were such a year. Our intake did especially well and we were to go on and win all the top university bursaries when the time came. The headline in the EE was "Gordons scoop the pool". I remember we had to visit the headmaster's study for congratulations. This was before the days of performance tables, but such success was an especial blessing for a school looking for fee paying pupils. Whilst on this subject 3 of our classmates were sons of masters teaching at school - Alan Forest, Charles Foster, and Michael Geales. Fellow classmates went on to great success in later life - professorships, and higher in the academic field, and two were to get knighthoods. I mention all of this just to give a flavour of the standard of the top class. I should also say that I have heard criticism of the school too - "yes its a good school all right, but they are not interested in you if you are not bright". I thought this unfair at the time, but mention it for balance. There were faults but far outweighed by merits.

Although you cannot see it in the photo, the school motto was on each blazer badge. The motto was in latin of course - Omne nunc arte magistra. Just about everyone had a different translation - I used "now there is need of all soverign skills". We studied higher latin for 5 years, but like most I had to drop it when we specialised in our VIth form. We knew that Gaul was divided into three parts, that Rome was a city built on hills, of Caesar, of crossing the Rubicon,etc , etc. We studied the gallic wars, the great writers and the epics of literature, reading and translating between latin and English, all in the traditions of a classical education. I dropped latin in the VIth to concentrate on maths and science, but never for a second have I regretted studying latin. Knowledge of latin enhances logical thinking and gives the meaning of many an obscure English word. It also teaches a lot about English grammar and facilitates study of many european languages. Latin for window is fenestra, and in french it is fenetre, fenestro in italian, etc.

Talking of the school motto, I can remember sitting in Mr Gibson's room (Hoot Gibson - all masters had a nick name) in the Vth year doing latin, and finally getting to the verse which he had said we would find especially interesting. What could be specially interesting - no it was not another phrase of schoolboy humour notoriety - but here at last was the school motto and now finally we would really know what it meant - and what it meant in context. Well worth 5 years study in anyone's money.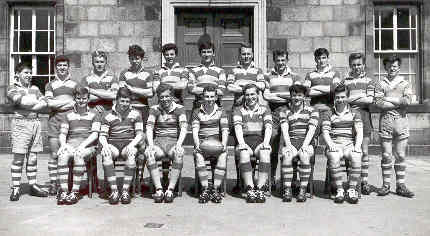 Stangely to any one who knows me now, but not to me at the time, I was one of the tallest and biggest boys in the first year. Of course I was used to this then, and did not think it strange. And so naturally I excelled on the rugby pitch, and played in the first 15 for my year against other schools. But then came one of the greatest shocks of my life. I think it was in the second year. We all returned after the long summer holidays and as if by magic, everyone else had grown several inches except me. I had stayed still.

I found out that I had what we called "ducks disease". I was as tall as any one sitting down - i.e. from the waist upwards, but like the duck I had short legs. Many said I did not have a small head either. Anyway it came as a great shock at the time, but (in those days at least) I was fit and strong as an ox, and adjusted. And I kept my place as hooker in the school rugby team until the final year when I played in the second 15 - beaten by far by someone who had a trial for Scotland. There is only one hooker in the team.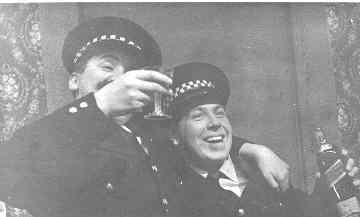 There was a lot more to school life than study and sport. I loved an argument and whenever there were two sides to something stragely I always seemed to argue from the opposite point of view. To someone religious I would find myself arguing the agnostic case, to an agnostic I would find much of merit in christian teaching. To a conservative I advanced socialist thoughts, but equally vice versa. Even today I tend to see both sides or every case, but hopefully I have learned to try not always to argue with everything. Anyway, I loved an argument and so enjoyed the debating society. I was never a prefect but nevertheless lead the case as lead speaker on the proposition on something like that school prefects are a good thing. I had noticed a flaw in the wording and won the day not by supporting the prefects (how could I get anyone to vote for that?) but opposing the opposite.

Then there was the school choir and up on stage singing at the end of term prizegiving in the Music Hall. I had quite a good voice until it broke, but then it never really recovered to its former quality. And then in the final school magazine I was the wag who wrote the gossip column (anon of course)

Then there was the school play, as the above and following pictures show. I was Officer O'Hara in Arsenic and Old Lace. This was a great comic role and I got to imbibe gallons of cold tea in a whiskey bottle (- he was Irish, I know how to spell whisky). Incidentily by the end of the run I had quite developed a taste for cold tea. Think of the money I could have saved in later life if I had kept it up ! But then what would I do for a medicinal snifter if I could not turn to a good malt. :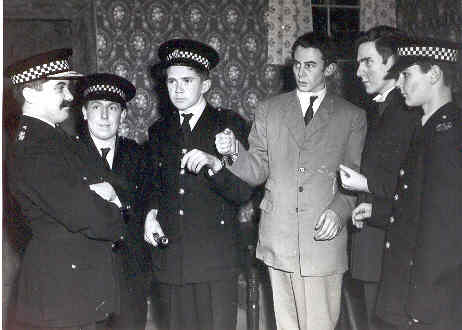 This is another one of "Arsenic etc". Everyone else towers over me. :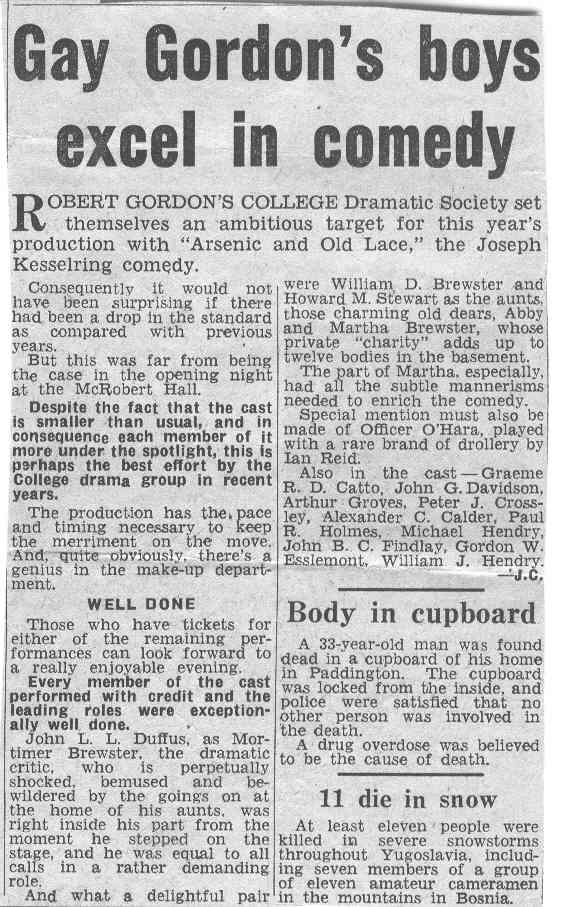 I quite liked the headline in the local paper - the EE of course. Yes, I was a gay gordon. Words even had different meanings in those far off days. The clipping reads :
"Robert Gordon's College Dramatic Society set themselves an ambitious target for this year's production with "Arsenic and Old Lace," the Joseph Kesserling comedy.
Consequently it would not have been surprising if there had been a drop in the standard as compared with previous years.
But this was far from being the case in the opening night at the McRobert Hall.
Despite the fact that the cast is smaller than usual, and in consequence each member of it more under the spotlight, this is perhaps the best effort by the College drama group in recent years.
The production has the pace and timing necessary to keep the merriment on the move. And, quite obviously, there is a genius in the make-up department.
WELL DONE
Those who have tickets for either of the remaining performances can look forward to a really enjoyable evening.
Every member of the cast performed with credit and the leading roles were exceptionally well done.
John L.L.Duffus, as Mortimer Brewster, the dramatic critic, who is perpetually shocked, bemused and bewildered by the goings on at the home of his aunts, was right inside his part from the moment he stepped on to the stage, and was equal to all calls in a rather demanding role.
And what a delightful pair were Willian D.Brewster and Howard M.Stewart as the aunts, those charming old dears, Abby and Martha Brewster, whose private "charity" adds up to twelve bodies in the basement.
The part of Martha, especially, had all the subtle mannerisms needed to enrich the comedy.
Special mention must also be made of Officer O'Hara, played with a rare brand of drollery by Ian Reid.
Also in the cast - Graeme R.D.Catto,John G.Davidson, Arthur Groves, Peter J. Crossley, Alexander C. Calder, Paul R.Holmes, Michael Hendry, John B.C.Findlay, Gordon W.Esslemont, William J.Hendry."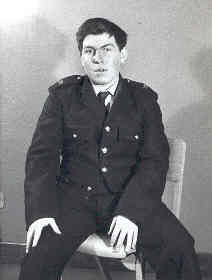 So there you are, fame at last, and in the EE, even if they cannot spell Iain.

And so all good things come to an end, and school days are over, and its on to University, freshers week, world endurance records at never ending dominoes, etc - and more fame in the EE. What of the first pint of beer ? What about the trams that went past our house when we were in Holburn Street, then cycling every where, then the first Vespa - a life long passion, and I still use one daily. And giving my sister a lift to the Girl's High, and skidding over sheets of ice without a thought (I slow to a crawl now at the slightest frost). What about Madam Murray's where we learned to dance. And I broke my wrist doing a strip the willow, but didn't know and drove the Vespa home - but I knew in the morning! What about girl friends. Was the first one Mary X, I think that was in my mind only. And others, not forgotten, but lets move on. What about the cringing mistakes and embarrassments and things done that you can never undo. If only, if only. These are the saddest 6 letters I can think of. Burns said "would some power the giftie gie us, to see ourselves as others see us" I would say "to see ourselves as we'll later see us", - i.e to know then what we know now, but of course we could not know now unless we had done it all wrong in the first place, could we ? And what of working in the school holidays running a petrol station for the fish curers, or delivering boxes to the fish packers, or as a bus conductor in the summer holidays - training started at Easter when I was still in VIth form. I knew then the names of most streets off the main bus routes - now I don't get lost in Aberdeen, but forget a lot of the street names. And what of learning to drive ?

And what of all the friendships - some kept up, some lost track of. Of Rex, Ian P, and Eric and Mike, Graeme and Hugh, Charlie and Denis, the two Sandys H & D, Dave, Colin, Hamish, Ian W with such a musical gift, but such a tragic end, and Dave with the mysterious girlfriend. Dave is now my brother- in-law, so you can work out who the girl friend was. Come to think of it, I have hardly scratched the surface.


And most of all what of the lasting debt to mum and dad, who gave me this childhood and the start in life that made me what I am.

I'll need to do all of this again some time, but much better. But for now, enough, apologies to many I should have recalled - and on to pastures anew.




Links to home page and early and school days



Links to home page and other garden photos :

Links to other photos :