Down the garden in October

All of the photos were taken in October, 2001 as part of a series the gardening year. There are links to other photos at the foot of this page. October was very sunny and warm - the warmest since records began in 1659 I think !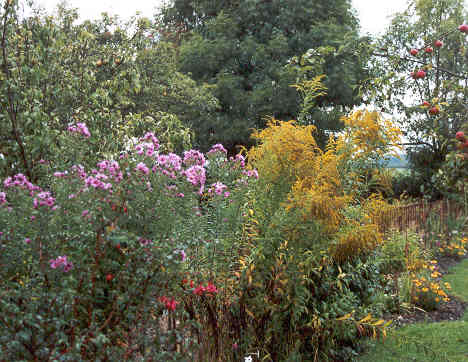 Still lots of colour in the garden, but its the subdued tones of Autumn rather than earlier vibrant colours.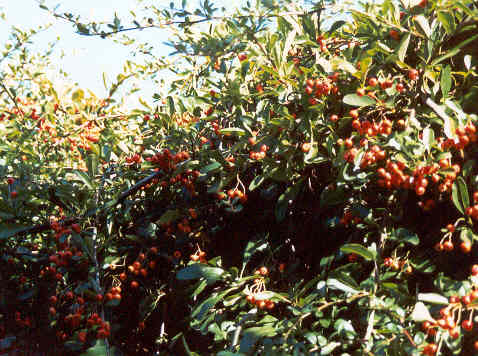 These are the berries on the bush / tree that grows beside the garage, and frames the window. It lookes nice and rural, and hides the brick of the garage. It looks especially attractive in Spring, when its a mass of white blossom, and now in Autumn, when its full of birds and red berries. Its really red berries, and birds, because the berries come first.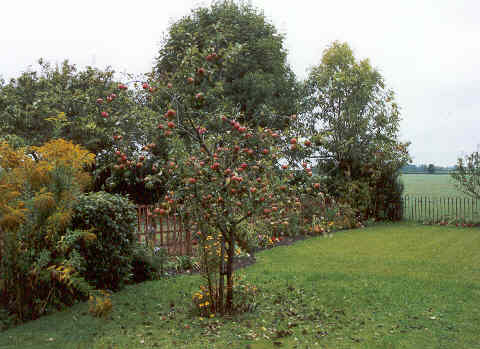 Not the brightest of pictures, but it shows the small apple tree in the back left garden. They are Cox's, which come later in the season, and keep well. We got 32 lbs from this tree ( the cooking apples had a disasterous season, and all we got was about one apple, 14 ounces) I think it all depends on when the frosts come v. which blossoms are out.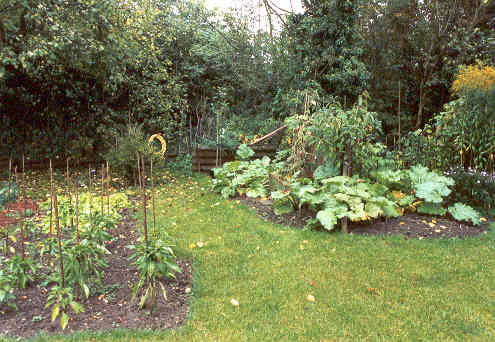 The rhubarb help up well, and surprisingly we got a second crop of lettuce after all. Usually I find they shoot straight away if planted late on, but this year they formed small, but quite firm hearts.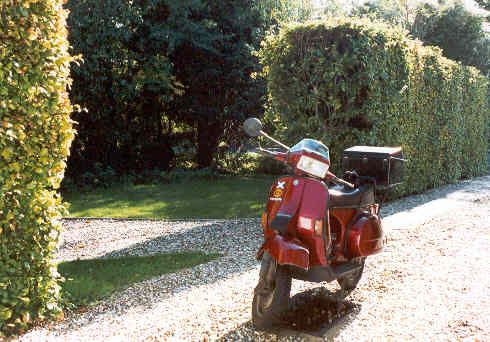 Now I think this is a nice picture to end on. My Vespa is used all year, and gets quite dirty in winter, but it usually gets a lick of polish before I take it for its MOT each October. I know it should not make any difference, and the bike is checked over before the MOT, but a clean bike looks as if it has been maintained, and creates a better impression.

The real reason for the picture is to show the completed parking space - see September for earlier work. So far all seems to be well, so the mud must have dried, after all. I calculated that I would need about 0.7 of a ton of pebbles (1 ton = 1 cubic metre approx), but ended up getting two tons to get a thicker layer, and also top up the drive.




Links to home page and other garden photos :

Links to other photos :

Links to home page and early and school days


Links to family pictures