Gardening consultant, former neighbour - my friend Bill.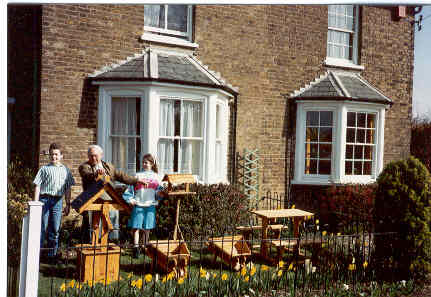 We moved to High Wych in 1989, and found the perfect neighbour - an old country gentleman who had lived in the area man and boy, and knew more about gardening than I could ever aspire to. He was a great character, so well known that we could tell people where we lived by simply saying "next door to Mr Fish". He made lots of things from wood - birdtables, birdboxes, wooden wheelbarrrows, rabbit hutches, etc - and sold them at the door. Everything had a natural rustic charm. The picture is of Bill and Jamie and Kirsty in his front garden in 1993.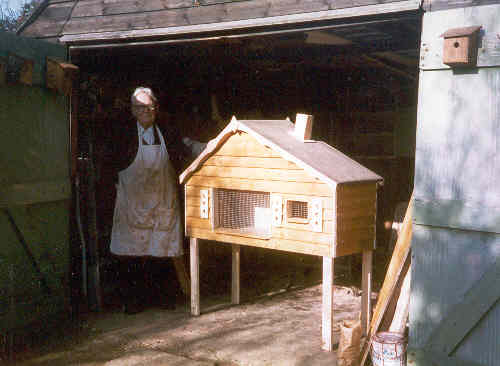 Bill's prices were modest and flexible -his wood came from old pallets and bent nails were straightened for re-use. If you arrived at his door in a big car, I think he charged a bit more, but if you were a child getting a bird box for Mother's Day, the opposite applied. Everything he made, but everything, was painted with creasote. There was always an open pot with an old brush in it at the corner of his garage. It preserved what he made and I think it preserved Bill too. The picture is of Bill with one of his more elaborate creations.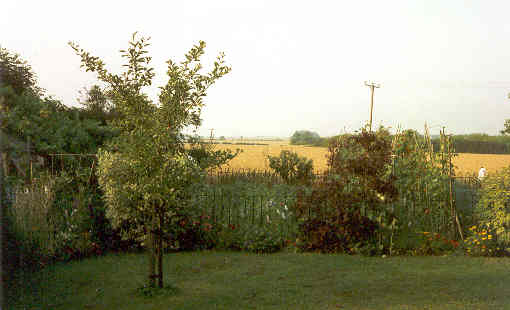 Bill was to become a great friend and every Saturday morning I would visit to say hello, see how he was, and inevitably depart with some cuttings, spare seedlings, or whatever. Strangely I could not find a better picture to illustrate the glory that his garden was, when at its best. This picture is the back of our garden in 1996, but behind is Bills garden, with rows of flowers, runner beans to the right, and his old vine and big greenhouse (he had three) to the left.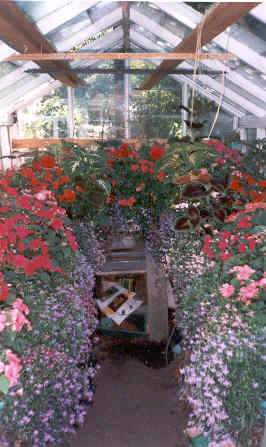 Bill was always very active, and even in his eighties he would be up the ladder to pick his plums, to sell at the door with his runner beans, flowers etc. This is a picture of the inside of his smallest greenhouse - a mass of colours. Bill's father was head nurseryman at the famous Rivers nursery which was just down the road. It was centuries old when it closed a few years ago- the first orange trees that were to start the orange industry in California were supplied by Rivers. He would often tell of the old days, and of Tommy Rivers, and the horses - it was a contact for me with a different world.

Bill and I had a running competition as to who would get the first crop of runner beans each year - I could never compete on size or yield. I used to cheat and start my beans off in the greenhouse. He preferred just planting the beans straight into the soil, and protecting the young shoots with a shield of cut open grow bags. It was never much of a competition as his garden got more light, and he had more time. I never knew when to plant things, and always asked Bill. All he had to do was not tell me and he would win. One year, I finally got the first crop, but he won the series 9 -1. Bill was often in the garden when I was there, and there was always time to stand and chat. He told me what were weeds, what to do and when, and what variety to plant. I wish I had paid more attention.


Bill was active to the end - he was making a giant wooden greenhose from pallets for his friend. The plans were in his head as always. He still managed to drive his Fiat Uno, and so he would be off to B & Q, or Wickes to get more supplies most Wednesdays. He knew his limitations, and kept within them. Although retired, Saturday always remained shoping day.

Bill was a character, and deputised for Father Christmas at High Wych school for many years. He had the figure, and made a jovial Santa. If his accent was instantly recognisable, no one cared to let on, least of all the visitors to Santa's grotto. And then they would later tell Mr Fish that they had visited Santa. Its funny how we remember innocent times, happy days. It wasn't always smiles and good health, he was confined to the house with gout for some weeks and unable to make it upstairs he slept in a chair at the fire. But he was eventually able to get out and going again, and the act of carrying on enabled him to keep active, and keep going. He was a good companion,and neighbour, my friend Bill.





Links to home page and other garden photos :

Links to other photos :

Links to home page and early and school days


Links to family pictures