In 2004 I set up a section with pages of oldish photos of our immediate family, ie of me, of my wife Christine, and of our two children Jamie and Kirsty. The photos of Jamie and Kirsty were from when they were at school, although I did add "Tempus Fugit" graduation pictures commenting on the all too swift passage of time.
Well, time didn't stand still, and in June, 2011, some seven years later, a lot had changed, and I added an update. Now, at the time of writing, it is March,2015 and really I have to add a further update. The page title of course had to change - with the arrival of Fraser, our latest grandson, now we are eleven.

The four of us became five when Kirsty married Andrew in September, 2006, and then six when Jamie married Jacqui in November, 2008. And then we became eleven when Chloe, Alice, and Lachlan, Charlie and Fraser, our grandchildren, were born.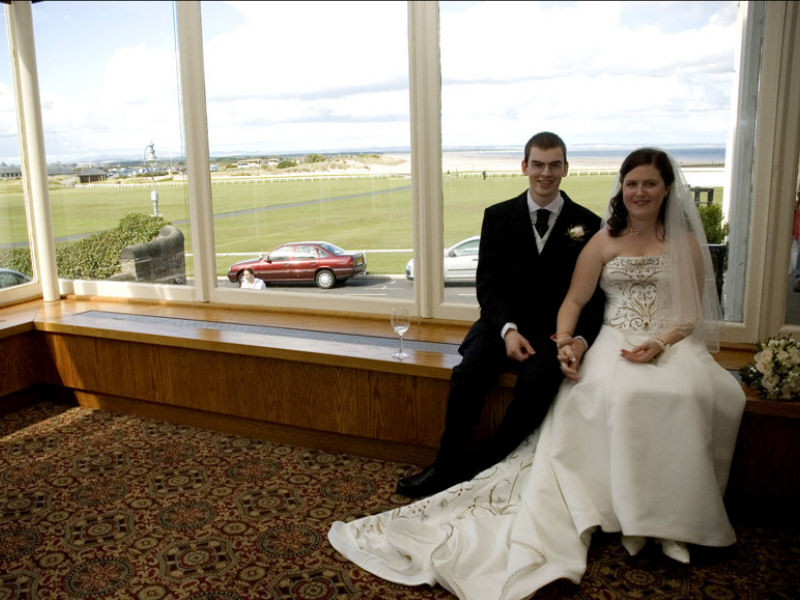 Kirsty married Andrew on September, 1st, 2006, in St Andrews, in Scotland. The picture opposite was taken at the wedding and reception in Russacks Hotel, and in the background is the famous Old Course, the home of golf. I thought I was going to get out of making a father of the bride speech as Kirsty said she wanted everyone to enjoy themselves, and that there would be no speeches. Great ! However there was a change of plan a few days before the happy event, so I didn't escape after all. At least this gave me a chance to claim all the credit for Kirsty meeting Andrew. Kirsty lived in Hertfordshire and went to school and Uni. in England, whilst Andrew lived in Shetland and went to school and Uni. in Scotland - I doubt that they could possibly have met had I not chosen Zetnet, a Shetland service supplier for our family computer. And so they met on line, and then in Aberdeen when we were up there on holiday, they kept in touch, and the rest is history.
After Kirsty graduated from Kings College, London, she and Andrew lived in St Andrews for a while where Andrew was a final year student. So what could be more fitting than to return there for their wedding. They couldn't get a Saturday booking at Russacks, and so the wedding was on a Friday. Surprisingly for Scotland, it was raining on the Thursday before the wedding, and on the Saturday after the wedding, but happily Friday was a day of glorious sunshine, and there are some picture perfect wedding photos taken in the castle ruins in the morning. The photographer was there all day, and even returned to take more photos after leaving when she saw the stunning sunset.
After St Andrew's, Kirsty and Andrew lived for a while in Sutton Courtenay, a little village near Oxford, but then moved to Newton Abbot, in Devon when Andrew's job relocated. It's a lovely part of the country, and now we have the perfect excuse to be frequent visitors to Devon.
The photograph opposite was taken on Jamie and Jacqui's farm near Bigga, in the Australian outback.
After graduating from Warwick University, Jamie worked as an actuary in the city of London. There he met Jacqui, an Australian lass - a fellow actuary who also worked for the same company, they even both took the same tube line home. So, unlike with Kirsty and Andrew, I cannot claim any credit for their meeting. They lived in London for a while before emmigrating to Sydney in February, 2008. Although they both live and work in Sydney, they love to spend as many weekends as possible at their Merino sheep farm in very rural countryside near the Blue mountains. So when they got married in November, 2008, what better location could they choose.
The wedding took place on the 8th of November, 2008 at St Mary's Catholic church in Crookwell - the nearest town to the farm. (Crookwell pies are an especial favourite of mine !). Of course this was the perfect excuse for his mum and dad - ie me and Christine - to make our first visit to Australia. We were delighted that our daughter Kirsty was able to be there - she was very much pregnant at the time, and had the wedding been a couple of weeks later, she would not have been allowed to fly. We were all staying with Jacqui's mum and dad, Bob and Phyllis, in their farm house adjoining Jamie and Jacqui's farm, and they could not have made us more welcome. Their farm is an absolute delight, unchanged from the year dot, and should have a preservation order on it. The view from the farm is over a valley with a river down below, and with the ever changing colours of the Blue Mountains in the distance - swap heather for eucalyptus, I almost thought I was in Scotland.
After the wedding ceremony and the group photos outside the church, we all went back to Jamie and Jacqui's farm for afternoon tea - or should I say tucker. The weather was not at its kindest - we woke to torrential rain, which did ease up later on. However this didn't dampen anyones enjoyment. Jamie had erected a sort of shelter, and surprisingly it stayed up ! I particularly enjoyed the home made damper - a sort of bread. After that we bumped our way back to the main road, and into Bigga, the nearest village in whose village hall the wedding meal and reception was held. I liked Jacqui's comment a few days earlier when we drove into Bigga. Someone crossed the road, and Jacqui said "Gosh, its a busy day in Bigga." I love the place, and Helen's ice cream ! We had all spent the previous few days decorating the hall, setting out the tables, and helping Bob, Jacqui's dad set up the bar. Apparently it's the custom in Australia for the father of the groom also to make a wedding speech, so once again I had to perform for my supper. Jamie of course gave the star speech, cunningly managing to turn his thanks to Jacqui into a running joke in every section - even having her name drawn out of a hat at random. Were there any other names in the hat, I wonder ? After the meal we were entertained in the evening by an excellent ceilidh band. I'm not a great one for getting up and dancing, but I loved the music.
The next day we were all invited to a BBQ at Bob and Phyllis's. The weather was back to its scorching normal, and there were lots of greedy lambs for the children in the party to feed with bottles of milk. It was a wedding with a difference, and like Andrew and Kirsty's wedding a terrific, perfect memorable day, a life time highlight.
Jamie and Jacqui still work in Sydney, and still have the farm - its grown in size as they bought the neighbouring farm with its large, sprawling farm house when it came up for sale.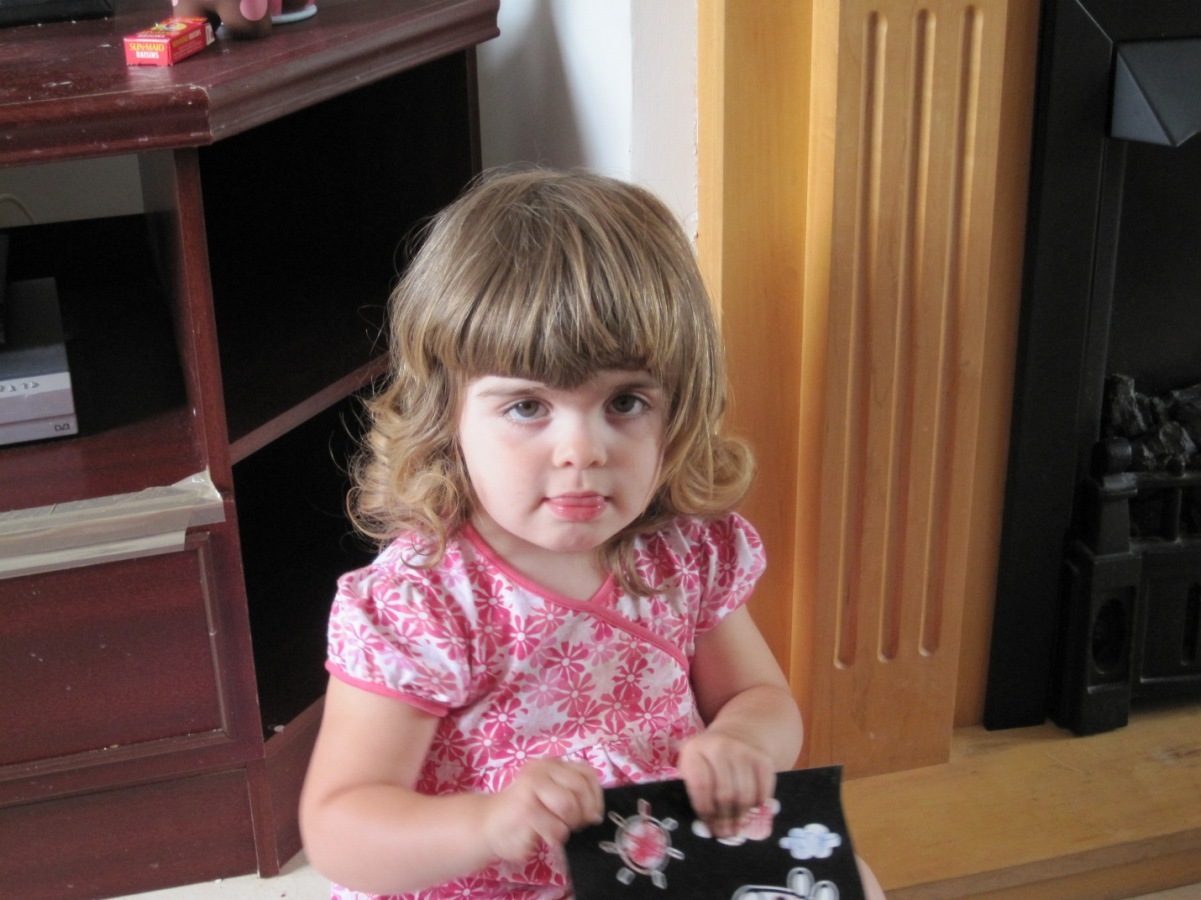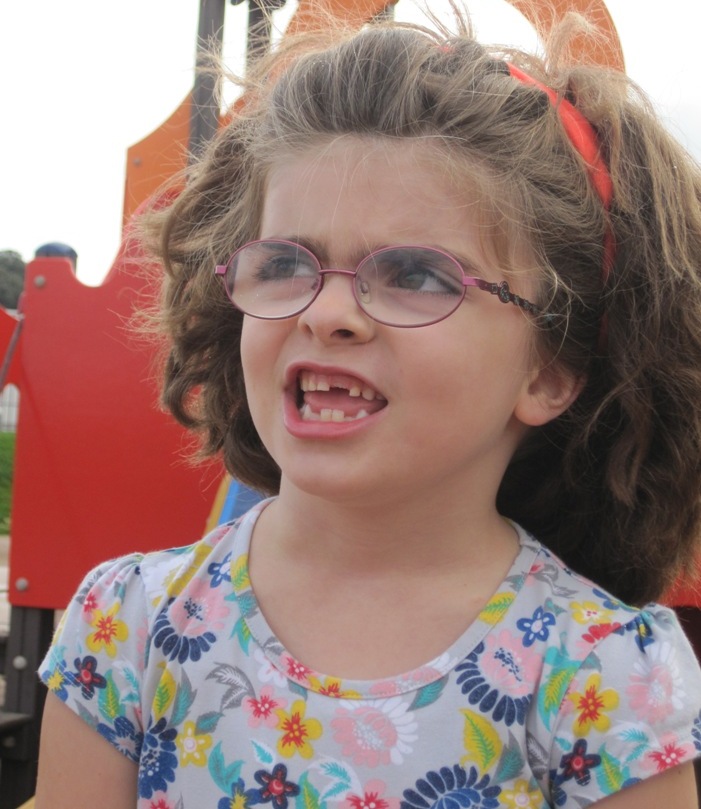 I mentioned above that Kirsty although very pregnant still managed to attend her brother's wedding in Australia. We all returned to the UK from Sydney in mid November, and Chloe was born just over a month later on Christmas Eve - December, 24th , 2008. Christmas is a very special time of year to be born, but it does mean that Chloe gets her birthday present one day, and her Christmas present the next. Ideally birthdays and Christmas should be six months apart but what a strange world that would be !
Chloe is the first of our five grandchildren, and like all doting grandparents we love her very much. She is a real character and I have been told that she could twist me round her little finger, not that I was ever aware of it. Of all the hundreds of pictures of her that we have, the top one opposite was chosen just because it was reasonably up to date when I did the June, 2011 update. The photo was taken in May, 2011, so Chloe was about two and a half years old. We have seen her develop as a baby, watched her sitting up, shuffling about the floor, walking, talking, and now she is no longer a baby but a nice little girl. The lower picture opposite is of Chloe in September, 2015 - at the swings in Teignmouth. The tooth fairy had been kept busy, and Chloe was almost seven.
Chloe knows her way around our house very well. When younger, she stayed here with us overnight by herself lots of times, and loved going for an adventure in our garden. She also liked it when we walked down to Bell Street to get the morning paper usually via a local park, and also via the swings - going and coming back. Now, when we visit in Devon, there is Chloe's own garden to race round, visits to the seaside, etc, etc. Thanks to Chloe we could now all appear on Mastermind answering questions on Igglepiggle, Upsa-Daisy, Makka Pakka, and their chums from the Night Garden. We are also word perfect on the adventures of Peppa Pig. What will it be next I wonder ? Now, of course, I don't need to wonder -it's a strong interest in robots, space rockets, and astronomy. And yes, Chloe is of her time, and although she does have her own computer tablet, she loves books too, and is a good reader.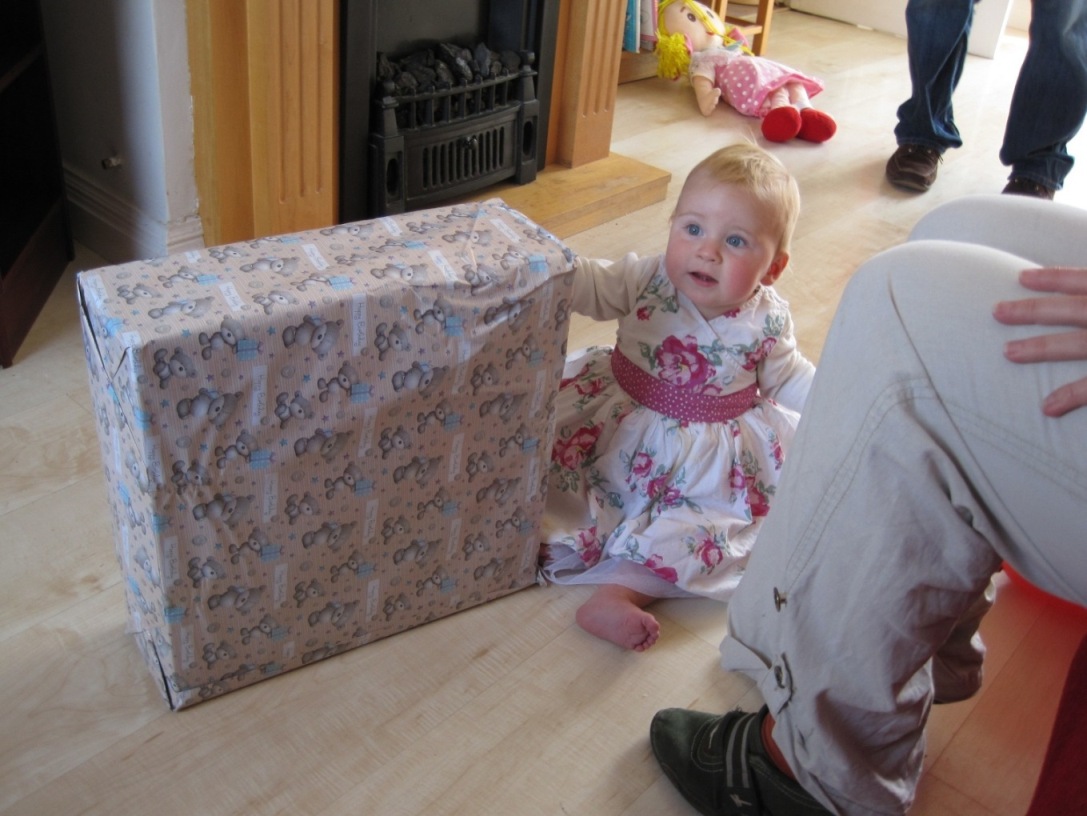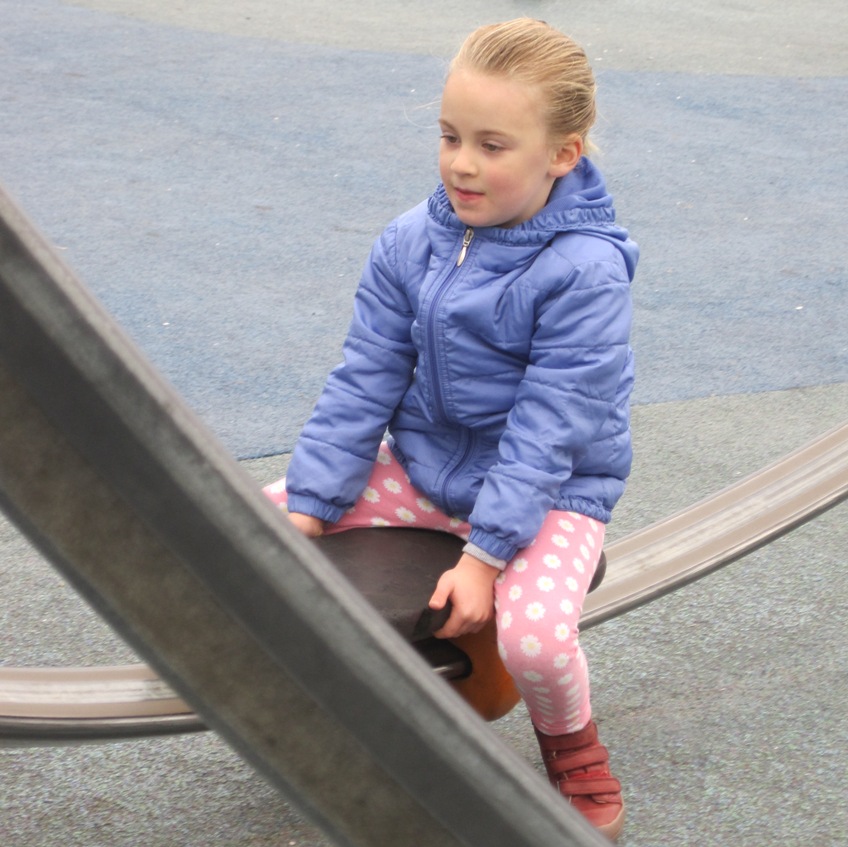 Alice is Chloe's little sister, and was born on the 23rd May, 2010. The top picture opposite was taken on her first birthday in May, 2011 - she is about to rip the paper off a birthday present.
In June, 2011 I commented that Alice is the most sweet natured of little girls - everyone and everything is greeted with a huge smile. You can leave Alice in a high chair in the kitchen with some food, wander off into the next room, and Alice will just sit there smiling, munching away, not at all bothered that she has been left alone, quite contented. Alice and Chloe get along very well together - Alice spends a lot / most of her time watching what her sister is doing, taking it in, and learning. Right just now she is trying to walk, and she loves to take both your hands and set off up and down the room, or round and round the garden. She never seems to tire - so when you take her hands don't expect any breaks for a rest.
The lower picture was of Alice, aged five, at the swings in Teignmouth taken in October, 2015.
Chloe was in charge to start off with, but Alice was determined to catch up as quickly as she could. Two little sisters, very different in so many ways, but each loved by doting grand parents.
Chloe stayed with us when Alice was born, and so when we took her home we were there when Alice met her sister for the first time, and of course there are lots of photos to record the great occasion. Alice also likes the swings ( who doesn't ?), and did go on to like Igglepiggle and co - so all our Night Garden knowledge did not go to waste. Alice also has her own computer tablet, and loves swimming, her ballet lessons, and Rainbows (Junior Brownies).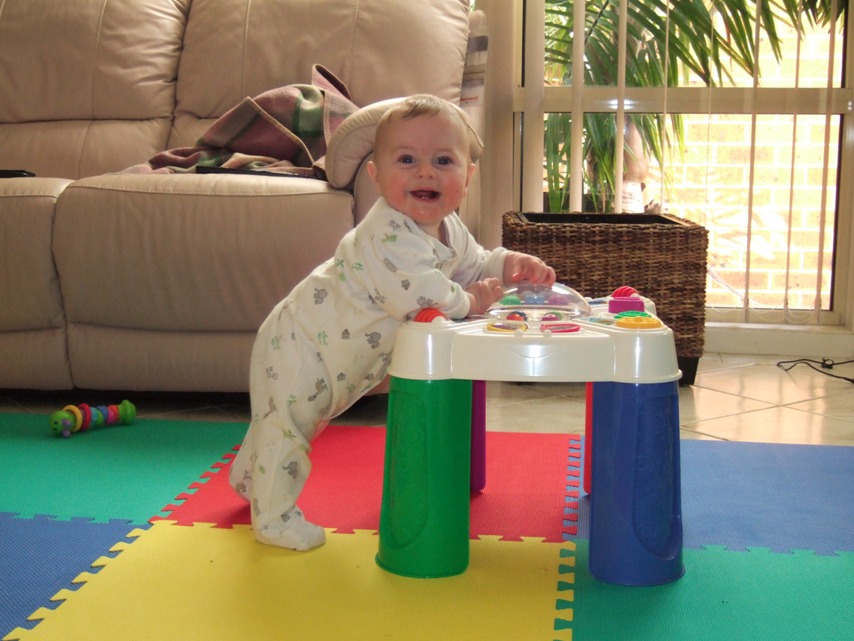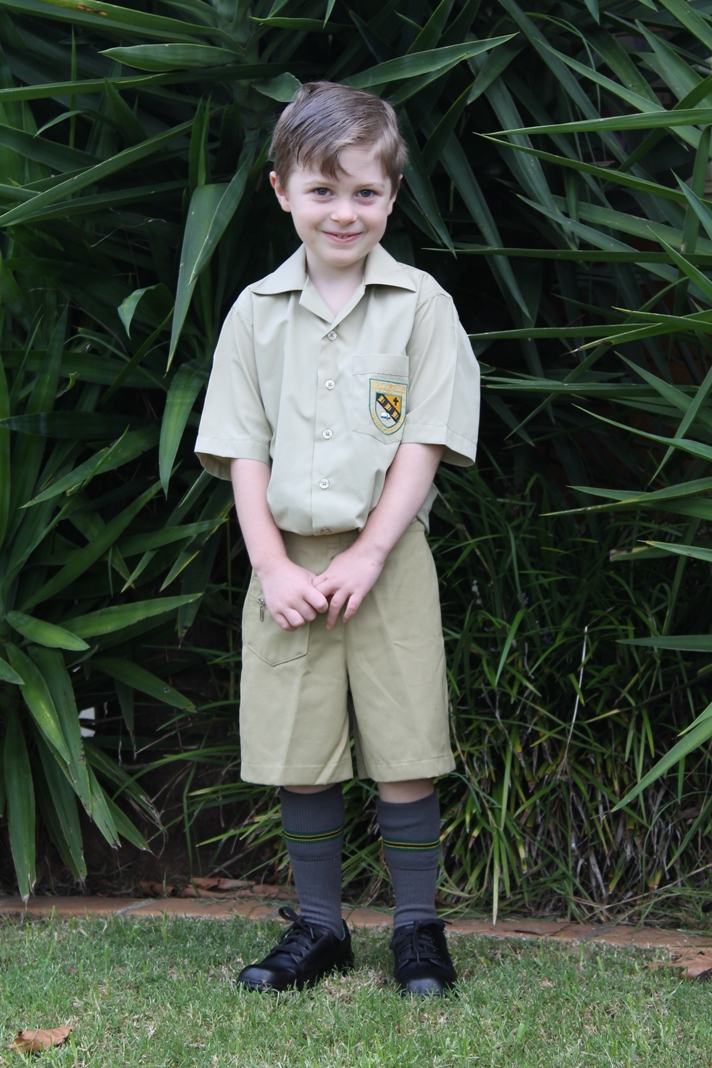 Lachlan Jamie Reid was born at eleven am local time on the 6th November, 2010 in Sydney. Australia is ahead of the UK time wise, and eleven am in Sydney on the 6th was roughly midnight of the 5th in the UK, so we are not sure on which UK date Lachlan was born. We had told his dad Jamie just to phone us as soon as there was any news - and what good news it was - our first grandson. November is a good month for a birthday - I was born on the 10th. The top picture opposite was taken in May, 2011 when Lachlan was about six months old.
Sydney is a long way away - so our first glimpse of Lachlan was on Skype, and each week we have watched him grow and develop so very quickly. Jamie, Jacqui, and Lachlan visited the UK in January 2011, when Lachlan was roughly two to three months old. We met them at Heathrow, and it was wonderful to see Lachlan in the flesh for the first time. Skype is a wonderful invention, it's free and I'm not complaining, but you can't pick Lachlan up, and give him a cuddle on Skype. He is a little smasher !
Jamie, Jacqui and Lachlan were only over for a flying visit - just for two weeks. They stayed with us for a few days to recover from the flight, and then we all went down to Devon for about five days so that Lachlan could meet his two cousins, Chloe and Alice, and of course, vice versa. We had rented a very cosy log cabin on a working sheep farm a few miles inland from Newton Abbot. The farmer and his wife kindly showed us round - it was lambing time - and so Jamie and Jacqui, and the farmer could swap notes about the finer points of sheep rearing. Before we know it, Lachlan will be joining in too. The photograph at the bottom below was taken in the front room of the log cabin.
Lachlan was very tall for his age - he was 55 cm (22 inches) long when he was born. I wonder whose height genes he has inherited - certainly not mine. In the picture below he seems to be as tall as Alice, although she is some six months older that him. There are some charming photos of Alice and Lachlan together - its funny how babies seem to like the company of other babies.
At the time of writing my first update in June 2011, Christine was visiting Australia for Lachlan's christening. This was in Binda - a little hamlet between Jamie and Jacqui's farm and Crookwell. It was a bit difficult for me to leave the garden for five weeks or so at that time of year - so granddad had stayed at home that time, and grandma represented us both. I had to wait until later in 2011 to see Lachlan once again. We were there for Lachlan's first birthday - a special day indeed. Since then we have managed to visit Australia once a year, usually about November time, but once for a memorable Christmas & New Year. Possibly we will switch to visits in January to catch the children in their summer holidays. The second picture opposite is of Lachlan, aged five, in school uniform taken in January,2016.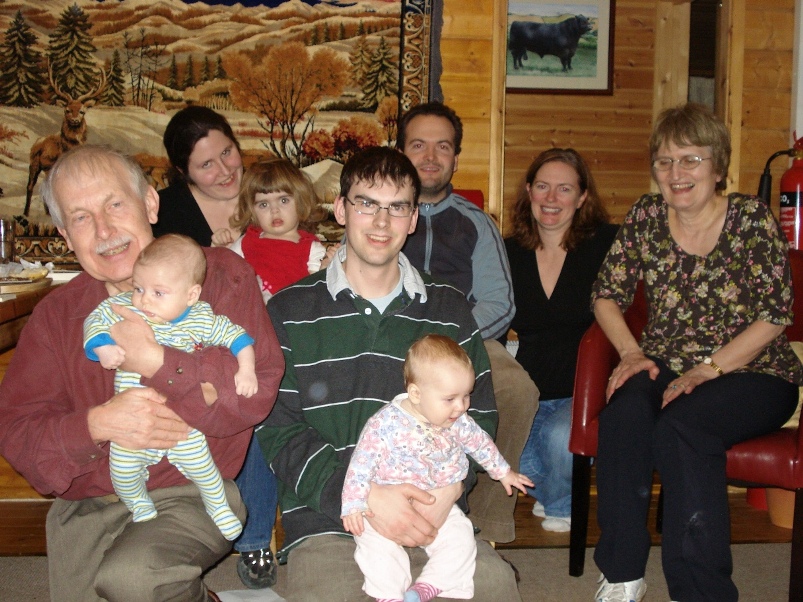 As mentioned above, this picture was taken in late January / early February 2011, when Jamie, Jacqui, and Lachlan were over in the UK for a flying visit. It's not often that the then nine of us were able to get together, so it's nice that we have it recorded in a photo (and of course there is a video too). In the back row, from left to right, we have Kirsty, with Chloe on her knee, then Jamie, then Jacqui, then Grandma. And in the front of the picture we have granddad with Lachlan on his knee, and Andrew with Alice on his knee. Grandma and granddad took it in turns to hold Lachlan - it just so happens that it was granddad's turn when the photo was taken. It was very difficult to get Chloe, Alice and Lachlan all looking towards the camera at the same time - this was the nearest we could manage.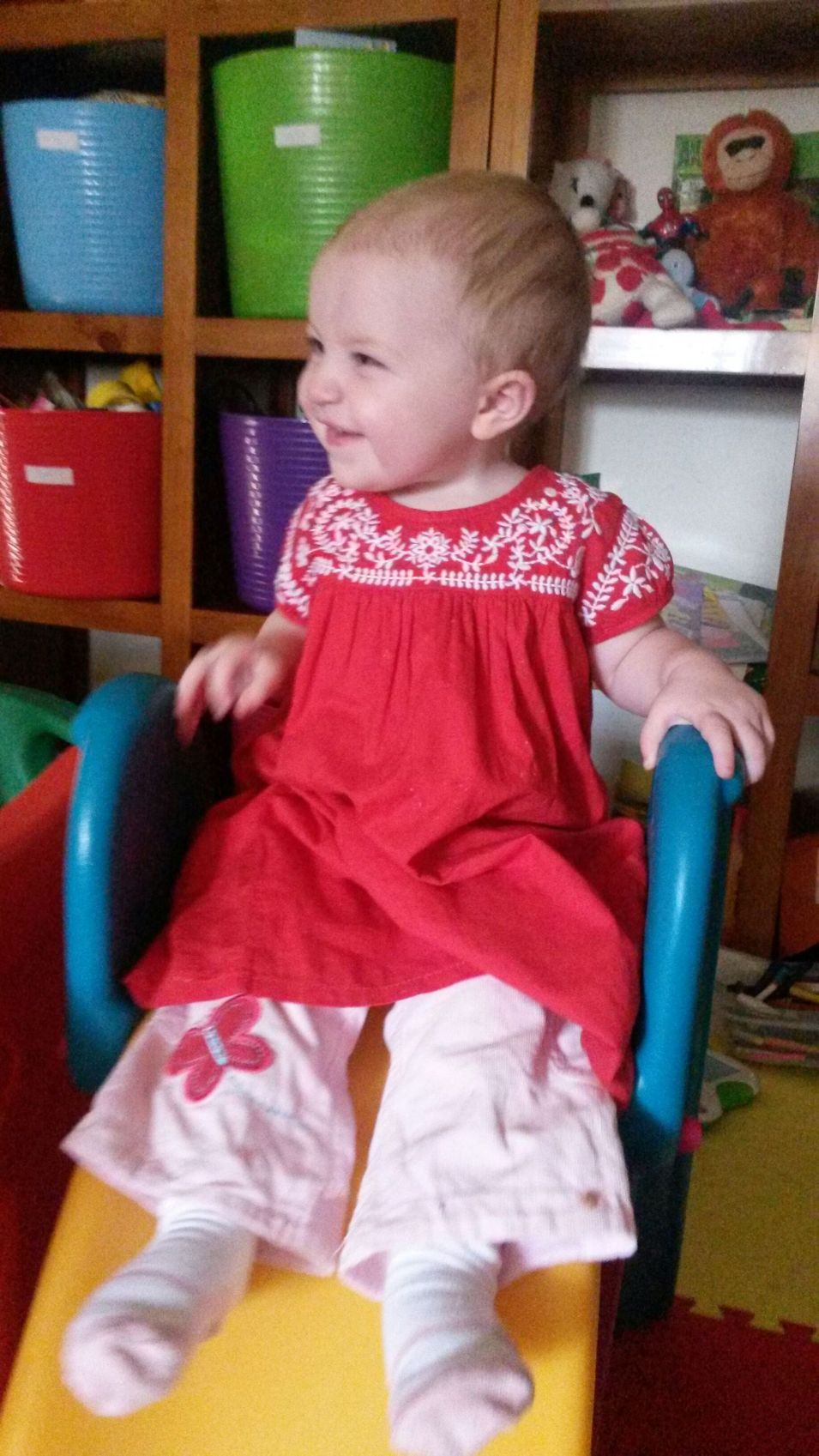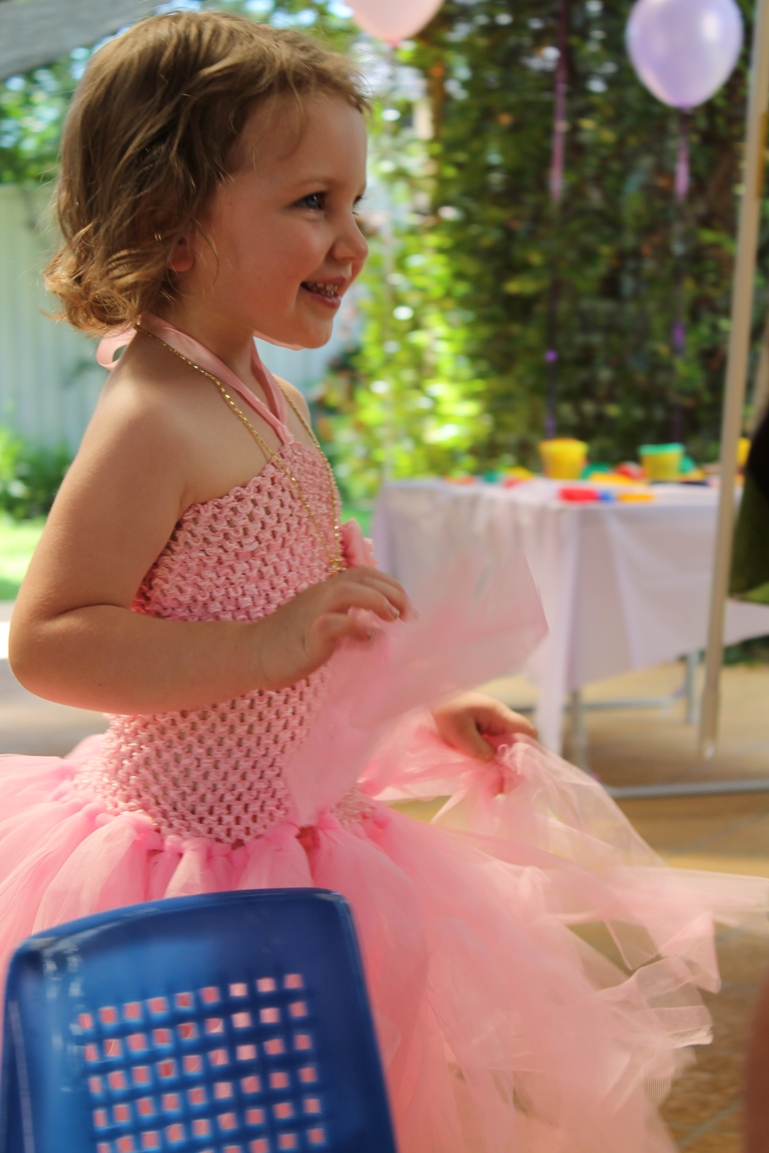 In my first update of June, 2011 I commented that to bring the picture even more up to date I would have to change Nine of Us, to Ten of Us. Now (March 2016) its eleven of us.

Charlotte (Charlie) Hales Reid was born in Sydney on the 14th of February, 2013, a daughter for Jamie and Jacqui, our fourth grand child, and our third grand daughter. The top picture opposite was taken in early 2014 when she was just over 1 year old.
Charlie was christened on the 17th November, 2013 at St Peter's Catholic Church in Binda - not far from Jamie and Jacqui's farm near Bigga, NSW, Australia. All four of Charlie's grand parents were there on the great day - Christine and I were visiting at the time.
We get to speak to Charlie and Lachlan on Skype every week, but in April, 2014 I commented that Charlie was only a baby last time we visited. Then she was a real eating machine, especially loving Spaghetti Bolognese. We remember especially when Jamie, Jacqui, Lachlan and Charlie and the two of us visited J & J's sports club for an evening meal. The child's portion of Spag Bol put in front of Charlie would have kept me going for a couple of days but Charlie munched away, and polished it off. No one could believe a baby could eat so much, and the waitress was astonished. To be fair Charlie spilled as much as she managed to get into her mouth, but it was still a worthy performance !






Now to add a further update, it is March, 2016 and with several other visits we have seen Charlie grow quickly. The second picture opposite was taken in February, 2016 at Charlie's third birthday party, with Charlie all dressed up for the occasion. Charlie is a real character, well able to hold her own, and has been a real Peppa Pig addict. She has now started ballet, and is a good swimmer.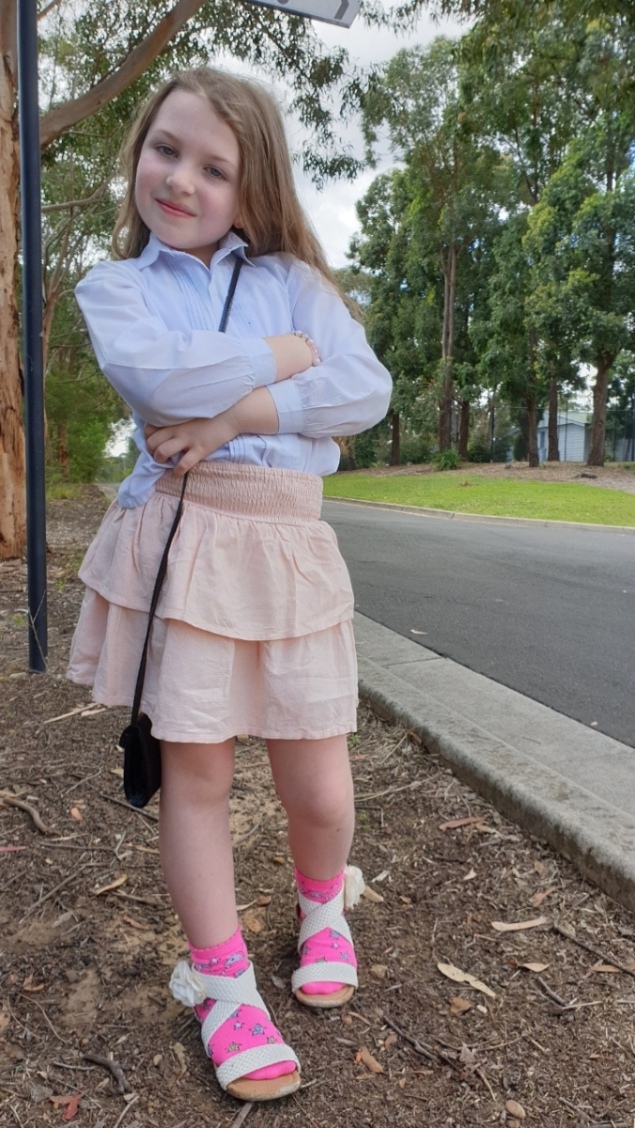 I have added this picture of Charlotte Reid taken in November, 2020, after a zoom call when Charlie complained that a Google images search shows a picture of her brother Lachlan, but not one of her.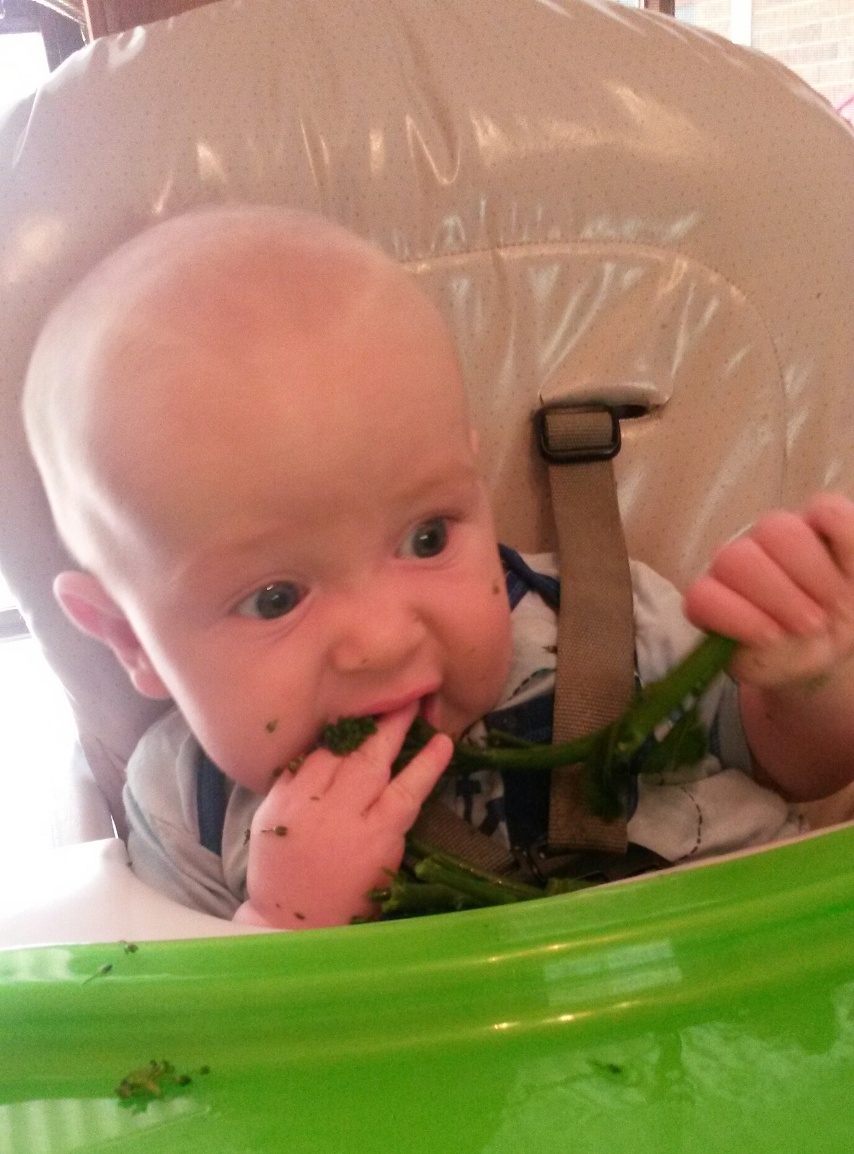 "Now there are ten of us" became "Now there are eleven of us" with the birth of our second grandson, and fifth grandchild Fraser Jack Reid, on 27th August, 2015. I commented that Lachlan had chosen his November birthday well - I was born in November too. By that thinking Fraser chose his birthday doubly well - both his mum and dad were born in August. So there will be lots to celebrate each August. The picture opposite was taken when Fraser was exactly six months old, and allowed real food at last. Apparently brother Lachlan was demonstrating eating techniques off camera, but Fraser seems to have got the hang of it and the taste for broccoli.
We had seen Fraser on our weekly Skype chats, but we finally got to meet Fraser in the flesh when we visited in November, 2015. We were amazed at how quickly Fraser seemed to be growing - we could go out in the morning, and he was a little bit bigger when we come home at night. After our week's visit to Brisbane, Fraser really had sneaked in so much extra growing.
As I write this in March, 2016 it looks as if Fraser is to be christened in August, 2016, and his British cousins Chloe and Alice will be there, and of course Kirsty and Andrew. There are not many occasions when all our grandchildren can gather together - we look forward to seeing the photos.
Links to other photos :
Links to home page and early and school days
Links to home page and other garden photos :