Our Fridge Magnets.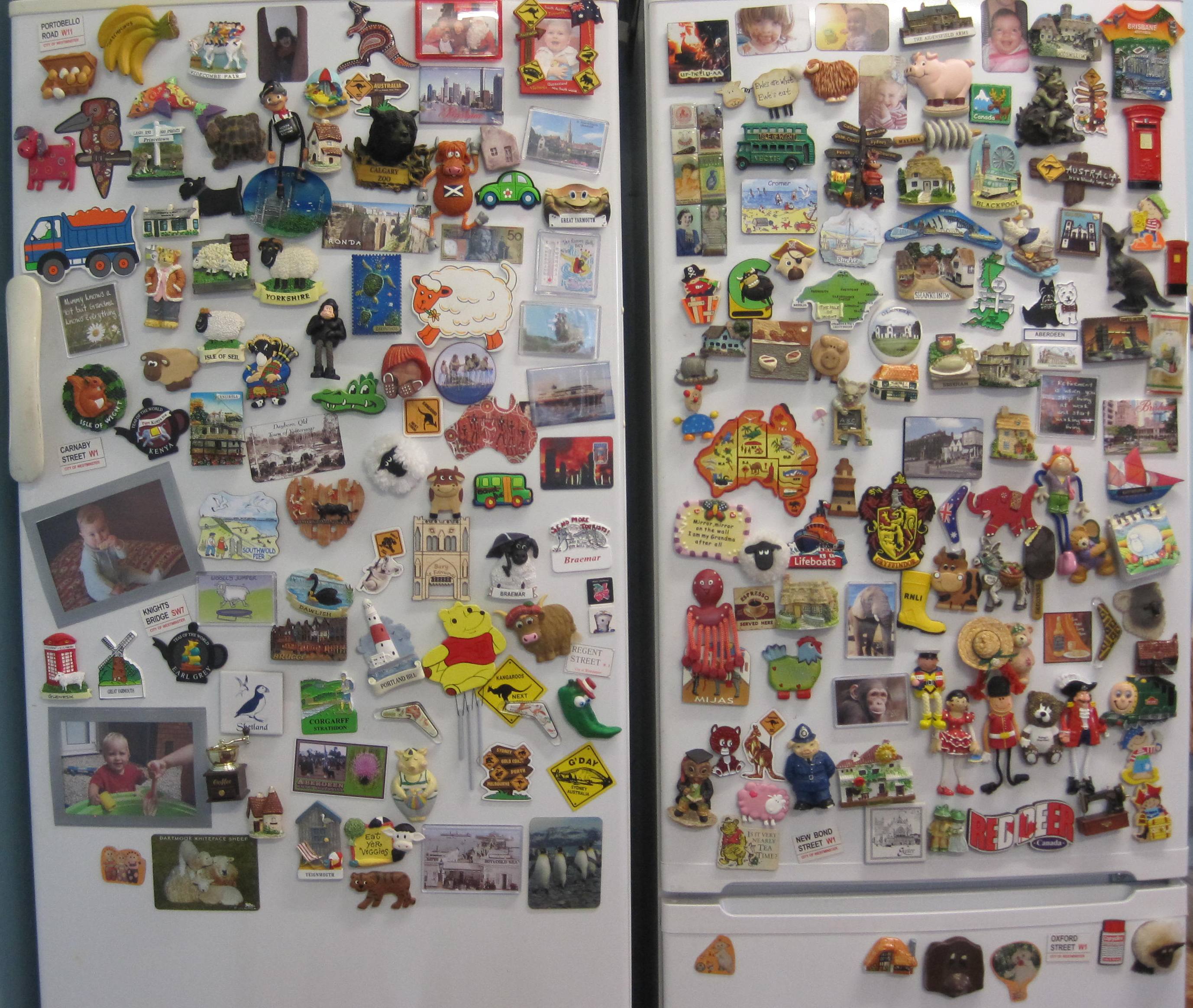 The picture was taken in February, 2015, and shows a front view of the fridge magnets in our kitchen. There are more magnets at the side of the fridge, some holding up art work by our grandchildren Chloe, Alice, Lachlan and Charlie.

I counted the magnets in the above picture as 216, but the number varies. We usually add to the collection if we visit somewhere new and some fridge magnet takes our fancy. But the numbers decrease dramatically when our grandchildren come to visit. The magnets then get rearranged, and after they have gone we find them on radiators and other assorted metal surfaces throughout the house. Not all the magnets survive being played with and dropped, but usually they can be repaired with Araldite in Grandad's fridge magnet hospital.
Friends and family know that we sort of collect fridge magnets, and give them to us as small gifts when they come to visit. Thus we have magnets from Canada and Australia from relatives, but we do go to Australia ourselves, and usually come back with a few magnets as mementos of enjoyable holidays. Son Jamie, and his wife Jacqui are Sydney based, but also have a sheep farm near the Blue Mountains which we love to visit, and offer our modest help. Hence the number of sheep magnets. We also visit Scotland regularly - and so there are lots of Scottish themed magnets.
We don't really have favourite magnets, but some do raise an occasional smile - for example Pooh Bear asks "is it very nearly tea time?", Scottish midges ask us to "send more tourists, any blood type will do", the mirror says "mirror, mirror, on the wall, I am my grandma after all, " etc, etc.
Most fridge magnets cost a pound, or a couple of pounds, so collecting fridge magnets is not expensive, and so far it has been reasonably safe and harmless. At the time of writing this I put "fridge magnets" into Google, and found that Amazon were selling a pack of 200 assorted fridge magnets for about £9. So I guess, if you were so minded, you could quickly build up a collection, many hundreds in number. But that is not the point. Each of our magnets was acquired individually, and reminds of a friend's visit, or some holiday we have enjoyed, perhaps many years ago. And we do like sheep !
Links to home page and other garden photos :
Links to other photos :
Links to home page and early and school days
Links to family pictures