Cutting our Beech Hedge

I guess the main feature of our front garden is the Beech hedge that runs the length of our drive. It was already there when we moved here in 1989, so I can't take any credit for planting it. Beech retains its leaves through the winter, and then in Spring the new green leaves appear, and the hedge grows quickly. I usually cut it back to where it used to be in May each year - otherwise the drive would get narrower and narrower and we wouldn't get the car up the drive, nor into the garage. The pictures here were taken in May, 2011. The hedge used to run all the way back to to the garage, with only a narrow opening to allow us to walk into the front side garden. But when Jamie was living at home I extended the opening to create an extra parking space for his car, so that we could both come and go without having to move the other car.




In this picture I had already cut the back part of the hedge beside the garage before I had the idea to take some photos, and add this section to my web site.

You can see that I have all the tools necessary for the job. A hedge trimmer is essential otherwise I doubt if I could get the hedge cut at all. I have lots of cardboard stored in the garage, and lay it down on the drive at the foot of the hedge before starting. This makes it very easy the rake up the clippings, and put them in the brown bin for recycling. I do have my own compost heaps, but usually just put the clippings in the brown bin.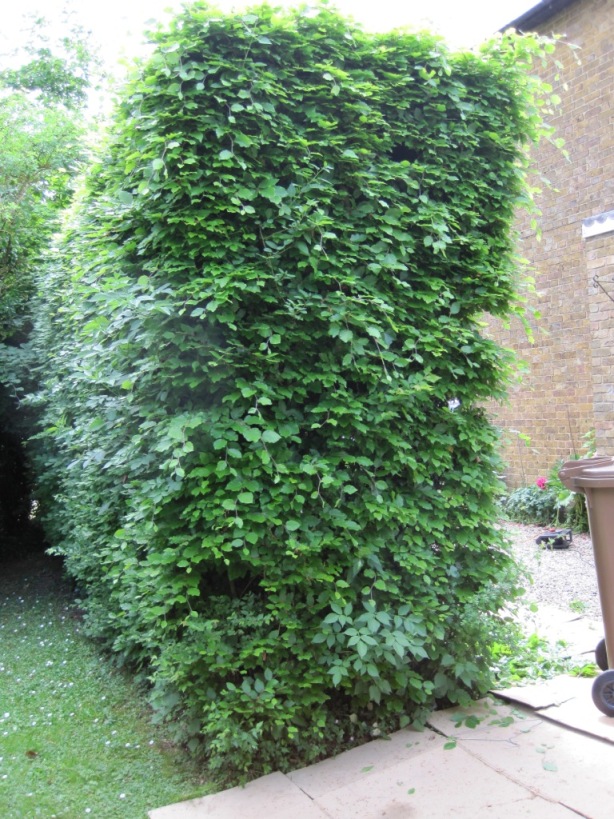 This picture was taken before trimming, and shows the width of the hedge. It doesn't need to be this thick really, and I have cut quite a bit off the drive side. This side gets the sun, and the hedge soon recovered from being cut back. If I did a similar cut back on the garden side it would take quite a while to recover - so I have just left it.

The hedge is just over 4 feet thick, and just over 9 feet high. In metric this is 1.25 metres by 2.75 metres.

So I need to get the ladder out to reach the top, and climbing the ladder, cutting a bit, coming down, moving the ladder, climbing up again, etc, all adds considerably to the time I take to complete the job. That said though, I can do the whole job in half a day - so half a day once a year is not too much of a chore.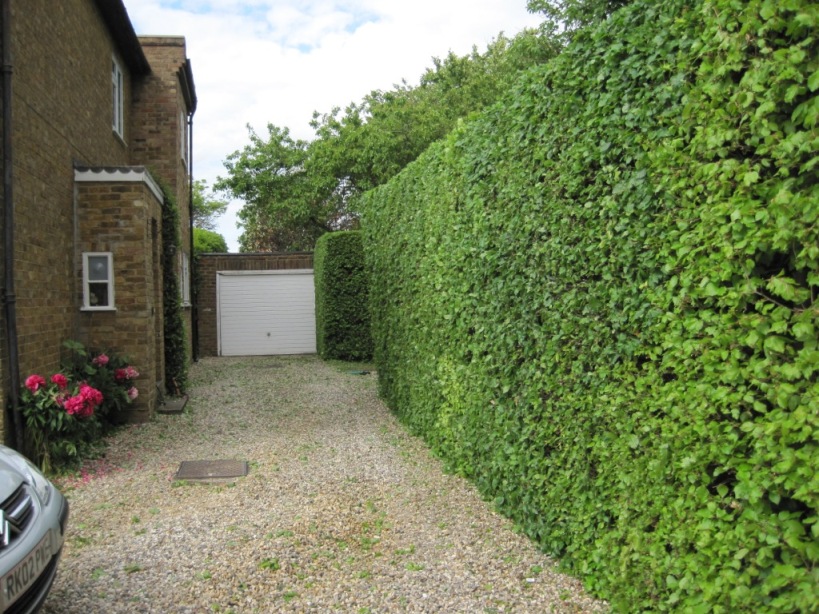 This shows the hedge just after cutting. It was windier than I thought, and so some of the leaves were blowing all over the place. I was still picking some up days later !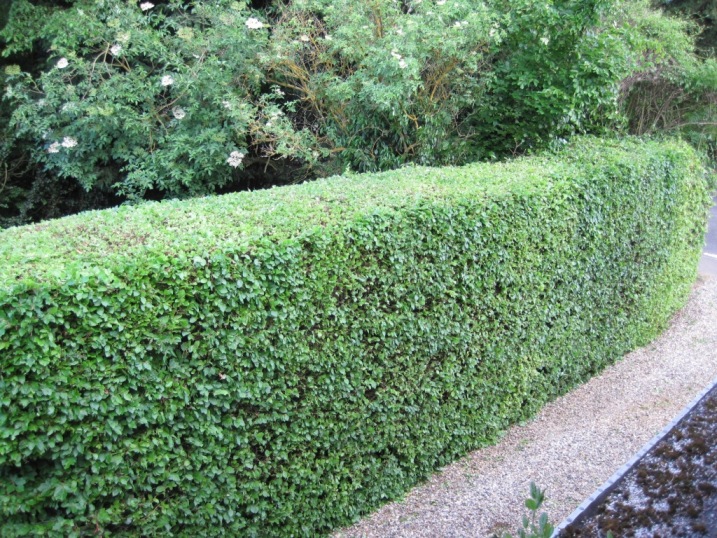 This picture was taken from the upstairs bedroom window, and shows just how wide the hedge is. When cutting the top, I can trim three quarters way in from one side, usually I start at the drive side, and then I have to go round to the other side to complete the job.






Links to home page and other garden photos :

Links to other photos :

Links to home page and early and school days




Links to family pictures