Our trusty family cars

Through the years we have had several cars which have taken us all over the UK, and back again. I thought it would be nice to remember them on my web site. I'll need to look out old slides for photos of the earlier cars, "when I get the time".

I have always kept very full records of running costs, and I hope to add a table to show what the cars cost for depreciation, repairs and fuel, again "when I get the time".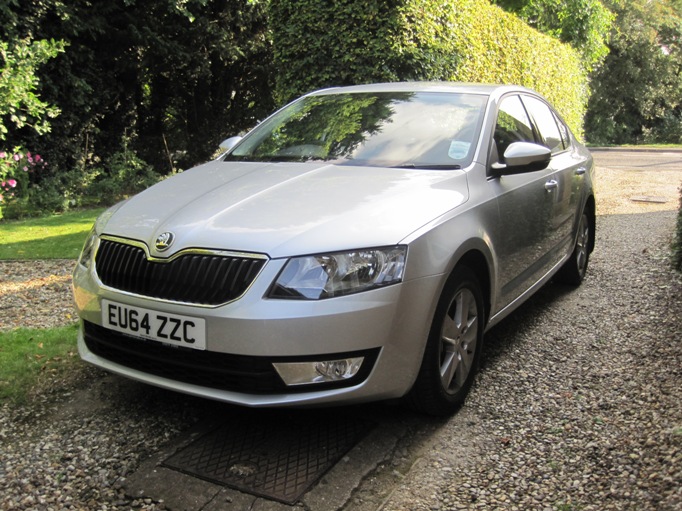 EU64 ZZC. This is the current car at the time of writing - i.e. from 1st September, 2014. Our previous three cars were Citroens, and so we would have liked to get another, but the current Citroen C5 was not a hatchback. The new car is a Skoda Octavia 1.4 TSI SE. It has a 1400 cc petrol engine. I thought it was the biggest petrol car we could get without sacrificing too much in the way of mpg. Diesels were ruled out as they now have DPF's which can clog up if subjected to repeat short journeys.

The Skoda is well specified with climate control, a digital radio, stop / start (which we usually switch off), smart phone coupling (but we don't have a smart phone), different driving modes (normal, sporting, and ECO which we use) and should go 0 to 60 in 8.4 secs, but get a genuine 40 to 45 mpg - although we will need to wait to confirm this. At November, 2014 we had done just over 3,000 miles, and had averaged a true 45 mpg with which we were /are very pleased.

We got the car from Spirit Skoda in Harlow, Essex, paying £18,537 including metallic paint and a spare tyre, and net of a £1k discount. I wanted a better discount equivalent to the "What Car" target price, but we were carless for the first time in many, many years, and Spirit Skoda had exactly the right car in stock for collection on 1st September. This saved having to hire a car to entertain visitors from Australia, so we just said yes.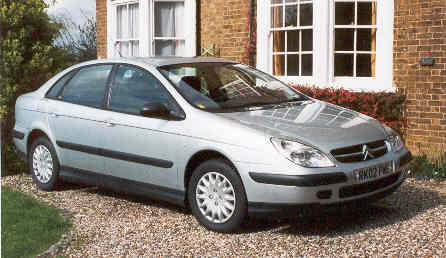 RK 02 PWE. This was the family car for 12 years from 2002 to August 2014. Our previous two cars were Citroens, and so we thought we would get another. Its a Citroen C5 2.0 HDi LX, and its our first diesel. Its quite a big car, so we thought we'd better get the diesel for the mpg. Also it should be easily able to get to Aberdeen without refuelling. We had to go to Slough to get a good discount. We got it 15.03.02, and paid £11,995 plus £300 extra for metallic paint. We did almost 160,000 miles in it, and it was the best car that we had ever had. It was a very comfortable car, and perfect for cruising down the motor way. We averaged 48 mpg over the life of the car !.

We have always liked big comfortable cars, and would have got another similar car long before 12 years / 160k miles, but for one problem. For a big car you need a diesel for economy, and from about 2008 approx all such diesels were fitted with a DPF - diesel particulate filter. These are OK if you don't do too many consecutive short journeys - but if you do, the DPF clogs up if it doesn't get the chance to regenerate, and it can cost £800 and more for a new DPF. So we stuck with the C5 longer than we should. In August 2014 the clutch (it was still the original clutch) started to judder. We didn't want to book it in for a repair as Peter and Liz were coming over from Australia, and we wanted the car to take them places. Sadly the clutch went completely and the car was stuck in 1st gear on our drive. Citroen Assist got the car to Motorsales, our Citroen dealer, who said it would cost between £900 and £1,200 to repair the car. We didn't think it was sensible to spend such money on a 12 year old car, and so we scrapped the car getting £130 from Carmageddon, and £88 back for the road tax. RIP.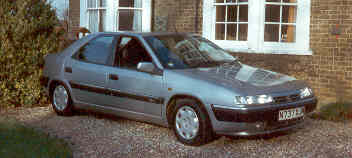 N 737 XJM. This was a Citroen Xantia 1.8i 16v Dimension. We bought it pre-registered from Citroen UK, and so got a new car for a second hand price. We paid £10,995 on 30.11.96. Almost 6 years later we could have replaced it with a petrol Citroen C5, for the same £10,995 in a discount deal. The only problem with the Xantia was the high insurance group, penalising its performance. It was quite expensive to extend cover to include two teenagers when they reached 18.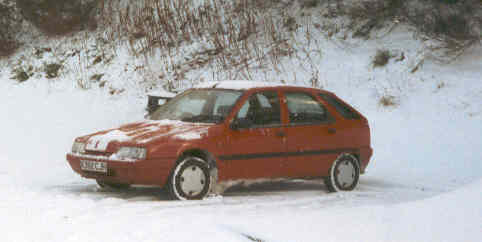 This was a Citroen ZX 1.4 Reflex, which we got on 25.11.92, paying £7,855. Like the Xantia, it was a pre-registered car. It was a lot more comfortable than our previous car, a small Fiat. The ZX was surprisingly roomy.

The photo was taken just before Banchory, on the lower Deeside road.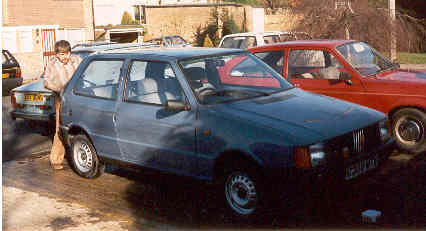 C309MTW. This was a Fiat Uno 45, and was our first new car. We got it on 29.04.86, paying £ 4,584. It was ever so economical, and very reliable indeed, but small cars just cannot complete with big ones for comfort, and you felt every bump in the road.






SJV13T. Photo pending. This was a Renault 20 TL auto, which we got second hand for £ 900 on 11.08.81. It was an ex company car, and too good a bargain to turn down. It had done 79,000 miles when we got it, and it appeared on the notice board at work with the warning "engine needs repair". I wasn't put off by this, as the engine was the same as in our previous car. I took it out for a test drive and straight to the local Renault dealer who knew the car. All that was wrong was it needed a cylinder head gasket and a good clean. I took an extra days holiday on the Friday, replaced the gasket , and we went on holiday in it the next day. It was a lovely motorway car. It was also the first auto that we had, and 20,000 miles later needed a fairly expensive gearbox repair.






SMO925M. (photo pending) This was a Renault 16TS, which we bought on 06.07.76 when it had 21,000 miles on the clock. The Renault had a column gear, and the most versatile of seating arrangements. A front arm rest folded down to allow 3 in the front, and the rear seat could be moved back and forwards to increase leg room or boot space depending on requirements. For a while we had three cars in the family, all with different gear changes. Chris had the use of her dad's Viva, with conventional gear change, we still had the 16TS with column change, and we had just got the 20TL, auto.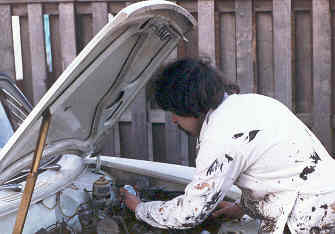 This was a white Morris 1300GT, with hydrolastic suspension, and was a lot more comfortable than our previous car, a Mini. I'll try to look out a better picture. It had quite good performance, for the period. It let me down returning from Aberdeen to Harlow, but luckily I was a memebr of AA relay service, and they took me and the car from Perth to Harlow, but it was a long journey. It needed a new idler gear, which meant removing and stripping the engine. I hired a hydraulic lift to do this, and manhandled the enging on a sort of trolley into the lift, and up to my 8th floor flat. I bought an old banger - a Morris Minor to keep me mobile whilst I did the repair.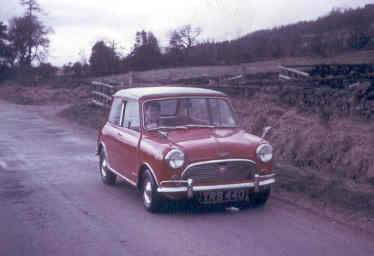 TRS 440. This was a red Mini Cooper with a black roof. It was quite a fun car, but second hand it wasn't really reliable, and I was always having to do running repairs (I don't know how many times I replaced the radiator bypass hose), or tuning the twin carbs. It nearly always needed a repair (wheel bearings, drive shaft, valves) after every journey Harlow to Aberdeen. Sometimes it would get me up to Aberdeen, but have to be repaired to enable it to tackle the return journey. Now, any modern car takes the journey in its stride. The biggest job I did on it was to replace the gear box. But for all that, I really liked that car, and I have always had a soft spot for a Mini.




Photo pending. This was a a Triumph Herald, my first car. Access for repairs was excellent as the bonnet and wings hinged up and forwards to reveal everything. The rubber supension kept squeeking, and I was always brushing brake fuid onto the rubber to stop this. A full tank was about 4 gallons at 4 shillings and 10 pence - i.e. less than a pound in total, but this was a lot at the time, and I was a poor student.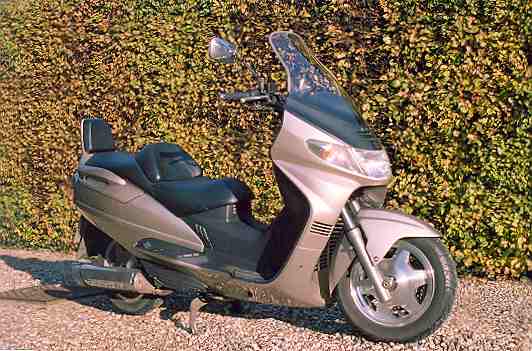 Although not a family car, I thought I would add a picture of what used to be the current scooter. It was a Suzuki Burgman AN250 - the 250 stands for 250cc. It was an automatic with electric start, all the gizmos and a huge storage box under the seat. Its had good acceleration and performance and was quite a change after a lifetime of Vespas. It wasn't really a considered purchase. I took the Vespa in for its MOT. It failed, but would have got through with c £100 of work. However the tester said although he would then pass it this year, it would probably fail next year as there was a lot of rust on the sub frame. The failure cancelled the current MOT certificate, so I could take the bike home, but then I could not use it on the road. So I could not take it to Southend to get another Vespa. To cut a long story short, to stay mobile, I looked at what scooters the MOT place had in stock. There were no Vespas, so I picked the best of what they had, traded in the Vespa for £50, and so ended up with the Suzuki.

I got my first scooter when I was still a school boy in Aberdeen, and I used to give my sister a pillion lift to her school. This was a long time ago when Aberdeen winters were a lot colder than they are today, and winter frosts lasted longer. So we slithered over slidy roads with all the confidence of youth. Nowadays I would be doing about 5 mph over such surfaces - but I was always an all weather biker. With helmet, jacket, waterproof trousers, and thick gloves it takes a while to get togged up, but then you usually keep more or less dry underneath all that lot. Its only the gloves that let me down really - although quite good webbed ones ( thumb and two fingers) they are not really up to winter frosts and then my fingers usually get quite numb, especially the finger tips.

In April, 2010 I took the Suzuki for its annual MOT, and was amazed to discover that I had only done 150 miles in a whole year. I no longer commuted to work, no longer had to go to Chemlsford for twice monthly blood tests, and no longer took the scooter to get the morning paper. In short, I no longer used the scooter, but it was taking up valuable room in the garage. So, I sold the final (I think) scooter on 30th April, 2010. The end of an era streatching back over 50 years ! Its a bit sad really.

To return to "More about me" click here.

Links to other photos :

Links to home page and early and school days


Links to family pictures

Links to home page and other garden photos :