Iain's Leisure Reading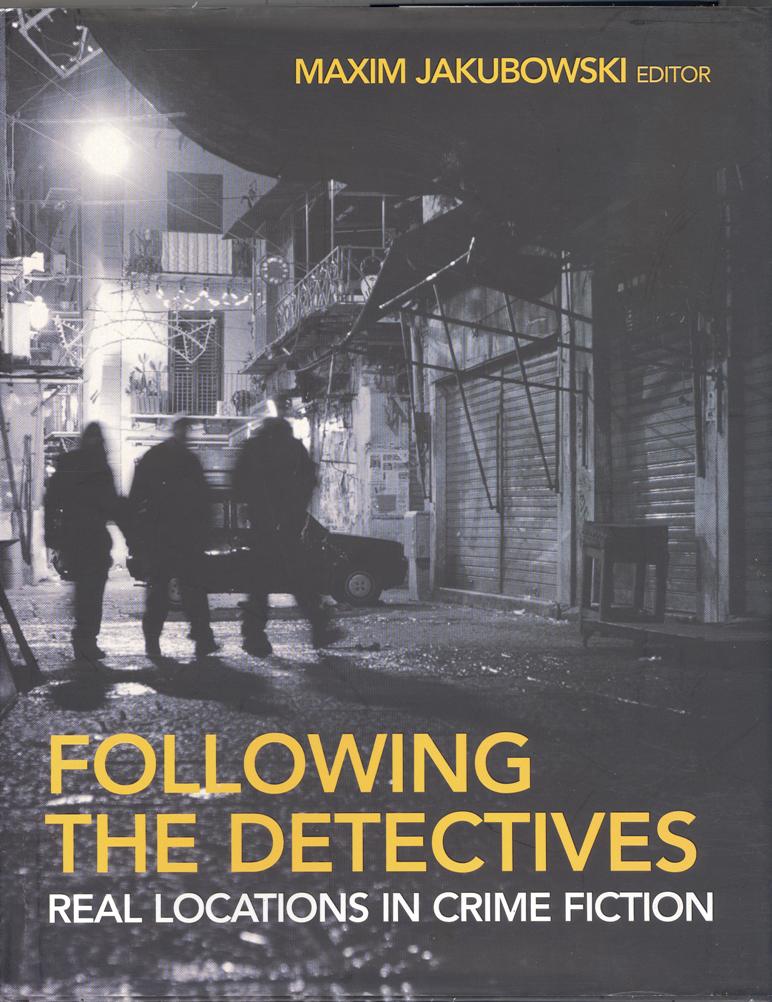 I have been referring to this book since 2014.
I came across this book in 2014, and found it most interesting and informative - it's almost a bible of crime fiction. It is aimed at the avid detective fan. The main editor is Maxim Jakubowski, a journalist who has written extensively on crime, has run a bookshop in London, and published several boooks. He was brought up in Paris before moving to London. There are about a dozen international contributors to the book - editors, crime writers, critics, etc.
The book covers real locations throughout the world which have been used in crime fiction. Just about every continent is included, and there are lots of useful maps. There are excellent location, book and author indexes at the end of the book. Typically the book picks several of the greatest detectives in crime fiction, and then shows a map of where there books are set, and gives interesting background on the authors and their fictional characters. I have listed the main sections, and linked them to sections in my "leisure reading." I have only read a few from Jakubowski's list, but I do have some books on his list bought, but waiting to be read. And it does give me lots of ideas for future reading. Its an excellent book which I commend.
Donna Leon and Commissario Brunetti's Venice
Sara Paretsky and V I Warshawski's Chicago
Arnaldur Indridason and Erlendur's Iceland
John MacDonald and Travis McGee's Florida
George Higgins and Eddie Coyle's Boston
John Harvey and Charlie Resnick's Nottingham
George Pelecano's Washington DC
James Lee Burke and Dave Robicheaux's New Orleans
Ellis Peter and Brother Cadfell's Shropshire
Dashiell Hammett and Sam Spade's San Francisco
Declan Hughes and Ed Loy's Dublin
Ross McDonald and Lew Archer's Southern California
Lawrence Block and Matt Scudder's New York
The above are only the main headings - there are lots of references to other authors and other locations. It would be nice to work my way down the list and add some structure to my reading, but I doubt how many of these books I could source from UK charity shops. And as comprehensive as the book is, my almost random reading has introduced me to lots of terrific series not mentioned by Jakubowski.
Links to subject index and home page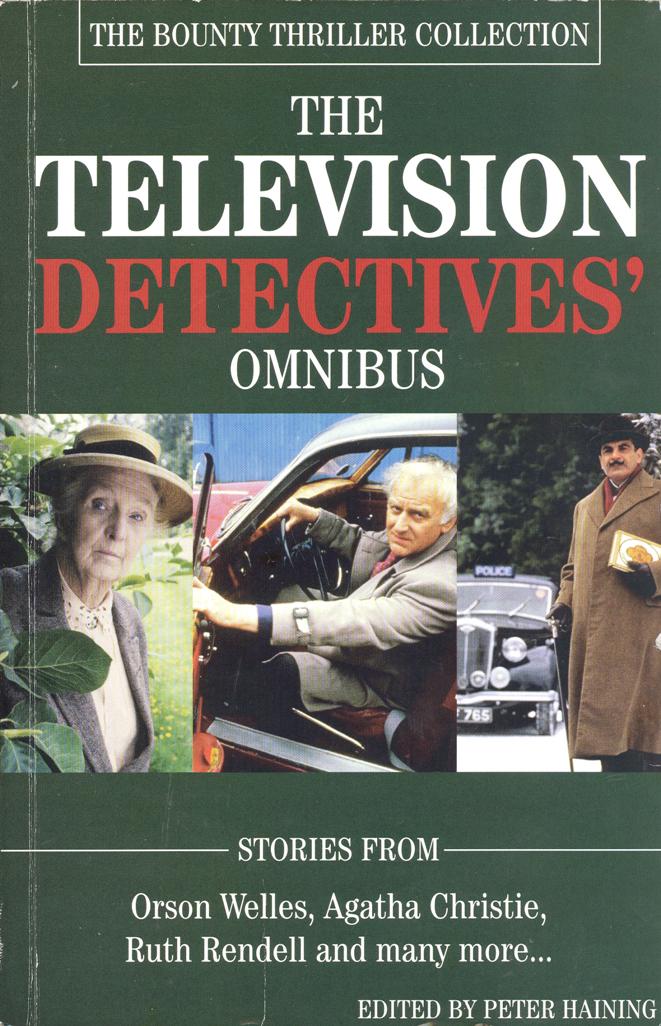 I bought this book in 2016 and read it in Dec/16, Jan/17.
I came across this thick book in a charity shop towards the end of 2016. It is a compilation of over 30 short stories by various authors. Normally I don't like short stories - not enough meat, little time for character development, etc - but I was impressed by the list of famous authors and recognised and liked many of the detectives. I thought it might be a good way to meet up with an old favourite once again, or to be introduced to a possible new one.
I can't really say that I have rushed out to buy any new authors yet, but possibly I will give some a go. Mostly though I ended up liking those that I already knew, and getting annoyed by the shortness of some of the stories. All the detectives have appeared in some TV series, either in the USA or the UK, or both, and often they have also appeared in the cinema, or on radio. In short, they were all very popular in their day, and some have stood the test of time better than others. New possibilities for future reading include Perry Mason, Charlie Chan, Gideon of the Yard, Inspector Ghote, Maigret, and Miss Marple.

I have listed the short stories under headings of Character / Title / Author, and added a few comments throughout.
Sherlock Holmes - The Adventures of the Three Garridebs - Sir Arthur Conan Doyle
A lovely story - could three people have the same unsuual surname ? But what is the story really about ? The story illustrates the bond between Holmes and Watson.
Craig Kennedy - The Death Cry - Arthur B Reve
Craig Kennedy a has been called the American Sherlock Holmes. It's a decent enough little story about inheritance and murders in a hotel.
Colonel March - The Footprint in the Sky - John Dixon Carr
I had never heard of Colonel March of Scotland Yard's Queer Cases (impossible cases). It's a lovely little story with a twist on the footsteps in the snow routine.
Ellery Queen - The Adventure of the Emperor's Dice - Ellery Queen
Confusingly, the main character and the author have the same name - Ellery Queen, and as for the author, it's a nom de plume for two American writers. I liked the set up of having the character an american author with a secretary Nikki, and he helps his DI father Richard solve cases where the victim usually, helpfully lives long enough to leave a cryptic clue as to the murderer. But the actual story was so stupid, contrived and dated, and it all turned out not to be a dream but a hoax. I didn't like it, and felt cheated, but Ellery Queen is famous, so I might try a longer story, perhaps.
Sam Spade - Too Many Have Lived - Dasheill Hammett
The author worked for the Pemberton Detective Agency, and Sam Spade is as famous as any - e.g. he appeared in "The Maltese Falcon" film. The story was sound. Sam was asked to trace Elie Haven by a notorious gangster who hoped to marry Elie's mother. Then the mother herself called on Sam Spade for help. But it was too short a story to learn much about Sam Spade. I'm not much wiser, really.
Perry Mason - The Case of the Irate Witness - Erle Stanley Gardner
This is a gem of a story about the famous lawyer Perry Mason by an author who was himself a practising lawyer. I hadn't thought of the Perry Mason stories as crime fiction, but why not ? We meet Perry, his secretary Della Street, and his enquiry agent, Paul Drake. The case against the accused seemed 100%, but Perry spotted what had really happened (by listening to his client, something the police didn't do), and won the case. It was clever stuff.
Charlie Chan - Walk Softly Stranger - Robert Hart Davis
This is another famous detective, a Chinese American of the Honolula police. The original author, Earl Biggers only wrote 6 novels, but his creation lived on under other authors, and Hart Davis is resonsible for this tale. I thought that this was the best story so far in this omnibus, but probably also because it was the longest. Still, I liked Charlie Chan. He has a good sense of humour, and sometimes speaks in Pigeon English / Chinese Proverbs, because "it is expected of me".
Philip Marlowe - Marlowe Takes on the Syndicate - Raymond Chandler
A nice little story where nothing is quite as it seems, but somehow Philip Marlowe is still alive at the end, and $5,000 better off - a lot of money for those days, so why was he always so depressed ? How he can live in constant danger and still sleep at night is a real mystery.
Mike Shane - Not - Tonight - Danger - Brett Halliday
The detective is a Florida based contemporary of Philip Marlowe, but the story is far to short to form any opinion.
Harry Lime - It's In The Bag - Orson Welles
This is another tiny story. The character was created by Graham Greene in "The Third Man". In the film, Orson Welles played Harry. It's a train in a dark tunnel story.
The Saint - The Smart Detective - Leslie Charteris
The Saint is a Robin Hood character who robs from the rich to help the poor, has an eye for the ladies, and is always one step ahead of the police. In this story a "smart" policeman sets out to tempt and capture the Saint, but who is the smart one here ?
Gideon - Gideon and The Chestnut Vendor - John Creasey
The hero here is Commander Georges Gideon, head of CID at Scotland Yard. The author is a very profific police crime writer with over 600 books under 30 different pen names. If he wrote over 40 years say, that is over 1 book a month, every month, month in, month out. Remarkable ! I liked Gideon - warmth, sincerity, and high mental prowess - and I'd like to read some more.
Paul Temple - Light Fingers - Francis Durbridge
This is a very short story, but we do meet Paul's famous wife, Stevie.
Inspector Ghote - The All-Bad Hat - H R F Keating
This is a story about Ganesh Ghote of Bombay CID. He appears too naive to be a policeman, let alone CID, but is always underestimated, and usually gets his man. I liked the sound of these simple, different tales.

Georges Simenon

The detective here is the famous Commissaire Jules Maigret of the French police. Simenon wrote 84 Maigret books - and masses of other stories too. Here we have a gang of thieves controlled by Stan, the killer, but when Maigret finally puzzles out what is going on, it's too late, and Stan is dead.
Mr J G Reeder - The Treasure Hunt - Edgar Wallace
I had never heard of mild mannered Mr Reeder who works for the public prosecutor's office. It's a clever little story - I liked it.
Van Der Valk - Van der Valk and the False Caesar - Nicholas Freeling
The hero is a chief inspector in the Amsterdam police. It's an impossible to prove story about mushroom poisoning.
Lord Peter Wimsey - The Footsteps That Ran - Dorothy L Sayers
The hero is ex army, is bold, and has a formidable brain, but its all disguised under a "silly ass" "Bertie Wooster" camouflage. Wimsey is helped by his ex army sergeant now manservant, Bunter. They are on the spot at a friends when there is a murder in the flat upstairs.
Father Brown - The Eye of Apollo - G K Chesterton
Father Brown is a catholic priest / sleuth who some time ago outwitted a famous French master criminal Flambeau, who now helps Father Brown. This was a silly story, and if I ever read any more Father Brown it certainly won't be because of this tale.
Lew Archer - Guilt-Edged Blonde - Ross MacDonald
Here the twist is we have an environmentally friendly detective based in Santa Barbara, Califonia. He was hired to protect a racketeer who got killed before the PI turned up, but Lew Archer stayed to solve the murder. An average story.
Nero Wolfe - The World Series Murder - Rex Stout
The detective is obese, and relies on his assistant Archie Goodwin to do the running about, clue finding. The story is told from Goodwin's point of view. Initially, I thought it was quite poor, but it was long enough to improve, and I ended up quite liking it.
Sexton Blake - The Man Who was Hammered - Jack Trevor Story
Sexton Blake is reportedly the world's longest serving detective. He was created by Harry Blyth in 1893 as an imitation of Sherlock Holmes (and even based in Baker Street !). Since then he has appeared in over 4,000 cases, under the pen of some 400 writers - 2 stories a week, week in week out in newspapers. His young assistant is Tinker, and his landlady Mrs Bardell. This was a good, fair sized story. Mr Fletcher a solicitor had asked Sexton for help some 15 years ago, when his business partner disappeared with the partnership funds. Now the missing man turns up again, but is soon murdered. Did Fletcher do it for revenge - cue Sexton Blake.
Dick Barton - The Garage Racketeers - Geoffrey Webb & Edward J Mason
Here we have a famous PI and special agent Dick Barton, with his helpers Jock Anderson, and Snowey White. Dick was originally created by Norman Collins, but Geoffrey Webb and Edward J Mason were the famous scriptwriters for the radio serial that ran from 1946 to 1951. I used to follow Dick's cliffhanger radio adventures, and was upset when it was replaced by a "farming serial." Strangely I am still listening to "The Archers" some 60 years later. This was a great little story about Benny, a racketeer , getting small garages to pay protection money, but meeting his match in Dick Barton.
Hazell - Hazell and The Patriot - P B Yuill
The hero is an ex cop London PI, created as a Philip Marlow type character but set in London. I thought it was very run of the mill.
Rumpole - Rumpole and The Hanging Judge - John Mortimer
Here we have wily old Horace Rumpole of the Bailey. I am great Rumpole fan, and have read all his books, but I doubt that I would started reading Rumpole on the basis of this story - and that would be a great mistake, and a great loss. So perhaps I shouldn't really think of searching here for new books to read.
Dalgleish - Great Aunt Allie's Flypapers - P D James
This is a lovely little story featuring Commander Adam Dalgleish of the Met, one of my favourite detectives. It's a clever, humourous story where Dalgleish is asked by his ancient but loved godfather to investigate a 60 year old murder. The old gentleman, a canon, did not want to inherit tainted money obtained dishonestly.
Jemima Shore - Jemima Shore at the Sunny Grave - Antonia Frase
This is a new character to me. Jemima is an investigative reporter for a TV company who has Mrs Bancroft as a cleaning lady, and a friend in DCI Portsmouth of the Yard. Jemima is very attractive, and clever, and the story was OK. It was set in the Caribbean where an old lady benefactor was tricked and murdered.
Miss Marple - The Case of the Perfect Maid - Agatha Christie
Agatha Christie lived 1890 to 1976, and Miss Marple is probably the most famous female detective in fiction. Never underestimate prim, proper Jane Marple. It's a simple little story, well told, and Miss Marple solves a crime for DI Slack.
Campion - The Snapdragon and the CID - Margery Allingham
Albert Campion is a "silly ass," spectacle wearing, amateur detective with a keen mind. He has a cockney valet Magersfontain, and his police contact is Inspector Oates of the Yard. This is a silly little overcomplicated story where Slack drags Campion out at Christmnas to explain a real puzzler, but the puzzle has already been solved by the time Campion gets there.
Poirot - The Adventure of the Clapham Cook - Agatha Christie
This is another Agatha Christie story, but this time featuring her other famous detective, the immaculately dressed Belgium Hercule Poirot. Poirot is assisted by his friend Captain Hastings, and he usually outwits Inspector Japp of the Yard. This is a nice little story showing Poirot's character and brain power. It involves a missing cook whose employer wants her back. Initially Poirot thinks this case is beneath him, but he takes it on, and enjoys solving the puzzle.
Inspector Wexford - When the Wedding Was Over - Ruth Rendell
This features the great DCI Reg Wexford, and his asistant DI Mike Burden. Like Morse, Wexford enjoys a pint in his local - in this case the "Olive and Dove" in Kingsmarkam. This is a typical slow paced Wexford story, and we get to meet all the main characters - Wexford, his wife Dora, his two daughters, and of course, Mike Burden. But for once, I was well ahead of Wexford, and in truth, I didn't think it was cleverness on my part, but more unusual stupidity on Wexford's part. Q - is 1900 a leap year ?
Inspector Morse - Morse's Greatest Mystery - Colin Dexter
Here we have another of my favourites, Oxford based Inspector Morse, and his assistant Sergeant Lewis. This is a tiny story, but it captures the essence of Morse and Lewis. I have deliberately never read the last Morse book (I have it) so that for me, Morse is still alive in Oxford, enjoying a pint of real ale in some local. Cheers, Morse.
Links to subject index and home page