Iain's Leisure Reading
This series of books is one of those covered in Following the Detectives - real locations in Crime Fiction, &nbsp - q.v.
I like to know a little about the authors that I read - when and where they lived, what else they did other than writing, and how this informed their work. So I usually do a little research, and summarise what I have discovered. There are masses of write ups about Raymond Chandler who certainly saw life, and his brilliant creation, the world weary PI Philip Marlowe. Raymond Chandler is described as one of the founders of American mystery writing, and one of the best. Many of his books are classics, and of course, Philip Marlowe made it to the big screen in lots of memorable films. So how best to summarise all this.
Raymond Chandler was born in America in 1888, but his alcoholic father abandoned the family, and the mother took her family to London in 1900 where Raymond was educated. Later, in 1907, he took British citizenship to allow him to apply for a job in the British Civil Service. He worked at the Admiralty for just over a year, but didn't like it, resigned, and eventually became a reporter on the Daily Express and the Bristol Western Gazette newspapers. He met a slightly older Richard Middleton, who Raymond thought was a lot more talented. Richard did not make it as a writer, and committed suicide. Raymond thought, if Middleton could not make it, how could he ? And so, sadly, Raymond Chandler did not start writing until later in life - when he was 42.
In 1912 he borrowed money, and returned to America (he later retook American citizenship in 1956, three years before he died in 1959). He worked in various jobs in the 1910's, and enlisted in 1917 when America joined the first world war, and he saw combat action in the trenches in France with the Gordon Highlanders ! After armistice, he returned to America, Los Angeles, and began a love affair with Cissy Pascal, a married woman 18 years his senior, and the step mother of a Gordon Pascal, with whom Chandler had enlisted. Cissy amicably divorced her husband Julian in 1920, but Chandler's mother disapproved of the relationship. His mum died in 1923, and he married Cissy in 1924. In 1922 he was working as a bookkeeper and auditor, and by 1931 he was a highly paid vice president of the Dabney Oil Company - but his alcoholism (like father, like son), absenteeism, promiscuity with female employees, and threatened suicides all led to his dismissal a year later. He certainly led a colourful life - excellent training / rich life experience for an author. During the Depression, Chandler had been reading trash pulp fiction, and thought he could do better. So he took to writing late in life, and did of course do better.
He wrote poetry, screenplays, short stories, etc, and his first professional work was published in 1933. His first novel was "The Big Sleep", in 1939. This featured his famous detective Philip Marlowe, a detective character speaking in the first person. His second novel was "Farewell, My Lovely" of 1940, and he went on to win high acclaim. Cisssy died in 1954 after a long illness, and lonely and depressed, Chandler took to drink - to the detriment of his writing. He attempted suicide in 1955, went to England, returned to America, and died in 1959. He was buried at Mount Hope Cemetery in San Diego, California, and his wife Cissy's remains were finally buried beside him in 2011, 57 years after her death ! This was brought about by one of Chandler's fans. During his life, drunk and heartbroken, Chandler had failed to get round to interring Cissy's remains.
Critics from W H Auden to Ian Rankin, admired Chandler's style. His was some of the finest dialogue ever written in prose. Swift moving, hard-boiled, sharp - his writing redefined the private eye fiction genre. His creation, Philip Marlowe was not just a typical tough guy, but complex, ethical, sentimental, university educated, a student of chess and classical music. The high regard in which he is held today is in contrast to the sniping he received when he was alive. Colin Dexter's Morse, an Oxford graduate, lived for his classical music. When I started reading detective fiction I admired the dialogue of Ian Rankin's Rebus. I can see lots of parallels, but Chandler did it all more half a century before.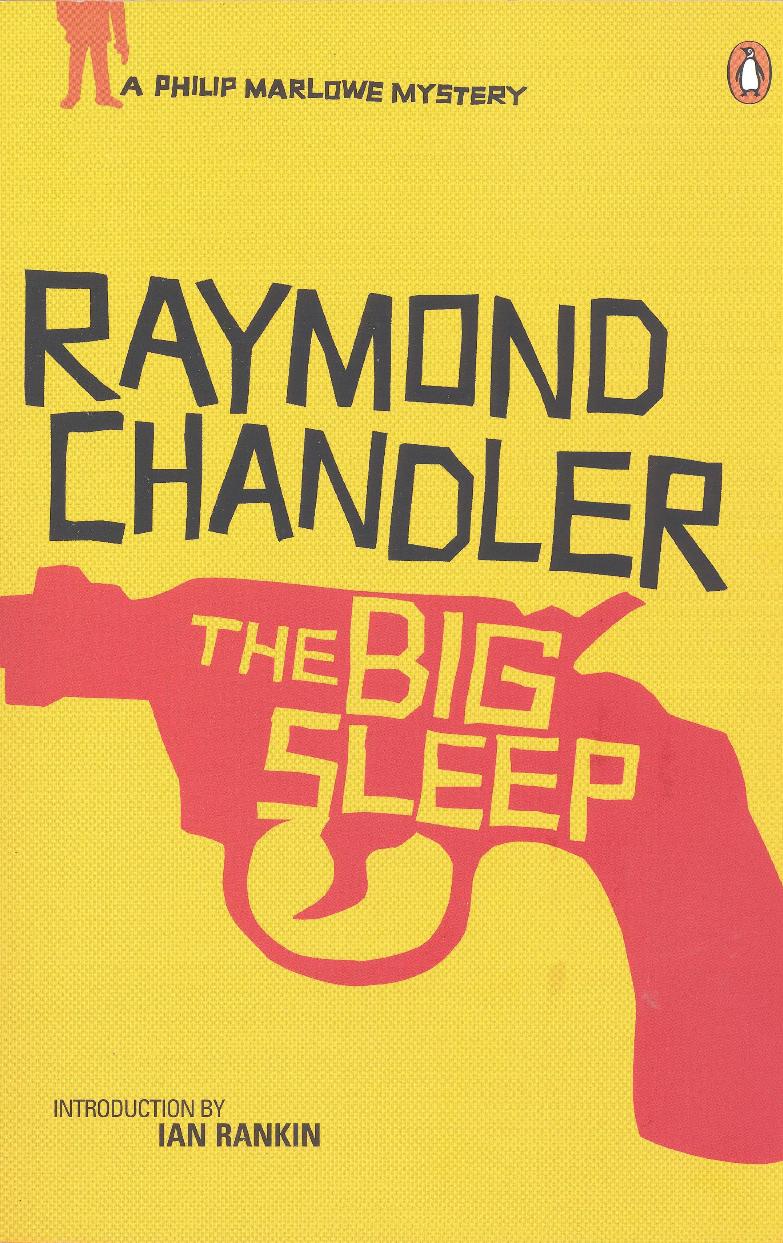 I read this book in June, 2014.
"The Big Sleep" is the first book in the series featuring one of literature's most famous private eyes - Philip Marlowe, world weary PI of LA. The book was first published in 1939, and set the standard. It is a famous work, but I have only just got round to reading it in June, 2014.
I had been reading the Elvis Cole (and Joe Pike) books by Robert Crais, and was quite enjoying them. Elvis Cole is also a PI working out of LA, and wize cracks his way through the books. So I thought it was really high time that I read the Philip Marlowe books to see how they compare.
The version of "The Big Sleep" book that I read had an introduction by Ian Rankin, whose John Rebus books I had rated so highly. Ian admires Raymond Chandler, and plays homage to a great writer. Ian says the first paragraph of "The Big Sleep" is his favourite paragraph in all of crime fiction - high praise indeed.
Raymond Chandler's style is very sparse. It is very condensed, and tells a bare story stripped of all superfluous fat. I didn't think it had dated too much - although Marlowe's rate of $25 a day has obviously been overtaken by inflation.
The story is about a very wealthy ex soldier General Steinwood who lives in a plush LA mansion set in it's own grounds. The general is now in very poor health - almost bed ridden. He has two daughters - Vivian and Carmen, both wild and out of control, into drugs and sex. The general gets a blackmail note, and , instead of paying up, he calls in Philip Marlowe to find the blackmailer, and get it sorted. The elder daughter was married to a strong character Rusty Regan, who got on very well with the general. Then Rusty just disappeared one afternoon. Everyone thinks that the general has called in Marlowe to find the missing Rusty. Marlowe takes care of the blackmail, but uncovers a whole can of worms. To really get to the bottom of what is going on, Philip Marlowe will probably have to track down Rusty after all.
I think nowadays we get to know the hero of the book better than we know Philip Marlowe. But we know he is his 30's, is fit, can take care of himself, is single and has no relatives, and lives life by a moral code that makes him one of the good guys of this world.
I don't think this is the best work of crime fiction that I have ever read (I don't know what would be !), but I can recognise quality writing. If you like crime fiction, than you simply have to read Raymond Chandler / Philip Marlowe. I wonder if the character of Philip Marlowe will change as the series progresses. I certainly intend to read on, and find out. I also hope Philip Marlowe finds some fun in the next book. He seems to lead a very dark, friendless life. He needs a partner.
Links to author index and home page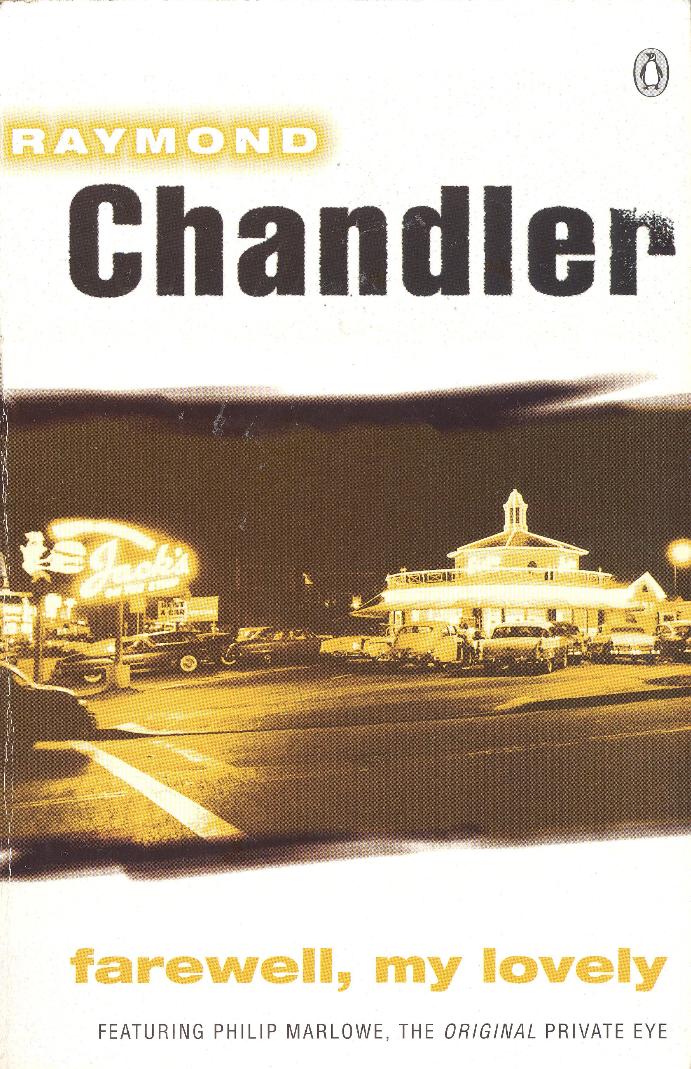 I read this book in November, 2014.
"Farewell, My Lovely" is the second book in the all time classic series about private detective Philip Marlowe, set in LA in the 1940s and written by the great Raymond Chandler. Philip Marlowe has been described as the most famous detective in fiction since Sherlock Holmes, and who am I to disagree ?
The writing, and the rhythm of the prose is superb. It's a very sparse style - nothing flowery, nothing superfluous. I really enjoyed reading this classic of detective fiction.
The story was a bit strange. Sometimes, Philip Marlowe is just following a hunch for no obvious reason - i.e. obvious to the reader. At one stage he was risking his life to smuggle himself aboard a gambling ship to meet a Mr Big who was behind a lot of the crime in the area. But Mr Big could have been anywhere - Philip Marlowe had no sound reason to believe he was aboard.
The story opens with Philip Marlowe meeting a giant of a man - "Moose Maloy" - of gigantic build, and strength to match. He is just out of jail, and looking for his girlfriend Velma. She had never visited him in prison, but he thinks that if he can find her, they can carry on as before. We then switch to a story about a precious, rare jade necklace stolen from a Mrs Grace, the beautiful young wife of a rich, but older man. The robbers want a ransom to return the necklace, and Mrs Grace asks her friend Marriot to handle the negotiations and recover the goods. So he has $8,000 in cash, and is off to meet the robbers, but at the last minute, Marriot hires Marlowe for $100 for company / protection. Alas, all doesn't go well, but Philip Marlow puts his head down, and keeps going when everyone else would have given up - apparently only to earn his $100.
Malloy reappears through the story, but we have forgotten about his search for Velma until the very end of the story. It's all a bit implausible, but there is plenty of action, corruption everywhere, good cops and bad cops, and lots of wise cracks. All in all, its very well done.
One word of caution. It was written in the 1940's, and a lot of the then current references passed me by. Coloured people were regarded as worthless by many in the story, and are referred to with the disparaging "n....." word, now taboo. I didn't mind it in its 1940's setting - but if it offends, be forewarned.
Overall , it's a great piece of writing, and there is a terrific surprise at the end that only dawned on me very late on. I look forward to reading the next in the series.
Links to author index and home page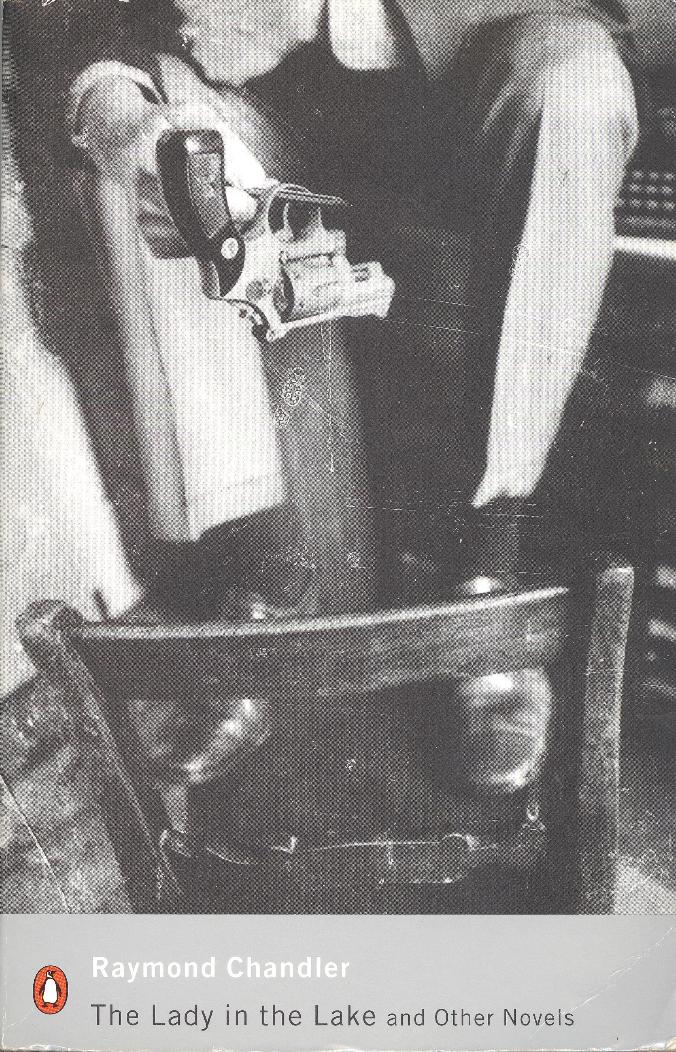 I read this book in March, 2016.
It took me a long time to find a copy of "The High Window," the third book in this timeless classic series. Eventually I came across a Philip Marlowe trilogy - The High Window, The Lady in the Lake, and The Little Sister - so I found two missing books in one go - I already had a copy of "The Lady in the Lake". I gladly paid £3.99 in a charity shop - pleased that I could now continue reading this excellent series.
I don't think "the High Window" is one of the best known books in the series. I liked the first third of the book, then I started to wonder where the story was going, and what was the point of all this. I got back on track towards the end of the story. Throughout I was always impressed by the quality of the writing - no one does better wisecracks than Raymond Chandler - and by the sparse, lean style of writing. But I was somewhat thrown by the story.
We start off with our hero, Philip Marlowe calling on a potential new client - the very rich widow Mrs Murdock. Marlowe is kept waiting, asked for references, and has his fees questioned by a sozzled, port addicted Mrs Murdock. Eventually he is hired - times must be hard for Marlowe to agree to work for so ungrateful a client. Apparently Linda, Mrs Murdock's daughter-in-law has run off, left her husband and pinched a gold coin from the late husband's coin collection - a famous Brasher Doubloon. Mrs Murdock wants the coin back (it's worth $10k), and for Marlowe to find Linda, and sufficient grounds for the son to divorce Linda. Mrs Murdock's secretary Merle Davis, a very nervous young lady gives Philip a photo of Linda, her car registration number, etc. Very soon of course its obvious that things are not as they seem. Just about everyone connected with the missing coin is later found dead - killed, but it's made to look like suicide. Two cops appear on the scene - detective lieutenant Breeze, and his sidekick, the young fresh faced Spangler. They don't suspect Marlowe of doing any of the killings, but they know that he is not being very helpful to their enquiries, and they lean on Marlowe to reveal who he is working for. This Marlowe cannot do - he has his own way of doing things / own code of honour. Soon we are awash with characters, I wasn't sure where the story was going, but it's apparent that the missing doubloon was not the main story. But just what the story really is, is not at all clear. It took me ages to work out that if there was a main story, it was that of the painfully shy secretary Merle Davis. Why was she so absolutely convinced she was lucky to be working for such a benevolent employer as Mrs Murdock, when the opposite was really the case. The clue is in the title - The High Window.
There is a sort of ending but not everyone gets punished for their misdeeds. Marlowe does what he can, but sighs at the foolishness of his fellow man (lady in this case). He can't really take on all the cares of the world - it's just not possible. So once again we have a world weary detective - its true life, its not neat, its all very imperfect.
I preferred books one and two, but this is still a fine piece of writing by a master of the craft. I would prefer a simpler storyline, though - and its nice if justice is done, and seen to be done. That however is not the world of Philip Marlowe. Raymond Chandler is a fine writer - some of it has now dated, but a lot is surprisingly fresh.
Links to author index and home page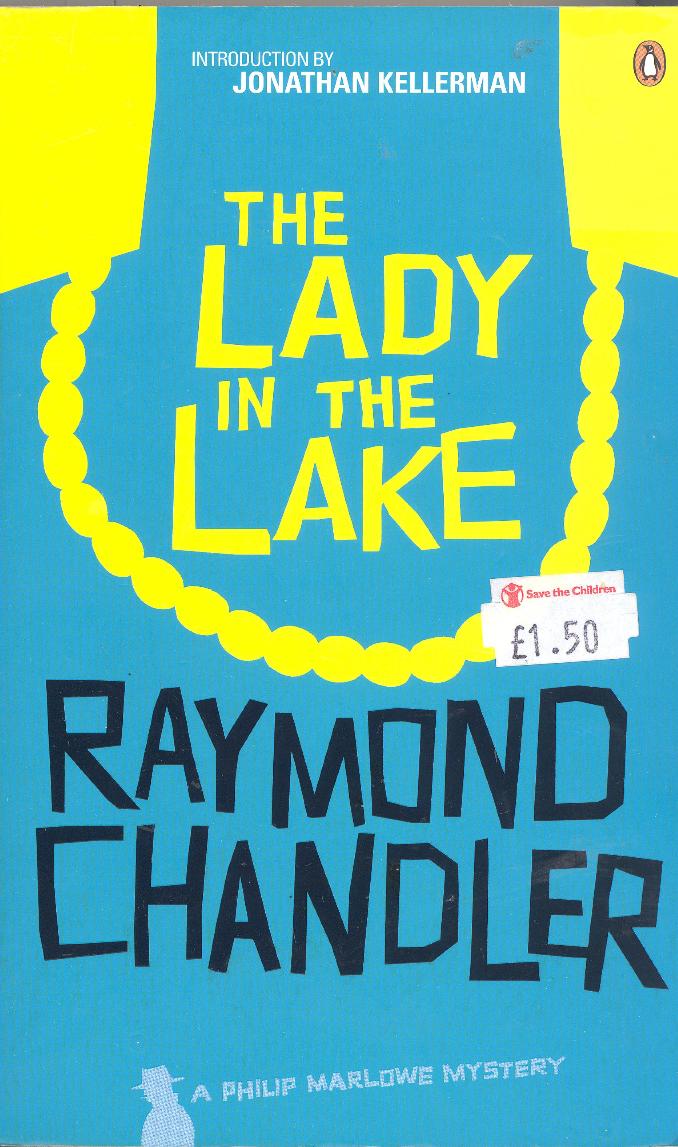 I read this book in June, 2016.
This is book four in the classic, highly praised, series about world weary PI Philip Marlow by Raymond Chandler. I liked the book - who wouldn't - but I still think books one and two are better. Above all I like the writing style, the weariness, the terrific one liners, never bettered, but the plot was a bit convoluted, somewhat complicated, and had to be explained to us at the end in the clasic detective explains what happened / who did the murder(s) wrapping up speech.
The plot is roughly as follows. Derace Kingsley is rich and successful, and he hires Philip Marlow to find his missing wife. She had run off with her boyfriend Chris Lavery about a month ago. Derace was no longer in love with his wife - his affections had switched to his cool, super efficient classy secretary. However he thought his wife might be in trouble, and so thought he should do the right thing, and get Marlow to go look see. Lavery is back home, and at first he denies running away with Mrs Kingsley, so Marlow goes off to where the missing wife was last seen - ie the couples' mountain cabin, in a secluded spot near a lake, Little Fawn Lake near Puma Point. The caretaker there is an old timer called Bill Chess, and his wife too has gone off. But Muriel Chess is not who she claims to be. Bill and Philip are sitting on a little pier on Little Fawn Lake, when Bill notices a body floating in the water beneath them. The "Lady in the Lake." Its his wife Muriel. So, we ask ourselves, what has any of this to do with the missing Mrs Kingsley.
We now add more characters and complications to the story. There are three main cops, city slickers Captain Webber, a corrupt Degarmo, and old Bill Patton, the local cop at Puma Point. Bill Patton is a wily old character, apparently a bit slow on the uptake, but underestimated. There are more murders too, and Marlow seems to be at the wrong place at the wrong time, every time. Marlow gets beaten up by Degarmo but survives, and doesn't bear a grudge. That's life for a PI. Possible Captain Webber may be that most unusual of cops in the Philip Marlow world - an honest copper. Bill Patton, of course, is an honest copper too - not corrupted by city life.
It all gets sorted in the end, no happy endings of course, and Philip Marlow goes on his lonely, weary way.
It was written in war time in 1943, and there is a mention of people huddled around a hissing with static radio trying to find out the war time news. Some of the references are out dated now, and American - ie not at all familiar to me. I took a while to read the book, not compelled to keep reading to see what happened next. Overall though, I liked the book.
Links to author index and home page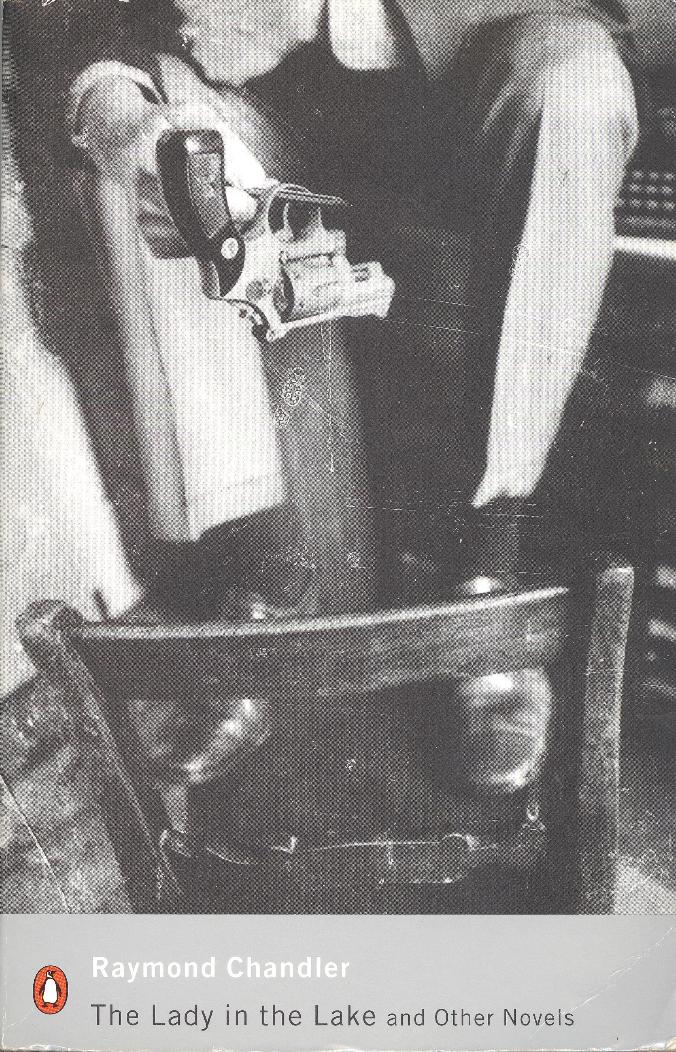 I read this book in November, 2016.
This is the second time I have written this little write up. Our computer crashed, and to cut a long story short we had to get a new computer, and restore to a back up that was not fully up to date. It's always a problem to work out how often to do the back up chore - daily, weekly, monthly ?

This is book five in the PI Philip Marlow series by Raymond Chandler. I liked the book, but of all the ones I have read so far, I liked this book the least. I thought the world weariness was greatly overdone. Anyone as world weary as Philip Marlow here would be contemplating suicide. Everything is a waste of time, nothing matters. And yet Marlow keeps on to the end - he has nothing else to do, no one else to see, he has started, so he will finish. The sparse writing style, and some terrific one liners are still here, so all in all, it was a sort of OK book rather than the treat I had been expecting.
Orfamay Quest is the little sister of the title, and she eventually visits Marlow's office to engage him to find her missing brother Orrin, whose letters home stopped a few months ago. Orfamay appears to be a prissy, prim and proper, innocent small town girl. Marlow has his doubts, but bored with life, he decides to give it a go. He starts off by visiting Orrin's last known address. There he finds a caretaker unconscious with drink whom he rouses, and who then tries to call a Dr Lagardie before passing out again. In Orrin's actual flat he finds a toupee wearing fellow who obviously isn't whom he claims to be - a "retired optometrist". Marlow goes back to the caretaker, whom he now finds dead, with an ice pick in his neck, leaves the building, and calls the police but doesn't leave his name.
Back in his office, a call from an anonymous man offering $100, brings Marlow to a hotel room where he finds the "retired optometrist" dead, also with an ice pick in his neck. A blond emerges from the bathroom, her face hidden with a towel, but carrying a gun with which she knocks Marlow unconscious. The blond also has a sister and a brother - guess who. Recovering consciousness, Marlow finds what whoever had trashed the room failed to find - a claim docket for a camera shop hidden under the optometrist's toupee. And so Marlow gets his hands on Orrin's hidden camera pictures of an up and coming blond actress (Mavis Weld) dining with a reputed gangster named Steelgrave. The story now gets gets very complicated - why are the photos so toxic, did they lead to the death of Orrin, and why are they so valuable ? Of course drugs are involved, alibis for criminals, corruption, etc, and the police are very suspicous of Marlow's role in all this. They know Marlow is not co-operating fully, and threaten to revoke his PI license. Mavis Weld has an "assistant / companion" - Dolores Gonzale who plays minor parts in fims, but a major part in this story.
In the end its all about jealousy and money - and Marlow leaves things as they are with a sort of justice being done in the end, but not all the crimes and criminals being punished. Lack of trust sours any Marlow / police co-operation, but in this dirty, corrupt environment we meet an honest DA politician, who like Marlow is just trying to do his best.
As I said above, an OK sort of story, a convincing picture of a seedy world - but not the classic book I was hoping for.
Links to author index and home page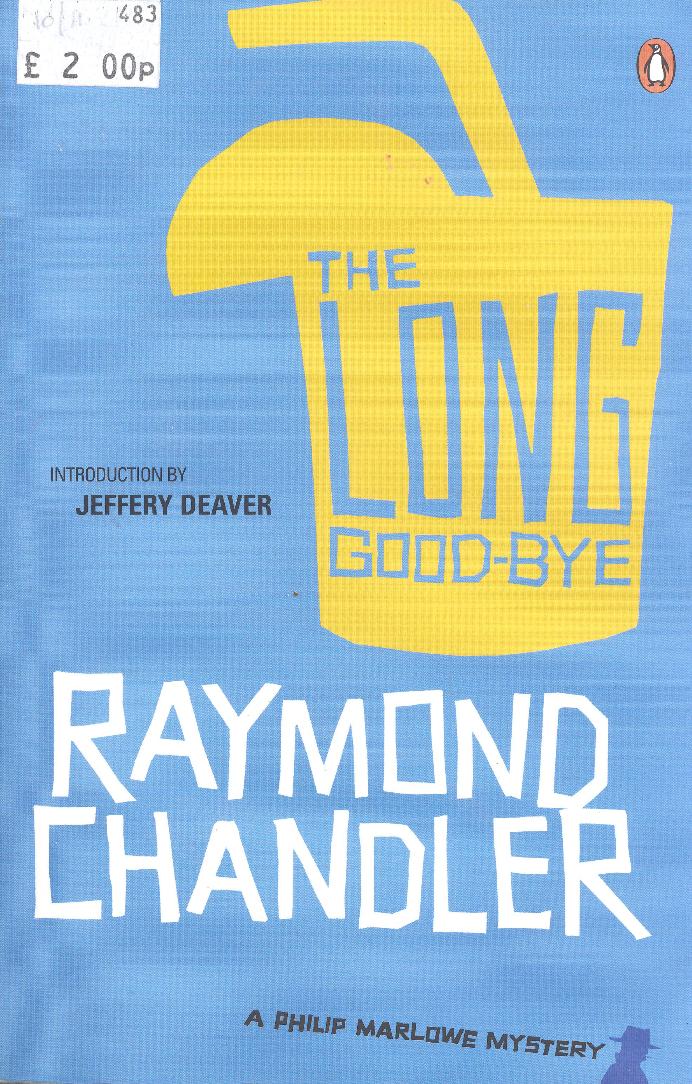 I read this book in May, 2017.
This is book six in Raymond Chandler's oft quoted classic series about iconic loner PI Philip Marlowe. It's a long book with a big story that keeps going just as Philip Marlowe keeps going. I thought it was the best so far in a terrific series. To be ultra critical, maybe 10% of the book went "off the boil" about 60% into the story, but it perked up again quite soon, and had a terrific ending. No wonder Marlowe is all alone in the world - he has impossibly high standards. He ends up turning down a perfectly good offer of marriage from a beautiful, wealthy woman whom he likes. She says, so what if the marriage only lasts 6 months, we'll have had a terrific six months. And then, when an old friend turns up most unexpectedly, that friend too is sent packing. We were two different guys when we were friends, says Marlowe.
The book opens when Philip first meets Terry Lennox, drunk at the wheel of a Rolls Royce. Philip knows what it's like to be down on your luck, and so he gives Terry a helping hand when he needs it, and the two become drinking pals. Terry married into money - one of the two daughters of a very, very rich business man, Harlem Potter who treasures his privacy. The daughter is sleeping around, and openly cheating on Terry, and when this daughter is later found savagely beaten to death, Terry is the obvious chief suspect - a revenge killing against an unfaithful wife. Philip doesn't think Terry is guilty, and helps him get away to Mexico. The police pick up Marlowe - he tells them nothing, and gets beaten up by tough, cruel coppers. But later, as balance, we meet good coppers who believe Philip Marlow.
Next Marlowe is hired by a book publisher to find out why his star author is drinking so much, and unable to write. The writer is Roger Wade, married to the most beautiful woman Marlowe has seen in a long time. When Roger Wade goes missing, Mrs Wade hires Marlowe to find her missing husband - and this Philip does. And now, for a long time, Philip seems to be working for nothing - sort of baby sitting Roger Wade who doesn't want a baby sitter. Marlowe gets no thanks for this - just the opposite, quite a load of grief.
Two stories - Terry Lennox and Roger Wade - and of course the stories will turn out to be connected, but you'll have to read the book to find out how. There are lots of twists and turns, and apparent suicides the police are happy not to investigate too thoroughly. Philip is warned to let it go - but he is not the sort of guy to let things go. "What kind of PI would I be, if I allowed myself to be scared off a case ?
I always try to read books in the right order - although I didn't think it would matter with these sort of stand alone books. However now we get references to previous cases - we revisit Idle Valley, and meet again a former honest DA who is now a highly paid private lawyer - probably in the pay of Harlem Potter.
There are lots of bits of this book that have been quoted. I thought some of the famous descriptions of drink were those of Philip Marlowe himself - but they are actually the thoughts of Tery Lennox.
It's all very bleak, a picture of a corrupt world where money buys most things - politicians, police, etc. But in short - it's a terrific book!
Links to author index and home page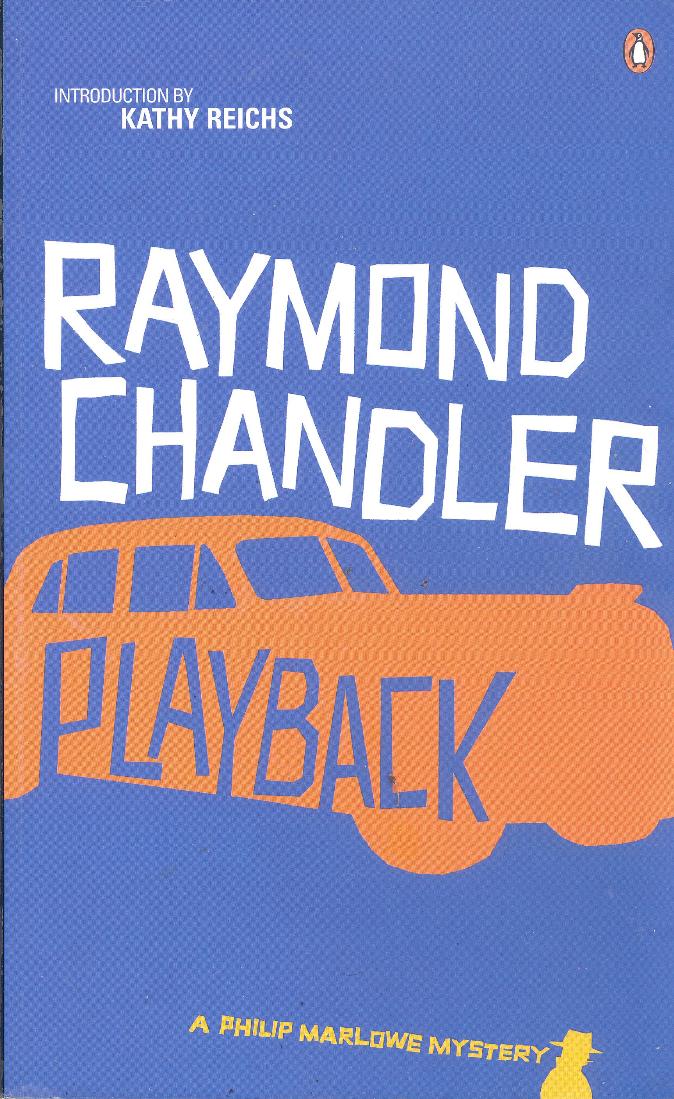 I read this book in August, 2018.
This is the last of the seven Philip Marlow books that Raymond Chandler wrote, and it took me ages to find a copy in a charity shop. Eventually I did find one in a bargain basket outside an animal charity shop in Bury St Edmunds. The deal was 25 p per book, or 5 for £1. I gladly paid my 25p - I'd have willingly paid a lot more.
Chandler was 70 when he wrote this book, and sadly he died a year later. I wonder if he wrote it as a farewell to Philip Marlow - in parts it seems to read like that. Chandler seems a bit more introspective, and there are even discussions as to "does god exist ?" However all the smart wisecracks are still there, and mostly the sparse, condensed writing style remains intact. I didn't think it was the best book in the series, but it was still very good. I liked the beginning, and the end, but perhaps the middle wandered on a bit. Philip Marlow had stayed on at his own expense to help a damsel in distress who seemed a poor actress and spun him all sorts of false stories. But still he stayed there. As he wondered what he was doing, so I too wondered where the book was going - but then it all came good in the end. Philip Marlow remained an independent man to the end - and perhaps there was even a sort of happy ending suggested for the future. Whether it ever came true , we will never know.
The story opens with Marlow employed by a local lawyer to follow a lady to wherever she ends up, and then report back. The lawyer is acting as agent to another lawyer and says he knows nothing of the background. The lady in question has several names, but mostly is known as Betty Mayfield. Marlow observes Betty and recognises some one in trouble. Two other people are following Betty - she seems to have had a colourful past, and someone has recognised her, and is trying a little blackmail. The other person following Betty is a fellow private eye. Who is he working for, and what on earth had Betty done to bring all this on herself ?
There are lots of escapades,a dead body or two, etc and Marlow even meets a few honest cops who even treat him fairly. Lots of people seem to be offering Marlow money for a variety of reasons, but Marlow remains true to himself and his basic honesty. There are lots of well known quips scattered throughout the story. I liked the one uttered by Marlow "If I wasn't hard, I wouldn't be alive. If I didn't know how to be gentle I wouldnt deserve to be be alive."
All in all, an excellent series that I though really deserved it's high reputation. Did someone say - "Often imitated, never bettered ?" As fair a summing up as any, I would say.
Links to author index and home page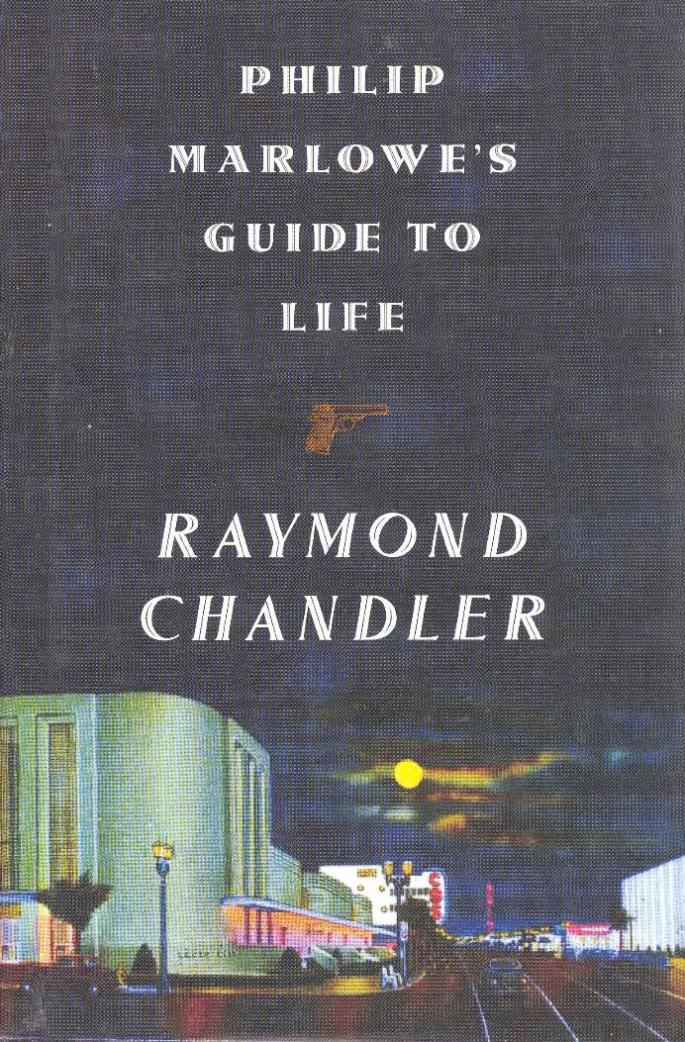 I read this book in October, 2016.
I came across this book in a charity shop in early October, 2016. It is a little book full of Philip Marlowe quotations. I read a few, and then a few more, and so simply had to buy the book, take it home, and carry on reading. It's a brilliant effort with about 170 odd quotations arranged alphabetically under headings ranging from Advertising
("as elaborate a waste of human intelligence as you could find anywhere outside an advertising agency" - The Long Goodbye) to Writers
("I'm a writer", Wade said "I'm suposed to understand what makes people tick. I don't understand one damn thing about anybody" - The Long Goodbye)
The choice of quotations is that of the editor, Martin Asher of Vintage / Anchor Books. I'm sure many Chandler fans would come up with a different selection, but I thought Martin Asher's did a fair job. Out of interest I counted the number of quotations per Chandler book, and came up with the following :-

The Long Goodbye 71
Farewell My Lovely 38
The Big Sleep 29
The Little Sister 22
The Lady in the Lake 7
Trouble is My Business 6

I thought I would give a few quotes just to give you a flavour of the book :-
On Blondes - "It was a blonde. A blonde to make a bishop kick a hole in a stained glass window"
On Hollywood - "In Hollywood anything can happen, anything at all"
On Dames - "I like smooth, shiny girls, hardboiled and loaded with sin"
On Booze - "I like the neat bottles on the bar back and the lovely shining glasses and the anticipation. I like to watch the man mix the first one of the evening and put it down on a crisp mat and put a little folded napkin beside it. I like to taste it slowly. The first quiet drink of the evening in a quiet bar - that's wonderful."


There are of course many, many, many more gems in this book. I loved it !
Links to author index and home page