Iain's Leisure Reading
The Early Years
The St Leonard's Years
The Lost Years
Capital Crimes
&nbsp
&nbsp
The Inspector Fox series
&nbsp
This series of books is one of those covered in Following the Detectives - real locations in Crime Fiction, &nbsp - q.v.
I was first introduced to the Inspector Rebus novels when I worked at AST where there was a discount book club. An agent left samples, then later returned to leave books against any orders and payments. Thus I bought as a package the first 10 novels in the Inspector Rebus series for £10. £1 a book seemed to me a good deal - and at the time I set them aside to read when I retired. I knew that the novels were set in Edinburgh, and I had lived there when I was a young child. So I thought it would be a good way of renewing my acquaintance with "Auld Reekie". And as a Scot, I thought I should know more about one of Scotland's most famous living authors.
I think it is important to know a little about an author as his life informs his work. Ian Rankin was born in 1960 in Cardenden in Fife. Surprise, surprise, John Rebus, Rankin's creation was also born in Fife. Every book in the Rebus series gives a potted biography of Rankin - how he worked as a grape picker, swineherd, taxman, alcohol researcher, college secretary, hi-fi journalist and punk musician. It's not a pity that he worked as a journalist - it helped him develop a simple, concise writing style. But it is a pity that he worked as a hi-fi journalist and punk musician. Implausibly John Rebus has a love of punk related, wierd and unheard of Scottish groups, and I could do without all of this. There are also lots of musical references in the Rebus novels and musical joke / clues to the choice of his book titles.
Ian graduated from Edinburgh University, then moved to London for four years (Rebus was later to be called in to assist the Met.), and then he lived in rural France for six years. It was in France that he developed his writing skills that eventually brought him back to live in Edinburgh. He has a wife Miranda, and two sons Jack and Kit.
Rankin did not set out to be a crime writer. He started but did not complete a PhD thesis. Initially he thought he was writing in the literary tradition of Robert Louis Stevenson. There are lots of student type references to Scottish literature in Rankin's early novels.
I have read all the Rebus novels bar Exit Music, currently the last one. I think that even with my untrained eye I have seen Ian Rankin develop and improve as a novelist. The later novels are probably better written but I think its best if you don't start with them. Start at the beginning and follow John Rebus's progress. Watch the characters come and go, watch some develop throughout each novel, and come to your own conclusion as to whether it is a good thing or not as Siobhan changes into a female Rebus. However if you simply haven't got the time to read 17 novels, I would you suggest you start with book 12, The Falls.
To complete this potted history, Ian Rankin, OBE, also writes under the name of Jack Harvey. He has many awards and his books have won many prizes.
Oh, and there is something else you should know. The Rebus novels are written in real time set against what is happening that year - initially in Edinburgh, but later on Rebus visits much of Scotland, even Shetland. Rebus ages 20 years between Knots and Crosses (1987) and Exit Music (2007), and so has to relocate eg when St Leonards police station no longer has a CID division, and finally has to retire in 2007 when he is 60. The later novels count down the time to his retirement, but surely Rebus will live again. And of course, whilst Siobhan is there Rebus can exist as her mentor.
I have added an Ian Rankin book also set in Edinburgh but featuring Inspector Malcolm Fox - "The Complaints." This is after reading that there will be another Rebus book eventually after a couple of Malcolm Fox ones, that Rebus is not really retired but working for a section of the police reviewing / re-investigating old cases, and that Fox and Rebus might appear in the same book.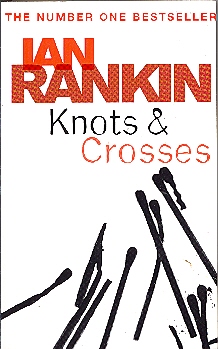 This is the first book in the series, and introduces us to the then detective sergeant John Rebus, "complete with estranged wife Rhona, young daughter Samantha, and fragile sanity." In a later introduction Ian Rankin confesses to blush at the number of literary puns and references in this his early work. At the time he had no notion that this would be the start of a series of books.
The story is set in 1985. Rebus lives in 24 Arden Street, Marchmont, Edinburgh - in a tenament that Ian Rankin sees as he looks out from his desk in his student digs. There is a serial killer who preys on children and taunts Rebus with clues - knotted string and matchstick crosses. But the strength of the book is above all in the character of John Rebus to whom we are introduced and whose history is slowly revealed - he is deeply flawed, but some how we care for him, and wish him well. He has lots of enemies, but he is his own worst enemy. A rebel against authority. He abhors what is later known as political correctness. He enjoys more than the occasional drink, and a coronary inducing diet. A walking wreck of a man. It is strange that we like Rebus - Ian Rankin said that if he met Rebus in his local (the Oxford) he would avoid his company.
Links to author index and home page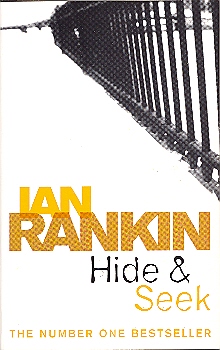 Instead of being dismissed, Rebus has been promoted - it is now Detective Inspector Rebus. "A junkie lies dead in an Edinburgh squat, spreadeagled cross-like on the floor between two burned-down candles, a five pointed star daubed on the wall above"

The cast of characters grows - although the main non Rebus character, Siobhan Clarke does not appear until book 5, The Black Book . Gill Templar has left Rebus months ago. Rebus has an assistant - detective constable Brian Holmes - "I'm the one with the brains, Brian. You are the one with the shoeleather". Brian Holmes has a girlfriend Nell Stapleton. Rebus chips away at the sleaze and corruption hidden below the surface of Edinburgh.


Links to author index and home page


This is book 3 in the series and it's set in London. Rebus is called in to assist the Met as an "expert" with experience of serial killers. I quite enjoyed the book, but I missed the Edinburgh setting, Rebus having a drink in the Ox, etc. Some of the action is quite spectacular, especially the conclusion. If it were ever made into a film it would cost quite a bit for the special effects.
Links to author index and home page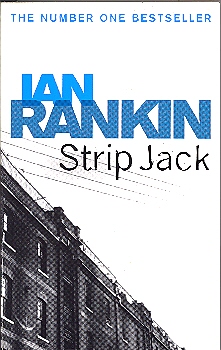 Quite a lot of the background to the Rebus novels is set against the murky world of politics - and usually the politicians are quite a corrupt and self serving bunch. An MP, Gregor Jack, is caught in an Einburgh brothel and the media are suspiciously soon on the scene. The MP seems a decent chap, has been set up, and Rebus feels sorry for him. But of course all is not as it seems.
Links to author index and home page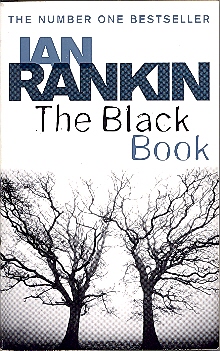 Quite a lot happens in this book. Rebus's brother Michael pays a visit. DS Brian Holmes is in a coma after an attack. He had been investigating something, and possibly this was why he was attacked. Rebus has to decipher Brian's coded black book - hence the title.
DC Siobhan Clarke makes her first appearance - initially she does the foot work in DS Holmes's absence. Siobhan is English, middle class, and a Hibs supporter. She has a good analytical brain and she and Rebus gell into quite an effective team. They do become good chums - but their relationship is always a complicated one. Will they ever become more than just good friends - this is the possibility that runs through subsequent novels. Eventually it is DS Clarke, and who knows it might one day be DI Clarke. Siobhan is a woman in a man's world - and has to work twice as hard to prove herself. She is an outsider, and eventually a rebel - just like John Rebus. As the novels proceed, Siobhan's character evolves and poor Siobhan becomes more and more like Rebus.
Links to author index and home page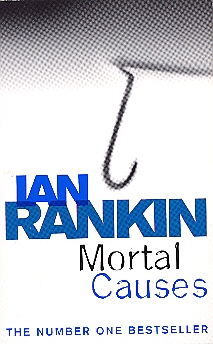 This book is set against the backdrop off the Edinburgh Festival. A brutally tortured body is discovered in one of the city's subterranean streets.
Edinburgh's premier gangster "Big Ger" Cafferty appears in lots of the Rebus novels. "Big Ger" and Rebus have a lot of history - each dislikes the other intensely, but each is quite willing to use the other when necessary. Rebus would dearly like to convict Cafferty - he does it once, but Cafferty gets himself released. Have Rebus and Cafferty more in common than they dare admit. "Big Ger" Cafferty is a very strong character.
Links to author index and home page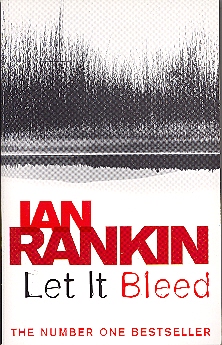 Edinburgh and Scottish politics are the setting for this novel - and Ian Rankin makes clear his utter distaste for most politicians. There is internal police politics, and corruption in high places. We also learn more about Rebus's background. Rebus's daughter Sammy reappears, as does Gill Templar. And Rebus, like a dog with a bone, just won't let go.
Links to author index and home page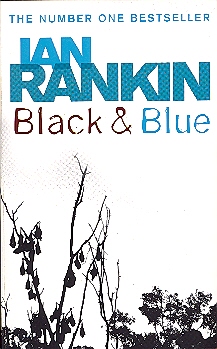 This is book 8 in the series, a substantial 500 pages, and Ian Rankin's writing grows in power and darkness. Rebus gets to Aberdeen and even visits Shetland. And DS Brian Holmes choses Nell over his job, and calls it a day as a policemen.
Links to author index and home page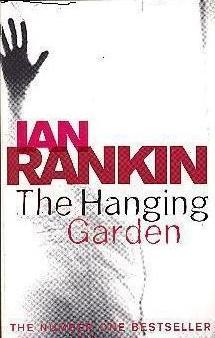 The main story is about multinational mobsters, drugs and prostitution. But Rebus's daughter Sammy gets caught up in the action, becomes the victim of a hit and run and is left crippled in a wheel chair. Rebus fears Sammy was targeted because to get at him, wants revenge at any price, and will sell his soul to the devil to get it.

Speak of the devil, here comes "Big Ger" Cafferty once again.
Links to author index and home page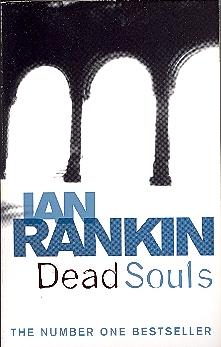 There is such a lot going on in this very dark tale. Ian Rankin usually writes an introduction to his novels setting the story in context - where was he living, where the idea for the book come from, why the title, etc. This introduction is particulary revealing though, and the character of Rebus develops 100 percent.

In the story, Rebus identifies a paedophile, and the vigilantes take over. Rankin has said that he does not really like Rebus - not his choice of drinking companion. He knew that Rebus would have one reaction to a paedophile -"out the bugger, and damn the consequences" - a knee jerk reaction. Rankin wanted the explore the possibility of changing Rebus's mind. Rankin also takes Rebus back to Fife, and we learn about Rebus's childhood. But the childhood that is being remembered is the authors.
Links to author index and home page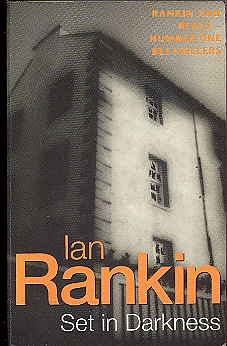 All the usual cast are back again in this tale set in an Edinburgh which is about to become the home of the first Scottish parliament in 300 years. Three bodies are found, but the third victinm is a prospective MSP, and so the pressure is on Rebus to supply answers , and quickly. Siobhan is there as a main character now, and her boss is CI Gill Templar - Rebus's old girlfriend. And Big Ger is there again, too.
The attraction of a Rebus novel is not just the story line - its the setting, the characters , the banter, the hardness, the squalor, the hard drinking, the corruption, the energy, and the bleakness. This is the 11th Rebus novel, and the books just get better and better.
Links to author index and home page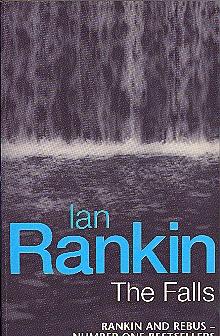 A student has gone missing, but of course there is a lot more to it than a missing student.
There are two lines of enquiry. Rebus investigates a craved wooden doll in a tiny coffin set in the past. Siobhan is more computer literate and investigates the clues set by an internet quizmaster. But this leads Siobhan to join the quizmaster's game and place herself in extreme danger.
This is the 12th novel in the series. If you don't want to read all the books in the series, this might be a good alternative starting point - although you will have missed a lot of background to the characters. The Falls is an excellent story, and the later novels get stronger and stronger.
Links to author index and home page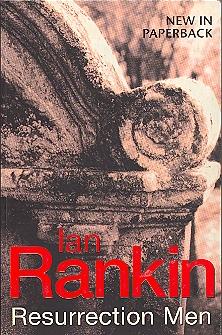 This book has an explosive opening very much in keeping with Rebus's flawed character. Rebus loses his temper, throws a mug of coffee at DCS Gill Templar, and is sent for "retraining" at the Scottish Police College - its either this or out of the force. He and some others also sent for retraining are given an old unsolved case to work on, to promote a spirit of teamwork - never Rebus's strong point. Then Rebus is asked to act as a go between for "Big Ger" Cafferty - who takes quite an interest in newly promoted DS Siobhan Clarke.
As usual, things are not entirely as they seem .......
Links to author index and home page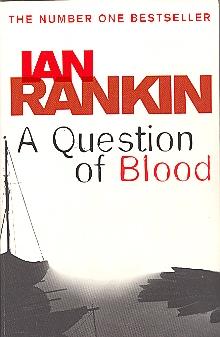 This is the last of the books set at St Leonard's police station. Ian Rankin had been informed that St Leonards no longer had a CID division, and so had to move Rebus.
Two teenagers at a private school are killed by an ex army loner who then turns the gun on himself. So there is no case really to investigate - the killer is known. But why did he kill the teenagers? Rebus himself, also an ex-army loner, becomes interested in the case, and sets out to answer the question why.
As usual, there are separate strands of story line co-existing. Siobhan was being stalked by a pettey criminal, who is later found burned to death. Rebus is fresh out of hospital with hands heavily bandaged.....
Links to author index and home page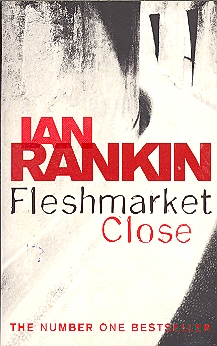 Two skeletons - a woman and an infant - are found burried beneath a concrete cellar floor in Fleshmarket Close. It turns out to look like an elaborate hoax - but why ?
Rebus however has troubles of his own. The St Leonards police station CID office has been closed, Rebus seems surplus to requirements where ever he is sent, and it is suggested that Rebus retire. Siobhan is helping a family - a teenager has gone missing - and is drawn into danger. And "Big Ger" Cafferty is still on the scene.
An illegal immigrant is found murdered in an Edinburgh housing scheme, and Rebus is drawn into the case. So there are lots of things happening at the same time, as usual.
Links to author index and home page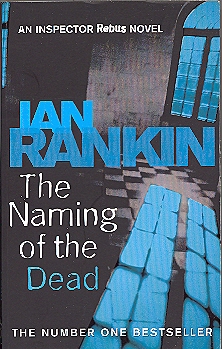 The year is 2005, and Rebus nears retirement age. A rapist, recently released from prison, has been murdered, and no one is particularly concerned about the crime. Rebus and Siobhan beg to differ.
The G8 leaders have gathered in Scotland. Rebus is investigating the apparent suicide of an MP, but his bossses want him well out of the way. Siobhan's parents are on a visit to Edinburgh, get mixed up in a riot, and injured by a riot police thug. Siobhan wants revenge.
Links to author index and home page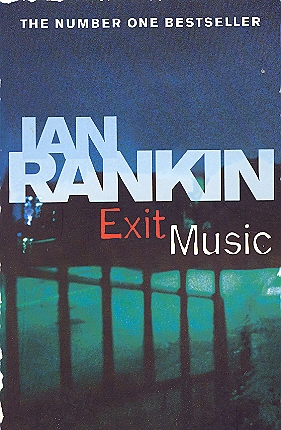 This is currently the last Rebus novel (or is it?). If so, I will miss the old rascal. It is retirement time for Rebus, but there is unfinished business.
I finally managed to get a copy of this book when surprisingly I saw it on a book stall in Herne Bay on sale for £2, but, even better, there was sign saying all books on this table were reduced to £1. I saved it to read when I flew to Australia.
I thought it an excellent read, perhaps the best of the series. It is set in Edinburgh, it has quite a strong story, and Rebus is his usual self. Siobhan is there to the end, as is Big Ger Cafferty. The dialogue is excellent, and it's a real page turner. Not is all as it seems, and there is a surprising finish that of course I cannot give away. I really hope this is not the end of Rebus, and I have read that Rebus will eventually reappear, perhaps in a book along with Inspector Malcolm Fox. So that we know who Fox is, I have added a bit about the first Fox book, "The Complaints".
Links to author index and home page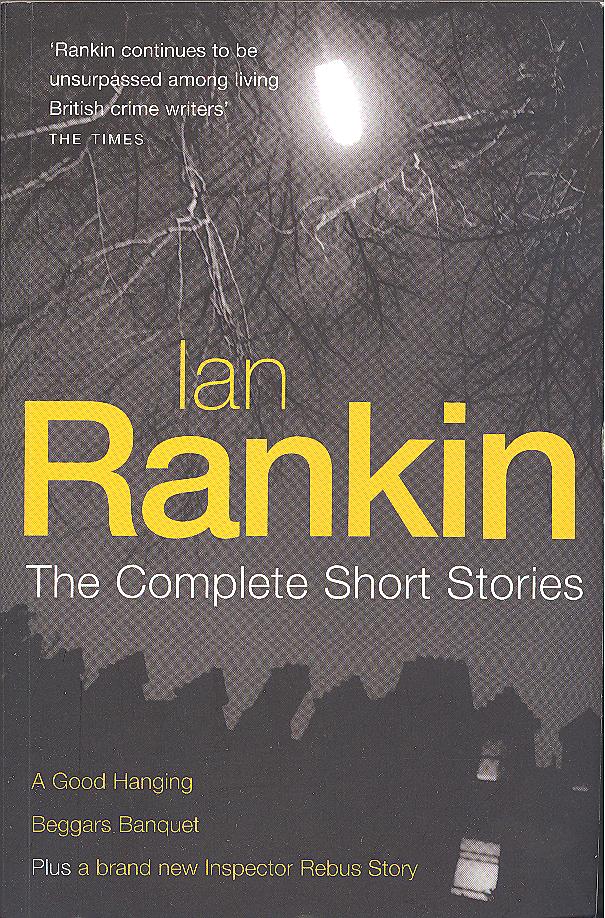 I read this book in January, 2013.
I chanced upon this book in September, 2012, years after reading all the Rebus books (except the new one, "Standing in Another Man's Grave"). I was surprised that I hadn't come across it before - or perhaps I had, but had dismissed it as not all the short stories are about Inspector Rebus. I usually find short stories (eg the Morse ones) a very poor substitute for the real thing, ie a complete novel - not enough meat, no time to enjoy Rebus's social life, it all ends up a bit unsatisfactory. So I wasn't expecting too much, and was pleasantly surprised. I sort of enjoyed these short stores - at least the Rebus ones.
The book gathers together two previous compillations, namely "A Good Hanging" - 12 Inspector Rebus short stories published in 1992, and "Beggars Banquet", 22 short stories, but sadly only seven featuring Rebus, published in 2005.
"A Good Hanging" (1992) is 12 John Rebus short stories, each about 16 pages long. The stories were originally published in a series of magazines, newspapers, etc. "A Good Hanging" , the title, is a short story about a not very successful theatrical troup, performing at the Edinburgh Festival. One of the group apparently hangs himself, misusing a gallows prop from the performances. I didn't think it was the strongest story, but it was OK. I did like "Sunday", a little gem of a story. It opens with Rebus not knowing where he is, and trying to focus on a bright light. He is at home, it is early Sunday, and he has a whole day of rest ahead of him. But there are flash backs to another bright light, a reflection in a knife blade, perhaps. I thought that nothing much was going to happen - we'd just spend a day with Rebus. Then DC Holmes comes round to ask how Rebus is ...... - a lovely, well crafted story. In "The Gentlenman's Club", I don't think even Rebus would have worked out so much from so little evidence - but still a good story. " Monstrous Trumpet" concludes the collection - quite a witty story about a visiting Inspector Cluzeau from France. All in all, very good stories, which I enjoyed reading.
"Beggar's Banquet" is the second collection of short stories - a mixed bag that I didn't enjoy reading nearly as much. There are 22/23 stories in all, but only 7 are Rebus ones. I liked all the Rebus stories - Ian Rankin doesn't mess around with Rebus stories - they are all true to character. I liked them all, especially the 50 page "Death is Not the End," where Rebus returns to Fife to help an old school chum, and meets an old girlfriend. We also get to say a quick hello to Siobhan.
Of the non Rebus stories, I hated "Glimmer" - a lot of nonsense that didn't go anywhere. I guess I did like the majority of the stories, and definitely liked "The Serpent's Back" - an historical tale from the days when the New Town of Edinburgh, Princess Street, etc, was being built, and the affluent were abondoning the Old for the New.
It was interesting to see how many writing styles Ian Rankin could adopt - but at the end of the day, John Rebus is the star. Rankin said that he wrote the other stories in a deliberate effort to get Rebus out of his head !
Finally I enjoyed "Attonement, " a 20 page John Rebus short story written especially for this two book collection. Rebus visits an ex colleague now in an old folk's home . "This is where I might end up", thinks Rebus uncomfortably. There seem to be too many deaths at the old Folk's Home, and Rebus's friend asks him to investigate. Rebus solves two crimes in the space of 20 pages, and still has time to visit "The Oxford" with Siobhan.
But at the end of the day, I don't think I really like short stories - a very poor non substitute for a proper novel.
Links to author index and home page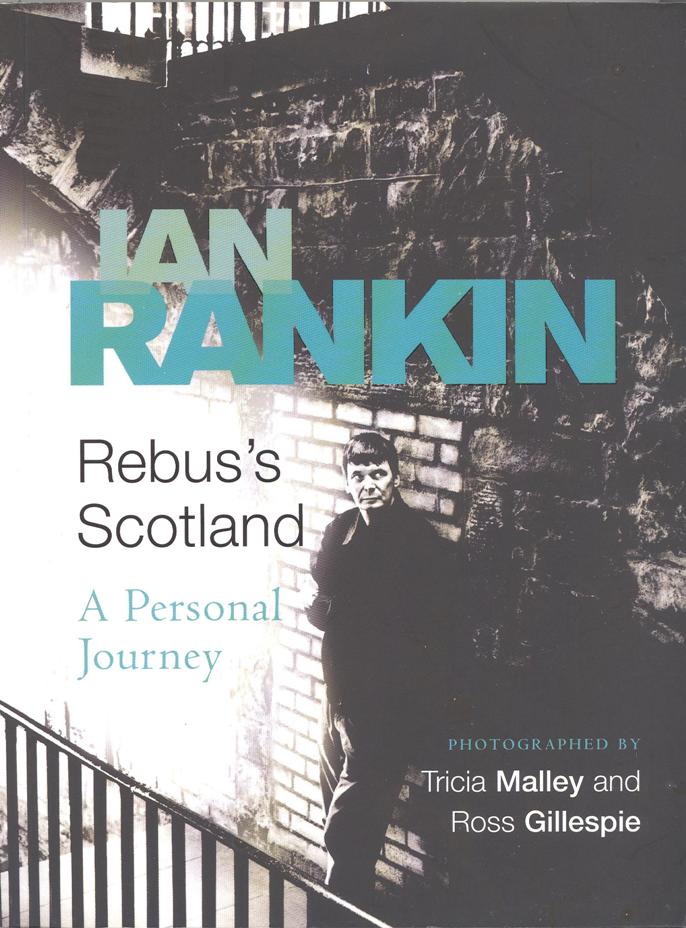 I read this book in April, 2017
I came across this book in a charity shop, and it only cost £1. There are quite a few books written on the subject of DI John Rebus, and about the fictional Edinburgh v the real city, about where the Oxford Bar is, etc, etc. I haven't bothered with these books so far, but what made this different was that it was written by Ian Rankin himself. What better author could there be than the Edinburgh based creator of John Rebus?
Right at the beginning of the book Ian Rankin explains that he has not set out to write a travel book, nor a history book - but there are lots of elements of both throughout. As a great Rebus fan, I found the book very interesting, especially when Ian Rankin is comparing and contrasting his own life with that of the fictional Rebus. So much of Ian's personal life story has found its way into that of Rebus. Both were born and grew up in working class households in Fife - in Carpenden. But Rebus is some 15 years older than Rankin. A lot of Ian Rankin's beliefs and opinions find voice in John Rebus - but Ian Rankin is careful to disown a lot that Rebus says and does. It's a difficult balancing act, but Ian Rankin is a good writer, and he is never short of words. He says that he wrote about a fictional detective in Edinburgh to try to make sense of the place, and of his feelings as a Scot for the land of his birth and it's people. He explains that writing about crime has meant that he has had to deal with the darker side of Edinburgh / Scotland, and so he must be a tourist office nightmare. But in his own unintended way, he has promoted tourism - people come to Edinburgh to seek out Rebus.
Ian Rankin is an educated articulate writer, and I found his views and opinions very interesting. The main place where I get lost is in Rankins taste in music and I find the sort of music that Rebus listens to quite wierd - I have simply no idea what the attraction might be. Change is in the air, and the Edinburgh of the early books no longer exists. They are as good a social history as any. At the end of this book I thought I had learned quite a bit about Rebus, and about what makes him tick.
All in all, a thought provoking read, especially for Rebus fans, but probably also for anyone else chancing upon this book.
Links to author index and home page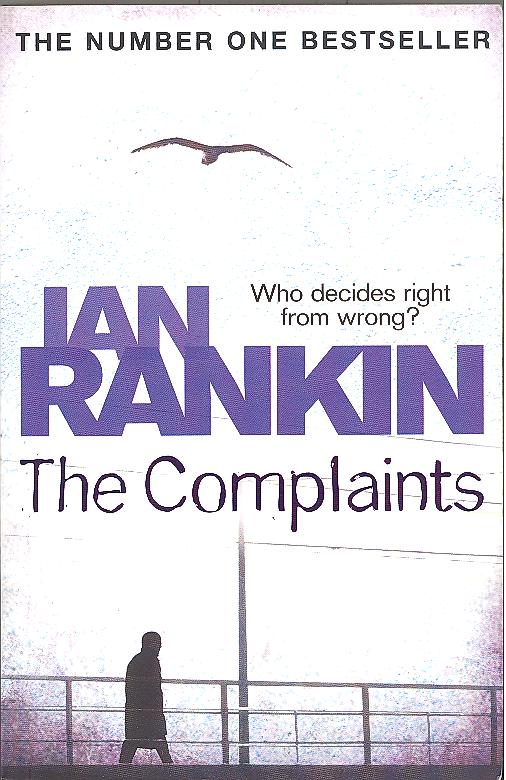 I read this book in March, 2012
This also is an Ian Rankin book about a police inspector in Edinburgh, but this time it's about a new character, Malcolm Fox, not John Rebus. Fox works in the Complaints section in police HQ, investigating coppers who have gone bad, corrupt.
I quite miss Rebus, and usually pay attention to what Ian Rankin says when asked if there will be another Rebus book. In one artice that I read, he said that yes, there would be. He hinted that Rebus had not really retired, but was working in a group called the Section - one serving officer, and several "retired" ace detectives who re-examine, and possibly re-open old crime cases. Rankin said he would probably write a couple of Malcolm Fox books, and then hinted that Rebus might then re-appear, perhaps even in a book along with Malcolm Fox.
If there is to be another Rebus book, I'll definitely need to read it to see what has happened to Siobahn, and to John Rebus himself, of course. So, I've decided to read the Malcolm Fox books to "keep up to speed" in the meantime.
I quite liked Malcolm Fox. He is able and honest. He is single again, having tried marriage, but it didn't work out. He is an inspector - apparently they are called inspectors, not DI's, in the Complaints section where he works, with a remit to investigate bent coppers. The story opens with Fox getting praised for successfully building a case against one such rogue cop, DI Glen Heaton. The case is now in the hands of the procurator fiscal. But Heaton had a long history of successful crime solving, was popular, and had friends in high places. So this is also a story of police politics, as Heaton's friends try to strike back at Malcolm Fox.
Fox is asked to investigate Jamie Breck, a young DS fast tracked for promotion. Breck is into computer game play, but his name has now appeared on a list of possible paedophiles. As part of the investigation, Fox meets and is atracted to DS Annie Ingles of the child protection section. That said, not much happens between Annie and Malcolm, and at the end of the book we learn that this is probably all for the best.
Breck is a very likeable, able copper, and he and Fox become good friends. But is Fox right to trust Jamie Breck ? Are both Fox and Breck being set up ? DI Stoddard, from Grampian police, is called in to investigate Fox and Breck. So it's one Complaints section investigating another - i.e. the old question who guards the guards ? Will Fox keep his job, or will he pack it all in, in disgust at the office politics ?
Fox has a sister Jude, whose husband Vince Faulkener is killed. Faulkener had been abusing Jude, but she still loved him. Fox made no sectret of his disgust at Vince's treatment of his sister, so did he kill Faulkener in revenge - that is the accusaton against him.
It's a good story, with a plausible, but somewhat complicated plot, and Ian Rankin is just as good a writer as I remembered him to be.
I'll need to read the next Fox book, if there is one - but as much as I like Malcolm Fox, I'd still rather be reading about John Rebus, no contest, in fact
Links to author index and home page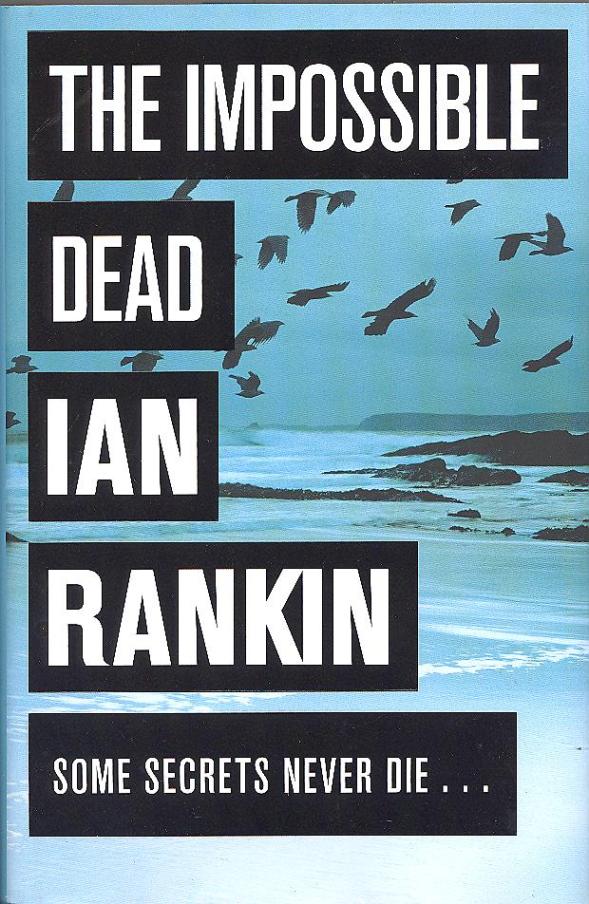 I read this book in July, 2012.
"The Impossible Dead" is the second book by Ian Rankin featuring his new character Inspector Malcom Fox of Internal Affaires - the Complaints. There are two books to get through before Rebus returns, and we now know the title of the new Rebus "Standing in Another Man's Grave". Inspector Fox and his team, Tony Kaye and Joe Naysmith, are not as strong characters as Rebus and co. I quite liked the first Malcolm Fox book "The Complaints", but I didn't care too much for this one. It started very stongly, and I thought I was in for a treat, but then I sort of lost interest. It did pep up at the end, but by then I thought it was a bit late.
What of the story? Detective Paul Carter is found guilty of misconduct that could have been going on for years. Had his colleagues been covering up for him - so Fox and his team are brought in to investigate. It's a good story, and it got off to a good start. But then I thought the book goes astray. Apparently people only do several years service in the Complaints, and then return to being "normal" detectives. But Fox's detective powers as a "normal" detective are untested - a strange thought, as what else has he been doing all these years but using strong detective skills ? Part of the case against Paul Carter was presented by his uncle Alan Carter, a former policeman. Paul is released on bail, and then his uncle is found dead - murdered in fact. Paul is blamed, but Inspector Fox thinks Paul is innocent, not of the improper conduct charge, but of his uncle's death. Then Fox is conveniently taken off the case, and has time to follow up the investigative work that the murdered Alan Carter had been undertaking. Fox is dogged in following up this work, even when it involves people in high places - even in the police force, and in Scottish politics. (It's almost like a Bob Skinner story, by Quintin Jardine !)
Possibly part of the problem I found with this book is in Fox's private life - it's all a bit boring. He has a sister with whom he is always quarrelling. His dad, Mitch, is in an old folk's home, and then may have had a heart attack. Fox no longer drinks - he used to have a drink problem - and he is a single man with no love life. On the other hand, like Rebus, he is a rebel.
All in all though, although Ian Rankin is a good writer, I was disappointed with this second meeting with Malcolm Fox. I'm glad that the next book will see the return of John Rebus, and Siobahn, and the gangster Cafferty, and with Rebus and Fox in the same book (not a good idea, I fear) at least I am up to speed on who Inspector Fox of Complaints is.
Links to author index and home page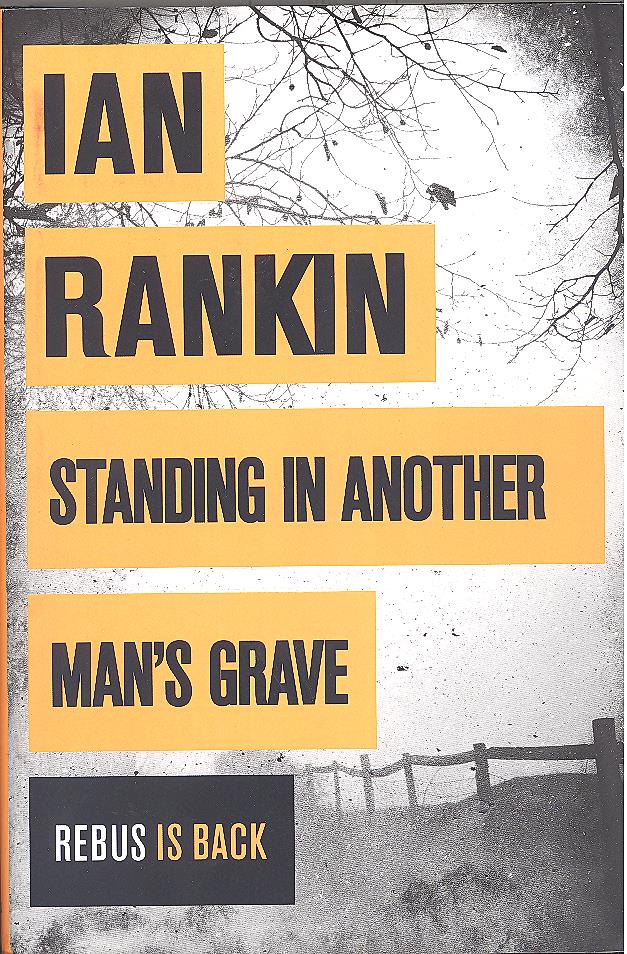 I read this book in August, 2013.
I had been looking forward to this book for such a long time - the return of John Rebus ! Fate smiled on me, and I even managed to get a hard back copy in a charity shop not too long after publication. But then I left reading it for a while - partly saving it up as a treat to read later, but perhaps part of me also feared that I might have been looking forward to it too much, and it might be a disappointment. Well, I needn't have worried. It is a terrific book, John Rebus and Ian Rankin are in great form, and I loved it.
I had read some Malcolm Fox books by Ian Rankin to mark time because I knew that he and Rebus would meet up in this book. Fox is in charge of Internal Investigation - and of course Rebus, who sails so close to the wind and takes a few shortcuts is under suspicion. But Rebus is not corrupt, and eventually everyone in the "Complaints" section comes to accept this except Malcolm Fox. I took Fox for being a fairer man than he appears in this book !
This is a fascinating book, and brings Rebus up to date. After forced age retirement, he has been working for a cold case section set up in Edinburgh comprised of several retired senior detectives, and a serving police officer. A lady calls into the police station where the cold case section is housed, and asks to speak to DI McGrath. He had set up the section years ago, but was now retired. So she meets Rebus instead - there being no one else available at the time. The lady's daughter had gone missing years ago, but the lady has discovered a link with others who had also gone astray. All the disappearances had happened on or near the A9 road. Rebus is intrigued. The lady had met a serving DI in Edinburgh who wasn't able nor inclined to help - and that DI was none other than Siobhan Clarke, Rebus's former partner / assistant. Rebus and Siobhan had sort of lost touch - Siobhan had suggested meetings, but Rebus had avoided them. Soon they are together again, and that old chemistry is still there.
Rebus had heard that the retirement age for policemen had been raised, and so he had re-applied to rejoin the force as a DI. But of course, nothing stands still, and the book poses the question - even if Fox failed to stop him, and even if Rebus passed the medical (he still drinks and smokes too much, and leads a very unhealthy life style !) would "old school" Rebus fit in with the modern way of policing. Rebus is a dinosaur, vinyl v. digital, etc - but for all that, and despite periods of self doubt when he is not sure if he does want to rejoin, he is a terrific detective who got and gets results. It is an interesting theme - the posible return of an old warrior - that is examined at length, and its part of a terrific story line.
Rebus's old enemy Ger Cafferty is back too. Rebus saved Cafferty's life at the end of the last book, so, allegedly, Cafferty is beholding to Rebus - and the two have been meeting up for regular drinks. Rebus is hoping that Cafferty will slip up and that Rebus can nab him again. But a policemen and a gangster drinking together is suspicious - and further proof of corruption, as far as Fox is concerned.
There is a parallel story of another crook - a veteran like Rebus. His young assistant runs rings round him. Youth beats experience. Will youth beat experience with Rebus too ?
I won't say any more about the plot for the usual reason - I don't want to spoil things for others.
I have always been a Rebus fan, and for me, this is as good a book as I have read in many a long time. It's great to have Rebus back, and well done, Ian Rankin, the magic is still there. ( I wonder if J.K. Rowling could do the same ?)
I read a review comparing Fox to Rebus, now that Rebus is back. The reviewer said that for Ian Rankin to give us more Fox books at the expense of Rebus, would be "like a host offering his guests Orangina when we know the host has some Glenmorangie in the cupboard". I couldn't have put it better myself. I do hope we get to know what happens next to John Rebus
I have been reading and mostly enjoying the Bob Skinner books by Quintin Jardine. But for me there is no contest. The top Edinburgh detective is still John Rebus, and Ian Rankin wins hands down - for me at least.
Links to author index and home page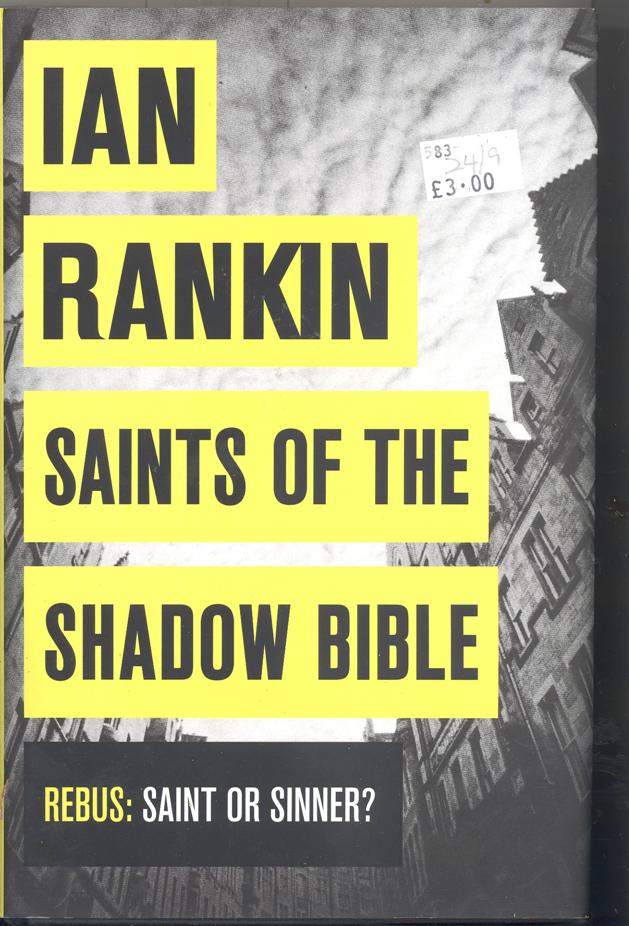 I read this book in February, 2015.
This is another genuine and good outing for John Rebus - I reckon it's about book twenty, excluding short stories. I got the book some time ago, but had been saving it as a treat - and it didn't disappoint.
Rebus is back out of forced retirement and working as a full time detective on the Edinburgh police force. Sadly they had an excess of DI's and could only offer Rebus a position as a detective sergeant - but so desperate was he to return to what he loved and did best, that he grabbed the chance. That said it rankled when his leg was pulled - only a sergeant at your age ! The good news is that he is again working with Siobhan, but the bad news is that as a DI, she now outranks him. In short, he is not working with Siobhan, but for Siobhan. Siobhan is heading her own first major investigation, but it's a tricky one in that there may be connections to an old corruption case where Rebus might be implicated. So Siobhan has to steer a middle course - keep Rebus at reasonable arms length, but of course, Siobhan and Rebus have so much shared history.
There is a reorganisation of the Edinburgh police force - it's Chief Constable is retiring, and under the new set up they will be part of a new unified Police Scotland force. The same reorgisation appeared in the Bob Skinner books. Also caught up in the reorganisation is Inspector Malcolm Fox, head of the Complaints section. It appears that Fox is having to return to being a DI - but first he has been asked to take on one last investigation. This concerns alleged corruption some thirty years ago at the Summerhall division. Then the DI and his crew were not above cutting corners, and had their own ways of getting convictions. So was it "corruption" in the old days, or a case of the end justifying the means. Rebus throughout his career has cut a few corners, and in fact the book opens and closes with a miscreant having his arm "twisted" by Rebus to disclose where a victim's body is burried. Thirty years ago, Rebus was a new DC at Summerhall. The corrupt gang of detectives called themselves "The Saints of the Shadow Bible", and Rebus was elected to the gang, but as a very lowly new member. So, one of the questions of the book is, was Rebus corrupted by the set up? Some of us think we know Rebus better than to accuse him of ever being corrupt.
Fox and Rebus clash, but sort of come to respect / almost trust each other. Soon they are both working together. Siobhan does well to run an efficient team, and prove herself to be her own person. Rebus cannot investigate himself.
There are several murders, and drug dealing. Rebus is as fearless as always, but not so physically strong as in his younger days, and has to accept that he no longer wins punch ups.
Its a strong story. Rebus is still an old school copper - and he cannot change. But he is still a great detective who puts his head down and keeps going until he gets the breakthroughs. But then inexplicably, but characteristically, he shoots himself in the foot once again. Because of his reputation, of not being a team player, etc, etc, he is back on sufferance, working for DCI Page, the only DCI apparently who would take him on. Rebus makes a breakthrough, but takes it to a rival DCI - and Page is enraged (rightly, I think) and tells him to pack his bags and clear off.
Have I said enough about the plot ? A young woman is found unconscious at the wheel of a car that has been in some kind of crash. Rebus attends and doubts that the woman was even the driver. Her boyfriend is the son of the Scottish Justice Minister. Was Billy Saunders helped to escape justice thirty years ago at Summerhall by corrupt officers ? Double jeopardy has now been abolished, (old cases can be tried again) - hence the interest. I think the book is all about trust - who can you trust ?
Hopefully, Rebus will be back, but where and doing what ? He won't be working for DCI Page !
It's a good, strong story that builds upon what has gone before. It's very beleivable, and it captures the times perfectly. In short, great writing from a great writer.
Links to author index and home page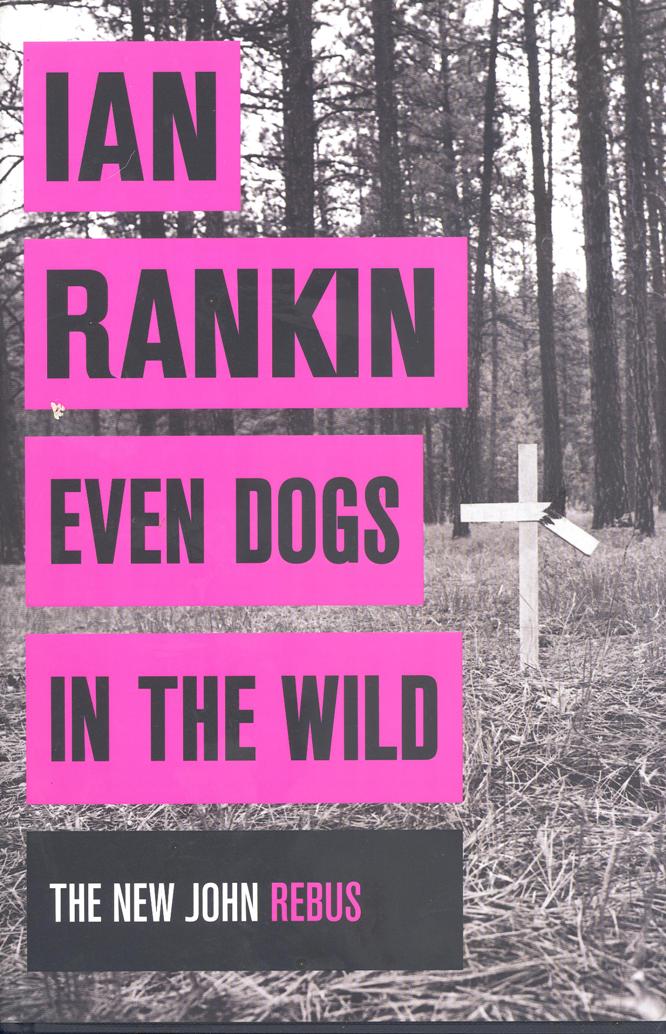 I read this book in May, 2015.
I reckon this is about book 20 or 21 in the John Rebus novels. These were the first novels I read after I retired - I read books one to ten, one after the other, and got the taste for crime fiction generally, and John Rebus / Ian Rankin specifically. It was a great pleasure to rejoin Rebus and co, and find out what they were all up to. I didn't think it was the best book in the series to date, but any Rebus is more than good enough for me. In this book we meet six main characters, three good, three bad. The "goodies" are Siobhan (DI), Malcolm Fox (DI), and of course John Rebus (retired DI), and the three "baddies" are big Ger Cafferty, a new on the Edinburgh crime gang scene Darryl Christie, and the father (and son) Glasgow crime family Joe Stark (and Dennis). At the start of the book we jump about a bit as we are updated equally about what everyone was doing, when I just wanted to hear about John Rebus, and the rest in passing. But it's Ian Rankin's story, so we must let him tell it his way.
John Rebus has retired for the second time, and doesn't know what to do with himself when not in the Oxford bar. He has written out a list of possible things to do, but knows he will never get round to doing them. He is seeing a lady friend though - forensic professor Deborah Quant, and by the end of the book seems to have acquired himself a dog, Brillo. Siobhan is working on DCI Page's team, is doing well, and is in great demand, but there are hints that she may be about to have a drinks problem ? Following the not altogether successful reorganisation of the police forces in Scotland into one Police Scotland unit, Malcolm Fox finds himself one of too many DI's with not enough DI level work to go round. Fox is ex Complaints, is generally distrusted, is having a bad time, is trying too hard to get a scoop conviction and prove himself, and is not really succeeding as a team player. Sadly too, Malcolm's father Mitch is in poor health, and is failing. Fox and Siobhan are more than good friends, but are not yet sleeping together - and both respect and get on well with Rebus.
The book opens with two low life characters about to dispose of a body in some woods, when the "corpse" comes alive, and runs off. It is much later in the story before that we learn what this is all about. Siobhan is investigating the murder by beating and shooting of Minton, a retired top Edinburgh lawyer. Nothing is stolen, but he had received a threatening note saying roughly "we know what you did." Then there are reports of another shooting, but the target denies he has been shot at and refuses to let Siobhan enter his house. The target is Big Ger Cafferty, and Siobhan knows who Cafferty will speak to. So Rebus is called in, and goes on to act as consulting detective on the case. Rebus rather likes the title - "Consulting detective". Rebus discovers Cafferty also received a "we know what you did" note. Finally, the ruthless Glasgow Stark crime family are in town, looking for someone who seems to have double crossed them. Siobhan, Fox, and Darryl Christie are the new kids on the block, Rebus, Cafferty and Joe Stark are the old. Can the old ones come out of retirement and hold their own versus these "youngsters" ?
Ian Rankin is a gifted writer, and brings all the separate narratives together. Fox is the one who almost gets killed, and I thought his escape was just a little too fortuitous. We also discover just what happened at Acorn House all these years ago, but was covered up by people in high places. Will it all come out now - somehow we doubt it ?
One good aside is that Rebus gets round to visiting his daughter Cassie, and saying hello to his grand daughter. Why, oh why, had he not done it sooner !
It was a great pleasure to say hello to Rebus and Co once again, but what can the future realistically hold for a retired Rebus? Rebus has also been rubbing his chest and he does not live the healthiest of lives. It will be very interesting to see where Ian Rankin takes his characters if they get another outing. Fox seems to be having a bit of a crises - will he pack it all in ?
Links to author index and home page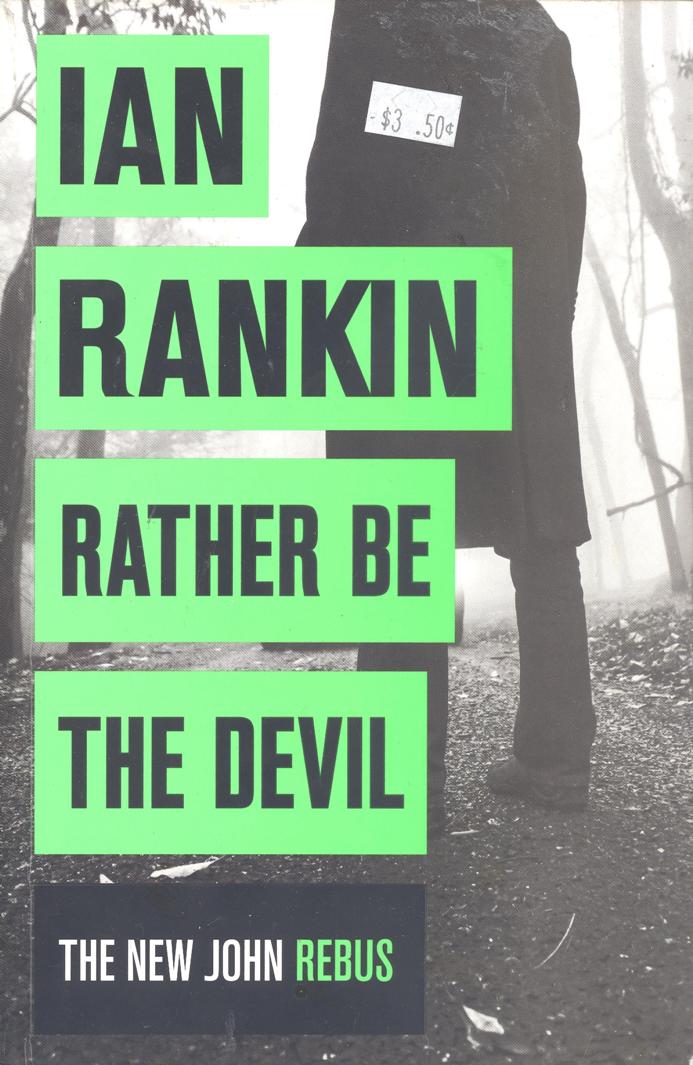 I read this book in Feb, 2017.
This is about book 22 in my favourite series. It features DI John Rebus, and is of course set in Edinburgh. Rebus is retired, but he doesn't act it. "We all need a hobby."
I bought this book in Salvos, a charity shop in Brisbane, for $3.50 - a bargain. It's a terrific story - a real peach - by a master writer. Its a genuine treat still to be able to read about John Rebus, and the good news is that the end of the book sets up the next one - so hopefully there will be another Rebus outing.
We open with Rebus in a bad way physically. He has a terrible cough, and indeed, he is coughing up blood. He has COPD - constructive obstructive pulmonary disease. Rebus has a steady girlfriend in Deborah Quant, who has nagged him into giving up smoking, and only drinking half pints ! John and Deborah really do care for each other, but neither wants to move in together yet. Rebus has also acquired a dog called Brillo - a perfect pet for Rebus, as Brillo doesn't really care too much for long walks. Next however, we learn that Rebus has a shadow on his lung, and is waiting for the biopsy results. So we have a running joke about Hank Marvin (and the shadows) getting him.
There are two main stories that bring Siobhan Clarke and DI Fox (and Rebus) together again. Siobhan is the more able DI, but it was Fox that was promoted to Gartcosh, a Police Scotland sort of HQ. The old Strathclyde division seems to be leading Police Scotland, and Edinburgh is now referred to as Division 6. Nobody likes the Police Scotland set up. Fox and Siobhan had been very friendly, but fell out when Fox got promoted.
There are lots of threads to this rich story, and the more we read, the deeper the story becomes. Throughout it all run John Rebus and Big Ger Cafferty. Darryl Christie was the new young gun, a former Big Ger protege, who took over the Edinburgh drugs and assorted rackets from Cafferty. But Darryl is making mistakes - and is Cafferty really retired ? Like Rebus, does he need a hobby too ?
In his retirement, and just to keep his hand in, Rebus is trying to solve a 40 year old murder case - that of Maria Turquand. As a young cop, Rebus upset too many in authority, and was taken off the Turquand case - a case that was never solved. He gets the old cold case review folders from Siobhan. Robert Chatham was the DI that headed the cold case review, and so Rebus speaks to Chatham, now working as a security doorman. Chatham is next murdered. Police Scotland take over the Chatham murder investigation, with Fox and Clarke helping to provide local knowledge. Darryl Christie gets beaten up, and Siobahn investigates. Was it Big Ger ? Fox, seconded to Gartcosh's Customs section , is also interested in Darryl Christie. Was Christie using his betting shops to launder money. And so we have three separate cases and three detectives all converging. It's a clever set up.
Lurking in the shadows is Glushenko of the Ukranian mafia, and here it really is big money that is involved. Some of the names mentioned in the mafia money connection are the ones Rebus is investigating in the Turquand murder case. Soon Fox, Siobhan, and Rebus are working as a team. It's quite funny the way Rebus gets round not being a policeman and more, and Rebus and Cafferty meet quite often.
There is a terrific climax at the end when Glushenko finally turns up, but I can't say any more. DI Fox is such a decent man - he deserves a better sister than the gambler, debt ridden Jude.
At the end, Cafferty is back, and Rebus has a new reason to keep going - the constant quest to nail Cafferty. Terrific stuff !
Links to author index and home page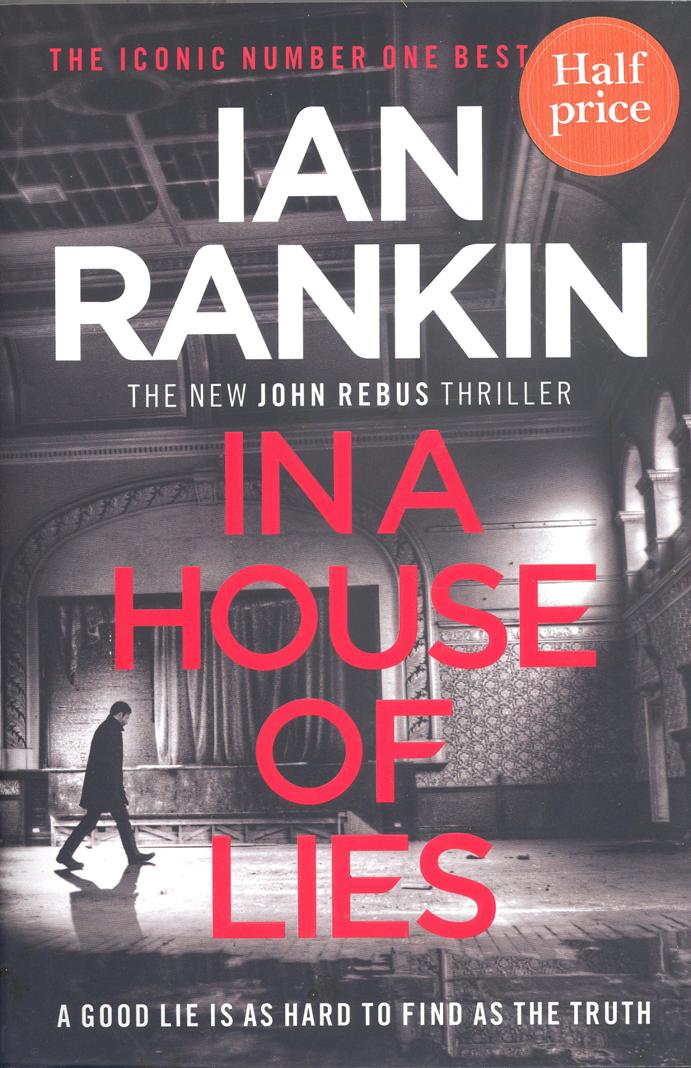 I read this book in Mar, 2019.
This is about book 23 in my favourite crime series, and a very welcome return of John Rebus, Siobhan Clarke, Inspector Fox, Big Ger Cafferty, etc, etc. It's every bit as good a book as I expected it to be, and I am delighted that twelve years after "Exit Music," Ian Rankin is still keeping Rebus alive, up to date, and mostly the same character. However time stands still for no man, and Rebus is not in the best of health. There is no cure for his COPD - chronic obstructive pulmonary disease or emphysemia as it used to be called. He still lives in Arden street, upstairs in a tenement, but wheezes terribly and may have to move to somewhere on ground level. He has an inhaler, has given up smoking, and restricts himself to only half a pint of beer a day - but he likes to hold the glass and make it last - so business at the Oxford is surely down. Deborah Quant is still his steady girlfriend - they do not live together, but visit each other's houses. John tells Deborah he really likes her flat. "What do like about it ?", she asks. "It's got a lift !" he replies. As well as the story we get all sorts of asides and quips - Rankin is a master story teller. Rebus still has his dog Brillo, and dog walking gives Rebus his exercise. Rebus describes his health as being in "managed decline." Let's hope it's a slow decline.
Surprisingly, Siobhan has been in trouble with the ACU - Police Scotland's Anti Corruption Unit. She has been accused of leaking secrets to a journalist. The leaker was actuallly Inspector Fox, but Siobhan keeps quiet. Nothing was proved, but there are two corrupt police officers in ACU - Steele and Edwards - and they are out to get Siobhan. They have been trying to pin something on Rebus for years, without success, and now seem to be trying to get at him through Siobhan. Although wheezy, Rebus is more than a match for Steele and Saunders - and all this is part of a fitting, and satisfying climax.
There are two main stories. The book opens with four young lads finding a body in an abandoned car in a gully in the woods of Poretoun house formerly owned by a porn film producer Jackie Ness. A major incident team is set up headed by DCI Graham Sutherland, and DI Callum Reid, and DI Siobhan Clarke is seconded to this team which doesn't please Reid. No sooner has Siobhan joined the team than she gets a phone call from Rebus. "Was the car a Polo ?" he asks. Rebus tells the team that the body is that of a missing shady private investigator Stuart Bloom - they should look at the 10 year old case notes. DCI Rawlinson headed the missing person team all those years ago, and Rebus was one of the team. No progress was made then - in fact it was a shambles of an investigation. Police were family in those days, and you covered up for each other. Rebus was the master coverer up - and so it looks as if all that was to be opened up again. Stuart's mum had always campaigned for a better search, and now she stepped up her criticism of police cover ups. Inspector Fox is working in an Admin job - no one knows what to do with him. Because of his "Complaints" section experience he is seconded to the team too, but to investigate past cover ups. Fox, Rebus, and Siobhan are all great friends - and they are back together again. Fox is investigating Rebus and the old team, and once a detective, always a detective, John is determined to help Siobhan solve the old crime. But DCI Sutherland doesn't want Rebus involved in any way. He will change his mind by the end of the book. I should add that Jackie Ness and Sir Adrian Brand were two rival businessmen who hated each other. Ness had hired Stuart Bloom to get some dirt on Brand. Did he succeed, and was this why he was murdered ? Just to muddy the waters a little bit more, Stuart Bloom was gay, and his partner was Derek Shankley, son of DI Alex Shankley of Glasgow CID. Rebus and Alex Shankley were friends, and there is a suggestion that Derek killed his partner Stuart, but it was coverd up his dad and friends. There were a lot of drugs around, and the Edinburgh drug scene was controlled by Big Ger Cafferty !
The second story starts simply. Siobhan has been getting lots of phone calls, but no one there. Then she is stalked, and paint is daubed on her door. As a good detective she tracks down the culprit - Dallas Meikle, uncle of Ellis Meikle whom Siobhan put away for murdering his girlfriend. Ellis freely confessed to the murder, but Dallas won't accept that he did it. Dallas agrees to stop harrassing Siobhan if she looks further into Ellis's case, and Siobhan subcontracts the investigation to Rebus.
It's a complicated story with Rebus right at the centre of things, meeting up with Fox and Siobhan, meeting Cafferty, looking at Ellis Meikle, and seeing what he can do to get at the corrupt Steele and Saunders. Almost everything is tied up at the end - but of course Big Ger Cafferty is the exception, and seems to exit the book stronger than ever. Perhaps Rebus might yet get Cafferty in a later book, but time is running out.
I thought it was a good story by a good writer, and I enjoyed reading it.
Links to author index and home page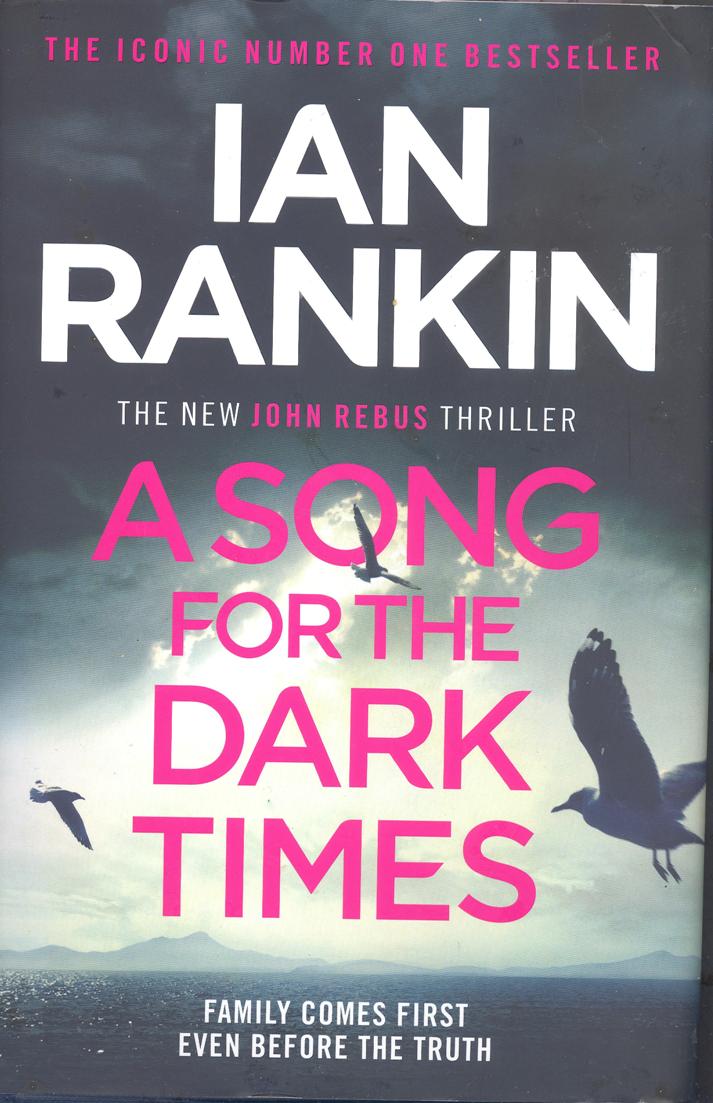 I read this book in May, 2021.
This is about book 24 in my favourite crime series, the mostly Edinburgh set Inspector John Rebus books by Ian Rankin - and this is a worthy member of that series. We open with a prologue - and a tease from Ian Rankin. Siobhan is in an empty, abandoned flat in Arden Street, Marchmont - one full of memories. It had been home for John Rebus for over 40 years. What has happened to Rebus ? Has he died ? But of course he can't be dead, it's just the start of a new Rebus story ! Sadly Rebus, who has COPD (chronic obstructive pulmonary disease) can no longer manage the stairs, and has moved 50 yards along the street to a ground floor flat. It does have a garden which we will suit Brillo, Rebus's dog, but it's smaller, and Siobhan, who has taken 5 days leave to help, is struggling to get Rebus to declutter. Rebus claims he had to move because Brillo could not manage the stairs with his little legs.
Book 24 is quite a big story, with two main murders to solve, in two separate locations at opposite ends of the country. There is one murder for Rebus to solve, and another for Siobhan and her crew. There is also a side blackmail, drugs, etc plot where "Big Ger" Cafferty, and DI Malcolm Fox of Major Crimes reappear. Rebus is still seeing Deborah Quant who lives less than a mile away, and has her office in the city mortuary. Rebus had married Rhona (now dead) a life time ago. Their daughter Samantha now lives in Naver, in the north of Sutherland, with her partner Keith Grant, and daughter Carrie (about 8). Sammy is no longer in a wheel chair, but walks with a limp. Siobhan is still a DI, and her boss is DCI Graham Sutherland. Graham is also her lover, is divorced, and has a house in Glasgow. He has asked Siobhan to move in with him, and she is still thinking about it. Malcolm Fox got the promotion that should have been Siobhan's and is a well connected DI at Gartcosh - Police Scotland's campus - where his boss is ACC Jennifer Lyon.
When we hear of two separate murder cases in crime fiction, we usually expect they will turn out to be related, but this is not always the case. Our two case do have some connections though.
Let's introduce Siobhan's case first. Rebus had said he could manage on his own, now, thanks, and sent Siobhan back to work. There she finds that the team are working on the murder of a rich Saudi student Salman bin Mahmood, whose father is a VIP in Saudi, but currently out of favour. There had been a series of student muggings - in fact Salman's friend Giovanni Morelli had been mugged too. Salman, Gio, and Issy used to hang around together. Issy is Lady Isabella Meiklejohn, daughter of Lord Strathy who owns half of Sutherland. The village of Strathy is not far from Naver where Rebus's daughter Sammy lives - is this the start of a connection ? Because of the Saudi element Major Crimes take an interest, and DI Fox arrives to help Sutherland. Salman had had business connections with a property developer Stewart Scouler, and Lord Strathy also had shares. They planned to open a golf village / course on a site in Sutherland. Salman, Gio, and Issy used to frequent the upmarket Jenever Club. Stewart Scouler also went there. The Club was formerly known as the "Devil's Dram," and cocaine is snorted there in private rooms - the whole place is owned by and run by Edinburgh drug tsar and serial villain Big Ger Cafferty. So, case one is who killed Salman, and why ?
The Big Ger reference now takes us to the blackmail sub plot. Fox's boss ACC Jennifer Lyon is about to be splashed over all the papers. Video's are to be released showing her husband being unfaithful, and worse, snorting cocaine. Big Ger tells Fox to tell the ACC that he can make it all go away. The police are already investigating Scouler's connection to Salman murder - all they have to do is dig up some dirt on the property developer Scouler, and share it. The ACC tells Fox to go ahead - always a big mistake to get involved with Caffery. Siobhan finds out and warns Fox. All his meetings with Cafferty will have been recorded, and will now be used by Big Ger. Cafferty wants to get further into property development, and sees Scouler as a rival. He also wants to "help" the police with the student muggings - indeed he captures, and tortures a mugger by the name of Cole Burnett. Cole might have a surprise of his own, though, for Cafferty.
And now at last we come to the main murder - the Rebus story. John is wakened at 5 am on the first morning in his new flat by an urgent phone call. It is his daughter Sammy, distraught because her partner Keith has been missing for two days. Rebus jumps in his ancient Saab, and rushes up to Naver where he learns that things are worse than he imagined. Sammy and Keith had been quarelling - Sammy had been having an affair with Jeff Hawkins of a local comune. Sammy says it's all over now. Keith had been interested in local history, and had become obsessed with a local site which had been a POW camp (Camp 1033) in war time. Keith wants to restore it and open it to the public, but the site is owned by Lord Strathy who has other plans (remember, his golf course). The comune is near the camp, and that will be cleared too. Strathy's wife Angharad Oates had run off with Jeff Hawkins two years ago - another reason for Strathy wanting to get rid of the comune. Camp 1033 had been the scene of various deaths - one notorious death, researched by Keith, involved a very attractive young lady girlfriend who was seing a prison guard, Sgnt Davies. He was shot with his own stolen gun, which lead to prisoner Hoffman who protested his innocence, but was still shot by firing squad. Rebus visits Camp 1033, and finds Keith's body with his skull bashed in. And so this story takes off too.
DS Robin Creasey heads the local police murder investigation, and Samantha is an obvious suspect. Rebus had never been a good husband for Rhona, nor a good father for Sammy. His police work had been his life. Now he wants to help Sammy all that he can, but she is more that upset that her dad does not 100% believe she did not kill Keith. This is his police training. He will get her off, by hook or by crook, but maybe she did it. She throws him out, but he stays on in Naver - finding a friend and lodgings with May Collins who runs the local pub - "The Glen." Her dad Joe Collins had been a POW at camp 1033, and stayed on as did many others. Joe found an old rusted up gun on the sea shore, and displayed it above the bar in the pub, as a talking point. Rebus asks what hapened to the gun ? Apparently it has gone missing.
Can Rebus make amends to Sammy? Why is there little interaction between John and grandaughter Carrie ? etc., etc. But once again I have writen more than I intended, and so I will conclude, and not risk writing a spoiler. However, let's mention poor Brillo - going back to the old flat out of habit, and then being abandoned by Rebus going off to Naver, and then getting only intemittent walks with Siobhan who was left to manage with Brillo somehow, and then ending up in Siobhan's flat - yet another change of scene. Sometimes it's a dog's life, Brillo.
Links to author index and home page


What is there to say about Harry Potter and J.K.Rowling that has not already been said? The world seems to be divided between those who have never read Harry Potter and have no wish to do so (I think they are missing a lot), and those who absolutely get Harry Potter, are great fans, and have read and reread Harry Potter many times. We were a bit slow in discovering Harry Potter, but are now great fans.
We had heard quite a bit about Harry Potter, but had not actually read any of the books when we went to see the first Harry Potter film - "Harry Potter and the Philosopher's Stone". We enjoyed the film, so thought we would try the books. Four books had been written at this time, so we got them as a four set boxed edition, and just started at book one, and kept reading. The books are in every way so very, very much better than the films. Yes, some of the books are quite long, and the films have to condense terribly, but sometimes the films completely miss the point of things. They certainly lack a lot of the magic of the books, of the banter, of the day to day life at Hogwarts. You miss a lot of the background by not reading the books. I do not think there has ever been a set of books that we have read and reread so many times. If you are not already a fan, come aboard, and see what it's all about .
Joanne Rowling OBE was born in 1965, and the idea for the books came to her during a four hour delay whilst on a train trip from Manchester to London in 1990. The idea was for story about a young boy attending a school for wizardry. All the ideas just rushed into her head in a creative explosion, Harry first, and then the other characters. By the time she reached Clapham Junction she began to get everything down on to paper, note after copious note. Thereafter it was a rags to riches story and J.K. progressed from living on welfare to multi-millionaire status in 5 years. She is now named in most lists of richest people and is a notable philanthropist.

J.K. is English, was born in Gloucestershire, and attended St Michael's primary school in Winterbourne. The elderly headmaster , Alfred Dunn, was later claimed to be the inspiration for Albus Dumbledore, headmaster of Hogwarts. J.K. moved to the village of Tutshill when she was nine, and then as a teenager went to Wyedean School and College. Hermione is loosely based on J.K. herself at the age of eleven. Sean Harris , her best friend in the Upper Sixth, was the inspiration for Ron Weasley - and Sean also had a torquoise Ford Anglia. Rowling read for a BA in French and Classics at the University of Exeter - and there is a lot of "semi-latin" in the spells and incantations of the books.
Sadly, J.K.'s mother died in 1990, and the loss affected J.K. deeply - she introduced much more detail about Harry's loss in her first book because she knew how it felt. Rowling moved to Porto, in Portugal and married Jorge Avantes, a Portugese television journalist. Jessica was born in 1993, but the marriage did not work out, and JK and Jorge separated in late 1993. In 1994 J.K. and Jessica moved to be nearer J.K.'s sister in Edinburgh. During this period J.K. was diagnosed with clinical depression, and J.K. contemplated suicide. These dark days brought the idea of the Dementors who sucked hope from their victims. There are many dark parts in the Harry Potter books, there is death and loss, and not everyone lives happily ever after. As the story goes, J.K. completed her first book in the series, writing in one of several cafe's to where she escaped from her cold flat - anyway the walks there helped get Jessica off to sleep.
Twelve publishing houses rejected the "Harry Potter and the Philosopher's Stone" manuscript. These rejections rank along side the rejections of the early Beatles. Bloomsbury, a small outfit in London, agreed to publish. The story goes that Alice Newton, the eight year old daughter of the Bloomsbury's chairman, was given the first chapter to review, and then demanded the next chapter. But the books were slow to get going. J.K. was advised to get a day job, and not to rely on her writing. Indeed in 1997 she got an £8,000 grant from the Scottish Arts Council to enable her to continue her writing. The first print run of the Philosopher's Stone was 1,000 copies, 500 of which were distributed to school's libraries. Today, these early editions are highly valued and worth a fortune. And the rest is history - great critical and record commercial world wide success. The last words of the final book were written in what is now the J.K. Rowling suite in the Balmoral Hotel (I think) in Edinburgh - many fans ask specifically to stay there.

Will there be another Harry Potter book ? I think and hope so - perhaps not about Harry, but he and Ginny have two sons. Please, J.K. take up your pen once again in a few years time.
As an addendum I have added "The Tales of Beedle The Bard." It is not really about Harry Potter, but anyone who has read "The Deathly Hallows" will know the connection.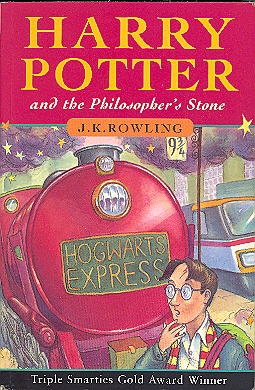 By way of introduction, I don't think I can do better than quote from the back of the book "Harry Potter thinks he is an ordinary boy - until he is rescued by a giant of a man, enrols at Hogwarts School of Witchcraft and Wizardry, learns to play Quidditch, does battle in a deadly duel. Harry Potter is a wizard"
This is a charming book where we are introduced to Harry in his unhappy home with Uncle Vernon and Aunt Petunia at 4, Privet Drive. We meet most of the characters of the seven books of the series. We meet Hagrid, a great creation (played perfectly by Robby Coltrane in the films), and two of the finest and truest friends Harry could ever hope for - Ron Weasley and Hermione Granger. We visit Diagon Alley and Harry buys a wand - a special one, but not the very, very special one, but that is jumping ahead of ourselves. Once Harry gets to Hogwarts we meet Professors McGonagall and Snape, the other teachers, and the greatest wizard that Harry will ever meet - the headmaster Albus Dumbledore. We also meet Harry's enemies - Malfoy and Lord Voldemort. We learn of the Sorting Hat, the school houses and a bit of the history of Hogwarts. We discover the true magic of Hogwarts - and we start to learn a bit of Harry's story and history - more of which will be revealed in later books of the series. There are lots of clues at to where the story is heading, but lots of red herrings too.

Like most of the books, you miss quite a bit on a first reading - you are caught up with the story, and just keep turning the pages. On a second reading you discover a lot more detail - possible pointers for the future, or perhaps not. And finally when all the books have been read, you re-read starting at the beginning and see all the clues that you missed.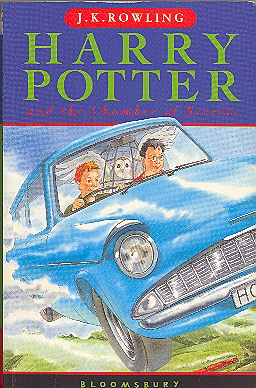 It is one year later, and J.K. Rowling's second Harry Potter book is published. Harry is now entering his second year at Hogwarts.

Each year Harry has to return to the misery of his life at 4, Privet Drive, with his bullying cousin Dudley, Uncle Vernon, and Aunt Petunia. Unlike other children, he longs for the end of the school holidays when he can return to Hogwarts. However we now meet Dobby, a house elf who has turned up at the most inconvenient time in Harry's bedroom to warn him not to return to Hogwarts. Disaster strikes, Harry is locked in his bedroom, but escapes rescued by Ron, and his twin brothers Fred and George. There is the Quidditch Cup to win, lots more adventures, the Chamber of Secrets is opened, and Ginny has to be rescued.
All in all, an excellent fast moving action packed story. Harry Potter stories at this stage are fairly light reading, without a lot of the darkness that characterises later books.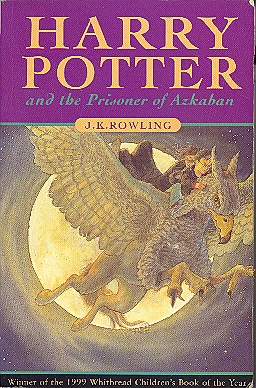 This is the third book in the series, and Harry enters his third year at Hogwarts. For lots of people this is their favourite story. The book is a little darker that books 1 and 2, but only slightly so.

When Harry gets to Hogwarts the atmosphere is tense . There is an escaped mass murderer on the loose who may be after Harry - but Harry know little of his own history. And so we meet Sirius. Hogwarts is now being guarded by the sinister prison guards of Azkaban - the Dementors. Why do they trouble Harry so much, and can Harry learn how to counter their effect on him? The difficult Patronus spell has to mastered. How could Harry have possibly seen his dead father James appear and cast the perfect Petronus spell and save Harry's life? Hermione had somehow been managing to attend so many different classes this term. When her secret is revealed, Harry has a bitter sweet moment. This very strong story twist is why so many like book 3.
We also learn of the Murauders Map and of Messrs Moony, Wormtail Padfoot and Prongs. In short we learn more of Harry's past.
All in all, an excellent book. Although my favourite book was the final one, book 7, I did like book 3 and I can see why so many have it as their top choice.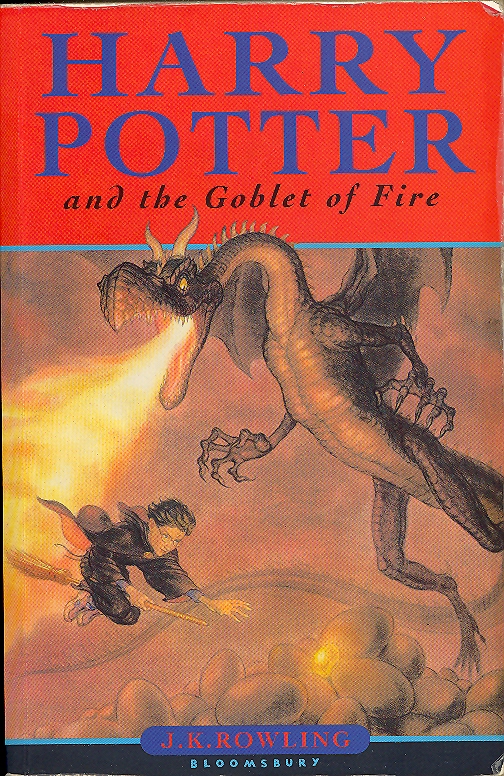 This is the fourth book in the series. J.K. has managed to write a book a year, and Harry is about to enter his fourth year at Hogwarts. But J.K. struggled to finish the book in a year, had a moment of crises with the plot and had to re-write one chapter 13 times to get it right. (Three years were to elapse before the next book - not really a case of writer's block as so many said, but J.K. had temporarily run out of energy. Luckily for us, she did get her breath back.)
This is a big book of about 640 pages. The goblet of fire announces the participants in an inter school competition - and so we meet two other famous schools of wizardry. To compete for the Triwizard Cup is dangerous, needing the skill of a final year student. So how can under age Harry Potter's name been announced as a competitor ?
Voldemort returns, and the books get darker, and we learn about priori incantatam. - you have to read the book for an explanation !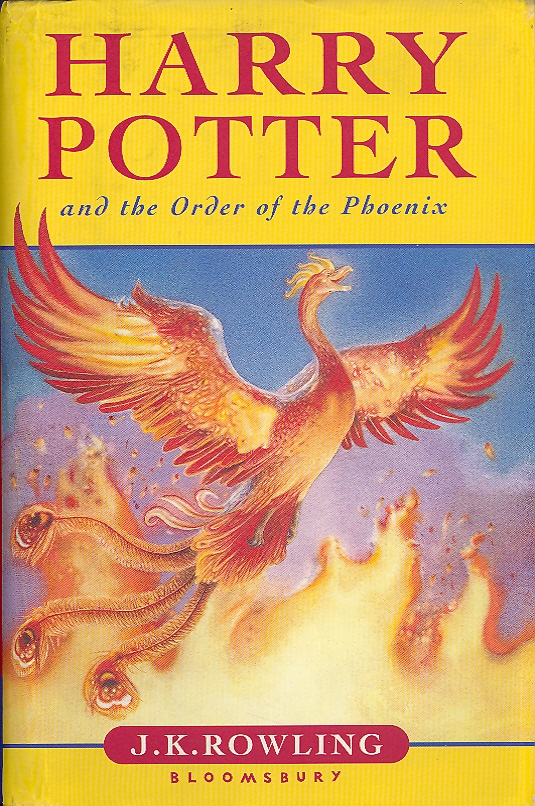 If the fourth book was long at 640 pages, this book was longer still at a massive 770 pages. Most accept that it could well have been shorter, but J.K. was struggling with her muse. As mentioned above, J.K. took 3 years to finish this book.
To quote from the book "Dumbledore lowered his hands, and surveyed Harry through his half moon glasses. "It is time", he said "for me to tell you what I should have told you five years ago, Harry. Please sit down. I am going to tell you everything"
Harry is growing up, and is now in his adolescence. He loses his temper a lot which is par for the course of adolescence but leads Harry into trouble and danger, and tries the patience of Ron and Hermione. Boys start to notice girls at this time, and so it is at Hogwarts.
Dumbledore's Army is formed and plays an imnportant part in the rest of the story. As he was at the start, Harry to the end and beyond would always be Dumbledore's man.
In spite of its length this is still a good book, and I enjoyed reading and learning more of Harry's story.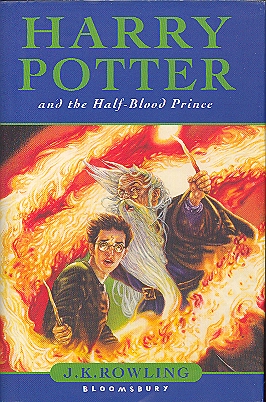 J.K. takes two years to write this book, but all her writing skills are still there. Harry is now entering his sixth year at Hogwarts, and is waiting nervously at the Dursleys house in Privet Drive for a visit from Professor Dumbledore, no less. However the book opens with a conversation between the Minister of Magic, and the British Prime Minister.
Harry discovers a book by the half blood Prince, follows its recipies and advice, and becomes an expert at potion making - much to Hermione's disgust. However not all is as it seems - is it ever?. There is great, great treachery in this story. At the end Fawkes, the Pheonix sings a lament of indescribable beauty, sadness and comfort and then flies away. Could he not have stayed and helped Harry ? Lord Voldemort seems to have triumphed. But yet, Harry has to meet his destiny, and there is one book to go.
An excellent, but very dark book where we are introduced to Horcruxes. And so sad - we shall not see his like again. R.I.P.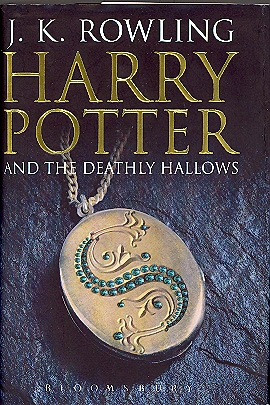 It takes J.K. a further two years to write this book, and to complete Harry's story. I was so into Harry Potter at the time, that I had re-read all the earlier books to try to discover how it might all end, and I was worried that, perish the thought, J.K. might get run over by a bus, and we would never know what happened.
Again, I can do no better than paraphrase from the book's cover -
"Harry has been burdened with a dark, dangerous and seemingly impossible task - that of locating and destroying Voldemort's remaining Horcruxes. Never has Harry felt so alone, or faced a future so full of shadows. Harry must say goodbye to Ginny, leave the warmth, safety and companionship of the Burrow, and follow the inexorable path laid out before him."
I think this is definitely the best book in the series, and I am so glad that J.K. managed to draw everything together and finish on such a strong note. Harry does not face the future alone - Ron and Hermione are there with him for most of the journey. But this is the darkest book in the series, Dumbledore's tomb is desecrated, and Harry conjures up the spirit of his dead parents to accompany him as, feeling used by Dumbledore, he walks to his certain death. Such a sad chapter !

The book starts with a children's fairy tale told to the young by witch and wizard mums and dads. This is "the Tale of the Deadly Hallows." But Harry and Voldemort were orphans and do not know the story. At the end Dumbledore has had perfect prescience, and has taught Harry well - not super all powerful spells but a genuine understanding of how magic works. Voldemort is the most powerful evil wizard that ever lived with a deep deep knowledge of the dark arts. But Harry gambles that in the final analysis Voldemort does not understand magic at all, and Harry's signature spell is "Expelliarmus."
And so we get a worthy end to a classic story that will be re and re-read. Well done, J.K., and thank you.
The tale told, there is a final entry "Nineteen Years later." Although Ginny and Harry have a first born son named James, we rejoin them when they are seeing their second son Albus Severus off to his first year at Hogwarts. Hopefully, one day, we will learn of what befalls Albus, and revisit J.K.'s magical world .
Links to author index and home page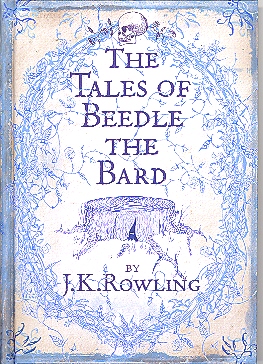 For those of us suffering from withdrawal symptons after the end of the Harry Potter series, this little book of fairy tales by J K was a must buy - but alas, its a poor substitute for Harry !
It is a simple little book of 5 fairy tales of magical characters who all get their just deserts. The last tale is "The Tale of the Three Brothers" which is the fairy story that is given to Hermione by Dumbledore for her to translate - and it is the tale of the Deathly Hallows per the final Harry Potter book.
The stories were written by Beedle the Bard in the 15th century, but sanitised in subsequent retelling through the years. In this book the original runes are translated by Hermione Granger, but we also have Professor Dumbledore's notes to each tale. These were discovered after his death, and so were written before the events of book 7. J K also adds some notes of her own.
These are simple tales of good and evil as told by witches and wizards to their children through the ages. And it's clever that J K can make up 5 new fairy tales. And the proceeds do go to charity. But it's a light read - the whole book can be read in a couple of hours. And alas, it's not Harry Potter !
Links to author index and home page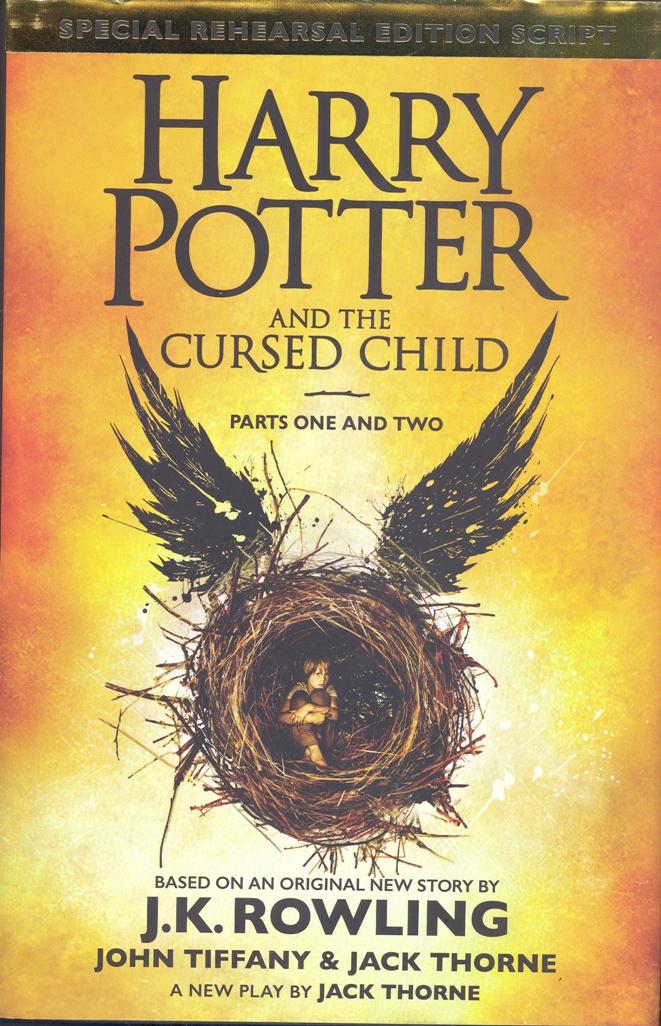 I read this book in April, 2018.
This is the book that all Harry Potter fans (and I am one) have been waiting for. Book 8 in the Harry Potter series is a story told in a play form, and as I write the play is still packing them in on the West End stage, and has just opened to critical acclaim on Broadway. It's a new story by J.K.Rowling, John Tiffany and Jack Thorne, but we have no idea what their respective contributions were. I have seen several copies of the book in charity shops before now, but they were always overpriced. Finally we got a copy in April, 2018 for £1.50, and of course had to read it right away.
Book 7 completed the story of young Harry Potter with his triumph over Voldemort at the Battle of Hogwarts - but at what cost ! Both Albus Dumbledore and Severus Snape had been previous casualties. The book ended with an addendum labelled "19 years later ..." Here we had Hermione married to Ron with a daughter Rose, and Harry married to Ginny with two sons, James, Albus Severus, and a daughter Lilly. Albus is about to go to Hogwarts for the first time, and is worried that the sorting hat might place him in Slytherin rather than the Griffindor of Harry, Ron and Hermione, and of young James. Harry reassures young Albus that the sorting hat takes into account the sortee's preference. And so ended book 7. This book opens with a great surprise because after much deliberation Albus is sorted into Slytherin - the house of dark magic and Voldemort. Harry loved Hogwarts - the only home he ever knew and in Dumbledore a wonderful father figure. But Albus is miserable at Hogwarts and his time there is just as wretched as Harry's was joyful. We see him going back to misery several times at the start of new terms, and he grows to resent Harry for inflicting Hogwarts on him. He does however make one special and surprising friend - Scorpius, son of Draco Malfoy. Scorpius doesn't have any friends either - there is a rumour that his parents could not conceive a child, and used black magic and a Time Turner to go back in time and meet Voldemort. Incredibly the rumour is that Scorpous is the son of Voldemort. In fact Scorpius turns out to be quite a hero.
And so we have the two main themes of this longish story, told as the script of the West End play. Theme one is the estrangement of Harry and his son Albus. Harry, the most famous wizard who ever lived, is an impossible act to follow. James was like his father and did not have problems, but Albus was different and suffered. The atmosphere between Harry and the resentful Albus grows poisonous. There is one argument when Harry's temper gets the better of him. He accused Albus of wanting Harry dead. "I don't want you dead, I just wish you weren't my father" says Albus. Harry replies "And I just wish you weren't my son" and the instant he says it he regrets it, but it's too late.
The second theme is time turning. We saw Hermione using a time turner in "Harry Potter and the Prisoner of Azkaban". It's dangerous to meddle with time, but Hermione is a sensible, gifted witch, and the time turner is used safely in a great story. This time the turner is not used sensibly. Hermione is the Minister of Magic, and Harry is the head of one of the departments at the Ministry. In this capacity Harry confiscates a time turner but word gets out, and Amos Diggery visits Harry to plead with Harry to use the time turner to go back in time and save his son Cedric (The Triwizard Cup). Harry knows the danger and says no, but Albus has overheard the conversation and decides that he will steal the time turner and go back and save Cedric himself. He persuades Scorpius to go back in time with him, and both are helped and advised by Amos Diggery's "niece" Delphi. There is a nice bit of symmetry in the Scorpius and Delphi stories.
I started off enjoying most of the book, meeting so many old friends again - just about everyone, in fact - but hating the time turner plot. It retells the story in different ways, but the original story was perfect, and did not need twisting and abusing. However the ending does have a good use for the time turner. More than this I cannot say - my intention with these impressions has never been to write spoilers !
All in all, it's an interesting, good story, and of course I'd love to see the play - parts 1 and 2. But its different, and not nearly as good as books 1 to 7, in my opinion. However, above all, it was lovely to return to Hogwarts !
Links to author index and home page


Any Scot or any reader of the Sunday Post will know all about Oor Wullie and the Broons. For anyone else they are cartoon characters who have appeared in the Sunday Post since 1936, and in annual compilations. When I was a toddler I used to get Oor Wullie and the Broons read to me every Sunday, and then when I was older I could do my own reading - for myself, and later to my own children. Sunday was not Sunday without Oor Wullie and The Broons, Christmas was not Christmas without the Oor Wullie Annual, or the Broons Annual - they alternated each year. I have been reading Oor Wullie for over 60 years - so how could I not include them here?.

The Wullie and The Broons of my childhood were written and drawn by a great cartoonist, signed DDW, Dudley D. Watkins. The pleasure of reading Wullie and the Broons was not just in following the characters adventures, but in marvelling at the artistry of Dudley Watkins's pen and ink drawings, and the intricate detail he got into the characters expressions - joy, or horror, or disgust.
Surprisingly Dudley Watkins was an Englishman. He was born in 1907 in Manchester. His father was a lithographic print artist, and young Dudley showed early artistic talent - the local newspaper called him a "schoolboy genius". He studied at Nottingham School of Art, and while working for Boots Pure Drug company in the early 1920s, published artwork in their staff magazine. In 1925 his family moved to Scotland and Dudley attended classes at Glasgow School of Art. The school principal recommended Dudley to D.C.Thomson, the Dundee based publisher. Watkins was offered a "temporary" job, moved to Dundee, and began illustrating stories in Thompson's comics. For several years he was just another illustrator, and had to supplement his small salary by teaching life drawing at Dundee Art College. In 1933 he turned his hand to comic strip work, and his special talent was soon recognised. His greatest creations Oor Wullie and the Broons first appeared in the Sunday Post on the 8th March, 1936. A year later (1937) he was drawing Desperate Dan in The Dandy, and when The Beano appeared the following year (1938) Dudley drew Lord Snooty.
For many decades Dudley Watkins (along with Alan Morley) was the only cartoon artist allowed by D.C.Thomson to sign his work. He died at his drawing board at Broughty Ferry in August, 1969.
Later artists drew Wullie and The Broons but in my opinion none of them captured the the character's expressions so well or with the same detail. The adventures of Wullie and the Broons followed a childhood calendar. In winter Wullie was on his sled, Easter was egg rolling time, then came conker time, marbles, dragging himself off the school, then breaking up for the school holidays, visits to the country, halloween, guising, presents at Christmas, first footing at New Year. It was my childhood in pictures - but unlike Wullie, I never had a bucket to sit on.
I have chosen two compilation annuals to represent the vast work of Dudley Watkins - his early years in the compilation The Broons and Oor Wullie, The Golden Years (1946 to 1956), and his later years The Broons and Oor Wullie, the 1960's Revisited. These books cover the years when I was an avid Oor Wullie reader - and its nice to come across an adventure half remembered from so long ago.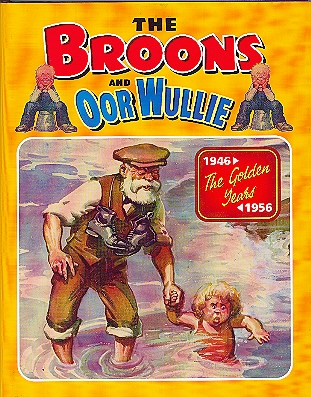 The book is about 140 pages in length, with Oor Wullie on the even pages, and the Broons on the odd pages. There is a little introduction as to what was happening in each year, and then there are several adventures, each showing the date they appeared in the Sunday Post. Just glancing at the stories, there are lots of differences between Oor Wullie and the Broons then and now. The stories are longer, they have a lot more dialogue, and usually more pictures.
As usual, each Oor Wullie story starts and finishes with Wullie sitting on his bucket. All his pals are there - Fat Bob, Soapy Souter, Wee Eck, and PC Murdoch is there to keep order. Its a world of tramcars, men wear hats that Wullie can knock off and chase after, Wullie is William at school, there are coal sheds, carties, ponds, farms and the country side, pet paddocks (frogs), etc, etc. And in December, 1954, Wullie writes to Santa for football pants and jersey, ball and boots. Its fun, and its social history.
I always liked the Broons, but somehow I preferred Wullie. The Broons have hardly changed through the years. Maw and hen pecked Pa, tall lanky Hen and fit, sporty Joe, glamorous Maggie and always dieting Daphne, brainy Horace and the twins, the bairn, and Granpa. If they paint the floor, they will end up stuck in the corner, if Pa starts an economy drive it will end up with him out of pocket, and poor Daphne is always searching for a boyfriend. There is a TV, but it needs to be mended so that the lads can see the match that evening. Pa goes to play ludo with Joe's friend, but gets thrown across the room - it was judo not ludo. Happy, innocent adventures full of misunderstandings. But the centre of each story is always family life and they all look after each other. And all are drawn with great detail, and the facial expressions are just spot on.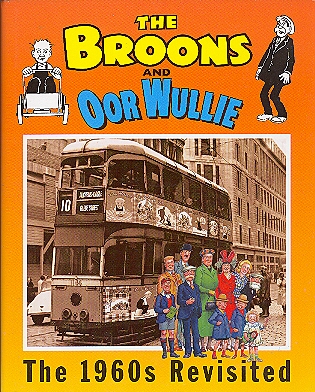 The format for this book is very much as per above - about 140 pages, Oor Wullie on the even pages , the Broons on the odd pages, each adventure dated, split by years and with a little introduction at to what was happening that year. Compared with the prevuious decade, there are less words, and bigger but fewer pictures - but still a lot more than you would find in a present day story.
Wullie still sits on his bucket, goes to the pictures on Saturday afternoons ( usually to see cowboy films), spends a day swimming but has a dislike of water when its bath time, suports the Rovers, has to earn money quickly to buy a present when its Maw's birthday, eats his favourite mince and tatties, has a pet mouse etc, etc. In the Broons, the girls are still unmarried, Daphne still has a weight problem, the family still holiday at their But and Ben in the country, and Granpa and the bairn are still thick as thieves.

With the passage of time I have to admit that although I still like Oor Wullie and the Broons, perhaps I no longer enjoy them quite as much as I used to when I was a child. I don't suppose this is surprising. But I do like to dip into their world now and then and I do enjoy renewing old acquaintances. We no longer get the Sunday Post every Sunday - but we do get it sometimes (I might make a point of buying it at Easter or Christmas) and then I still turn to the "Fun Section" as used to be to see what Wullie and the Broons are up to. As time goes on, Wullie and Broons may have to update themselves slightly, but lets hope that any changes are only small ones. And we can always revisit them as used to be in these compilation annuals, and marvel afresh at the work of Dudley Watkins.
Links to author index and home page