Iain's Recommended Book Series
I'd read an article in some newspaper along the lines of "move over Rebus, Edinburgh has a new top detective in Bob Skinner, who features in a series of books by Quintin Jardine." I'd also read that Quintin Jardine out sold just about everyone else in Scotland (but surely not J K Rowling !), so I thought I would give the books a try.
Mathew Quintin Jardine was born in Motherwell in 1945, attended primary school there, and then went to Glasgow High School for his secondary education. He studied law at Glasgow Uni, but changed his mind, and began a career in journalism in 1964. In 1971 he switched again, and became a government information officer in Edinburgh, then a spin doctor, and then an independent media relations consultant. As a member of the Conservative Party's professional staff, he was involved in several bye election campaigns in the 1980's and later he had quite a list of consultancy clients in Scotland for his PR advice.
Jardine later turned to writing, and his first novel, "Skinner's Rules," published in 1993, was nominated for a UK Crime Writer's Association award. Since then he has published many books featuring three characters - Bob Skinner, and the Blackstones - Oz and his wife Primavera. The main character is the Scottish detective Bob Skinner. Oz, also Scottish is a private detective turned Holywood actor. He appeared in 1996, had a son Tom with his wife Primavera, but was killed off after 9 books, and Primavera took over in 2009. To ensure that Bob Skinner and Oz Blackstone could never meet, each was featureed as fictional reading in the other's books. Oz even played Bob Skinner in a fictional TV adaptation - fancy that!
Quintin Jardine married another Scot, Irene King, in 1966, and they had two children, a son and a daughter. Sadly Irene died in 1997. Quintin married for a second time in 2002 to Eileen Abernethy. They live part of the year in Gullane, on the East Lothian coast, and in L'Escala, on the Spanish Costa Brava. Quintin Jardine's Primavera Blackstone and her son Tom also live in Spain.
The main character Bob Skinner is described as "Britain's toughest cop". Like his creator, Bob too lives in Gullane and L'Escala. At the beginning of the first book Bob is a DC Superintendent , but he rises in rank through the series to be deputy Chief Constable. In the first book, Bob's wife Myra had died many years ago, leaving Bob alone to bring up his daughter Alexis. Also in book one, he meets and falls in love with Dr Sarah Grace.
When I start reading a new author, I like to research their life as often it explains so much of what we will find in the books. This time however, I researched a little too far, and found out a little of what the future holds for Bob and Sarah. I wish I didn't know - I don't believe in giving plots away and spoiling possibly still unread books.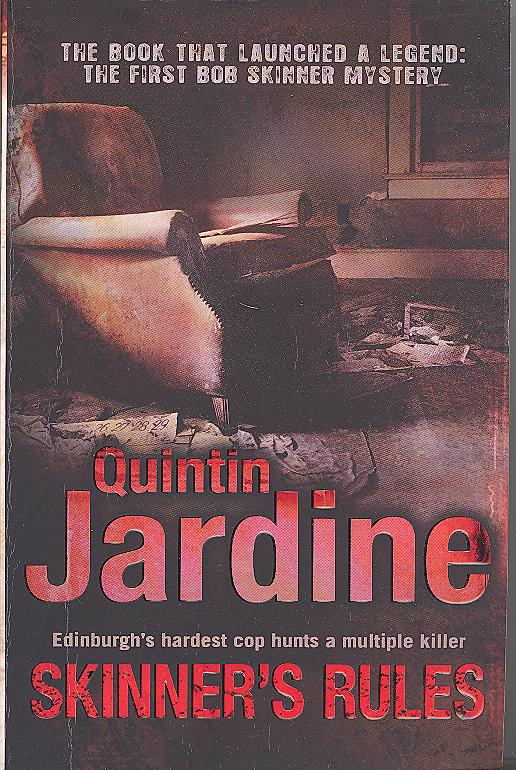 I read this book in February, 2012.
As mentioned in the introduction, I had read good things about Quintin Jardine's ace detective Bob Skinner - especially the bit about about "move over Ian Rankin, Edinburgh has a new top detective". I really enjoyed the DCI John Rebus books which were set in Edinburgh, so I thought I would give the Bob Skinner ones a try to see what I thought of them. Luckily I came across "Skinner's Rules" in a charity shop, so where better to start than at the beginning of the series.
It usually takes me a while to warm to a new character. I started off quite lukewarm with DCI Alan Banks, and Peter Robinson, and ended up rating the Banks series very highly. So you won't be surprised to learn that I only sort of enjoyed "Skinner's Rules".
Quintin Jardine is a former journalist, and this shows in his matter of fact writing style. It seemed to be a succession of this happened, then this, and then this. It's a sequence of things happening rather than mood setting, or scene description great writing. But it's early days yet, and I'll certainly read on - I already have book two waiting to be read.
In "Skinner's Rules " we are introduced to Detective Chief Superintendent Bob Skinner, head of CID in Edinburgh, the Scottish capital city. He is in his 40's, is tall and very fit, and is a black belt in the martial arts. He commands respect as a most imposing figure, and is a good leader of men. His assistant is DI Andy Martin, whom Bob soon promotes to be head of Edinburgh Special Branch, with the rank of DCI. There are a lot of other promotions, and Bob himself has advanced to Assistant Chief Constable by the end of the book - but still head of the city's CID. Bob's new assistant, DS Brian Mackie, is promoted to DI - promotion some think too fast.
Skinner's wife Myra had died some 18 years ago, leaving Skinner to bring up a young daughter Alexis. She is now 19. We also meet Dr Sarah Grace, one of lots of main characters. Sarah is an American with an interesting history. She has now given herself a shake up, left a longish relationship that was going nowhere, and has turned up in Edinburgh. She and Skinner just click - it's love at first sight for both of them, and as well as being good at everything else, Bob is a great lover who sweeps Sarah off her feet. Straight away she has a key to Bob's home in Gullane, meets Alexis, and the two girls become firm friends. Everything happens so quickly ! You won't be surprised to learn that Bob and Sarah are married by the end of the book.
What of the story ? We open with lawyer Michael Mortimer being killed, and his body hacked up. It's obviously murder, not suicide. Soon others are killed, and Mike Mortimer's girfriend Rachel is also dead. So there is a cold blooded serial killer on the loose for Skinner and his team to hunt down. Before he does, the story takes off into John Le Carre territory of politics, spies and dirty tricks where the "end justifies the means". It's not all that believable, but Quintin keeeps a tight control of things, events move to a great climax, and there are lots of surprises en route.
Overall it's not great literature, but it's all done well enough, and the main characters are quite interesting, and we are continously on their side. So I'll read on, and see how the series progresses.
There was one thing that I did find interesting though. Most of the detectives in the books I have been reading are at DI, or DCI level. They need to be, to be in charge of their investigations. Stuart McBride went down a rank with his detective sergeant Logan McRae, and this worked very well with poor Logan solving crimes, but suffereing from mostly uninspiring bosses. Adan Dalgleish was unusual in being a Commander at Scotland Yard. Now Quintin sets his hero at assistant chief constable level. It will be interesting to see how this works, but let's not have too much politics as the expense of crime solving, please. At least Bob Skinner's boss, chief constable Jimmy Proud seems a decent chap, good at his job, and around when needed.
Links to author index and home page


I read this book in April, 2012.
"Skinner's Festival" is the second book in the ACC Bob Skinner series by Quintin Jardine, and just like book one, it is complete tosh, with an almost comic book super hero, but in spite of that, I kept turning the pages to see what happened next, and by the end, really I quite enjoyed it.
Bob Skinner is almost the perfect copper - a good leader, extremely fit, and in tight spots, fiercely focused, and possessing almost superhuman strength. The book talks of Skinner as almost a psychopath - as having an inner creature who is mostly supressed, but beware when the inner creature is aroused. Bob then has a frightening, cold look, and great strength. Yes, beware of this, but in times of extreme trouble, it does seem to save the day.
What is the plot? A group of allegedly local terrorists want home rule for Scotland, and use the Edinburgh Festival where the eyes of the world are on the city, as an opportunity to make outlandish demands. They are completely and utterly fanatical. We are not dealing with a murder or two, but lots of terrorism, bombs, the SAS and even missiles lobbed into the centre of Edinburgh. Quite unbelievable tosh !
Bob is now also security advisor to the Scottish Secretary - which makes him head of special forces in Scotland, with power to do amazing things ( I do question the author's grip on reality !) In this role he reports to a the Scottish Secretary - a deceitful politician who can't be trusted, who takes any credit for success, but who sets Bob up as a fall guy for when / if things go wrong. Of course Bob triumphs in the end, against all the odds, but he makes himself some powerful enemies on the way - and I'm sure they will reappear in a later book to try to exact revenge.
What of Bob's private life. Bob and Sarah are newly married, and still in the honeymoon phase, very much in love, and making love with wild passion whenever an opportunity presents itself. Andy Martin, Bob's best friend, is still there as head of Special Branch. Andy also finds "true love" when he mets Julia Shahor, director of the film festival. Unfortunately, Julia may not be all she seems to be. Love must be in the air, for even Alex, Bob's daughter, finds love, and moves in with Ingo - a Swedish hulk acting as electrician to an amateur dramatics production at the fringe, a production in which Alex has the lead. Bob neither likes nor trusts Ingo - is he a good judge of character, or just an over-protective dad. I think eventually Andy and Alex will get together - they have been there for each other in all sorts of scrapes in books one and two.
All the other members of Bob's crew are here. Jimmy Proud, Bob's boss, the Chief Constable, is on holiday at the start of the book - so Bob is exposed without friends in high places. But when Jimmy reads of the troubles back home in Edinburgh, he can't settle, and comes back to take some of the pressure off Bob's shoulders. Bob has a good boss - I like him.
All in all, it's not great literature, and it has the most unlikely plot, but if you can overcome the lack of plausibility, it's a good read. Bob and Sarah want to have a baby - I'll need to read book three to see if they succeed.
Links to author index and home page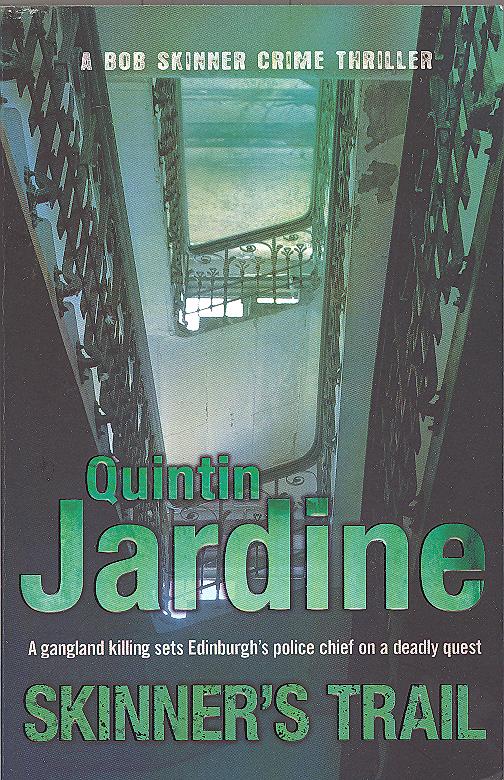 I read this book in January, 2013.
"Skinner's Trail" is the third book about "superman" cop, Assistant Chief Constable Bob Skinner, based in Edinburgh, and written by Quintin Jardine. I usually manage to find all my books in some charity shop, but I failed with this one. I had about ten books in the Bob Skinner series waiting to be read in the correct order, but I couldn't get started until I got hold of book three. So I had to admit defeat, and get the book from Amazon for £5.99 including delivery - three to six times as much as I usually pay.
I did have a little peak at book four whilst I was waiting, but I didn't read more than a few pages. It was obvious that there had been a bad falling out between Bob Skinner and Andy Martin, his former personal assistant, now a divisional commander, and up to now Bob's best friend. Whatever had happened had happened in book three, so I stopped reading book four, and got book three from Amazon.
Quintin Jardine and Bob Skinner have a vast following of fans, and Quintin is a good enough writer. But I haven't warmed to the Bob Skinner character as much as I have to Morse, Wexford, Dalgleish, Banks, etc, and I'm not sure why this is. The books are easy reading, and are well enough constructed. Perhaps it's because Bob Skinner is too much the superman - and perhaps I prefer flawed characters. Bob Skinner is a karate black belt, and has an inner demon animal instinct that gives him almost superhuman strength in extremis. Almost everything he turns his hand to, he does to perfection. In short, he is too good to be true. But let's let that thought rest for a moment.
Quintin Jardine spends some of his time living in Scotland, and some time living in Spain. So, in this book Bob Skinner visits a holiday home set in L'Escala in Spain - it's similar to Alan Banks visiting Canada, Peter Robinson is Canadian.
There are two main plots in this book - firstly the crimes, a series of murders that Skinner and his team have to solve, and secondly what is happening in Skinner's private life, with his wife, the police surgeon ( and now a professor, every one is a high achiever), and with his daughter Alex.
Starting with the private life, the book opens where book two finished. Sarah was pregnant in book two, and book three opens with Bob and Sarah in a maternity private suite, with Sarah giving birth to James Andrew Skinner - JAS, or Jazz as he is to be known by. Bob now has a baby son, and he loves his wife and son more dearly that he thought possible. Bob's daughter Alex graduates with a first in law - of course, they are all super people. Alex also has a new boyfriend, and it's obvious to us all who the boyfriend is, but super sleuth Bob has no idea - until the very last page of the final chapter. So now we can guess at the reason for the falling out !
What is the main story? Tony Manson an Edinburgh drugs barron, is found murdered, and whoever did it left no clues. Bob leaves his team to sort it all out,and takes Sarah and Jazz on holiday to Spain. Little Jazz seems to be on solids remarkably quickly - quite unbelievable. Whilst in Spain Bob agrees to help a fellow expat sort out a seemingly minor property fraud. But then the murders start happening in Spain too. The trail (Skinner's Trail) eventually leads back to Edinburgh through drug smuggling and the murdered Tony Manson. That is nice symmetry, which I liked.
I'll read on and try to be less critical, but it's second division fare, tabloid rather than quality.
Links to author index and home page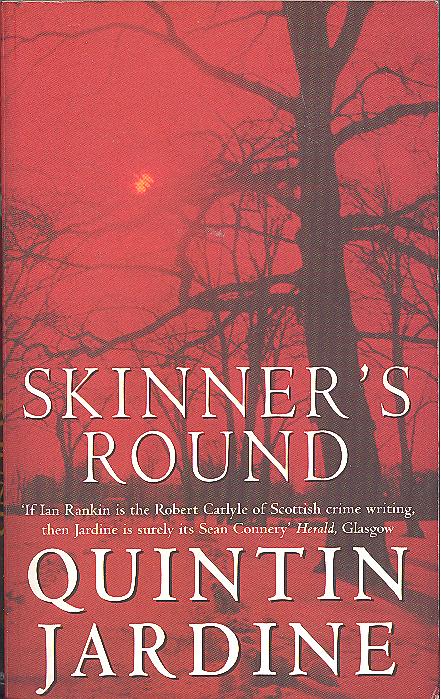 I read this book in January, 2013.
"Skinner's Round" is book four in the ACC Bob Skinner series by Quintin Jardine. I started to read it before book three which I couldn't find in any charity shop. But then I stopped when I discovered that there had been a terrible falling out between Bob and his best friend, Andy Martin. So I bought book three, and read it. Book three was OK, but it only hinted at the very end of the possible falling out. Book four now tells of the falling out in a series of flash backs, written in italics. More of that later.
I thought Skinner's Round was a terrific story, but then at the very end, QJ couldn't help himself and he wandered off into writing a very improbable ending. Once again Bob is a super man, everything is very over the top, and it's told in tabloid style. I don't like the sex scenes between Bob and his wife Sarah either, but I guess they are commercial, and help to sell books.
But it is a very good story, and Bob is surrounded by a very strong team of characters. The story is about a series of murders at a new golf course being opened near Edinburgh by the Marquis of Kintore. The murders seem to be following an ancient witch's curse. The golf course is set in Witch's Hill and surroundings. The co - owner of the course is murdered, and surprise, surprise, Bob Skinner is called upon to take the now vacant position at the £1 mil opening Pro - Am tournament. Skinner plays the golf round of his life - ie Skinner's Round. We also go back 400 years in Scottish history. In the end, everything is solved, and it all makes good sense apart from an over the top ending.
I think I will just have to accept the series for what it is, stop carping, and go with the flow.
There is a cracking bust up at the opening between Bob, Sup Andy Martin, formerly Bob's best friend, and Alex, Bob's beloved daughter. All three say terrible things, and lose control in the heat of the moment, and all three wish they could turn the clock back and replay the scene again. It's a very beleivable bust up, and it hangs in the air for a long time. I won't spoil the book by saying whether they make up, or if the wounds are too deep. But if you read the book, you will find out.
Bob and Sarah remain a very devoted couple, and both dote on their baby son, Jazz. Quintin Jardine is a successful writer, and I can see why. It's all done well enough in its own way - I just wish it was a little bit more beleivable.
I read the book when on holiday in Australia, and it was good to read of happenings in Edinburgh, "back home".
Links to author index and home page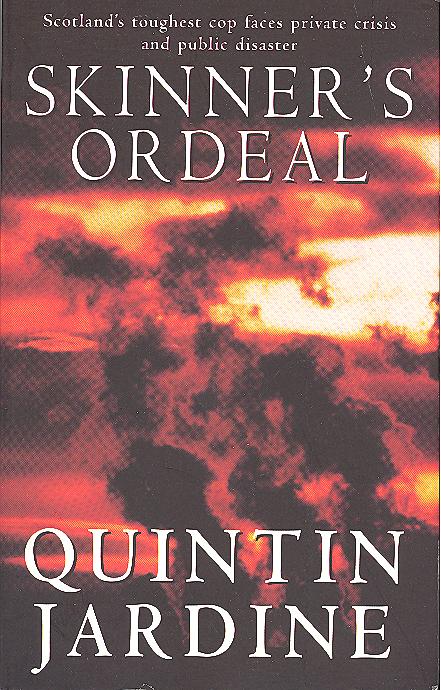 I read this book in January, 2013.
"Skinner's Ordeal" is the fifth book in the DCC Bob Skinner series, set in Edinburgh, and written by Quintin Jardine. I started reading it in Australia, and finished it back in the UK.
It's a crime story on steroids. A whole plane load of passengers is killed when a bomb goes off , and the plane plunges to ground. On board are women and children, but also the British and American Defence Secretaries. Was it a terrorist plot, aimed at one or both of the two politicians ? The incident is treated as a murder inquiry , with Bob Skinner leading the police investigation, but able to call on MI5, SAS etc, etc. as required.
Bob is at the head of a powerful team - Andy Martin his deputy of course, but also Brian Mackie, Mario Mcguire, Dave Donaldson, Neil McIlhennery, Sammy Pye, and from other departments, Adam Arrow, John Swift, and the American Jo Doherty.
Usually Bob acts as a superman in all these books, but in this story he is strangely troubled and below par. He has locked away in his mind, supressed, terrible events and trauma from his past, but these memories start to resurface, triggered by the carnage of the plane crash. The psychologist Kevin O'Malley is called in to help big Bob. Bob also gets himself badly injured, and is hospitalised for the rest of the book.
Eventually it's all sorted out, but there are two stings in the tail. Part of the repressed memory that is now retrieved concerns the death of Myra Skinner, Bob's first wife, and mother of Alex, some twenty years ago. There is an old mystery and possible crime to be solved. Alex tells Bob to let it go, and Sarah, his wife tells him that he is a DCC - pass it on to Andy to investigate. Bob's terrible temper flares up once again, and he says some very harsh words to Sarah. Up to now, Bob and Sarah had been the perfect couple, very much in love, but how can Sarah compete with a ghost ? Is this the start of a cooling off between them ? Will Bob ignore his wife's advice, and make it his mission to avenge the death of Myra - well as the next book in the series is called Skinner's Mission, I doubt that this is a coincidence.
It is a good enough story, and an easy read, and I like the list of supporting characters, all strong enough to maintain interest when Bob is in hospital. I'll read on and see what happens next, especially with the Bob, Myra, Sarah triangle.
Links to author index and home page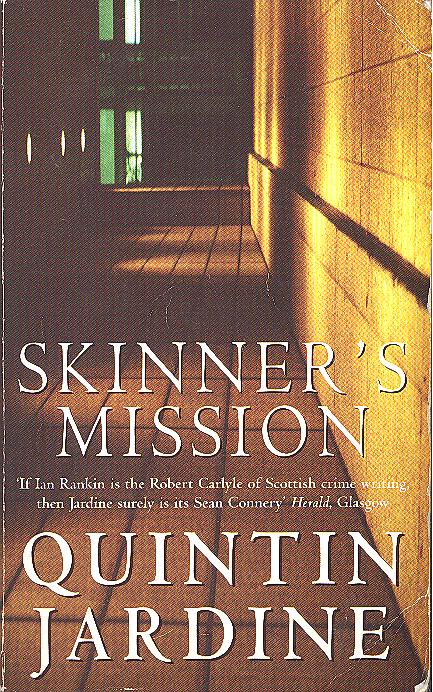 I read this book in January, 2013.
This is book six in the DCC Bob Skinner series by Quintin Jardine. It follows on directly from book five, and it seeems that what we would have thought impossible on the basis of reading books one to four, ie that Bob and Sarah, two real love birds would break up - this was actually going to happen, possibly over three books, five to seven. The cause of the problem was introduced at the very end of book five - Bob's supressed memory is now restored, and he is obsessed with thoughts of his first wife Myra. Bob now goes on a mission "Skinner's Misssion" to explain / avenge Myra's death, no matter at what cost, and so now in book six we see Bob and Sarah falling apart. They have both said terrible things to each other, and each feels betrayed, and neither is the same person whom they met and fell in love with, but the perfect realtionship, the love affair between two special people, Bob and Sarah, seems to be ending. I can't believe it's all happened so suddenly. All is not irretrievaby lost by the end of the book - but the problem is, does Bob realise what he is about to lose ?
Of course the main plot in this book is the Bob/ Myra / Sarah triangle, but there is also a crime to be solved. In this case, a car showroom owned by Jacky Charles, a notorious local hoodlum, drug barron, and loan shark is torched. The charred remains of a body is found in the debris. Has some one killed Jacky, or is the body someone else's ? In fact, the corpse is that of Jacky's wife Carole. Bob and his team have been trying to get some evidence to charge Jacky Charles with for some twenty years. But now they have a murder to solve.
All the team are here - Andy Martin, Dave Donaldson, Maggie Rose, Sammy Pye, Neil McIlhenney, Brian Mackie, Mario McGuire, and a new recruit, DS Pamela Masters, Bob's new and very attractive PA. All the team have been hand picked, trained and promoted by Bob Skinner, but by the end of the book it seems that someone may be leaking information or worse.
It's a good enough story, and lots of things happen on all sorts of fronts, and Bob's daughter Alex plays a significant role. We will have to read on to book seven to see if Bob and Sarah really are finished or not, or if Bob is moving on to a new job outside Edinburgh, or indeed if Bob and his assistant Pamela are to have an affair.
By the end of the book, Skinner's mission is over, and the ghost of Myra has mostly been laid to rest. But the dark secret about Myra that had been discovered should perhaps have been left undisturbed. Bob sees everything in black and white, everyone is either a saint or a sinner. If I could give Bob my advice, a strange thing to want to do, I admit, I really do think we could do with a little more forgiveness, but I doubt that we will get it. "To err is human, to forgive divine"
I doubt if Bob Skinner would take my advice, but perhaps he might listen to Rabbie Burns, and excuse me as I paraphrase :-
"Then gently scan your brother man,
still gentler, sister women,
Though they may gang a kennin wrang, to step aside is human
.............we know not what's regretted"
Let's see what book seven brings.
Links to author index and home page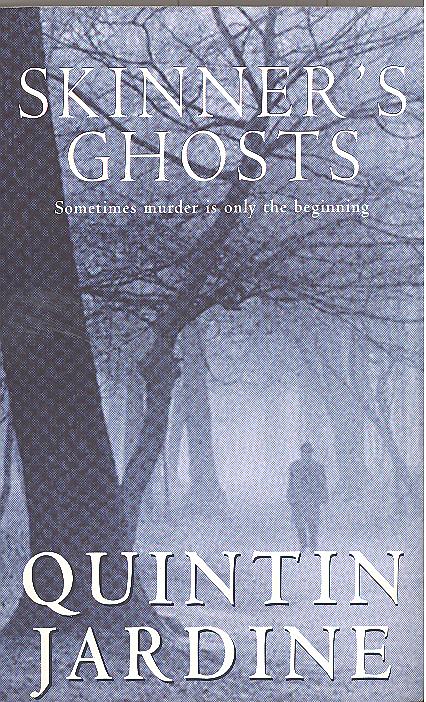 I read this book in February, 2013.
This is book seven in the DCC Bob Skinner series by Quintin Jardine. It follows on directly from book six, which in turn followed on directly from book five. I think it really is important to read these books in the correct sequence.
Bob met his soulmate and second wife Sarah in book one, after lonely years bringing up his daughter Alex after his first wife Myra was killed in a road accident. Bob and Sarah were the perfect couple, and were blessed with a baby boy Jazz, on whom Bob dotes. How could it possibly all go so terribly wrong, so quickly. A suppressed memory resurfaced, and Bob set out on an all consuming mission to avenge his wife Myra's death. Sarah had to take second place, things were said, it went from bad to worse. And so this book opens with Bob and Sarah separated, and Sarah and Jazz back in USA. Worse, Bob has met Sgn Pamela Masters who has replaced Sarah in the bedroom. What a stupid man, and to compound it Pamela works for Bob at police HQ in Edinburgh.
It's a cracking main story too. I loved 95% of the book, but I thought the ending was only fair. The ending made sense, tied up all the knots, and solved the Bob/ Sarah / Pamela triangle, but was a bit far fetched. I think these books are getting better and better as Bob appears more flawed - terribly flawed in this book. The main story is that an MP is brutally raped and murdered, and her young son Mark is kidnapped. Mark is the same very bright and incredibly brave kiddie who was the sole survivor of the terrible earlier plane crash in "Skinner's Ordeal." Mark and "Uncle Bob" have always got on well. This new murderer / kidnapper is very clever, leaves no clues, seems to have a personal vendetta against Bob, and always seems to be one step ahead.
At the same time very incriminating sexy photos of Bob and Pamela are splashed over the tabloids. And then evidence is found that Bob has a secret Channel Isles bank account into which a large "bribe" has been placed. More and more evidence is found pointing to Bob's corruption - and Bob is suspended by the new Scottish Secretary. It all looks terribly bleak. Bob employs the top firm of Scottish solicitors to defend him - the firm at which his lawyer daughter now works.
As the evidence against Bob grew and grew, I kept turning the pages to see how it might all end. It seemed someone within the police force who had access to police HQ was planting evidence against Bob - was this one of Bob's inner circle ?
I have said enough and don't want to say more in case I spoil the plot. It's a terrific book, spoilt by only a fairish ending - part of the surprise twist at the end I had already worked out for myself. But at least a sad chapter in Bob's life is over with a clean ending, and the possibility a fresh start for Bob. I will certainly read on.
Let's see what book eight brings.
Links to author index and home page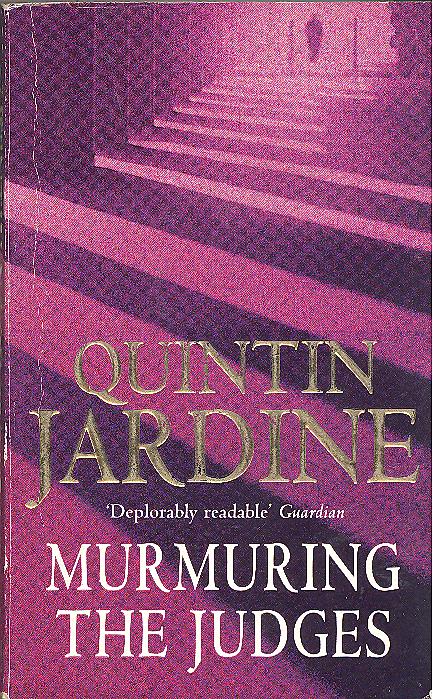 I read this book in March, 2013.
This is book eight in the DCC Bob Skinner series by Quintin Jardine. The author is writing these books like a serial story. Each book starts where the previous concluded, and each book ends with a cliff hanger question mark, setting up the next in the series. I am reading these books in the correct order, and I like the approach taken.
I also like the way Skinner and the plots have become a lot more believable - no more terrorists bombing Princess Street Gardens with missiles launched from the top of the castle, and no superhuman strength for Bob Skinner, wonder man !
All four main characters are back together again, Bob and his wife Sarah, Alex, Bob's daughter, and her partner and Bob's best friend Andy Martin, and behind them there is a very likeable team, part of whose lives we can also start to follow.
There are two main crimes to be solved here. One is the killing of Scottish Judges by a very clever serial murderer. Another is a fiendishly clever gang of bank robbers, ruthlessly striking targets just when they have higher than usual deposits in their vaults.
Bob and Sarah have adopted young Mark McGrath, an intellectually gifted youngster now an orphan following the happenings in earlier books. The book opens with Bob, Sarah, Mark, and baby Jazz on holiday in Spain. Then Skinner returns to Edinburgh to take over from Chief Constable Jimmy Proud, whose time it is now go on a long delayed holiday. Bob is a good stand in, but his heaart is not in it. He doesn't like being desk bound most of the time - he wants to be out where the action is .
It's a good story, a good page turner, and I enjoyed the book. And its not way over the top phantasy. At the end of the book both the main plots have been solved - the murdering of judges, and the criminal gang of robbers.
And the lead on story for the next book ? Alex a newly qualified lawyer, wants a career before starting to have babies, but Andy, her partner is 14 years her senior, and he wants to start now, so that he will be still able to play football etc with the children as they grow up. How can they compromise when they hold diametrically opposite views. ? And just at the end, Jimmy Proud is ill in hospital in Spain. His wife phones Bob with news - will it be good news, or bad news.
Yes, I'll need to read on.
Links to author index and home page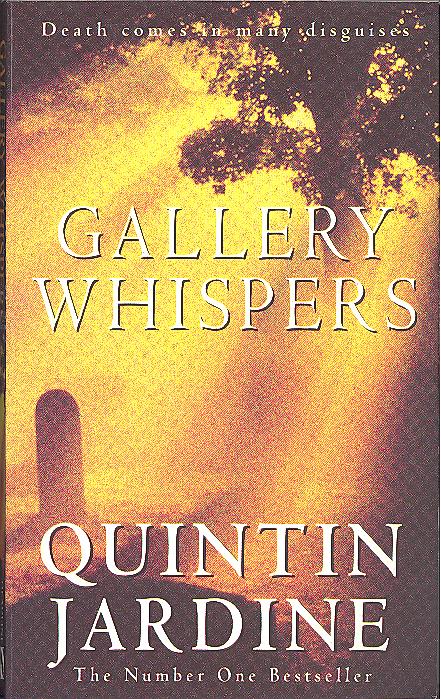 I read this book in March, 2013.
This is book nine in Quintin Jardine's series about DCC Bob Skinner of Edinburgh. Bob Skinner has quietened down a lot from the superman version of the very early books, and is now a lot more beleivable. I liked this book.
Mostly it's a background book - a lot of the story is about the private lives of Bob and his crew. The marriage breakup of Bob's best friend Andy Martin to Bob's daughter Alexis continues. I don't think I am spoiling anything when I say that it's all over by the end of the book. Alexis has too much to do and a brilliant career to build before tying herself down and starting a family. But Andy is older, and doesn't want to wait. It's just too big an issue for compromise.
We have got to know a lot of the team that support Bob and Andy Martin. Part of this team are Neil McIlhenney and his wife Olive. Olive is the mum of two young children, but discovers that she has cancer. The sad probability is that she will be dead in less than two years, but she has an inspirational surgeon in Mr Derek Simmers, and there is always hope - she has a 1 in 20 chance of beating the cancer with chemotherapy. Mr Simmers gives Neil and Olive hope, and keeps them going. But one of the main plots of the book is of a mercy killer who appears to have doctor level skills, and eventually Derek Simmers falls under suspicion. Neil refuses to believe this, but can he find an alternative suspect ?
Probably the main story is that of a high level Heads of State meeting to be held in Edinburgh. Special Branch have been tipped off that an international terrorist known as Hawkins will be there after an unknown target. There is a huge search. Then everyone is told that Hawkins is dead - definitely. But is he really ? We meet a new character - one of Andy Martin's young sergeants, the very attractive Karen Neville. She had followed a Hawkins suspect, and has now got very friendly with him. Hawkins is dead, so Karen should be quite safe ....
Bob and Sarah, and their sons Jazz and adopted son Mark are doing just well as a family - in fact Sarah is pregnant again. And Chief Constable Jimmy Proud has recovered from his heart attack, and is back at work, part time - so Bob Skinner can start to get out of the office once again. He hates to be deskbound.
It's a steady as we go story, and we get to know a lot more about members of Bob's team. The story builds to a big event climax at the end, and all in all, I enjoyed the main plot, and all the sub plots.
OK, it's not top notch fiction, but it's very readable. I'm really enjoying this series !
Links to author index and home page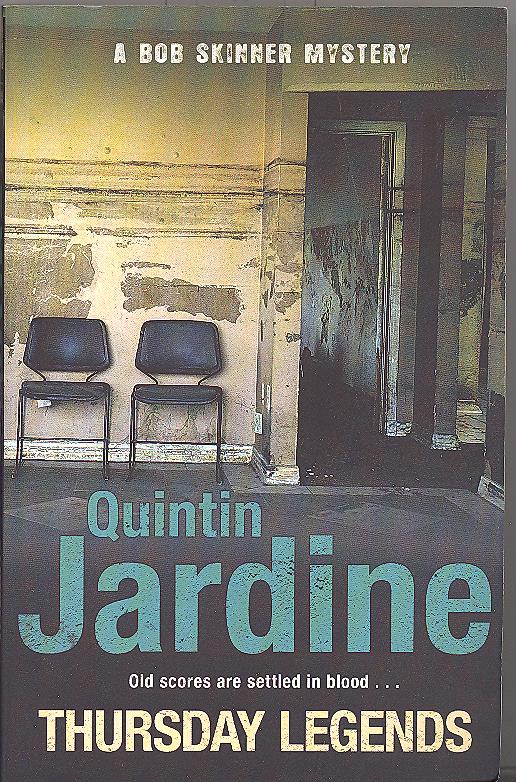 I read this book in April, 2013.
This is the 10th book in Quintin Jardine's very readable series out DCC Bob Skinner of Edinburgh. I have really come to enjoy this series, although I didn't care too much for the very early books in the series.
As always, there are two stories running at the time in these books. Story 1 is the crime or murder(s) to be solved. Story 2 is what is happeneing in the private lives not just of Bob Skinner, and his family, but now what is happening in the lives of a growing number of Bob's colleagues whom we have got to know.
The main crime is the brutal murder of an ex policeman, in fact a former head of special branch - ie Alex Smith. He is found strung up from a hook in his house, and had been sadistically tortured before his death. Before he had to give it up because of knee trouble, Alex had played knock about football with Bob Skinner and former colleagues on Thursday evenings - the "Thursday Legends". (As an aside, I have now read 9 earlier books in the series, and there had been no mention before about these Thursday get togethers - lots about golf, but nothing about football !)
We switch now to the private lives of Bob and his crew. Sadly Olive, wife of Neil McIlhenney and mother of young Lauren and Spencer, who had been suffering from cancer in book nine, didn't make it. But, one out, one in. Bob and Sarah now have a baby daughter Seonaid to join Jazz and adopted son Mark. Andy Martin, Bob's best friend, and Alexis, Bob's daughter are now living separate lives Andy has moved out of his old flat, is now living in a new house, and through this has met Rhian, the 20-ish daughter of his new next door neighbour. Soon Rhian and Andy are sleeping together. At the same time, Andy is also sleeping with DS Karen Neville. And he has asked out Bob Skinner's secretary. Three girl friends at the same time are two too many, but the problem is solved by the end of the book.
Andy is at a party at his new neighbours when Rhian's younger sister Margot spots a body floating in the near by waters of Leith. The body turns out to be that of another of the Thursday Legends. Bob is convinced that this must be more than coincidence.
The hero of this book is really Andy Martin, rather than Bob Skinner - his private life is the main story, and he is the one asked to solve the murders - and he does too. He also shows himself to be just as tough an enemy as Bob Skinner himself. There are plenty of clues that at some time in the future, Andy will have to part company from Bob Skinner - perhaps to take charge of some other police force. Let's hope that Bob and Andy are to part as friends - but somehow I doubt that.
I really liked most of this book, but I thought it had quite a contrived, poor ending which slightly spoiled an otherwise very strong story. Lots of characters from earlier books reappear - which I like.
I'm looking forward to reading the next book in the series.
Links to author index and home page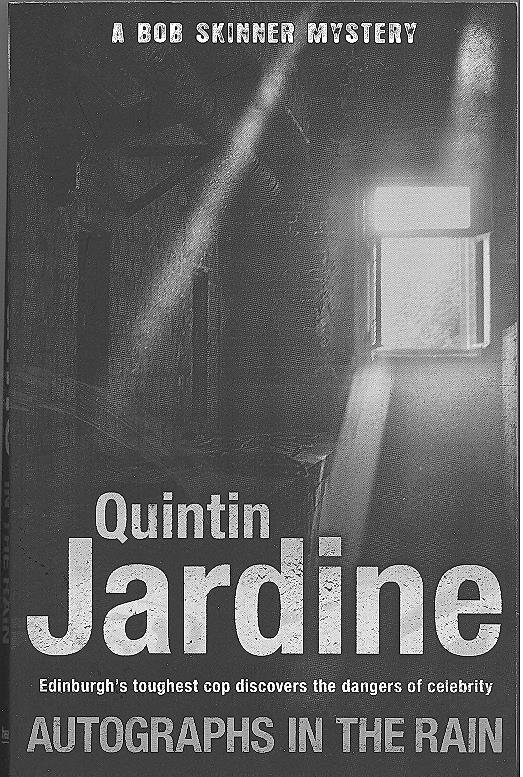 I read this book in May, 2013.
"Autograph in the Rain" is the eleventh book in the excellent DCC Bob Skinner (Edinburgh) series by Quintin Jardine. Although Bob Skinner is the main character, he is surrounded by a very stong team of great characters whom we have got to know. This is another book where the star of the book is not Bob Skinner, but this time, his executive assistant, Neil McIlhenney.
We had met Neil and his family (his wife Olive, daughter Lauren, and son Spencer) in earlier books . Also in an earlier book we read of Olive's unsuccessful fight with cancer, and that Neil had been left with Lauren and Spencer to bring up as best he could. Against all the odds, he meets someone else in this book - you'll need to read the story yourself to see if he gets a happy ending or not.
There are three stories running at the same time. Dan Pringle and Jack McTurk transfer to Borders Region, and deal with what is initially large scale fish rustling, but then becomes a murder enquiry. Story two is about the uncle of Ruthie, Bob Skinner's secretary, who is found dead by Sammy Pye and Ruthie - but all is not as it seems. In this story we also meet David McKenzie, "Bandit," a DI from Glasgow. And story three is the main story. Bob is in London, and meets an old girlfriend, Louise Bankier, now a very famous film actress. Someone takes a pot shot at them. Bob naturallly thinks that he is the target, but no, it is Louise. Louise is now on location in Edinburgh, and other attempts are made to scare or perhaps kill her. She needs protection, and Bob asks Neil McIlhenney to do the job.
It is a very readable book. All the usual characters make an appearance. Mostly, it's all fairly believable. I managed to work out / guess who Louise Bankier's stalker would turn out to be.
After a slow start, I am really enjoying this book series. I am looking forward to the next instalment.
Links to author index and home page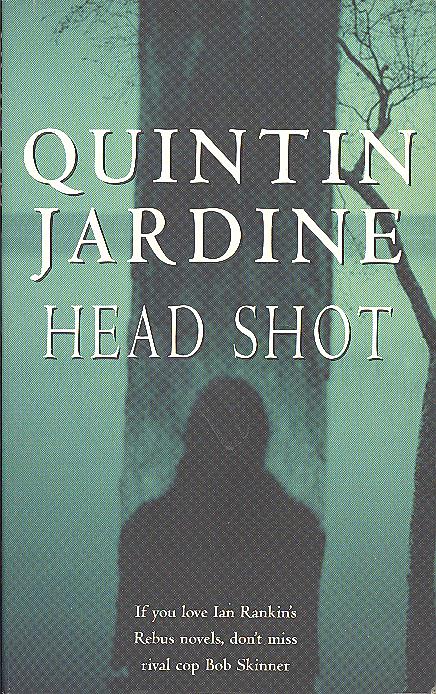 I read this book in May, 2013.
"Head Shot" is the twelfth book in the DCC Bob Skinner (Edinburgh) series by Quintin Jardine. As in most of the books in this series, Bob shares the story line with a long list of many strong characters, the police colleagues he has championed and promoted through the years.
There are two main stories, one set in America with Bob Skinner, and the other back in Edinburgh where several lines of enquiry merge into one case, and various new teams seem to be getting in each others way. There is quite a large reorganisation going on at HQ. Andy Martin, Bob's best friend, and the head of CID, has been promoted to ACC in Dundee - a stepping stone to being a future Chief Constable somewhere, perhaps even Edinburgh. The useless ACC Admin leaves, and so Willie Haggerty comes in - it is Willie who is in charge (under the chief constable of course) when Bob is away. Dan Pringle comes back from the Borders as head of CID - a stop gap as he will soon be retiring. Mario McGuire is now a Superintendent, the same as his wife Maggie Rose who is possibly destined for greater things, and Mario moves to the Borders region, and Neil McIllhenney ( married to the ex film start Louse Bankier, remember) is now in charge of special branch. Will Mario and his wife be competing for the same future promotion - I'd have said yes, but I'm less sure after the events of this book.
The American story is a sad one. Bob is in Hong Kong to address a converence when he learns that his wife Sarah's mum and dad have been murdered. He drops everything, and flies straight to America to add some clout to the murder investigation, enlisting the help of his deputy head of the CIA (or is it FBI) friend Joe Doherty. The story then goes a little over the top, but it is all handled very well. Sarah's parents death was only one of some related murders, each of prominent democrat lawyers, and each murder done professionally but made to look like botched thefts. There is great rivalry betweeen city and state police, special branch and the FBI, and some very murky dealings and cover ups. Bob himself has benefitted from murky cover ups in the past, and he knows that some secrets are best left secret. Joe Doherty does not agree.
Back in Edinburgh, the main story line is about Mario and his family. There is a wide spread valuable family business that Mario has not told his wife about, but he has to now, when his mum steps down from a family trust, and when his uncle is murdered. We also meet Paula, Mario's very attractive cousin, with whom Mario has had a fling years ago. Maggie also tells Mario of her family secret concerning a paedophile father who now seems to be back in the area.
The Edinburgh story all starts gently when a man is found dead in a doctor's surgery, but then the story builds and builds, and ends with Mario and Maggie having the row to end all rows. The American story also builds and builds. Both stories run together. We are reading an exciting bit about what is happening in America, and the the story switches back to equally momentous happenings in Edinburgh, and its all done very well.
I can't say too much about the ending - I never want to spoil the story for anyone who has not read it yet. The last chapter is a very short one page chapter that I had to reread several times, and I am still not sure what it means. It reminded me of the ending in the Harry Hole book "The Phantom".
I'll definitely need to read on to see who is still around, and what happens next. And as a result of her parent's death, bob's wife Sarah in now a very rich multi millionairess.
Links to author index and home page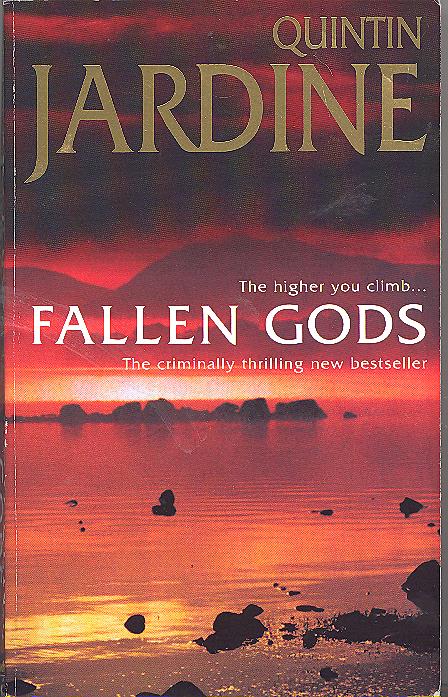 I read this book in June, 2013.
"Fallen Gods" is the thirteenth book in the DCC Bob Skinner of Edinburgh series by Quintin Jardine. No matter what anyone else says, do read these books in the order that they were written. There are lots and lots of characters that we are following, and you need to know their history to appreciate what is happening in the current story.
Especially, do read "Head Shot" before reading this book to follow the latest twist in the story of Bob Skinner and his wife Sarah. Sarah's American parents were killed in "Head Shot", and Bob's friends told him to be there when Sarah needed his help. Bob fails that test dramatically in this book. Sarah finds herself abandoned and turns to an old American flame for consolation, and for the second time Bob and Sarah's marriage is on the rocks.
There was a strange, cryptic ending to "Head Shot" - could Bob Skinner be dead ? The question is left unanswered at the start of this book, but of course Bob can't be dead in book twelve of a longer series. But Bob's health scare gives Edinburgh local politicians just the chance to get rid of Bob that they have been craving. Bob is a fighter, and he goes back to Edinburgh to fight for his career, but abandons Sarah in America.
From earlier books we know that Mario and Maggie Rose's marriage is disintegrating. Mario is also now sleeping with his cousin Paula. This cannot continue - Mario will have to give up Paula, or leave Maggie.
Bob's best friend Andy Martin, now a DCC in Fife, finds a body in flood water in Perth. To cut a long story short, the body is that of Michael Skinner - Bob's brother whom he has never mentioned.
There is a case of arson at an art gallery in Edinburgh that Maggie is investigating. She is assisted by up and coming DI Stevie Steele who storms on to the scene as a gifted detective, and one not afraid to take on a superior to argue his corner. He will be someone to watch out for in later books. He and Sarah have even stolen a kiss together. Surely Stevie cannot be about to take on Bob Skinner - there would be only one winner in that contest !
All in all, "Fallen Gods" is a huge story. Quintin Jardine skillfully keeps so many balls in the air at the same time, and the book is so readable.
I've really warmed to the Bob Skinner stories. I can't wait to read the next book - and luckily there are still a lot more books in the series for me to read.
Links to author index and home page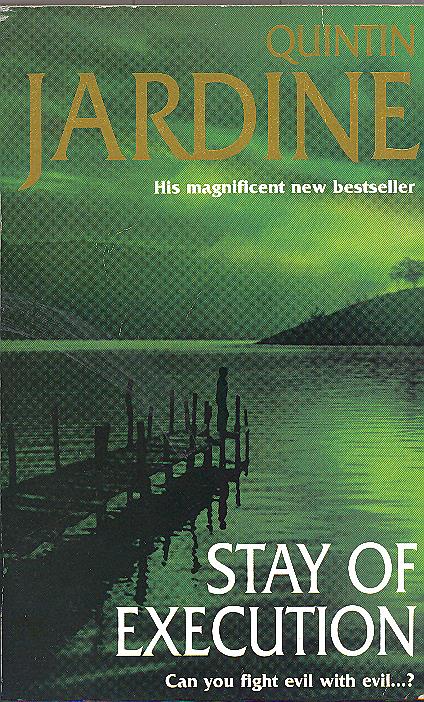 I read this book in July, 2013.
"Stay of Execution" is the fourteenth book in the DCC Bob Skinner of Edinburgh series by Quintin Jardine that has really grown on me. This is another worthy member of the series - well written, great plot, and it all comes together in the end. It's very readable, and a real page turner.
There is a great cast of characters, and just about everyone has a story line here, except ACC Andy Martin, who had transferred to Fife. I think that what is happening in everyone's private lives is just as important as the main plots. Bob Skinner and Sarah's marriage seems to be in it's final throes. It appeared to be on the mend half way through the book - when perhaps Bob was going to forgive and forget as after all he is no angel himself - but it's all downhill at the end. Surely it will all be decided , one way or the other, in the next book. In book one, Bob met Sarah, and no two people were ever more in love. What a change now !
There is yet another reorganisation at Police HQ, as Bob moves people once again - it all seems to be part of a longer term plan. Mario and Maggie are now amicably separated - Mario and his cousin Paula seem very happy together, and now Maggie has found happinesss with Stevie Steele. There are three new characters. A new D. Superintendent, Mary Chambers, comes on the scene, and Bandit McKenzie (who clashed with Bob in "Autographs in the Rain") is promoted to DCI, and joins the team. But the main new character is not in the police force, but surprisingly is a politician - the new Scottish Justice Minister Aileen de Marco. Bob usually hates two faced politicians, but he finds Aileen to be the exception. I guess we have just met Sarah's successor - but what is going to happen to Mark, Jazz, and Seonaid, Bob's three young children to whom he is devoted ? Alex, Bob's oldest, is a grown women, but the youngsters really need a settled home life.
What is the "main" plot ? Well, it's really a series of smaller plots, that of course turn out to be related, but it takes the whole book to discover this.
Colin Mawhinney is a DCI in the New York police, who entertains Mario in America as part of an exchange scheme, and then it's Colin's turn to visit Edinburgh. Colin has a deep sadness - he was there, and saw his wife killed in 9/11. So when Colin is later found dead, has he been murdered, or was he overcome by despair, and committed suicide ? In a separate plot, an Edinburgh solicitor, is found hanging from a tree - and at first it does seem to be a suicide. And in a third plot, there is a troup of a Belgium marching band in Scotland for a very special performance, but two of their number are killed.
Occasionally, and needlessly (I think), Quintin Jardine goes way "over the top" with his story lines. The special performance mentioned above is a request from a Scottish Catholic Archbishop who has just been appointed as the new Pope ! We all know that that simply didn't happen - so obviously it's difficult to "suspend our disbelief," and go along with such a preposterous plot. I know that the whole story is fiction, but we must be able to believe in the characters / what is happening. Could the new Pope not just be someone who had spent some part of his life in Scotland. On the other hand, the ending depends on Bob keeping a personal promise. I guess he would feel more obliged to keep a promise made to a Scottish Pope.
But apart from the nationality of the new Pope, it's a good story - and I definitely must read on to see what happens next. What will become of Bob / Sarah / Aileen, and Neil, Mario, Rose and Stevie ? When will Andy Martin reappear, and for how much longer will Jimmy Proud continue as Chief Constable ? Of course, the force needs a Jimmy Proud and a Bob Skinner - how can that be done ?
Links to author index and home page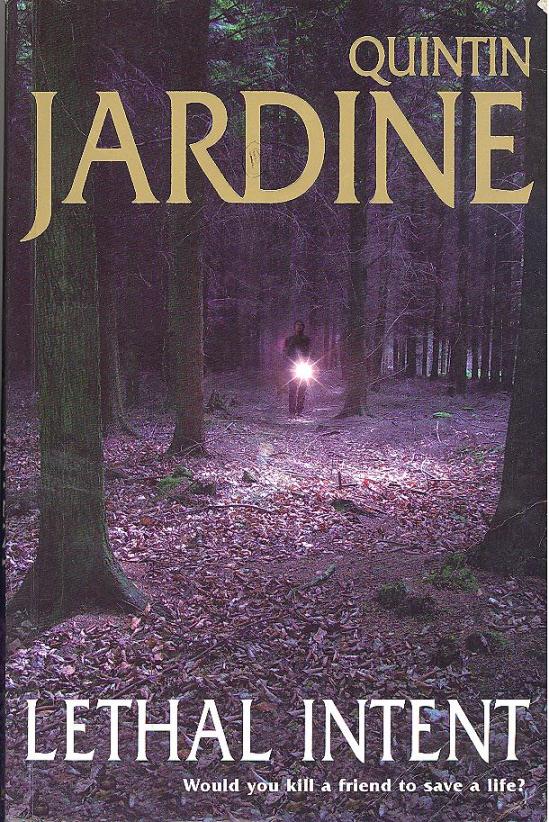 I read this book in September, 2014.
This is book 15 in the highly entertaining DCC Bob Skinner of Edinburgh series by Quintin Jardine. On the cover of the book, under the title "Lethal Intent", there is posed the question "would you kill a friend to save a live" ? The significance of this only becomes clear almost at the very end of the book.
There are three main stories running throughout this book. Story 1 is about some infamous Albanian gangsters reportedly in Scotland, and obviously not on holiday. Story 2 is about the sad deaths of the children of two policemen - and soon there is the attempted abduction of the son of another policeman, and one of Bob Skinner's gang. And story 3 is about dirty tricks at the very top of the Scottish parliament which eventually entails the threatened blackmail of Bob Skinner himself, and his increasingly close friend Eileen de Marco, the Scottish Justice Minister.
Quintin Jardine's story lines often stray well over the believable. In the previous book, we had a Scottish Pope ! And now we have an attack on a famous person who was a student at the time at St Andrew's University. I'm sure no other clues will be required to work out who that might be.
As in all the other Q. Jardine books in this series, there is a long list of characters whom we have got to know over the years. We have followed their careers in the Edinburgh police force, their promotions, and their private lives - Stevie Steel and Maggie, Mario and Paula, Neil and Louise, Andy Martin and Karen, Bandit McKenzie, etc, etc. And so we get another instalmant in this book.
Latterly, we have also been following the probable break up of Bob Skinner and Sarah's marriege, and the Bob, Sarah, Eileen triange. This comes to it's conclusion in this book - and to a surprisingly acceptable one, I thought. That said though, we don't yet know how what happens to Bob and Sarah affects their three children ! Perhaps we will find out in the next book.
Several books ago, Bob lost a good friend, and very useful contact at the highest level in American Security when Joe Doherty ignored Bob's good advice and was killed. Now Adam Arrow of the British Secret Service makes another re-appearance. Adam is one of Bob's good friends, and like Joe, a very useful high up contact. Look out, Adam ! As an aside, I must confess myself an Archer's fan on the radio, and I hate it when some of the Ambridge characters have extreme character changes, and act in ways that the character we had grown to know would never act. It's a cheap way of generating surprise and shock. I think some thing like that has happened in this book to the Adam Arrow character - and I didn't like that.
I could usually do with a little more realism in the Jardine plots, but for once, I'll excuse the excress in this book because it so in context, it's a terrific story, and it genuinely builds to a fantastic climax.
All in all, it's a great series by an accomplished writer. I'm now going to give myself a short break from DCC Bob Skinner - I'm going to try Constable Hamish McBeth next to see what I make of him and his fictional Highland village setting - but I look forward to reading the further adventures of Bob and his gang in the near future.
Links to author index and home page


I read this book in October, 2013.
This is the 16th book in the DCC Bob Skinner, Supercop, of Edinburgh series, and I continue to enjoy them on all sorts of levels. Quintin Jardine is a good writer. I like the way we have seemingly separate cases running at the same time, and then they all link up at the end.
Sometimes Quintin Jardine's imagination goes into hyper drive, where reality and plausibility are left behind. So we have had a Scottish Pope, missiles raining down on Princess Street Gardens, terrorists galore, etc, etc. I guess Bob Skinner doesn't really do simple crime any more.
This story follows on directly from the previous book which saw the attempted assassination of a royal student prince at St Andrews - but the twist was that this was not by conventional terrorists, but by rogue secret service agents, and specifically by a trusted friend of Bob's, Adam Arrow. Bob agrees to go down to London to do an external review of MI5 - to see if Adam had acted alone, or if he had friends in high places. Bob has to cut out the rotten apples at the core of MI5, which involves a trip to the USA. Bob manages of course, but he comes back exhausted. Has Bob a breaking point, and is he about to reach it ?
There are three other main stories, and lots of smaller ones. In story one, an apparent thief gets a finger chopped off when a theft goes wrong, but the victim of the theft (i.e. the finger chopper) is later found murdered with his hands hacked off. Is it retribution ? Story two - someone is stalking Bob's daughter Alex, but Bob has to go to London, and leave Alex's protection to his trusty team. And story three - Sir James Pound, the Chief Constable, gets a story line of his own, helping a daughter trace a mother she has not seen for over 20 years.
Although Bob and Sarah part very amicably, I thought it was a great sadness and such a pity for the children's sake. Now it will be Bob and Eileen De Marco. And we have musical chairs once again within the Edinburgh police force, with yet another re-organisation. Maggie Rose rules herself out from possible promotion - she is happy to be a mum to her new baby, and enjoying life with Stevie Steele. So Mario and Neil have finally made it to the top of the detective force, only one rung below Bob. Both are excellent at their jobs. I wonder when Bob's old friend Andy Martin, ACC in Fife, will re-appear. Dot Shannon is promoted to fill Neil's old job as head of Special Branch, and Dottie has a baptism of fire when she accompanies Bob to London and the USA to sort out MI5. Bob seems to have a gift for spotting and promoting new future stars, but one of his proteges seems to be struggling - Bandit McKenzie is making a mess of things. It seems to be traumatic stress following his presence at the St Andrews fire fight.
I still don't go along with the over the top plots, but I like the huge cast of characters in these books, all of whom get story lines, and we follow their careers and private lives with interest.
Yes, I prefer Rebus and Rankin to Skinner and Jardine, but I am more than happy to enjoy the adventures of another detective in Edinburgh. I can imagine lots of future possibilities for Eileen and Bob, and of course, Bob still has his three youngest to look after - Mark, Jazzer, and baby Seonaid.
Links to author index and home page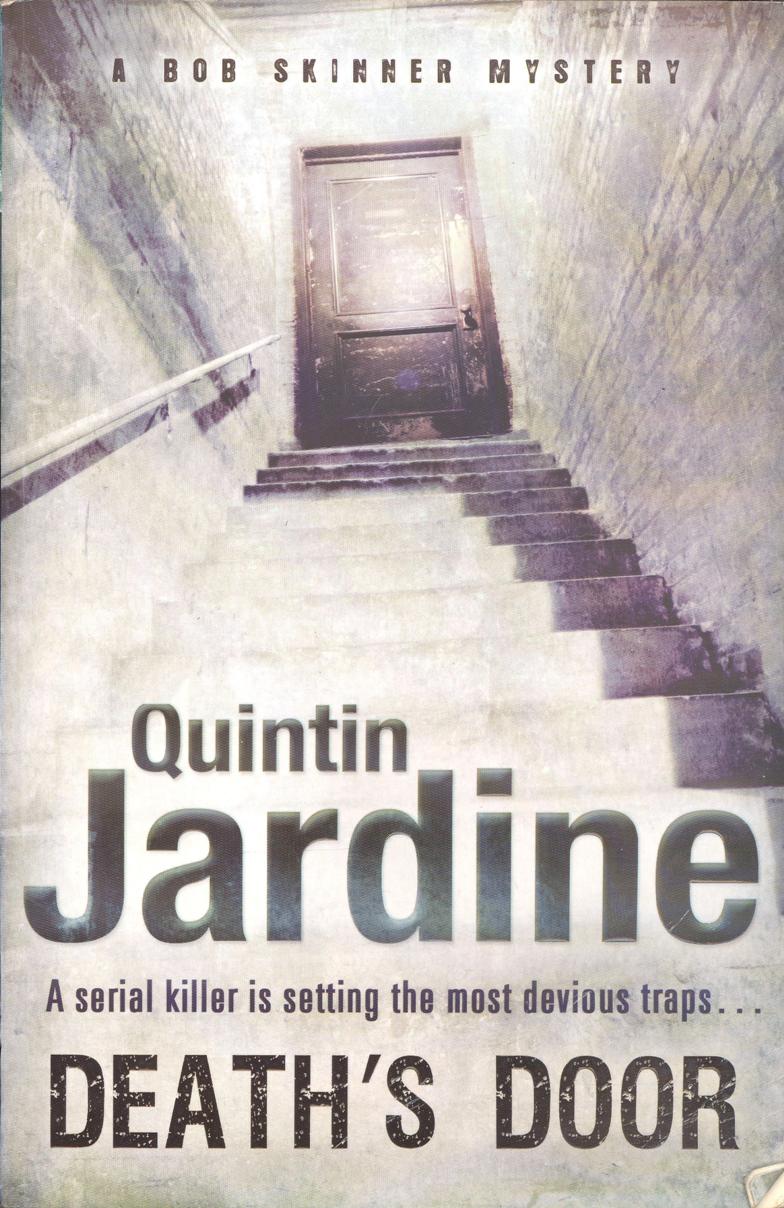 I read this book in December, 2013.
This is the 17th book by Quintin Jardine about the life and times of Edinburgh supercop DCC Bob Skinner. It's a great series of books, and this is a worthy member of that series.
One of the great stengths of these books is the Bob Skinner team - special members of his force that he has promoted, taken a special interest in, and calls one of us. We have met a huge cast, and they have all had their story lines. In this book DI Stevie Steele and his wife DC Sup. Maggie Rose take central stage. DI Steele has stepped in to fill the gap left by Bandit McKenzie who is on stress related leave, and is in such a bad way that he may not return. Maggie is pregnant and about to start maternity leave, but she gets some bad news, and then she gets even worse news by the end of the book. Sadly, not all of Bob's team make it to the end of this story.
What is the crime plot? Two girls have been murdered, and their bodies have been laid out to make it look as if they had just fallen asleep, or were posing as models. This is an accomplished murderer who leave no traces whatsoever. One of the murdered girls is the daughter of a millionaire businessman Davor Boras who has great influence is high places, and is used to getting his own way. He brings in big guns from the Home Office, MI5, and the CIA, and it's all getting very political.
Bob's crew carry the story for two thirds of the book as Bob keeps out of the way on a prolonged sebatical leave. But he turns up at Maggie's farewell pary looking super fit and fully rested just before she starts her maternity leave, and of course Bob dominatess the story from then on.
The murderer of the two girls is found by the end of the book, but the murder is solved at a very high price, and one of Bob's team is lost. Bob then sets out to solve an even greater puzzle - who killed Bob's colleague. It's not all solved by the end of the book - perhaps it will be continued in a later book. .
Bob and Aileen are still together, but not officially yet in public. But Aileen seems to have been accepted by Bob's children who seem to have coped with Bob and Sarah's divorce. And we are still reminded that Andy Martin is alive and well and now ready to move on from his ACC position in Fife. No doubt, he'll be back in a starring role in a future book.
But I've got to read on to see what happens to Maggie and her baby.
Links to author index and home page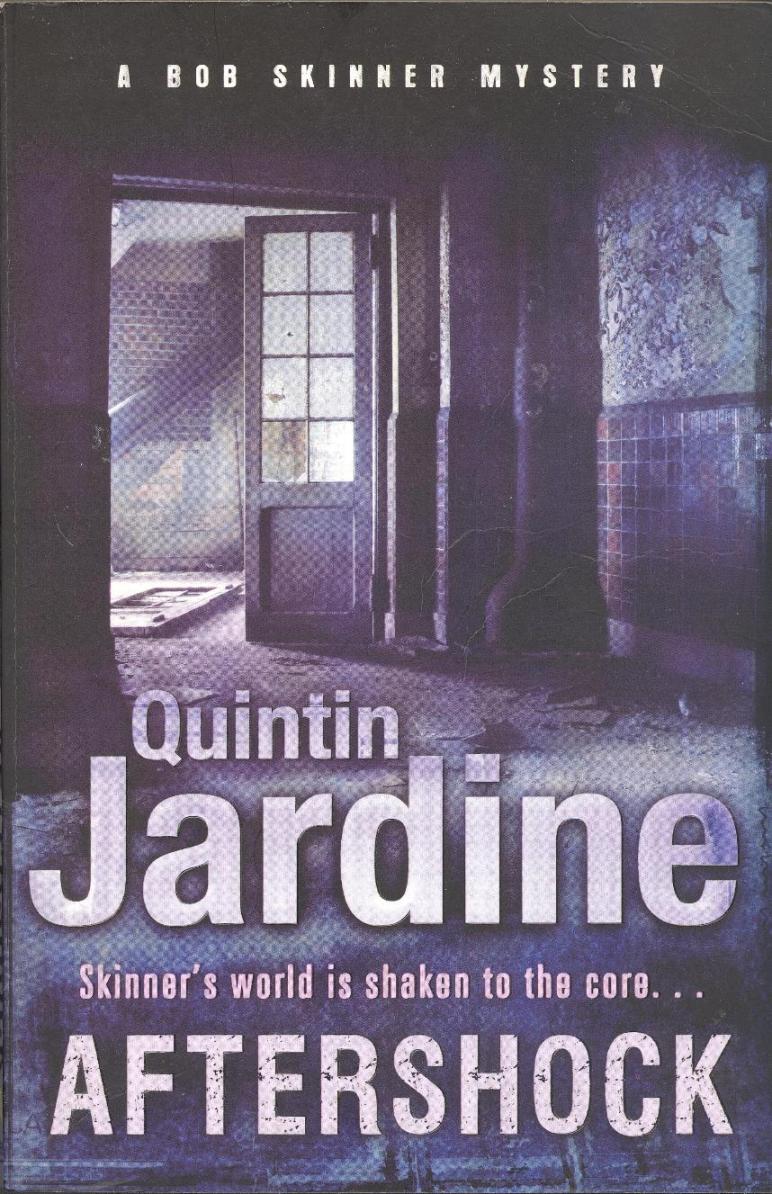 I read this book in February, 2014.
"Aftershock" is book 18 in the adventures of DCC Bob Skinner of Edinburgh (soon to be Chief Constable Bob Skinner), of his daughter Alexis, of his partner (soon to be second wife) Aileen De Marco, and of an impressive list of other characters.
It's one of the great strengths of this series that there are so many colleagues whose lives we have got to know, and each gets a turn to shine. Many of them are also on to their second wife / partner. Thus Neil McIlhenny's first wife Olive died of cancer, but he is now happily married to Louise, an ex girlfriend of Bob's. And Mario McGuire is happily living with Pauline, having split from Maggie Rose. And Maggie Rose herself recently lost her second partner Stevie Steele who was killed in the line of duty in the previous book. I am always advising that you should read these books in the correct sequence. You really should read "Death's Door" before "Aftershock" as they are parts one and two of a larger story. Now Maggie recovers from cancer, and sets out to track down Stevie's murderer.
As well as meeting much liked older characters we also meet some new ones - eg DI Becky Stallings, who has transferred in from England to be near the boyfriend she met in an earlier book, and now forms a formidable partnership with Jack McGurk. And we now know that Jack's marriage to Mary which had been in trouble in earlier books, is sadly now almost over. It's all almost like a soap story !
I've gone on about all the lives of all these characters because they are the key to the series. Each is known to us, we care, and we follow their progress. Another of the main characters is DCC Andy Martin now of Tayside, Bob's assistant in book one, and former partner of Alexis, Bob's daughter. Andy is a key player in this story, as is Sir James Proud who is about to resign as Chief Constable of Edinburgh - so Bob Skinner will surely become Chief Constable, or will he ?
There has to be a crime, or a series of crimes, for these characters to investigate. In the previous book someone was serially killing young female artists, and leaving their bodies laid out as if they were sleeping. We thought that the killer had been found, but at the terrible expense of the life of young Stevie Steele. But now, another dead artist is found, killed in a similar manner. Is this a copycat crime, or is there another explanation ? Wierdly, Bob Skinner, still on his year's sabatical, was in the area of each of the new murders - one even taking place in Spain near his holiday retreat.
There are lots of possible suspects - a youngster, the boy friend of the first victim of these new murders (the son of a prominent English politician), a brute of a PC, the dead woman's former fiance, and of course, Bob Skinner. No one thinks Bob could posibly be the killer, but he still has to be investigated. .
There are lots of false tracks, and surprises. Of course, it is all sorted by the end, but the identity of the killer took me by surprise. Any writer can create an easy surprise by having a character act out of character, and do something unbelievable. I think Quintin Jardine has strayed once again beyond where we can reasonably be asked to suspend our disbelief. In doing so, he follows a course that he has taken on earlier occasions. Sadly, as good as this series undoubtedly is, this is one of it's flaws.
However, Bob Skinner is a great creation, there are lots of other great characters, and I am hooked. I have to read on to see what happens next - not just to Bob, but to his family, crew and friends.
Links to author index and home page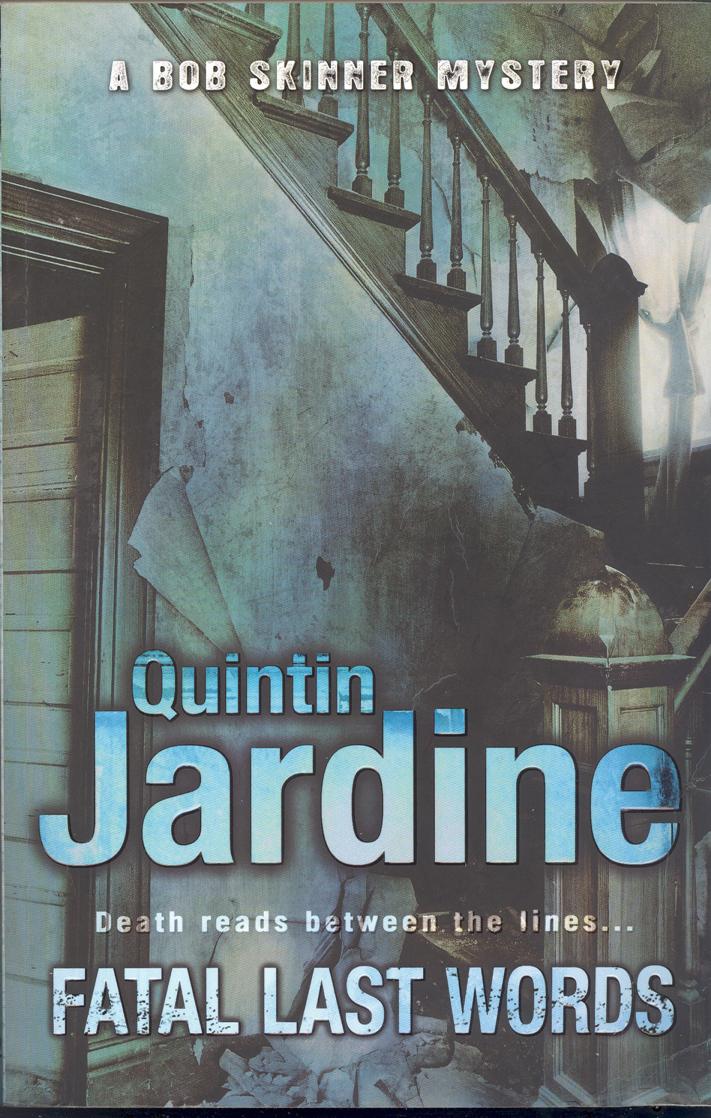 I read this book in March, 2014.
"Fatal Last Words" is book 19 in the DCC Bob Skinner of Edinburgh series by Quintin Jardine. Usually I buy all my books in some charity shop, and write the sequence number (e.g. 19 in this case) in pencil inside the front cover. I then store them in the correct pile (e'g. the Bob Skinner pile in this case) in the correct order - so that I can read the books in the correct sequence. But something went wrong in this case. "Fatal Last Words" was misfiled without a sequence number, and I read book 20 before book 19. I thought something was funny at the time. The book 20 story followed on from book 18 - ie Stevie Steele's killing, and then Maggie going after the killer - but there was too much of a jump in the private lives of the characters. So it is in this book, book 19, that Bob Skinner succeeds Sir Jimmy Proud as Chief Constable of Edinburgh, and Eileen de Marco is still first minister of Scotland in this book - in book 20 she was back to being leader of the opposition.
I guess the other big story in the private lives concerns Alex Skinner, and Andy Martin. They both do something that they can't help - but it's bound to have repercussions over and above causing Bob Skinner to disown his best friend Andy. But more of that in book 20.
The writer Quintin Jardine has fun with the major crime in this book. It is set during the Edinburgh International Book Festival, and it involves the murder of two famous Scottish crime writers. It seems they may have been killed in a similar way to the killing of some of their own fictional characters. Jardine also has fun alluding to his fellow writers. Sandy Rankin is a character in this book, and the Oxford bar is mentioned, and there are other references to John Rebus. But of course we now know that John Rebus is back out of retirement. Jardine also describes the craft of writing.
It's a good crime story, not really too "over the top" as some Bob Skinner ones tend to be. All the regular crew are here, and we learn more about how their private lives are progressing. Mario McGuire is on holiday in Australia, but he gets a phone call telling him to interrupt his holiday, and look at something that has happened in Australia connected to the Edinburgh crimes.
And now, it is Detective Chief Constable Bob Skinner of Edinburgh. He has now outranked Commander Adam Dalgleish of Scotland Yard. I am sure he will still be as hands on as in books 1 to 18, but how often could that ever happen in the real life of a Chief Constable. But nothing stays the same, and Bob Skinner has to move on from being a deputy.
Links to author index and home page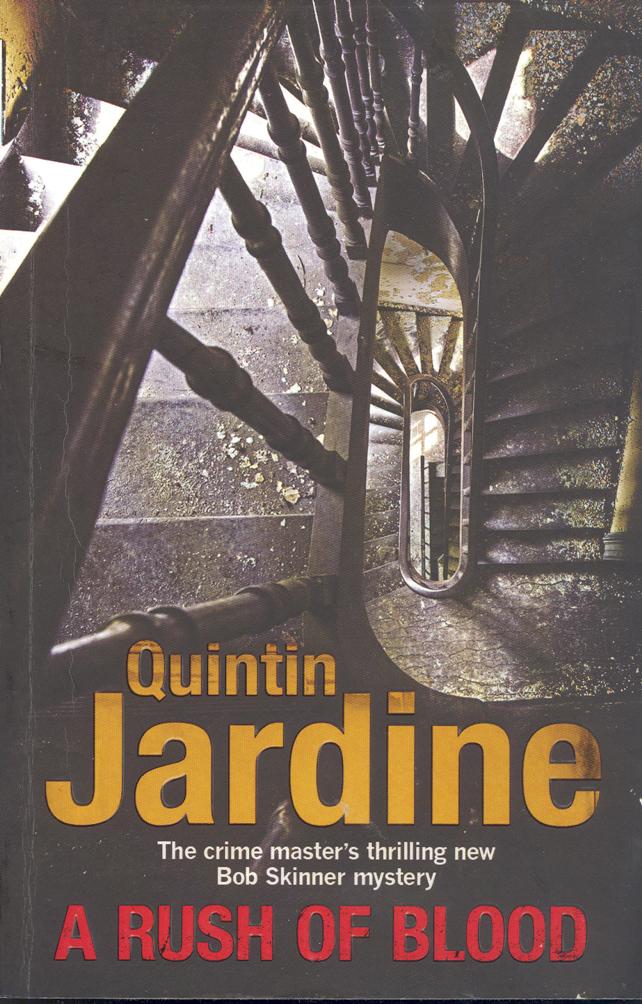 I read this book in March, 2014.
"A Rush of Blood" is book 20 in Quintin Jardine's excellent series about Bob Skinner, the super cop of Edinburgh who has held all sorts of ranks, but is now Chief Constable. Jimmy Proud, the former CC, retired in book 19, bought a house in Gullane near Bob, and has also taken up golf - so he and Bob still keep in touch. By mistake I read this book before book 19, as explained in the book 19 write up.
I like the series for the crime stories, and for the on going private life stories of all the characters. Bob's partner, and soon to be wife, Eileen de Marco, is no longer first minister of Scotland, but is now leader of the opposition. We hear quite a lot about Andy Martin, Bob's former best friend, and now a DCC in Tayside. In the previous book, Alex, Bob's daughter, and Andy did something stupid (although who knows in the long term)and each resolved to keep out of each other's way. Some hope ! Bob ignored Andy for 6 months - Andy was known as Lord Voldemort - he whose name cannot be mentioned. Now Andy is back with a vengeance, and Bob and Andy's friendship is as strong as ever. Both Andy and Alex have suffered so much - what will become of them, might there be a future after all ?
Maggie Rose/ Steele is now DCC, and a future possible CC. The Glimmer Twins (Mario Maguire and Neil McIlhenny) still run the detective CID division. They are a formidable pair, and in a tight spot, you would want no better back up. But perhaps the cosy set up of Bob and his hand picked crew needs to be split up - to bring in some more brain power perhaps.
The story opens with the body of Tomas Zaliukas being found on the top of Arthurs Seat, a famous beauty spot in Edinburgh. It's an obvious suicide, but why ? Tomas is mostly legitimate, these days, but he still runs a string of "massage parlours" in the city. The old crime boss of many books ago, Tony Mason, left the parlours to his deputy - Lenny Prenderleight, who got rid of them at property value only, to the Lithuanian Tomas. Tomas surrounded himself with Lithuanians he could trust whom he referred to as family - but one of them got greedy.
With Andy's return, we are also reintroduced to Grandpa McCollogh, a Tayside crime boss too clever ever to be caught. Someone is also breaking into isolated golf clubs, and making off with thousands of pounds worth of designer gear. And there are abducted Eastern European girls working in the massage parlours. So it's the not unusual case of lots of separate stories that we suspect may end up to be related by the end of the book.
The story rolls along with great pace. The current crime wave is solved, and old personal stories are updated in ways that leave lots of openings / possibilities for future books. This series could run and run.
Links to author index and home page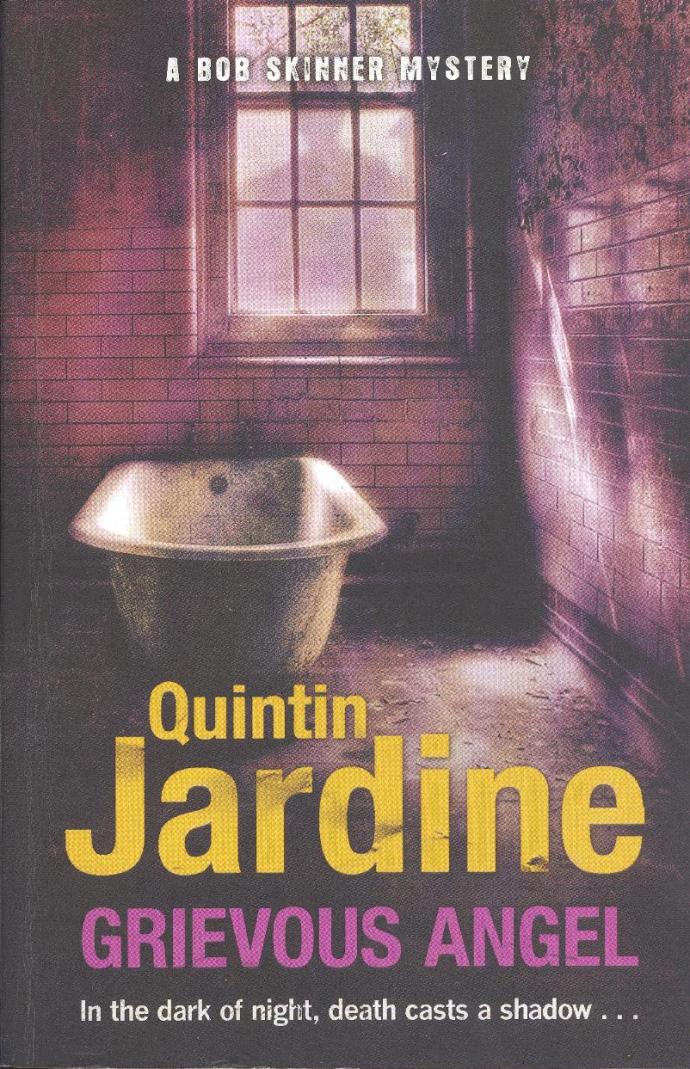 I read this book in June, 2014.
"Grievous Angel" is book 21 in the series set in Edinburgh featuring now CC Bob Skinner and his large crew. It is an interesting book, because it looks back 15 years to when Bob was a very high flying DCI, and then was newly promoted to D. Superintendent in charge of a new Serious Crimes section. It opens in present time with Bob tormented with personal demons - his past catching up with him. His third wife, Aileen de Marco, persuades Bob to tell her all, to see if talking about it might help. Bob does so, including telling where the bodies are buried. I hope this doesn't come back to bite him ! Aileen says Bob should write it all down - but could she have been listening ? Of course there are parts that he dare not put to paper. But Bob decides to write down something that he can talk about - and so we have this story of 15 years ago.
15 years ago, Alex, Bob's daughter, is 13, but very mature. She thinks her dad should start dating again - he has had the odd fling, but had not told Alex. So Bob allows himself to become very friendly with DI Alison Higgins. She takes Bob and Alex sailing on her brother's yacht for a weekend away, and Bob falls in love with the life nautical - and probably with Alison too. But Bob has also been having a stupid fling with Mia Sparkles - a too young for him DJ on a local radio station with a teenage following that includes Alex.
15 years ago is when Bob first meets Andy Martin, soon to be his best friend and trusted assistant. He also meets Mario Maguire - and there is also a first mention of Maggie Rose, and Stevie Steel. It's all very interesting, although I am not sure that Quintin has got his time lines consistent. I don't think all of these characters were young at the same time - but I'm probably wrong. Anyway, let's let that pass.
What is the story ? Marlon Watson is a member of a very tough crime family, who is tortured and brutally murdered. His mother is the formidable Bella Watson. All Bella's sons have now been killed - the perils of a life of crime - but she had a daughter who escaped years ago. Guess who that daughter is - a clue, her first name is Mia. Another man is murdered a wee while later - are the two murders related, and if so, how ? The case is given to Bob Skinner and his new crime section. Then there is yet another murder - is someone targeting the gay community ? Bob is a high flyer with a brilliant career mapped out in front of him. He must solve these crimes to maintain his upward trajectory.
We also meet the mysterious Adam Arrow again. Bob asks for his help - still in the story set 15 years ago.
I thought it was all very interesting and well written. It is a somewhat different Bob Skinner book, but there is nothing wrong with that. It's not the best ever Bob Skinner book, but it's still pretty good, and a decent read. I wonder where the next book will take us. Will Bob, as Chief Constable of Edinburgh, have to take a less active roll, and what further complications can we expect in all their convoluted lives ?
Links to author index and home page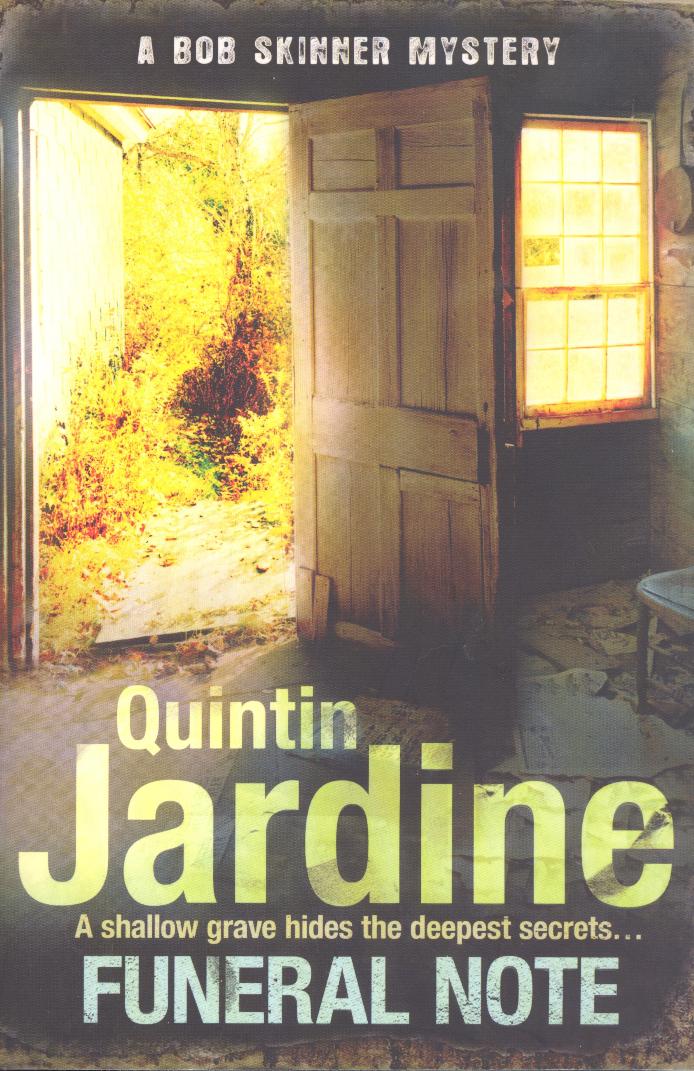 I read this book in July, 2014.
"Funeral Note" is the 22nd book in the Bob Skinner series by Quintin Jardine. I had been trying to get a copy for ages (i.e. in various charity shops) but finally found one whilst on holiday in Aberdeen in July, 2014. I finished what I was reading at the time (Hamish Macbeth) and then started on "Funeral Note" straight away. It's a terrific read - I could hardly put it down.
There is a preface to the book by Quintin Jardine saying that he had just turned 66, and thought it was time to take stock of Bob Skinner's character. He explained that some readers would be new to the series, but that some would have been following from the beginning, some 20 years ago, and it was hard to strike a compromise to sufficiently inform the former without boring the latter.
Now that Bob is a Chief Constable, it's no longer appropriate to have him knocking on doors and involved in the thick of the action. The author got round that in the previous book by doing a flashback story set some 15 years in the past. In this book he also changes tack, and tells the story from the viewpoint of many of the different characters in the series. In the preface, Quintin had explained that he had made Bob a high flyer so that he could have so many people reporting to him, and easily introduce new charactters who come into view as they also climb the promotion ladder. He certainly has created an enormous cast - he compares it to a long running TV or radio soap.
Following on from two books ago, the Glimmer twins have been split - Neil McIlhenny is now in a senior security job with the Met, leaving Mario in Edinburgh. By telling the story from so many points of view, we find that Bob is both loved and hated. He is certainly an alpha male - but he unfortunately married an equally determined Eileen De Marco.
Bob has always despised all politicians, except Eileen. In this book he finds out, shockingly, that she is just as bad as all the others. She tries and fails to bend Bob to her will - he vows to fight her all the way. Is their marriage now broken beyond repair ? Surprisingly, perhaps to add fuel to the fire, Bob's second wife, Sarah, is now back in Edinburgh as a pathologist , and so Bob and Sarah meet up again..................
The story has two threads - as well as Bob's on going personal story. Story one is the finding of a buried body as the result of a phone call. It looks like the respectful burial of a fallen hero - whose body is it ? Story two is about a bent copper on Bob's force who drags down his talented neice in the process.
The story builds to a terrific climax that I cannot give away - but it leaves us with a puzzle. Someone has been killed - but who ? I think I know but I will have to wait until I read the next book, "Pray for the Dying, " to find out for sure.
I don't mind the cliff hanger ending in this case - it is the first time Quintin has done this, and he is adopting a new story style in this book, so why not a very novel ending. But once is probably enough - don't do it too often.
Will it fall to Sarah to sort out Bob, but what a champion he has in his daughter Alex. And what a stellar cast of fellow characters ! It's a great series.
Links to author index and home page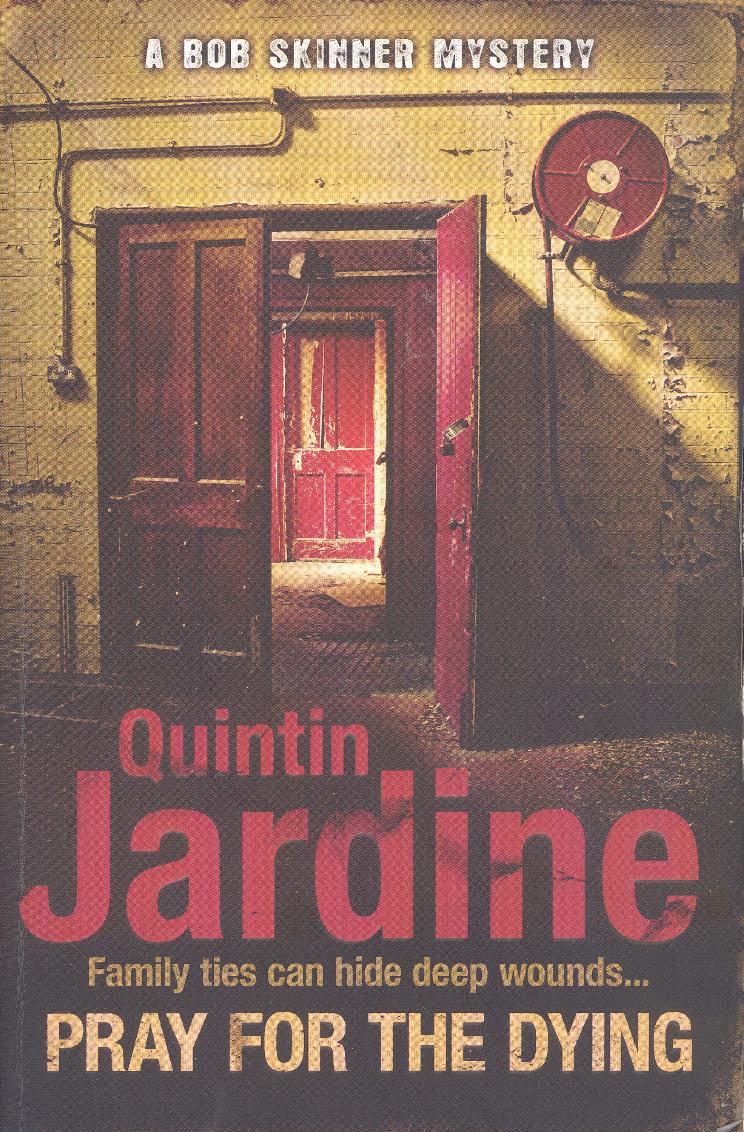 I read this book in October, 2014.
"Pray for the Dying" is book 23 in the series about Bob Skinner - now chief constable - and his huge cast of family and colleagues. Up to now it has been Bob Skinner of Edinburgh, but here he has moved west to Glasgow / Strathclyde, the largest police force in Scotland. This could also be called the "all change" book. Bob seems to have changed his mind on so many recently and apparently deeply held convictions that it is difficult to keep up.
Change one is that his marriage (his third) to politician Eileen de Marco is definitely over. They used to be in love - now they were never in love. Change two is that he is back with Sarah (Dr Sarah Grace), and formerly they were never really in love, and now he had never stopped loving her. And thirdly, having said he didn't want to be in charge at Strathclyde, he is now chief constable there on a 3 month temporary basis - and there are even hints that at the end of the three months he might not only stay there, but accept the leadership of a new unified Scottish police force. He had been vehemently against this - in fact it was one of the causes of his break up with Eileen. Everything has been stood on its head. In the previous books it was difficult for him to be an action cop and a chief constable at the same time. I don't see why moving from Edinburgh to Glasgow should make this any more likely. But yet the change seems to have re-energised him / cured his semi depression.
The book takes over immendiately after the end of book 22 - where one of three women (Tony Field, chief constable of Glasgow, Eileen de Marco, Bob's wife, or Paula Maguire, Mario's wife) had been shot dead at a concert in Glasgow. Jardine had left us to work out for ourselves who had been killed from all the clues. Now we discover the victim was the Chief Constable of Glasgow. Tony Field was a very nasty creature who had purged all the able people from the top ranks of the Glasgow force. So now there is a huge gap - and the Scottish First Minister begs Bob to take on the job / sort out the force. This he agrees to do, initially reluctantly, but first he has to find out who murdered Tony Field, and why.
It's a great story, well told. Soon it is apparent that MI5 is deeply involved in the murder. How can Bob take on MI5 ?
We still sort of keep in touch with some of our friends in Edinburgh. Maggie Steele is now doing Bob's job in his absence, and Mario Maguire is promoted to assistant chief constable, deputy to Maggie. Andy Martin and Bob's daughter Alex are still there, and still seeing each other. And Niel McIlhenny is called upon for help when the action switches to London. But we also meet new characters based in Glasgow - DI Lottie Mann and her assistant / former mentor Sergeant Dave Provan - a very able detective who has refused umpteen promotions.
The book was written before the No result of the Scottish Referendum was known. Bob Skinner was in the Yes to Independence camp.
It's all great stuff - roll on the next book.
Links to author index and home page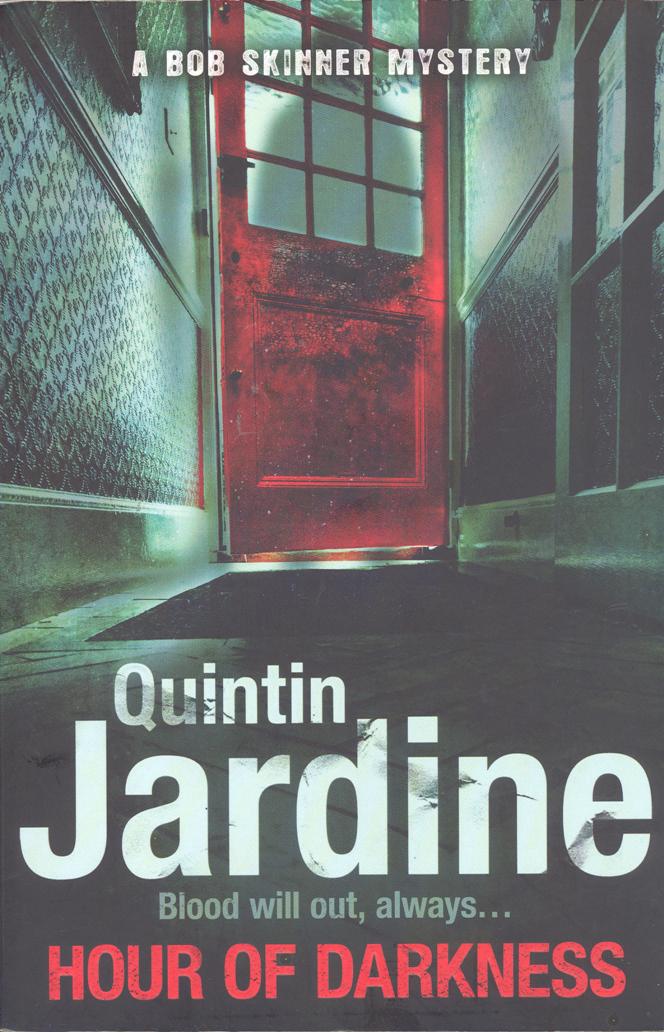 I read this book in September, 2015.
"Hour of Darkness" is book 24 in this terrific series. It stars Bob Skinner - now chief constable of Strathclyde - but one of the great strengths of the series is the huge cast of supporting characters. The book returns to Edinburgh where the vast majority of the books have been set. Bob has moved to Glasgow, so Maggie Rose / Steele is now Chief Constable, and Mario Maguire is her head of CID. All the main characters get a mention and most get part of the plot. Andy Martin and Alex Skinner are still together (again), and Bob and Sarah are still also back together again, and it seems their bond is now stronger than ever. I think anyone reading this book without having read books 1 to 23 would be able to follow and enjoy the story, but it helps enormously to have been hooked on the series since the start, and to know who is who, and their history. History is especially important as old characters reappear, and a mistake Bob made in the past comes back to haunt him. Mia Sparkles, the vivacious young radio presenter, whose autograph Bob got for the young Alex, and with whom Bob had what turned out to be a one night stand, now turns up again.
Those who have read the books will know that Bob has a healthy mistrust of politicians - he acted against character and married one (Aileen De Marco), and that was an eventual disaster. Scotland's police forces are being reorganised, and amalgamated into Police Scotland. Bob has always been against this, but is unable to do anything about it, and so is going along with some reservations, and is odds on favourite to be the new head of Police Scotland. However, he has told Andy Martin that he must apply too. Book one opened with Andy as Bob's assistant but always a very able one - and it was always a thought that one day Andy could even outsrip Bob. So much of the series sets up future plot lines. We open with Bob and Sarah on holiday in Spain, and Bob is debating as to whether he wants the top job, or perhaps wants a sabbatical, or even to jack it all in. I think that it it has generally been accepted in real life that Police Scotland is a mess. Why would Quintin Jardine want his hero Bob heading such a tainted outfit ? So does Bob jack it in, or go for the top job - this is part of the terrific climax to the book. And it's an ending with questions that all readers will want answered - so roll on book 25 !
The book opens with Bob reminiscing about his dad, and recalling his death bed warning "Bloood will out, ...". The phrase resonates again at the end of the book. There are two main crime stories, each drawing on the rich history of this series. A mystery mutilated woman's body found at sea is identifiid as that of someone from Bob's past, a member of one of two old warring Edinburgh crime families. The Edinburgh gang have this murder to solve - and two young members of Bob's gang, DI Sammy Pye and DS "Sauce" Haddock head up the enquiries. Karen, Andy's ex wife and the mother of his children is back at work as a detective sergeant in Edinburgh, and she is involved too. Secondly "Bandit" (David) Mackenzie is now a detective superintendent in Edinburgh. He is a very able detective, but arrogant, unable to take criticism, and has made bad mistakes that Bob has excused. Now he and his wife Cheryl go missing - has he killed her in some wild rage ?
Its a great story, and always at its best when Bob is on the scene. Are old skeletons dancing out of their cupboards, and what dark secret does Mia Sparkles know that could destroy Bob's career ?
This is Quintin Jardine at his best. I worked out what the dark secret might be when the forensic expert Arthur Dorward called in person to see Maggie and Mario with news that he could not put in an e-mail. Its an explosive ending, leaving the future very unclear. As soon as I get my hands on the next book - surely there must be a next book - I must read it straight away.
Links to author index and home page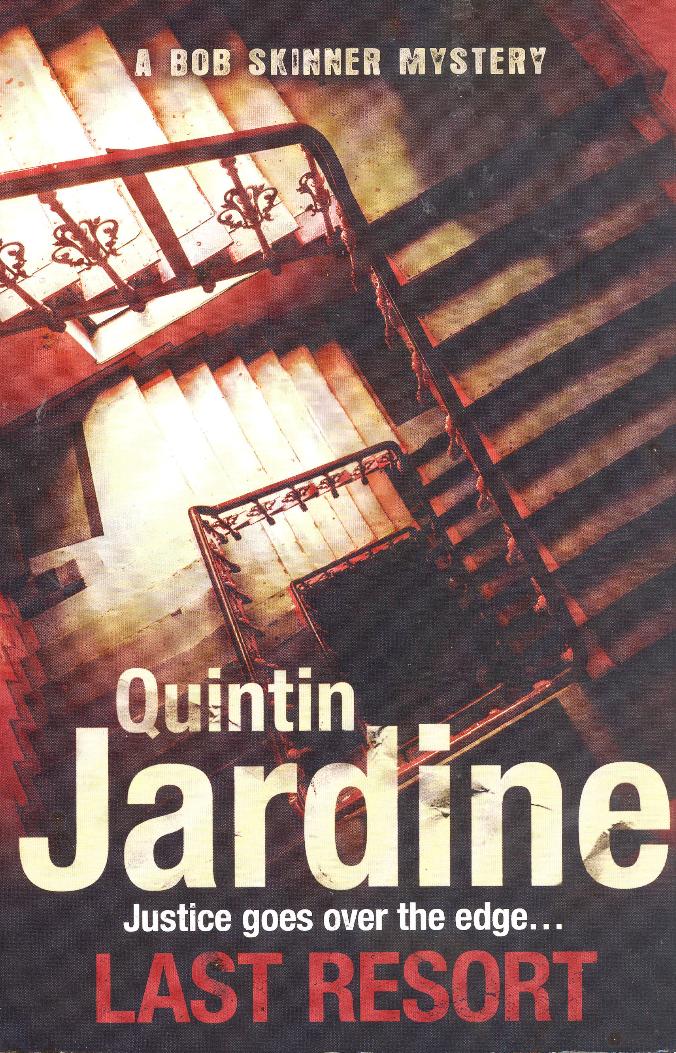 I read this book in September, 2015.
I really like this series about now former Chief Constable Bob Skinner, but it took me ages to find a copy of this book in a charity shop. I got lucky in June 2016, finished the book I was reading and got straight into "Last Resort" to see what had happened to Bob since the last book. That had finished with Bob finding out that his fling with crime family related Mia Watson (Mia Sparkles) all those years ago had resulted in a son that Bob had never known about - a son Ignacio, now serving two years in a Scottish prison for killing Mia's vile mum. If anyone in that prison found out whose son Ignacio was, Ignacio would be dead ! Someone does know, and that is one of the three main plots in this book.
Plot number two is what is happening in Bob Skinner's private life. He has walked away from being a Chief Constable - he has recommended Andy Martin for that role, and Andy Martin is now in charge of Police Scotland - a reorganisation Bob does not agree with. Bob Skinner is not sure what to do with the rest of his life, and his wife Sarah sends him off to their holiday home in Spain to relax, recharge his batteries, and do some quiet thinking. Whilst there two things happen. Bob finds he is being tailed by an Edinburgh based private eye who is working for a mysterious true crime expose author, but worse they know about Ignacio and plan to publicise this, bringing us back to plot one. The other thing that happens (plot three) is that Bob is contacted by an old friend Xavier Aisado, and asked to help Xavier track down one of his business's brightest stars who has gone missing. And so Bob becomes a private investigator almost by accident - he likes it, obviously he is good at it, and so the next chapter of Bob's life opens, but with a more relaxed, time for family Bob Skinner.
One of the things I liked about this series was the huge cast of characters - Bob's colleagues in the police force - Andy, Neil, Mario, etc, etc, but now Bob is on his own, and although his former colleagues are referred to, they no longer take up much of the plot. That was a pity I thought. Bob's daughter Alex(is), like her dad, has had a stellar, award winning career (in commercial law), but is also having a career crises and rethink - and now she is to be a criminal lawyer. She also has a private life crises, quarrels with Andy Martin when he announces he is relocating to Glasgow, and they part once again. Andy seems to be cutting himself off from his old friends - perhaps the loneliness of command. Andy used to be Bob's best friend.
Bob has lots of adventures in Spain in tracking down the missing colleague, and the dead body count increases. Bob has to leave Alex to deal with the snooping Edinburgh journalist, and Alex too comes across dead bodies.
I thought it was a very well told tale, that gives the Bob Skinner story a shake and sets it off down a new track. Police Scotland has attracted lots of criticism, and so Quintin Jardine has deftly extricated his hero from a possible can of worms. We can hardly have the famous Bob Skinner in charge of a reportedly poorly performing police service.
Anyone could pick up this book, and enjoy it without knowing all Bob Skinner's history. But I have read the series in order from book one, and it was nice to be taken down memory lane and reminded of previous characters and plots. I look forward to the next Bob Skinner installment. In short, I think the series has been refreshed.
Links to author index and home page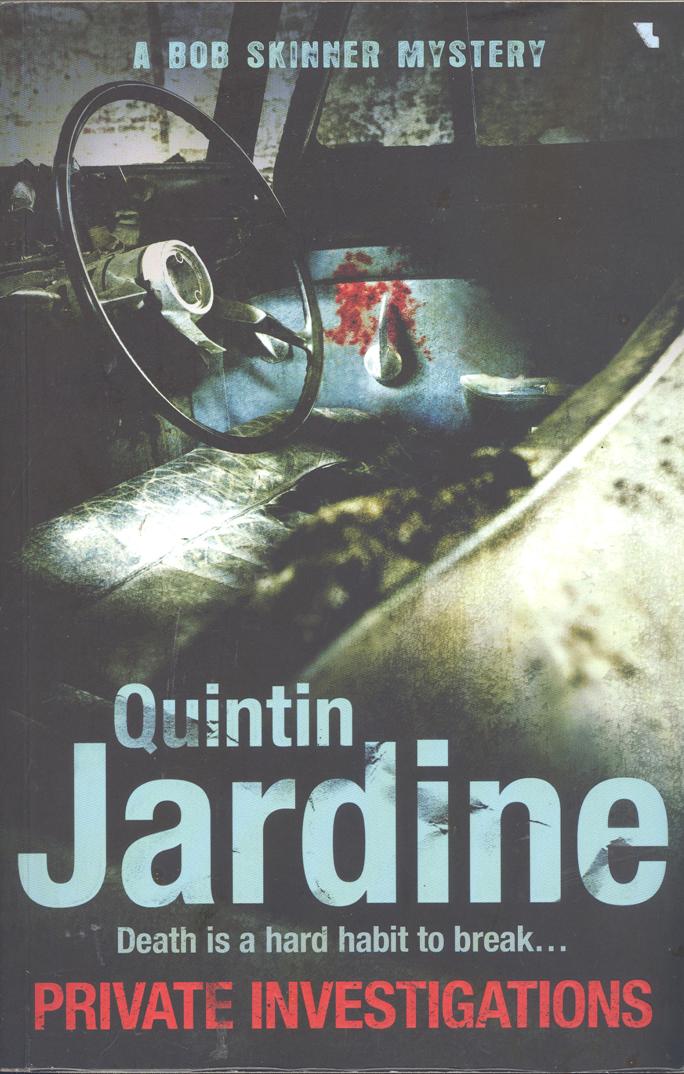 I read this book in October, 2016.
This is book 26 in the Bob Skinner series, set initially in Edinburgh, but of course, he was also the Glasgow (Strathclyde) Chief Constable. It's a long series, and we have met and followed the lives and careers of most of Bob's colleagues. Here, we meeet up again with quite a few from the past. I especially liked Bob uniting two of Edinburgh's finest - DCI Sammy Pye, and Sauce Haddock - with two of Glasgow's finest - Lotte Mann and DS Provan. And of course, we meet DCC Mario Maguire and the new chief of Police Scotland, Sir Andy Martin.
Bob is now a private investigator, but seemingly also a consulting detective to most of Police Scotland but excluding Andy Martin. The story opens with Bob reversing out of a space in an Edinburgh car park, when a BMW comes careering round the corner, and crashes into Bob's new Mercedes. The young driver takes off on foor. Bob identifies himself and calls the police. He notices that the boot of the BMW has popped open, and he looks inside. He is horrified to find a young girl looking up at him, but sadly a dead young girl. She was the same age as Bob's youngest, Seonaid, and Bob sheds tears he would have to contain were he still the police chief. Just who kidnapped and killed the youngster, and why, is one of the three main stories of this book. Bob leaves the problem to the police, but gets drawn in later on.
The second story involves another name from Bob's past. Eden Higgins is the very, very wealthy brother of one of the many ladies in Bob's earlier life - Superintendent Alison Higgins, who was killed on police duty. Eden's super yacht was stolen about a year ago, and Police Scotland got nowhere with the search. He wants Bob to look into the matter, perhaps recover the yacht, or at least provide the ammo to enable a stalled insurance claim to proceed. Bob accepts the job, has to review the police investigation, and unfortunately he finds it not a very thorough effort.
Bob has lost none of his detecting skills, and of course it turns out that both these stories - the little girl and the missing yacht - are related.
The third story is another instalment in Bob's private life. He is now happier than he has been in ages, and when his wife Sarah develops a craving for M&S drizzle cake, the smile on Bob's face cannot be hidden. Alex and Andy Martin have split, and although Alex says she was the one that called it off, Bob cannot forgive Andy for hurting his daughter twice. Andy has made an enemy in Bob Skinner, but he seems to have all sorts of other enemies too. Bob thinks that he was not a very good police chief, but Andy seems to be a lot worse than Bob. He is a control freak, wants to micro manage everything, and is massively unpopular in the police force. Bob had his faults - rather overstated by Bob himself here - but his team loved and respected him, and would do anything for him. By the end of the book, Andy is seemingly out of the story, but will he reappear in a later book? Andy and Alex do seem to specialize in on / off relationships.
This is a very good read, especially if you have been following the story from the beginning. At the very end of the book, Alex contacts Bob, says that she has a problem that she wonders if he could her with, and so the scene is set for the next book. I look forward to it.
Links to author index and home page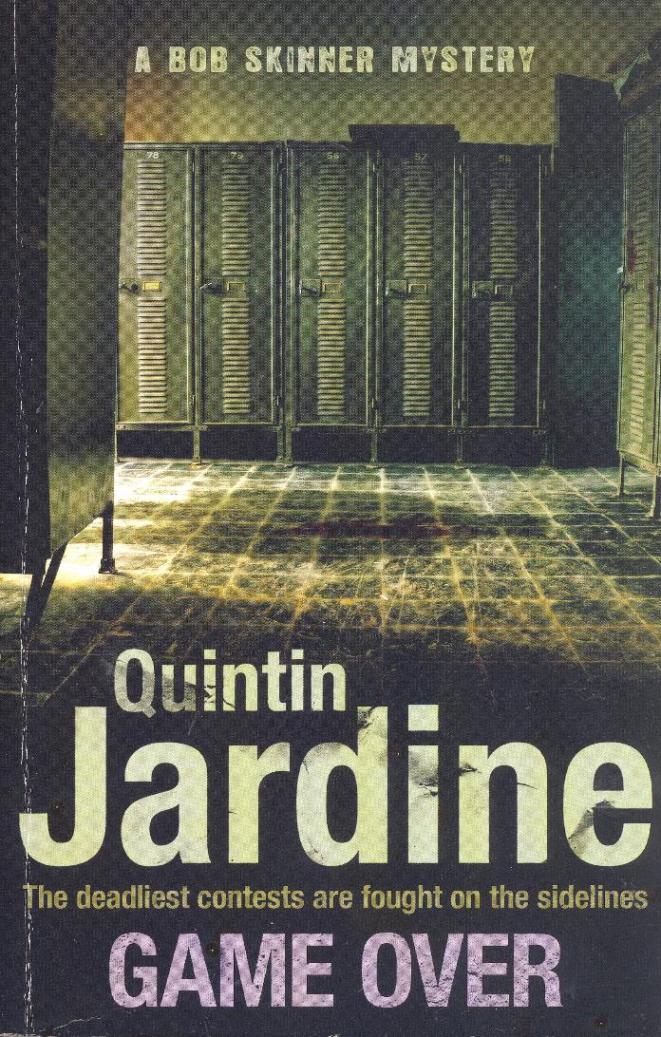 I read this book in January, 2018.
This is book 27 in another of the excellent series of books that I follow. It's a series that features a police legend in Scotland - ex Chief Constable Bob Skinner of Edinburgh mostly, but also of Strathclyde. It's a long series with a huge cast, and we have been following not only Bob's public and private lives, but the back stories of a huge cast of Bob's former colleagues and extended family. Now Bob is back with Sarah, his first wife. Sarah is pregnant and she and Bob are to get married again. Bob is still sort of between careers. He had wanted nothing to do with the amalgamated Police Scotland set up, and resigned. He is a director of Intermedia, publishers of the "Saltire" , and a highly paid consulting private investigator. But he is unsettled - he is not sure where he wants to go in the future, but such is his deserved reputation that all doors are open to him. Although no longer a policeman, his former colleagues still call him boss. He taught all of them all they know - he is respected, revered and trusted.
The last book ended with Bob's lawyer daughter Alex calling him and asking for advice. This is where this book opens. A supermodel Annie Bordeaux has been murdered, and the manager of her footballer husband Paco's football club (Merrydown) has been charged with her murder. His name is Chaz Baker, and to the police it seems 100% ceratin that he did it - such is the weight of evidence against him. Chaz Baker has had Alex recommended as his lawyer, Alex is convinced that Chaz is innocent, and she calls in her dad - Bob Skinner - to help. At first Bob agrees with the police that Chaz did it - but it's his beloved daughter's first high profile criminal law case, and no way will he let her go down in flames on such a public stage. He agrees to review the case, and eventually he thinks Chaz might just be innocent. Surprisingly Chaz does not know who Bob Skinner is, nor appreciate how formidible a team Alex and Bob can be.
The investigating offices in the Annie murder case are two old friends of this series - now DS Sauce Haddock, and now DCI Sammy Pye. Both are talented high flyers, spotted and promoted by Bob, with perhaps Sauce destined to go all the way to the top. Together Haddock and Pye are known as the "Menu." Both are able, independent professionals, but they do respect their old boss Bob, and give him every assistance. There are a lot of twists and turns to the story, but let's just say that Bob has lost none of his old skills and Alex does not burn and die - quite the opposite. It's a great story with several endings, lots of surprises and all in all a very readable tale that kept me page turning.
It helps to have read this series from the beginning because lots of old characters turn up again. The ultimate owner of the Merrydown football club is "Granpa" McCullough - a Dundee based crime warlord who always stayed one step ahead of the police. Dundee was not Bob's concern, and so Bob and McCullough did not cross swords. But the radio disk jockey Mia Sparkle with whom Bob had a brief fling all those years ago - and with whom they had a child, Ignatio, whose existence was unknown to Bob - Mia married "Granpa" McCullough. Quite a lot of Granpa's business in now 100% ligitimate - if not perhaps how it was originally financed. Another complication is that Sauce Haddock partner is Cheeky - grand daughter to Granpa. Sauce like Bob has kept McCullough very much at arms length, but now that is no longer possible. Ignatio is in prison, but will soon get out, and Bob is determined to help the son he didn't know he had. Sarah is fine with this. Of the other names, Maggie is still chief constable, and Mario is still around, but on holiday. DI Lottie Mann and DS Provan are still a team in Glasgow, and figure in some of the action. They are just friends - or will it become more ?
At the end of the book there are suggestions that Bob's future might be in a sort of Scottish arm of MI5. And so the next book - State Secrets - is set up.
This is definitely a good series, so long as you can go with the flow. A lot of it is pure fantasy, 100% unlikely to ever happen. Thus we have had missiles rain down on Princess Street Gardens, and here we have unknown "iffy" money buying a second division football team Merrydown, and spending millions on star players and a star manager. That said though, the characters are all real and believable, and Quintin Jardine is rightly a best selling success. So roll on Bob's next outing, and lets get a further update on what is happening to all these characters.
Links to author index and home page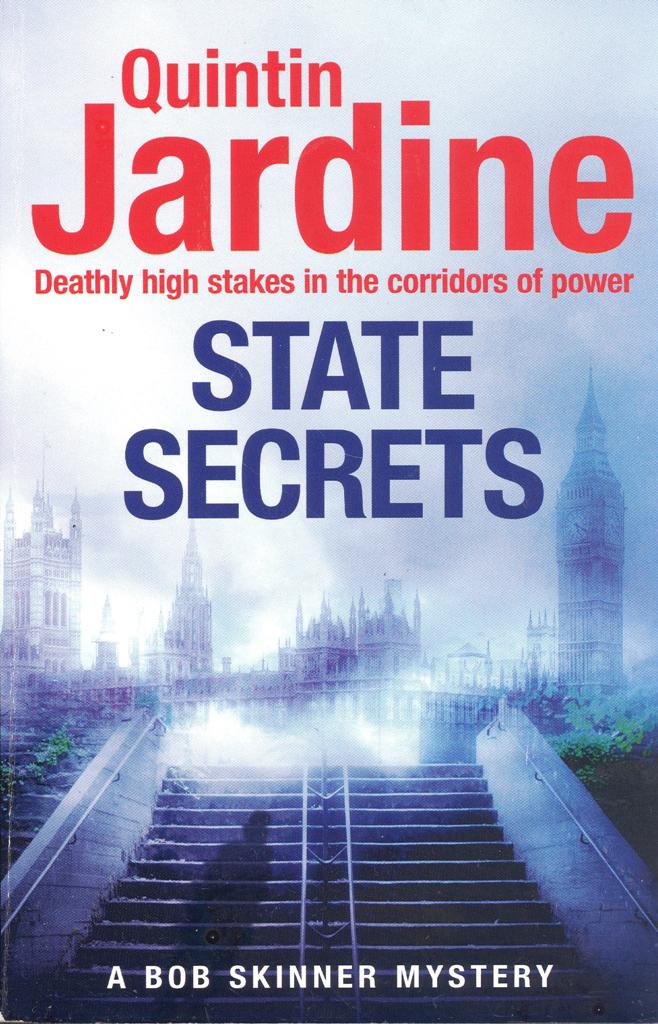 I read this book in October, 2018.
This is book 28 in one of several excellent series of books that I follow. This series has a long list of strong characters, and we have shared most of their private lives through the years. This story is set in London, and we meet up with an old friend Neil McIlhenney, now a commander in the Met, but in the olden days one of Bob Skinner's top team, and half of the "Glimmer Twins" - the other half being Mario. Neil is still happily married to Louise, now an actress on the West End stage, and of course a former close girl friend of a young Bob Skinner. Bob himself is still with Sarah, who is heavily pregnant with the baby due in some 3 weeks, but still working and called in as forensic pathologist to help Bob and Neil. We also meet Bob's former wife Aileen - a high flyer in the Labour opposition party at Westminster.
Usually I get my books in charity shops, and have to wait, but this time I managed to find a current year book in "The Works" book shop. They sell paperbacks at £2 each, or three for £5, and sometimes I get lucky there.
Some of the Bob Skinner stories are a bit far fetched, but if you can ignore this, and suspend disbelief, then go with the flow and you will find a good story, with lots of twists, suspense, and a surprise ending. I didn't see the ending to this book coming - it too is a bit far fetched, but no more so than the opening.
So what is the story ? Bob Skinner has been offered a peerage by the leader of the Westminster Labour party who wants someone to beef up Labour's act in the House of Lords. Bob's initial reaction is to say "no thanks", but out of courtesty and curiosity he agrees to come down to Westminster and see what the offer is all about. Thus Bob happens to be on site when an extraordinary event takes place - the British prime minister Emily Repton is found slumped on the desk of her private office at the Commons, with a paper knife sticking out of her skull. She had been about to make a huge announcement in the Commons involving state security - a new, game changing secret weapon system. Was this announcement the reason for her "murder," and has state security been compromised? Bob's friend Amanda Dennis is head of MI5, the secret service - they had worked together before and Amanda would dearly like to recruit Bob. Whilst Bob declined, he did say he might be available on a one off basis if needed. Well he is needed now ! Bob has been recruited as a very senior consultant director of MI5, and given a pass and clearing that opens most doors. Bob agrees to help, and recruits Neil as his number two. Neil, of course, as a commander of the Met should outrank the "retired" civilian Bob, but he is happy to follow his old mentor. As a very senior policeman sometimes of course he finds himself conflicted. A murder should have lead to a police murder investigation, scenes of crime officers, etc. Here it has all been hushed up for 48 hours as a state security matter - but Bob ensures that Neil is covered, by getting the Met commissioner to OK Neil's role. As an aside Neil's health is not 100% - he is borderline diabetic. There is a joke that when Neil is suffering following an all night stake out, with his sugar levels urgently need topping up, he asks Bob to fetch him some boiled sweets. Bob gets some "Soor Plums" but fails to notice that they are sugar free ones !
The plot is who killed the PM, and has state security been shattered. We now meet a horrible bunch of back stabbing top politicians, each consumed by self agrandisement and greedy for power. They are as horrible a set of characters as could be imagined. Bob has always hated and distrusted politicians, and here we see why. There are only about two exceptions. Merlin Brady, the Labour leader is a decent enough chap - too nice to succeed - and Nick Wheeler, the missing Defence Secretary also can be trusted to do the right thing. There are two other main characters - Norman Hamlin, the Cabinet Secretary (i.e. the top civil servant) and John Balliol - an American (but Anglophile) billionaire businessman behind the new secret weapon.
Overall I thought it was a good story, although initially I feared we had got too steeped in politics and murky politicians. Quintin Jardine seems to know how things work - he is an ex PR man himself. I think he is more fascinated by the subject than his average reader, but the plot keeps moving, and Bob and Neil are the stars, and of course win out in the end when all had seemed lost.
Links to author index and home page