Iain's Recommended Book Series
Phyllis Dorothy James, Baroness of Holland Park (it's in Southwold), life peer and OBE, was a most distinguished writer of English crime fiction. She was born on August 3rd, 1920 in Oxford, and was educated at Cambridge High School.
She started writing in the mid 1950's, but her first novel which introduced DCI / Commander Adam Dalgleish - "Cover her Face" - was not published until 1962.
She was married to a doctor, and worked for a while for the National Health Service as an administrator. Sadly her husband died in 1964, but P.D. has 2 married daughters, five grand children, and seven great grandchildren. She entered the Civil Service, Home Office as Principal, working for the police department, and in 1971 she joined the Children's Division of the Criminal Department. She retired in 1979. She is an Anglican, and lay patron of the Prayer Book Society. So her experience with bureaucracies, and her medical and church background, have all helped and are evident in her writings. She has a clear, precise writing style, and is an accomplished writer.
P.D.James got an OBE in 1983, and was made a life peer in 1991. Her title is Baroness James of Holland Park which is in Southwold in Suffolk. This is a part of the country that we know well. Southwold is a lovely, charming place with its pier, beach huts, old fashioned high street, river walks, etc. The Southwold area was the setting for her third Dalgleish novel - "Unnatural Causes"
Sadly, P D James died on 27.12.14 at the age of 94.
In the 1980's many of the Adam Dalgleish novels were adapted for television by Anglia TV - with Roy Marsden perfectly capturing the character of Dalgleish. There were 14 Adam Dalgleish books in total.
Detective Chief Inspector (later Commander) Dalgleish is a top Scotland Yard detective who is also a published poet - an unusual combination. He has a brilliant mind, but his reputation often goes before him. Dalgleish is a very private person, and sometimes comes across as somewhat aloof and cold. That said, however, Dalgleish's character does soften in the later books. I thought I would read P.D.James because I knew of her reputation as a good writer. I also knew that some of her books were set in East Anglia, a part of the country that we know well, and like. I also had started reading Ruth Rendell, wondering if I could tell from the writing that the author was a women. I sort of thought I could with Ruth Rendell, and I was curious to read another woman writer. Of course it's a non question really. I should really read a book blind to the author, and then ask myself the question.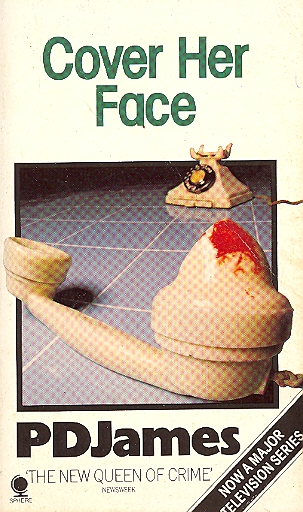 This is the first Adam Dalgleish novel, but the second that I have read. I started at "Unnatural Causes" - P.D.James's third book. That is the trouble with buying books second hand in charity shops -ie you have to buy them as you find them, so you tend to read them out of sequence.
In book 1, Adam Dalgleish is a Detective Chief Inspector at the Met. By book 3 he has been promoted to Commander.
"Cover her Face" is quite a good, old fashioned story. It is set in a Manor house in the country, and all the events happen there. And finally everyone assembles in the lounge to have Adam Dalgleish reveal to them (and to us) which one of them is the murderer. It seems a bit like Agatha Christie ?
Basically, an "unmarried" mum, Sally Judd, is given a job as a maid to Mrs Maxie to help run the large house. Sally is a very attractive girl, and is not above using her good looks to her best advantage, and why not ! But she gets strangled in her bedroom, and her bedroom door is bolted from the inside.
There are lots of characters in the house, all suspects. Dalgleish solves the murder by elimination and logic. None of the explanation at the end of the book seemed far fetched - so it's quite a well constructed, well told tale.
Dalgleish meets Deborah Driscoe in this book. In book 3, "Unnatural Causes" (which I read first, unfortunately) Deborah Driscoe is also there - indeed Dalgleish is agonising over whether he should propose marriage to Deborah. So in book 2 we will see romance blossom, no doubt.

Dalgleish's assistant is detective sergeant George Martin. But Martin and Dalgleish hardly function as a team. We learn that Martin enjoys fine food, etc, but he has little to do or say. Dalgleish seems to be loner - which is fair enough. Perhaps things change in later books ?
All in all, a good opening to the Dalgleish novels - not an excellent read, but a good read and certainly a good start.
Links to author index and home page


This is the second Adam Dalgleish novel, but the sixth that I have read. I should have read it next after "Cover Her Face", but of course I hadn't yet found it yet in some charity shop. I did eventually though, and got a copy for 50p.
"Cover Her Face" ended with obvious chemistry between Adam Dalgleish and Deborah Driscoe. It was implied that their paths would surely cross again, and so they do meet again in "A Mind to Murder". This opens with the poet Adam attending an autumn sherry party held by his publishers Hearne and Illingworth. Who who should be at the party but Deborah Driscoe, who works as a secretary for the book publisher.
At the opposite corner of the square in London where the party is being held is the Steen Clinic, and here the administrative officer, Enid Bolam has just got herself murdered - bludgeoned, and stabbed through the heart with a chisel. Adam and Deborah are just getting re-acquainted when the phone rings and Dalgleish, now a police superintendent, is summoned to take the call. It is his chief. Adam is informed of the murder, and told to get himself across the square and head the murder investigation. And so, after a tantalising meeting, Deborah and Adam part once again. Deborah is not mentioned again until the end of the book. Once again I will need to leave you to read the book to find out what happens next.....
As to the story, someone at the Steen Psychiatric clinic has murdered Miss Bolam. Adam interviewes all the people there, and we get to meet a fairly assorted group of psychiatrists, nurses, porters, etc. We then follow these characters home, and learn more about their circumstances and possible motives.
I thought the book started well, flagged a little in the middle, but then picked up again at the end. But we do learn more about Superintendent Dalgleish. He is anxious to solve the case, perhaps obsessively so, and hates to be wasting time. He seems to have a fear of failure, is clever, but appears conceited. We are reminded that his wife died in childbirth. She (but not Adam) had been a catholic, so on October 1st, Adam lights a candle to her and the baby's memory. He has now lit 14 candles - so have 14 years now gone by since that dreadful event ?
I would say that this is an average to good read. But P.D.James is a good writer. We think that the crime has been solved well before the end of the book, but then there is a surprising change of tack . All in all, an OK book.
Links to author index and home page


This is the third Adam Dalgleish novel, but the first that I have read. I started reading Ruth Rendell to see if it mattered that the author was a woman - and I thought that it did. But strangely with P.D. James I never really bothered about this.
This is a story where Dalgleish is visiting his only living relative - his aunt Jane Dalgleish, who lives on the Suffolk coast, not far from Southwold. Dalgleish is exhausted after solving a very difficult case in London, and needs to recharge his batteries. But he also needs peace and quiet as he has a difficult question to resolve. Should he ask his girl friend - Deborah Driscoe - to marry him. Dalgleish is a very clever, but very private person. The present status quo with Deborah seems to suit him. Could Deborah cope with the life and strange working hours of a policeman's wife? But of course, events take over and Dalgleish never gets the time to decide what to do for the best. Maurice Seton is found dead in a boat with his hands cut off. Was it murder? The local detective - an Inspector Reckless - sort of involves Dalgleish, but resents his presence.
I enjoyed reading this book. I did like P.D. James's description of the Cadaver Club in London - where all crime writers were welcome, except lady ones. P.D has written a cleverly crafted book, with a book within a book.
When the mystery is finally solved by Dalgleish (non Reckless) it then takes the final chapter for P.D.James to explain it all to us. I don't really like that - I like to be in a position to work it out for myself.

Finally, there is only one page of the book to go, and Dalgleish still hasn't decided yet about getting married. This too is solved by the end of the book.
I'll need to read some more P.D.James to see what I think about Dalgleish - but a good start, I thought.
Links to author index and home page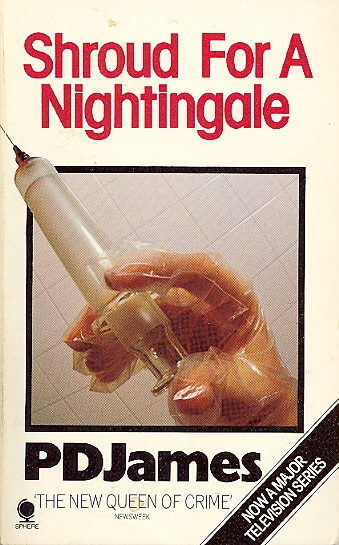 I read this book in May, 2010.
This is one of the early Adam Dalgleish novels (the fourth), but I'd read most of the other books before I found a copy in some charity shop - so it was the 11th book that I have read. Dalgleish is a Chief Superintendent at Scotland Yard. I had actually read the last four books in the series before starting on this book. In these the character of Dalgleish softens considerably - so it was interesting to read once again about the old "unreformed" Dalgleish. Here he is once again a very unsympathetic character - remote, aloof, almost uncaring. I wonder if the author was influenced by the TV adaptations of the 1980's, when Adam Dalgleish was portrayed perfectly by Roy Marsden ? Perhaps P.D. met and liked Roy the person, and so in turn made Roy's Dalgleish character more likeable?
The story is set in a nurse's training college - The Nightingale Training College. Nurse Pearce is the pretend "patient" at a demonstration arranged for an inspection of the college, and has corrosive poison poured down her throat by a fellow nurse. She dies in agony. Was it an accident, a suicide (surely too painful), or murder. The local police force are investigating, but then there is a second murder, and so Dalgleish is called in - ie send for the cavalry.
The team here is Dalgleish and sergeant Masterson - but there is no rapport between Dalgleish and Masterson. Dalgleish barks orders, and Masterson has to do as he is told. Although Masterson respects Dalgleish, he hardly likes him - after all Dalgleish is not really a likeable character.
However, its a well written, well crafted book, and a good enough read. In the later books I thought that the characters were better drawn, more rounded figures - and there is more plot, and more background. So OK, and it kept me turning pages right to the end, but its not the best Dalgleish.
As I said, I got the book in a charity shop, and it cost me 50p.
Links to author index and home page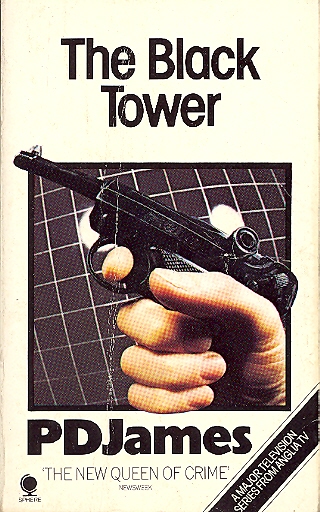 The Black Tower is the fifth Adam Dalgleish novel, but the third that I have read. The story opens with Commander Adam Dalgleish recovering in hospital from some unknown trouble. He also ends the book back in hospital, and we discover what the problem had been.
Dalgleish is always a very quiet, self questioning person, and here he is uncertain as to whether he wants to continue as a detective. His father had been a vicar, and the vicar's curate had been a Father Baddeley, who is now 80, and chaplain to a charity in Dorset which looks after the infirm. Father Baddeley has contacted Adam after a gap of many, many years, and wants Adam's advice on some matter. So Dalgleish decides to visit Father Baddeley to help if he can, but also to recuperate in Dorset, a pleasant part of the country. But Baddeley then dies in the week before Dalgleish gets there . Why had Dalgleish been contacted, and was there anything suspicious in the death, just before Dalgleish could get there.
Dalgleish stays for a while, but is determined not to get involved as a series of deaths happen at the charity (Toynton Hall). It's a well crafted story, with a good satisfying ending, and I quite enjoyed reading it. I wouldn't describe it as an exciting read, and nor would I say that I was unable to put the book down. But is was OK / more than OK.
I'm not sure about Dalgleish yet - do I enjoy his company ? But I'll read some more and see how it goes.
The book cost 45p in a charity shop - so no complaints about the cost. I don't think any part of the 45p finds its way to P.D.James, which is a pity really. I wouldn't grudge the author her due fee.
Links to author index and home page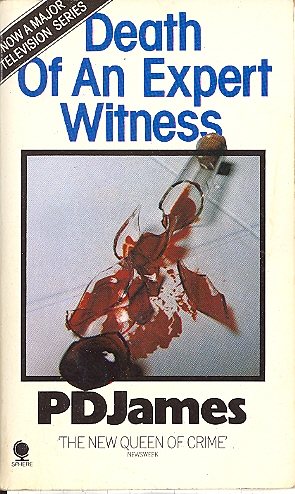 Death of an Expert Witness is the sixth Adam Dalgleish novel, but the fourth that I have read.
The book opens with a murder when a young girl is found strangled in a field in the Fens. Inspector Doyle of the local police force is dealing with it, and has called in Dr Kerrison, local acting home office pathologist. We learn that Dr Kerrison has a failed marriage, and custody of his two children. We also learn a lot about the local forensic laboraty, Hoggarts. A new director has been appointed, a Maxim Howarth. This is much to the annoyance of Dr Lorimer, who is head of Biology at Hoggarts, and who had appled for and hoped to be director. Dr Lorimer appears to be a nasty, unpleasant character.
Then Dr Lorimer is discovered dead in his laboratory. A lot of forensic evidence for court cases passes through and is stored at Hoggarts, and it's security had been compromised. This is serious, as is a murder, and so the Met are called in - enter Adam Dalgleish.
Its a well told, and very, very well researched tale. PD James worked in a Police Department division of the Home Office, and so was probably able to call on her own experience, and lots of useful contacts for background research. We certainly learn much about the day to day workings of a Forensic laboratory, and folllow Dalgleish as he methodically works his way through the case, flying in by helicopter with the home DI John Massingham to help him. Dalgleish seems to have different helpers in each book - he is not part of a team, which fits his character.
We also learn of the characters who work at Hoggarts - all are clever people, unlikely to make silly mistakes nor leave clues had any one of them been the murderer.
I enjoyed following the tale from start to finish. Adam Dalgleish shows some kindly touches on occasions, but he is still a cold fish. We are reminded that his wife and child died in childbirth, which explains a lot. He investigates the most brutal of cases with cold professional logic, but them writes supremely sublime, sensitive poetry. A complex man - perhaps this is his attraction, and perhaps I haven't fully tuned in yet.
It's a good book, and I enjoyed reading it, but there is not much humour, nor light relief. Morse and Lewis are serious, but there is also friendly banter between the two. Dexter seems to have got the balance about right, but perhaps Dalgleish needs to lighten up on occasions. This may happen in later books, I will see. I'll stick with Dalgleish for a bit longer and see if he grows on me.
Links to author index and home page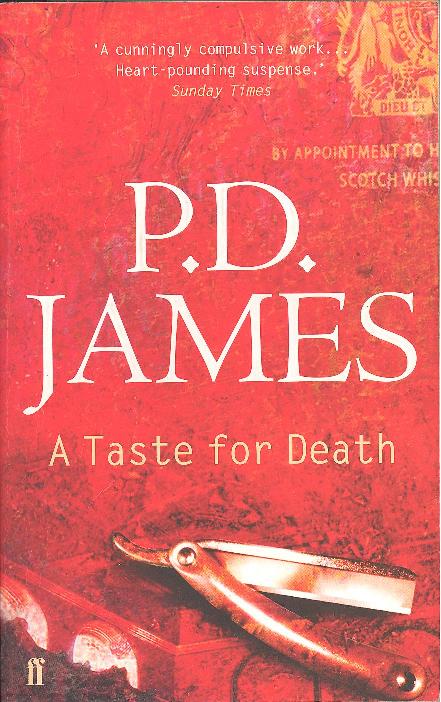 Although this was the 7th Adam Dalgleish book, as I write this, "A Taste for Death" is the 14th and last book that I have read. ( That said though, it could be that "The Private Patient" is not the last Dalgleish novel, and P D James may write another book in the Dalgleish series - I do hope so ).
I should really have read this book a lot earlier in the series as it sets the scene for a lot of the later books. It deals with the death of Sir Paul Berowne, a recently resigned minister of the crown. He and a tramp are found with their throats slit in a church in London. It looks like suicide, but of course it's not, well not really. A new section at the Met. is soon to be set up under Commander Adam Dalgleish to deal with just such high profile cases, so it's start date is brough forward, and the troops gathered - DCI John Massingham, and DI Kate Miskin. We learn a lot of their backgrounds. Both are ambitious, both have aged relatives to care for - an aged father for Massingham, the grandmother who brought her up, for Kate Miskin. The situation changes for one of them by the end of the book - but in tragic circumstances.
Adam seems to have lost his poetic muse - it's three years since the publication of his previous poems. He seems almost self doubting. Dalgleish knew, and liked Paul Berowne - but is shaken to learn of what had apparently happened to him in the same church some weeks previously. In all the years that he had been interviewing witnesses and suspects, nothing had shocked him as much as what Father Barnes said when talking about Berowne. It seemed to have been what would have been accepted as a miracle in the old days, but of course we know that such things can't really happen, don't we ? I don't want to say more to spoil the surprise.
It's a strong story, very well told. P.D.James is undoubtedly a very fine writer. Three quarters of the way into the book there is no idea as to who did the murders, and then we know, and the rest of the book seems to be how on earth this can ever be proved. And then there is a terrible and unexpected Aftermath chapter at the conclusion of the book.
Yes, its a good / very good read. I enjoyed it greatly
And now, I have read all the Adam Dalgleish novels. "The Private Patient" did seem to read as the final book to the series, but lets hope not, and that P.D James writes another one some time.
Links to author index and home page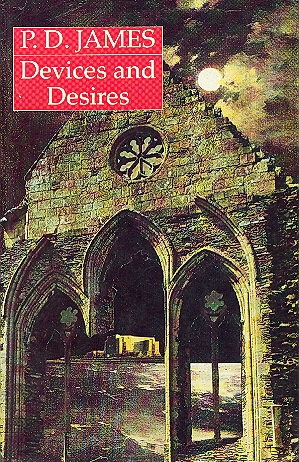 I read this book in May, 2010.
"Devices and Desires" is the eighth Adam Dalgleish novel, but the twelfth that I have read. I got it as a hardback in a charity shop, and I think I paid £1 for it.
I started off thinking it was quite a good book, but then about three quarters way through the book, there was a stupid plot twist that I thought was so out of place that the book had been spoiled. However I finished the story, calmed down, and eventually thought that overall the book was OK.
The setting is a not unusual one for Dalgleish - an isolated headland in Norfolk - Larksoken, not far from Cromer. Adam has been left an old, converted windmill by his aunt Jane. She had been his last living relative, and he goes there to tidy her books, etc, and decide what to do with the place. But then Dalgleish is left in the background for nearly 75% of the book.
A series of murders had been taking place in the Norfolk area by a character known as the Whistler. They are brutal murders, and all the victims are women, and have been mutilated. The settings and the spine chingling description of these murders were handled perfectly by P.D James - what a great writer she can be.

The local police are investigating, and the officer in charge is DCI Richards. Richards is known by Dalgleish - in fact had worked for Dalgleish in the past. There is also a nuclear power station on the headland, and so we get to know some of the people who work there, and to know most of the people who live on the headland. Then there is another murder on the actual headland this time. The murdered women is Hilary Roberts - acting adminsitrative officer at the power plant. Richards is again in charge of the case, and Dalgleish is still very much in the background - although, out for a walk, it is Dalgleish who discovers the mutilated body of Mz Roberts.
And soon, there is not much of the book still to read. I was wondering what was going to happen to change things, and make it Dalgleish's case when there was a preposterous plot twist that I simply could not accept. (I have also thought this in previous Dalgleish stories !) But in the end, this didn't really make all that much difference.
And finally, everything is sort of solved when Richards, an honest, likeable, but not super intelligent detective has the solution handed to him - but minus the true motive. Dalgleish had worked out who the murderer was, and also what the motive was.
Its a long book - it is well written, and hangs together quite nicely, and there are no loose ends at the conclusion. Its worth a read, but there are better, more satisfying Dalgleish stories. Oh, and it's amazing how often Dalgleish ends up recovering from injury.
All the books in a series - Rebus, Morse, Wexford, Dalgleish - tend to have some similarities of plot line within the series. But I seem to be more aware of this and more annoyed about it with P.D James.
Links to author index and home page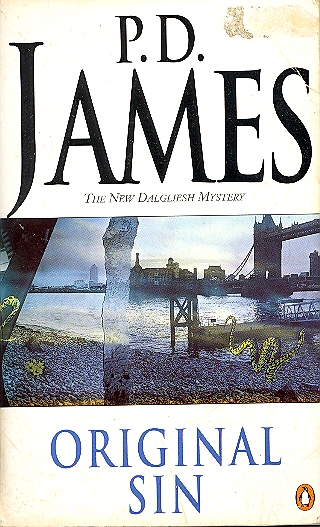 "Original Sin" is the 9th Adam Dalgleish novel, but the 7th that I have read. I am finding it very difficult to follow Adam's love life reading the books out of sequence. I know that Deborah Driscoe comes and goes in the early books, and now I also know that there will be an Emma Lavenham to whom he will propose ("The Murder Room" ). In this book however there is no love interest for Adam. DI Jane Miskin is still in his team, but I doubt that anything will ever come of this. Later books may prove me wrong, but I very much doubt this.
I had just started reading "Original Sin" in the UK, but continued to read it on a flight out to Hong Kong, in Hong Kong airport, on the flight from HK to Sydney, and then in Sydney. I finally finished reading it on a Virgin Blue flight from Sydney to Brisbane. So it's a long book, but an easy read.
Commander Adam Dalgleish is an advisor to the Met Commissioner , but he still keeps his investigating skills sharp with the odd special murder investigation. There had been a run of bad luck, and strange happenings at the Peverell Press, and Lord Ackroyd had been anonymously tipped off from having any dealing with Peverell Press. He takes the warning as a personal threat. When he is later at Peverell Press and the MD Gerald Etienne is discovered dead (suicide or murder ?) he goes straight to the top, and phones Adam Dalgleish. And so Dalgleish and his team get involved.
We learn all about the Peverell Press, an old publishing company now struggling for survival. It is housed in Innocent House - a mock victorian palace on the banks of the Thames.
Gerald Etienne had been struggling to save Peverell Press, but in a ruthless, heartless manner that made him lots of enemies. And now he is dead. So we go into the backgrounds of all who work for and in the Peverell Press- one of whom is a (soon to be multiple) killer.
Like all PD James books, this is a well written effort, and the action flows along nicely.
I did have one criticism, though. Danniel Aaron is a new DI recruit to the Dalgleish team. He is described as a "lapsed" Jew, but his Jewishness is later tested in the book. I cannot really say too much about this without giving away too much of the plot, and spoiling it for those still to read the book. But I can say that I found Daniel Aaron's role in the story the least convincing aspect of the book - quite unbeleivable in fact.
But setting that apart, its a good read - a long, very readable book. Its not an excellent must read book, but more than OK, and I enjoyed reading it.
Links to author index and home page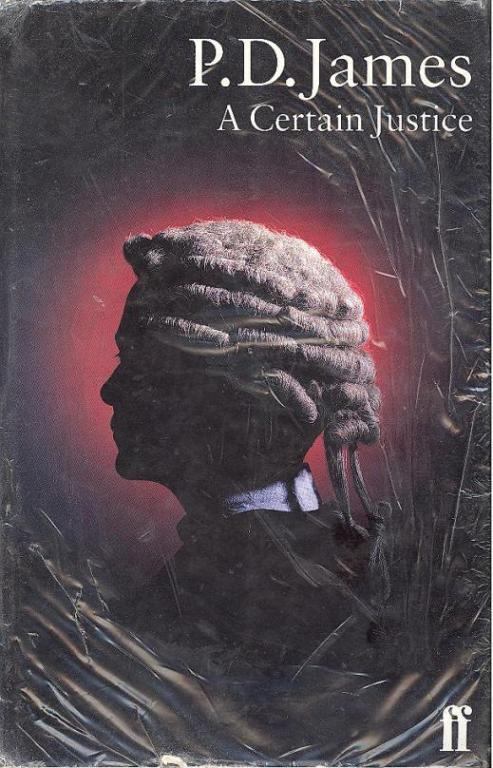 I read this book in August, 2010.
"A Certain Justice" is the 10th Adam Dalgleish novel, but the 13th that I have read. I had been reading about Inspector Frost, and Horace Rumpole, so it was nice to return once again to hear more about Adam Dalgleish.
As with most of the other Dalgleish novels, this was a well written book that held my interest from start to finish. As with a lot of P D James's stories, the murder of Venetia Aldridge takes place in a closed society - she was a QC in the Inner Temple Chambers in London. And again as usual, as we learn about Venetia's history, we realize that there are a lot of people who dislike her (with good cause), but do any dislike her enough to kill her ? Clearly someone did.
What adds extra interest to the plot is P.D James's take on the old question of how can a lawyer defend the scum of the earth, murderers and worse. We meet a Mr Garry Ashe - just known as Ashe. He is accused of his aunt's murder, and we are practically told that he did it - or almost told. Yet Venetia, a clever QC, defends Ashe, and thanks to her brilliance he walks free from the court (and possibly to murder again ?).
There are several murders, and they are all related. Venetia had defended another killer. He was released and went on to sexually assault and murder a little girl. Had he been found guilty, that little girl would still be alive. Her mother cannot live with the pain of the loss of her beloved daughter, and is tortured with the thought of the pain that the little girl suffered. We read the mother's suicide note - it is heart breaking !
I think I sort of worked out by myself what was going to happen next, and where Ashe came in. Perhaps it was just a lucky guess. But it's all well told, well written, and it all hangs together. A good read.
At this stage of his life, Dalgleish is still a lonely figure. DI Kate Miskin is his main assistant, and here she is joined by DI Piers Tarrant, a new recruit to the team, and a replacement for Daniel Aaron.
Yes, all in all, a good read.
Links to author index and home page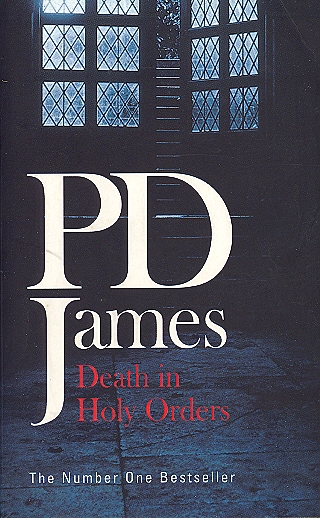 "Death In Holy Orders" is the 11th Adam Dalgleish novel, and the 8th that I have read. I got it for £1 in charity shop in the UK, but read it on holiday in Sydney, and finished reading it on Jamie and Jacqui's farm near Bigga NSW (near Crookwell, NSW) in Australia.
It is an excellent story. I really enjoyed reading it, and I can thoroughly recommend this book. It is a good strong story, where there are a number of murders, all of which are solved by the end of the book in a satisfactory conclusion. And the book ends with the bonus of an extra chapter dealing with Adams private life.
A theology student is found dead in suspicious circumstances at St Anselms on the Suffolk coast near Southwold. I like books about places that I know. The student's wealthy father has influence and knows how to use it. So Adam Dalgleish agrees to combine a holiday with a short enquiry into the student's death, and to revisit St Anselms, a place he often visited in his boyhood (Adam's father was a priest).
There are other visitors at St Anselms, one of whom is Dr Emma Lavenham. Here again is the curse of reading books out of sequence. I should have read this book before reading "The Murder Room", but that cannot be helped. Still it was nice to know how Adam and Emma met. I really will need to read "The Lighthouse" next to see what happens next to Adam and Emma.
P.D. James has researched her subject exceptionally well, and I was impresssed with her knowledge of ecclesiastic matters, as she describes the holy life and practices at St Anselms. I was also impressed that Dalgleish who is not a beleiver nevertheless joined in a service of worship at St Anselms because he knew and respected his hosts and he did not want to be a voyeur. The (priviliged) future of St Anselms is threatened as is perhaps the future of the Church of England. The book is a fair presentation of the pros and cons of religious belief, but all of this is as an aside to the main story.
It is a long, well told story. The main story is the murder in church at St Anselms of Archdeacon Crampton who did not always have the most christian of attitudes, and who had made a lot of enemies. He also proposed to close St Anselms. But would any of this be sufficient for anyone to want to kill him ? After the murder, since Dalgleish is on site, and a local force detective may be a suspect, Dalgleish and his team are asked to handle the investigation. So DI Jane Miskin, and the rest of the crew turn up once again, and the muder enquiry proceeds apace.
P.D James is an accomplished writer, and I have come to appreciate and enjoy her books. However everything (and Dalgleish) always seem very serious. I would like an occasional lightening up if possible. There is not much humour in the Dalgleish novels. Morse also deals with serious crimes, but there is also friendly banter between Morse and Lewis - I have not yet found any equivalent with Dalgleish.





Links to author index and home page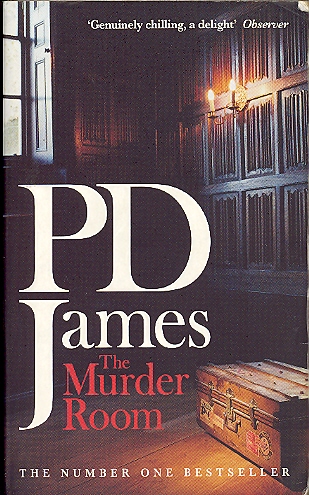 "The Murder Room" is the twelth Adam Dalgleish novel, but the fifth that I have read. I've read this very much out of sequence, and I am losing such a lot by doing so. I buy the books in charity shops, and read them more or less in the order that I buy them. It would be a lot better to read them in date sequence, and so see the characters develop.
"The Murder Room" is a big book of 550 pages. It's a very good, strong story. An old chum bumps into Commander Dalgleish, and persuades him to accompany him on a trip to the Dupayne Museum - a private museum devoted to the inter war years. It contains a "murder room" with details of some gruesome murders of the period. This is Adam's first visit to the museum. But a week later he is back investigating a murder there.
The first 150 odd pages of the book set the scene. Max Dupayne, the father, founded the museum, but is now dead, and the museum in now jointly run by his two sons and one daughter. The lease is up for renewal, and all three siblings must agree to the renewal, but only two agree. Dr Neville Dupayne disagrees, refuses to sign the lease, and it seems that the museum must close. We learn about all the characters whose lives will be altered drastically if the museum closes. Then Dr Neville is found dead. All the workers at the museum are potential suspects, but one of the workers has secret service connections. The investigation has to be done discretely - hence Commander Dalgleish's high powered Scotland Yard section is called in.
It's a superb story that kept me interested all the way through.
Possibly Dalgleish has mellowed just a little in his private life. He has a serious lady friend in Emma Lavenham, a lecturer in English Literature at Cambridge, although strangely ( perhaps not so strangely as AD is a very private person) Emma has yet to visit Adam's flat at Queenhithe in London. Just as in "Unnatural Causes", the book opens with Adam agonising over whether he should ask his girlfriend to marry him. But his and her lives are both very busy, and Adam always seems to have to cancel meetings with Emma at the last minute. Will she put up with this? Just as in "Unnatural Causes" the question is raised at the start of the book, and is left hanging until the end. And then, 45 mins before the all important meeting of Adam and Emma at the end of the book, Adam is summoned to a meeting with the minister !
Adam now heads a specialised team at Scotland Yard, so at last we have the possibility of a regular assistant. Could this be appearing in the person of DI Kate Miskin. Neither Adam nor Kate would ever choose to mix business with pleasure, and have a colleague as a lover, and yet you can tell that Kate has feelings for Dalgleish !
Dalgleish now has enough money not to need to work for a living - his aunt is now dead, and has left everything to Adam. He could be a full time poet. And yet he is an especially good detective. People tell him things, confide in him - he is an excellent listener. So all in all Dalgleish now comes across as less aloof, and we have inter-reactions with colleagues at all levels.
I think this is the best Dalgleish that I have read so far (but remember I have read only five at the time of writing). I must read the next book in the series to see what happens next, but must also read the earlier books to fill in what has been happening.
Links to author index and home page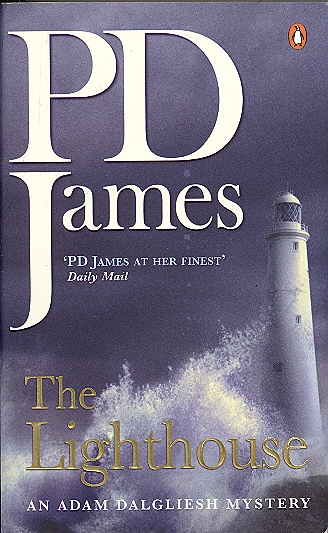 I read this book in January, 2010.
This is the 13th Adam Dalgleish book, and the 9th that I have read. I got the book for 25p in a charity shop - a stunning bargain ! I really enjoyed reading "The Lighthouse", and I think it may be the best Dalgleish yet.
Previously I had read "The Murder Room" where Dalgleish had proposeed to Emma Lavingham - so I had to get a move on and read the next book to see what happened next. A lot does happen, but by the end of the book, we are only slightly further on reference Adam and Emma. That said, realtionships are a lot clearer - everyone moves on.
The story is a familiar one to readers of the Dalgleish series. There is a strong character who is hated by all around, who lives in a small closed community. The object of all this hate is murdered - who did it ? They all disliked him, but dislike is hardly a motive for murder.
In this story, the setting is Combe Island off the Cornish coast. This is an exclusive retreat for V.I.P.s where they can escape from the press and their minders to peace and tranquility. Its a sensitive location, and when the famous author Natham Oliver is found dead on Combe Island, Dalgleish is called in to answer the usual question - was it suicide or murder ? But P.D.James structures the book excellently. We are told that a body has been found in the first chapter, but we are not given a name. We then meet all the characters on Combe Island including the awful Natham Oliver, hear their stories, learn of their relationships, etc. But who has been killed? Then when we have our suspicions confirmed, we know that almost everyone has a motive to be the killer.
Dalgleish, DCI Kate Miskin, and sergeant Benton-Smith then fly on the Combe Island, and begin the investigations. But all does not go well, especially for Dalgleigh !
Apart from the murder investigation, we also learn more of the private lives of Kate Miskin, and Dalgleish. DI Piers Tarrant has now left Dalgleish's team. He invites Kate out for a get together / date, and one thing leads to another. Piers and Kate spend a blissful night together. Is this to be Kate's future ? There had been plenty of hints in earlier books of her feelings for Adam - all becomes clearer in this book.
And what of Dalgleish and Emma ? They have been spending precious / perfect times together, and Emma now lives part time in Adam's flat. But neither seems able to speak of their feelings to the other. Will this be another lost opportunity for Adam for whom work always comes first? Why does someone of Dalgleish's seniority still insist on doing the old detective investigations ? Is it because he needs contact with the horror and helplessness of life to inform his poetry ?
And so the murder is solved. It's a good solution where Kate and Benton Smith take over, but not completely. And then there is an epilogue where everyone has to stay on Combe Island for two weeks and the tranquility of the island works its magic.
It's a good book on all levels. Yes, I think it's the best Dalgleish yet. But once more I will need to hasten on to the next book "A Private Patient" to see what happens next to Adam and Emma.
Links to author index and home page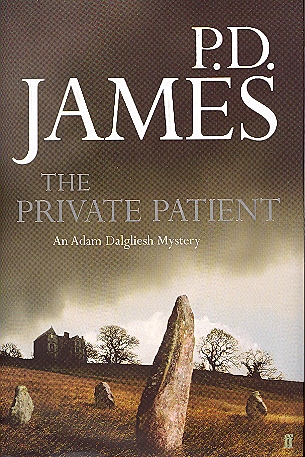 I read this book in February, 2010.
"The Private Patient" is is the 14th Adam Dalgleish novel, but the 10th that I have read. It was published in 2008, so P.D. James would have been 88 , and it does have the feel of a last book - see the next paragraph. Usually I buy my books second hand in some charity shop for 50p to £1, but this book was a very welcome present from my son Jamie. I finished reading the book in January, 2010.
There was quite a good review of P.D James published in The Sunday Times on 03.01.10. P.D. had attacked the BBC for losing its way, overspending on salaries, etc, etc. The BBC's Director General Mark Thompson had agreed to be interviewed on air by P.D. - perhaps thinking he was in for an easy time from an 89 year old. How wrong he was when he came up against a forensic mind at its deadliest. P.D. almost died in 2007. Whilst recovering from an operation she visited her dentist and had a massive heart attack. Fortunately a friend was on hand to rush her in his car to his doctor, who administered oxygen and got her into an ambulance. She recovered and eventually recuperated in a private hospital. It was here, as a private patient herself, that she started to write "The Private Patient".
The Dalgleish character softens in the last four novels in the series - "Death in Holy Orders", "The Murder Room", "The Lighthouse" and now "The Private Patient." This is because Adam meets and falls in love with Emma Lavingham. It is definitely a change for the better - I didn't like the cold self contained Adam Dalgleish. You will need to read this book to see if Adam and Emma finally make it to the altar - I won't spoil things for you.
As for the story, this is set in a Manor House in Dorset, one wing of which is a private hospital where Mr Chandler- Powell treats his plastic surgery patients. He is a gifted surgeon, the pateints get the best of treatment, and recover at leasure in beautiful, secluded surroundings. But everything changes when Rhoda Gladwyn, an investigative reporter, books into the Manor to have a disfiguring facial scar removed. She is found murdered just after the operation.
I have commented before that there is a fair amount of sameness of plot in the Dalgleish books - strong characters , set in secluded self contained locations, and someone is murdered. In this case, there were times when I thought I was rereading "The Lighthouse" - such was the similarity. Some sections seemed identical - word for word. That said, however, "The Private Patient" is still a good book.
Piers Tarrant, DI Jane Miskin, and sergeant Benton-Smith are all here . Dalgleish, Kate Miskin, and Benton-Smith are a strong team, and the Kate - Adam relationship is handled well. Commander Dalgleish's Special Investigation Section at the Met is to be broken up, and changes seem inevitable for the team. So the book looks and feels like a last novel. I hope I'm wrong and I would like there to be more books in the series - but please, please P.D. - don't write another if it is only to kill off Dalgleish.
I enjoyed reading this book .
Sadly P D James died in November, 2014, so unless some undiscovered manuscript is discovered, there will be be no more P D James / Adam Dalgleish books.
Links to author index and home page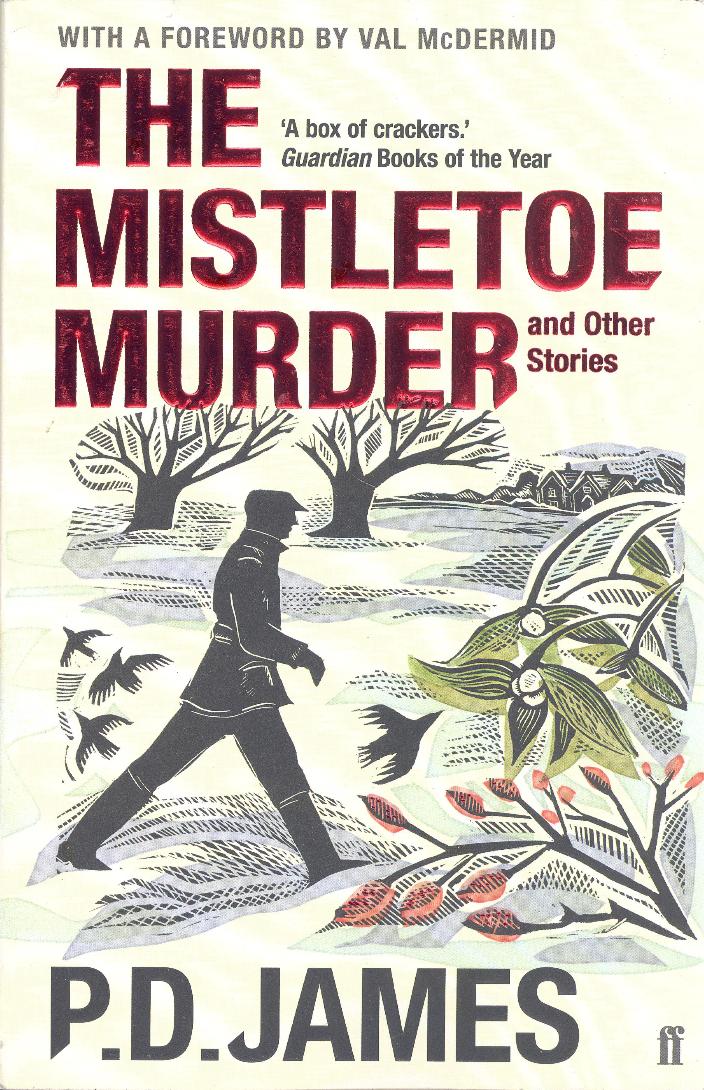 I read this book in April, 2018.
P.D James died in 2014. This is a collection of four short stories written for various Christmases between 1969 and 1996 - this collection being published in 2016. P.D James was a fine writer of crime stories, and the quality is obvious here.
There are two forewards to this book, one written by Val McDermid, and the other by P.D James herself. I thought "The Mistletoe Murder" (1995) was a great story let down by a poor ending. P.D. James herself listed some of the desirable attributes of a good short story, and one was that the ending must not disappoint. Sadly, I think it did here. The story is a deliberate and clever reconstruction of an Agatha Christie story - lonely country house, butler and housekeeper, snow on the ground and footprints in the snow, a smashed watch stopped at 10:30, mistletoe berries on the carpet outside the library, etc. I'd have described this book as a master class in short story telling, but for the ending.
"A Very Commonplace Murder" (1969) is a strange story about Ernest Gabriel who finds pornographic magazines in a flat clearance, puts them back into their locked cupboard, and then elaborately breaks into the flat each Friday evening to read these magazines. Whilst there he watches a young man's visits to a married woman for sex in a neighbouring flat. One Friday, the young man's knock is ignored, and eventually he goes away. This is the Friday that the married woman was murdered. The young man is innocent, and if Gabriel comes forward, he will be set free. So will Gabriel come forward, or not, and if not what is the real reason for not coming forward ?
The reason I bought this book was that it contained two Adam Dalgleish short stories, and "The Boxdale Inheritance" (1979) is the first of these. I distantly remembered reading this story before, but luckily I had forgotten the ending - see footnote. It's a little gem of a story. Adam's just retired godfather is a cleric who has come into an inheritance, which he feels he cannot accept as it might have been obtained by murder, some 50 years ago. A young music hall artist had married a 69 year old titled gentleman, much to the obvious disapproval of his family. He was murdered, and the young gold digger was charged with his murder - but was acquitted. Although it all happened so very long ago, Adam agrees to do what he can to to see if his widow was guilty or not. Surprisingly Dalgleish identifies the murderer - but of course he always was a brilliant detective. It's a great story, thoroughly beleivable, and it had a good ending.

Footnote - I had read the story before as "Great Aunt Allies Flypapers" in the compilation The Television Detectives Omnibus, edited by Peter Haining, &nbsp (1992).
The last short story, "The Twelve Clues of Christmas" (1996) is the best. When then a young police sergeant with the Met, Adam is visiting his aged aunt for Christmas, when his car is stopped by one of the Harpervilles. Old Harperville has apparently committed suicide - could Adam drive the old man's nephew to a phone box to call the police. Adam can't just carry on, so he goes back to the Hall , and it's apparent that this is a suspicious death. The local DI Peck checks up on Adam Dalgleish, learns he is a rising star of the Met, and so he calls him in to see what he makes of it all. Dalgleish plays a game with Peck, and identifies 12 clues as to what really happened. It's well written, very clever, very satisfying - another little gem of a story. Well done, P.D James.
Links to author index and home page