Iain's Leisure Reading
It was just before Christmas, 2013. I was in a charity shop in Bury St Edmunds, looking for missing books in one of the detective series I was reading, when I came across a book trilogy by Robert Crais about the American PI, Elvis Cole. The book was titled "Elvis Cole : The Early Years". It contained the first three books (naturally, being a trilogy) in the Elvis Cole series, namely "The Monkey's Raincoat" (1987), "Lullaby Town" (1989), and "Stalking the Angel" (1992). It struck me that I hadn't actually read any American crime fiction - a real gap in my reading - so, always on the look out for new series to read, I decided to buy the book (£1.99 for the three novel trilogy a real bargain !) and give Robert Crais / Elvis Cole a go. When I think of American cime fiction I think of Raymond Chandler, and the world weary, cynical PI Philip Malow. But I haven't read any of these books either - two confessions of ignorance in one chapter, dear me !
As usual, I have done just a little research on Robert Crais - I like to know something about the authors I am reading.
Robert Crais was born on June 20th, 1953, in Independence, Louisiana near Baton Rouge in the United States. So Robert is about the same age as fellow American Bill Bryson who was born in 1951. I do read Bill Bryson, but he is not a crime writer. Robert was adopted by a childless couple, and raised as their only child. He was educated at Louisiana State University - studying mechanical engineering for a while, and then switching to writing. He moved to Hollywood in 1976 at the age of 23, and found work as a screenwriter for some well known TV series - "Hill Street Blues", "Cagney and Lacey", and "Miami Vice." These are all crime series - I wonder if that was by intention or just coincidence.
In his early thirties in the 1980's Crais decided to abandon scriptwriting and become a novelist. Robert Crais's father died in 1985, the same year that Robert created his crime fiction character Elvis Cole. "The Monkey's Raincoat" was published in 1987, and won several American awards for the best new crime fiction book. All but three of Crais's books feature the ex army private investigator Elvis Cole, and his marine colleague and partner Joe Pike. Unusually, Joe Pike gets to feature in some books - "The Watchman" (2007), "The First Rule" (2010), and "The Sentry" (2011. As I start a new series, I wonder what I will make of the Elvis Cole / Joe Pike partnership, or indeed what I will think of Joe Pike going it alone. I can't think of many other examples of an assistant getting three books in his own right.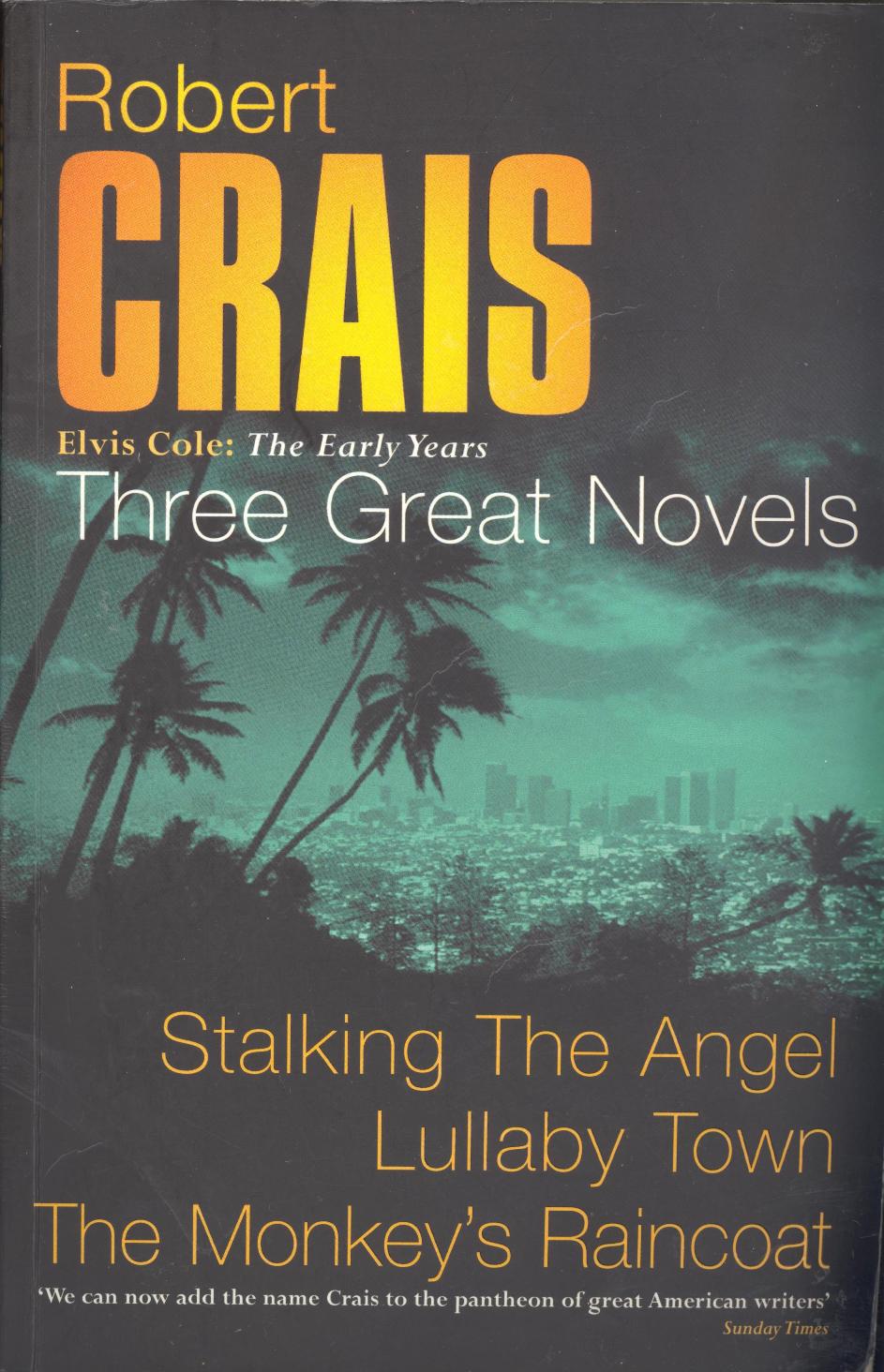 I read this book in January, 2014.
This is the first book in the Elvis Cole series by Robert Crais, and is our introduction to Elvis and his partner Joe Pike. I thought it a good introduction - after all, the book has won many awards in America for the best new work of crime fiction. Elvis is a tough, no nonsense PI in LA, whose beat includes Holywood. He is ex army, and was in Vietnam where he met his PI partner Joe Pike who was in the marines. Elvis is very tough, Joe is fearsomely tough - it's difficult to say which one is the tougher. They are partner private detectives - Elvis does all the work, and the room in their office that is Joe Pike's stays empty - but when things get out of hand, Elvis phones Joe, and the cavalry rides to the rescue. Elvis is cynical (he is an American PI after all), but clever, and he takes good care of himself and his clients. He also seems to be into martial arts and "speeded up" meditation/ yoga techniques as some sort of mind and body keep fit regime.
The book was written in exactly the style that I thought it would be - world weary, cynical Philip Marlow / Raymond Chandler style. You might call it trash fiction - but that would be a big mistake. It is just a different style. Elvis and Joe sort of grow on you - and their hearts are definitely in the right place. I soon got used to the different style, and even though a lot of the references and contemporary 1980's American names meant nothing to me, I thought it was quite good really, and an interesting read.
The story opens with Ellen Lang and her friend sitting in Elvis's office and asking for help to trace her missing husband Mort Lang. Mort had taken their son Perry with him, leaving Ellen with the two girls. Mort had treated his wife terribly, spoke down to her, handled all family decisions himself, and treated her as an incompetent. Ellen was falling apart, and needed Mort and Perry back.
Mort's business - he had recently set himself up as an independent casting agent - was losing money, and he was badly in debt. He also had a beautiful, but a lot younger girlfriend. Ellen had so little self esteem that she seems to have turned a blind eye to Mort's unfaithfulness. Mort seemed to have got himself in with a bad bunch possibly in a mad bid to seek finance to repair his finances. But now, dope had gone missing. Had Mort stollen it to clear his debts ? The crooks want their dope back.
Elvis has good contacts with the PA police, and calls them in, even though Ellen is not very keen on this. But when it seems that the police have been called off by some corrupt politician, Elvis and Joe must soldier on to try to rescue a terrified little boy (Perry), and Ellen has to find some steel in her character to rescue her son.
It was a good story that had me turning the pages to see what happened next. The story only ran for some 200 pages - about the same as the Hamish MacBeth books - so its a bit on the light side, but a very worthy first novel. I'll certainly read on to see how the Elvis character develops. He sleeps with his client and her best friend - is he going to make a habit of this, or perhaps will he get a steady girlfriend later in the series ? We shall see.
Links to author index and home page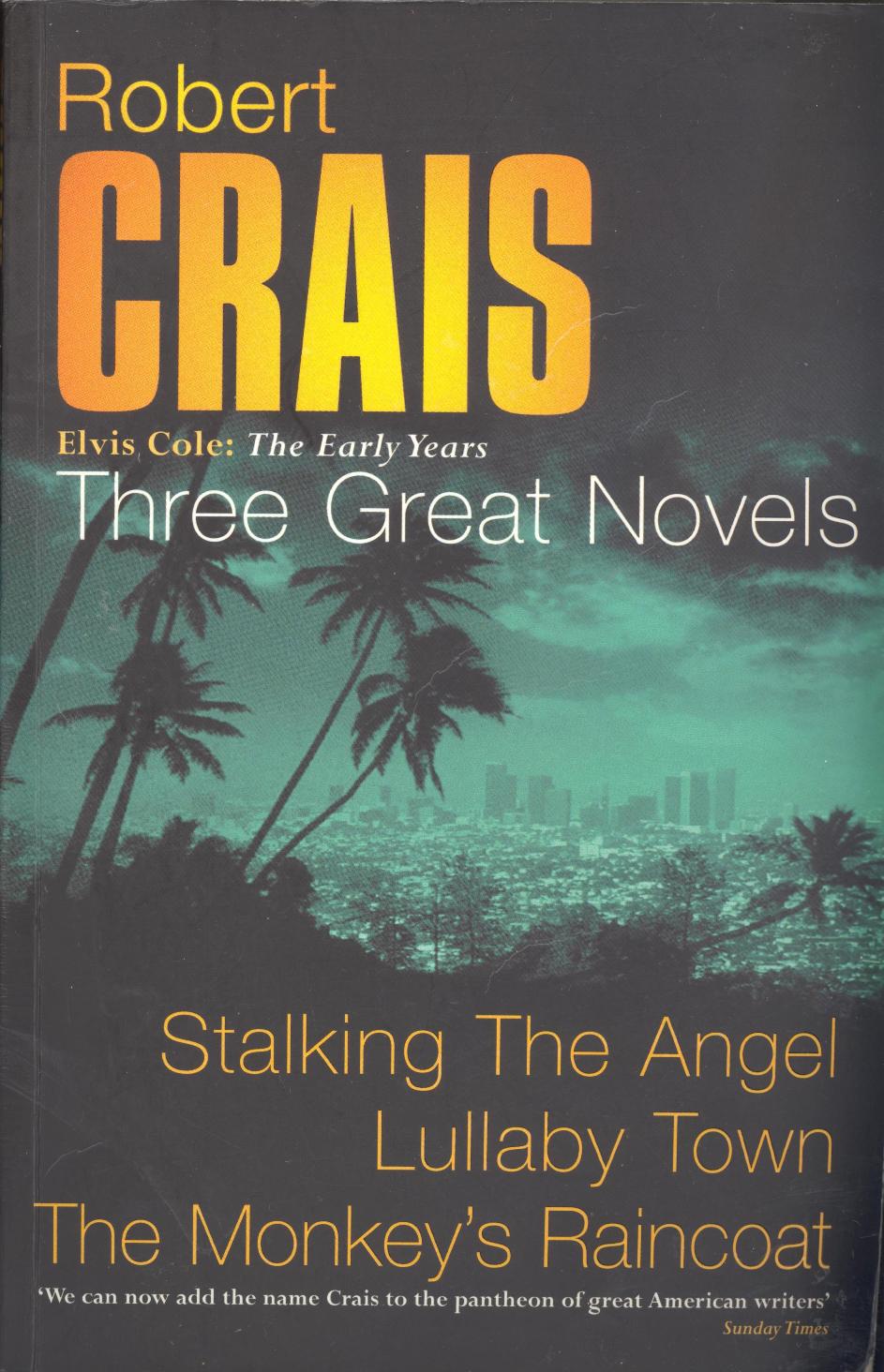 I read this book in February, 2014.
"Stalking The Angel" is the second Robert Crais adventure of the wise cracking, LA based PI Elvis Cole, and his very quiet partner Joe Pike. This is very different from Morse and Lewis, Rebus and Siobhan, etc and probably not really my "cup of tea".
When I read the first book in the series, I found that the style was exactly as I would have predicted - "trash" American fiction of a smart-alec PI on Sunset Boulevard in LA. I didn't get any of the references to presumably mid 80's american TV culture. I wearied at the constant Elvis Cole wise cracks. But yet, it was a good story, Cole and Pike were good partners - the partnership worked - Cole is on the side of right, a great champion of the underdog, and so I had ended up sort of liking the book.
So it has proved again. I started off with all the reservations as per book one - indeed wondering what on earth I had seen in book one. But once again I found myself reading a good story that bowled along at a great pace, leads emerged and were followed up methodically, and once again I ended up page turning to see what happened next, and liking it.
One of the characters in the book asks Elvis why he always answers everything with a wise crack - "its just me", says Elvis. The chap in this story who hires Elvis complains that he is not paying for a load of wise cracks - "the wise cracks come free" says Elvis. He seems to use this to antagonise people, and perhaps keep them at bay. Is it a screen he hides behind ? Is it a cover that might slip in a later book ?
What is the plot? Bradley Warren is a very high flying international businessman, and Jillian Becker his executive assistant. Bradley wants Elvis Cole to recover an old priceless Japanese book stolen from his house. The book, setting out the origins and laws of the Samurai, is called the Kagakure. Elvis doesn't like Bradley Warren, and wants to turn him away, but is persuaded to take on the job by Jillian. We soon discover that Elvis was right not to like Bradley. Bradley has a Holywood wife, always with a drink in her hand, and a seemingly cowed, repressed, dowdy , unattractive daughter Mimi. But Mimi is not what she appears to be either. Could it be that the local Japanese mafia - the Yakuza - are behind the books disappearance ?
The story takes off from there, and Elvis has to call in Joe Pike to help . Once again, they seem to have a good friend in the LA police force in the formidable shape to Lou Poitras. There are lots of twists, but it's all sorted in the end, I guess, although I am not sure who ended up with the Hagakure. We sort of lost track of it with all the other happenings. I noticed that just as in book one, this investigation was undertaken for personal reasons by Elvis Cole - he had already torn up his payment cheque (check), so was working for nothing. What does he do for money, I wonder.
I like Elvis Cole's bachelor existence with his cat, and the occasional appearances of a silent, motionless Joe Pike. It all rolls along with great energy. I think I liked it, and I will read on to see what happens next. It's about a far away from Hamish Macbeth as its possible to get. I read both, so I must be attracted by variety.
Links to author index and home page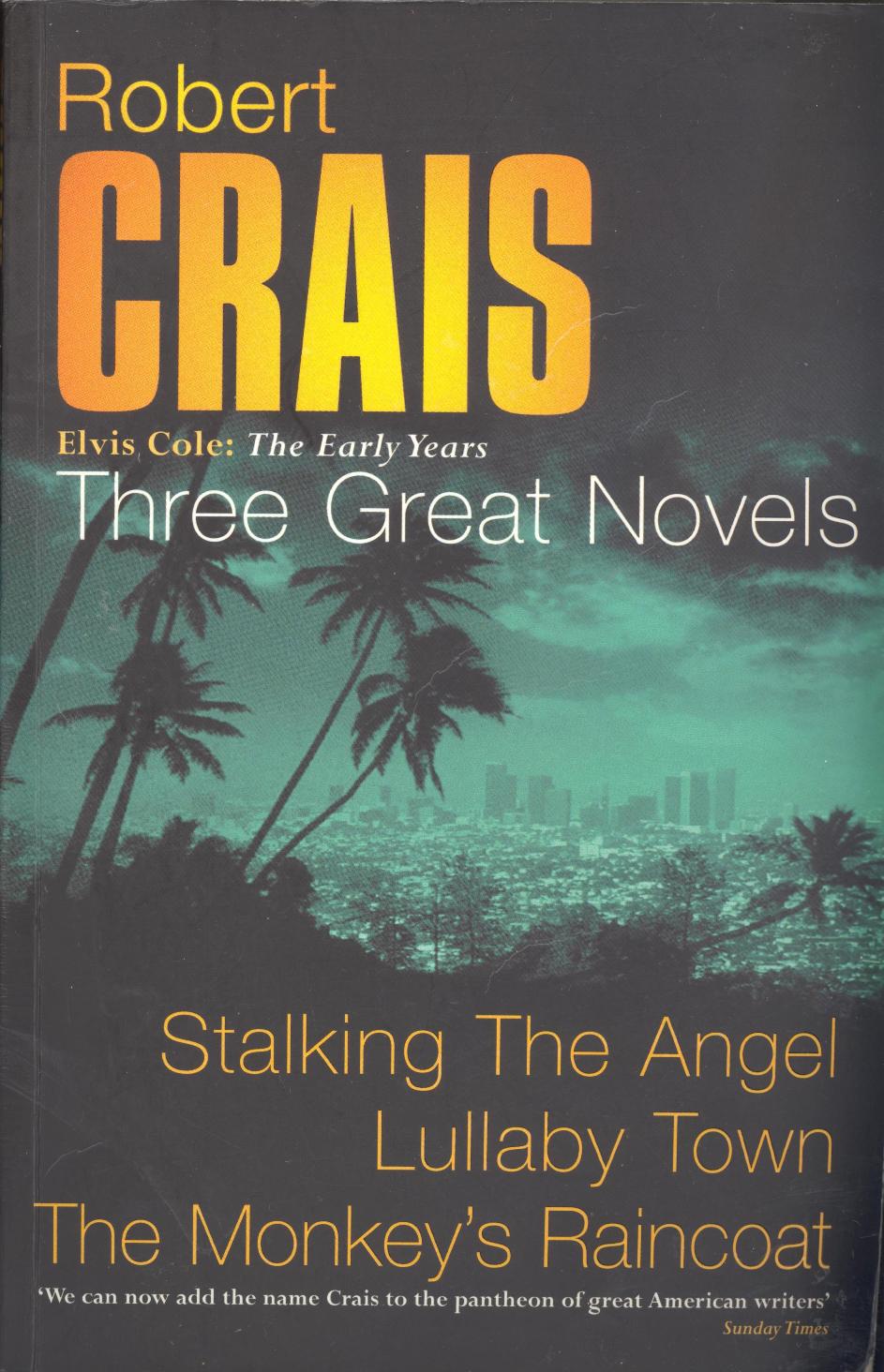 I read this book in May, 2014.
This is book 3 in the Robert Crais series about LA and Hollywood based PI Elvis Cole, and his monosyllabic partner Joe Pike. It's very American, full of Elvis's wise cracks, and I am always surprised that I like these books. I can't follow the routes Elvis takes as he drives through LA, what he is eating for breakfast is a mystery to me, and I don't know the meaning of lots of the vernacular words he uses. But the characters, Elvis and Joe Pike, are strong, good guys, and under their hard men exteriors beat hearts of gold.
The stories are terrific too. The test of a good strong story is , as you near the end of the book, if you can't bear to put the book down, but simply have to carry on to read on to the end. The book passed that test.
Elvis is employed by a hot shot Hollywood director, Peter Alan Nielsen, to find the wife and child that he dumped years ago when he was starting out to build a career for himself. Nielsen is be very, vey self centred, but Elvis takes the job. It should be easy to find a missing wife (Karen). However, Karen has changed her name, and doesn't want to be found. When Elvis does find her, and her son, he finds that she,and now he, are mixed up with the mafia. Elvis has to send for reinforcements - ie Joe Pike.
At the start of the book, when it had seemed to be just a standard missing person case, Elvis had asked his police contact Lou Poitras if he had anything on Karen Nielsen in the police files. Lou had nothing, so Karen was obviously not a dangerous criminal, and jokingly Lou advised Elvis to take back up with him in his search. Little did he and we know.
Almost at the end, when it seemed that all had been sorted, and Elvis and Joe could return to LA, the agreed settlement fell through spectacularly, and off we went again, with even more tension building to a terrific ending.
I liked the final chapters when we get to chum around with Elvis and Joe. Joe is still very friendly with Ellen Lang - the same Ellen they helped in book 1. I wonder when Elvis will also meet someone special.
All in all, a good read in spite of all the Americanisms.
Links to author index and home page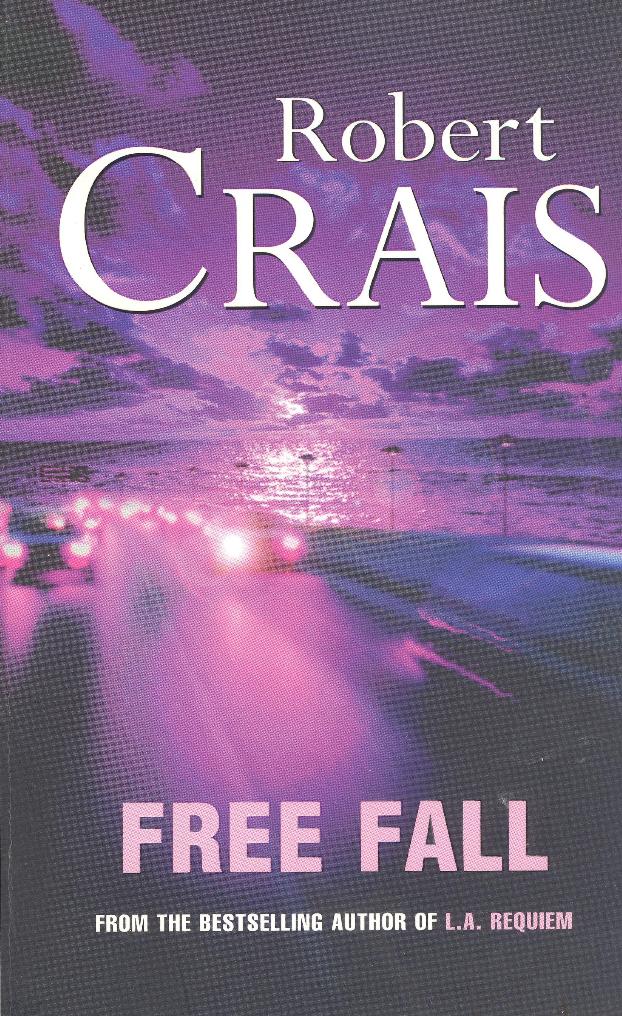 I read this book in June, 2014.
This is book 4 in the series about LA based PI Elvis Cole, and his partner Joe Pike. It's an interesting series, but very American, and there are lots of words and expressions that I do not understand. Some can be worked out - eg when Cole puts something in the Sub-zero, he obviously means the freezer - but a lot baffle me. I think we could do with a glossary !
Elvis and Joe are good guys, brave heros, always on the side of the underdog They seem to take on everything that comes their way. They also have the martial skills and weaponry to back up what they do. Joe Pike doesn't say much, but he seems to be a walking arsenal.
The book opens with a hesitant Jennifer Sheridan loitering outside Elvis Cole's office, unsure if she should enter or not. Elvis tries to put her at ease, but once inside she still can't get the words out. Elvis suggests that she might be better off going to the police, but Jennifer says that that is the last thing that she can do. And so the story comes out. Jennifer fears that her fiance, Mark Thurman, is involved in something wrong, and illegal. Mark is a policeman ! She wants Elvis to find out what is going on. Just after she leaves, Mark and his police partner enter Elvis's office. They had been following Jennifer. Mark convinces Elvis that there is no mystery. Mark has been seeing someone else, but hasn't been able to tell Jennifer.
Elvis investigates, and finds evidence of a new girlfriend, but Jennifer simply doesn't believe it. She persuades Elvis to continue, even though Elvis thinks it's a waste of time. Well, of course, there would be no story if it really were a waste of time. Mark, his boss, and all five members of his police React team are corrupt, involved in the illegal killing of Charles Washington, and also involved in the drug trade.
Elvis and Joe get themselves arrested, no one believes their story, and they have to break out of jail to clear their names. There is a lot of action, a lot of tension, and Robert Crais tells the story well.
It's a good series about a PI in a different country. I read it as something different, and I really like the series - so far.
It's a book almost with two endings. The first ending could have been that life is messy, and you can't expect to get all the bad guys every time. But Elvis and Joe Pike don't like loose endings, and so off they go again, against the baddie who seemed to walk free. The second ending is a lot more satisfying.
Links to author index and home page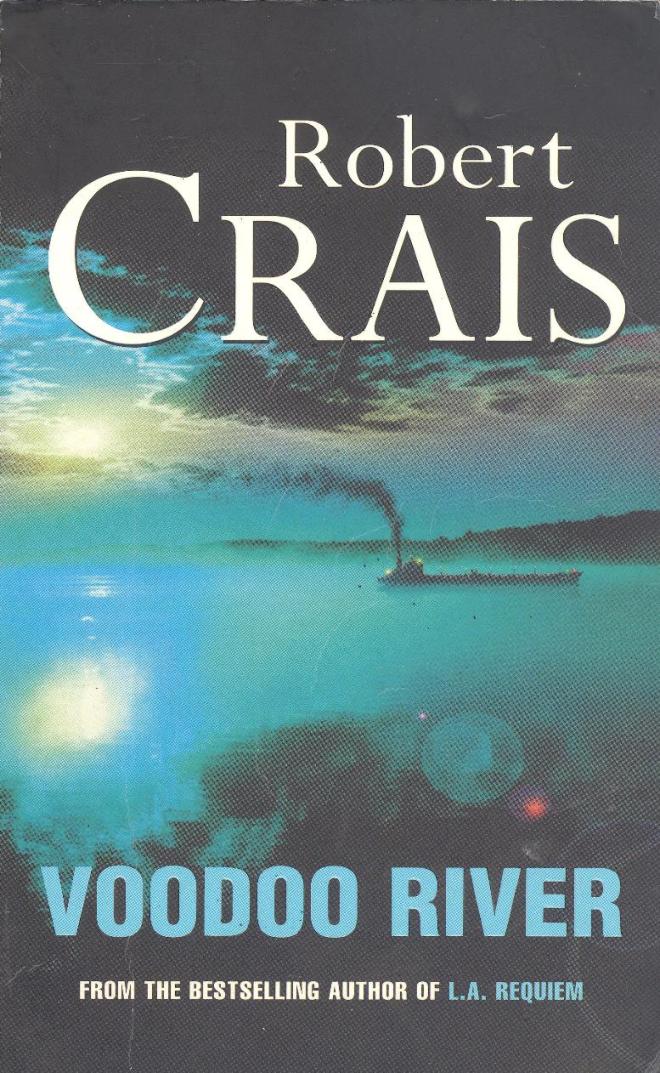 I read this book in June, 2014.
This is book 5 in the series set in LA and Holywood about PI Elvis Cole, and his partner Joe Pike. I've sort of got to like this series - I like the main characters, Elvis, living alone with his cat for company, and Joe Pike, who doesn't say much, but is the cavalry that comes to the rescue in times of extreme danger. And there are lots of wizecracks - a lot used by Elvis in this book in chatting up Lucy Chenier. Like the previous books, this book opens with Elvis taking on what seems to be a simple, straight forward case, but then it gets complicated, and very dangerous, and Elvis has to call in Joe.
In this story, it is a famous Holywood TV actress Jodi Taylor who asks Elvis Cole to help her, and her adoption specialist lawyer / advisor , Lucy Chenier, get at her medical records. Jodi was adopted and knows nothing of her real mum and dad - they ticked the box on the adoption papers to remain anonymous. She tells Elvis that she doesn't want to meet her parents, just to learn of her medical history. Elvis flies to backwater places in rural Louisiana to liaise with Lucy Chenier and soon discovers the real parents - only her mum is still alive - and the medical history. But he finds out that Jodi has not been honest with him and Lucy - that Jodi was being blackmailed about her history. It now gets a bit more complicated in that Jodi's real mum is now married to the local sherrif, and they also are being blackmailed - but this time by a nasty hoodlum Milt Rossier who is a money launderer, almost mafia style, ruthless boss. Jodi changes her mind, meets her mum, and asks Elvis to help her mum and the sherrif. Milt is mean and dangerous, and so Elvis has has to call in Joe Pike.
At long last we get a love interest for Elvis Cole. Lucy Chenier is now single, living with her 8 year old son, Ben. Lucy and Elvis have to work together, and Elvis takes an instant liking to Lucy. He has to tell himself to stop staring at her, and thinking of her all the time. Lucy at first seems immune to Elvis's wise cracks, but eventually he wears her down, and Elvis and Lucy become a couple. They both survive all the perils of the story, and are still together at the end of the book - Elvis staying on in Louisiana to hep tie up loose ends. But Elvis will have to return to LA eventually and then what will happen to the Elvis, Lucy, Ben relationship ?
This was quite a good read, but I didn't think it was quite as good as books one to four. But of course I'll need to read on to see if Lucy and Ben make it into the next book.
Links to author index and home page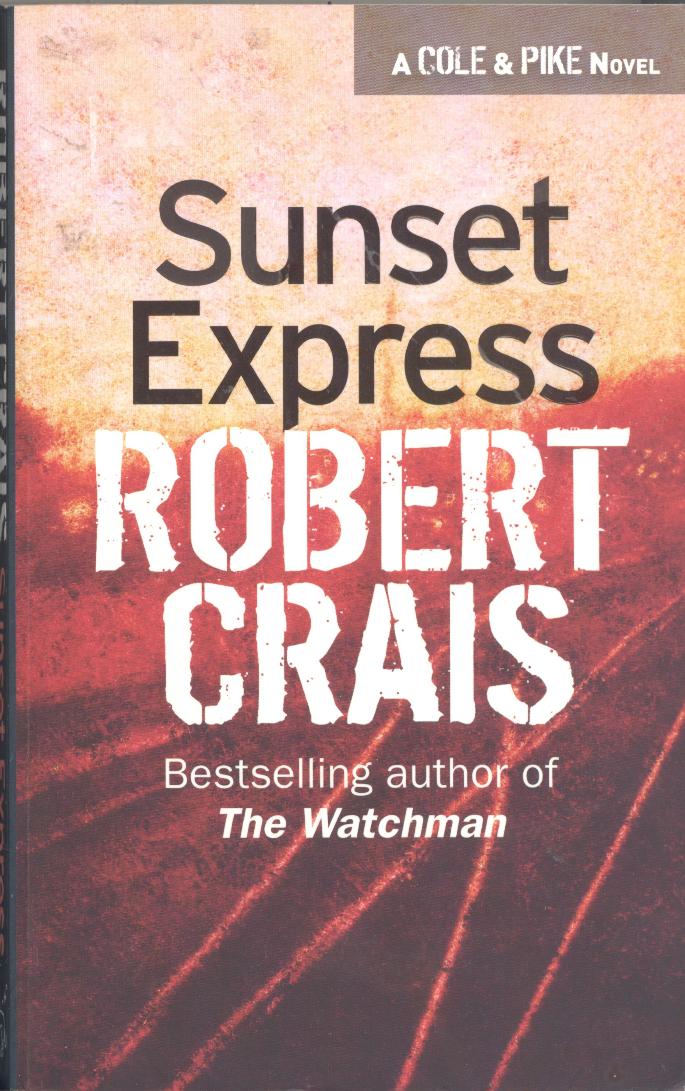 I read this book in July, 2014.
This is book 6 in the series by Robert Crais about a Philip Marlowe type PI in LA, featuring Elvis Cole, who lives alone with his cat, and works with an almost silent partner, Joe Pike. It's full of Americanisms that I don't get, but the stories are strong, there is a lot of action, and Elvis and Joe are true heroes. In short, I like the series.
Elvis had been without a girlfriend for the first few books, then he met Lucy Chenier and her young son Ben - and in brief, Lucy and Elvis have fallen hopelessly in love. This book takes the Lucy / Elvis story forward to the point where Elvis is thinking of moving to Baton Rouge to be nearer to Lucy, and Lucy is thinking of moving to LA to be nearer to Elvis. I guess we'll learn more in the next book.
The story is about a corrupt high profile lawyer Jonathan Green and the "Green Response Group" that have 100% success with even the seemingly most hopeless cases. Teddy Martin is a very, very wealthy LA business man accused of murdering his wife. He can afford to employ the "Green Response Group" to fight his case.
Elvis Cole is employed by Jonathan Green to follow up some defence leads in the case, and, diligent as always, Elvis finds the smoking gun that seemingly points to Martin's innocence, but that detective Angela Rossi may have planted evidence. But Angela Rossi used to be Joe Pike's police partner, and Joe knows that Angela is not corrupt.
It's a good story, although I think most readers will be surprised that Elvis allowed himself to be duped by Jonathan Green for so long. I also thought that the ending was somewhat contrived just to ensure that the good guy always has to win.
But I do like the series.
Links to author index and home page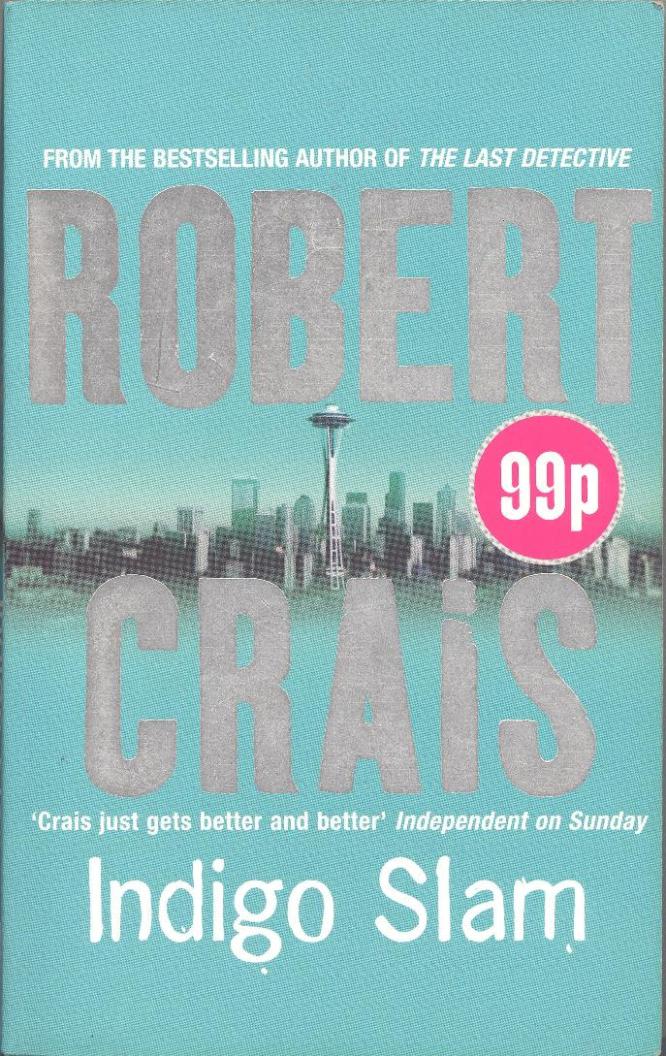 I read this book in September, 2014.
This is book 7 in the LA based series about wise cracking PI Elvis Cole, and his strange partner Joe Pike. Joe plays the part of the American Cavalry - he rides to the rescue at the last moment.
This is a terrific story. Three children walk into Elvis Cole's office - a 15 year old worldly wise girl Teri Hewitt, her younger sister Winona, and their younger still brother Charles. Their dad often goes away, but this time he has not returned. They want to employ Elvis to find their dad. They are living alone, but seem to be making a good job of fending for them selves. Elvis wonders if he should call in Social Services, but eventually decides to leave them living by themselves, and he accepts the job. As the story gets more and more complicated and dangerous, Elvis never loses sight of his main responsibility to his employer - he has to do what is best for the three children
The complications are that the father Clark Hewitt is not just a printer, but is a talented counterfeiter. He has worked with and then double crossed the Russian mafia, and now they want revenge. He is currently working with Vietnamese terrorists. He is also well known to the police, FBI, Secret Service, etc. Somehow Elvis and Joe manage to find a series of escape routes for Clark and his family. Teri Hewitt is as hard as nails, but she develops a crush for Elvis - of which he is quite unaware.
Meanwhile, Elvis's girlfriend Lucy Chenier is about to accept a job offer in LA to be nearer to Elvis - Lucy and Elvis are deeply in love. But Lucy's husband does not want Lucy to leave Baton Rouge. Elvis could handle the situation - but Lucy tells him that this is something that she must take care of herself, that she must win her own freedom by standing up to her husband.
It all builds to a terrific series of climaxes. It's a good series, a real page turner. I think Lucy's husband will still be there in the next book causing even more problems and surely Elvis and Joe will have to help Lucy. But we shall see.
Elvis Cole and Joe Pike are a terrific team. It's all a bit over the top really - in real life they could not escape from so many perils unscathed. But setting that aside, it's all done very well, and it's sufficiently quirky to appeal.
Links to author index and home page


I read this book in November, 2014.
This is book 8 in the series about Elvis Cole, a private investigator based in LA, and his partner, the fearsome Joe Pike. I think it's the best in the series so far, and it's a good series. The book I read before this book was Raymond Chandler's, "Farewell My Lovely", also about a PI based in LA - Philip Marlowe -, but written some 60 years previously. Both detectives are private eyes in the same city, and both love the city where they live - it's vibrancy, its sleaziness, and all it's many faces. Both are wise cracking PIs. Chandler writes in a masterly, terse style, with line after line of brilliant prose which is greatly admired, and often quoted. Robert Crais is proving to be a worthy successor - but he tells longer stories with more characters. Philip Marlowe is a true loner, but Elvis Cole has a girlfriend Lucy, who has a son Ben. They love each other deeply, but all that is challenged in this book. Something changes, and Elvis worries that he may not be able to put things right again. Lucy has given up everything to move with Ben to LA to be near Elvis. But she has moved herself and her son into danger. Its a real problem that we see over and over again. Rakel loved the Norwegian detective Harry Hole, but she and her son Oleg could never live with Harry - far, far too dangerous.
The story here is that firstly Karen Garcia has gone missing. She is a the daughter of a super rich and influencial father who calls in his friend Joe Pike to find Karen. Joe calls in Elvis. They are both working for friendship, without a fee. Alas, Karen's body is found, and Joe and Elvis are now asked to hunt down the murderer. This turns out to be a serial killer with a grudge against Joe Pike. Joe and Karen had gone out together many years ago, so it's all very personal for Joe. Joe of course doesn't say much, but in this book we learn a lot more of Joe's story from a series of flashbacks. Joe had been bullied and beaten by a drunken father, which had driven him to develop a superb physique - never to be frightened again. Joe's motto now is "never back down".
I thought the book was excellent for the first third, very good for the next third, and then excellent again for the final third.
We also meet detective Samantha Dolan of the LA police special division. Samantha falls for Elvis but he stays true to Lucy and Ben, but nevertheless he has probably fallen a little in love with Samantha. Had things been different, who knows. Anyway, the Elvis / Samantha relationship is resolved by the end of the book, but I won't say in what way. There is a very sad, and gripping end to the book, with Joe Pike badly injured, missing, and possibly dead. Elvis too is injured. Here I guess, the star of the book is the city of LA itself.
Elvis has been put in the impossible position of being asked to chose between Lucy and Joe. He, correctly I think, goes for the greater need at the time, but resents being placed in this position. So it seems Lucy and Elvis are still in love, but not seeing each other, and awkward on the phone with each other. As I said, something has changed.
It's a great book and a great read. I am definitely a fan. It's excellent writing, a gripping story, terrific characters, and lots of action. Roll on the next book - but I doubt it can better this one.
Links to author index and home page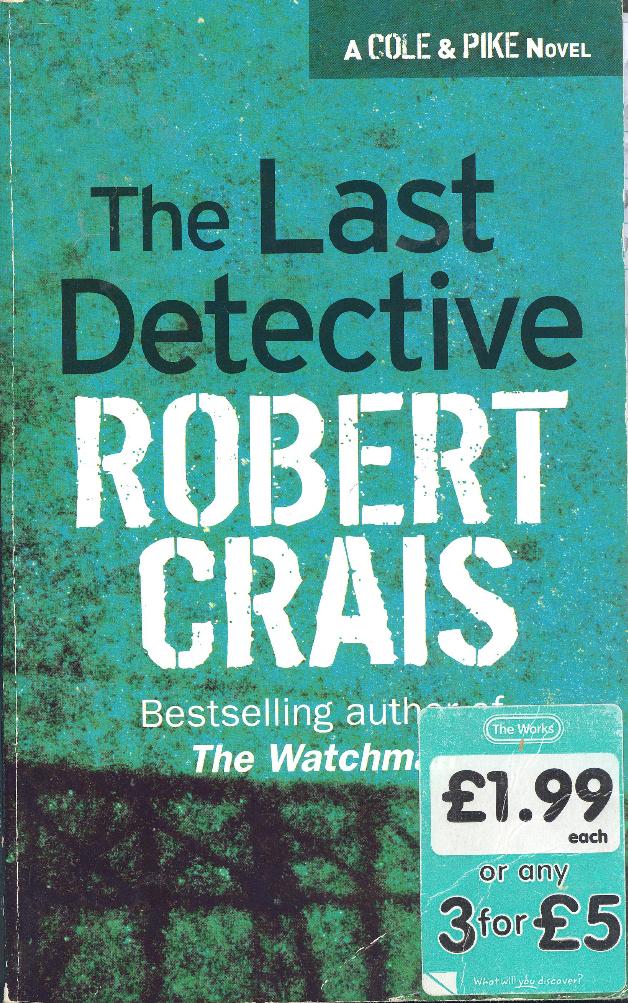 I read this book in December, 2014.
This is book 9 in the Elvis Cole / Joe Pike series set in LA. I seem to always like all then crime series I am reading - but that is hardly surprising as I am reading well regarded series that have sold in their millions. They are popular because they are good, and because they are good and well written, I like them.
In the comments on the previous book book I compared the situation that Elvis Cole and Lucy Chenier had got into to that of the Harry Hole / Rakel saga ( The Harry Hole series by Jo Nesbo ). Mostly Harry and Rakel could not be together because Harry brought such danger into Rakel's life, and that of her son Oleg. Elvis loves Lucy and her son Ben, but, in book after book, he also puts their life in danger. I read this book not just as the exciting, suspense building story that it undoubtedly is, but as a tragedy - the sad parting of two / three who love each other , but cannot be together. Elvis absolutely gets it - Lucy must put Ben first, and Elvis loves her all the more for this.
I don't know if there will be any more Lucy and Ben in future books - but I'll certainly read on to find out.
The story is a simple one - Ben is kidnapped, apparently by someone from Elvis's past. So, just as we got Joe Pike's story in "LA Requiem" so, now we get Elvis Cole's story, told in flashback. He had a crazy mother who disappeared for days, even weeks - when his grandfather then looked after him before calling in social services. He was young Jimmie Cole, but his mother changed his name to Elvis. In another flashback, we are with Elvis on a mission in Vietnam when Elvis, a ranger, is the only one of 52 Group to get back alive. Rangers always get their buddies home, even if its just their bodies.
Ben is staying with Elvis whilst Lucy is away on business. Ben and Elvis bond, and Ben discovers Elvis's medals - Elvis never speaks of these times, but he gives a medal to Ben, and says he is now a ranger. So, when Ben is kidnapped, Elvis has to get him back, at any cost. He is up against an opponent even better trained than himself, a former elite special marine. One perhaps even better than Joe Pike, and they don't really come much better than Joe. But Joe is not 100% recovered after his shoulder was shattered by two bullets.
I didn't really care for all the army action in the flashbacks - it's not really crime fiction, but it is necessary for the story.
Joe and Elvis are a terrific team. Each would die to save the other, but neither has any intention of dying - of being beaten.
It's a terrific page turner, a bit too much army action perhaps, but it will be remembered as the parting of Elvis and Lucy. I wonder if detective Carol Starkey is to be Elvis's new love interest. Might he have to chose between the two ? I guess he would chose Lucy.
Links to author index and home page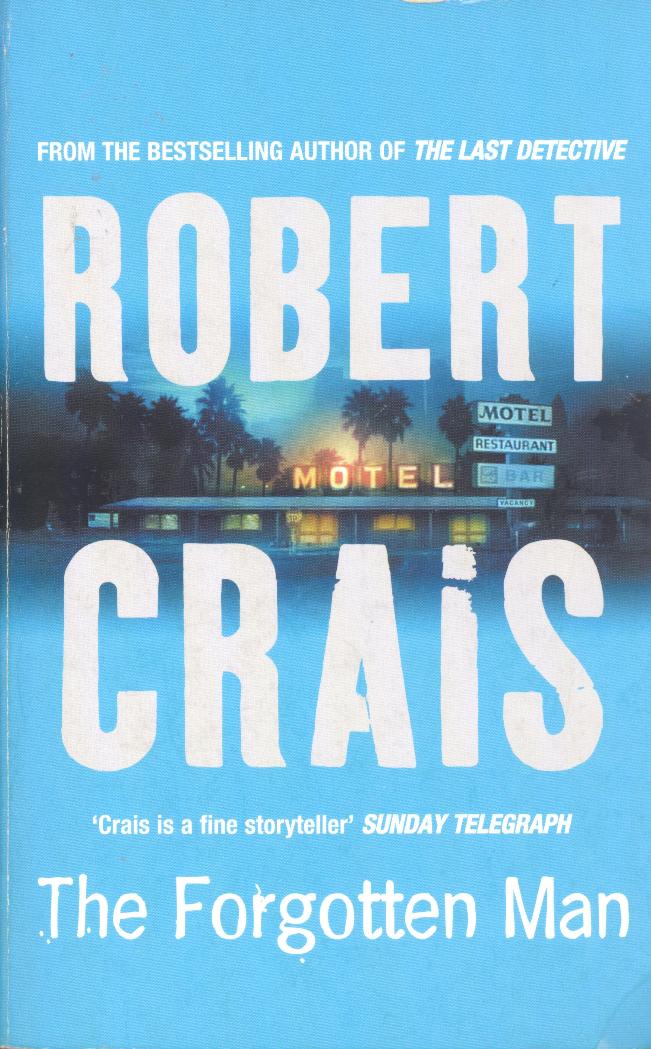 I read this book in December, 2014.
This is book 10 in the excellent series about LA private detectives Elvis Cole and his partner Joe Pike. Joe and Elvis are always there for each other, and at the end of the book, it is Joe who is there for Elvis. Both are very private people with a terrific bond.
This story continues directly after book 9. Lucy and Ben have left LA to go home to Baton Rouge in search of a normal life. Elvis understands perfectly. Lucy for Ben is the sort of mum Elvis never had, and he loves her all the more for it. It's two months since Lucy and Ben left, and Elvis is still sitting alone at home, in the dark, hurting.
The story is about a down and out who is murdered in a secluded alley in LA. His dying words are that he is searching for his son, and wants forgiveness. He has clippings of Elvis Cole, and says Elvis is his son. Is this the father Elvis never knew ? We then get more of Elvis Cole's life story - his crazy mother, and his running away from his care home when a child to find the father he never knew.
Carol Starkey, the detective we met in book 9, stars in this story. She has fallen for Elvis, smiles when she thinks about him, breaks all the rules for him - but Elvis doesn't seem to realise how much she cares for him
The story opens with the sad tale told in flashback of a family murdered by a baseball bat yielding lunatic. Only one survives - a 4 year old girl. We have almost forgotten the opening when we lurch towards the end of the story, and realise the relevence of the opening.
There is no over the top army stuff here. It's all very low key, and very beleivable. The tension builds and builds, and then explodes at the end of the book with a bed side virgil for one of our heros. I won't say more for spoiling the story.
I wonder if it can be business as usual in the next book. Will Lucy and Ben return, or has Elvis to let them go ? And what about Carol Starkey ? Its a good, well written story.
Links to author index and home page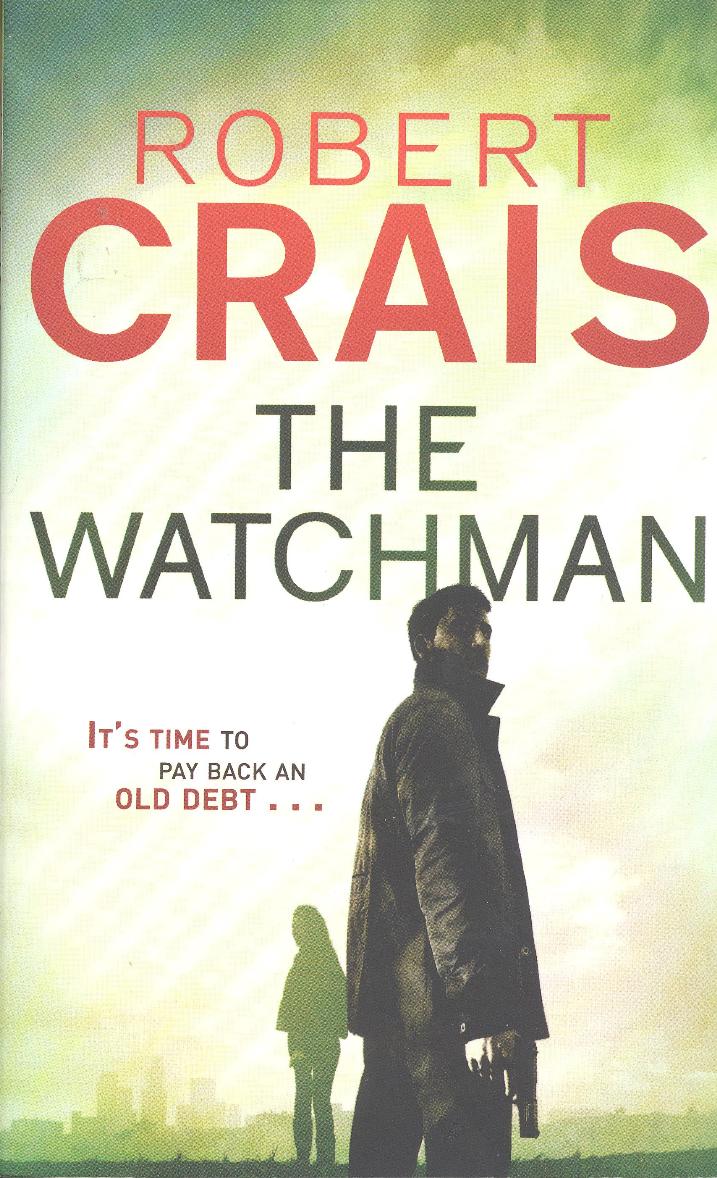 I read this book in January, 2015.
This is book 11 in the series about LA private detectives Elvis Cole and his partner Joe Pike. Both Elvis and Joe have suffered serious injuries in recent books, but Joe is now almost fully recovered, and Elvis is making progress. Two books ago in "The Last Detective" Joe Pike had to ask for unobtainable information about a secret mercenary. He got the information, and Cole and Pike rescued Ben, Lucy Chenier's kidnapped son. But Pike had agreed to pay a high price for the information - he had agreed to allow himself to be hired out as an unpaid mercenary for one mission, some time in the future. This time has now arrived, and Joe feels honour bound to accept the unpaid contract - he has to act as bodyguard for Larkin Barkley, a spoilt rich girl.
Larkin is a witness in a high profile case involving serious drug money, and someone is trying to silence / kill her. She is allegedly under police protection, but twice her safe house is attacked, and she only just escapes. Her rich corporate boss daddy and his high powered lawyers call in special protection - to cut a long story short, Joe Pike gets the job. Joe delivers Larkin to a new allegedly safe house, but that too is attacked, and Joe and Larkin only just manage to escape. Joe cuts off all contact with Larkin's federal and police protectors - someone is obviously leaking information - and spirits Larkin away. He calls in Elvis Cole to help. But mostly this is a Joe Pike story - he handles all the action, a still unfit Elvis is just there in the background.
Joe reckons that the only way to protect Larkin is to hunt down and eliminate her attackers. Initially Larkin has a lot of attitude and is not very co-operative, but as the story proceeds she quietens down, is very vulnerable, and it emerges that she and Joe have similarly troubled childhoods. Joe was beaten by an alcoholic father, Larkin ignored by a father she loved. They are thrown together, bond, and I guess they both fall in love, but Joe won't admit it. No one can be trusted, and it all builds to a terrific climax. Of course there is no happy ending for Joe and Larkin - she is too young, and they have nothing in common. But perhap an older Larkin may turn up in a later book, who knows ?
I like the way these books follow on from each othet, and refer back to earlier events. Here we get a little more about Joe's background, and he is reunited with another of his former buddies from when he was an LAPD policeman. He also calls on Frank Garcia for a favour - we remember him from"L.A.Requiem" .
These books are of consisently high standard, and I am quite a fan.
Links to author index and home page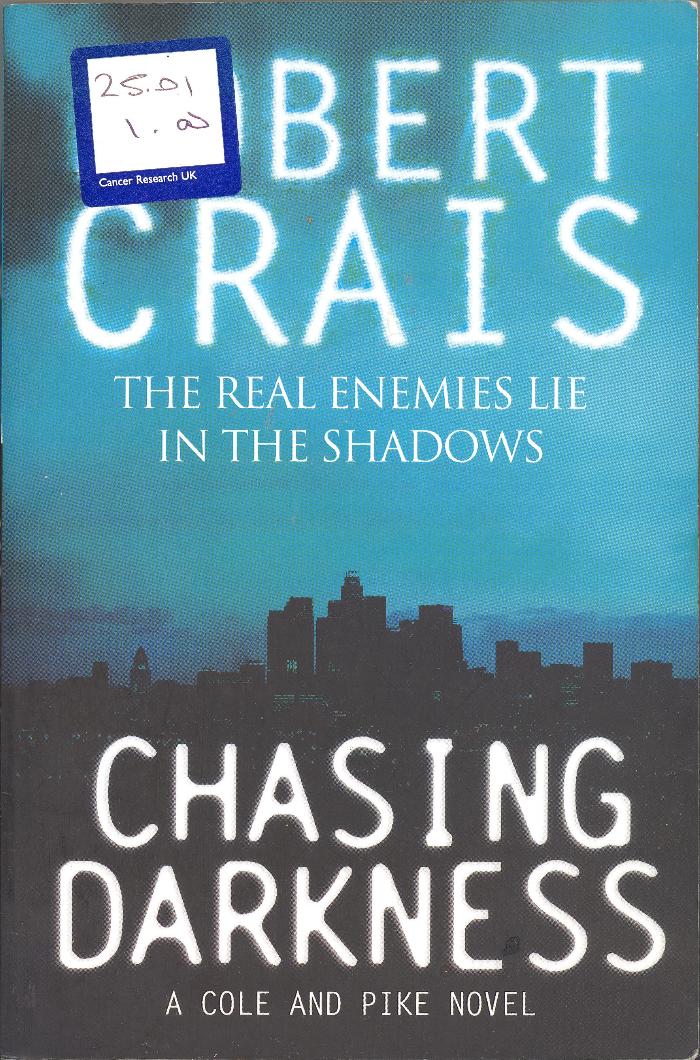 I read this book in February, 2015.
This is book 12 in what is proving to be a consistently good and highly readable series about Elvis Cole, a private eye in LA, and his partner who seldom says much, Joe Pike. Together they always back each other up, can each rely 100% on the other, are really best friends, and make up a formidable crime fighting duo. If you are in trouble you cannot have a better team on your side.
Both Elvis and Joe have been in the wars in recent books, but are getting back to full fitness, and there is no mention of their former injuries in this book. Elvis also chats once on the phone to Lucy, the love of his life, but she remains split from Elvis for the sake of Ben, her son. Life with Elvis was too dangerous - Ben needs a normal childhood. DI Starkey is back, still practically throwing herself at Elvis, but I guess he is still in love with Lucy. Carol Starkey is a good friend to Elvis, and once again risks a lot to help him - but she has not even been rewarded with a date. I guess again Elvis doesn't want to give Carol any false hopes, or string her along. However she seems willing to wait. It will be interesting to see how this works out.
I always read these books quite quickly - wanting to turn the page and see what happens next. There are less wise cracks from Elvis these days - I guess he is missing Lucy.
This story opens with an old case of Elvis's resurfacing. A couple of years ago, Elvis had been hired by Alan Levy, the defence lawyer of a certain Lionel Byrd. Byrd had been arrested for the brutal murder of a young woman, Yvonne Bennett, but Elvis found some CCTV evidence that proved Byrd was elsewhere at the time, and he was released. Now Byrd is found dead, clutching an album of seven photos taken of the dying breaths of 7 murder victims - i.e. Yvonne Bennett and six others. It now looks as if he was guilty after all, and Elvis had set him free to go on and murder two other girls. The local police are determined to blame Elvis, especially to the dead girls relatives. Soon Elvis is getting threatening death phone calls. To cut a long story short, Elvis and Cole decide to take on the case, and see just what is going on. Soon Elvis seems to be fighting police corruption at the highest level, but of course all is not as it seems, and there are lots of surprises towards the end of the book as we have to rethink what might have happened. I can't really say much more.
There are quite a few old friends back in this story. Elvis calls on Frank Garcia once again for help, Carol Starkey is back, Lou Poitras, John Chen, Elvis's cat, etc, etc. We also meet quite a few new strong characters. I ended up liking the Deputy Chief of police Marx, and his female assistant Bastilla. Perhaps they might resurface in a later book.
It's a good story, I couldn't work out how it would end, but it did end with a satisfactory climax. It was all quite believable - nothing over the top. In short, its a good read and I liked it. Roll on the next book.
Links to author index and home page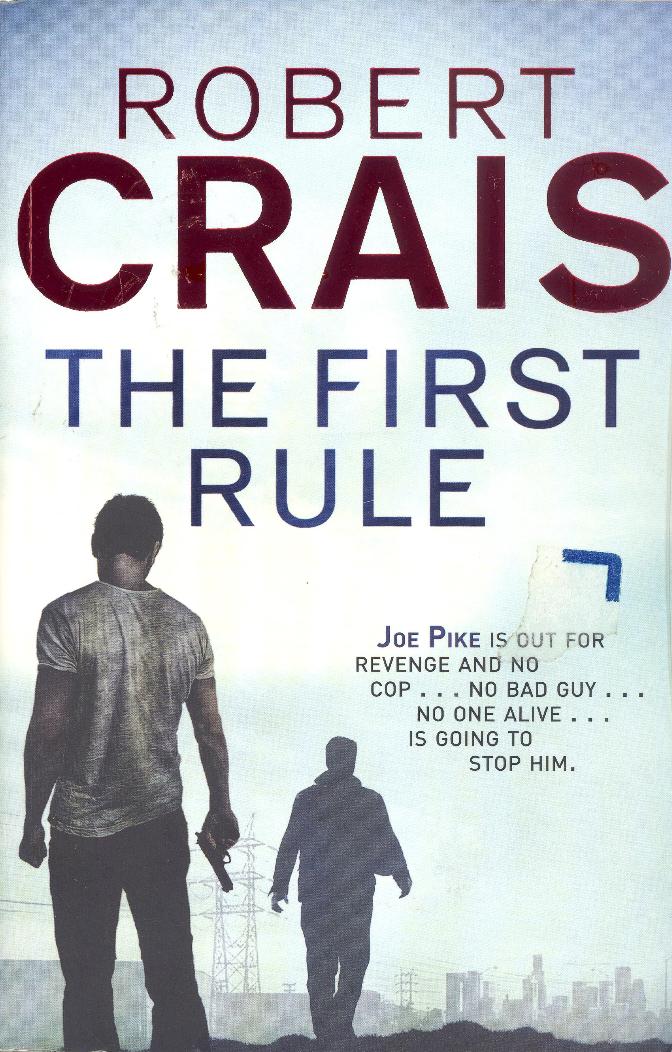 I read this book in June, 2015.
This is book 13 in the adventures of LA private investigator Elvis Cole, and his formidable partner Joe Pike. And for a change, Joe takes the lead in this story. He is every bit as strong a character as Elvis, and I enjoyed reading the book. But it is more a pitched battle between Joe Pike and a criminal international gang than a conventional detective story.
Frank Meyer and his wife and young family, and their nanny are slaughtered, and the attending homicide cop notices two unusual, but well known tatoos on Franks arms - two red arrows pointing forward, one on each arm. The cop thinks he has found the body of Joe Pike. Of course it is not the body of Joe Pike, but Frank was a mercenary buddy and friend of Joe, and so Joe sets out for revenge.
LA seems to be awash with Soviet area gangs - the Serbians, the Albanians, and the Russians. They are all into drugs, extortion, credit card scams, etc, and their leaders are very hard and dangerous men. It's a complicated story, but we meet Jakovich of the Albanians, and Michael Darko of the Serbians. Joe thinks he has an informer who is helping him - but no one knows how to tell the truth, and nothing is as it seems.
There is quite a high body count, and Joe and Elvis sort of co-operate with government chief agent Walsh who wants to get at a shipment of powerful rifles being smuggled into the country.
In the midst of all this, Joe Pike rescues a baby boy , and strangely, Joe and baby Peter bond. Joe even lets the baby take off his sun glasses - and the last person to try to do that ended up in hospital !
All in all, a good, well written story that I enjoyed, but I also like to follow what is going on in Joe and Elvis's private lives, and there is none of that here.
So now, it's on to book 14.......
Links to author index and home page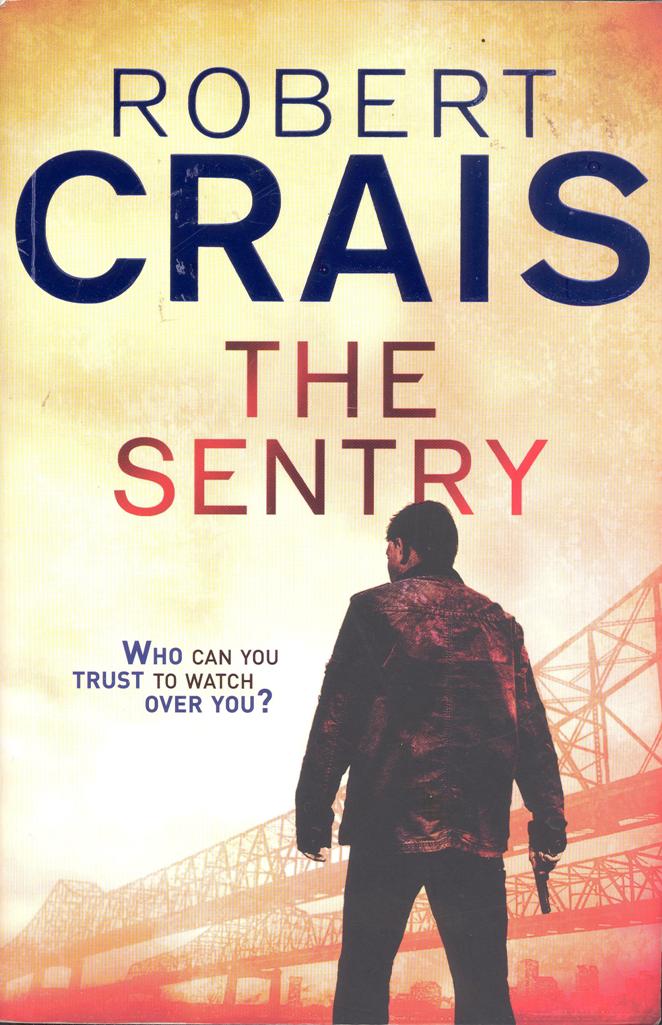 I read this book in October, 2015.
This is book 14 in Robert Crais' excellent series about LA private investigator Elvis Cole, and his buddy, the redoubtable Joe Pike. The previous book that I'd been reading was about a fellow LA based PI Kinsey Millhone who is almost Elvis's neighbour. She is based in Santa Theresa ( fictional) about 90 miles along the coast. I like the Kinsey Millhone books, but overall I prefer Elvis Cole and Joe Pike. Kinsey should get herself a partner.
This book opens with both Elvis and his cat waking in a sweat - had they both been sharing the same nightmare? There was a flash, a bang, a gun shot, and Joe Pike was dead. Elvis could not bear to lose his friend Joe - he has effectively lost Lucy, and her son Ben, but Elvis and Joe are special, with so many shared experiences - each can rely on the other 100 percent. As an aside, and speaking of cats, I know of two other detectives who live alone with cats Stuart MacBride's Logan MacRae and James Oswald's Tony MacLean . Hamish MacBeth also has a cat, but Hamish's cat is not a domestic one, but a wild one .
Normally Elvis tells the story, but once again the main story here is mostly about Joe Pike. He stops for air for his car, notices two men acting suspiciously, follows them, and rescues the man they attack - and so Joe Pike meets Dru Rayne (its her uncle Joe has just rescued )and falls hopelessly and deeply in love with Dru. But neither Dru nor her "uncle" are who they claim to be - and there are others too in this tale who are not who they seem to be. A local gang have it in for Dru and her uncle, but Joe meets the gang leader, and the gang agrees to leave Dru and her uncle alone. Joe tells Dru that he has sorted it, and she is safe. But then everything moves up a gear, Dru is in danger, and Joe simply must help - he had told Dru she was safe. Even when it is obvious that Dru is no angel, Joe Pike never wavers - he must save her.
It then steps up an even further gear, and we are dealing with top of the tree villians, Mexican and Bolivian drug cartels. Even some of the police are not who they seem to be. Through it all Joe keeps going - but this time he has the sense to call in his cavalry in the shape of his best buddy Elvis Cole. Elvis rescues Joe in a way that brings tears to Elvis's eyes. What is more precious to Elvis than Joe's friendship - why, Joes life, of course.
Its a terrific story, most of all about friendship - that of Joe and Elvis. Great stuff ! Roll on the next book.
Links to author index and home page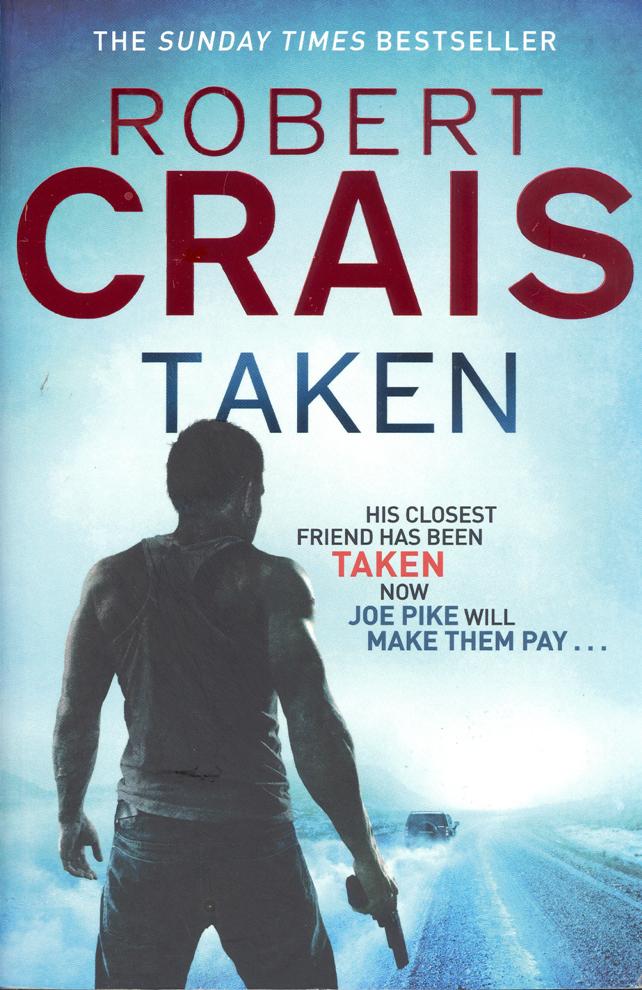 I read this book in January, 2016.
When I peeled the price sticker off the front of this book prior to scanning the cover picture, I noticed that I had bought the book in a Rowcroft Hospice charity book shop - so £1.50 went to support the Hospice where my daughter works. Money doubly well spent !
This is book 15 in a terrific series that is sometimes more about special operations rescue missions than crime and detection, but it's well written, and I usually always read the books in record times - which is of course a good sign. The book opens with Elvis Cole captured by some people-smuggling cartel, and Joe Pike searching for him. There is no doubt that Joe will track down Elvis, but it's a race against time - will Elvis still be alive when Joe finds him.
The story is about people smuggling into the USA, mostly from across the Mexican border. The big money to be made has attracted cruel gangs who live in bitter rivalry, and on top of this exist some "bagadores" who intercept the smugglers, kidnap the smuggled people, and demand ransoms from their nearest and dearest. Sadly the kidnapped people live only as long as the repeat ransoms get paid - when the ransom payments stop, the kidnapped relative is killed.
At the start of the book we meet Jack Berman and Krista Morales, boyfriend and girlfriend, who are in the wrong place at the wrong time and get kidnapped by a "bagadore" - the "Syrian". Towards the end off the book it turns out that Jack is an orphan brought up by a high flying aunt - a very senior person in a government agency with lots of clout. But it looks as if her high powered operatives are going to get in the way of Joe Pike's rescue mission. Kirsta has a mum, Nina, and it is Nina that reads about Elvis Cole in a newspaper article, and asks for his help to find her daughter who seems to have gone missing. Elvis soon discovers it is a lot more than just a missing person case, and calls in his partner and best friend Joe Pike to help. There are Korean cartels involved, and so we meet Jon Stone, a formidable ex Delta trained professional mercenary who works on special assignments for the US government and those who can afford his services. Joe has worked for and with Jon in the past, and Joe and Elvis call in Jon to help - he is a fluent Korean speaker. When Elvis is captured it is Joe and Jon that set out to find him. Jon is helping partly because he likes adventure, but Joe will owe him a favour - and that will be worth a lot of money to Jon.
The story takes up all of the book, so there are no sidetracks into Joe and Elvis's private lives. I thought this was a pity, but accept that it would not be appropriate here. We do meet Elvis's cat once again, though. Elvis is missing and the cat is upset. Before setting out, Joe feeds the cat, and tells the cat he is off to get Elvis. Joe never breaks his word. And there is a nice two friends together car washing scene at the end of the book.
I prefer the wise cracking, private eye Elvis Cole and silent Joe Pike crime solving format to the military scale all guns blazing special forces type adventures that this series seems to have developed into. That said though, I still enjoyed reading this story - a real page turner.
Links to author index and home page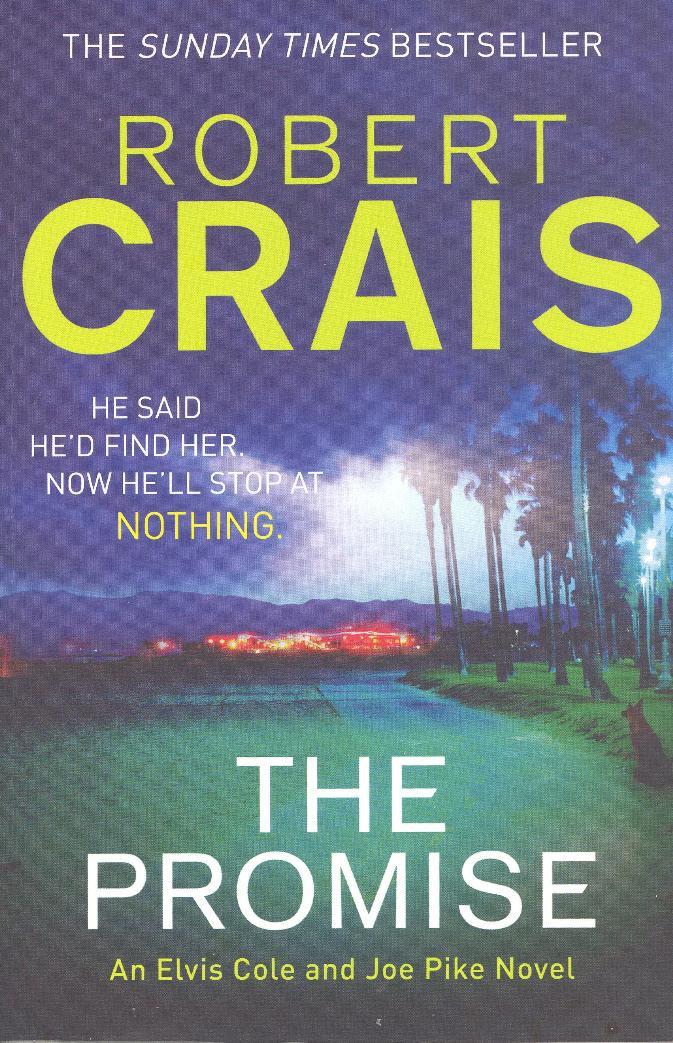 I read this book in May, 2017.
It's a long time since I read the previous book in this series, and it was good to rejoin Elvis Cole and his partner Joe Pike once again. This is book 16 in the series. As in book 15, Elvis and Joe call on Jon Stone for help - a mercenary of formidable talents and an old marine / special forces buddy of Joe's. There is another marine on parade here too - Maggie a remarkable K9 police dog. She and her police handler Scott James are a team, or should I say a pack. Maggie has been trained to sniff out drugs, but before she became a police dog, Maggie saw service with the marines abroad where she sniffed out explosives and IEDs. When Joe meets Maggie and learns of her past he explains that Maggie and her like saved him from IED's more times than he can remember. Instantly there is respect - "welcome home, marine" says Joe.
I thought it was an excellent story, and Maggie was one of the stars. Robert Crais must have researched the subject well. We learn that trained dogs can detect a few odour particles in a trillion, that a quarter of their brain is devoted to smell, that their hearing is about 7 times more acute than ours, and that there is no companion more loyal, more devoted and more dedicated than a police dog. The friendship of such a dog is a gift to be treasured by the second, and the bond between handler and dog is very deep. In the story Scott comes face to face with a drug gang member who fearing identification and arrest, decides Scott must be eliminated. But there is no way to get at Scott with Maggie protecting him, and so the dealer tries to poison Maggie. Scott is incensed. It's now personal, his police colleagues seem on the wrong track, and so he must cast police discipline and procedure aside and throw in his hand with Elvis and Joe.
The main story is apparently quite simple. Meryl Lawrence, in great secrecy, hires Elvis to find her chemist sister Amy Breslyn, who has apparently gone missing with a lot of cash from her employer - a government contractor for specialist explosives. Amy had been depressed following the death of her war correspondent, journalist son Jacob. He was blown up by a terrorist IED. Meryl persuades Amy to join a dating site, and apparently meets a man, but Meryl doesn't know who the man is. Have Amy and her new boyfriend absconded ? But we now get a few complications - and Meryl is not whom she claims to be.
Working on the case Elvis finds himself in the wrong place at the wrong time and gets caught up in a police drugs raid that culminates in the area being evacuated when explosives are found. Elvis almost gets shot by one of the police - the dog handler Scott - and generally Elvis Cole, unable to disclose Meryl as his client, finds himself a police suspect. The police seem quite clueless, and so Elvis and Scott have a mutual interest in finding the drug gang - Elvis to clear his name, and Scott to protect himself and his dog Maggie.
Of course there are other complications but its a well written thriller which builds to a satisfying climax and conclusion. Elvis and Joe call in Jon Stone, and its Jon that plays the major roll in the story.
I liked the way that, as the events unfold, we get to follow the action in real time and from the various participants points of view. The chapter heading tells us whose story we are following - and I loved it that K9 Maggie gets chapter headings too, so that remarkably we see things from a gifted dog's point of view. Of course this is poetic license but I thought it was very plausible - well done Robert Crais!
I thoroughly enjoyed the book, and I hope there will be an other along soon.
And finally, just a little about Elvis Coles love life. In the early books Elvis had a steady girlfriend in Lucy Chenier - and a great friendship with her son Ben - but Elvis brought too much danger into their lives. There has been no love interest for Elvis in the last few books, but just at the very end there may be a pointer to a future most unexpected relationship.
Links to author index and home page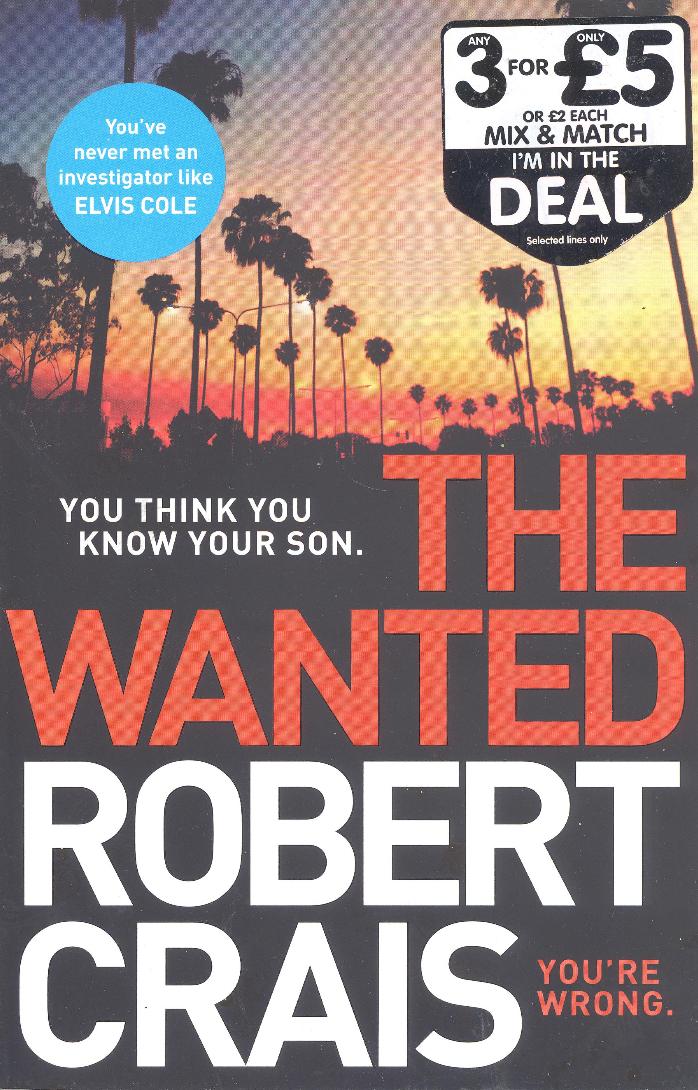 I read this book in March, 2019.
Once again, it's a long time since I last read an Elvis Cole and Joe Pike story. I had been looking for a reasonably priced copy of this book for ages - and eventuallty found one in "The Works" bookshop for £2.
This is a typical Cole and Pike adventure, and a reasonably simple story. Tyson Connor is a nerdy youth with problems, but raised by a caring mum Devon Connor. She finds an expensive Rolex watch in her son's bedroom and a lot of money. Where did he get this ? She calls in Elvis Cole to get answers. Tyson had got in with a bad lot. He had never had a girlfriend, but beautiful Amber befriended him, and he was hooked. Tyson, Amber and another youth Alec went on a robbery spree - but in the course of some 19 robberies they stole a very important laptop computer that contained something very special. Whoever wanted it back hired two professionals to retrieve it - Harvey and Stemms. Both were of massive physique ! Harvey did the thinking, Stemms was the extra muscle. They were very efficient, always got what they wanted, and never left a trail but did leave a lot of dead bodies in their wake.
So we have Tyson, Alec and Amber on the run, and Harvey and Stemms racing Cole and Pike to find them first. If Elvis wins, they will turn themselves over to the police - specifically Officer Dani Cassert who seems an honest cop that Elvis can trust. There is even a suggestion of a possible future date between Elvis and Dani. Strangely Elvis does seem to have a current girlfriend - Hess, also in law enforcement. But she is mentioned only in passing in this story.
Cole is taking a lot of risks for Devon Connor. When she is hiding at his apartment, she sees a picture of Ben Chenier, and asks Elvis if this is his son. Elvis says that he and Ben's mum Lucy were close once - we know, more than close. Lucy thought she was doing the right thing and called it off. Devon saw the love in the photo and told Elvis that Lucy was a very stupid person to let him go !
Robert Crais writes real page turners, and rachets up the tension as the book builds to an explosive climax. Will Cole and Pike get there in time, (or is help closer at hand) ? What a terrific story !
There is a lovely scene at the end when Ben and Elvis meet up. Could there be hope for Elvis and Lucy ? And what about Hess, or Dani Cassert, or even (but unlikely I think) Devon Connor ? I look forward to the next adventure.
Finally, I almost forgot to mention that Elvis's cat with no name is still alive and tolerating living with Cole.
Links to author index and home page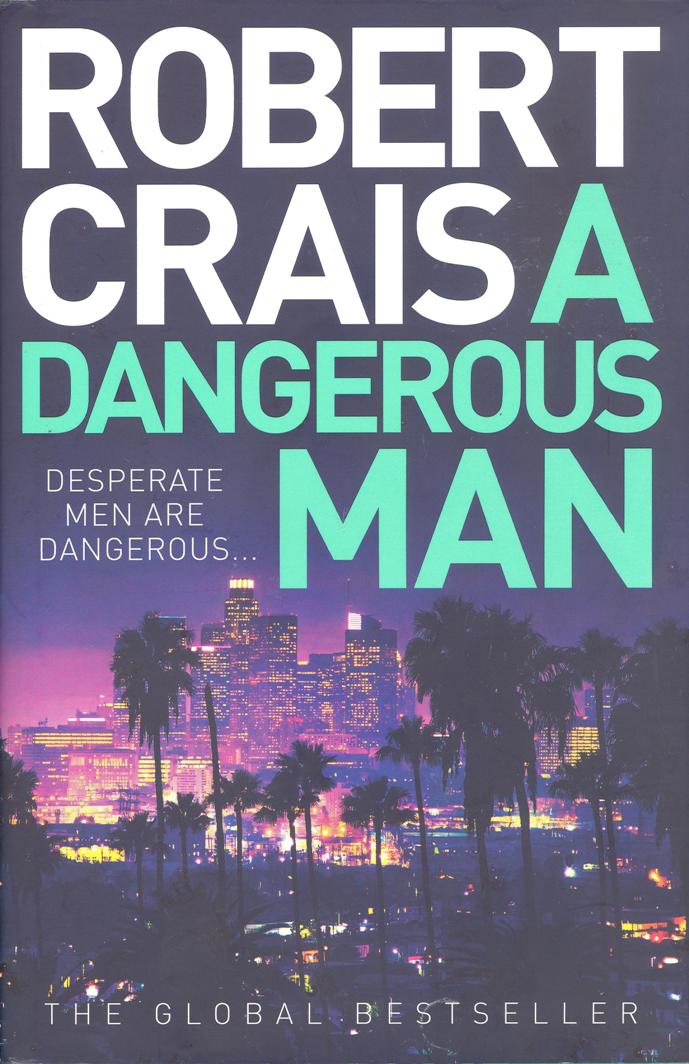 I read this book in September, 2019.
This is number 18 in a series that I really like. I got this book a few months ago, but stored it up as a treat - and now that I have read it, it didn't disappoint. It's quite a simple, easy to follow story. Robert Crais is a modern Raymond Chandler with Elvis Cole his wise cracking PI, and Joe Pike is Elvis's buddy and back up. Joe is a fearsome, ex special forces fighting machine - this story opens with Joe Pike, and he is the one to call in Elvis for help for a change.
The story opens quietly in a flashback. A married couple, Debra Sue and Ed are in love, and dote on their young daughter Isabel. They will do anything to keep her safe. In bed, having set all the alarms, they each check their bedside cabinets - each has a gun ready to grab if needed. What is this about, why are they so protective, we wonder ? We will soon find out.
The story now switches to current time. Both Ed and Debra Sue have died of natural causes, and a grown up Isabel is a teller in her local bank. Her best friend Carly whom she has known from childhood works next to her. There is a big hunk of manhood in Isabel's queue - get him to ask you out or I'll ask him out says Carly. The man is solid muscle, wears dark glasses, and has red arrow tatoos on his arms. Yes, its Joe Pike. Business done, Joe leaves the bank - but, trained to be super observant, he is aware of two men in a car possibly staking out the bank. Isabel takes an early lunch, and leaves the bank by the door Joe has just used. The two men bundle Isabel into their car, and speed off. All done very professionally - slick and quick - and no one has noticed - except Joe Pike. Joe gives chase, rescues Isabel, ties up the men, and phones for the local police who take them all down the station. Isabel is clueless as to why anyone would want to kidnap her - she has no money. They kept saying "we know your secret" but Isabel has no secret.
Next, the same two men are found dead, shot neatly in the head. Isabel is missing, and Joe is accused of killing them. Joe is more worried about the missing Isabel. There is something serious going on, and Joe calls his friend Elvis. "I need your help" he says. "Anything", replies Elvis.
So now we have a straight forward story - Joe backtracking to find who killed the men, and Elvis looking for Isabel. Isabel's uncle is dead too - he had been tortured. He was an ex marshall who worked on witness protection. Those who gave vital court evidence had to be given new identities in new locations. Elvis's enquiries lead to some marshalls "visiting" him in his office. There is lot of high powered police work being done, and the lead Inspector Gregg for once is an able and fair minded cop who respects Cole, and knows that Pike has top secret clearance to work on assignmens for the US government. Police that respect Cole and Pike - that is a new twist.
Isabel is found, rescued, and then recaptured, and then rescued again. Carly gets captured too. There are lots of climaxes, with Joe wading in to "take out" the bad guys. At the very end, Joe tries to reassure a terrified Isabel. "Get on with your life, there is no-one left to come after you." That is not quite true, but soon will be.
It's a good straight forward tale told simply and from start to finish without digression. But that's the thing ! I like the digressions. Cole has no possible girlfriend, there is no mention of his cat, and there are less wisecracks than normal. One possible side story has peeked through. John Chen, the forensic examiner who slips info to Elvis and Joe gets sort of found out and suspended. He is desolate, but never gave away Cole nor Pike. They almost alone in the world have always treated him with respect. Elvis finds our about John's suspension and takes care of it. So it's back to business as usual.
Links to author index and home page