Iain's Leisure Reading
In May, 2013 I read an article in the Daily Telegraph about James Oswald, a Scottish farmer about to become the next "big thing" in Scottish crime fiction - writing a series of books featuring Inspector Anthony McLean of Edinburgh. I have enjoyed reading about two other Edinburgh detectives - Inspector Rebus, by Ian Rankin, and Chief Constable Bob Skinner, by Quintin Jardine, and so I thought I would give the Inspector McLean books a go, to see what I thought.
Strangely I haven't been able to find out too much about James Oswald - he is probably not famous enough yet. He was born about 1968, and graduated from my old university (Aberdeen) in 1990. He worked on a series of farms, and then settled in rural Wales, working as an agricultural consultant. About 2008 he had just bought a house there with his partner Barbara when he got the shock news that his parents had been killed in a car accident, and that he had inherited their 350 acre farm. And so he now has a sheep and cattle farm in Scotland, overlooking the river Tay, and some 20 minutes drive south of Perth.
He had always wanted to write, but his first efforts were rejected by publishers. At the Harrogate Crime Writers Festival he got talking to the author Alan Guthrie, who suggested self publishing for the Kindle market. He had been writing fantasy books about dragons, but his friend Stuart McBride, author of the Inspector Logan McRae , books set in nearby Aberdeen suggested a switch to crime fiction. Soon he was shifting 2,000 copies a day of his first book "Natural Causes". People liked his main character Tony McLean, who combined old fashioned sleuthing with supernatural intuition. And so the main publishers started a bidding war, which was won by Penguin, and a hefty advance rescued James from tedious farm chores in bitterly cold fields. He could never give up farming, but could now afford hired help.
I am a bit wary of the supernatural element in the books - this rather put me off the early Peter James/Inspector Roy Grace books, but I'll give them a go.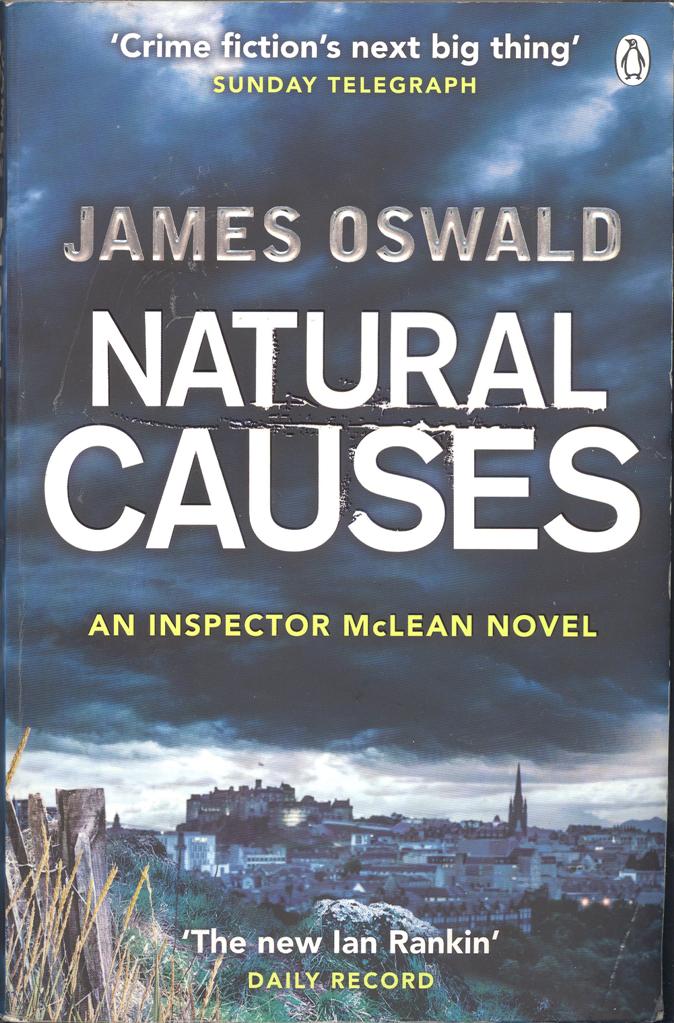 I read this book in February, 2015.
It's always interesting to read book one of a new series of crime fiction. This one features a DI in Edinburgh - DI Tony McLean. So this is the third Edinburgh detective I have read about - ie joining John Rebus, and Bob Skinner. I did like Tony McLean, and we are introduced to him in a leisurely way, picking up bits and pieces as we go. Tony lost both his parents when he was four when they died in a plane crash. (James Oswald's parents died together in a car crash). He was then brought up by a well off grandmother. The story opens with her lying in a coma in a hospital - taking 18 months to die. He then inherits her considerable wealth - but almost nothing is made of this in the opening book. He also inherits other money - so he can retire any time he wants to. As an aside, Jackson Brodie also exited book one as a millionaire.
Tony is subordinate to DCI Duguid with whom he does not get along. Above Duguid is D. Super Jayne McIntyre, a reasonably able and fair detective. Tony heads a small team comprising DS Grumpy Bob, and DC Stuart McBride - yes obviously named after Oswald's good friend, the author of the Logan McRae , books. Tony McLean had a girlfriend years ago, but Kirsty died in tragic circumstances. In this opening book, Tony takes the first steps to having a new girlfriend - Emma Blair, a SOC officer on the Edinburgh force.
So far, so good. I like the main character, and the supporting cast. And the writing is good - although James Oswald seems to be competing with the author Stuart McBride in his love for the gruesome. But, there was one very unattractive side to the story - a love of the supernatural. Here we are dealing with demonic possession - we even have Tony McLean chatting to the evil spirit towards the end of the book. This spoiled an otherwise attractive book.
The story flashes back to the brutal rape and cruxifiction of a young girl some 60 years ago. Her body is found when an old house is being renovated. The body is surrounded by signs of the occult, some hidden from all except Tony McLean ! Now, 60 years later, a series of similarly gruesome deaths take place, each followed by the apparent suicide of the murderer. DCI Duguid is in charge of the investigation, but of course, it is McLean who gets all the breakthroughs, further alienating McLean and Duguid. Is Tony McLean discovering these clues through "second sight" ?
I also liked the pathologist, Cadwaller, a dry old stick, and Tony's friend.
80% of the book is good, but let down for me, by the 20% supernatural. I have already got the next 3 books in the series, so I'll read on.
Links to author index and home page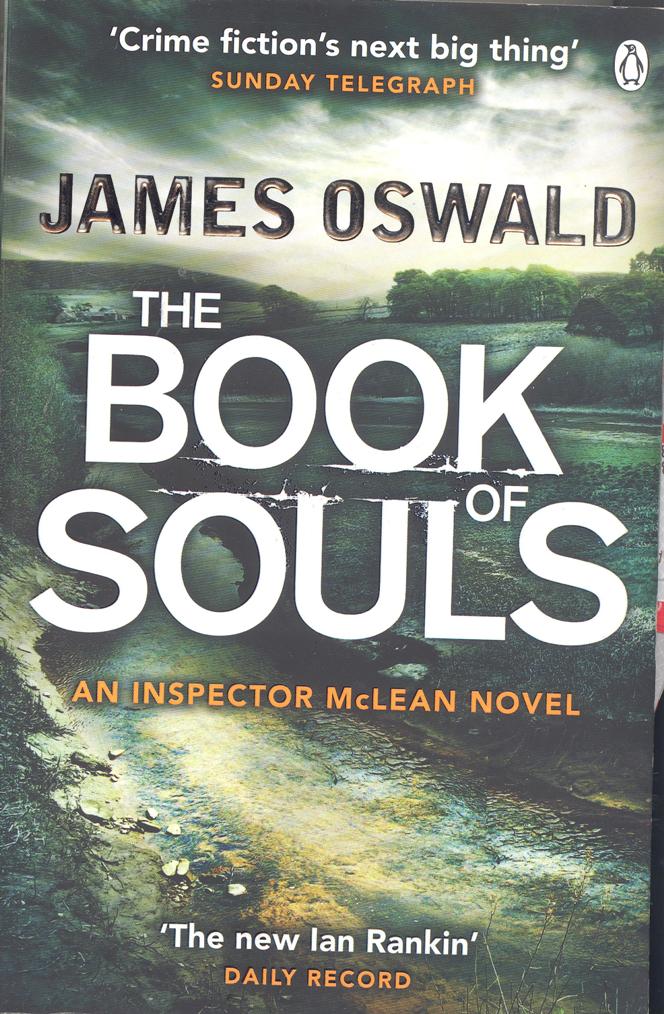 I read this book in May, 2015.
I read this book whilst on holiday in Fuengirola, in Spain in May, 2015. It's nice to read of cold places when on holiday enjoying 27 degrees C weather.
"The Book of Souls" is book two in the series featuring DI Tony McLean of Edinburgh police. I read about 8 books a month, usually from well known, high selling crime fiction series. Most are at least OK / good, but sometimes I come across a book or a series just that little bit better. I think this is going to be such a series.
It's a strong cast - DI Tony McLean, DS Grumpy Bob Laird, DC Stuart Macbride (yes, the author of the Logan McRae books is a good friend), and SOC officer Emma Baird. Emma and Tony are sort of linked romantically, but mostly Tony refuses to commit and treats Emma almost with indifference. We now find out why. Ten years ago, a young DC Tony McLean's beloved fiance Kirsty Summers was the final victim of the Christmas Killer. Hers had been a wicked cruel, tortured death. Tony caught the killer, and watched him sentenced to life imprisonment.
The Christmas Killer was one Donald Anderson. Now, 10 years later, Anderson is killed by a fellow prison inmate, and McLean attends the burial . A local DS Richie from Grampian police asks Tony who he might be. This same DS now transfers to Edinburgh police, and becomes one of the gang. Her first name is Kirsty, but Tony can't bear to call her that. Even 10 years later he has not got over the loss of his deloved Kirsty.
Tony McLean's immediate superior is DCI Duguid (Dagwood), and Tony and Dagwood simply don't get on. Higher up still is D Super. Jayne McIntyre, who is a good police officer, and friend to Tony when he needs one.
The story is about a new mass killer who has taken over from and is copying the Christmas Killer. There is talk in the press that perhaps the police got the wrong man in convicting Donald Anderson. Inspector McLean knows he got the right man ! Its now a 100% effort to catch the "new" killer before he strikes agqain - but sadly his final female victim is once again someone very near to home for Tony McLean.
There is quite a fair bit of the supernatural in this story. There is mumbo jumbo about a book that reads your soul, and if you are found wanting, takes over your being. And there is a strange old monk. But the supernatural element is not overdone, and I didn't mind too much. But I would prefer if James Oswald could tone down these elements.
Book one opened with Tony McLean's grandmother in a coma in hospital, and he visited her most days for 18 months. She never regained consciousness, but died, leaving her fortune to Tony. Tony McLean is a very rich man - he doesn't need to work for a living. I like symmetry, and this book ends with someone else in hospital in a coma, and Tony probably is going to visit hospital every day once again.
It's a very well written book, lot's of tension, and it builds to an explosive climax at the end. There is also a reference to Ian Rankin , the leader of the pack of Scottish crime writers. I liked it all. It's a terrific read, and a real page turner. Roll on the the next in the series. Will there be a Tony / Emma Baird / Kirsty Richie love triangle ? Finally, Tony seems to have acquired a cat - like Elvis Cole, the LA detective.
Links to author index and home page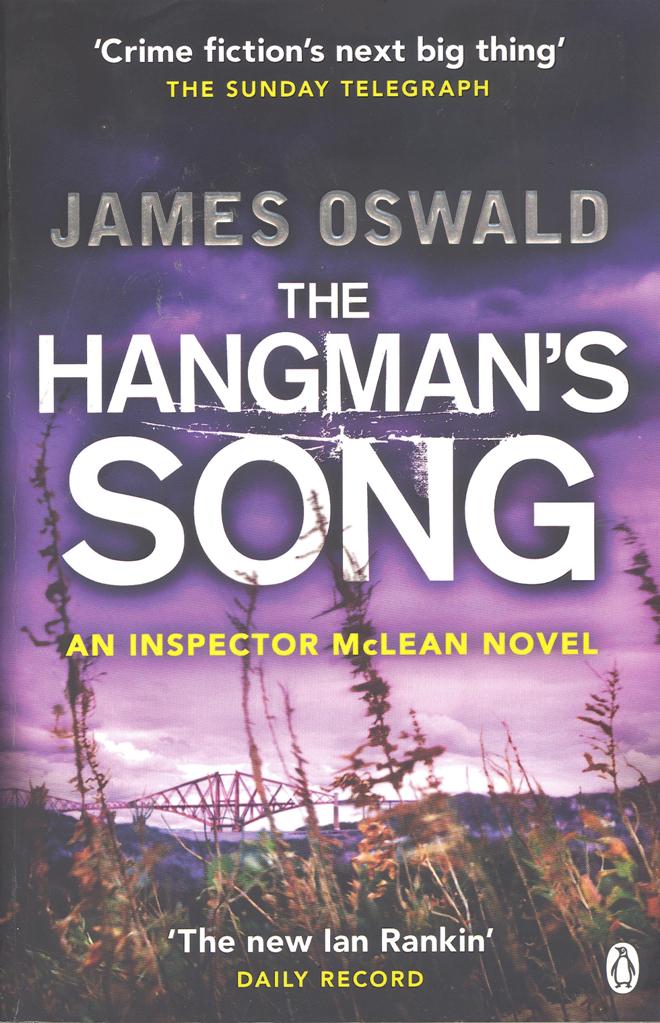 I read this book in May, 2015.
"The Hangman's Song" is book three in the series featuring DI Tony McLean of Edinburgh police, and it's another cracker of a book. I am really enjoying this series - even though I don't really like the supernatural bits. There are quite a lot of these strange "happenings" but what softened the blow for me was that Tony McLean himself doesn't believe in the supernatural. He says, and I paraphrase "Evil is an adjective, not a noun. I catch evil people who do evil things, and the law punishes them. Evil is not a being that stalks the land, possesses people, and forces then to do terrible things."
All the gang are here again, bar one. Tony, his sort of "girlfriend" Emma, his police colleagues grumpy DS Bob Laird, young DC Stuart MacBride, and DS Kirsty Richie. D Super Jayne MacIntyre has been promoted / seconded to the Police Scotland project, and Tony's protagonist DCI Duguid (Dagwood) is temporary acting superintendent and in charge. Poor Tony has been transferred to help out a shortstaffed Vice Squad working for Jo Dexter, an old friend of his, but it seems he still has to do his former job too. So there are lots of stories to follow - in Vice, who killed the pimp Malky Jennings, is DS Buchanan corrupt as well as useless, etc, and in his old job, are a series of apparent suicides linked, and what is going on, who or what is persuading people to commit suicide.
In his personal life, Emma has come out of a coma after three months, but has a peculiar kind of amnesia, and has regressed almost to her childhood. Tony has taken her in, and has hired a carer (Jenny Nairn) to look after her, but Emma creeps into his bed each night like a child into a parents bed, whimpering and shaking with terrible nightmares. We meet Madam Rose, a transvestite medium, who knows Tony McLean and wants to help Emma. And there is a stange presence at work possessing depressed people, getting them to strip naked, put a hemp noose around their necks, and jump.
Tony is overworked, but can't get a good night's sleep because Emma is keeping him awake each night, Dagwood is impossible as well as incompetent, and Tony's wealth (an inheritance from his grandmother) causes envy in his work colleagues (not Bob, Stuart, Kirsty of course), some of whom are playing tricks on him / want him to resign. But Tony is thrawn and stubborn - the more they want him to quit, the more he wants to hang on.
It's a terrific story that builds to a huge climax. There is another book in the series, so I am not giving anything away when I say that Tony survives, but it looks as if Tony and Emma must part - perhaps temporarily, and Tony will need time to recover. So, it will be interesting to see where everyone will be when the next book opens.
Finally, Tony's cat. It was a neighbour's cat - Mrs McCutcheon- and the cat seems to be devoted to, and very protective of Emma. It reminds me of Sonsie, Hamish Macbeth's cat. Madam Rose refers to Mrs McCutcheon's cat as Emma's familiar. I hope it survives into the next book.
Links to author index and home page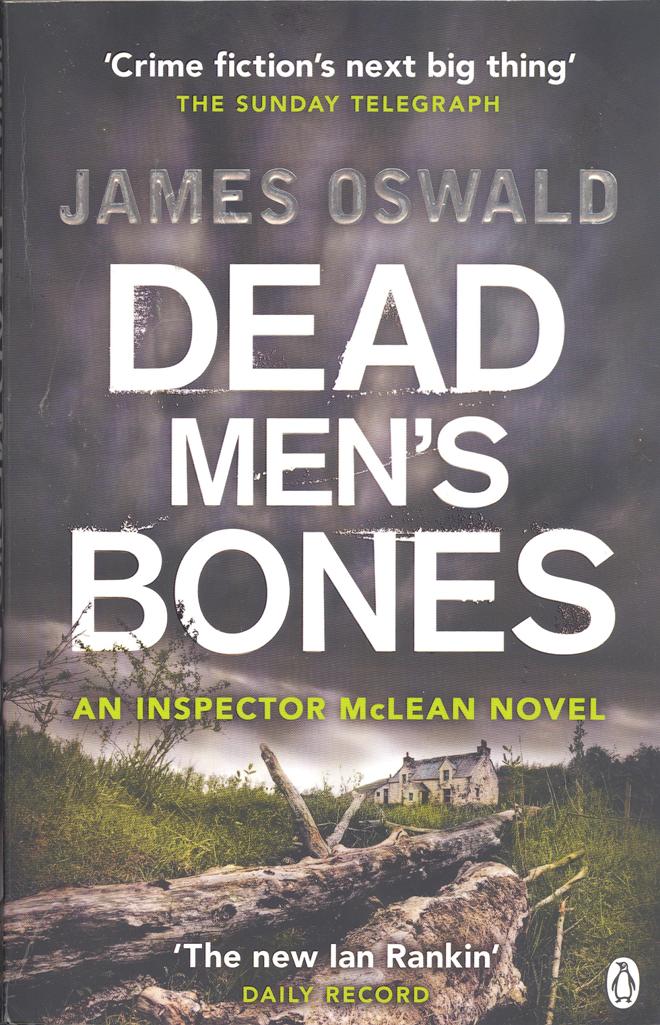 I read this book in June, 2015.
This is book four in the Inspector Tony McLean series, set in Edinburgh. It is bang up to date in that Tony no longer works for Edinburgh, nor Midlothian police, but the amalgamated Police Scotland. He now reports to D Super Duguid, and usually he and Duguid (Dagwood) don't get on, but Dagwood is almost on Tony's side in parts of this story. Grumpy Bob, Stuart MacBride, Kirsty Ritchie are all still here again too.
It's a well written series with lots of good characters, but I don't share James Oswald's love of the supernatural. It's sort of kept in check in these books, but we all know what the subtext is. Tony seems to atract wierdness, and this usually puts him, and his colleagues at great risk. Tony is a very wealthy man, but there seems to be less envy in the police station, and the series of tricks and jokes played on Tony seem to have abated.
Tony's girlfriend Emma is still touring the world, trying to cure herself, and get her old self back. Tony gets a series of postcards from Emma saying she is slowly getting there, but that it is a slow process - very slow. I wonder if she will be back in the next book ?
The story is about a rich MP Andrew Weatherly who seems to have lost his mind, has killed his two young daughters, then his wife, and then shot himself. The high profile case is given to lowly DI Tony McLean. He is definitely being set up for failure.
The powers on high at the police force want a quick verdict, and Tony is told to prepare a report for the procurator fiscal stating Andrew Weatherly did it. He is told not to investigate why he did it. But is seems McLean may have been chosen because he just cannot leave it at that. And even when Tony finds this out, he still cannot leave it at that. He has to dig deeper.
Tony is also working on a case of a battered corpse recovered from a river - the corpse of a male, completely covered in full body tatoos, and recently done. What is the story here ? And of course, we know that the two cases will eventually turn out to be related.
We also meet the mysterious Mrs Saifre, radiating sexual allure, but how old is she ?
Lots of wierd things happen. Tony is not religious, but he does accept that there may be powers at work that he cannot comprehend. Is he dealing with the devil, and if so, how can he fight that.
It's all terribly far fetched - but the possibility of rational explanation is always left open. The strange wierdness may be only in Tony's mind as he tries to make sense of what seems to be happening. I think this helps James Oswald get away with pitching Tony McLean against "supernatural " forces.
It all sort of works, and I like the series.
Links to author index and home page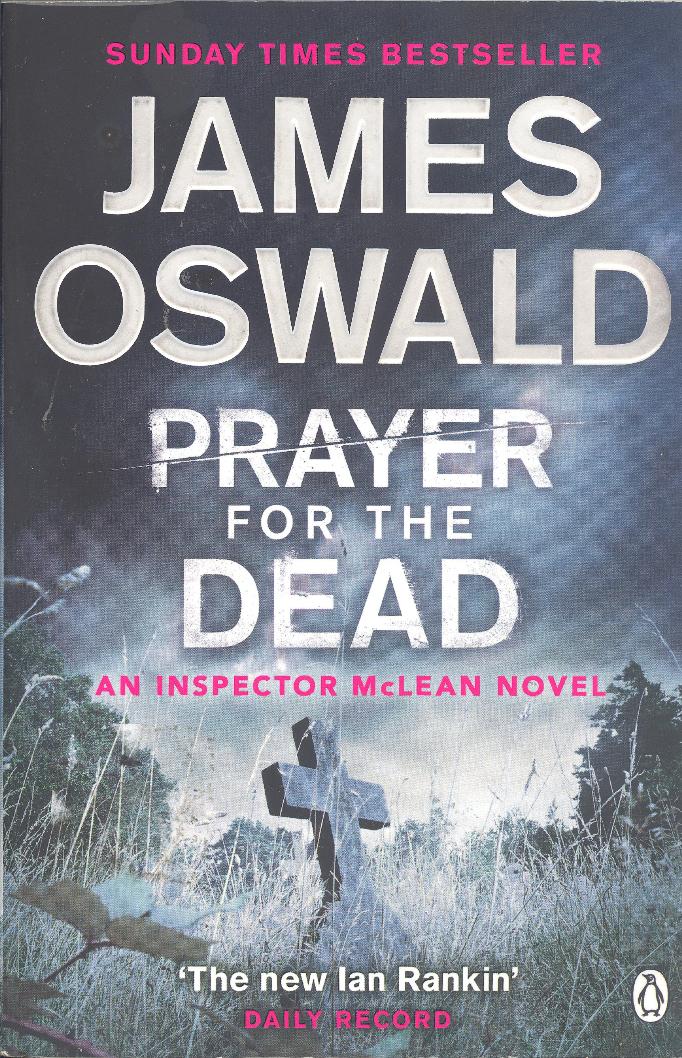 I read this book in September, 2015.
This is book five in the excellent series about DI Tony McLean of Edinburgh, and his crew - grumpy DS Bob, DS Kirsty Ritchie, and DC Stuart MacBride. I like the series even though it is riddled with a strong supernatural element that I don't really care for. What makes it acceptable is that few of the main characters, and especially Tony McLean, believe in the supernatural. I think Kirsty is wavering, though - she knows that Tony saved her life by an "alternative" treatment that he won't disclose. Madam Rose, the transvestite, plays a main part in this book. Although she also has hidden resources, here she is under attack from an unknown source (one of her cats is killed), and one night she turns up at Tony's new house asking for refuge. This Tony gives with pleasure. Later in the book, Madam Rose tells Tony that he has earned her gratitude, and her resources are his to call upon should he ever feel the need. I wonder when that favour will be called in ?
There is a terrific main story, but there are also so many other things happening that the book is jam packed incidents and surprises. Once I picked the book up, I simply had to carry on reading to see what happened next.
The main story concerns a couple of bizarre murders by a serial killer / insane lunatic, who talks to us, the readers. He is delusional, and thinks he can see peoples' souls. When he finds a perfect soul he feels it is his mission in life to kill these people to preserve their perfection before they might become sullied. It's ridiculous, but suspend your disbelief, and go with the flow. Ben Stevenson, the gutter press reporter, is his first victim. Although he has trashed the police and also Tony's friends, Tony still thinks that his murder must be solved as quickly as possible. In this Tony has a surprise ally - Ben's reporter colleague Jo Dalgleish. Surprisingly Jo and Tony work together reasonably well.
Another story line is one where two shady property developers try to force Tony to sell his old tenement property to them - but he just wants his flat restored. Tony still has to put up with lots of unpleasantness at work from D Sup. Duguid, and DCI Brooks. Stuart Macbride is also now being picked upon - let's hope he is as stubborn as Tony, and does not let the bullies drive him out the force. I had thought that Kirsty might be a future love interest for Tony, and that might still be the case, but here she has the start of a romance with a curate at the church just down the road from Tony's. Sadly there is not a happy ending (yet) for Kirsty and the curate.
Finally ex Super Jayne MacIntyre reappears as a demoted DI - she had made a mistake, but was pillaried in the press and exposed by Ben Stevenson for being a lesbian.
A fuller summary of all that is going on would probably put you off the book - it would put me off too. But somehow, all the nonsense works. It's great story telling. I look forward to the next episode to see what happens to everyone, and will Tony's girlfriend Emma finally return to Edinburgh cured, or at least reasonably at peace ?
Links to author index and home page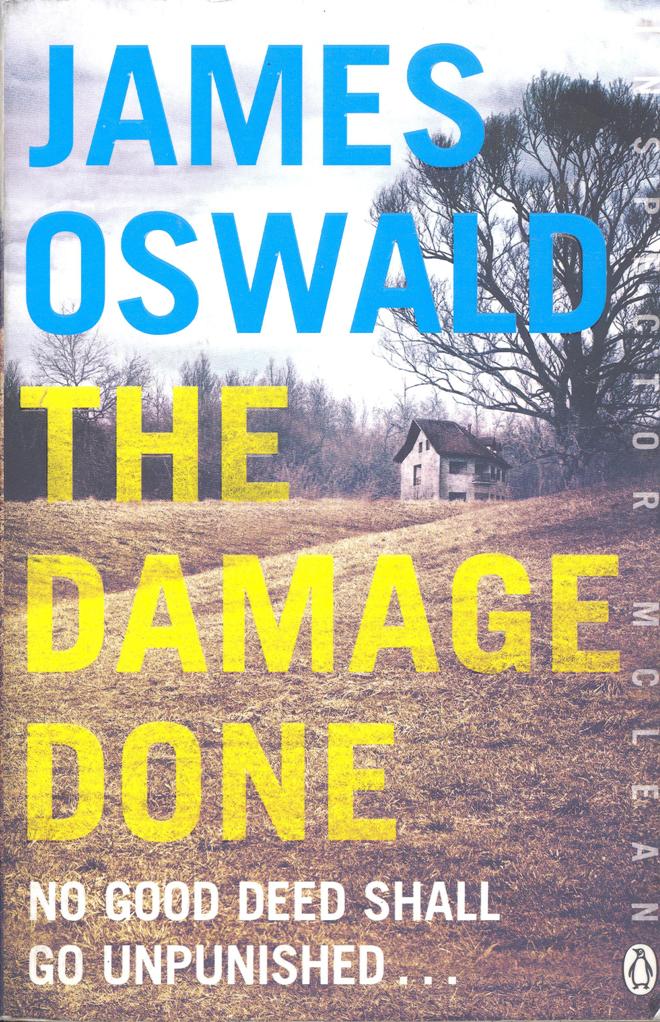 I read this book in September, 2016.
This is book six in James Oswald's series about Edinburgh detective DI Tony McLean. As usual, James Oswald thanks his friend Stuart MacBride for suggesting that he give up writing dragon fantasy books, and turn his hand to crime - but this time he admits to only half following the advice. Straight away we come to the one aspect of these books with which I am uncomfortable - the supernatural, and wierdness that usually surrounds Tony McLean. There is no problem at all when it is just suggested, but can be dismissed. Here though, it does go a bit further, and it almost spoiled the book for me. Otherwise it's a terrific read, with strong characters, a good plot, and a fascinating crime.
We are introduced to a wierd pair of mysterious twins - Alice and Iain - who appear throughout the book, exude a strange hypnotic aura, and bring death with them.
D Super. Duguid has retired, and promoted D Super Brooks is now in charge, with his bully buddy DCI Spence. Both hate Tony McLean, so he has got in first, and transferred out to the vice (CSU)squad, working for DCI Jo Dexter whom he likes and respects. DS Kirsty Ritchie has also transferred. Later she will be made up to acting DI, of equal rank to Tony, and he will even manage to call her by her first name, Kirsty - you need to know Tony's history to appreciate why up to now, he has always found that difficult. Based on strong evidence Jo and Tony's team raid an up market Edinburgh brothel, but find instead a private party - guests of a high up corporate lawyer Heather Marchmont. Tony thinks he knows Heather from somewhere, but he cannot quite place where.
Meanwhile a wierd death is being investigated by Tony' old team, and Tony turns up to "help" - so we meet grumpy Bob again, and Jayne MacIntyre, and DS Stuart MacBride. All familiar characters, and it's nice to keep in touch. Tony is not exactly welcomed by some - Brooks, Spence and a new DCC - but as always, he won't be warned off in spite of a very well connected cover up. So Tony gets transferred once again - this time to a cold case section, where Duguid is working, post retirement. Soon Tony is working on three separate cases - which of course will turn out to be connected. Strangely, the very first case that Tony worked on a fresh PC recruit was the Headland's House raid that was also covered up. Tony had found and rescued a young girl from a cage in the attic. Duguid was in charge of the raid, and to his credit, hated to be warned off. His return to the cold case section may enable this old case to be re examined. Surprisingly, Duguid and MacLean are now allies !
Tony's private life is still a bit of a lonely mess. He still sleeps in the small bedroom of the huge mansion that he inherited from his grandmother - and searches the post each evening for a postcard or news from Emma, but there has been nothing for ages. Meanwhile Phil, Tony's best friend is still in the States, but his wife Rachael turns up back in Edinburgh, very pregnant. Tony puts her up - he has plenty of room - and tries to get in contact with Phil. Soon the house is full of life with Phil back, and Jenny visiting her sister Rachael. There is food in the house, and a good home cooked meal waiting for Tony. When did take away curry Tony last have a home cooked meal? Tony and Jenny seem to be hitting it off - is Tony's luck about to change ?
At the every end, when Tony has the house to himself again, but is shattered mentally and physically by his latest battles, he calls Jenny, wanting company. He hears a car on the drive, and goes to let Jenny in, but ...................... Just like buses, none for ages, and then two turn up at the same time. We simply must read on to find out what happens next - roll on the next book say I !
It's a great series - don't let the supernatural put you off.
Links to author index and home page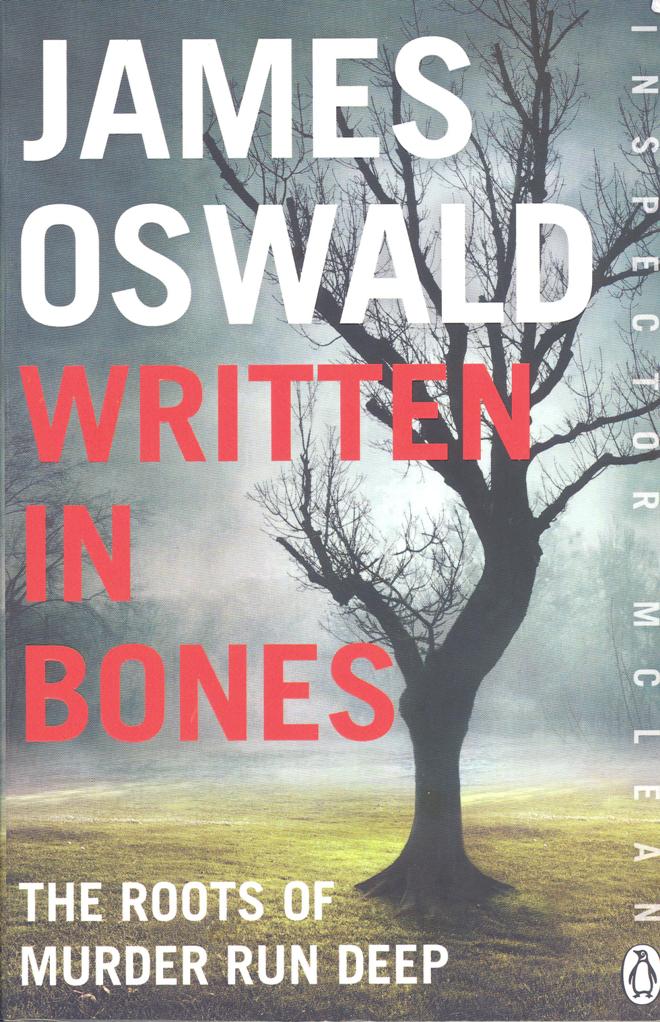 I read this book in August, 2017.
This is book seven in James Oswald's series about Edinburgh detective DI Tony McLean. It's a good straight forward crime series with a strong and interesting main detective, but it adds an element of the supernatural that I don't really like. Up to now it has not been too obtrusive - it's been suggested, and hinted at, but could be ignored and set aside. Now its getting too strong to dismiss, it's really spoiling the series, and this is a great shame. I started the write up to book six by referring to a preface to the book where James Oswald thanked his friend Stuart MacBride for suggesting that he give up writing dragon fantasy books, and turn his hand to crime. He added the joke that he only half followed this advice. Now we have in book seven almost "dragon fantasy meets crime fiction". This is the one aspect of these books with which I am uncomfortable - the supernatural, and wierdness that usually surrounds Tony McLean. There is no problem at all when it is just suggested, but can be dismissed. Now though, in books six and seven it does go too far, and it spoiled the book for me. I say it's a pity, because otherwise it's a terrific read, with strong characters, a good plot, and a fascinating crime.
As a second preamble to this write up, I would like to thank a Mr J.D.Dyer, a semi retired cattle farmer in the States, who got in touch with me with a very interesting question. I love it when someone gets in touch ! Anyway, he had noticed that the police character "Stuart MacBride" had disappeared from the gang of Tony's colleagues - did I know why ? I had to confess my ignorance, but I wrote back saying that Scotland is a small country and all it's crime writers must surely know each other well. What probably started off as a joke might eventually wear thin, and it would possibly leave James Oswald in an awkward position if he wanted to do terrible things to the "Stuart MacBride" character in some story. Perhaps it was just simpler to drop the character from the book. There was one reference to him when Tony and new detective DC Janie Harrison visited Bo Inks Tatoo Parlour. Eddie there asked "Hang on. What happened to the wee ginger lad you had with you last time ?" Reply :- "He moved on, which means I have to break in a new detective constable. Be nice to her, OK ?"
And now to what I thought of the book - it's main plot, and the further episode about what is happening in Tony's private life. In the main plot it's Tony's first day back after 3 months suspension, psych evaluation and interviews with Professional Standards. But it's not a quiet day. A small boy finds a body dangling from some trees in a park. The body had been dropped from the skies, and the terrified wee lad fled thinking he had seen a dragon which was after him. Of course we know there are no such things as dragons, and there are lots of jokes about Police Scotland and dragon hunts. As damage and giant claw marks appeared I thought it was all just James Oswald's love of hinting about wierd happenings, especially as one other reliable ex pilot witness said he definitely smelled aviation fuel when the so called dragon flew over. But the dragon theme reappears and we are not sure what we are meant to believe. Is it a wicked manifestation of evil, or just delirium in Tony's drugged state ? The dead body in the trees was that of a former senior police superintendent Chalmers who was drummed out of the force and jailed for selling drugs, but on release apparently reformed and set up clinics to help druggies kick the habit.
So the story is about drug crime, and the evil fabulously rich people who exercise great control. Sadly we meet once again an arch enemy of Tony's - the "witch" like "soceress" Mrs Saifre. And now truly we are in the realm of the supernatural and in short its not "my cup of tea".
It's an interesting book for all the further developments in Tony's private life. As hinted at the very end of book six, Tony's girlfriend Emma has returned at long last. After the fearful happenings of the earlier books she had left to try to find her "soul". She has aged terribly and her hair is mostly grey, but there are occasional glimpses of the old Emma, and with his 3 months suspension, Tony and Emma have had time to get to know each other again. Happily they still care for each other, and although Emma has serious relapes, at the very end of the book there is a happy ending which I will not spoil. As Mr Dyer noticed there are lots of new characters in the story - after 3 months away Tony is amazed at all the new faces. But there are lots of a old faces too (just no Stuart MacBride). The chief new face is Tony's new assistant DC Janie Harrison. It's now acting DI Kirsty Richie, Grumpy Bob is still there, and DCI Spence and Superintendent Brooks still hate Tony. Ex Super (Dagwood) Duguid is still in the Cold Case Unit but surprisingly Tony and Dagwood are now almost in harmony. Not all these characters make it to the end of the book. Reporter Dalgleish is still as well informed as usual - she finds it safer to go "missing". The pathologist is still Tony's friend Cadwaller. And talking of friends, Tony's chums Phil, and his wife Rachel, and baby are all back on the scene. DCI Jane McIntyre is the friend Tony turns to for help at work and Mrs McCutcheon's cat still guards Tony in ways we probably don't know about.
In short, I loved the story, I like the private life back plot, but there is now far too much of the supernatural. I won't give up on the series yet.
Links to author index and home page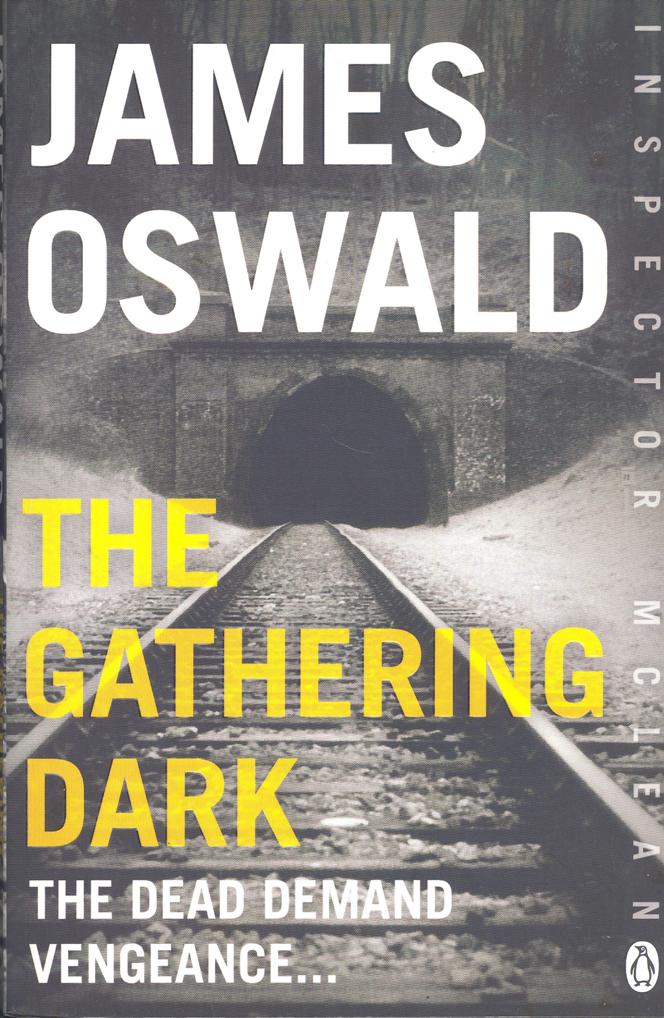 I read this book in June, 2019.
This is book 8 in the Edinburgh set DI Tony McLean series by James Oswald. I really liked the early books in the series where the supernatural was only in the background, as a sort of joke - "don't let McLean anywhere near your cases, he'll just make them complicated and attract wierdness." Now however it's blatant, and it's ruined the series for me. It's so unnecessary - there are good plots, great characters, and a good setting. But James Oswald, in the achnowledgements, freely admits "I am a Fantasy hack at heart." I guess I'll read on into the next book to see what happens to Tony and his girlfriend Emma, and hold my nose.
The book opens with Tony and Emma living happily in the big house his grandmother left him. Emma is pregnant, and the baby is due soon. Tony knows it will mean changes, but that's for the future. The transvestite medium Madam Rose is a frequent visitor - partly to catalogue some valuable book's in Tony/ his grandmother's library, but mostly to keep an eye on Emma. Madam Rose thinks there is evil about once again, but Tony never takes her seriously. There have been a lot a changes at work. The old senior ranks have been cleared out (but not DCI Jane MacIntyre) and a new face Chief Super Forrester ex Glasgow is in charge. He seems a fair man, and is an excellent administrator who is willing to roll up his sleeves and get stuck in when required. A female DC Harrison is very able and seems to be Tony's chief helper. MacIntyre warns him not to set gossip tongues wagging, but in a later book I think we may find that Harrison and her female house mate are more than just good friends.
The main plot starts when Tony is walking into work, and is first on scene to witness a terrible carnage. In a busy Edinburgh street a tanker has gone out of control, crashed into the crowds, and spilled it's cargo. There are twenty dead, and the tanker contained an illegal, foul smelling and very corrosive liquid that is dissolving limbs, and bones, and tarmac. Tony's training takes over and he is the hero of the hour, doing triage, and organising the rescue services. Back at headquarters it's acknowledged that it's Tony's case, and he is charge of a huge police operation to identify all the casualities, and bring to justice whoever is behind the illegal load. It's way beyond a DI pay grade - and sure enough, by the end of the book, but for a different reason, it's acting DCI Tony McLean.
Tony investigates the haulier and the so called expensive state of the art green recycling plant where the tanker's was loaded with what should have been harmless farm effluent. We also have an unknown voice telling us his story. Soon there are mysterious deaths of people related to the incident - each body seems to have died of fright, their faces locked in horror. We also learn more of the unknown narrator - of two terribly abused children, a boy and a girl. The boy set fire to the Essex country mansion where the children were being abused - an act of joint suicide, but wierdly all in the house perished in the flames except the boy, and the girl, lets call them Edward and Maddy. The abusers were high up politicians, leaders of industry, etc, with a lot to lose if the abuse became public, so the children were put under protection, given new names, separated and rehabilitated. The boy was good with computers, and eventually became a gifted hacker.
We now have the two stories coming together. All the crash victims are identified except for a man, and two women. Chief Super Forrester's son is missing - he is very worried that he might be the crash victim, and he asks Tony to find his druggie son. But someone has swapped DNA files on the police database. Forrester is not all he seems to be, another of the victims may be Maddy, and Edward wants revenge, and absolutely nothing seems able to stop him.
I don't write spoilers so I'll mostly leave the story there, other than to mention that there are two terrible endings to the story, one personal for Tony and Emma, and the other way over the top supernatural that ruined the book for me. It seems Tony may share some of Madam Rose's powers - is this why he attracts wierdness ?
What a terrible waste of a good series, but it's the author's story to do with as he pleases.
Links to author index and home page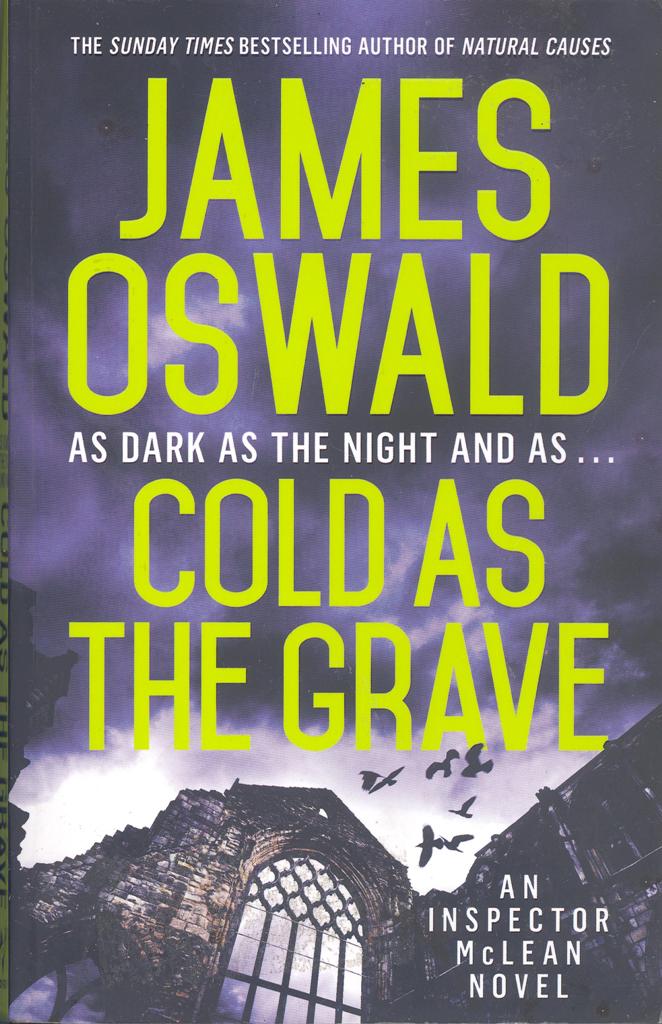 I read this book in August, 2019.
This is book nine in the Inspector MacLean series - only he is now a DCI. I used to write the excellent DI MacLean series, but now I feel I have been cheated. James Oswald is still a great writer, and his books continue to be page turners, but I like the crime fiction genre, and he has strayed too far into the fantasy world. In the acknowledgements to book eight he sort of explained / apologised in writing "I am a Fantasy hack at heart," and I think we can now add the line "always was, always will be." I had hoped that book eight might be a one-off, and things would return to normal - but book nine is pure fantasy again. It's a story about an evil spirit that in the middle east is known as an afrit, or djinn, but to us is called a genie. And yes, someone was granted three wishes some 25 years previously - and the nature of these wishes explains the book. It's all tosh, rubbish, nonsense. Up to book eight Tony MacLean had attracted "wierdness" but it was only hinted at and he and we could believe that there was still a rational explanation. No longer, and it's spoiled the series for me. It's such a pity, because it's all so unnecessary.
The book reunites us with Tony Maclean, Emma his girlfriend, DC Harrison, DS Grumpy Bob, and the strange Madame Rose. As hinted at in book 8, Emma had a miscarriage, and this has driven Tony and Emma apart. They still live together, but can't communicate. Emma hasn't smiled in months, and Tony has thrown himself even deeper into work, working very, very late most nights to postpone having to go home. It looks as if Tony and Emma are to part - and then it seems they might survive, and then it seems they have split, and then finally they manage to be still together at the end of the book. Tony doesn't like being a DCI - he wants to be a detective, not an administrator. Grumpy Bob is just about to retire - he will be working with "Dagwood" in the CCU - cold case unit.
The book opens with Tony escaping his paperwork, and tagging along to help police a city centre march / demonstration, when he stumbles into an old close, and something draws him to enter a derelict building where he sees some sort of old doll lying on the ground - but its not a doll, its a seemingly long dead girl, or her mummified remains. But it's only her skin that has turned to leather (mysteriously), and hers is a recent death. Another similar young girl is found. No one reported these girls missing because they were illegal immigrants from a war torn region where the police are vile and not to be trusted. The cellar where the young girl's body was found is in property owned by an old man Peter Winterthorne, and he sublets part of the building to an immigrant charity run by a Sheila Begbie. Mr Winterthorne used to be famous in his pop star days, and he is lucky to be alive, the only survivor of a terrible plane crash in a middle east desert. Now he is an expert on old Egyption myths, a collector of similar era artifacts, and a part time alchemist. Neither Begbie nor Winterthorne are remotely what they seem to be.
Tony's arch enemy Mrs Saifre is back on the scene. She too is some sort of evil spirit, and she wants to use Tony to find something or someone. There is a mysterious circus in town, where Madame Rose introduces Tony to Madame Jasmina. Jasmina gives Tony something to give to the djinn if he ever comes across him. As I said earlier, unbelievable fantasy.
If we strip out all the genies in lamps nonsense, there are two good stories hidden here. The main one is the exploitation of illegal immigrants - forced prostitution, work all day long for a pittance - and the deaths of two young girls. The other good story is the Tony / Emma private lives story.
But at the end of the day, it's James Oswald who writes the story and gets to decide how to tell it. I think, reluctantly, I will read on to see what happens to Tony, Emma, and all the other normal characters we have met.
Links to author index and home page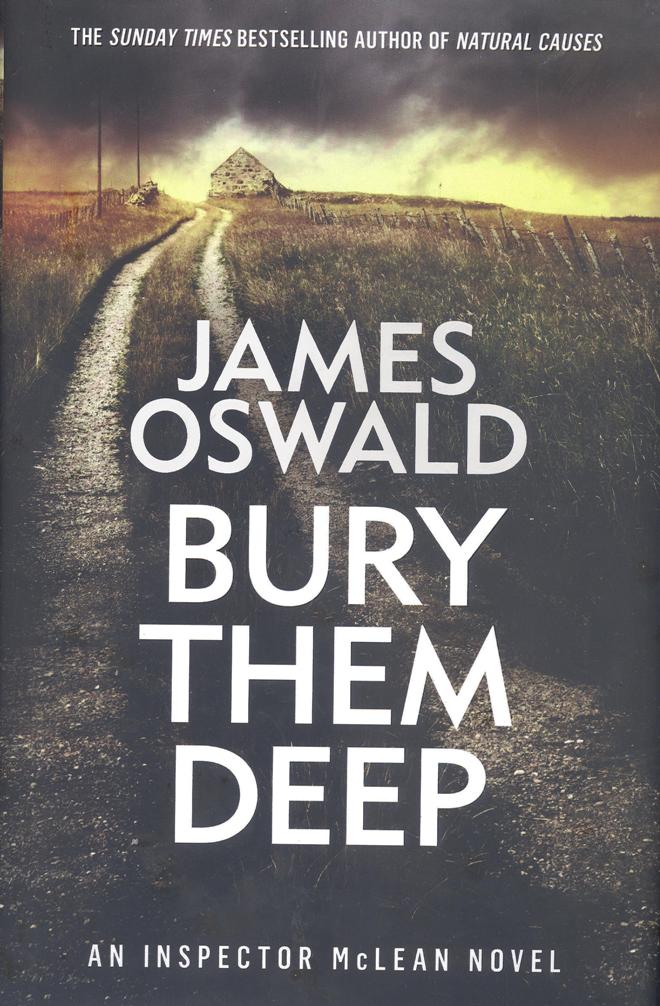 I read this book in May, 2021.
This is book 10 in a good crime series that went off the rails for me about book 8 when the author, James Oswald succumbed to his first love and switched to way over the top fantasy fiction. This story is still tosh, but it has been reigned in just a little. I don't mind wierd or strange. I have continued to read because I do like the main characters. We meet again DCI Tony MacLean, still living in the huge rambling grandmothers house that he inherited, and still with troubled Emma. It's a tricky relationship, and Emma usually greets Tony with a scowl rather than a smile, but things are slowly improving. Emma is a scene of crime officer, but she wants to go back to Uni to study forensic anthropology. She takes Tony to a lecture by Prof Harriet Turner, Tony and Harriet recognise each other (Harriet studied with Tony's grandmother), and so Emma and Tony become friends with Harriet and her wife Meg, an artist. Tony still reports to Super Jayne McIntyre, and DCC Stevie Robinson. Cold cases are still down in the basement, handled by retired Super Duguid (Dagwood) and assisted by soon to retire DS Laird (Grumpy Bob). PC Lofty Bane is still around, as are DI Kirsty Richie, and DC Janie Harrison. Usually Tony takes Harrison out with him when he escapes mountains of paperwork and goes out to do some proper detecting. There are rumours about the station linking Tony and Harrison that Tony dismisses. Mrs McCutcheon's cat is still with Tony, and his friend Madam Rose is mentioned, but plays no part in the story. Cadwallander is still the forensic pathologist.
There are lots of little stories that we know will eventually link up. The book opens with the old Scottish folk myth of Sawney Bean (Alexander Bean)who lived with mad Agnes Douglas on the West coast, children and incestuous grandchildren, robbed and captured travellers, and ate them - ie cannabilism. The family, when caught, were taken back to Lothian and hanged. Next we meet a strange unknown woman who is leading a dual life - holding down some responsible position, but occasionally turning into a scarlet woman indulging in fetish and in a dogging club. The Edinburgh station is taking part in a big international, highly secret Operation Caterwaul involving billions of drug money, laundered by huge companies, and protected by people of position and immense power. But the teams's civilian support assistant, Anya Renfrew has not turned up for work, and cannot be contacted. Has Caterwaul security been compromised ? It doesn't look good when Tony finds that Anya does not really live full time at the address she has given them. Much later we find out that Anya is the daughter of a retired police Superintendent Grace Ramsay that Tony just remembers from his early days. After a dogging meeting, the mysterious lady is left behind in a now deserted car park out in the wilds, her car will not start, and she is chased through the woods by someone or something, and eventually held captive somewhere. A further strand is introduced when we meet Billy and Gav, two young lads up to mischief in the school holidays. Billy's dad is in prison, and his mum is a drug addict, so Billy fends for himself. They find a Zippo lighter, torch an abandoned car in the woods, and later set fire to the heather moorland.
The stories now start to link up. The mysterious woman is possibly Anya, and the torched car leads to a trail through the woods heading towards Woodhill farm, run by old Sandy and Morag Bayne. Tony gets Pennicuik station to search the farm and its outbuildings, but their Sergeant Donaldson gives it the all clear. Did he really search the place thoroughly ? We now stir in two more complications. The woods we are talking about have a local reputation as being evil. Some people disappear there, never to be seen again. D. Super Grace Ramsay was obsessed with trying to find a link to such a string of possible disappearances, but never managed and had to retire. Finally three ultra rich VIPs are in Scotland at the same time, and DI Richie is in charge of their security. Why all three at the same time - DCI MacLean does not beleive in coincidence.
Operation Caterwaul is put on hold pending the search for Anya, but this search too has to be suspended to fight the moorland fire (remember Billy and Gav). Bones are found in the scorched moorland, and pathologist Cadwallander is called in. Soon more bones are found, then lots of bones, and ancient bones - so Cadwallander calls for reinforcemnets in the shape of Prof Harriet Turner. Some of the ancient bones have scrape marks on them - is this a cannibalism link going back to ancient times ?
Lets add one more complication before I sign off. Tony gets a phone call from Doctor Millicent Graham of the local secure psychiatric hospital. Her patient, a man claiming to be Norman Bale, who who tried to kill Tony and DI Richie, wants to meet his old schoolboy friend Tony. Tony says no - no way - but Bale sends cryptic clues that show that he seems to know about the missing Anya "scarlet woman", and quite a lot about old Scottish folk tales. Bale was barking mad. He believed that he was God's agent despatching pure people to heaven before they could be corrupted. When Tony stopped him, Bale took this as a sign that he had messed up. Could he now be grateful to Tony, and wanting to help him as some sort of self purification ? Bale escapes mysteriously. There is CCTV of him leaving his room through a locked door, but none of him emerging out into the corridor. I think I have now said enough. As I always say, I don't want to write spoilers, and so I will leave the story to unfold for you to read by yourselves.
In the end, there have been some strange happenings, many are dead, but MacLean's stirring mostly prevails, and evil is seemingly vanquished. But most of the happenings at or near Woodhill farm are to be hushed up by politicians and higher ups leaning on the police. What can you do ? Dalgleish, the reporter who saved Tony's life (she ate poisioned cake meant for Tony) has been part of the story throughout. The whole tale ends with Tony using someone else's phone to contact Dalgleish. What is he to tell her ?
Links to author index and home page