Iain's Leisure Reading
This series of books is one of those covered in Following the Detectives - real locations in Crime Fiction, &nbsp - q.v.
Peter James was born in Brighton in 1948. He is the son of an interesting father - Cornelia James, a Jewish refugee who came to England in 1938, and became glovemaker to Queen Elizabeth II. Peter was educated at Charterhouse school, then went to Ravensbourne Film School. Initially he worked for several years as a screen writer and film producer in North America, but he published his first book in 1993/4. This book was "Host", and was also published by Penguin on two floppy discs - so staking a claim to be the world's first electronic novel.
Today Peter lives part of the year in his Sussex country house near Brighton, and part of the year in his London apartment in Notting Hill. His interests include criminology, science and the paranormal. The holder of an international racing licence, he loves owning and driving fast cars. He is also a "Biggles" fan, at one time owning the book rights.
Peter has written in excess of 25 books, and is still writing. His books have won many awards, and he is a former chairman of the Crime Writers Association. He also supports many charities. The Detective Superintendent Roy Grace books are set in Brighton, the place of his birth and one of his home towns.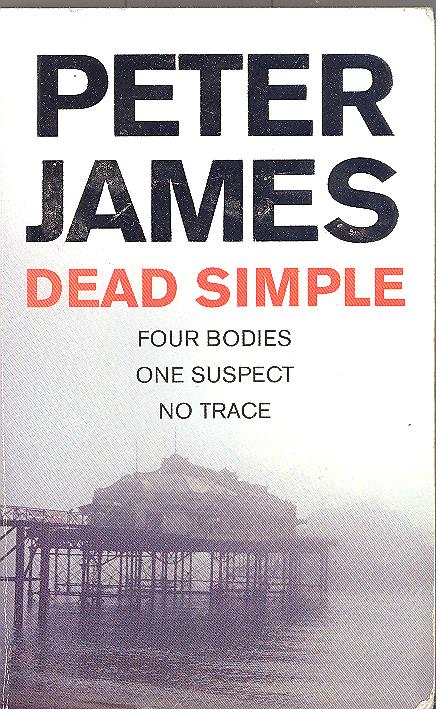 I read this book in May, 2013.
"Dead Simple" is the first book in the Detective Superintendent Roy Grace series, written by Peter James, and set in Brighton and the Sussex countryside. I had seen Peter James's name amongst the "J's" on the charity shop book shelves whilst searching for books in the P.D. James or Quintin Jardine series, but it was only in 2013 that I looked more closely at them, and found that Peter James, as well as being a best selling author, had also written a series of crime novels featuring Roy Grace. So I decided to give them a go. Unusually for me, I bought several in the series before managing to get hold of "Dead Simple", the first Roy Grace book. Usually I buy one book in a series, see if it is any good, and only then buy the other books, but now I do my best to read the books in the correct order and start with book one, which introduces the character.
This book is a very gentle introduction to Roy Grace - we are quite a few pages into the story before he appears. He is a little bit of a sad character initially. He is essentially single - his wife Sandy just vanished some nine years ago, when he was 30. Every effort to trace her failed. He has never accepted that she might be dead - perhaps because he believes in the paranormal, and cannot contact her via mediums. This is an aspect of the book on which I am not too keen. As a boy, Roy had met some ghosts, and waved to them each morning, not knowing at the time that they were ghosts. Since then, he has not only believed in the occult, and mediums, but has consulted them unofficially in his work. Not only this, they have sometimes help him solve hard cases - and with this help he has rapidly progressed up the ranks in the police force to Superintendent level. He consults two mediums in this book, and their information is uncanningly accurate. I don't think this would ever happen to such an extent in real life.
That apart, I liked Roy Grace. Like all good detectives, he is dedicated and stubborn. He doesn't give in. He has been on a computer dating date organised by a colleague. It didn't work out, but did get him to ask out Cleo Morley whom he knows because she works in the local mortuary. She is stunningly attractive. Perhaps we will hear more of Cleo in future books.
It's quite a good main story. Michael Harrison has been playing practical jokes on his friends at their stag parties, so they decide to get their own back at his. They put him in a coffin, have a hole for an air pipe, and leave him buried in this coffin in secluded woods. His friends speed off, but have been drinking, get involved in a fatal car crash, and all are killed. All that is except for Mark, the best man who was not there as his flight had been delayed. Mike's fiance Ashley reports him missing. Why doesn't Mark tell the police about the practical joke, and where the coffin has been buried ?
Michael really doesn't have much luck, as things go from bad to worse. Only the thought of Ashley waiting for him keeps Michael going, but is Ashely all she appears to be ?
All in all, it's a good start to the series with some interesting main characters. I'll read book two, and try not to be put off by the paranormal.
Links to author index and home page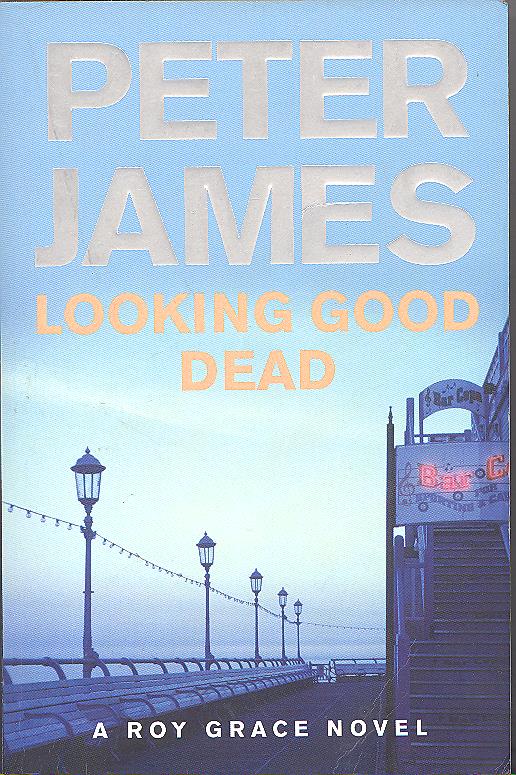 I read this book in June, 2013.
"Looking Good Dead" is the second book in the Detective Superintendent Roy Grace of Brighton series, by Peter James. I liked the Roy Grace character in book one - a bit of a lonely man whose wife had simply disappeared nine years ago on his 30th birthday. He had searched high and low for her, and had even consulted a medium - he believes in such things - but there is no trace whatsoever. But also in book one, he has now met the lovely Cleo Morely - and his life is surely about to change.
This book two, continues straight after book one - i.e. about 1 to 2 weeks later. Roy has been so busy that he and Cleo have not yet had their first date - but things do progress in ths book. Roy's chum DS Glenn Branson is here again. I hadn't realised he was a coloured man - I wonder if this was mentioned in book one ? If so, it didn't register.
It is quite a good story, and very readable. Tom Bryce is happily married with a wife, and two young children. Someone leaves a CD on a train that Tom is travelling on, and Tom takes it home to try to return it to it's owner. But it is not a normal CD - it is a link to a very private web site where some very shady characters make and share snuff movies. Soon Tom and his whole family are in deadly danger. At the same time, a young trainee lawyer, Janie Stretton, goes missing, and then her murdered body is found in a field.
Roy has been getting a lot of flack in the papers for consulting mediums on police business, and his boss, ACC Alison Vosper wants him out. So there is enormous pressure on Roy to solve the Janie Stretton case, and quickly.
I also don't like Roy consulting mediums, - it's different, but stupid. That apart, it seems a good well written series so far, and I'll happily read on, to see what the future has in store, for Roy and Cleo - and Glenn Branson too.
Links to author index and home page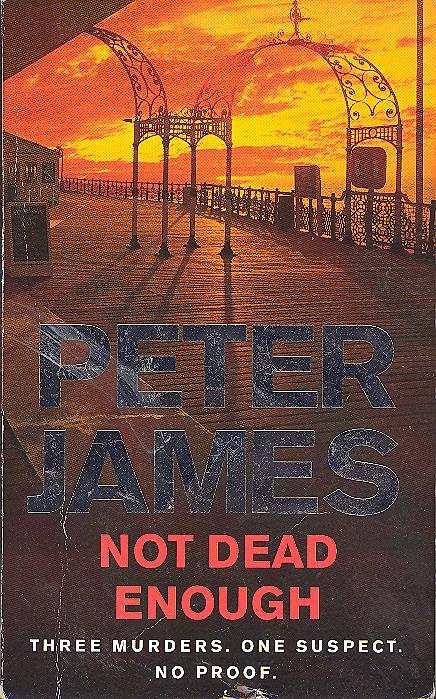 I read this book in July, 2013.
"Not Dead Enough" is the third book in the Detective Superintendent Roy Grace of Brighton series, by Peter James. I really enjoyed reading it. And Peter James seems to have overcome his fixation with mediums. Not one is consulted in this book - long may that continue.
In books 1 and 2, we learned that Sandie - Roys wife - had disppeared mysteriously some 9 years ago, and all Roy's attempts to find her (including yes, consulting mediums), or to get some explanation had come to nothing. He had recently met Cleo Morely - and Roy and Cleo have fallen in love. All seems to be going well, when a former policeman friend phones Roy to say he has spotted Sandie in Munich. Sandie has family connections with Munich, but strangely Roy had never before thought of Munich in his searches. This is the first sighting in nine years. Roy simply has to check it out - why did Sandie leave, was she kidnapped, does she need help, was it amnesia, what on earth was it all about? Poor Cleo doesn't know where she stands. Is Roy to lose Cleo in a hopeless quest for Sandie - and what are his feelings for Sandie now that he has met Cleo ?
DS Glenn Branson's wife has thrown him out - so Glenn is staying with Roy. There is a lot teasing banter between Roy and Glenn - but they are great friends, really. And ACC Alison Vosper still seems to want rid of Roy, but mostly things are quiet on that front.
What is the main story ? There seems to be a gas masked serial killer at large in Brighton. Two victims are Katie Bishop, wife of Brian Bishop, and Sophie Harrington. Who is the mysterious time billionaire - the evil someone who has all the time in the world. Brian Bishop is suspected - is he the killer, or is he being set up, and if so, why, and by whom ?
The story was a cracker, and kept me guessing throughout. Did Brian Bishop have a split personality - could he be the murderer and not know it?
Eventually Cleo's life is in danger. We know that the time billionaire is bound to come after Cleo, but there are lots of false starts to this part of the story where Peter James teases his readers.
It's not tip top fiction, but it's a great story, good characters, is very readable, police procedure seems extraordinarly well researched, and its all well written. Some how or other, I seem to have found another great crime series. I'm looking forward to reading the next book.
Links to author index and home page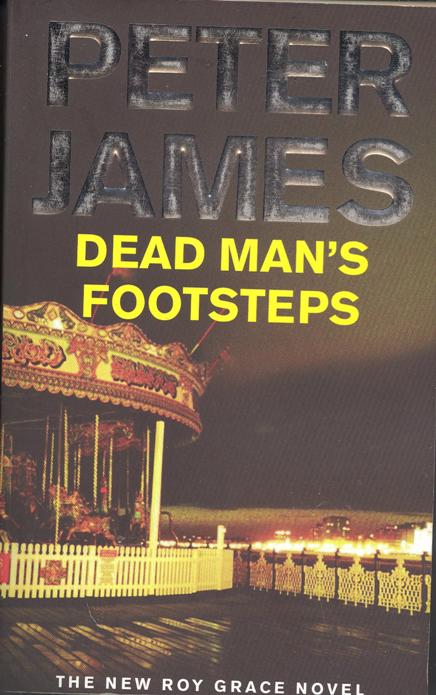 I read this book in October, 2013.
"Dead Man's Footsteps" is book four in the Detective Superintendent Roy Grace of Brighton series, by Peter James. It's a good series which I am enjoying reading. I think the early books made a mistake when Roy kept consulting mediums to find out what had happened to his wife, Sandy - she had just disappeared without trace some nine years ago, and Roy had thought that they had been happily in love. The puzzle of / search for Sandy runs through all these books, and it's here again.
Roy's boss is ACC Alison Vosper who doesn't seem to like Roy, and she has recruited Caspian Prewe from the Met, promoting him to D. Superintendent, the same rank as Roy. Alison wants Roy out, and Caspian in. Caspian makes his move against Roy in this book, taking it upon himself to re-open the missing person Sandy case, with the suggestion that Roy might have done away with her. Roy is good at his job, and finds an unexpected friend in the Chief Superintendent, who promotes Roy to be his deputy - making him Caspian's senior. The Chief Superintendent seems aware of the down that Alison has on Roy - but why doesn't she like Roy ?
Roy and Cleo are still seeing each other - they seem to have fallen in love. Roy still has D S Glenn Branson helping him, but they are a team that don't really seem to gel for me. Think of Morse and Lewis, Rebus and Siobhan, Alan Banks and Annie Cabbot, Mikeal Blomkvist and Lisbeth Salander, etc - all strong, memorable teams. Peter James hasn't yet got the chemistry spot on.
The story can be summed up by the phrase "There is no honour amongst thieves". Lots of the characters in this book are crooks, and they double cross each other. It's quite a well constructed tale, with lots of separate strands to follow, and the time jumps between 2001 and 2007. It opens with Ronnie Wilson in New York on 11.09.2001 - i.e. "9/11", when the Twin Towers came down. Ronnie is up to his ears in debt, and sees this as an opportunity to fake his death, and make a new start. His wife is Lorraine, and seemingly stricken with grief, she jumps overboard on a channel crossing in an apparent act of suicide - but no body is ever found, need I say more ? We also have Abby Dawson, hiding in Brighton from a Ricky who has chased her round the world. And a woman's body is found in a drain - she had been strangled. So we are in Brighton, New York, and Australia, in 2001 and 2007, people change their names, Richard is known as Ricky or Chad, etc, etc. I struggled to keep up sometimes, my fault I am sure, not Peter James.
There is a lot of money at stake here, millions of £, and it's been used to purchase expensive, rare postage stamps which are portable, and reasonably liquid.
It's all sorted by the end, but one of the crooks gets away. There are lots of surprises all through the book - Peter James is a good writer. At the very, very end of the book, the crook that got away is relaxing on a beach in Rio when Peter James delivers one final, stunning and under stated suprise. What a terrific ending! Of course, I'll have to read on.
Links to author index and home page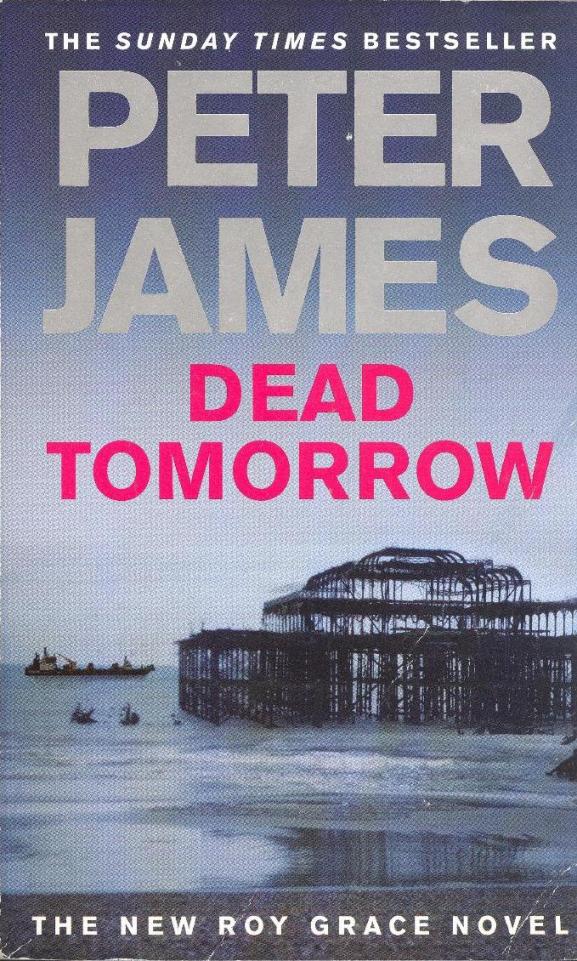 I read this book in December, 2013.
"Dead Tomorrow" is book five in Peter James's Detective Superintendent Roy Grace of Brighton series - I've enjoyed reading books one to four, and I enjoyed reading book five. This is an interesting book - slightly different from the normal "who dunnit."
The story starts with various separate narratives, but soon we realise that there is a common theme - liver transplants. We get a story about a wife whose husband is killed in a motor bike accident, but who agrees to his organs being used as transplants. We get a story about Caitlin Beckett, desperately ill and in need of a liver transplant, but can one be found in time, and about her mother who turns to a shady internet black market site to try to buy one of dubious provenance, and we hear of teenage bodies dredged up from the sea off Brighton whose corpses lack livers, and other vital organs. This leads on to a story of the desperate situation of hopeless street kids in Roumania (seen by a gangsters as a lucrative source of transplant organs). One is on her way to a new life in England she thinks, but it's her transplant organs that her so called benefactors really want. So the plot is, who killed the dead teenagers, and can Roy and his team get to the girl before she is butchered ?
Peter James is surprisingly outspoken in his attack on the NHS who seem to be failing Caitlin, and I'm not sure why. The problem is lack of organ donation and the people in the NHS seem to be doing their best in impossible situations. The story builds to the usual Peter James climax - and not everyone can be a winner. But I thought it was all done very well - Peter is a good writer.
Peter James also plays further with the missing Sandy storyline. Sandy is Roy Grace's missing wife. She disappeared about 10 years ago, and Roy never managed to find her, despite heroic efforts. Roy has now met Cleo, fallen in love with her, and Cleo is pregnant. Life for Roy is looking up, just as life for his police partner Glenn Branson is heading in the opposite direction. In books one to three, we didn't know if Sandy was alive or dead, but in book four we found out that Sandy is indeed alive, and in this book tantalisingly, Roy and Sandy almost bump into each other. When is Sandy going to reappear, and where would that leave Roy (and Cleo)?
It's a good book, a real page turner, and I look forward to book six, to see what happens next to Roy/ Cleo / Sandy ? / Glenn.
Links to author index and home page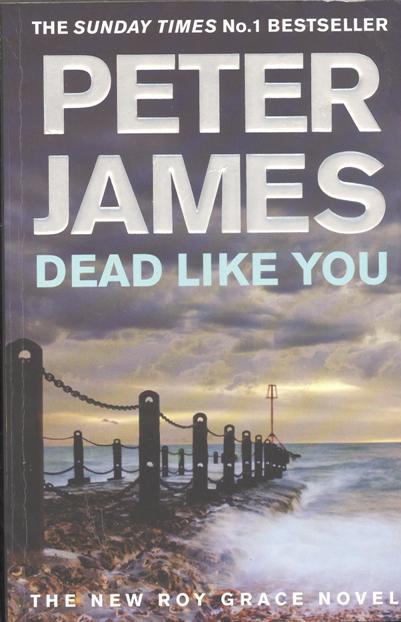 I read this book in January, 2014.
"Dead Like You" is the sixth book in the excellent Detective Superintendent Roy Grace of Brighton series by Peter James. Another member of a terrific series.
For a while I thought this was going to be the best one yet in the series. But half way through I got a little tired of it's constant jumping between "now" and flash back. I had to keep turning back a few pages to remind myself if we were in present time, or had jumped back to 1997/98. I thought it should have switched to present time action sooner. But then came an excellent final section of the book, twist upon twist, and I forgot my minor annoyance.
A serial rapist and murderer is at large somewhere in Brighton, and Roy is in charge of the very large major incident team set up to catch the rapist before he strikes again. This rapist takes a souvenir from each victim - usually attacking women who wear very expensive high heel fashion shoes, and taking a shoe as a momento. Roy is reminded of a series of similar rapes some ten years ago by a rapist nicknamed the Shoe man. The rapes stopped, but the rapist was never caught.
We then switch repeatedly between present time, and ten years previously. In 1997, Roy was a young detective sergeant who worked on the case. James then takes us through the events as they unfold, both "now", and in 1997, and it's all done very well.
Back in 1997, Roy's wife Sandy was still with him - this was before her mysterious disappearance. Up to now, we have only heard the story of Sandy's sudden departure from Roy's point of view - that he and Sandy had been devoted to each other, that Sandy was happy, and so why should she disappear ? As part of the flash back to the 1997 Shoe man story, we discover a somewhat different story. Yes, Sandy and Roy were happy, and devoted to each other, but at times, Sandy was anything but happy. Roy was working all the hours and having to break promises to Sandy time and time again - e.g to be with her on her birthday, or over Christmas. Sandy's words were very revealing "A policeman's wife is not a happy one" - a nice twist on Gilbert & Sullivan. Len Deighton used a similar two viewpoint approach in his excellent three trilogy (9 books) story about spy Bernard Samson whose wife Fiona "defected" to the Russians, and so Bernard met Gloria and they fell in love. Again we are told the story from Bernard Samson's perspective. But then in a final book nine, the whole story is retold in third party mode - and again a quite different picture emerges.
However, for now, Roy and Cleo are very much in love, Roy has accepted that Sandy is probably dead, and is finally reconciled to starting procedures to have her declared dead, and hopes to marry Cleo as soon as he can. And they are both delighted that Cleo is pregnant. In contrast to Roy's happiness, Glenn Branson, Roy's main assistant is having a hard time - his marriage to Ari is all but over, and Glenn has let himself go. On the positive side, Roy now has a new and seemingly better boss in ACC Peter Rigg.
The search for the serial rapist continues - brilliantly co-ordinated and lead by Roy Grace. There are lots of suspects - but which one is the rapist, is it the return of the Shoe man, or is there more than one rapist ? It's all 95% sorted at the end, but that missing 5% not tidied up may come back to haunt Roy and Cleo.
We are kept guessing until the very end - and after all, that's what great story telling is all about. A cracking series - I look forward to the next story. We the readers now know that Sandy is not dead - will Roy learn this in book seven, I wonder ?
Links to author index and home page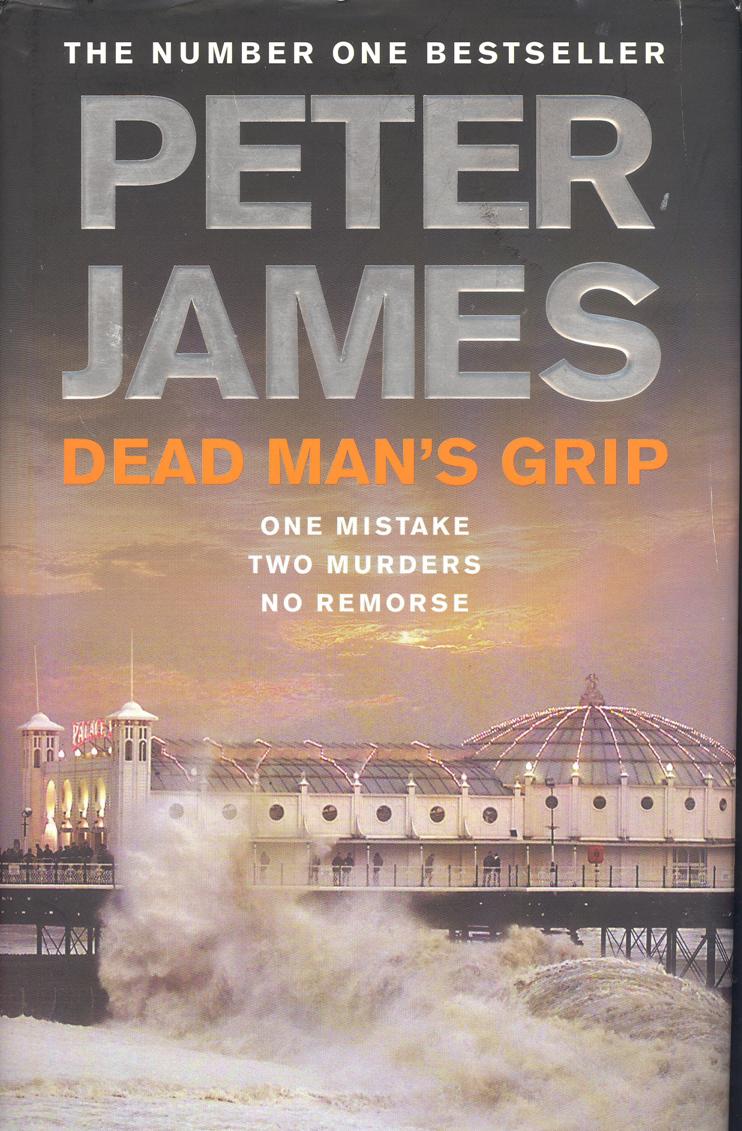 I read this book in February, 2014.
This is book seven in the Peter James series about D Sup. Roy Grace of the Brighton Police. It's a great series, and I think this is perhaps the best book yet - so far. It's a terrific story with lots of twists and turns, and once again it's only 95% sorted at the end - leaving the possibility of the missing 5% coming back to bite Roy in a later book.
For the first time, the D. Sup. Roy Grace and the D. Sgnt. Glenn Branson partnership works. I have had doubts about this pairing in the past, but here they function as a close team.
It's a terrific story that I haven't come across before. It starts with lots of detail and police procedure about three separate characters, soon to be linked together. Tony Revere is a young American student living with his girlfriend in Brighton, and attending Uni there. He sleeps in, and rushes off on his bike, late for a lecture. We switch to Stuart Ferguson, driving his articulated lorry loaded with fish, late for a delivery in the Brighton area. And now, to the main character - Carly Chase, a lawyer. Her husband died some three years ago, and she is trying to rebuild a life for herself and her young son Tyler. As part of this she has started dating again, but last nights date was a bore, and she ended up drinking more than usual - so much that she is over the alcohol limit the following morning. Late for a meeting, she cuts up a white transit van, that chases her in anger. She is involved in a pile up and young Tony Revere is killed. Tony's vile mum back in New York is the daughter of a mafia godfather, and she sets out to get her revenge on all who were involved in the pile up - they survived when her son did not. The revenge contract is given to a professional psychopath, a killing machine who leaves no trace, a brilliantly organised loner.
So, can Grace and Branson save Carly and her son before the hit man gets to them ?
Switching to the equally interesting private lives of Roy and co., there is a scare in Cleo's pregnancy, but Cleo and baby survive. Roy and Cleo are very much in love, and want to get married just as soon as Roy can complete the procedures and have his long missing wife Sandy declared legally dead. As part of this process, he has to advertise for her to come forward - and this includes inserting an advert in the Munich press - Munich was where there might have been a possible sighting of the missing Sandy. Of course, we now know from previous books in this series that Sandy is not dead - indeed Roy has almost bumped into her twice. Sandy is in Munich, and sees then advert. Peter James says just enough to keep Sandy's position ambiguous. But one way of reading the story is that perhaps Sandy has some regrets about leaving Roy. Could she turn up again just as Roy's baby is born ?
There is a stunning revelation in the final chapter that I didn't see coming - although I should have, I think. Don't be tempted to cheat, and peak at this chapter before reading the rest of the book !
The private life Roy / Cleo / Sandy story is building and building to erupt in some future book. Will I read on ? - you bet!
It's all written with terrific pace, and suspense builds throughout. I could not believe I had only 20 pages left to read, and I did not know how it would all end. Peter James is a really good writer.
Links to author index and home page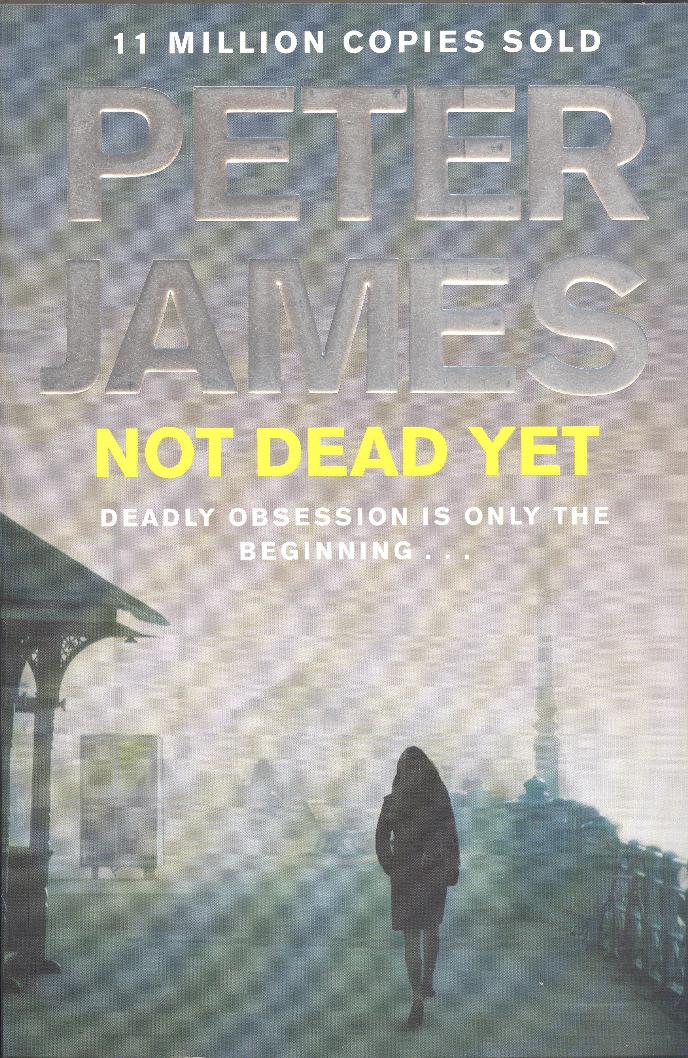 I read this book in March, 2014.
When I retired and found that I now had time to catch up with reading for pleasure, I wondered for a while what to read. I thought perhaps I might work my way through a list of 100 top writers, and the books everyone should read. But instead, I plumped for reading book series - and I think that this has turned out to be a good choice. This thought came to me when reading "Not Dead Yet", book 8 in the excellent Peter James series about D. Sup Roy Grace of Brighton.
These books always work on two levels. Level one is the crime or murder, or whatever is to be investigated and solved. Level two is to follow the developing private life of the main character, and his friends, and colleagues.
At level one in this book, there are two separate crimes to solve. A headless, armless, legless body is found buried in the detritus of a chicken farm. Who is the victim, and where is the rest of the body ? The second crime is the the attempted murder of Gaia, a Hollywood superstar in America. Gaia is an actress and is now in Brighton to film a period piece about a Prince Regent and his mistress. Roy Grace is put in charge of her protection when in Brighton. She has a vast band of fanatical fans, obsessed with her, but is one of them attempting to kill her ? Of course, we suspect that when a book starts off with two separate plots, we often find that they become connected.
As an aside, this is the first book in the series where Peter James draws upon his knowledge of the film industry - he is a former screen writer and film produceer. He certainly knows his subject.
Turning to Roy's private life, Roy and Cleo are eagerly awaiting the birth of their first child, and Roy is still trying to have his wife Sandie declared dead - she disappeared some 10 years ago. But not only is she not dead, but she and her (and Roy's ) son - a son that he knows nothing about - are back in Brighton. I had somehow gained the impression that Sandie must have been a special person - Roy was devastated when she disappeared. We, but not Roy, now get to meet Sandie - and she is a bit of a nasty person, really. I had thought that Roy would eventually be presented with an impossible choice - ie to have to choose between Cleo and a returned Sandie. Now it is apparent that Cleo is much the better person, so it should be an easy choice - but of course that ignores the 10 year old son that Roy has never met.
Peter James is an excellent writer, and he tells the story perfectly - the tension builds and builds, and there are lots of climaxes and surprises at the end. When I had about 90 pages to go, I just had to abandon everything else and sit down and read the book straight through to the end. It's a real page turner.
An excellent story told by a master writer - I loved it. Roll on the next book, when surely Roy and Sandie must meet, (surely ? )
Chapter 124 stopped me in my tracks - don't cheat, and look at it too soon. Some writers seem to hate their characters - e.g. Ann Cleves really kicked Jimmy Perez in the teeth - but luckily that is not the case here.
Links to author index and home page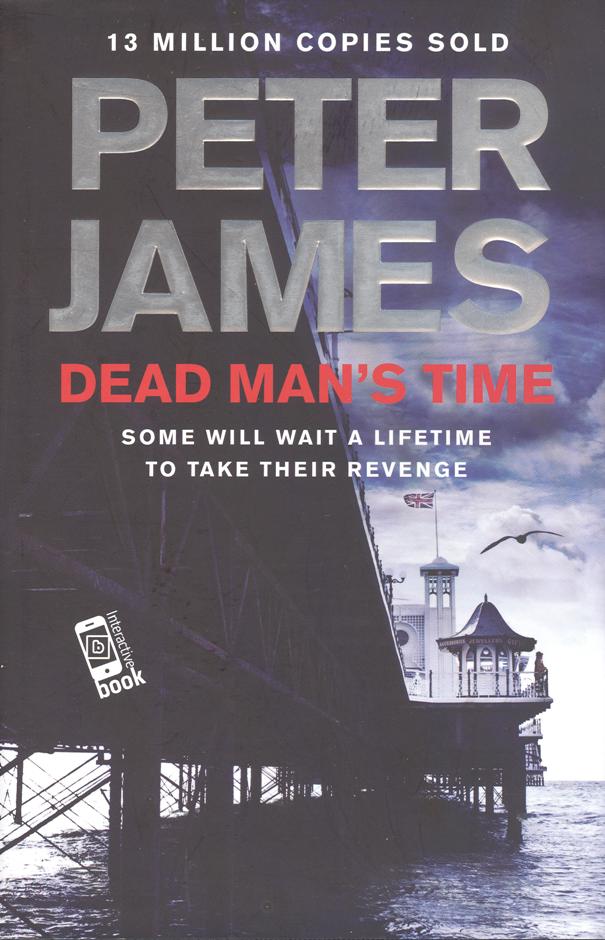 I read this book in June, 2014.
This is book 9 in the excellent Roy Grace of Brighton series by Peter James. I started off thinking that the pairing of DI Roy Grace with DS Glenn Branson didn't really work as a team, but there was never any doubt that each was always there for each other . In this book, Glenn's estranged wife Ari, the mother of his children, dies shattering Glenn.
The book opens with a little boy in New York in 1922. He is in his bed at night, but is disturbed by intruders who spare him and his sister, but kill his mother and kidnap his father. An aunt from Ireland arrives to look after the two youngsters and take them back to Ireland with her. The young boy, Gavin Daly, is heartbroken to be taken away from NY. He thinks his father is out there, somewhere. He vows to return one day - the fulfillment of this promise is at the heart of this book.
Also featured in this book are two ongoing stories in Roy's personal life. He is delighted to be in love with Cleo, and the very proud father of a baby son - Noah. He loves Noah more than life itself. As a policeman, Grace has made enemies, and one of them, whom we have met before, Amis Smallbone, is out to hurt Noah and Cleo and so strike at Roy Grace.
The other ongoing story is about Roy's disappeared wife Sandy. We know that Sandy is not dead, but is alive in Germany with their young 10 year old son about whom Roy knows nothing. It seems Sandy hates Roy, resents Cleo and Noah, and is planning to return to Brighton, even wierdly to buy the former matrimonial home where she lived with Roy. Sandy appears in this book, but to be honest, there isn't much progress in the Roy / Sandy story by the end of the book.
The main plot is the killing by torture of 98 year old Aileen McWhirter, and the robbery of her collection of £10 mil. worth of antiques. The robbers also take a rare watch, worth c £2 mil, but worth more in sentimental value. It was her father's watch. Aileen McWhirter is the sister of the little boy way back in 1922. Her brother, Gavin Daly, is still alive , and Gavin wants his father's watch back, and has the contacts and wealth to arrange this.
All the stories run concurrently, and Peter James, an accomplished writer, keeps all the balls in the air at the same time, with great skill.
It's a good read, and a great page turner, and I enjoyed reading it. I look forward to reading the next in the series, where surely, Roy and Sandy must meet after all this time, ( and all these nine books ) - or will Peter James keep them apart for a few more books yet ? And what does the future hold for Glenn Branson and his children ? And so, I read on.
Links to author index and home page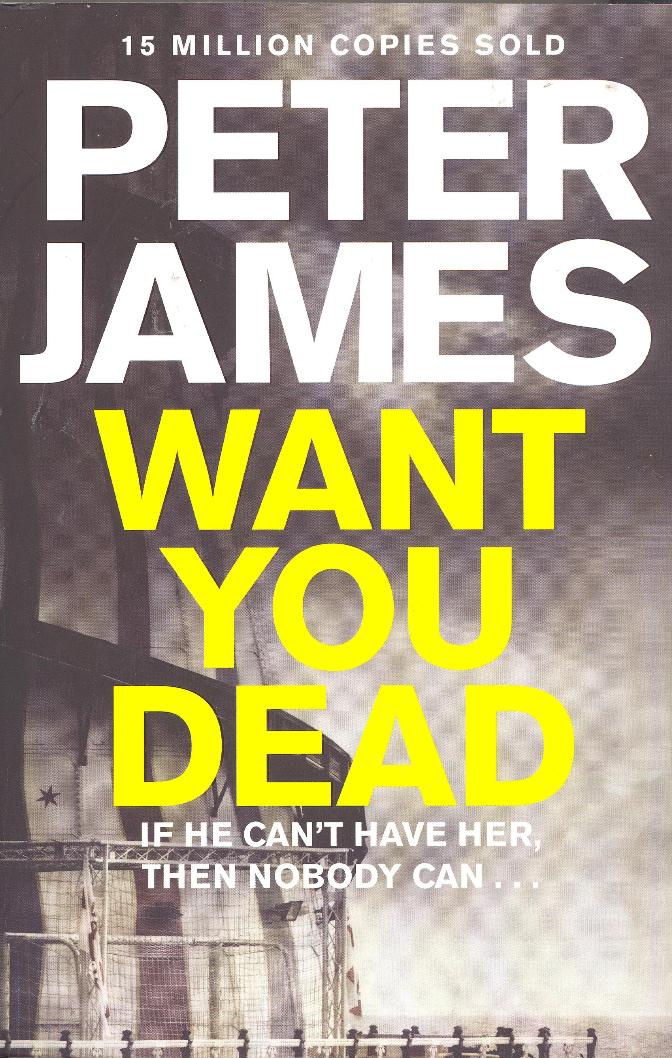 I read this book in March, 2015.
This is book 10 in a terrific series featuring D Super. Roy Grace of Brighton Police, and his chum and colleague and now a DI Glenn Branson. Glenn, with help from his family, is making the most of bringing up his children following the death of Ari, his estranged wife. DS Norman Potter is still there, as is Malteeser eating Bella Moy. In earlier books Bella thought Norman an ignorant, foul mouthed idiot. Now they seem to be a couple - a case of opposites attracting, perhaps. Sadly not both of them make it to the end of the book.
It's taken me ages to get a copy of this book, and then of course, as soon as I got a copy, I then started seeing it in lots of charity shops. This book delivers on all fronts. Peter James is certainly a good writer who can write a gripping page turner. The suspense builds, then builds, and then builds some more.
As always we have a crime to be solved, and also the latest developments in the character's personal stories. The crime story is about a fantasist criminal who delights in torture and setting fire to people and places. He operates under lots of aliases, but let's call him Bryce Laurent. He mets Red Westwood through online dating - and the two fall deeply and lustfully in love with each other. But Red's mum is suspicious of her daughter's "boyfriend", hires a private detective, and exposes him to her daughter as an imposter with previous convictions for assault. Red ends the affair, but Bryce vows revenge, not just on Red, but on her family and friends. So he hatches clever and very cunning plots, sets fires, and always seems too clever for the police. He is a multi talented fiend.
The story was a bit slow to get going, but once Roy Grace appeared it never looked back.
Roy has now had his first wife Sandy declared dead. She left him some 10 years ago - and just disappeared. We know, but Roy Grace doesn't, that Sandy is still alive, and living in Germany with son Bruno - a son Roy doesn't know about. Back in Brighton, Roy and his fiance Cleo have a new baby son Noah, and are about to get married in a weeks time. Will Cleo be more understanding of the calls of duty of a top policeman than Sandy ever was ?
In the previous book, Sandy came across as a hateful person who wanted to harm Roy and do him down. In this book she seems to have mellowed a little. Some of the love she once had for Roy seems to have lingered on - much to her surprise. But Sandy is terribly mixed up - she is in therapy that doesn't seem to be doing much good. She comes to Roy and Cleo's wedding intending to cause trouble - but things do not go to plan. At the very end of the book, she is back in Germany - and then Peter James drops a bombshell possibly changing everything in half a sentence. I had to go back and re-read the secton to see if I had misunderstood the situation.
So once again I am anxious to read on, and see what happens next. Hopefully I will find a copy of "You are Dead" faster than I found this book.
Links to author index and home page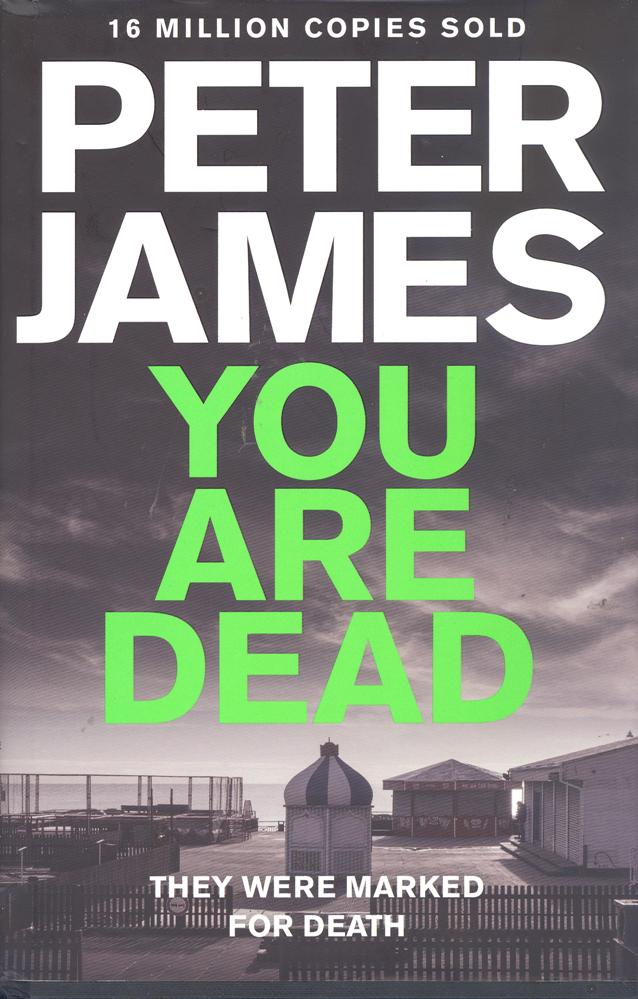 I read this book in July, 2015.
I was very lucky to get a hardback copy of this book a few months after publication. I paid £1 in a charity shop, and round the corner it was on display in the window of Waterstones selling for a lot more than £1. Sometimes I have to wait ages to find a book, but occasionally I strike it lucky.
This is book 11 in what has turned out to be an excellent series about D Super. Roy Grace of Brighton Police, and his chum and colleague DI Glenn Branson. DS Norman Potter is still there, but sadly his fiance and colleague Bella Moy had died rescuing a child from a fire at the end of book ten, and now Bella is buried with full honours. Norman is distraught - his terrible jokes silenced. But before the end of the book Norman proves to be still a good detective. Norman Potter reminds me a lot of DI Jack Frost. I didn't like the early books in this series with all their supernatural elements, but thankfully all of that has been left well behind.
Running through all these books, and especially the early books, has been Roy's search for his missing wife Sandy who left him over ten years ago, and just vanished without trace. A lonely Roy searched for years, but found neither Sandy, nor a body. Then he met Cleo, beautiful, and amazingly someone who accepted the demands of Roy's job as a senior policeman - something Sandy never did. Roy and Cleo were further blessed with a baby son, Noah. All is going so well for Roy. He has never been happier - and so, of course, fate is about to kick him in the teeth. His wife Sandy is alive, and has been living in Germany with her and Roy's son Bruno - a son Roy knows nothing about. And then, at the end of book ten, Sandy - Allesandra Lohnmann - was knocked down in a hit and run accident, and is lying in a coma in a German hospital. Roy's German detective friend gets in touch with Roy to tell him of the English lady in a coma who could be Sandy. Roy can't give up his current happiness, couldn't hurt Cleo, and now seems to be in denial. The rest of the story must surely unfold in a future book. Peter James has really set it up perfectly. How on earth will it all end ?
The story here is about a serial murderer and particularly nasty psychopath, the Brighton Brander. He kidnaps attractive young women with long brown hair, and keeps them alive (has he some sort of medical knowledge?) in sealed tanks as a stock of victims whom he will get round to dealing with. Modern novels seem to have to reach deeper and deeper into the grotesque in some sort of wierd competition to create the most shocking characters. I think it has got out of hand, somewhat. We follow the story of Logan Sommerville, who phones her fiance Jamie Ball, that there is a wierd man in her underground car park, and then the call ends with Logan's scream. She is the next victim. Can Roy and his team solve the case, and get there in time to save Logan, and others ?
Roy, Cleo, and Noah are moving to a new house in the rural countryside some eight miles from Brighton. Cleo is not getting much sleep having to cope with a crying young baby, and now Roy is fully tied up with another high profile case. She cannot do everything herself - just how understanding can she be ? And how could Roy hurt such an angel, his beloved Cleo, with the shock of Sandy turning up again ?
It is a terrific story that I will not spoil any further. A cracker of a book - a real page turner. Well done Peter James, whose knowledge of police procedure must surely be second to none. I look forward to book twelve to see how the Sandy story pans out.
Links to author index and home page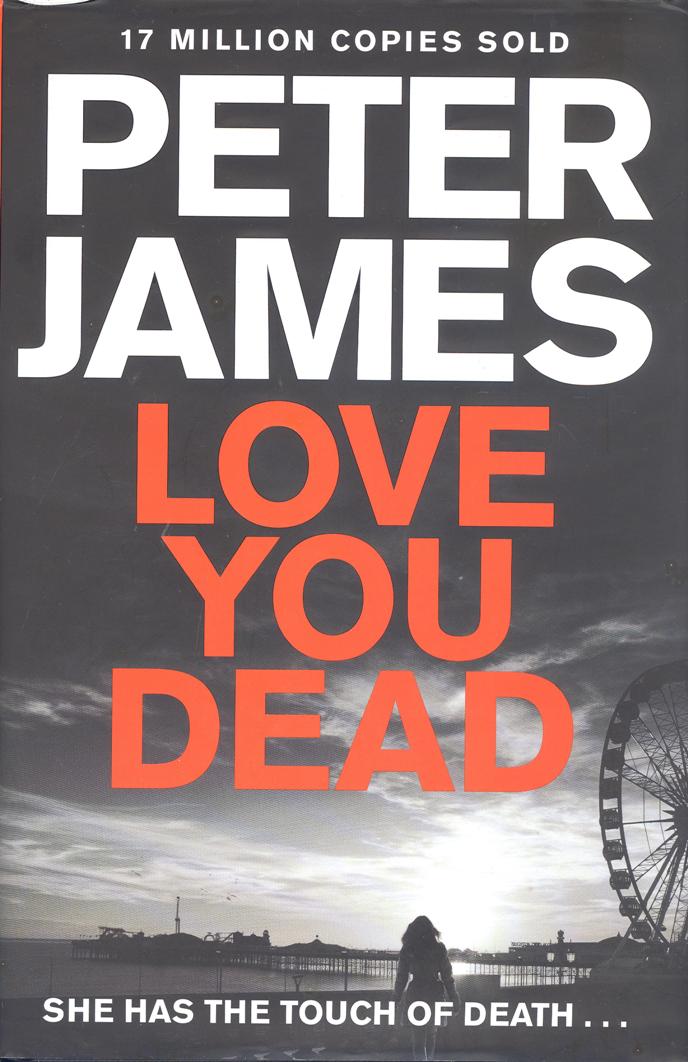 I read this book in July, 2016.
I had been looking for this book for ages, but eventually managed to find a hardback copy in a charity shop in July, 2016. I took it home, and started reading it almost straight away. These Super. Roy Grace of Brighton books are a terrific series on all sorts of levels, and this is a worthy member of the family. It is a good story that needs a bit of setting up first, but it is very cleverly constructed, and the tension builds to a completely satisfying end. It ties up a couple of loose ends from previous books, takes the Roy / Cleo / no longer missing first wife Sandy story to a conclusion, but at the same time sets up the next book - i.e. what will happen to Bruno, the son Roy did not know about.
Lets deal with the crime plot first. We are introduced to a beautiful lady who has lots of aliases, but let's just call her Jodie Bentley to start with. She beguiles rich old men into marrying her, bumps them off in a novel way, and so inherits lots of money to finance the life style she dreams of. At least that is the plan, but not everything goes to plan. She is very clever and fearless, though, and is not afraid to make off with drugs and $200k of NY mafia money when an opportunity presents itself. She also makes off with a memory stick that contains secrets the mafia must protect at all costs. And so, they call in a professional hit man, one we met earlier in the series. He is called Trout, he lives abroad with his dog Yossarian, and he plays Russian Roulette with his life regularly just for fun. He inflicts maximum pain on each victim to warn off anyone thinking of crossing the mafia. He escaped from Roy's clutches last time, and Roy's boss unfairly blames Roy. Next we meet a couple of friends who are small time crooks - one is a petty housebreaking thief, and the other steals premium cars to order. If crook one spots such a car, he tips off his chum who calls round later and steals it. These two crooks play a big part in the plot - by chance the house thief breaks into Jodie Bentley's house in Brighton, but gets bitten by one of her very unusual pets, and dies a painful death. I won't spoil the story by saying what part crook two plays.
We meet Roy and Cleo again, and baby Noah. They are living in their new house in the country, they have a nanny to allow Cleo to go back to work, and are all very happy. Life is good to them at last - but of course, this is about to change. Roy now knows that his missing wife has been found, and at long last we have the Roy / Sandy meeting. It is handled perfectly - finally the Roy / Sandy story is concluded by the end of the book, but what will Roy do with Bruno, the 10 year old son he never knew about ? And there are hints that Bruno may have personal problems - what might these be. In short, we will have to get book 13 to see what happens next.
Most of Roy's colleagues are still there - but not Bella, of course, she died saving a child's life. Her fiance Norman Potting is back at work - we know that he has prostrate cancer, but how he will fare is left to the next book. There are lots of changes within the police force, and morale may be a problem. Roy complains that everything has now to be so politically correct that it is getting in the way of good policing. Roy's creep of a boss, ACC Cassian Pewe is still in place, and still trying to stab Roy in the back. And Roy's buddy DI Glenn Branson is also still there - he has a young family to bring up alone after the death of his estranged wife Ari, but he has a new steady girlfriend. She is a local journalist - if he shares confidences with her, how will that work, I wonder ?
Peter James is a good writer. He has created some great characters, kept the personal plot lines full of interest, and told some very good crime stories. What's not to like. Roll on book 13.
Links to author index and home page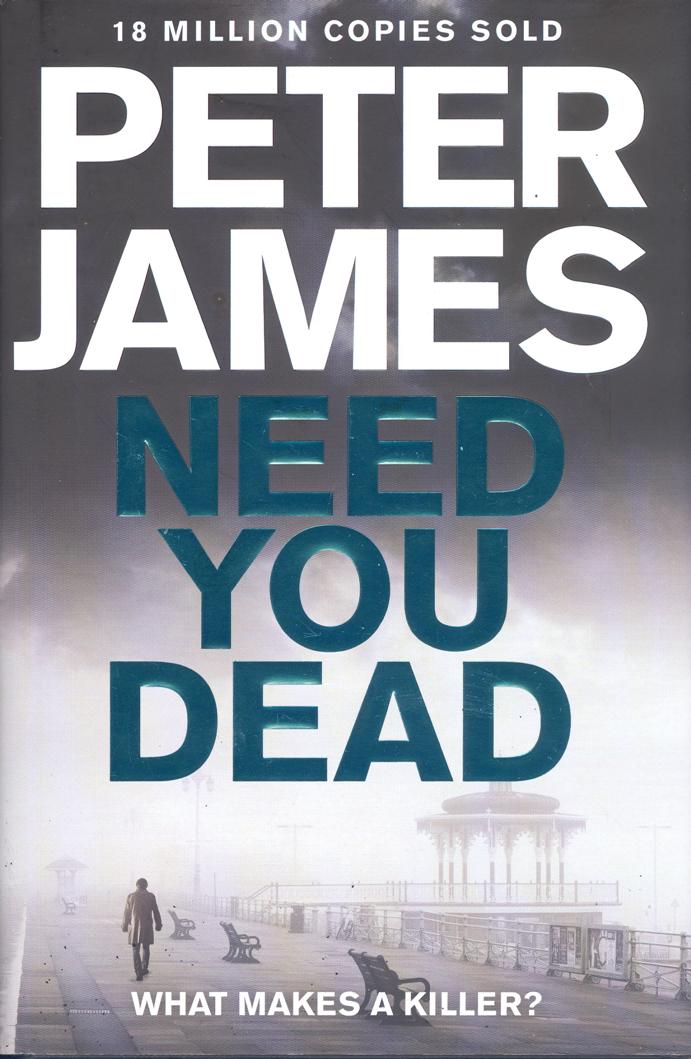 I read this book in November, 2017.
Sometimes it takes me ages of wandering round charity shops before I find a book on my "books to get" list, but sometimes I strike it lucky and find a book only just published. That was the case with this "Need You Dead" - book 13 in the detective superintendent Roy Grace series.
In the Star Trek TV series it used to be a joke that if some unknown crewman teleported down with Kirk and Spock to some hostile planet, then the fatality would always be the unknown crewman. I was reminded of that in this story which opens with Roy's buddy Glenn Branson on holiday with his journalist girlfriend and Roy appoints DI Guy Batchelor as his second in command on a new murder case. Roy has a more than full work load, and also has to go to Germany to meet Bruno - the son he didn't know about until his long lost first wife Sandy died. Bruno comes back to England with Roy to live with Cleo, baby Noah, and Humphrey the dog. We also have the sad burial in the UK of Sandy, with Bruno at the graveyard. It would be a traumatic time for anyone, let alone a 10 year old child. But we get clues that there may be trouble ahead. Sandy had left a note for Roy saying " So please when I am gone, take care of our son Bruno. He worries me, you'll see what I mean." His schoolmate's parents where he had been living in Germany were obviously glad to get rid of Bruno, but why? There is also mention that their dog, which bit Bruno, later went missing. Perhaps I am reading too much into these clues - we will need to see what happens in future books. Is Bruno autistic ?
The actual crime is a well told story. Lorna Belling was in a marriage from hell, and to escape had fallen for the charms of someone called Greg - who was to leave his wife and settle down with Lorna. But has Greg been fooling Lorna ? They have a fight, and Lorna ends up dead. Was it deliberate murder or a terrible mistake ? Greg has too much to lose, and very skilfully covers his tracks. Where did he get these skills, and who is Greg? There are other possible suspects. A known psychopath thought Lorna had cheated him out of £2,800 reference a car sale, and he was threatening revenge. Lorna's control freak husband was another suspect - had he found out about Lorna's boyfriend, and taken revenge. And wierdly a rogue cop may be involved, and DS Exton is behaving out of character. It all builds to a terrific climax.
ACC Cassian Pewe is still Roy's immediate boss, and there is still no love lost between Roy and Cassian. What is Cassian saying in German to Bruno at Sandy's funeral. As an aside we learn that the assassin Tooth (the chap whose dog is called Yossarian) is in a coma, and under 24 hour police guard at Roy's request, but Cassian calls off the guard. Guess what happens. Otherwise it was nice to meet Roy, Cleo, Glenn (when back from holiday) Norman Potting and the rest of the crew once again.
Of course we have to read on to see how Bruno will settle in, or not. Poor Cleo didn't sign up for any of this.
Links to author index and home page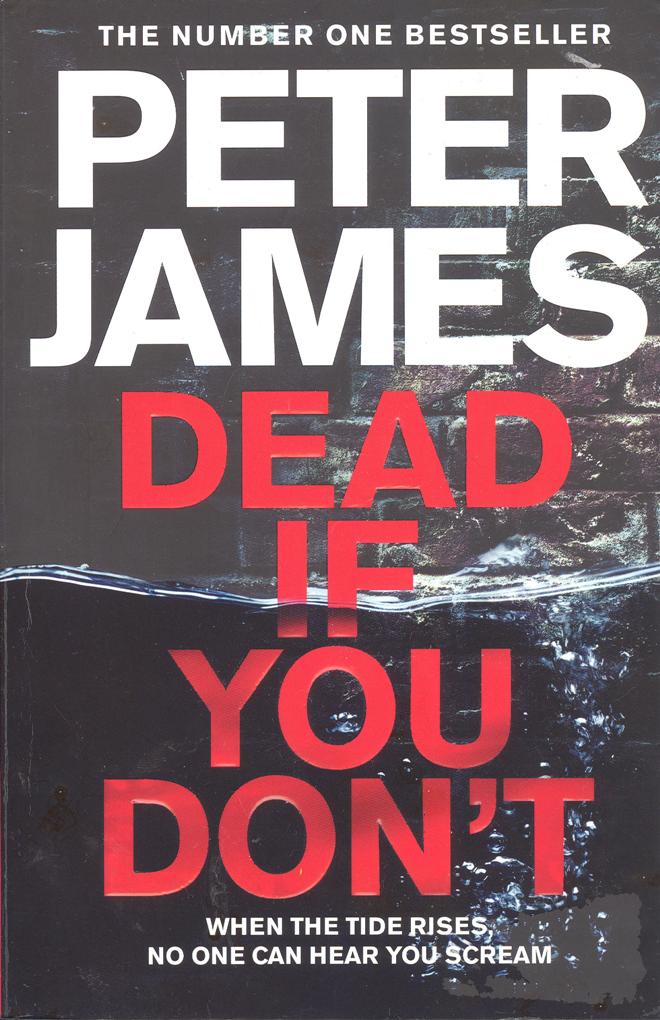 I read this book in March, 2019.
This is book 14 in the Detective Superintendent Roy Grace series, set in Brighton, and written by Peter James. I thought it was a terrific, if not original story. Here we met Roy and his team once again - DI Glenn Branson, who plays only a minor part in this story, DS Norman Potting of the terrible jokes, Cassian Pewe, Roy's immedeiate boss who hates him, and of course Cleo, Roy's wife, and Noah and Bruno, their children. Bruno is the son Roy didn't know he had, but whom he inherited when his first wife Sandy died in a road accident in Germany. Sandy had just vanished years ago. There have been hints that there is something strange about Bruno, and now it is becoming clearer what it is. Bruno does not seem to have any moral compass. He is indifferent to the possible death of 200 people in a football stadium - "it is less that 0.01% of the crowd, and so does not matter". "How would you feel if your chum in Germany with whom you play computer war games died ?" - asks Roy. Not bothered, Bruno replies "then I would have won the game !" This is surely a problem to be further developed in future books.
The book opens with a series of unrelated events. Florentina, a poor muslim girl who is tricked into an unsuitable arranged marriage, escapes, but then falls prey to new "friends" who get her to act as a drug mule. The drugs burst, and the girl dies. In Brighton we meet an Albanian mafia where Devrishi is taking over as godfather from his uncle Konstantin. Devrishi and his thugs are into all sorts of dirty deeds - extortion, muggings, killings, and worse. Albanians seem a set apart - police in their country are corrupt, and the Albanians view the British police as the same. So there is no co-operation with the police - they settle their own affairs in their own unlawful ways. And this of course, creates general resentment and local bad feelings.
We also meet a local business man Kipp Brown who is a compulsive gambler, and has gambled away the financial results of all his hard work. It's a big occasion - Brighton are playing their first home match after promotion to the premier league. Kipp has taken his son Mungo to the match, but Mungo is separated from his dad, and disappears. In brief he appears to have been kidnapped. Sadly his dad is broke - will he have to embezzle to pay the ransom ? Also at the match were Roy and Bruno. There had been a bomb threat - and Roy was on hand to save the day, and avert a mass killing, but had to break police procedure Health and Safety rules. For this Cassian was to discipline him rather than praise the undoubted hero !
Mungo's kidnapping takes a turn for the worse when Devrishi takes over. Muno is moved to a chamber that is filling as the tide comes in, but his original kidnappers have been slaughtered by Devrishi - so who now knows where Mungo is ? Excitement rises as Roy desperately races against time to save Mungo. I was somewhat reminded of Dead Simple where we also had someone hidden, trapped and dying, and those who know where the victim is hidden are now dead. Also I am sure I have also read a similar story about someone trapped and a race against time to rescue as the tide rises and threatens to drown the victim - but I can't recall where I read this. Anyway, Peter James tells the story very well, and rachets up the tension terrifically. There is a lot happening all the time, and in lots of places at the same time - and so each chapter has not only a date heading, but a time heading too.
There are good but realistic endings to three of the stories - the main kidnapping story, the compulsive gamblings of Kipp Brown, and the Cassian Pewe v. Roy sub plot. All in all, another good read in this excellent series. I look forward to book 15.
Links to author index and home page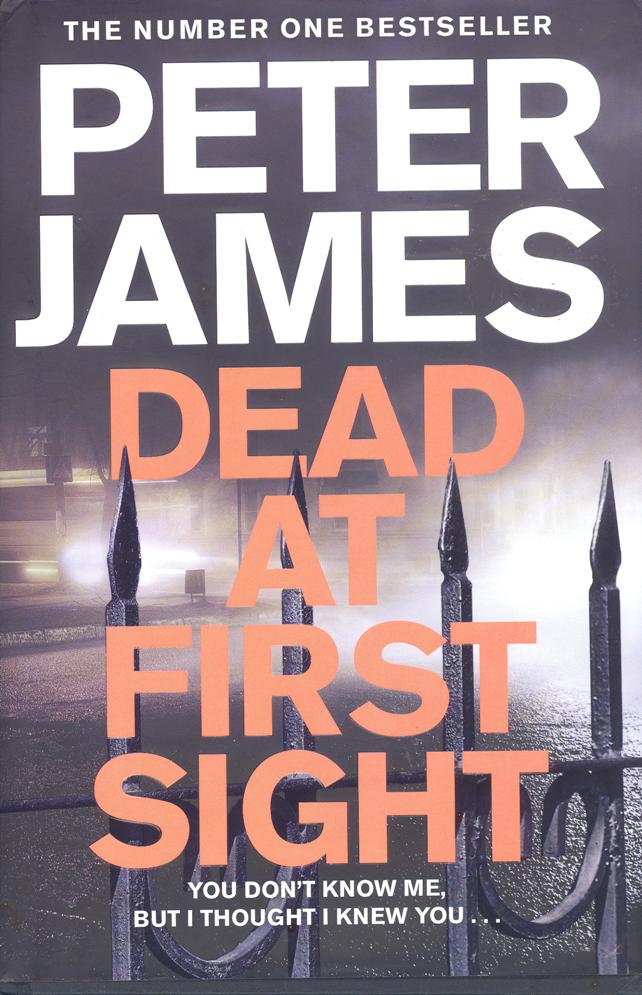 I read this book in December, 2019.
The Peter James series about Brighton based D.Super Roy Grace is one of the best series that I am reading, and this book is a worthy member of that series. I thought it was a terrific book - although it did start slowly.
We have quite a few nods to the past - e.g. arch villian Mr Tooth turns up again - we meet once more all the well the well known characters - Roy, Cleo, Noah and Bruno, Cassian Pewe, Roy's horrible boss, DS Norman Potting, still cracking terrible, non PC jokes, and Roy's friend DI Glenn Brannon, and we also notice some possible future plots being set up - e.g. what is to be done about Bruno ?
There are lots of plots and sub plots.The main story is about money scamming, but sub plots cover the Roy / Cassain Pewe antagonism, Roy's home life with Cleo, and real problems with misfit Bruno.
The story opens with a death in Germany, an apparent suicide, and Roy's German police friend getting in touch for information. We then have a Brighton woman contacting a local man, Toby Seward, a motivational speaker by trade. "You don't know me," she says, " but I thought I knew you. We have been in love for months." Toby's photo had been lifted, and used by an international gang to create a false internet identity, to use to scam money from a lot of gullible, lonely people. As an example, after exchanging love letters etc, the targetted victim gets a pleading email from her "boyfriend" - "I've been in an accident and need money to pay for medical treatment. I'll pay you back with interest when I sell my flat, then I'll come over and we can get married." Lots of other examples are given, along with figures about how many millions of pounds / dollars are lost each year in this lucrative trade.
The gang is run by a Mr Big, a Mr Barrey, now living in Jersey. Two of his gang - Jules De Copeland, and the psychoplath Ogwang - have broken away to do their own scamming. Barrey wants them killed, and contracts the best in the business to do this. And so, Mr Tooth is back on the scene. Will he succeed once again and then disappear ? Such is his track record. But now, he is not in the best of health, with snake venom blood poisoning causing occasional attacks of giddiness, exhaustion, impaired vision, etc. Will this be his undoing ?
Two of the scamming victims, an ex NY cop Matt Sorokin, and an ex SAS soldier, Johnny Fordwater get to know each other, and decide to fight back. Soon the two breakaway scammers Copeland and Ogwang are being hunted by the UK and German police, by Mr.Tooth, Mr Barrey, and Fordwater / Sorokin. Who will win out - or will they get in each other's way? It all builds to series of terrific climaxes.
It all reads as if we are following a huge, real police operation, ably lead by Roy Grace. Peter James really does his homework - the detail is all very realistic and impressive. It would be nice to think that in real life the police really were as good as this.
The Bruno story is very interesting. If he were a normal person we would have a great deal of sympathy for Bruno. He is a German boy who has lost his mum, and been moved to a foreign country he doesn't like, to live with a father he doesn't know. For years Roy had not known of Bruno's existence, nor Bruno of Roy's. Roy wants to do his absolute best for the lad, but to say he is ungrateful is a considerable understatement. In short there is something terribly wrong with Bruno's character. He doesn't have friends at school, nor does he need nor want any. He is a completely self centred bully. What has poor Cleo done to be landed with a Bruno ? Can Cleo and Roy teach Bruno basic decency, or is he a hopeless case - a future psychopath ? But someone at school has invited Bruno to a party in a Games bus. Has he friends after all, hopes Cleo ? Alas, it's a disaster. What can be done ?
At a time when Roy is working flat out to solve multiple murders, international extortion, and to recapture Tooth, instead of helping, Cassian Pewe is berating him for not running a good ship and meeting head office diversity quotas. It's all box ticking, watch your back, police politics, Roy's job satisfaction is nil, and he is in despair. His old boss, Alison Vosper, is now high up in the Met, and she invites Roy down to London. He is offered a six month secondment, at a rank of police commander, an equal rank to Cassian's, to head up a high powered anti knife crime team in the Met. It will mean even longer working hours, but offers escape from Cassian Pewe - a boss who has been secretely claiming credit for all Roy's hard work successes through the years.
It's not the best of times for a career change with the Bruno problem, and also some happier news from Cleo. Read the book to find out what Roy decides to do.
Everything comes together neatly at the end. The Mr Tooth problem is finally solved, and apparently the Cassian Pewe one too.
Will the next book be set in London, or will Roy be back in Brighton (Brighton, I hope !), perhaps even replacing Pewe ? I'll need to read on. It's a great on going story.
Links to author index and home page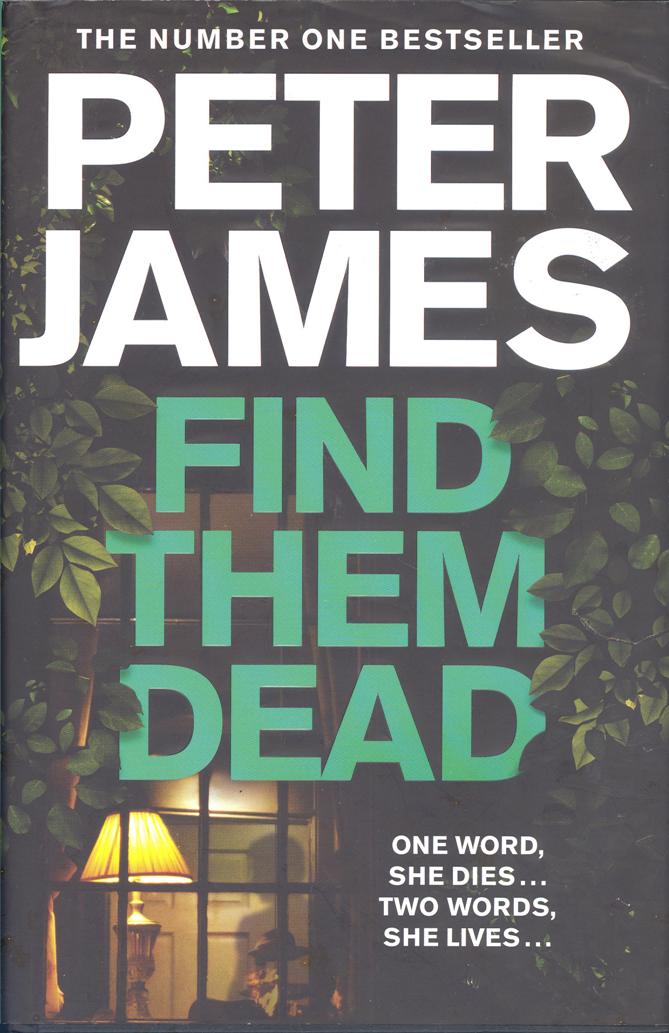 I read this book in November, 2020.
This is book 16 in a very good series by Peter James, set mostly in Brighton, and featuring Superintendent Roy Grace. I like the ongoing background story of Roy's private life, and usually there is an excellent main crime plot. That said, I didn't think the main plot here was quite as strong as usual, and it was different in that it was almost a court room drama, but it was as well written as usual and overall I enjoyed reading it.
The book opens by introducing us to Mickey Starr who is on a cross channel ferry smuggling millions of pounds worth of drugs into the country, hidden in a fake Ferarri classic car. The local police have had a tip off from the Met (from none other than Roy Grace, on secondment there) and know that a big consigment is on its way, but not much more. Mickey Starr looks after and dotes on his Down's Syndrome brother Stuie. Next we meet a classic car enthusiast border customs officer - he is to strike it lucky. Next we meet Meg Megellan. Sadly Meg's husband Nick, and young son Will were killed in a motoring accident some six years ago, but Meg still has her surviving daughter Laura, just off on a big adventure holiday to Thailand and Ecudor with her best friend Cassie. We also meet what appears to be a respectable, small town, upright, church going, etc solicitor called Terence Gready. We soon find out that he is Mickey Starr's boss, the mafia style Mr Big behind the drug racket - evil, corrupt, with vast hidden wealth, but always very careful always to avoid any connections to Starr. Meg has been called up for jury service - yes, its to be a giant drugs trial, and unfortunately Meg is about to be blackmailed with serious threats against Laura's life. Bring in a "not guily" verdict, and Laura lives, bring in a "guilty" verdict, and Laura dies.
As the above plot is being set up, we also meet up again with Detective Superintendent Roy Grace and his crew. Cleo is 3 months pregnant but sadly has a miscarriage - however they will be able to try again. They do have one son , young Noah, and Roy's son from his first ill fated marriage to Sandy still lives with them - Bruno. He is still very much a problem - he has no moral compass whatsoever, and is watching with admiration a TV programme about a serial killer. There are some good times between Roy and Bruno (eg a fishing trip), but mostly it's not good - has Bruno been hurting their dog Humphrey ? Roy and Cleo decide to get a full child psychologist report. Roy is on six month's secondment to the Met. where he is a divisional Commander of a special knife crime section, working for Alison Vosper, his former Brighton boss. Roy is doing well, and it is being noted. Alison wants him to stay on, but when he decides to return to Brighton she tells him he can come back to the Met any time he wants to, at Commander grade. This is the same rank as his new Brighton boss, the terrible, untrustworthy, deceitful Cassian Pewe. A new Chief Superintendent is to be appointed in Brighton. Roy tells Cassian he is to apply, and asks Cassian if he will back him. Cassian says he will, but later the Chief Constable phones Roy to say he has not got the position as Cassian did not put his name forward. However Roy is to get a top police gallantry award. The Roy / Cassain problem will have to be tackled, and we have a hint at how this might be done at the very end of the book when a jailed ex policeman says he has special news for Roy's ears only. DI Glenn Branson is SIO on the drugs investigation, and Norman Potting is now an acting DI on a new case - someone has beaten up and killed Mickey Starr's brother, poor helpless Stuie. Norman is still cracking jokes.
Meg is under terrible pressure to rig the jury. She is being sent pictures of Laura in Ecudor, under blackmailers "protection". The blackmailers can enter Meg's house at will, even after she changes all the locks. She finds Laura's pet hamster Horace killed horribly, and in a body bag in her freezer with the message "the next one in a body bag will be Laura" unless Meg swings a not guilty verdict. Peter James does phenomenal research - there are three pages of thank you acknowledgements at the end of the book listing high court judges and top lawyers who helped with advice. The drugs case has a good judge in Richard Jupp, Nick Fox is Terry Gready's corrupt lawyer, Stephen Cork is the able and eloquent prosecutor, and Primrose Brown the equally able and eloquent defence QC. I thought it was a very realistic, well written portrayal of a high court crime trial. Our drama is how will it all end ? Will justice be done, but Laura will die, or will the verdict be not guilty and Laura will live ? I'll leave you to read the story to see how it all ends.
All in all, another good story in the series, but with a different main plot, blackmail / crime trial slant. I thought it was a good read.
Links to author index and home page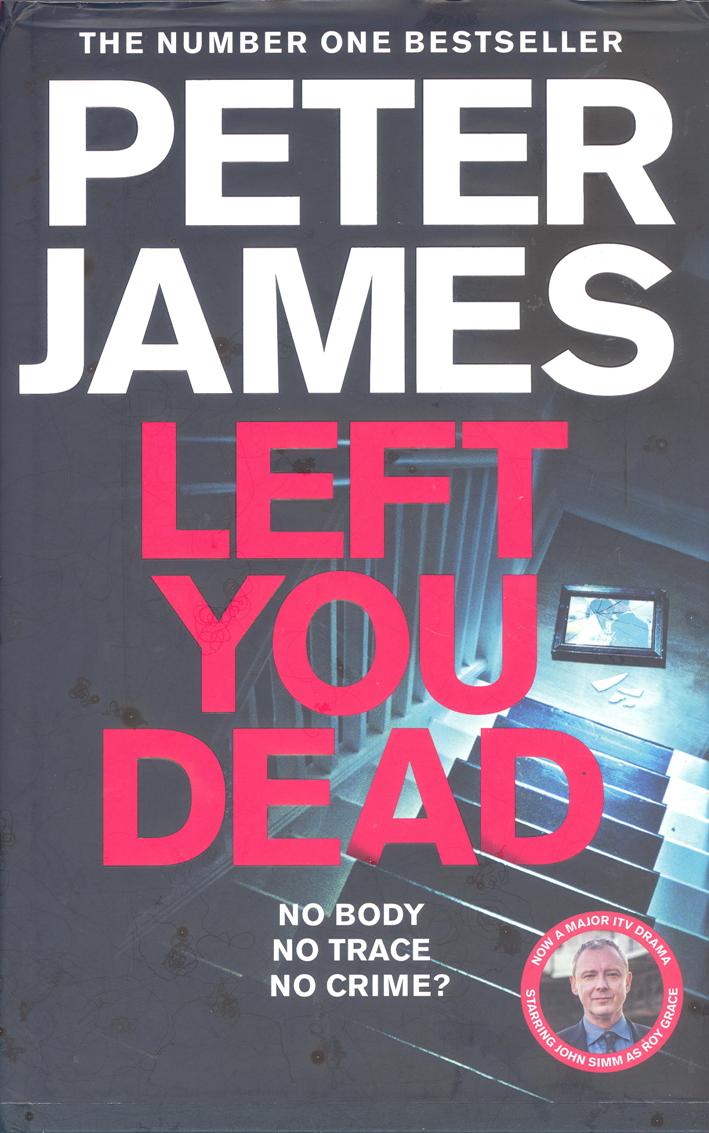 I read this book in September, 2021.
This is book 17 in the mostly Brighton set, D. Superintendent Roy Grace series by Peter James. It's a series I really like and this is an important story, especially in Roy's private life. Once again we meet Roy, and his family - a pregnant Cleo, and 11 year old problem child Bruno, young Noah, and Humphrey, the dog. Assistant Chief Constable Cassian Pewe is still Roy's horrible boss, but DI Glenn Branson is a really good friend, and DS Norman Potting is still cracking his terrible jokes. But sadly Norman has nothing to joke about - he overcame prostrate cancer, but now has suspected throat cancer. Glenn is to marry crime reporter Siobhan in a month's time - he is due a bit of happiness after his terrible marriage to Ari.
The book opens on Sunday, 1st September, and introduces us to Niall and Eden Paternoster. Niall is a business failure, Eden owns property, and is reasonably wealthy. They have called at Tesco's to get cat litter for their cat Reggie, but Niall is anxious to get home to catch the end of the grand prix on the TV. Eden jumps out to get the shopping, and Niall parks the car, a BMW, and waits for Eden to return. She doesn't return after 20 minutes, and so Niall goes in search for her - but she is not in the shop, not on CCTV, and no one can remember seeeing her. Niall has genuinely driven Eden to get cat litter - and we have to remember this later in the story when everything that has happened seems somehow not to have happened, or does it ? Eden doesn't return, and Niall thinks it's some sort of trick, and she will be at home, but she is not. He does feed the cat Reggie, however, cutting himself on a kitchen knife whilst doing so, and dripping blood. Eventually, the next day, he reports Eden missing to the police, but they spot blood stains on the kitchen floor, and are suspicious. The duty officer at HQ alerts Major Crimes, and so Roy and Glenn take on the case. It does seem that Niall may have killed the missing Eden, and the more police investigate, the more evidence they gather. Niall said he and Eden had been at stately home Parnham House earlier on Sunday, but the photograph of Eden he gave the police was found to have been taken a week previously. Mobile phone and sat nav tracking also incriminated Niall. A neighbour heard Niall and Eden shouting at each other, Eden's passport is missing, her wedding and engagement rings are later found hidden under floorboards, and her blood stained clothes are found behind a panel in the bathroom. There are even 2 full bags of cat litter in the house ! Niall had driven to Ashdown Forest early on Monday and then to the local harbour. Was he disposing of Eden's body, or body parts - Niall had trained as a butcher years ago? Niall also seems to have a girlfriend - later identified as Rebecca Watkins, Eden's line boss at the insurance company where she worked. There is a lot more more evidence, and it seems to to be an open and shut case with the CPI confident of a conviction. But there has been a sighting of Eden - on the Isle of Wight ferry.
The whole story now takes off, and grows to be a real puzzle. Niall, Eden, and Rebecca are all linked and in sexual relationships. Who is ganging up on whom? It all builds to a terrific climax one rainy and windy night on the cliff top at Beachey Head, near Eastborne, where two people go over, and Glenn is being dragged over too. Roy grabs his friend's hand but Glenn is too heavy, and Roy doubts he can hold on. Read the story to see what happens next and discover what really happened. All in all, and excellent well told story.
There are two main private lives sub plots. On the same Sunday that Niall and Eden visited Tesco's, Roy was visiting prison to see disgraced former policeman DS Guy Batchelor who has evidence of corruption against Cassian Pewe. Raj, a former cell mate, had told Guy that he had been giving insider trading tips to a high ranking police officer (Pewe) who got very wealthy, and tipped them off about an impending police raid. It's all on tape, ready to incriminate Cassian Pewe. Roy takes this to Alison Vosper, Deputy Assistant Commissioner at the Met. She tells Roy to keep quiet and leave things to her. Eight days later nothing has happened, but there two strange black Audis are parked in the police car park, and this sub plot also reaches its climax.
Finally, and sadly, the Bruno story also comes to a terrible climax. Bruno is the child Roy did not know he had with his former wife Sandy. Bruno had a terrible life with his drug addicted mother in Germany, and then, after her suicide death, was moved to a foreign country to live with a father he did not know, and his new wife. At the start of the book Bruno seems to be setting in, at long last, and likes caring for the family chickens. But he then releases them one night and a fox kills the favourite chicken. Bruno's school phones to say his behaviour is intolerable, and there is talk of expulsion. Bruno does tell Roy he hates school - no one talks to him, he knows more than all his teachers, and he is learning nothing. Is he a lot brighter than suspected, is he under stimulated and bored out of his skull? He climbs over the school fence, and engrossed with his mobile phone, walks out in front of a car, suffers head injuries, and is air lifted to hospital. Roy and Cleo rush to his bedside. What happens next is told movingly by Peter James - to whom I refer you, as I do not wish to spoil the story.
Definitely, we must read read the next book !
Links to author index and home page