Iain's Recommended Book Series
Rodney David Wingfield was born in East London in 1928. He had various jobs in the East End before eventually working for an oil company. His first radio play was accepted by the BBC in 1968, and when they commissioned two more plays he resigned his job at the oil company to work full time as a writer. He then had a successful 20 years career as a radio dramatist writing over 40 mystery radio plays. By 1988 however, times had changed, radio plays were falling in popularity, and his Frost books had been well received. So he switched away from radio drama to be a novelist.
It was in 1972 that MacMillan Publishers had first asked him to write a book - Frost at Christmas. Although it was initially rejected, it was published eventually in the eartly 1980's in Canada, and then a few years later in the UK. D.I. Jack Frost first appeared on TV in 1992 in the series "A Touch of Frost." Frost of course was played to perfection by David Jason. Strangely Wingfield did not like David Jason's interpretation of Jack Frost - "he just isn't my Frost". At the time of writing this, I have read only one Jack Frost novel (Night Frost), but I can see exactly what Wingfield meant. In the book, Frost is a foul mouthed, incompetent buffoon whose company I'd avoid at all cost. David Jason's Frost is more rounded, more likeable, and I think more realistic. For me, the TV adaptation is better than the original - which is unusual.
Unfortunately, R.H. Wingfield was diagnosed with prostrate cancer in 2002 - and it killed him in 2007. His wife Phyllis had died three years earlier. The final book, "A Killing Frost" was published in 2008. However in 2012 I have come across two new "Frost" books, where the author James Henry writes two prequels set in the 1980's, recreating the character Jack Frost, and these I have added to list. Perhaps I'll get round to reading them out of curiousity.
I had almost read all the Dalgleish and Wexford books, and was wondering what to read next when I chanced upon "Night Frost" in a charity shop. I thought I would "give it a go." I started reading it on the night that the last ever Frost (ignoring repeats) was broadcast on TV. My first impression of Frost in "Night Frost" is a bit mixed. I didn't at all like the Frost character in the book. But yet there is humour, Frost has won a gallantry medal, and Frost's crude jokes, inappropriate comments, etc, may be just a facade, a coping mechanism when he is faced with man's inhumanity to man. There was something about the Frost character that David Jason liked, so I'll make allowances, read a few books, and see how it goes.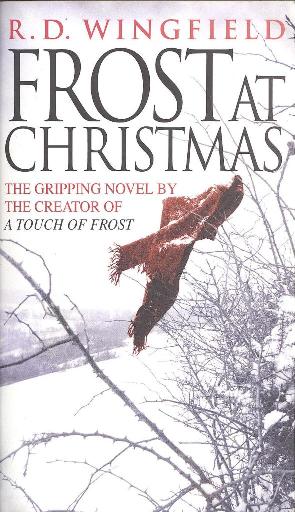 "Frost at Christmas" is the first Inspector Frost book, but the fourth that I have read. I started on "Night Frost", which is book 3. So my first reactions to Frost the book character are shown under the "Night Frost" write up. I didn't take to Frost at once, and was thrown by the very different character in the book compared with David Jason's TV version. However, this is the fourth Frost that I have read, and now I am fully into the book Frost character, with all his many imperfections.
Before I read "Frost at Christmas", I had been reading "Dying Light", by Stuart McBride. The character there is DS Logan MacRae, who has quite a few similarities with Jack Frost - both seem to think that sleep is for wimps. However Frost has the better reason for working all the hours - his wife died of cancer, and he has nothing to go home for, so he just works on until he drops. It's not very fair on his assistants. In this case Clive Bernard , the chief constable's nephew is assigned to Denton. He should have been working for DI Allen, but Allen is tied up with a missing girl case, and then is off ill, so Clive has to work for Frost. He is horrified at the inefficiency, messiness, forgetfulness etc of Frost. He tells his colleagues that Frost would not last two minutes in the Met. They give him a dirty look, and tell him they can see why Clive has a broken nose ! For all his faults, Frost is well liked by most at Denton.
As is usual in a Frost book, there is a lot going on at the same time. The main story is that of 8 year old Tracey Uphill who has gone missing. Her mum is a prostitute whose Sunday afternoon regular is an hour late, and so her mum, for the very first time, cannot meet Tracey when she comes out of Sunday School. This proves to be a terrible mistake. Then the efficient Inspector Allen is taken ill, and Frost takes over the case.
The story actually opens with a 999 phone call from a Mr Powell to report a break in - he has just shot an intruder who turns out to be Inspector Frost. We must wait until the very last chapter before we return to this part of the story, but it could be that Wingfield wrote the book as a one off, and intended to kill Frost. We all know that there were other Frost books, so obviously he could not really die, could he.
The story about Clive Bernard having to work all the hours after having to be assigned to Frost is quite like Frank Gilmore in "Night Frost" also arriving in Denton and also ending up working for Frost. Wingfield is a good enough writer, but Frost does not really develop through the book series. I like to see the character changing with time - eg like Commander Adam Dalgleish.
All that said though, I liked the book very much. The Frost character in book one is not so much an over the top caricature as I thought it was in some of the later books. It's a good read that held my interest throughout. Had I read this book first I don't think I would have been so thrown by the book character. So the conclusion is obvious, read book one first !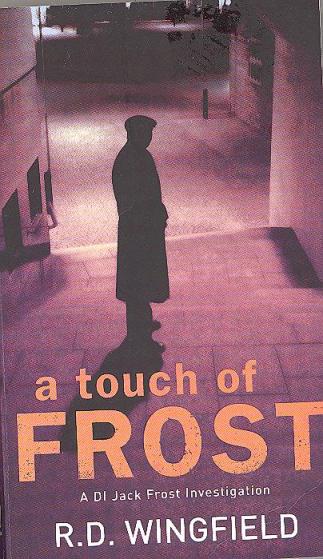 Usually I get all my books in charity shops, but this one was an exception. My son Jamie and family who now live in Sydney were over in the UK on holiday, and heard me complaining that I had read all the Frost books bar one. This was "A Touch of Frost" - one that I had never been able to find in any charity shop. So they bought me a new book - thanks.
A Touch of Frost was the second DI Jack Frost book, but as mentioned above, by the time I got round to reading it I had read all the other Frosts. I wish I had read it earlier. It is a good book. Frost is as much a mess as in the other books, shabby, foul mouthed, chain smoking, paperwork hating, etc, etc - but his behaviour is more believable, and not over the top as in some of the later books.
As is usual in a Frost book, everything seems to be happening at once, and Frost switches from one case to another by the minute. Such is the work load that there is never any time for sleep - somehow Frost doesn't seem to need to sleep, but pity Frost's assistant. In this book this is the interesting detective constable Webster. He is a former DI who lost his temper, hit a superior, and was demoted to constable. He still has his temper, and barely keeps it under control as he is teased by his new colleagues. He is like a bear with a sore tooth, snarls at everyone, and so is not the most popular of characters. He is very disparaging of DI Frost whom he regards as a disorganised idiot. Frost is certainly disorganised, and a bit slow sometimes, but for all that is a gifted detective.
What all is happening ? A rapist is attacking young girls in Denton wood, there is a robbery at the local strip club, the pampered son of the local MP is suspected of a hit and run, etc, etc.
I enjoyed reading this book. I liked the second last chapter best, when even the grudging Webster started calling Frost sir, but I thought the last chapter was a bit weak. I don't like it when some things are still left in the air at the end - I prefer a tidy conclusion.
Frost is a great character. Now I have read all the Frost books, and I will miss DI Jack Frost. Of course there is always the TV David Jason version with lots of repeats. My next set of books will be the DCI Alan Bates ones, by Peter Robinson. I doubt that they will be as good - nor as funny - but we shall see.
Links to author index and home page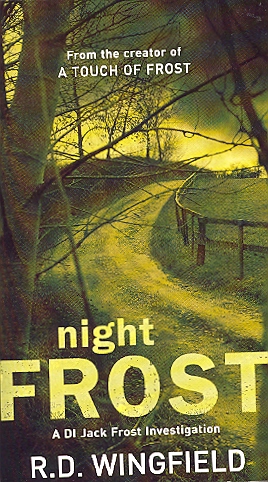 I chanced upon this book in a charity shop, and bought it for £1 as a change from Dalgleish and Wexford. I set it aside at the time, but got it out and started reading it on the night that the last ever DCI Jack Frost was broadcast on TV - the last of the highly acclaimed "A Touch of Frost" series. I knew that a lot of the popularity of the TV series was down to David Jason. The TV Frost is an extremely likeable anti hero figure. I wondered what the character would be like in the book.
It was quite a shock at first to find such an unlikeable book character. Jack Frost is an unorganised, forgetful, shabby mess of a man in both book and TV series, but in the book he is also a foul mouthed, crude, chain smoking oaf. Frost is so disrespectful of authority that I doubt if he would get away with such conduct in real life. But Frost's superior Mullett is equally unattractive. He lives in his own isolated world of his wood pannelled office, claims all the credit when things are going well, but blames others when they are not, and toadies up to divisional high command. In the book, Frost has won the "George Cross", the highest award for a civilian, and so many of Frost's "imperfections" are excused - well perhaps ! .
What of this particular story ? DS Frank Gilmore is a newly appointed detective sergeant assigned to Denton police station. He has been given an impressive induction document, and he looks forward to his new job. But when he arrives at the station he finds that there has been a 'flu outbreak, half the station is on sick leave, and the other half are having to work back to back shifts to cover. His induction timetable is torn up, and he is assigned to work for DI Frost - an untidy tramp. A serial killer is on the loose, preying on the elderly, and mutilating their bodies.
So Gilmore has to tag along with Frost - and just about everything happens. There are three murders in the first 24 hours . Frost seems to be the only detective in town, and goes from crime to crime. He never seems to sleep. There are an awful lot of balls in the air at the same time !
What can be said in Frost's favour. Well, he is well liked by his colleagues, and he is a totally honest copper. And somehow, he does seem to solve the crimes in the end.
Usually, I find the written word better than the TV series or the film - eg the Harry Potter books are infinitely better than the films - although I did enjoy the films too. But in this case, and based only on reading this one book, the TV series is an easy winner David Jason's Frost is beleivable, but the book Frost is an unbeleivable cartoon figure of awfulness. I'll neeed to read more books in the series to see if I am being unduly harsh.
Links to author index and home page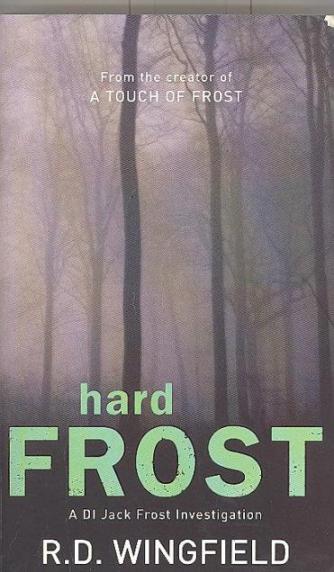 I read this book in August, 2010.
This is the second DI Jack Frost book that I have read - the first was "Night Frost". When I read that book I was thrown a bit to discover that DI Frost is a very different character from the one portrayed on TV by David Jason. In the books Frost is foul mouthed, almost incompetent and treats his superiors with such contempt that I doubt if he could have survived in real life. He would have been out on his ears years ago. In short, I didn't think it was very beleivable. But that said, there was a lot going on in "Night Frost", and the book was well written. So I decided to read another book to see what I thought.
"Hard Frost" is also a fast paced book, with such a lot going on at the same time. Frost is supposed to be on holiday, but pops in to the station and gets conned into "temporarily" heading an investigation by DI Allen. Allen is then assigned to act as a DCI in another Division - leaving Frost in charge. Allen's absence has in turn to be covered by temporarily promoting a sergeant to a DI. Sergeant Liz Maud hopes to get that promotion, but a sergeant Cassidy from another Division appears. Cassidy has a reputation for claiming credit for other people's work. He also has a grudge against Jack Frost - accusing him of incompetence in failing to investigate his daughters' hit and run death a few years ago.
The main story is that a boy, Bobby Kirby, has been abducted. Then a boy's body is discovered, but it is not that of Bobby Kirby. The abducted boy will be returned if the local supermarket chief pays a £25,000 ransom. There are all sorts of other things happening too, and Jack Frost has to keep on top of things, and not mess up. But he has a long history of messing up !
Jack Frost is still a chain smoking, foul mouthed, mess of a man - but this time the character defects were expected and didn't come as a shock. There is humour of sorts in places, and that is quite rare in a crime novel. And for all his defects, Frost has been blessed with formidable detecting powers. Somehow he seems to solve all that is thrown at him. But it is not modesty that prevents him from claiming credit for all the solved cases - he is too lazy to bother with paper work, and so hands everything over to colleagues.
There is still a lot to criticise in the book. Frost is too insolent, Mullett (in charge at the station) is too much of a toady, etc, etc. But the story does flow along with great pace. It's over the top, but well done and well worth a read. I seem to be warming the book version of DI Jack Frost. But I still prefer the David Jason character.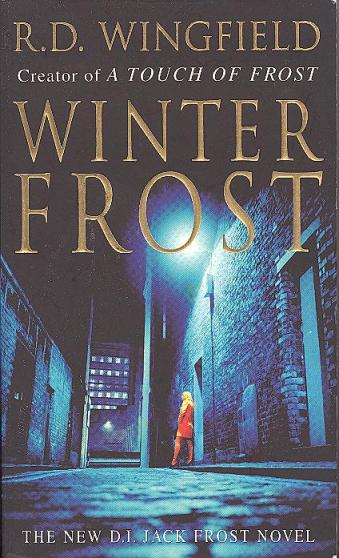 This is the fifth DI Jack Frost book, and also the fifth that I have read, but unusually I have not been reading these books in the correct order. And also unusually, I think, it doesn't seem to matter. Frost is as he is, and neither he, nor his circumstances, seem to change from book to book.
I have got used to the book Frost - very different from the David Jason TV Frost. This is a typical DI Frost book with such a lot happening at the same time - in this case, someone is serially murdering prostitutes, someone else is abducting young girls, a thief is at large stealing from houses, and using a stolen pillow case to make off with the loot, an old skeleton / possible murder victim is found buried in a back garden, etc, etc. And again, as is typical in a Frost book, most of Frost's colleagues are either away ill, or on loan to a neighbouring division, or off duty having an abortion (acting DI Liz Maud) so Frost is overworked, and having to keep too many balls in the air at the same time. So Frost lurches from mistake to mistake, losing confidence as he goes. And again as before, Frost is rude and foul mouthed, a chain smoker, a teller of crude jokes, a disorganised mess, etc. He is so bad, so out of his depth most of the time, so insolent to Sup. Mullett, that it is almost a caricature at times.
And yet, is spite of everything, we are on Frost's side - especially in his dealing with the two faced Sup. Mullett.
Its a reasonably well written book although there are some inconsistencies. A burger van has its tyres let down, so the owner goes off to get a tyre pump, and discovers the body of a dead prostitute under the van on his return. The body was not there when he set off. The van has to have its tyres pumped up before the body can be removed, but how the body got under the van is never explained.
But there is a lot of good humour in this book - I guess Frost and co. have to play pranks on each other to keep themselves sane.
All in all, I enjoyed reading this book - it's quite funny in places, easy reading, and quite a good page turner. More or less, everything is solved by the end of the book - but of course, Frost gets little credit. Well worth a read.
Links to author index and home page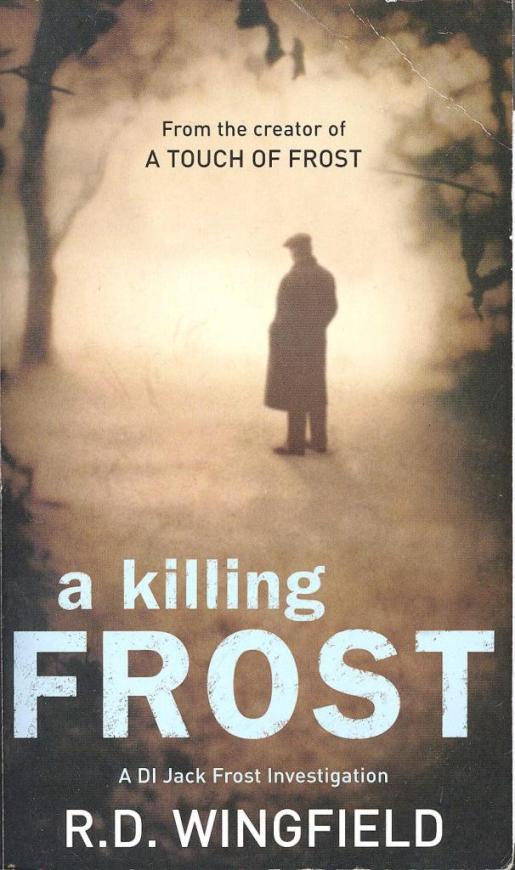 I read this book in September, 2010.
This is the third Inspector Frost novel that I have read, and somehow I have warmed to the very different Frost character of the books v. the David Jason TV version. In the first couple of books I hated the foul mouthed Frost with his cheap, sexual jokes. In this book, he is still a chain smoking , non pc, disorganised character, but strangely I now think of him as more sinned against than sinning.
In this book, the gutless Superintendent Mullett calls in a DCI Skinner to rid the place of Frost. Skinner has the reputation for taking the credit for other people's work. Mullet never backs anyone up - he leaves things to others whom he can then blame if things go wrong.
Why have I warmed to Frost ? He is very, very overworked, always seems to be trying to solve at least four cases at the same time, but yet he still keeps going. At one point, he is getting to bed at four am, and yet is up again two hours later. When there is so much work to be done, Skinner is no where to help. But even dirt tired, Frost leaves his bed in the middle of the night to follow up a clue that he has just puzzled out. Frost always seems to get an unfair deal. He is a good detective who supports and encourages his team, but yet he is full of self doubt. When exhausted and very low, he thinks of himself as a not very good DS who happened to get shot, got a medal, and then got wrongly promoted to be an inspector.
We also learn more of his history. At the start of their marriage he loved his wife dearly, but the demands of the job seemed to come between them, and at the end she died of cancer, a lonely death with Frost at the bed side, but love had left years ago. I think, in short, Frost is an under dog, and we all like to support the under dog.
What of the story ? Human parts are found in a wood, two youngsters have gone missing, and a local supermarket which has had food poisoned is being blackmailed by the poisoner. And of course throughout the book is the plan of DCI Skinner to get rid of Frost. Skinner catches Frost "cheating" with his expenses - Frost's is too lazy to claim for overtime, but inflates his expenses to compensate and as a stupid way of getting back at Mullett and the system that grinds him down. Rather than be dismissed Frost has to agree to be transferred out of Drayton.
So my conclusion is not be thrown by the unattractive parts of the Frost character - he is doing his best, and although he is sometimes his own worst enemy, he is really doing not too bad a job. Think of the book Frost as a completely different character. He is a good creation, and yes, I have warmed to him.
Links to author index and home page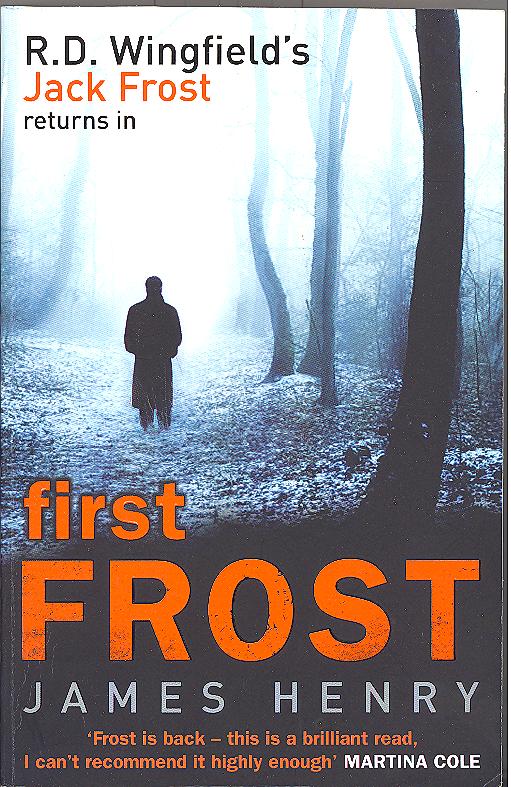 I read this book in August, 2012.
James Henry is the pen name of James Garbutt and Henry Sutton. James Garbutt is a publisher - in fact R. D. Wingfield's original publisher in the 1980's. Henry Sutton is an author, books editor of the Daily Mirror, and teaches creative writing at the Uni of East Anglia.
I chanced upon "First Frost" in a charity shop, and was surprised to find a new Frost title - I had read all six books by the author and creator of DI Jack Frost, R. D. Wingfield. I bought it, curious to see what sort of job James Henry could make of recreating Jack Frost.
I am not sure I really approve of another author recreating someone else's character. Part of me thinks that when an author dies, there should be no more books - i.e. the character "belongs" to the original author. That said though, I thought "James Henry" had made quite a good job of it really, and had mostly succeeded in re-creating Jack Frost. They have been very clever in writing the book as a prequel to Wingfield's books. Here we have D.S. Frost, before he became Inspector Frost, and so any slight differences in character can be explained away. So it's Frost, before he developed into DI Frost.
Jack Frost here is essentially the same Frost, but perhaps a bit softer, more like the David Jason TV version than the Wingfield version. Wingfield's Frost is rude and crude, yet somehow we still like him. This Frost is believable as a younger, less cynical version.
I liked the book, it was very readable, but I preferred the Wingfield books.
What is the story ? Frost is a DS in Denton nick, working under DI Bert Williams, his mentor and inspiration. DI Allen, the other DI at Denton, is away on holiday, and then DI Williams goes missing, and so new Surperintendent Stanley Mullett has no choice but to put DS Frost in charge when a 12 year old girl goes missing from a department store changing room. Then DI Williams body is discovered. Frost is convinced that it is murder, and he desperately wants to find out who did it.
There after, its the usual story of disorganised chaos, but somehow Frost manages to keep a lot of balls in the air at the same time. We meet DC Sue Clarke - a possible future love interest for Jack Frost. Jack is married to Mary, but the marriage is on the rocks. Jack is working all the hours under the sun, falling asleep at the office, or in his car, and he and Mary barely see each other.
It's a toned Mullett, a toned down Frost, a softer version - but I quite liked it. R.D Wingfield's son Philip gave the book his blessing, looking on it as a worthy tribute to his father's work. Who am I to disagree ? I look forward to reading the next James Henry book - "Fatal Frost"
Links to author index and home page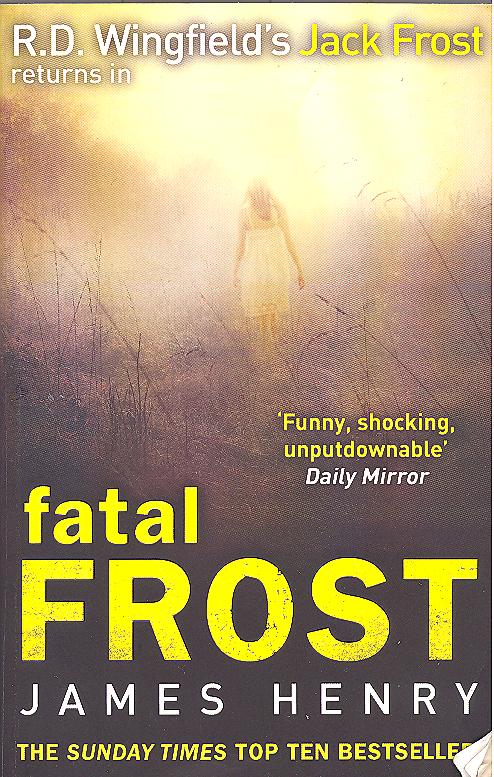 I read this book in January, 2013.
This is the second DS Jack Frost book written by James Henry. DI Frost was written and created by W D Wingfield, and usually a character dies with the author, but this time the character has lived on in the capable hands of James Henry. In the first book, James Henry was the pen name of a pair of authors - James Garbutt and Henry Sutton. I was puzzled as to how a pair of authors could write a book. The time, James Henry is only James Garbutt. I wonder what the story is behind this. The next book in the series is also written onlyby James Garbutt.
The Frost in this book is again more like the David Jason TV version that the Wingfield one. Sgn. Frost and Sup. Mullet still don't get on (a bit of an understatement) but their arguments are more believable. Wingfield's Frost is rude, smutty, and so insubordinate that Frost would have been dismissed years ago.
I think that we all know that DI Frost lost his wife Mary to cancer. In this prequel, Mary is still alive, but Jack and Mary's marriage broke down long ago. Frost is having an "affair" with one of the DC's in Denton nick - Sue Clarke - only Sue wants it to be a lot more than just an "affair." Jack just wants an occasional romp, with no committment. Mary is not well, and we all know that this is probably the start of the cancer - but Jack is still a chronic workaholic, falling asleep at work, not going home, and not even finding time to phone to ask how Mary is doing ! It's strange that we find Frost such a likeable character when he treats his wife (and Sue) so badly.
It's quite a good main plot - a 15 year old girl is found dead in local woodland, beside a railway line. Was it murder or suicide ? Then a 15 year old boy is found dead on a golf course in what appears to have been a ritualistic murder, and definitely not a suicide. Again DI Allen is away - this time on a computer course - and so DS Frost is in charge of what soon becomes 3 murder cases, and he is still being chased for results on all sorts of lesser crimes.
Frost is a good detective, but hopeless at admin. Yet he never gives in, and bungles on, and wins out in the end.
There is also a good story about an estate agent who turns to burglary on the side, and gets away with it for a long time, until his luck changes with a vengeance. We also have a new, and black face at Denton - DS John Waters on secondment from the Met. We get quite a good picture of racial prejudice in the 1980's. Jack and Mullet agree for once - both abhor racial descrimination in any form, and are determined to stamp down on it - but of course in their own different ways.
I liked the story lines, and kept turning the pages to see what happened next. I'll certainly read the next in the series - "Morning Frost" due out in 2013. I wonder if it will still be a prequel ?
Links to author index and home page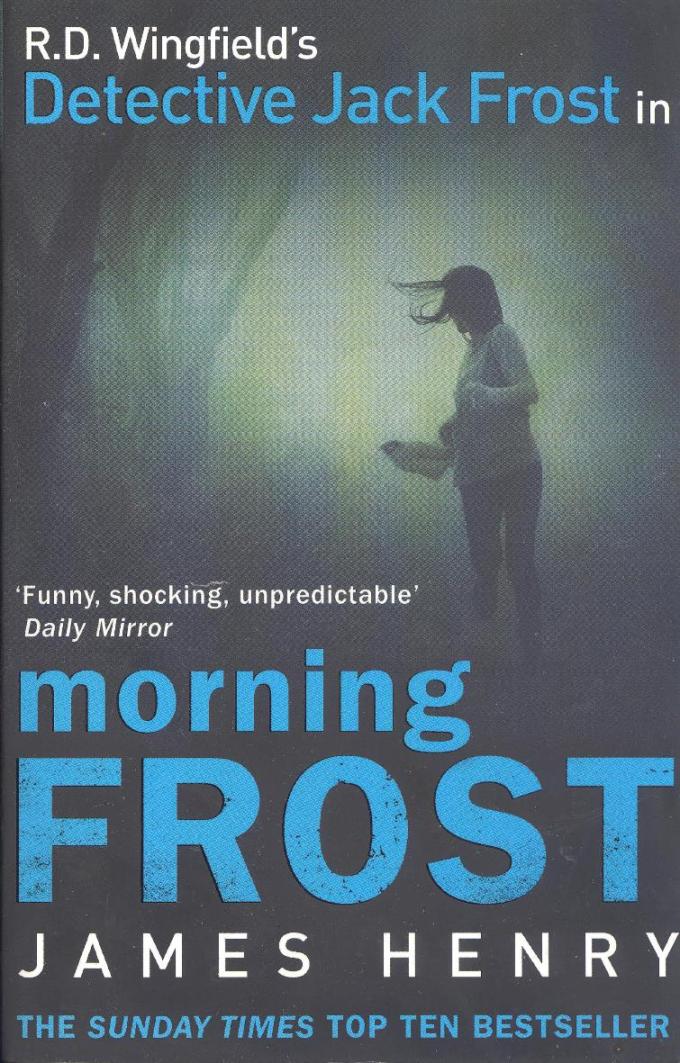 This is the third DS Jack Frost book written by James Henry, and recalling the DI Frost character originally created by W D Wingfield. In "First Frost" James Henry was the pen name of a pair of authors - James Garbutt and Henry Sutton. In the later James Henry books, the only writer is James Garbutt. Essentially, it's the same Jack Frost, jokes and non pc, but it's a less crude and less jocular Frost on parade in this book because the book opens on one Thursday in November, the day Jack buries his wife Mary.
To recap, theirs had started off as a happy marriage, but Frost was married to the police force, and poor Mary was neglected. Soon it wasn't the happiest of marriages, and both had affaires. Jack even slept with DC Sue Clarke, but he stopped the affaire when he found out his wife was dying of cancer. Wingfield's books told the story after Mary had died, and so far, James Henry has written prequels, before Mary's death. Perhaps this will be the last prequel, and later books might overlap ?
So, this book opens with Frost, still a DS in the Denton police, on the day of the funeral After the funeral, everyone is invited back to Mary's parents house. Superintendent Mullet is amazed to see how many attended the funeral - the mayor, the local MP, ACC Winslow, etc. He discovers that Mary's dad is high up in the local masons, so smarmy Mullett determines to become a mason.
The book spans only six days - it opens on a Thursday, and closes on the following Tuesday. Life at Denton is as hectic as ever. A local entrepreneur, Harry Baskin, gets himself shot by a girl assassin. This same girl and Frost have history - the girl is back to kill Frost, and Frost in turn is hunting her for the death of his old police mentor. Sue Clarke is dealing the discovery of a severed foot in a farmer's field, and a young cyclist is found dead - was it an accident, or a hit an run. Sue Clarke's mind is not 100% on the job for a very understandable reason ......
Jack seems to be running on alcohol, chain smoked fags, and precious little sleep. His empty home is flooded, but he seems contented enough just to wade through the mess. Contented is not the right word for Frost, a tormented troubled soul. He has long ago run out of clean things to wear, is unshaven, and is a mess ! ACC Winslow wants him promoted to DI, but poor Mullett cannot bring himself to tell Jack. He postpones this, hoping Jack will drop a terrible clanger, and so Mullett will not have to make the appointment. And Denton is being computerised - not exactly technophobic Jack's strongest skill.
The book was well written, and I enjoyed reading it. I could have done with a little more humour from the old Jack, but he has just buried his wife, so perhaps not. I think its good that the original Frost character lives on - but only so long as the character stays true to the Frost identity.
It's not the best book in the series, but interesting, and I'll read on if there are any more books. It had quite a poor ending, I thought, with quite a few loose ends, but that is life after all.
Links to author index and home page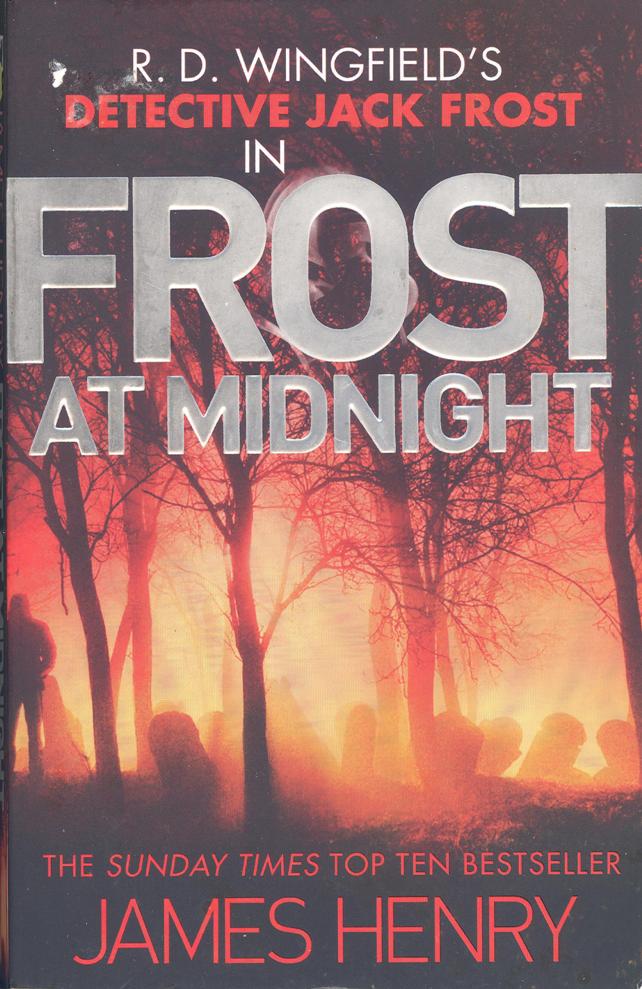 I read this book in January, 2019.

This is another of the post R.D Wingfield Inspector Jack Frost books by James Henry, who is now the pen name of James Gurbutt. More or less its still the same Inspector Frost, but his character does change slightly from book to book. The shear humanity of DI Frost runs throughout the series, and it all seems to work - at least it has so far for me.

This is a typical DI Frost outing, reality suspended, and way over the top farce in most things. There are lots and lots of incidents under simultaneous investigation, Frost is still at war with Superintendent Mullet, and the book is packed with a rich vein of good humour. "Frost at Midnight" is set in the time just after Jack's wife died, and he was promoted to DI. Sadly, he is a walking mess, dresses in cheap nylon, is dirty, and almost smelly. How can he do a public facing DI's job looking like that ? His former home is sold. Frost is homeless, and kipping on friend's sofas. And so he has inflicted himself on DC Sue Clarke. As a house guest he is untidy, flicks cigarette ash everywhere, and blows smoke rings at Sue's baby son Phillip. He is generally unkempt, and leaves the bath in a terrible state. We can appreciate that Sue has had enough, and it's time for Jack to move on. Sue herself has her own problems - her boyfriend PC Simms was killed at work, and understandably (but not to Mullet) she had lost self control when interrogating his murderer. So she finds herself an unmarried mum on compassionate leave but about to be dismissed. In this contect it is just possible to believe that she had had a one night stand with Frost, and that Frost may be baby Phillip's father - possible but unlikely.

Frost seems to be blackmailing Mullet in an effort to get Sue Clarke reinstated.The suggestion is Mullet's wife was driving a car involved in a hit and run case, and this was "hushed up".

After all the scene setting, there are two main murder cases for Frost to solve. Rachel Rayner is a prostitute found dead on a tombstone. Who killed her, and why was her body left exposed where it was ? June Hammond has gone missing, presumed dead. Again, who did it ? June had a young son, and there is a touching scene where Frost comforts the young lad. In spite of everything mentioned above, beneath all the jokes and banter, Jack Frost is a decent man, and one who is held in high esteem by his colleagues. Thus, somehow, Jack is DS Waters's best man at his coming nuptials. Will Jack remember to turn up, will he lose the ring - and what was Waters thinking, relying on Jack Frost ?

All in all, there is indeed a lot going on, with lots of mistakes and humour. But everyone knows that somehow Jack will solve the murders, and get justice for the victims. It's farce, but good fun, and a good read, and more or less mostly the same Jack Frost, but only just.

The Jack Frost character is quite precious - I am starting to wonder if he is still in safe hands with this current author. We shall see.








Links to author index and home page