Iain's Recommended Book Series
My son-in-law Andrew comes from Shetland, so I think this is why I pricked up my ears when I heard about the Shetland Isles Quartet - four books by Ann Cleeves about crime in Shetland and the Fair Isle, featuring DI Jimmy Perez.
Ann Cleeves was born in 1954, and now lives in Whitley Bay, in the North East of England. When she started to write about Shetland in 2003, she was already a published novelist with about twenty years experience who had met with limited success and recognition. She started writing books she said because she found herself in some very remote (bird sanctuary) settings, and there was nothing else to do. Biographies still say that she is best known for the Inspector Ramsay novels - six books published between 1990 and 1997. I may give them a try if I end up liking the Shetland Quartet. She also wrote the Vera Stanhope series - four books published between 1999 and 2011. However, its the Shetland Quartet that concerns us here.
Ann grew up in the country, first in Herefordshire, and then in North Devon, where her father was a village school teacher. She dropped out of university at the age of 19, and had a number of temporary jobs, before eventually training for the probation service - which must have provided a good background knowledge for a crime writer. One of her temporary summer jobs was as a cook at the bird sancuary lodge on the Fair Isle. This was in 1975. Fair Isle is a small, very remote island off the north of mainland Scotland, about half way between Orkney and Shetland. It measures 3 miles long by 1.5 miles wide. You get there by plane of ferry, but both stop running when the weather is bad - i.e. both often stop running. Ann stayed in Fair Isle for two years, and she met her husband Tim there - he was a visiting ornithologist who worked for the RSPB. In 1987, Ann, Tim, and their two daughters moved to Northumberland - where most of Ann's books are set. They finally ended up in Whitley Bay in 2006. This was the year Ann won a £20,000 book prize.
As mentioned above, it was not until 2003 that Ann started to write about Shetland, and "Raven Black", the first book in the series was published in 2006. Following reports of the sighting of a rare coot in Shetland, Tim and so Ann flew up to see it - they were then living in West Yorkshire. The story goes that it was a freezing day, and "the light of a huge orange sun picked out three ravens on the ground, their oily black sheen contrasting with the white snow". Quoting Ann (as reported in an article in The Daily Telegraph), "I thought, if there were blood as well, it would be like a fairy story. Snow White, and her blood red lips, and all that." Tim confirmed that ravens would feed off a dead body, and so we have the opening of "Raven Black".
Ann's creation, detective inspector Jimmy Perez is a Fair Isle's man. An ancestor of his was shipwrecked in 1588, when a ship of the Spanish Armada was blown off course, and floundered off Fair Isle. The ancestor struggled ashore, but was then stranded, married a local girl, and ever since there has been a Perez on Fair Isle. The population of Fair Isle has dropped through the years, and today is about 70, mostly middle aged people. There is a shop, but no pub - so I'll probably give the place a miss. It's a close knit community where everyone knows everyone else. Jimmy leaves to find employment, becomes a policeman, does well, is promoted, and ends up in Shetland, but will he ever return to Fair Isle to follow the family tradition and captain the Fair Isle ferry ? The books capture the atmosphere perfectly, and in spite of the bloody crimes, are gentle, slow paced creations - and are very different from other crime series. Jimmy Perez is a great, laid back character who would be hopelessly out of place in London, but is perfect in a sleepy backwater.
"Raven Black" won the first £20k Duncan Lawrie Dagger award in 2006 - this replaced the CWA (crime writer's association) gold dagger award.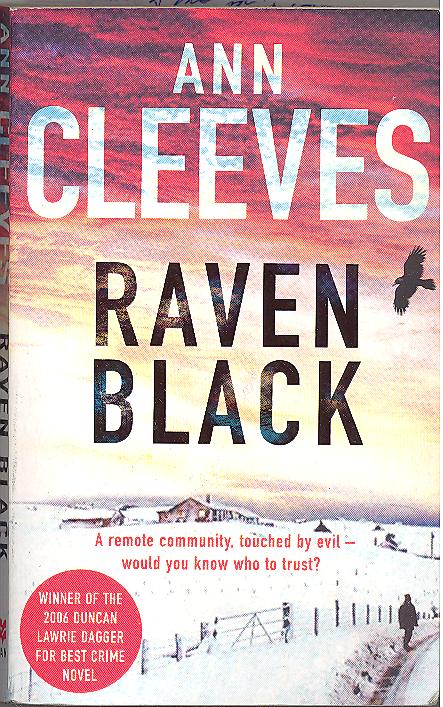 "Raven Black" is the first of a quartet of books about DI Jimmy Perez, set in Shetland. A second series of books was added, starting in 2013. As mentioned in the Ann Cleeves introduction, my son-in-law Andrew comes from Shetland, so I had been looking out for these books for some time. They all have a colour in the title.
Ann Cleeves has lived in Shetland, but is not a native, and so I wondered how well he would be able to depict life there. As far as I can tell, she has made a good job of it.
"Raven Black" is a very slow paced book for a crime novel - so very slow that I wondered if it really was a crime novel after all. The book opens with the death of teenage Catherine Ross. She is found by Fran Hunter, mother of young Cassie Hunter, and separated, former wife of Duncan Hunter, a local big wig with international connections. Jimmy Perez is the local DI, but so low is the level of serious crime in Shetland that a mainland DI is called in to take charge of the investigation. Jimmy Perez readily accepts this as normal, in fact Jimmy is inspired by the incoming DI's motivational speech. Catherine Ross's body has to be left where found in a remote field until a scene of crime officer can arrive, also from the mainland.
And now not much happens, other than we are introduced to lots of characters who live in the neighbourhood. Magnus Tait is a poor old man living all alone in his dead mother's house. He is child like, a simpleton - formerly he would have been the village idiot. The crucial question, handled excellently by Ann Cleeves, is, is he harmless? Or does he like little girls and not know what is appropriate and what not, in short when to stop. Another young girl, a neighbour, Catriona Bruce, had disappeared about six years previously. Everyone blamed Magus Tait, but a lynch mob that turned up at their house was turned away by his mother Mary Tait, who was still alive then. Magnus was arrested and roughed up by the local police - an understandable, but over reaction when Magnus, unable to control his facial expressions, smiled / grinned at the wrong time. Mary Tait told Magnus to say nothing to the police, and Magnus had learned to do as his mother told him. So the story is, did Magnus do it ?
Although the book is desperately slow paced, I still found it easy reading, and I kept turning the page to see what might happen next. Jimmy Perez is a very likeable character. He is from the Fair Isle - a Perez was shipwrecked there in 1588 when a Spanish Armada ship was blown off course, and perished there. Jimmy's great, great, etc grandfather survived, struggled ashore, and eventully married a local girl, and a Perez has been the captain of the Fair Isle to Shetland ferry ever since. Jimmy was sent to Shetland for his secondary education - and he was often marooned there when the weather was bad. Jimmy knows everyone on Shetland, and they all know the inspector with the strange name. Jimmy is now separated from his wife Sandra, and there does seem to be some history between Jimmy, Fran Hunter, and her former husband Duncan. At school Duncan had been Jimmy's best friend, but now no more. Did Jimmy and Duncan fall out over Fran ? It certainly seems that Jimmy has feelings for Fran - will more come of this as the book series progresses?
Soon we have heard about everyone's love life, and we are no nearer to solving the crime - it seems to have been set aside for a large part of the book.
Finally however, Ann Cleves remembers that she is suposed to be writing a crime thriller, and we come to the final stages of the book. The pace at long last is stepped up. It's an unexpected, but satisfying and beleivable conclusion.
At the start of the book, Jimmy's mother had phoned from Fair Isle to tell Jimmy that the tenancy of a croft on Fair Isle was to be become available. Was Jimmy interested ? The book ends with Jimmy friends with Fran - will he stay on Shetland to be near Fran, or return to Fair Isle ? - To be continued - I will definitely need to get the next book in the series !
This is a very different kind of crime thriller. I thought I was reading romantic fiction for a lot of the book, but I ended up quite liking the location, the story, and the characters. I do want to find out what happens next to Jimmy Perez. Well done, Ann Cleeves.
Links to author index and home page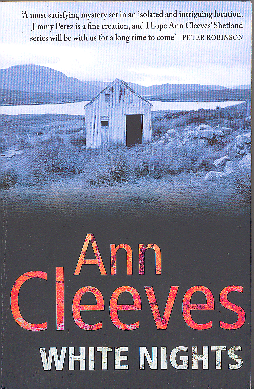 "White Nights" is the second book in the Shetland Series by Ann Cleeves. It's set in the Shetland Isles (obviously), and the crime solving hero is Jimmy Perez. As in book one, Jimmy is not thought experienced enough to head up a murder investigatiopn, and so once again, Liverpudlian Roy Taylor , a DI like Jimmy, is called in from Inverness to take charge. The two men worked together quite well as a team in "Raven Black," although they are very different in temperament - Roy has too much energy to sit still, wants action all the time, is almost hyper active, but Jimmy is very laid back, slow paced. There is a sort orf friendship between the two, but also a rivalry - Jimmy solved the previous case, not the big shot detective from Inverness.
I thought that once again the book captured the slow pace of a closed island community perfectly. I can imagine that this is exactly as it used to be in Shetland - in fact may still be, for all I know. Ann Cleeves is not a local, so well done !
The books are almost more romantic fiction that crime novels - everything takes time, and there is plenty of it. There are two stories running at the same time. The crime story is set in a tiny coastal hamlet of Biddista where most of the inhabitants all went to school together, knew each other from since they were babies, and there is little privacy. Kenny Thomson tends a farm, several crofts that he has joined together through the years, and he does a spot of fishing too. He discovers a body hanging dead in the boat shed he had built several years ago with his long lost brother Lawrence. The body is that of a stranger whom Perez had met the previous night when the same stranger had interrupted an art exhibition. The body is wearing a clown's mask. At first, it seems to be suicide, but it is not. The exhibition had been to show the latest work of Bella, a local, but internationally famous artist, and the local Fran Hunter.
And this takes us to the second, and almost main story, the private life of Jimmy Perez. The previous book ended with the question, would Jimmy move to Fair Isle to take up a rarely available vacant croft tenancy, or stay in the police force in Shetland, and perhaps win the hand of the fair Fran Hunter. Well, Jimmy has stayed in Shetland, and his friendship with Fran blossoms in this book, so that Fran and Jimmy become a couple. The friendship might even work, as each realises the other's need for space, that each has a work passion - when on a case, this takes all of Jimmy's attention, and when Fran is painting, this also is a similar passion. We start the book with them both feeling their way - amongst other reasons to take things slowly, Fran has a daughter Cassie to consider, and protect.
I loved 90 per cent of this book - the very slow pace, and how easy it was to read. It is set in the "Simmer Dim" summer in Shetland - when the sun rarely sets, sleep is difficult, and "everyone is driven slightly crazy." All the characters are interesting, Kenny Thomson, and his wife Edith, Bella who apparently hurt Lawrence so much that he upped and left Shetland without saying goodbye to anyone, not even brother Kenny ( in case he was persuaded to stay). Taking off is fair enough, but why had the brothers never got in touch again ?
Unfortunately the 10 per cent that I didn't like was the ending. It made sense, but I didn't think it was a big enough big event climax to which the book had been building. Still, liking 90 per cent of a book is good enough, and I look forward to reading the other two books in the series. Roy Taylor is being promoted, and is going back to Liverpool to head their crime section. So perhaps Jimmy might be allowed to handle his the next murder on his own. We shall see. Hopefully he and Fran will still be together.
Links to author index and home page


"Red Bones" is the third DI Jimmy Perez book in the Shetland series by Ann Cleeves. I am reading these because my son-in-law comes from Shetland, so that is a sort of local interest. I enjoyed books 1 and 2, but overall, I didn't really enjoy reading this book. All the stories are slow paced, and everything happens in its own good time, but this book was just a little too slow paced, and not enough action.
What is the plot ? An old lady Mina, who lives in Whalsay, one of the Shetland Isles, is shot dead one night by one of the locals in what seems to have been a tragic accident. The man with the gun said he was out shooting rabbits at night, claimed that he shot no where near where Mina's body was found, but accepts that as he was the only one out shooting that night, he must be to blame. Forensics cannot help in this case. One of the less gifted Shetland detectives who worked for Jimmy Perez, Sandy Wilson, happened to be on the spot, and surprisingly, did reasonably well coping with things until Jimmy could turn up. Mina had been wearing someone else's waterproof at the the time she was shot - the coat was Heather's, who was in charge of a local archeological dig. Then Heather herself was later found stabbed to death. What was going on ? Jimmy Perez eventually solves the case, but I had almost lost interest by then.
Part of the problem that I found with this book might be that the main character is almost Sandy Wilson not Jimmy Perez. Sandy Wilson wasn't an interesting enough character to hold my interest. I like to read about the adventures and private lives of the main characters, in this case Jimmy Perez, and his girlfriend Fran Hunter. Fran is in London, Jimmy is missing her, having self doubts, and that is about all. In short, not enough to hold my interest.
Not enough happens, I didn't like this book, and I can't recommend it. However at the end of the book are the first two chapters of "Blue Lightening, book four, and on reading these chapters, this seems a better read. So, I'll read on.
At least in this book, Jimmy got to investigate the case on his own, without importing some Di from Inverness or wherever to supervise.
Links to author index and home page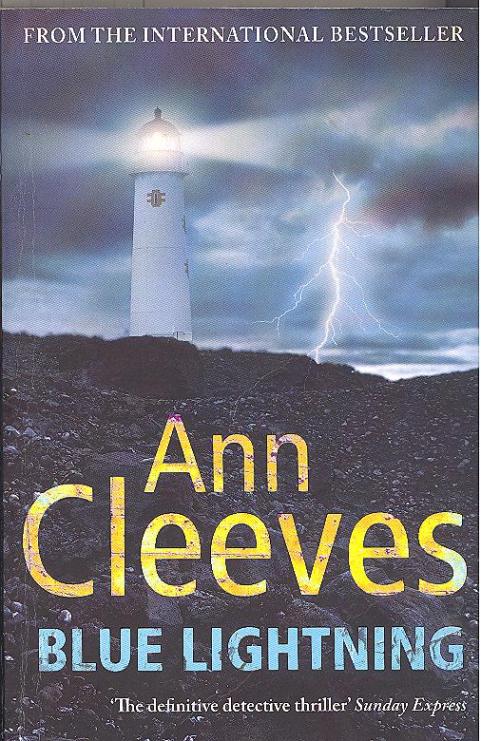 "Blue Lightening" is the 4th, and as I write, the final, book in the Shetland series by Ann Cleeves. It features DI Jimmy Perez. I liked books 1 and 2, didn't like book 3, but my goodness, Ann Cleves in back on form with book 4 (but why such a sad ending ?) To the list we can now add "Dead Water" published in 2013, and more are promised.
In an interview, J.K.Rowling said that if she were ever to meet Harry Potter in real life, she would like to take him out for a meal, and try to apologise for some of the hard times she gave him. I wonder if some authors actually grow to hate their creations. A few kill their characters - Morse, Holmes, etc. Ann Cleeves created a very likeable, sympathetic character in DI Jimmy Perez. Why did she end up punishing him so ?
I was reminded in this book of P.D.James and Adam Dalgleish. He was a detective poet who had lost his wife and child some time in the past, and at the start of the books had a terrible sadness about him - a loneliness that explained his remote character. But eventually Adam found happiness ( we hope). Perhaps Ann Cleeves will write more books in the Shetland series, and be kinder to Jimmy Perez.
What of the story. It is set in a bird centre on Fair Isle, where Jimmy comes from. The centre is run by Angela, who is married to Maurice. Jane is the cook there. Angela sleeps around with some of the visitors to the centre, and with one of the locals on the Isle. She is a nasty controlling woman. When she is found dead in the bird centre, it is the night of a terrible storm when the centre door had been locked and bolted to keep out the fierce wind. So it's a secluded closed location where one of only a handful of characters must be the murderer - its almost a P.D.James setting.
By co-incidence, Jimmy Perez has chosen this very weekend to take Fran, his fiance, to Fair Isle to meet his parents, Mary and James. It's a nightmarish flight on to the island, and Fran is convinced that the plane is going to crash, and that she will die. Who then will look after her daughter Cassie - who has been left on the mainland with her Cassie's father ? The plane doesn't crash, and we forget this incident caught up in the action of a terrific story. I can't really say more without giving away the plot, and spoiling a terrific climax of an ending.
If there are more books in the series, then I will read them to see what happened next to Jimmy Perez. It's Ann Cleeves book, and of course, she must write what she wants to, but I take the ending as an act of extreme cruelty. Jimmy should have been the creation of a kinder pen ! I certainly won't read any of the other books by Ann Cleeves !
Links to author index and home page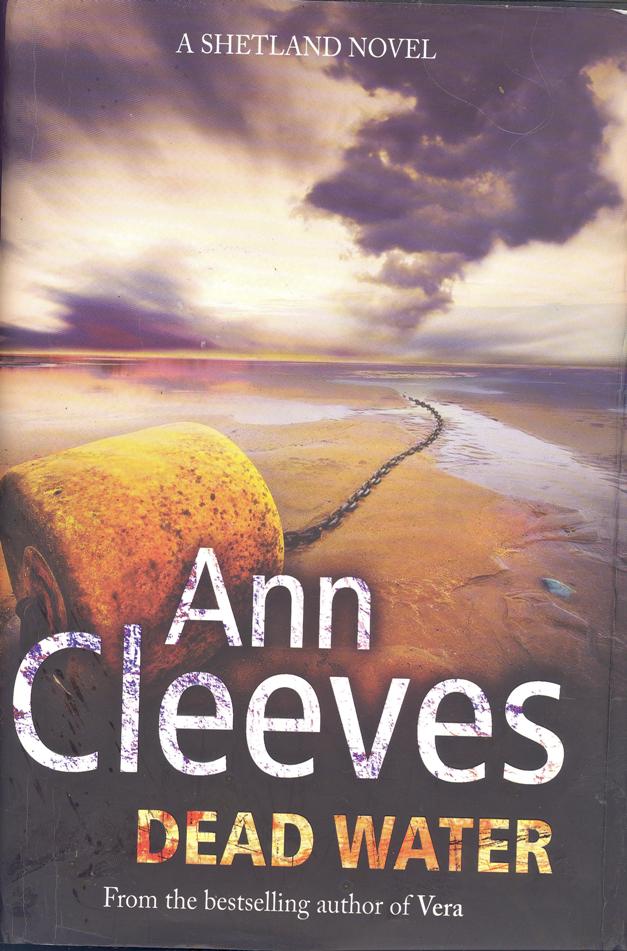 I read this book in August, 2014.
I'm glad Ann Cleeves finally got round to writing this book - the fifth in the series set in Shetland and featuring DI Jimmy Perez. Books one to four comprised the Shetland Quartet - and I feared book four might be the last. I have been going on about how poorly some authors treat their characters, and just about the worst was how Ann treated poor Jimmy Perez. She gave him the promise of happiness, then snatched it away. Jimmy had met Fran, the love of his life, and her lovely young daughter, 7 year old Cassie. Then Fran got stabbed and died in book 4, just before she and Jimmy were to get married.
This book opens 6 months after Fran's death. Jimmy is ill and depressed. He is barely functioning, but is looking after Cassie - and he has to hold himself together for her sake. Cassie is now everything to Jimmy - but it breaks his heart every day when she smiles at him with Fran's smile. Every day a constant reminder of what he has lost.
Jimmy has been on leave of absence, but has returned to work part time, and too soon. He is silent, moody, and loses his temper easily. Everyone is sympathetic - but he is losing friends with his behaviour. It's all such a sad story, but beautifully handled by Ann Cleeves. Towards the end of the book we start to see flashes of the old Jimmy - but he still has a long way to go.
Jerry Markham is back in Shetland. He had been a journalist on the Shetland Times, but went south and did well. Why is he back in Shetland - possibly on the track of a hot story ? He is found dead - did someone want to stop his enquiries ? Years ago, Jerry had got young Evie pregnant, but then abandoned her. Quite a lot of people have reason to dislike Jerry. Then there is another murder.
A DI from Inverness is sent to be senior investigating officer - this is Willow Reeves's first murder as SIO. She, like everyone in the Highland Police Force, knows of Jimmy Perez. She does a good job of handling Jimmy, but also must concentrate on solving the murders. Jimmy Perez is a formidable detective, and even an ill Jimmy is better than no Jimmy. Sgnt Sandy Wilson would like nothing better than if Jimmy got well and things went back to how they used to be.
It's a good, complicated murder(s) story - a real puzzle. It's very well written. I greatly enjoyed reading it, I'm glad Jimmy Perez is back after a gap of three years, and I look forward to the next book. Will Willow and Jimmy meet again - surely yes ?
Links to author index and home page


I read this book in January, 2016.
This is book six in the Shetland series, and it reunites DI Jimmy Perez with DCI Willow Reeves. There is again a strong feeling / attraction between Willow and Jimmy, but Jimmy is still mourning the loss of Fran, the love of his life, still racked with guilt that he was responsible for her death, and still intensely proud, and protective of Cassie, Fran's daughter entrusted to his care. Cassie and Jimmy had kept each other going, each trying to be be strong for the other, and mourning in private. It's such a touching story. Jimmy sees Cassie off to school each morning, and checks or waits until she is safely into the classroom before leaving. Cassie's safety is priority number one ! It's a story beautifully and sensitively told by Ann Cleeves.
Jimmy is now back at work as a DI in Shetland, but not of course back to his old self. His assistant DS Sandy Wilson is still in awe of Jimmy, but Sandy is developing into a competent policeman, although he still lacks self belief, and prefers to be lead, rather than to lead.
The story concerns a group of university friends, Caroline, Eleanor, Polly and Shetland born Lowrie. Polly is now a timid librarian who has go getting Marcus as a partner, Eleanor and Ian have got married, Eleanor has her own TV production company and now Caroline and Lowrie are married, and all are to return to / visit Shetland to have a traditional local party to celebrate Caroline and Lowrie's wedding. Lowrie's mum and dad, Grausche and George live in Unst, one of Shetland's northern isles - and so it's there that the plot is set. Grausche is German born, a forceful, strong woman, like Eleanor, and a doting and protective mum for Lowrie.
Eleanor is making a documentary about people's gullibilty, and the willingness of rational people to believe in ghosts. She has researched the story of "Peerie Lizzie", a young girl who drowned years ago, but whose ghost appears - usually foretelling a birth and a death. Eleanor has had two miscarriages, and so possibly she hopes to see Peerie Lizzie and perhaps become a mother ? Eleanor thinks she does see Lizzie, but Eleanor is found dead, her body sort of posed on the shore. Jimmy and Sandy head north to investigate, and Willow is sent in to head up the inquiry. Is there really a ghost, who killed Eleanor, and why, and why a second murder ?
It's a terrific slow paced story expertly told by Ann Cleeves, and I loved 90% of the book. The last 10% of the story was the ending, and there was nothing wrong with the ending, but I thought the excellent atmospheric journey was better than the destination.
Throughout it all we have Jimmy still in mourning for Fran, and Willow working closely with Jimmy, but knowing that Fran would be a difficult person to follow, and that Jimmy's priority would always be Cassie. The story sets up several endings for Jimmy / Cassie / Willow - and I'll not spoil the story by saying more. But there must be another book !
Links to author index and home page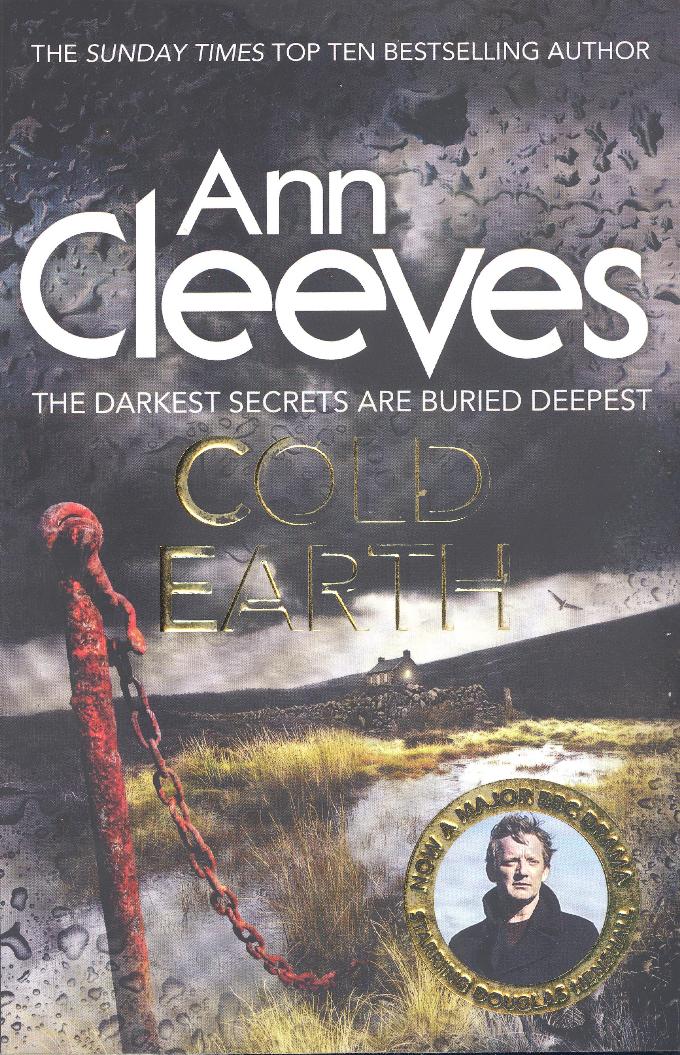 I read this book in March, 2017.
This is the seventh book in the Shetland series by Ann Cleeves, and features DI Jimmy Perez. It's another terrific book in this excellent series. Really you should be reading this series in the correct sequence to appreciate how Jimmy Perez has had his life shattered by the death of his beloved Fran, but now he is back at work, and caring for and loving young Cassie - she still wakes in the night crying for her mum, and Jimmy never knows what to a say to her to bring comfort, but surely she must know how much Jimmy cares for her. The start of the book, and in only a few pages, gives a brilliant reminder of the story so far, and anchors Jimmy in his beloved Shetland, a sense of place and a place he could never leave. But all that said, there are signs of time moving on. Jimmy is admired by all who know him, and there is talk of the tall, dark and handsome Jimmy making someone a good husband.
We also meet DCI Willow Reeves again, and yes romance is on the cards. Neither wants a one night stand, both would need committment, but can Jimmy give this committment when 100% of his loyalty belongs to Cassie. How could he disturb her young life once again when what she needs is stability and not the change that a new woman in Jimmy's life would bring. Willow Reeves has a biological clock that is ticking, and she does long for motherhood - she is almost broody. Things do develop between Jimmy and Willow, but it is handled perfectly by a talented writer. On the night in question Jimmy strokes Willow's hair, but then the chapter ends, and only later do we find out what did or didn't happen. I thought it was brilliant writing.
I think the Willow / Jimmy story is the main one, but there is a murder to solve. There had been a lot of rain, and there was a landslide on Shetland which swept through what was thought to be a deserted cottage. Jimmy, at a funeral in a nearby graveyard, only just escaped the landslide, but as it swept through the graveyard, it swept away Fran's headstone. Jimmy didn't need any headstone to remember Fran, but it was upsetting - and what about young Cassie ? Anyway, the landslide sweeps the body of a beautiful young woman out of the cottage and into full view. Who on earth was she? Jimmy imagines she is Spanish - and Jimmy Perez has Spanish antecedents - and so Jimmy feels some sort of connection, and is determined to find out initially who she was, and then later to find out who killed her. Murder is a serious crime - hence a DCI is required - an so Willow Reeves returns to Shetland.
It's a good crime mystery that must be solved, and throughout we have the Jimmy - Willow dynamic. DS Sandy Wilson has not changed - he still is happier taking orders that giving them - but even Sandy picks up the atmosphere between Willow and Jimmy. We also meet lots of new characters - eg Mavis and Councillor Tom Rogerson, the Hay family, mum, dad and the two boys, and a local psychologist Simon Agnew who runs the "Befriending Shetland " counselling charity.
As the story unfolds, tension builds as Willow's life is in danger and Jimmy rushes to her rescue. Will Jimmy, who couldn't save Fran, manage to save Willow, or is cruel history going to repeat itself.
As with all good series, quite a lot of personal stuff is left up in the air at the end. We will have to wait for the next book to find out what happens next. I'm in the queue !
Links to author index and home page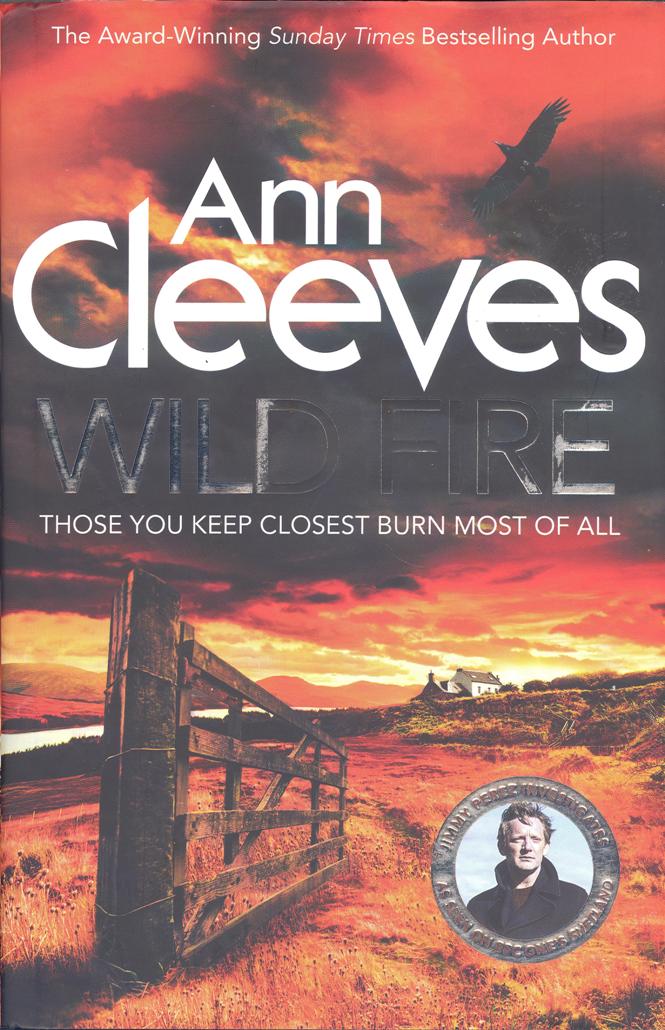 I read this book in May, 2019.
In the Acknowledgements at the start of this book, Ann Cleeves tells us that this is the last Shetland novel. I think it's so sad when an author tires of a book series before we do. She says her connections with Shetland are now growing quite distant, and it's difficult for an outsider to write of a place that is so special. Perhaps she might later have a change of mind ? It wouldn't be without precedent. Initially I felt a little disappointed that the last book in the series was not an extra special one, a classic, the best yet. But I have changed my mind - its a good, clever book, a bit slow in places, but a good read, a strong crime story, and, eventually, a satisfactory ending to the Jimmy Perez / Willow Reeves romance.
Let's deal with the crime story first, a murder that means that Jimmy Perez must call in a DCI to head the investigation - i.e. DCI Willow Reeves and DI Jimmy Perez meet up again. We meet two families. The Moncrieff family is local GP Robert, his wife Belle, and their four children Martha (16), Charlie (15), Sam (10) and Kate (8). They have a live in childminder in Emma Shearer (24) and it is Emma who is murdered - she was found hanging from a beam in neighbouring Flemings' barn. She is wearing a retro dress of her own design, but her shoes are missing. When these shoes eventually turn up they provide the vital clue that solves the case. The other family are the Flemings - architect Daniel, Helena, a famous knitwear and textile designer, and their two children - severely autistic Christopher, and young Ellie. The Fleming have moved to Shetland from England, but have not been made welcome by their neighbours. Their house was formerly a croft but the crofter could not make a go of it and lost everything. He later hanged himself in their barn - the same barn where Emma Shearer's body would later be found. Their money was resented, as was Helena's success - and one bile filled, envious local in particular, Maggie Riddell, was doing her best to spread hatred. Emma Shearer was a beautiful young woman who turned heads and encouraged men to make make fools of themselves. One boyfriend was Magnie Riddell, but poor Mr. Moncrieff also fell for her charms. Emma was from Orkney, her dad battered her mum (not just her mum) and went to jail. A disturbed childhood produced a disturbed young woman. The mystery of who killed Emma and why is eventually solved by Willow, but only after another murder, and the book builds to a terrific climax where young Christopher summons help by lighting a "Wild Fire," and Jimmy and Willow rush to his aid. I thought it was clever story and it all made sense in the end.
My initial misgivings about this book concerned the private lives story, and what seemed to me the quite out of character, cruel behaviour by Jimmy Perez. When Jimmy first called in DCI Reeves he thought she sounded very tired on the phone. She said she would explain when they met. Then Jimmy thought she must be ill. Her explanation - "I'm not ill, Jimmy, I'm pregnant, and of course you are the father" - produced an extraordinary reaction from Jimmy. Did he think he'd been set up, used ? Did he feel threatened, was he betraying the memory of Fran, what were the implications for 9 year old Cassie whom he was bring up, responsible for Fran's death, surely he didn't deserve future happiness ? Anyway he changed the subject, blanked Willow and was cold and distant. In private, Willow was in tears. Willow was the only woman he had had feelings for / had slept with since Fran's death. What on earth had she done to deserve such treatment ? Jimmy is the most gentle, caring of people - what on earth was he doing? As I said, an inexplicable character change that initially put me off the book. DC Sandy Wilson is astonished / mystified at the atmosphere between Jimmy and Willow. Eventually Jimmy recovers from his mental disfunction, normal relations are resumed, and the book ends on a brighter note when Jimmy takes Willow to Fair Isle to meet his dad and mum. We don't know for sure what the future holds for Willow, Jimmy and young Cassie, nor where they will all end up (Orkney ?) but they will be together at last - and that is a happy ending to the book and the series.
The book also ends on a happy note for Sandy Wilson. Maggie Riddell's spinster sister Lottie told Sandy of many regrets in her life. "If you find a young woman you like, Sandy, hold on to her." Sandy takes this advice, asks his teacher girlfriend Louise to marry him, and she says yes !
All in all, it's been a memorable series. Shetland is the star of the series and Ann Cleeves absolutely captures an island community , time and place, but why did she have to kill Fran and torment Jimmy so ?
Links to author index and home page