Iain's Leisure Reading
I'm always on the look out for some missing book in a book series that I am reading, but sometimes the search hits a lean patch, and I can't find anything for ages. This is the time to start looking for some new series to read. I was in this frame of mind when I chanced upon a spy trilogy by Len Deighton - Game, Set, and Match - attractively priced at 50p on a bargain table in a charity shop. The book featured the spy Bernard Samson, and was written about 1983. I loved the George Smiley spy books by John Le Carre - Smiley was a great, great character, and Le Carre an excellent writer. Although I thought that Bernard Samson / Len Deighton would be a big disappointment after reading George Smiley / Le Carre, I did need something to read, and so decided to give it a go. George Smiley is a lot stronger character (a better spy) than Bernard Samson, and Le Carre is undoubtedly the better writer, but that said I really enjoyed book one, Berlin Game, and plunged straight into book two, Mexico Set. I'll definitely read the series of three trilogies, nine books.
Len Deighton was born in 1929 in London - his father was a chauffeur / mechanic, and his mother a part time cook. The story goes that when he was 11, ie in war time 1940, young Len witnessed the arrest of Wolkoff, a Nazi spy, and this inspired him to later write a series of spy novels ! Perhaps.
After leaving school, Deighton worked as a railway clerk, then did his National Service as photographer for the RAF Special Investigations Branch. After the RAF, he studied at St Martin's School of Art from 1949 to 1952, then got a scholorship for the The Royal College of Art, graduating in 1955. He then worked for a while as an air steward for BOAC, then as an illustrator in New York, and then as an art director in a London advertising agency.
All told, Deighton had an extraordinarly varied career. He is now also remembered as a praised British military historian ("Bomber" published 1970), a cookery writer (he was the Observer's cookery writer - Len Deighton's Cookstrip), and a writer of travel guides - he became travel editor of Playboy. He even turned his hand to film producing and editing. One of his military articles in the Sunday Times Magazine about the SAS Operation Snowdrop came back to bite him, when David Sterling won substantial libel damages - this was in 1968. Likewise his dalliance with the Cimema was not always happy - he had his name removed from the credits of the film "Oh What a Lovely War" - a film he later described as stupid and infantile. He left England the year after the libel case, staying in County Louth, Ireland for a while, and then he and his wife Ysabele split their time between living in Portugal and Guernsey.
Mostly however, Len Deighton is known as a writer of spy stories. His first four novels featured an unnamed anti-hero, called "Harry Palmer" in the films, and played by Michael Caine. There were three trilogies featuring the spy Bernard Samson - Game, Set, and Match; Hook, Line and Sinker; and Faith, Hope and Charity. The first trilogy was made into a 12 part TV series by Grenada TV in 1988, but was shown only once, and then withdrawn on instructions for Deighton. A bit of history repeating itself there ! Altogether Deighton has written about 50 varied books, but perhaps the two most famous ones are "The Ipcress File" of 1962, and "Funeral in Berlin" from 1964 - such is the power of film.
The character Bernard Samson is a middle aged, somewhat jaundiced intelligence officer working for British Intelligence - "The Departmant," cf Smiley's "The Circus". The brilliant twist in the books relates to Fiona, Bernard's wife, who defects to the Russians in book one, leaving Bernard distrusted in London, with two children Sally and Billy to look after. Fiona is a constant presence thereafter. The whole series is written from Samson's viewpoint - and in a forward Deighton cautions us not to take all the Samson says as true and unbiased. Like lots of the hereos of book series, Samson is brilliant at his job, but passed over for promotions that favour the lesser talented who frequent the world of office politics. Samson has a cynical disrespect for his superiors. Bernard's best friend is Werner Volkmann - they were boyhood chums in Berlin together. From my Smiley days, I know that nothing is as it seems in the spy world of bluff, double bluff, and so on until one side becomes as bad as the other. Samson hates the communists, but will he eventually tire of London office politics and join his wife Fiona somewhere neutral, or will it turn out that she is a double agent never disloyal in the first place. With 9 books to read, there are plenty of possibilities !
I started off reading the Alan Banks crime series thinking that they couldn't possibly be in the same league as Ian Rankin's John Rebus books - but was then surprised at how much I enjoyed them. I may be doing the same with Bernard Samson v John Smiley, and may end up pleasantly surprised - we shall see. It's always exciting to find a new character !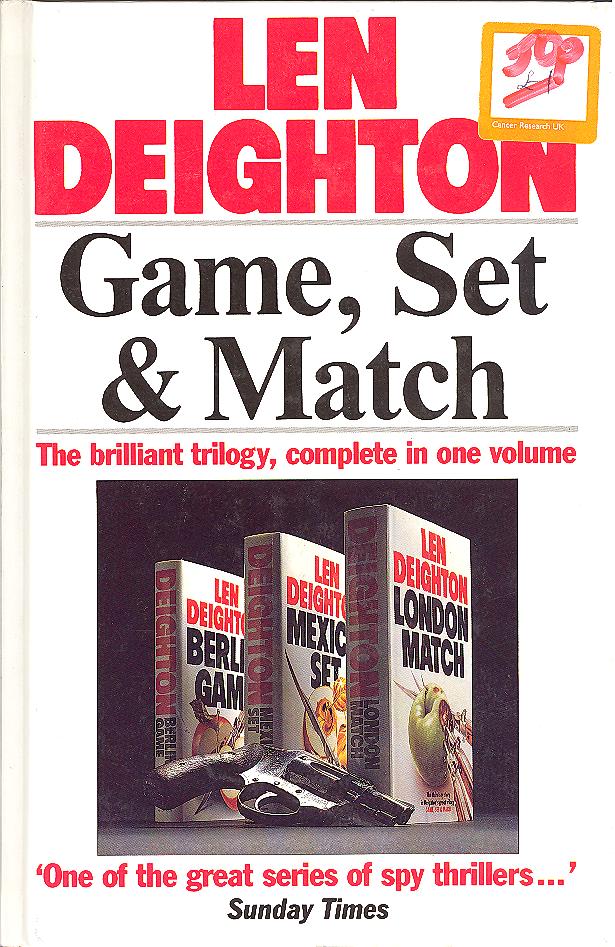 I read this book in May, 2012.
"Berlin Game" is the first book in a spy trilogy "Game, Set and Match", featuring the British spy Bernard Samson, and written by Len Deighton. The other books, all written about 1983, were "Mexico Set" and "London Match." I'd bought the trilogy on impulse in a charity shop for 50p, and as I had really enjoyed the George Smiley books by Le Carre, I thought I would give Bernard Samson / Len Deighton a try, but not expecting too much. How could they possibly compete with Smiley / Le Carre / The Circus?
The "Game, Set and Match" trilogy also contained an introduction by Len Deighton written in 1986. This said two things - don't take everything that Bernard Samson says as 100% correct, he may not be as clever as he thinks, nor his colleagues as stupid. I knew to watch out for "red herrings" without being told. The other thing he said was that he was driven to write the books following a thought that sprung into his mind after he had been asked to provide an alibi for a womanising business partner - could someone unfaithful to a wife / husband / partner be a reliable business partner and then the thought, could be be trusted as a spy. This gave me a good clue to work out who the mole in British Intelligence might be, well before they were mentioned in the book, but of course I didn't know if I was being mislead to think that, or if there might be a twist at the end.
The book is set in the days of the cold war, with a divided Berlin, and the Russians / communists as the enemy. Bernard Samson is about 40, happily married to Fiona, and has two young children. He was brought up in Berlin, went to school there, and is still in touch with old school chums, especially his best friend Werner Volkmann, whom he trusts more that those around him at British Intelligence (BI). Bernard is part of a counter espionage family all of whom worked for BI - his father worked for Silas Gaunt in Berlin section, his wife Fiona was higher up the ranks of BI than he himself was, and in fact Fiona was a "niece" of the famous Silas Gaunt, the redoubtable, and very senior BI officer, now retired.
Bernard must have started very young, for although he is only 40, he already has over 20 years experience behind him. He is now London based, behind a desk in "the Department" - ie London HQ. He doesn't think much of the inexperienced youngsters who surround him, nor of Dicky Cruyer, his immediate boss. There are all sorts of clues suggesting that there might be a mole in "the Department". Berlin 4 is the name for a highly rated commercial spy working for London in Berlin. Berlin 4 saved Bernard's life 20 years ago, and so when Berlin 4 wants out, and says he will only speak to him and trusts no one else, Bernard feels he must agree, and go back to Berlin, even though it would be very dangerous - Bernard Samson's face is well known, and he will surely be picked up. Fiona asks him not to go.
It's not as dark, nor nearly as labyrinthine as Smiley / Le Carre, but it seems very authentic, Deighton seems to know his subject and Berlin, and surprisingly I really got drawn in. It all built to a terrific climax in the final chapter that was a surprise, and yet it wasn't, and it's left open all sorts of possibilities for the future. There are three trilogies, 9 books in all, so I've got eight books still to read, to see how things develop.
I like the Bernard Samson character, and the book is well written. It's an easy read, and I'll read on.
Links to author index and home page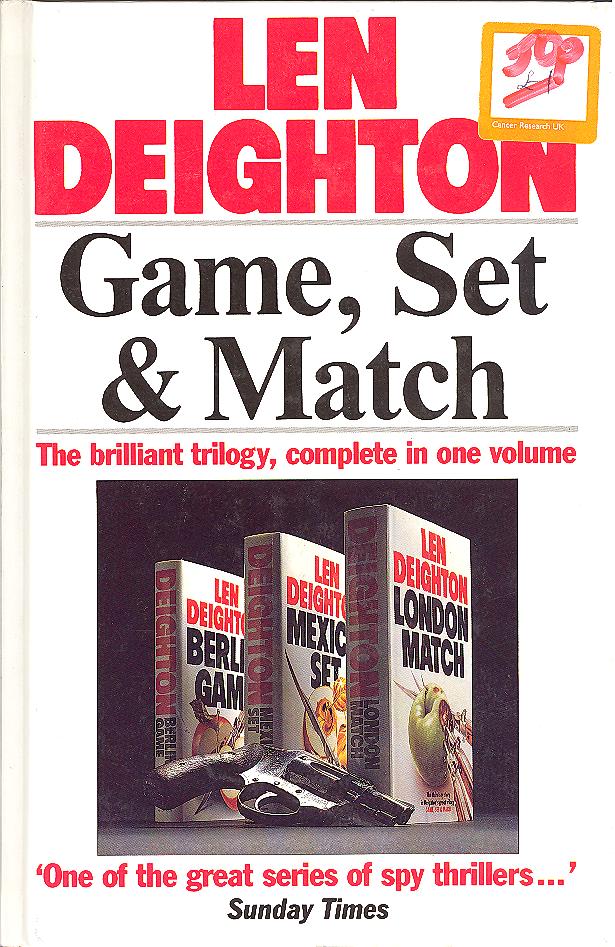 I read this book in June, 2012.
"Mexico Set" is the second book in the "Game, Set, and Match" trilogy featuring the spy Bernard Samson of British Intelligence (BI), and written by Len Deighton. I liked book one, "Berlin Game", and had been looking forward to find out what happened next. I enjoyed "Mexico Set" every bit as much as book one.
" Berlin Game" had introduced us to Bernard Samson, a spy for BI based in London, and married to Fiona, who also worked for BI. Together they had two children, Sally and Billy. There was a mole at the heart of BI - eventually Bernard worked out that it had to be Fiona, but Fiona jumps ship before exposure, and flees to east Germany to work for the Rusians.
"Mexico Set" continues where "Berlin Game" left off. When captured by the East Germans at the end of "Berlin Game" (and allowed to return to the West by his wife Fiona), Bernard had been questioned by who must have been his opposite number in the KGB - one Ehrich Stinnes. This man Stinnes now turns up in Mexico City - spotted by Bernard's best friend Werner Volkmann, and his wife Zena who just happen to be there on holiday. And so starts a complicated plot to persuade Stinnes to defect to the West - Stinnes appearing unhappy to have to work for a new boss, Fiona. Complication one is that Bernard is no longer trusted by his bosses and colleagues in BI - they can't be sure he didn't know / was in league with his wife who was spying for the Russians. Complication two is that office politics is played with a vengeance within BI. Complication three is the spy world of bluff and double bluff. Is the story of a possibly defecting Stinnes what it seems, or is it a plot to discredit Bernard Samson, and get him to join his wife Fiona working for the KGB. Complication four is on whose side is Werner's wife, Zena.
Bernard doesn't get much time to spend with his children Sally and Billy. He really should be there for them now that their mother has left them. Fiona's rich father wants the children to live with him, but Bernard doesn't want this. We are now introduced to Gloria, half Bernard's age. Things don't go well between Bernard and Gloria to begin with - Bernard takes Gloria for granted, and she gets revenge. But all that is changed by the end of the book.
Does Bernard come out on top against all the odds, does Stinnes defect? Does Fiona entrap Bernard, or vice versa? You will need to read the book to find out.
It really is a cracking story - I am quite warming to the series. Perhaps is not quite as good as George Smiley, but different, and certainly an enjoyable read.
I am really looking forward to book three to see how the Fiona v Bernard duet works out, and is there a future for Bernard and Gloria ?
I am surprised that the Bernard Samson books are not better known - or perhaps it's just me who hasn't heard of them. I'm really pleased I bought the "Game, Set and Match" trilogy.
Links to author index and home page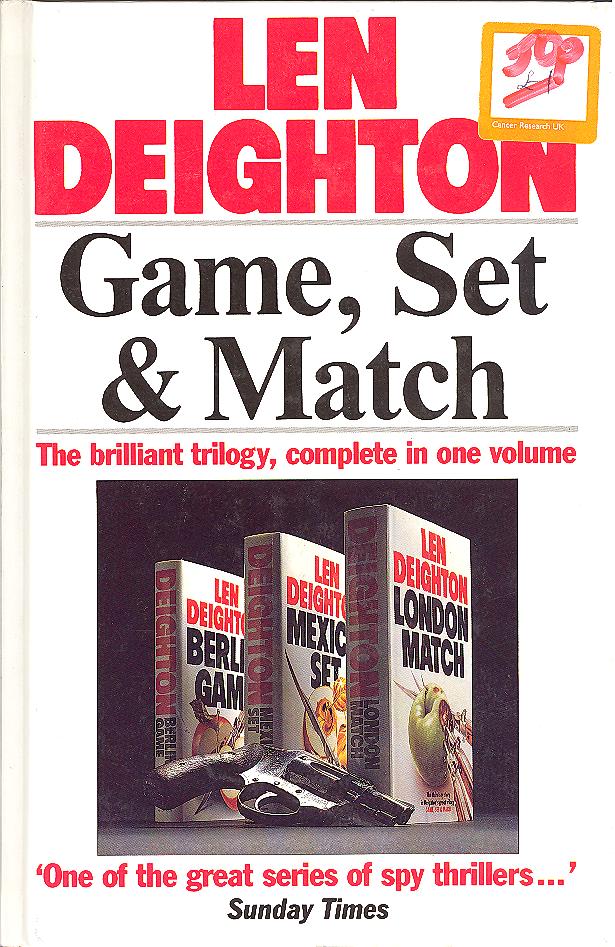 I read this book in June, 2012.
"London Match" is the third book in the Len Deighton "Game, Set and Match" trilogy featuring the spy Bernard Samson. I do like the characters, and have really got into this series. Bernard Samson is an interesting character, as is his friend Werner Volkmann. It's a great basis for a series of books - Bernard and wife Fiona, both working for British Intelligence, but Fiona defects to the Russians, leaving Bernard in London with the children, but now very much under suspicion at work.
Of course, nothing is as it seems. The children have been told by their grandfather that their mum is a double agent, and is away spying on the Russians, not working for them, but that this is a secret. Strangely, this possibility never crosses Bernard's mind.
What is the story in this book ? Stinnes, the former KGB officer now working for Fiona in East Berlin, had been persuaded to defect by Bernard. He seems a valuable source of spy information - but whose side is he really on? It all becomes clear by the end of the book. Bernard now has a girlfriend, Gloria. She is clever, brainy, beautiful desirable, etc, but is only half Bernard's age. She says she has fallen in love with Bernard, and possibly Bernard has also fallen in love with her, but it's all a bit of a mess, and Bernard's feeling for Fiona are still unclear. The children miss their mother, and Fiona gets in touch with Bernard to say that she wants access to the children, but of course she cannot return to the UK.
There is a further twist to the plot. Bernard discovers that there were two code names for the KGB mole within BI. Did Fiona have two code names, or is there another mole still undiscovered? All sorts of clues point to Bret Rensselaur, Bernard's boss's boss. And as in books one and two, office politics still rule within BI.
All in all, it's a good read, and I must read on into the next trilogy "Hook, Line and Sinker" and read "Spy Hook" to see what happens next. Will Bernard still be with Gloria, what will Fiona be up to, how will the children be getting on, and why will Bernard probably find himself back in Berlin ?
Links to author index and home page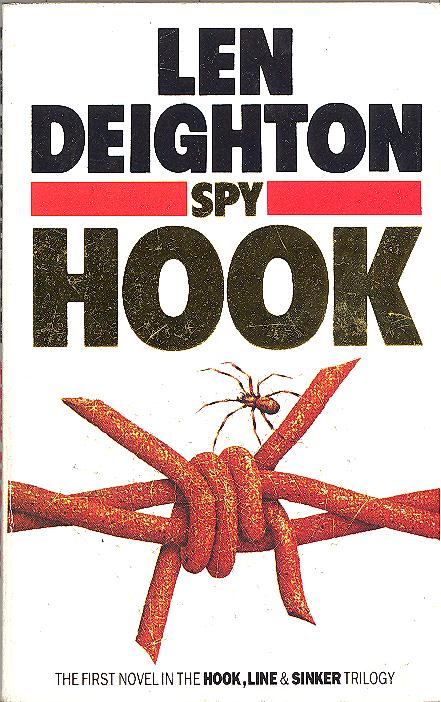 I read this book in July, 2012.
"Spy Hook" is book four in the three trilogy series by Len Deighton about the British "spy" Bernard Samson. Mr Deighton claimed that these were stand alone books that could be read in any order. Why on earth he thought that, I have no idea. You have to start at book one to understand that Bernard's wife Fiona, formerly also with British Intelligence (BI) has defected to the Russians, leaving behind a Bernard now no longer trusted at work. And throughout, you need to know what has gone before to make sense of what is now happening.
This book starts three years after Fiona's defection. Bernard ( mid 40's) is still with early 20's Gloria - and they seem to be very much in love. Bernard knows that Gloria is too young for him, but he seems to have given up trying to resist. Gloria is gorgeous, clever, and as "Auntie Gloria" is loved by Bernard's two children, Billy and Sally. What is there not to love ?
Gloria also works for BI, but she is now fed up with waiting for BI to pay to put her through Cambridge. So, she intends to leave BI, and go off to study at Cambridge. Bernard will miss her terribly !
The story here, is that vast funds have gone missing from BI HQ - or have they ? Are they really being used as hidden, secret funding for some clandestine on going big project, or has someone been at the fiddle on a gigantic scale ? Bernard thinks that his wife Fiona is somehow involved in all this, but it takes almost all the book before Bernard comes up with a fantastic possible explanation for all the wierd things that have been happening - things that everyone has been telling him to leave well alone. Of course, Bernard can never leave things well alone.
I wondered a few books ago why Bernard never considered the possibility that Fiona had not really defected - that she was still working for BI, but as a mole at the heart of the Russian secret service. But if she were such a spy, Fiona's life would certainly be in danger if the secret was uncovered. And could Fiona really have given up Bernard and the children, just to be a spy ? What sort of person would that make her ?
The book ends on a real cliff hanger - but of course I can't reveal that. However I can't think it would make any sort of sense to read book five, "Spy Sinker," before book four, "Spy Hook". "Spy Sinker" must surely be read as a continuation of book four !
I'm really into this series - I like Bernard Samson, his friend Werner, and all the other characters. It's a great idea for a series of books - has Fiona defected or not, will Bernard have to choose between Fiona and Gloria, are we always seeing things only from Bernard's point of view, and is he getting things terribly wrong ?
It's a great series - I will certainly read on. I'm amazed that the books are not better known.
Links to author index and home page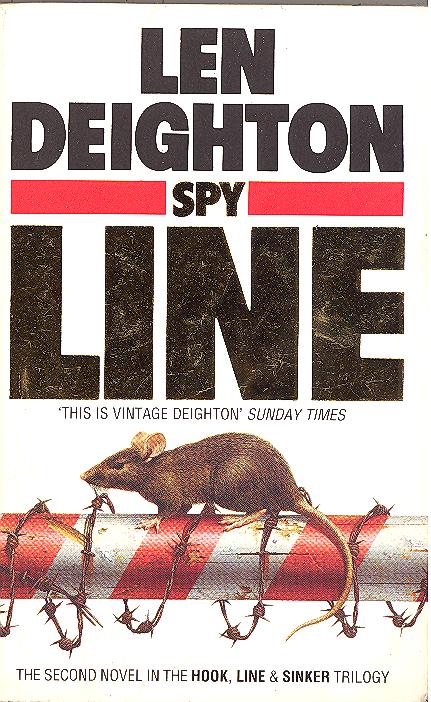 I read this book in July, 2012.
"Spy Line" is book five in the Bernard Samson series by Len Deighton. I've really got into this series - I enjoyed books one to four, and enjoyed reading book five equally. I can't help wondering why I'd never heard of the spy Bernard Samson before chancing upon him just by luck.
"Spy Line" continues from where "Spy Hook" left off. Bernard feels he is about to be "set up" by his colleagues at British Intelligence (BI), and so has gone on the run in East Berlin. At long last he seems to have worked out that perhaps his wife Fiona didn't defect to the Russians, but might be still working for BI as a plant. Is he right or is he wrong - I can't give the plot away?
It's a very readable book, which reads as the final book in a series - but in fact it's only book five in a series of nine books. But change, a drawing to a conclusion, a sense of an old order giving way to something different are all very much in the air.
I've always been fascinated to discover which one Bernard would choose if his wife Fiona ever returned. Would it be the young, gorgeous Gloria with whom he now lives, with whom he is now in love and who dotes on his children, or would it be the first love of his life, Fiona, the mother of his children. But could it possibly only be a very changed Fiona that could ever return. There is a tragedy in the making.
The series has painted a disturbing picture of treachery at the heart of BI - Bernard has never been able to trust any of them. So, at the end, I was saddened but not surprised, to learn that once again poor Bernard, and possibly Fiona, have been set up. Rather than being feted as a hero(s), Bernard is more or less in captivity - held for debriefing in safe, luxurious surroundings in the USA - but what lies have been spun to poor Gloria at home? Has she been told that Bernard and Tessa, his sister-in-law have run away together ? Would she believe such a story ? And who is looking after the children, who have now lost both mum, and dad ! What a terrible price to pay !
As I've said before, what a terrific series of books. I look forward to reading book six, and possibly getting a different perspective on things - in the introduction to book one, Len Deighton warned us not to take all that Bernard Samson says at face value. Already there have been hints that Bernard's best friend Werner Folkmann may not be as upstanding as Bernard thinks. Roll on book six.
Links to author index and home page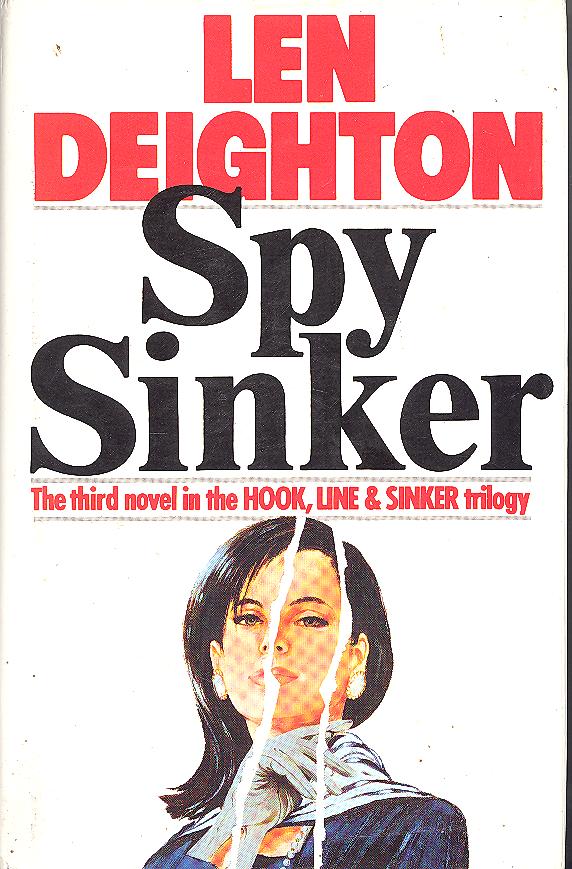 I read this book in August, 2012.
"Spy Sinker" is the third book in the Len Deighton "Hook, Line and Sinker" trilogy, featuring "spy" Bernard Samson. Len Deighton conceived of a very strong storyline about the Samsons - Bernard and his wife Fiona, who both worked for British Intelligence. Fiona defects to the Russians, but it's a great secret not shared with Bernard, that Fiona is a plant, and is still working for British Intelligence (BI). Meanwhile Bernard is left at home with two children, Sally and Billy, and meets beautiful, vivacious, gorgeous Gloria, 20 years his junior, who moves in with Bernard, and becomes devoted to his children.
All sorts of questions arise. Can Bernard have two wives, who will he chose if Fiona returns, who within BI can Bernard trust, and is everyone within BI incompetent except Bernard ?
The grand story is told over five books - the "Game, Set and Match" trilogy, and "Spy Hook" and "Spy Line". In all of these books we follow the story from Bernard's point of view. Bernard seems to be the only one good at his job, but lesser colleagues who went to the right schools and play office politics get promoted over Bernard.
In "Spy Sinker" we get another take on the whole story, but this time told from a third party's point of view. I really believe that you must read books one to five before reading book six. Everyone appears again in book six, but surprisingly there is very little about Bernard - the main character of the story. Yes, he did get a raw deal, but throughout everything was done to protect Fiona.
I often wondered what sort of person Fiona could be to leave her husband and children, and go off to spy for the country. This book gives an answer - partly it's her strong character, upbringing and sense of duty, partly it's blackmail (she has an affair and details will be disclosed if she doesn't go ahead), and partly it's manipulation by BI / Bret Rensselaer. However Fiona plays a terrible price, suffers fits of deep depression, and far from being lauded at the end, she and Bernard are help captive by BI in America, separated from their children, and Bernard back with a very changed Fiona, and unable to contact Gloria.
There are lots of loose ends at the end of the story. What will happen to Gloria, with whom will Bernard end up, will Fiona ever recover to be the high flyer she had been ? Bernard should have been promoted, and might even have ended up director general of BI. Has Fiona been groomed for this role all along, and is she capable of doing the job any more ?
There are three more stories to go - the "Faith, Hope, and Charity" trilogy. I already have the "Hope" and "Charity" books, but can't find a copy of the "Faith" book that I must read next ! Oh dear, I might have to buy it new.
I am really enjoying this series, and am amazed that it is not better known.
Links to author index and home page


I read this book in January, 2013.
"Faith" is book seven in the nine book Bernard Samson series, written by Len Deighton as three trilogies - Game, Set And Match ; Hook, Line and Sinker ; and now Faith, Hope and Charity.
Book five is really the one before this one, as book six is just a retelling of the whole story from another viewpoint. - ie not through Bernard Samson's eyes. I loved books one to six, but it took me ages to find a copy of "Faith" so that I could read on, and see what happened next. I did eventually find "Faith" in a charity shop, but the books I still had to read I had got as hard backs, - so I couldn't take them to Australia as holiday reading - too heavy. But finally I got round to reading "Faith", something I had really been looking forward to.
The book is all about the Bernard, Fiona, Gloria triangle and the power politics played at the HQ of British Intelligence (BI). Fiona had apparently defected to the Russians, Bernard and Gloria became a couple and fell in love, but then Fiona returned, never having defected at all, but had just been placed as a sleeper at the heart of the Russian Secret service. Poor Bernard still has feelings for Fiona - she is his wife, and the mother of Sally and Billy, his children. Also Fiona has paid a terrible price for serving her country - and Bernard feels she must have his support. But Bernard still loves Gloria, and she loves him - goodness knows how it is all going to end.
There is not much action in book seven. The main plot is to persuade a Russian cyber expert to defect, bringing his secret codes with him, and Bernard is sent to fetch him.
Bret Rensselaer is back, and is acting deputy director of BI, much to the annoyance of Dickie Cruyer, Bernard's immediate boss.
There is one other sub plot, that may explode in book eight. Tessa is Fiona's sister, and her death in book five is blocked out of Fiona's memory as being too traumatic. Fiona and Tessa's husband, George Kosinski, employ an agent to try to find out what has happened to Tessa's body, which has never been returned to the West. At the very end of the book we are introduced to another possibility - but I can't say more for fear of spoiling the plot.
I didn't think "Faith" was the best book in the series, but it was more than OK. There are a few inconsistencies in the plot - why was Werner Volkmann so out of favour with BI at the start of the book, and then suddenly trusted and working for BI and helping Bernard at the end to assist with the Russian agent defection ?
I'll certainly read on, but I think the plot should have advanced faster. Len Deighton has let the pace drop. Let's hope things speed up in "Hope", book eight. It's looking as if two book' worth of material is being spread over three to end up with a third, concluding trilogy. But I might change my mind about this thought.
Links to author index and home page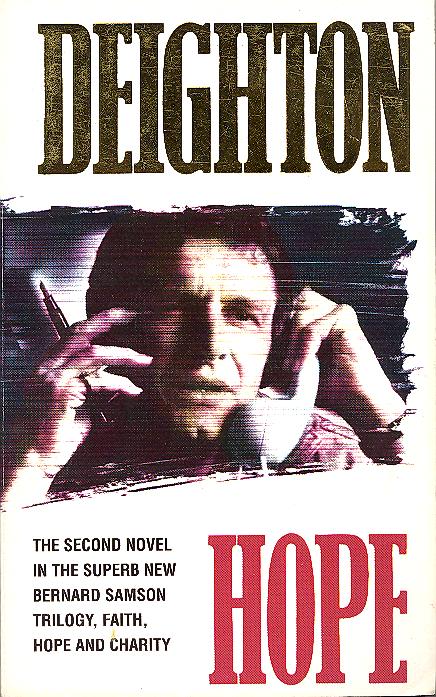 I read this book in January, 2013.
"Hope" is the penultimate book in the nine book Bernard Samson series by Len Deighton. I loved books one to six, but feared that Mr Deighton might be going off the boil when I read "Faith," book seven. Well, I needn't have worried. "Hope" is a terrific book , easily one of the best in the series. It has a great story, loads of twists, lots of action, and just about everyone in the series turns up somewhere in this book. Definitely a page turner ! I was tempted just to read on into "Charity", the next and final book in the series - but I've enjoyed the series so much I'll delay reaching it's conclusion for a wee while, and save a pleasure for later.
First to the main plot. The body of Tessa Kosinski has never been returned to the West, and the reason why is puzzling a lot of people. Tessa's husband George is determined to get his wife's body back, and it seems he might be prepared to do anything to achieve this. Then there is the startling possibility that Tessa may even still be alive ! George is a loose cannon, and he disappears. British Intelligence (BI) think that George may be somewhere in Poland, and so Bernard and his boss Dickie Cruyer head off there to try to find him. At the same time there is also trouble in East Germany with one of the "church" spy cells set up by Bernard's wife Fiona during her "pretend" defection to the Russians. Bernard also sorts this out. In fact Bernard judges just about everything correctly, and handles formidable challenges with consumate professionism. In any rational set up, Bernard would be a hero with guaranteed job security and promotion assured, but within the office politics of BI just about the opposite seems to be the case. There appear to be moves afoot to get rid of Bernard - how crazy would that be ?
The real star plot of the series is what is happening in Bernard's home life, and especially with the Bernard / wife Fiona / former lover Gloria triangle. Bernard is loyal to his wife, the mother of his children. But perhaps Gloria loved his children at least as much as their mother. Months and months later, Sally and Billy are still staying with Bernard's father in law - and Fiona seems indifferent to their return. Then Bernard's old friend Werner Volkmann, tells him that Fiona, who has been so critical and non-understanding of Gloria, is hardly blameless herself -she too had had a love affair when in the East "working" for the Russians. When he had his "affair" with Gloria (but it was always a lot more than an "affair"), Bernard's wife had abandoned him to "defect" to the Russians. Fiona's husband had never left her, so what excuse did she have for being unfaithful? At the very least she should have been a lot more understanding and yes forgiving ref. the Bernard - Gloria situation. Gloria definitely emerges as a wronged party in all this. Let's hope the series has a good ending and Bernard and Gloria, and Sally and Billy go off into the sunset together. I doubt if that will happen - certainly not before lots of twists and surprises in "Charity, the final book.
What a terrific set of books, and what a terrific plot.
One last thing that I haven't commented upon before - the sense of humour that keeps Bernard sane, and provides us with the odd smile or two. For example, Dickie is quite raw when it comes to field matters, and he is alarmed that Bernard may have killed their assailants when he bashed their heads in with a tyre lever. "Don't worry, Dickie", says Bernard, "I hit them in a special way so that they will wake up in a half hour with only a headache" ! Sarcasm yes, but spot on.
Links to author index and home page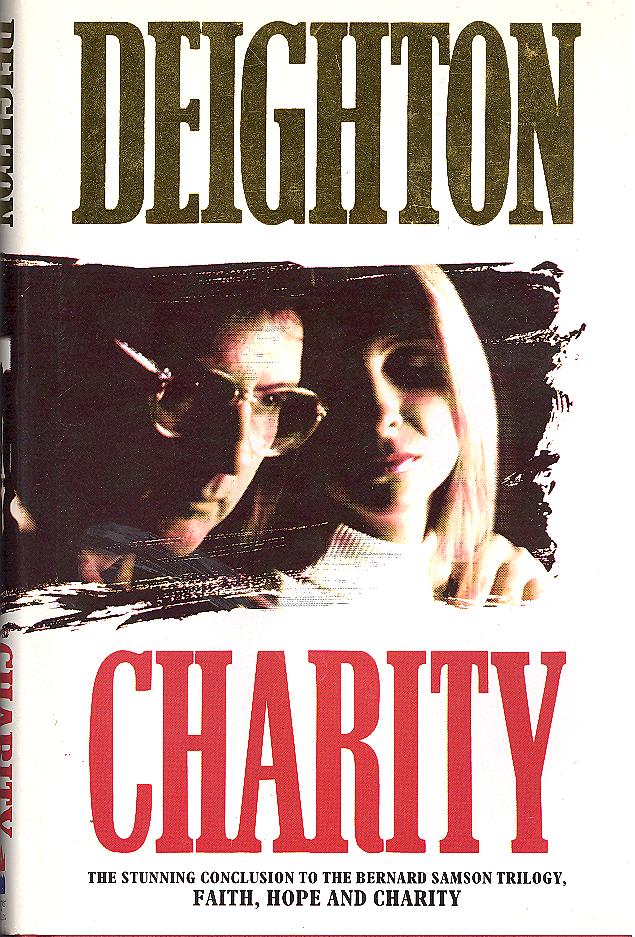 I read this book in February, 2013.
This is the final book in the nine book Bernard Sampson series - Game, Set, and Match; Hook, Line and Sinker; and Faith, Hope, and now Charity. I don't think I have looked forward to reading a book more since waiting for the final in the Harry Potter series. I haven't yet got hold of the new Rebus "Standing in Another Man's Grave", where Rebus returns after too long away, but I am looking forward to reading that too.
Although I did look forward to reading this book, I also deliberately delayed that pleasure for a wee while, not wanting the saga to end. There is also the fear that something looked forward to so much, must inevitably disappoint. "Charity" did start off slowly, but very soon got going, and didn't disappoint.
As usual, there are two main plots - the action story being told, and the on going story about Bernard's private life, with his wife Fiona, and girlfriend Gloria. The action story followed Bernard's dogged determination to find out who killed his sister in law, Tessa, and why, that night in Germany when he retrieved Fiona from her double life as a "defector" to the Russians - she was really a mole working at the heart of Russian Intelligence. Against all the odds, Bernard solves the mystery of Tessa's death. Bernard's best friend,and old school,chum Werner Volkmann has been a presence growing in importance in these nine books. Now he is almost one of the inner circle of British Intelligence, and has a higher "need to know" status than Bernard !
The thread that has fascinated me and held my interest throughout has been the Bernard/ Fiona/ Gloria triangle, and this is finally resolved. I think it is a good ending, and a happy enough ending, but it's not the ending I had been hoping for. All through the books, there was always the possibility that Gloria and Bernard, who genuinely loved each other, would end up together again at last. Bernard and Gloria did love each other, but there are lots of hints that this might be over. I discounted these hints as there had been similar hints in book eight, and that book ended with Gloria and Bernard reunited, and in bed together.
I am not going to say any more, in case I give the plot away - you will need to read the book for yourselves. The final resolution comes at the very end of the book, and quite right too.
I don't think Len Deighton will write another book in the series - ie what happened next. It would spoil the symmetry of a work comprising a trilogy of trilogies. But if such a book were written, I'd love to read it.
This series has given me so much pleasure. I am amazed that these books are not better known. It's a terrific story - Fiona appears to defect to the Russians, Bernard doesn't know that this is only a deception. Bernard plods on, against terrible odds, and en route, he meets and falls in love with Gloria. He knows she is too young for him, and yet ...! And behind all this there is office politics on a grand scale - no one can be trusted. The story is even told twice - once through Bernard's eyes, and then a second time, through other eyes. It's all held together by a great writer, Len deighton, whose skill I have grown to respect more and more.
Terrific !
Links to author index and home page