Iain's Leisure Reading
A good few years ago (and I write this in 2014), my wife Christine's brother Peter and his wife Liz were over on holiday from Australia, and staying with us for a while. Liz had been reading a Kate Atkinson novel, which she recommended to me, and left me a copy. I set it aside meaning to get round to it. Much later I heard a radio interview where Kate was discussing her Jackson Brodie detective novels, and so I pricked up my ears. And by lucky chance, the book that Liz had given me was "Case Histories" - the first Jackson Brodie book - so I decided to give that series a go. As it happened, I had found the other members of the series in charity book shops before I eventually got round to start reading the series in April, 2014. I wasn't terribly struck with "Case Histories", but never judge a series by the first book only.
Kate Atkinson was born in York in 1951, and studied English Literature at Dundee University, graduating with an MA degree in 1974. She went on to study for a doctorate - but I am not sure if she graduated or not. Whilst as a student she married her first husband, and they had a daughter Eve. The marriage broke up, but Kate worked on as a single mum in various positions - from home help to legal secretary to teacher. Eventually Kate was to get married for the second time, and have another daughter, Helen.
Kate's first novel, "Behind the Scenes at the Museum" won the 1995 Whitbread book of the year award, and became Sunday Times best seller. The first novel featuring the former policeman turned private detective, Jackson Brodie, appeared in 2004.
As well as the Jackson Brodie series, Kate has published various other novels, a play, and a collection of short stories. Kate Atkinson was awarded an MBE in 2011 for services to literature.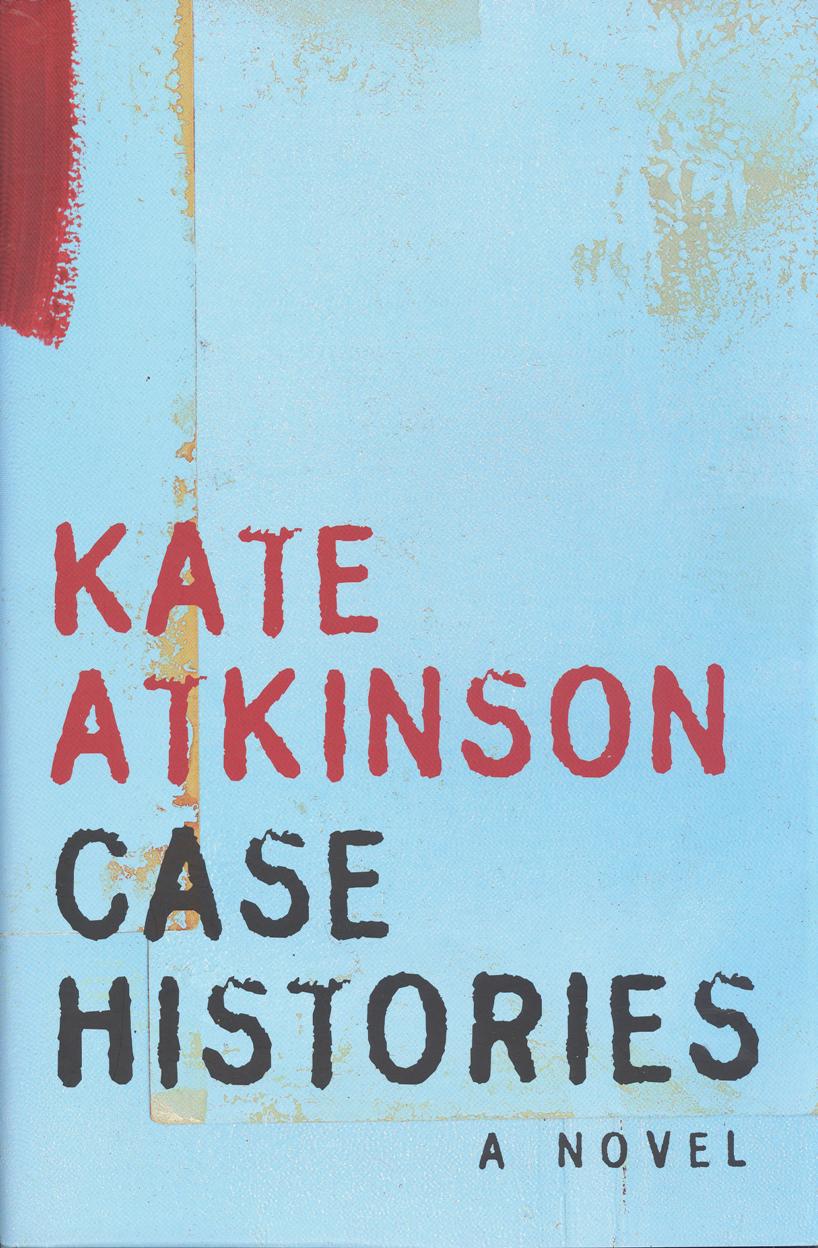 I read this book in May, 2014.
"Case Histories" is the first book in the private investigator Jackson Brodie series by Kate Atkinson. I had already bought the next three books in the series, so I guess I will read them, but I didn't really take to this book. Its well structured, quirky, and has a sort of interesting story (or set of stories), but its full of diversions, introspective, and sometimes sort of rambles on, with very little action. I have never read Mills and Boon, but this is how I imagine that kind of writing - nothing wrong with that, no need to get sniffy, but not really for me. But there was one big redeeming feature - I did like the Jackson Brodie character. I may like book two better.
When I first started reading book series, the first authors that I read were all male - Ian Rankin, the Rebus novels , Colin Dexter, The Inspector Morse books etc. When I read the first series by a female writer, I wondered if I would be able to tell that the books were written by a woman. I sort of thought I could at the time - I am not so sure I agree with that now. But I'm sure I could tell that this book was written by a woman, and from a woman's point of view.
The book starts well enough with three little stories - three case histories of events in 1970, 1994, and 1979. The 1970 story is about the family of an exhausted young mum, 4 girls, and a reclusive academic husband. The very youngest, Olivia, sleeps in a tent in the garden as a treat, with Amelia, one of her sisters, and disappears in the night never to be seen again. What happened to her ? In story two, Theo, a solicitor, is living with his beloved teenage daughter Laura. He gets her a summer job at his office, but a mad man appears and kills Laura for no apparent reason. And in the third story, Michelle Morrison apparently has a mad fit, and kills her husband with an axe.
We wonder how these stories might be related, and then we switch to 2004, and meet Jackson Brodie. He is still hurting terribly because his beloved wife has left him, and is living with someone else. He still meets Marlee, his 8 year old daughter, and takes her on some case work with him. They get very well together - an unusual pair. I warmed to Jackson.
After a good start, I thought the story went off the rails and sort of rambled about, with stories about the 1970's girls Amelia, Julia, and Sylvia. A link to Olivia turns up, and Jackson is asked to look for answers. Theo asks Jackson to investigate Laura's killing, and the sister of Michelle Morrison, the 3rd story, asks Jackson to find her niece, the daughter of the axe murderess. Some things are solved, some things half solved, and some are left hanging in the air. And then we get case history 4 - of Jackson, when he was 12, and lost both his only brother and sister.
Too many co-incidences, too much introspection, too much rambling, and not enough action. Sometimes there is nothing wrong with a beginning, a middle, and an end. I like jumping about, and flashbacks usually, but somehow, not here.
I didn't like this book, but others rate it highly. Perhaps book two will be better. Jackson has an extraordinarly happy ending (like Del Boy becoming a millionaire) - I wonder if the book was originally as a one off, and this was Jackson riding off into the distance. Usually I end up liking most of the book series that I read. This one may be the exception.
Links to author index and home page


I read this book in August, 2014.
This is the second Jackson Brodie book by Kate Atkinson, and it continues exactly where book one left off. Flush with money, Jackson has bought his retreat in France, and lives there with a pony that his daughter Marlee loves when she visits. Otherwise, though, there is no real mention of Marlee in the rest of the book - although crucially her voice in Jackson's head saves him when he is drowning. Jackson and Julia, the actress sister of the last book, are still together, but the relationship is starting to show signs of wear. Julia will not commit to Jackson.
I didn't really like book one all that much. I liked Jackson Brodie, but I found Kate Atkinson's writing style too contemplative - with too many digressions. We do get inside the heads of all the characters, but it all meanders around too much. I thought this book was going to be better. I didn't like the first fifth, but then I liked the next three fifths, but ended up not liking the last fifth. There are still too many asides.
I did start off thinking it was a terrific story, but then I got fed up will all the co-incidences. The story opens in Edinburgh, at the Festival where Julia is appearing in a play which Jackson is financing (to create a part and work for Julia). "Paul Brady" is driving a hire car in the city, has to stop suddenly to avoid an accident, and a black Honda goes into his rear. Honda Man is a great oversized brute of a man, and he emerges from the Honda with a baseball bat and goes berserk. He attacks "Paul Brady" (Paul Brady is not his real name), and Jackson, who is nearby, is about to go to help when Martin Canning, an author who writes under the name of Alex Blake, lobs a bag containing his laptop at Honda Man, who falls, gets up, and then drives off.
Also watching the whole scene are Pam and Gloria - they are married to Murdo and Graham, business men and best friends who have known each other since school days. Graham is Graham Hatter, of Hatter Homes and a lot more besides. He has climbed his way to the very top by bribes and threats, and the whole corrupt pack of cards is about to come tumbling down. And so we meander through Gloria's thoughts, and then back to Martin Canning and through Martin's thoughts.
Meanwhile Jackson goes sight seeing to Cramond Island where he tries to pull a floating body out of the sea, but fails. The police become involved, and so we meet newly promoted DI Louise Munroe. Jackson and Louise are attracted to each other - I guess we are meeting Julia's replacement in a later book.
It is all well enough written if you don't mind all the digressions, and Kate Atkinson keeps lots of balls in the air at the same time, which does require some skill, and yes, I did read on to see how it all ended.
The book has sold well, and has some excellent reviews - so I guess it's me that is in the minority. I do like Jackson Brodie, and now Louise Munroe, and since I have already bought books three and four I will read on to see what happens next. In the final analysis, though, I didn't really like this book.
Links to author index and home page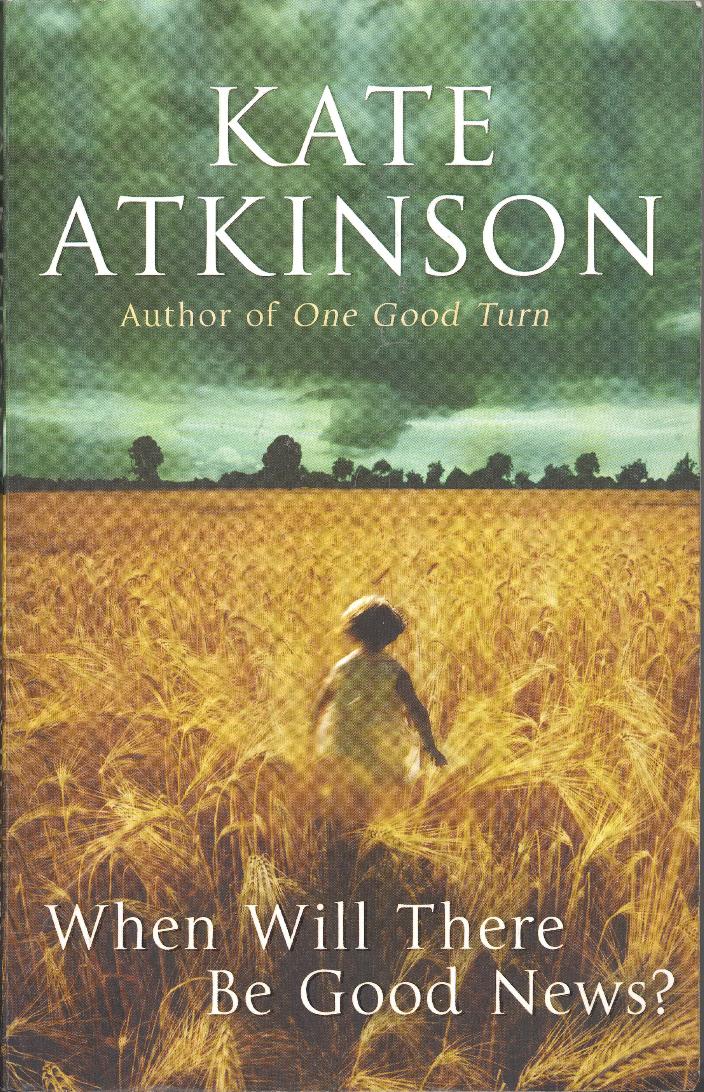 I read this book in December, 2014.
This is the third Jackson Brodie book by Kate Atkinson, and it is set about two years after the previous book. Jackson is still very rich at the start of this book, but he has sold his retreat in France, and lives in a good flat in London, surprisingly with a seemingly delightful new wife Tessa. His daughter Marlee is mentioned, but barely figures in the whole book. DCI Louise Munro in Edinburgh is also married ("you got married first" counters Jackson)- but why is a mystery, not just to us, but to Louise too. She is married to Patrick, a wealthy, upper class surgeon, who seemingly wants to change Louise, and tame her into domesticity. "I'm an F-ing DCI, protests Louise."
I haven't really been too enthusiastic about books 1 and 2 - accomplished writing, yes, but too many digressions, too many meandours, too slow to get to the point. This book had a terrific opening, and a good first fifth. I thought "great, I am going to love this book". Then in the next fifth, Kate Atkinson returned to her old meandouring ways, and I thought "Oh dear, here we go again." But then there was a train crash, and the action really took off, and I thought the rest of the book was terrific. So, all in all, a good / very good book, an excellent storyline, at last a Kate Atkinson that I can recommend.
At the start of the book, there are extracts from various book reviews, and one from the New York Times declares "it's hard to imagine a novel starting in a more gripping and terrifying way." This opening is a flash back to a terrible slaughter some 30 years previously, and I don't think I have ever read a sadder, nor more disturbing opening. So be warned ! We then switch to present time, and follow the separate stories of four strong characters. Character one is Dr Joanna Hunter, who has an inate sadness imprinted on her soul from her past. She is married to an "iffy" husband, but is reasonably well off, and has a baby who is the most precious being ever. The second character is Reggie, a girl, a 16 year old waif, who reads latin, has a criminal brother Billy, but works as a sort of nanny (no one uses that title) for Dr Hunter. But Dr Hunter is so much more than an employer to Reggie who also adores the baby and who is to prove to be the most faithful of friends to Dr Hunter. Character three is DCI Louise Munro who wonders why she let Jackson Bodie get away. And character four is Jackson Brodie himself, still in touch with Julia, and seemingly involved in a strange plot to kidnap (?) her son - Jackson has never accepted that he is not the father.
When we read four seemingly separate stories we suspect that all these stories will turn out to be connected. No surprise then, when by coincidence after coincidence, all stories converge. It's all handled with great skill by Kate Atkinson. Eventually Dr Hunter and her baby go missing, and Reggie, DCI Munro, and Jackson Brodie all play the cavalry that ride to the rescue. And so, Jackson and Louise Munro meet up again, and the story and dialogue sparkle. But don't expect a fairy tale ending - although it all ends well for some, Jackson and DCI Munro remain at best unfinished business, possibly now impossible business.
Roll on the next book, to see what the future holds for Jackson Brodie.
Links to author index and home page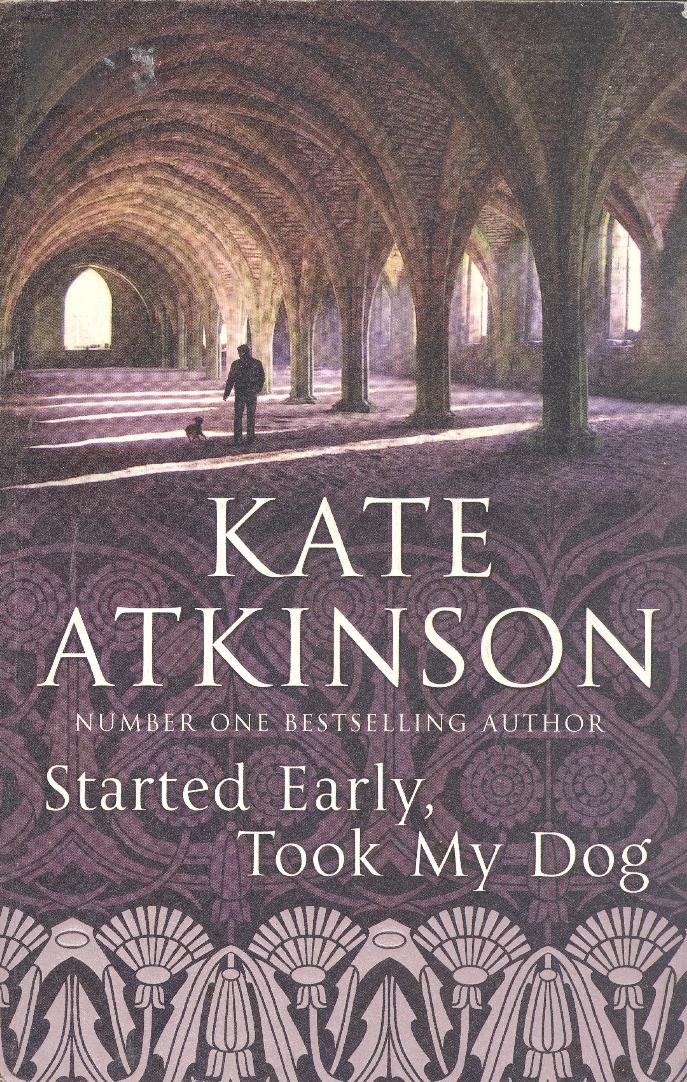 I read this book in November, 2016.
This is book four in Kate Atkinson's crime series about the adventures of Jackson Brodie. I got this book ages ago, but had put off reading it as I don't really like the author's writing style. It is too introspective, too meandering, and too slow. I am just not the target audience. Kate is a good writer, has some good ideas, and expresses them well, but she overdoes it. I usually start off liking it all, but then start to despair as all the digressions get in the way of story telling. This is a great pity, because there are some great plots, and I love the ex policeman, ex army Jackson Brodie character. I would say the first third of this book suffers from these old faults, but in the next two thirds mostly I was carried along by the strong storyline. All in all, I think this is the best in the series so far. As I write this it is 2016, and Kate had been writing Jackson Brodie books every two years, but now it is six years since the last book. It's a pity because I would like to find out what the future held for Jackson and possibly DCI Louise Murdo, but there is almost nothing at all about Louise in this book. That said, Kate does possibly sort of set up the next book at the very end when Loiuse phones Jackson. What is that about ?
The book is based on a terrific set of three main characters and their three lives and stories which of course we know will turn out to be related. But to find out just how these tales are related, we have to keep reading.
The book opens way back in 1975. WPC Tracy Waterhouse, a big graceless girl, a big bruiser of a policewoman and her colleague are called to a locked flat from which there is coming a bad odour. The flat has been unvisited for three weeks. When they peer through the letter box they are horrified to find the eyes of a young abandoned child, in a shocking state, looking back at them. A prostitute Carol Braithwaite had been murdered, but somehow her child had survived. Tracy gives the child a cuddle, the child is rushed to hospital, and social services are called in. The case worker is Linda Pallister. When next we meet Tracy she has retired from the police force - she had risen to the rank of Superintendent - had never married and is still childess, and is working as security chief in a shopping centre in Leeds. To cut a long story short, but not give too much away, doing her rounds in the centre she spots a druggie Kelly Cross dragging a screaming child behind her. Tracy has a lot of money on her to pay a builder, is so sorry for the poor child, and in an act of impetuous madness she buys the child, a little girl called Courtenay. Courtenay is a remarkable child, damaged, but full of surprises - so much so that Tracy wonders if Kelly perhaps might not have been Courtenay's mum. But Tracy has bonded with the child, and will go to any lengths to keep and protect Courtenay.
At the same time as the above is unfolding we meet a hard man rescuing a kidnapped child. The man is ex army, has survived a bad train crash, and has been hardened by life. Slowly it emerges that the man has a daughter Marlee - now a sullen 14. Yes, we have met up with Jackson Brodie again. He has fallen on bad times, had been through a sham second marriage to an imposter who stole all his money, but strangely he is not too upset by this. He never thought he deserved the money in the first place. He has sold his farm house in France, and still has enough money to get by on. He is going through the motions of trying to trace his vanished "wife," but really he is on a trip down memory lane, revisiting his Yorkshire roots, and doing sight seeing. As an aside we learn that he has one commission as a private detective. Hope MacMaster in New Zealand had been adopted in the UK before her new parents emigrated. Could Jackson Brodie find out more about her past - who were her true mum and dad. It should be a simple job - but of course its far from simple. Hope has no genuine birth certificate, and had been adopted from a couple who never existed. But Tracy Waterhouse is someone Jackson has to contact, and also Linda Pallister. And just to complicate matters there is another privatre detective on the scene, Brian Jackson. So we have B Jackson and Jackson B. And further to complicate matters lots of retired police officers seem to have a past they want covered up. And so the story unfolds.
Story three seems to be quite separate, and we read of the life history of Kitty, a plain jobbing actress now nearing retirement, and currently playing the mother of a detective in a TV soap. Kitty has gone senile, and Kate Atkinson paints a good picture of Kitty's descent into senility. Kitty also sees poor Courtenay being dragged through the Leeds shopping centre, and her heart goes out to the child. What part will she play in the grand scheme of things ?
Jackson is still very much in touch with actress Julia who has finally admitted that her son Natham is really Jackson's. Jackson and the still married Julia meet up a lot, and seem to be getting on well. And in his reminiscing Jackson also wonders about Louise Murdo, now a DCI in Scotland, married with a child. Louise and Jackson never slept together, but Louise was the one that he mistakenly allowed to get away. Will he ever get a second chance ?
Finally, I should also mention that just as Tracy Waterhouse rescued Courtenay, so Jackson rescued a little dog from a brutish owner. A quick punch was all it took. Jackson and the dog bond, and the dog repays Jackson's kindness one thousand fold.
It's all cleared up by the end. Three terrific life stories that intertwined for a while, but life can be cruel, and life goes on.
All in all, a very good read, and the best book in the series I thought. Will there be any more ?
Links to author index and home page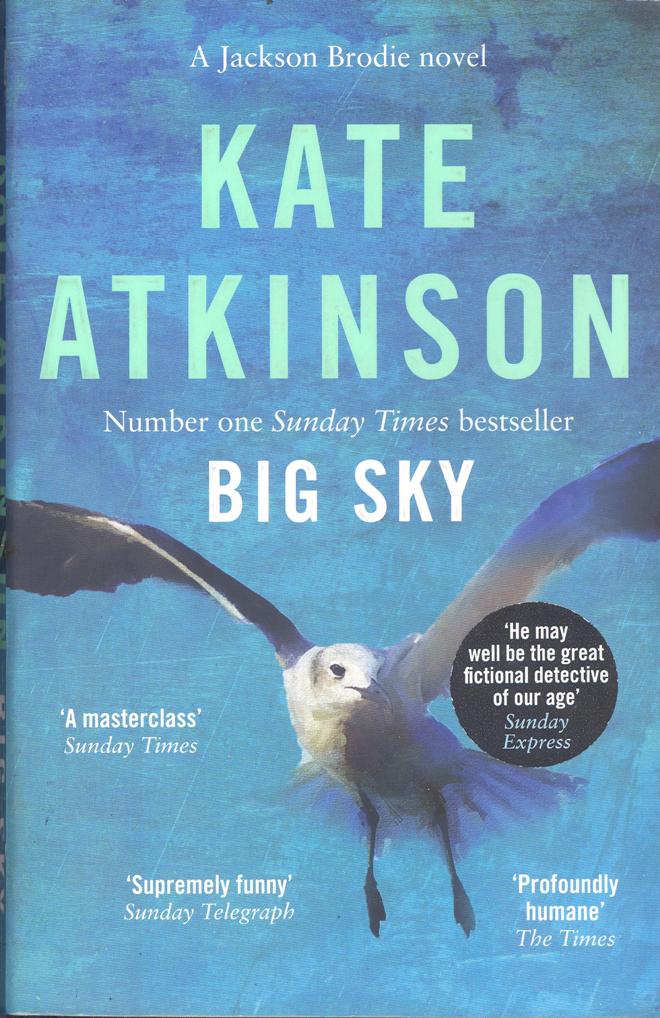 I read this book in October, 2020.
At long last, one of my favourite detectives returns - after an absence of nine years. Ex policeman Jackson Brodie is a great creation - all sorts of things happen to him, he becomes rich through a stroke of fortune, but it is snatched away, he buys a house in France, but has to sell it, and he just keeps going. Jackson is essentially such a nice person going round, doing good and rescuing people quietly without fuss, and generally not only bending the law himself for the greater justice, but inspiring those around him to do the same. He has three failed "marriages" but keeps in touch with his children - daughter Marlee of his first marraige is now 23, and about to get married, and son Nathan, 14, from the last is now living with him, on and off. There are ongoing hints of a possible future romance with now Superintendent Louise Monroe, but Kate Atkinson is just teasing. The previous book finished with Louise phoning Jackson perhaps setting up a future story line. In this book this isn't mentioned, but again at the end of the book Jackson phones Louise. Sadly, he can't think of what to say, and hangs up after Louise brilliantly guesses that her silent caller is Jackson.
In my previous write ups I accepted that award winning Kate is a very good, gifted writer but I didn't like her disjointed writing where she starts off telling a lot of separate stories with some very interesting characters, and then, low and behold, all these stories are linked by a succession of coincidences. There were just too many coincidences for me to accept. Kate does the same again in this book, and I'd have preferred it if she just told the grand story from start to finish introducing the characters as they appear. But I must allow the author to tell the story in her own way. To be fair, though, I wasn't too annoyed in this book, thought it was a big, good, well told story, loved meeting Jackson again, and thought the book was a great read.
The story is set in Yorkshire, in and around Bridlington, and from the blurb on the back cover we know it is about people trafficking. Accordingly, when, in the opening the book introduces us to sisters Katya and Nadja, excited about possible new jobs with better prospects in the UK, we know they are about to be sex trafficked. Next we meet up with our hero Jackson Brodie again, living in a seaside cottage beside Whitby, and working as a private detective running Brodie Investigations. He has two part time assistants - beautiful Tatiana used in honey traps, and young Sam Tilling, eager to be a detective. Jackson's third partner Julia, still an actress, and now in the popular TV soap Collier (filming near Scarborough ) has finally admitted that Jackson is the father of Nathan, her 14 year old son. Nathan now splits his time living sometimes with Julia, sometimes with Jackson. The father / teenage son dynamic is captured perfectly by Kate Atkinson. How well she knows the life of a bored teenager glued to a tablet or mobile phone, living with a Luddite father who thinks things were better in the old days, but, although not "cool" to admit so, Jackson and Nathan get on so well that Nathan asks if he can live permanently with Jackson. "Your mum would never allow it" replies Jackson but immensely proud to have won his son's approval. Jackson too is still in touch with his daughter Marlee - he is to walk her up the aisle at her impending marriage into a wealthy family. Naturally Jackson doesn't aprove of the future husband, and thinks Marlee is too young (at 23 ?), but has mostly learned to keep his opinions to himself. We later learn that Marlee is pregnant - Jackson will be a grandad ! Where did the time go ? There is a lot of nostalgia for things as they used to be - again handled well and wittily by the author. Marlee ends up jilting her fiance, and escaping with Jackson' help.
Still setting up the big story, we next meet four golfing chums, all members of the exclusive Belvidere Golf Club - the three muskateers and school chums, lawyer Steve Mellors, haulier Tommy Holroyd, and travel agent Andy Bagg, and a sort of hanger on, Vince Ives. Steve, Tommy and Andy are very well off, but where does their wealth really come from ? Poor Vince is less successful, has just lost his job, and his wife Wendy has evicted him. When Wendy is found dead, killed by a blow from a golf club, Steve is the obvious suspect. Those who know Steve think him incapable of violence - how wrong they are in an explosive retribution climax to the trafficking story. We sort of focus in on Tommy Holroyd who is married to ex lapdancer Crystal. He has two children, Candy (3) from his marriage to Crystal, and 16 year old Harry, who may be gay but isn't sure. Harry is into theatre set design, has a part time job in the local theatre, and through this we meet the two stars of the local adult show. Crystal thinks she is being followed and hires a private detective to investigate - yes, who else but Jackson Brodie.
Now we meet yet another strand to the big plot. Reggie and Ronnie are two female detective constables, young looking, but well able to take care of themselves. They have been assigned to operation Villette. Years ago Bridlington was run by two evil business men, Bassani and Carmody into exploitation and the sex trade. They had fingers in lots of pies - eg the Belvidere, the local theatre were young Harry works, etc. They were convicted of child molesting - Bassani committed suicide but Carmody went to jail. There were rumours of a third man, and high up well connected third parties - high court judges, peers of the realm, etc. New evidence has come to light - hence Operation Villette. By yet another coincidence young Reggie worked with and looked up to then policeman Jackson Brodie, regarding him as a sort of father figure. Reggie even saved Jackson's life. Reggie and Ronnie are known as the Kray twins.
As I have said, it's all a big story, with lots of other strands that I have not covered here. For example, I haven't even mentioned young Darcy Slee, who accepted a lift from a stranger and is rescued by Jackson in a one page chapter aside towards the end of the book. I must of course mention that the book is stuffed full of humour, although young Harry Holroyd tells some groan inducing jokes. And so lots of interesting characters have their stories told, plots unfold, link up, and climax. Cystal meets an old friend from her murky past and finds her early story is also connected with what her her husband Tommy and friends were doing. Jackson, as before, always aids those who should end up in prison, but whose wrong doing serves a greater good in punishing evil and dispensing a sort of universal justice.
All in all, a terrific piece of writing.
Links to author index and home page