Iain's Leisure Reading
M C Beaton is a pseudonym for Marion Chesney Gibbons, a most profific authoress who writes under her own name, and also under a variety of other pen names - Ann Fairfax, Jennie Tremaine, Helen Crampton, Marion Chesney, Charlotte Ward, and Sarah Chester. Most of the books, though, when published abroad, just go under the M C Beaton banner. At the time of writing this introduction (2013) I counted that Marion had written some 125 books, and she is still writing ! When I wrote the introduction to the Edward Marston books, I was impressed by the fact that Edward had written some 72 books. Well, move over, Mr Marsden, 125 books and still writing trumps that! But see the addendum last paragraph .
Writing in the UK as M C Beaton, Marion has written about 11 single books usually with girl's names ("Kitty", "Daisy", "Lucy", etc) and two long series - the Hamish Macbeth series, which concerns us here, and also the Agatha Raisin series, some 25 books set in the Cotswolds somewhat in the Midsomer mould. Marion is a former journalist, and has said that having produced over 100 romantic novels, she had no trouble in cranking out lots of crime fiction. Her routine is to head to the computer with coffee and cigarettes as soon as she gets up, "Then you crank up the film in your head, and write what you see."
Marion was born in Glasgow in 1936. She started work as a bookseller in the fiction department, and there received an offer to review variety shows for the Scottish Daily Mail, quickly being promoted to be their theatre critic. She then joined the Scottish Field magazine as a secretary in the advertising department, but some how became their fashion editor instead. Next she moved to the Scottish Daily Express where she reported on crime, and then came the transfer to Fleet Street, and the Daily Express, where she became chief woman reporter.
Marion married Harry Scott Gibbons, and they had a son Charles. They moved to the United States when Harry was offered the position of editor of the Oyster Bay Guardian, but subsequently moved to Virginia where Marion worked as a waitress in a greasy spoon in Alexandria, whilst Harry washed dishes. Both got jobs from Rupert Murdoch in his new tabloid, The Star, and moved to New York. But Marion wanted to spend more time at home with her young son Charles, and so took to writing Regency romances set in the 1811 to 1820 period. Eventually, when she had written some 100 of these novels, she got fed up, wanted a change, and turned her hand to crime fiction under the pen name M C Beaton. Marion and Harry had a holiday in Scotland, in Sutherland, and a course in fly fishing inspired the first Hamish Macbeth novel, "Death of a Gossip." They loved the area, and so returned to Scotland, where Harry bought a croft in Sutherland, and reared a flock of black sheep. When Charles graduated, his parents became tired of the long commute to the north of Scotland, and moved to the Cotswolds, where Agatha Raison was created. And Marion is still churning out books.
Its an impressive CV. Marion said her books really took off when Alexander McCall Smith brought gentle crime stories back into vogue, but she dislikes the "cosy crime" term. Her books do give the reader a warm glow, and readers can relate to her characters better than to those in "crime noire". I can't disagree with that, but find myself enjoying the variety of both.
Sadly M.C Beaton died in December, 2019.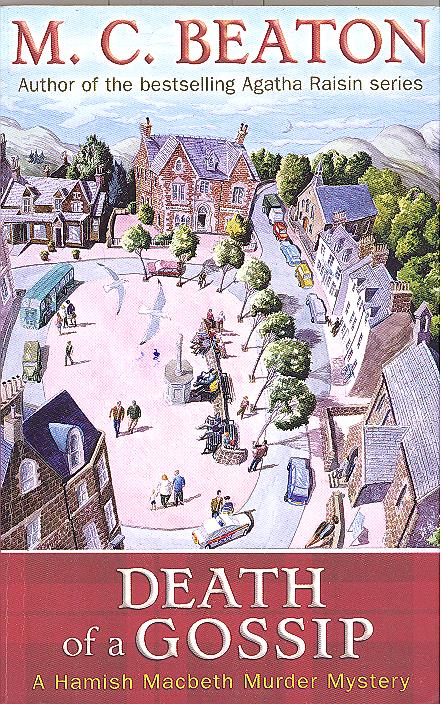 I read this book in September, 2013.
I was in a charity shop (PDSA) in Bury St Edmunds when I came across a collection of Hamish Macbeth books, each priced at £1. I had never watched the series on TV starring Robert Carlyle, but that is OK as M C Beaton reportedly didn't like the TV adaptations. I did know the set up, however - Constable Macbeth fights crime in a fictional, very rural, idyllic remote village in the far north west coast of Scotland. I later found out that M C Beaton and her husband Harry had a holiday croft in Sutherland for a while, where Harry tended a flock of sheep. I had read all sorts of crime fiction where the hero came from the various higher ranks of the police force - eg sergeant, DI, DCI, Commander, even DCC - but I had never read any, where the hero was a humble police constable. So I thought, why not give Hamish Macbeth a try.
"Death of a Gossip" is book one in the "Death of a ...." series by M C Beaton featuring constable Hamish Macbeth, and set in Lochdubh, a remote Highland village, with lochs, the sea, heather, tea and scones, good malt whisky, etc. It's pure whimsy - "cosy crime" is the term M C Beaton dislikes.
A preface to the book introduces the characters in order of appearance. The local laird and his wife are Colonel and Mrs Hallburton-Smythe, who live in a castle, of course. They have a beautiful daughter, Prisclilla - way out of constable Macbeth's league, but yet there is undoubted chemisty between them, and who knows what the future might bring ? DCI Blair is the head of Strathbane CID, and detectives Jimmy Anderson and Harry McNab his assistants. Blair takes and treats Macbeth as the village idiot, and a lazy one at that. That is certainly the impression that Macbeth likes to give. But of course, he is no simpleton - in fact he solves the murder mystery in this book, but then refuses to take any credit in case it might lead to promotion, and transfer away from Lochdubh.
What is the story ? It's quite an old fashioned set up - a disparate group of strangers thrown together in a big house on a fly fishing course. (M C Beaton and her husband Harry first visited Sutherland on a fly fishing course). One of them - Lady Jane Winters - has a foul mouth, and seems to delight in belittling her companions. Strangely, she seems to know everyone's dark secrets. They all fear and hate her - so when she is found dead, drowned in a poool, strangled and weighed down with chains - there are lots of suspects.
The story started slowly, and seemed a too obvious charicature, that I thought that perhaps I would not like the book. But as time went on I grew to quite like the characters. Macbeth takes his time, but gets there in the end. And its all quite humorous, really.
The book is only 187 pages long - so perhaps I should be less impressed by the number of books the authoress has written. It's gentle fun, escapism, detective fiction meets Brigadoon. But I enjoyed reading it as a complete change from other more conventional crime fiction. I wouldn't say I'm hooked, but I'll read on to see to what happens - especially to see if Hamish Macbeth has any chance at all with the very fair Priscilla.
Links to author index and home page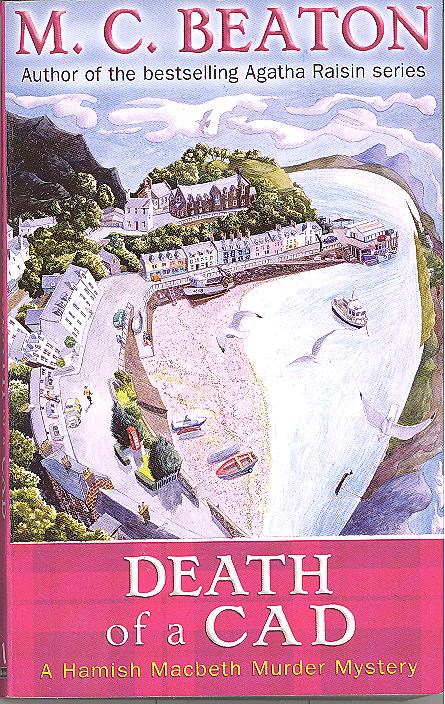 I read this book in October, 2013.
This is book two of the village bobby Hamish Macbeth of Lochdubh series, and it's more of the same following on from book one. Hamish still fancies the out of reach Priscilla Halburton-Smythe - and they certainly do seem to get on very well together.
The cad in the story is Captain Peter Bartlett - a terrible man full of charm when sober, but full of vitriol when he has had a drink. There is a gathering in Tommel Castle to celebrate the engagement of Priscilla to the famous London playwright Henry Withering. Priscilla and Henry have returned from London for the party. Bartlett is one of the guests at the castle, working his charm, and spilling vitriol. Everyone seems to know the captain of old, and have a reason to hate him - so once again, when he is found murdered, there are lots of possible suspects. It is an old fashioned set up - lots of guests at a country house, and one of them is a murderer.
Hamish seems to have changed ever so slightly from book one. There he didn't care for any credit for solving the murder - so long as he could be left in peace in sleepy, quiet Lochdubh. In this book, DCI Blair from Strathblane takes over again, and deliberately tries to exclude Macbeth - and Hamish resents this. He seems to have found some backbone at last, but only in short bursts.
Priscilla herself also comes in for some criticism. Is she really going to marry snobbish Henry who looks down on the simple, honest folk of Lochbubh, and is she doing this just to please her mother and father? Both her parents dislike Hamish Macbeth. If she likes him, why is that not sufficient.
But perhaps these light hearted stories should not be over analysed. It's meant to be Scottish whimsy, light hearted, tartan clad. And it's OK.
These are quite short stories - this one was only about 260 pages long, about one third of a normal sized crime novel. Charity shops still sell them at the same price as thicker books, and I do feel short changed somehow.
At the end, all the murders are solved by Hamish Macbeth who again gets no credit, and Priscilla is free of Henry Withering - to possibly carry on flirting with Hamish, and who knows what may develop.
As I said before, it's light hearted escapism, quite funny in places, it's OK, and I'll read on.
Links to author index and home page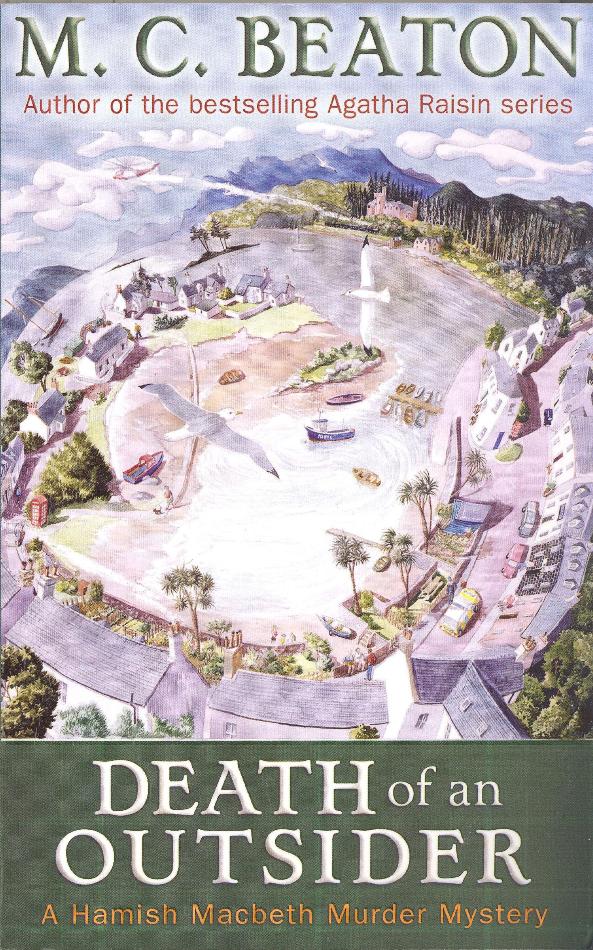 I read this book in December, 2013.
"Death of An Outsider" is book three in the adventures of Hamish Macbeth, village constable of Lochdubh, written by M C Beaton. It's another shortish tale of about 200 pages, and I could still do with these books being just a little bit longer.
Once again, Hamish finds himself having to solve a murder in competition with the almost incompetent DCI Blair of Strathblane. But this time, it's not another murder in Lochdubh. Hamish has been temporarily relocated to the dreary outpost of Cnothan, to cover the holiday leave of the local police sergeant. Hamish loves his life at Lochbubh, and his spirits sink with every mile as he leaves Lochdubh. Cnothan is just the opposite of Lochdubh. Everyone there seems rude, and very unfriendly - everyone that is except for dark haired Jenny Lovelace, an artist from Canada who has made her home in Cnothan. Wierdly, Hamish finds himself in bed with Jenny most nights without quite understanding how it happened. "I'd like to get to know you better first " protests Hamish. "I think you have got to know me very well", answers Jenny. Hamish thinks he must do the right thing, and propose to Jenny - but he still dreams of the fair Priscilla, who strangely also dreams of Hamish and Lochdubh, although absent in London. They surely must get together soon.
What is the crime part of the plot ? William Mainwaring is an English outsider who delights in mocking the local people in Cnothan. He is unpleasant to them at every opportunity. He seems to go out of his way to court unpopularity. So, once again, when he is found murdered, or rather when his skeleton remains are found, there appear to lots of possible suspects. But being unpopular is not usually a sufficient motive for murder - and so it proves in this case. Hamish solves the murder in the end, but once again gets little of the credit. Life seems unbearably unfair, but then Priscilla arrives in Cnothan to rescue Hamish, and give him a lift back to Lochdubh.
Normality is restored.
Delightful, amusing escapism - I'm growing to like these brief tales of life in the tartan Never Never land of Lochdubh. Roll on the next book.
Links to author index and home page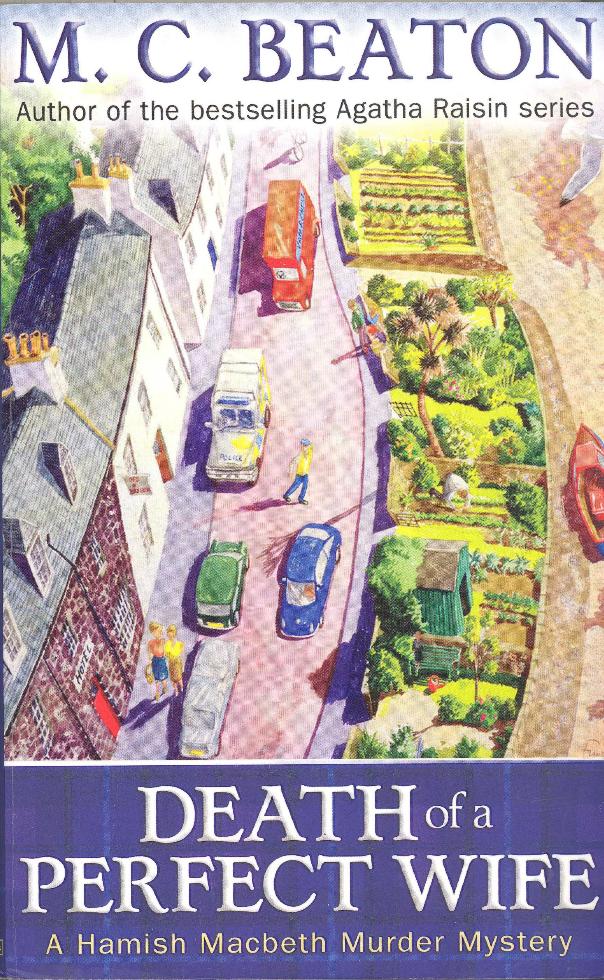 I read this book in January, 2014.
This is book four in the Hamish Macbeth series set in fictional Lochdubh in an equally fictional version of the Scottish Western Highlands - in a sort of Scottish Brigadoon created by M C Beaton.
I think this book is mostly about the contrast between the driving ambition of Trixie Thomas, a newcomer to Lochdubh, who wants to change everything, and everyone, energise and inspire all the women, and get them organised - and the the easy going, ambition free zone that is Hamish Macbeth. We are told Hamish is that rare thing - a truly happy and contented man. He loves Lochdubh and its people, he likes his job as a policeman in a sleepy village without much to do but gossip. He has his dog Towser, his croft , his sheep, and is contented.
Where would the world be if everyone were like Hamish - we'd still be living in the dark ages literally without the advances of modern mnedicine, etc. But whilst undoubtedly true, that is not the point. It would be terrible if everyone was like Hamish, yes, but the question M C Beaton poses is "surely there is some room in the world for someone like Hamish". He doesn't have to travel the world looking for success - he is happy where he is.
Hamish and Priscilla are a strange couple. They get on well, and are happy and relaxed in each other's company. But Hamish could not live in Priscilla's world, nor could she live in his. If neither changes, how can there be any future for them ?
This is crime fiction, so there has to be crime. In this case, the newcomer Trixie Thomas is found dead - and Hamish recognises the signs of a poisoning. But who poisoned her ?
As usual, there are plenty of possible suspects. Trixie had split the village - antagonising half of it, usually the husbands, but invoking hero worship in the other half.
DCI Blair from Strathblane heads the case, and he tries to keep Hamish out of the way - there is a new chief, Mr Daviot - to impress, and Blair is determined that he is going to be the one doing the impressing, not Hamish.
Of course, Hamish solves the murder, and unusually, gets the credit from Daviot, and an offer of promotion - but at the cost of a move away from Lochdubh. Hamish declines the promotion - not unexpectedly. But could it be that somehow, he has also overcome his puppy love of Priscilla ? That is a question that needs an answer - so I'll need to read on and see what happens next.
Links to author index and home page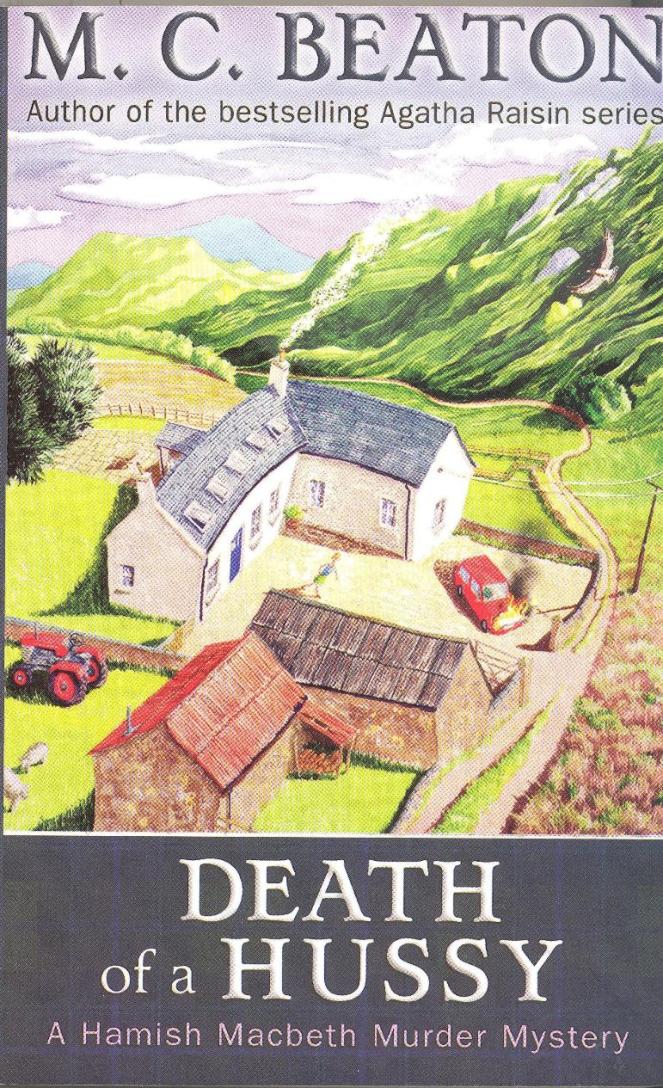 I read this book in Febuary, 2014.
This is book five in the village bobby Hamish Macbeth series by M C Beaton, set in the fictional Lochdubh in the Scottish Highlands.
We are asked to believe that Hamish is that unusual man - a contented man, happy with his lot, quite devoid of any ambition. All he wants is a quiet life with his dog Towser, with his sheep, and with his part time croft. But yet Lochdubh seems plagued with a series of wierd murders - all of which Hamish solves, but for almost none of which does he get any credit.
In this story, Alison Kerr is a timid creature recovering from cancer and staying with her very rich aunt in a bungalow just outside Lochdubh. The aunt, Maggie Baird, has had a colourful past - not as a prostitute as such, but she bestowed favours in return for expensive gifts of apartments, expensive holidays, expensive clothes, etc. But she has let herself go, and is now overweight and not very attractive. She takes herself off to a health farm, and eventually returns a lot slimmer. She now decides to get herself married, and invites four former boyfriends to visit - telling them she is very rich, has heart problems, and would like to marry one of them. Later her car explodes, she is engulfed in flames and dies of a heart attack caused by shock. PC Macbeth thinks this is murder - though how he correctly jumped to this conclusion is in no way clear to me.
Hamish no longer dotes on Priscilla, but they still get on very well together as friends. Priscilla is still frustrated by Hamish's lack of ambition. "Why can't she just accept me as I am", thinks Hamish. By the end of the story there is a possible change of fortune, and perhaps Priscilla may no longer be so unobtainable.
It's all fantasy - whimsy, make beleive.
It's a pleasant enough read, a diversion, but it's always nice to rejoin Hamish Macbeth in Lochdubn. This is a light, bright story. And of course, I'll read on to see how many more murders there might be in Lochdubh for Hamish to solve - and how he might be getting on with the beautiful Priscilla.
Links to author index and home page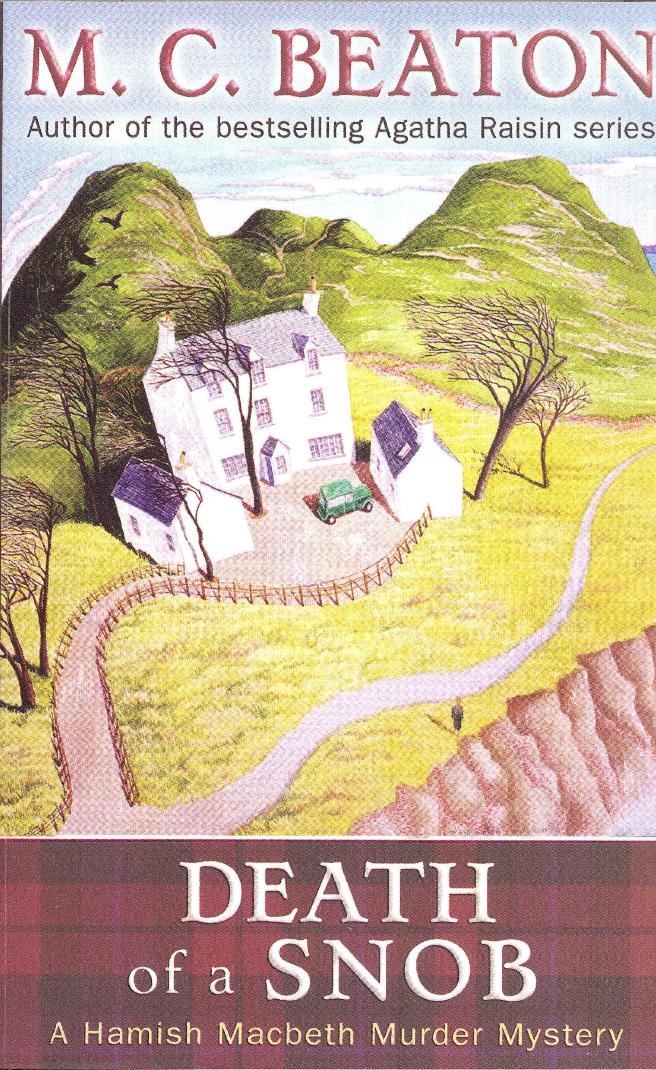 I read this book in March, 2014.
This is book six in the Hamish Macbeth series by M C Beaton, set in the fictional Highland village of Lochdubh. It's quite a nice little series, light, full of whimsy, and a complete change from darker fare e.g. the Harry Hole books, by Jo Nesbro .
There is a very interesting relationship between the laird's beautiful daughter Priscilla, and the lazy village bobby Hamish. Hamish used to be smitten by Priscilla - tongue tied, timid, with a silly grin on his face in her presence. But Priscilla was way out of his league, and unobtainable. Now there has been a change of fortune. Priscilla's father, owner of Tommel Castle, has lost all his money, and Priscilla is working all the hours as a skivvy to get Tommel Castle established as a grand hotel. Hamish is shocked when he meets Priscilla - she is very tired, thin, and her hair is messy. She is definitely obtainable now, but Hamish's love for Priscilla seems to have vanished. He is quite mystified himself, and even longs for the olden times when he worshipped Priscilla. Of course, we think they are well suited, but it seems to be something that will never happen, or if it will, certainly not yet.
The book opens with an excellent description of that extreme peril for half of the human race - man flu ! Hamish has succumbed, his place is a tip, Touser is unfed, and Hamish is feeling very sorry for himself. He had hoped to go home for Christmas, but that has fallen through - so he accepts an offer to visit a friend of Priscilla's who lives in the Hebrides. There have been attempts on the friend's life, and Hamish's presence should be reassuring. The friend is Jane Wetherby, who runs a health farm. So we have Hamish, Jane, and some guests all in an isolated and fairly remote Scottish Isle. One of Janes's guests is Heather, the snob of the title - a terrible, opinionated harridan who annoys everyone, and gets herself killed. Of course, Hamish decides it's murder (for no obvious reason, really). Being unpopular is not usually a motive for murder.
Meanwhile Priscilla is at Hamish's family home - she was delivering Touser in Hamish's absence - gets herself snowed in, and is nursed back to health by Hamish's mum. Why couldn't Hamish be there too ?
Hamish teams up with one of Jane's frends, Harriet, they make a good team, and set out to solve the murder. But of course the team should be Hamish and Priscilla.
It's all sorted in the end - the murder - but the matter of Hamish and Priscilla with have to keep for another day.
Links to author index and home page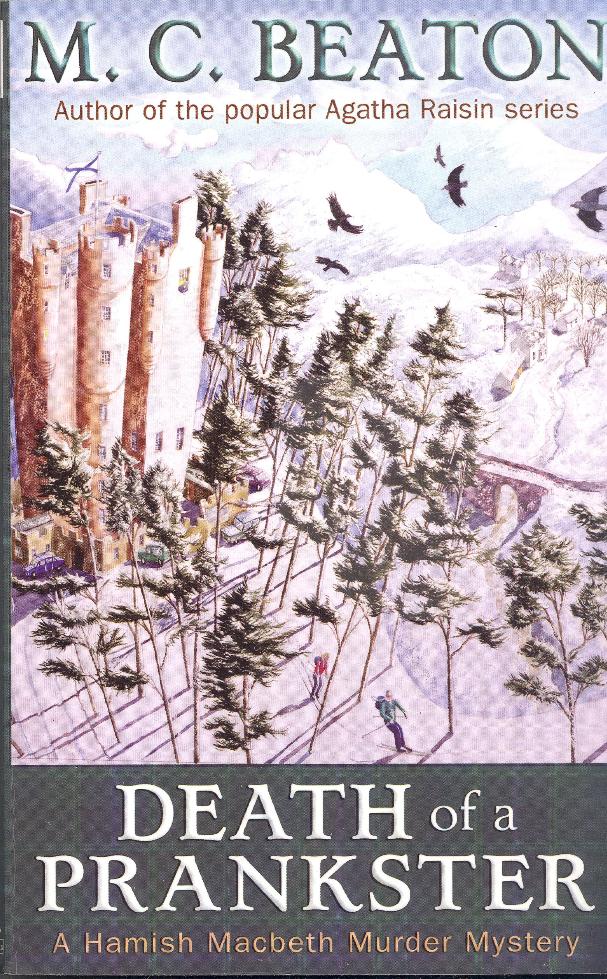 I read this book in March, 2014.
This is book seven in the Hamish Macbeth, village bobby of Lochdubh series by M C Beaton. I read it when on holiday in Spain (Fuengirola) in March, 2014. When you are on holiday there is a lot of time for reading, and really you want something more substantial than a Hamish Macbeth book of only 200 pages. I wish M C Beaton would write a full sized novel. Perhaps she might then find time to let the Hamish / Priscilla relationship develop. This friendship is a real roller coaster. When she was rich, and living in a castle, Priscilla was way out of Hamish's league, but he pined for her. When those at Tommel Castle fell on harder times, Priscilla was obtainable, but somehow, Hamish had fallen out of love. Now he seems to be back in love with her, but he doesn't realize it. Do get a move on, Hamish !
The story is a familiar one. Andrew Trent is super rich, and lives in remote Arrat House. He tells his relations that he is dying, and summons them. They all attend, fearing not to do so would be to risk being cut out of the old boy's will. But Andrew Trent is not dying, and has lured them there just to get victims for his terrible practical jokes. These really are bad jokes - he substituted a monkey for a newly born baby, and caused the new mother to collapse, he bursts hot water bottles, puts cling film over the toilet pan, suspends flour or buckets of water above doors, etc, etc. Everyone loathes his jokes, but they are trapped at Arrat House by a snow storm. They all hate him, but who hates him enough to kill him ? And then there is a murder.
Hamish and Priscilla solve the crime, but DCI Blair takes all the credit once again - leaving Priscilla to wonder once again at Hamish's lack of ambition. At the end, Hamish gathers all the guests at Arrat House into the drawing rooom to expose which one is the murderer - very old fashioned, but the book does poke fun at itself.
The books are almost written to a formula. It's all very light hearted escapism. I'd like the books to be more substantial, but perhaps it would all then fall apart ?
Links to author index and home page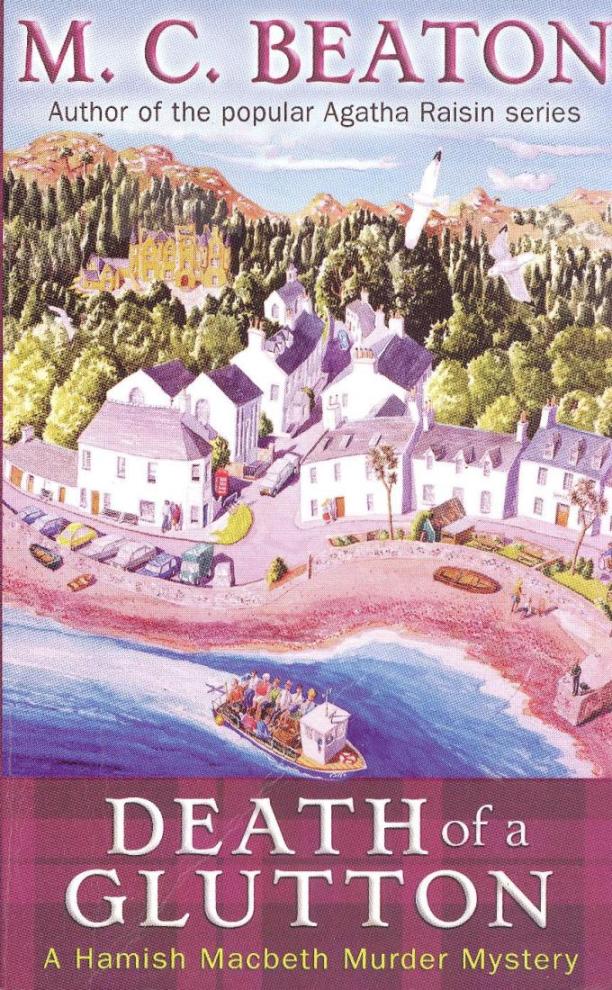 I read this book in May, 2014.
This is book eight in the Hamish Macbeth, PC of Lochdubh in the Highlands, series by M C Beaton.
And of course, it's more of the same. A lot of assorted people - this time members of the Checkmate up market dating agency - find themselves isolated in Castle Tommel Hotel. Peta Gore, the glutton of the title, the gross half owner of the Checkmate agency, turns up and imposes herself on everyone. She is a dreadful, fat, ill mannered creature with revolting table manners that appal everyone. All dislike her, but who dislikes her enough to kill her ?
As you would expect, Hamish solves the case, but this time he seems to get the credit, and he appears to be promoted against his easy going ways to sergeant, and even given an assistant !
The Priscilla / Hamish relationship continues. Hamish thought he was over his infatuation for Priscilla, but he kisses her, then runs away confused, muttering that he doesn't want all that nonsense to start up again. You were happy then, Hamish! He spends the book pushing Priscilla away , but regretting it each time. They have nothing in common, Priscilla is way out of Hamish's league, but yet they really are good friends, and so comfortable in each other's company. Perhaps Hamish should give it a go, and see what happens.
There are not quite as many jokes as usual in this book, but it's a good light read. I quite like the series, but I could do with more meat in each story. But they are as they are.
Links to author index and home page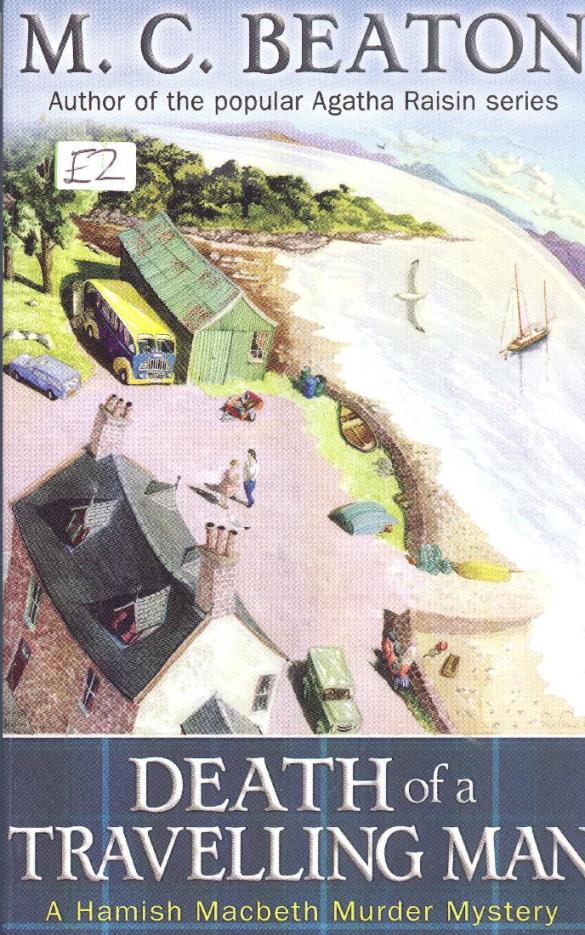 I read this book in June, 2014.
This is book nine in the Hamish Macbeth series, set in sleepy Lochdubh in the Highlands. Following on from book 8, Hamish is now a police Sergeant, and is in charge of a PC assistant who now shares Hamish's police home, and Hamish doesn't like it. PC Willie Lamont is a funny character with a fetish for cleaning, polishing, dusting and doing housework. He would make someone a good wife. Hamish is miserable, his home is no longer his own - he is crotchety and has turned into the boss from hell. All he wants to do is to put things right, and for everything to go back to how they used to be as soon as possible.
The Travelling Man of the title is a New Age Traveller who turns up at the village in an ancient bus. His name is Sean Murphy, is very handsome, and all the ladies of Lochdubh fall for his charms. Hamish alone thinks he is up to no good - everyone else seems to be defending Sean.
Soon things start to go missing in the village - drugs from the local doctor, and money from a charity collection. Hamish suspects Sean, but cannot get proof.
Priscilla is still there, helping Hamish with words of advice and friendship. The big breakthough in their relationship comes about through a mistake by PC Willie Lamont. Hamish asks Willie to leave him and Priscilla alone, as he has something to say to Priscilla. Willie thinks that Hamish is going to propose marriage, and tells everyone, and the news spreads, including into the local newspaper. Everyone phones to congratulate Hamish and Priscilla, but hangs up before they can deny it. Hamish and Priscilla look at each other, say why not, and so find themselves engaged. Priscilla has just one condition - she wants a long engagement. I guess they both imagine they will both carry on as before as friends, but with a new title.
I think it was a story with a good start and a good ending. Hamish wanted rid of Willie, and Dr Brodie suggested that Hamish should try to get Willie married to someone - "and your home will be your own again". It was good just to read about day to day life in Lochdubh. Then the new Traveller got murdered, and Hamish had another murder mystery to solve. But there was a good end to the story when the case had been solved, and Hamish and Priscilla somehow had got themselves engaged.
And so, it ended up as more of the same, but it's all harmless escapism, its full of humour, and I quite like it, and the mismatch between the humble, easy going Hamish and the aristocratic Priscilla.
Links to author index and home page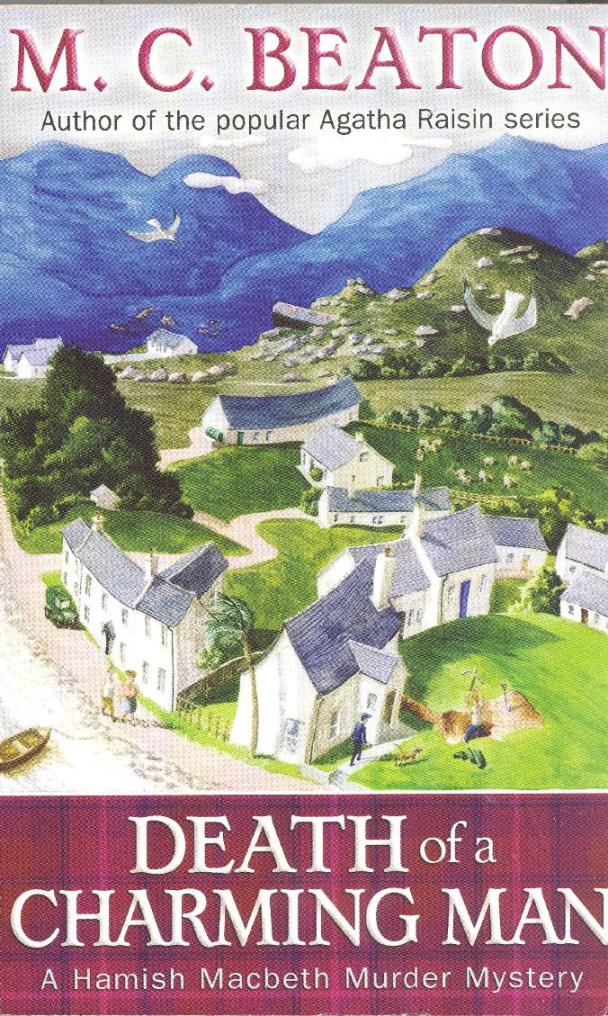 I read this book in July, 2014.
This is book ten in the charming series about a village bobby in the Highlands of Scotland - ie Hamish Macbeth of sleepy Lochdubh. As per book nine, Hamish opens the book as sergeant Macbeth, and engaged to the beautiful Priscilla Halburton-Smythe. The engagement was a misunderstanding on behalf of the village gossips and everyone else, and Hamish and Priscilla thought why not - let's be engaged.
They are old, great friends who care for each other. They can talk freely to each other. But, are they in love ? Hamish is as he is - a man contented with his lot. Priscilla knows this, knows that she shouldn't try to change Hamish, but yet she can't help herself. Priscilla takes over, cleans Hamish's police house, moves everything around, installs a new electric oven instead of the old wood fired one, and even drags a protesting Hamish to Strathblane to look at new houses. At the same time, Priscilla has grown coy with Hamish - anything more than a kiss will have to wait until they are married. Soon the sweetness has gone from their friendship - gone so very soon. Are they still engaged at the end of the book - read the book to find out ? But I thought it's a story well told and well handled by the author.
What is the crime for Hamish to solve ? Action is set in Drim, a dreary place some 40 miles from Lochdubh, but still in Hamish's beat. Peter Hynd is the charming man of the title, who is a bit like the travelling man of the previous book - very good looking, and very popular with the ladies of Drim. He has bought a house there, and has had affaires with most of the ladies, especially the dumpy, unattractive ones who start dressing under their age, dying their hair blond, etc. Their husbands are furious - but who is furious enough to kill Peter Hynd, or is it one of his spurned girlfriends ?
A body is found, but it is not Peter Hyand's. I thought it was a good story, and well told. M.C. Beaton has a real feel for the place, and seems well informed as to what is happening in the real world in the far north of Scotland.
I thought it was one of the stronger books of the series, and I enjoyed reading it. Thankfully, there are a lot more of these books for me to read.
Links to author index and home page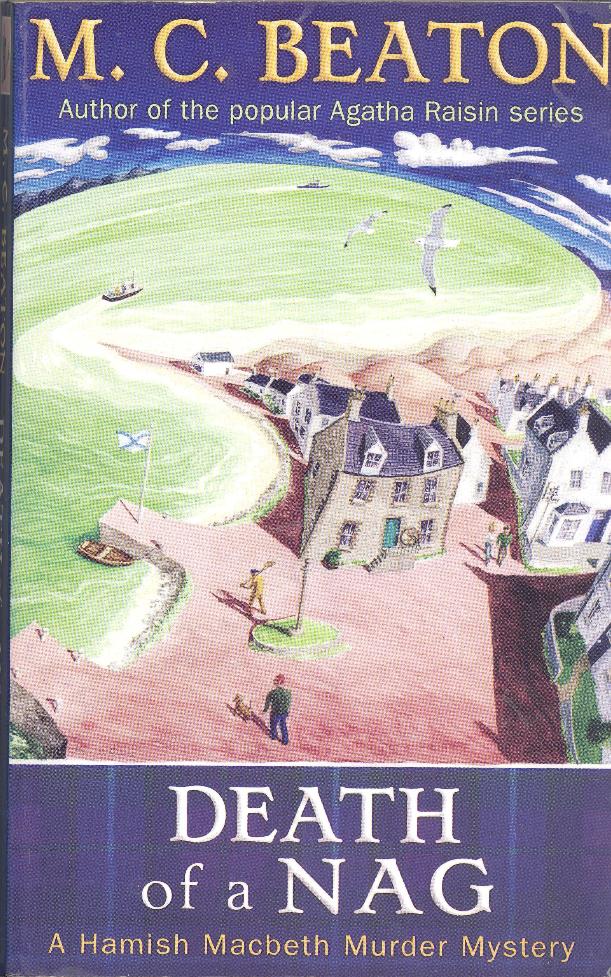 I read this book in July, 2014.
This is episode eleven in the series about Hamish Macbeth, village bobby of Lochdubh in the Scottish Highlands.
In the previous book, Hamish had broken off his engagement to the beautiful Priscilla Halburton-Smythe - she had been trying to change him, get him promotion, and even to get him to move away from his beloved Lochdubh. The engagement was something they had blundered into somehow - Hamish now realised it was a mistake, and ended it. The book opens with Priscilla off down south staying with friends in England, and no-one in Lochbubh is speaking to Hamish. He is no longer a sergeant. He is now the cruel monster who broke Priscilla's heart. For the first time in his life, Hamish wants to be away from the hostility of Lochdubh. Once again it seems he is due more holiday leave - I really think M C Beaton should keep better track of what holidays Hamish is taking ! Anyway, off he goes to a holiday B&B in the seaside village of Skag on the Moray Firth.
We meet the fellow guests at the B&B. Doris Harris is married to drunken bully Bob Harris. Everyone detests Bob for the way he treats Doris. Even Hamish loses his temper, punches Bob on the nose, and threatens to kill him ! Then , of course, someone really does kill Bob Harris. It must be one of the guests - but which one? Initially even Hamish is a suspect in the eyes of the local DCI Deacon - but soon Deacon learns of Hamish's amazing murder solving prowess, and wisely decides to enlist Hamish's help to solve the murder, and a later one too.
Of course, it's all sorted in the end, Hamish falls back in love with Lochdubh, but there is a very sad personal loss for Hamish - and all the villagers turn out in their Sunday best to say farewell / pay their respects at the funeral. Sadly Priscilla stays away in England throughout the book - I thought she might have turned up at the funeral, and Hamish and Priscilla might have got together again - but I mustn't write my own plot lines.
I like the series - I don't rave about it, but it's OK, and perhaps a bit better than OK. Hamish and Priscilla will need to meet up again in the next book. I wonder if / how their relationship / friendship/ romance will develop ?
Links to author index and home page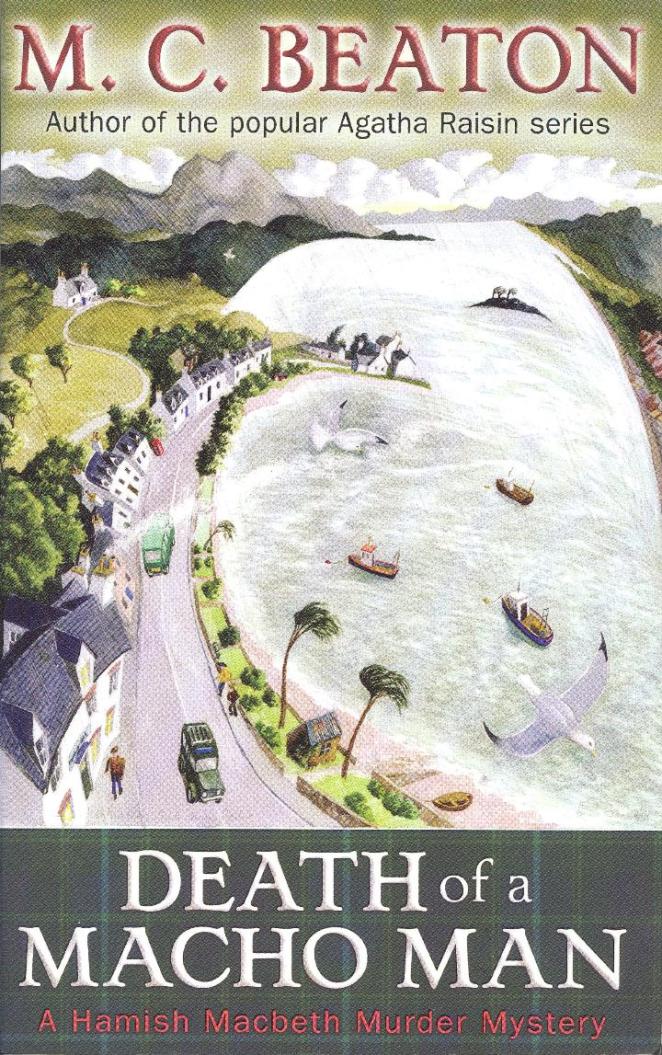 I read this book in August, 2014.
This is book twelve in the adventures of Hamish Macbeth, village bobby of Lochdubh in the far North West of Scotland. Usually I like these stories for their gentle humour, and the inter play between Hamish and the beautiful Priscilla Halburton- Smythe. There is always a crime story as well, which Hamish solves to the annoyance of DCI Blair of Strathbane. You don't usually think of these stories as exciting. But this story was exciting, with Priscilla's life in real danger. Would Hamish get there in time to save her ?
There is yet another incomer to Lochdubh - a huge , strong brute of a man, Duggan by name, full of tall stories, who claims to have been a wrestler in America. He seems to have plenty money, which he splashes around.
His presence at the local pub persuades its locals to regroup to the bar of Loch Tummel Castle Hotel - and her dad asks Priscilla to get Hamish to evict these "common people" who are spoiling the Hotel ambiance. This Hamish does. The Macho Man, Duggan, taunts Hamish into accepting a challenge to fight him. But Duggan does not turn up at fight time - he cannot because he has been murdered. DCI Blair is back in Lochdubh, but he warns Hamish to keep well away from this investigation. But then there is another murder.
There are lots of fun and games, but eventually Hamish solves both murders. Blair is so annoyed that he has to be physically restrained from throttling Hamish. But in going his own sweet way, Hamish has broken about every rule of police procedure. He is a rebel, not a team player, and very insubordinate. Surely he cannot carry on getting away with such conduct. Is there still a place for him in the police force ?
M.C. Beaton manages to keep the Priscilla / Hamish story going on and on. I thought Hamish had the perfect opportunity to get Priscilla back at the end of the book, but no. I am definitley intrigued to see what the end story will be for them - but I guess it's not coming any time soon.
I thought this was one of the best in the series. A lot of the books are more of the same, but this one was different.
Links to author index and home page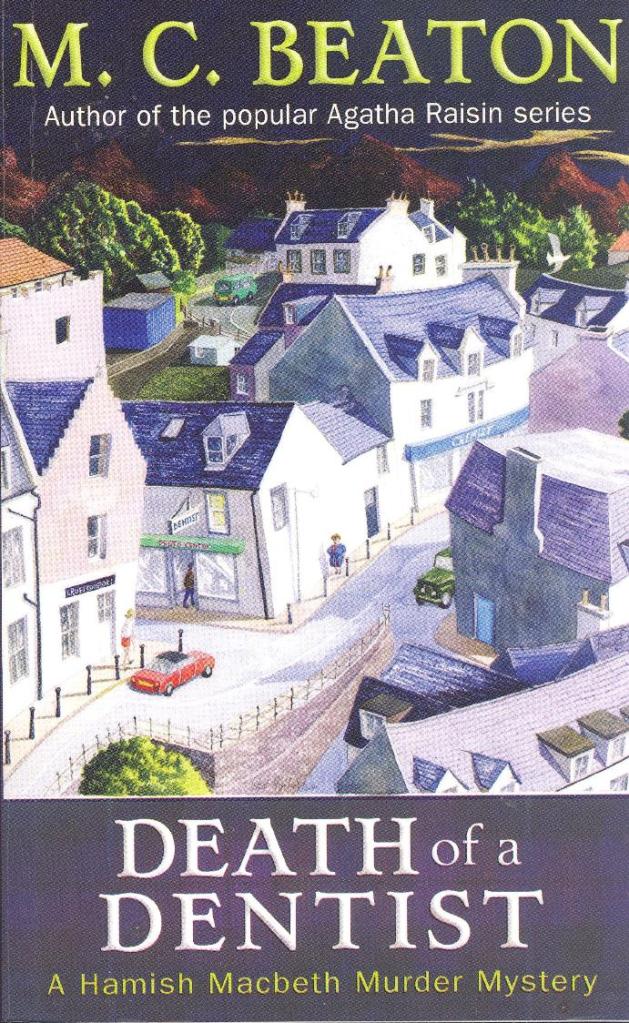 I read this book in August, 2014.
This is book 13 in the Hamish Macbeth series about the life of a village bobby - the village being Lochdubh in Sutherland in the Scottish Highlands. There are three ongoing themes in these books. Theme 1 is that Hamish Macbeth is brilliant at solving crimes, but is contented and happy with his otherwise quiet life in usually sleepy Lochdubh. Theme 2 is the on-off Hamish Priscilla relationship. And theme 3 is the latest murder mystery for Hamish to solve.
The crime in this book is the death of the dentist in Blaikie - a hamlet on Hamish's beat. DCI Blair is in charge again - initially he tells Hamish to stay clear, but then he wants Hamish on the case to solve it, but for Blair to grab the credit. The dentist is terrible at his trade - he yanks out every tooth, but is cheap, and so is still in business. He is found dead by Hamish who had toothache. The dead dentist had been tied to his dentist's chair, and all his teeth had been drilled. Someone obviously hated him ! At the end of the day, Hamish solves the murder, and once again gives away the credit, but this time to someone other than Blair.
Things are still troubled with Hamish and Priscilla. Priscilla is now down in London visiting friends - but Sarah, a friend of Priscilla's turns up in Lochdubh. Sarah and Hamish get on very well together, but at the end of the book, all is still open for Priscilla and Hamish to get together again.
Like book 12, this book held my interest throughout - I think the standard of story telling has improved in books 12 and 13, but perhaps this is just my imagination. I look forward to book 14, and and more of the Priscilla / Hamish story.
Links to author index and home page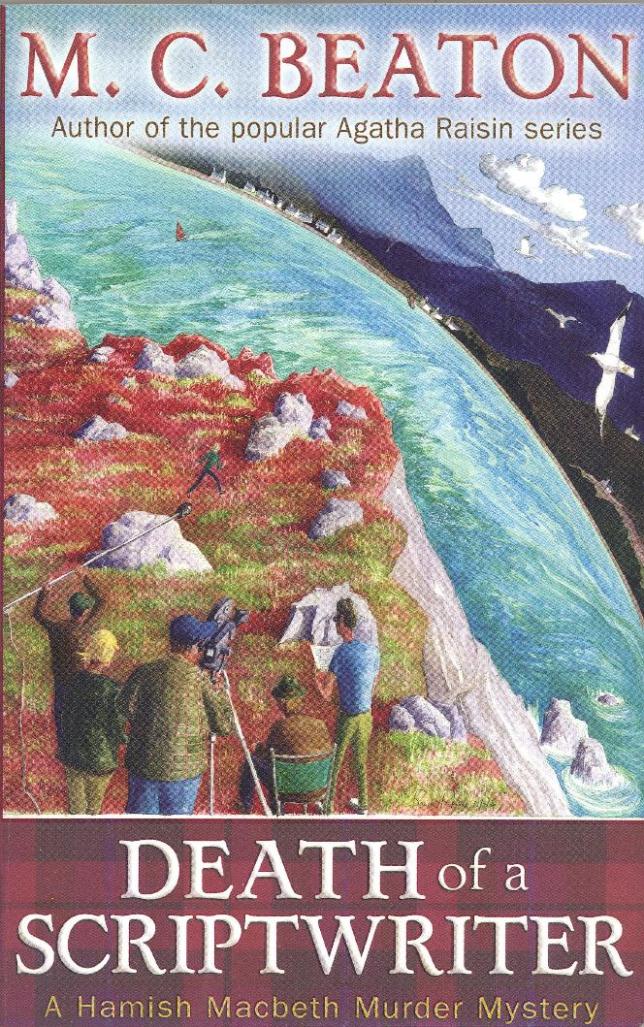 I read this book in September, 2014.
This is book 14 in the Hamish Macbeth series set in Sutherland, Scotland, about the life of a village bobby in Lochdubh who has an uncanny talent for solving murders. Any normal man would have been promoted to DCI at least, but Hamish has no such ambitions. He loves his simple, uncomplicatedd life in Lochdubh - he is contented with his lot.
I thought the previous two books in this series had been particularly good, but I can't say I really got into this book. It took a lot of setting up. We have a local writer, a lonely old woman, befriended by Hamish, who has written a series of books about a lady detective. A TV company now wants to serialise these books, and the writer is very excited But a terrible scriptwriter is hired who wants to jazz up and sex up the stories. The scriptwriter is talentless and a bully, and he antagonises all whom he meets. So, when he is killed, there are lots of possible suspects. Conveniently, DCI Blair of Strathblane pins the murder on the deceased husband of the lead actress in the TV series. He was no longer around to defend himself. Hamish thinks it's all too convenient Then there is a second murder - are the two murders separate, or is there only one murderer ?
Disappointingly, there is no progess whatsoever in the on going Hamish / Priscilla story. She is in London. Hamish and Priscilla have a few chats on the phone - but that's it.
Not the best book in the series - it seeems to have gone off the boil. But of course, I'll read on. Let's hope there is more progess in the Hamish / Priscilla saga in the next book.
Links to author index and home page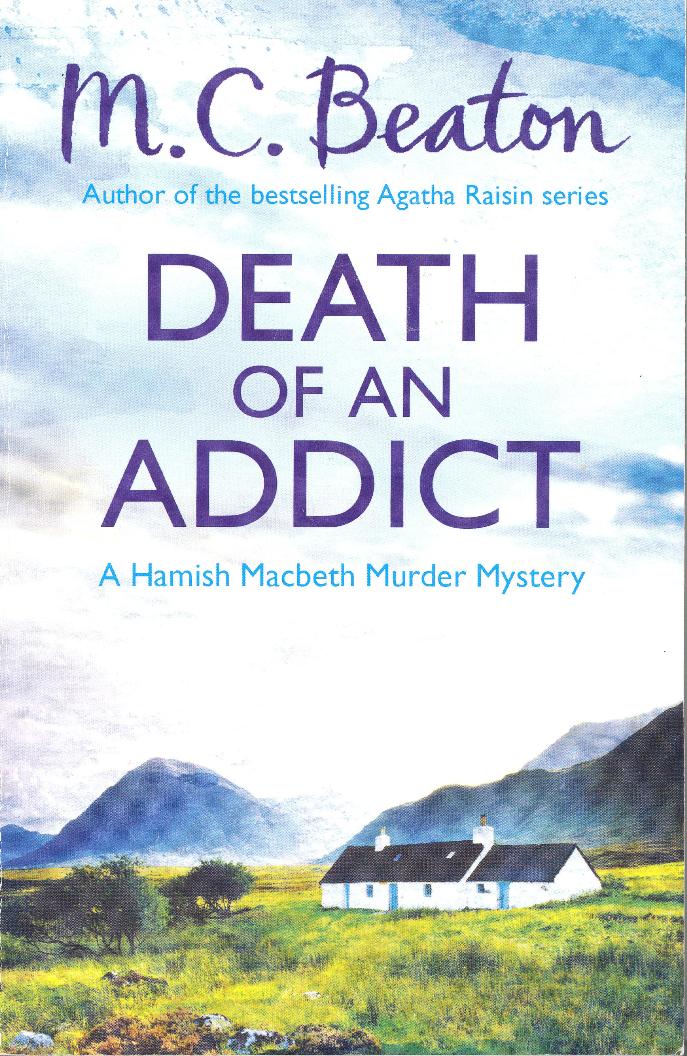 I read this book in September, 2014.
This is book 16 in Hamish Macbeth's adventures as village bobby in Lochdubh in Northern Scotland. I thought M C Beaton had "gone off the boil" slightly in the last book, but I have no such reservations with this book.
Firstly to the Hamish / Priscilla saga - sadly there are no developments to report. Priscilla is still absent in London. She had come back for a brief visit, and had had a friendly meal with Hamish - and Hamish was relieved to discover that he was no longer in love with Priscilla (we have been here before). I guess we will have to wait for a few more books before we see any further developments - or perhaps I have got it wrong, and there will be no more Hamish / Priscilla romance.
The addict of the title is Tommy Jarret who is renting a chalet in the nearby village of Drim. He is found dead, apparently of an overdose. Hamish does not believe this explanation, and of course, can't leave things alone. He takes yet more of his endless supply of holidays owing, and heads off to Strathbane to infiltrate a "religious cult" that Tommy Jarret had visited. Soon Hamish has stumbled on to a drug trafficking operation. He reports his findings to Super. Daviot who tells Hamish to stay undercover, but reinforces Hamish with Olivia Chater, a tough Glaswegian DI. As part of the undercover operation Olivia and Hamish pretend to be man and wife, and of course, the inevitable happens.
The story takes Olivia and Hamish to Amsterdam. I didn't think I would like a story set so far from Lochdubh, but no, it was a good, plausible story. There is quite a lot of excitement and tension - all handled well by M C Beaton. Hamish's luck holds, and at the end of the book, he is still alive (to have further adventures). He has also been re-promoted to sergeant, and given a police constable assistant to help him deal with his workload - not very likely, is it, but let it pass!
It's not first division crime fiction, but I continue to enjoy the series as an enjoyable light read, and look forward to reading the next adventure.
Links to author index and home page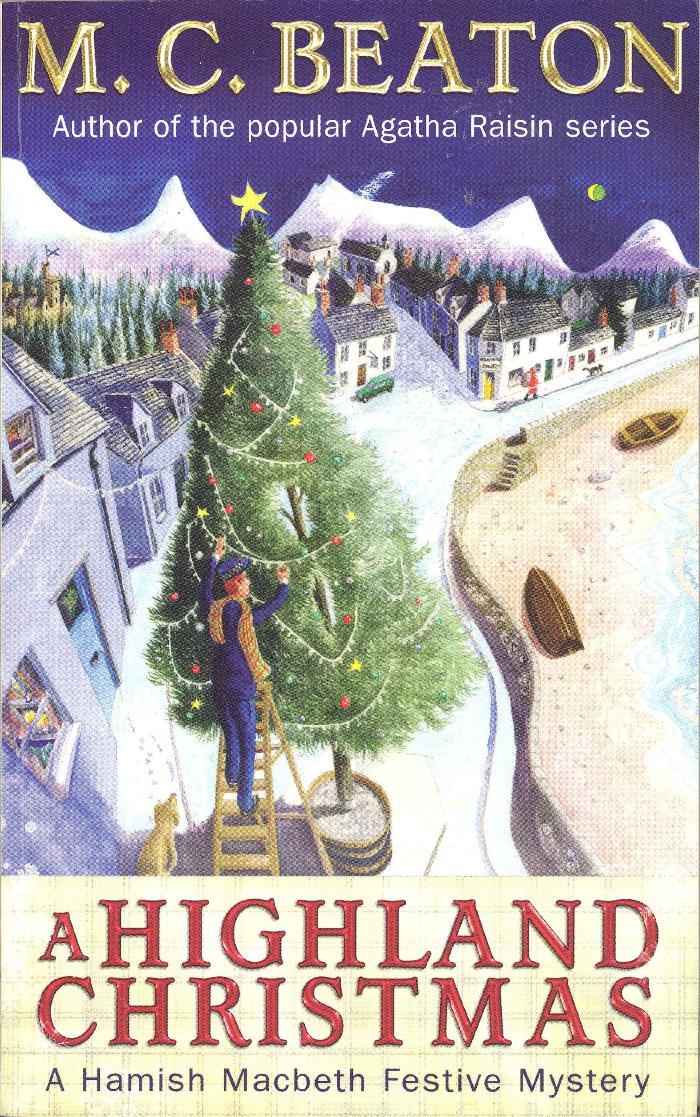 I read this book in October, 2014.
This is book 17 in Hamish Macbeth's adventures as police constable in idyllic Lochdubh in the Scottish Highlands. I could not find this book in any charity shop, and had to resort to Amazon, paying £4.99 including postage. M C Beaton published two books in 1999. I think she might have written this book before book 15, but perhaps delayed its publication until Christmas. It's title is different from the usual "Death of a ...". The continuity is not quite right. In book 15 Hamish ends up re-promoted to sergeant, but at the opening of this book he is still a constable. Also "Death of a Dustman" is described as the next book at the end of book 15. On the other hand, Hamish gets a new dog at the end of this book, but there is no mention of a dog in book 15. It's all very strange but I don't think it matters too much.
I thought this was a little treasure of a book. I read it in October 2014, and wished I had waited until Christmas. It's definitely feel good Christmas fare. I'll pass it round the family when Christmas comes, for them to read and enjoy. I loved it for giving us a visit to Lochdubh for a simple tale of village life. There is no murder for Hamish to solve, we just join him as he goes about his day to day duties. Priscilla is now working for a computer company in London, and has been posted to New York for 6 months. Hamish has been invited to address the village school to warn of the evils of drugs, and bullying, and invites the new school mistress, Maisie Pease - a rather plain woman in her thirties - out for an evening meal in the local Italian restaurant, just for the company. He then asks her out for lunch at Loch Tummel Castle Hotel after Mr Johnston, the manager there has offered to stand Hamish a free lunch for two. Priscilla phones home and speaks to Mr Johnson whilst Hamish and Maisie are having their lunch. Mr Johnston discourages Priscilla from speaking to Hamish, saying that he has been seeing the new attractive school teacher. He thinks Priscilla has been stringing Hamish along for too long. Hamish and Priscilla do chat on the phone before the end of the book - so I guesss the ongoing Hamish / Priscilla "thing" is still ongoing and into the next book.
There are several small stories based around the Highland split between those who adhere to strict calvinistic attitudes to Christmas, and more liberal attitudes. There are no Christmas lights decorating the streets of Lochdubh, no big Christmas tree and not all the schoolchildren will be getting Christmas presents from Santa. So Hamish acts as Santa in lots of little ways - and brightens up Christmas. Mrs Gallager, who lives alone and shuns company, reports her cat stolen. Morag is a clever young girl with strictly religious parents,but not much fun in her life. And an old folks home near Strathblane needs brightening up. Hamish works his magic over everone. There had been a series of petty thefts, and Hamish tracks down the gang of thieves to a remote caravan, and calls for reinforcements. DI Blair from Strathbane turns up to claim the glory, but its Hamish who is almost shot. At the last minute he hears a warning bark from beloved Towser, his dead dog, and flattens himself on the ground. This is described in a very matter of fact way - as if warning barks from dead dogs were to be expected. So its fitting that in the book where Hamish gives gifts to so many and gets a gift of a new dog, Lugs, in return, old, faithful Towser is not forgotten. Blair also gets his comeuppance.
All in all, a little gem of a book. Well done, M C Beaton, and thank you !
Links to author index and home page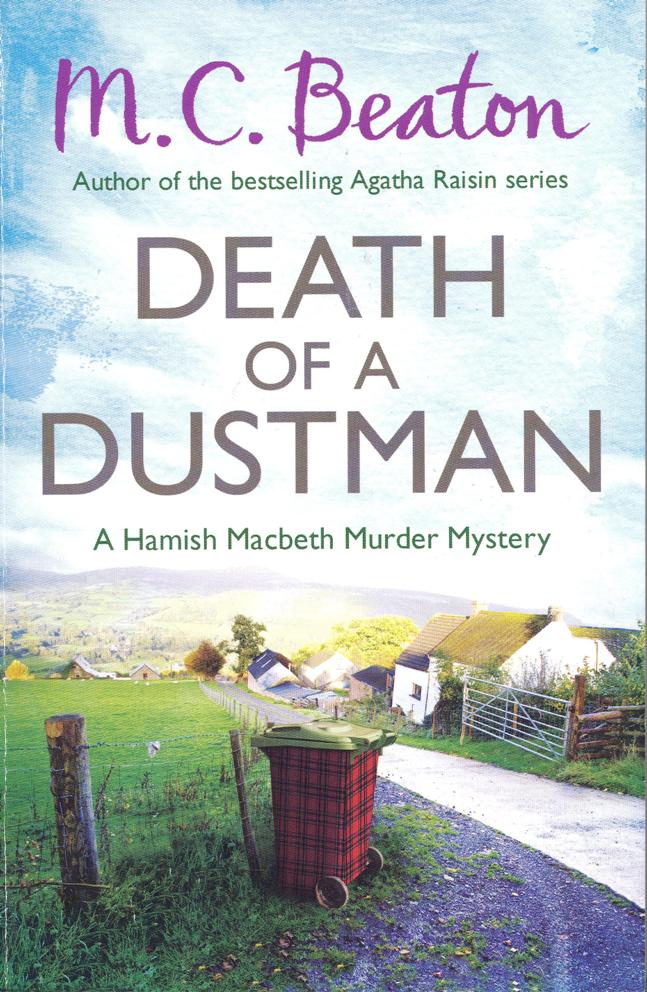 I read this book in November, 2014.
This is book 18 of Hamish Macbeth's adventures as village bobby in Lochdubh in the Scottish Highlands. I think of M C Beaton as an "American" writing for an American market - but she was born in Glasgow, and now lives in the Cotswolds. Somehow she is extraordinarily well versed in the ways of the Highlands, and in the geography of its towns. I wonder how she does her research, and manages to keep so well informed - eg, in this case, about wheelie bins, recycling, and the need to sort your rubbish into the correct containers.
This book opens with Hamish a police sergeant in his beloved, sleepy Lochdubh, but one who has been lumbered with a lazy, overweight, slob of an assistant, PC Clarry Graham. But Clarry has one saving grace - he is to cooking what Hamish's last assistant Willie Lamont was to cleaning. Clarry cooks Hamish and himself some excellent meals. Hamish would prefer someone better at his job, but Hamish is easy going (and then some), so so he and Clarry bump along well enough. Hamish also his new dog, Lugs, for company. Lugs has blue eyes - is he a reincarnated person as per local superstition ?
The dustman of the title is Fergus Macleod, dustman of Lochdubh who is promoted to environmental officer in charge of greening Lochdubh by an abitious, self important politician in Strathbane. Soon Fergus is refusing to empty dustbins, and leaving notes complaining that the wrong rubbish is in the wrong container. His general attitude really begins to annoy the locals - but surely not enough to kill him. But Fergus is murdered and dumped in one of his wheelie bins. Its another case for Hamish.
Soon Hamish has found out that Fergus had been trying to blackmail some of the villagers. He learns of mistakes made by people he has known for a long time, but tries to keep these secrets confidential for as long as he can, hoping to solve the case first. And then there is another murder.
We also have another chapter of the Hamish / Priscilla story. I sort of hope that they can get together some where, some time, and that it will all work out for them in the end. At one point in this story, I thought it was heading for a very different, very sad ending. Priscilla is back Tommel Castle Hotel, and worried that an international greek hotelier is reopening the old Lochdubh hotel, sprucing it up, and pinching staff. Is Hamish still in love with Priscilla - he doesn't know, nor do we. But after a few meetings with Priscilla he has a sinking feeling that he has lost something very precious, and doesn't know what to do. Their very old friendship may even be gone. I never thought it might end like this.
But this is magical Lochdubh, and all is well by the end of the book. Clarry is happy with the prospect of a new wife and family, in a new job, the threat to Tommel Castle has been averted (for now), and Hamish is still in his beloved Lochbubh, but demoted for the second time, to constable. And most importantly of all, the possibility of a happy ending for Hamish and Priscilla may not yet have disappeared.
It's a charming little series not to be taken too seriously and spun expertly by M. C. Beaton.
Links to author index and home page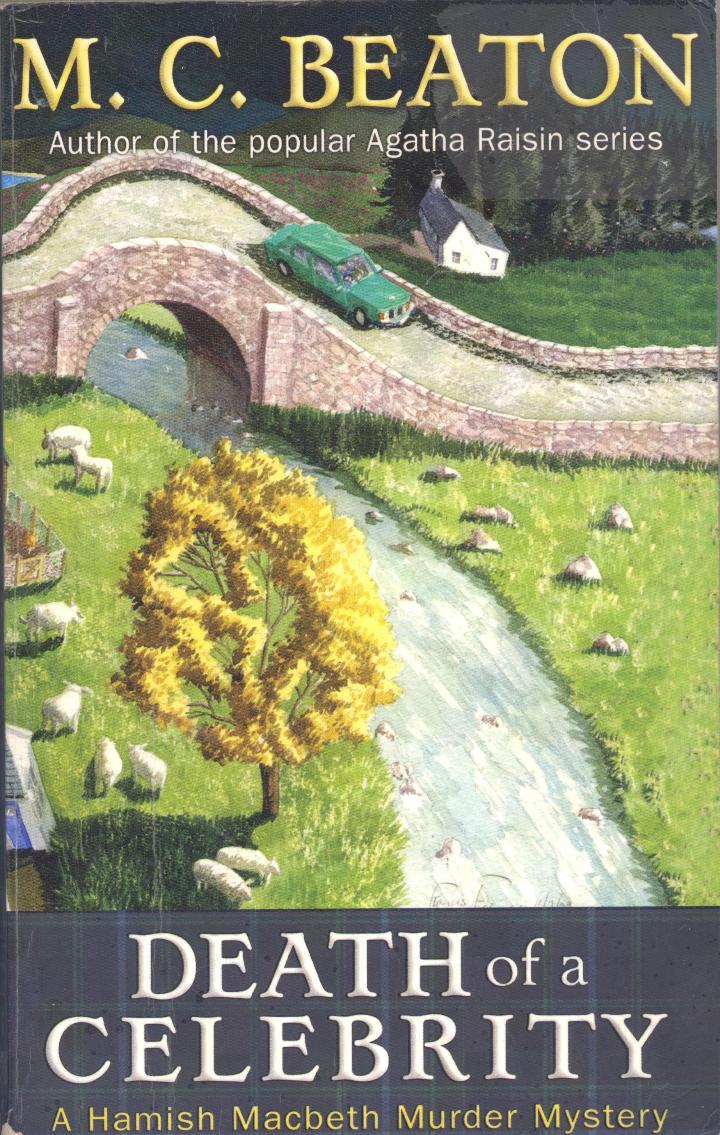 I read this book in November, 2014.
This is episode 19 in Hamish Macbeth's story as village bobby in the sleepy Lochdubh that he loves. It carries on straight after "Death of a Dustman" in that the same people and more who were being blackmailed there are still in danger of having their secrets revealed. This time, their lives may be turned upside down by exposure by a new very attractive presenter on Strathbane TV. I didn't know there was a local TV channel in Strathbane - surely M C Beaton is not referring to Grampian TV once located in Aberdeen, with possibly an office in Inverness.
Lochdubh itself now also has a local newspaper - the Highland Times. How it could possibly pay is a mystery. Elspeth Grant is a Lochdubh based reporter for the Highland Times, and unusually for a reporter, Hamish can confide in Elspeth without fear that what he says appears as a scoop in the press. She seems willing to forego stories to gain / keep Hamish's friendship.
The celebrity who get murdered is Crystal French, the new TV presenter who was threatening to expose secrets - so once again, lots of possible suspects. DCI Blair of Strathbane is ill, and unusually Hamish gets on well with his replacement DCI Carson. Amazingly, Carson stays overnight with Hamish, and is captivated by the scenery and friendship of Lochdubh. He readily understands why Hamish treasures his idyllic life there, and initially he includes him in the investigations. But eventually he realises he has his own Strathbane team to lead, and he can't really give preference to a village bobby who refuses all promotions. Soon there is another death in Lochdubh, and yes Hamish solves it all in the end. If only Hamish were as as successful in his private life.
In all these books, and this is book 18, we have been following the Priscilla / Hamish "relationship". But it's now quite a long time since they worked together as a team. The new local paper announces the engagement of Priscilla Harburton Smythe to a wealthy London businessman, and Priscilla hadn't even phoned Hamish to tell him. Hamish is not sure of his feelings for Priscilla. He thought he no longer loved her, and was over all that a long time ago, but he is sad that she is engaged to someone else. He reckons that perhaps when you are very much in love with someone, a little bit of that love lives on. I guess he is right. Anyway, justifiably or not, Hamish is upset, and off romance and women. He spurns two possible relationships - one with Elspeth, the reporter, who is obvously keen on Hamish, and perhaps one with Maggie Fleming, a woman constable in Strathbane whom he befriends, but then chases off when she shows an interest. Has Priscilla been playing mind games with Hamish? Carson gives Hamish some sound advice. A long time ago, Carson had asked out a friend's daughter as a "plus one" to accompany him to a police social function, but had not asked her out again. Later he corrected this mistake, and found that happiness had been under his nose all this time. Now they were married and happy. But, for Hamish, was Carson referring to Elspeth or Maggie.
Priscilla seems to be playing a diminishing role in these latest stories. Other than the announcement in the local paper, and a phone call to Tummel Castle Hotel, she plays no part in this book. I'd always hoped that perhaps somehow, Priscilla and Hamish would get together, but it doesn't seem at all likely now. Perhaps they might each have failed marriages, and then meet up again ? Who knows.
It's a good story. Roll on the next book, where we might see what the future holds for Hamish. I think he does need and deserves a good girlfriend - hopefully one who won't want to change him, but accept him as he is.
Links to author index and home page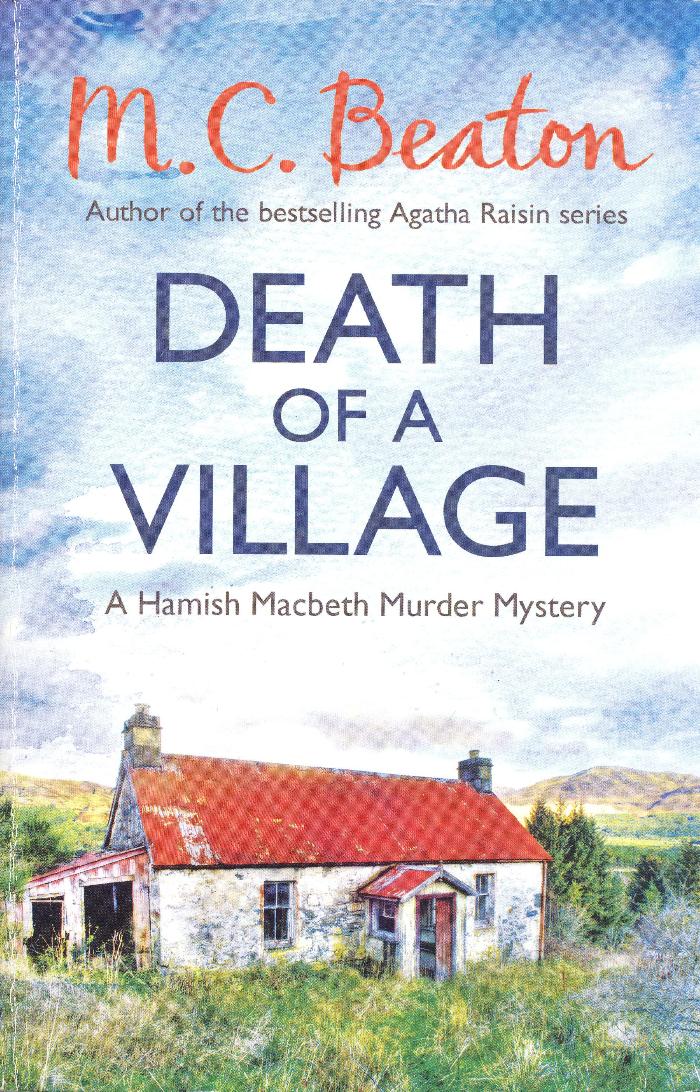 I read this book in December, 2014.
This is book 20 in the Hamish Macbeth series about life as a village bobby in sleepy Lochdubh, in the Scottish Highlands. However in this case, the village that "dies" is not Lochdubh itself, but the nearby village of Stoyre - one that has not previously appeared in these books, but of course, it's one of many in Hamish's beat.
Stoyre gets extraordinarily quiet / deserted ("dies") when everyone there gets very religious and for example, packs the local church on a Monday morning to pray - leaving not a soul on the streets. Of course, there is an explanation, but it takes a murder there and lots of work before Hamish solves the case, as usual.
It's a slightly different book in that Hamish tackles and solves lots of other assorted issues - a hugh insurance scam, husband battery and murder, etc, etc. So successful is Hamish that once again promotion beckons, with the prospect of a posting to Glasgow. This is the last thing that Hamish wants - he likes his lot in Lochbubh.
In all these books I have been going on about the Hamish / Priscilla relationship which is still technically on going, but parked. We open the book with Priscilla engaged to someone in London, and it's the same at the end of the book.
Nearly everyone is telling Hamish not to hold out for the unobtainable. Although Hamish says he is no longer in love with Priscilla, her influence persists. There is a perfectly reasonable, attractive alternative available in the local reporter, Elspeth Grant. She would be a willling and suitable partner. But Hamish is treating her very poorly, and always comparing her unfavourably with Priscilla. By the time he changes his mind about Elspeth, it will be too late.
And so we read on to see what happens next.
Links to author index and home page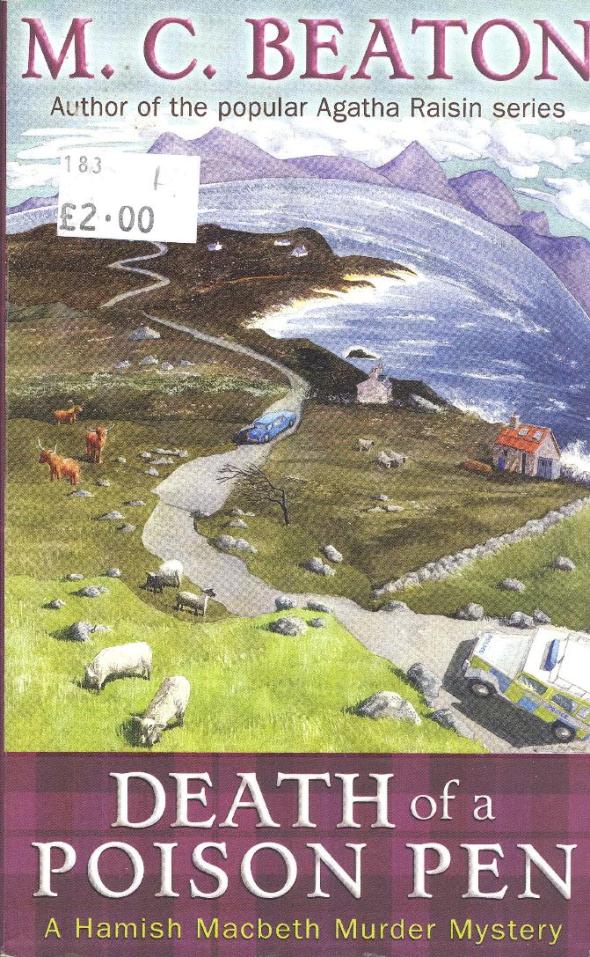 I read this book in December, 2014.
This is book 21 in the Hamish Macbeth series as village bobby in Lochdubh, in the remote north west of the Scottish Highlands. I am well and truly hooked on these light hearted, escapist nonsense stories, and of course, this is another variation on a familiar theme. But so what, if we like the characters ?
There is a crime story to follow, and one that Hamish solves, but for which he never gets / takes the credit - he doesn't want the resultant promotion away from his beloved Lochdubh.
Someone is writing vile poison pen letters, and Elspeth Grant, the local reporter, warns Hamish that it will all end in death. As usual, it's not one death, but two, and Hamish and Elspeth sort of work together to try to solve it - just as Hamish and Priscilla used to do. Meanwhile, Priscilla's wedding has been postponed as her fiance is too busy - so there is still hope for Hamish.
I am sure Hamish and Elspeth would be a good match, but Hamish spends most of the book trying to avoid emotional ties with Elspeth. He doesn't want all the complications of romance with a local lass. But at the very end of the book, fate steps in to find Hamish and Elspeth entwined at the very moment that a homesick Priscilla returns to Lochdubh, and sets off in the night to visit Hamish.
I have no idea how it will all end. It is now a triangle - Hamish / Elspeth / Priscilla. But I haven't mentioned Jenny, a friend of Priscilla, who had arrived in Lochdubh to find the famous Hamish Macbeth that Priscilla was always going on about - to try to woo Hamish to spite her friend.
It all makes for a doubly good story - the poision pen mystery / murders, and the love life of Hamish Macbeth. Roll on the next episode. I should add, though, that I am not reading these books back to back. Usually I read something darker before returning to make the next Lochdubh visit.
Links to author index and home page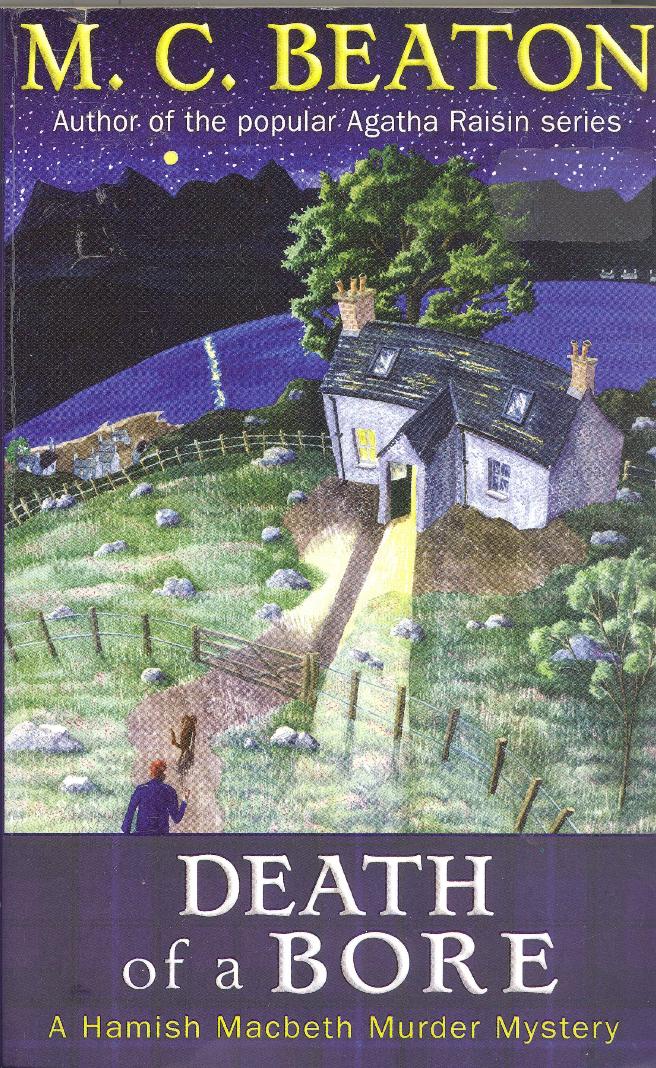 I read this book in December, 2014.
This is book 22 in the continuing story of Hamish Macbeth, village bobby of sleepy Lochdubh, master solver of crime, who outwits and antagonises the stupid DCI Blair of Strathbane.
We have another newcomer to Lochdubh, or rather to neighbouring Gnothan - a so called celebrated author John Heppel, a self important bore. John sets up classes in Lochdubh to teach the locals how to be a successful author, but uses the classes to self promote. When the villagers insist on proper lessons, he gives them homework - to write a sample chapter or two, and return it at the next class. But at the next class, he ridicules everything and everyone. He is a horrible man, the villagers turn on him, and demand their monety back - threatening dire consequences if he doesn't comply. Inevitably, someone murders him. Blair says it's suicide, but Hamish recognises a murder when he sees one. All the villagers are Hamish's friends, not suspects. I don't think I am giving the plot away if I say that Hamish solves it all in the end, but somehow manages to avoid promotion once again.
The more important story is that of Hamish's love life. At the end of the previous book, he and Elspeth, the local reporter, finally slept together. Alterwards, Elspeth told Hamish that she didn't want a series of one night stands - did he want her as a steady girlfriend / future wife, or not ? Hamish could not decide, and found himself a little relieved when Elspeth took promotion and moved away to Glasgow. Of course, as soon as Elspeth left, Hamish began to miss her. But as suitable as she was, she wasn't Priscilla. Priscilla herself only makes a very brief, but telling appearance in this book. "Hi, Priscilla, are you married yet? No. And you ? No." And then companionable silence as once again two very old friends meet up.
Hamish's dog Lugs now seems to have acquired a friend - a wild cat that Hamish rescued, and feeds. He pays the vets fees, and fully intends to return the cat to the wilds - but the cat seems to have other ideas. The cat is called Sonsie. Perhaps the next book will feature a new crime fighting trio of / Hamish / Lugs / Sonsie. Perhaps also, Elspeth may return to Lochdubh.
And so the story continues. Someone new will arrive, get themselves killed, Hammish will solve then murder, and further antagonise DCI Blair. That part is predictable. But how will Hamish's personal life develop ? That part is less predictable.
None of the above is an intended criticism. It is all well written with a good insight to the local character, and with great humour. It's good escapist fun - I do like the series.
Links to author index and home page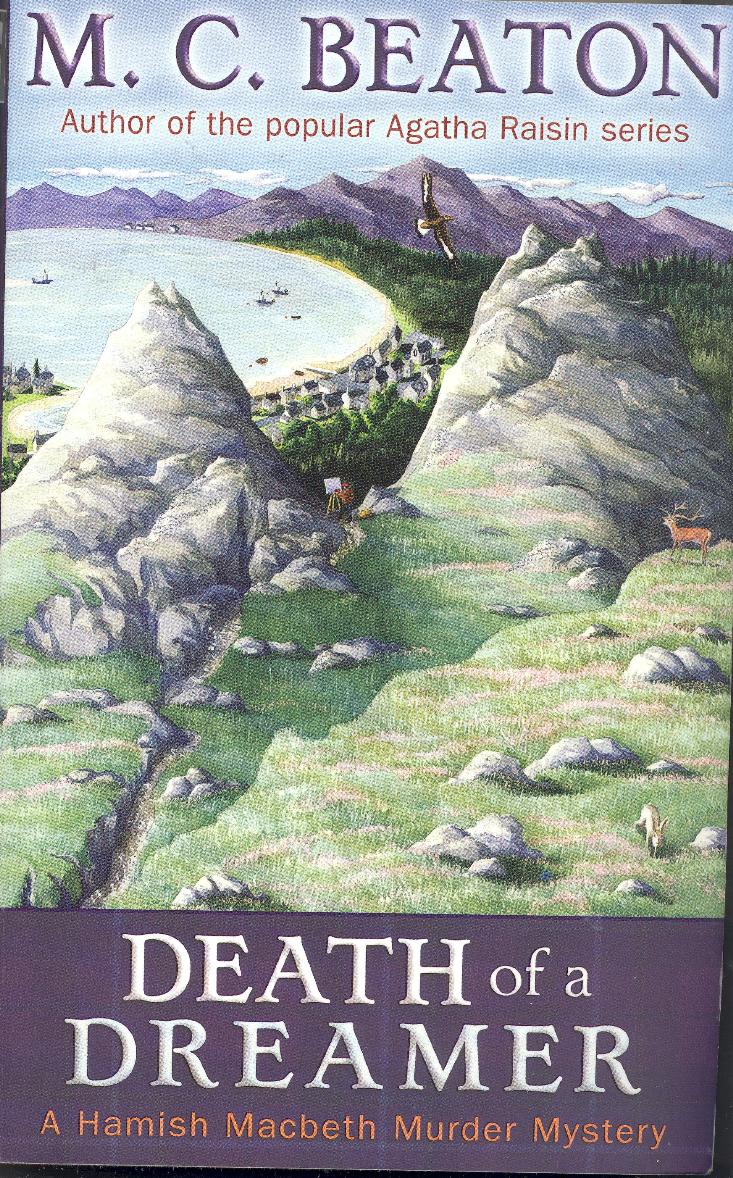 I read this book in January, 2015.
This is book 23 in the Hamish Macbeth series, and of course, its another of the same - and in this case, there is nothing wrong with that. So an outsider arrives in the village, makes a lot of enemies, gets killed, and Hamish Macbeth, resented by DCI Blair, solves the murder but tries not to take the credit / get himself promoted and moved away from his beloved Lochdubh.
In this book, the newcomer is Effie Garrard, an artist. She sets her sights on another local artist, Jack Fleming, buys herself an engagement ring, and declares herself engaged. She is a fantasist, a dreamer. Jack denies he proposad to Effie, and then Effie's body is found in a lonely spot in the mountains. She had been poisoned - did she commit suicide, or was she murdered ? Of course, it's murder, and soon there is another murder too.
DCI Blair breaks his leg, so Jimmy Anderson is in charge of the investigation, and so, for a change, Hamish is not banished, but is actively working on the case.
Mostly though, the book is a further instalment in Hamish Macbeth's love life. Betty Bernard has arrived on the scene. She is Jack Flemings agent, and Betty and Hamish become friends. But both Priscilla and Elspeth Grant are back in Lochdubh - Priscilla misses the place, and Elspeth is sent up to cover the murders. In one scene, Priscilla and Elspeth compare notes in Hamish's kitchen whilst Hamish takes Betty out for a meal. As usual, Hamish does not treat Elspeth very fairly, Try is he may, he cannot shake off his feelings for Priscilla, nor apparently she for him. So here we go again with Priscilla and Hamish, but by now, we know that nothing will come of it - or is this the time when something will come of it ?
There is a new copper on the scene. DC Robin McKenzie is a lady detective who is assigned to work on the case, alongside Hamish. She knows of Hamish by his reputation - the smartest copper around - but is amazed to find him so laid back and almost absent minded. But then she has second thoughts. Amazingly, Robin has been having an affair with Super. Daviot of Strathbane. Mrs Daviot, suspecting her husband may be having an affair with someone, asks Hamish for his help, and Hamish sorts this out too. Robin is banished / transferred to Inverness - but perhaps we will see her again in a future book.
Finally, Priscilla breaks off her engagement to her distant fiance in London - no surprise there. She wants to return to Lochdubh to work at her parent's hotel. Will it be like old time ? I doubt it.
As usual there are lots of little side stories, lots of humour, lots of familiar characters. I like the series, and I liked this story. But I do think the Hamish / Priscilla problem does need to reach some sort of conclusion fairly soon.
Links to author index and home page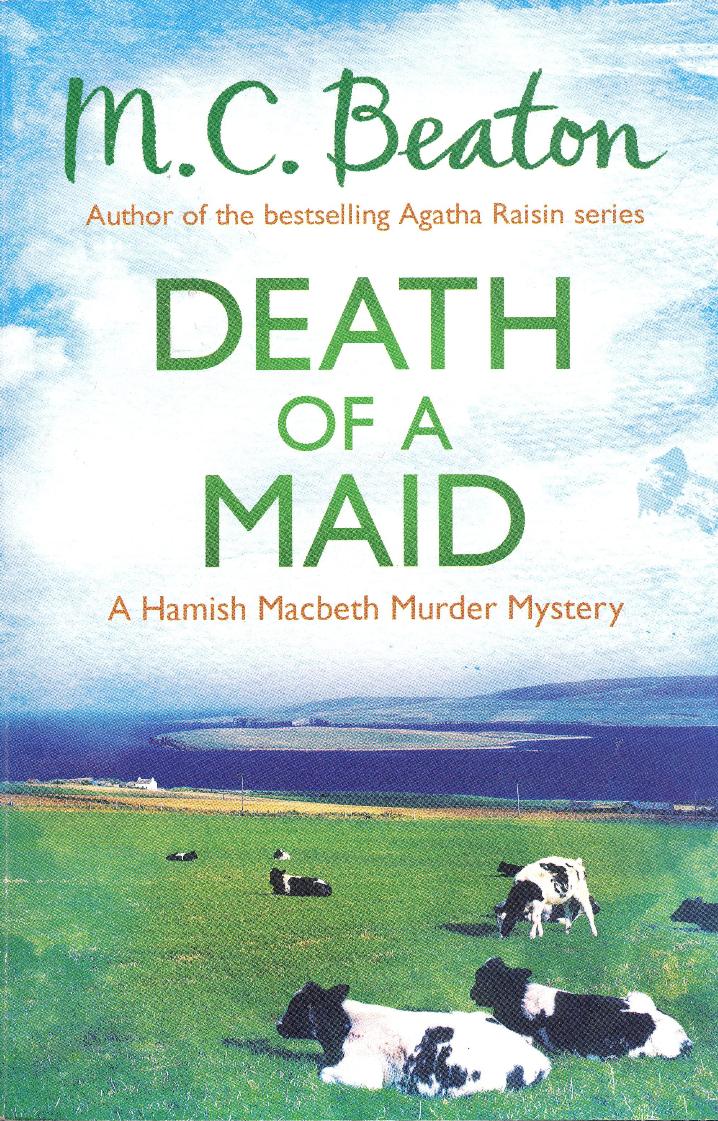 I read this book in January, 2015, and read it again in November,2020.
This is book 24 in the Hamish Macbeth series.
Unfortunately I deleted what I said about this book in January, 2015, and so, for write up completeness, I read it again in November, 2020. Strangely, I remembered some of the incidents from the first time (e.g. Elspeth's non marriage to Luke in Glasgow), but I could not remember who did the murder. This is bad news as a memory test, but good news if I can re-read lots of excellent series, first read say 10 years ago ? Strangely also, the book I read before this, Dorothy Simpson's Six Feet Under and this book both have very similar main story lines - a Bingo playing, nosey cleaning woman pries into her various employers' private lives to find dark secrets to use to exert control, but, when she is murdered, there is a lot of unexplained cash in her bank account, raising the question was she a blackmailer. Simpson's book was published in 1982, and M.C. Beaton's in 2007. Just as with composing music, when a writer comes up with a storyline, it must be difficult to know if this is a new original plot, or if she is recalling half a memory from old reading, of 25 years ago ?
The Hamish Macbeth stories are what is known as "cosy crime," but with Hamish Macbeth it is pure fantasy, a visit to the idealised Highland village of Lochdubh, where no one seems to age, and ancient superstitions still reign. But, after an absence of two years, I liked my return visit, rejoining PC Hamish still tending his sheep, his wild cat Sonsie, and his dog Lugs. His "girlfriend" Elspeth is back on the scene, staying at Tommel Castle hotel for a few weeks' holiday. She had left saying he loved his pets more than her, and of course she could not compete with Hamish's Priscilla Halburton-Smythe fixation. We also get to meet all the old characters, Strathbane based Super. Peter Daviot, still excusing incompetent, idiotic D.I. Blair, D.S. Jimmy Anderson, Mr Johnson, manager of Tommel Castle hotel, the Currie sisters, Nessie and Jessie, Mrs Wellington, the minister's wife, Angela Brodie, the doctors wife (a terrible cook), Archie, the hen-pecked fisherman, Mr Patel, the local grocer, Willie, former policeman but now waiter at the local Italian rstaurant, and lots, lots more.
The story introduces us to a terribly nosey cleaner by the name of Mrs Gillespie, whom no one can stand. Hamish has won a day's worth of cleaning in a church raffle, but flees his police station and leaves her to it. Mrs Gillespie goes through the drawers and cupboards of her various employers searching for their dirty secrets - these she uses to exert control, demand gifts, order lifts into Strathbane, etc. She is found outside one of her employers, Prof. Sander's house, dead in the street with a fatal blow to the head. She has a lot of money in her bank account - was she into blackmail, and had this got her killed. Much later Hamish finds she won the money at Bingo , but not fairly - she blackmailed poor Miss Creedy. The various people she cleaned for also included Mrs Wellington, Mrs Fleming, Mrs Sykes, Mrs Forest, and Mrs Barret-Wilkinson. Mrs Gillespie's battered husband had cancer, and Mrs G. had broken up her daughter's marriage to Tom Morrison, owner of the local garage. And so the story unfolds as Hamish and whisky drinking Jimmy delve into the private lives of the various employers - who had a secret worth killing for. One of the ladies had an affair with Dr Renfrew - is he another suspect ? What roll had neighbour Mrs Samson who inherited a now missing package from Mrs G ? (The package turns up in the epilogue.) Is Mrs Samson's death suspicious ?All the time Hamish has his usual problem - he loves his usually quiet life in Lochdubh - and must always solve every crime without attracting any credit. That might earn him promotion, transfer to Strathbane, and Lochdubh police station would be closed with no village bobby left to keep a benevolent eye on things, visit isolated pensioners in lonely crofts, etc. etc. Hamish does do a lot of good - when Archie's fishing boat is threatened with decommissioning, he organises local resistance, independence for Lochbubh, road barricades, etc. When Mr Patel starts selling horrible home baked scones Hamish discovers that it's the doctor's wife who is the cook. He buys up all the stock, and tells Mr Patel to drop the home baked scones idea.
To add to Hamish's promotion avoiding worries, there are two TV researchers who want to do a documentary on Hamish's life - Peter McTavish and Shona Fraser. Hamish deflects them on to DI Blair, but Shona is not fooled for long. Before giving up on Blair, and leaving, Shona finds out something that gets herself killed. What had she uncovered? A lot later in the book, after Hamish has solved the case and uncovered a local connection (Crystal Jackson) to a call girl racket in London owned by the pimp Freddie Ionedes, two Scotland Yard detectives DCI Burrows and Sgn. Burrows turn up. They are not fooled either that everyone is claiming credit except one village bobby. Burrows is all for promoting Macbeth, but Williams gets it, that Hamish is that rare man - happy and contented with his life. Burrows does get Hamish a new, and badly needed Land Rover. Also I have not mentioned a local plain clothes police inspector Mary Gannon who stands up to Blair - Hamish had given the murder solution to Mary Gannon and told her it's her case now. As thanks, Mary got secure cat and dog flaps fitted to the police station so that Sonsie and Lugs can come and go, and Hamish no longer has to impose pet sitting duties on the doctor's wife.
There are some further oberrvations to make before I conclude. Eventually, everything is solved and life returns to normal, but there are still 50 pages of the book to go. And so, Freddie Ionedes sends his gang after Hamish, Hamish almost falls for a honey trap, but outwits and captures Ionedes's crooks, after being drugged, and an armed Hamish escaping to the hills. Hamish later meets a famous model, Tasmin Kennedy but thinks she is another Ionedes honey trap, and locks her in Lochdubh police cell - that takes a bit of explaining. PC Pat Constable sleeps with Hamish, but old fashioned Hamish has never heard of sleeping around for fun, and is shocked that Pat has a steady boyfriend and they are to get engaged. And all the time, Elspeth is there, watching Hamish's back. Her gipsy intuition tells her Hamish is about to do something foolish when she stops him handing in his resignation. She has a boyfriend Luke in tow - possibly to annoy Hamish. A drunk and fed up Elspeth agrees to marry Luke - Hamish as usual had bought an engagement ring for Elspeth, but too late. Luke doesn't turn up at his wedding. Thus, Elspeth is still available at the end of the book - the Hamish / Priscilla / Elspeth triangle can continue to tease, but never be fulfilled.
My goodness, this is a long story, and it's all told at a break neck speed. But overall I liked it.
Links to author index and home page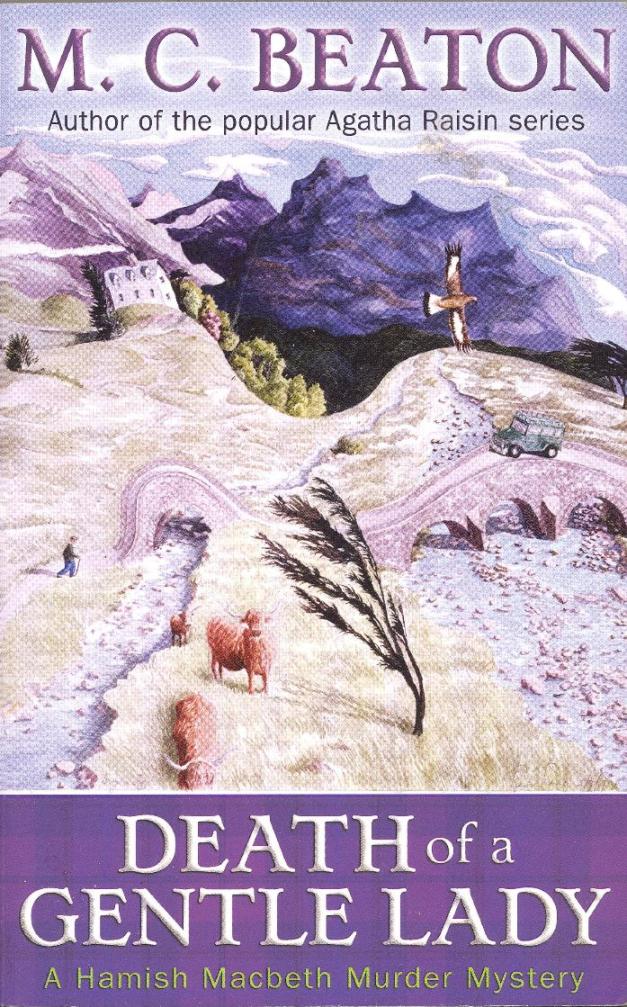 I read this book in February, 2015.
This is book 24 in Hamish Macbeth's continuing adventures as village bobby of sleepy Lochdubh, a village in the Scottish Highlands. All our old favourites are here for another dose of pure hokem. Someone called it Brigadoon with scones - which made me smile. It's not hard reading, we all like the characters, its humerous, but at the same time, M C Beaton remains very well informed about what is happening in that part of the world, and slips in quite a few personal observations. For example I agree with her when she questions the fairness that Scotland, a fishing nation, has no regional representation on the EC committee deciding fish quotas, but land locked Lichenstein votes on the subject.
These books work on three levels - we revisit delightful Lochdubh and it's inhabitants, catch up with Hamish's love life, and follow murder solving genius Hamish as he solves yet another case.
Mrs Gentle is an English lady who lives near Lochbubh, and gets on well with all the locals except for Hamish - he knows she is puting on an act. Mrs Gentle has a good looking foreign maid whom she doesn't treat very well. The maid confides in Hamish. Hamish has been told that they are to sell his police house in Lochbubh, and transfer him away from his beloved Lochdubh into single quarters in Strathbane. Rashly as it turns out, Hamish proposes marriage to the the maid. He gets her a forged visa, offers her refuge, and thinks that once married he could not be transferred to Strathbane. Not the best of reasons to marry someone ! Word of his engagement spreads - specifically to both Priscilla, and Elspeth. But the maid is not who she seems to be, apparently jilts Hamish at the altar, and both Priscilla and Elspeth return to Lochdubh to console Hamish. Again we play on / off with the two pairs Hamish / Priscilla, and Hamish / Elspeth. It's quite cleverly done. There is also a Russian police inspector on the scene - visiting to observe police procedure in the UK - and a famous author/actor staying at Castle Tommel Hotel.
Both Mrs Gentle and the maid get themselves murdered - I won't say in which order. Hamish solves the crime once again, in the end, but is lucky to escape alive on several occasions. Alcoholic DCI Blair's hatred of Hamish has now become a passion. Blair would murder Macbeth himself if he could get away with it.
In the past I have complained that M C Beaton should not toy too much longer with her readers' patience - that we really need to get some sort of conclusion to the Hamish/ Priscilla question. Strangely, my annoyance at being "toyed with " seems to have abated somewhat. I guess I have accepted the status quo - Hamish and Priscilla will always have feelings for each other, but that is probably as far as it will go.
Links to author index and home page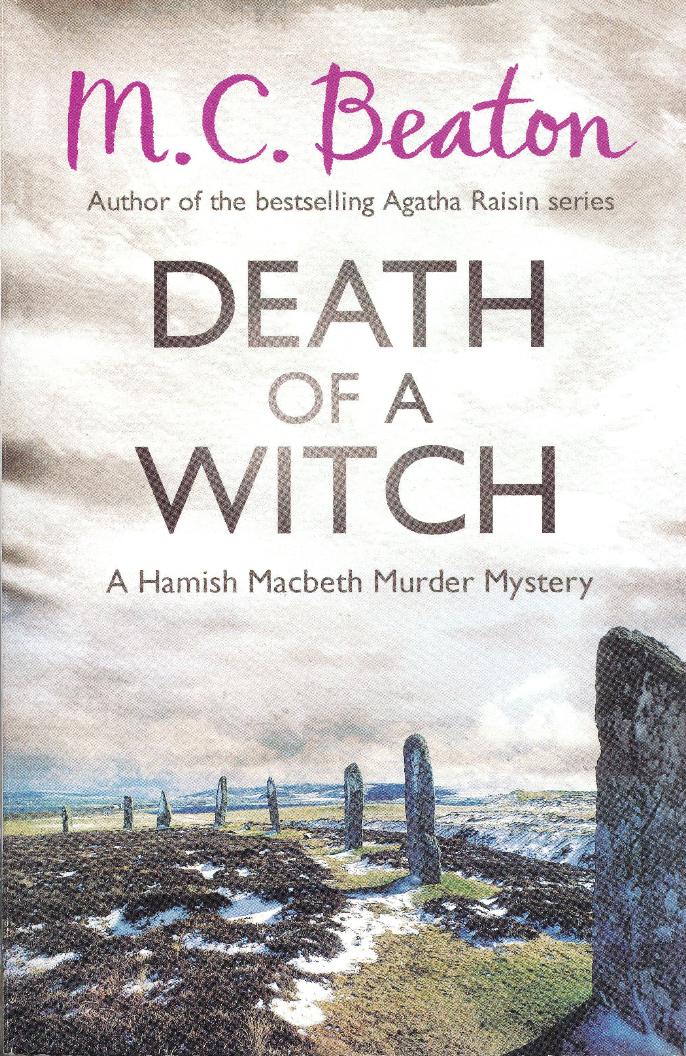 I read this book in March, 2015.
This is book 25 in Hamish Macbeth's adventures as village bobby of sleepy Lochdubh, a village in the Scottish Highlands. All the usual characters are back again - Hamish's on/off girlfriends Priscilla and Elspeth, all the village worthies, DCI Blair who hates Hamish with a passion, and Hamish's friend and colleague Jimmy Anderson. Lesley Seaton from forensics, is a new entrant to the girlfriend stakes - but she too wants to change Hamish, and so is doomed to failure.
I like the series so of course I like this story. But it's a well told story, full of insight and humour. It's well written,and nicely structured with a pleasing symmetry. Thus the book opens with Hamish in Spain hoping to find romance but stuck in a senior citizens hotel, and the book finishes in Spain with Hamish still doomed never to find the right Mrs Macbeth. He doesn't have a lot of luck in his private life. He can't live with Priscilla, but everyone else compares unfavourably to her. And now Lesley Seaton appears on the scene, but fares no better than the rest.
There is quite a lot of action, and several smaller sub plots. Hamish captures a gang who had been robbing post offices, and later outwits two nasty poachers who return to try to exact revenge. The main story is of another new comer to Lochdubh - Catriola Beldame. She claims to be a white witch, but is really very dark indeed. She seems to be selling love potions / virility tablets to the local men, and of course flirting with them. But she is a vicious lady with a dark past. So when she is murdered there are lots of possible suspects. Usually we get a second murder after the first one, but here there are four murders to solve.
Of course Hamish solves the murders, but still shuns the limelight. However, he ends the book once again promoted to sergeant, but still located in Lochdubh.
Priscilla is back, and Elspeth too. They both seem more interested in Perry Gaunt, a collegue of Elspeths, but Perry is not all he seems to be.
Finally a mention for Lugs and and Sonsie, Hamish's dog and wild cat. He really takes great care of them - some times they are the only company he has/ wants. Hopefully, some day, someone will appear to genuinely make Hamish forget Priscilla - but I'm not holding my breath.
Its another lovely, charming book in an enjoyable series.
Links to author index and home page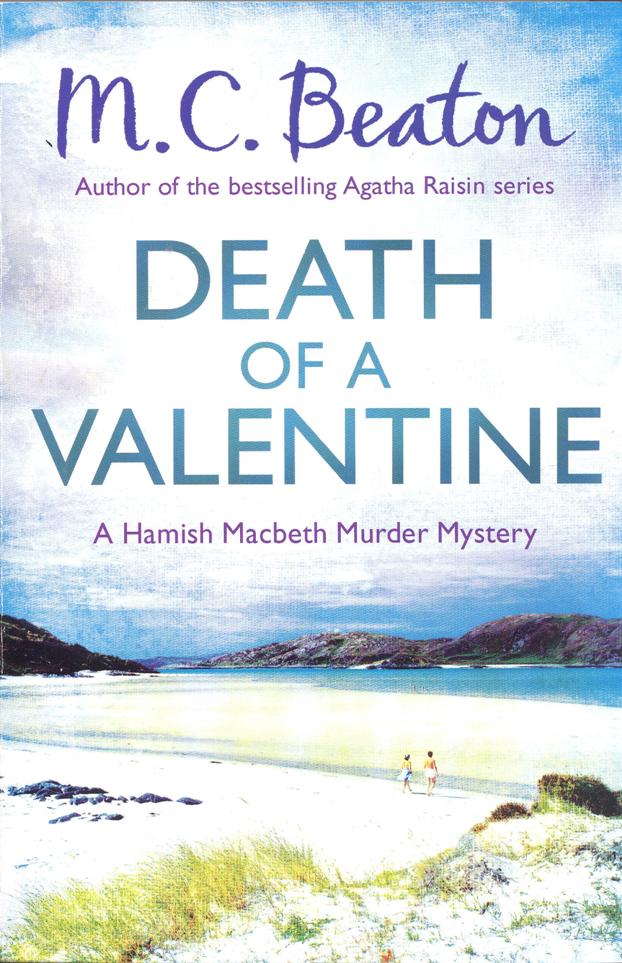 I read this book in March, 2015.
This is book 26 in the adventures of Hamish Macbeth who is village bobby of sleepy Lochdubh, a village in the Scottish Highlands. I really enjoy this series - yes its light reading, tongue in cheek, tartan fantasy - but its very easy reading, full of humour and great characters, and in short, very well done.
Lets start with Hamish's private life - specifically his love life, or rather lack of love life. The main love of his life is Priscilla who nowadays is seldom in Lochdubh. He can't live with her, but everyone else he has met so far compares unfavourably with Priscilla. Secondly there is Elspeth - now a well known and popular TV news presenter based in Glasgow. I'm sure Elspeth and Hamish have been in love with each other lots of times, but unhappily not at the same time. In this book Elspeth is engaged to marry a soap star, and Priscilla has told Hamish she is off to Sydney. So, lets write them off just now - although things can change very quickly in Lochdubh.
The book opens with a bang. Hamish is engaged to his police woman assistant PC Josie McSween, is sitting in a full church in Lochdubh waiting to marry Josie, and is praying - not that she will turn up - but that if there is a God in heaven, please could He listen to an earnest prayer and make something happen to avoid this marriage. What on earth has happened, and how did Hamish get into such a pickle. We then go back to a year ago, and catch up on what has been happening. Hamish is a police sergeant, and Josie, who has seen handsome Hamish and has a rose coloured view of what life would be like married to Hamish in the Highlands, volunteers to be his assistant. She starts off working dilligently, and is soon well liked in the area, but she has set her cap at Hamish, and soon abandons police duties to do all she can to trap Hamish. Sadly also she would then want to change him, get him promoted, and get rid of his two beloved beasties, Lugs his dog, and Sonsie, his wild cat. I won't give away the private life plot other than say Hamish thinks Josie is carrying his child, and wants to do the right thing.
Josie is a really nasty piece of work ! But Hamish has good friends in Lochdubh, ( and Glasgow ).
The main crime plot is the death by letter bomb of Annie Fleming, apparently a young, god fearing, beauty queen who turns every man's head, but cheats on everyone, and delights in breaking hearts, relationships and marriages. So lots of suspects who might want to get back at Annie. Blair is still corrupt at heart, gives tip offs to criminals, and now puts out a contract on Hamish's life. So, for much of the book, Hamish leads a charmed life dodging Josie's drugged drinks, and several death attempts. But he can't fully avoid all of these all the time.
At the end of the book Hamish has solved the original murder, and several follow up ones, but has avoided the credit by gathering the evidence and sending it in secret to Superintendent Daviot. Jimmy of course suspects it was Hamish, but Hamish admits nothing.
Once again at the end the book we have Hamish left in peace in Lochdubh with Lugs and Sonsie. Josie McSween has come and gone, Priscilla and Elspeth are far away (Priscilla very far away), but both are still single, and so the story continues, and I read on anxious to find out what happens next. This is book 26 and still going strong. At the time of writing this (March, 2015) I haven't read a longer series, so M C Beaton must surely deserve more credit than the faint praise I have been giving her. I read somewhere that she is now the most borrowed author in British libraries !
Links to author index and home page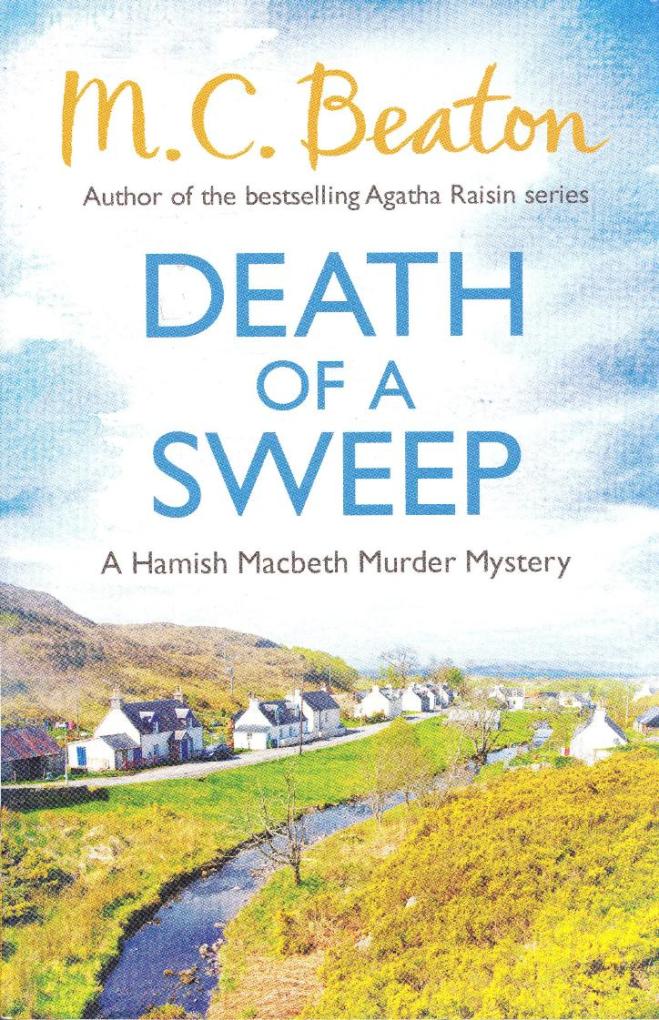 I read this book in April, 2015.
I can't quite believe that I'm now up to book 27, and Hamish is still single, still dreaming of Priscilla - "she is an addiction like smoking, however long ago you gave it up, you still want to smoke." Elspeth Grant occasionally still visits Lochdubh to cover one of Hamish's investigations, but I can't see them ever getting together again. And Priscilla is back from Sydney, on holiday in Lochdubh again, and enjoys meals with Hamish, but Hamish fully realises her coolness would once again be an obstacle if he were ever to let himself get involved with her again.
Besides, Hamish is devoted to his pets - Lugs his dog, and Sonsie the wild cat. And here they prove themselves to be Hamish's devoted and fearless guardians. Elspeth probably does have Highland second sight, and Hamish should listen to her when she warns him to beware of a jealous Sonsie if he were ever to fall in love again. I wonder if that prediction might come true in a later book ?
The crime in this book is the murder of Colonel Davenport, yet another newcomer to Lochdubh. Apparently the local sweep disturbed the murderer, and so had to die - hence the book title. There are four possible suspects - four business men in Edinburgh - and Hamish takes another of his famous holidays to follow up the case. DCI Blair doesn't want to know, and Jimmy, Hamish's friend in Strathbane, covers for him. It's a long story,fast moving, and I enjoyed it.
It's all solved by the end of the book, and Hamish and all the gang are still alive to have another adventure - so roll on book 28. But it's a strange place, Lochdubh. After 27 cases, each covering at least six months, and often a lot longer, no one seems much older than in book 1. There really must be something magical in the water.
Links to author index and home page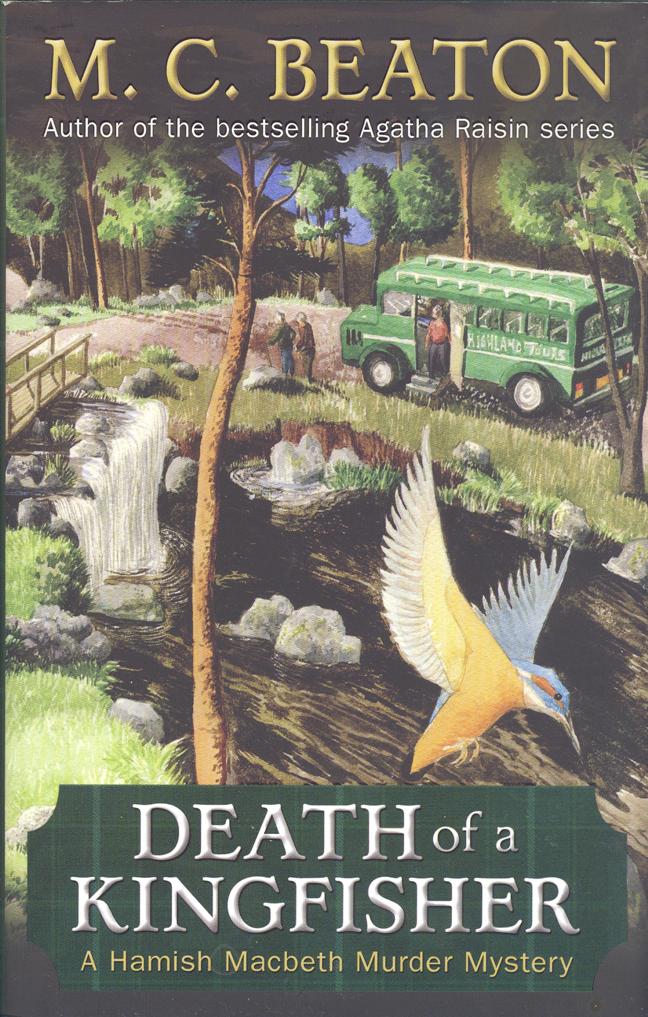 I read this book in May, 2015.
This is book 28. In each of these books, Hamish has solved a muder or murders, and usually a year goes by. But yet Hamish is still in his early 30's. Remarkable.
In all these books we have followed Hamish's lack of luck with the ladies. First there was Priscilla - and they even got engaged. But nothing came of that. Priscilla is still around, but seldom meets Hamish, and goes back to London without even saying good bye. Then there was Elspeth Grant, and again, nothing came of that. Now she is engaged to a news reporter in Glasgow, and is still friends with Hamish, but nothing more.
So I picked up my ears at the opening sentence of this book. "It is a well known fact that when a man reaches his mid thirties and thinks he is past love, that is when love turns the corner, and knocks the feet from under him." And so we meet Mary Leinster with the heart shaped face, wondrous blue eyes, and blond hair. Of course, by the end of the book, we find it's another false trail as M C Beaton continues to play tricks on poor Hamish.
Mary Leinster was developing "Fairy Glen", at Braikie, as a tourist attraction. It was a wild life habitat, and home to a beautiful kingfisher. But someone killed the kingfisher - perhaps to spite Mary's plans. There is quite a bit about Scottish fairy people in this book - little men like pixies. No one really believes in them, but many still leave out milk at night for the little people, "just in case".
The newcomers in this book are Granny Colchester, and her two grand children, Olivia and Charles. The children are complely amoral - terrible creatures of the devil. They play havoc, and get away with it. Then when Granny Colchester gets killed in a most fanciful way, the children's parents Fern and Ralph Palfour turn up.
It then becomes an absurd tale full of complications, including an evil Russian oligarth, and multiple murders. It's all really too far fetched, and straying too far from a sleepy Lochdubh. Towards the end it is almost as if M C Beaton has lost interest, and she rushes through a seemingly never ending story at great speed. Not M C Beaton's finest.
Hamish has a new assitant, fat and lazy constable Dick Fraser. Hamish thinks they get rid of the rubbish from Strathbane, and send them to Lochdubh. However Dick does have his uses - he is a dab hand at local gossip. Also he gets on well with Hamish's pets, Lugs and Sonsie.
I thought the book was OK until about three quarters through, but then it lost its way. Hopefully M C Beaton will bounce back in the next book. Maybe I need to take a break from this series for a few months. Some of the books have been little gems, full of humour, clever observation, and an engaging ongoing "will they/won't they" Hamish / Priscilla sub plot. What has happened ?
Links to author index and home page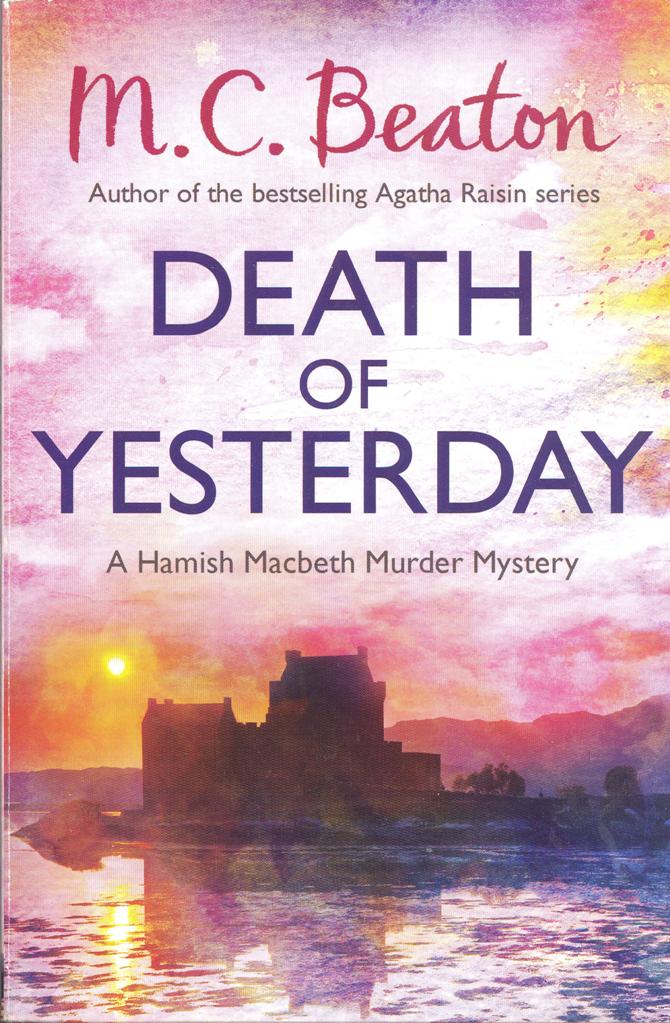 I read this book in Jan, 2016.
This is book 29 in the Hamish Macbeth series set in Lochdubh in the Scottish Highlands. I used to really like this series, getting into the habit of reading something dark, then a Hamish Macbeth, then something dark, then a Hamish Macbeth, etc, but I went off the previous two books, and have given myself a gap of seven months before returning to Hamish's adventures. Happily I thought this book was OK, not outstanding, but OK.
Hamish Macbeth is still a police sergeant in Lochdubh, and the lazy PC Dick Fraser is still his asistant. Dick is a great cook, looks after Hamish's pets, Sonsie and Lugs, and everyone jokes that Dick would make a grand wife for Hamish - whose lack of luck in the love stakes is one of the running jokes in this series.
The main plot in this book is the story of Morag Merrilea, working as a secretary for a fashion company in Cnothan, who looks down on everyone, and is very unpopular. She claims her drink was spiked in the local pub, but leaves it a week before complaining to Hamish. Soon afterwards she is found dead - what is the story, who killed her, and why?
There are other deaths, and Hamish is the only copper around with any ability, but he is on / off the case, as both DCI Blair and then DS Jimmy Anderson want the case solved, but don't want Hamish to get the credit.
In Hamish's love life it is business as usual. Hamish falls for the beauty of Hannah Fleming, but her beauty is false not natural, and the person beneath is not at all attractive. Hamish sleeps with Hannah, but regrets it immediately.
After the murders, Elspeth Grant is sent back to Lochdubh to cover the story. Elspeth is no longer engaged to her TV executive boss, but is now available again. Soon she is engaged to Hamish, but it has to be a secret engagement, and of course soon everything is off / up in the air again. And then Priscilla, the true love in Hamish's life, is also back in Lochdubh for another of her flying visits - but she is there long enough to rescue Hamish by providing him with a job saving alibi.
The trouble with Hamish is that he still wants to have his cake, and eat it too. He is happy in his comfortable rut in Lochdubh, but wants superstar girlfriends - Priscilla or Elspeth - to join him there too. They are leading exciting lives elsewhere, and so it is a big, unlikely ask. I don't think either party is going to change, so how can it ever work ?
It is difficult to sustain the status quo for ever, and so the books are starting to suffer. There seemed to be a lot more wit and fun in the fresher earlier books, but of course this is just a personal view.
Links to author index and home page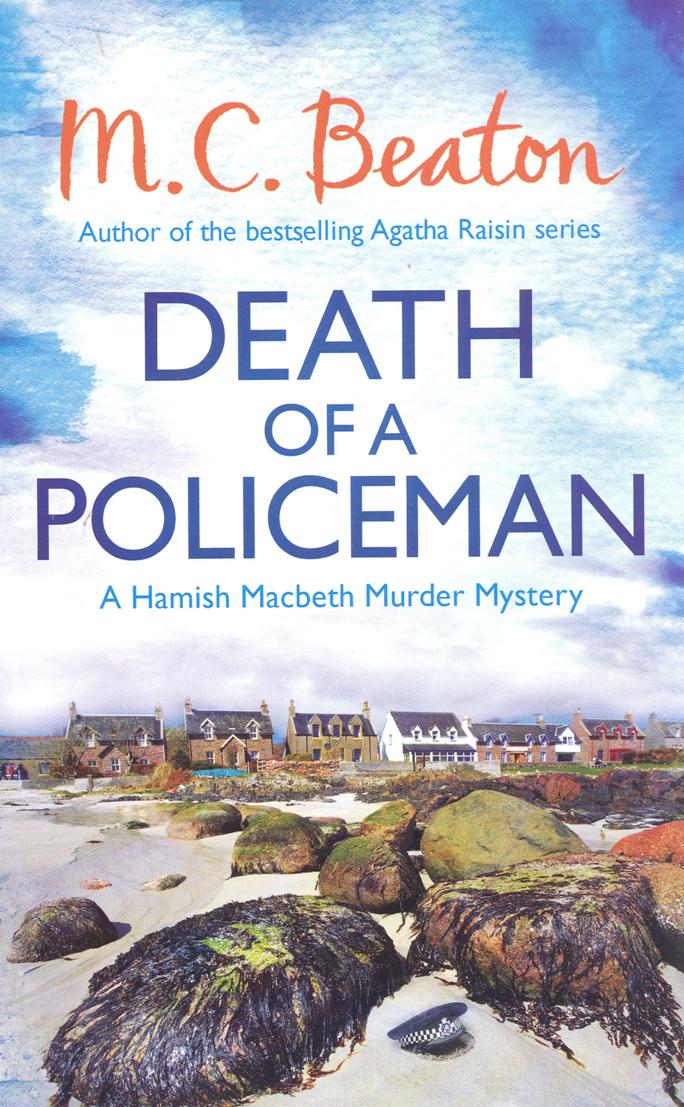 I read this book in June, 2016.
This is book 30 in the Hamish Macbeth series set in Lochdubh in the Scottish Highlands. As before Hamish solves all the murders, but shuns recognition so that he can stay in his beloved Lochdubh. In this book he is still a police sergeant, and living in his police house in Lochdubh with PC Dick Fraser who is every bit as lazy as Hamish, but is a great cook, and gifted at winning TV quizes - hence the presence of all the latest gadgets in the police house. Although Hamish and Lochdubh are in an unchanging time warp, M C Beaton does keep reasonably up to date, and in this book we even have a mention of Police Scotland. All the local police forces have been reorganised into one unit, and reportedly Police Scotland has not been much of a success. This is the message in most of the Scottish crime series I have been reading - e.g. those featuring Logan MacRae , Tony McLean , John Rebus and especially Chief Constable Bob Skinner , who resigned rather than head the new set up.
Although it is more of the same and I am not as much of a fan of this series as I used to be, I did like this book - my trick of leaving a time gap between reads seems to be working. Here we have Hamish (and Dick) scared that their police station will be closed as part of the new set up, and using cunning, and blackmail to preserve the status quo, fighting against the combined efforts of Strathbane headquarters and specifically DCI Blair, who is jealous of Hamish's success, and Superintendent Daviot who should be grateful to Hamish for saving his career, but has soon forgotten this. Here Blair sends PC Cyril Sessions to spy on Hamish, but PC Sessions gets himself shot, and initially Hamish is blamed. Hamish eventually solves who killed Sessions, but on the way uncovers drug pushers and money launderers in Strathbane.
Hamish quite likes the food that Dick prepares for him, but really wants Dick gone, and some lassie doing the cooking instead - ie a Mrs Macbeth if Hamish can find someone to marry him. Most of the wooing in this book is done by Dick, who is 51, but falls for Shona, a young assistant librarian. He knows he is too old, but he cannot help being smitten by the fair Shona.
Both of Hamish's former loves, Priscilla and Elspeth, reappear in this book - but as before it is still hopeless, Priscilla does not want to sleep with Hamish (nor anyone else, apparently), and Elspeth likes her life in Glasgow as much as Hamish likes his in Lochdubh. And still as before we seem trapped in a kind of groundhog day, and no one seems able to move on.
The series seems to sell well, so presumably M C Beaton will continue with more of the same. It would be nice to think that one day Hamish will find true love, and get married. Whoever it is will have to like Hamish's beasties too - Sonsie the wild cat, and Lugs, Hamish's dog. Who knows what the future might bring - we will just have to wait and see.
Links to author index and home page


I read this book in November, 2016.
This is episode 31 in the continuing tales of Hamish Macbeth by M C Beaton. It's very much more of the same, which I didn't mind at all to start with, but eventually it got too much, and I longed for Hamish to beak his "ground-dog day" spell, and get married, or do something different, but no ! Here we are again. Everything that has happened to Hamish in the series so far, seems to happen to him again in this book. Elspeth Grant is back in Lochdubh, but she knows that Hamish dreams of Priscilla (still), and when he looks at her lovingly, Elspeth backs away, and says no, don't let us go there again ! And Priscilla is back too, beautiful but cold and holding no passion at all for Hamish. And so Hamish is well and truly stuck. He knew that he wouldn't be happy with Priscilla, but no one else will do.
Dick Fraser is still Hamish's assistant - a lazy copper , but a good cook and housewife. Such a lot happens in this story, it almost reads as a summary. One one page Dick wants to keep his cosy number with Hamish, and so tries to see off a potential new girlfriend. Hamish finds out, and gives Dick his marching orders. But then Dick saves Hamish's life, and so Hamish changes his mind, and wants Dick to stay - and all that on one page ! That could be the plot line for a whole book.
Happily the pace slows down after the first quarter of the book, and I quite liked the story. It's all very light stuff, but it makes a pleasant change, once in a while.
The story is about drugs smugged into the UK via Hamish's remote Sutherland. There is no honour amongst thieves, the drugs have been stolen, and the gang boss wants his fortune back. There are lots of dead bodies - so many I lost count. DCI Blair in Strathbane is still more interested in getting rid of Hamish than fighting crime and catching criminals. Blair is caught out time after time, but is always spared by Daviot, flattered and toadied up to by Blair.
There is a nice summary of Aesop's fable here - "then one day there really was a fox, but when the boy shouted, they didn't believe him." In this book, Liz Bentley in Cromish says she has been raped - so Hamish and Dick rush up. It's yet another of her lies. Soon she phones to say she is being attacked, but Hamish ignores her. Later she is found dead. But what did Liz Bently have to do with the drugs ?
As part of their enquiries, Hamish and Dick meet beautiful polish Anka - she is a talented baker, and bakes beautiful baps ! Is this the right one for Hamish at last ? But Dick wants the baps recipe and soon Dick and Anka find they have a mutual love of baking. Thus, Hamish loses the girl and a police constable - and this is his third loss to cooking.
The book ends with Hamish meeting clumsy giant Charlie Carter, his new assistant. Charlie and Priscilla have a meal together, so Charlie has to go. But then Charlie saves Hamish from 3 weeks of form filling and paperwork by throwing a body back into the sea. Hamnish is delighted, and Charlie can stay.
Links to author index and home page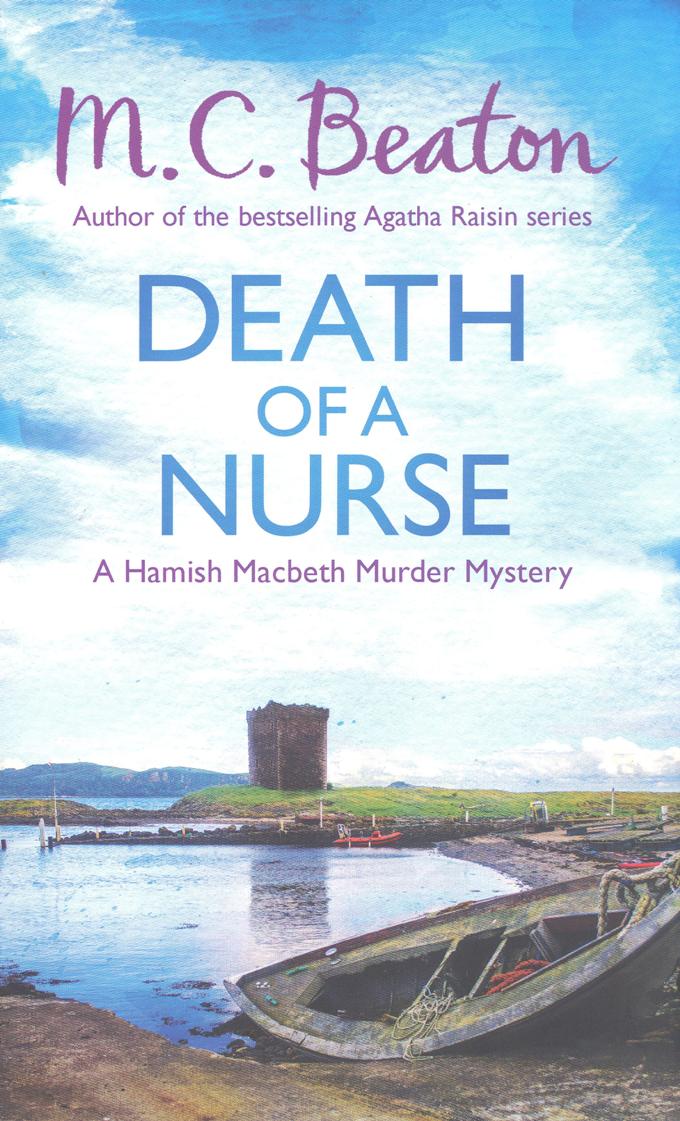 I read this book in May, 2017.
This is book 32 in the continuing series about the adventures of Hamish Macbeth in fictional Lochdubh in the far North of Scotland. Hamish is still a police sergeant, and his assistant is still clumsy Charlie Carter. Charlie is a gentle giant, but he keeps breaking things, and Hamish wonders if he should send Charlie back to Strathbane. But Priscilla is back from London (again) and provides a solution - Charlie can have the old butler's flat at Tommel Castle Hotel. Charlie gets on very well with the ladies, but doesn't seem very keen on any of them.
It's very much more of the same. Hamish is still lonely, but he keeps looking for attractive girlfriends - he should be concentrating more on their character. Gloria Dainty is the private nurse of James Harrison, who has recently moved into a hunting lodge nearby. Hamish makes a date with Gloria, but she doesn't turn up. She couldn't turn up - she has been murdered !
The action revolves around Hamish and Charlie, but Blair and Daviot still want all the credit. Blair is temporarily in hospital, so a DI from Inverness , DI Fiona Herring heads the murder investigation. On the plus side, she stands up to Blair, on the minus side, she takes a shine to Charlie Carter.
There are more murders, but it's all sorted in the end by Hamish, with the credit going to Daviot so that Hamish can avoid promotion, and stay in Lochdubh.
There is still no steady girlfriend in Hamish's private life. Priscilla is sometimes in Lochdubh, but, as attractive as she is, she is cold and frigid, and not the one for Hamish. Elspeth would probably be ideal, but she can't allow herself to get mixed up with Hamish again, knowing that he would always prefer Priscilla. Maybe by the end of the book Hamish is slowly starting to realise that he can't go on like this. Christine Dalray, the forensic scientist turns up at the very end of the book - perhaps a pointer to a future and more realistic romance.
Sadly Hamish has to let his wild cat Sonsie return to the wild - but when he releases her he stays there hoping she will return. She does make a lightening visit with a male wild cat (to pinch a couple of sausages), but she has found her freedom, and Hamish is in mourning. He is persuaded to take in a rescue dog - a poodle - as company for Lugs, but he misses Sonsie terrible. I wonder if Sonsie might make an occasional appearance in some future book ?
I liked the story, and read it quite quickly. It's easy going stuff. But the writing has changed. There is less scene setting now - it's more a succession of unfolding events, this happened, then this, then this, etc, etc.
I quite like the series again - the secret is to leave quite a gap between reading these stories so as not to become bored by the sameness.
Links to author index and home page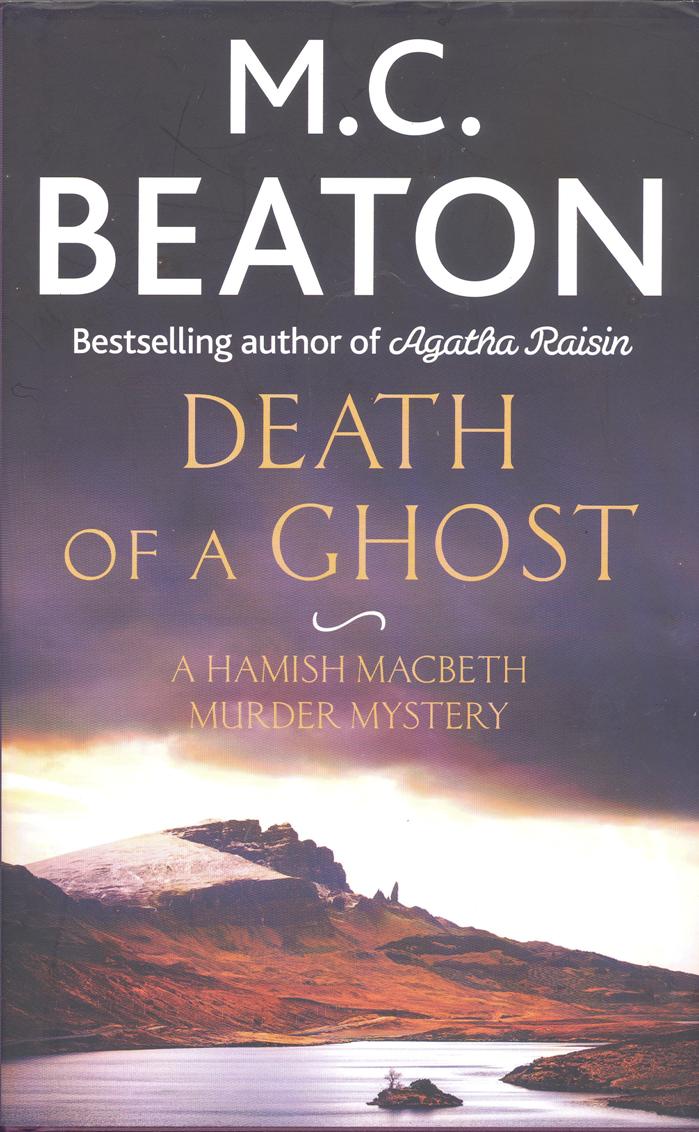 I read this book in Oct, 2017.
This is remarkably book 33 in the long running Hamish Macbeth series by M C Beaton, and inevitably there is a bit of a sameness to these books. I didn't mind this to be begin with, but then it got to be a bit jarring, but now I have discovered that the way to read these books is to leave quite a gap between reading each book, and once again I am enjoying the series. This book has sort of brought itself up to date as we get the first mention of the amalgamation of the Scottish police forces into one Police Scotland, but this makes no difference to Lochdubh nor Strathbane. Hamish is still much the same as a police sergeant with his assistant, now clumsy Charlie, and head office in Strathbane (Jimmy, DCI Blair, and Superintendent Daviot) still try to take over murder cases, which Hamish continues to solve but avoid promotion.
M.C. Beaton has caught a somewhat annoying but quite harmless Scottish crime writers disease - a love of name dropping and praising fellow Scottish writers. And so in this book the doctors wife tells Hamish she has stopped trying to write crime fiction as she knows she could never compete with the brilliance of Stuart McBride . Next Stuart will be be mentioning Hamish Macbeth. Harmless but unnecessary.
As in all these series we have two stories running in parallel. Story one is the latest murder(s) to be solved, and story two is what is happening in our hero's private life.
The latest murder case has Hamish and Charlie investigating ghostly hauntings at Castle Drim which is being renovated by a retired Glasgow police superintendent by the name of Handy - Hanover Ebrington. Handy has just moved into the area. Hamish and Charlie decide to spend the night in the castle, Charlie falls down a hole and discovers a dead body, Hamish takes a picture of the corpse, they go outside to get a phone signal, but when Blair and co. turn up the body has gone. It's just as well Hamish took the picture. The missing body is identified as that of an anti religion professor who was touring the Highlands giving lectures saying that there is no God, and creating lots of enemies in the process. We meet the local minister Peter Haggis who lives with his sister Sheila. Peter has been captivated by the gorgeous blond flirt Olivia Sinclair, wife of her equally unappealing womanising husband Selwyn. Selwyn had been bedding two lady employees whom we meet. The professor had been seen with Olivia, the ghostly noises are to keep people away from a drug operation, more people are killed, and Handy is not all that he appears to be. In short it's quite a long story with lots of characters and strands, but Hamish never gives up, even after the murders have apparently been solved (and hushed up).
Regarding Hamish's private life, we open with Hamish finishing an affair with Christine Dalray of the Strathbane forensic department. She had been living with him, but he felt trapped by a control freak. Luckily he escapes her clutches, but the local minister's wife thinks Hamish needs a good woman in his life (which is true), has a niece who would fit the bill, and Hamish arrives back at the police station to find a strange woman in the kitchen. One of Selwyn Sinclair's conquests is the plain looking Harriet. Hamish sort of befriends her, telling her to get a place of her own and spruce herself up. She is an intelligent woman and Hamish thinks he can talk the case over and bounce ideas off her. Hamish used to do this with Priscilla and sadly Hamish still cannot get Priscilla out of his mind, no matter how hard he tries. Priscilla turns up, but Hamish makes a point of avoiding her. Just when we start to despair for poor Hamish, Elspeth turns up again, events appear to be taking a turn for the better, and then the book ends ! Definitely we need to read on.
Finally a word about Sonsie - the wild cat chum for Hamish's dog Lugs that Hamish released into the wilds. Hamish really, really misses Sonsie, almost at times forgetting about Lugs and his other dog. Hamish once again returns to where he left Sonsie, but gives himself a shake, decides it's silly to think he could ever find Sonsie, and returns to Lochdubh. He hasn't noticed the wild cat sitting at the side of the road and observing him ! Another definitely we need to read on.
Links to author index and home page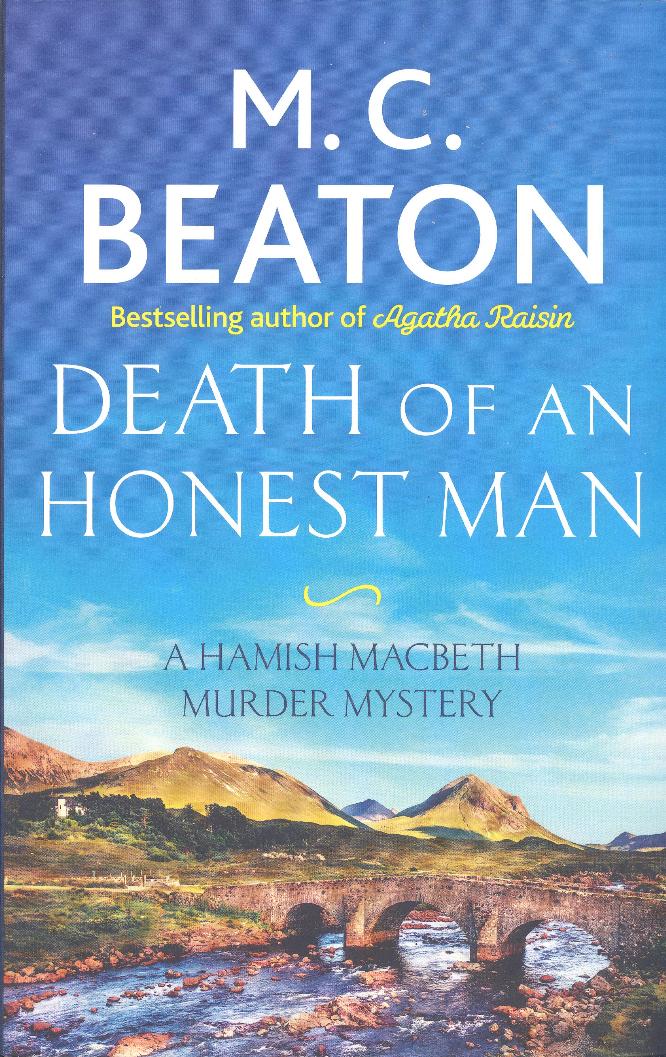 I read this book in Jun, 2019.
This is book 34 in the Hamish Macbeth series set in his beloved Highland village of Lochdubh in Sutherland. As before you have to suspend all disbelief when you visit Lochdubh, and not just in a funny way as in evil beings returning to earth as wild cats, but allowing credulity to be exceeded as in Hamish scooping up a wild cat that had been shot, giving it a morphine injection, setting up a saline drip, and then driving home to summon the doctor and then the vet. Where would he get the morphine from, and when did he acquire the skill to set up a saline drip on a cat ?
It's business as usual - so I have learned to leave quite a gap between reading these books. All the usual characters are here - DI Jimmy Anderson (get the whisky out), DCI Blair, mad and not in control if on drugs or drink, Super. Daviot, Colonel George Halburton-Smythe (Priscilla's father), etc, etc. It seems to be a standing joke as to how many assistants Hamish can get through, but this book surely sets a record. We start off with clumsy PC Charlie Carter, but he returns to South Uist with his new instant bride, then there is PC Larry Coomb who is hit on the head and invalided out, then there is young Silas Dunbar, then PC Freddy Ross, who turns out to be another gourmet cook and is off to the kitchens of Castle Tummel, and then finally, at the very end of the book, a good looking young lady PC arrives, PC Dorothy McIver, and Hamish grins !
Priscilla turns up, and helps Hamish by standing in for someone from social services when Hamish questions young Fairy McSporran (what a name !), and Elspeth Grant also turns up. Hamish asks her to marry him (again!), but again she won't leave her high paid TV job in Glasgow, and she knows that Hamish will always prefer Priscilla. It has only just occured to Hamish that there might be a genuine reason for Priscilla's coldness in all sexual matters, and that perhaps he should try to find out what this is. Perhaps in a later book, who knows ?
The "Honest Man" of the title who gets himself killed is Patrick English who makes an enemy of everyone he meets by telling them what is wrong with them - you are too fat, too stupid, write rubbish books, etc, and he tells Hamish that he obviously dyes his red hair which is common with homosexuals, and Charlie is Hamish's gay partner. All this, and Hamish had just gone to welcome Mr English to the area. English had been the bank manager in Strling who delighted in refusing bank loans - so all in all, lots of enemies, lots of potential suspects. There is another murder too, before it all gets sorted.
Hamish opens the book with two pet dogs, Lucky and Lugs, but he is ignoring them because he still misses Sonsie, the wild cat he had to re-release to the wilds. Alarmed at reports of wild cat hunting in the area, Hamish goes in search of Sonsie, finds an injured wild cat, and persuades himself that the cat is Sonsie. It doesn't look anything like Sonsie, as everyone tells him, including Lugs, (Lucky goes off with Charlie). Again by the end of the book it is all sorted with a happy ending. Sonsie really is back, and Hamish couldn't be happier. We can't compete with that cat, say both Priscilla and Elspeth
In conclusion, may I observe that M.C. Beaton, now at the age of 83, seems to have adopted a strange writing style. She writes normally with flowing narrative, then gallops through a few chapters in abreviated, summary style (A happened, then B, then Hamish went to X, and C happened), and then back to normal proper flowing narrative, then a switch to summary again, etc. It's unusual, and all very strange !
Possibly, by the end of the book, Blair is on his way having attempted too many murders and too much bullying. He is being transferred to Glasgow. Let's see if he really has gone in the next book. I'll bet Hamish gets nowhere with PC Dorothy McIver - perhaps she might prefer girlfriends to boyfriends ?
Links to author index and home page