Iain's Leisure Reading
As I write this it's April 2020, the country has been in corona virus lockdown for weeks, we have to stay at home, and all the charity shops (and much else) are closed. In happier times, I was browsing in some charity shop when I came across a Dorothy Simpson - Inspector Thanet omnibus. I had never heard of Dorothy Simpson, nor her character Inspector Thanet, so I thought I would give it a go. Unfortunately the omnibus was the fifth omnibus, and I had to start reading the series at book 13. I know that where there is strong, personal lives back story that develops from book to book it doesn't make any sense to begin at book 13 ! Can't be helped !
I usually start these sections with some background about the author, but I have not been able to find out all that much about Dorothy Simpson. I know that she was born in Wales in June 1933, and think she is still alive, but if so she will now be 87 (April 2020), and I note that the last Inspector Thanet booked was published in 1999 - now 21 years ago. It's a bit of a mystery ? I did read though that she had been forced to stop writing because of severe repetitive stress injury.
Dorothy went to Bridgend Grammar School, and then to Bristol University where she read modern languages. She then moved to Kent (where the Inspector Thanet books are set) to teach French at Dartford, and Erith Grammar Schools from 1955 to 1962. She married in 1961, worked as a marriage guidance counsellor from 1969 to 1982, and began writing in 1975. She and her husband had three children, and they live in Maidstone, Kent - as does Inspector Thanet, although it is called Sturreaden in the books.
Her first book was published in 1977, but then her next three books were rejected. It was only in 1981 that she came up with Inspector Luke Thanet, and his colleague Sergeant Michael Lineham. Book five in the series, "Last Seen Alive" (1985) won a Silver Dagger Award.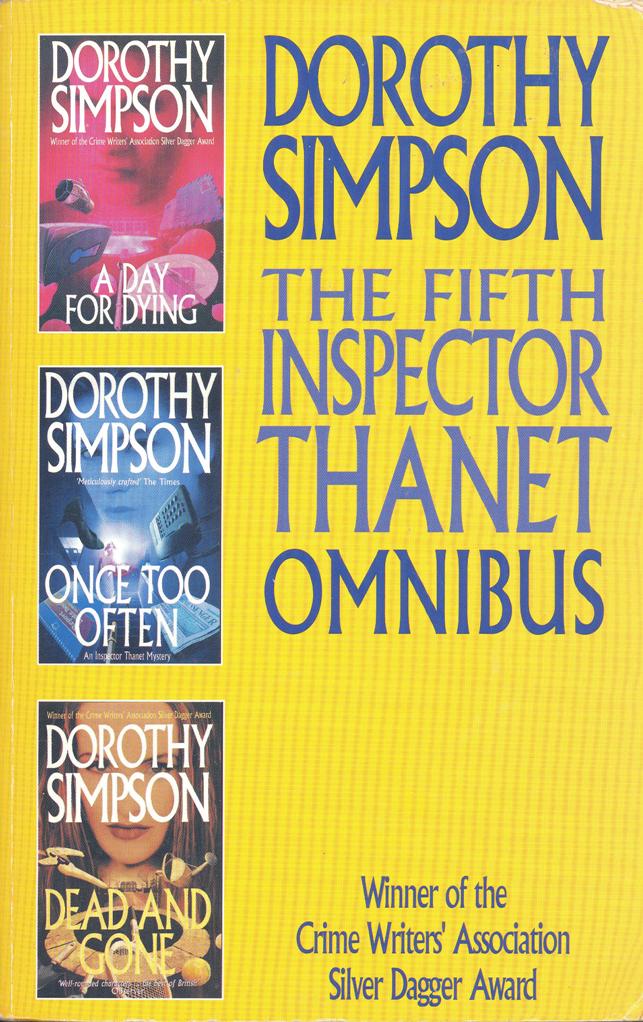 I read this book in April, 2020.
"A Day For Dying" is the first book in the Inspector Thanet series that I have read, but it is book 13 in the series and I hate not starting a series at book one. I had bought an omnibus in some charity shop, and this was book one in the omnibus. And so, for me, this is the introduction to the main characters. Inspector Luke Thanet is married to Joan, and they have two children, Ben and Bridget. Ben is about to go to Uni. in this book, but surprises his mum and dad by announcing that he wants to be a policeman instead. Bridget is away on a gap year tour of the world. Thanet lives and works in Surreaden in Kent (i.e. Maidstone). His boss is Superintendent Draco whose wife has an unusual name - Angharad - and sadly she is battling Leukemia. Thanet is ably assisted by Sergeant Michael Lineham who is married to Louise, a ward sister, and they also have two children, Richard and Mandy. The DCs are both good, reliable detectives - DC Bentley and DC Wakeham - and Doc Mallard makes up the list of main characters. I thought they were well sketched, believable and likeable, and my first thoughts of the series are favourable. It seems to be a good, old fashioned, plain and simple crime series, the stories have a beginning, a middle and an end where all is revealed, and we don't appear to have serial killers, sadistic rapists.
The main mystery in this tale is who killed Max Jeopard, on a day at a party to celebrate his engagement to childhood sweetheart Tess Sylvester - "A Day For Dying" as per the title. Max was found floating in the swimming pool -was it murder or was it an accident ? We then meet lots of other characters. Eleanor Jeround is Max's posh and autocratic mum, Hartley is Max's brother, and Louise Burke is Eleanor's sister. Tess's family are also very wealthy. Her mum and dad are Marion and Ralph Sylvester, and she has a schizophrenic brother Carey, cared for by live in handsome nurse Michael Roper. Barbara Mallis is the housekeeper who seems suspiciously wealthy for a servant. There had been a gang of youngsters who went to school together and socialised after school - Max and his brother Hartley, Tess and her brother Carey ( only recently schizophrenic), Gerald Argent, Anthea Greenway and occasionally they were joined by Linda, the daughter of Fielding, Sylvester's gardener. Sadly Linda is now desperately ill, generally thought to have cancer, but we learn it is something else.
Max was a self centred, good looking, charismatic character who had a way with the ladies, always got what he wanted and seemed to have no regard for others. It was always going to be Max and Tess, but he messed her around a lot, and was never faithful. Max pinched his brother's girlfriend Anthea Greenway, but then dropped her. Tess twice dumped Max but he won her back again. He had gone off to be a travel writer and had got one book published. He was very bright and clever, but just not a genuine person. Dumped by Tess at the last minute, he simply took Linda Fielding to his end of term Oxford Ball. Poor Linda, Max was no gentleman - but Linda was only the gardener's daughter. In short, for all his charisma, there were lots of people who had cause to hate Max - i.e. there are lots of suspects for Thanet and Lineham to investigate.
The book is well written, and the characters interesting and beleivable. I didn't work out who the murderer was but when all was revealed at the end of book, I wasn't too surprised, and it all made perfect sense. There had been clues.
I have only read one book in the series, but it looks promising. It's a pleasure to come across plain, old fashioned, well written murder mysteries.
Links to author index and home page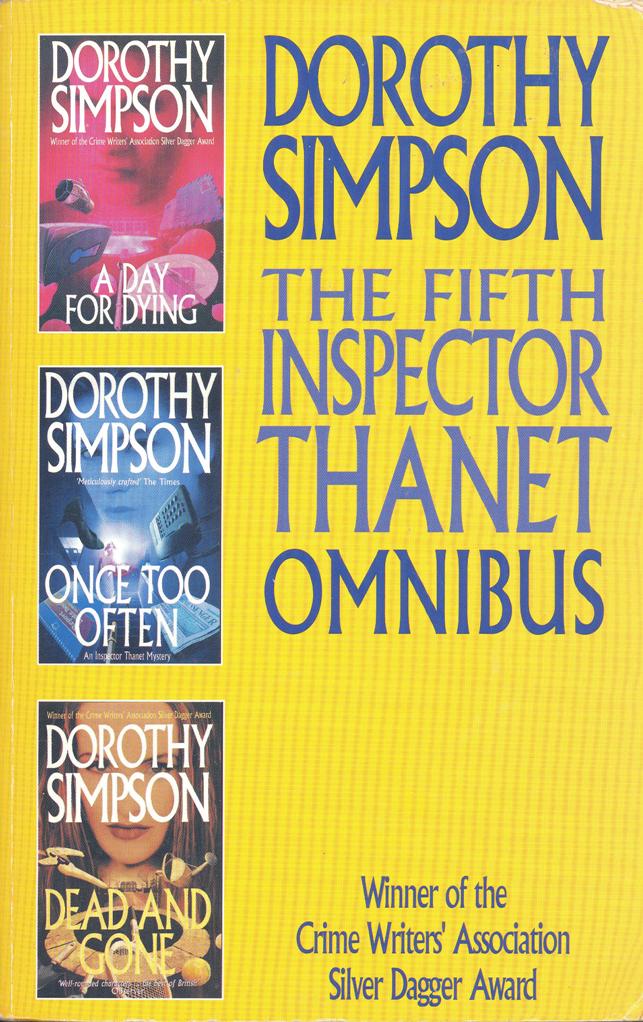 I read this book in May, 2020.
I started reading Dorothy Simpson's Inspector Thanet series in completely the wrong place - with a copy of her fifth omnibus. Book one that I read from the omnibus was actually book 13 in the series, and now I have read book two in the omnibus, but book 14, the penultimate in the series.
I like the series as plain, middle of the road, murder mystery. We are dealing with crime in and around Sturreden (Maidstone) in Kent, and we don't have grand scale, goulish serial killers. The two main characters are Inspector Luke Thanet, and his assistant Sgnt Mike Lineham. Thanet is happily married to Joan, and they have two children, Ben and Bridget. Bridget is getting married to Alexander Highman in a few days time, and Thanet is agonising over his speech. Thanet has reservations about the wedding as Alexander abruptly dumped Bridget some while ago, and then turned up again out of the blue. Will Alexander hurt his beloved daughter again ? He is also agonising about his little girl growing up, and leaving, times changing, etc. Lineham is also happily married to Louise, and they have a daughter Mandy (9). Lineham too is agonising over what to do - should his aged mother stay with him and Louise, or go into a home. The other characters in the series include Pater, a station officer, Thanet's friend Doc Mallard, the medical examiner, and Super Draco, who is away on a liason visit. Doc Mallard is a lot cheerier now. Sadly his first wife died, but he has married again - to Helen Fields, the cookery writer - and life is good again. Helen has decorated Bridget's wedding cake.
Now to the main crime story. Jessica Dander, a well known local journalist on the KM (Kent Messenger) has fallen down stairs and broken her neck. Her married name was Jessica Mary Manifest, and she is discovered by her husband Desmond who had returned from a walk to find the door open, and learn that some mysterious person had already phoned for an ambulance and disappeared. And so the police investigate a suspicious death. Jessica was an unhappy, angry person. She had probably married for money, and security, but Desmond lost his high flying city job, and the old wealthy style disappeared. Jessica took at least one lover in Adam Ogilvie, a local estate agent, and the affair was quite blatent with Ogilvie visiting the Manifest house and going upstairs with Jessica. Desmond took to going on long walks. Perhaps Desmond was also a battered husband. Had the worm turned, had Desmond pushed Jessica down stairs ? Or had Jessica turned on her lover, and he retaliated?. Adam's wife Penny had found out about the affair. Perhaps even, in her anger, Penny had tackled Jessica ? Jessica also had a stalker - could it have been Kevin, the young lad who worked in the hairdresser that Jessica used.
We learn more about Jessica's early life. Her parents died when she was young, and she was brought up by her older sister Madge, who was married to Bernard Covin, a chain smoking farm manager. Madge and Bernard were like mother and father to Jessica, but eventually after many years they had a daughter of their own, Karen Mary. Sadly Madge too died. All was not as it seemed in the Covin household. When 16, Jessica had left suddenly to visit an aunt, and never returned. Why ?
All in all, it's a well told tale. I don't think this is a great, five star series, but it's still a good read. One criticism, though. I didn't like it at the very end when Thanet explained the case to his wife, and so to us. We had just read the story, and did not need to be told it again.
Links to author index and home page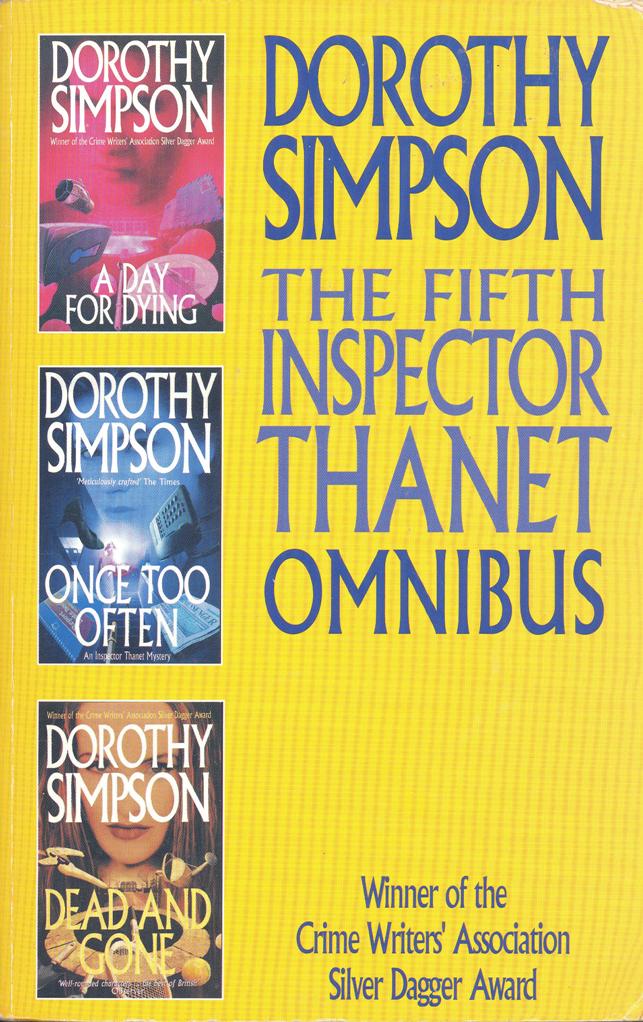 I read this book in July, 2020.
This is the last story in an Inspector Thanet trilogy that I bought in a charity shop, and I now know it's the very last story in the whole series. So I have now read the last three books in a 15 book series - and I always recommend reading books in the correct sequence ! Dorothy Simpson got repetitive strain injury and sadly was unable to continue writing. I thought it was a great pity to see such an abrupt end to Thanet and co, but on the other hand the book finished with Thanet becomming a grandfather for the first time, so perhaps it's quiite an appropriate ending for the private lives story.
The Inspector Thanet crime stories are set in Kent. DI Luke Thanet is happily married to Joan, and they have a daughter Bridget and a son Ben who still wants to join the Police force, but having finished a university computer degree course, is currently in Africa doing a years VSO. Bridget, married to Alexander, is 32 weeks pregnant, but all has not gone well, mother and baby's lives are at risk, the baby is to be induced early, and her parents Luke and Joan are worried sick. Thanet can barely concentrate on his current case. We are reminded of the rest of the crew - Superintendent Draco, Thanet's boss, Sergeant Mike Lineham, also happily married to wife Louise, and Doc Mallard, the police medic. Lineham's aged mother moved into Abbeyfield House, a retirement home, about a month ago, and so far ,so good.
The story concerns a missing, and it turns out murdered woman - Virginia (Ginny) Mintar, whose husband is the well known QC, Ralph Mintar. Often it's the husband who did it, so Thanet will have to be careful how he tackles an eminent QC. Ralph and Ginny live a very comfortable and expensive life. They have two daughters Caroline (Caro) and Rachel. Caroline apparently ran off with the family gardener Dick Swain some four years ago, and was never seen nor heard of again. The family did not approve of Swain, and drove Caro away. Now it is the evening of an informal dinner party and Rachel has announced that she has just got engaged to her boyfriend, a very good looking tennis coach Matt Agon. The family don't approve of Matt either, but dare not risk alienating their other daughter. An aged mother lives in an annexe, but spends most of the year away on expeditions (hiding the fact that she should not be doing this with her angina). The neighbours, Howard and Marilyn Squires are at the party - Howard is the family doctor - as are Ginny's sister, Joan Simons, and her boyfriend Arnold Prime. The missing / murdered Ginny had had a troubled life - her father ran off when she was a child, and then Caro ran off - and this left her badly scarred. She turned into a shopaholic, and chased after, captured, and discarded every man she met, including her sister's and daughter's boyfriends. She was a beauty with great charisma, but did her flirting and had affaires openly - as if to rub Ralph's nose in it. There was a swimming party at the end of the evening, and some time during this, Ginny went missing. Eventually Ginny's body was discovered by Digby, the new gardener, at the bottom of a well in the garden. As the story unfolds, everyone at the party had an apportunity and a good reason to kill Ginny. That is the puzzle for Thanet and Lineham to solve. I should have mentioned that part of the reason that the family thought Dick Swain was unsuitable was his reclusive old hag of a mother, known as the local witch, who lived in extreme squalor in a secluded cottage in the woods. Hold your nose for the awful stench in that cottage - who wants to be related to such a person ?
The story is well told, and I kept page turning to find out who did the deed. Even when the murderer is identified - and a blackmailer uncovered en route - the story is not finished, as we still have to learn what happened to Caro in a terrible and surprise ending.
I like the three books of the series that I have read, and if I come across others in the series I will probably give them a go - but sadly I will already know how the whole series ends. Could Dorothy Simpson not have dictated some more stories into some recording device / app and got them typed up by someone else ?
Links to author index and home page