Iain's Recommended Book Series
We happened to be on holiday in Aberdeen on the 22nd August, 2010, and bought The Sunday Post, as you do, when on holiday in Scotland. When flicking through the paper (actually I was looking for the Fun Section with the Broons and Oor Wullie) a headline on page 29 caught my eye - "Murder Rate is set to drop in Aberdeen". This was a reference to the Scottish crime writer Stuart McBride who was going to "give the good citizens of the North East a break, and start killing people in other places instead".
I had never heard of Stuart McBride, nor his character detective sergeant Logan MacRae - and had no idea that there was a series of crime novels set in my native city of Aberdeen. So, I scoured the local charity shops, and managed to find four of the novels - books 1, 2, 3 and 5 - before heading South again. I had thought that it might be easier to get the books in Aberdeen, but I have since found them in various charity shops "down south".
I like to write a little preamble about the author, but unfortunately I have not been able to find out all that much about Stuart McBride, even looking at his web site. He was born in Dumbarton, in Scotland, but I don't know when. He was then raised in Aberdeen. He studied architecture at Heriot Watt University in Edinburgh, but then worked in various jobs - graphic design, web design, IT, and even offshore at the oil rigs. He is married to Fiona and lives somewhere remote in the North East of Scotland. His first books were works of science fiction set in the future - but when he sent his work to some publishers they were more interested in the contemporary crime books, and in the character Logan MacRae. So Logan then appeared in the first book "Cold Granite", and the publishers gave Stuart a three book deal. This was later extended to six books, and then to eight.
My first impression of the books is that Stuart seems to like to write about some very dark, gruesome subjects. It's not set in high society - in fact just the opposite, and Stuart pulls no punches with the language either. This I suppose is a necessity for gritty realism, and that apart I liked the books, thought they were well written, thought that the characters were varied and interesting, and generally I am very glad that I bought that Sunday Post, and discovered Stuart McBride and Logan Macrae.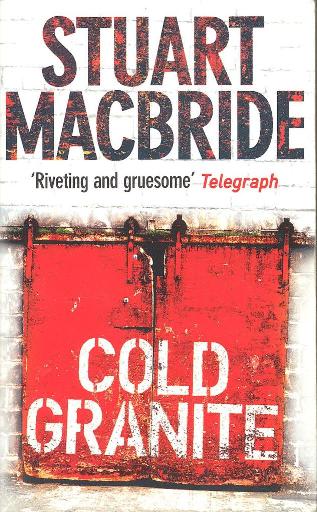 This is the first Logan MacRae book by Stuart McBride, and also the first that I have read. I am going to try to read them in the correct order - always the best way, especially if the characters develop, and change with time. "Cold Granite" is set in the winter snow of the granite city of Aberdeen - so its a great title. If you do read the book, don't let it put you off visiting Aberdeen - its not really a place where serial killers abound, and the weather is not really always as bad as in the book. They do get some bad weather , but it doesn't really rain and snow every day ! Aberdonians joke about the weather just as much as they joke about their reputation for being careful with their pennies.
Logan MacRae is a detective sergeant with the Grampian police who returns to duty after a year's sick leave. He had been stabbed 23 times by Angus Robertson - the "Mastrick Monster" and left for dead. So on return to work (and not 100% fit although he hides it well) Logan is nick-named Lazarus MacRae - ie the man who returned from dead. We are initially not told all that much about the circumstances when he was injured, but it is hinted that Isobel MacAlister ( now the Chief Pathologist) was then his girlfriend, and somehow he let her down very badly - so much so that she no longer speaks to him.
I liked the characters in the book. Logan is assigned to report to DI Insch, who seems to be a decent, able DI. He has a very sweet tooth, and is overweight, and is also into amateur dramatics. Insch assigns WPC Jackie Watson to keep an eye on Logan, and is clearly going to be Logan's new girlfriend. He owes her a pint about four fifths of the way through the book, but events conspire to prevent them ever having the pint. Logan and Jackie have not even had a date by the end of the book. We shall see what transpires in book 2, no doubt.
DI Roberta Steel, a lesbian, is also Logan's boss for part of the book. She is a chain smoker, often to be found outside having a fag. One of the strongest characters in the book is journalist Colin Miller. To avoid severe injury or worse he had to escape from Glasgow having incurred the wrath of a Glasgow hoodlum / gang boss, and now works for the Aberdeen Press and Journal / Evening Express. He is very well informed indeed - and his source is revealed at the end of the book - a twist I had managed to work out for myself. The local press seem to have enormous power as representitives / setters of local opinion. There are several "baddies" as well - let me only mention the oily lawyer Moir-Farquharson.
What of the actual story ? It's quite a gruesome tale about a serial killer preying on young children. First one child goes missing, and then another, and then another. The local press are braying for action ! Logan seems to be a gifted detective and probably deserves promotion to be a DI - but perhaps, unlike Adam Dlgleish, he will foreever remain a detective sergeant, and why not ?
I thought it was a well written book that flowed along quite nicely, and came to a good, proper conclusion at the end. And of course for me it was a delight to read a story set in Aberdeen for a change. I thought I detected a few Ian Rankin influences - the use of the silent pause in questioning, eg - but all writing must be influenced in part by what has gone before - and why not ? The book was nominated / won awards for best first novel, and I look forward to reading book 2, "Dying Light".
Links to author index and home page


This is the second Stuart McBride novel about DS Logan MacRae of the Grampian police, and it's also the second that I have read. I am trying to read the books in the correct order. The story is again set in Aberdeen, but this time Stuart tries to help the local tourist board, and sets the story in summer - so it's no longer snowing every day.
I really enjoyed reading this book - it's not a case of getting used to Logan MacRae, as I liked the first book, and I have enjoyed this book even more.
All the characters of book one are here again - the story seems to be set about eight months after book one. DI Insch is still here, still munching his sweeties, and still puting on the weight. DI Steel is also still here, and still smoking to ridiculous excess. As I expected, Logan has made progress with WPC Jackie Watson - so much so that she has moved in with him. His flat used to be neat and tidy until Jackie moved in, but now nothing is in the same place, it takes him quarter of an hour to find things, and Logan likes it that way. Colin Miller, the journalist of the P & J / EE is still Logan's "chum", and Isobel is still the local forensic pathologist.
What of the story. Logan has apparently screwed up on a raid where things go wrong, and constable Maitland gets shot. As a punishment, Logan is moved off the efficient DI Insch's team to work for DI Steel - who has a reputation for messing up, and who heads a team with a similar poor track record. She tells Logan that if he works hard, and helps her solve a few cases they both will escape back to proper policing. So Logan is worked round the clock - sleep is for wimps (it's a bit like Frost). But as hard he works, Logan doesn't seem to be getting any credit for all his good efforts and successes.
There are lots of things happening at the same time. There is an arson case, and DI Insch is investigating this and the death of five who were in the house at the time - the door screwed shut, and a petrol bomb put through the letter box.
And someone had been murdering prostitutes down at the docks. Oh good, says DI Steel, a serial killer to catch.
And finally two hard men from Edinburgh are in the city, and they have forced Colin Miller, the journalist, to write a favourable article about their boss, Malk the Knife. He is the gentleman from whom Colin had to flee - so there is quite a lot about Colin in the story.
All the stories proceed apace, Logan has a bit of bad luck, but by the end of the book all has been resolved, and all of the stories are solved in a way that made sense to me. In short, its a good story, well constructed.
Like book one, it's all a bit dark and gruesome, and there is a lot of swearing - but if you can excuse this (on the altar of realism), it's a good novel, and I am looking forward to reading book three.
Links to author index and home page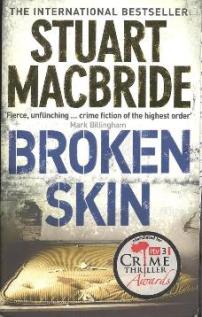 This is the third Logan MacRae novel, and also the third that I have read - so far, I am managing to read them in the correct order. However I now have a problem in that I have bought books 5, and 6, but have not yet found a copy of "Flesh House", book 4. I have looked in lots of charity shops, with no success. I may even have to resort to Amazon.
And so to a second problem. I really enjoyed most of this book - in fact all of the book except chapters 57 and 58. Stuart MacBride certainly chooses some very adult themes - in this case the BDSM (Bondage, Domination, SadoMasochism ) scene in Aberdeen (and Ellon). Most of the detective books I have been reading were written before 2007, and it may be that times have moved on, and authors have to be more extreme to shock. I think I would prefer it if Mr MacBride toned it down a little. Its a pity, because I thought this was going to be the best Logan MacRae yet - and now I think it is perhaps just a little too racy to recommend. It may be just me, and I will have to learn to live with it. I do want to read the rest of the Logan MacRae books.
All the familiar characters are still here, they are a strong set, and finding out what happens next to well known characters is what I like to read. DI's Steel and Insch are great creations, and somehow or other, DS Logan MacRae seems to be working for each of them at the same time. He is still living with Jackie Watson, and finds her high maintenance - so much so that for a lot of the book he is avoiding her and his flat. I guess they will probably break up in the next book. Pity I don't have that book yet, or I could find out.
What of the story? As usual, there are several stories taking place at the same time. The main plot is of a serial rapist, whose attacks become more brutal as time goes on. At the very start of the book, Jackie is being used as a decoy, and is attacked. But instead of finding a terrified victim, the rapist gets more than he bargained for - Jackie can more than look after herself - and so Rob MacIntyre, an Aberdeen football star, is caught. But there is no proof that he is the serial rapist, and , defended by the oily Moir-Farquharson (hissing Sid) he walks free from the court. Jackie and DI Insch are sure that MacIntyre is the rapist, but how do they prove it. And, are they right, or have they made a terrible mistake?
The second main plot is about a Mr Garvie, who over indulges in BDSM, gets terribly injured, and is dropped off at the local hospital by a driver who does not stop. Garvie dies. Who inflicted these terrible injuries on him ?
And a third story is about a gang of delinquent 8 year olds, lead by a Sean Morrison - a foul mouthed horror who ends up killing a defenceless OAP. Sean can't string together a few words without the F word, and likewise for his class mate chums. I was amazed to learn that all these kids were pupils at the best school in Aberdeen - Robert Gordon's College. Sean going to Gordons is fair enough, but all the others? Possibly this is a tongue in cheek joke - anyone knowing Aberdeen would know how unlikely it would be that these are Gordon's pupils. Or perhaps Mr MacBride has some grudge against the school ? Perhaps, since I am criticising the author, I should declare an interest ? I went to Gordons - but not at eight.
There are some great touches in the book. The police are accused of harrassment, and told to keep away from MacIntyre - but Logan and Jacky are caught in a car at 3 am parked outside the footballers house. Logan is hauled up in front of the Chief Constable, and is about to be suspended when he thinks on his feet and comes out with a brilliant justification. Later, Moir-Farquharson is attacked by one of his former defendents, and complains of a terrible lack of gratitude. His words are later thrown back to him by Logan. And at the end of the book, there is an excellent twist in a sub plot about Jackie and Logan .
So, I thought it a terrific book, and a great read, but just a bit over the top racy in bits.
Links to author index and home page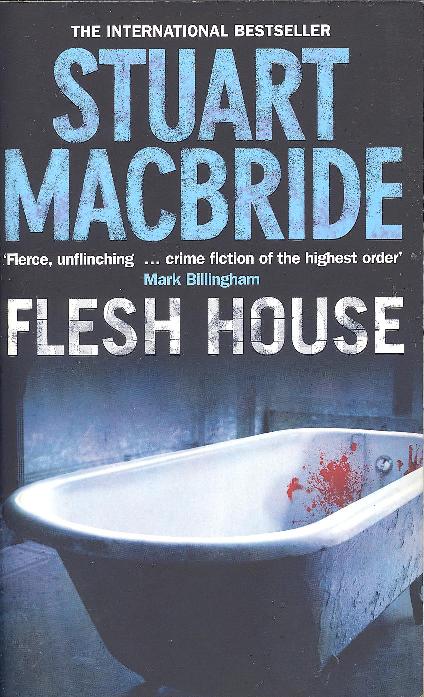 This is the fourth DS Logan MacRae novel, and so far I have managed to read the books in the correct order. It took me quite a while to find a copy in a charity shop - I had already bought books 5 and 6. Eventually I found one in a book stall on Newton Abbot market for £2, only a little bit more that I usually pay in a charity shop.
If asked if this is a good book, one that I would recommend, I am not sure what I would reply. On then one hand it is a very good book, but on the other hand it is a very disappointing one.
All of the DS Logan MacRae books seem very gruesome, and this one is gruesome in the extreme. It is a story about a serial murderer called the flesher, who murders his victims, then splits them open, drains out the blood, skins, and then cuts up the bodies like a slaughter hand would butcher pigs or cattle. Even worse, the human flesh is then sneaked into the market place - so we get to the stage where no one in Aberdeen eats meat any more, or only guaranteed imports ! I lost count of the number of bodies - just about everyone ends up dead. But some victims are captured , held in captivity, and made to eat human flesh. So if you do decide to read this book, you have been warned !
And yet MacBride is a good writer, and there is a lot happening in this long book that held my interest. I did keep turning the page to see what happened next, and I do like the character Logan MacRae. And there is lots of humour in the book - it's not all gruesome.
We left the previous book with Logan and Jackie's relationship on the point of breaking up. This suspicion is confirmed in this book. Logan is single again, with Jackie seconded to Strathclyde police. However, she does reappear in the book, about two thirds of the way through. At he end things are left in the air once more - are they together again or not.
Quite a lot is left in the air at the end - I must say I was very disappointed in the ending. I like my books to have a beginning, a middle, and an end. There is no end to this book, the words just stop. I suppose when I read book 5, I'll find out who was left alive. (As a clue, read the extracts from the Aberdeen Examiner included in the book).
DI Insch is still here. He had been told to cut down on the sweeties - incipient diabetes - and so he is always in a mood way beyond foul. He loses his temper - his face goes bright red, almost a mini heart attack - at the slightest thing. It is obvious that he cannot go on like this - and the spectacular and tragic eruption does take place before the end of the book. Most of the time Logan is working for DI Steel - she is great character, a wonderful fictional creation. There is great dialogue between Steel and Logan.
There were quite a few bits in the book that I didn't think rang true. An English Chief Constable (CC Faulds) appears on the scene, and seems to be given carte blanche - even handling press conferences. I'm sure he wouldn't have been given so much freedom in real life. There is a lot about insanity in the book, and I thought that this was generally handled very well. In some parts we don't know what is real and what is not, and this is fair enough for, to the insane, reality has broken down. But in total darkness one captive can see another captive lying down in the corner - surely not possible in the dark. Perhaps this is another aspect of reality breaking down ? It left me puzzled though.
So, do I recommend the book or not ? It has a terribly disappointing ending which completely spoiled what had been great read. However, I will read the next book, "Broken Skin".
Links to author index and home page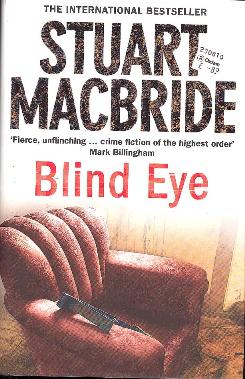 Blind Eye is the fifth DS Logan MacRae book, and the fifth that I have read, so I am still managing to read the books in the right sequence.
The books are set in Aberdeen, and this is the main attraction for me. They are gruesome in the extreme - in this book, someone has a hatred of Poles, and so he gouges out their eyes, pours lighter fuel in the sockets, and sets fire to it. I think that qualifies as gruesome.
The main plot is that Russian / Polish drug barrons want to muscle into the Aberdeen drug scene, and the local drug barrons don't like it. We are re-introduced to the McLeod family, who defend their patch. We also meet a new character - Wee Hamish Mowatt, a local crime lord. There is a very strong Polish theme to the book - lots of Polish words. Logan even visits Poland as part of the case.
There is always such a lot happening in the Logan MacRae books. In the previous book we were sort of left in the air as to what happened to DI Insch, and it also seemed that Logan and Jackie might be together again. Now we learn that Insch has retired, and Logan is not back with Jackie.
Once again, Logan has returned from sick leave. Although single at the start of the book, he does meet Samantha, a goth, and I'm not sure if he and Samantha are still together at the end of the book. Logan is now working for DCI Finnie, who starts off seeming to be a decent character, but then there are doubts. Happily Logan is also still working for DI Roberta Steel.
There is a lot of humour, and great dialogue. Steel is a lesbian, and her wife Susan wants a baby. Unfortunately ( but not surprisingly) Susan and Roberta are not considered ideal candidates, and are denied AI. So Steel pesters Logan to donate some of his sperm - and strangely he doesn't seem to keen to oblige. The situation is resolved by the end of the book, so I will need to read "Dark Blood" to see if Susan did become pregnant.
Did I enjoy reading the book - yes, because I like the Aberdeen setting, and the characters. If I didn't have the Aberdeen connection, would I still enjoy the books ? All that said though, these Stuart MacBride books are very popular, and are award winning, best sellers.
Links to author index and home page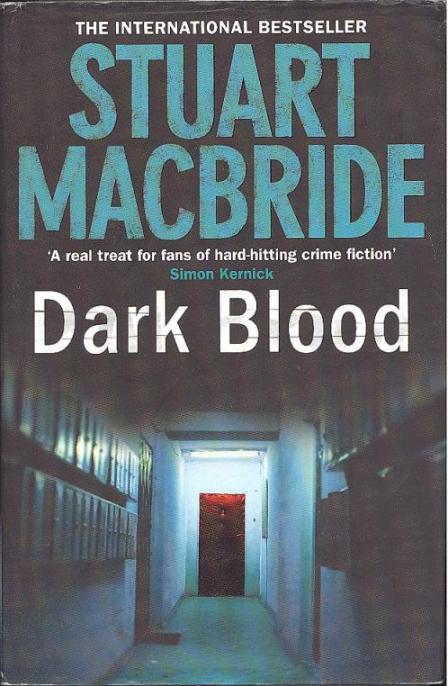 Dark Blood is the sixth DS Logan MacRae book, and the sixth that I have read - so I am still managing to read the books in the right order.
Like all the other books in the series, the author likes to explore the gruesome side of things. In this book we meet Richard Knox, not only a Geordie serial rapist, but one who rapes and likes to humiliate old men. How gruesome is that ? Knox has served his time, and has arrived in Aberdeen to live in the house his granny has left him. Needless to say, he has lots of enemies out for revenge - and MacRae has to keep him safe as all the enemies gather. To make matters even worse, Knox was accountant to a Geordie drug barron who dies. Only Knox knows where all the drug money is hidden - and there are lots who want to find out.
I like these books (but not the gruesome bits) because they are set in Aberdeen. Logan MacRae is still a detective sergeant - he surely should have been promoted long ago, but somehow events have conspired against him. Now Logan has a chip on his shoulder, is in a foul mood most of the time, and is not popular with his colleagues. But DI Roberta Steel proves to be a good friend to Logan, and Samantha, Logan's girlfriend, who is lead a terrible life, continues to put up with him. Why doesn't Logan realise how lucky he is to have someone like Samantha still around ? Is he only going to realise this when she has gone ?
It's a long book, and so much is going on that it's difficult to keep up sometimes. And once again - and I hate this - not everything is sorted out by the end of the book. We will have to buy the next book to see what finally happened - and probably only find out after reading half the book.
As I write this in February, 2011, the next book "Shatter my Bones " (?) has just appeared in the bookshops - I will need to wait a couple of months I guess until hopefully I find it in some charity shop.
Links to author index and home page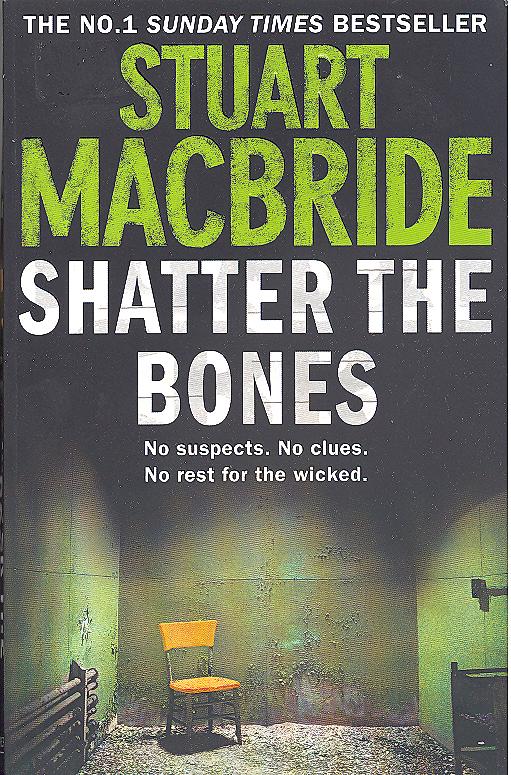 I read this book in May, 2012.
This is the seventh book by Stuart McBride featuring DS Logan MacRae. It took me over a year to find a copy in a charity shop, but I kept at it, and eventually I succeeded, although I had to pay £2 to get it.
All the usual characters are here. I was surprised to see that Logan and Samantha are still together - by the end of book six I was sure that they were going to break up. DI Steele is still Logan's part time boss / protector. As a detective segeant, Logan has lots of bosses. Those of you who have been reading these books will know that DI Steele and Logan have a special relationship - Steele is a lesbian (she hardly makes a secret of it), and as part of a long story she eventually "persuaded" Logan to donate sperm to her partner, to enable Steele and partner to start a family. So we now have a little girl on the scene - Jasmine - and it's a strange relationship. Logan is still getting professonal help - psychological - for his demons, but everyone is so disfunctional and there are so many mistakes made by frankly incompetent officers that it's amazing that any crimes ever get solved. And yet Logan MacRae is a brilliant detective - he would have been promoted to DI years ago but for his private life, and his difficult character.
There are several story lines. Possibly the main one is that Alison and Jenny McGregor, local singing stars of the TV talent show "Britain's Next Big Star," have been kidnapped, and are up for public ransom. The nation has to dig deep if it wants to see Alison and her young daughter Jenny again. We learn of Jenny's terrible ordeals through a series of flashbacks - but it's not clear if what we are reading is history or current, nor even if Jenny is still alive or not. The police have no clues whatsoever - the kidnappers have been astonishingly clever and left no forensic evidence, not even a minute trace. But of course, all is not as it seems. I was able to guess at what might be happening - but of course I couldn't know if I was right or was just reacting to a red herring. Stuart McBride is a clever writer.
It's quite a dark tale, (is the technical term "tartan noir" ?) but not quite as gruesome as previous books - or perhaps I have just got used to it.
I have to mention another of the story lines - investigations into the drug scene in Aberdeen. Logan gets caught up in the trouble that results, makes terrible mistakes that blur the distinction between good and bad, cop and crook, and pays a terrible price. John Rebus made a similar mistake in one of the Ian Rankin books, where Rebus's daughter in her wheelchair, was the subject of a hit and run, and Rebus turned to similar crooks for help.
I enjoyed reading the book - there surely must be another book in the series as events and Logan's private life are left on a bit of a cliff-hanger at the end. But I can't say more without spoiling the plot.
Towards the end of the book, Logan is finally promoted to DI - but possibly only provisionally. We'll need to read the next book (assuming there will be one) to see if he is still a DI, or back to DS MacRae. I quite like him as a DS, and working for the extraordinary DI Steele.
Links to author index and home page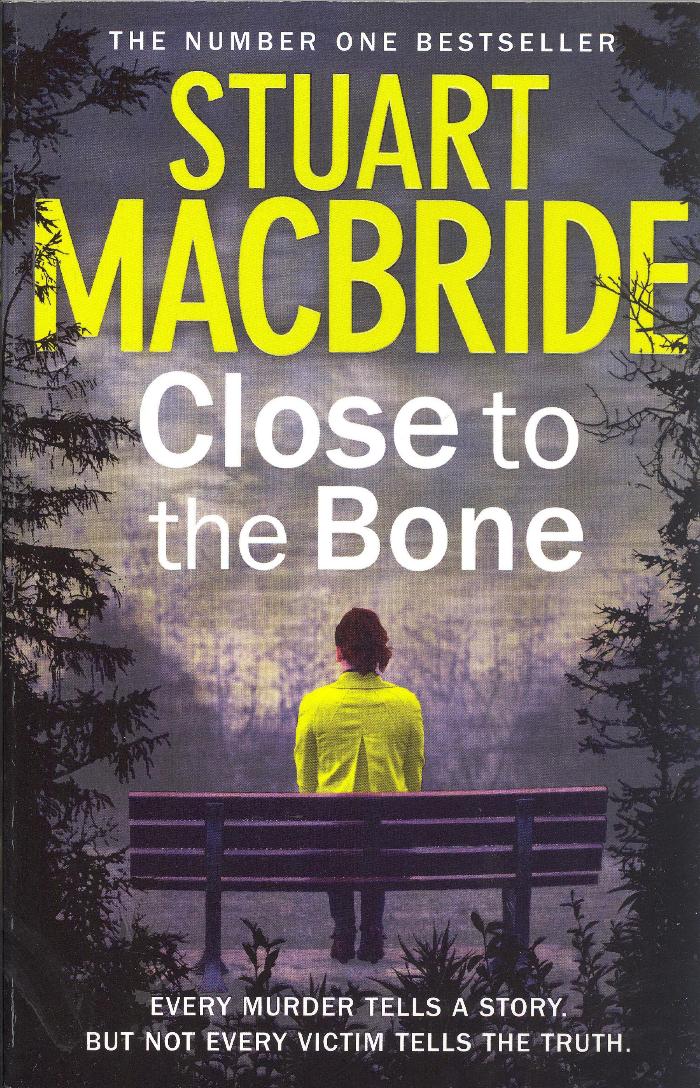 I read this book in December, 2013.
"Close to the Bone" is the eighth Stuart MacBride novel featuring Logan MacRae - usually it's DS MacRae, but in this book he is acting DI MacRae. It's a long time since I read the previous book in this series, and I'd forgotten what a good series this is, and what a good writer Stuart MacBride is. I thought this book was really good - I enjoyed it so much, I wanted to sit down and read it all over again.
DI Roberta Steele, Logan's boss, has also been given some promotion, and is acting head of CID in Aberdeen - but only because the usual head is on holiday in Spain. Allegedly, the head of CID is a DCI, but surely it would be a D. Superintendent, wouldn't it ? DI Steel is a terrific creation - an "over the top" foul mouthed comedy character. She wants everything done immediately, and gives poor Logan such a miserable time - but some how, we still like her. And Logan and Steel have so much history that he can give as good as he gets, neither bears grudges. Logan, of course, is the father of Jasmine - an artificial insemination gift to Susan, Roberta's partner. Logan doesn't see much of Jasmine, but apparently Logan's mum has been a doting grannie to wee Jasmine for some time.
What is the story line ? As usual, there are crime plots, and private life ones. The crime plots refer to drug wars in Aberdeen between the MacLeod brothers, and wee Tommy Mowat. Tommy Mowat and Logan also have a long history, and wierdly, Tommy wants Logan to take over the running of his drug empire when he retires / dies. Logan is not a bent copper, but he does seem to have got himself involved. A famous witchcraft book is being filmed in Aberdeen in the same studios that previously produced porn movies. Two famous actresses are in town. And old DI Inch even turns up again in the unlikely role of a film producer ! There are a series of grizzly murders which seem to follow the plot of the book being filmed. Agnes Garfield is a missing teenager who has apparently run off with her boyfriend. She was into the Occult, and a fan of the book being filmed. It's strange how separate story lines so often come together.
It's a couple of years since the events of the previous book, and Logan and Samantha are apparently still together. But Samantha is not quite the same, and the changed circumstances are not spelled out for us. We have to work that out for ourselves. I managed to pick up the clues before all is revealed at the end. I also managed to work out a plot surprise about the actresses - but I'm sure lots of others will have managed to to do this too.
It's good to rejoin so many well crafted characters - DS Rennie, still hopeless, and Jacky Wilson, Logan's former girlfriend. And DS Chalmers is a recent transfer in from Inverness - she is real glory seeker, not at all a team player.
Great characters, great plots, great dialogue, and a terrific pair in Steele and MacRae. I thought it was a good read, and I'm looking forward to the next installment, especially to see how kind Stuart MacBride might be to poor Samantha.
Links to author index and home page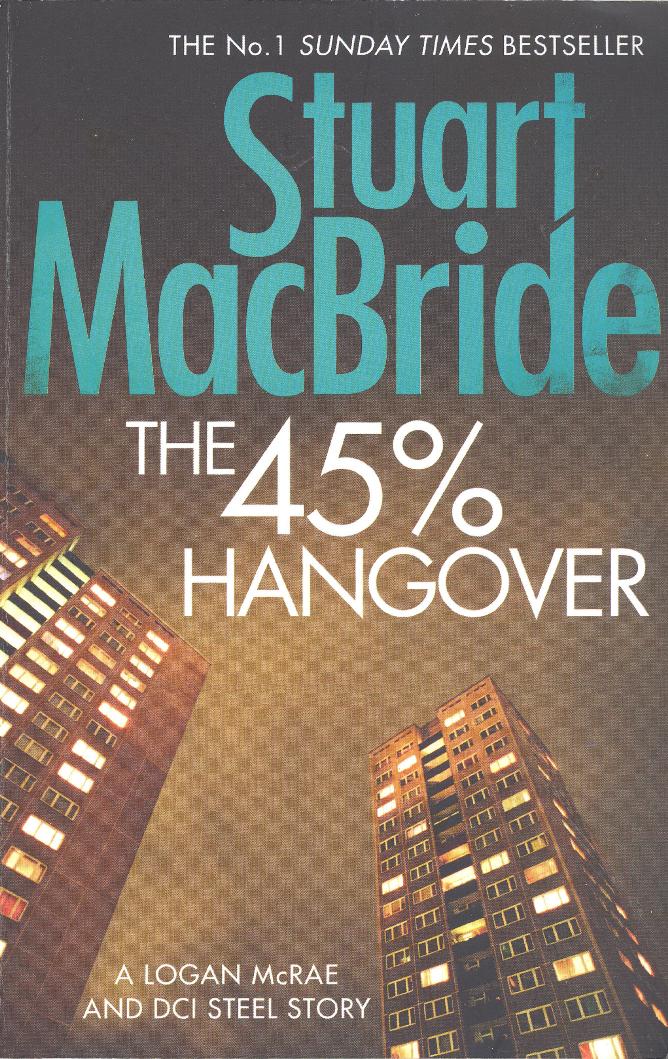 It took ages to find this book, I finally read it in January, 2018.
This book is only a short story - a novella - of some 88 pages. The title refers to the Scottish Independence Vote of September, 2014 where only 45% voted Yes for independence. DCI Steel was an ardent Yes campainer, and so went out to drown her sorrows, and somehow ended up naked in a strange bed handcuffed to poor Logan Macrae. It was his worst nightmare !
The story starts out with Logan recovering from a bump on the head, handcuffed to the bedrail with the bed companion from hell, and then we go back bit in time, to see how on earth Logan and Steel got into such a pickle. Normally I don't like collections of short (c 30 pages) stories, but this one was of sufficient length (just) to include a lot of our familiar characters and tell a decent story. A prominent No campaigner had disappeared, his family were distraught, and wanted him found. Logan was given the task. The whole story is told as a merry romp, with Steel way over the top, doing no productive work, but phoning and pestering / hindering Logan every few minutes. He kept blocking her phone calls, but she kept switching to borrowed mobiles and getting through. It's all very well written, witty, and funny. As part of the fun, Logan is searching for a witness who just happens to be World Porridge Champion. Stuart MacBride was of course a World Porridge Champion.
It's a gem of a little story - I could have done with it being a bit longer.
Links to author index and home page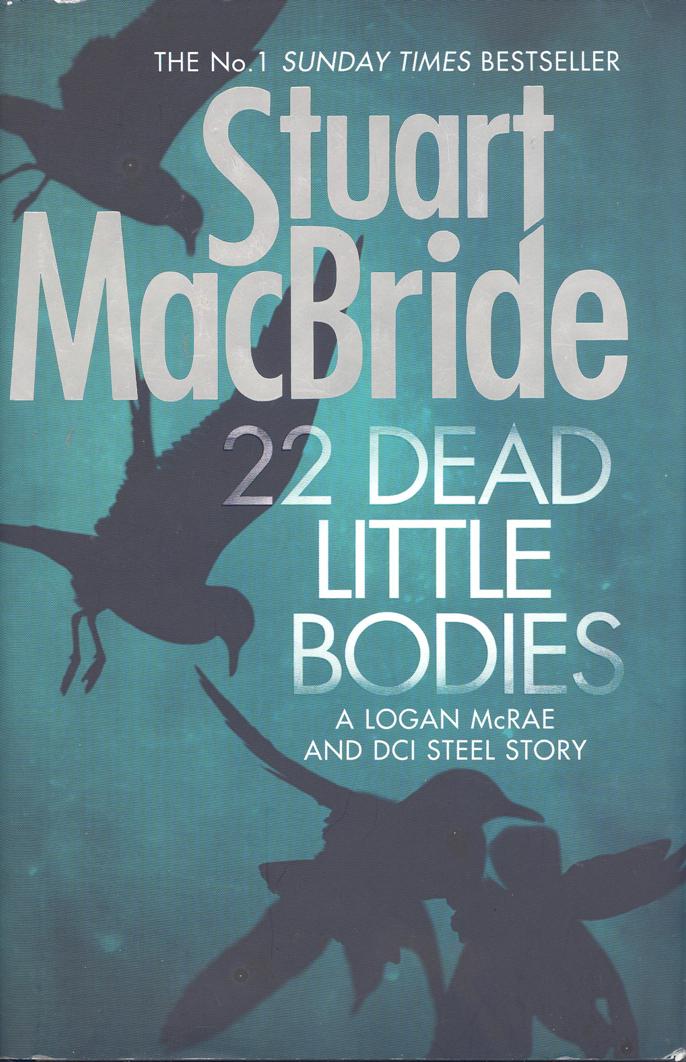 I read this book in October, 2015.
This is the ninth book in Stuart MacBride's series about now acting DI Logan MacRae. It's a series of especial interest to me as its set in my home town of Aberdeen - Logan works for what were formerly Grampian Police, but now it's Police Scotland. Its interesting to see how all the Scottish detective writers eg Quintin Jardine , James Oswald , Ian Rankin have managed to keep up date.
It's almost two years since I read the previous book in this series. I thought I might find a copy when we were on holiday in Aberdeen in August 2015, but no luck. I finally got a hardback copy in a charity shop in Tavistock in Devon.
It's a lovely little book, but sadly of only 172 pages. All the familiar characters are still here, but that great "way-over- the-top" character DI Roberta Steel is now a DCI, and Logan is an acting DI. As part of Police Scotland, Steel heads a major crimes unit in Aberdeen, but Logan stayed with the local CID. So Steel is no longer Logan's boss, but not that that makes the slightest difference to Roberta. She waltzes in, takes over any interesting cases Logan gets, and uses Logan as her assistant. It's no good Logan protesting - water off a ducks back as far as Roberta is concerned. Roberta even expects Logan to babysit for her - but we know Logan is Jasmine's biological father. Some of the old characters are now working for Steel's unit, some for CID, but they are all there, somewhere. Its now some 4 years after the previous book, and poor Samantha, Logan's girlfriend, is still in a coma, getting good care in the local NHS hospital, but Logan wonders if (expensive) private coma-specialst care might benefit Samantha. The story opens with Logan, trying to sell his house, and then half way through the book we find out about Samantha and why the house sale. Local crime boss Tommy Mowat is still alive, but only just. Readers of the series will know that Tommy wants Logan to take over his "business" although Logan is horrified - he is no bent copper. Logan cannot get his house sold, then someone offers £20k over the asking price. I saw the hand of Tommy Mowat way before Logan did.
The book is more about meeting old friends again, than solving a major crime wave. Logan fails to talk down a suicide jumper, whose unfaithfull wife and her lover are later found murdered, and the two kiddies are missing. A local tramp has poisoned himself, or has he ? And Mrs Black is mad, constantly calling out the police with complaints about a neighbour, and then complaining about police corruption when the neighbour is not arrested. No one can deal with her as they are all the subject to formal complaints, so Mrs Black is a poisoned chalice that Logan inherits.
It's a great series. What does the future hold for the Steel / MacRae team, will poor Samantha wake up, and what will happen when Tommy Mowat dies? Roll on the next book.
Finally an observation about two Scottish authors - ie Stuart MacBride, and James Oswald - who are obviously great friends and who read each other's books. Both have had loved ones of their main characters in a coma, both characters now live alone with their cats, but only James Oswald has created a character named DC Stuart MacBride. The author Stuart does not yet have a character named James Oswald. It's a sort of private joke that we all share and enjoy.
Links to author index and home page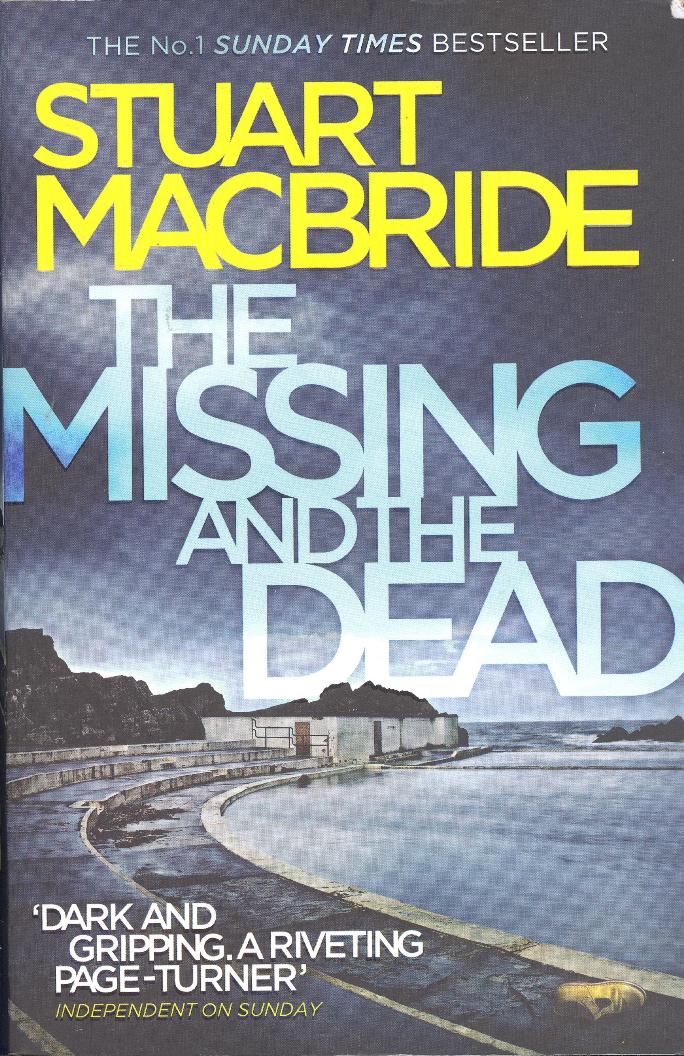 I read this book in December, 2015.
This is the tenth book in Stuart MacBride's series about former acting DI Logan MacRae, but he's back to being Sergeant MacRae. Logan had been an acting DI for 4 years, had had considerable success, and now that it was appraisal time, Logan had expected his DI position to be confirmed. Wierdly he was demoted back to sergeant, and transferred away from Aberdeen city to B division in Banff. To make sense of the demotion you have to understand that the switch to Police Scotland has not been without its problems. You also have to understand the strange Logan Macrae / DCI Roberta Steel partnership. Logan was Steel's partner / assistant for 10 years - Logan did the work, Roberta took the credit. Steel joined the MIT - major incident team - divisions, but Logan stayed in local, community policing. He thus managed to escape from Steel, but Steel has been trying to get him back. Roberta let it be known that although he could do the job brilliantly, Logan didn't really want to be a DI, with all the associated paperwork. She thought he would be transferred to be a sergeant working for her again !
After the previous slim book, we now have this thick book of some 610 pages. It covers a lot of ground, and I thought it was terrific. Logan's girlfriend Samantha is still in a coma, and has been for four years. She is now in a private care home where they might manage to get her out of the coma. Logan is paying - he sold his flat, and he is now living in penury, on a diet of cheap bread toast, and tins of lentil soup.
Logan now has a new team in Banff, and we meet lots of new characters. There are lots of big stories and little stories, and Logan moves on slightly in his private life. Logan has again donated sperm to Susan, Roberta's "wife." They had wanted a second child as company for Jasmine. Jasmine knows that Logan is her daddy, and loves to visit Logan, and his pet cat. The first big story is about a transvestite pervert, Graham Sterling, who has kidnapped a victim who will die if Logan cannot find him in time. Logan has to break police rules of procedure to do so, and so when eventually the Sterling case comes to court, the guilty Sterling walks free, and Logan is blamed. So Logan is haunted by DCI Napier of Internal Investigations throughout the book, who wants to get Logan thrown off the force. The first big story then goes quiet, but explodes into a stunning twist at the end of the book. The second story is about a little girl whose body is found floating in a remote derelict sea swimming pool - she had been molested by a paedophile gang, and Steel heads the MIT in charge of the case. And there is an ongoing fight against drugs - this one headed a by DCI McInnes. Logan gets tangled up in all the cases, and is warned that it is none of his business, but Logan ignores warnings, and carries straight on to catch criminals. McInnes is incandescent, and warns Logan to watch his back.
Quite a lot of the book is full of the day to day police routine, and the many varied jobs community police have to tackle - cows on the road, missing people, road traffic offences, etc, etc - and its all done so well.
Finally, Logan may have a new girlfriend. He has always been faithfull to poor Samantha, but Helen Edwards turns up, fearful that she might be the mum of the little girl found floating in the swimming pool. Her estranged husband had kidnapped their daughter, who had never been seen again, and Helen feared she was dead. Steel is hardly sympathetic, and makes a mess of booking Helen into a B&B. Logan finds her walking about in the rain, and says she can sleep on his couch in his police house. Of course nothing happens initially, but inevitably ........
The book ends with Logan's personal life in limbo. Will his future be with Samantha or Helen ? With commendations from the chief constable, will he be promoted, or still a sergeant ? Read on.
I thought it was a terrific book. There did seem to be a few small inconsistencies, but perhaps I may have misread / misundestood - they certainly didn't spoil the book in any way. Roll on book 11.
Links to author index and home page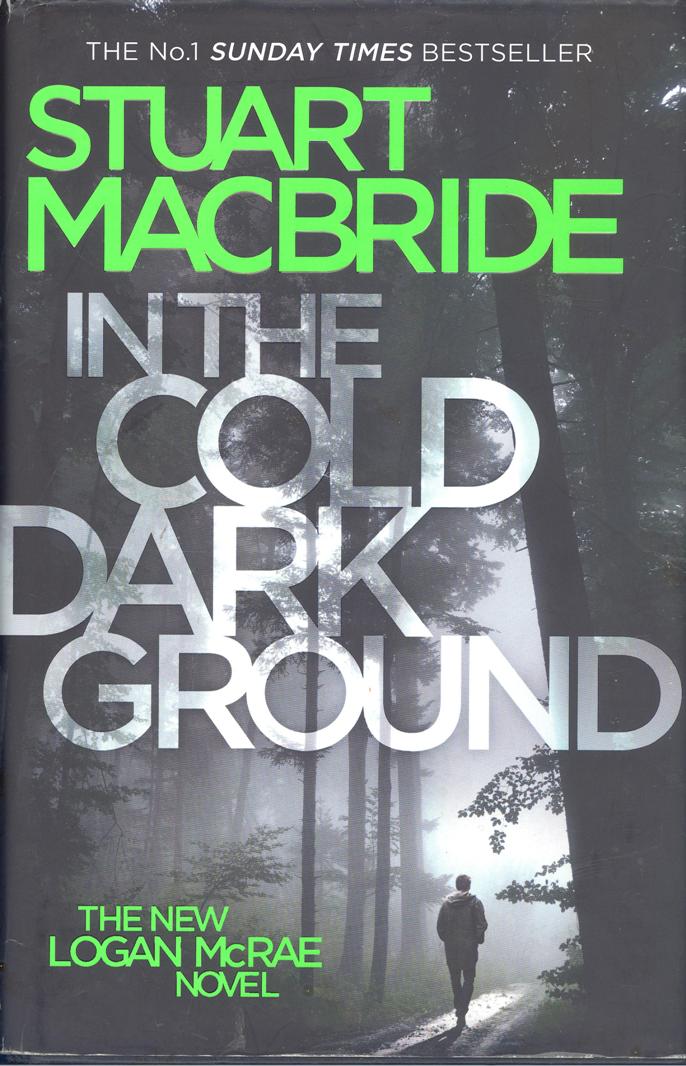 I read this book on holiday in Aberdeen in August, 2016.
This is book 11 in a first class series by Stuart MacBride about DS Logan MacRae, and set in NE Scotland. Logan is still in Banff, is still paying all he earns to keep his girlfriend Samantha comfortable in a private hospital, sadly still in a coma, and never likely to recover. Samantha was his girlfriend for only 2 years, but she has now been in a coma for 5 years, and Logan cannot move on. However the situation is resolved at last when Logan switches off Samantha's life support, and allows her to die. We have two quite sad scenes when Logan does the switching off, and then at Samantha's funeral. Helen, of the previous book, is in Spain, and not part of this story.
I think it is almost essential to have read the previous books in the series before reading this one, otherwise you might get the impression that Logan is a bent copper. Logan finds himself in a very tricky position, and you need to appreciate how getting there was not his fault. But questions are asked - how come Logan is on first name terms with all the crime bosses in Scotland ? Logan and Aberdeen drug lord wee Hamish Mowat had a strange relationship. Logan sold his flat in good faith to a John Urquhart - he got an extra £20k on the selling price. He later found out that John worked for Hamish Mowat. Hamish is dying, and has the preposterous idea that Logan, a serving police officer, should take over his crime empire. Hamish's right hand man Rueben is a thick psychopath - good for frightening people, but unsuited to lead. Reuben hates Logan, and will come gunning for Logan when Hamish finally dies. It was always going to be kill, or be killed. Well, the question is answered in this book when Hamish does die - and all hell breaks out, with Logan in the thick of it.
The book is also about police corruption, and Chief Superintendent Napier of Professional Standards affairs is back on the scene. He wants Logan to investigate Logan's former boss DCI Roberta Steel. Logan thinks he should agree to ensure that Steel gets a fair deal - but it is a terrible shock when Logan finds that Steel did set up a rapist by planting child porn photos on his phone. Steel was incensed that the rapist was walking free, and decided to do something about it. So what does Logan do ? Someone who suddenly come into his life (a sister he did not know about) says something that registers with Logan - it is important in life to do the right thing - otherwise civilisation breaks down.
From the above paragraphs you will see that most of the book is about Logan's private life. Apparently Logan's policeman dad was shot, but did not die as Logan's mum told him. He ran off with the nurse that got him better, started a new life, and had a daughter who also joined the police. She is now a Detective Superintendent - Niamh Harper - and is sent to the NE to head up the current case Logan (and DCI Steel) are working on. She resents Logan - his father was always going on about him - and has Logan making the coffee. So we have another strong woman on the scene making life a mysery for Logan. Stuart MacBride's stories usually are very gruesome - but this one is very strong on dark humour. As everyone says, and I agree, Stuart MacBride is a fine writer. I also liked the reference to the local undertakers Beaton and MacBeth.
DCI Steel is a fabulous, way over the top character. She shouts obscenities at all in her team, demands constant feeding - "I want chips, and I want them now," and can always be relied on to get drunk when the chance arises. And yet, she and Logan go back a long way. Will he turn her in ? Can he turn her in ? Read the book to find out. At the end of the book the future of Logan and Steel is still in the air. Is Logan really going to join Professional Standards, and will it be not DCI, but Constable Roberta Steel ? We will have to await the next book.
Finally, what is the case that features in this book ? A naked body, badly beaten, with arms tied behind its back, and with a black plastic bag tied over the head is discovered in the woods in Logan's patch. DCI Steel rushes up to take charge - Logan will do the work, Roberta will take the credit as usual. And then Steel is trumped by D Super Harper. Is the murder done by a rival drug chief, wanting to take over the Aberdeen territory following the death of Hamish Mowat ? And is this an opportunity to get some evidence that might lead to a conviction ?
All in all a terrific book, fast paced, full of action, full of dark humour. Somehow Logan's body survives some terrible punishment, and Logan keeps going. Its a long book (518 pages) and a great read.
Links to author index and home page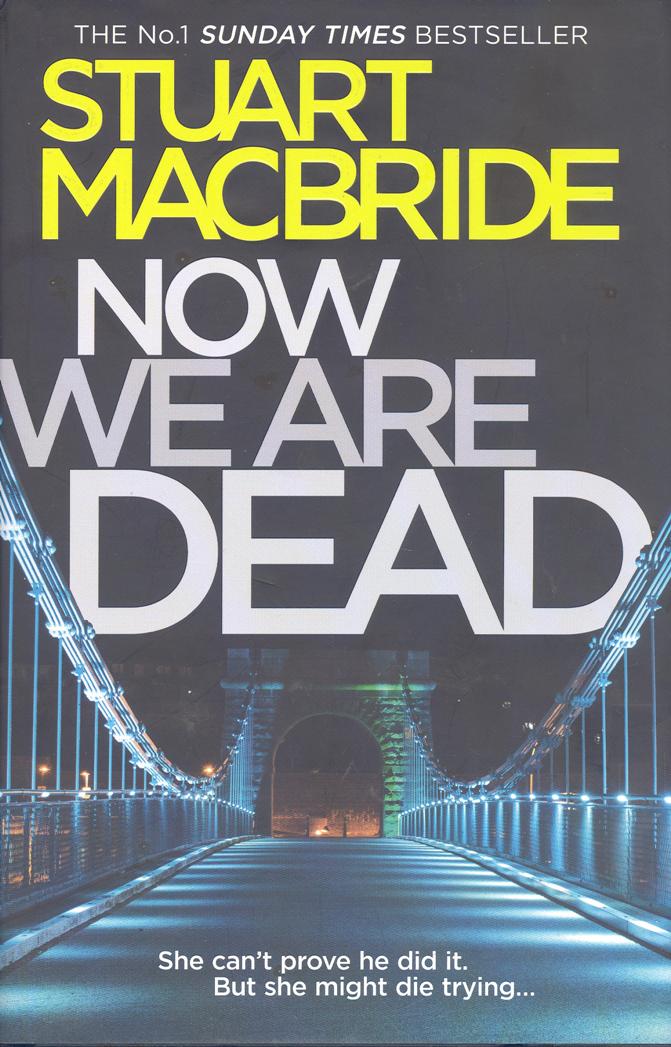 I read this book in August, 2018.
This is a terrific book which features that great creation of a well over the top character Roberta Steel - formerly a DCI, but now demoted two ranks to DS Steel. Convinced that Jack Wallace was guilty of rape and worse, but unable to prove it, and unwilling to allow him to continue to cause untold misery, Steel had planted evidence, got Wallace convicted, and send to jail. Someone reported Steel - Wallace had to be released, and Steel was demoted. And who reported Steel - her partner, buddy, father of Jasmine and Naomi, Logan MacRae. Steel cannot forgive Logan for his treachery. She thinks he is a traitorous bastard and ignores him almost all the way through the book. Logan (now a DI) does eventually appear, but it's after the terrific climax. I won't say how the book ends, but it will interesting to see where the pair go, if anywhere together, in the next Logan Macrae book. I can hardly wait.
Wallace is now out for revenge. A series of brutal rapes take place, and each time Wallace has a cast iron alibi. But Steel, being Steel, knows it is Wallace once again, and goes after him - in spite of everyone warning her off. Next time she will be off the force ! Logic dictates that Roberta should leave the rapes to her colleagues, but Steel puts her head down and carries on regardless. It's hilarious, way over the top action and banter. Poor DC Quirrel (Tufty) is roped in and has a terrible time trying to save Steel from herself, all mostly to no avail. The banter and action are terrific, and MacBride demonstrates what a fine writer he has become. It really is terrific stuff. There are lots of incidents, teasing and worse, and non stop action. Just when we are starting to lose sympathy with Roberta for being so stupid - what is the point of Tufty and her sitting in a police car outside Jack Wallace's house when he has a cast iron alibi - we then catch glimpses of Roberta's humanity. She rescues a poor kiddie whose mum is dead, and the kiddie had been eating scraps of dog food wearing a nappy badly soiled for 5 days. Roberta weeps (in private of course) for the poor wee lad. How could the neighbours have ignored a baby's cries for 5 days, nor the stench of his mother's decaying body ?
Of course it is Wallace behind the rapes, and soon we discover that he has been spying of Roberta Steel, Susan, and their two children. They are to be future victims, but Roberta has no idea. And so we move towards the terrific climax, when all seems lost for Steel Tufty, Susan, and the kids.
Steel has a fine team working for her - all "useless wee spuds", but they are her "useless wee spuds". Logan had inherited some money presumably from Samantha's sad death at the end of the previous book. He used it secretely to get the best lawyer possible to defend Steel from criminal charges. Had she known she would never have accepted the help. The Steel / Logan dynamic is terrific. All in all, it's a very satisfying, but realistic ending.
Need I say that I enjoyed reading this book - it's obvious really. But I'd like the attention to switch back to Logan in the next book, please.
Links to author index and home page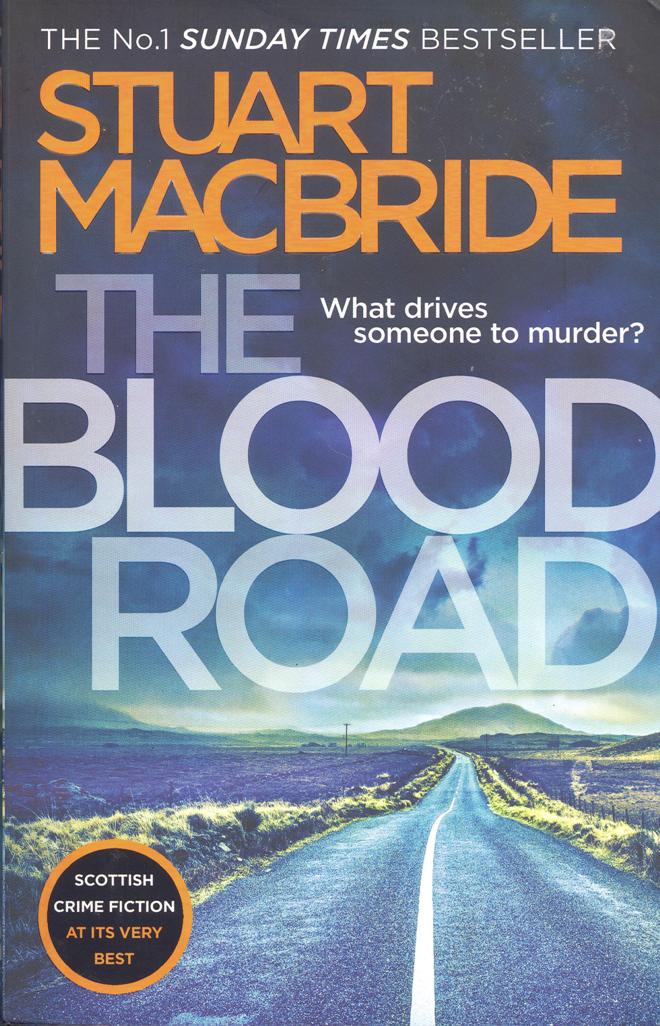 I read this book in April, 2019.
Let me start with a warning. The subject of this story is a Livestock Mart where young, sobbing, kidnapped children, three to six years old, are kept in crates, paraded on a cat walk, and sold to evil, anonomous, mask wearing paedophiles. It's dreadful, atrocious, any parent's or grandparent's worst nightmare and certainly not a light read - almost unbearable in places. I wouldn't really recommend this book - but if, like me, you are following Logan MacRae then of course, you will have to read it. The book starts off with lots of banter and humour, but occasional short chapters point to what is to happen. The book gets really dark about half way through, and everything builds to climax after climax, and we are reminded of Logan's nickname - Lazarus, the man who came back from the dead. And then at the end of the book we get a few, very necessary, winding down chapters. Of course Stuart MacBride is a fine writer who spins a tight yarn. It's a well constructed tale, and everything is explained by the end. The banter and humour is terrific. But I don't really care to read about paedophiles.
The book opens with Logan back in Aberdeen as a DI in Professional Standards - the section Ian Rankin called "The Complaints " Logan investigates complaints against his police colleagues - so he sits alone at a table in the police canteen - "Billy no mates." Logan is assisted by DS Rennie - the "boy idiot." Roberta Steel is still demoted to a DS (falsifying evidence to frame a known crook) but is otherwise unchanged. She spends the first few chapters hounding Logan to do extra baby sitting for Roberta and her Susan, and won't take no for an answer. Logan is on antipsychotic tablets - so much has happened to the poor man, and so many disasterous girl friends. He is now trying to do up a newly purchased house - he was able to afford it because an old lady died there, and laid there undetected for months - the house stank, and no one wanted to buy it. But there is good news - Logan at last seems to have a normal, nice, girlfriend - Tara. Poor Tara has a lot to put up with, but she must be keen and Logan's cat likes her.
The Livestock Mart story starts gently with the discovery of a body in a crashed car. "Why have you called in Professional Standards for a road fatality ?" asks Logan. The answer is that the body is that of DI Bell - who died and was buried some time back. So who did they bury two years ago ? It seems Bell faked his death, and fled to Spain - where he started a new life, leaving a mourning wife in Scotland. We now hear of several children who have been abducted over the years - and the police have failed to get any back. Aiden MacAuley was one such child - and we learn of the extraordinary attempts of his mother Sally MacAuley to get him back. If anyone sells her soul to the devil, it is Sally. Little Ellie Morton is another recent disappearance, and we are there when Rebecca is kidnapped, but what a brave warrior she turns out to be. DS Lorna Chalmers seems to have been on a personal mission to trace the mising kids. She is under "Profesional Standards" investigation for various acts of insubordination, and is ignoring Logan's phone calls. What a pity she wasn't more a team player - especially when she turns up dead.
There is an extreme shortage of DI's with so many major cases live at the same time. And so Logan is temporarly put in charge of one such team - to investigate what turned out to be the murder of DI Bell. The team is Logan, Steel, Rennie and Tufty - just like old times. Everything is connected of course, and it is Logan who is alone in the wilds on the track of the Livestock Mart. How can he possibly prevail against such overwhelming odds ? For all her many, many faults Roberta Steel is a good friend to Logan, and especially when the chips are down. Roberta sheds tears for Logan - but kicks Rennie in the shins when he mentions mentions it. I guess that is what Logan and Steel stories are all about - understated friendship.
In the end, subject notwithstanding, I would have to admit it's a superb story, told by a master writer.
Links to author index and home page


I finished reading this book in November, 2019.
This is book 16 in the Logan MacRae series by Stuart MacBride. I hated the vile subject matter of the previous book (child paedophilia), but it was well told and handled, and I had to read it to continue to follow Logan's story. I didn't care much for the main theme of this book either - an extreme, English hating, Scottish Nationalist terrorist Freedom Army kidnapping, torturing and killing prominent people opposed to "the cause." Stuart MacBride has never chosen easy subjects. We are not talking about the pros and cons of Scottish Independence, but more an extreme subgroup of English hating fanatics who think the end justifies torture and mutilation. Stuart MacBride keeps Logan's views on Independence to himself - "no politics in the police car" - but does allow other characters to put both sides of the case. When evil is confronted and overcome at the end of the book I thought DS Roberta Steel had the best lines, and I paraphrase :-

"See Me. I'm all for independence. But I want the Scotland of the Enlightenment; a nation of fairness and equality; .... A Nation that welcomes everyone, aye, even the English...... I don't want your racist, moronic, ethnic cleaning, expletive, expletive version."
Let's turn to a happier subject - Logan's personal story. He is still living with his very attractive girlfriend Tara, and together they often have Susan and Roberta Steel's (and Logan's) daughter terrors, eleven year old Jasmine and young Naomi dumped on them for a bit of free baby sitting. Tara jokes to Logan "would you like one of your very own ?", but exhausted by wild Jasmine and Naomi's havoc they vow not to bother. At the end of the book, in a "one year later" section, they have obviously changed their minds. Logan was a hero in the previous book, but seriously injured with yet another stab wound. (At the end, when they are closing in on a knife wielding sadist, Tufty begs "Boss, don't get yourself stabbed again ! "). However, it's Logan's first day back at work after a year off on medical leave. He is still a DI in Professional Standards, based in Aberdeen with DS Rennie in his team, but has a police medal for bravery. He has been told to do a few more months in Professional Standards and then with his award and track record, he will be able to pick and choose. His first case back should have been an easy one - some hope. A journalist is threatening to expose DI King (nickname - his highness) as a former member of a Scottish terror organisation. Logan has to check this out - his bosses, DCI Hardie, D. Super Julie Bevan, and D Super Young are very sensitive to politics and journalists and would willingly sacrifice King. Logan finds a lot wrong with hopeless DI King, but King's marriage is breaking down and Logan gives him a lot more leeway than is merited. By the end of the book, he hasn't really done King any favours !
I'm not going to say too much about the main story which is DI King's and DS (still) Roberta Steel's case really, but Logan is landed with it in a supervisory position, so it's the old team of Steel, Rennie, Tufty and Macrae back in business again. Professor Wilson often appears on TV mocking Scottish Independence, and now has disappeared, and been kidnapped by some fanatics. Gary Lochhead is old now, in a hospice and dying of cancer, but he is such a fanatic. Has his son Haiden taken over ? Haiden has an apparently adoring girlfriend in Mhari who may be helping, but she is definitely not who seems. The story now gets very dark, with other kidnappings and mutilations - there are 5 chest freezers to fill - and some victims are kept alive but their body parts are chopped off and sent to the press. Ominously, the murdering sadists have a wicked hunting knife. Surely Logan is not about to be stabbed once again ! The story is well told, and builds to a series of climaxes when Logan's new Audi car is trashed and Logan and Tufty advance on the enemy in dark woods with back up only "on the way". More than that I won't say - I don't do spoilers.
Sturt Macbride is a good writer and knows the need for light and shade. There is quite a lot of humour in the book and MacBride does police banter particularly well. Roberta Steel is still the priceless, over the top creation, she always was. Occasionally she comes up with good advice which surprises everyone and she laments "don't you remember I used to be a DCI ?" I also thought that Logan acts throughout with great authority, even in the presence of officers several ranks above him. "Don't forget, I am a DI in Professional Standards, and I don't like people shouting at me." In short Logan is a true hero whose adventures we follow.
All in all, and again apart from the subject, I thought it was a good book, and a worthy member of a great series. Roll on the next episode, but I dread to think what the subject might be.
Links to author index and home page