Iain's Recommended Book Series
Perhaps somewhat belatedly it has just occured to me that all the authors in my crime fiction lists are men - Dexter, Rankin, Le Carre, McCall Smith, etc. In fact in total I have only mentioned one lady author - but what an author, the best selling J K Rowling. This was not by design nor intention - it's just happened that way. However now that I have noticed this, I have deliberately chosen a lady author to try to redress the balance. I am curious to see if the gender of the writer makes any difference. If it's a good story, well told, will I be able to detect from the author's style that she is a woman ? My first thoughts are that it should make no difference whatsoever. We will see.
There are two famous lady writers who have distinguished themselves in the field of crime fiction - P.D James, and Ruth Rendell. I chanced upon an Inspector Wexford omnibus in a charity shop, and so I have started with Ruth Rendell.
Ruth Barbara Rendell (Baroness Ruth Rendell) was born in 1930 in South Woodford, London. The daughter of two teachers, she was educated at the County High School For Girls in Loughton, Essex. She then worked as a journalist for Essex newspapers. She wrote two unpublished novels before getting "From Doon With Death" published in 1964. This was the first in a long series of Inspector Wexford novels. 1964 is about the time of the early le Carre Smiley spy novels, but much earlier than the crime fiction of Rankin, Dexter, etc.
Ruth Rendell is a most prodigious writter, and has had published many, many other books, sometimes writing under her own name, and sometimes writing under the name Barbara Vine ( Barbara was her middle name, and Vine was her grandmother's ). All in all, there are about 40 books over 40 years - no mean feat. Ruth Rendell has won numerous awards. She was made a CBE in 1996, and a life peer in 1997. She sits in the Lords as a Labour peer. Ruth Rendell revealed a little of her writing techniques in an interview with Mathew Coady in the Guardian - see my comments under "The Speaker of Mandarin".
The Inspector Wexford series are the best known works. Chief Inspector Reg Wexford was played on TV by George Baker, and his assistant Mike Burden by Christopher Ravenscroft.
Sadly Ruth Rendell died in May, 2015, and so probably there will be more Reg Wexford books. But Ruth never killed Reg, so, to my way of thinking, Reg lives on in Kingsmarkam with Dora, enjoying a quiet retirement, meeting Mike for the occasional drink, and visiting his two daughters, Sheila and Sylvia.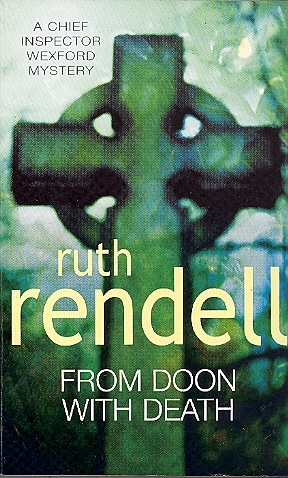 This is Ruth Rendell's first Wexford novel, but by the time I got round to reading it I had already read five Wexford books. I started reading them to compare Wexford with Rebus, and Morse, but also to see if it made any difference that the writer was a woman - ie could I tell from the writing. Generally I have concluded that I quite like Wexford , but that he and Burden are not as strong characters as say Morse and Lewis, Rebus and Siobhan.
Had I started Wexford at this, the first book, I think that I would have decided that yes I could tell that the author was a woman - in other words there is not a lot of action, and there is a lot about love and people's feelings. This of course is an incorrect simplification.
That said, this is a fair start to the Wexford series. Margaret Parsons gets herself killed in a quiet country lane - and the suspect seems to be a mysterious Doon - a childhood / teenage sweetheart. It's quite a short book without too many twists and turns, but its well written. Both Wexford and Burden are introduced, but their characters are still to be developed, and we learn almost nothing about their home lives.
An OK book.
Links to author index and home page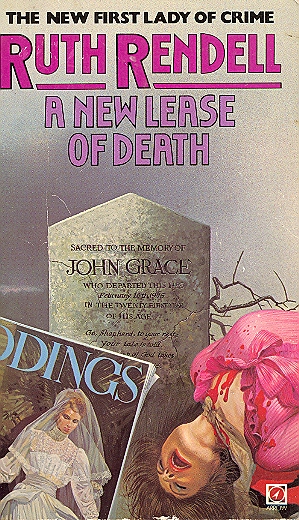 This is the second Inspector Wexford novel, but by the time I got round to reading it, the 16th that I have read. It was funny to read such an early story after reading so many of the later ones. It took me quite a lot of searching to find this book. Surprisingly I found it in a charity shop in Sydney - the Salvation Army shop, Salvos. I started reading the book on the flight back to the UK and finished reading it when I got home, and had recovered from the jet lag.
"A New Leasse of Death" is a strange book, and it's not as good as the later books. It seems to be full of old fashioned values which appear very strange today. Wexford isn't really the main character, and the book is the weaker for this. We follow the investigations of the Rev Archery, and I thought that the book dragged a little when we were in Archery's company, but picked up again when Wexford and Mike Burden reappeared. Mike of course was married to Jean at the time, but Jean is away on holiday - so sadly there are no background stories about Mike and Jean, nor about Wexford either. A lot of the fun in reading a Wexford novel is to share the lives of the main characters, but there is no sharing here !
Charles is the son the Rev Archery, and has met Tess, the love of his life, who is a fellow and very able student at University. He has asked her to marry him, but here is the old fashioned part of the story. Tess is a bright, clever, lovely girl, but her father was Bert Painter, the murderer of an old helpless lady. The Rev Archery doesn't want "bad blood" in the family, and Tess, ashamed of her background, refuses to marry Charles without his father's blessing.
Archery cannot change his mind, but also sees how desperately unhappy Charles is, and so he studies the Painter murder case, and convinces himself that there might have been a miscarriage of justice. Surprise, surprise ! The Painter case was the first investigation when Wexford was in sole charge of a case. He was convinced that it was an open and shut case, and Painter was the murderer. Now, Archery , a friend of the Chief Constable , wants to reopen the case, and the Chief Constable has told Wexford and Burden to give Archery every assistance.
The twist at the end of the book seemed rather obvious to me - I had guessed what would probably happen about a third of the way into the book. There was also a very out of character incident when the Rev Archery "falls in instant love" with Imogen Ide, a former model. What that was all about quite escapes me !
All in all, a very dated book, poor in comparison to the later Wexford novels. I don't really recommend that you bother with this book, unless you have to if you want to read all the Wexford novels. But there is little about Wexford, nor his home life - no Dora, no Sylvia, no Sheila. Its a bit of an aberration.
Links to author index and home page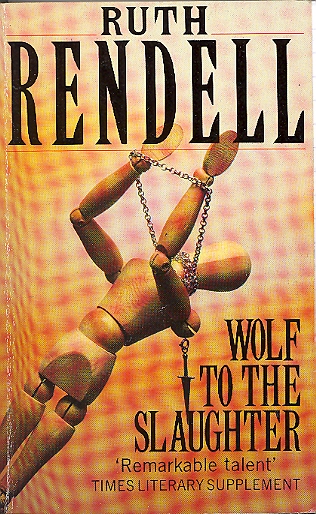 I read this book in February, 2010.
"Wolf to the Slaughter" is the third Wexford novel, but the 18th that I have read. I thought it was OK rather than good to very good. Its one of the early Wexford books, and because I had read the later books first this somewhat spoilled things for me. I wonder what I would have thought if I had read the books in the correct order. The later books do seem a bit better than the early ones.
The story is about the sister of an artist, one Anita Margolis, who has vanished. Wexford thinks that she was murdered , and for most of the book conducts a murder investigation - even though there is never any proof that anyone has been murdered. Of course there has been a murder, but this is part of the usual plot twist at the end of the book.
Wexford and Burden are here of course, but there is nothing about their home lives. Only one of Wexford's daughters is mentioned, and then only in passing. There is nothing about Dora, Wexford's wife. Nor is there anything about Mike Burden's home life. I find the background stories just as interesting as the main plot, and miss them here.
I don't regret reading this book - I would have read it for completeness, anyway. But if I'd read it early on I might have been put off reading the Wexford stories. Most of the book is about a new character, DC Mark Drayton. He is ambitious and seems to have a promising career in front of him, but he falls head over heals in love with one of the characters in the story - and so breaks the rule never to get too involved. I sort of knew that no good would come of this as Drayton doesn't appear in the later books - but of course I would not have known this had I read the books in sequence ! There were similar give aways in the TV series Star Trek, when Kirk, Scottie, Spock, and an unknown crew member teleported down to a new planet. You just knew that the unknown crew member would be the one to cop it ! But I digress .
The book cost me £1 in a charity shop.
Links to author index and home page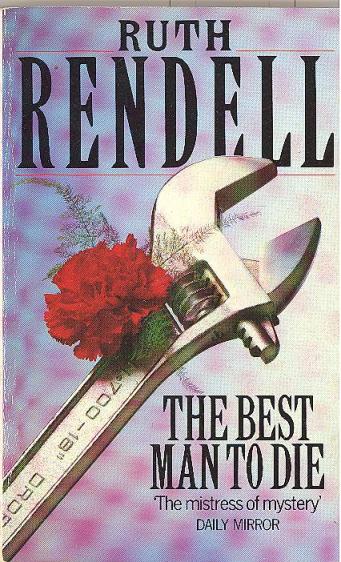 "The Best Man to Die" is the fourth book in the Inspector Wexford series, but by the time I got round to reading it I had read all the others. Perhaps I left it to last as the version I bought (for £1.50 in a charity shop) had quite small print - so no doubt it was always easier to read another book first.
"The Best Man to Die" is an early Wexford book published in 1969. The previous book that I had been reading was Stieg Larsson's "The Girl Who Played with Fire" published in 2009 - some 40 years later. So it was quite a change of style and pace to go from the sassy Lisbeth Salander to good old staid Reg Wexford. The book now seems a bit old fashioned. The characters under suspicion earn about £20 a week, and it is argued that there was no way Charlie Hatton (Jack Pertwee's best man) could have saved the £100 wad of notes he was flourishing at Jack's stag party. A £100 wad of notes would hardly impress nowadays. A couple of hours later, Charlie is lying dead beside a path along side the Kingsmarkam brook - and unusually the body is found by Inspector Wexford himself. Wexford is out for an early morning stroll to exercise a dog foisted on him by his daughter. The dog is called Clytemnestra - what a name to give a dog ! The book also seems bit old fashioned in several sections about class. Charlie Hatton is a working class lorry driver, and his best friend is the working class Jack Pertwee. Mr and Mrs Pertwee think that there will be no crime come the socialist revolution, but meantime it is OK to steal from the rich, the oppressors of the poor. It's a bit too simple, too black and white for modern ears.
And yet, I enjoyed the book. It was good to rejoin Reg and Mike Burden for a drink at The Olive and Dove, and be reminded of the Reg's beautiful daughter Shiela - not yet the successful actress she was about to become. But Reg's wife Dora hardly gets a mention.
It's a story with a beginning, a middle and an end. It all sort of hangs together, although Reg's solving of the case at the end does seem to come from nowhere. There are two strands to the story at the start. One story is the murder of Charle Hatton. The other story is about a Mrs Fanshawe lying in a hospital bed, the survivor of a car crash which killed her rich husband and apparently also killed her daughter, who had been in the back of the car. These two stories join up, and this is skillfully done.
All in all, a good book, well written, but perhaps just a little dated now.
Links to author index and home page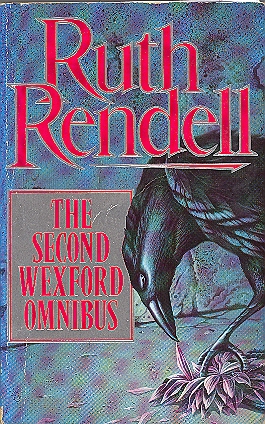 This is the fifth Inspector Wexford novel, but the first that I have read. I bought is as part of a 3 novel omnibus for £1, so that is 33p per story ! I quite liked Wexford on the TV and as explained in the introduction I wanted to try a lady author and broaden my horizons.
"A Guilty Thing Surprised" is a good story, and its well written. I enjoyed it without thinking that it was great read - it's good, but not excellent. Mrs Elizabeth Nightengale is murdered in a dark wood late one evening. Why was she there, and who murdered her?
Inspector Wexford seems a quiet sort of chap. He is less of a character that Rebus, or Morse. He seems a thoroughly decent chap - perhaps his quietness is his strength. I will certainly read the other stories in the omnibus ("No More Dying Then", and "Murder Being Once Done") to see if the character grows on me. Wexford's assistant is Inspector Mike Burden. We are told that they are friends, but it seems a strange friendship. Mike is married to Jean, and they have two children, Pat and John - see No More Dying Then, for more about this. Mike does not play too big a part in this story, but he doesn't seem too strong a character (unlike Lewis in Morse, or Siobahn in Rebus).
Could I tell from the writing that the author was a woman ? This is difficult to answer - I knew that it was a woman and so its a false question. Had I not known, would I have noticed. I think perhaps I did think it was a woman - the writing is a bit more introspective. Without giving away too much, the story is in part a love story. I will need to read more Ruth Rendell, and revisit the question.
I think I have been slightly underwhelmed by the Wexford Burden partnership, but its early days.
Links to author index and home page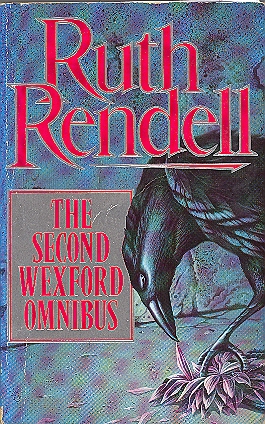 This is the sixth Inspector Wexford novel, but the second that I have read. It is also the second story in a three book omnibus that is my introduction to Wexford. The other two books are "A Guilty Thing Surprised", and "Murder Being Once Done".
This is a well written story. A boy, John Lawrence, has gone missing and the case has similarities to another case where a young girl, Stella Rivers, also went missing. So, its two cases for Wexford and Burden to solve. This is a scenario that works well, and Wexford puzzles it out logically , and it all hangs together. So, I've no problems there - unlike with early Morse who sometimes seemed to be solving cases by guesswork.
So, what's my problem ? In "A Guilty Thing Surprised" I ruminated about the author being a woman, and wondered if I would be able to tell from the writing. Well, this is even more an issue with this book. In essence, the story is more about Mike Burden's emotional state. Sadly, Mike's wife Jean has just died of cancer, and left him with two children, Pat and John to bring up. But Mike is not coping with the tragedy, and is a changed man, haunted, and not rising to the needs of his children. He is always in a bad temper and snaps at everyone, but of course they make allowances, knowing the circumstances. Wexford has to carry Burden, and do the work of two. The book is about emotions, feelings of loss, and then of love. Its a Roman a Clef, a love story, and not really my cup of tea. Its all very well done, and Rendell is a good writer. Perhaps if I had read all the earlier books I would be more tolerant. But if all her books are like this then Ruth Rendeell is not for me. However I have one more story to read out of the three story omnibus, so I will suspend judgment just now.
Links to author index and home page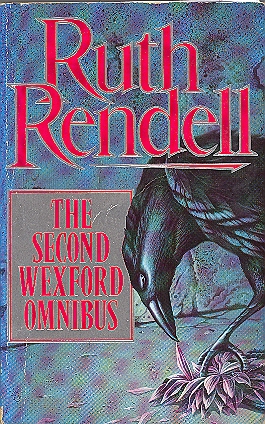 This is the seventh Inspector Wexford novel, but the third that I have read. It is also the third story in a three book omnibus that is my introduction to Wexford. The other two books are "A Guilty Thing Surprised", and "No More Dying Then".
I didn't care much for "No More Dying Then" - I thought it was too obviously a woman's book (emotional, affairs of the heart, etc). But I have enjoyed reading "Murder Being Once Done". There is no Mike Burdeen in this story, but no doubt he will reappear in the next Wexford book that I read.
In this story, Wexford has ignored pleas to take it easy, watch his blood pressure, and act sensibly. As a result, he has suffered a thrombosis of the eye. A few inches over, and it might have been a clot on the brain ! So now, Wexford is "taking it easy" visiting London and staying with a nephew who just happens to be a detective superintendent in the Met. At first the nephew takes care never to talk shop with Wexford, but eventually all that changes. The body of a young girl, Loveday Morgan, in found in a vault in a local graveyard, and Reg Wexford is allowed to take an interest. Can a below par, country bumkin chief inspector contribute anything to help the smart boys of the Met.?
Surprisingly, Wexford is given a desk beside his newhew, and left to do his own thing. Surely that would never happen in practice, even in 1972. It is a good story, well told, and there is a terrific "sting" in the tail. So for now, Rendell has redeemed herself, and I will read on.
Links to author index and home page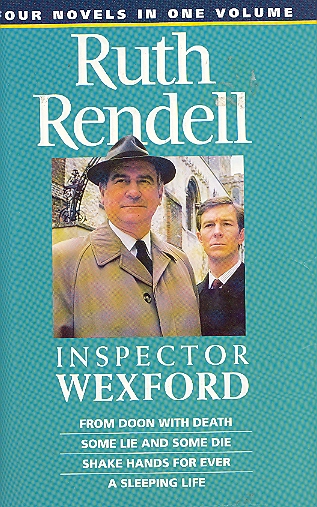 This is the eighth Inspector Wexford novel, but the tenth that I have read. I didn't care all that much for the story line, but it's a well written tale, and there is no denying that Ruth Rendell is a fine writer.
Some Lie and Some Die is part of a song composed by Zeno Vedast, a pop idol with a vast following. One of his fans is John Burden, Mike Burden's now 15 year old son. A pop festival is being held in private grounds near Kingsmarkam, and Zeno Vedast is appearing. Wexford addresses the crowds on behalf of the police, hoping that it will be an enjoyable, trouble free festival. But then the body of Dawn Stonor is found hideously murdered, and dumped in an old quarry near the festival site. Wexford and Burden now have a murder to solve, and Wexford is wondering how he can posibly hold thousands of fans for questioning. Luckily for Wexford the initial post mortem reveals that the body had been dead for a week - ie the murder happened before the festival, so all the pop fans can go home.
In all the Wexford books there is a bit of role revesal between the older Wexford (who has an open mind, and young ideas), and the younger Mike Burden, who has a closed mind, and doesn't like pop festivals. "There will be trouble, and everyone will be on drugs, etc" says Burden. But Wexford seems to be almost enjoying a second youth - he actually likes the music! I didn't think this was all that beleivable, personally.
We don't hear all that much about Wexford's two daughters nor about Dora, his wife. But we do learn more about Burden's home circumstances. Grace, who came to look after the family when Mike's wife Jean died (see "No More Dying Then " ) had married, and now lives locally. Mike's daughter Pat spends a lot of time round at Grace's. John, the son, is growing up, and is now a teenager at 15. Dad is very protective, and almost wants to wrap his children in cotton wool. Wexford is more tuned in to life, and advises Burden to relax, and allow his children the freedom to come and go as they please. This is good advice that Mike eventually takes.
I don't want to give away too much of the story line, so I can't really go into why I didn't like it. I guess I thought the portrayal of Mike Burden as a "stuffy fuddy duddy" and Wexford as a tuned in pop fan over done and just a liittle too counter-intuitive - or is the word unrealistic. I didn't manage to suspend my disbelief.
I didn't really hate the story, it just wasn't my "cup of tea". However it all flows along reasonably well. If Burden and Wexford functioned better as a team, I might have suspended my disbelief. I read the story as part of an omnibus. The other stories were "From Doon with Death", "Shake Hands Forever", and "A Sleepng Life". There are four stories in the omnibus, and they appear in chronological order. This is as it should be, but strangely this is not always the case with omnibus editions. I wonder why not ?
Links to author index and home page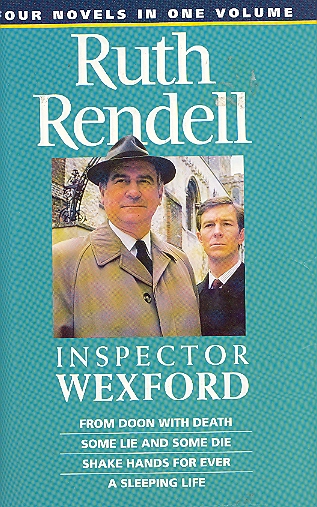 This is the ninth Inspector Wexford novel, but the eleventh that I have read. I read it as part of an omnibus. The others in the omnibus were "From Doon With Death", "Some Lie and Some Die", and "A Sleeping Life". The omnibus cost £1.10, so it would have been about 25p per story. However I had already bought "From Doon With Death". Sometimes with an omnibus, you have to duplicate other purchases. However, it still remains good value.
The book opens with the death by murder of Angela Hathnall. Her husband had fetched his mother for the weekend, but his wife was not at the railway station to meet them. Arriving back at the cottage, old Mrs Hathnall goes upstairs, and finds Angela dead on the bed. The Hathnalls are a most unpleasant, ungracious family - and Wexford fails to hide his contempt for them. He is convinced that Robert Hathnall had his wife murdered - but Mike Burden disagrees. Robert Hathnall complains of police harassment, and the Chief Constable summons Wexford and orders him to leave Hathnall alone. Wexford pursues the matter privately, and hires a petty crook to follow Hathnall. Wexford even enlists the also private help of his nephew Chiel Inspector Howard Fortune of the Met.
It's a good, strong, well told tale. And it's very easy reading. Mike Burden is hardly involved in the story - he is there, but has little to do. He hardly seems to be on the same side as Wexford - they still seem an odd team to me. Mike's children are growing up, and son John is 15 now !
Reg Wexford has a remarkably tolerant wife in the saintly Dora. Usually one of Wexford's two daughters appears in the book with a story line, but not here. Shiela does appear at a Christmas get together, but only in the background this time.
However, there is a second story line of sorts. Reg had been advised by his doctor to lose weight, and very surprisingly has managed to do so. So he now has a trim figure. Wexford is astounded, and just a little delighted to be the subject of the amorous advances of Nancy Lake. This is an extremely pleasing and flattering diversion for Wexford in the middle of a murder investigation. Is Wexford tempted - read the book!
There is a good twist at the end of the book. Parts of the book did annoy me - with Wexford's fine record surely his Chief Constable would have had a better regard for Wexford's opinions and allowed him some slack to follow up the case against Hathnall. But all in all, a good read.
Links to author index and home page


This is the tenth Inspector Wexford novel, but the seventh that I have read.
In my previous readings of Ruth Rendell I have pondered over whether I could tell that the author was a woman just from reading the book. Well, I think in this case you really can tell that the author is a woman.
I started off quite enjoying this book, and was pleasantly surprised at what easy reading it was . Then about 80% through, I slightly started to lose interest. Then Ruth Rendell caught me out with a double surprise at the end - only half of which I had started to guess at. It was an excellent twist, explained a lot of what had been said and happened before, and underlined what a good writer Ruth Rendell is.
We start with the discovery of the body of Rhoda Comfrey, a middle aged woman, under a hedge in Kingsmarkham. She had moved to London, but had returned to visit a sick father in hospital. But almost half the book goes by, and Wexford is no closer to discovering more about Rhoda Comfrey. Where did she stay in London? She is a real mystery woman. At the same time, we learn more about Wexford's home life. As usual, one of his daughters is causing him grief. This time it is not Sheila, the famous actress, but Sylvia who needs help. Sylvia has got a severe dose of Womans lib, and is quarrelling with Neil, her husband. He is reluctant to employ an au pair so that Sylvia can return to college , study, and like Neil, also have a career. She riles at a wife's "subordinate" position, and leaves Neil, taking the children with her, and returns to "Wexford Towers".
I can't say too much more without giving away more than I should.
As always, the relationship between Wexford and Mike Burden, his assistant, is a peculiar one, and a puzzle. We are told that they are best friends, and in a later book that their friendship has deepened, but really it is difficult sometimes to see any signs of friendship. They are a peculiar team , but it seems to work.
In conclusion, its a good book, and I enjoyed it. I think it cost me £1 in a charity shop. An observation - Colin Dexter is not the only author who loves unusual words, Ruth Rendell knows and uses a few of her own.
Links to author index and home page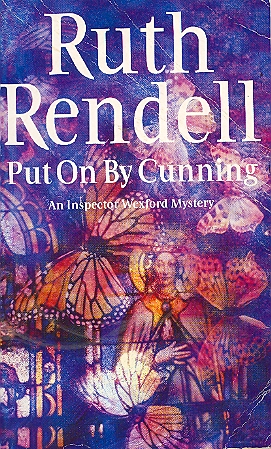 This is the eleventh Inspector Wexford novel, but the eighth that I have read. I have been buying the books in charity shops, and so it's difficult to read them in sequence, as I would really prefer.
I did enjoy reading this book, and I thought Ruth Rendell deserves credit for thinking of such a clever story.
Sir Manuel Camargue, a great flautist, dies leaving a vast fortune. But, was his death due to natural causes ? He was about to marry a girl a lot younger than himself, but he died before changing his will. So his duaghter Natalie Arno (Camargue) is set to inherit. But then the question is - is Natalie Arno who she says she is, or is she an imposter ?
There is quite a lot of Mike Burton in the story, but again Wexford and Burden hardly function as a team. Mike's second wife Jenny is a history reacher, and an accomplished violinist - she used to play in the local Pilgrim String Quartet.
At the same time as the story unfolds, we also hear about what is going on in Wexford's home life. As always, it's one of his duaghters who features. This time it is Shiela, the actress who has achieved fame for her good looks and her playing of an air hostess in a TV soap Runaway. Shiela has returned to Kingsmarkam to get married.
All in all, a good story, well told, there is a lot going on, and it's well worth a read.
Links to author index and home page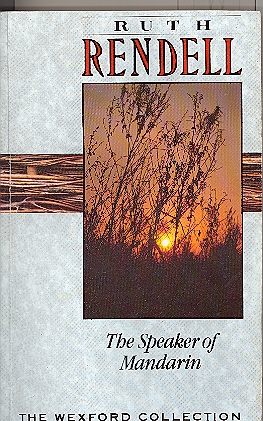 This is the twelth Inspector Wexford novel, but the ninth that I have read.
I enjoyed reading this book, but the enjoyment was spoiled a little by something I read in an introduction to the book. It was an excerpt from an interview Ruth Rendell had given Mathew Coady, in the Guardian. Talking about her writing technique, Ruth said that in writing her books, she has a perpetrator of the crime in her mind as she writes the story, but when she gets to chapter 18, she changes the identity, and goes back and alters the clues. This is on the grounds that "if I can deceive myself, I can deceive the reader." Somehow, I felt just a little manipulated, and cheated.
In the previous book that I read, Wexford had been in America. This book opens with Wexford in China. His nephew, Chief Superintendent Howard Fortune of Scotland Yard (I wonder if he knows Adam Dalgleish ?), has invited Wexford to join a party of policeman visiting China to advise on crime prevention and detection. Howard invites Wexford as Wexford is the best detective that Howard knows. In China, Wexford seems to be doing his own thing, and visits lots of tourist sites - but always with official Chinese minders. Wexford sees an old Chinese hag with grotesque, bound feet, and this "apparition" presents itself to Wexford throughout the book, causing Wexford to question his own sanity. As a consequence, and also because of the extreme heat, he cannot sleep. But he does doze off during a river cruise, and so sleeps through the drama of the man overboard incident - a guide, Mr Wong, is dead. We hear a fair bit about Wexfors's travelling companions, and so concludes part one of the story.
Back in Kingsmarkham, there is another death - Mrs Knighton is found dead. The Knightons had been in China on the same trip as Wexford. And so Wexford and Buurden have a death to investigate.
Mike Burden is just as happily married to his second wife Jenny, and he had been to Jean, his first wife. He and Wexford seem to be good friends, and Wexford declares that he knows Mike's house as well as he knows his own, and he joins Mike for lunchtime meals and some drinks at the Burdens. Jenny fills her life with reading, amateur dramatics, and music - she plays in a string quartet - and so is able to adapt to the life of a policeman's wife. She is also getting Mike Burden to read "classics" to her, improving Mike's mind. But yet Wexford remains critical of Burdens abilities. Wexford thinks that Burden has a closed mind, he does not understand the criminal, and so will never be as great a detective as Wexford. I find this a strange partnership. Lewis would never be as great a detective as Morse, but I'm sure Morse thought more highly of Lewis than Wexford of Burden. One team functions as a great partnership, the other team does not function at all.
The crime seems to be solved, but the story continues, and the solution disappears to be replaced by another. And then we get to chapter 18, and Rendell changes the identity of the culprit to one that we (and she) had never suspected.
I think it would have been a better book if suspect A had remained the murderer at the end. Suspect B ( the true murderer) appeared from nowhere, and not very convincingly. However its a good book, and a good read. It cost me 50p in a charity shop.
Links to author index and home page


This is the thirteenth Inspector Wexford novel, and it's also the thirteenth that I have read, but unfortunately I have not been able to read the books in the correct order. In this book there is a sub plot where Mike Burden's second wife Jenny is having a baby (Jenny's first, but not Mike's first), and the sex of the baby is very important, but is not revealed until almost the end of the book. However those like me who have read later books already know the sex of the baby, and so unfortunately part of the story is spoiled. So, it is best to read the books in sequence !
I enjoyed this book. It was very easy to read, the story flowed along nicely, and it held my interest right to the end. But at the end of the book I wasn't greatly surprised at the identity of the murderer. That said, all the facts fitted, and all the clues had been picked up and explained.
The story opens with a Joy Williams, a neighbour of Wexford's asking him for some advice - she asked through Dora, Reg Wexford's wife. The advice concerns her husband Rodney, who has gone missing. Wexford thinks that Rodney has run off with another woman, and he advises the wife Joy to contact Rodney's employer to see if he is also missing from work. Then by coincidence ( which happens not infrequently at the start of Wexford books) Reg meets Rodney's employer socially, and is surprised when that employer complains about a sales manager who has left all of a sudden - yes it's the same Rodney Williams.
There are lots of people called Williams in the book - Joy, Jane, Kelvin, Wendy, Veronica - but to say more would be to spoil the story !
There are two very strong sub plots. Wexford has to investigate the dealings of a local secret girls / womens society (ARRIA) that is very, very womens lib. Several men have given lifts to young women, and suffered knife cuts. Was the missing Rodney Williams the victim of such an attack ? Soon Reg is amused to discover that he seeems to be on first name terms with all the 18 year old young ladies of Kingsmarkam.
The other sub plot is also related to womens lib. Mike's wife Jenny who is into womens lib is having a miserable pregnancy - so much so that she needs psychiatric help. I thought that this was just a bit out of character for Jenny - and I didn't care for this sub plot, but let this pass.
All in all, though, a good read from a good writer.
Links to author index and home page


This is the fourteenth Inspector Wexford novel, and the twelfth that I have read. I bought it for £1.50 as part of the fifth Wexford omnibus - the others in the omnibus were "An Unkindness of Ravens" and five assorted Wexford short stories.
"The Veiled One" is an interesting book, with a lot happening in all sorts of sub stories. The book opens with Wexford visiting the Barringdean Centre just before closing time. This is a new shopping centre on the outskirts of Kingsmarkam. Wexford is usually very observant, but unknown to him there is the the body of Gwen Robson lying murdered (garrotted) in the car park ! The discovery was made by Dorothy Sanders, mother of Clifford Sanders who soon becomes a suspect. Mother and son are a weird couple - and just how weird becomes obvious as we read the book. The mother dominates the son. Clifford may be a psychopath, and is seeing a psychotherapist - a Serge Olson.
Investigations into who killed Gwen Robson are overtaken by one of the main sub plots, and not surprisingly it involves one of Wexford's daughters - the actress Sheila. Sheila is into ban the bomb activism, and gets into the courts and the media when she cuts the wire fence at a sensitive installation. She wants to explain in person, and arrives at the Wexford's home in a Porsche whch she parks in the drive way. Later Reg goes out to move the Porsche, and a bomb goes off when he engages reverse. So now we have Wexford in hospital, off the case, and worried that someone is trying to blow up one of his daughters. Mike Burden is now in charge of the investigations, but frankly he is not up to the job!
Wexford survives of course. I am hardly spoiling the story by saying this as this book is not the last Wexford novel, so he must live to appear in the later books. I was surprised at the mess Burden made of the case - I always thought him a better detective.
It's an interesting story, and well written. For example Wexford observes two young girls, sisters, quarrelling, the elder trying to correct the younger, and it reminds him of his two daughters Sylvia and Sheila at the same age, quarrelling in much the same way. And here they are still quarrelling - the elder Sylvia disapproving of the younger's ban the bomb activities. Mike Burden now has a son Mark with his second wife Jenny.
All in all, a good read.
Links to author index and home page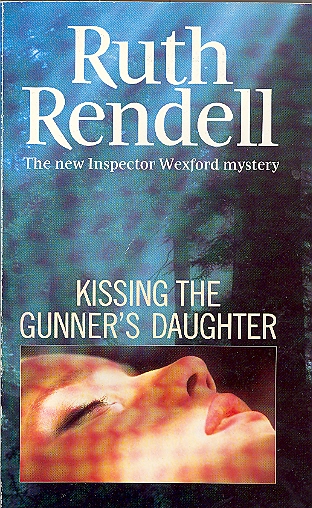 Kissing the Gunner's Daughter is Ruth Rendell's fifteenth Inspector Wexford novel, and the fifth that I have read. Unfortunately I am not reading the books in the chronological order that I prefer to follow - to see characters develop, etc. But never mind. I quite enjoyed reading this book, but thought it was perhaps a little on the long side.
First there is a killing on Friday the 13th - sergeant Martin of KingsMarkam CID. The gun goes missing, and the murder is not solved. Then there is a bloodbath at Tancard House. Davina Flory, an emminent writer, and her family are shot - only the grand-daughter Daisy, who was wounded, survives.
So Wexford and Co have a real mystery to solve. I had read almost all the book, and there were only 20 pages to go, and I still had no idea who had committed the crime. How on earth Wexford managed to solve it is beyond me. No one else in the team had any idea, when Wexford announced that at long last he had puzzled it out. Was he really a genius, or was this just a tad unbelievable ?
Wexford remains a fine enough chap, but he and Mike Burden hardly function as a team. Mike is now remarried to Jenny, and they have a son Mark - but Mike has little to do in this story. There is quite a bit about Wexford's family life, and his relationship with his two daughters - Sylvia and the actress Sheila. Sheila is a terribly poor judge of character. She has a new boyfriend - a writer, but a loathsome, pretentious, self important horror. Wexford justifiably hates him - but Sheila is besotted, and is to join her boyfriend who has won a writing professorship in the States. Wexford and Sheila are not talking, and Wexford is miserable.
It's all a bit lacking in action - more concerned with people's feelings. I thought that the book was OK, but I've enjoyed other books more. Its a beautifully crafted book though - Rendell is a competent master of writing with lots of fans - it's just that I am a little lukewarm, I am afraid. Still I have already bought other Wexford books so I will read them and see how it goes.
Links to author index and home page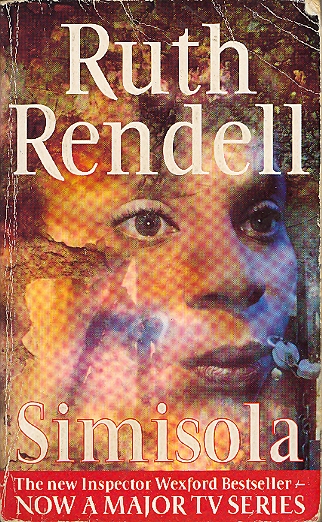 This is the sixteenth Inspector Wexford novel, and it's also the fourteenth that I have read. When I started reading the book it all seemed somewhat familiar, and I wondered if I had read the book before. Eventually I worked out that I had not read the book, but had probably caught part of the story on the television adaptation. Luckily I had only seen the first part of the story, but this was enough to spoil about one quarter of the book. None of the early surprises were surprises for me, and when Wexford made a big mistake, I recognised it as a mistake straight away. That is always a risk in reading a book that has been televised, or made into a film, but strangely, up to now, it had not been a problem.
The book opens with Reg Wexford in his doctor's waiting room. Dr Crocker has retired, and Reg sees his new doctor, a coloured gentleman, Dt Akande. Luckily for Reg, his dizzy spells are not due to a brain tumour, but a virus that affects the ear, and Reg leaves the surgery greatly releived. But we have been introduced to Dr Akande, and sure enough, a week later Dr Akande phones Reg asking for advice. Dr Akande's daughter Melanie has gone missing, and soon Reg is convinced that Melanie is dead.
There are only eighteen coloured people in Kingsmarkam, and we soon get to meet quite a few of them. A young girl's body is found buried, and then Annette Bystock, who works at Kingsmarkam employment exchange, is found strangled, and so on ...... No one wants to appear a racist, and so many overcompensate with political correctness. So, it's a fair enough story. You have to read all the book almost to the very last page to find out who is Simisola.
As with all the Wexford books, a lot of the attraction is to find out what is going on in the background. Mike Burden is there, but has little to do. It is Sylvia, Reg's elder daughter (the other is the actress Sheila) who appears in this story. Her marriage usually has some problem or other, and here her husband Neil is unemployed, and considering signing on (at the same employment exchange where Annette Bystock had worked). Sylvia is very far from a supporting wife, and is very disparaging of Neil's attempts to find work. She and the boys Robin and Ben are round at Reg and Dora's quite a lot as family resources are tight, and there is always a meal and some wine at mum and dad's. In this book Sylvia is almost an unpleasant character, really.
There are a lot of characters in the book. I happened to read this book in fits and starts - puting it down , then returning in a few days, and I tended to lose track of who was who. But that is my fault, not Ruth Rendell's. So all in all, a good enough read, by a good writer.
The book cost me 20p in a charity shop, so no complains there !
Links to author index and home page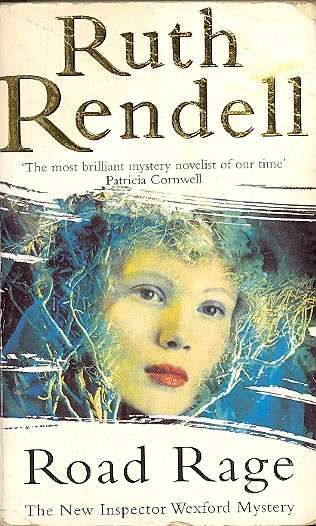 "Road Rage" is the 17th Inspector Wexford novel, and the 15th that I have read. I bought this book for £1.20 in a charity shop in Bury St Edmunds, but read it in November 2009 in Brisbane and then Sydney in the oppressive heat of Australia. It was nice to read of the happenings in Kingsmarkam from so far away.
"Road Rage" refers to local reaction to a by-pass near Kingsmarkam that will destroy for ever a lot of the local peaceful and natural habitat. Wexford and P.D James share the sense of loss, quoting from Philip Larkin .....

"And that will be England gone,
The shadows, the meadows, the lanes,
The guild halls, the carved choirs,
There'll be books, it will linger on
in galleries, but all that remains
for us will be concrete and tyres. "

Wexford can hardly bear to walk in Framhurst Great Wood, for what might be the last time before the bulldozers move in.
The story starts with the murder of a german girl hiker, Ulrike Ranke. Mike Burden has a strong gut feeling that the murderer is one Stanley Trotter, a taxi driver for Contempory Cars, but he cannot prove this. Ulrike's murder is solved before the end of the book, but by then it is incidental to the main story - several people have been kidnapped by a group of fanatics determined to stop the by-pass at all costs. And by bad luck, one of the hostages is Dora Wexford, no less, Reg's saintly wife. Strangely, Reg is allowed to remain in charge of the case in spite of his personal involvement.
It is an unusual case for Reg. He has regional crime squad personnel drafted in to help him to work under his command - and also the usual Mike Burden, etc, etc.
As well as all the goings on around the kidnapping we hear a lot more about the home lives of Reg's daughters. This time it is mainly the actress Sheila. Sheila has just given birth to a baby girl called Amulet (Amy for short), and in fact, Dora was on her way to see her new grand child when she was kidnapped.
All in all, a good strong story, by a good accomplished writer. I enjoyed reading this book, and can recommend it.





Links to author index and home page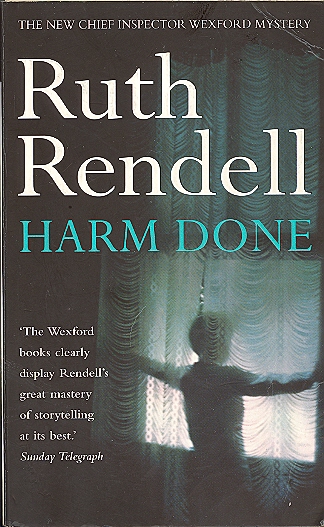 I read this book in January, 2010.
"Harm Done" is the 18th Inspector Wexford novel, and the 17th that I have read. I enjoyed it. Why is it called "Harm Done?" - well the last two words in the book are "harm done".
The blurb on the back of the book cover says that this is a book about paedophilia, but don't let this put you off or mislead you. There is a little of this in the shape of a released paedophile who causes all sorts of problems when he is released onto a housing estate, but this is in the background.
It's a long story, well told. Two young women are abducted, and everyone fears the worst. But they turn up with a strange story that they are un-molested, and all that was required of them was to do some house keeping in a mysterious house in the country. But then, a three year old baby girl - Sanchia Devenish - goes missing, and it all gets a lot more serious.
As the plot develops, as usual in a Wexford novel, we learn more of the inspector's home life, and in this case, especially about daughter Sylvia.. She is only just still married to Neil, but it's an unhappy marriage, and they are only still living together for the sake of the boys. Sylvia works part time in a refuge for battered wives - and it's this, the abuse of women within a marriage, that is the main theme of the book.
Such a lot happens, and there are lots and lots of characters, and we are almost at the end of the book when the murder takes place. I thought the book was going to end without a murder to solve, which would be unusual. So Wexford and Burden do finally have a murder, and only a few chapters left in which to solve it. Sadly though, there had been another death - that of a policemen killed by a petrol bomb, but that also was background.
Ruth Rendell teases us to the end. There are two solutions to the murder. The first explanation is very plausible. "Yes", says Mike Burden, " its the only explanation that fits all the facts." "The problem is", says Wexford " - it's not true." The second explanation is the correct one, and we even manage to get a happy ending of sorts. But then there is a final chapter where Sylvia appears with a story about a phone call that she had received when manning the help line phones at the refuge......
I thought that perhaps there were just too many characters - it was difficult to keep track of everyone, and remember who was who. But overall, a good story, well told. I think I paid £1 for the book in some charity shop, but unfortunately, I can't remember which one.





Links to author index and home page


This is the nineteenth Inspector Wexford novel, but the fourth that I have read. It was written in 2002, and at the same time as a possible murder investigation is under way, we also follow the possible flooding of Wexford's house as the rain continues, and the flood water creeps higher and higher.
The story opens with a sort of religious sect's ceremony in a clearing in a wood where confession is heard. Then the story switches to the Dade family. The teenage children, Sophie and Giles, had been in the care of a minder Joanne Troy when their parents had a weekend abroad. On the parent's return, all three have gone missing. The parents are an unlikeable pair - Roger and Katrina. Katrina is in a panic, and thinks that all three have been drowned - but there is no sign of them, even after thorough searches by the local sub aqua section. Three people have vanished off the face of the earth, and Wexford has to find them, or their bodies.
It's mostly a well told tale, and Ruth Rendell is a good writer. I really enjoyed the first three quarters of the book, but then I thought it rather went off the boil. The last two chapters are Reg Wexford and Mike Burden sitting in a pub - Mike has returned from holiday, and Reg is explaining to Mike, and to us what had happened. This is a device that I don't really like. We should be able to work it out along with Wexford, not to have to read passively and have it all explained to us later on.
Wexford is a nice enough character , but still a bit anonomous. Mike Burden has married again (I have jumped twelve books in my reading), but Burden and Wexford hardly function as a team at all in this story.
I didn't think it was a waste of time reading this book - overall its better than OK. But I think I prefer to be in commpany with Rebus or Morse. Both are flawed characters, but Wexford scarcely is. No doubt I will buy some more Wexford books in the charity shops and read some more. Am I damming with faint praise ?
Links to author index and home page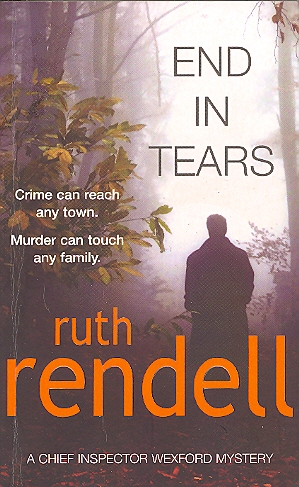 I read this book in May, 2010.
This is the twentieth Inspector Wexford novel, and the nineteenth that I have read. Overall I thought the book was sort of OK, but I've read better Wexford stories
The book opens with the murder of a young girl Amber Marshalson, and tragically and horribly the body is discovered by her father George Marshalson. He doted on Amber, and is distraught at her murder. Amber was an unmarried school girl mum who had a baby boy Brand. Amber had continued to live her life as if she did not have a baby to worry about - his care was left to her step-mother Diana, who was not at all pleased about this. So it's a very sad, bleak opening to any book - with baby Brand not understanding, calling for a mum whom he will never see again, and being cared for by a reluctant step - grandmother. To make matters worse, his grandfather can no longer bear to look at Brand as he is so like the dead Amber.
There is a second murder - of Amber's friend Megan. Amber and Megan seemed to have been involved in some money making scam - was it drugs or something else ?
At the same time as the main story unfolds, there are the usual background stories. The main one involves Wexford's daughter Sylvia. Sylvia and her husband Neil have not only finally parted, but Neil now has a new partner - Naomi. Naomi cannot bear a child but longs for one, and so Sylvia decides to help her in an extraordinary way - in a way that causes grief to Wexford and his wife Dora. Dora and Sylvia are not speaking, and Reg is caught in the middle. It's amazing (and unbelievable ) how often what is happening to one of Wexford's daughters parallels the main plot. Mike Burden is in the background, but doesn't seem to have too much to do. DS Hannah Goldsnith does play a much larger part in the story, and she even has a romance with a colleague.
It's a complicated story, and it's only solved in the final chapter of the book when Reg calls the team together to explain to them and to us, who did it, and why. I don't like these endings at all. I thought parts of the story were silly - as I've said, I've read better Wexfords.
Links to author index and home page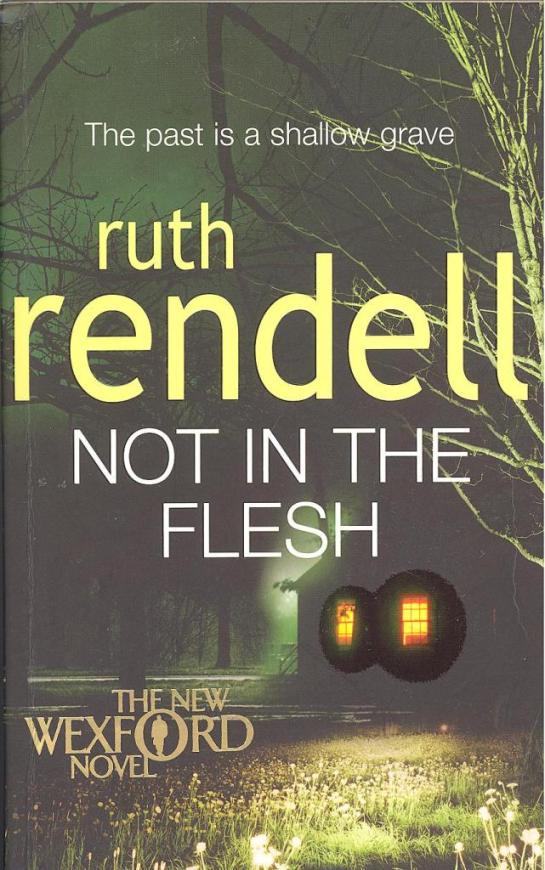 I read this book in September, 2010.
"Not in the Flesh" is the twenty-first Inspector Wexford novel by Ruth Rendell, and the twentieth that I have read. I quite enjoyed reading it, but I guess I would have to rate it as just average for a Wexford. There are better Wexford stories with stronger plots, and better twists at the end.
A man and his dog in the woods unearth a body that has been buried there for 11 years. Foul play is suspected - after all why else would someone bury a body in the woods ? And then a second body is found not far away - but this one has only been dead for about eight years.
So, Wexford, Burden, etc all swing into action once again, and slowly and methodically go about the business of murder solving. It's amazing how so many clues appear after all these years. I don't know that there was what we could call a twist at the end - if so, it was one that most Wexford fans would have spotted long before the end.
Wexford's wife Dora is here, but very much in the background. Wexford's daughters Sylvia and Sheila both also appear, but there is not really much of a sub-plot involving them. The sub- plot concerns female circumcision or mutilation performed on poor African / Asian girls by "aunties" or whoever at the parent's request. This is a real clash of cultures - but a hideous practice nevertheless. Mike Burden assists as usual, but his main role is in the background, or as a drinking / dining companion for Wexford.
All in all, not the strongest Wexford novel, but for all that a pleasant enough read. I though the final Dalgleish books were possibly the best in the series, but unfortunately the same cannot be said for the Wexford books.
Links to author index and home page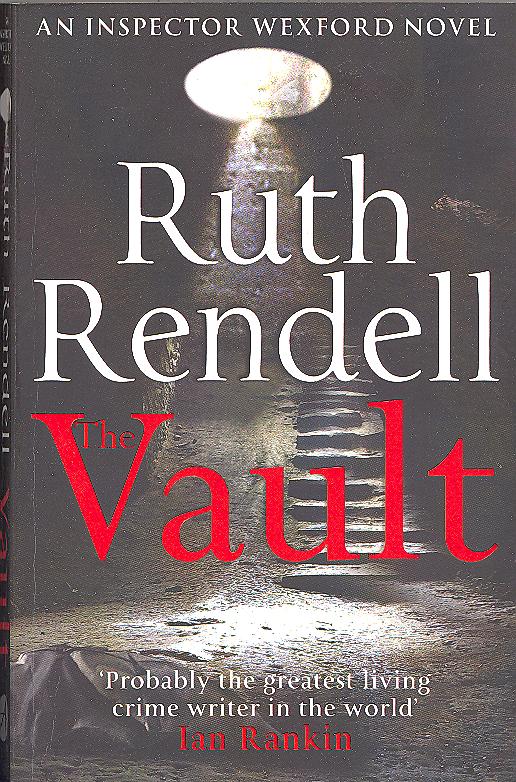 I read this book in January, 2013.
"The Vault" is the 22nd novel in the DCI Reg Wexford series by Ruth Rendell. It's the first Wexford in four years - Reg makes a very welcome return as far as I am concerned. I would love it if other favourites could also return - eg what about a new Commander Dalgleish novel ? But John Rebus has returned, so thank you for that, Ian Rankin.
I read, and thoroughly enjoyed "The Vault" whilst on holiday in Australia. The book is set in London, so it was a welcome story from home. The previous book that I had read was "The Snowman" by Jo Nesbo, set in Oslo, featuring the alcoholic DI Harry Hole, and very much concentrating on life's seamier side. "The Vault" is a very different story, but it also deals with multiple death, but deaths that happened twelve years ago, and two years ago.
It's a good story, very well told. The owner of a famous house in Orcadia Avenue in London - it featured in a well known painting - finds four bodies in a disused coal hole under his house. The entrance to the coal hole from the house had been blocked up, and plastered and papered over. The man hole cover to the coal hole in the back yard had been hidden under a huge pot, and the bodies could have remained there for years. The local police - D Sup. Tom Ede haven't a clue.
Mostly the book is a chance to meet Reg Wexford again, his wife Dora, and their two daughters - the highly successful and now very rich actress Shiela, and the comfortably well off, but troubled social worker , Sylvia. It's a long time since the last Wexford. Reg has now retired, and he and Dora have a second home in London where they spend a lot of leisure time. Reg is doing a lot of walking, and he is now slimmer and fitter than he has been in years. He is out walking, meets up with D Sup. Tom Ede, whom he remembers from a previous investigation in London, and soon Reg is a police advisor, helping with the Orcadia Avenue murders.
Amazingly the old dead case - 4 bodies from 12 years ago - is slowly and painstakingly solved with Reg's help. We not only find out who the bodies are, but who killed them. And it's all very believable. The only thing that didn't make sense to me was how on earth could a preevious owner of the house not notice a door ceasing to exist - even if he had been away on holiday for a while ! But that apart, it all hung together well enough.
Mike Burden, Reg's former assistant is now a D. Superintendent. Its strange to remember that Reg thought Mike, a very good friend - only detective sergeant material. Generally most of the detectives that I read seem to have been under promoted - excluding perhaps Dalgleish, and Bob Skinner.
I enjoyed reading this book, but thought Ruth Rendell had waited too long before writing another Wexford novel. Surely we should have rejoined Reg and Mike for Reg's last investigation in Kingsmarkam. So let's have another outing for Reg, but let's set him back in Kingsmarkam, please.
But, all in all, a worthy member of a good detective series. Reg Wexford is perfectly understated, and I thought the book was an easy read, but a real page turner.
Links to author index and home page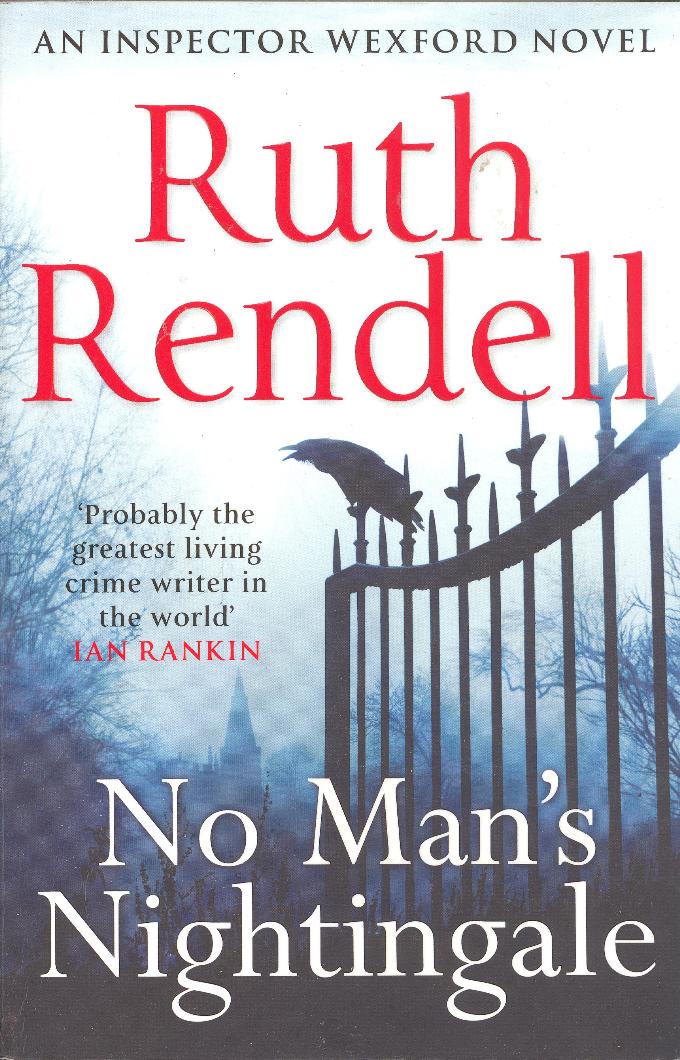 I read this book in December, 2014.
"No Man's Nightingale" is the 23rd novel in the Inspector Wexford series by Ruth Rendell. Reg Wexford retired as a DCI in Kingsmarkam two books ago, but his mind is still very active, and his advice is sought in this book by Mike Burden, now a detective Superintendent, but formerly Reg Wexford's assistant.
Reg is living with Dora in happy retirement, and daughters Sheila and Sylvia are still around, but now with grown up children, Reg and Dora's grandchildren
I thought this was a very good read, with lots of the author's thoughts on life, death, and growing old. We also meet lots of new characters, especially Maxine, Reg and Dora's terribly over talkative cleaner. Eventually Maxine's tongue runs away with her - but I anticipate the story. Maxine also cleans for the Rev. Sarah Hussain, the new vicar at St Peter's in Kingsmarkam, and it is Maxine that discovers the body when the new vicar is murdered. It is Mike Burden's case, but Mike asks his life long friend Reg if he would like to assist - attend a few interviews and give advice. Reg is delighted to accept - anything to get away from Maxine and her over used tongue.
The vicar had been married, but her husband had been killed in a car crash. After a few years, Sarah Hussian had a daughter, Clarissa - but who was the father ? After her mum's death, Clarissa, almost 18, comes to lodge with Reg's daughter Sylvia, and soon Sylvia's son Ben and Clarissa are inseparable - they have fallen in love
Mike Burden is a good policeman, but doesn't think too deeply about motives. He thinks he has found an obvious culprit for the murder of Sarah Hussain, but Reg is not so sure. And so Reg plods away, and no guesses who solves the case in the end.
It's good to be in Reg Wexford's company again, and it's a good story. But it would have been a lot better if Reg had not retired, and he had solved the case as DCI Wexford. Reg is in his twilight years, but his intellect is undimmed.
I liked the book, and Ruth Rendell is a good writer. P.D James died recently (27.12.14), so all the more reason to cherish Ruth Rendell. I don't know if this will be the last Reg Wexford book, but if there are any more, I will certainly be in the queue to get one. After writing this about six months ago, sadly, Ruth Rendell died in May, 2015. And so, I doubt that there can be any more Reg Wexford stories. RIP Ruth Rendell, and thank you.
Some time ago, Ian Rankin described Ruth Rendell as " probably the greatest living crime writer in the world." I'm not sure if I agreed fully, but this book more than held my interest throughout.
Links to author index and home page