Iain's Leisure Reading
This series of books is one of those covered in Following the Detectives - real locations in Crime Fiction, &nbsp - q.v.
I like to read a wide variety of crime fiction, but some writers are so prolific that I simply don't have the time to read all their books. This is especially true with Georges Simenon and the Inspector Maigret books where there are about 75 books, and about 38 short stories. That said though, many of the books are really novellos - stories about 80 pages long. Anyway, chancing upon a book in the Heinemann / Octopus Library series which contained a selection of 10 Maigret books, I jumped at the opportunity to sample Maigret / Simenon. I later discovered my mistake. Yes, there were 10 Simenon stories, but only six were Maigret ones. I'll need to rethink. I guess the Maigret books in their the Paris setting of the 1930s onwards are almost as famous at the Sherlock Holmes books in their Victorian London setting.
Georges Simenon was born, not in France, but in Belgium in 1903. He wrote some 500 books / novellos and numerous short stories, of which the Maigret books are the most famous. He had a rather modest, convential start in life - nursery school at 3, primary school from 1908 to 1914, and finally a jesuit high school secondary education from 1914 to 1918. He then used his father's illness and debtedness as an excuse, dropped out of school without taking his final exams, and grabbed a number of short term jobs. His life changed in 1919, when working for a newspaper , he got the chance broaden his horizons, dabble in politics, mix with lords to prostitutes, to see the seamier parts of town but also cover crime stories. He developed the journalist's skill of writing fast and accurately. His first novel was published in 1921 under the pseudonym of "Georges Sim". He met his wife Regine and then, after his father's death in 1922, he and Regine moved to Paris. All their children would be baptized as catholics, but Simenon was not really religious, and he had numerous affairs and later boasted of having had sex with over 10,000 women ! Whilst boating in the Netherlands, he wrote his first Maigret book which was published in 1931. He lived in the country during the second world war and there are suggestions by the French that he was as a german collaborator.
He escaped France in 1945, and lived in the United States and Canada from 1945 to 1955 where he learned to speak English. He divorced in 1949, and married his young secretary in Nevada in 1950 ! He returned to Europe from 1955 to 1989, living mostly in France, but then Switzerland. He separated from his second wife in 1964, but then lived with his young housekeeper Teresa until his death in 1989. All in all a hectic, eventful full life.
His most famous creation was the raincoat wearing, beer and cider drinking, pipe smoking Inspector Maigret. Jules Maigret and his wife Louise were happily married, but childless, and lived in a flat at 132, Boulevard Richard Lenoir. Maigret's office was on the banks of the Seine at 36 Quai des Orfevres, the headquarters of a section of the Parisian Police. Maigret is described as a large, broad shouldered man - gruff, but patient and fair. His colleagues included Sgt/Inspector Lucas, Janvier, Lapointe and R Torrence.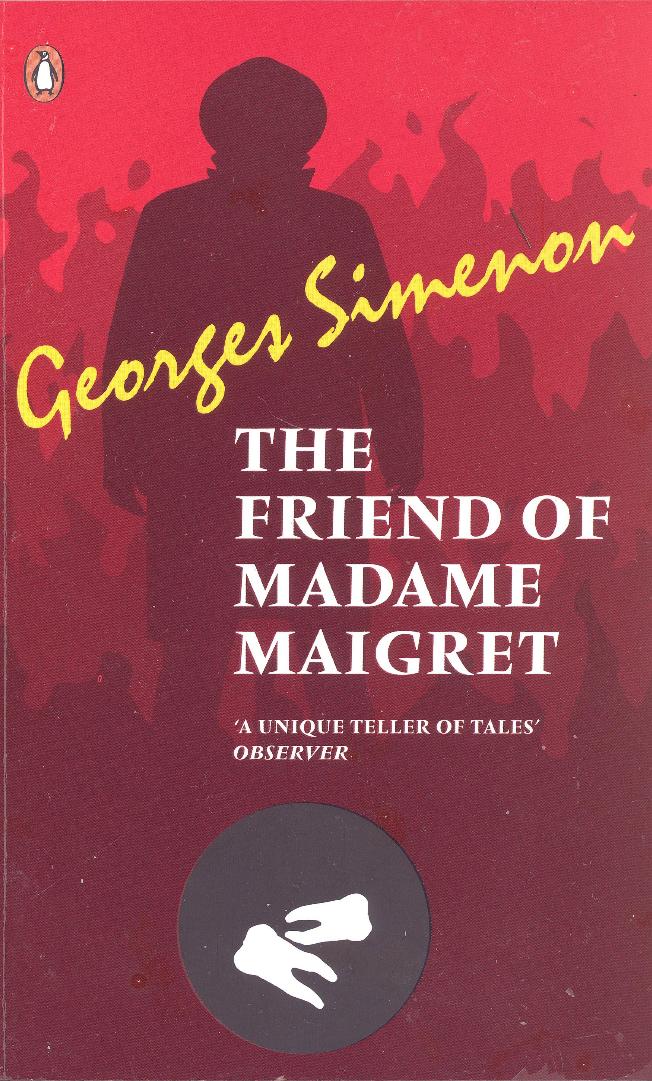 I read this book in December, 2018.
I started reading Maigret stories with seven from a Simenon Omnibus, but stupidly took quite a while to appreciate that it was a Simenon omnibus, and not all Simenon stories are about Chief Inspector Maigret. I did enjoy the Maigret stories, though, and wanted to read more. Thus I decided to concentrate on stories with Maigret in the book title, and the first of these books that I came across was this one, one of the earlier stories. Sadly it didn't hold my interest to the very end, but it started well, and as always was an excellent evocation of the Paris of the period. Most of the familiar Maigret crew are there, and I continue to be surprised at the police life style depicted here. It seems to be constant drinking, even when on duty, and typically Maigret, en route to investigate some crime scene, or question some witness, will pop into a bar for a wine or aperitif on the way. Most of the members of his team act similarly, and no one bats an eyelid.
The book opens with two sub plots unfolding at the same time. Firstly Maigret has got bogged down with the sensational Stuevals case involving a highly respected Flemish Paris bookbinder who has been accused of killing someone, and disposing of the body in the furnace to his flat. The police had had an anonomous tip off, did find human teeth in the furnace, and a blood stained blue suit in Mr Steuvals wardrobe. Steuvals denies all knowledge and his wife Fernande says she and Steuvals were seldom apart, and she saw nothing. Steuvals has a young, but ambitious lawyer Philippe Liotard defending him, and he calls daily press conferences to attack Maigret's handling of the case against his innocent client. Secondly we hear a strange tale concerning Madame Maigret. She was undergoing a series of dental treatments, and arriving early for the weekly appointments had got into the habit of sitting on a bench in a nearby park where she had met a young woman with a two year old toddler. They seemed foreign, but the woman was expensively dressed and spoke good French. One day the woman thrust the boy into Madame Maigret's arms, and rushed off asking Md. Maigret to look after the boy, and that she would be back soon, and explain. She is not back soon, and Madame Maigret has to stay in the park, and miss her dental appointment. Eventually the woman turns up as a passenger in a taxi, grabs the boy, and says again she will explain later. Madame Maigret is upset, and asks her husband to see if he can make sense of it all.
And so we have two apparent separate plots which of course turn out to be related, and this gives Maigret the vital break through he so desperately needs. All of this I thought was great, but then the pace of the story dropped, and my interest sagged somewhat. It all turned out to make sense in the end but we had to have everything explained to us via Maigret's concluding explanation to the investigating judge. I could not believe how Maigret could possibly have worked it out out. I like a series of clues to solve, and the mystery to be revealed by logic, or luck, or whatever.
All in all, an interesting story in that it features Maigret, his wife, his team, and a Paris setting, and I didn't mind the slow pace, but I didn't care for the second half of the book, nor the ending. Yes there was more than one murder, and the murderers were eventually brought to justice, but it took 4 years for normal police procedure to get everyone, and Maigret just mentions this as a throw away line at the end. A true to life ending, but not very exciting.
Links to author index and home page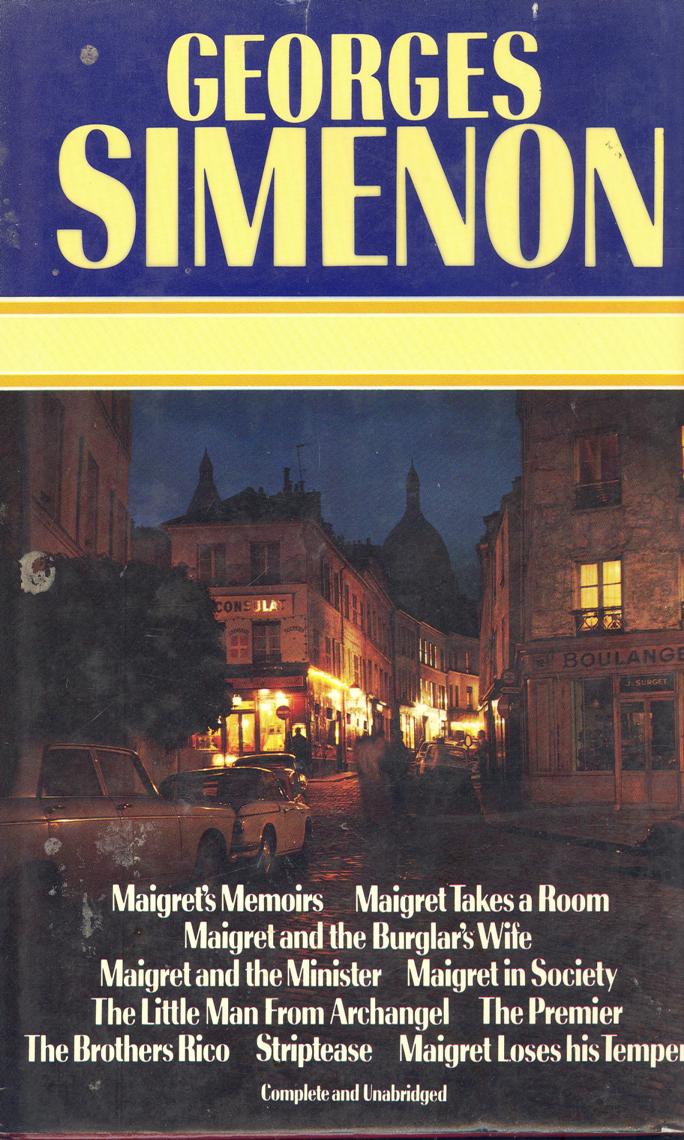 I read this book in January, 2018.
This is probably about book 35 in the series of roughly 75 Inspector Maigret books, but for me it was book one of the ten book compilation I was reading, and not altogether a sensible starting point. I enjoyed reading the book but really I should have started with a more typical Maigret outing. Here we are presented with Inspector Maigret as a real person taking issue with his biographer Georges Simenon - just as Sherlock Holmes takes issue with his biographer Dr Watson. Maigret thinks that Simenon has got so many things wrong that he been driven to write a rebuttal - "Maigret's Memoirs" - to put things right. And yet strangely he ends up coming to the conclusion that Simenon has probably got it about right after all.
We do get a very good picture of life in Paris and Maigret's position as a policeman there. We are told of Maigret's childhood - of his farmer grandad, of his estate manager father, of the death of his mother when he was about 9, and of his being brought up by a childless aunt and uncle who treated him as their son. His parents' local doctor was an alcoholic who was drunk and allowed one of the village mothers-to-be to die in childbirth. Maigret's father gave the doctor, a personal friend, support and the benefit of the doubt, and called him in when his own wife went into labour. And so Maigret's mother died along with the brother or sister Maigret would never have. Maigret had a good education, and eventually was a student at medical school, but he didn't like the life, jumped, and decided to be a policeman. Initially Maigret had no money, and Maigret was a policeman in uniform walking the streets of Paris with hob nailed boots that leaked. He had great empathy for fellow street walkers such as the prostitutes on the street corners - equally cold and miserable, soaked and wet through. This was a time when few policeman had more than a primary school education. Maigret was befriended by a police friend of his fathers, and promoted to be a detective. As part of his training he rotated through all the police divisions - hotels section, vice, etc, etc - getting to know the criminal underclass of Paris. And eventually we get a very, very experienced police officer who has learned his trade over 20, 30 years, and who knows all the pickpockets by name, all the criminals, which one is hard up and likely to steal again, and who is likely to be behind some latest crime. This says Maigret is the real humdrum policeman's life, not the quirky cases highlighted by Simenon.
There is quite a humerous section when young Maigret meets an ex medical student friend of his, who drags him along to a party held by the Highways and Bridges municipal employees - most of whom have worked there for many generations. How could Maigret aspire to be a policeman when such an alternative vocation might be possible ? The point of the story however, is that this is where young, tongue tied Maigret meets the love of his life Louise. He has been seeing her for some while when eventually Louise's aunt and uncle accost the very shy Maigret and ask if his intentions are honourable. And so we get the marriage proposal that Maigret might never have plucked up the courage to make. Louise and Maigret eventually set up home in a flat at 132, Boulevard Richard Lenoir. Theirs is a happy, successful long marriage, and Maigret lives a contented home life - he is not the modern troubled, divorced, challenged detective of later crime fiction series.
As a young detective Maigret is called into the police chief's office to meet a young journalist - Georges Sim. This gentleman is to write some police stories and is to be given every assistance. Sim alights on Maigret and a few of his colleagues, and writes a sequence of police stories where Maigret seems to do all the work and is the hero. Soon Sim is using his full name of Simenon, the fictional Maigret is famous, and even stars on TV at home and away. Maiget muses how his fictional alter ego seems to be old, and then young again, fat, and then thin. He even starts speaking English ! (Incidentlly I thought the best Maigret actor was Rupert Davies in the British black and white TV series, but I do like the modern Rowan Atkinson version too). Maigret often takes his friend Simenon to task for getting so many things wrong, but Simenon defends his corner. He knows that a murder enquiry may have 50 officers working on it, and that it is not really Maigret who hides on a street corner to watch the light in some bedroom go off, but to give the complete picture would just add complications. Maigret decides on the actions to be followed, and Simenon just simplifies things - and in so doing provides a better truth than the literal one. Louise Maigret is a great friend of Georges, and likes the picture he paints of Louise. And so, the real Jules Maigret and the writer Georges Simenon become old friends. Simenon even grows more and more like Maigret as the years advance. Of course he does - as Maigret writes this book, he and Georges Simenon are the same person.
All in all, then, not a typical police adventure for Inspector Maigret but a fascinating peek behind the scenes, and background into the private life of the famous detective, and of day to day life in the then current Paris. Again, echoing Sherlock Holmes, Maigret and Simenon belong to an old Paris now much changed, just as modern London has changed from Holmes's Victorian times. In short, I really enjoyed reading this book.
Links to author index and home page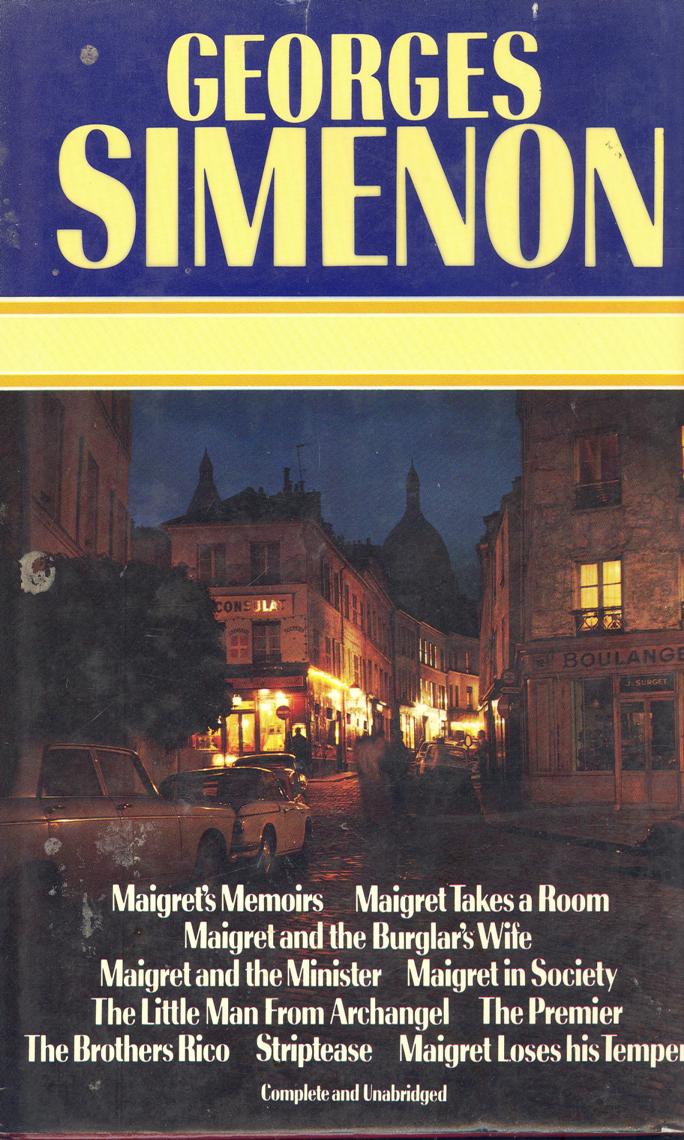 I read this book in February, 2018.
This is probably about book 42 in Georges Simenon's Chief Inspector Maigret series set, in this case, in 1950s Paris. It is the second of ten books in the Maigret compendium that I am reading. Of course I am trying to read the books in date order, but it's not often easy to put a date to these works. Sometimes the author helpfully ends each book with a place and time of writing identification, sometimes I am picking up the date of first publication under the French title, and sometimes I am reading a later English translation where the translator has given the book a new title and it's not on original lists. Anyway, I am doing my best to read them in order. This story is 83 pages long.
"Maigret Takes a Room" is quite a slow paced book - it's as if Maigret is out of sorts and can't get going. Madame Maigret has left Paris to tend to a sick sister, and Maigret has been left to look after himself. He hates going home to an empty flat - no light on under the door as he approaches, no food cooked and ready, just a big empty flat for him to get lost in. The story is really two stories in one. The first story causes the second. Firstly there had been a raid on a night club by two masked men. The girl on the cloakroom recognised and identified one of the raiders, a student named Paulus, and the police have traced Paulus to a back street guesthouse run by a fat older woman Mademoiselle Clement who behaves like a teenager and flirts with her guests. Paulus seems to have vanished, so Xavier is given the case by Maigret and left to get on with it. The second story starts with news that someone has shot Xavier. It's serious - a bullet in the lung just missed the heart - but Xavier will recover in hospital. It's assumed that Paulus shot Xavier. Maigret takes over the case, and rather that stay in his empty flat, he moves into Madam. Clement's guest house. There he digs very deeply into all the guests, and all the neighbours - taking days and days to interview them over and over again. He can't explain to himself why he is bothering with such detail.
Maigret finds Paulus, and the second robber, but it is obvious that neither shot Xavier. And so the story is who shot Xavier, and why. Eventually it just seems wierd that a Chief Inspector has abandoned his office and home, and is conducting business from a back street guest house, and a local bar where he is now a regular patron. And why are we being given all this detail when nothing else seems to be happening. Eventually of course Maigret gets a clue, changes gear, solves the mystery, and arrests Xavier's assailant.
It's only 80 odd pages, very atmospheric, an OK sort of tale. I'm not sure yet just how much I will end up enjoying these Maigret stories - we will need to wait and see. But it is different and distinctive, and so I read on.
Links to author index and home page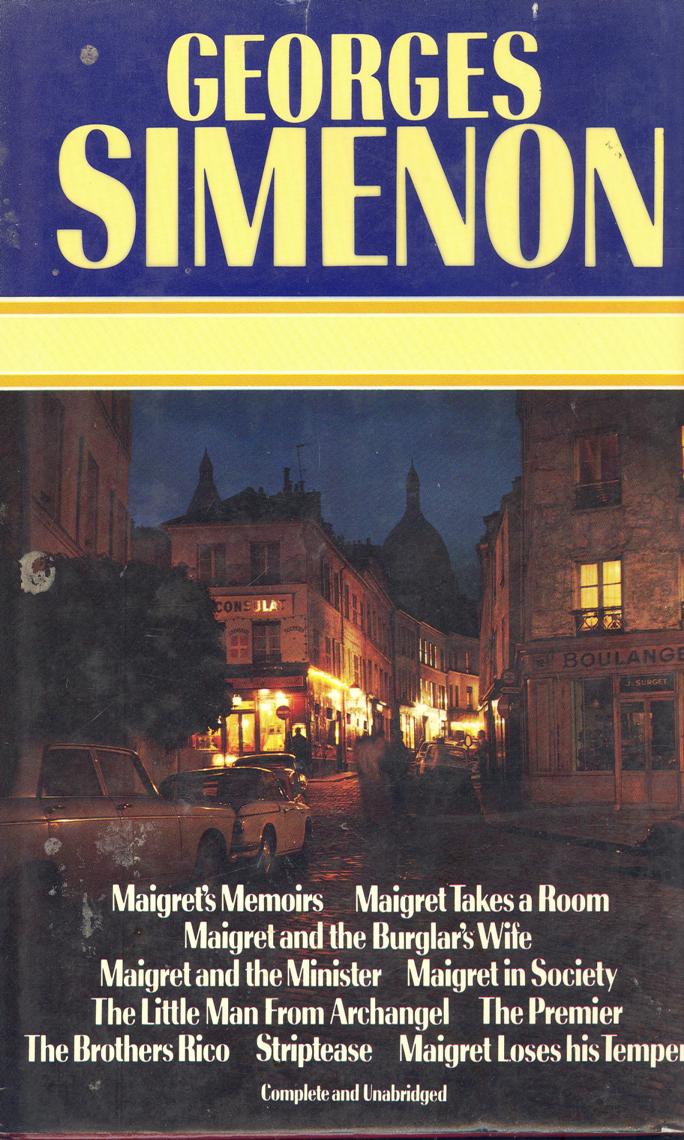 I read this book in April, 2018.
This is probably about book 43 in Georges Simenon's Chief Inspector Maigret series. It is the third of ten books in the Maigret compendium that I am reading, and I am doing my best to read them in the correct order. This is another novella size story, about 90 pages long.
I am quite getting into these Maigret stories - very evocative of Paris in the 1950s, slow paced and full of atmosphere. In this story it is blisteringly hot in central Paris, and Maigret is in his office with half his team away on holiday at some seaside resort. He is lazily watching a wasp buzzing around the ceiling, colliding with the same spot over and over again. Someone has come to see him - a former prostitute he arrested when he was a young copper. He remembered her because she wouldn't come quietly, but took off all her clothes,and refused to get dressed again. There is a joke here that later in the story he calls at her flat, and she answers the door in her underwear, but this time rushes to put on a dressing gown. "I am doing you a favour - it is no longer a pretty sight." She tells him that her husband is "Sad Freddie" - a former locksmith who now goes out on his bike to rob the safes he installed years ago. He is silent, and skilful, but always unlucky. Anyway, Freddie has phoned his wife from the railway station. His latest robbery has gone wrong once again - on robbing the safe and shining his torch around the room he spots a dead woman's body. He flees the scene, but his wife wants the police to know two things - there has been a murder, but Freddie did not do it.
From clues, eventually Maigret finds the probable scene of the alleged crime - the house of a dentist Monsieur Serre who lives with his aged mother, and whose wife has just recently left him. Serre and his mother assure Maigret there has been no burglary, no broken window ( apart from one last week in the thunder storm), and certainly no body. So does Maigret believe the former prostitute, and or the dentist and his mother ?
Maigret goes along with the murder inquiry, and asigns lots of investigative tasks to his depleted team. But life goes on for Maigret, he goes home to his wife, they go out for an evening stroll and enjoy a drink in the pub, etc, etc. Generally everyone smokes a lot, and everyone drinks on duty - Maigret even stands his taxi driver a wine and Vichy water, with obviously no drink and drive laws to worry about.
There is not a lot of action, but the story gradually unfolds. Perhaps the dentist is not the murderer ? I thought it was a terrific little story - short but sweet.
Links to author index and home page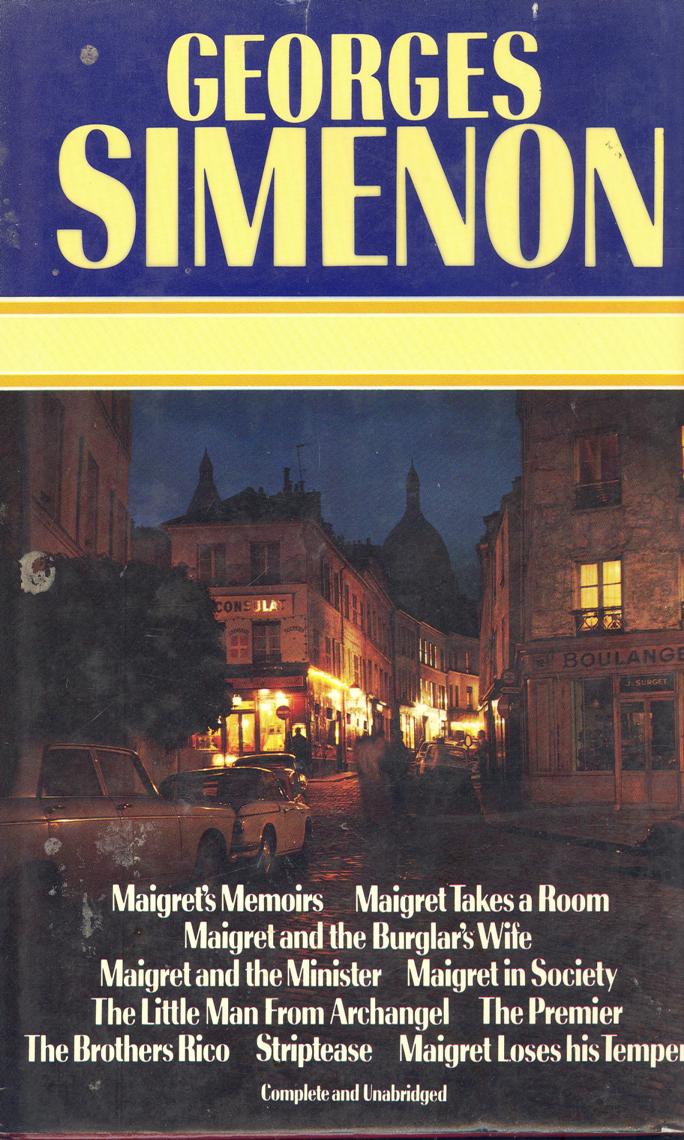 I read this book in June, 2018.
I started reading what I thought was the fourth Maigret story in my 10 book Maigret Omnibus, and wondered firstly at the US setting and then started to wonder when Maigret was going to make an appearance. Then the penny dropped. It was an Omnibus of ten Simenon stories, but only six were Maigret ones. Silly of me, really. Although "The Brothers Rico" was an excellent, very well written story which I enjoyed, the idea was to read Maigret stories. I don't think I will bother reading the rest of the non Maigret ones - I will need to have a rethink.
Georges Simenon is an excellent writer, and here he pens a story that delivers on all sorts of levels. The Brothers Rico are three brothers who work for the American mafia - the Organisation. The story is told from the view point of the eldest - Eddie. He has played it straight with the Organisation all his life, respectful, obedient and been very successful in rackets on the West Coast of Florida. He has earned his bosses a lot of money, and is a respected local businessman in West Florida. He is happily married, and has three girls. He is affluent, and a sharp dresser. Life is good. Then he is summoned to Brooklyn by people above him in the mafia rankings. His brother Tony has disappeared, but had married Nora, told her of his life in the mafia, Nora had told her brother and that brother had gone to the police. Tony knew too much, and so would be - had to be - eliminated. Eddie knew this, it was inevitable, but how it was done and what was to be Eddie's role in his brother's death is what the story is about. There is tension and sadness, and splitting of family ties - and a testing of Eddies's loyalty.
It was so good a story that I kept reading to the end - long after I realised that it was not a Maigret story. But, as I said, that is not the point. It's not part of the Maigret canon, and should not be here.
Links to author index and home page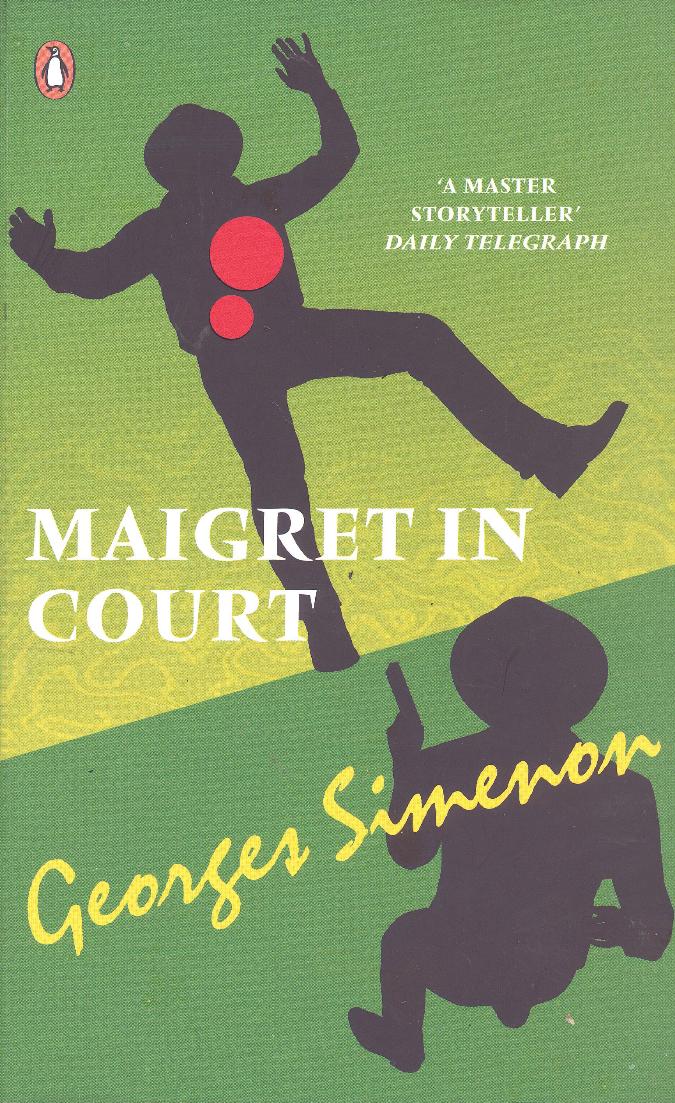 I read this book in Sept, 2018.
I started reading the Maigret stories in a Simenon omnibus, really liked them, and decided to read a few more. Mindful of my mistake with the omnibus (not all Simenon stories are Maigret ones), I have picked several further Simenon stories, but only ones with Maigret in the title. This book is about number 56 in the list of Maigret stories, and it's one where Maigret is 53, and two years away from compulsory retirement at 55. He and Madame Maigret like to holiday in a nice rural part of France, and when there on a short break, they fall in love with an old rectory, and buy it. So this is to be the retirement home, where Maigret will relax, sleep in the garden, or do some fishing. We shall see if and when this comes about.
Perhaps because he is contemplating retirement, it is a very subdued Maigret that we meet in this book. He seems almost in a dream. Already he thinks he can't stand the old office, doing the old things, trying to tell "the truth, the whole truth, and nothing but the truth" in court, and following the ritual of court appearances. In this story an old lady and the little girl she was minding were both murdered, and money stolen from the old lady. It's a notorious case in all the newspapers and eventually her nephew, a self employed picture framer by the name of Meurant, spots the story and approaches Maigret to introduce himself. He is a very quiet, timid sort of person, and Maigret dismisses him as a possible murderer, although the nephew did visit the old lady, did borrow money from her, and knew where she hid her money. A few days later there is an anonomous tip off telling Maigret to look in Meurant's wardrobe at his best blue suit - where they will find blood stains. They look, they find the stains, and the nephew is now the chief suspect. He has been set up of course, but Maigret is too good a judge of human nature to accept things at face value. But then Miagret seems to go off the rails - he brutally disabuses Meurant of the rose coloured spectacles through which he views his young wife. Meurant is in self denial, but Maigret changes that. Why - because if Meurant did not do the crime, someone else did - someone else strangled a poor innocent young girl - and that person must be flushed out, punished, and prevented from ever doing the same again.
All in all, I didn't think it was one of the better Maigret stories - too much self analysis and self doubt. Hopefully it was only a temporary glich, and Maigret got /will get his Mojo back in other books !
Links to author index and home page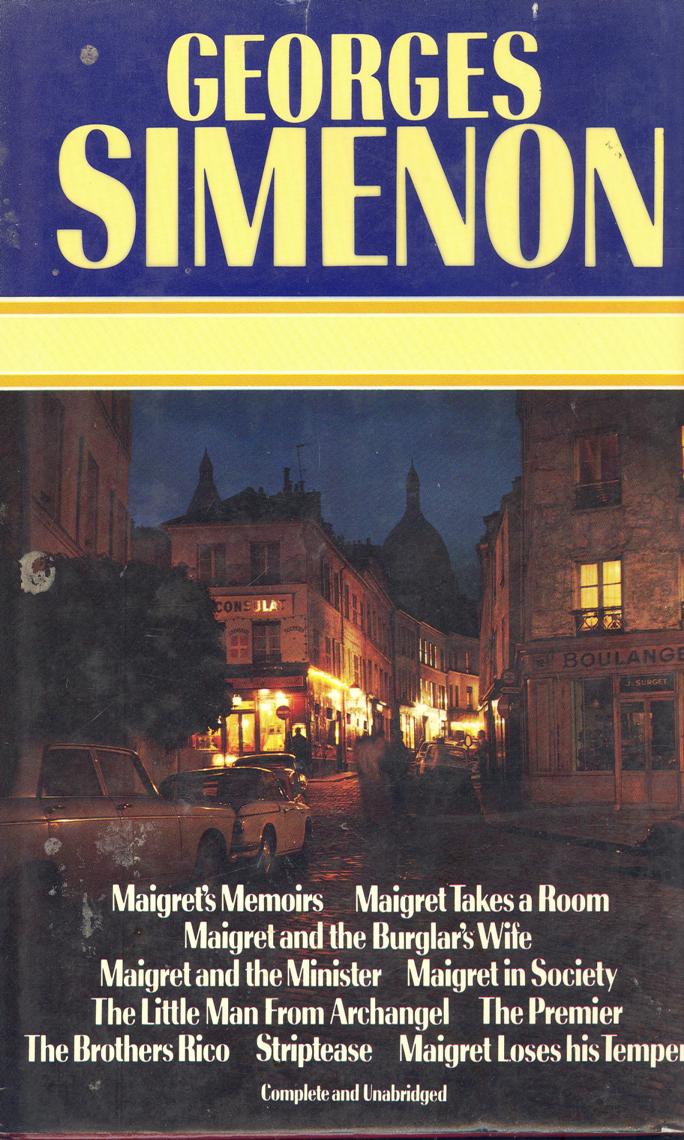 I read this book in June, 2018.
This is the fourth true Maigret story in the Georges Simenon omnibus that I am reading. It's an unusual story, definitely of very different times gone by, but I enjoyed reading this tale.
Maigret is assigned an unusual case that calls for discretion. It's set in a part of Paris that Maigret does not know, and he finds it strange. Most of the people are very old, and live close together. They have been mixing together and helping each other for half a century, and comprise the aristocratic and royal cream of French Society. It's all very strange for Maigret - he doesn't know how these people think and function and he is finding it very difficult to get his bearings. A former ambassador - the Compte de Saint- Hilaire - is found dead in his study with four bullet wounds in his body. He had been found by his housekeeper Mademoiselle Arquette Larrieu, who is fiercely loyal to the Compte. We then learn of a strange romance between this chap, and Isabel, a local princess. Isabel and the Compte were childhood sweethearts, but the Compte was not grand enough for Isabel's parents. They wanted her to marry the Prince De V. She complied with her father's wishes, but told Prince de V that she loved another, would not sleep with the prince, but would agree never to see Saint-Hilaire again, This was acceptable. Thus began fifty years of letter writing between Isabel and the Compte. There was one letter a day, bundles of correspondence. It had also been agreed that Isabel would marry the Compte if her husband, the Prince, died first. And so the Prince does die in a riding accident, and a few days later the Compte is found murdered.
Maigret is getting nowhere, and Arquette is being less that helpful, but eventually Arquette asks to see priest, and the whole story falls into place.
Links to author index and home page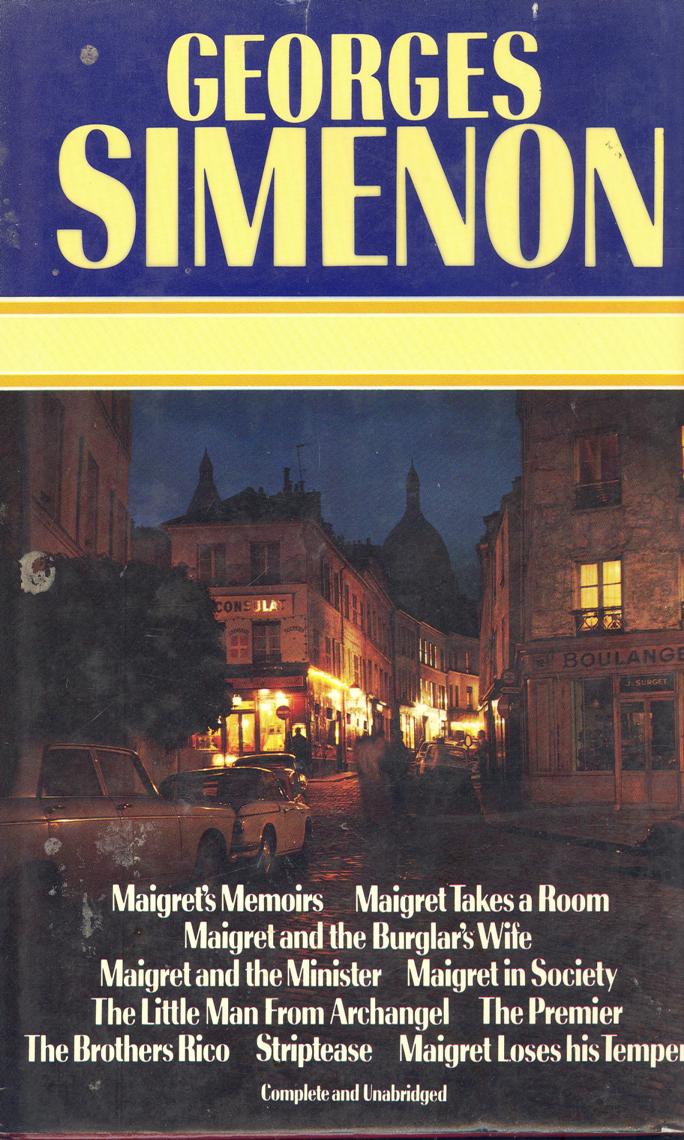 I read this book in July, 2018.
This is book five of the six book Maigret Omnibus that I am reading, and enjoying. Once I have read book six, I will need to get some more Maigret books - they are such good stories it would be a pity to only read six.
"Maigret Loses His Temper" is a little gem of a story, and we only discover what the story is really about, and why Maigret justifiably loses his temper at the very end of the tale. Obviously I won't spoil the story by saying more about this, but it must be obvious to everyone that meets him that Maigret is an honest copper. Maigret is a Chief inspector in charge of the Crime Division in Paris, and has had and still has a stellar career. He is famous - people point him out and give him the respect he deserves. I have often thought it strange that the detectives in other series that I read are not more famous. Simenon's Maigret fame seems more realistic. Simenon is a good writer, and the stories read well. He paints a vivid picture of France and Paris of that period. We join him as he walks to the local pubs with Madame Maigret, goes fishing at the weekend, nips into restaurants for a snifter, and we get a feel for the pace of life and a way of life now gone.
The specific story is set in Monmarte - district of Paris that Maigret used to know well, but with which he has rather lost touch. There are lots of striptease clubs packed together, and hoodlums and protection rackets. Two bar owners are killed. The first is Mazotti, and the police don't seem too interested - just one low life killing another. But then Emile Bloulay is reported missing by his brother in law, and Lucas, who is handling these cases calls in Maigret. Two days later Boulay's dead body is discovered lying on a pavement. It's a strange murder - strangulation is not the usual method of murder, knives and guns are more common - and nor is it usual to kill, hide a body for a couple of days, and then dump it. Maigret is intrigued, and investigates Boulay who was a very strange character, and seemed to run a very clean ship with no tax dodges. He owned four clubs near each other, and so saved on expenses - one group of exotic dancers could rotate through each club, just walking next door to the next venue. Boulay had drawn out 5,000 francs just before his death, and had had an appointment booked which he attended with no sense of danger - he left his firearm at home. Who killed him, and why ?
We follow Maigret as he follows the leads, and can see how his mind works. His team know his moods, and know when to keep out of the way. Madame Maigret is similarly understanding. These are lovely little stories.
Links to author index and home page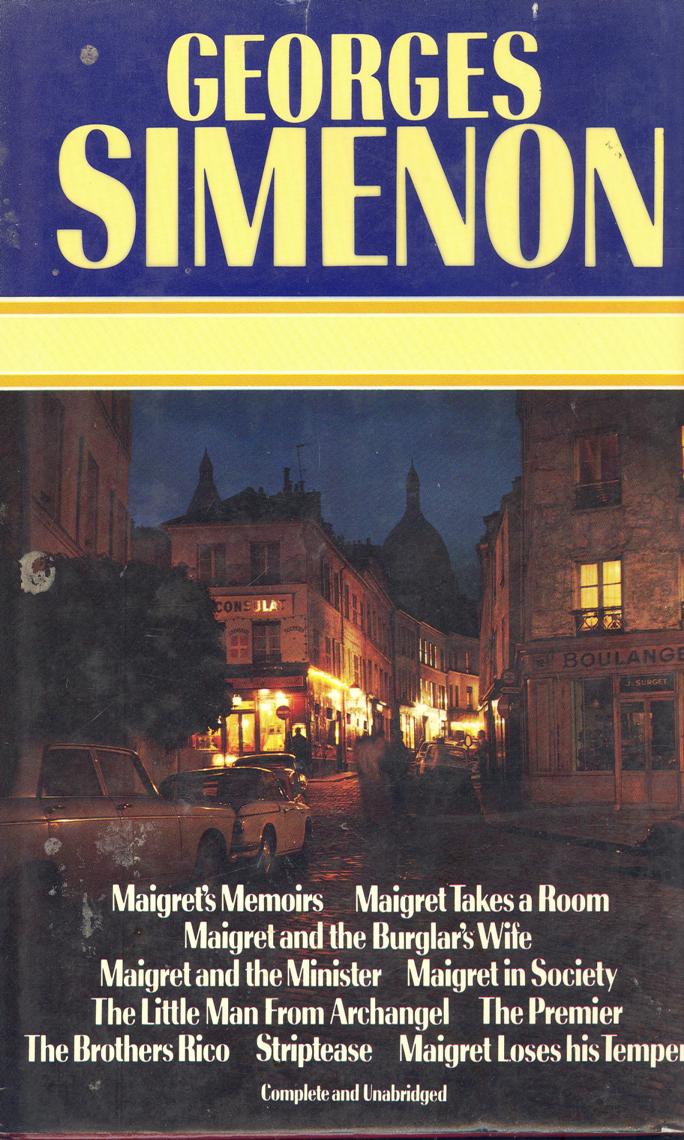 I read this book in July, 2018.
This is last Maigret book in the six book omnibus that I am reading, and I have enjoyed these tales so much it would be a pity to stop at only six. Maigret has a telephone call from a French cabinet minister. He wants Maigret to meet him urgently and with great secrecy. It's politics all the way, and normally Maigret would steer well clear, but the minister impresses him. He comes from a similar background , from peasant stock, and has a wife who no doubt thinks and acts just like Mme Maigret. The minister, Auguste Point, even looks like Maigret - he could be a cousin or even his brother. In brief, Point has been set up. He has been handed the last copy of a report that will create a great scandal for the ruling party, and he takes it home to his private flat for safekeeping. The report is then stolen, and immediately afterwards hints start appearing in the press that the report exists,and must be published. Poor Point will be accused of deliberately hiding the report, panics, doesn't know what to do, and asks Maigret to help. He knows Maigret only by reputation. Maigret is asked to find the missing report, and quickly. Maigret says he will help - if he cannot find the report, he promises to at least find out who stole it.
Still thinking secrecy is important, Maigret clears his task with his boss (telling him no details, just that it's a ministerial request), and then allocates tasks to his team members - Janvier, Lucas, an Lapointe - without telling them what the others are doing, nor what it is all about. Soon they are not only bumping into police colleagues from other divisions - who hint "you too" - but also bumping into each other. They soon connect what they are up to with the increasingly strident Newspaper headlines, and Maigret admits they have guess right, and it is politics. Initially Maigret is completely out of his comfort zone, but he soons catches up, and tunes into political machinations. Its a good story, with quite a bit of humour, and a satisfying conclusion.
As an aside, Maigret and his wife never had any children - it was not to be. It's quite poignant when one of his colleagues phones home to say he'll be working late, and has to speak to each of his young children to say "night, night". Maigret sighs for what might have been.
Simenon is a good writer - a few paragraphs and we are in Maigret's time and place - Paris in days gone by. Terrific stories !
Links to author index and home page