Iain's Leisure Reading
This series of books is one of those covered in Following the Detectives - real locations in Crime Fiction, &nbsp - q.v.
I like to read a wide variety of crime fiction, but some writers are so prolific that I simply don't have the time to read all their books. This is especially true with Georges Simenon and the Inspector Maigret books where there are about 75 books, and about 38 short stories. That said though, many of the books are really novellos - stories about 80 pages long. Anyway, chancing upon a book in the Heinemann / Octopus Library series which contained a selection of 10 Maigret books, I jumped at the opportunity to sample Maigret / Simenon. I guess the Maigret books in their the Paris setting of the 1930s onwards are almost as famous at the Sherlock Holmes books in their Victorian London setting.
Georges Simenon was born, not in France, but in Belgium in 1903. He wrote some 500 books / novellos and numerous short stories, of which the Maigret books are the most famous. He had a rather modest, convential start in life - nursery school at 3, primary school from 1908 to 1914, and finally a jesuit high school secondary education from 1914 to 1918. He then used his father's illness and debtedness as an excuse, dropped out of school without taking his final exams, and grabbed a number of short term jobs. His life changed in 1919, when working for a newspaper , he got the chance broaden his horizons, dabble in politics, mix with lords to prostitutes, to see the seamier parts of town but also cover crime stories. He developed the journalist's skill of writing fast and accurately. His first novel was published in 1921 under the pseudonym of "Georges Sim". He met his wife Regine and then, after his father's death in 1922, he and Regine moved to Paris. All their children would be baptized as catholics, but Simenon was not really religious, and he had numerous affairs and later boasted of having had sex with over 10,000 women ! Whilst boating in the Netherlands, he wrote his first Maigret book which was published in 1931. He lived in the country during the second world war and there are suggestions by the French that he was as a german collaborator.
He escaped France in 1945, and lived in the United States and Canada from 1945 to 1955 where he learned to speak English. He divorced in 1949, and married his young secretary in Nevada in 1950 ! He returned to Europe from 1955 to 1989, living mostly in France, but then Switzerland. He separated from his second wife in 1964, but then lived with his young housekeeper Teresa until his death in 1989. All in all a hectic, eventful full life.
His most famous creation was the raincoat wearing, beer and cider drinking, pipe smoking Inspector Maigret. Jules Maigret and his wife Louise were happily married, but childless, and lived in a flat at 132, Boulevard Richard Lenoir. Maigret's office was on the banks of the Seine at 36 Quai des Orfevres, the headquarters of a section of the Parisian Police. Maigret is described as a large, broad shouldered man - gruff, but patient and fair. His colleagues included Sgt/Inspector Lucas, Janvier, Lapoints and R Torrence.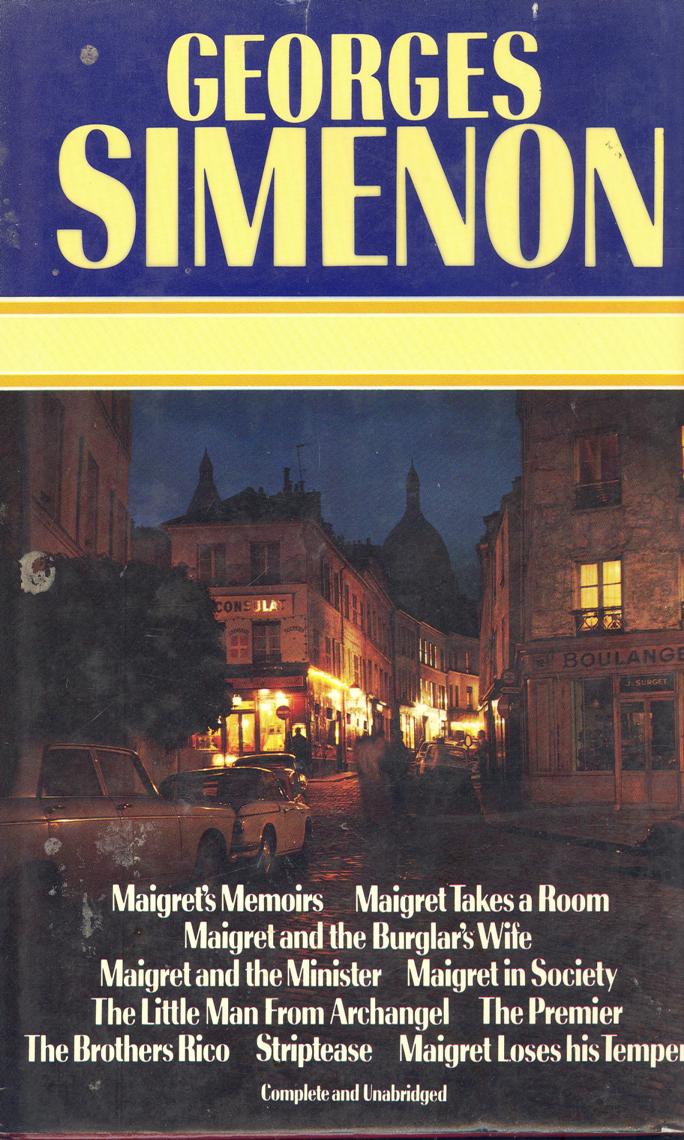 I read this book in January, 2018.
This is probably about book 35 in the series of roughly 75 Inspector Maigret books, but for me it was book one of the ten book compilation I was reading, and not altogether a sensible starting point. I enjoyed reading the book but really I should have started with a more typical Maigret outing. Here we are presented with Inspector Maigret as a real person taking issue with his biographer Georges Simenon - just as Sherlock Holmes takes issue with his biographer Dr Watson. Maigret thinks that Simenon has got so many things wrong that he been driven to write a rebuttal - "Maigret's Memoirs" - to put things right. And yet strangely he ends up coming to the conclusion that Simenon has probably got it about right after all.
We do get a very good picture of life in Paris and Maigret's position as a policeman there. We are told of Maigret's childhood - of his farmer grandad, of his estate manager father, of the death of his mother when he was about 9, and of his being brought up by a childless aunt and uncle who treated him as their son. His parents' local doctor was an alcoholic who was drunk and allowed one of the village mothers-to-be to die in childbirth. Maigret's father gave the doctor, a personal friend, support and the benefit of the doubt, and called him in when his own wife went into labour. And so Maigret's mother died along with the brother or sister Maigret would never have. Maigret had a good education, and eventually was a student at medical school, but he didn't like the life, jumped, and decided to be a policeman. Initially Maigret had no money, and Maigret was a policeman in uniform walking the streets of Paris with hob nailed boots that leaked. He had great empathy for fellow street walkers such as the prostitutes on the street corners - equally cold and miserable, soaked and wet through. This was a time when few policeman had more than a primary school education. Maigret was befriended by a police friend of his fathers, and promoted to be a detective. As part of his training he rotated through all the police divisions - hotels section, vice, etc, etc - getting to know the criminal underclass of Paris. And eventually we get a very, very experienced police officer who has learned his trade over 20, 30 years, and who knows all the pickpockets by name, all the criminals, which one is hard up and likely to steal again, and who is likely to be behind some latest crime. This says Maigret is the real humdrum policeman's life, not the quirky cases highlighted by Simenon.
There is quite a humerous section when young Maigret meets an ex medical student friend of his, who drags him along to a party held by the Highways and Bridges municipal employees - most of whom have worked there for many generations. How could Maigret aspire to be a policeman when such an alternative vocation might be possible ? The point of the story however, is that this is where young, tongue tied Maigret meets the love of his life Louise. He has been seeing her for some while when eventually Louise's aunt and uncle accost the very shy Maigret and ask if his intentions are honourable. And so we get the marriage proposal that Maigret might never have plucked up the courage to make. Louise and Maigret eventually set up home in a flat at 132, Boulevard Richard Lenoir. Theirs is a happy, successful long marriage, and Maigret lives a contented home life - he is not the modern troubled, divorced, challenged detective of later crime fiction series.
As a young detective Maigret is called into the police chief's office to meet a young journalist - Georges Sim. This gentleman is to write some police stories and is to be given every assistance. Sim alights on Maigret and a few of his colleagues, and writes a sequence of police stories where Maigret seems to do all the work and is the hero. Soon Sim is using his full name of Simenon, the fictional Maigret is famous, and even stars on TV at home and away. Maiget muses how his fictional alter ego seems to be old, and then young again, fat, and then thin. He even starts speaking English ! (Incidentlly I thought the best Maigret actor was Rupert Davies in the British black and white TV series, but I do like the modern Rowan Atkinson version too). Maigret often takes his friend Simenon to task for getting so many things wrong, but Simenon defends his corner. He knows that a murder enquiry may have 50 officers working on it, and that it is not really Maigret who hides on a street corner to watch the light in some bedroom go off, but to give the complete picture would just add complications. Maigret decides on the actions to be followed, and Simenon just simplifies things - and in so doing provides a better truth than the literal one. Louise Maigret is a great friend of Georges, and likes the picture he paints of Louise. And so, the real Jules Maigret and the writer Georges Simenon become old friends. Simenon even grows more and more like Maigret as the years advance. Of course he does - as Maigret writes this book, he and Georges Simenon are the same person.
All in all, then, not a typical police adventure for Inspector Maigret but a fascinating peek behind the scenes, and background into the private life of the famous detective, and of day to day life in the then current Paris. Again, echoing Sherlock Holmes, Maigret and Simenon belong to an old Paris now much changed, just as modern London has changed from Holmes's Victorian times. In short, I really enjoyed reading this book.
Links to author index and home page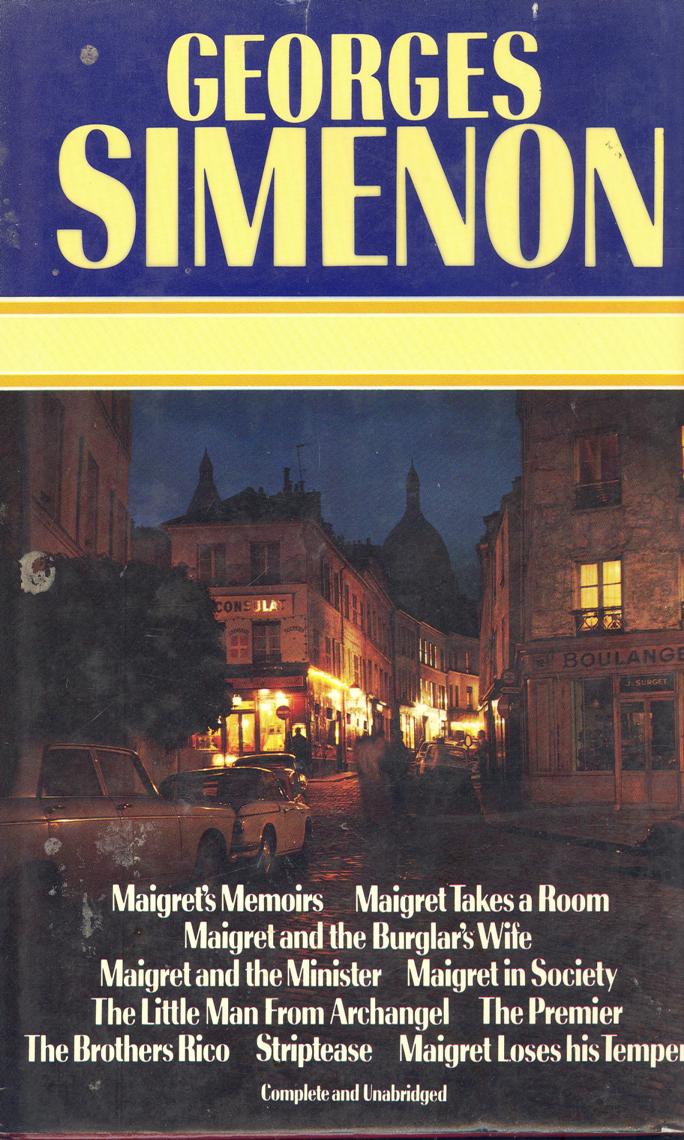 I read this book in February, 2018.
This is probably about book 42 in Georges Simenon's Chief Inspector Maigret series set, in this case, in 1950s Paris. It is the second of ten books in the Maigret compendium that I am reading. Of course I am trying to read the books in date order, but it's not often easy to put a date to these works. Sometimes the author helpfully ends each book with a place and time of writing identification, sometimes I am picking up the date of first publication under the French title, and sometimes I am reading a later English translation where the translator has given the book a new title and it's not on original lists. Anyway, I am doing my best to read them in order. This story is 83 pages long.
"Maigret Takes a Room" is quite a slow paced book - it's as if Maigret is out of sorts and can't get going. Madame Maigret has left Paris to tend to a sick sister, and Maigret has been left to look after himself. He hates going home to an empty flat - no light on under the door as he approaches, no food cooked and ready, just a big empty flat for him to get lost in. The story is really two stories in one. The first story causes the second. Firstly there had been a raid on a night club by two masked men. The girl on the cloakroom recognised and identified one of the raiders, a student named Paulus, and the police have traced Paulus to a back street guesthouse run by a fat older woman Mademoiselle Clement who behaves like a teenager and flirts with her guests. Paulus seems to have vanished, so Xavier is given the case by Maigret and left to get on with it. The second story starts with news that someone has shot Xavier. It's serious - a bullet in the lung just missed the heart - but Xavier will recover in hospital. It's assumed that Paulus shot Xavier. Maigret takes over the case, and rather that stay in his empty flat, he moves into Madam. Clement's guest house. There he digs very deeply into all the guests, and all the neighbours - taking days and days to interview them over and over again. He can't explain to himself why he is bothering with such detail.
Maigret finds Paulus, and the second robber, but it is obvious that neither shot Xavier. And so the story is who shot Xavier, and why. Eventually it just seems wierd that a Chief Inspector has abandoned his office and home, and is conducting business from a back street guest house, and a local bar where he is now a regular patron. And why are we being given all this detail when nothing else seems to be happening. Eventually of course Maigret gets a clue, changes gear, solves the mystery, and arrests Xavier's assailant.
It's only 80 odd pages, very atmospheric, an OK sort of tale. I'm not sure yet just how much I will end up enjoying these Maigret stories - we will need to wait and see. But it is different and distinctive, and so I read on.
Links to author index and home page