Iain's Leisure Reading
Alexander McCall Smith, CBE is an Emiratus Professor of Medical Law at Edinburgh University and an internationally known writer of fiction. He is the creator of the No 1 Ladies Detective Agency Series and the character Mma Ramotswe. He is a prolific writer of short stories, children's stories, stories set in Scotland (the 44 Scotland Street Series), etc, etc. He has also written many learned acadamic texts on Law and ethics.
He was born in 1948 in Bulawayo, Rhodesia, and had his early education there, but moved to Scotland to study Law at the University of Edinburgh. He then taught law for a while at the University of Botswana where he grew to love the country and its people - and to write about them in the Ladies Detective Agency Series. He then returned to Edinburgh where he lives with his wife Elizabeth, an Edinburgh doctor, and his two daughters.
The books of the Ladies Detective Agency Series are written in a deceptively simple style. They are gentle easy, uncomplicated reads set in Botswana - one country in Southern Africa that seems (so far) to have escaped the corruption of neighbouring countries. Precious Ramotswe is Botswana's only - and finest - female private detective and is based in the town of Gaborone. She meets and eventually marries Mr J.L.B.Matekoni - the proprioter of Speedy Motors. Mma Ramotswe's assistant is the super efficient typist Mma Makutsi and there is much tea drinking. (Mma Ramotswe favours redbush tea - I tried it but couldnt really acquire the taste). The books are the adventures of these characters, and are written with a gentle humour. Above all they evoke the culture of a rural African country and a way of life rapidly disappearing.
Simply read and enjoy the books, and don't analyse them too deeply.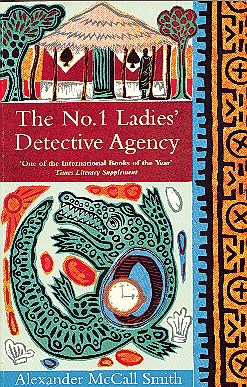 "Mma Ramotswe had a detective agency in Africa, at the foot of Kgale Hill. These were its assets : a tiny white van, two desks, two chairs, a telephone, and an old typewriter. Then there was a teapot, in which Mma Ramotswe -the only lady private detective in Botswana - brewed redbush tea"
So begins the first book in the Lady Detective Agency series. The cases taken on are varied - but unfaithful husbands seem to be a main earner. We are introduced to the good sense of Precious Ramotswe, a lady of traditional African build. And we are introduced to the countryside of Botswana. What does Mma Ramotswe know about being a detective - why she has the guidance of Clovis Andersen's "The Principles of Private Detection"
This first book also establishes a structure for the series. There is one major case to be solved - in this case a missing child - that is introduced early on, but not resolved until the end of the book. And before then there are lots of interesting little problems to solve, all set in an African background. The book ends with Precious engaged to the good Mr J.L.B.Matekoni of Speedy Motors - don't look for an early marriage though, nothing has to be rushed.
A charming, gentle introduction.
At the end of the book we are given a taster of the next book in the series - its title and its first chapter. Although a good idea, and a good marketing ploy, this can be confusing when months later you pick up a book and look at its first chapter to see if you have read it.
Links to author index and home page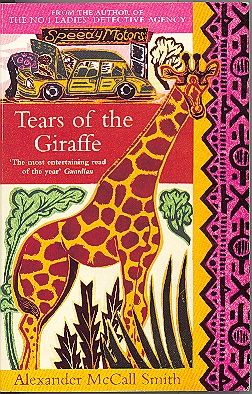 In this book the main case is the decade old disappearance of an American on the edge of the Kalahari. Mma Ramotswe is tuned in to her surroundings and senses what the answer might be, but it does not appear until the end of the book. And then the explanation is sister to sister, not poor African to rich American.
Mma Makutsi the highly talented secretary is eager to be promoted to the role of detective. And Mr Matekoni's good nature is prevailed upon - he adopts two foster children. A lot happens, and yet nothing happens.
Amusing, intelligent, heart warming. A good read.
Links to author index and home page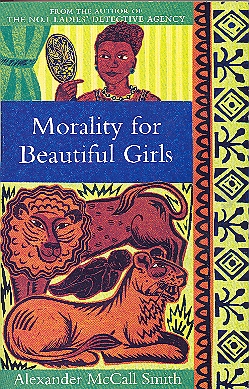 Mma Ramotswe's detective agency is in financial difficulties, so she decides to share offices with her husband to be Mr J.L.B Matekoni. We are introduced to the rude, lazy apprentices at Speedy Motors now kept in order by a new assistant manager - the efficient Mma Makutsi. And there are lots of puzzling cases to be solved with diligence and common sense.
Its a pleasing fictional world where good prevails, wrongs are righted, and its well worth a visit.
Links to author index and home page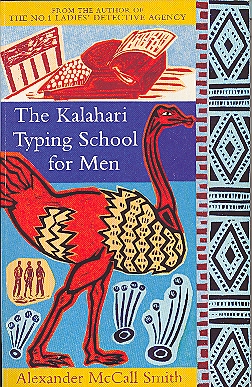 Precious Ramotswe's detective agency faces its first competition - in the form of the "Ex-CID, Ex- New York, Ex-cellent" rival "Satisfactiuon Guaranteed Detective Agency". Cephas Buthelezi is good on PR and does not hide his disdain for lady detectives. And so life in Gaborone unfolds - its the small things that make life worth living. Its all written in masterly understatement. Its comic but not poked fun at.
You feel part of the Botswanan landscape - taken there by a desceptively gifted writer.
Yes, its well worth a read.
Links to author index and home page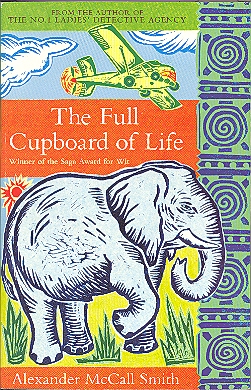 Mma Ramotswe became engaged to the good Mr J.L.B. Matekoni at the end of book one, but here we are in book five, and she is still not married. Mr Matekoni needs a gentle push, and who better to do this than the pushy Mma Potokwani, matron of the Orphan farm. Mma Potokwani has been taking advantage of Mr J.L.B.Matekoni's good nature for many years - its time she repaid the debt. Only don't expect it to happen too quickly !
A wealthy lady has several suitors but are they just interested in her money. How do we find out - why we employ the No 1 lady detective. And life in Botswana's capital city continues to gently unfold ......
All the humour, and the wisdom of a gifted writer.
Links to author index and home page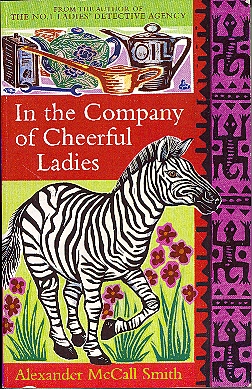 Lots of things happen, cases are solved, the apprentices at Speedy Motors are still lazy and good for nothing. Mma Makutsi is still there and life in Botswana's capital continues at its own gentle pace.
So what is different in this book ? Precious Ramotswe is finally married to the good Mr J.L.B.Matekoni, so what more do you need to know about this book!
Links to author index and home page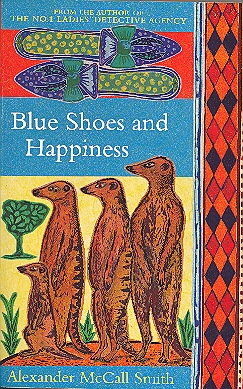 There is romance for Mma Makutsi in the shape of Mr Phuti Radiphuti, son of the elder Mr Radiphuti, successful businessman, farmer, and proprietor of the Double Comfort Furniture Shop. Then there are the usual cases involving blackmail, witchcraft, theft, etc for Mma Ramotswe to tackle.
Mma Ramotswe decides to go shopping - "I always find that shopping clears the head, don't you agree" declares Precious. "And it clears the bank account" counters Mma Makutsi.
There is nothing rushed about the prose, and there is a central goodness to all these books - Daily Telegraph
Links to author index and home page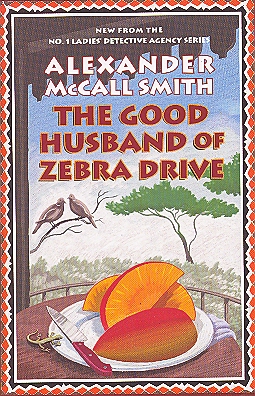 This is the eighth book of the Lady Detective series. When I read it, it was quite a while since I had read book 7, and it was lovelly to be reminded of what good books these are. "The Good Husband of Zebra Drive" is every bit as good as the others - in fact I enjoyed it so much that I t6hought it might be the best in the series so far.
These are gentle stories - not much happens and it all unfolds in its own good time. Mma Ramotswe still drinks red bush tea, but has to contend with HR problems at work. There is a minor falling out with her assistant (97% at secretarial college ) Mma Makutsi, but all is soon sorted again, and Mma Makutsi is promoted to assocaite detective. Mr J.L.B. Matekoni fancies a change from his mechanicing, and so is given a case to solve. Of course he should have stuck to what he knows about, but his blunders work out all for the best, and it all comes right in the end. Even the case of the three deaths in Moshudi Hospital is solved by the end of the book, in a judgement of wisdom and mercy. I seem to recollect a similar story to the ending but perhaps it was from this book in a different guise.
All the characters are here, but they are allowed time to develop. Botswana is described with love, and it sounds a great place. All in all, a thoroughly recommended read - give it a go!
Links to author index and home page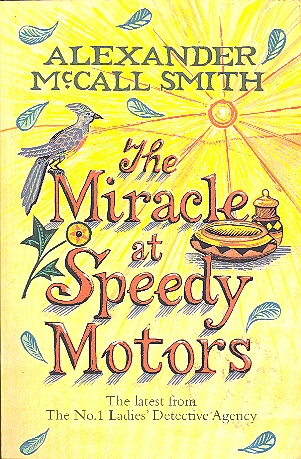 I read this book in February, 2010.
This is the ninth book in the No 1 Ladies Detective series. Precious Ramotswe is still in Gaborone detecting away in her own gentle way. Mma Makutsi is still her assistant (and still pressing for a grander job title). The offices are still in the premises of Tlokwong Speedy Motors, which is still run by Mr J.L.B. Matekoni - husband of Precious Ramotswe. In other words it's all more of the same - and in this case there is nothing wrong with that.
Very little happens in these books. There is a beautifully slow pace to life in Botswana, small problems are solved, a lot of tea is drunk, and there is plenty of time to sit on the verandah and enjoy life.
There are two main stories in this book. A lady discovers that she was adopted - her "mum" was not her real mum, and so she asks Precious to find out who her real mum was, did she have any brothers or sisters, etc. And Mr J.L.B Matekoni rescues a distinguished surgeon when his car will not start - the surgeon then advises J.L.B. to take his crippled foster daughter Motholeli to a new clinic in Johannesburg where "miracle" cures were reported for cases similar to that of Motholeli. All that is required is 25,000 pula !
These are deceptively simple stories, and such easy reading - its a gift to be able to achieve this end effect in book after book. In other words, McCall Smith really is a good writer !
The book cost me £1.49 in a charity book shop. I greatly enjoyed this return visit to Gaborone, and I look forward to further visits.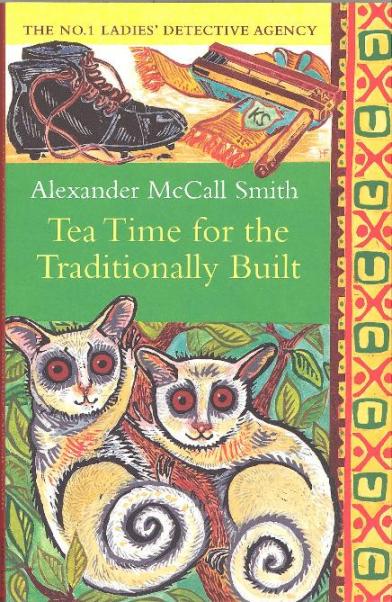 This is the tenth book in the No 1 Ladies Detective series. "Tea Time for the Traditionally Built" could be the title for any one of Alexander McCall Smith's stories about Precious Ramotswe - the No 1 lady detective of Botswana. Precious is not a slim lady - she is traditionally built, and yes, she does spend a lot of time drinking tea ( especially redbush tea, her favourite).
It was quite a long time since I had read the previous story about life in Gaborone, about Precious and her husband Mr J.L.B. Matekoni, and her adopted family - Puso, the boy, and Motholeli, the girl - so it was very pleasant to return to this gentle, slow paced land.
As in all the other books, not much happens really. Life just flow along. There is a main story - that gets solved at the end of the book - and lots of small stories in the interim. The main story in this case is of the loss of form over the last 6 months of the Kalahari Swoopers - the local football team. The owner thinks that this is due to a traitor in the camp, and so he calls in Mma Ramotswe to find out who it is. We are also told that about six months ago, the boss changed team sponsor, and so the team had a change of kit, boots, etc, etc. So it doesn't turn out to be the world's greatest mystery when all is eventually solved - but surprisingly by Puso.
Mma Ramotswe's little van finally comes to the end of it's working life, and Mr Matekoni gets her a new, (but characterless) one. But Mma misses the old one greatly. It had been towed away to a local scrap yard, and then it had been bought by someone who lived about 4 hours drive away. Precious resolves to get it back, and perhaps get one of the apprentices to repair it for her - but she hasn't yet got round to this by the end of the book. So we will all need to read the next book to see what happens.
Mma Makutsi, the assistant detective, also has a story line. Violet Sephotho has set her sights on Mma Makutsi's fiance Phuti Rudiphuti, the owneer of the double Comfort Furniture Shop .........
It's a wonderful , gentle place - and it's a pleasure to revisit it again. There are whole pages where nothing happens at all, other that Precious and her assistant just chatting about life, etc. These sections would be padding in other books, but here are just part of the charm of the book.
Alexander McCall Smith is a good writer to be able to write so simply. The book is a real pleasure.
Links to author index and home page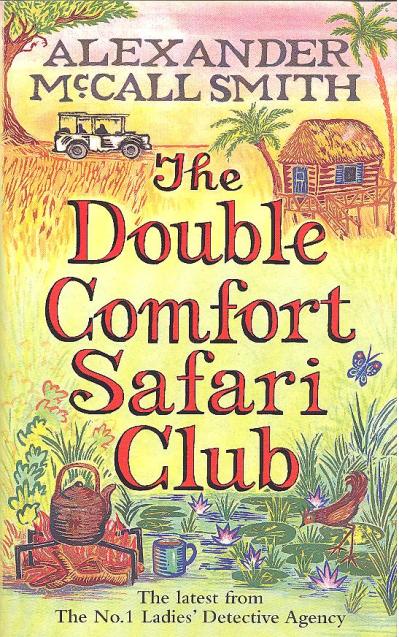 "The Double Comfort Safari Club" is the 11th in the No 1 Ladies' Detective Agency series, set in Botswana, and featuring Precious Ramotswe, and her secretary / assistant detective Grace Makutsi. I had been reading a succession of crime novels, so it was a pleasure to dip into something lighter and brighter - and they don't come much lighter than The Lady detective books.
Strangely, I didn't like the opening two chapters of this book. Absolutely nothing happened, but the words rambled on and on. Usually the very slow pace of these books is part of their charm. Was I losing a taste for McCall Smith? All that happened was that Mr J.L.B.Matekoni, proprietor of Tlokweng Road Speedy Motors rescued a broken car, and experienced an example of bad driving en route. But in chapter 3, the story switched to Mma Ramotswe, and I got hooked again, and loved the rest of the book. And yes, following on from book 10, Mma Ramotswe's old white van is no more, and there was no reprieve.
You don't expect a lot to happen in these books, but you do get drawn in to a different way of life, and a different culture.
There are several story lines. Grace Makutsi's fiance Mr Phuti Rudiphuti has an accident, and loses the lower part of one leg. He is captured by his formidable No 1 Auntie, who insists on looking after him, but denies access to Grace Makutsi who is distraught. Mma Ramotswe is retained to find a kind tracker at some remote Safari Club ( ie The Double Comfort Safari Club of the title) to tell him that he has inherited some money from a rich American - a Mrs Grant. Both Mr and Mrs Mateleki think that the other is having an affair, and each asks Mma Ramotswe as a friend, to investigate. Precious thinks they are both wrong, but are her first impressions correct? And the beautiful - but definitely in appearance only - Violet Saphoto has swindled a very silly man out of his house. So there are lots of little stories, and lots of cups of tea. And talking of tea, Mma Makutsi thinks the big teapot should be used to make normal tea which nearly everyone drinks, and the small teapot should be used to make red bush tea - which only Mma Ramotswe drinks. But perhaps Mma Ramotswe, being more senior, should automatically have the larger pot. Quite a tricky problem !
All problems, including the impossible, are solved by the end of the book. A mistake is made, but is instantly corrected by a happy coincidence, one of several coincidences. Its all pure fantasy, of course, but utterly charming.
Suspend your disbelief, trust in the kindness of others, all will work out in the end, and enjoy !
If you liked the previous books in this series, then you will enjoy this book.
Links to author index and home page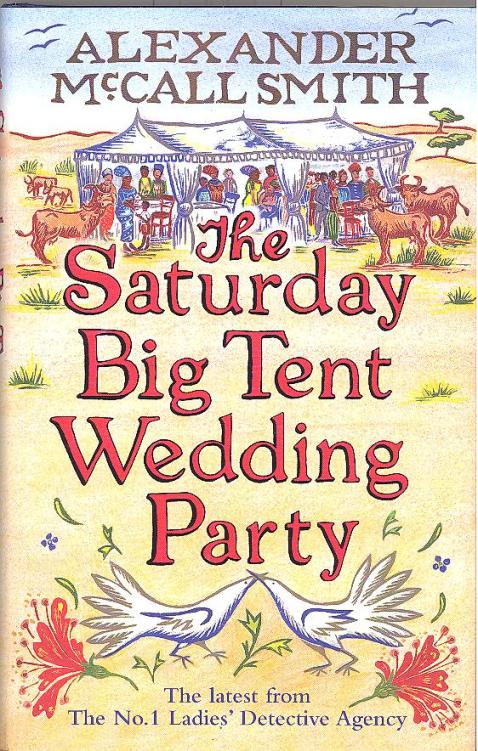 I read this book in September, 2012.
"The Saturday Big Tent Wedding Party" is the 12th book in the No 1 Ladies' Detective Agency series by Alex McCall Smith, and so far, I think, I have managed to read them in the correct sequence. Although not a lot happens in the books, there is still a sort of progression as we move from early books to later ones - people meet, get to know each other, and then get married. The books are set in Gaborone, in Botswana, and in this book we meet all our old friends once again. There is Precious Ramotswe of course, who owns and runs the No 1 Ladies Detective Agency, and Mma Ramotswe's husband Mr J.L.B.Matekoni, the best car mechanic in the whole of Botwna, her assistant Grace Makutsi - she who got a record 97 per cent in her secretarial exams - Grace's future husband Mr Phuti Rudiphuti - the wedding being the title of this book, and of course Charlie, still an apprentice mechanic workng for Mr J.L.B. Matekoni, etc, etc.
The books are wonderfully slow paced - not a lot happens, but that is not the point. Life in Gaborone moves at a slow pace, and we join in. As usual, Mma Ramotswe has one major mystery to solve, and this runs throughout the book. In this case, someone has been injuring cattle - a terrible crime in a cattle loving country. And that is about it. The rest is the small minutiae of life with the lady detectives. Mma Makutsi buys a new pair of shoes - special ones for her wedding, but she wears them and breaks them before the great day. And Mma Ramotswe spies her old, beloved, and sadly missed white van, driving along a back street in Gaborone. And Charlie has apparently got one of his girlfriends pregnant with twins, and does a bunk.
One small word of criticism, perhaps. The two adopted children of Precious and Mr J.L.B.Matekoni are barely mentioned, which I find to be very strange. Surely they would play a major part in their parent's lives, and occupy at least some time. This seems to be a blind spot for Mc.Call Smith which is wierd. I like the author's writing style, and admire its apparent simplicity. Could the author not have said a little about Puso and Motholeli - he has more to say about Precious's late father, than her living children !
But let's not end with criticism. Read these books, escape to the different, delightful world of rural Botswana, and enjoy !
Links to author index and home page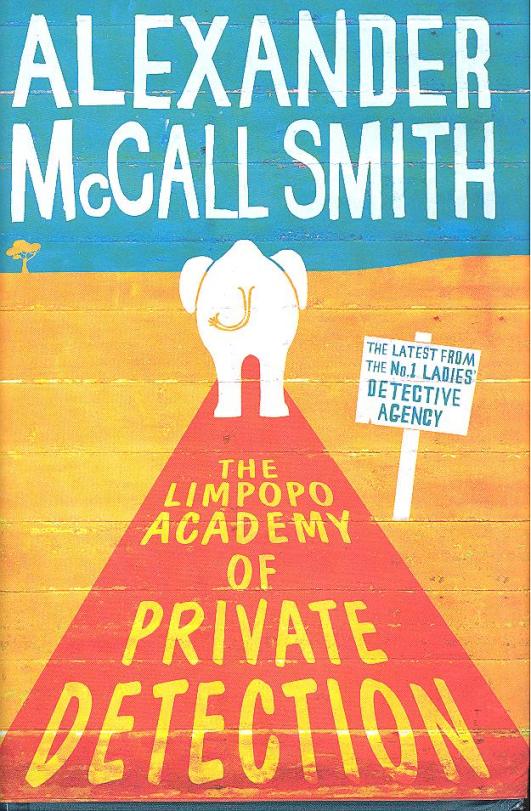 I read this book in March, 2013.
This is the 13th book in Alex McCall Smith's the No 1 Ladies Detective series, set in Gaborone, Botswana, and featuring Precious Ramotswe. All the old familiar characters are here, Grace Makutsi, Mma Ramotswe assistant (sorry Associate), Mr J.L.B Matekoni, proprietor of Speedy Motors, the best mechanic in all Botswana, and Precious's husband. The two apprecentices at Speedy Motors are still there, but Fanwell is now qualified, the lazy girl chasing Charlie is not.
There is one new character who appears initially in a dream whilst Precious is asleep. This is a very famous visitor from abroad, also a detective - yes its Mr Clovis Andersen, the writer of the book on private detection from which both Grace and Precious can quote great tracts verbatim. He just chances to be there to visit a friend working on an aid mission, and is amazed that one of his books made it all the way to Gaborone.
It took us ages to find this book in a charity shop, and then surprisingly we found it in a local Age Concern charity shop in Sawbridgeworth. Its not the longest of works at some 260 pages. When I say I read it in a couple of days this is not to be disparaging. McCall Smith has an easy writing style, and I kept turning the pages until all too sadly I found myself on the last chapter.
What of the plot ? I guess there are several strands. Grace and her husband have bought a plot of land, and are having a house built, but the ignorant builder was chosen only because he happened to visit their furniture showroom, and buy two sofas. He is not all he seems ! The children's Orphange has a new benefactor who is now chairman of the board of trustees running the charity. He wants to build a new central kitchen to increase efficiency. Mma Potokwani wants none of it. It is better for the orphans if their house mothers cook for them in local mini kitchens, like a proper family. Mma Potokwani is sacked - she who has given so much love and everything else to the orphans. And finally Fanwell gets arrested for working on stolen cars. He was doing a favour to a friend, and had no idea the car was stolen. Mr Matekoni hires a lawyer who turns out to be useless.
Yes, it all gets sorted in the end. We drink a lot of tea, and talk about those who are now late. It is slow paced, and this is its charm.
What a brilliant series. Roll on the next visit
Links to author index and home page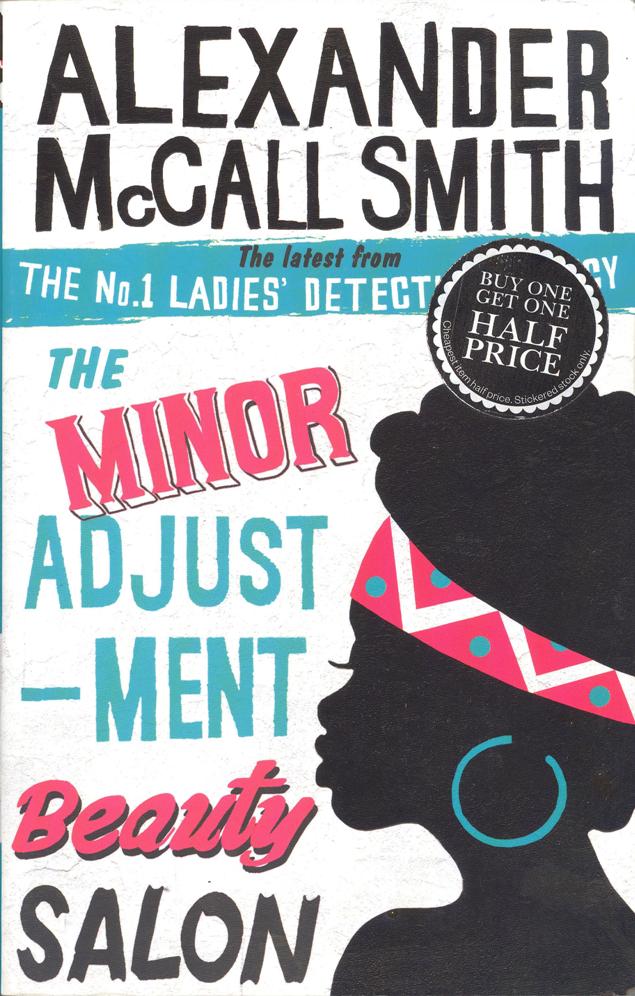 I read this book in August, 2014.
This is book 14 in the Botswana based series about the No 1 Ladies Detective Precious Ramotswe, and her assistant - "associate detective" Grace Makutsi. It was quite a while since I had read the previous book, and it was good to return once again to familiar territory - to the premises of Mr J L B Matekoni's Tlokwong Road Speedy Motors. Mr Matekoni is of course Precious's devoted husband.
It's funny that I didn't like the writing style of Kate Atkinson with all her annoying digressions, but yet I like M'cColl Smith's Lady Detective books which are a constant digression. We sit with Precious as she sips her redbush tea, join her on a visit to her friend at the childrens' orphanage where there is more tea, cake, and a discussion on how many sultanas should be added to a fruit cake, etc. etc. It's all digession, but it's part and parcel of a visit to a different, simpler world - one where the main worry is when will the rains come - and its utterly charming.
Usually there are lots of little investigations to follow, but here we have only two. A lawyer asks Precious to find out if the young man claiming his late uncle's estate is who he says he is. The aunt confirms that he is, but the lawyer has a feeling that something is wrong. Story 2 is about the title's newly opened Minor Adjustment Beauty Salon. Someone is spreading wild rumours that the cream used in the salon makes your face fall off - so of course there are no customers.
In the private lives story line, Precious's two adopted children are still at school, but otherwise are hardly mentioned. They rarely merit a story line. The main news is that Grace Makutsi is pregnant, and she has a baby boy Itumeling Clovis Radiphuti. Clovis Anderson was the author of the "how to be a detective" book that Precious and Grace Makutsi hold in such high esteem.
When Grace Makutsi is off for a few days maternity leave, Precious misses her terribly, almost to the point of becomming depressed. She is delighted when Grace returns, as she once again has someone with whom to discus tricky investigations. But Grace has always been a prickly sort of person with fixed opinions. Precious promotes Grace Makutsi by the end of the book - I think she may come to regret this .......
I have read all the books in this series and await the publication of the next one. So far I have discovered three series where I enjoy the gentle humour - the Hamish Macbeth series by M C Beaton, the Rumpole of the Bailey series by John Mortimer, and of course the Lady detective series.
Links to author index and home page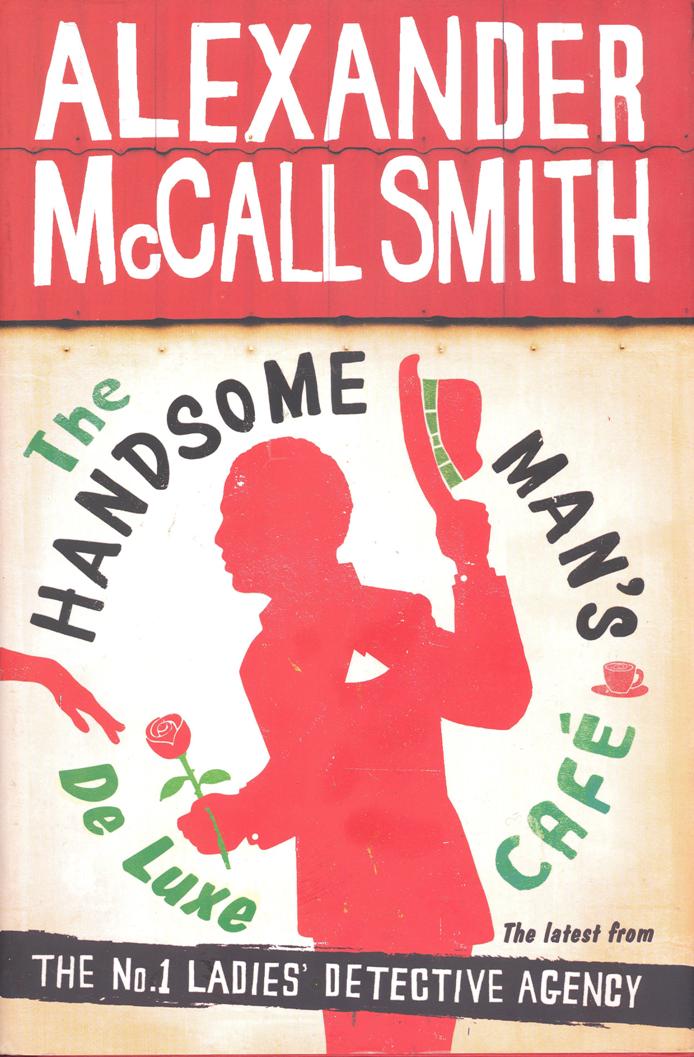 I read this book in May, 2015.
This is book 15 in the Lady Detective series by Alexander McCall-Smith, featuring Precious Ramotswe, the No 1 Lady Detective - and as usual, it is more of the same, and none the worse for that. It is strange that I don't like it when other writers digress and meandour about, but yet I like these books which are almost totally digressions. Perhaps McCall Smith just does it better, or that the whole point of the Lady Detective series is a meandour, and musings about life, the universe, etc, over lots of cups of tea.
All the usual characters are still here. Precious is still married to Mr J L B Matekoni, Botswana's best car mechanic. But modern cars are full of complicated electronics, and fewer customers go to older traditional garages. Times are hard at work, there is not much business, and Charlie, the useless machanic / apprentice will have to go.
Grace Makutsi, the secretary (97% in exams) at the No 1 Ladies Detective Agency, was promoted, a long time ago, to assistant detective, and in the previous book was further promoted to be a partner in the business. At the time I thought this would lead to later problems, and these are encountered in this book. Eventually Grace accepts that Precious is the senior partner. Grace is married to Phuti Radiphuti, a wealthy businessman, and they now have a young son Itumeling who has a carer to look after him, so that Grace can continue to work for Mma Ramotswe. She is not only managing to do this, but is now opening a cafe to be called The Handsome Man's De Luxe Cafe. Mma Makutsi is stubborn, prickly, and very opinionated. We all know all will not be plain sailing at the new cafe.
The main story / case for Mma Ramotswe to solve, is about an Indian lady who is suffering from memory loss. She is being helped by a fellow Indian businessman, who has given her a place to stay, and who now employs Mma Ramotswe to find out who the Indian lady is. Is she really suffering from amnesia, or is there more to the story ? Mma Ramotswe works her unique magic, and solves all the puzzles by the end of the book, but here it gets slightly more realistic. She finds out what is happening, but can't wave a magic wand to solve everyone's problems. That is left to Precious's friend, the Matron Potokwani, of the orphans' home. Mma Potokwani helps the Indian lady, and sorts out the cafe problems.
It's a nice , easy, gentle read, and very different from the crime and mayhem of other crime series.
The No 1 Ladies Detective Agency has never made a profit, and is now even more overstaffed. Business at the garage is down. Hopefully things will pick up in future books.
All the above said, escapist reading, etc, I could have done with just a little bit more content on the detective front. They used to work on lots of cases at the same time. Here there is only one case. But I enjoyed reading the book, and kept turning the pages.
Links to author index and home page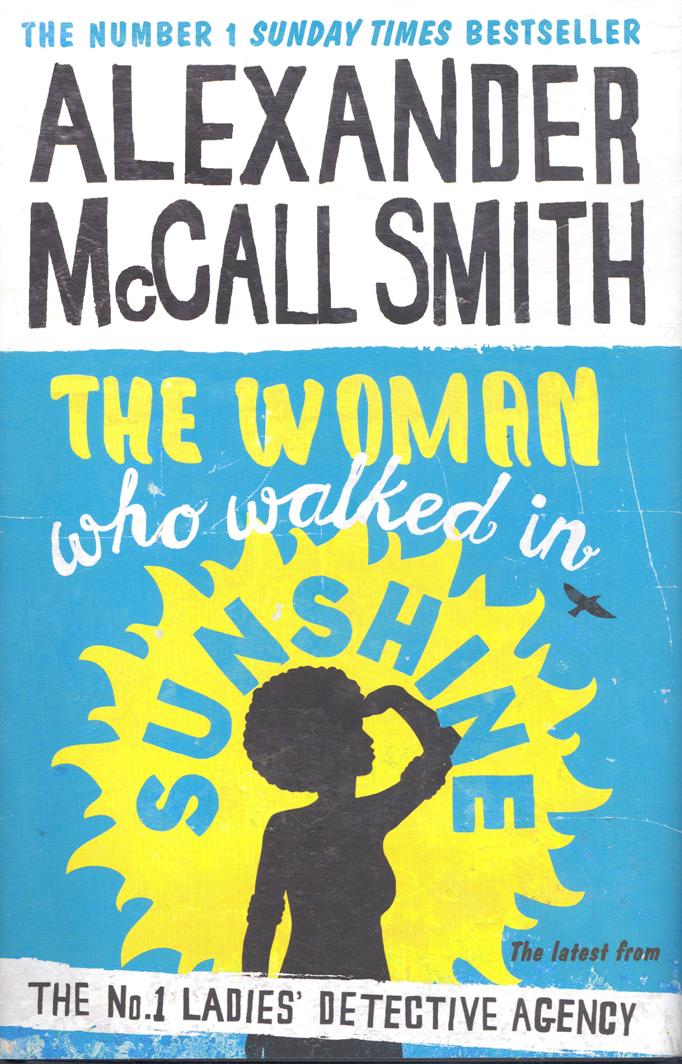 I read this book in Feb, 2016.
This is book 16 in the Lady Detective series by Alexander McCall-Smith, featuring Precious Ramotswe, the No 1 Lady Detective, Grace Makutsi, now her partner, and of course Mr J L B Matekoni, husband to Precious. These books are never action packed, and this is another of the same. It's deliberately slow paced with lots of time for thought, and drinking redbush tea, atmospheric, and deeply rooted in the Botswana way of life.
I didn't think this was quite up to the standards of the rest of the series, but probably that is just me having an off day. This book is all about a series of misunderstandings, especially between Precious and Grace Makutsi. Misunderstanding one is when Precious thinks that everyone is ganging up on her to force her to take a holiday, and that Grace is using this to take over the detective agency when its owner is away. Misunderstanding two is supposedly when Precious underestimates Mma Makutsi's ability to run the agency. I thought along the same lines as Mma Ramotswe - but now, in a contrived story line twist, Grace all of a sudden has acquired detective abilities almost in advance of those of Precious Ramotswe. I don't like it when fictional characters act out of character. We know, or we thought we knew, Mma Makutsi's strengths and weaknesses - but now apparently she has turned into Mma Ramotswe with great detective insight, and the knowledge to do exactly the right thing.
The main story is about a deceased fellow with the name of Mr Government Keboneng, in whose honour a street is to be named, until the process is stopped when scandal is discovered. Mr Keboneng's sister wants the No. One Detective Agency to investigate, and hopefully clear their client's brother's name. Of course, as always, there is more to it than that. Secondary stories concern a secretarial school calling itself the No One Ladies Secretarial school, and Mma Ramotswe rescuing a small boy who deliberately scratched her van.
I did like the ending of the book, though, when Precious visited her mum and dad's graves, and then acted back in character, followed up on a flash of insight and further helped the small van scratching boy.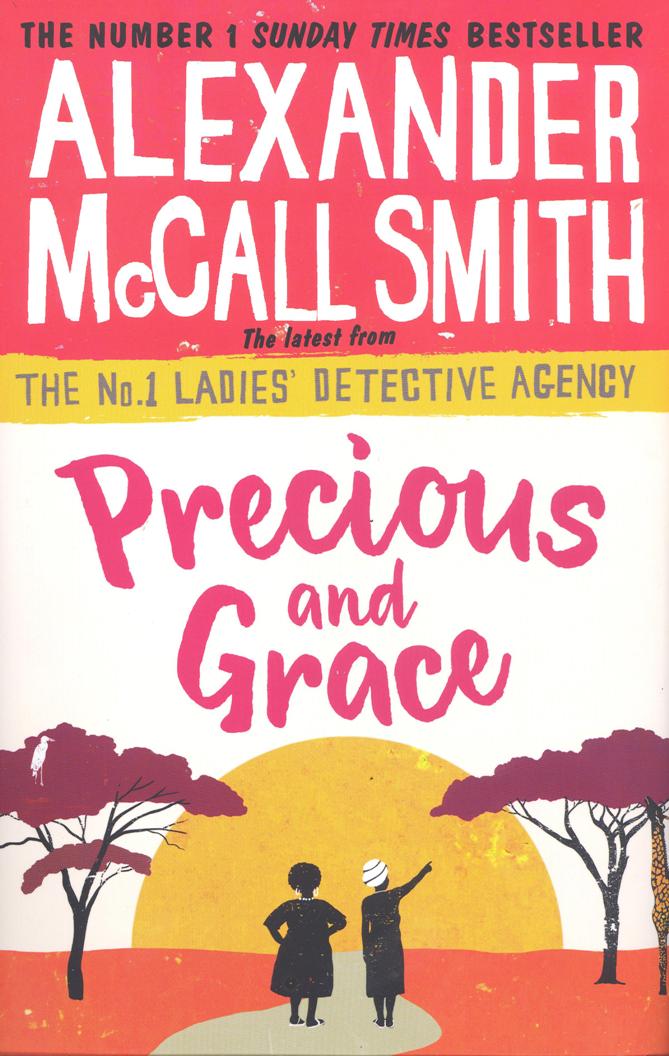 I read this book in Apr, 2017.
This is book 17 in the Lady Detective series by Alexander McCall-Smith, featuring Precious and Grace as per the title - ie Precious Ramotswe, the No 1 Lady Detective, and Grace Makutsi, now her "co-director" partner. Why Precious and Grace are such good friends is a bit a mystery to me. Mma Makutsi would drive me to distraction - very opinionated, full of her own self importance, always giving herself new grand titles, and often totally lacking in tact. She also buts into conversations and sometimes will not keep quiet / know her place. But Precious can see things from other peoples points of view, and makes allowances. It's a very good opening chapter that sets the scene perfectly and instantly we are back in Botswana - although to a Botswana where traffic is increasing, new cars are all electronic, old ways are changing and money is getting short. Mr J L B Matekoni is an excellent but traditional mechanic. Old cars had souls and spoke to Mr Matekoni - new cars don't.
I didn't all together like the previous book, but this one is a return to normal standards. There is a main story about Susan who was born in Botswana but moved to cold, colourless Canada some 30 years ago when she was eight. She would like to find her roots - the house where she lived all these years ago, and the old african nurse who looked after her. But is that what she is really looking for, or is she trying to put the clock back, and doomed to disappointment. There are also stories about Mr Polopetsi who is selling get rich schemes that seem too good to be true - and if it seems to be good to be true, ........ We also have a stray dog, and Violet Sephotho is in the running for Botswana Woman of the Year award ! Precious buys 6 lard cakes, and scoffs three as soon as she gets back to her old van - after all, she is a lady of traditional build, and must keep her strength up.
As before, it's gentle paced, easy reading with lots of home spun wisdom. I liked the book.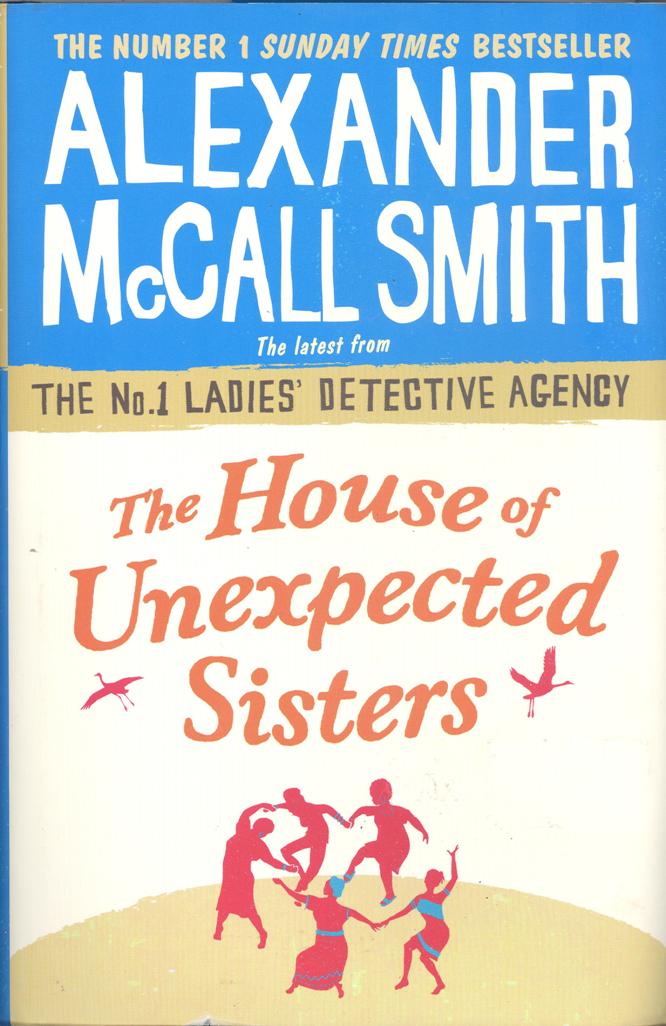 I read this book in Apr, 2018.
This is book 18 in Alexander McCall-Smith Ladies Detective series, featuring Precious Ramotswe and her assistant of grand titles Grace Makutsi. Precious founded and owns the detective agency, but somehow her assistant is now a co-director, and in this book she adds the title Principal Investigating Officer. I know that Mma Makutsi is good a heart and Mma Ramotswe's friend, but she is profoundly annoying, jumps to wrong conclusions, is not really governed by logic, and is very prickly. I would have put her in her place long ago - or would that be cruel and unworthy ? Whilst I am in a complaining mood, even more do I think Precious's husband the splendidly named Mr J.L.B Matekoni should get rid of his useless garage assistant, and still apprentice Charlie. Here he overtightens a sump plug nut, and cracks the case. How much will that cost ?
With these books you simply have to go with the gentle flow, and adjust to the sleepy pace of life in rural Botswana. It's easy reading (McCall Smith is gifted with the art of being able to write simply) where not much happens in the way of action, and even what does happen eventually unfolds very slowly. It's about page 40 before the book even gets started. Surprisingly there are no major cases for Precious and Grace to solve but they learn of a lady (Charity Mompoloki) who has been unfairly dismissed from her job in an office furniture showroom, and decide to lend a hand. Charity was accused of being rude to an important customer. Charity was a fellow student at Mma Makutsi secretarial college, so Grace is instantly and absolutely convinced that the charge could not possibly be true. Mma Ramotswe visits Charity's mum in Mochudi, the place where Precious grew up, and discovers that Charity might well be guilty as charged. However we have now come to the major story of the book, and Charity's mum mentions a nurse from Mochudi by the name of Mingie Ramotswe. Who was this Mingie that Mma Ramostswe had never heard of ? Is she an imposter, or a relative that she never knew existed ? Is she a good person, or trouble ? On investigation, Mma Ramotswe discovers that Mingie is a good dedicated nurse, but poeople say she is different, and will not elaborate.
There is joy and grief for Precious as we discover who Mingie is. Did Precious' idol of a father, the man who brought up Precious after his wife's and her mother's early death, the honoured by all, Obed Ramotswe, whose knowledge of cattle was unsurpassed, did Obed stray ? Was he not the man Precious reveres ? I won't say more for fear of spoiling the story.
There are various tiny sub-plots / story fillers. That man magnet Violet Sephotho is back on the scene causing trouble. Note, Precious's former husband is also back, but not causing trouble this time. Grace's husband Phuti Radiphuti's business may be under unfair attack, and Mr Polopetsi, the part time teacher and detective is given some detective work to do. And of course Precious's best friend Mma Potokwani is there to dispense wise advice, and large chunks of delicious fruit cake.
I think if the book were any slower paced it would lose me, but McCall Smith somehow manages to avoid this. After a very slow opening, I eventually ended up liking this book.
I read a library copy of this book in Jan, 2019, but returned it before scanning the cover. I then had to download an image from the Internet - apologies for Colors not Colours !
This is another outing for Precious Ramotswe and her gang - her husband Mr J. L. B. Matekoni, her assistant Mma Makutsi, and trainee detectives Charlie, Fanwell, and Mr Popolowski. It's an enchanting little world set in Mma Ramotswe's beloved Botswana.
As in all these stories there is little content, and what happens happens slowly amidst all sorts of discussions amongst simple people (I don't mean simple as a criticism), and with much drinking of tea and eating generous portions of cake. The main story is that Dr Marang, a long time ago, had been run down and badly injured by someone in a blue car. Could the No 1 Ladies Detective Agency help him identify the driver and get him compensation. He needs help to pay for his recuperation. Here Charlie steps forward - he has a friend who repairs cars in Mochudi where the accident occured. Perhaps he repaired a blue car at the time ?
Charlie has matured, and has a good girlfriend in Queenie - but he doesn't realise that she comes from a very rich family. Is she out of his league ?
The biggest story though, is that someone wants to open a "fun hotel" next to the resting place of people who are late (i.e. cemetery). There is money and corruption. There is also a vacancy on the council, and Mma Polokwani, angel of the orphan home, and Precious's good friend, persuades Mma Ramotswe to stand - and oppose the "fun hotel". Mma Ramotswe wants to do her duty, but does not want to be a plolitician. Somehow there is even a solution to this problem by the end of the book.
Usually, when I start off reading these books, I become hooked on the atmosphere and sense of place. Then I start to want just a little bit more content, more meat, and less digression. And then finally I am back in the fold, thinking McCall Smith has got it just right once again. And so it proved this time. Another successful outing, and I look forward to my next visit.
Links to author index and home page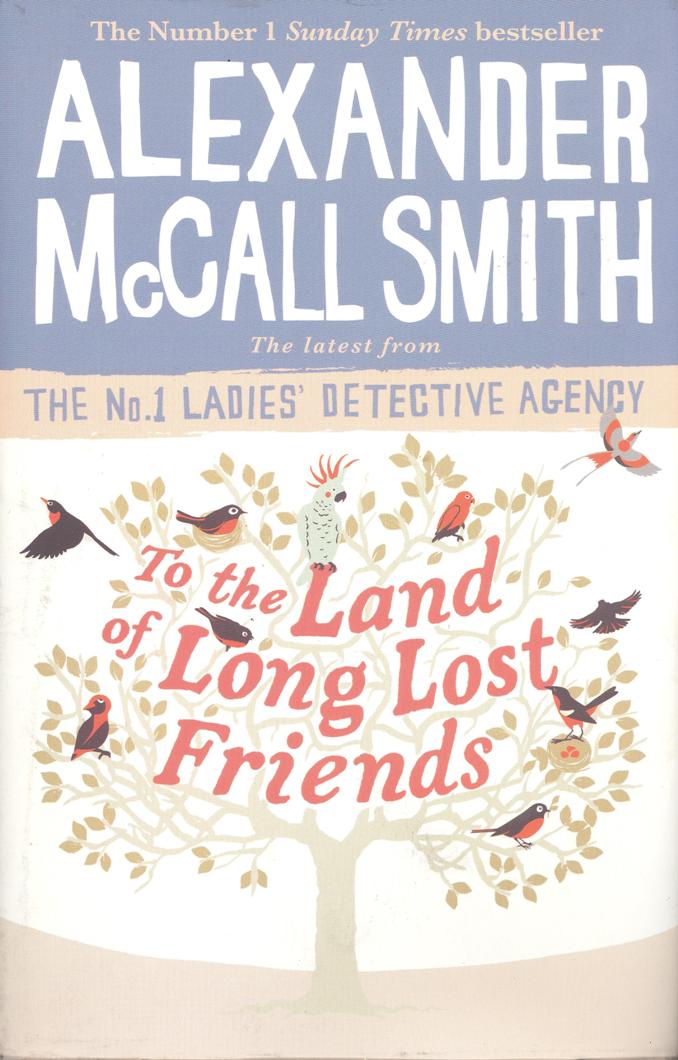 I read this book in July, 2020
This is another non adventure for Mma Ramotswe and her crew. Usually not much happens in any of these stories, and I should know what to expect by this time, but this book excels itself in that absolutely nothing happens. There is no case, nor series of cases for Precious Ramotswe and Grace Makutsi to investigate. Things are so quiet at the No 1 Ladies Detective Agency, that after two days with no work to do, Precious decides to do some non paying detecting and try to help two old school friends. As per all these stories we are given a lot of atmosphere. Everyone in Gaborone in Mma Ramotswe's beloved Botswana is waiting for the rains to come. The pace of life is beyond slow, but there is plenty of time to drink tea, eat cake, and talk of many, many things. As an example, when Precious visits the orphanage, and parks her car in the shade of a tree, we are given the history of the tree, of a tractor being moved to make way for Precious, share the conversation with the tractor driver, etc, etc - and so another paragraph is filled with the minute detail of day to day life under the scorching African sun.
We are reminded that precious Ramotswe is the daughter of the late Obed Ramotswe, grew up in Mochudi but is now in Gaborone, is the wife of Mr J L B Matekoni, and has fostered two children, a boy Puso and a girl Mochudi. Mma Makutsi is the wife of Phuti Rhudiphuti, and they have a baby Itumeling. Mma Ramotswe has a best friend in Mma Potokwani who runs the Orphan Children's Farm. Precious is of traditional build - what a kind expression ! It slips out that when the children usually have their evening meal before their parents, Precious thinks it is important to sit down together at the meal. Of course she eats a little, only to keep them company. She then has a full second meal with her husband when he gets home. A lot of cake is eaten - Mma Potokwani always serves two large helpings. No much wonder Precious is of traditional build.
The book opens with Precious and her husband at a wedding where she sees an old school chum Calviniah whom she thought had died years ago. Her friend is upset because her daughter Nametsi is ignoring her, but won't say why. Calviniah tells of another school friend Poppy who has lost all her money to a charlatan of a self proclaimed Reverend. When things are very quiet Precious decides to see if she can help Poppy and Calviniah. Grace Makutsi and assistant detective / part time mechanic Charlie lend a hand. Of course both stories are linked, and it's easy to see where the plot is going. The link is a Mercedes Benz that Poppy gave the Reverend, and Nametsi now drives such a car, given to her by the "mystery" man who has set her up in her own flat, and visits regularly.
Charlie does have a sort of sub plot and even gets quite witty at times - e.g. when he says he is 97% certain about things, 97 being the magic percentage Grace Makutsi keeps boasting about from her Botswani Secretarial College days. Charlie and his girlfriend Queenie Queenie want to get married, but Charlie is poorer than poor - almost destitute - and so where will he get the necessary dowry to marry Queenie Queenie? Charlie is offered a shady debt collecting job by Queenie Queenie's brother Hector, but tells Queenie Queenie's father Isaiah that, as poor as he is, he will not take this bad job. Isaiah is impressed by Charlie standing up to Hector, waves the dowry, and Queenie Queenie and Charlie can get married. Queenie Queenie is from a rich family, life with Charlie will come as a shock, and no doubt we will find out she copes with this in future books.
At Mma Potoknani's orphanage, a three year old, stray, little girl Daisy, who saw her mother being trampled to death by an elephant, grabs hold of Mma Ramotswe and will not let go. Precious is gentle, and of course her heart melts. She ends up taking Daisy home with her. We are told it's only a temporary arrangement - so again we will see if there is any mention of Daisy in the next book.
It's all atmosphere, and silly conversations by simple people. Grace Makutsi is very predictable, easily offended, and very protective of the meagre status she has earned in life, but, all in all, it's different, and very easy reading. Surprisingly I don't mind the series at all, and keep reading. The series is OK if you space out repeat visits to Gaborone, and to Precious and her crew.
Links to author index and home page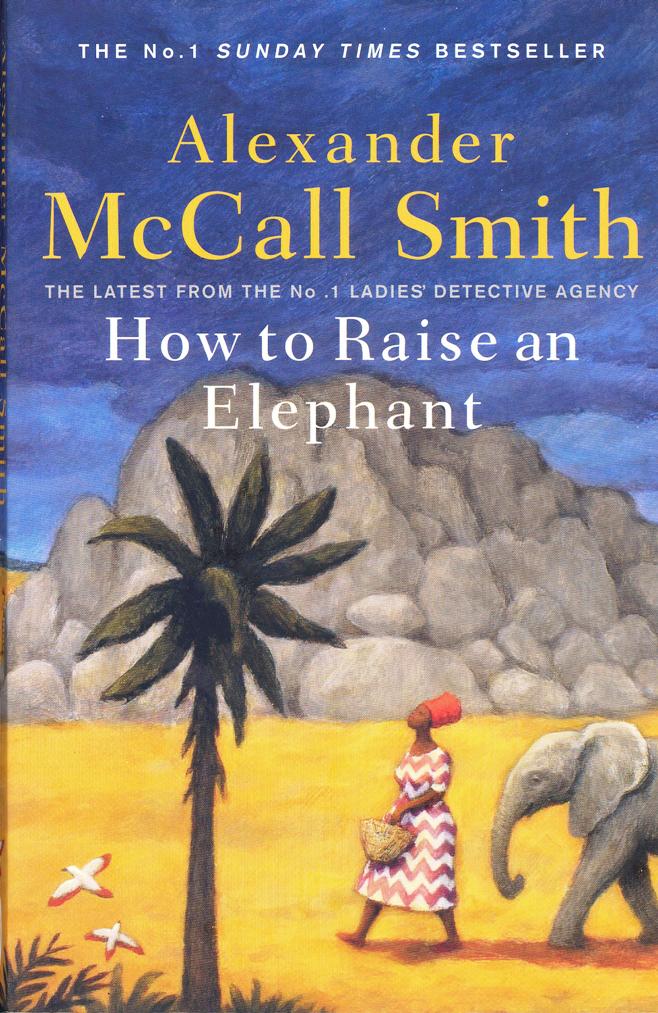 I read this book in February, 2022
This is book 21 in the Gaborone , Botswana set No 1 Ladies Detective Agency series, featuring it's owner Precious Ramotswe and her very status conscious director assistant Grace Makutsi. Precious is married to Mr J.L.B Matekoni, owner of the Tlokweng Road Speedy Motors Garage and they have two children, wheelchair bound Motholeli and her brother Puso. Precious is the daughter of the late Obed Ramotswe who knew all there was to know about cattle - Precious has inherited 150 cattle, and J.L.B owns 10, but we never hear much about this. Grace is married to Phuti Rudiphiti, owner of the Double Comfort Furniture store. The garage employ two mechanics - Fanwell and Charlie, who also works part time as an assistant detective. Charlie has recently got married to Queenie Queenie. Precious's best friend Mma Potokwani runs the local childrens' orphanage - or Orphan Farm as they call it. It is a very easy reading series where nothing much ever happens, and everything evolves at a very slow pace. There is much gossip, drinking of redbush tea, and home spun common sense philosophy. Mma Potokwani always serves two huge slices of delicious home baked cake - Precious is of "traditional" build. I quite like the series so long as I space out my reading - it is gentle, harmless, and different.
Generally business is very quiet which they blame on the very hot weather. The country is waiting for the rains to come, and they do come towards the end of the book, quenching the dry dusty soil, grass grows, the cattle are fed, and all is well with the world. There are three sort of mini sub plots - distant cousin Blessing Mompati's request for help (i.e. money), the baby elephant story, and the troubled mariage new neighbours story.
Blessing Mompati is a very distant cousin of Mma Ramotswe, who turns up at the Detective Agency with quite a sob story, and a request for money. Blessing's neighbour, another distant cousin is a poor man, Tefo Kgomo who is in constant athritic pain, and badly needs a hip replacement operation. Normally this would be available free, but Tefo does not qualify as he is not a Botswana citizen. He is from South Africa but no longer resident there, and cannot be Botswana naturalised as he has a criminal conviction. Under the old ways and customs, family is everything and Precious is inclined to help, but her husband points out that if she helps one distant cousin, there will soon be a queue at her door. Precious thinks she should still help if the case is deserving - and so she and Grace visit Blessing and Tefo to learn more. Blessing lives in a poverty stricken area in a poor hut. It seems Tefo can still hobble about with a walking stick, but when he takes them to see his house next door he seems to have the stick in his other hand, and be limping on the other leg. Back in Mma Ramotswe's little van, Mma Matusi declares Tefo a play acting fraud who could not even remember which leg to limp on. Of course there is another explanation, obvious to most readers, but not to Grace nor Precious. We need more evidence says Precious, and she sends Grace Makutsi to interview an old friend of hers, the retired magistrate Mma Phiri. And so the story unfolds ...............
The baby story starts with Charlie borrowing Precious's ancient van, and returning it with a dent in the tailgate and a peculiar smell in the back. With spare time, Mr J.L.B and Fanwell decide to service the van, notice the smell, discover that Charlie has borrowed the van and go to his place to tackle Charlie - it is his day off. To cut a long story short, Charlie is hiding a very small baby elephant behind his house - orphaned when ivory poachers killed it's mother. There is a big discussion about what to do for the best, and they consult Mma Potokwani who knows about orphans (and serves good cake !). She does know someone up north who cares for and rewilds baby elephants. In the interim the elephant can stay in a vacant cattle stockade at the Orphan Farm. But the elephant moves, throws the old van off balance, they crash into a ditch, and the elephant escapes. Read the rest of the story for yourselves.
New neighbours move into the house next to Precious and Mr J.L.B. Matekoni, and Precious, taking a healthy interest as their furniture is delivered, notices that they do not seem to have a double bed. Soon they are heard shouting at each other. Later, alone in the house and out gardening, Precious gets chatting to her new neighbour, teacher Margaret Motlapeng, whose husband is an accountant who specialises in brankruptancies. Precious invites Margaret in to share her chicken supper, they get talking, and Margaret admits that all is not well with her marriage. Her husband has strayed, and she has said she will let him stay, but she will never, ever forget what has a happened. Precious suggests she should think about forgiveness.
There is a short story about Grace Makutsi showing some kindness to a poor nursing mother whose baby has a cleft lip. There but for the grace of God ! I'm always surprised as to why Precious likes Grace Makutsi. She is a terrible character really - full of her own self importance, quick to take offence, always wanting to have the last word, often just wrong and quite stupid sometimes. I guess this kindness story has been inserted to show some balance. Eventually of course, all sub plots are sorted, there are happy endings all round, and the rains come. In summary - gentle, harmless, undemanding reading, and what's wrong with that ?
Links to author index and home page


Sir John Mortimer was born in London in 1923. Educated at Harrow School, and Brasenose College, Oxford, he married twice - each time to a Penelope, and with the Penelopes he had 5 children. He also had another son after a secret affair with the actress, Wendy Craig.
He was called to the Bar in 1948, and had a distinguished career there - he was defending counsel in the Oz "conspiracy" trial in 1971, and he later defended the Sex Pistols (a pop group) in a obscenity trial after they used the word "bollocks" on one of their record titles.
But at the same time, he was also following a distinguished career as a writer - all in all he wrote over 50 plays, books and scripts. He often rose early in the morning to write before going off to court. He was always very political - "Paradise Postponed" was his protest against what he saw as the "visciousness" of Thatcherism.
His most famous creation was Horace Rumpole, a barrister who specialised in defending those seemingly hopeless cases tried at the Old Bailey in London. The first Rumpole was Rumpole of The Bailey - initially a play which appeared in 1975. The book followed in 1978.

Rumpole inhabits and loves the court room. His friends and family attempt to get him to move on to be a QC or a Circuit Judge, but he will have none of it. Nor will he retire / stay retired - he did retire once after a string of 10 losing cases, but was bored and took a letter asking for his advice as a plea for his return. His wife Hilda is "She who must be obeyed." The Timson clan of "minor villians" rely on Rumpole to regularly save their bacon in court. Rumpole successfully defended in the famous "Penge Bungalow Murders," and over time Rumpole developed an extensive knowledge of blood stains, and typewriter type faces.
Rumpole never enters a guily plea but has a firm set of ethics, and will not defend anyone who discloses that he/ she really is guilty. He enjoys cheap cigars, and cheap wine - especially Chateau Fleet Street at his favourite haunt, Pommeroys. Although his old hat and wig are comfortable, they, like Rumpole, have seen better days. Rumpole will never use one word when several will do.

In most of the books Rumpole is stuck at about 70 years young, and lots of characters appear and reappear. Rumpole's family comprises of himself, his wife Hilda, and his son Nick. Fellow members of his chambers at 3, Equity Court, are Guthrie Fetherstone, Phyllida and Claude Erskine-Brown, Uncle Tom, George Frobisher, and Sam Ballard. There were seven series of Rumpole of the Bailey made for TV, and the character of Rumpole was captured perfectly by Leo McKern.
All in all, the Rumpole books make for light, witty, entertaining reading. Once you get used to the flowing language, its difficult not to like Rumpole - one of the great creations of English writing. I have enjoyed the few books that I have read, and I will certainly read some more - once I discover them in some charity shop.
I bought this in some charity shop as an omnibus along with "The Trials of Rumpole" and "Rumpole Returns." I paid £1.25 for the omnibus, which worked out at about 40p per book, which I consider excellent value. I can thoroughly recommend buying omnibus editions as good introductions to some new writer and character. This is not just to save money - although that is a good reason - but more to give yourself a better introduction than just reading the first book in some series. I didn't think much of the first Morse book, but going on the Dexter / Morse reputation I bought a second book, and came to a completely different verdict.
It takes a little while to attune your ear to John Mortimer's slightly old fashioned ?, florid writing style - i.e. Rumpole's verbosity. But after a few pages I was well and truly hooked.
Rumpole is an old hack who frequents the Old Bailey. He is the husband of Hilda Rumpole (She who must be obeyed )and father of Nick. Rumpole likes to quote poetry, and enjoys a glass (or two, or more) of Chateau Fleet Street at Pommeroys.
Rumpole of the Bailey is about 6 chapters long - each a separate mini story. They are simple, easy reads and witty. Once you start reading you soon get into the running jokes, and the office politics of Rumpole's chamber.
All in all, an excellent read.
Links to author index and home page


This was the second book in the Rumpole of the Bailey omnibus, and like the first book "Rumpole of the Bailey" is also 6 chapters long - each a mini story. It's easy reading, very funny, and very enjoyable.
The last story is "Rumpole and the Age for Retirement." There is a conspiracy to get Rumpole pensioned off and replaced by Simon Vesper, son of Judge Vesper. But of course Rumpole is too wily an old bird and prevails in the end.
Links to author index and home page


This is novel as opposed to a collection of short stories. It opens with Rumpole retired and living in Florida with his son Nick. He had been worn down by 10 successive lost cases in the court of Judge Bullingham. But life in Florida is boring, and there is an interesting case where Rumpole's expertise in blood chemistry is required - and so Rumpole is back in the UK, and squating in his old chambers.
Rumpole prevails against all the odds. A most enjoyable read.
Links to author index and home page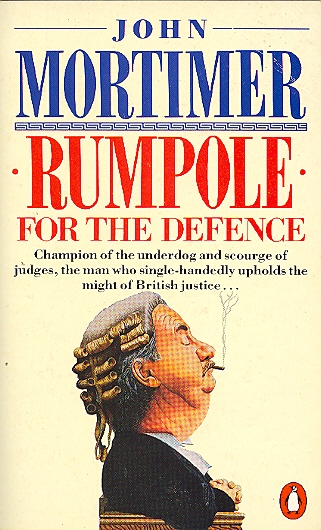 I read this book in May, 2010.
I had been reading a succession of crime novels - Wexford and Dalgleish, turn and turn about - and had just finished reading "Shroud for a Nightingale", one of the early Adam Dalgleish novels. I quite admire P.D. James, and enjoy reading a Dalgleish book, but there are not a lot of jokes there, to put it mildly. So it was a great pleasure to turn once again to dear old Rumple for a spot of light relief.
"Rumpole for the Defence" is a short book of only about 190 pages. There are seven separate stories, each a Rumpole gem. Mostly Rumpole triumphs in the end, but not always, of course.
All the usual characters are there . Hilda, Rumpole's wife is present - She Who Must be Obeyed. The Timpsons still provide business for Rumpole, and help to keep him supplied with his small cigars and bottles of Chateau Fleet Street, or Pommeroys claret. Casa Rumpole is still 25B Foxbury Court, Gloucester Road, etc, etc........
Of course it is more of the same, and that is what is good about it. Perhaps it is now becomming slightly dated, but it remains extremely easy reading, funny, witty, delightful. Luckily I still have quite a few Rumpoles to read. I will look forward to this, and not leave it so long until I rejoin Rumpole at the Bailey. I bought the book is some charity shop, but I have no idea what it cost me. Whether it was 50p or £1, it was money well spent.
Links to author index and home page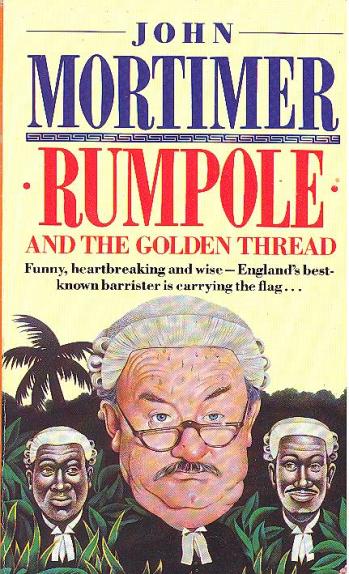 I read this book in August, 2010.
Once again, I had left quite a gap between reading the previous Rumpole, and this one, and so once again it was a great pleasure to rejoin Horace Rumpole and hear of his further adventures.
Perhaps the books are now getting just a little bit old fashioned, but that didn't spoil my pleasure in any way. There are seven stories in this book. Rumpole and The Golden Thread is the second story. The Golden Thread refers to one of Rumpole's stock speaches - "there is a golden thread..." - ie the presumption of innocence speach. In this story, Rumpole is approached by the equivalent of Amnesty International and asked to defend David Mazenze, minister of Home Affairs, in a show trial in Neranga, some African county. David is known to Rumpole, and Rumpole is naturally flattered to be asked to represent the English Bar. Its the usual story with a twist at the end. Against all expectations (and the point of the story is that Rumpole is not expected to win), Rumpole does in fact win the case !
All the old well remembered characters are here - we are in comfortable, familiar territory. There is one new character, a Miss Fiona Allways - a new recruit for whom Rumpole battles to have accepted as a member of Equity Court, Rumpole's Chambers. No one is in favour of admitting Miss Allways, so of course Rumpole takes the contrary view, and by devious means prevails in the end.
The last story in the book is Rumpole and the Last Resort. I have complained elsewhere about authors' love of killing off their characters - why on earth, was Morse not allowed to retire to a well earned pint or two ! So for a little while I feared that this was what was going to happen to Rumpole. The story starts with Rumpole in financial difficulty - nothing new there. All court cases seem to have dried up, so much so that Rumpole has had ample time to devote to writing his memoirs ( the Rumpole stories that we have been enjoying) and in fact is almost up to date. So he is now reduced to writing about his current case when he is taken (seriously ?) ill and Fiona Allways has to take up the narrative. However I knew that there were other Rumpole books for me still to read so I wasn't really too concerned for the old boy's health.
If you like Rumpole, you will love this book. If you don't, you won't. If perhaps you haven't read Rumpole, I suggest that you give it a go. Alas, John Mortimer is no more, but he narrates a good yarn - easy reading, a true delight !
Links to author index and home page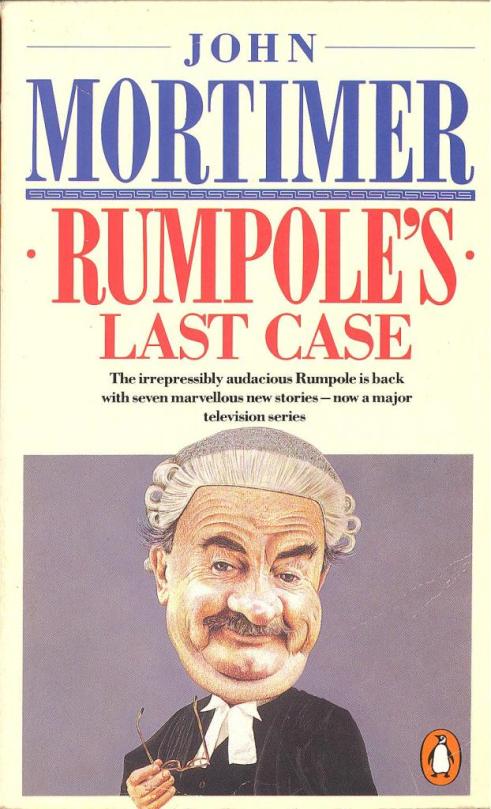 The previous book that I had been reading was Stuart MacBride's "Broken Skin" where DS Logan MacRae investigates a murder in Aberdeen with sado masochistic connections. Mr MacBride goes into rather more detail than I would prefer, so once again I have turned to Horace Rumpole for much needed light relief.
"Rumpole's Last Case" is one of seven short stories - in fact it is the last of the seven stories -in a book of the same name. To read Rumpole is to enter the wonderful world of a great collection of assorted characters - all of whom appear and re-appear throughout the Rumpole books. And the story lines are little treasures. Usually it is not too difficult to see where the story is heading, but this makes little difference with these gentle tales. It is the journey and the company that is the pleasure, not the destination, and Rumpole goes on his way to fight another day !
Once again Rumpole befriends a new recruit to his chambers at 3, Equity Court - this time a Liz Probert. Liz's father is a very left wing trade union leader, but somehow, after discussions with Rumpole, the head of the chambers gains the impression that Liz's father is a well known bishop, whose daughter would be a great asset to the group. And so, Liz is in.
All these stories are little gems. I particularly liked the one "Rumpole and the Judge's Elbow". The judge in this case is Sir Guthrie Fetherstone (who used to be in the 3, Equity Court Chambers). He injures his elbow playing tennis, and, on the recommendation of a court usher, goes to a masseuse where the girl is "gifted and medically trained". Guthrie rather unwisely, pays by credit card. Of course, the massage parlour is no such place, and soon the manager appears in Sir Guthrie's court accused of keeping a house of ill repute. The manager is defended by Rumpole, no less. Rumpole recalls the trial as one of the strangest he had ever encountered. For most of the case the judge was on the side of the defence, and very much so. And then there was a change of fortune when the judge thought that his secret was safe, and switched to an obvious bias towards the prosecution. The judge catches Rumpole wetting his finger and holding it in the air. "Just testing the wind, my Lord. It seems to have completely changed direction."
I am sure you are not fooled by the "Rumpole's Last Case" title. There are lots of later Rumpole books, so I don't think I am giving away too much when I say its certainly not his last case, and thank goodness for that !
A lovely book - light reading, and thoroughly to be recommended.
Links to author index and home page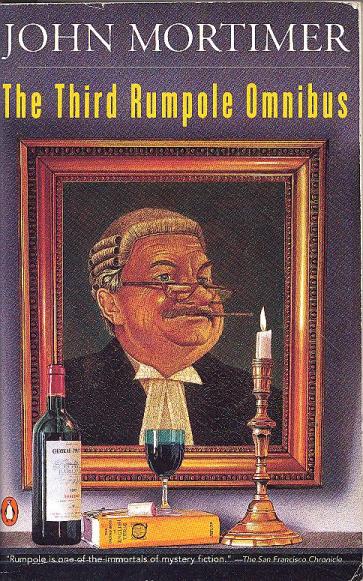 I usually keep Rumpole in reserve, as something to read for a change. So, once again, I had been reading a succession of crime fiction - DCI Banks by Peter Robinson, mostly - and eagerly returned to Rumpole for light relief.
Rumpole is always a delight. It may be slightly dated, and of course it's all a make believe world, but Horace Rumpole of the Bailey is a great character, and is one of lots of strong characters in the book. I guess, the main other character in the book is Hilda, Rumpole's wife, "She who Must be Obeyed". She has relations too numerous to mention, but all appear to look down on Rumpole ( but still don't mind enjoying his hospitality).
The book is a collection of short stories, "Rumpole and the Age of Miracles" being short story three. In this, Rumpole is in unfamiliar territory - an ecclesiastical court, defending a curate cousin of Hilda's, accused of having a "liaison" with a lady in a hotel room - obviously not his wife. Soapy Sam Bellard, head of Rumpole's Chambers in Equity Court, is prosecuting. Bellard is a QC, Rumpole is just a "junior", but as usual, Bellard is no match for the wily Rumpole.
Against all the odds, Rumpole usually comes out on top. He doesn't win all his cases, but he does win the majority.
Rumpole is a treasure, John Mortimer was a terrific writer, and I thoroughly recommend this book to everyone. Wonderful.
"Rumpole and the Age of Miracles" is book one of a trilogy comprising the Third Rumpole Omnibus. I paid 80p for it in a charity shop - stunning value !
Links to author index and home page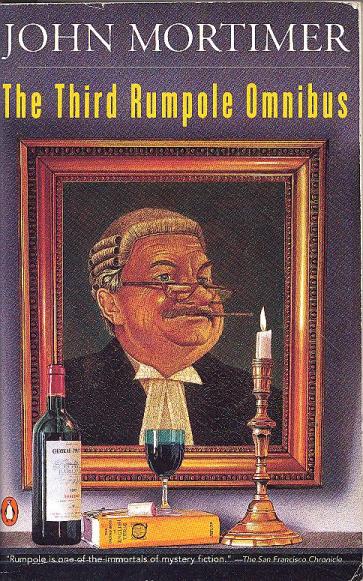 I read this book in April, 2012.
"Rumpole a la Carte" is the 8th book in the Rumpole series by John Mortimer, featuring Horace Rumpole of the Bailey, one of the true treasures of English literature. I read it as book two of the Third Rumpole Omnibus - the other two books in the Omnibus were "Rumpole and the Age of Miracles", and "Rumpole and the Angel of Death". The Omnibus cost just 80p in a charity shop, just under 30p per book, stunning value for comic genius.
I am glad that Horace Rumpole seems to be quite unchanging. To readers of these books, he lives in a now familiar world full of comic characters. He is untidy, covered in ash from his small cigars, and keeps going refreshed by a glass or two of plonk, Pommeroy's finest. But those who underestimate Rumpole usually come to grief - he is as shrewd a judge of human nature as you will find, and though he seems to benefit from more than his fair share of luck, he makes a lot of his own good luck. And he makes it all seem so effortless.
Rumpole is surrounded by a host of inept, unworldly miscellaneous characters, who always underestimate him, and over whom he always triumphs - or nearly always. He is still the champion of the Timpson clan, and has now defended several generations of this London petty crime family. Rumpole's wife Hilda - "She Who Must be Obeyed" - is still very much in charge at home. Often she is driven to leave Rumpole, but she always returns. Sometimes she gets Rumpole to defend one of her many relatives, and sometimes Rumplole's life is blighted when another of Hilda's relatives or old school chums comes to stay.
"Rumpole a la Carte" is a collection of six short stories, the first of which is "Rumpole a la Carte." This is a tale where Hilda's rich cousin takes Hilda and Horace out for a posh, Michelin starred meal to a restaurant where Rumpoles colleague Claude Erskine-Brown just happens to be entertaining a young colleague ( and not his wife Portia). Thus Rumpole also "just happens" to be there when a mouse is not just found, but is served up to a customer - the same Claude Erskine- Brown, naturally - and the reputation of the proprietor is ruined. This is the same proprietor who has refused to serve Rumpole bangers and mash, but Rumpole seldom bears grudges, and takes on the case to defend the proprietor from what would now be the Health and Safety authorities.
All six stories are little gems - very easy reading. I particularly liked story six, where Rumpole breaks one of his golden rules, and appears for the prosecution. His rule is always to appear for the defence, for the very good reason that whilst it is OK to use his little tricks and wiles to sometimes allow the guilty go free, it would be deporable to use the same skills to send the innocent to prison. The defence in this case is handled by soapy Sam Ballard, the chief of Rumpole's chambers. Ballard is so inept in the case, that Rumpole is driven to take over, and proves that the defender whom he is suposed to be prosecuting, is in fact innocent. Of course this is the right thing to have done, but equally the whole adversarial system depends on both sides being argued, and Rumpole may have got himself into trouble by abdicating his duty to prosecute.
I read the book when on holiday in Fuengirola in Spain. I kept turning the pages, and all too soon, the book was finished. A great writer, wonderful distinctive prose, a treasure of characters - what is there not to like ?
Links to author index and home page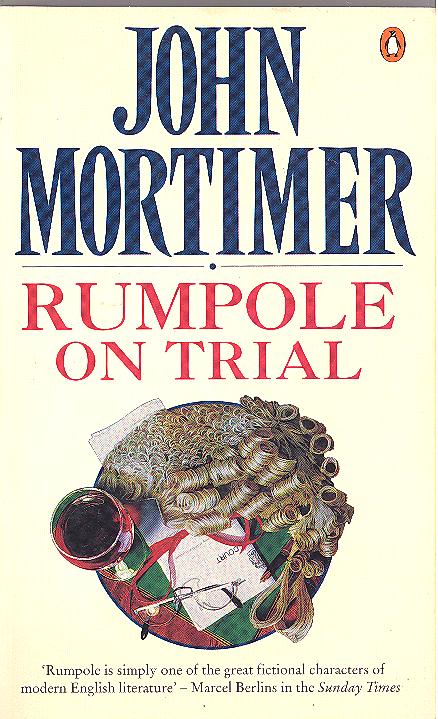 I read this book in September, 2012.
It's always a pleasure to turn once again to the adventures of Horace Rumpole. And all our old friends are here, Horace, his wife Hilda (she who must be obeyed), Claude Erskine-Brown in competition with his more able wife Portia, soapy Sam Ballard, head of Chambers, Liz Probert, her partner Inchcape, Henry the clerk, Dot the new typist, etc, etc.
As usual, it's a collection of six short yarns, each about 40 pages long, and there is also a shorter 10 page story. Rumpole is a wily old character, but underestimate him at your peril.
Although these books can be read in any order, there is a sort of progression as time goes by, and everyone gets older. There is no longer any mention of Uncle Tom, a member of Rumpole's chambers, so now Rumpole is the oldest, and there is talk of Rumpole calling it a day, but not yet.
I quite liked the story "Rumpole and the Children of the Devil", the first yarn. Horace and Hilda get to mix with aristocracy, and Hilda is delighted (this is the life she dreamed of), but Horace, in his world weary way is not fooled - the aristocracy are no better, no more truthful, than anyone else.
"Rumpole on Trial" is the final story, and the one I enjoyed least. Uncharacteristically Rumpole seems to have given up, and is looking forward to getting himself disbarred, and having a much deserved rest. Liz Probert, his former pupil, saves the day - but it's really Hilda who should get the credit, painting a picture of retirement that so alarms Rumpole that he changes his mind. The bit about judges, QC's and petty criminal Fred Timson all attending a party to congratulate Portia on being elevated to be a judge, and Claude becomming a QC at last - it was all a bit contrived and far fetched.
Overall though, the book is full of understated humour, and brilliantly effortless prose from John Mortimer. Another treasure !
Links to author index and home page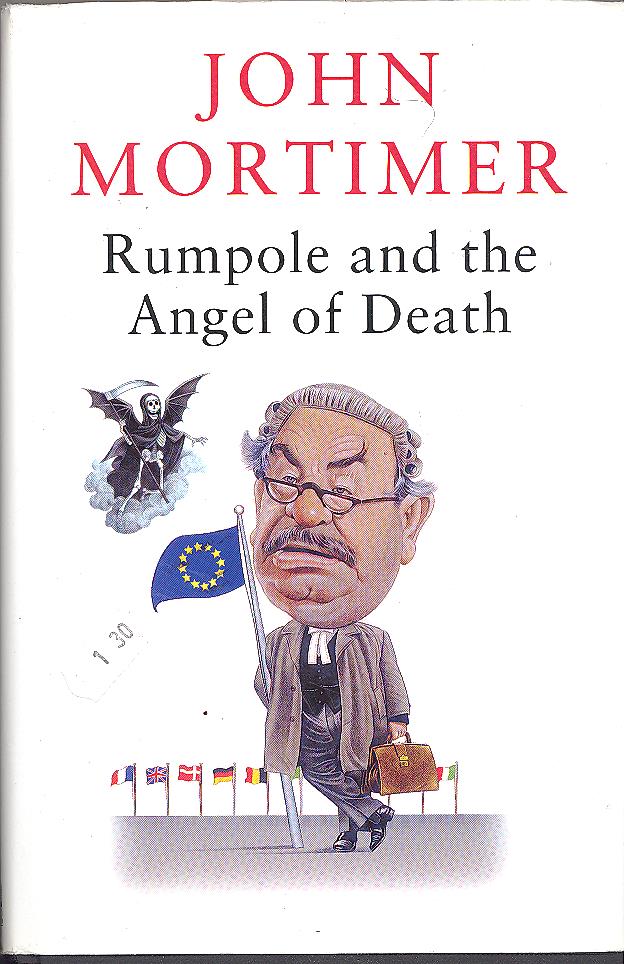 I read this book in April, 2013.
This is book ten in the Horace Rumpole series. I like Rumpole, and greatly admire John Mortimer's writing style.
There are six short stories in the book, each about 40 pages long. The last story is Rumpole and the Angel of Death - the title of the collection.
Each time I pay a return visit to Horace and Hilda ( She Who Must be Obeyed) at Foxbury Mansions, it's a return to very familiar territory. Rumpole doesn't change much ( thank goodness), and nor do the rest of the characters. It's a charming world, and I love it.
Yes, some of the story lines are a bit predictable, but that doesn't matter in the slightest. Rumpole is sly old fox, and you underestimate him at your peril.
I really liked story three - "Hilda's Story" - a story written from Hilda's point of view. Daniel Newcombe of the very upmarket law firm Newcombe, Pouncefort and Delaney, specifically asks for Mr Rumpoole to defend his client, a Mr Michael Skelton, in what seems a hopeless case. Michael is not only accused of killing his father, he seems to have been caught in the act. It's a not unusual case in Rumpole land. Someone wants a client to be found guilty, and so calls on the services of old, dishevelled, Rumpole - of stained waistcoat, and ancient wig. Big mistake, of course. The extra twist in the story is that Daniel Newcombe tries to use Hilda - hoping to turn her head and get her to spy for him, and report back on what line of defence Rumpole might follow. Daniel is handsome, urbane, and wines and dines Hilda in posh restaurants and clubs. Word gets round that Hilda is seeing some one else, and that Rumpole is the last to know. Hilda sits in the gallery of the old Bailley, and sees Rumpole in his element, and can't help but be impressed. Meanwhile Rumpole suspects that something may be amiss, and switches to salads to try to trim his ample waist. Of course, there is no need to worry. Although Horace and Hilda moan about each other, at the end of the day, they wouldn't be without each other.
Soapy Sam Ballard is still senior partner. Liz Probert is still a fervent feminist, and very politically correct. Claude Erskine Browne has a beautiful wife in Portia, now a judge , but still fancies himself as a ladies man, gets into pickles, and begs Horace to rescue him. And after a dire day at court, judge baiting, there is always a glass or more of Chateau Fleet Street at Pommeroys where Rumpole can seek respite and solice.
"Rumpole and the Rights of Man" sees Horace on the European stage - its not perhaps the best of ideas to let Rumpole stray too far from the Bailey. It was a good story, but I didn't care for the ending. Generally I have never found it a success when the secret service and spies appear in non spy stories. Yes, they are terrific in Le Carre and Len Deighton, but they don't belong in Rumpole land.
"Rumpole and the Angel of Death" is possibly a bit too near home for Rumpole. Rumpole is getting a bit forgetful, and defends a doctor who believes in euthanasia, but is accused of killing Chippy Chippenham, a former high court judge who sadly became a victim of Altzheimers. Another nice twist was that Chippy was about the only judge that Rumpole respected and liked. Chippy and Rumpole got on very well together, and enjoyed many a glass in each others company.
I think most of the Rumpole stories are treasures, and happily I have still a few books to read. I space out my visits to Rumpole land - they are a treat to look forward to.
Horace Rumpole is truly a great character of fiction, and John Mortiomer a geat writer whose wit captures and conveys the setting and period perfectly. Yes, a treasure.
Links to author index and home page


I read this book in February, 2013.
This is the eleventh Horace Rumpole of the Bailey book by John Mortimer, and it was a pleasure to return to Foxbury Mansions to revisit Horace and his good wife Hilda ( She Who Must be Obeyed).
All the usual characters are here - it's a strong cast. But the star turn is Horace himself. There is a quote on the jacket of the book from P.D James "Rumpole, like Jeeves and Sherlock Holmes, is immortal" Alas, poor Horace himself doesn't seem to be immortal. This book is a collection of seven short stories, the last of which is "Rumpole Rests His Case." In this Rumpole, appearing at the Bailey, finished his concluding speech, sits down, "rests his case", and has a heart attack. He survives, and in hospital meets a possible future client lying in the neighbouring bed. But will Horace ever make it back to the Old Bailey to defend his new friend ? He is still lying on his back in hospital at the end of the book.
I thought the first two short stories were perhaps only average - but I think that was just me being a bit slow to re-enter the Rumpole world. I liked the story "Rumpole and the Camberwell Carrot" where the Erskine-Browns, Claude and judge Phylida are having a trial separation. Phylida has met someone else, an MP who is always in the news with his outspoken, extreme views - amongst other things, he wants to abolish trial by jury, and lock up first offence drug users. Of course he then finds himself accused of drug abuse, and wants a jury trial !
Rumpole is persuaded by Phylida to represent and defend her boyfriend, the MP. She says she knows of no one in England who has a better chance of getting the MP acquitted. This is not just flattery, she really means it. And indeed, Rumole handles the MP and his case brilliantly - his advice is always spot on. Why on earth is Rumpole not the acknowledged senior at his chambers - Rumpole is a brilliant advocate, after all ! Can people really not appreciate a brilliant mind behind the crumpled clothes.
I know that some of the Rumpole stories are a bit predictable, but go with the flow, relax, and enjoy Rumpole's company.
I still think Rumpole is a treasure, and of course I will read on. I've a good few books waiting on my shelf to read, thank goodness.
Links to author index and home page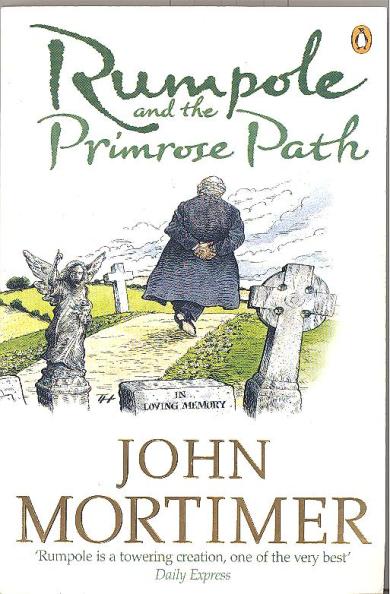 After reading a series of crime novels, it was a pleasure to turn again to Horace Rumpole. John Mortimer really is a good writer. The whole book is such a delight. It's not just Rumpole's conversations that sparkle, but all the little asides and observations that are slipped in, and express everything so perfectly.
The "Primrose Path" is a quotation from Shakespeare. To take the primrose path is to take the final journey from which no one returns - ie to die. Rumpole almost takes the primrose path, and has a heart attack at the Old Bailey, in front of Judge Bullingham - it would be, wouldn't it. Happily Horace is spared this time, and ends up at The Primrose Path Care Home - but this is a place from which few leave. But Rumpole is inspired by the story of a Michael Maskyn, who did escape one night. Like Maskyn, Rumpole also gets dressed at night, walks out the front door, and escapes.
There are a few jokes about memorial services for Rumpole hastily arranged by Rumpole's Chambers. Rumpole spoils all the arrangements by pointing out that he is not dead. However, life does now seem to be a lot quieter for Horace who doesn't seem to be getting as many briefs. Does anyone know that he is still around ?
There are the usual hopeless cases that Rumpole somehow contrives to win at the last minute. There are six short stories in all. I liked "Rumpole and the Right to Privacy" where Rumpole defends a Chief Constable who had previously been on TV complaining that the scales of justice were tipped too far in favour of the defendent. Eventually Rumpole takes on the case, and the Chief Constable walks free. He tells Rumpole that the defensive wiles that he uses are acceptable in this case because Rumpole knows the the accused is innocent. "I know no such thing" says Rumpole. "I hang up such thoughts when I don my wig. I present the best case I can, but leave the jury to decide guilt. It's their job, not mine." I think Rumpole has got it spot on once again.
It's a good book well worth reading.
Links to author index and home page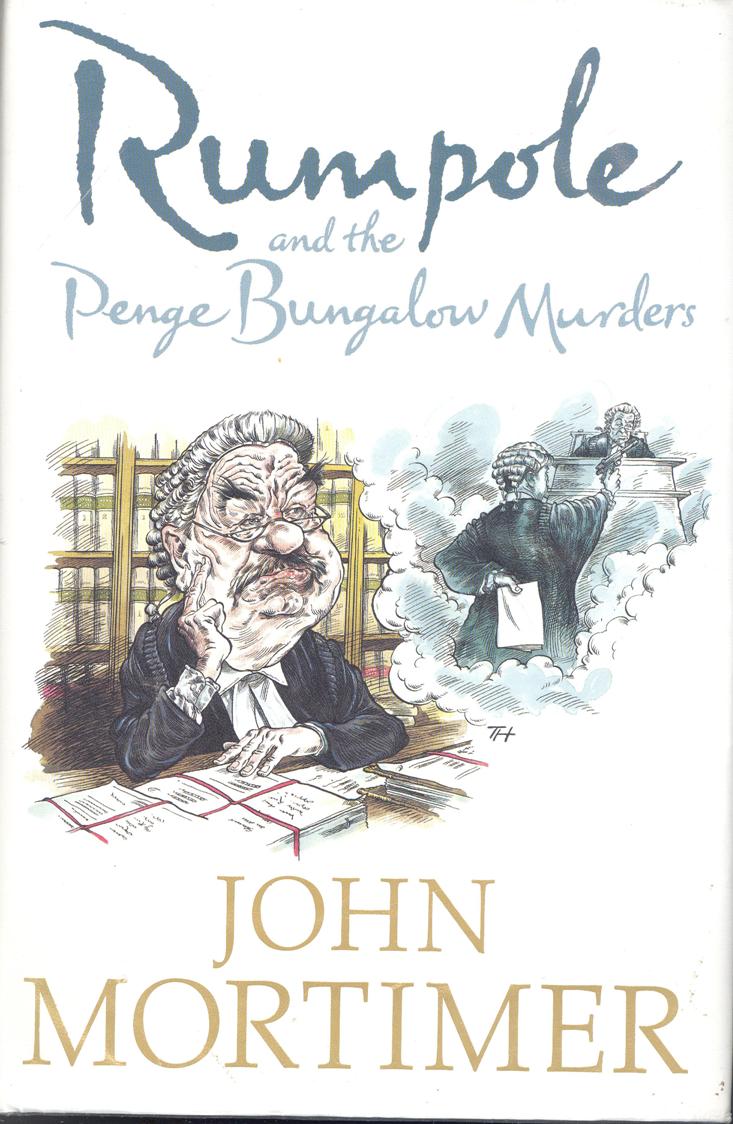 I read this book in March, 2014.
This is book 13 in the Rumpole of the Bailey series by John Mortimer. I am a real addict of the series, but I ration my visits to Rumpole land, Equity Court, Horace and Hilda (she who must be obeyed) by reading one book, reading lots of other books, and only then reading another Rumpole. Sadly I've only got two more books to go !
Usually the Rumpole books are collections of short stories, but this one is unusual in that it is a whole novel. It opens in the present time with Horrace and Hilda going about their normal lives. Throughout these books, Rumpole has always referred to himself with great pride as he who led without a principal in the famous Penge Bungalow murders at the Old Bailey, and who won a famous case against all the odds. So, it comes as a great shock to Rumpole when he discovers that even his close colleagues at Equity Court don't really know anything about the famous case. So, he determines to write his memoirs, and we get to relive the great case in flashback.
Surprisingly, it really was a great case in the main court of the Old Bailey, in front of the Lord Chief Justice, head judge Lord Jessop. Rumpole had somehow taken the fancy of Hilda, daughter of C H Wyston, head of chambers at Equity Court, and she persuaded her father to give Rumpole a chance, and ask him to take notes at the coming Penge Bungalow murder trial as a junior assistant. Wyston had a high reputation as a "safe pair of hands" - ie one who wouldn't rock the boat , or annoy a judge. Wyston proposed to say nothing in defence. Rumpole was horrified, but only very junior, and had no say in the matter. Then Wyston had to be elsewhere, and Rumpole found himself alone at the Bailey for the first time, took on the system, and so impressed the defendent that he sacked Wyston, and asked Rumpole to defend him. In doing this, Rumpole got himself thrown out of Equity Court. Rumpole acted honestedly, brilliantly, and displayed himself as master of the Old Bailey.
As an aside to the famous case, we also discover how Rumpole met the Timson clan for the first time. We also learn how Hilda and Horace got together. Hilda misunderstood the situation, and imagined that Horace had proposed to her (he had not), but then Horace just decided to go along with it.
The whole story is told with great wit. If you like Horace Rumpole , you simply must read this book. It was a little slow to get going, but a few chapters in, and I was hooked. Horace Rumpole is a little like Hamish Macbeth in that both are brilliant at what they do - Hamish solves murders, Rumpole is the best defence lawyer ever - but neither gets the credit their brilliance deserves.
Links to author index and home page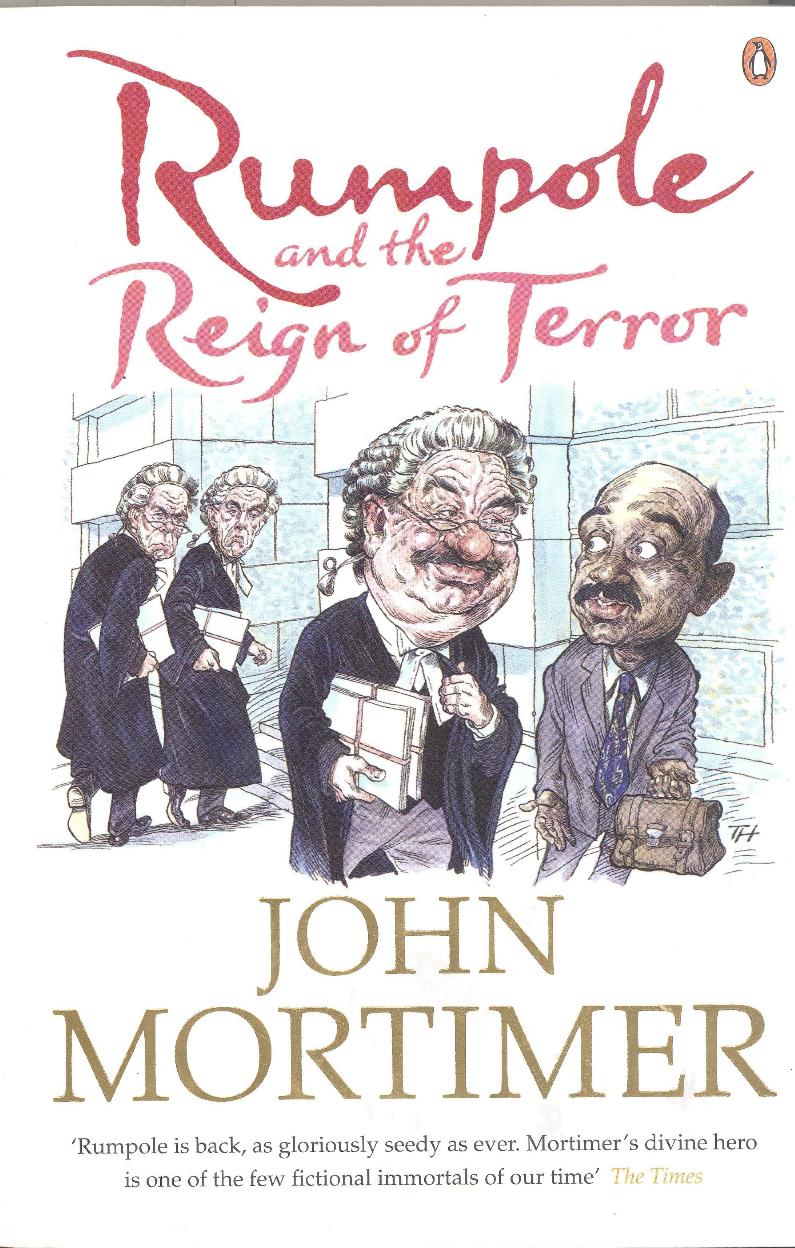 I read this book in June, 2014.
I really like Rumpole. His is a gentle world full of great characters, and the humour is just spot on. I have been rationing my reading of Rumpole to make the series last, but this is book 14, and there is sadly only one more to go. But of course, I can reread the books whenever I want.
This book was published in 2006 - the first book appeared in 1978 - and whilst its the same old Horace Rumpole and Hilda (She who must be obeyed !), the world has moved on, and the theme might be that perhaps Rumpole has been left behind. There is also a serious side to the book. In the story, Rumpole defends Dr Khan, an alleged terrorist - and everyone tells Rumpole not to touch the case. And the accused seems strangely detached and unworried - giving Rumpole doubts that his client may indeed be a terrorist / mass murderer. Special Branch seem permitted to cast aside aspects of the law in terrorist cases, and a lot of the procedures that Rumpole holds most dear seems to have been suspended. Even a terrorist has a right to a free trial by jury. After all, the accused may be innocent, and not a terrorist. John Mortimer's serious point is that the terrorists have won if they force us to abandon habeas corpus , trial by jury, presumption of innocence, etc. I think that Mortimer is right, but perhaps he goes "over the top" a little in this book, and part seems to be a rant. I think he could and should have made the point with more subtlety .
That apart though, it's a good story. Hilda has bought herself a lap top, and is locking herself away in a box room to write her memoirs, unknown to Horace. She wants to tell her side of the story. She is also being neglected by Horace, and is bored by her life at Fosbury Mansions. It seems "Mad Bull" judge Bullingham may be trying to steal her away from Rumpole !
On top of all this, Rumpole is having a wretched time at work. The Timpson clan are upset that Rumpole is defending a "terrorist", and have taken their considerable business elsewhere. Rumpole has been made to appear old fashioned on TV, and all business seems to have dried up.
But of course, Horace is not quite down and out, and it's all sorted by the end of the book, and normal business is restored.
I didn't let John Mortimer's rant spoil the book - it's only a small part of the whole. Not a classic Rumpole, but any Rumpole is a treasure.
Sadly, only one book still to be read !
Links to author index and home page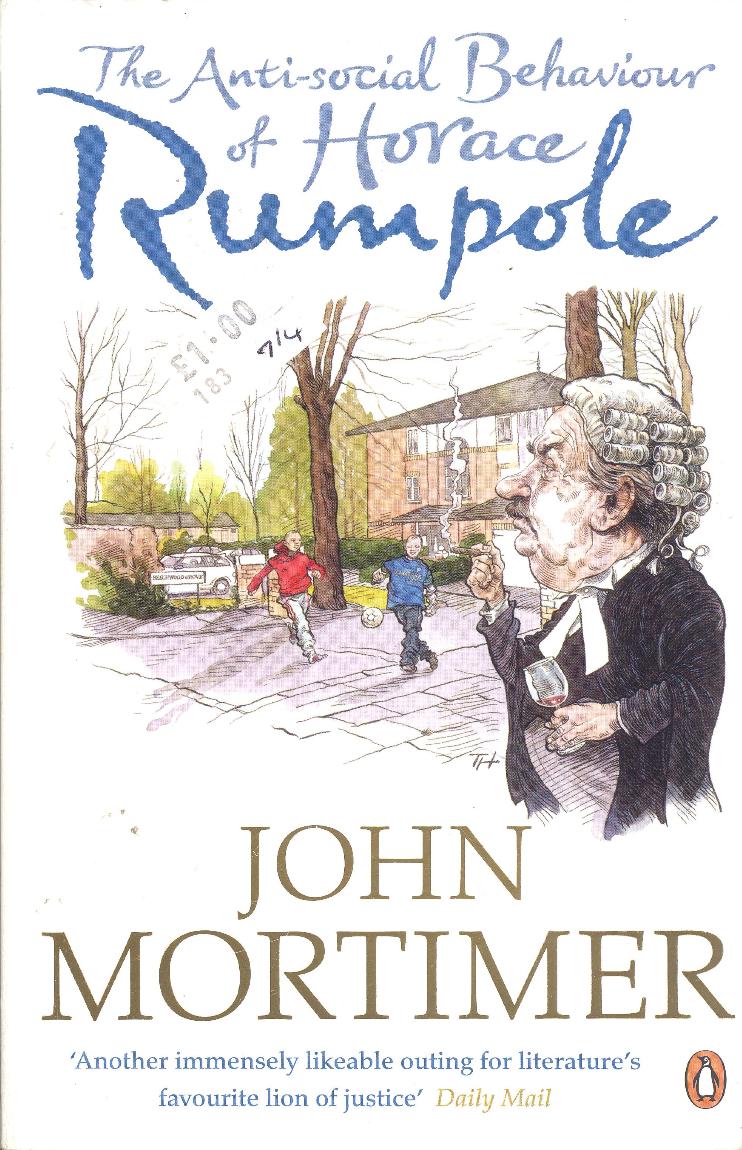 I read this book in December, 2014.
This is book 15 in the delightful series about old Rumpole of the Bailey, by John Mortimer. I had left reading it as a treat - the last Horace Rumpole book for me to enjoy, and I read it when on holiday in Australia in December 2014. Sadly it was only some 197 pages of large print, and I devoured it on the afternoon of Christmas Eve. It has been a terrific series about world weary Horace Rumple, his wife Hilda, Judge Bull Bullingham, soapy Sam Ballard, Claude and Phyllida Erskine Brown, Fig Newton, Bonnie Bernard, the Timson clan, etc, etc.
John Mortimer doesn't sit on the fence, but through Horace Rumpole makes plain his disdain at the erosion of our basic rights. In this case, young Peter Timson gets an a ASBO for playing football in a posh street, and could be sent to jail ( i.e. a young offenders institute) for breaking the ASBO. Peter is 12!
This book is a single story, and the running gag is it seems Rumpole could possibly become a Queer Customer (QC) because Hilda wants to become a lawyer. In this, she is aided and abetted by Judge Bullingham who has taken a fancy to Hilda. Horace seems to have passed all the stages of becomming a QC, bar the final rubber stamping by the Home Office - and then Horace goes and attacks the Home Office in court suggesting that they colluded in the importation of illegal immigrants to work as prostitutes in London.
Rumpole himself is served an ASBO for not being green - for smoking cigars in chambers, and having picnics in his office ( ie having lunch). He has always done it, and is not going to change. Nor is he going to retire. Once again Rumpole wins through, and life returns to normal.
I have now read all the Horace Rumpole books. Usually I recycle my books through charity shops, but some series I have kept ( John Rebus, Morse, etc) and I still have the complete Rumpole series. There is so much new to read that I'm not sure that I will find time to reread old favourites, but never say never.
It's a light hearted, fun series, but built on an underlying integrity, and honesty of character. To quote the Daily Telegraph " Horace Rumpole is one of the fictional immortals, right up there with Sherlock Holmes, and Bertie Wooster."
Links to author index and home page


The Dales Series


The Little Village School Series


The Top of the Dale Series
Gervase Phinn (now Professor Gervase Phinn) is a true Yorkshireman - he was born in 1946 in Rotherham. He taught in a range of schools from about 1970 until 1984, then switched to become an advisor for language development and four years later became a schools inspector with North Yorkshire County Council.
He is married with four grown up children, and is widely known as a lively and entertaining speaker. Catch him if you can in your local theatre if he is touring with his "An evening with Gervase Phinn." In 2004 he won the "Speaker of the year Award." He has appeared many times on television and radio.
Gervase is amongst other things a poet and he has written academic texts. But he is probably best known for his best selling autobiographical novels where he recalls his times as a school inspector in his beloved Yorkshire Dales. He has rightly been called the James Heriot of schools.
The Dales series of books are light reading. There is an easy fluency to the writing and once you dip into the children's world that he describes you are captivated. I envy his power of recall, for we are treated to anecdote after anecdote - mostly humourous, but all life is there too. Gervase has the gift of simple story telling and I enjoyed reading the books.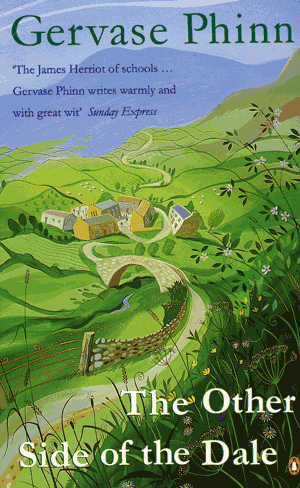 I read this book a few years ago, and liked it so much that I decided to read any other books in the series. My copy of the book has now got lost or rather misplaced - perhaps it's found its way back to a charity shop. Anyway, I have had to borrow an image from the internet once again. Apologies if there are copyright issues.
This is the first book in the Dales series which recalls the first year in Gervase's life as a schools inspector. It was quite an experience adjusting to the slower pace of life in the Yorkshire Dales. An inspector does the inspecting but ends up learning so much himself. The stars of the stories are definitely the children of the Dales - plain talking, they certainly call a spade a spade. Some are bright as buttons, some less academically gifted. But ask a young lad from a dale farm about sheep and you'll get a master class on the relative merits of the different breeds, their hardiness, wool yields, fertility, etc, etc. Who indeed is the expert?
Just read the stories, enjoy them, and do try to visit the Dales before it is all lost. Bill Bryson loved the Dales too - and for what it's worth I like visiting Yorkshire too. It's a pity they don't have better weather - they have plenty weather - often all on the same day.
Links to author index and home page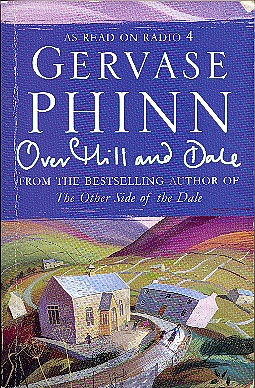 This is the second book in the series, and it continues with anecdotes about Gervase's life in his second year as a school inspector in the Yorkshire Dales. In the first book we met (more importantly as it turns out Gervase met) the lovely headteacher Christine Bentley. Gervase is head over heels smitten. Eventually his work suffers and he can bear it no longer, so Gervase resolves to ask Christine to marry him.

"You do want children, don't you" Gervase asked. "Yes, of course, but not at this moment"
Meet Gervase's fellow school inspectors, meet Connie, the officious Mrs Savage, Dr Gore and of course the varied, unspoiled children of the Dales. Its another good, simple read in a beautiful setting about people worth caring about.
Links to author index and home page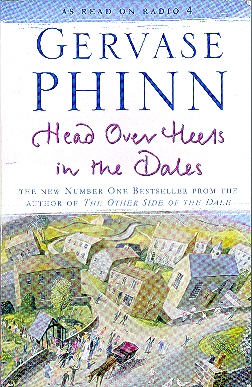 This is the third book in the series and the one in which Gervase marries the lovely Christine Bentley.

Gervase has been a school inspector for over two years now. Harold Yeats, the chief inspector, is retiring. Should Gervase apply for the job, even though he does not really have sufficient experience ? Change does seems to be in the offing - but if it ain't broken, don't fix it!
All the usual characters are there including Connie, the caretaker. As well as repeat visits to the charming infant infant schools of books one and two, we also visit secondary schools - a top rate school and one where discipline is more of problem.
Oh, and the book finishes with a bit of good news for the married Gervase, so setting up book four.
Links to author index and home page


This is the fourth volume in the Dales series, and I greatly enjoyed reading it. Gervase is still a schools inspector, and recalls the characters he meets, especially the children, with warmth, humour, and great affection.
He lives with his wife Christine in a little village in the Yorkshire Dales, but his village school is threatened with closure. Christine is pregnant, this is the school their child should attend, and so Christine campaigns to keep the school open. But Gervase must remain neutral.
All the usual characters are here - fellow inspectors David, Sydney and Gerry, Connie the caretaker, Mrs Savage, Dr Gore's personal assistant, etc. Dr Harold Yeats, the chief inspector, really is retiring this time, but after much thought Gervase decides not to apply for the job. The position is eventually offered to a mysterious applicant - see if you can guess who this might be (I worked it out !)
There are lots of running jokes, plenty of school anecdotes and right at the end baby Phinn makes an appearance at 7 lbs, 10 ozs. All in all a most enjoyable read - and there are lots of stories about sheep.
Links to author index and home page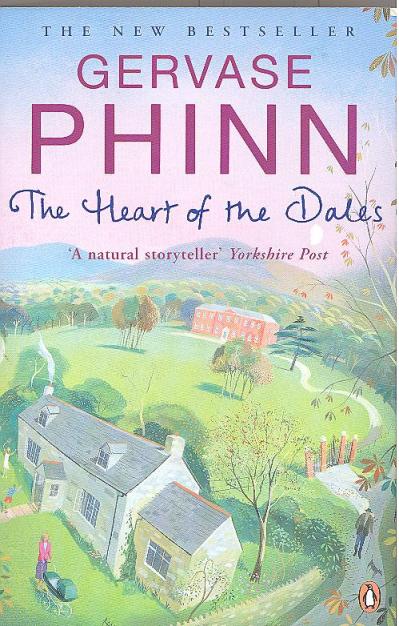 This is the fifth book in the series about the life of Gervase Phinn who worked as a school inspector in Yorkshire. It took me a long time to find a copy in a charity shop, but eventually I found one for £1.50, a bargain really, and money very well spent.
It was a great pleasure to rejoin Gervase and all his friends and colleagues. He loved his life, the countryside, and especially the children he met, and how this shines out from every page in the delightful book. It is such a sincere tribute to the Yorkshire Dales, and a pleasure to read.
All the familiar characters are still here - Connie the caretaker, his fellow inspectors Gerry, David and Sydney, Miss De La Mere, the chief inspector, Mrs Brenda Savage, pa to Dr Gore, etc. But as before, the real stars of the show are the children, and the Dales folk.
As a former English teacher, and a poet, Gervase has a way with words - he writes a good book that is easy to read. There is quite a lot happening. His son Richard is a baby, and the pride of Gervase and Christine's lives. There are school inspections to deal with, bullying issues, teachers coping and not coping, local politics, etc, etc. Gervase's local pub is bought by a "townie" and gentrified, and four of the old regulars banned. There is a happy ending to this story , but unfortunately there have not been similar happy endings for lots of other local village pubs that have now closed.
Although we more or less follow the school year, the book ends as Christmas approaches, and the end of the book seems terribly like the final end of the series. Connie retires, a good local headteacher retires, and Gervase closes with a poetic tribute to the Dalesman.
It's funny, wistful, wonderful, and I really, really liked this book and most of the great characters about whom Gervase writes. I'd love to go for a drink with some of them.
Let's hope there is another book some time. I do know there is one about remembered children's nativity plays that I will need to look for. If there are no more books in this series, thank you Gervase for sharing your love of the Dales with us.
I would recommend this book to anyone - just the perfect antidote and pick-me-up you you will need if you read the Stuart MacBride novels.
Links to author index and home page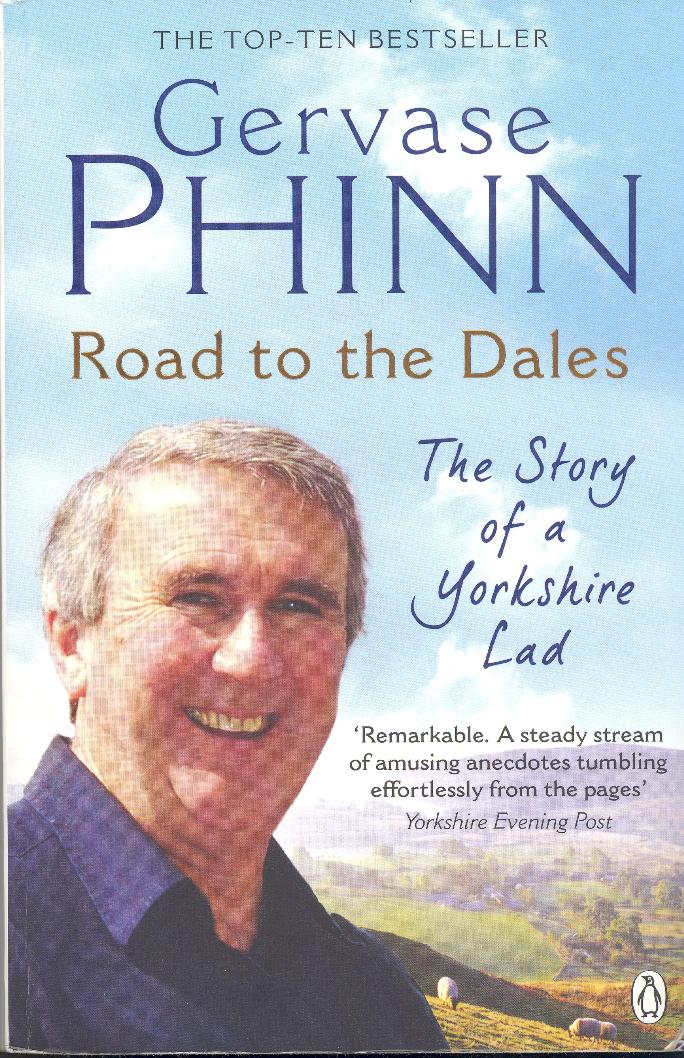 I read this book in April, 2014.
As per the title, this book tells of the early formative years of Gervase Phinn, acknowledges his debt to some excellent teachers, and of course to Jimmy and Pat, his mum and dad, and to his brothers and sister. It sets the early scene up to Gervase graduating for Uni with a degree in education, and so becoming a teacher himself, and then a school inspector, then professor, and author.
I was reminded of "The Life and Times of the Thunderbolt Kid" by Bill Bryson, where Bill told of his early life with extraordinary detail. I really liked that book, and marvelled that he could recall such detail. I can't remember as much detail of my own early life. Gervase writes about his family and schooling with similar detail - but he does reveal that a lot of research is required, and confesses that some of the stories he has been told may not actually have happened !
Gervase seems, in places, to have caught what I sometimes refer to as Edward Marston's disease of writing in lists. We often get long lists of things, but each item is just another word for the same thing. I could mostly do without such lists, but occasional use is OK. I am not referring to proper lists - eg a list of lots of TV programmes that he watched as a boy, sweets he bought, etc. In the Bill Bryson book, a lot of the references were from American culture that meant nothing to me - I couldn't identify with them. But with Gervase, growing up in Yorkshire, there is no such problem. I am some two years older than Gervase, so I remember most of the things he talks about. I do remember the end of rationing, and also the arival of TV - a small black and white picture in a huge cabinet. We got our TV a few years earlier than Gervase, and I remember our front room full of neighbours to see the Coronation. Gervase visited some one elses house to see that.
It's a very honest account of a boy of only "average" intelligence ("not at the top table" ) from a modest home - neither rich nor poor - who failed his eleven plus exam, but then worked very hard, passed his O levels with the help of some great teachers, and then went on to pass his A levels, and so progess in life.
There are lots of parallels with my own life ( and I am sure with the lives of many of Gervase's other readers ), but there is one huge difference in that Gervase's family were staunch catholics at a time when the priest ruled. I was surprising then that Pat, Gervases's mum, considered that a non catholic school would be best for Gervase, stuck to her guns, and was then denied mass for all the years of Gervase's schooling. What a non christian petty act of a foolish priest - Father Hammond.
I liked the occasional verses - always completely relevent - and the frequent comic stories. I agree that the life we lived in the 50's would have shocked modern Health and Safety obsessed experts. And I agree that a lot of good things have been lost - especially the freedom for children to play out by themselves. Are we too protective ? And yet ......
Gervase is a good writer, it's quite an interesting read, and I really enjoyed this book. I don't usually read auto - biographies - perhaps I should. If you liked the Dales series, I am sure you will like this book. Perhaps Gervase will be able to squeeze another book into the gap between his leaving college, when he worked as a teacher, and then the years as a school inspector in Yorkshire, covered by the Dales series.
Links to author index and home page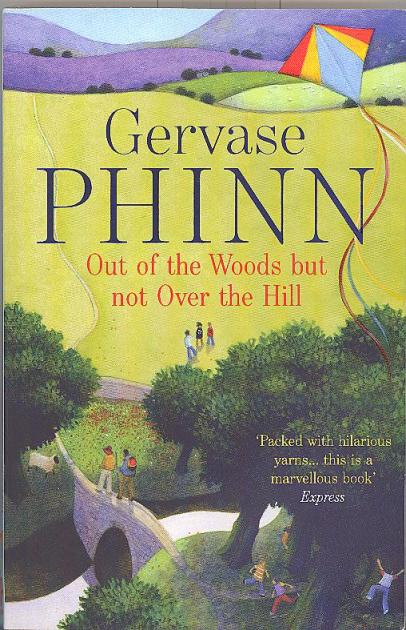 I read this book in June, 2012.
This is a nostalgia trip that I quite enjoyed - Gervase and I are much the same age, and when he remembers his childhood, it also reminds me of mine.
The book is split into about 10 chapters or sections - section 1 being "When I was a lad", and section 10 being "It's a funny old World : Health, Life and Death", and in between, we have Gervase's reminisces about schooldays, starting a family, an eulogy about Gervase's beloved Yorkshire ( and why not ?), and on becoming famous.
I didn't enjoy the book quite as much as the early books about his life as a school inspector in Yorkshire, but there are plenty humerous incidents, and quite a few opinions on all sorts of things - to agree with or not as you please. Gervase would be a good companion with whom to have a drink in a pub - I'm sure I'd love his company.
There is a section about the Critics in the book, where Gervase is introduced to an audience with "his books won't win a Booker or Pulitzer prize for literature, but if you want a light hearted, entertaining holiday read, look no further." I would agree with this, but Gervase goes on to explain that such faint praise can sometimes rankle a little. He takes it all in his stride of course, but does remind us of the response to such criticism by a fellow author "Critics are like eunuchs, they like to tell you how to do it, but are incapable of doing it themselves". How very true. I have quite free with my opinions in this book section but have never had a book published in my life.
I would suggest that you read the early books first, and if you enjoy them, then you will probably enjoy this book. OK, it's not in the top 10 of my favoursite books - but so what. I enjoyed reading it.
Links to author index and home page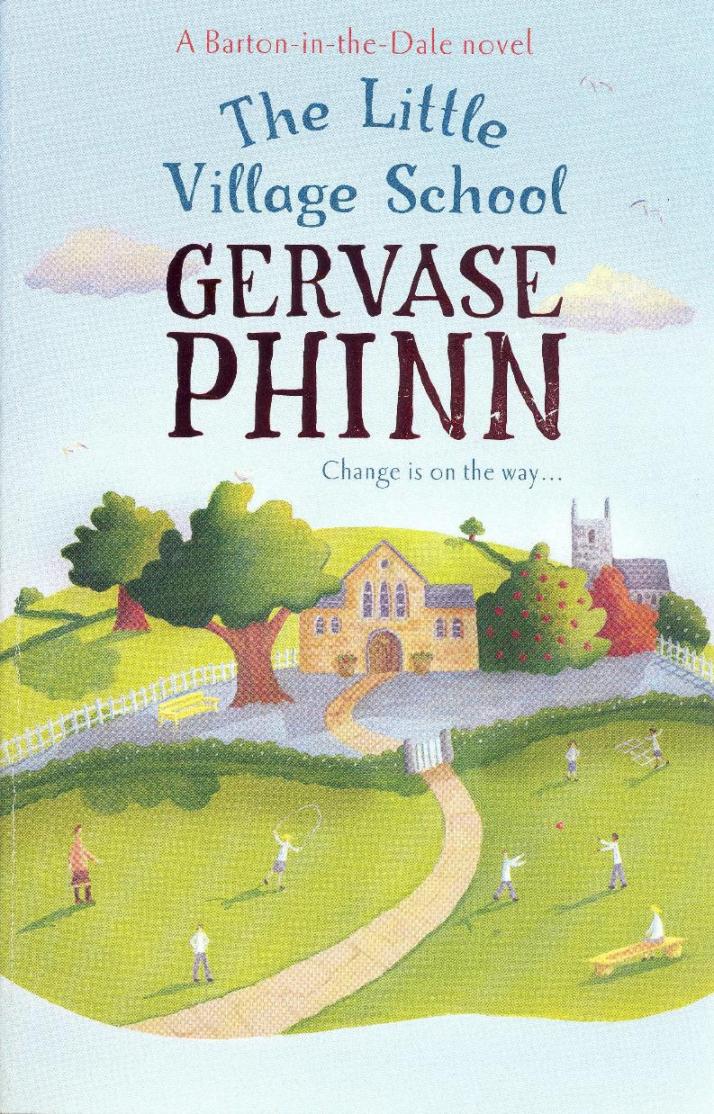 I read this book in June, 2014.
This is book one in the Village School series set in rural Barton in the Dale in the Yorkshire Dales. For those who have read the School Inspector series, it is very much more of the same. There is a bit of a plot about a village school headmistress , Elizabeth Devine, appointed to turn round a failing village school recently rated very poor in an inspector's report. She meets lots of opposition, but wins through in the end.
There is a little bit of mystery too. Why did Elizabeth give up her very successful headmistress position in a good town primary to move to sleepy Barton in the Dale ? There is a good reason, and we find out half way through the book. There is also the possibility of romance. Elizabeth is divorced, and the local doctor is a very lonely man since his wife died a few years ago. Will anything come of this ?
The local authority seem to want to close down the village school - so Elizabeth has a fight on her hands. But mostly, the book is another chance for the author to recount / retell lots of funny stories about the ways and sayings of young children. Some of the stories seem familiar to those of us who have read the School Inspector series.
It's quite a harmless little, light book. The plot is OK, but a bit predictable. I went through the book guessing what was going to happen, and mostly I was right. But I liked the humour, and I did like the characters that Gervaise had created. There are some sad moments too - but it's all well handled by an experienced and competent writer.
The author is not going to win any prizes for fiction book of the year, but is was OK. I wasn't captivated, but it did hold my interest. I quite liked it, and I'll read the others in the series. Gervaise obviously knows the subject, and we are in safe hands.
Links to author index and home page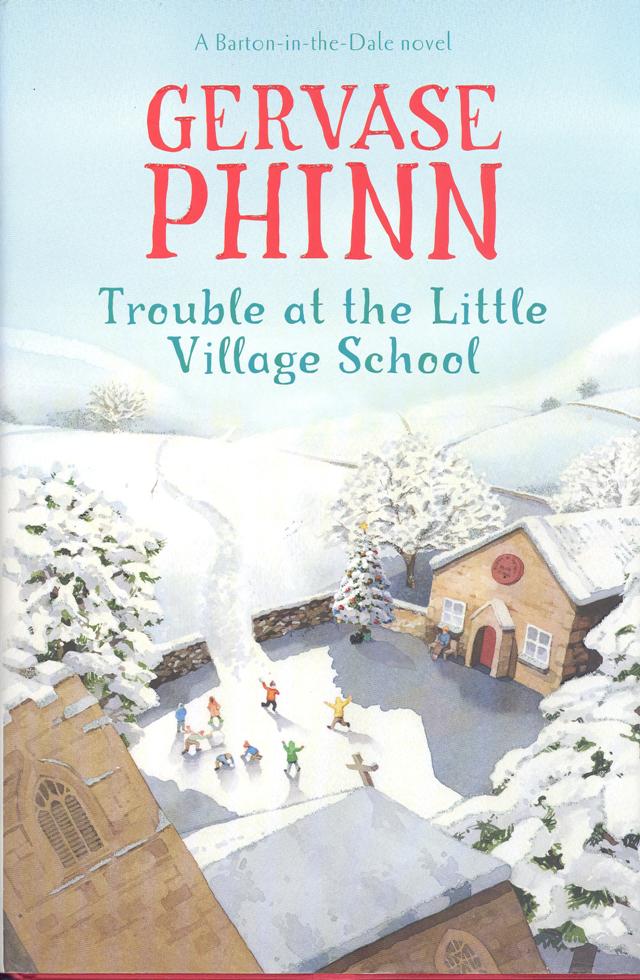 I read this book in March, 2016.
This is the second book in Gervase Phinn's Little Village School series, set in Barton in the Dale, a rural village in the Yorkshire Dales. Elizabeth Devine is the very able head of the village school, and we follow her fortunes as she champions her school against all sorts of troubles, and we also follow her personal story. In book one she met the village doctor Dr Michael Sterling and they got along very well - both were lone parents, Michael's wife had died in a riding accident leaving him with a young son James, and Elizabeth's husband deserted her for someone else, unable to cope with the fact that their young son John was severely autistic, and needed special care. It's a couple of years since I read "The Little Village School", and I'd forgotten what a charming series of books this is.
Having saved the village school from closure in book one, we now have the promise of a new term, with morale high, the school bright and cheerful, and possibly life smiling on Mrs Devine. Sadly there is a shock in store - the school is not closing, but amalgamating with the neighbouring school. The two head teachers do not get on - who will be in charge under the new set up ?
Elizabeth's romance with Dr Sterling is moving at a glacial pace, and then a new attractive lady curate Ashley Underwood arrives in the village. Has Elizabeth got a rival, and who will win out ? We get the answer by the end of the book, but you will need to read the book to find out.
There are all sorts of other new characters to meet - eg Elizabeth's friend the financially constrained Lady Wadsworth,and the "gypsy" Emmet O'Malley, with his young daughter Roisin, who arrive on the scene and are staying in a caravan in Elizabeth's paddock. And there are lots of sub plots - the strongest being the story of poor young Danny Stainthorpe. He had been living with his granddad until the old man died, but then was staying with his best friend James Sterling, whose father Dr Sterling was hoping to adopt him. Danny is really settling down, is helpful and a delight. But then his grandmother whom he has never met turns up, and demands that Danny leave the country, his ferret, and all his friends and goes to live with her in town. Poor Danny is distraught. This is another story that is resolved by the end of the book.
There is a lot in these books that is familiar from the Dales series. The village storekeeper muddles her words, children say the usual funny things that children say, problems appear and are solved, there is a school year to follow, and the main characters have a romance. I'm not complaining that it is more of the same, or that it's familiar territory - it is simply Gervase drawing on his wide experience, and writing about a subject in which he is an expert and for which he has an abiding love.
Usually I am reading some crime fiction series, and trying to work out "who done it." I like this series as a change - it's very well written, a joy to read, not very demanding but full of the feel good factor. It's life in the country, and it's charming. Roll on the next book in the series.
Links to author index and home page


I read this book in April, 2016.
This is the book three in Gervase Phinn's Little Village School series. It is set in Barton in the Dale, a rural village in the Yorkshire Dales, and follows the story of Eizabeth Devine, the very able head of the primary school. The title is not misleading, a school inspector does indeed call, a Mr Steel, but it is not really a major event. Elisabeth runs a good school, and Mr Steel confirms this in a mini visit.
It is a gentle, feel good book, and Elisabeth Devine wins through against all kinds of mini dramas and troubles - so far. We also share the village gossip, and what is happening to lots of characters we met in books one and two. The major story is that the village school is being amalgamated with Urebank, the neighbouring village primary school. All the infants will be at Urebank, and the older children will be in Barton in the Dale. Mrs Devine will be the headmaster of the joint school, with the former headmaster of Urebank, a Mr Richardson, her deputy. Richardson is a nasty piece of work, a bully, and, furious that Mrs Devine has been preferred to him, he is sullen, and unco-operative. How can Elizabeth blend two schools together if Richardson, and his buddy Mr Jolly, refuse to work for the greater good. We will need to wait for book four to see what happens.
Romance is in the air. Elisabeth marries Dr Michael Sterling, and his two sons, James, and the to be adopted Danny, are delighted. In the previous books, the local vicar, the Rev Atticus, was promoted to be archdeacon, and a young, vivaceous lady curate Dr Ashley Underwood appointed to take care of the parish, pending the appointmant of a new vicar. She now has two suitors - Emmet, the odd job man who works for Lady Wadsworth, and Giles, Elisabeth Devine's brother who has arrived for the wedding. He is a wounded war hero. Who will win - another one for book four?
The new vicar Rev Sparshott is a dour opposite of Ashley, and he criticises all the good work she has done. How can she work for such a graceless man, and can the church afford to lose such a talent as Ashley - yet another sub plot for book four ? There are all sorts of other little stories - the story of Robbie, a very rebellious child new to the school, runs all the way through the book. Everyone thinks he should be sent to a special needs school, but Elisabeth refuses to give up on him.
A lot of the humourous incidents are more of the same from the School inspector series. The village storekeeper is the Connie character, mixing up her words. And once again a village schoolboy whose parents have a farm knows all there is to know about sheep - whilst the posh adult visitor is portrayed as ignorant because he doesn't know his tupps from his mules.
All in all, though, I found it an a enjoyable read, and of course I look forward to book four to see what happens next.
Links to author index and home page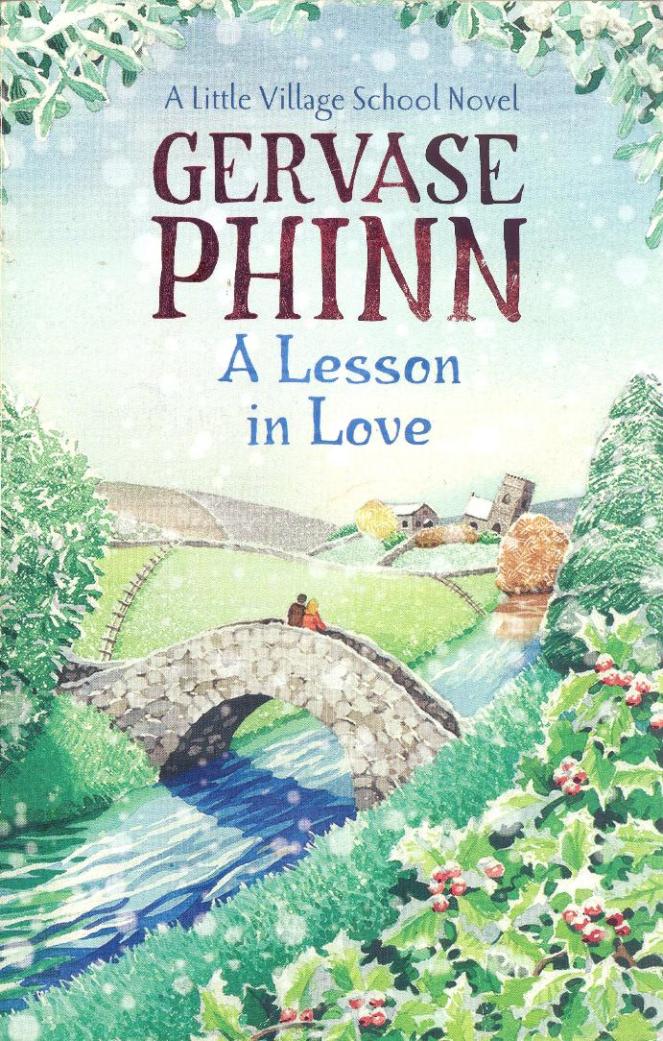 I read this book in July, 2016.
This is the book four in the Little Village School series by Gervase Phinn. As before it is still set in the little village of Barton in the Dale in the Yorkshire Dales. We follow the story of Eizabeth Devine, the very able head of the primary school. But there are all sorts of other stories that we follow too - in fact all the day to day events in Barton in the Dale. Usually I read crime fiction and expect not to know what is going to happen next. This is a lot lighter, and it's so obvious where the mini plots are heading that at one stage I wondered if I'd read the book before. It's a typical ex school inspector book, and Gervase has a huge data base of humourous incidents and sayings to draw upon. Gerevase writes simply and well. I liked the book - it's good for me to get a change of reading material.
It's a real feel good book, and most of the stories soon come to a happy ending. Elizabeth is now married to the village doctor - Dr Sterling. Elizabeth's son John is in special care, but manages to make some progress, and is able to cope with a home visit for the first time - eventually. Dr Sterling's two boys, James and the adopted Danny are now in secondary school. James is academically bright as is doing well at the local comprehensive. Danny is an outdoor country loving boy, less academically gifted, and the comprehensive experience is not so good for him - not that he complains.
The previous vicar is now an archdeacon, and his replacement, the Rev Sparshott is a dour character lacking in social skills and with a gift for plain speaking, and antagonising people. His curate Ashley Underwood leaves to work for the local bishop. Ashley figures in the romance section of the book. She and Emmet O'Malley have fallen in love, but neither tells the other of their feelings, and the course of true love does not go smoothly, with lots of missed chances. But it's a feel good book, so all comes well in the end. Danny is a great little character, and manages to charm even the Rev Sparshott. They share a love of fishing.
There are problems to be dealt with at the school. The amalgamation is going well, and luckily the other former headmaster who resented Elizabeth has resigned, easing the position for her. Most of the teachers Elizabeth inherits are able. Mr Hornchurch is a brilliant teacher, and he and the studious Oscar get on very well. He is even teaching Oscar latin at lunch times. Sadly Mr Jolly is not doing quite so well. He has settled in, but his lessons are boring - he can't enthuse his pupils. The situation is resolved by the end of the book.
Up at Limebeck house Lady Wadswoth finds another treasure in the attic (or rather her butler does), and it's sale allows Limebeck House renovations to continue. But the Rev Sparshott does not want Lady Wadsworth's commemorative window in his church. Lady Wadsworth complains to the bishop - he adds it to the growing list of other complaints about the new vicar.
Elizabeth also inherited a problem pupil - Ronnie - when the schools amalgamated. Everyone says he should be in a special school - but Elizabeth hates to give up on any child, and perseveres. Ronnie has had a difficult life, and his mum put him into care when his father said either he goes or I do. We follow Ronnie's story along with all the other ones.
The village store is the source of all the local gossip, and three old biddies seem always to be there - Mrs Sloughthwaite, Mrs Peacock and Mrs O'Connor. Sometimes their gossip advances the story lines, and is a way of telling us the latest village news. But sometime they are just talking for the sake of it. I thought a lot of their conversations tedious, and should have been pruned from the book.
All in all though, I enjoyed reading the book. Usually I end by saying that I look forward to reading the next book in the series, but I am not sure if there will be a next book. There is a summing up at the end of the book, that tied up all the loose ends, but didn't lay the plot for the next book. We shall need to wait and see.
Links to author index and home page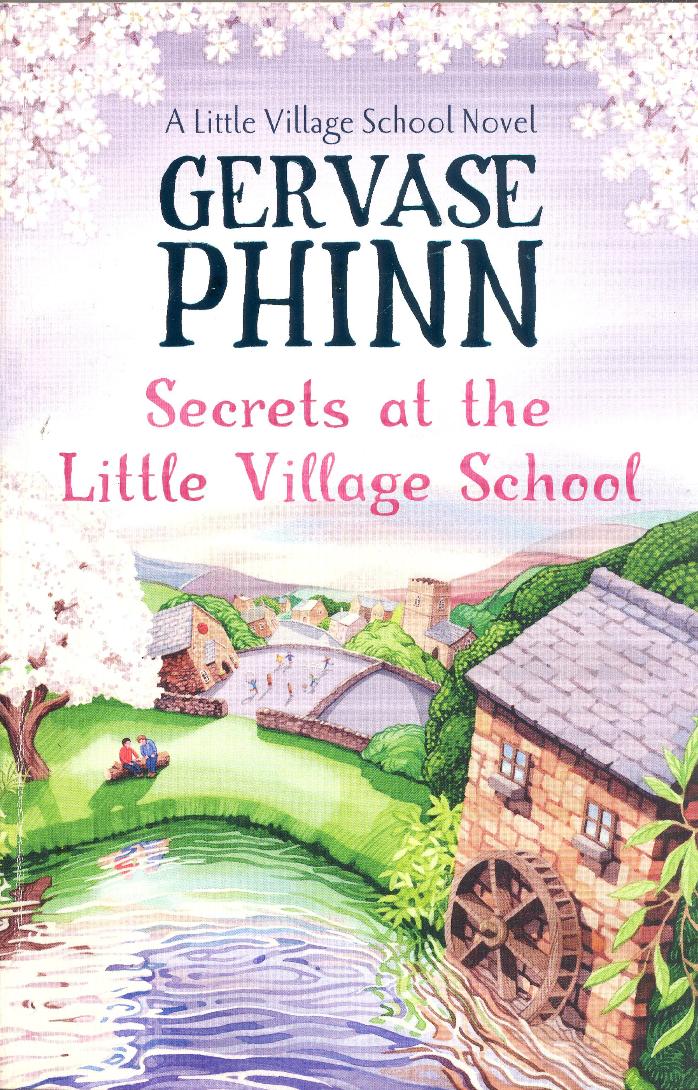 I read this book in March, 2017.
This is book five in the Village School series by Gervaise Phinn, and its very much business as before. I thought book four might have been the last in the series, as it tied up a lot of loose ends and didn't set up the next book - but I was wrong. On this basis there must be a book six, as Elizabeth has good news for Michael at the very end of the book, so we must read on to see what happens next, both for Elizabeth and her family, and for the village school.
It's definitely a feel good series set in an idealised village in the Yorkshire dales, a quiet village, yet one that supports a pub, a village stores, a bakers, a butchers, and a greengrocers. The first quarter of the book is taken up with reminding us of who is who in village life, and giving a mini summary of their various stories to date. Not much of import happens in the first half of the book, and I thought the author was coasting, but once we got going with the main story - the wedding of Ashley Underwood with Emmet O'Malley, things looked up. Dr Underwood is now the vicar at the local church - the previous vicar who didn't really fit in went off to be a missionary in Africa - and we learn a bit more about Ashley's background. She had a poor childhood - her mum was a sour character, and mum and dad were always quarrelling before dad left and abandoned poor Ashley. Now Ashley and Emmet have found true love, but Emmet has a secret that he has not shared with Ashley, and when it comes back to haunt him he has to apologise to Ashley for not telling her sooner.
There are lots of little stories and mini dramas. Two adopted or about to be adopted boys seem to be going off the rails again. Robbie Ross gets involved in a fight at school, and that is behaviour that the headmistress Elizabeth Stirling cannot tolerate. And lovely little Danny Sterling is also in trouble at his new secondary school - he saw who threw eggs at a teachers car, but will not say who it was. The village gossips still hold forth in the village store - there are no secrets in Barton-in-the Dale. And Lady Wadsworth is still a formidable presence - she goes up against a Lady Urquart in the Emmet O'Malley story, and there are no prizes for guessing who prevails. And Oscar is still at the village school, with his remarkable "old head on young shoulders." Someone has been defacing the school with graffiti - Oscar does some detective work, threatens the culprit, and quietly resolves the problem.
There is a new pupil at the village school who seems too good to be true. His dad tells Elizabeth that he has heard nothing but good about the village school, and asks that his son Jeremy Robinson be enrolled there. He doesn't tell that Jeremy was expelled from his last school, nor why. The situation is resolved by the end of the book.
Of all the other mini plots I should mention the Emmet story again, in that Emmet's daughter Roisin gets caught up in it all - Lady Urquart has not turned up to see Emmet, but to claim custody of Roisin.
Its a good escapist story, set in a lovely traditional English village, and with lots of good characters. Reading it makes a pleasant change from the usual crime series that I read. I think in small doses, its good, enjoyable fare. And I do want to read on to see what happens next, but there is no great rush to do so.
Links to author index and home page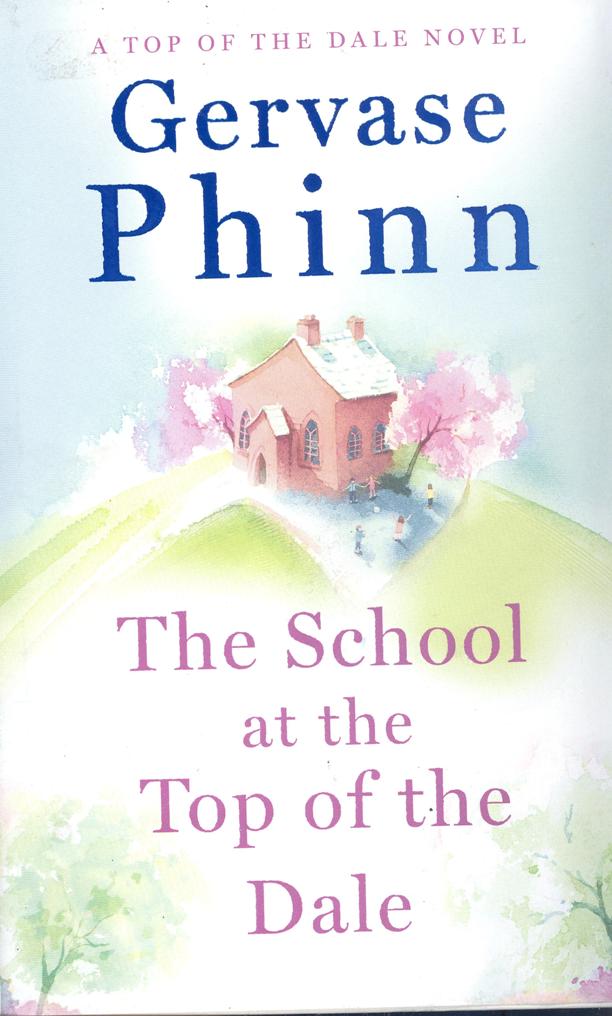 I read this book in August, 2017.
This is book one in a new series by Gervase Phinn - the "Top of the Dale" Series. It's about life in a village school - a subject where Gervase is an acknowledged expert. Detractors might say it's another chance to repackage a lot that has gone before, but it's all done so cleverly, with great wit and above all affection for the subject. I thought it was a lovely little book with a new set of terrific characters and already I look forward to the next of the series.
The book is set in Risingdale, an idealised little village isolated at the very top of the Yorkshire Dales, so it is set in stunning scenery. Risingdale is not far from Barton-in-the-Dale which features in "The Little Village School Series", and this book follows on from "Secrets at the Little Village School" . The hero of our tale is Tom Dwyer whom we met before. He is the former professional footballer who was a trainee teacher under Elizabeth Stirling at "The Little Village School." Small village schools had been closing, and in new appointments preference had to be given to redeployed teachers - so Elizabeth was unable to engage Tom, much as she would have liked to. Tom has been doing supply teaching, and longing for a permanent position, applies for a vacancy at Risingdale school. Risingdale is so cut off that it turns out that he is the only applicant, but he doesn't know that at the time. Rushing not to be late for the interview, his small sports car rounds a bend, sees a horse and rider in the path, and Tom swerves into the ditch. And so our hero meets haughty Janette Fairborn - and yes, of course, after many a false start, I'm sure Tom and Jan will get married - but of course not in this book, and I'm way, way ahead of myself, and what do I know ?.
Since we have mentioned Elizabeth Sterling, of course she is mentioned in this book. She is pregnant at the start of this book, and has a little baby by the end. She also eventually offers Tom a permanent position teaching at Barton in the Dale, but by that time Tom has fallen in love with Risingdale, and simply cannot leave and let his pupils down.
Mr. Gaunt is the head teacher at Risingdale, and arrives for the interview even later than Tom - he had been off rounding up some of his sheep. Mr Gaunt is very laid back - he leaves all his teachers to get on with things, but as the book progresses we and Tom realise what a kind man Mr Gaunt really is. Tom's colleagues are interesting characters, and there are some lovely children for Tom to get to know. Of course they all know a lot more about sheep than Tom ever will, some are gifted, some are troubled, some have had a hard and lonely life and all have tales to tell. It's a warm and funny portrayal and is done really well by Gervase.
Risingdale has a pub with a landlady and a daughter (where Tom lodges initially), a church (Mr Pendlebury is the vicar), a village store, a local squire with a dreadful wife and spoilt son, local character farmers, etc, etc. So its a rich cast and lots of potential. Clayton is the nearby big town. Tom is a friendly fellow, we warm to him, and want him to do well. We also warm to the children under his care - Charlie (bright), Carol (champion shepherdess), Vicky (chatterbox), David (working hard), Marjorie (good at sums), Simon (and his ferret) and Colin (surly, no mum, troubled, gifted artist) - all have tales to tell. And of course there is a school nativity play and all the stories and humour that holds.
It's an action packed story full of humour and misunderstandings, a threat of closure, setting up a new home for Tom, and so on. And of course what might the future hold for Tom and possibly Janette ? We must read on.
Links to author index and home page


I read this book in June, 2021.
This is book two in the 1980s set Top of the Dales school / village series by Gervase Phinn, and it was a pleasure to be reacquainted with the main character Tom Dwyer, the "new" young teacher and all his colleagues at Risingdale school in the Yorkshire Dales. Naturally ex school inspector Gervase paints a loving picture of primary school life and the Dales people. We get to follow not just Tom, but lots of local characters :
The teachers at Risingdale school are Bertha Golightly (infants), Owen Cadwallander (chief biscuit muncher) and Joyce Tranter (seeing Julian Samson) - both take lower juniors - and of course Tom Dwyer (top juniors). The headmaster is Mr Gaunt, the caretaker is Mr Leadbetter whose wife is the school secretary, and the cleaner is Mrs Edna Gosling. The school has never been cleaner but Edna is not popular, always nagging the teachers to be tidier, and speaking to them as if she were their supervisor and they were infants. There are two churches in Risingdale - Rev Michael Pendlebury is the vicar of the main church, and Mr Cockburn of the methodist one. Doris Mossup is the landlady of the village pub, the King's Head. It's not locally known, but it was the local squire's no good son James who got the pub's barmaid / landlady's daughter Leanne Mossup pregnant - she had to leave the village in disgrace to have the baby. The local squire is a good man, Sir Hedley Maladroit, but he is unhappily married to Marcia Maladroit. She doesn't love him (never did) but is a snob, loves status, and refuses to give Hedley a divorce. Hedley found love elsewhere with Mrs Lister, with whom he had a child Charlie Lister who is in Tom class at school. Hedley provides everything for the Listers including their cottage in Rattan Row.
The nearest town to Risingdale is Clayton with the Ring O' Bells tearoom, and the neighbouring village is Barton-in-the- Dale where Mrs Elizabeth Stirling is the popular, and very successful head teacher. Her husband is Dr Stirling. An on going theme in the series is the fear of closure of these splendid little village schools. There are rumours that Risingdale school may be closed, but there is a teaching position about to become free at Barton and Mrs Stirling has told Tom that it is his if he wants it, but Tom loves life in Risingdale, the school, and the Dales characters that populate the place. At the start of the story, Tom is still courting Janette Fairburn, a local farmer's daughter and is about to propose to her when she stuns him and shatters his life. She has accepted promotion and is off to work at a main bank in Nottingham. Worse, she tells Tom that she thinks it best if they both go their separate ways. Tom tells his Auntie Bridget, who brought him up, how upset he is, and she consoles him that he is the most eligible young male in the Dales, and Janette may come to regret her actions - how precient !
The book opens with an unknown woman in a Range Rover sitting with her son Leo outside a bleak looking (only on the outside) building. It's Risingdale School and Leo is persuaded to visit it. She is Mrs Amanda Stanhope, a usually London based artist of international repute, who has received a commission to paint life in the Dales. She is now living in Risingdale, and renting the old methodist chapel as a studio. Mrs Stanhopne is intelligent, charming, a stunning beauty, and all men who meet her fall in love with her. She and Leo are highly impressed with Risingdale school, its ethos, the children's paintings, and with Mr Gaunt, and of course Tom Dwyer who will be Leo's teacher. Tom too falls in love with Amanda and this is one of the main plots - will Tom marry Amanda, or will Janette return ? He finds he is in love with two women - how will he chose (more advice from Auntie Bridget). A complication is that Leo and Tom really bond. Tom had asked Charlie Lister to look after Leo, and for the first time in his life Leo had a best friend.
And so lots of pesonal lives stories unfold : Mrs Goslong, the school cleaner, used to work at the big hall, for the Maladroits, but was dismissed by haughty Lady Maladroit when her necklace went missing. It later turned out James stole the necklace, James was sent away (remember he also got Leanne pregnant) but Mrs Gosling never got an apology. Poor Leo Stanhope has a (benign) brain tumour, but he wants to lead a normal life. Although he has misgivings, Tom asks Leo if he wants to play football and he says yes. Sadly he is deliberately fouled by Charlie Pickles, falls, bashes his head, is ambulanced unconscious to Clayton hospital, appears to recover, but has a relapse, and his life is threatened. Tom and Amanda grow close as Tom consoles Leo's mum, who blames no one.
Lets mention a few more of the subplots before leaving you to read the book. Colin Greenwood lost his mum, his dad Richard took to drink, and Colin to bullying, but was rescued by Tom who discovered Colin had a real talent as an artist. Tom asks Mrs Stanhope to tutor Colin. Teacher Joyce Tranter's abusive ex husband Stephen tracks her down to Risingdale. Farmer Toby Croft, who is always scrounging free beers in the King's Head, leaves all the work to his son Dean who gets supervised and criticised but never praised nor thanked. Mrs Sloughthwaite still dispenses gossip in Barton village store and still gets her words in a muddle. Mr Firkin who is also a local undertaker is a source of many funeral humourous anecdotes. But of course the children are the main source of a lot of the funny stories that pepper this book. As an aside we learn that James is not Hedley's son, and so little Charlie is not really Hedley's grandson.
By the end of the story the Tom / Amanda / Janette triangle is mostly solved, as is the squire Hedley / wife Marcia / Mrs Lister triangle. I have said more than enough - read the story, its a great evocation of 1980's school and Dales life. I look forward to the next visit - there are other runners in the who marries Tom Dwyer stakes that I have not mentioned.








Links to author index and home page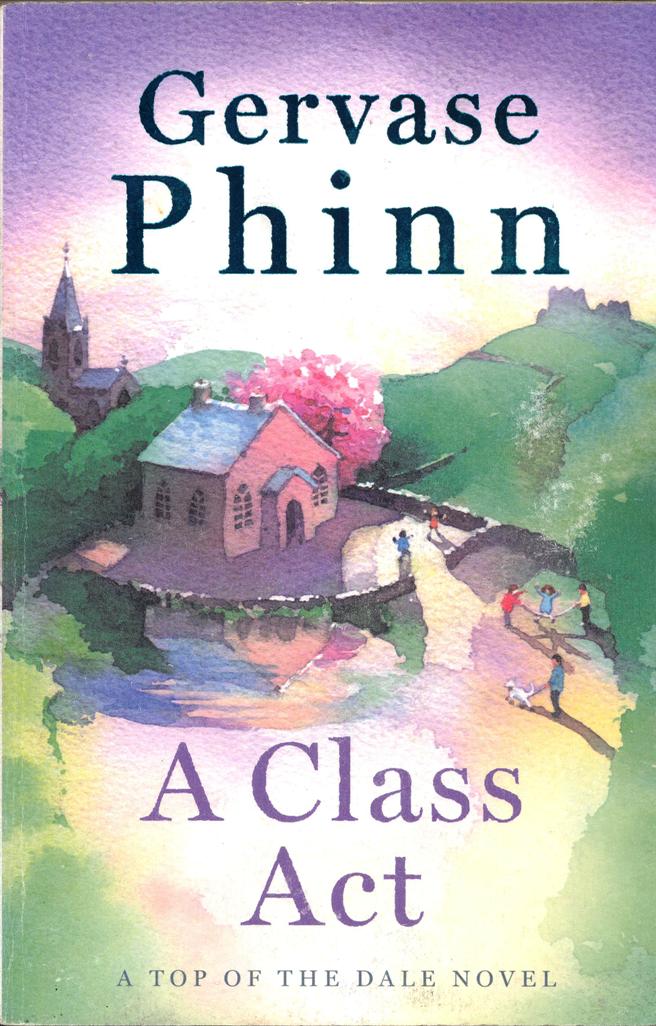 I read this book in June, 2022.
This is book 3 in the Top of the Dale series by Gervase Phinn, and so it's another visit to Risingdale in Yorkshire, "God's Own County." The location is proudly celebrated with white roses galore, and a nod to Yorkshire Day, August 1st. We are mostly back in the village school to follow the lives and loves of it's seven staff - Mr Gerald Gaunt(63), headmaster, the 4 teachers - Mrs Bertha Golightly, infants, Joyce Tranter, 7 to 8 year olds, Mr Owen Cadwallander, 9 year olds, and Mr Tom Dwyer, top juniors - Mrs Leadbetter, school secretary, and Mr Leadbetter, caretaker. There should also be a school cleaner, but Mrs Gosling left to work for Sir Hedley Maladroit at Maston Towers, and it is proving difficult to find a replacement because of the remote location. Mostly we follow the adventures of Tom Dwyer, former professional footballer, but retired because of injury, and now, fully retrained, he is in his first year of teaching, and making a splendid job of it. There are lots of other characters too - Sir Hedley, his wife Marcia, but they are divorcing, his cleaner Mrs Gosling, his very good friend Mrs Christine Lister, her son (and Sir Hedley's too) Charlie (in Tom's class), Mrs Doris Mossup, owner of the local Kings Head pub, her daughter Leanne, pregnant by the no good wastrel James Madaroit who was killed in a road accident 3 weeks before this book opens, Toby Croft, lazy farmer who spends all his time in the Kings Head, his son Dean, under gamekeeper for Sir Hedley, and Richard Greenwood, head gamekeeper to Sir Hedley. We also stray occasionally down the dale to Barton-in-the-Dale, were Mrs Elizabeth Stirling is still the headmistress, and dedicated gossip Mrs Sloughwaite still runs the village store, the major is a character, and Dr Prendlebury is the long winded vicar. Of course, as it's a Gervase Phinn book, there is a lot of humour, children's funny sayings, and I particularly liked the varied quotes from poetry. All in all, a thoroughly enjoyable read.
The book opens with Gerald Gaunt deciding to retire after 30 years as headmaster. With lots of village schools closing, quite a few teachers will have to be be redeployed. The local authority has written to all headmasters over 62 offering early retirement on full pension and a generous exit package. Gerald has decided teaching is not what it used to be, with too many petty new rules and regulations being issued by the local education authority. He and most of his teachers have decades of experience, are good at their jobs, and achieve excellent results. He later complains "it's like trying to teach your grannie to suck eggs". He tells Sir Hedley, Chairman of the School Governors, of his decision. It will mean changes at Risingdale village school - Tom will probaly take it in his stride, but the other teachers are somewhat set in their ways.
There are lots of sub plots, but I will mention just a few, starting with Sir Hedley and Mrs Christine Lister. After her son James's death, Marcia Maladroit left Hedley saying she had never loved him and thought Risingdale a backwater, and went to live with her sister Daphne in London. They are divorcing, and Sir Hedley has never been happier. He wants to tell everyone about about his long running relationship with Christine, and that Charlie is his son, but Christine suggests they wait until after the divorce. Whilst in London, Marcia had attempted to renew her friendship with the boss of the art gallery where she used to work. She had an affair with him, and James was the result, (but she never told Hedley). Now her former boss can't get rid of her fast enough. Also Marcia has not proved a welcome house guest, treating her sister as a servant, and not helping in any way. Daphne suggested Marcia find a place of her own. Friendless and missing the servants and comfort of her former life, she goes back to Marston Hall and tells Sir Hedley she is prepared to return on certain conditions. Hedley is a kind man, and very gently he tells her that there can be no going back. He will be generous in divorce and set Marcia up in her own flat in London. However fate has a different plan. Against her sisters pleading, Marcia ignores a festering gardening wound, develops blood poisoning, is rushed to hospital, the condition deteriorates quickly, and Marcia dies. Hedley, Mrs Lister and Charlie had all arranged to to have a break together in Scarborough - instead they have a quiet wedding with Charlie as the best man, and return married.
Various other plots concern love lives. Years ago Gerald Gaunt had been seeing the local vet Moira MacDonald, but they parted to pursue their separate careers - Gerald in Risingdale and Moira in a practice in Glasgow. Now Moira has returned, and she and Gerald have rekindled their friendship. Tom Dwyer's former girlfriend Janette Fairburn, the true love of his live, also returns to Risingdale. After a few miss turns, they more than get together again - the book ends with their splendid marriage in a packed church, with Owen Cadwallander as best man. The main miss turn had involved Dr Sandra Merryweather, local historian at Clayton Museum. Tom wanted to be friends but nothing more, but Sandra had had other ideas. Happily, by chance, the writer and historian Ben Beauchamp, hiking in the area, asks Tom for directions to the dig at Marston Hall. Tom says he can do better than that, and he introduces Ben to Dr Merryweather who is in charge of the dig. Ben and Sandra have so much in common, hit it off, and a couple of months later get married.
Another of the sub plots concerns lazy farmer Toby Croft, and his son Dean. Dean had worked for Toby for a pittance and no thanks, and finally had left to work for Sir Hedley. Toby spends all his time in the pub, and the farm is failing. Dean explains to Sir Hedley that he will have to offer his resignation and return to run the farm for his mother's sake, and as the farm has been in family for generations. Sir Hedley advises Dean only to return on his own conditions - Dean in charge, on proper wages, and they employ farm helpers. To reinforce this, Sir Hedley makes a surprise visit to the King's Head, and has a quiet word with Toby Croft - "Your farm is widely accepted to be failing. I will keep Dean's job open and if you don't treat him fairly, I will reposess the farm."
Joyce had divorced an abusive and controlling husband, but married again - to Julian, who owned and ran a local auction house. She loves teaching - it is rewarding and gives her great satisfaction - but Julian wants her to give this up, and work at his auction house. Julian invites his nephew Stanley to help at the auction house, and not only invites Stanley to stay at the marital home without consulting Joyce, but expects her to cook and skivvy for them both. Tom advises Joyce to put her foot down and say no. Stanley makes changes at work without consulting Julian, and soon is out of favour. All is well again with Joyce and Julian. Sadly though, Julian has a heart attack, and dies. Joyce quickly sends Stanley packing.
Tom is the hero of the day when Leanne Mossup goes into labour and Tom drives her into hospital just in time. It's a baby boy, and Sir Hedley is a delighted grandfather - he doesn't know James was not really his son. Sir Hedley tells Leanne and her mum Doris Mossup that he will do the right thing, look after her and the baby, and set them up in a tied cottage on his estate. There will probably be another happy ending as Dean and Leanne have fallen in love. Dean, incidentilly, has transformed the failing family farm.
There is a lot more content to the book but I will leave you to read it for yourselves. Let me however mention just a little bit more. I liked the story about little Geraldine Baxter, bullied at her former school because of her stammer, moving to Risingdale, but sitting terrified in the back seat of her father's car outside the school. Kindly Mr Gaunt sends her father John Baxter into the school for a coffee, and gently sits in the front seat, and slowly starts talking to Geraldine. Telling her how he had been bullied at school, and was determined there would never be any bullying at Risingdale, Gerald allays the girls fears. She later tells her dad, Mr Gaunt was kind and reminded her of her grandad. Gerladine is put in Joyce's class, and the teacher asks a fellow classmate, the redoubtable Vicky Gosling to look after Geraldine. Later John Baxter turns up at school with a huge bouquet of flowers for Joyce, to say thank you. Geraldine has never been happier and is getting help with her stammer from Joyce, herself an actress and voice coach. I also liked the story of the major arranging with Tom that the major's grandson Hans from Germany, study at Risingdale for a few days to improve his English. His teacher in Germany had taught Hans some English proverbs, and Tom sets his class some homework - to write down as many Yorkshire proverbs as they could find. Next day Hans takes copious notes. After his visit is over, Hans leaves Risingdale with a parting German proverb "Alles hat ein Ende, nur ein wurst hat swei" - All things have an end, but a sausage has two. A few weeks later Tom gets a letter from Hans's teacher in Germany asking for a translation of his new Yorkshire proverbs.
The new headmaster, Mr Cuthbert Smart, turns up at the end of term to look round and meet the teachers. He is completely unacceptable in every way. He never smiles, is cold, knows best in all situations, doesn't reply to the childrens greetings, clashes with Joyce telling her he does not approve of art, nor music nor poetry, thinks Mrs Golightly's infant lessons are outdated, and berates Tom for allowing the children to use dialect and not speak proper English. He will get rid of Mrs Leadbetter, etc, etc. His tenure would be a disaster ! Mr Gaunt asks Sir Hedley to help, Sir Hedley consults Tom and his own son Charlie, and to cut a long story short, Mr Smart will not be the new headmaster. This means an acting headmaster will need to be appointed. Bertha Golighlly, Joyce Tranter and Owen Cadwallender all say they can't do it, so that leaves Tom, an inexperienced teacher. He agrees so long as Mr Gaunt is available for advice, if required - and he is. What a year it has been for Tom Dwyer !
Of course I liked the book and I will close with only two of the children's funny stories. One tells his teacher his grannie has a grenade in her ear - an ear grenade. No - it's a hearing aid. Another child says his grandad is a drunken vegetarian - No he is a Dunkirk veteran.
Links to author index and home page