Iain's Leisure Reading
This series of books is one of those covered in Following the Detectives - real locations in Crime Fiction, &nbsp - q.v.
I came across the first and several of the Inspector Montalbano books in a charity shop, and, always on the look out for something new to read, I thought I would give them a go.
Andrea Camilleri was born in 1925 in Porto Empedocle in Sicily, and extraordinarily started to write a famous series based on his birth place, but 69 years later. In his writing he called the place Vigata - and in 2003 Porto Empedocle renamed itself Porto Empedocle Vigata, presumably to cash in on the tourist trade. When he was 19, young Camilleri studied at the local Faculty of Literature, but left without graduating - already having published some poems and short stories. He studied stage and film direction from 1948 to 1950, and then earned a living as a director. In 1977 he returned as a teacher to the Academy of Dramatic Arts, holding the chair of Film Direction for the next 20 years. He wrote his first novel in 1978, but mostly gave up writing novels from 1980 to 1992. Nothing he did was as successful at the long, Sicily set Inspector Montalbano series. He joked that Montalbano was the ultimate character assassin - Camilleri felt compelled to respond to the demand for more and more Montalbano stories that he never got round to write about other characters.
The name Montalbano was a homage to another Italian writer, Manuel Vazquez Montalban, from whose fictional detective series Camilleri took inspiration. Camilleri lived in Rome, but wrote about Sicily almost as someone who returns home, and was disappointed in the place. His books capture the despair of Sicily, the amoral politicians, and the endemic corruption. A politician in controlled by a key man, and above him are the Mafia - but Camilleri is determined not to write about the Mafia, nor give them any glory. Inspector Montalbano is a clever, crafty, charming, realistic, honest policemen who does the best he can. He loves his food. There is a lot of humour in these books. The Montalbano books have sold in their millions, and Inspector Montalbano has featured in several TV series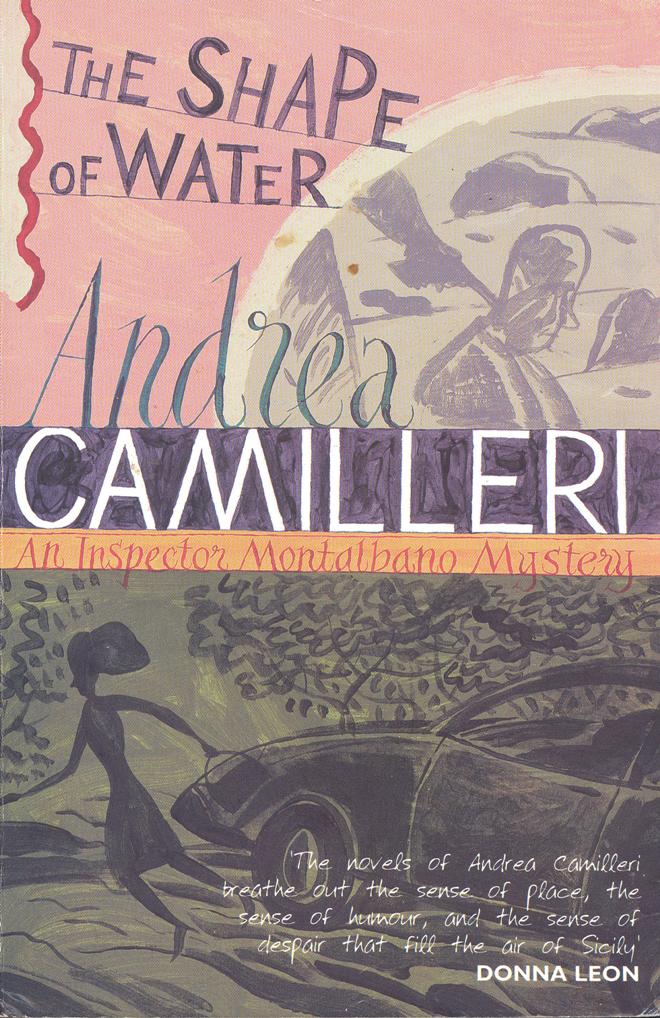 I read this book in February, 2018.
It's always exciting to start to read new series, especially a famous one that has sold millions of books. This is book one in the Inspector Montalbano series which is set in Vigata, a fictional seaside town in Sicily - Vigata being based on the Sicilian town of Porto Empedocle where Andrea Camilleri was born in 1925. Montalbano is a well respected local police inspector who knows everyone, has lots of friends and sources of information, and is well used to navigating his way through the quirks of local life. We get a picture of a corrupt society, especially the politicians, and above them middlemen, and then the shadowy Mafia. Montalbano has a girlfriend Livia who lives in Italy. Livia and Montalbano keep in touch by phone, and text, and both look forward to the next time they can meet up. Montalbano is very faithful to Livia, although many try to get him to stray. Anna is a policewoman who tries especially hard. She is the daughter of a friend of Montalbano, and so he has two reasons not to accept Anna's advances. Ingrid, a sexy Scandanavian suspect, wanders round his flat almost naked, but Montalbano tells her to cover herself up. And Montalbano really likes his food, local pasta based seafood dishes. I sort of liked Montalbano, but on occasions he was coarser than I would expect. I think I will reserve judgement.
I thought the story was no better than just OK, but it's book one in the series, let's give the author time to get into his stride. Silvio Luparello is a local big wig who has fingers in lots of pies. Two refuse men find his dead body in a car in the Pastures. It seems he died having sex with some prostitute, but of course this is covered up. The two refuse collectors know to phone the lawyer Risso, the middleman above Luparello before they phone the police, and then they report their findings. One of the refuse collectors also finds a very expensive necklace nearby. To cut a long sub story short, Montalbano ensures the finder gets a substantial cash reward, and makes sure he and his family get of town quickly less the reward is repatriated. The money is needed to get medical treatment for their sick child. So Montalbano bends a few rules to do the right thing.
Everyone wants the Luparello case closed as soon as possible - its a straight forward heart attack. And so a succession of worthies phone Montalbano to tell him to get a move on. Montalbano agrees that it will end up as death by natural causes (and so it proves), but it all seems too obvious and Montalbano asks for and is given two days to work on the case. Why would someone as rich as Luparello ever go to the Pastures with a prostitute - he had a secret cottage for such liasons ? And so we learn the back story, and a further sub plot where Ingrid seems to be being set up, etc. It all ambles along, Montalbano eats some nice meals, there is a touch of humour here and there, some coarseness, and it all ends up where it started. I don't like endings where Montalbano has to explain to the readers what it was all about via a concluding summary report to his chief, the Commissioner. It's just like a meeting in the drawing room of a lonely country house for the murderer to be exposed in old fashioned detective fiction.
All in all, I'm a bit luke warm on this series, but it's early days.
Links to author index and home page