Iain's Leisure Reading
I really liked Steig Larsson's Millennium Trilogy (The Girl with the Dragon Tattoo, etc), thought Jo Nesbo's Harry Hole was excellent, and I am currently reading Henning Mankell's Inspector Wallander books. So I guess I am a fan of what is called Scandi Noir. Ages ago, I read an article where some famous author said that of all the Scandi Noir books, his favourite was still the original Inspector Martin Beck series written way back in the 1960's. I was intrigued, and thought I would give the books a try - but easier said than done. It has taken me ages to find any of the series in charity shops. I have been looking for years, and have got about five of the ten books, but it was only very recently that I finally got a copy of "Roseanna", book one in the series, and I could at last start to read the books.
Per Wahloo was born in 1926, and his common law wife Maj Sjowall was born 9 years later in 1935. They were both marxists, and earned a living as journalists - Per working as a crime reporter. They wanted to write about what they thought was wrong with Swedish society, but to sugar the pill and make the message one that an audience would want to read, they came up with a ten book police procedure crime series, featuring a strange anti hero - DI Martin Beck. They thought of the series as one complete work of 300 chapters, split into 10 books each 30 chapters long. And extraordinarily they put their children to bed, and then sat up into the night writing away, each doing alternate chapters. I don't know how such a wierd approach is even possible. Sadly Per Wahloo died in 1975, just after the final book was published. Maj Stowall continued as a journalist, doing translations, and jointly wrote another book with another author - not of course about Martin Beck. Sadly Maj died in March, 2020. In August, 2015, when I wrote this introduction, I had read an interview with her in the Daily Telegraph the previous month where she said she didn't care much for Henning Mankell's Wallander books as they were too gloomy. She said you need light and shade. By coincidence, Henning Mankell wrote a very complementary introduction to Roseanna, book one in the series, in the copy I finally obtained.
It's an interesting series, crammed full of police procedural detail. Detection is a long, hard slog, and months can pass with few signs of progress. It's very much a team process, and everyone needs patience and persistence. Martin Beck is an investigating detective inspector in Central Division in Stockholm in Sweden. He is a strange, somewhat cold character, utterly devoted to his police duties to the detriment of any home life. He is married to Inga, but he practically ignores her, and spends little time with her, nor with his children Rolf and Ingrid. I can't see that Inga will put up with this much longer, and doubt that Martin will still be a married at the end of the series. As I write this I have only read book one, but first impressions are that it will be an OK, but not top rate series. It's slow going, and could do with a bit more humour. But I may change my mind as I get into the series - it's early days.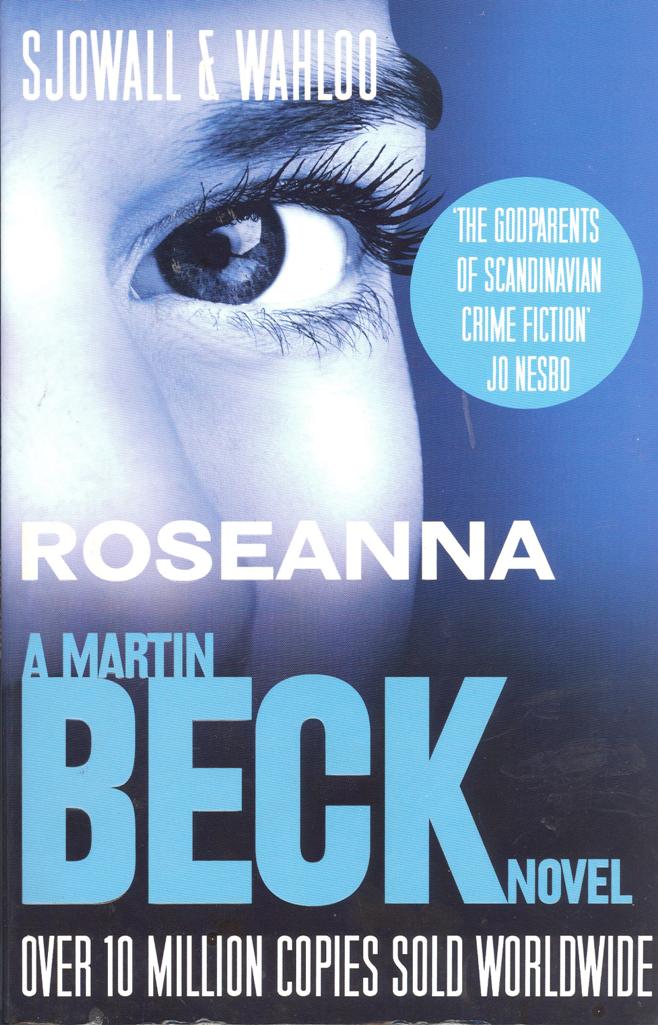 I read this book in August, 2015.
Roseanna is book one of ten in the famous Martin Beck "Scandi Noir" series written way back in 1965 by Maj Stowall and Per Wahloo. I say famous because Stowall and Wahloo are acknowledged as godparents of the dark scandanavian crime series, and most authors of Scandi Noir later series pay due homage. Perhaps it was because it was so famous and so praised, that I had too high expectations. I thought Roseanna was very slow going, and almost boring for about the first half of the book. I thought the translation by Lois Roth used quite a few very dated expressions - we don't talk of villians as "louses" any more, but perhaps we did in 1965. P.D. James was writing the The Adam Dalgleish books about the same time, and I don't recall making similar criticism. However I started to get into the book about the half way mark when I realised that the idea of using people's holiday photos to try to get at a mysterious killer appears here, some 40 years before Larsson used it in "The Girl With The Dragoon Tattoo". And of course I did keep turning the pages to see if Martin Beck and his crew could catch a cunning killer.
As it's book one, we are introduced to DI Martin Beck, and his crew. Its quite a big cast. Kollberg is Beck's most trusted colleague, and Melander and Larsson are also to the fore in this book. Beck's boss is Evald Hammar - he seems to trust Beck and leaves him to get on with things. Beck is married to Inga - he was devoted to her early on, but after a year he thought she changed, and now he mostly ignores her - he works long hours, doesn't say when he will be home, and when he is home is is off by himself doing model work, or a jigsaw. He hardly seems to notice his two children - Rolf and Ingrid. I am sure this is his loss, and he is a poorer character for this. Devotion to work can be overdone. Apart from his family failings, Martin Beck seems a decent enough person, and can be very sensitive in interviewing witnesses. He seems excellent as a detective, and has developed sound police instincts - ie a police nose. He is not someone you warm too - but perhaps this may change later on.
It's quite a good story. The body of a naked woman is dredged out of a canal, and soon it is apparent that she had been savagely raped and murdered. Who is the woman, and how did she get dumped in the canal? There is a search among the missing persons files - locally first, and then intenationally. Eventually, after quite some time, a police inspector in America puts a name to the body - Roseanna McGraw. The trail has gone cold, but Martin Beck is persistent and keeps working at it, and we follow the case to the end. There is also quite a climax at the end - will the killer strike again and succeed before Beck and crew get there.
Overall I was slightly underimpressed - certainly initially, less so in the second half of the book. I think the series has potential, and I'll read on, and reserve judgment.
Links to author index and home page


The Man Who Went Up in Smoke, &nbsp (1966)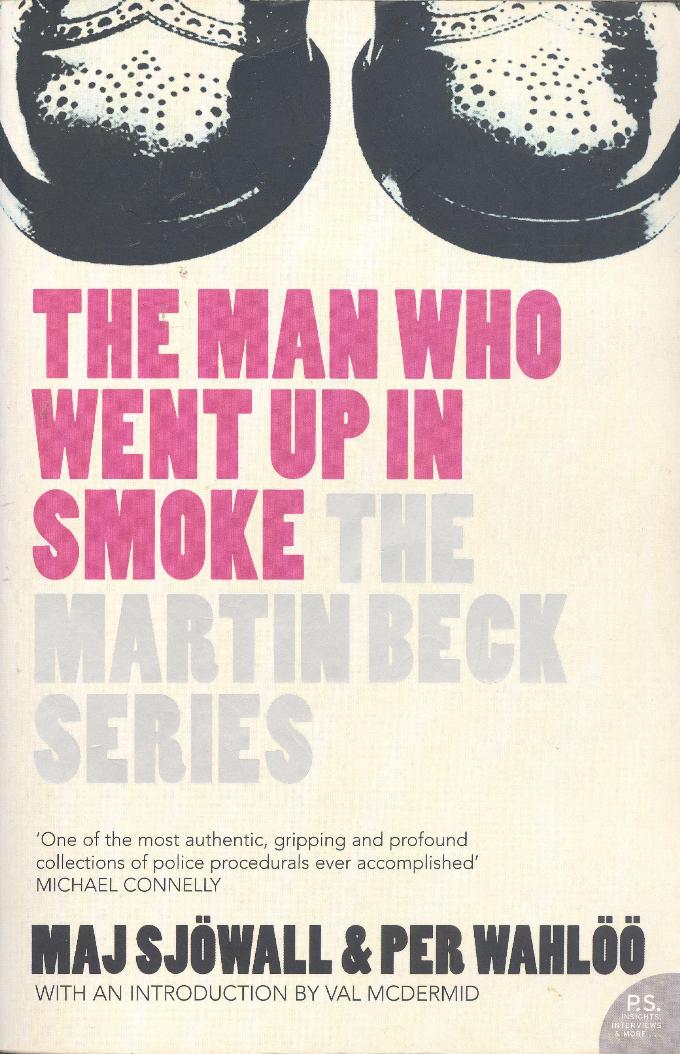 I read this book in November, 2015.
This is the second book in Maj Stowall and Per Wahloo's Martin Beck series of books. I started reading them when some authors said how good the original of the Scandi Noir genre was. I was a little disappointed with book one - OK, but nothing special. However, once again, I have found the second book of a series better than book one .
It's a terrific little story, very finely paced. Not much happens, and there is a puzzle as to what it is all about, and what Beck is doing where he is. Martin was only a few hours into a long deserved holiday, when he was summoned back to take over the case of a disappeared journalist Alf Matsson. He was in Hungary on businees, and just disappeared - had he been murdered or kidnapped ? He could not have just gone up in smoke, could he ?
The story is set two years after book one. In Roseanna, Martin Beck was obsessed with the case. Here he can barely summon up a modicom of interest. It's all being done "semi" officially at the non request of a nameless politician anxious to keep in with the journalist's employers. It's not really a good reason for Martin to have to interrupt his holidays, but of course, we suspect that things at home are not "rosie", and Beck is quite pleased to abandon his family. Failing marriages seem an occupational hazard for police detectives .
Beck is an astute detective. He goes to Hungary, doesn't seem to be making any headway, but then almost gets himself killed. So he must be making some sort of progress. And yet, the Hungary story is just an aside - once solved the disappeared Alf Matsson is still disappeared. It's a strange case, and the strangeness goads Beck on to solve the mystery.
It's a gentle little story that I enjoyed reading. There is quite a lot of understated humour too. I think the quality of the series is starting to appear, and I look forward to book three. Will Martin still have a marriage ? His wife is bound to leave him soon - if not in the next book, surely in the one after that.
How can Beck be such a conscientious / sympathetic policeman, but so crass and careless of his wife and family ? Interesting characters are full of flaws and contradictions.
Links to author index and home page


The Man on the Balcony, &nbsp (1967)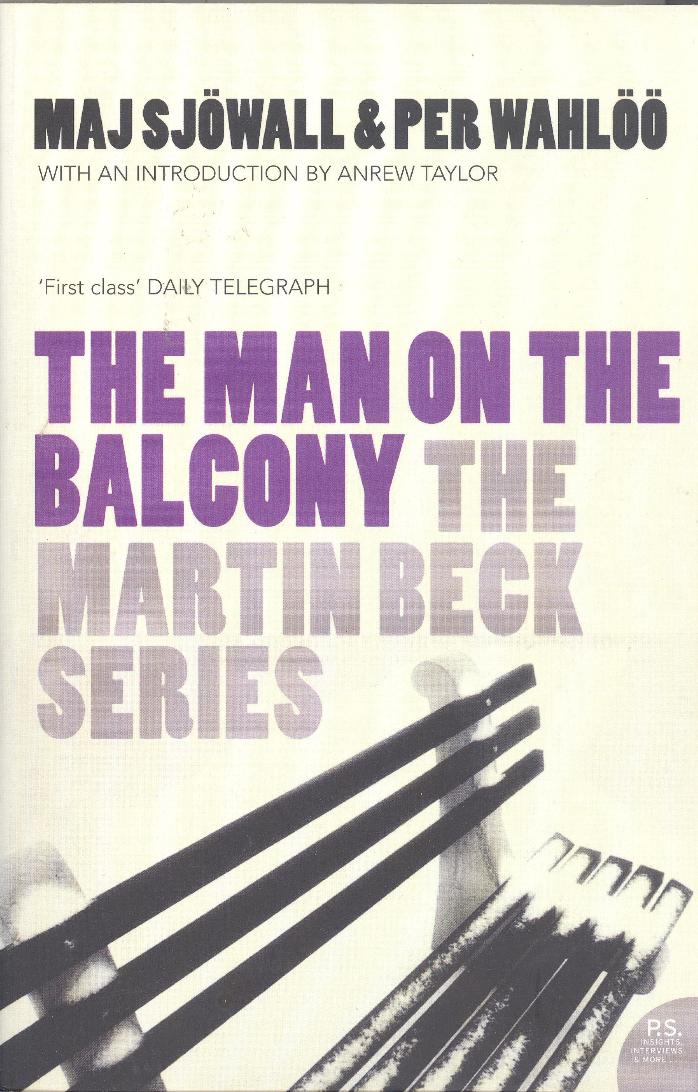 I read this book in November, 2015.
This is book three in the highly acclaimed Martin Beck Swedish series, and it's a terrific story - an excellent blend of despair / futility / world weariness / and humour. Unusually, the book is exactly about what it says in the title.
Martin Beck is now a superintendent. The story is about a mugger in the town parks who seems to know his way around the parks, and has escaped many times, and a sexual deviant who attacks and molests / kills young girls. Martin and the crew throw everything into catching the child molester - each time that he strikes brings despair to the team.
It's an excellent police team procedural story - we follow the man hunt from start to finsh. Sjowall and Wahloo are both Marxists, and use this book to comment on a rotten society, as they see it. They paint a bleak picture of the "swinging sixties" in Sweden - sexual freedom, free love are misnomers - it's all described as a failed society. This message is clearly there, but it's not overdone. Kollberg and Beck make a good team. Of the rest, Beck doesn't like DI Larsson, nor pipe smoking Menander with his photographic memory (cf Beate Lonn in Joe Nesbo's Inspector Harry Hole books), Ronn is the dimmest of policeman, and its left to chance and Kristansson and Kvant, bone-headed patrolmen, to catch the molester.
Martin is still married to Inga, but there is no mention of his two children. It's not a happy marriage, doomed to failure.
I like the world weariness of the book. Beck doesn't think much of his colleagues abilities, but he doesn't think much of his own either. It's definitely a series worth reading.
Links to author index and home page


The Laughing Policeman, &nbsp (1968)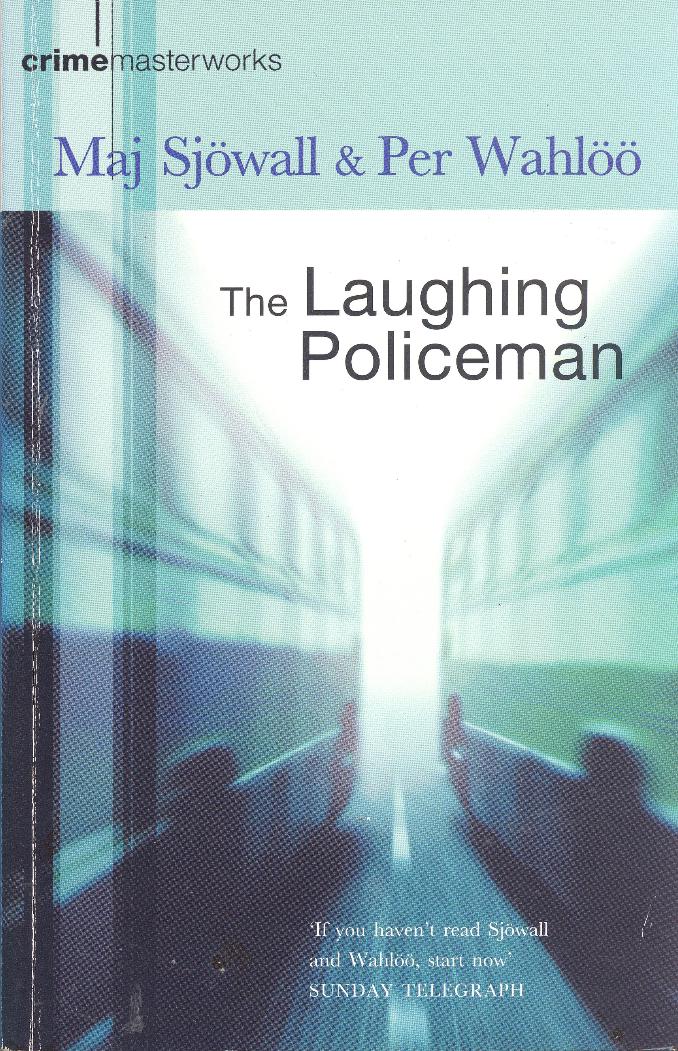 I read this book in August, 2016.
This is book four in the highly regarded Martin Beck Swedish series. I am reading this series because I read in some interview that of all the "scandi noir" series, the original one was never bettered. I am not sure that I fully agree with that, but I do agree that it is a good, interesting series. It was written in the 1960s, some 30 to 40 years before Wallander or Harry Hole , or Stieg Larsson's The Millennium Trilogy. And it does have all the features that we see being copied later - Beck a disfunctional team leader with a temper, a brilliant forensic analyst, Larsson, a giant of a man, and one with a brilliant memory (Melander).
Martin Beck is still a detective superintendent in the Swedish central homicide squad - a division called on to help the municipal police in major incidents. Martin is still married to Inga, but he sleeps on the couch in the living room. They have two children - a daughter Ingrid (16), his favourite, and a son, Rolf. Beck works for Chief Superintendent Hammar, and the team also include Beck's colleague and friend Lennart Kollberg who is happily married to Gun, Gunvald Larsson, Ronn, and Melander. Beck usually phones Kollberg before he sets out to work each morning, and they take the same train in together. Failing that, they always travel in the last coach, and so meet that way. Strangely, the team all seem to be friends, but there is a lot of bitching between them at work, and they almost converse in snarls. It all seems a bit strange.
There is a new member in the team, the young Ake Stenstrom, married to Asa. He has been there for some 18 months, a raw recruit lacking self confidence, and is trying hard to win his colleagues respect. This is the background to the story. An apparent madman on a double decker bus shoots and kills all 8 passengers at a quiet place near the bus terminus, and disappears unseen into the night, leaving no clues whatsoever. But there is one clue - one of the passengers on the bus was a policeman. At first Beck is fearful as he cannot contact his friend Kollberg - was he the victim ? We soon learn that the dead policeman was Stenstrom, and the clue lies in answering the question - what was Stenstrom doing on the bus ?
It's quite a good, original story that I don't want to spoil, but behind the slaughter on the bus is an unsolved case from about 11 years earlier. This was the Teressa killing - a very high profile case that got massive national cover and resources, but could not be solved. Any detective managing to solve such a case years later would earn a formidable reputation. So Beck and his colleagues must solve an old mystery, and at each stage of their investigation they find that Stenstrom got there before them!
Beck's daughter Ingrid gives her dad a copy of "The Laughing Policeman" record for his Christmas, and a lot later Beck cannot help but laugh out loud at the very end of the book, when a missing page from Stenstom's notes is finally found. Hence the title, I supose ? Mostly, though, its a good, well written, police procedural story, and we have all got to know Beck and his team a bit better. I look forward to reading the next installment.
Links to author index and home page


The Fire Engine that Disappeared, &nbsp (1969)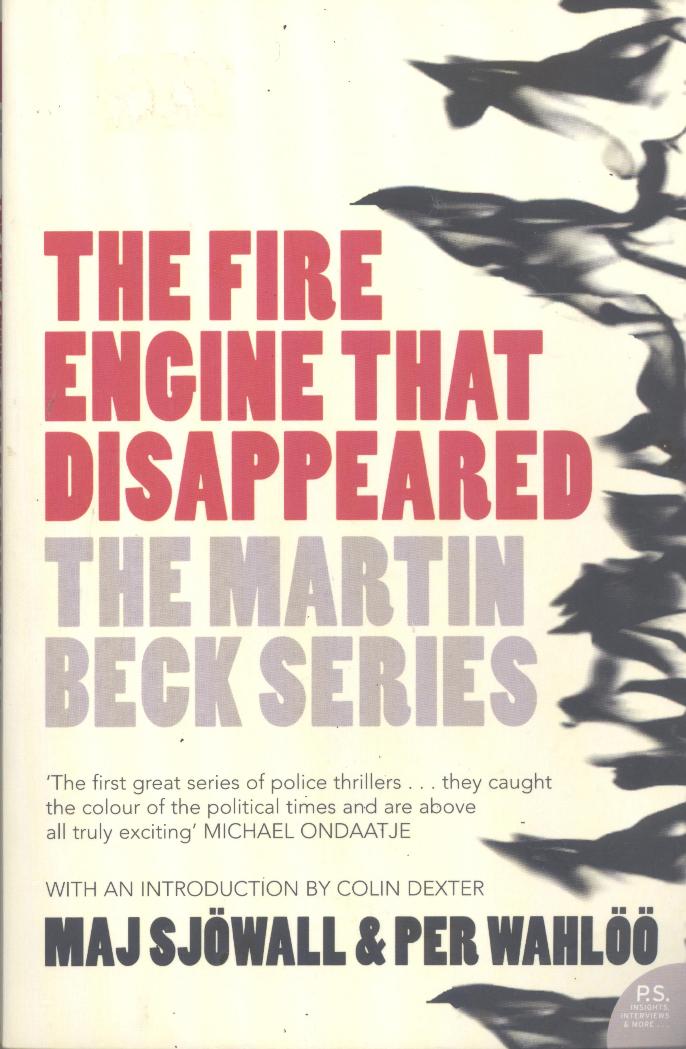 I read this book in September, 2016.
This is book five in the Martin Beck Swedish, police procedural series that lead the way and inspired so many of the later "Scandi Noir" writers. With hindsight, it's a pity that I didn't read this series first, because I am getting it all back to front. I keep thinking Beck is just like Wallander or Harry Hole , but of course they are the ones that came 40 odd years later, and they are the ones that are just like Beck.
The book I read had an introduction by Colin Dexter , who admitted that whilst, of course, he knew of Sjowell and Wahloo by reputation, he had never read any of their 10 famous Martin Beck books, rather put off by by the authors' Marxist leanings, and the strange Swedish place and people names. Having read this book, he was a convert, and was going to read the rest of the series. I agree with both Colin's points, but the Marxist slant is not overdone, and there is lots of humour to offset this. But I too do struggle with the strange names, and can't remember who is who, of the incidental cast. The book I read had a good definition of what a police procedural novel comprised. Such books first appeared about the end of the second world war, and the American author Lawrence Treat's "V as in Victim" of 1945 is said to be the first. But the actual term was not used until 1956. Generally you have a bigger cast of people, and follow the detailed procedures as they do their best to go about their difficult tasks solving major crimes at the same time as working of all sorts of other cases. We follow the fortunes of the main characters as they develop from book to book.
In this book, all the main characters are here again, but there is a new recruit in detective Skacke, a replacement for Stenstrom. He is rather looked down upon, especially by Kollberg and Larsson, and given trivial tasks to do to keep him out the way, but he seems an able enough detective. How fitting that he saves Kollberg's life at the end of the book.
The story opens with two separate events that happen on the same day - someone commits suicide, but leaves a note with Martin Beck's name written on it, and Larsson is helping out with a bit of serveillance work, when the house he is studying suddenly explodes. Larsson manages to rescue most the people in the house, is a hero, is on sick leave and to be awarded a medal. Melander convinces everyone that the house gas explosion was caused by a man called Malm also committing suicide, but Larsson returns to work, does not accept this explanation, and digs and digs to prove otherwise. Both Melander and Larsson are correct - it was both attempted murder and suicide. We follow the story as the team keep at it, and eventually most of the breakthrough comes from Mansson, a detective in another district. Beck himself plays mostly a background role. The part about the fire engine that disappeared is a bit contrived. Ronn has bought his young son, a large, expensive toy fire engine, and this disappears from their flat. Ronn obsesses about it - and the real fire engine that should have attended the house explosion also disappeared. Why this happened is a clue. At the end of book, Ronn is very impressed by Mansson's skills, and he invites him home for a home cooked meal - and casually mentions that they still cannot find the missing toy !
Beck's marriage is all but over - he and his wife simply live in the same house. Daughter Ingrid is 17, and leaves home for a flat of her own. She asks her dad, why doesn't he leave as well ?
All in all, an interesting read, and yes it's a good series.
Links to author index and home page


Murder at the Savoy, &nbsp (1970)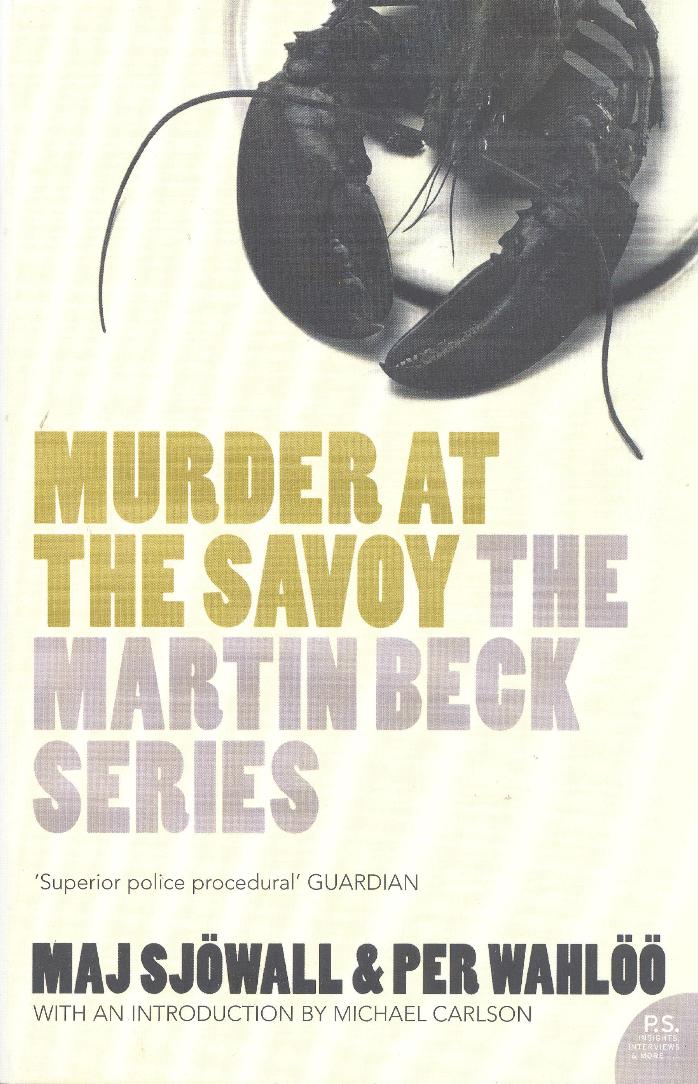 I read this book in November, 2016.
This is book six of ten in the Martin Beck Swedish, police procedural series. It's a series that seems to get better and better, and it's certainly one that I enjoy. I don't even mind the Marxist authors' on going comments about all that is wrong in the Welfare state in Sweden - very much a theme with them, but not yet overdone. I just let them have their say, and then we all get on with the story.
The book opens with Martin, a DCI in charge of Sweden's national murder squad, in his new flat in Stockholm. He has finally left his wife, but they had been leading separate lives for years. Divorce and mild depression is par for the course for crime fiction detectives - our heros are brilliant sleuths, but disfunctional, troubled men. As I've mentioned before, Wallander seems a later carbon copy of Martin Beck.
We now switch to the story proper. Victor Palmgren is a powerful, but ruthless industrialist, who cares nothing for the feelings of others, for the conditions of his employees, etc. All he wants to do is maximise profit. We later learn that some of his companies are shady enterprises dealing in arms with countries on the Swedish blacklist. He is clever, powerful, covers his tracks well, and plenty people seem very willing to turn a blind eye. Anyway, he is giving a speach at a small group gathering at the Savoy Hotel in Malmo - just his young trophy wife there, and MD's of some of his companies. A man walks in to the room, draws a pistol, shoots Palmgren in the head, and escapes through an open window at the side of the room. Is it a political assassination, or the work of a madman ? Mansson is the detective in charge in Malmo, but the national police chief calls in Beck to take charge of the case. Martin is under pressure to solve the case quickly. I say under pressure, but he seem remarkably immune to this pressure. We then follow the story as Beck and Mansson work steadily to chase up leads. Some days nothing happens, other days some progress is made. Some times Beck in Malmo calls his friend and colleague Kollberg to do some work for him in Stockholm. Eventually there is a stroke of luck, a posible name for the murderer is discovered, and the case is solved quite simply without any climactic shoot out. I guess it's all very realistic. A beginning, a middle and an end, and all very beleivable.
There is quite a bit of humour in this story. The two dumb cops in Stockolm, Kriastansson and Kvant, make an appearance and a mess of picking up a suspect - distracted by a story involving the three little piggies. We met Asa Torell before, a young vice squad policewoman and widow. She also is in Malmo, and is booked into the same hotel as Martin Beck. Martin is old enough to be her father, but both are lonely, lost souls, and so they find themselves in bed together, perhaps for the first and only time, but who knows. When Asa is asked if she is now returning to Stockholm, she says yes, she has "accomplished all she wanted to do in Malmo" and looks at Martin with bright innocent eyes. The book is full of super little touches.
I thought this book series started off slowly, and perhaps I wondered if it was as good as it's reputation, but I have no doubts now. As an extra bonus there were extra sections to the book, essays on the authors and notes about some other writing partnerships - and these I found very interesting.
Links to author index and home page


The Abominable Man, &nbsp (1971)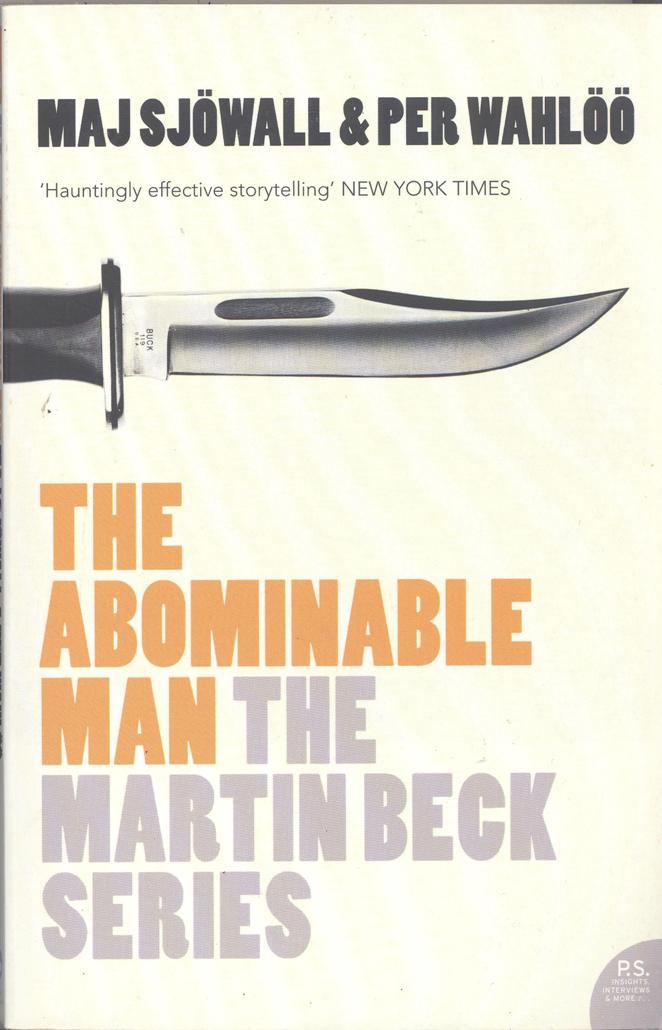 I read this book in November, 2016.
This is book seven of the ten part series featuring DCI Martin Beck, now head of Sweden's murder squad. The authors of this series are a husband and wife team Sjowall and Wahloo, who are Marxist leftist communists. They seem to be writing a sustained attack on what they describe as an attempt to find a middle way between communism and capitalism - namely the welfare state, and specifically the welfare state in Sweden. They paint a bleak, gloomy picture of a country in a terrible state, and a disillusioned, jaundiced, politicised police force fighting a losing battle to maintain law and order, but being vilified in the process.
Put like that, who would want to read such a series - but it's well written, Martin Beck is an interesting character, there are some good stories, and there are touches of humour. I didn't enjoy reading this book, but I don't regret reading it, and I can see why the series is so respected.
As always, there are two parts to the story. Part one is the plot, and part two is another instalment in the private lives of Beck and his colleagues - but I am not going to say too much here in case it might be a spoiler. As for Asa Torrell and Martin, there is no further mention ?
First to the plot. The book opens with a high ranking policeman ill in hospital, weak, and unable to defend himself. A madman comes in through the window, attacks the policeman with a bayonet with brutal efficiency, and escapes. It's a revenge killing on a beast of a man who almost deserved to die, but feelings for revenge poison the killer's mind, and soon he is at war against the whole police force. All our heroes, Beck, Kollberg, Larsson, and Ronn come under attack, and the book climaxes with a mass shooting. Who will survive to the next book ?
It's a sad, bleak world. Who would want to be a policeman ? No one seems to be happy with his work, and they don't seem to like each other, and don't really mix socially. But when the chips are down, and a police colleague is injured, his colleagues are not slow in puting their own lives at risk. It's not team spirit as such, but it's something.
These books seem to be getting gloomier and more political as the series progresses. It's not a book to be read for enjoyment, but it's a series deservedly praised, and of course I'll read on. But I don't expect any happy endings.
I'm going to read Hamish Macbeth next to cheer myself up.
Links to author index and home page


The Locked Room, &nbsp (1972)
I read this book in January, 2017.
This is book 8 in the excellent Martin Beck series - the series that lead the way for Scandi Noir, e.g. Jo Nesbo , and Henning Mankell. This isn't the best book in he series, but it's good enough. I read it quickly, which is always a good sign.
Beck has been on sick leave for 15 month recovering from a near fatal shooting. Now he is back at work as the DCI in charge of the Swedish National Murder Squad. All the usual characters are back, but now they are no longer working for Martin Beck. They have been seconded to the Robbery Section and are working for a public prosecutor, Bulldozer Olsson. Olsson is a strange character. He is clever, but unfortunately not clever enough. From paid informants, he knows the names of the mastermind and the two major criminals behind a series of bank robberies, but he cannot get any proof. In spite of this, though, he is constantly 100% confident - but falsely confident. Really this Bulldozer should not be in charge of anything. Morale in the police force is at rock bottom. Most police are either stupid, or, if detectives, massively overworked. Another bank robbery takes place, and this time an innocent bystander is killed. Through bad luck a criminal by the name of Mauritzon finds himself in police custody. He is guilty of many things, but not this latest bank robbery, for which he is eventually convicted. Strangely and wrongly, this is regarded as fair enough, because there is insufficient evidence to get a conviction for the things (including murders ) that he did do. Beck had managed to get him to confess to a murder that he did do, and had secretely taped this confession, but it turned out that the tape recorder was broken. Nothing in Sweden seems to work, in the sad, jaundiced picture of Sweden painted by Sjowall and Wahloo.
On his return to work, Beck had been given an apparent suicide case to work on - the Svad case, who was found dead in a 'locked room'. Beck worries at the case, and as part of a comprehensive investigation tracks down Svad's former landlady, Rhea. Martin and Rhea like each other, and sort of start seeing each other regularly. Beck is almost a happy man, for once.
I'm sure as the authors intended, I worked out who the real bank robbers were. Apparently, it's only the stupid police who cant follow the clues. Whilst Beck had not been involved in the bank robberies investigation, he had found that his Svad case and the robberies were linked. Martin solves his 'locked room' case, but cannot prove it - so his bosses think he has lost his touch, and decide to sit on their earlier decision to promote Beck to Commissioner. Martin is delighted at this - he likes murder solving, not pen pushing.
I thought there was the usual surfeit of Marxist opinion as to the dire state of Swedish society. Also there didn't seem to be enough of Martin Beck in this book - hence my opinion that this is not the best in the series. Also there was nothing about Beck's children.
I have only got books 9 and 10 to read, and hopefully book 9 will have more of Martin Beck in it, and I hope the series ends in some fitting a way in book 10. All in all though, this is a worthy member of a classic series.
Links to author index and home page


Cop Killer, &nbsp (1974)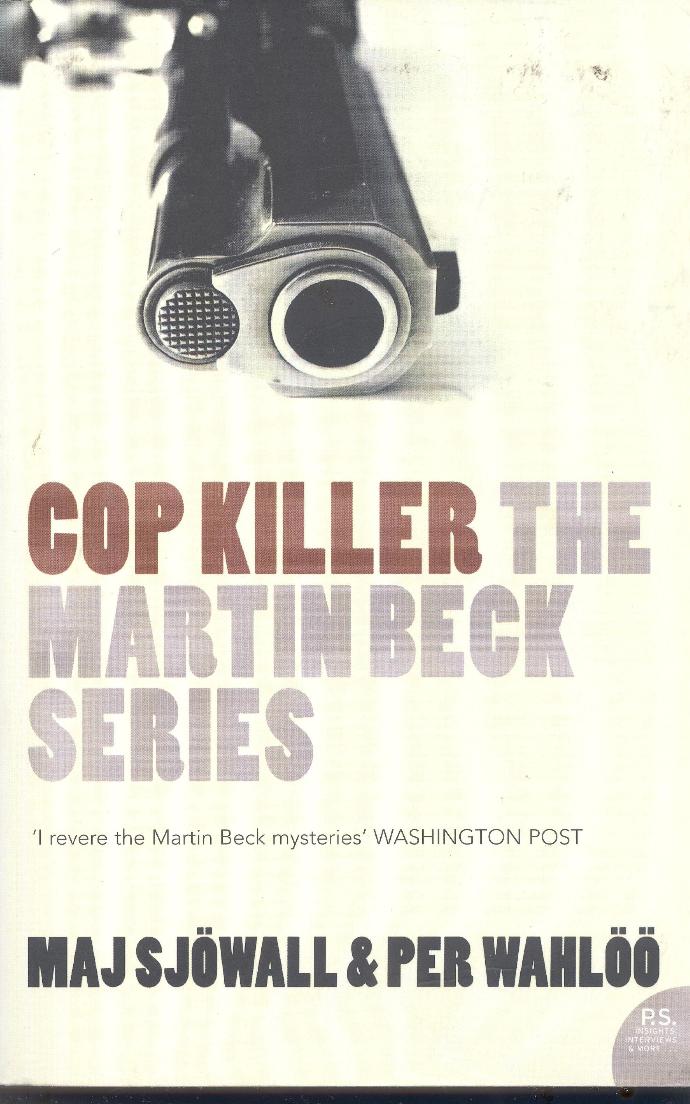 I read this book in February, 2017.
This is book 9 in the excellent Martin Beck series set in Stockholm, and written by Marxist husband and wife Maj Sjowall and Per Wahloo. They paint a terrible picture of 1960s Sweden. Sadly I have no idea if there is any truth in this picture, but surely I can't be true, can it ?
They write of a politicised police force in a country where the welfare state approach has failed society. The police don't like their fellow colleagues, are ruled by incompetent chiefs, and half the force have insufficient intelligence to do their job. And life is getting worse instead of better.
Our hero, Martin Beck, is in a better place himself in his private life. Not only is he still seeing Rhea, but he and Rhea have fallen in love, and very importantly, there is someone for Martin to return home to.
As part of a sense of a series coming to an end, we meet up with a lot of Martin's old colleagues again - only they are scatterd throughout various branches of the police force, and no longer concentrated in a special team under Beck. Martin is still head of Sweden's Murder Squad, and does have his collegue Lennart Kollberg still working alongside him, but like everyone else, with integrity, Kollberg is fed up being a policeman under the current set up. By the end of the book he has typed his letter of resignation - and this letter is a good summing up of what has gone wrong ( in the author's somewhat biased opinion). Will Martin Beck be the next one to resign in the final book, I wonder - but what else could he do?
We also meet once again two criminals put away by Beck in previous books, but now released. Folke Bengtson was the murderer of book 1 - an insane sex maniac, who should never have been released from prison. Folke is blamed when his female neighbour, Sigbrit Mard, goes missing, presumed murdered. Beck's boss, Malm, orders Beck to arrest Folke, even though there is only circumstantial evidence. The papers are braying for an arrest, and Malm is governed by what the papers say. The papers usually get things wrong, but this is ignored. And so the plot is set up - did Folke kill his neighbour Sigbrit?
The local police officer where Folke and Sigbrit lived is Hergott Allwright, and Martin likes the decent, honest Allwright. Not all police officers are incompetent, it's just that the system eventually conspires against them.
It's a well written series, highly praised, and I can see why. There is quite a lot of humour too, mostly in describing the police raids that go wrong, and the all too persistent bungling by the Swedish police. This is course a work of fiction, and hopefully things were not as bad as described by Sjowall and Wahloo.
I look forward to concluding the series with the next and last book. I wonder what will happen to Martin, and did Kollberg really resign ? However, I think my conclusion will probably be that 10 books is probably sufficient, and I doubt that I will long for a book 11. It's all really quite depressing, and enough is enough.
Links to author index and home page


The Terrorists, &nbsp (1975)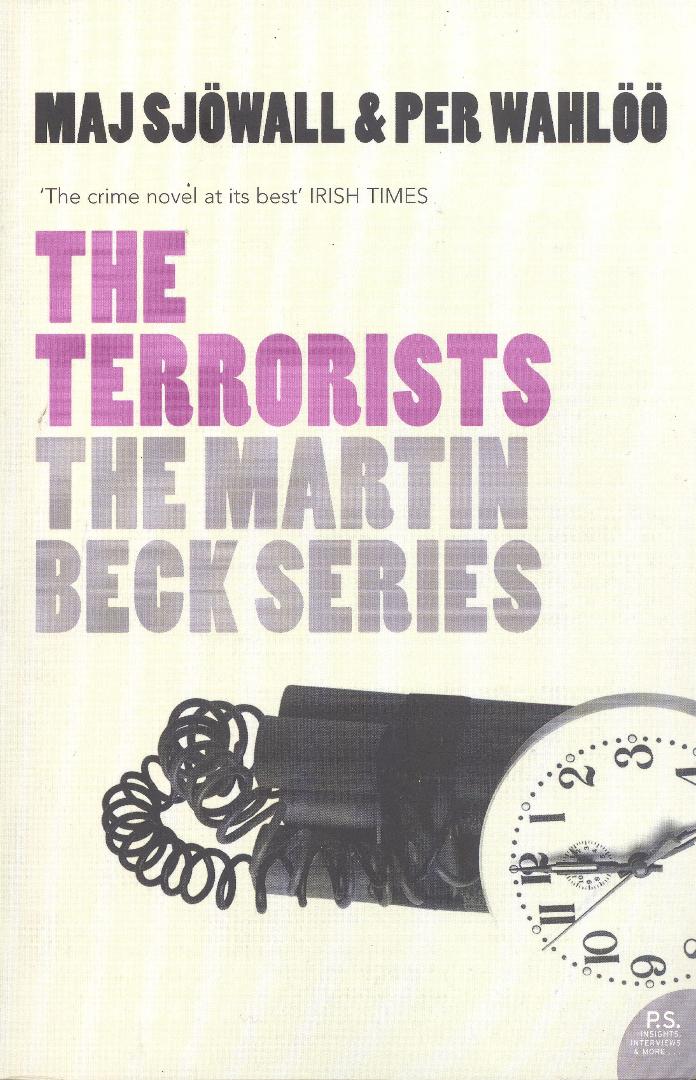 I read this book in February, 2017.
I started reading this excellent Martin Beck series in August, 2015, and now I have come to book 10, the final in the series. As I started to read it, it occurred to me that I had no idea what was intended for Martin Beck. Was it to be a hero's death, or could Martin and Rhea have a happy ending? Usually when we read a series we know that, no matter what dangers the hero faces, if there is another book in the series, the hero will survive. Well that doesn't apply here. The authors intended to write only 10 books, and this is the last. I usually try not to spoil the story for anyone else by giving away endings, and I'm not going to do that here. But I thought it was a good, appropriate ending - and I'll leave you to work out what that means.
It's a good story, and as appropriate for a final book, we get to meet once again a lot of the characters from books 1 to 9. So we have Martin Beck and his girlfriend Rhea, Kollberg who really did resign in book 9 and his wife Gun, Benny Skacke, Kollberg's replacement, Gunvald Larsson, a giant of a man, Melander with the good memory, and Ronn, a fine policeman, Mansson in Malmo, Bulldozer the public prosecutor, Malm, Martin's boss, and even Hergott Allwright from book 9. It's a stellar cast of strong characters.
There are several smaller stories - eg Rebecka Lind is an 18 year old single mother who finds herself in court as a bank robber simply for asking to borrow money - Rebecka is ground down by the system, and surprisingly appears again at the end of the book. The main story that gives the book it's title concerns 4 of the frighteningly efficient and deadly ULAG terrorist group, in Sweden to assassinate a visiting American senator, and former presidential candidate. Martin Beck is in charge of long range security and planning to protect the visitor - its a formidable task, but who better? We don't share all of Martin's plan and so we get surprises as it unfolds. I am not sure the trick he devises to outwit the terrorists would work nowadays - he would never get 100% co-operation from the media. The story has two parts - can the senator be protected, and then can the terrorists be captured. The main terrorist is Reinhard Heydt -as formidable a foe as any - but two of his companions, Japanese martial art experts are also lethal. Can Martin and his colleagues win through ?
As usual we get the Marxist propaganda throughout the book, but allowing Sjowall and Wahloo their say is the price we have to pay in return for this cracking series. Overall I would say the series is as good as its reputation - not the best ever series, but an excellent one nevertheless. I think 10 books are sufficient - I think the tale has been told, I am satisfied and I don't long for more.
This series led the way for the later Wallander series, and at the time of writing I still have two Wallander books to read. I wonder what sort of ending Wallander will have ?
All in all, a thoroughly recommended series.
Links to author index and home page