Iain's Recommended Book Series
I am writing this introduction in January, 2011. I had sort of been aware of Stieg Larsson and his famous book "The Girl With The Dragon Tattoo" for quite a while, but it was only a year ago after I read a long article in The Sunday Times that I realised what an interesting story lay behind the book, that it was part of a three book series "The Millennium Trilogy" and could even be called crime fiction. I hadn't read any crime fiction by a foreign author, so I thought I would give it a go.
Stig Larsson was born on 15th August, 1954, in Skelleftehamn, in Sweden, and later changed his name to Stieg to avoid being confused with another then photographer and later author of the same name. He met his girlfriend Eva Gabrielsson in 1972, and they lived together for 30 years, but never got married. He died on 9th November, 2004 aged only 50
Stieg was an active Trotskyist socialist militant who made many enemies with his campaigns against far right / nazi groups. Allegedly he lived most of his life under death threats. Like the author Stuart MacBride, he started off his writing with an interest in science fiction, but later he worked as a journalist, founded the campaigning group Expo to fight the far right, and ran a magazine with the same name.
There are two main characters in the Millennium Trilogy - Mikael Blomkvist, and Lisbeth Salander - who totally grab your interest. Mikael is surely a self portriat of Stieg. Both are junk food, caffeine addicted hard drinking journalists, each publishing their own magazines - Expo for Stieg, the Millennium, for Mikael. Both take on enemies bigger and wealthier than themselves, and both struggle to keep their magzines alive.
Lisbeth Salander is an even more interesting character. Apparently when he was a youth, Stieg witnessed a rape of a young girl, but to his later shame and regret he failed to do anything about it at the time. The girl raped was called Lisbeth. Lisbeth Salander was also raped, and was generally abused and ill treated most of her life. She appears small and frail, but she is a fearless fighter who never ever stops fighting and always gets her revenge. She appears slow witted, but she is really a maths genius, and a brilliant computer hacker. Her character is introduced and perfectly described in "The Girl With The Dragon Tattoo."
Stieg started writing the Millennium Trilogy in 2002, but the books were only published in 2008 to 2010, so he never lived to see how successful they were to become, nor how rich they would make his estate.
There are lots of conspiracy theory like stories about Stieg Larsson. One was that his heart attack was induced. Another was described in another Sunday Times article of January, 2011. This is that he was to marry Eva (one story goes that he could not marry Eva earlier without disclosing where he lived ) but he died before doing so - leaving his fortune not to Eva but to an estranged father and brother. Another story is that his laptop contains about 200 pages of a fourth novel (called "God's Revenge" ??), and synopses of even later books, and that Eva helped him write his books and could complete the fourth book. Who knows ? Many people feel Eva got a raw deal, and there are campaigns to put this right.
Lisbeth Salander and Mikael Blommkvist burst back into life in 2015 in a book 4 of the Millenium Series written by a Swedish crime writer David Lagercrantz. Normally I think a character should die with the author, but James Henry gave DI Jack Frost what I thought was a successful second outing after the death of R D Wingfield, so perhaps it is OK for other authors to take over fictional characters so long as they are true to the original character.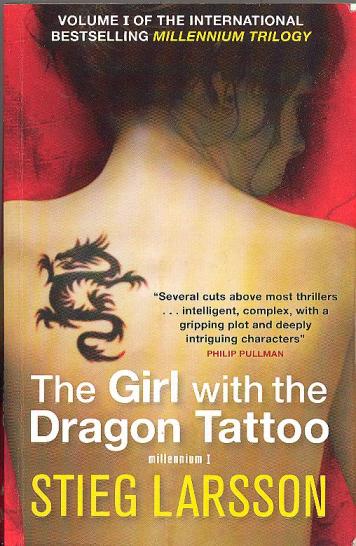 This is book one of the famous and very successful Millennium Trilogy by Stieg Larsson. And let me say straight away that I loved it. What a great pity that Larsson died in 2004, and never lived to see the phenomenal success that his books enjoyed. What an even greater pity that there will be no more books in the series - or will there (rumours that Stieg's girlfriend Eva might complete book four ?).
The book has a slow start. I was put off reading "Lord of The Rings" on first picking it up when I started reading the Prologue and made heavy weather / got lost with all the strange names and creatures. It was only about a year later that I started again, but this time at chapter one, and was hooked. Once again there was a period at the start of "The Girl With the Dragon Tattoo" when I wondered what all the fuss had been about, and thought that I would not enjoy the book. One of the Vanger family disappeared many, many years ago, but we are introduced to so many of the family, and all have strange names to our non Swedish ears. Don't get bogged down with who is who in the family - relevant characters appear sufficiently often for you to follow who they are.
What is the story roughly ? Harriet Vanger, then a teenager, disappeared about forty years ago in the 1960's. Her uncle Henrik, head of the once mighty, but still powerful industrial Vanger conglomerate, thinks she may have been murdered - and the mystery of her disappearance became an obsession with him.
There are two main characters and two separate stories that proceed in parallel, concerning Mikael Blomkvist, an investigative, financial journalist, and the strange, enigmatic, delinquent Lisbeth Salander - the girl with the dragon tattoo. Sallander is a great and original creation - she appears and acts as if she were mentally challenged, but her brillance is hinted at initially, and her talents soon become obvious. I had read "The Dog that Barked in the Night" by Mark Haddon, and when Mikael Blomkvist eventually put a name to what Lisbeth is, I totally got her character.
Blomkvist goes after the corrupt industrialist Wennerstrom, but gets convicted for libel, doesn't defend himself in court, and gets sentenced to three months in jail. He resigns his position as editor of the Millennium in an attempt to protect the magazine. He and the magazine are financially very vulnerable, but into this mess steps Henrik Vanger, who asks Blomkvist to try to solve the mystery of the missing Harriet - surely a hopeless task. Before this though, Henrik had asked Milton Security to investigate Blomkvist, and this is where the paths of Lisbeth Salander and Mikael Blomkvist cross.
It's a very well crafted book - a strange opening, two strands that eventually join up, and written in a journalistic style that suits the story. There is a very satisfying and credible ending. An excellent book, thoroughly recommended. I have already bought book two from a charity shop - "The Girl who Played with Fire", and look forward to reading it, and book three.
Finally I should add that the book was originally written in Swedish, and what I read was a translation by a Reg Keeland. Most of the credit for the book must go to Larsson, but Keeland also deserves credit for a very readable translation.
And what a fine crime solving partnership - Blomkvist and Salander.
Links to author index and home page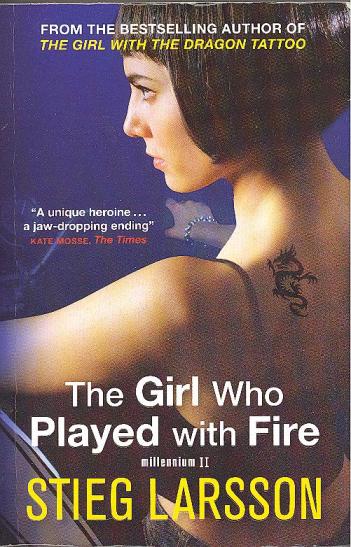 This is book two in the Millenium Trilogy - the set of three books written by Stieg Larsson, but only published after his death. Book two is every bit as good as book one - I have read that most people think book two is even better than book one. I would say that both are excellent books that I thoroughly enjoyed reading.
Like book one, book two is slow in starting, and also like book one, it is easy to get lost with all the Swedish names of people and places. Don't let this put you off !
Book two continues where book one left off. Lisbeth Salander, very, very unusually for her, had experienced an emotion that she had worked out to be love. She had fallen in love with Mikael Blomkvist. But when she went to tell him ( perhaps she thought they would live happily ever after ?), she finds him back with his long term lover, Erika Berger. And so with an extraordinary mood swing, Lisbeth resolves to avoid such personal weaknesses in future, and never to see Blomkvist again. Accordingly, as in book one, the two main characters are estranged. Lisbeth had fled, and is touring the world - she has disappeared with saying gopodbye to anyone. Mikael is mystified as to where Salander has gone - but he keeps on trying to get in touch.
I thought that like book one, book two would again have two separate stories, until Mikael and Lisbeth inevitably got together again about half way through the book. I was quite wrong - Stieg Larsson was a better writer than that. They do meet up again, but you will need to read the book to see when, and in what circumstances.
The main plot of the book is to tell Lisbeth Salander's story. Eventually she returns to Stockholm, but her "guardian" Bjerkman is found shot dead, and about the same time a Dag Svensson and his girlfriend Eva Johansson are also found shot dead - and by the same gun, a gun that has Lisbeth Salander's fingerprints. Svensson and Johansson had been working with Blomkvist on a sensational stoty that they were about to publish. Now the whole of Sweden is looking for Salander, and all the newspapers are full of all that they manage to find about her. Salander is on the run, but Blomkvist is still trying to contact her. By this time we are about half way through the book, and then the first of many plot twists appears, and the book really takes off. We certainly discover all about Lisbeth's life story.
As you read the book, and near the end it soon becomes clear that there are not many pages to go, and surely not everything can be cleared up by the end. I supose I am making some sort of criticism, as a lot is left in the air at the end, and I do like a beginning, a middle, and an end. But I should have realised that I was reading one long, great story, split into three parts. Of course there are loose ends at the end of book two - you have to read book three.
I thought books one and two of the trilogy excellent, and I do look forward to reading book three. I would read it straight away if I had a copy.
Links to author index and home page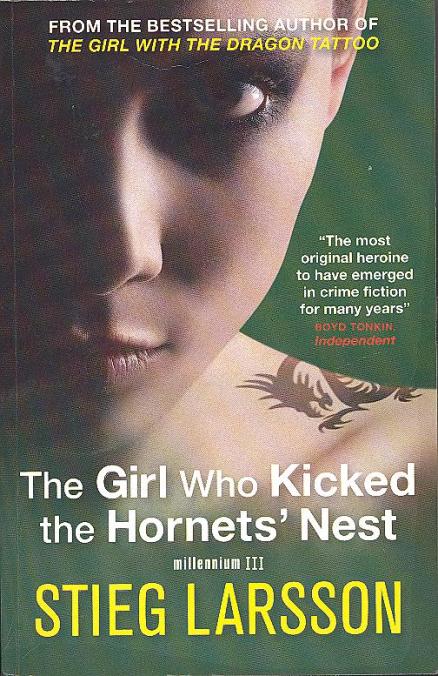 This is the third book in the Millenium Trilogy, and a worthy final adventure with Mikeal Blomkvist and Lisbeth Salander.

When I bought the first two books (I bought them together), there were lots of copies of the third book in charity shops, and so I left buying book three until later - until after I had read the first two books. That was a big mistake, because I liked book two so much that I wanted to get started on book three straight away. But it's taken me months to find a copy of "The Girl Who Kicked the Hornet's Nest." Funnily enough, when I found it, I found two copies on the same day. It was in May, 2011 and I was visiting Bury St Edmunds. Usually I ignore Oxfam charity shops as their books are over priced, but I was getting desperate, and so in I went, and there was a copy, but priced at £2.99. Should I just grab it, or should I continue searching, and come back to Oxfam if I couldn't find a cheaper one? But supose the Oxfam copy got sold whilst I was away? Quite a dilemma. I took the risk, fortune smiled on the brave, and I got a better copy for £1 in Age Concern, a few shops later.
Book two finished with Salander and Blomkvist finally meeting up again, almost on the last page - but Salander was badly injured, and had also been shot in the head. The books usually start slowly, and then build and build. But book three starts where book two ended. Salander, barely alive, is air lifted to a hospital in Stockholm, where she has the extraordinary good luck to be treated by a gifted doctor and surgeon, Dr Jonassen. Lisbeth survives, but is under arrest and under guard in a private room in the hospital, charged amongst other things with the attempted murder of her father Zalachenko. It was a cracking opening, but then the book returned to the old slow start for about 90 pages, when new characters were introduced some with similar sounding names, and there were lots of necessary recaps to remind us of the very complex plot lines of books one and two. I thought this was necessary and quite well done, but the pace did drop. However there was no way that I was not going to keep reading.
There was also a sub plot when Erika Berger, the editor of Millenium, and Blomkvist's best friend and lover, leaves Millenium, and becomes editor in chief of SVP, Sweden's main daily newspaper. She survives a baptism of fire, but is resented by her fellow managers, is not supported, and is attacked by a cyber stalker, or perhaps worse.
Salander once again has be be got out of the way, to be recommitted to a mental instution, to hush up her story about her father the Russian defector Zalachenko, and the dirty tricks of Sweden's secret service. There is to be a rigged trial. Salander does not stand a chance. But she has powerful friends too, Blomkvist, of course, Abramsky, of Milton Security for whom Lisbeth had worked, and Palmgren, her first guardian, one of the very few people with whom she was friendly. Salander is defended in court by Blomkvist's sister Giannini, a women's rights lawyer, but one with no criminal court experience. How would she get on in a strange court ?
I won't go further into the strong plot for fear of spoiling it. But it's a brilliant story, well written, and a real page turner. The book thoroughly deserves the success it has enjoyed. The trial itself is brilliantly handled, and Stieg Larsson get the pace just right, and it all builds to a terrific climax. And then there is an excellent epilogue when two loose endings are tidied up.
Throughout the book there are lots of one page chapters about the Amazons, the warrior tribe of women, and about the place of the women soldier in history. I wasn't sure if this was a reference to Lisbeth, a true women warrior, or to Figuerilo, Blomkvist's new girlfriend, and one of the many excellent new characters in the book.
And now, I have read the final book in the series.
I'd love to read of more adventures of Mikael and Lisbeth / Salander and Blomkvist, but sadly this isn't possible. Stieg Larsson died in 2004, and never lived to see the success that his books enjoyed. Perhaps other authors or indeed Stieg's girlfriend could try to write a follow up - after all there are lots of precedents of characters living on after their creators. But could any resulting book ever be so good. It's a stunning book, and a great trilogy, satisfying on so many levels. What a great tragedy that Larsson died so young, but lets be grateful for what we've got.
Links to author index and home page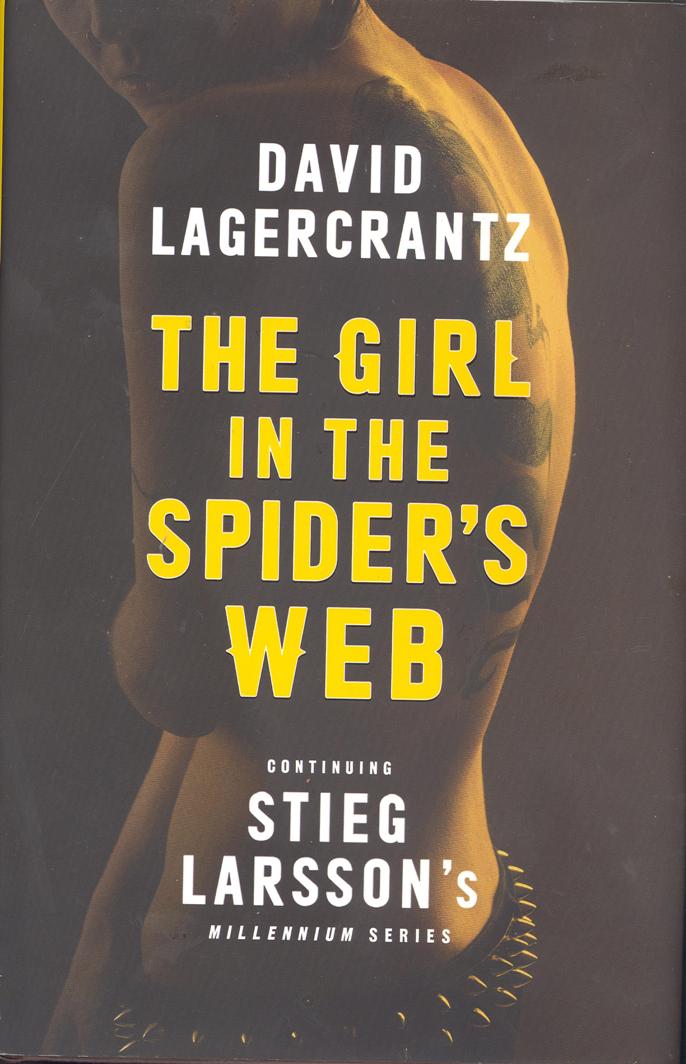 I read this book in April, 2016.
Although I had never heard of him before this book, David Lagercrantz is reportedly a well known Swedish writer and crime journalist. When working as a young journalist, Lagercrantz wrote about an eight year old autistic boy whom everyone thought was severely mentally impaired, but the boy astonished everyone when he drew from memory and in perfect detail a picture of a set of traffic lights. Lagercrantz wondered what would happen if such a boy witnessed a murder, and the murderers came after him. He would need help to survive, and who better could help him but Lisbeth Salander, who would possibly see much of her young self in the boy.


And so we have the essence of the story in this book. Austin Balder is the autistic 8 year old son of Swedish scientist Professor Balder, a software expert in artificial intelligence. Balder has a secret that has put his life in extreme danger, and so, late at night, he phones that famous, fearless investigative journalist Mikael Blomkvist and begs him to rush round and hear his story, and get the scoop of the century. Mikael does this, but is too late - he finds that Balder is dead, but his son Austin has survived, and needs help. Soon Austin gets the help he so desperately needs when Lisbeth Salander comes back on the scene. Lisbeth had been working flat out on a research topic of her own - trying to track an elusive gang of Russian hackers known as the Spiders, and headed by the mysterious Thanos. Who was Thanos, and why was Lisbeth so obsessed with the search ? Soon it is apparent that various groups and their stories collide - linked, although they don't know it, by the common search for Thanos and the Spiders.
I have rather jumped forward in telling the story. At one of the openings to this tale we meet a terribly jaded Mikael Blomkvist. It's a long time since Mikael had had a scoop, his magazine the Millenium had dropping circulation, and had to turn to a wealthy publishing house for financial backing. Initially the backers left Millenium alone, but now they wanted to push through changes that Mikael opposed. Could he rouse himself to fight them , or did he no longer care. What eventully roused him from his lethargy, and had him rushing to help Professor Balder was news that Balder had been helped by a strange female hacker! At another opening to this tale, some crazy but genius hacker has managed to do the impossible and hack into a top secret American Government Security Agency. They are very powerful, and want to track down the hacker - who of course is none other that Lisbeth Salander.
Soon Mikael and Lisbeth are back in touch via encripted emails, helping each other, but in true Millenium series script, never actually meeting - until possibly the very end of the book, but I'll say no more. However there is one wonderful single line paragraph from David Lagercrantz - "a star fell outside in the night sky"
It was a really complicated story involving a huge cast, and and I was greatful for the glossary of Who's Who helpfully provided by David Lagercrantz. I always thought that we were meeting the real Mikael and Lisbeth once again, so well done for that to the new author ! However for the first half of the book I thought the story was not as good nor as strong as in books one to three. But then things perked up at the half way mark, and I was hooked once again. The story delves back into Lisbeth's history, and we discover that she had a sister Camilla, but that Camilla and Lisbeth are sworn enemies. At the end of the book, Mikael and Lisbeth prevail, but there are loose ends. Davis Lagercrantz has told us that he is working on book five - so we await this with interest.
Its a good / very good story, and David Lagercrantz has successfully resurrected Lisbeth and Mikael. I had hoped we would meet them again and we have, and that is a good thing !
Links to author index and home page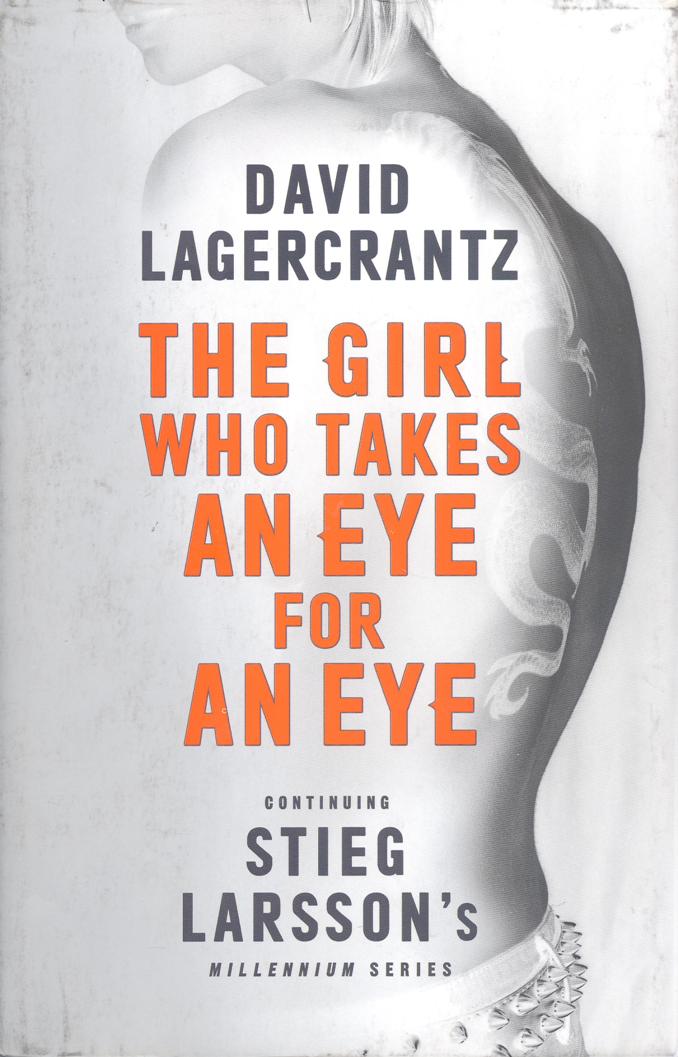 I read this book in April, 2018.
This is book 5 in the Millenium / Dragon series, and the second book by David Lagercrantz. He has successfully, I think, resurrected Lisbeth Salander and Mikael Blomkvist - two strong characters created by Stieg Larsson in his "Girl With The Dragon Tattoo" trilogy. I think that the first three Larsson books are the best, but equally David Lagercrantz does a fine job, and gets most things right. The books and the characters feel the same - and achieving that is no small feat. David is a good writer, and his plots are terrific.

This book follows on from book four, and opens with Lisbeth Salander in prison for a two months sentence, essentially for contempt of court. Although a national hero for saving his life, she refused to say where she had hidden the young autistic boy (Austin Balder) she had saved - and she was completely indifferent as to whether she went to jail or not. Blomkvist's sister defended Lisbeth, but without Lisbeth's co-operation it was hopeless. Mikeal, now also famous as Sweden's foremost investigative journalist, visits Lisbeth in jail once a week.
A large part of this book is mostly about Lisbeth Salander's early life. We knew that Lisbeth had a brilliant but evil twin sister Camilla, and now we learn who it was who separated the young Lisbeth from her mother - a lady with a birth mark on her throat who still haunts Lisbeth's nightmares. We also meet two other twins Dan and Leo, both musically gifted, identical but mirror image twins who are fellow victims of the same birth mark lady. So strand one of this story is established. It is about a terrible research project involving twins - separate them, put one in a good home, put one in a terrible home, follow their progress and so work on the what determines character, heredity or environment. The project was run by a now disbanded group called the registy -and powerful people are prepared to kill to keep the registry work and their identities secret.
The second strand of the book is a story in essence about religious fanatics and honour killings. A psychopath prisoner by the name of Benito rules the women's prison where Lisbeth is sent. Lisbeth and Benito clash. Benito has been torturing poor Faria whose boyfriend had been of the wrong religion and was killed by Faria's brothers. Abused beyond endurance, Faria attacked her elder brother and ended up in jail. Like Lisbeth she hadn't bothered to defend herself in court but Faria was protecting someone. Lisbeth likes underdogs and she and Faria eventually become friends.
These two stories emerge slowly in the first third of the book, and we meet lots and lots of characters, some old, and some new. There was so much detail that I struggled a little, and thought the book might prove to be a disappointment. But once all the stories are established and we know where we are, the final two thirds of the book finally takes off, and in the end I ended up liking the book. Pity about the first third, though.
Lisbeth is the same character, powerful, haunted, a brilliant computer hacker, but one pursued by many enemies. She does not cultivate friendships, but she does have good friends - Mikael Blomkvist, chief inspector Jan Bublanski of the Stockholm police, Annika Giannini (Blomkvists lawyer sister), and especially Holger Palmgren, her former guardian and one of the few people she trusts. Sadly Palmgren is killed by the registry group, and Lisbeth sets out to avenge his death - hence the title "The Girl who Takes an Eye for an Eye". Its a well written story, Lisbeth is in great danger, tension builds to several climaxes, but eventually Lisbeth and Mikael prevail. The twins story was also handled with skill, and I kept changing my mind about how it would end.
All in all, after a somewhat complicated start, a cracker of a book.
Links to author index and home page


I read this book in August, 2020.
This is book six in the Millenium Series about the investigative journalist Mikael Blomkvist, and the extraordinary hacker (and many other things besides) Lisbeth Salander. It's a great help to have read this series from the start and know who most of the main characters are, but there are lots of new characters, and, what with all the foreign names, as usual, I found it difficult to follow. However this book does have a helpful "Who is Who" list at the front. Amongst many things, this is a book partly about spies, particularly Lisbeth's now long dead father Zalenchenko (Zala). He was a Russian gangster / sadist who was protected by a secret subsection of Sweden's Secret Service. They though he was their agent, feeding them priceless info about Russia, but he was really a double agent, betraying far more back to Rusia. Zala abused and tortured Lisbeth's mother Agneta, and 12 year old Lisbeth saved her mother by setting fire to and killing Zala. Zala had turned his attentions to Camilla, Lisbeth's good looking twin sister - in short, he was grooming her. She didn't understand, thought Zala loved her, and when Lisbeth killed Zala so began Camilla's life long hatred. Very belatedly Lisbeth feels guilty that she had not realised what Zala was doing to Camilla, and should have protected her sister. This explains why twice in this book, Lisbeth is unable to kill her sister. Even at the very end of this book, in a terrific climax , and the Camilla / Lisbeth feud is settled, it is not Lisbeth who ends it.
There are multiple stories running at the same time, soon to link up.
One story opens with Blomkvist going to visit Salander. He last saw her at her old guardian Holger Palmgren's funeral, and after that he knew she had been touring Europe, but he hoped to find her back home. But no, she had moved, without telling Blomkvist. Camilla is trying to find and kill Lisbeth, and Lisbeth, tired of being hunted, decides to be the hunter - she is in Moscow. Being Lisbeth she has left spy cameras at the entrance to her old apartment, and soon knows that Blomkvist has been to visit. One way for Camilla to get at Lisbeth is via Blomkvist ! As an aside we learn that Erika, the editor of Blomkvist's Millenium magazine, has decided to divorce her husband Gregor. Hers was a strange marriage - Erika was openly sleeping with Blomkvist, and Gregor did not seem to care.
We now learn of another sub plot. A strange beggar in central Stockholm has died apparently of alcoholic poisoning. His body showed he had had a terrible trauma - he had lost his fingers (frost bite) and had dark patches on his face. He had been trying to tell some wierd story about the defence minister, Johannes Forsell, but no one would listen to his incoherent babblings. He had Blomkvist's phone number in his pocket, and so the medical examiner Dr Frederika Nymen, phones Blomkvist. It later turns out the beggar was a Sherpa leader - a great, but fallen hero. He lead an Everest expedition - and we learn a lot more about this expedition later as stories come together. The beggar was Nima Rita, and he had been poisoned, but not with alcohol !
We now learn of yet another sub-plot. Blomkvist had been researching the Johannes story. There had been a huge fall on the Swedish Stock Market, and everyone now believed Forsell was behind it. Poor Forsell, Defence Minister and ex Secret Service, had gone from being a national hero to a national villain. Blomkvist knew Forsell, and his wife Rebecca, and thought there was something behind this. Forsell had thought the market fall had been orchestrated by false rumours and lies spread by a Russian troll factory. They in turn attacked him and trashed his reputation. As part of the stories linking up, - the troll factory was part of the old Zala gang but now run by his daughter Camilla.
The key to the Johannes Forsell story seems to relate to an ill fated Everest expedition where a media star ex model Klara Engelman knew little about climbing, but was attempting Everest. Johannes and his assistant Svante Linberg were also on the climb. Klara had Victor Grankin as her guide but they became lovers. Klara was married to a man to be feared - Stan Engelman. The climb was hit by treachery and a terrible storm and Klara and Grankin died - but Klara apparently was saved only to be abandoned and left to die a second time. Her screams tortured Johannes and drove the guide Nima Rita to insanity.
It's a big, complicated story - which I thought started very well, but then the writing somehow didn't flow very well. It was as if Lagercrantz was writing to a formula. Blomkvist needs a new love interst - he meets and charms a sceptical but very able media blogger Catria Lindas. She had always been in awe of the famous Blomkvist. Lindas and Blomkvist become instant lovers. That is the Blomkvist love interest ticked. Salander is a Lesbian who also needs a lover. She meets Paulina, they jump into bed together. Salander love interest sorted. Paulina was married to wife beater Thomas Muller, and Lisbeth feels a wife beater should not go unpunished.
There are even more complications. We meet police officer Jan Blubanski again (Officer Bubble), and who is the Polish / English man Kowalski ? Jurig Bogdanof is Camilla's star hacker (but not in Lisbeth's league). Ivan Galinov is Camilla's feared chief torturer.
Somehow, though, Lagercrantz gets it all under control again. It all ends in a terrific climax where Blomkvist is kidnapped by Camilla, and tortured almost beyond endurance in several very painful to read pages. Can Salander ride to the attempted rescue ? Who will prevail - Camilla or Salander ? If you stop to think about it, though, it's all so very implausible.
Hopefully there will be other books in the series - and I do hope so. But the Camilla / Lisbeth revenge saga has been concluded. As the author puts it in an epilogue, "I've put a full stop. Time to begin again"





Links to author index and home page