Iain's Leisure Reading
Browsing in a charity book shop, I was attracted to a book cover which proclaimed that S.J. Bolton was now writing as Sharon Bolton. So what, you might think. Anyway, I picked up the book to see what this was all about, and discovered that Sharon was an English author of police precedural crime fiction, and her sleuth was a lowly detective constable Lacey Flint. Most of our heros are either private investigators or police detective inspectors and above. Of course there are exceptions. Hamish Macbeth was a police constable at the start of his series, and Jack Frost was a police sergeant. At the other extreme Bob Skinner ended up as a Chief Constable ! Anyway, I was intrigued, and decided to give Lacey Flint / Sharon Bolton a try.
Usually I do a little research on the authors as this often informs their work. However I have not been able to find out all that much about Sharon Bolton. She was born in May, 1960, and was brought up in a typical Lancashire cotton town. She says she has had lots of varied life experiences but doesn't go into details. Her first book "Sacrifice" was published in 2008, and the first in the Lacey Flint series in 2011. She now (2017) lives near Oxford with her husband, teenage son, and dog. She has been nominated for and won various awards. But that's all I know about Sharon Bolton. And I still don't know why she changed from writing as S.J Bolton.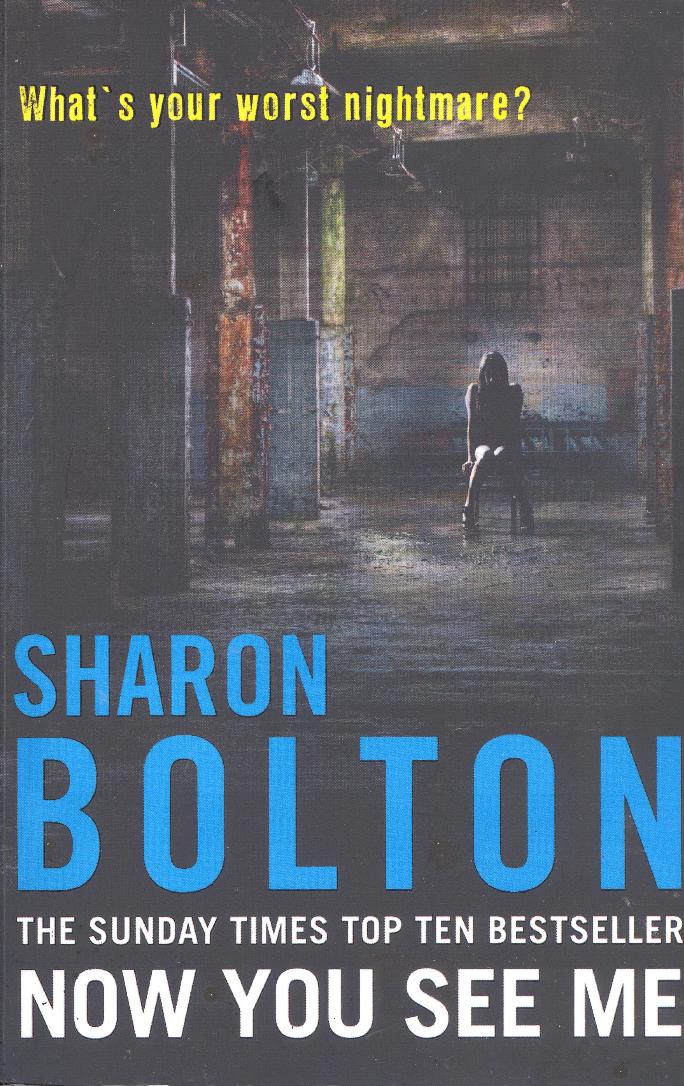 I read this book in October, 2017.
I am reading this series because I chanced upon "Now You See Me" in a charity shop, noticed it was the first book in a series, and that the detective was female and of lowly constable rank. "Thats different", I thought, "let's give it a go".
"Now You See Me" is not Sharon Bolton's first book, but is the first where we meet probationer detective constable Lacey Flint - London based. I thought it was a terrific story on all sorts of levels, and have already bought books 2 to 4.
The book opens with some poor woman, whose body has been grievously mutilated, collapsing half dead into DC Flint's arms. Flint is in shock. There is no sign of any attacker. Flint calls for back up, and declares herself a scene of crime. Because of all the blood on her clothes, they think Flint has been injured , but she is OK. We now meet an interesting team. DI Dana Tulloch sweeps up in an expensive Mercedes sports car, and she has what everyone thinks is her boyfriend DI Mark Joesbury in tow. Tulloch is in charge, but Joesbury sits in on Flint's debriefing and turns it into a cruel interrogation. Why does Joesbury attack Flint. No sooner has he done this than he points out that any suspect would be fed and watered, but Flint, one of their own, has not. He insists on taking her to a restaurant for a meal. Soon the pair are in the same team, but still at daggers drawn. Does Joesbury suspect that Flint is the killer / is this some strange mutual courtship ?
To be brief, this is murder one in a series of Jack the Ripper style copycat slayings where women are stripped, molested, tortured and mutilated - and sometimes body parts taken as souvenirs. It's all quite gruesome. Joesbury does suspect Flint, but is Flint herself a future victim - she seem strangely linked to the murders. Joesbury follows Flint to protect her, but to get evidence against Flint too. And yet there is an obvious spark betwen Lacey Flint and Mark Joesbury. Will they end up together - and how many books will it take to get there ?
As the murders unfold we also follow several other threads. Thread one is the original Jack the Ripper murders of the 1880s. Thread two is a dreadful story from 11 years ago about some girl called Cathy. We also learn of the gang rape of the two Llewellyn sisters by 16 year old public school boys whose parents have fancy lawyers. 17 year old Victoria Llewellyn was told she was the only person over the age of consent, and although the victim, would be accused of raping the under age boys. And so she was persuaded to drop the charges - a terrible injustice calling out for retribution.
Deliberately we are hardly told anything about Lacey Flint's background. There are hints of early sexual abuse, and drug abuse. She never knew her father, her mother was a drug addict, and Lacey was brought up by her grandparents, now dead. By the end of the book we know just who Lacey Flint is, as all the separate strands are brought together. We the readers hear - most of us had already worked it out, I guess - but Mark Joesbury hasn't worked it out.
It's a terrific story, but I mustn't say any more. What is the future for Mark and Lacey - will they become lovers ? Of course, we must read on.
Links to author index and home page