Iain's Leisure Reading
In some charity shop somewhere I chanced upon the first three books in W J Burley's Wycliffe series, and thought I would give them a go.
W J (William John ) Burley was born in Falmouth in Cornwall in 1914. After school, he worked in senior management for various gas companies, but after the second world war, had a career change. He got a scholorship to study zoology at Balliol College, Oxford. In 1953, with his honours degree, he then became a teacher, eventually ending up at Newquay Grammar School in 1955. Soon after that he took up writing, and is best known for crime fiction and his character detective Charles Wycliffe. The first Wycliffe book was published in 1968. Burley retired from teaching in 1974, but carried on writing until his death in Cornwall at the age of 88. He died in 2002.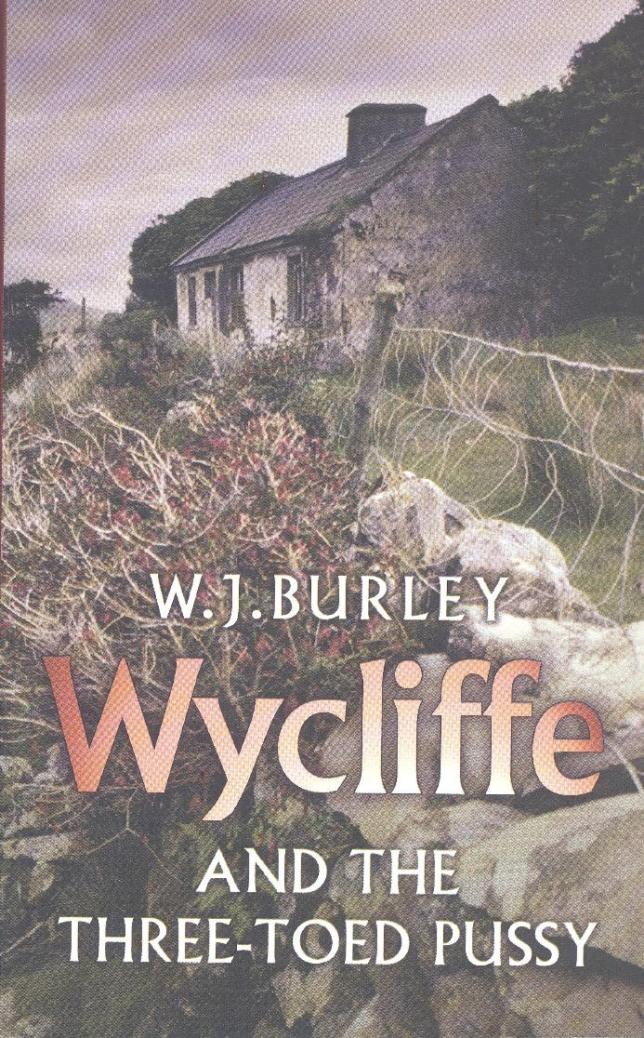 I read this book in July, 2017, and then by mistake when I thought I hadn't read it, I read it again in November, 2018. I had entered the title twice in the list of Burley books, once correctly as book one with a date 1968, and secondly and erroneously, as book seven with a date 1976 ! When I read it I ticked off book one as read, but didn't notice that it appeared twice. Then over a year later I noticed book 7 was unread, got a copy, puzzled that the story seemed familiar, but still read it. Initially I thought perhaps I had read chapter one only, and convinced myself I had not read the later chapters. I wonder how many other books I could reread, and not rememeber "who done it ?" I guess it's quite a few !
This is book 1 in W.J.Burley's series about Detective Chief Superintendent Charles Wycliffe - just known as Wycliffe - and set in the author's home county of Cornwall. We are gradually introduced to Wycliffe as a decent man, happily married to his wife Helen, and they live in a flat in Exeter (which of course is in Devon). They have twins, a boy and a girl, now apparently away at Uni.
Wycliffe seems to work by really getting to know the likely suspects in the crime by almost living among them. He likes to leave a local DI, in this case DI Darley, to run the detail of the investigation - to do all the work, and all the running around. Wycliffe likes to think things through. Her used to be in the Midlands - but has recently transferred down to Cornwall. I was reminded of Ruth Rendell's Chief Inspector Wexford - both are good detectives, decent men, and happily married, which makes a change from the usual flawed, tormented DI loner found elsewhere in crime fiction.
This was a slightly old fashioned tale. A local beautiful woman is found in her cottage shot dead. Her left stocking has been removed to show a deformed foot - she only had three toes. She seemed to live rent free, and had a reputation from entertaining a variety of men friends through the day and at night. She didn't charge up front for her "services", but periodically got loans that would never be repaid. She also seemed well versed in the arts of blackmail. The murdered woman was Anna Welles - known to everyone as Pussy Welles. She seemed to enjoyn manipulating and humiliating her men victims. It seemed to be more a power trip than conventional prostitution - and this is the clue that Wycliffe uses to solve the mystery.
We are introduced to her collection of men friends - one of whom, or his wife, presumably killed her. It's almost like the Agatha Christie house party stories - an isolated location with everyone trapped there, and one a murderer. And true to form, Wycliffe assembles all the suspects together at the end to reveal who did it.
I thought it was a well written tale that augured well for the rest of the series. Thankfully it's a lot better than the previous book that I read - "Gently Continental." I will read on and see how the series goes.
Links to author index and home page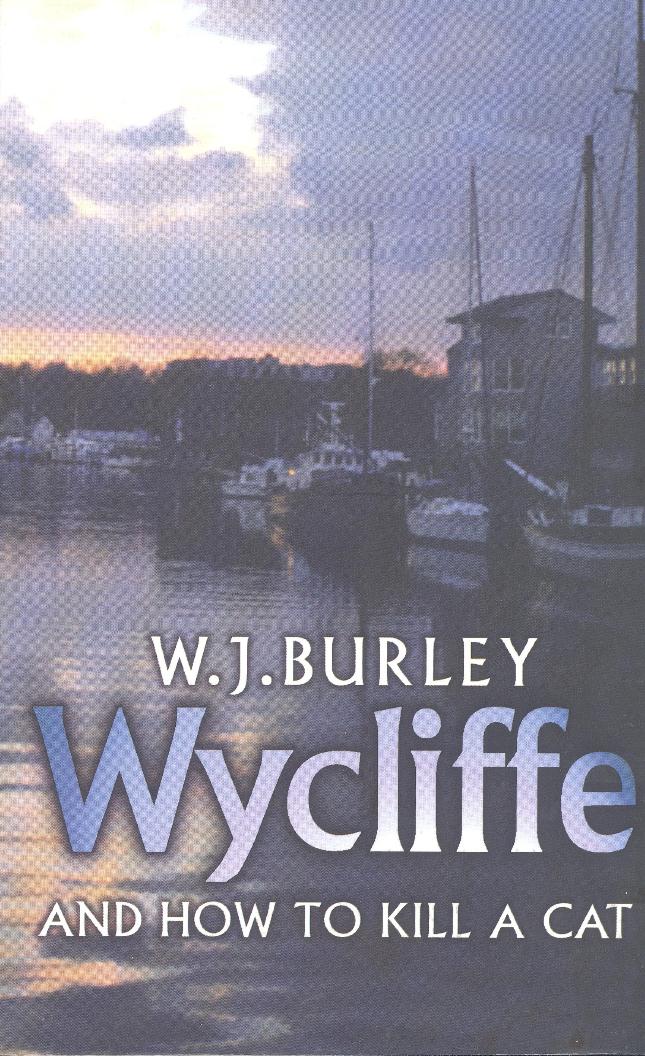 I read this book in July, 2017.
This is book 2 in W J Burley's Wycliffe series and gradually we are getting to know a little more about Wycliffe's methods and character. He is not really a team player, nor one for paper work. It is surprising that he has been promoted to Chief Superintendent - but he has a proven track record. He seems to get away without keeping written notes - everything is accumulated in his head, and by some mysterious osmosis, a solution to the crime seems to emerge. Wycliffe is worried at the start of each new case that his intuition may let him down - its not something that he is in charge of and if it doesn't work, he has no process to fall back on, so what would he do ?
I liked the opening to this book. Wycliffe and his wife Helen are on holiday presumably at some Cornish seaside resort. He knows an inspector at the local police station, and calls in to say hello only to find that his friend is off sick. However a local murder has just been reported, and Wycliffe decides to take an interest. It is an interesting case of an apparently up market beautiful young woman who has been discovered naked and strangled in a bed in the Marina Hotel - a decidedly seedy establishment in the docks. Her face had been savagely beaten after death, and £1,000 cash is found undisturbed in a drawer. Wierdly she seems to have been strangled ever so gently, almost lovingly, but then attacked in a frenzy. Wycliffe wonders if the two acts could have been done by different people, a strange case indeed. Wycliffe is hooked, and Helen is very understanding. The local DI is Inspector Fehling, almost a giant of a man. DCI James Gill from head office / Wycliffe's area squad is also summoned to assist. The dead girl is "Dawn Peters" (not her real name) who had worked as a stripper at the local Voodoo club owned and run by a Mr Masson- Smythe and his wife Thelma. Dawn had a reputation as being very wild and into casual sex, including with Masson Smythe. Dawn had some hold over the Masson-Smythes - she knew about their interesting side line. Previously Dawn had been married to a very reserved local business man - William Collins the owner of the local book shop. Collins still lived with his domineering mum and Aunt Kate who idolised Collins as the son she never had, and would do anything for him. Also at the book shop is a manager / book keeper - the very prim Miss Rogers who would probably have married Collins before the flighty "Dawn Peters" appeared. In short, it becomes obvious that there is no shortage of likely suspects (and motives), and Wycliffe moves amongst them getting to know their characters.
Inspector Fehling and DCI Gill do all the work, after all Wycliffe had been on holiday. Eventually it's all worked out but I thought it a most unsatisfactory ending. They have a confession and someone is charged - case completed. But Wycliffe knows that someone else is equally guilty and he has decided just to let the matter rest. What a strange decision from Wycliffe. DCI James Gill tells his friend and boss Wycliffe that he mustn't play God in this game, but Wycliffe replies "I'm not playing God, Jim, you've got the roles mixed, I'm cast as Pontious Pilate." It's a sort of clever ending, but not really justice.
All in all, quite a nice little story and I enjoyed reading this tale in spite of the ending.
Links to author index and home page


I read this book in August, 2017.
This is book three in the detective Chief Superintendent Wycliffe series by W J Burley. It's set in Devon / Cornwall. It's a nice, straight forward tale, not edge of the seat stuff, but entertaining and we are now getting to know the main character Wycliffe and his peculiar ways. He is still relying on instinct, but when asked to explain he can usually present a rational explanation of an accumulation of clues being somehow rearranged and connected and pointing to some conclusion. He must be very difficult to work with - he is definitely an eccentric. He is quite happy to let DCI Gill do all the work, and get on with things whilst he rambles about getting to know the place and its inhabitants. It is almost as if he is conducting a separate investigation.
In this story we are in the West Country town of Treen, itself separated by a river into East and West Treen, and connected by a ferry. The ferryman fishes the body of a dead woman out of the river - its that of Caroline Bryce, the beautiful wife of Matthew, the oldest of the three Bryce brothers who own most of the town businesses, and provide a lot of local employment. Mathew is rather unworldly, happy to play with his old steam model engines, Sydney runs the businesses, and George is an idler and ladies man. Caroline was a lot younger than Matthew, and looked elsewhere for entertainment. She had numerous affairs, but Matthew seemed indifferent. She even had an affair with brother George, and still Matthew didn't care. The pride of Matthew's life was his daughter Zel - if something happened to her he certainly would care. There is also Caroline's half brother Clement Morley, politician, former minister, a friend of the chief constable, and someone who expects action. By a strange twist of fate, Moreley and Wycliffe were at school together.
Just about everyone in the story could have been the murderer. All had a motive. The company business was to be sold, Caroline and Sydney were in favour, and together could outvote Matthew. With Caroline dead, Mathew was able to cancel the sale. Had he killed his wife to achieve this ? Everyone who knew him thought he would be incapable of such an action. Had George done the deed, but if so, why ? Or had Zel persuaded her boyfriend to do the deed. And what about Clement Moreley who was possibly being blackmailed by Caroline. Wycliffe moves amongst them all - he feels the clue to the murder lies well in the past, and slowly he is building a picture.
I thought it was a good well written story. Wycliffe reminds me of Chief Inspector / Superintendent George Gently , but the Gently books are hard going because of the author's flowery, obscure language. M.J. Burley can communicate clearly and simply - Alan Hunter should have read Wycliffe, and picked up a few tips.
Of course Wycliffe solves the a case but I'm not sure what a good defence lawyer could make of his breaking and entering antics. Its set in the early 1970s - simpler times. All in all though, a good read, I thought.
Links to author index and home page


I read this book in September, 2017.
This is book 4 in the detective Chief Superintendent Wycliffe series set in the West Country. It is a nice, straight forward series. Wycliffe is a good investigator - not the usual troubled soul of so many other series. The books have a beginning, a middle, and an end. We are presented with a puzzle, and join Wycliffe and his crew - i.e. the very well organised DCI Gill - as they work their way through all the clues and evidence until it is all solved - and Wycliffe goes on his way.
In this story, Evie is a young girl in the Scilly Isles whose body is found at the foot of a quarry. Did she jump, or was she pushed ? The islanders are a close knit community who quickly blame an outsider for the suspected murder - an ex pop idol Vince Peters who retired from fame and bought a substantial property in the middle of the island. He set up a disco in an outbuilding, and attracted all the local youth. He was a great hit with all the local girls - how many did he sleep with ?
Wycliffe is sent to avert a linching and convince the islanders that Evie's death will be investigated thoroughly. If he concludes that it is suicide, then that will be accepted. But Wycliffe concludes that it is murder. Evie was 4 months pregnant - was Vince Peters the father ? Did he kill her rather than marry her ? Or did her former boyfriend Jackie Martin kill her - stung by her rejection ? Or perhaps it was Vince's full time partner Clarisssa who did it out of jealousy, or perhaps it was Vince's brother to inherit some much needed money. In short, there are lots of suspects.
Wycliffe as usual sort of relies on informed intuition. He gets to know everyone really well, keeps asking questions, sleeps on it, tries not to get too bogged down with detail, and somehow puzzles it out. Of course, there is another death just to complicate matters, but it is all sorted in the end.
Wycliffe doesn't like police politics - he doesn't suck up to anyone, and so will never rise further up the police hierarchy. He has cultivated a reputation as an eccentric which sort of protects him - and he does have an excellent clear up rate.
It's all well written, and very believable. The book held my attention throughout, and the ending made sense. In short, its an OK series, good value for money and time spent.
Links to author index and home page


I read this book in October, 2017.
This is book 5 in the detective Chief Superintendent Wycliffe series set in the West Country. Police area headquarters has just been relocated to some large seaside town presumably in Cornwall, and Wycliffe and his wife Helen have moved from Exeter. They have bought a substantial granite house with its own drive sitting in grounds of half an acre, and with lovely sea views over the estuary. Helen loves the new house, and is in her element getting the house just to her liking. In this story it is almost Christmas, and the twins David and Ruth are home from Uni. Otherwise it's business as usual, with DCI Gill doing all the work and Wycliffe being somewhat eccentric in character, but still a brilliant detective.
The crime here is the murder of a prostitute Lily Painter in her flat in dockland Stanley Street. Lily is very upmarket, well read, educated, sophisticated, but still has a seedy address. A coworker Brenda discovers the body strangled and naked in her flat. DCI Gill says it's obviously a sex murder, but Wycliffe is not so sure. It turns out that Lily is really Christine Powell whose father was a well respected local local businessman. Christine dabbled in property - using a bit of blackmail to get inside info on good deals. Wycliffe poses the question who was killed - was it Lily Painter, or Christne Powell ? There are lot of possible suspects. Was it someone whom Christine was blackmailing, or some property rival, or someone else ? Christine had two boyfriends - the very inexperienced young architect Paul Morris, and the cruel but dashing Derek Robson who works as book buyer for Mr Jarvis. A local waitress made up a foursome. Jarvis seemed a very successful bookseller specialising in antiquarian books. He is so succeessful he is patron of local artists. "I didn't realise there was so much money in bookselling" says Wycliffe, and of course Jarvis (and Robson) made their money in other ways.
It's a good story, not too overcomplicated. A property owned by the dead Christine Powell is destroyed in an obvious arson attack. A badly disfigured body is found in the ashes, but we don't know whose body it is. There are two possibilities. If A was the victim and died, then B was the murderer and survived, but which was which ? Nowadays a DNA sample would solve the mystery but the technique had not yet discovered. Of course the book builds to a good climax, and Wycliffe takes a huge risk to get his murderer.
I like these stories. Wycliffe is an honest likeable character, happily married to Helen - a bit eccentric (perhaps a deliberate act) but very astute. It's promising to be a good series.
Links to author index and home page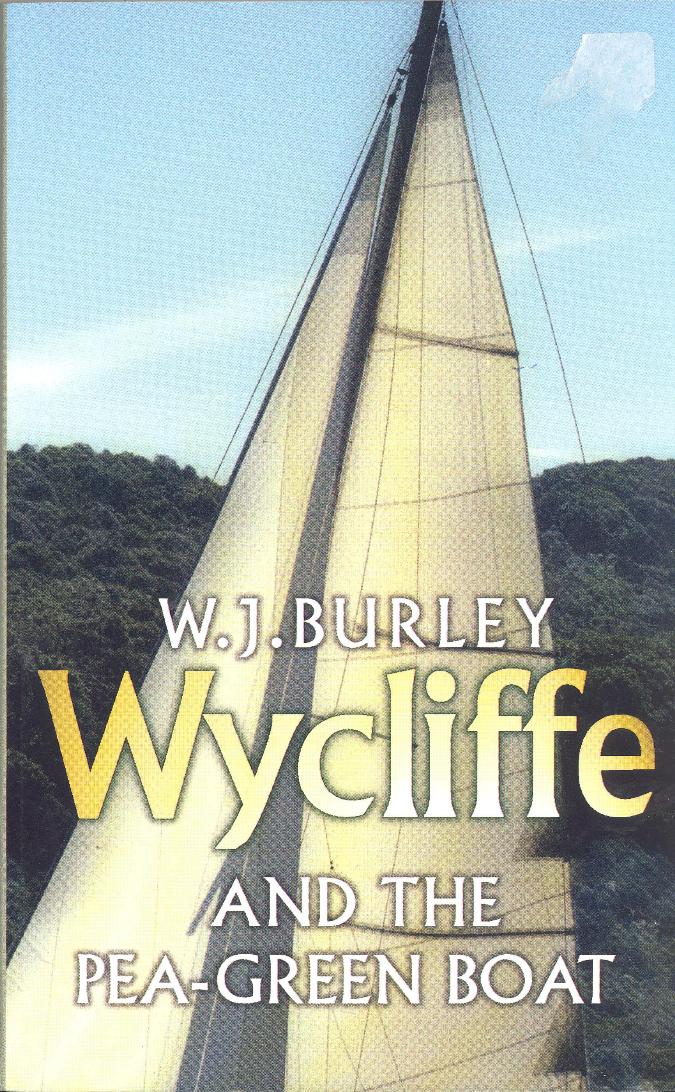 I read this book in December, 2017.
I criticised Wycliffe and How to Kill a Cat, (1970) book two of the series, for having a most unsatisfactory ending - Wycliffe played judge and jury and didn't charge the crook, but let him off. Policemen should act as policemen. Sadly M J Burley is at it again in "Wycliffe and The Pea Green Boat", book 6 in the series and another reasonably good book was ruined for me by the poor ending. That is a pity because up the the ending I was quite enjoying the story.
The story is told in two parts. Part one is back in 1953, and we are in a little fishing village in the West Country. We meet Morley Tremain, a quiet lad, a bit of a mother' boy, who lives with his mother in the flat attached to their newsagents. Alice Weeks starts work as a shop assistant in the newsagents, Morely asks Alice for a date, and soon they are going together. We next meet Harry Tremain, Morely's uncle, who has many businesses in the area, and is reasonably wealthy. Harry's son Cedric is the opposite to Morley, a scoundrel, bad tempered, a cheat, but very successful with girls. To cut a long story short, Morley catches Alice having sex with Cedric, is heartbroken, and drops Alice as his girlfriend. Later Alice is found raped and murdered in a spot where Morley had been seen walking - there are lots of other indications that Morley did the murder, he is charged, and sentenced to be hanged. Morley didn't help his case by giving several false signed statements to the police - so when he eventually says that he saw Cedric running away he is not believed. And so this is part one - an innocent man convicted and the rogue Cedric escapes justice. I liked it that the whole story was told from start to end, no mixing of later events with earlier flashbacks. I also didn't mind that there was no Wycliffe in the story.
Part two brings us up to then current times, some 21 years later. Harry Tremain has retired but still keeps active doing some lobster fishing from his "Pea Green Boat". There is an explosion, and Harry is killed - it looks as if his son Cedric stands to inherit some money, and has solved his financial worries and debts. DCI Gill is in charge of the murder investigation, builds a strong case against Cedric, and prosecution is to proceed. However Gill has a nagging doubt. Wycliffe is on holiday / sickness leave in the area. Charles and Helen's daughter Ruth has a steady boyfriend and this holiday is a chance for both sets of parents to get to know each other. Wycliffe is not keen, and when Gill asks him to cast his eye over the Cedric case, he is delighted to escape and do what he loves best - delve into other peoples lives in a murder investigation. And so quite a good tale unfolds. It turns out that Morley was not hanged, but served a life sentence, was out after 14 year sentence, but apparently died in a bad motor crash some three years later. Several "standard" plot themes recur in crime fiction, and one is used here. The manager at the local camp site has a badly disfigured, fire damaged face. If you read a lot of crime fiction you know what this can mean.
Overall, a very readable, enjoyable, simple story well told. Lots of Burley's readers will work out where the story is going. And then sadly, the non ending. I'll read on and hope the next book has a better ending.
Links to author index and home page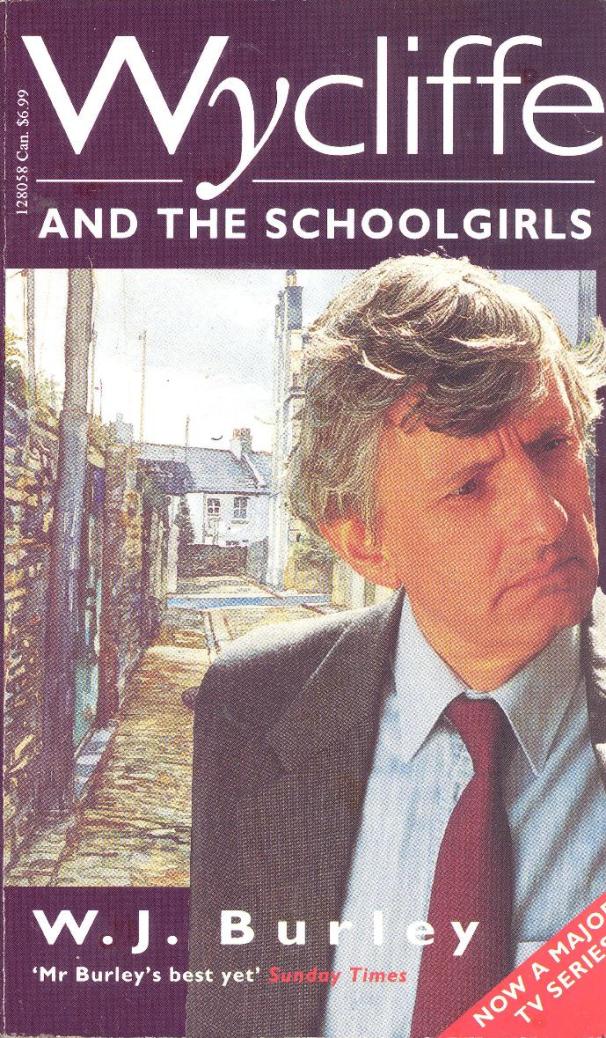 I read this book in August, 2018.
This is book seven in the detective Chief Super Charles Wycliffe series. I have been reading this series out of sequence - I found the later books in charity shops but struggled to find the early ones. I finally got a copy of this book in a second hand book shop in Shanklin.
In the every early book DCI Jimmy Gill is Wycliffe's chief assistant, but there is no sign of him in the later books. So as soon as I got a copy of this book, I read it straight away, to try to solve the mystery. DCI Gill is still there, and he is still there at the end of the book. Perhaps I will find out where he goes / what happens to him in book eight ?
In his personal life, Wycliffe has moved into a new police HQ, and bought a new house on the headland. The twins are doing post grad. studies at Uni, but are home for the holidays. Wycliffe is still a bit sulky - he looks out of his office window at the people scurrying around, and mutters "futile" at their meaningless endeavours. Cheer up, Wycliffe !
It's a plain simple story told in a couple of sentences on the back cover of the book. Debbie Joyce is found strangled, and then Elaine Bennett is found a week later, killed in the same way. The girls are linked through a terrible schoolgirl prank that they played on one particular misfit to the group staying together years ago on a residential school trip. So is someone working off an old revenge - and if so, why now ?
Wycliffe wants to understand the mind of someone whom Gill simply calls a nutter. It's all well told, and, in short, a good read.
Links to author index and home page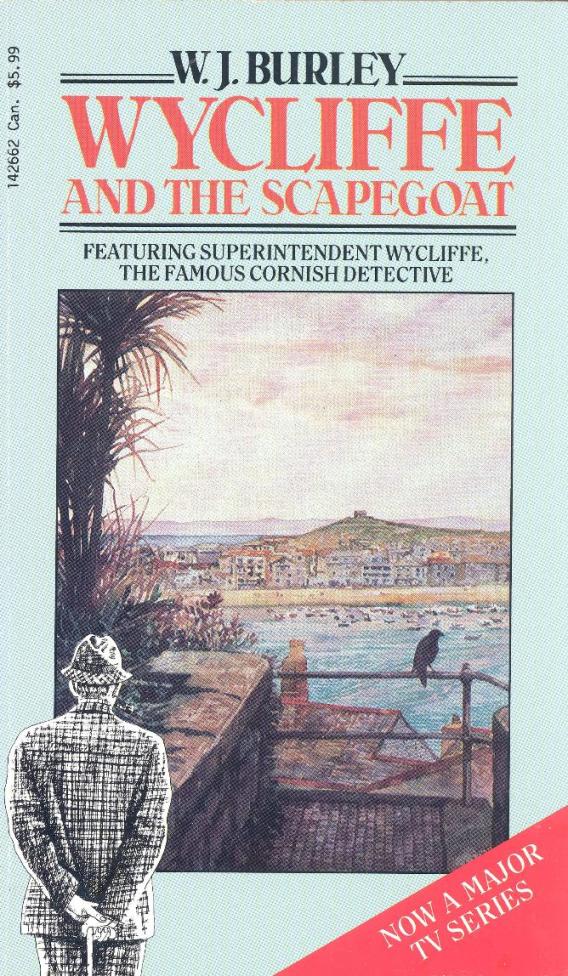 I read this book in Mar, 2018.
This is book nine in the detective Chief Super Wycliffe series set in Cornwall. The previous book in the series that I read was Wycliffe and the Pea-Green Boat , and so I am having to read a few of these books out of sequence which is not good practice - I am on holiday in Sydney as I write this. Wycliffe now seems less eccentric, and his team has changed - now it's DS Bourne and John Scales. I'll need to read the missing books to see what happened to DCI James Gill.
The story opens with Helen and Wycliffe spending a weekend with friends in an unnamed Cornish seaside resort. It's off season, Halloween, and the town is quiet except for the annual Scapegoat sacrifice. A big wheel with a scapegoat effigy is set alight and trundled over a high cliff and into the sea. We had previously met John Riddle, a local builder, decorator and acting undertaker. He is a self made man, but unsentimental when it comes to business matters. He lives in a huge house with his aged mother, his sister Sarah, and her son Mathew. Nobody likes John Riddle, and now there is a local rumour that he has gone missing.
A few days later and Wycliffe is back in town, but on official business. Riddle is indeed missing, assumed dead. Who, of all the people Riddle has crossed and ill treated killed him ? He had crossed his brother-in-law in business, and the brother-in-law now faced ruin. Mathew, also an employee, had been caught stealing from Riddle's business. Riddle was now to get married meaning pending changes at home. Who, of all the many, killed him, and why ?
It's a typical Wycliffe tale - a plain murder mystery not a mass evil serial rapist story. Burley has an easy reading style that I like.
Of course, Wycliffe solves the murder when the penny drops, and he looks at the case in a different way. All along it had seemed that Riddle had been relaxing in his shirt sleeves somewhere - but where and with whom - when he was murdered.
It's a good series - not premier league detective fiction, but a good read for all that.
Links to author index and home page


I read this book in Mar, 2018.
Wycliffe in St. Paul's Court is book 8 in the Wycliffe series, but book 1 in trilogy I had taken to read on holiday in Australia. A trilogy is a space saving way of taking 3 books on holiday - but unfortunately it meant reading part of the series out of sequence.
The book opens with background on the people living in St. Paul's Court - a collection of 4 houses round a little square in Wycliffe's home town. Willy Goppel, a German emigre, makes fantastically detailed dolls houses which he sells from his little shop. The Hedleys are a retired posh couple. Poor Mrs Fiske has a difficult life caring for Marty, a grown man with a child's intelligence, and Mr Fiske has not only washed his hands of Marty, but insists that Marty be fed separately before Mr Fiske returns home for his meals. Generally Mr Fiske is a nasty piece of work - but of course that does not usually make him a murderer. Natalie Cole owns and manages her own "gentleman's club", and the Ward family run the local post office. Fifteeen year old Yvette Cole boasted to her friends that she slept with men for money, but was it true ? Willy Goppel was a German jew who escaped in time - but also was that true ? Yvette Cole goes missing, and her half naked body is found later dumped in the local churchyard. Much later, the body of Willy Goppel is found hanging from a beam in his house. And so we have two possible murders in St Paul's Court for Wycliffe to solve.
Once again, Wycliffe's deputy is John Scales, and he sets up a local incident room, roping in the local sergeant Kersey to assist. Who did the murders, and why ?
It's a good, old fashioned plain who-done-it that kept my interest throughout. All in all, an OK story.
Links to author index and home page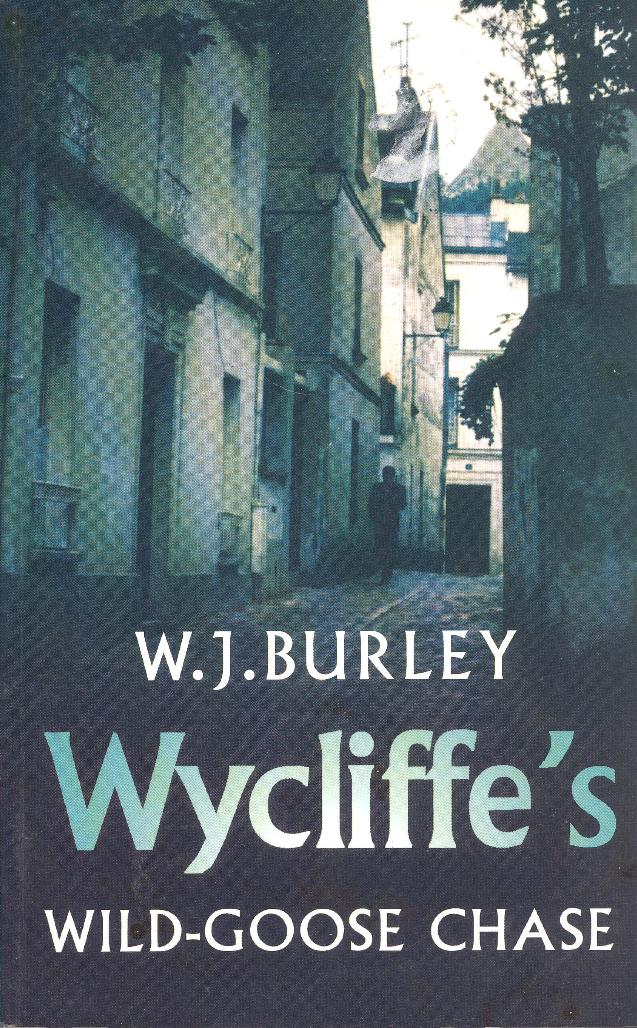 I read this book in Jun, 2019.
This is book 10 in the Detective Superintendent Wycliffe series set usually in Cornwall. I have managed to read the series mostly in the correct order, but this particular book took me ages to find in a charity shop, and so I think it will be the last in the series that I read. I say this because I have still to read the final unfinished book "Wycliffe and the Last Lap" but I am not sure if there are copies of this book / what its status might be.
"Wycliffe's Wild-Goose Chase" is a lovely slow paced book. The book opens with two scenes. In scene one, three good friends are meeting together in the home of one of them. The three friends are the "major" (Major Gavin Lloyd Parkyn R.M. ,C.B.E., D.S.O., etc), Bunny Lane, and Joe (Joseph Clement). They meet as a matter of routine several times a week, always at Bunny's, where they sit in companionable silence round the coal fire, smoking their pipes or cigar, drinking home made wine or whisky for the major, and later playing several rounds of dominoes until the major announces its time he went, and the gathering breaks up. Of late however something has been troubling Joe, and he tells his companions that he has more or less decided what to do about it. Soon we discover that Joe runs a highly reputable antique business, but several years ago he allowed his younger brother David to join him as a partner in the business, and sadly the high business reputation seems about to be trashed by David's dealings. The major had a brilliant career - he was very bright and fearless - but now he is retired and lives very frugally with a spinster sister Hetty. He has a daily routine and sticks to it. Bunny has his own carpenter's business.
In the other opening scene Wycliffe is at home with Helen, and decides to go for a walk along the sea shore. There he discovers a loaded revolver with one of the chambers empty - it has recently been fired. Is there a body somewhere ? Wycliffe starts a search. Later a body is discovered. Joe is slumped over his desk shot through the head. It seems to be suicide - (is this the solution to his problem ?) - but the gun is missing and door handles have been wiped clean of prints. So is it murder ? Joe's brother David is missing as is his yacht. So did David kill his brother and make off - but why leave quite a lot of money in the safe ? Sgnt Kersey joins Wycliffe in the investigations and soon they identify the gun that Wycliffe found as the one that was previously stolen from the major two years ago and never recoverd. It was this gun that killed Joe.
Wycliffe does his usual and tries to dig into the life of of the three friends - the major, Joe and Bunny. Wycliffe even smokes his pipe, has a drink and plays dominoes with the two remaining friends - the major and Bunny. It's here that Wycliffe is convinced he will find the solution to the case. And of course there is a second murder.
Everything now unfolds in its own time. The major is a formidable character - what does he know, and how can Wycliffe possibly find out ? It's a lovely little story and Wyclife and Kersey get there in the end.
Wycliffe's daughter pays a visit - he is amazed how she has grown into such a sophisticated young lady. At work Wycliffe is offered promotion to Deputy Chief Constable. It's more money and a better pension, but is mostly administation and Wycliffe likes to meet people and do proper detecting. Just what he has decided to do is left hanging at the end of this book - i.e. we must get the next book to find out.
Links to author index and home page


I read this book in Mar, 2018.
This is book 12 in W J Burley's D. Chief Super Wycliffe series and book 2 in the three story omnibus I was reading on holiday in Sydney in March, 2018. I liked the story, but was surprised that Wycliffe took so long to work out what the underlying secret was. I thought he had worked it out early in the book, but he seemed to forget it, and it then came to him as a suprise later on. All very strange I thought, but notwithstanding, it was a good story well told, and we were left guessing as to who the murderer/murderess might be right to the end of the book.
Wycliffe has turned down promotion to Assistant Chief Commissioner as he does not want to be an administrator - he wants to get out in the field and solve murders. Fear of promotion seems a universal theme in crime fiction. Such successful detectives would inevitably be promoted in real life. Unlike in the very early stories, Wycliffe now immerses himself in the detail of the case, but still waits for a solution to gel in his mind. Sgnt Kelsey of Wycliffe in St Paul's Court, is now DI Kelsey. It is his case, but Wycliffe takes over. Strangely, having turned down promotion, Wycliffe muses that he has now risen as far in the police force as he ever will. Will life be downhill from now on ?
The story is about the Beales, a strange cut off family living in an ancient house in it's own grounds, separated from the village by high brick walls. The Beales exist in their own little world, isolated, repressed , not talking to each other , and really hating each other. There is a helpful family tree printed at the start of the book to explain who is who. Bunny Newcombe is the village idiot / drunk / tramp who has really let himself go since his mother's death a few months ago. He seemed totally harmless - so why did someone shoot him with professional skill with a gun apparently stolen from Nicholas Beale. Young Esther Beale glides through the story with enigmatic grace - unaware that ultimately she is the cause of what will be three murders.
It's a good story of an affluent family who have it all, live like feudal lords of the manor, but beneath the surface are really corrupt and worthless.
All in all, a worthy member of a very workmanlike series. Good absorbing stories. Very soon it was obvious that one of the Beales was a murderer - but the story cleverly didn't reveal which one, until the very end.
Links to author index and home page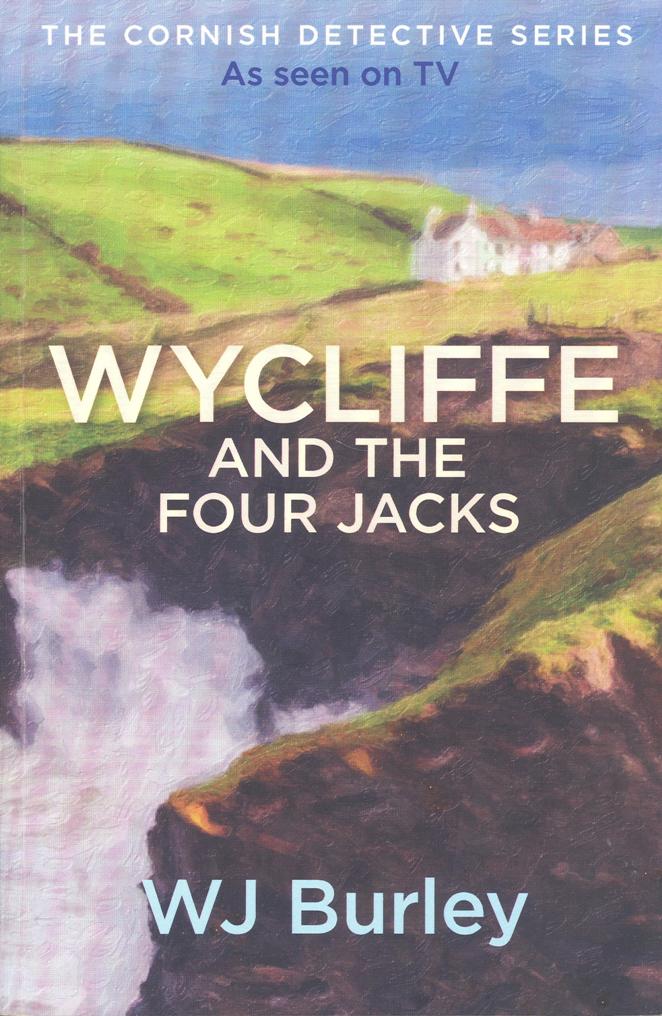 I read this book in May, 2018.
This is the thirteenth Chief Superintendent Charles Wycliffe story by W.J Burley. I am sort of trying to read these in sequence but I have strayed a little, so that this is the eleventh book that I have read. I do like to read books in the correct order, but Wycliffe and his wife Helen seem very settled, and so this stability in the home life allows a little out of sequence reading. That said I was surprised to find that Sgn. Kersley has left Wycliffe's team, being transferred on his promotion to a DI. It doesn't seem that long ago that we first met Kersley, and then saw him promoted. The replacement is DS Lucy Lane, stunningly attractive, classy, and a very able detective. Wycliffe seems to have some sort of inbuilt prejudice against female detectives, but he knows this is his character defect, and he is trying to overcome it. When he realises he has not been discussing the case with DS Lane as much as he would with DS Kersey, he immediately goes to chat to Lucy for half an hour. We will need to see how their professional relationship delelops.
This is quite an interesting well told story. Wycliffe and his wife are on holiday in a Cornish seaside resort. They visit an archeological dig in a field (Old Henry's field) just outside the resort, and meet a very famous, but reclusive author, David Cleeve. Cleeve is financing the dig - it's in his field - and he invites the Wycliffes back to his mansion, where Helen and Mrs Cleeve (Patricia) get on very well. It turns out Cleeve wants to consult Wycliffe, but off the record. Cleeve has been getting death threats, and thinks he will be killed. He wants the police to know that the killer is not local, nor a family member, but otherwise he says nothing that would help Wycliffe deal with the threat. The death threats seem to be coming on days that Cleeve can predict, and are playing cards - i.e. the Four Jacks of the title. Much later we find that the four Jacks were four men who met doing National Service, who kept in touch, but went astray. Cleeve is a serial womaniser - Patricia seemed to marry him out of hero worship, but they have two children, twins Andrew and Christine.
The Wycliffes are just settling into their holiday when the first murder ocurs, and Wycliffe's holiday is over. Celia Dawe has been poisoned by nicotine on an ingenious hypodermic dart, and we later learn that Cleeve had been sleeping with the girl. So is Celia's death related to Cleeve's death threats - of course it is. It's a well told tale, very believable - easy reading, and there is nothing wrong with that. As usual Wycliffe gets to know everyone, and eventually sorts out the puzzle. It was an even greater puzzle because Cleeve was not who he said he was.
All in all, a good read.
Links to author index and home page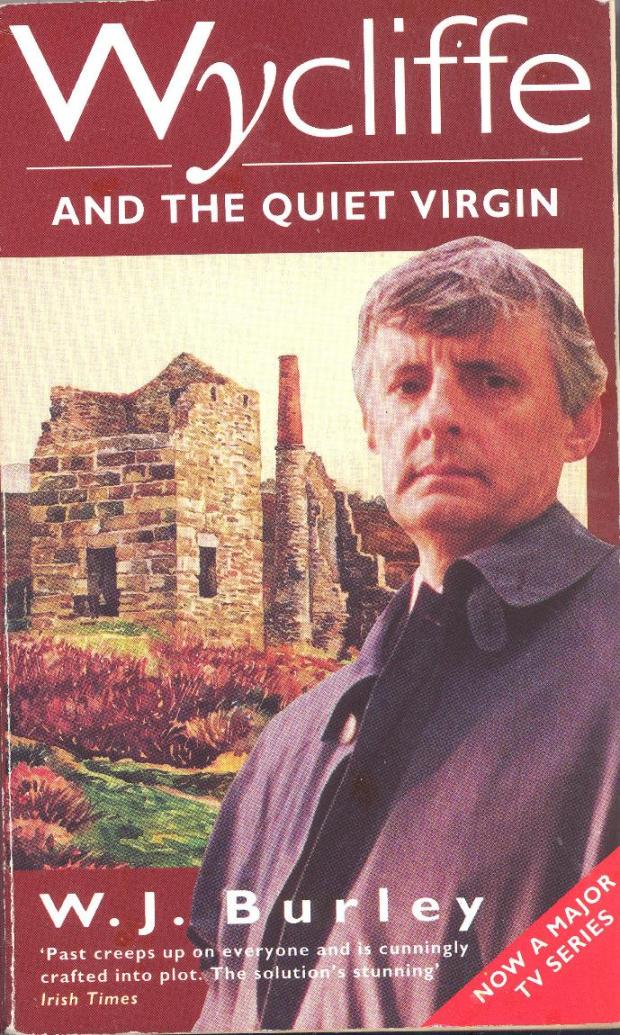 I read this book in May, 2018.
This is book 13 in the Detective Chief Superintendent Wycliffe series, set in Cornwall. I seem to be reading quite a lot of this series not in the correct sequence. In this story two things happen in the background story subplot. Kersey, now a DI, has done his stint in a different force, and now is back in Cornwall, and on Wycliffe's team. Secondly, Wycliffe's son David is recently married, and living in Kenya. Wycliffe's wife Helen is spending Christmas in the Kenyan Highlands with the newly married couple, and Wycliffe, left at home, is spending Christmas with an old friend Ernest Bishop, as his house guest at Myndhager House in Cornwall (near Penzance). The Bishops come from a long line of lawyers. Ernest has two sisters, Vee and Carrie, and an aged, but very sharp father Joseph. Carrie's MP husband Bateman is also "home" for Christmas, but Bateman and his wife seem to now lead separate lives, so Myndhager is hardly home for the London based MP.
On his first night there, Wycliffe and the Bishops attend a nativity production in the local church. Wycliffe is captivated by a sexy teenager who plays the part of the Virgin Mary. She is Francine Lemarque, and has great stage presence for one so young. She has mastered the craft of stillness, and the audience are held captive. Wycliffe wants to meet her after the show, but she has rushed off. Not just rushed off, but apparently disappeared. Wycliffe gets involved in the search for Francine, but soon the case explodes into a murder investigation when Francine's mother is found shot, and her father's van is found at the foot of a cliff, smashed on some rocks. The father's body is later recovered from the sea. The Lemarques also had ties with the Bishops at Myndhager House, so Wycliffe moves out of Myndhager smartish. He cannot investigate the Bishops, and accept their hospitality at the same time.
A local rogue of a painter , Marsden - a serial womaniser - is also part of the scene.
It's a good story, and I'd like to think I picked up a couple of the clues before Wycliffe - the glass at the scene of a hit and run, and the significance of Francine's school biology notes on inherited characteristics. Francine is only 16, but is a presence throughout the book. Young Paul Bishop would like her as his girlfriend - he follows her like a sick puppy - but that will never happen.
Of course there is a surprise ending that no one saw coming / I didn't see coming .
All in all, another good, workmanlike crime story from a very competent writer.
Links to author index and home page


I read this book in June, 2018.
This is book 14 in the Detective Chief Superintendent Charles Wycliffe series set mostly in Cornwall. It's a very readable series - good stories simply told. I seem to be reading most of the books out of sequence, but Wycliffe and his wife have a very stable marriage, and the Wycliffe police team now seems to be quite stable, so the personal stories do not have crises and significant changes that we need to follow in the correct order.
All Wycliffe's usual team are there - DI Kersey, DS Fox (scene of Crime) and very able DS Lucy Lane ,and Wycliffes able assistant at head office - John Scales - minds the ship when Wycliffe is caught up in some murder inquiry.
This story is set in Falmouth, and concerns Edwin Garland, the owner of an artists' supplies shop on the High Street, and a nearby print shop. Edwin is a gifted artist. He was one of three friends from school days who always kept in close touch , the other two friends being Gifford Tate, a very famous Cornish artist, and Papa Burger, an art connoisseur, the oldest of the trio. The Winsor Blue is an artists' vivid blue pigment that Gifford took a liking to, signing his paintings in Windsor Blue. Gifford had a stroke, and was paralysed down the left side, but somehow he managed to keep painting, and his somehow refreshed paintings still commanded good prices. Even after his death, new paintings were released, one a year by his executor Edwin. I thought it was obvious how this was happening, but Burley treats it as a mystery, a hidden secret hinted at initially but one that that causes great trouble. Edwin lives over the shop with his daughter Beryl, a sour mouthed woman, and his son Francis who works for the family business. There are lots of relatives of the Garlands and the Tates.
Edwin dies of natural causes - a heart attack - and his son Francis wants to sell up. Three days after Edwin's death, on the eve of his funeral Francis is shot through the head by someone, possibly a woman, lurking in overhead scaffold holding. Wycliffe turns up to investigate, and is puzzled by the seeming coincidence of father and son dying within three days of each other - are these deaths related ? We learn of Edwin's family set up, Cathy working in the shop, Anna, an illegitimate daughter, Dr Alan Tate, the local GP, and son of Gifford Tate, and Marcella, Gifford's young wife, a mentally unstable creature who seems lost after Gifford's death. And so the puzzle is who killed Edwin, and why, and two others are to die before the problem is solved.
All in all, a good story that all made sense, and yes there is a surprise at the very end of the book.
Links to author index and home page


I read this book in Mar, 2018.
This is book three in the Wycliffe omnibus that I took to read whilst on holiday in Sydney in March, 2018. It is book 16 in the overall series, so regretably I am having to read some of these books out of sequence.
The team seems to have settled on Wycliffe, John Scales, his deputy, and DI Kersey who does the leg work/ administration. We also have a new girl - DS Lucy Lane - an attractive, well educated, very intelligent policewoman. Kersey seems to think that detecting is a man's business. Wycliffe himself has become a bit morose. He solves the crime eventually, but is saddened that so many people have had their lives turned upside down by one event. That is life, and there is nothing that Wycliffe can do about it.
The story opens with a beautiful young teenage girl in the local doctor's surgery. She is Hilda Clemo, and has come for the results of a pregnancy test. She confesses to some friends and family that she is pregnant, and debates as to whether she should get an abortion. Is young Martin the father - or was she sleeping around ? She had the appearance of an angel, but dressed provocatively. She is a strange girl who seems to delight in having some sort of control over people - almost to experiment with them as scientists experiment with mice in the laboratory. If this is an experiment of hers, it is one that goes drastically wrong. Linda goes missing, Wycliffe sees her picture and is drawn into the case, and inevitably, eventually Linda's body is discovered. Who killed her, and why ? A middle aged uncle has a nude picture of the young girl, a neighbour met Linda regularly to educate her about the fine arts, and, before going missing, Linda had visited the Rules farmsted - the Rules being an inbred not quite sane family, whose son Clifford seems a possible suspect. The police investigation uncovers secrets in both the Clemo and Rules families. Another body is discovered and countless lives are turned upside down. It's like the ripple effect of stones thrown into a calm pond - "what a tangled web we weave when first we practise to deceive".
Wycliffe takes no pleasure in the eventual arrests. None of this would have happened but for a silly, inexperienced young girl playing tricks with peoples' lives and getting herself killed. I didn't manage to spot who the killer was this time, but it was a good story, and it all made sense.
All in all, this is proving to be a good series.
Links to author index and home page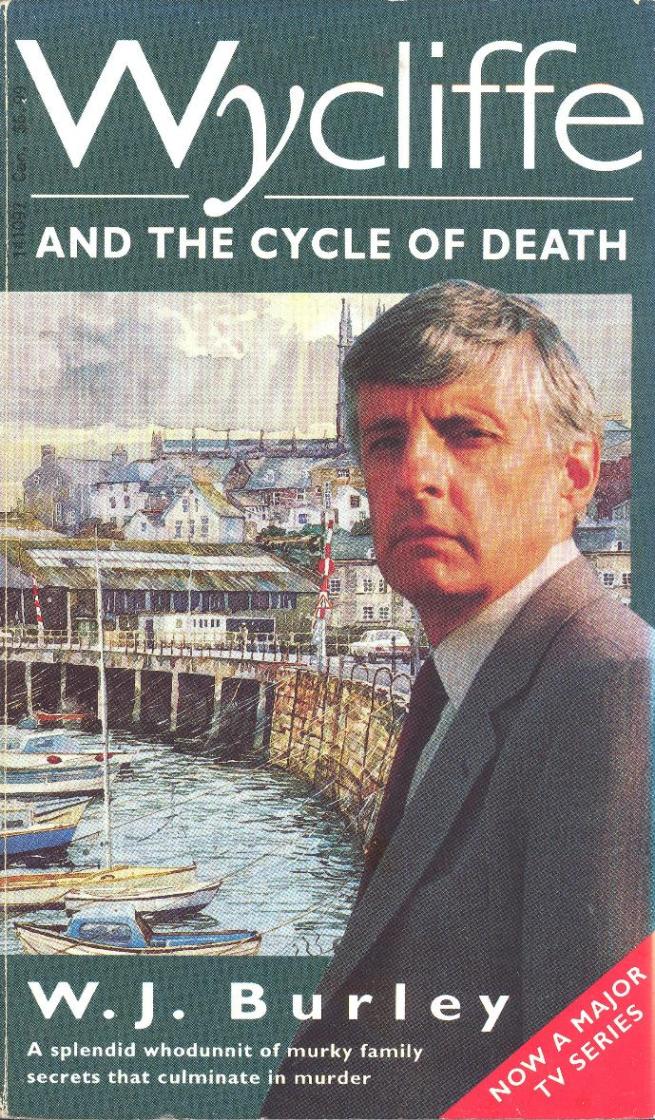 I read this book in Oct, 2018.
This is book 17 in the Detective Chief Superintendent Charles Wycliffe series, and it's the first book in this series that I didn't like. I have been reading these books out of sequence, and so far I have found it a reliably straight forward, good detective fiction series. This story is a bit complicated, and it has a very messy, unsatisfying ending where doubts remain, and some questions will never be answered. In that it is probably true to life - a lot of real world murder cases must end like this - but that doesn't mean I have to like it. Having read a book, and puzzled over "who done it" I want rewarded with a satisfying answer at the end.
Before I say a little about the plot, I did like meeting Wycliffe and his crew for another outing. Thus we have DI Kersey as Wycliffe's chief on site assistant, DS Lucy Lane under used, but respected, Fox doing Forensics, and Franks as the pathologist. There is not much about Helen, Wycliffe's wife, and even less about their children. They are lots of interesting characters and I think Burley could tell us little more about them, but sadly there is very little in the way of a back story.
The actual plot concerns the related lives of three Glynn brothers - Matthew, Alfred, and Maurice, all local respected business men, and their sister Sara. Sara is an enigmatic figure - she knows a lot more than she ever reveals - and her self restraint and self control are never broken down. The aged mother that kept the family together and a lid on the cauldron died, and Maurice now plans to build houses on part of their land ignoring the strong protests of both his brothers. Maurice is found bludgeoned to death, and eventually his brother Alfred commits suicide - so one easy solution is that Alfred killed Maurice, and then himself in remorse. The Chief Constable would settle for that, and wants Wyclifffe back at HQ as soon as possible, but Wycliffe is not convinced. And so we have a complicated family drama back story involving Inez, Matthew's wife, who disappeared 17 years ago, and was never seen again. Inez was beautiful but promiscuous, and did little to hide her infidelities. A little secluded hut was the meeting point for generations of the Glynns, and Wycliffe keeps getting drawn back to this hut. Eventually we sort of get an explanation that fits what has happened, but is it correct ? In short, for me, all very unsatisfying.
Links to author index and home page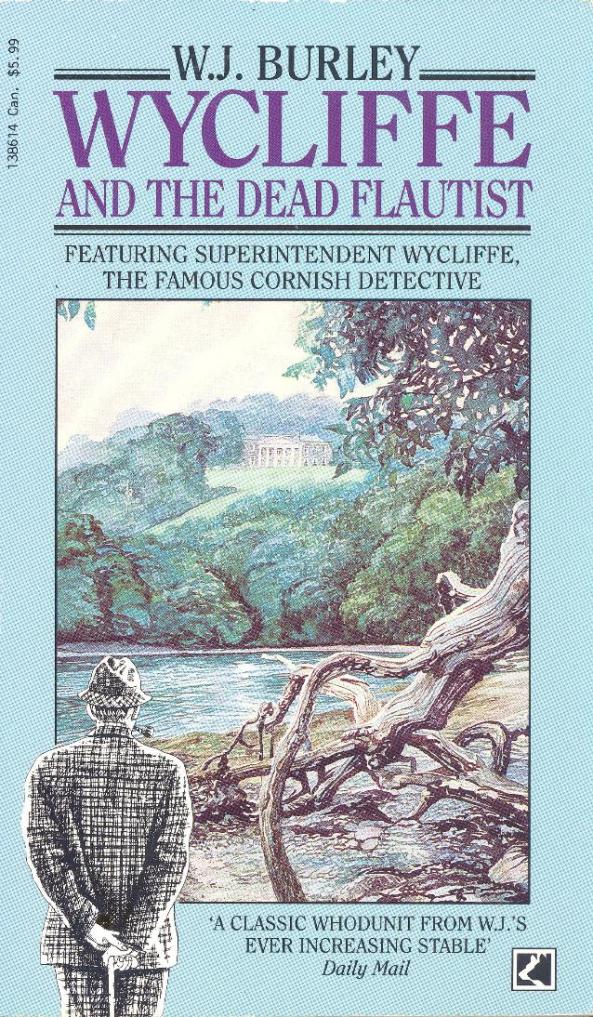 I read this book in Oct, 2018.
This is book 18 in the Detective Chief Superintendent Charles Wycliffe series, and after the disappointment of book 17, I was pleased to find that it's back to business as usual. I thought this was a good story, well told, and it had a good ending - an ending that properly kept us waiting until the very last pages of the book. That said, the identity of the murderer didn't come as a complete surprise as there had been lots of clues as to the changed direction of Wycliffe's thoughts.
All the usual crew are here - Kersey, Franks, Lucy Lane, Fox - and we hear just a little from Helen back at home, and a mention of Wycliffe's s daughter Ruth. However there is little in the way of back story. I would like to hear something about everyone's private lives, but it seems this is not to be.
I thought the book had a good opening, introducing us straight away to the two main families of the plot - the lords of the manor, the Bottrells living in Duloe House, and their trusty lawyer retainers the Landers, living in Treave. We also briefly meet Tony Miller, the estate manager and the flautist of the title. Young Helen Lander has sneaked out for a secret midnight rendezvous with young Paul Bottrell. As they pass Tony Miller's cottage they hear Tony playing his flute, but when they return homewards the music has stopped, and the cottage door lies open. Paul investigates and finds Tony dead with a shotgun between his legs - an apparent suicide. However the local copper has his suspicions ( Miller was left handed, and the string round the shotgun trigger was too short), and so Wycliffe and crew are called in. Soon it is apparent that young Lizzie Biddick, beautiful but promiscuous, has gone missing. She was supposed to be off to London, but did she ever leave the Duloe / Teave area ?
There are all sorts of sexual liaisons. Lord Hugh Bottrell, married to Cynthia, is a homosexual smitten by Tony Miller, Miller apparently was bi-sexual, and brother James Bottrell seems to be have been one of many to share Lizzie Biddick's favours - one of the others of course being Simon Lander. With her husband not interested in her, Cynthia is now sleeping with Hugh's brother James. So lots of pairings, and possible motives - blackmail, revenge, concealment. Soon Tony Miller is not the only murder victim, and just at the end a third victim is revealed. It all seems very complicated, but there is something amiss that troubles Wycliffe. Are the police being fed false clues, and encouraged to think along certain lines ? If so, why, and who is clever enough to be doing this ?
All in all, a good story that kept me page turning to the final climax at the very end of the book. I like stories with a beginning, a middle and an end.
Links to author index and home page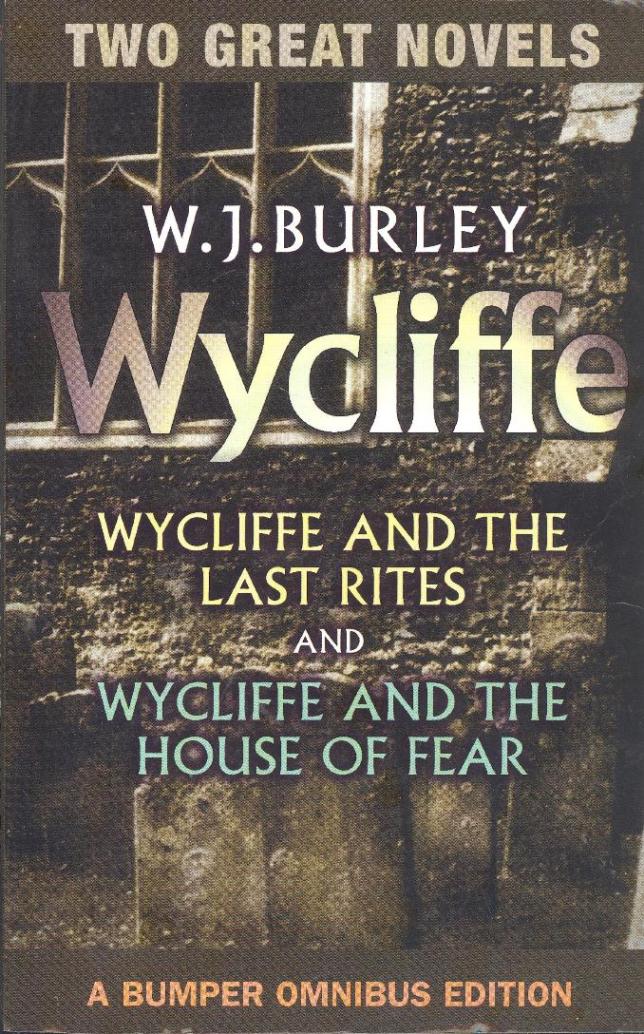 I read this book in May, 2018.
This is book 19 in the West Country based Detective Chief Superintendent Wycliffe series by W. J Burley. It's a book series that I seem destined to read out of sequence. I was on holiday in Fuengirola in May, 2018 and had bought this Wycliffe omnibus only for "Wycliffe and the House of Fear" - a book that was on "books to buy " list. I had already purchased "Wycliffe and the Last Rites", but the omnibus only cost two or three euros in a second hand book shop. I then ran out of holiday reading material, and had to dip into this omnibus, but both books are from much later in the series. We are told that Wycliffe and his wife Helen are both on the wrong side of fifty, and on the downward slope. Perhaps they thought that in 1992 - I doubt it - but fifty is nothing nowadays. They have been in their Cornish estuary home for over 20 years now. I remember them moving in in "Wycliffe and Death in Stanley Street" in 1974, which is indeed about 20 years before 1992. DI Kersey is still Wycliffe's main assistant, and DS Lucy Lane is also there. She is still a sergeant because she did not want to have to do a spell in uniform which she would have had to do to be a DI. If this is correct, it seems a funny system.
The story is set in a Cornish village of Moresk near Truro. We meet Abe and Katherine Geach - he a wealthy local builder with lots of projects, large and small in the West Country, and his wife Katherine, mother of Julia. Katherine also has a twin sister Jessica Dobell who has inherited a small family farm, and is struggling to keep it going. Abe wants to buy her out, and develop the land, but she refuses. Jessica is very promiscuous and seems to have slept with almost all the local men, including her brother in law, Abe. The Vintners are a "posh" couple now down on their luck, and having to do manual labour working Jessica's farm for her. They have a son Giles (Julia fancies Giles), and it may be that Jessica may even have tried to bed Giles too. If so, this is later to have had terrible consequences. The local vicar is the Reverend Michael Jordan, the pub landlord is Johnny Glynn, and Arnold Paul is the organist. Finally a couple of men live in a nearby houseboat, and there is a local "lord of the manor" living in a too large to be maintained house. There are lots of other lesser characters too.
It's Good Friday, and the church in Moresk has been decorated with flowers. The orgainst has been in to get some music, and others have called in too. Jessica was the cleaner there and had called in to tidy up, but sadly she never left to church alive. She was battered to death with a hammer from the church tool box, and laid out in a pose at the feet of a religious statue. Her body was found by the vicar on Easter Day. Selected keys of the church had been held down by paper wedges so that the organ played a sustained dreadful wail. Jessica's clothes had been rearranged to expose her upper and lower body and cause maximum humiliation. Who did it, and why ?
Wycliffe and his team set up in the local pub, and of the many suspects, Vintner seems a ready culprit, even about to confess, and there are lots of red herrings and lesser misdemeanours discovered. There are even other murders! But it all feels wrong to Wycliffe. He cannot get a clear picture of what was done, and why, and by whom. Wycliffe has to go off by himself and out on a limb to eventually solve the mystery.
And so, it's another very readable book in this Wycliffe series. It's not first division crime fiction, but it's still a good read.
Links to author index and home page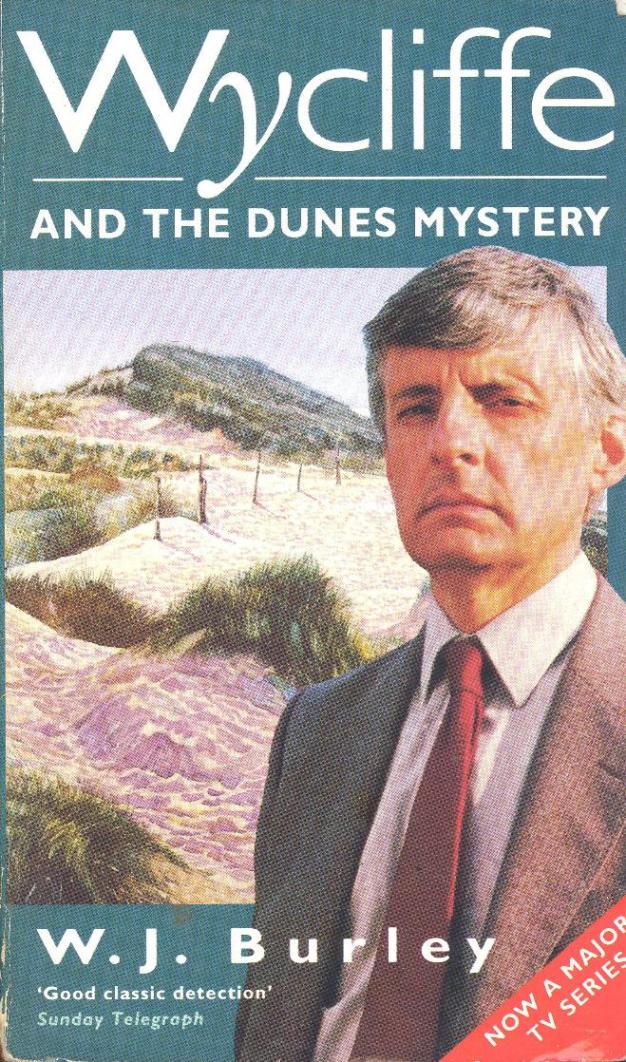 I read this book in Jul, 2018.
This is book 20 in this very readable classic detective series based on Detective Chief Super Charles Wycliffe and set in the West Country. Charles is happily married to dependable and understanding Helen. They have two children, David, who is married and living in Kenya, and Ruth who has returned home to take stock of her life. She had been living happily with her partner David but they have now split. He wanted to start a family, but Ruth did not - at least not with David. It's been an amicable split, Ruth has the flat, and a lump sum payment which also covers her loss of a job - she had been working as a pa to her partner.
All the usual team are here - John Scales left in charge in Wycliffe's absence, DI Kersey, DS Lucy Lane, DS Fox helping Wycliffe and there is a new DC Iris Thorn, a coloured girl who seems able and is fitting in well. Dr Franks, the Porche driving pathologist is also here.
I thought it was an interesting story that we more or less knew from the beginning. 15 years ago 6 teenagers were having a weekend escape from exams, and living at the beach chalet of one of their parents. There were three boys and three girls, and three double beds. They are disturbed by a young male rambler who has an unusual name - Cochran Wilder. He asks for a drink of water, is invited to join them for a meal, and stays the night. His father is an MP, and Cochran has just been discharged from a mental home. We now jump forward 15 years to the then present day. A wild storm has swept through the sand dunes, and uncovered a body that had been buried in a nylon sheet in the sand. There had been foul play. Wycliffe feared the body might be that of Cochran Wilder who went missing all those years ago, and of course it is Cochran. So what happened in the chalet all those years ago. Cochran's father is now a minister of state, and he wants answers. The six teenagers are still around, but now in their early thirties, and well respected in the area. Did one of them kill Cochran, and why, and did they all bury the body together. Was it murder, or a terrible accident ? There are other characters in the story, often related to the six. There is local lawyer, and a local recluse "Badger" who seems to dabble in mischief, and gets himself murdered - in a manner that seems a copy of the Cochran killing. Are the two murders connected ?
Wycliffe puzzles his way through the mystery and eventually gets to the truth of what happened 15 years and also charges someone with Badger's death. It's all very logical, well told, and of course there are surprises and tension. Wycliffe a has got himself a good team, and I like these plain down to earth stories.
Links to author index and home page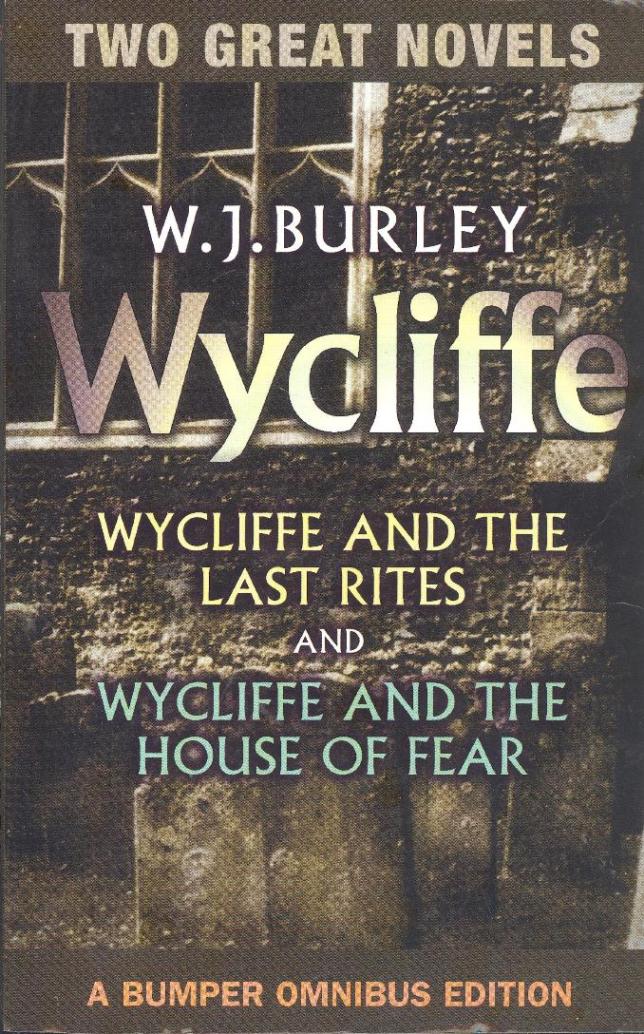 I read this book in Dec, 2018.
Wycliffe and the House of Fear is book 20 in this very readable series, and another outing for Chief Super. Wycliffe and his team of DI Kersley, Sgn. Lucy Lane, scene of crime officer Fox, and the good pathologist Dr Franks. The House of Fear in this case is Kellycoryk in Cornwall, an ancient house and the seat of the Kemps. The family had lived there uninterrupted for 400 years - 200 in the present house, and the previous 200 years in a now completely ruined even older house. Kerrycoryk is a huge house full of empty rooms with dirty windows, buckets to catch the rain from the leaky roof, and is simply falling into total disrepair. There is not the money to do the necessary work. Roger Kemp is the current owner is and stuck in the past. He cannnot be the Kemp to allow the end of Kerrycoryk - but he seems stuck in a trance, unable to do anything, and at the mercy of fate.
He did do one thing, though. His first wife Julia was apparently lost at sea in a tragic accident, but he married again to a wealthy heiress Bridget, hoping she would sink her fortune into Kerrycoryk. Unfortunately Bridget will not play ball.
The book opens with Wycliffe and his wife Helen on holiday in a nearby holiday cottage. Wycliffe becomes fascinated by the story of the Kemps of Kellycoryk, and so, he and Helen, out for a walk, take a shortcut through the Kerrycoryk grounds, and meet both Bridget and also Roger. Some time later Bridget goes missing. Wycliffe takes a slight interest, but leaves things to the local police. However, when Bridget's body is recovered, a full murder investigation is launched with Wycliffe in charge, and his team called in.
We meet the extended Kemp family. Roger had two children, Isobel and Crispin. All three of them are wierd, damaged, and they barely speak to each other - but all are tied to Kerrycoryk. There is also Roger's sister Agnes, Roger's brother Francis, Julia Kemp's brother is the local doctor John Harvey, etc, etc.
Was the first wife killed for her money, and the second wife too - by Roger to get his hands on funds to save Kerrycoryk ? That seems too obvious an explanation - but is it a case of double bluff by the author ? There are lots of hints that the answer to the puzzle lies in madness - but they all seem mad !
More, of course, I cannot say. I liked the story, but it's all a hopeless situation, and eventually we are left with only a somewhat messy, but inevitable ending. Justice, but no happy ending.
Links to author index and home page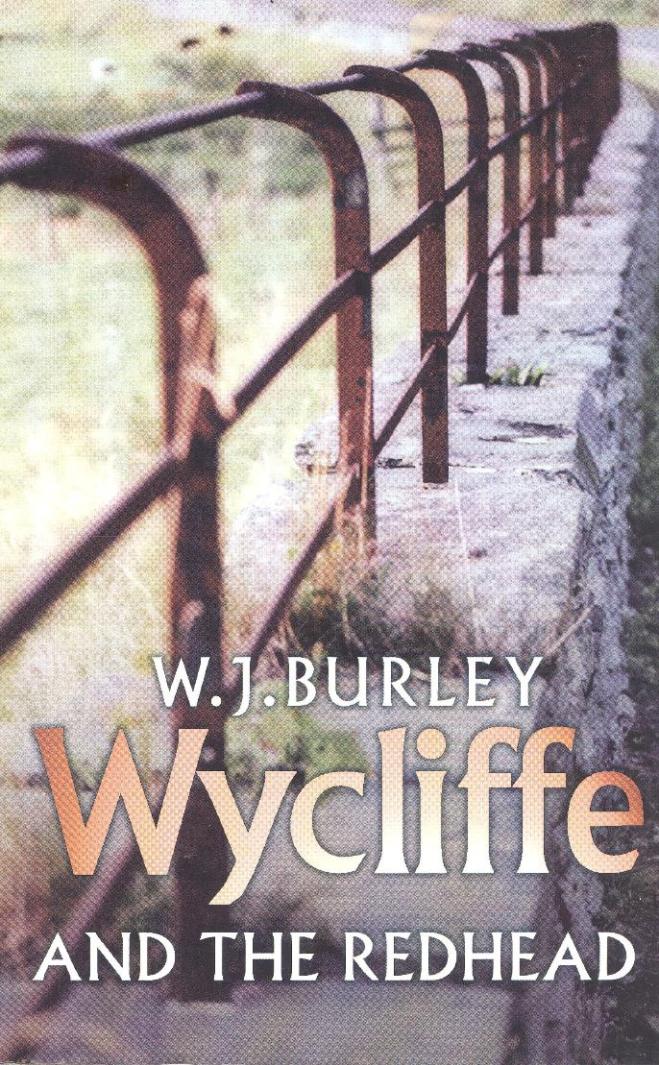 I read this book in Mar, 2019.
This is book 21 in the D. Chief Superintendent Wycliffe series, and it's the one where his boss the Chief Constable tells him that he is retiring, that there will be changes, and perhaps Wycliffe too might think about retiring. Wycliffe likes to get really involved in any murder case that comes along, and acts as if he were a DC, not a chief Superintendent. Perhaps the new boss might insist on having his/ her Chief Super. at head office all the time. However all that is for the future, and here we have all the old familiar characters working as a team as usual - DI Kersey, DS Lucy Lane, Fox, and Franks, the pathologist. There is also a new, impressive coloured DC - Iris Thorn.
The book opens with us meeting Simon Meagor, a self contained, shy, middle aged antiquariuan bookseller who lives above his old fashioned book shop. He has no shop assistant, although there is an old, dusty advert for one in his window, that no one has ever responded to. Simon lives frugally in an attic bedroom, and there doesn't seem to any fun in his life. He does stock some good books, though, and Wycliffe and his wife are both repeat customers.
Next we meet the redhead of the title - Morwenna Barker, and soon we learn of a bit of history between Meagor and the Barkers. Simon was the chief prosecution witness against Morwenna' father - he came across Barker fighting with someone who fell, hit his head and died. The father went to prison for six years, got relased and then committed suicide. Morwenna's mother died a year later. Morwenna could not accept her father's guilt, and blamed Simon Meagor for all that happened. You can imagine Simon's surprise therefore, when Morwenna turned up at the book shop and asked for the vacant assistant's job. He knew that he should have nothing to do with Morwenna, but she used to work in a library, had good references, and was willing to work for a poor wage, so he took her on. That was a bad mistake ! Worse, he later agreed to let her live rent free in one of his vacant rooms above the shop. Soon there was a terrible atmosphere, Morwenna did her job, but barely spoke to Simon, went out for her evening meal, and went away every weekend - where she went, she never said. Naturally there were all sorts of rumours about what was going on above the book shop - a "dirty old man" and a beautiful young girl living together.
The story proper then begins when Morwenna does not return one weekend, and Simon reports her missing. The local DI tells head office, and by chance Wycliffe hears about the missing girl, and takes an interest as he knows Simon Meagor, and had even met the girl. There is a lot of local ill feeling against Simon, and his shop windows get smashed. Wycliffe really does take an interest when Morwenna's body is discovered in her smashed car, in water at the bottom of the quarry.
Morwenna had MS, and was pregnant. Was she upset enough to commit suicide ? She had three male friends of about her age - her cousin Nicky, Mathew, son of Janie Mills, Morwenna's aunt's companion, and disabled Jonathan Cross. Morwenna met Jonathan when she was wandering about near the house where she used to live in happier times. Jonathan said his father was Dr Cross whom Morwenna might have heard of - the doctor disappeared one day and was never seen again. "Oh yes, I remember," said Morwenna "didn't he have a crippled son ?" "Yes, that's me." Jonathan lived with his lesbian mother Florence , also a doctor, and her female companion Isabel.
There are lots of extra surprises, and it's all a big tangle for Wycliffe and his team, but of course they get there in the end. I thought it was a good story that kept me interested throughout.
Links to author index and home page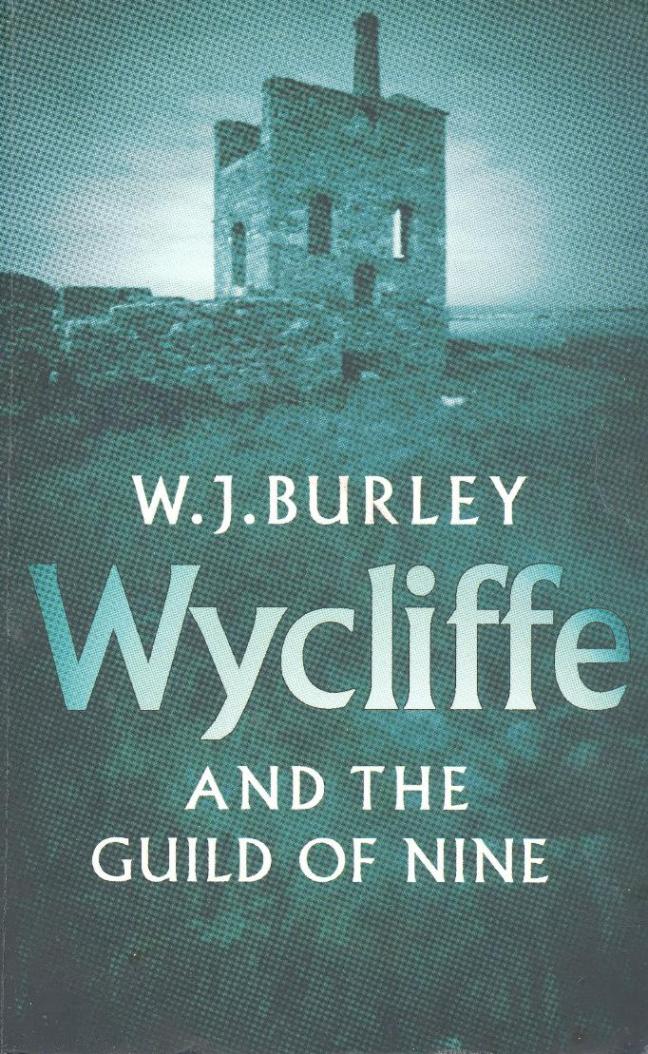 I read this book in Jul, 2018.
I took this book with me to read on holiday in Aberdeen, not realising that this is the last complete Wycliffe book - a later book "The Last Lap" of 2003 was unfinished. I have been reading these books terribly out of sequence, and mostly getting away with it, but I should have postponed reading this. Anyway, it's another good classic crime story - told simply, and very readable. Wycliffe's chief Constable boss has retired, and his replacement is a female - Jane Sawle. There will be changes, and Wycliffe is not sure if he wants things to change. In short, he is thinking of retiring. His team know that this is a possibility, and drop hints that they would like him to stay. Sawle seems to be getting off to a good start. She says she will tolerate Wycliffe's on site investigations, even though he is several grades above doing this, so long as his administration duties do not suffer. John Scales holds the fort perfectly in Wycliffe's absences, and so Wycliffe decides to soldier on and see how it goes. This is a great relief to DS Lucy Lane who has refused promotions to stay in Wycliffes team. Kersey is a DCI in this book, but still in the team. And Franks is still the pathologist - and Wycliffe's chum.
The Guild of Nine of the title is a craft colony on the moor west of St Ives. It is run by Archer, and his Dutch wife Lina. Archer wants to runs the set upon astrological principles - he is no business man, but Lina is really in charge, and the Guild does make a profit. We now meet characters once again whom we met about about ten years earlier in Wycliffe and the Quiet Virgin (1986) . Francine was the hauntingly serene virgin in a nativity play who had perfected the art of stillness. She made a lasting impression on Wycliffe. Her "boyfriend," or so he hoped, was Paul, who was distraught when he learned that Francine was really his half sister. Francine murdered their brutal father, was sent to a young offenders prison, and studied wood crafting there. Now she is out, still accompanied by Paul, and helping Paul at the Guild of Nine craft centre. Francine has come into an inheritance, and wants to invest some of this, buying her way into the Guild of Nine. Lina thinks they need the money, Archer thinks Francine will be disruptive, especially as she is asking so many questions and upsetting people. Francine is murdered and Wycliffe is back to investigate. This is the place where he spent Christmas all those years ago when Helen was abroad, and most of the people he met then are still around. In fact, very little has changed - even Marsden, the old painter is still there. Wycliffe and Marsdon got on all right even though Marsden's business interests had sometimes been a bit "iffy". The question is who killed Francine, and why. Archer had a separate business in St Ives, and Lina, his Dutch wife, also had a separate business - travelling to her native Amsterdam twice a year to buy pictures for resale. As soon as I saw that Lina was connected with Amsterdam, I had a good idea where one of the sub plots would take us, and I was right.
There are two other murders before Wycliffe solves the puzzle, but surprises abound, right up to the very end of the book. There is a joke that Wycliffe's life is controlled by the three women in his life who have all been with him for so many years. These are Helen, his wife, Lucy Lane his assistant and sounding board, and of course Diane, Wycliffe's personal assistant / secretary back at head office.
I do hope I can find a copy of the unfinished final book. It's a series that has been a thoroughly good read. The title "Wycliffe and The Last Lap" seems quite prophetic. Burley died in 2002, and the Last Lap was published in 2003.
Links to author index and home page