Iain's Leisure Reading
I was in a charity shop in Exmouth, Devon, in September, 2015 and noticed that they had a special three books for £1 offer. There are lots of these offers in charity shops, but usually I struggle to find one book, let alone three. This time, however, I spotted the first three books in a Dana Stabenow series about Kate Shulag, a PI in Alaska. I had never heard of Kate Shulag, nor Dana Stabenow, but then read on the cover that book one had won a CWA Edgar award for Best Paperback Original of 1993. So, intrigued to read about life in Alaska, I decided to give the series a go. And why not ?
Dana Stabenow was born in Anchorage, Alaska in 1952, and raised by a single mum on a 75 foot fishing tender in the Gulf of Alaska. She tells a funny story that as a child, when she wasn't seasick, she wrote stories about normal children who lived on shore, and made her mother read them ! It can't have been the easiest of childhoods - poor Dana's 12th birthday pary was even interrupted by the 1964 Great Alaskan Earthquake. But Dana was schooled, graduated from High School in 1969, and then put herself through college. She graduated with a BA in journalism from the University of Alaska in 1973, then enjoyed a well earned four months back packing trip to England and Europe. Back in Alaska she worked for service company on the TransAlaska Pipeline project, and then for six years for BP, earning enough to enjoy frequent trips to warmer climes such as Hawaii. Next, at the age of 30 in 1982 came a change of direction and three years of further study - Dana wanted to become a book writer. Her first book was a sciece fiction work published in 1991, but the first Kate Shulag book, "A Cold Day for Murder" appeared in 1992. Dana has written several other series, but most of her efforts have concentrated on the Alaskan Aleut PI Kate Shulag.
Alaska is an unknown territory - I know its very cold there, but almost nothing about its history, geography , mountains, rivers nor the diversity of its people. The Aleuts are the indiginous people of the Aleutian Islands of Alaska and Russia, and on first reading seem to have much in common with the native indians of America and the Aboriginies of Australia in that they are an old community struggling to preserve ancient ways and customs, their way of life, to survive in the modern age. Do they keep separate, or integrate ? Sadly I feel they may be fighting a losing battle.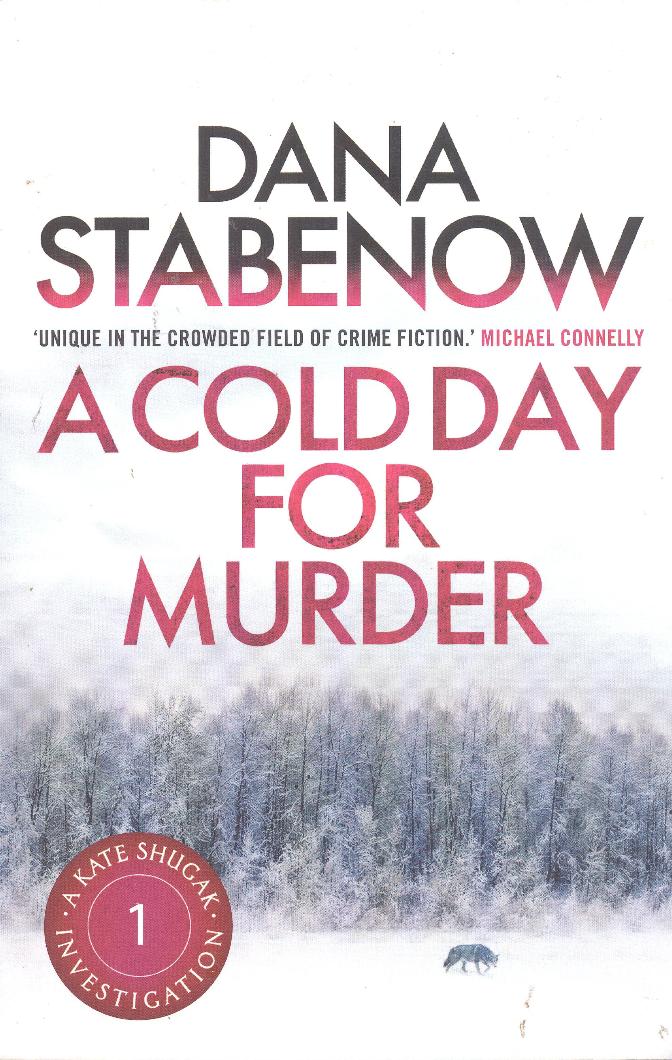 I read this book in October, 2015.
It's always interesting to begin a fresh series - something new. Here we have once again a female writer writing about a female PI. How will Dana Stabenow/ Kate Shulag compare with Rebecca Tope/Thea Osborne, or Sue Grafton / Kinsey Millhone ? In this case though, two things are new - the striking wilderness setting of Alaska, and the choice of a native Aleut as the main character. I liked them both, and can see why book one won an award.
"A Cold Day For Murder" is book one of the series, and has a striking opening in a desolate snow bound wilderness when two men on a Ski-doo approach a lonely cabin. This is where Kate Shulag has been hiding for the last 14 months, alone but for her faithfull half husky / half wolf Mutt. One of the men, the big man, is Jack Morgan and there is obvious history between Jack and Kate. It turns out that Kate used to work for Dan as star investigator of the Alaskan DA. She had been sent to investigate child molestation, found the father in the act of abusing his 4 year old daughter, killed him in a knife fight getting badly scarred herself (scars she still bears), but has since been haunted by images of young children with faces pleading Kate not to harm their parents. Kate resigned, pinning a note on Jacks door with the bloody knife she had used on the molester. The setting is a national park of 20 million acres, frozen solid most of the year. A park ranger has gone missing - but he is the son of a congressman who wants him found. A second ranger has also gone missing - hence the pleas for Kate, the best there is, to come out of retirement (she is only 30) and find the missing rangers.
Kate is very special, the grand daughter of Ekaterina, the old leader of the native people. Ekaterina is very strong willed, wants to keep her family about her and preserve the old ways - but the young want to escape to the civilisation of Anchorage. Kate is equally strong willed. Her parents died when she was eight, but she refused to leave her cabin home to live with her grandmother, and instead was brought up by her older cousin Abel, as part of his family. Abel taught Kate all she knows, all her survival and tracking skills - the things her father never got round to teaching her. Kate was a quick learner, and like Abel loved the wilderness. Kate was Abel's favourite. Kate wants nothing to do with Jack, but agrees to take on the job for $400 a day when she learns that the second missing ranger is an ex boyfriend trained by her - she feels responsible.
The story is are the rangers missing or were the killed, and if so by whom. Kate knows everyone in the park, and is related to half of them - so if there is a killer the chances are it will be someone that Kate knows. This is different from the Hamish Macbeth stories where the murder victims and killers are usually outsiders.
There are lots of new native words, but Dana uses them freely with no glossary - which surprisingly I found was probably the best approach, and emphasises that this is something very different. Kate has been in isolation for 14 months, and catches up with all the gossip she has missed - so we have lots and lots of names and trivia, but it works very well, and we get a good picture of the place. Drink is a great problem - only permitted in the privacy of your own home. There is a road house just outside the park boundary though, where the scene is like something out of the wild west, only colder. But they do have flush toilets there, and their own generator. There is little work so most are on social security - the girls get married to some drunken waster, get pregnant for the allowance, and when they need more money, have another baby. No wonder they all want to escape for a better life. Kate had escaped, but came home. Had she betrayed her tribe and her grandmother by leaving the park, or by coming back ? And yet there is lot of beauty, and bountiful wildlife in an area not yet spoiled by man. It will be interesting to see how the place changes from 1992 to the present date - will they get mobile phones and the internet ?
I liked the setting, the ethnicity, the formidable Kate Shulag, and Mutt - and Dana Stabenow tells a good tale. Eventually its all sorted. Kate refuses to work for Jack again, but agrees to one off assignments when he needs something doing inside the park. Hence I supose the private investigator title for Kate. I look forward to the next book. And it's certainly different !





Links to author index and home page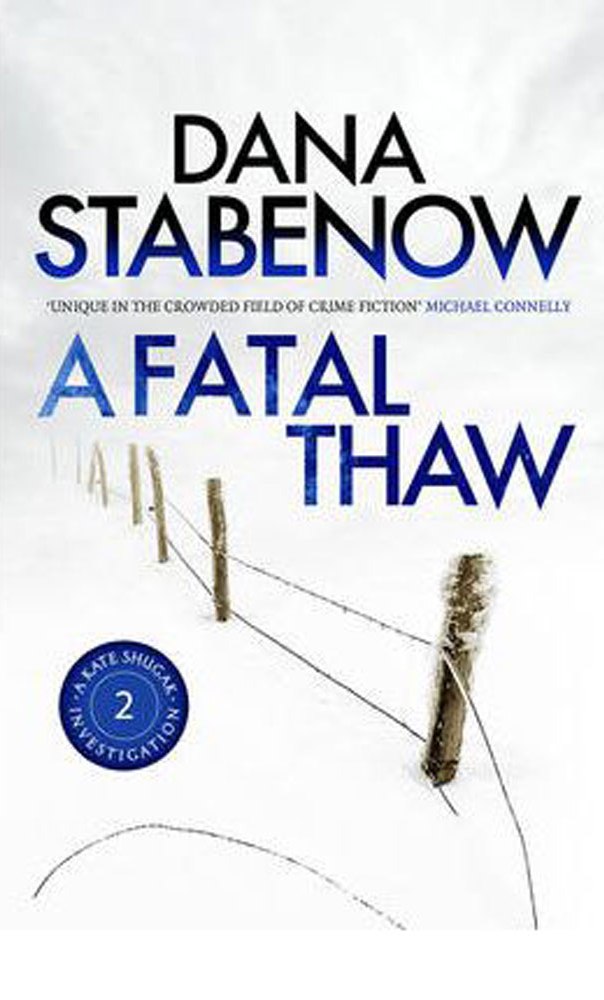 I read this book in November, 2015.
This is book two in this series about a very different female PI - the Aleut Kate Shugak, which is set in a desolate, native park in Alaska. Kate is the grand-daughter of the ancient leader of the "clan", but sadly Kate and her grand-mother don't really agree on much. The grand-mother wants to preserve ancient ways, but Kate realises that time moves on.
Often a second book in a series is a disappointment, after a highly praised opening book, indeed a prize winning opening book in this case. But I liked book two even more than book one. Dana Stabenow said that for a long time, "A Fatal Thaw" was her favourite book, especially because of a very moving potlatch where Kate went native, almost into a trance, and tapped in to her clan's ancient rites. All the members of the clan cooked their favoutite dish, and all were shared at a get together to remember and honour the recent victims of a mass murder of nine helpless victims by an insane Roger McAniff, but it turns out that McAniff was only responsible for eight of the nine shootings. Lisa Getty had been shot by a different rifle. Lisa had lived with her sister Lottie - both went to the same school as Kate. Kate had been brought in to capture the mass killer, and she brought in McAniff alive - but everyone told her it would have been better just to have shot him. Kate now has to go on to find out who killed Lisa, and really it turns out she and everyone else probably knew who did it all along - but didn't want to admit it.
As well as the murder mystery, there were two other strands to the book. Strand one is a terrific evocation of what it is like to be an Aleut, and live in sub zero temperatures. Even dressing to go out takes ages - put on a many socks as you can, but still get your feet into your boots, and then put an extra sock over the boot.
Strand two is what is happening in Kate's private life, and it seems she has many admirers. Bobby who runs the radio communications, seems to be doing well, having just saved Kate's life. Is he to be a rival to Jack Morgan ? Or will chopper pilot Jim Chopin beat them all in the end ? We will have to read on to find out.
As big a character as any is Kate's dog Matt - half husky, half wolf. Matt is in heat, and a wolf is calling from the woods. Matt later saves Kate's life - in short, Kate and Matt are a great team, two partner buddies.
It certainly is an interesting series.
Links to author index and home page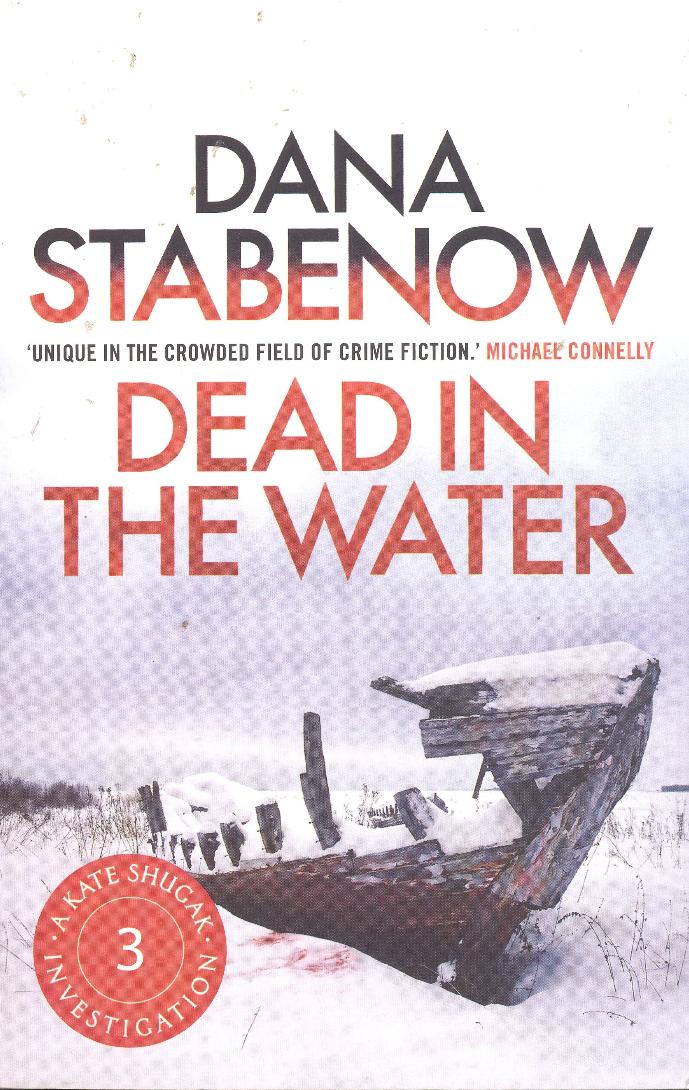 I read this book in March, 2016.
This is book three in the stories about female Aleut PI Kate Shugak by Dana Stabenow. This is about a very different life style in the extreme cold and generally atrocious weather conditions of Alaska / the Aleutian Isles. It's also the story about a clash of cultures, about the old wanting to hold on to tradition, and the young wanting to abandon the past and join modern life. Kate is somewhere in the middle - sadly she has resisted learning some of the older skills just to spite her forceful grandmother, but now she sort of regrets lost opportunities. Kate needed a better teacher !
Usually Kate lives alone in the wilderness with Mutt, her half wolf, half husky. But in this story, Kate has had to say goodbye to Matt, and is working undercover for Jack Warner, catching crabs in Alaskan waters on the tossing deck of the Alaskan trawler the Avilda. Two crew members of the Avilda had gone missing - Christopher Alcala and Stuart Brown. They had gone ashore on Anua Island to replenish water stocks, and were never seen again. What had happened to them ? Their relatives wanted answers, and so Jack Morgan has sent Kate undercover as deck hand on the Avilda, alongside the crew of captain Andrew Gault, and deckhands Seth Skinner and Nordhoff.
It was hard, hard work, fighting the elements on the tossing Bering Sea. The pay, a percentage of the take, can be great, but you have to survive to get paid. They are on a tiny boat that is being tossed about in freezing waters. If too much ice forms on the rigging and the superstructure, the boat becomes top heavy and unstable. So Kate has to detach large clumps of ice with a sledgehammer. When the boat is over the crab positions, it is non stop, soaking wet work for 30 plus hours, ie for as long as it takes to fill the hold of the Avilda. Kate's body cries out for sleep and food. Kate wonders why she let Jack talk her into this - she just wants to go home, and see Mutt again. On the other hand, Anua Island has close, ancient connections with the Aleuts. How otherwise would Kate get the chance to visit tribal lands.
Kate is strong enough to survive these conditions, but it is a close call. Kate has one friend aboard, the youthful deck hand Andy Pence, and they help each other survive. Andy has a fascination for all things Alaskan, and this awakens her interest too in her Aleutian traditions. Kate also meets her grandmother's equivalent in Auntie Olga, and her young daughter Sasha. Olga's drinking deprived Sasha of oxygen at birth. Sasha is gifted but will never be normal.
It's not a long story, but a gripping one. Dana Stabenow knows her stuff, and is a good and convincing writer. I liked the story. In any series the hero / heroine goes away on a special mission, and this is OK on the odd occasion. That said, I prefer Kate to be on home territory, with Mutt.
All in all, its a cracker of a story about survival in back breaking conditions - very different, and a good read.
Links to author index and home page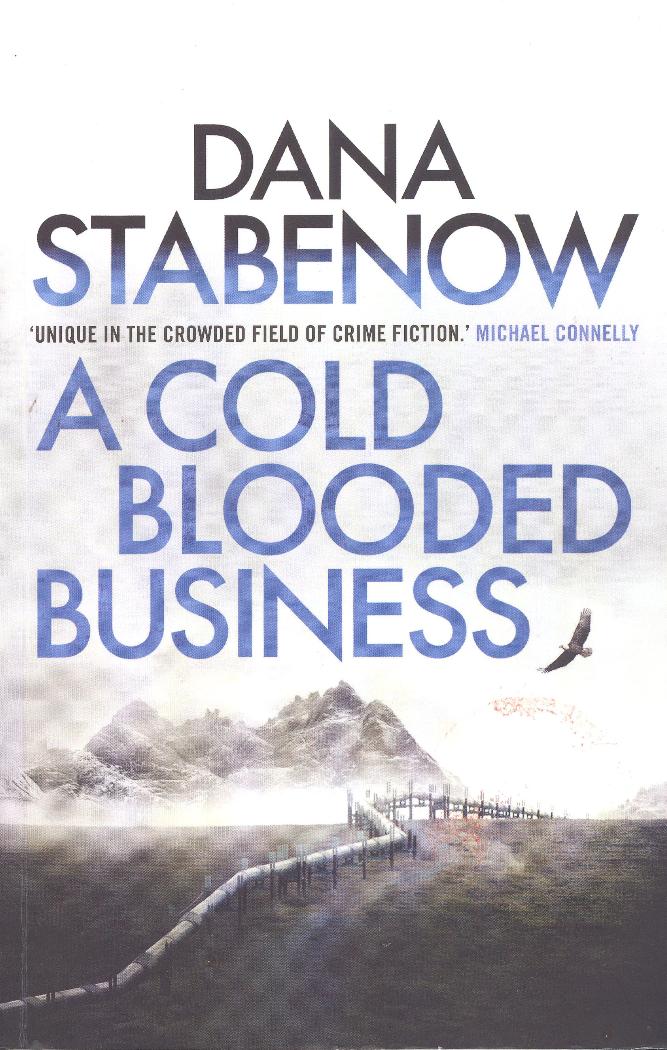 I read this book in April, 2016.
This is book four in Dana Stabenow's series about female Aleut PI Kate Shugak, and her half wolf, half husky dog Mutt. Sadly in this tale Kate is once again not on home territory, so Mutt doesn't figure much - a great pity. We are introduced to the Prudhoe Bay oil operation run by the fictional Alaskan Royal Petroleum Company (RPetCo) and its no nonsense CEO Jack King. There is a company wide drug problem that King wants fixed quickly. He needs someone at ground level to infiltrate and find out what is going on, and who better than Kate Shugak.
RPetCo is not held in great esteem by the native a Alaskans and Aleuts. There had been a (fictional) oil spill that ruined much of the land, and preservation of native territory and ways is an imperative for Aleuts / Alaskans. Kate will only take on the job is she is paid way over her normal rate, and settles for $1,000 a day plus expenses. Childless, the head of security, is totally against hiring an outsider, but King is in charge. Has Childless something to hide ? Kate has never been so far north, and seeing this part of related native territory is another reason for accepting the job - but of course Kate keeps this to herself.
Kate is hired as a casual worker, and is flown in to the RPetCo site. It is freezing cold, blizzard territory, but inside the insulated quarters and walk ways, life is not so bad. The food is plentiful, high quality, and Kate drools about the thick steaks and must have puddings - she puts on 5 lbs in a week. She has never lived so comfortably, so much choice, meals cooked for her, no washing up, cinema, TV, library etc. At the very end of the story, she tells her boyfriend Jack, no more RPetCo assignments - she liked the living too much. Possibly that was a joke - Kate missed home and Mutt even more.
But there is a job to be done. Kate is assigned to be the bus driver for Toni Hartzler, female PR representative of RPetCo. They meet VIP parties (senators, etc) who have flown in, and give them a site tour and the company PR Spiel. Toni is excellent at this - a vast knowledge of everything oil related, a constant smile, and never flustered even when dealing with rudeness and ignorance. Throughout I have been careful to state that RPetCo is fictional, and there had been no oil spill. But Dana Stabenow writes with such knowledge that it could not all be made up. At the end of the book, Dana admits that she did work in Prudhoe Bay for BP, for a year, and that Dana, raised on a 75 ft trawler in Alaska, liked it so much that the year became 6 years. She did the Toni Hartzler job. It is so realistic that someone who worked on site and read the book wanted to buy more Kate Shugak books - he commented "she even knows where the light switches are". Of course she does - she was there 6 years.
It's a good story, full of danger for Kate - she nearly gets killed several times. But back her into a corner, and Kate is a fierce animal that never backs down.
There is quite a bit about native culture trying to survive in the modern world, but suffering from drug abuse and alcoholicism. Kate's grandmother find out Kate has taken RPetCo's money, and is aghast. I thought both sides were given with fair balance, and at the end Kate makes her peace with her grandmother - the legendery Ekaterina Shugak.
I always say that Kate is a PI with a difference, but this is true. Kate has a strange relationship with her boyfriend Jack - together they are solid, and Jack tells Kate he loves her, and wants her to live with him in Anchorage, but Kate is defined by her culture and a strong sense of place, and cannot leave. So whilst the book has a happy ending for Kate, back home, with Mutt, and Spring on the way, what about Jack ? Smashing stories, but will Jack wait for ever ?
Links to author index and home page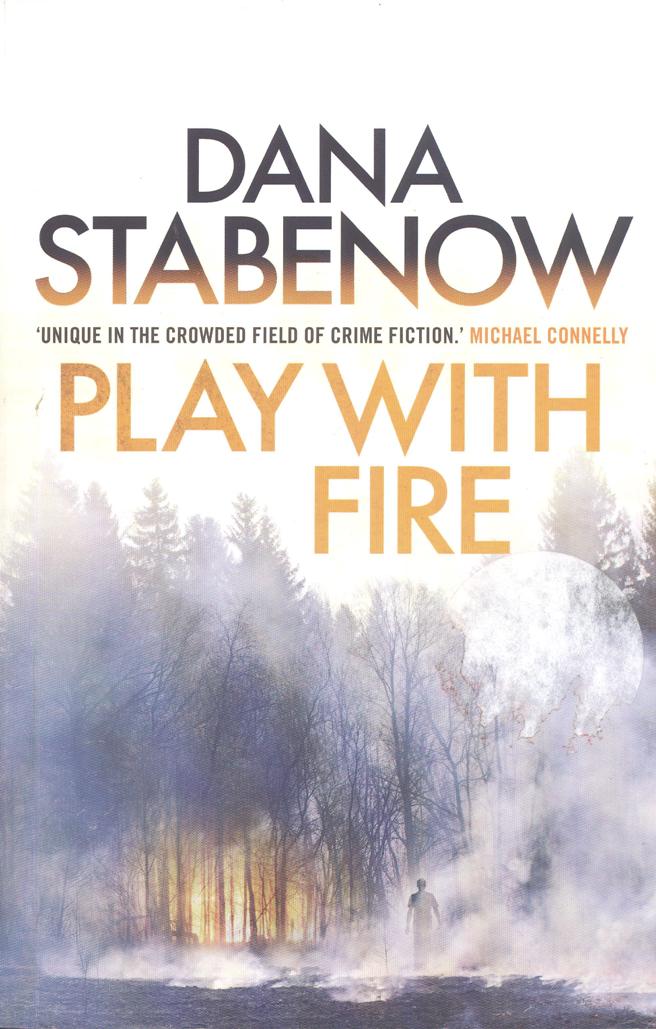 I read this book in June, 2016.
This is book five in Dana Stabenow's series about Kate Shugak, an Aleut, and PI with a difference. She lives in the beautiful Alaskan wilderness and her half wolf, half husky dog Mutt. Her boyfriend Jack Morgan has asked her to marry him, but that would mean she would have to leave her house by its little creek, near the broad Kanuyak river, with the mighty Quilak mountains in the distance. There is no finer sight on earth. These books are all about place, and family / tribe. Kate is highly independent, but is still the grand daughter of Ekaterina Shugak - matriarch of the tribe. Sometimes Kate's cases take her away from her beloved home, but here she is on home territory, and the book is all the better for that. I liked this book with its realistic depiction of the life and times of the locals. The story was OK - perhaps it went on a bit about the abuse of religion by some of its fanatics, and I could have done with a better ending, but I think Dana Stabenow's ending is more realistic. You cannot lock up all the evil doers - you do what you can, and walk away.
First to the plot. Alaska has had a terrible forest fire, but the land is recovering, and some rain brings a huge crop of morels (ie mushrooms) There is money to be made picking these morels, and so Kate and Bobby, the coloured ex Vietnam double amputee are off trying their luck - but their picking is cut short when Kate discovers a body in the ash of the forest. The body is naked - who on earth would wander about a mosquito infested forest with no clothes on. Shortly after, Kate is approached by a young 10 year old lad, Mathew Seabolt. His father has been missing for months and he wants Kate to find his dad, Daniel Seabolt. Kate suspects that she already has ! Daniel was the son of the local pastor Simon Seabolt, and was teacher at the local school. Surprisingly no one had reported his disappearance. Kate goes to the pastor Simon's church to start her enquiries, but is dismayed to discover what kind of sort of church Simon leads - ie extreme religious fundamentalists who want to burn books, ban science, and have divine creation not evolution taught in schools. When it is confirmed that the body is that of the missing teacher, Mathew wants Kate to stop asking questions - he says God will punish her if she does not stop. The grandfather seems to control the boy's thinking, and that of a lot of the locals. Kate keeps going determined to find out the truth behind the death - no one deserves to die like that. Kate succeeds, but there is no proof. Besides, those who did the deed were not the ones really to blame - not the one who incited his followers.
In Kate's personal life we find that Jack Morgan is still very much on the scene. Happily Kate and her grandmother are getting on better - each is trying to put old differences behind them. Kate's investigation takes her to Fairfax - the place where she went to Uni. Jack askes her why she had never gone back before, and Kate trusts Jack enough to answer. Kate then was a frightened, lonely 18 year old girl who had never left home, could not read, had never seen so many white people, had never been out of the Park before, never talked on the phone, nor seen TV, nor a movie, nor driven down a paved road. She was terrified, but had to stick it out. It would be a disgrace personally, to Ekaterina Shugak, and to the whole tribe if she dropped out. She had been sacrificed to the ambition of her elders. Poor Kate - perhaps this explains why she is so tough now.
At the end of the book, Jack tells Kate that he will have 10 days off at Labour day (or Labor day, as Dana is American). Kate says "see you then, and bring your kid with you, if you like." And so we have probably had the scene set for the next book.
All in all, a very interesting, very readable series.
Links to author index and home page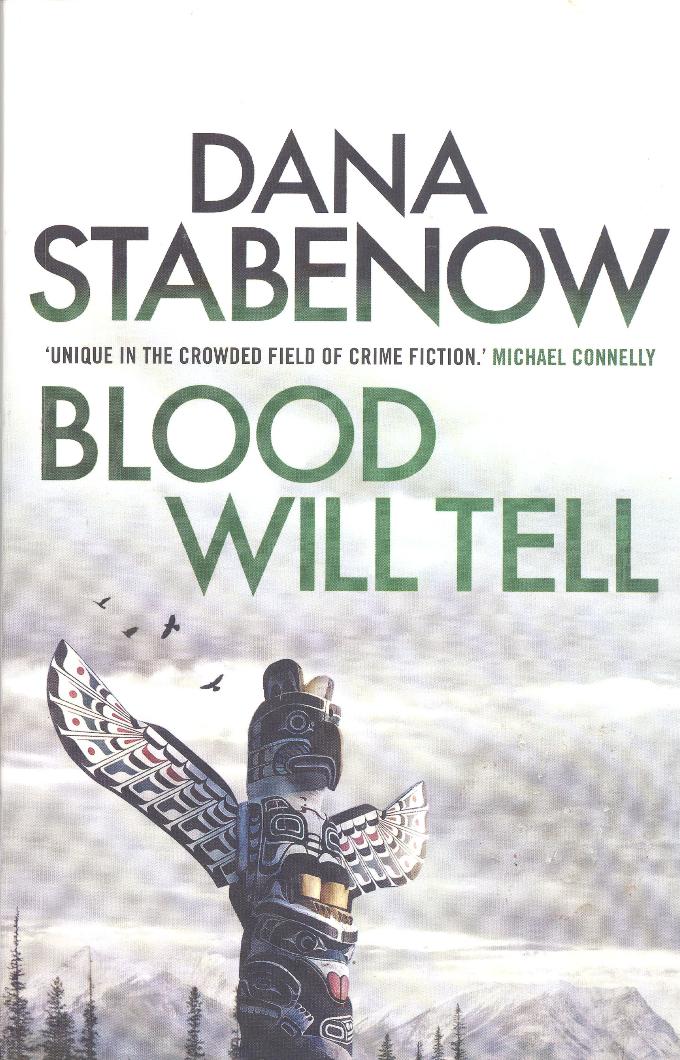 I read this book in September, 2016.
This is book six in Dana Stabenow's series set in Alaska, featuring Kate Shugak, the Aleut PI with a difference. She lives by herself in the beautiful Alaskan wilderness by a little creek, near the broad Kanuyak river, with the mighty Quilak mountains in the distance - not quite alone, though, with her half wolf, half husky dog Mutt. Kate has a boy friend Jack Morgan who lives in Anchorage, loves Kate, and has asked her to marry him, but she would never leave the paradise she calls home. I can't imagine how they are ever going to settle down - but all of that is for the future.
This is a beautiful story on so many levels - bitter sweet, well constructed, funny in places, but very sad in others. I loved it. Yes we have to put up with a potted explanation of Alaskan politics, but the author keeps this to a minimum, and it is necessary to explain the world in which Kate's grandmother, the famous Ekaterina Shugak must tread for the sake of her people. Of late, Kate and her grandmother have sort of called a truce, and been getting on better.
This story starts with Kate at home, in her wilderness idyll, romping in the snow with Mutt. A Moose strays near her front door, and soon Kate has enough meat to keep her going all through winter. She is dancing a dance of joy, when she sees an old lady standing at the edge of the woods. Ekaterina has come to visit Kate - later we will learn what she wants. Now grandmother and granddaughter butcher the moose - it's 3 days of hard work, but happy, companionable days. At the time we do not realise that these days cannot be relived. Ekaterina needs Kate's special help. The beloved Iqaluk region is in danger, a vote at the forthcoming Convention has to be won in the face of some shady dealings, and soon two of Ekaterina's allies are dead. Kate has to fly to Anchorage to assist in the fight - and there she finds that Jack also has his problems. Jack's wife Kate is contesting custody of their son Johnny, and claiming Jack beat her and Johnny.
Kate's battles include having to give a speech to the convention when her grandmother is taken ill - and Kate turns out to be a surprisingly good orator. Kate also has to dress up in a party frock - this involves a very funny sequence with Jack at the very posh Nordstrom department store. She scrubs up nicely but is horrified when she starts to pay attention to what everyone else is wearing. Whenever did Kate care about such things ? And then, when the battle (but not the war I fear ) is won, and time is bought, the scene switches back to the beautiful peace and calm of home, and an achingly beautiful potlatch (wake) to which everyone, but everyone comes. All must now change ? Kate has always refused to step into her grandmother's shoes, but fears she may have to, some time soon. Let's hope life can go as before for a few more books before this may have to happen.
As always, I have tried not to spoil the story, but to give a flavour. The author, Dana Stabenow, writes a final note to the book saying what she liked about this story. I absolutely agree.
It's a lovely little story. Well done, Dana Stabenow.
Links to author index and home page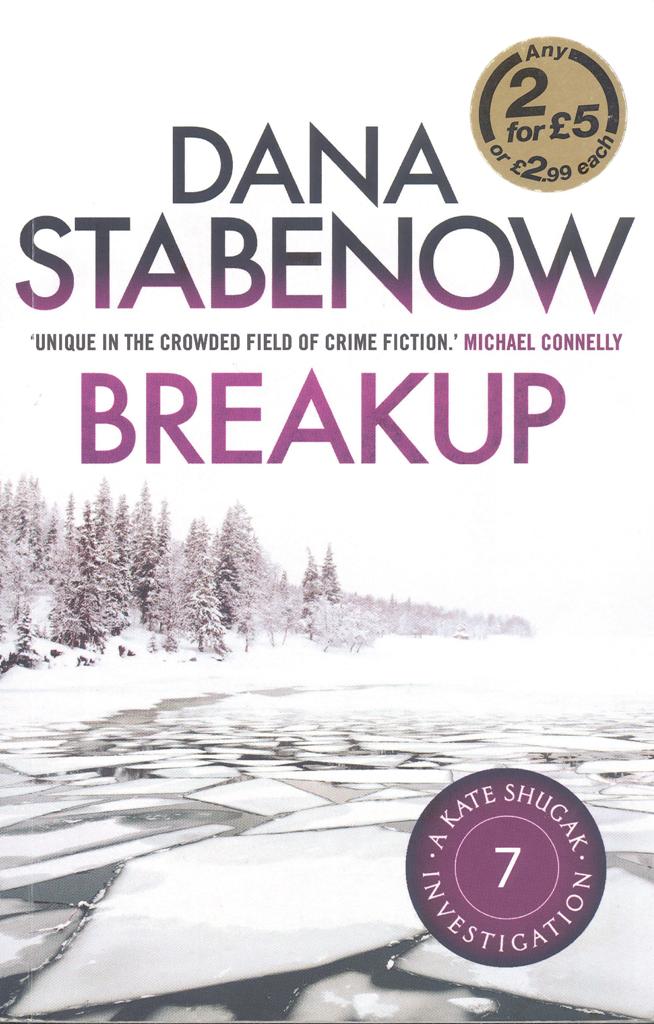 I read this book in July, 2017.
This is book seven in a very different series by Dana Stabenow about Aleut Kate Shugak, and set in Niniltra native settlement in the wilderness of Alaska.
Usually in these write ups I go on about the dual aspect of book series - we have a new crime mystery to solve, and we have another chapter in the personal life stories of the main characters. In this story though, there is very little of a main story, but a very full dose of Kate's personal life.
I thought perhaps "Breakup" was to be about the end of the long distance romance between Kate and Jack Morgan. Kate has always been self sufficient, likes her own company in the wilderness, but Jack is in Anchorage - he can't move to her, and she won't move to Anchorage. However "Breakup" is the term for the arrival of Spring in Alaska - winter going, and the ice melting, life reappearing and everything and everyone getting frisky after being cooped up for the long dark winter months. It should be a period of hope and renewal, but too often it turns out to be destruction and despair.
In three days just about everything that could go wrong happens to Kate. She is lucky to escape an encounter with a hungry bear, then meets two more bears. An engine falls off a passing aeroplane onto Kate's homestead, narrowly missing Kate and Mutt. But it fairly manages to trash the place, creating a hole in her roof, breaking her setee, and destroying her trusty means of transport. She is out of supplies, and has no way of getting to the stores. Then her peace and quiet are shattered when a disaster recovery gang turn up to catalogue and start to clear up the damage. Kate is not in a good mood. Her friend Mandy has her very rich, posh parents visiting, wanting her to return to civilisation, and making her life unbearable. Mandy offers Kate her 4 x 4 if Kate will give her a break from her parents, and take them off on a tour of the park. Kate agrees, and gives an unintended tour to end all tours. They get caught up in dead bodies, dodging bullets, punch ups, etc, and eventually Kate gets them drunk. It's been trouble after trouble after trouble, but the parents survive and come to respect the place and appreciate their daughter's place in the community.
On top of all of this, as the deceased Emaa's granddaughter Kate gets drawn into park politics, dispute settling, etc, and ends up helping the management committee of elders set up a medical centre in Niniltra. She doesn't want to get dragged in, but sometimes you just have to do the right thing for the community even though you'd rather not get involved.
There is one bit of a mystery to be solved. The dead body of a man is found near Kate's property, but not actually on it - "not my responsibility" protests Kate. Then Mark Stewart is found by Kate (and Mandy's parents) in a state because a bear has killed his wife Carol. But this doesn't stop him flirting shortly afterwards. It's Kate not trouper Jim Chopin who connects the two deaths, and sort of dishes up outback justice.
All in all, an interesting visit to Alaska, and a vivid portrayal of the frontier spirit of the people there. We meet lots of characters we have met before. The spirit of Kate's grandmother Ekaterina lives on in Kate.
What will the future hold for Kate ? Do Kate and Jack have a future together ? Can Kate continue to resist stepping into her grandmother's shoes ? In short, roll on book 8.
Links to author index and home page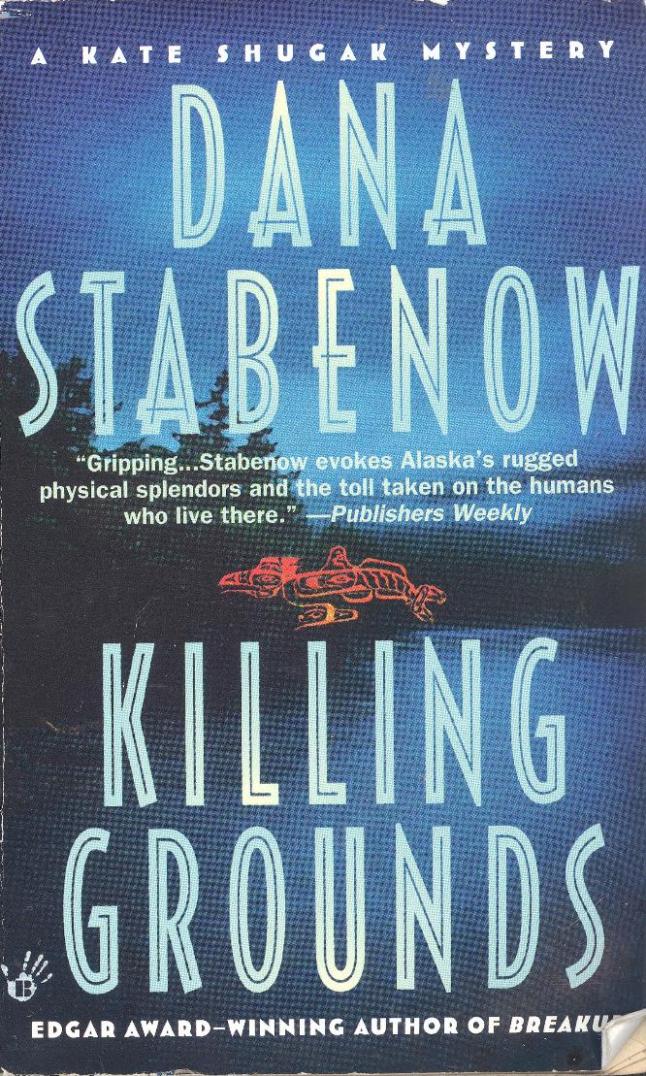 I read this book in December, 2018.
This is book eight in a gem of a series set in and around the Niniltra native settlement in the wilderness of Alaska. Kate Shugak is an Aleut, a former trouble shooter for the DA's office but now freelance, and lives most of the year in an isolated log cabin in the snowy wilderness with Mutt, her half husky, half wolf. Kate is a ferocious warrior and an able detective. Kate is also the granddaughter of the deceased Emaa, the extraordinary old lady who was tribal leader, and a ferocious political defender of native rights. You really do need to read this series in the correct order to appreciate it's rich back story. Kate should be Emaa's successor but she hates politics and doesn't want the role. But she is more or less doing it by default - e.g. when the members of the ruling committee ask Kate what she thinks about something.
It's taken me over a year and a half to get a copy of Killing Grounds, and even then I had to give up on charity shops, and take to the internet - (abebooks.co.uk). It's a terrific story with just the right blend of back story / Aleut setting / Kate's love life, and main (?) plot - a murder to be solved. Most of the stories that I read are good, but ever so often, one comes along that absolutely delights, and this is one such story.
Lets start with the back story. Kate and Jack Morgan are still live apart lovers. Jack now has gained custody of Johnny, his 13 year old son, and Kate, Mutt, Jack and Johnny spend as much (idyllic) time together as they can. This story is set in summer, which is salmon time in Alaska, and Kate is the one person crew to her uncle, old Sam Dementieff - older than god, no one knows more about fish than Sam, his word is his bond. Working out of the Alaskan port of Cordova, Sam owns the "Freya" a fish tender into which smaller boats offload their catches - which are weighed and a receipt issued. A receipt signed by old Sam is never questioned. We also meet four of Kates old aunties - Auntie Joy, Auntie Vi, Auntie Edna, and Auntie Balasha. They are working a fish ladder contraption of questionable legality (it scoops up salmon) at their cabin on the edge of the Amartuq river. There they gut and fillet the fish, and wood smoke it for four or five days - alder wood is best. As natives they have been fishing these waters for always - it is their right to take fish for subsistence. But others covet the fish, or the land. Here fish sustainability, national government wanting to freeze development and set up national parks, federal government wanting to lease the land for mining or tourism income, commercial fishing, and sport trophy fishing all clash. Trooper Jim also features in the story.
The main plot introduces us to one really unpleasant character - Cal Meany. He is a wife beater, son beater, cheat, land grabbing rogue, strike breaking scab, womanising bandit, schemer and in short just horrible scum in every way. Cal gets himself killed (hooray - but we can't condone murder) and his floating body is fished out of the sea by Kate. She informs trooper Jim who flies in to take charge, but has to fly out again to get the body to the pathologist. He asks Kate to set the investigation going. And so we meet lots of characters - all of whom have cause aplenty to want Cal dead. Worryingly the list of suspects includes some of Kate's relatives. Is there to be a clash of loyalties. Old ways die hard. Elders have earned respect, and will not be questioned like common suspects. Kate knows this - but forgets herself when she bad mouths old Sam. Luckily they are moored up near the shore when he tosses her overboard into the cold sea, and after wading ashore she has to trudge wet and shivering back to base. Initially she is furious, and later she is ashamed. There is another murder, and lots of life threatening incidents, and of course it all builds to a terrific climax.
As an aside I was greatly impressed by the author's obvious knowledge of Alaskan salmon fishing in all it's varieties. She used to live on a trawler and so knows all the names for parts of a boat - but its more than background knowledge and good research ; it's a love and respect for the subject, and an ability to make it all so interesting. It's like the wild west on ice at times.
It's a great story in every way. Luckily I have both books nine and ten on my waiting to be read shelf. I'll read something else next, for variety, and then get back to Kate.
Links to author index and home page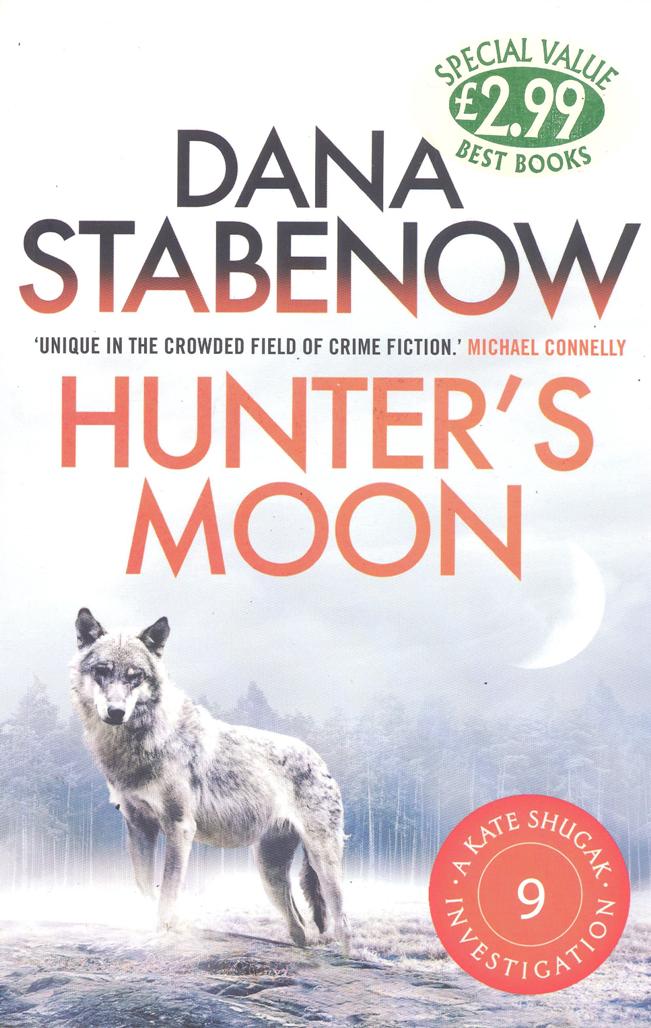 I read this book in January, 2019.
This is book 9 in the Kate Shugak series, and be warned, it's a sad story without a happy ending.
The main story is that a friend of Kate's, George, is the owner of a game hunting camp - on an old abandoned gold mine. He is hosting a party of 10 German tourists - led by Dicter, the CEO of a German based international computer software company. This company is DRG, and it is under investigation worldwide for financial impropriety, corruption, etc. Dicter has ordered his top 10 executives on this hunt - so it's 10 hunters, 9 men and 1 woman. They are a haughty , self centered bunch used to giving commands and being waited upon, but George has made it clear he does not run a five star luxury camp. He has hired four guides for the hunt - Kate Shugak, Jack Morgan, Demetrios, and old Sam (for whom Kate crews in the salmon hunting season).
The men have spent a fortune on guns, but are mostly inexperienced, apart from a couple of Nazi thugs. Right from the start it's a battle of wills - trying to get the German to follow hunting rules and the law of the land. Kate has a bad feeling about this hunt - but they are paying well. What follows is an evil carnage, and hardly anyone is left untouched. Sadly, Kate will be devasted by the end of the story.
In the private life sub plot, the Kate and Jack Morgan story explodes. Jack and Kate have been in a relationship for years, but Jack has worked in Anchorage, and Kate treasured her independence in her wilderness cabin with Mutt, her half wolf, half husky companion. Jack says he is to retire, and wants to live with Kate at her cabin. He has learned a love poem by heart which he recites to Kate, and asks her to say yes to him moving in. Kate has always loved Jack, but she also loves her independence. After much soul searching, she decides they must give it a go. As soon as she said yes, I wondered if an idyllic life together for Jack and Kate would ever happen - especially so early in the series. I thought she might change her mind, or they might quarrel, or something. But I didn't expect Dana Stabenow to be so ruthless. I thought immediately of Ann Cleeves and her similarly brutal treatment of poor DI Jimmy Perez in the Shetland series.
As I said, be prepared for a sad ending, and like all good writers, the author leaves some things uncertain at the end of the book. Of course we must read on.
As an aside, in much of this hunting trip story, I was also reminded of the Elvis Cole & Joe Pike stories - lots of guns, and page after page of continuous action.
Finally, there is almost nothing about Kate's tribal home Niniltra in this story other than some flashback stories about Kate's childhood, and fierce independence.
Links to author index and home page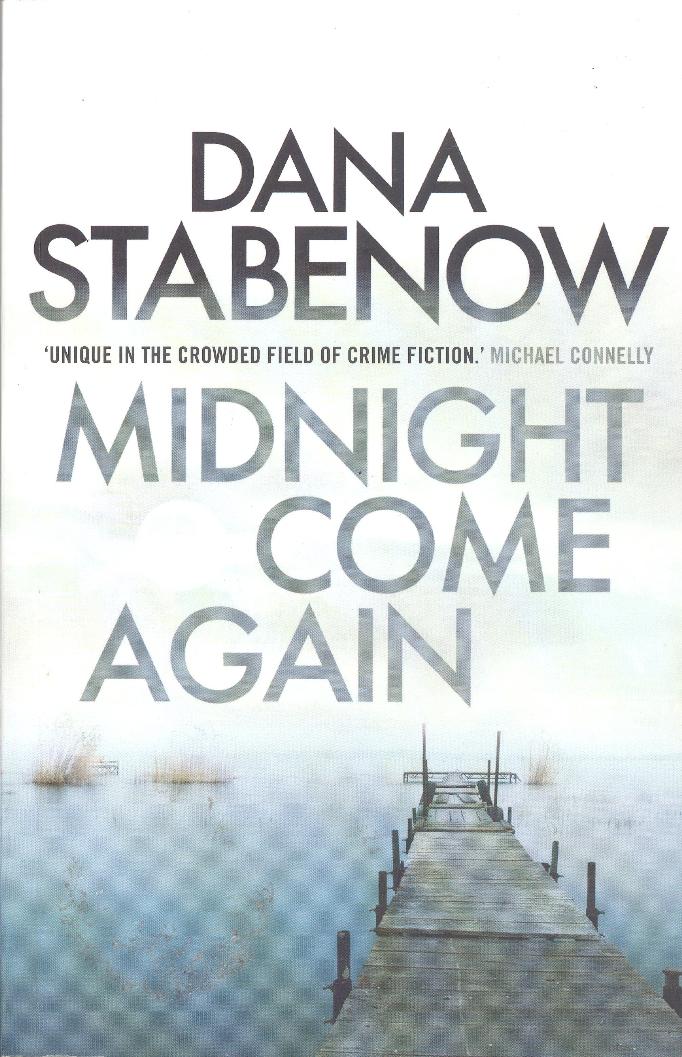 I read this book in February, 2019.
Most of the books that I read are strong stories by established and sometimes award winning authors. Every so often I get a bonus when I come across an extra special book, and "Midnight Come Again" is one such book.
The previous book in the series all but destroyed the remarkable Kate Shugak. The love of her life, Jack Morgan, was killed. He died in her arms, watched over by Kate's badly (but how badly) injured dog Mutt, and his dying words to Kate were "look after Johnny" (his son). Kate is wailing in despair.
This book is set about nine months after the above terrible events. Kate has gone. Everyone is very concerned and they call in trouper Jim Chopin to find Kate. Everyone, but everyone, tells him "Bring her back, Jim", but he can't find her, and it worries him.
The book opens with a two chapter prologue. Chapter 1 is set in St Petersburg, where the Russian mafia have hijacked a plutonium consignment to sell to the highest bidder. Chapter 2 introduces two FBI agents following a lead that the plutonium may be in Alaska, in Bering. We now have trouper Jim being given a temporary assignment to go to Bering to help the FBI. Quite a lot of chapters have now gone by, and we still don't know what happened to Mutt.
Of course, it is in Bering, undercover as Jim Churchill, that Jim bumps into Kate - and we find out if Mutt survived. Kate is now Kathy Solovik. For the first time in his life trouper Jim loses his temper, and shakes Kate as he shouts at her "Do you know how many people, your friends, are worried sick. Couldn't you at least have said you were OK !"
Jim had earlier established that Kate had last been seen leaving Niniltra with a badly wounded arm. We only find out the significance of this at the end, and it's only at the very, very end of the book that a repaired Kate can start to keep her promise to Jack.
Kate, as Kathy Solovik, had been working 24 hour shifts at Baird Airrlines - only complete exhaustion allowed her to stop missing Jack so much. Slowly, Kate is drawn into Jim's assignment - especially after Jim is shot (but not fatally injured). And now the search for a Russian mafia killer is really under way.
Kate visits a Alice, an old college friend living in Bering. Alice is amazed that Kate had been in Bering for months, but had never got in touch. Alice works in a local bank, and Kate asks her to get Kate some information about fish processing boats banking there. One of these boats is a Russian fish processor. Poor Alice gets killed, and Kate is distraught. "I am the Angel of Death." Alice leaves behind a remarkable little daughter Stephanie. Kate too was an orphan - and she promises to help Stephanie - "phone me at this number, a friend will let me know, and I'll come running." But meanwhile Kate advises Stephanie to stay living with her grandparents for the next 3 years. There are so many parallels with Kate's life, and perhaps Kate now regrets that she didn't stay longer with Emaa, her own grandmother.
Alice's grandfather Ray had been Emaa's lover - apparently everyone knew, except Kate. He gives Kate some excellent advice. "I could have been your grandfather. You have been badly hurt by the events of last September. Don't let them destroy you !"
Lots and lots happens in this story - including what happens between Jim and Kate one night, instantly regretted.
Gradually Kate is starting to want to live again, and missing her cabin in the Alaskan wilderness. Yes, she has been badly damaged, but Kate is still a formidable foe - even for a dangerous Russian gangster.
I like the occasional mystic native references to Emaa. Her spirit is everywhere, especially in the sometimes heard three sharp notes of a bird in the trees.
It has taken a whole book for Kate to accept Jack Morgan's death. Let's see what the future holds for Kate, (and perhaps Johnny, and perhaps Stephanie). You will have noticed that I don't write spoilers - especially about Mutt.
Links to author index and home page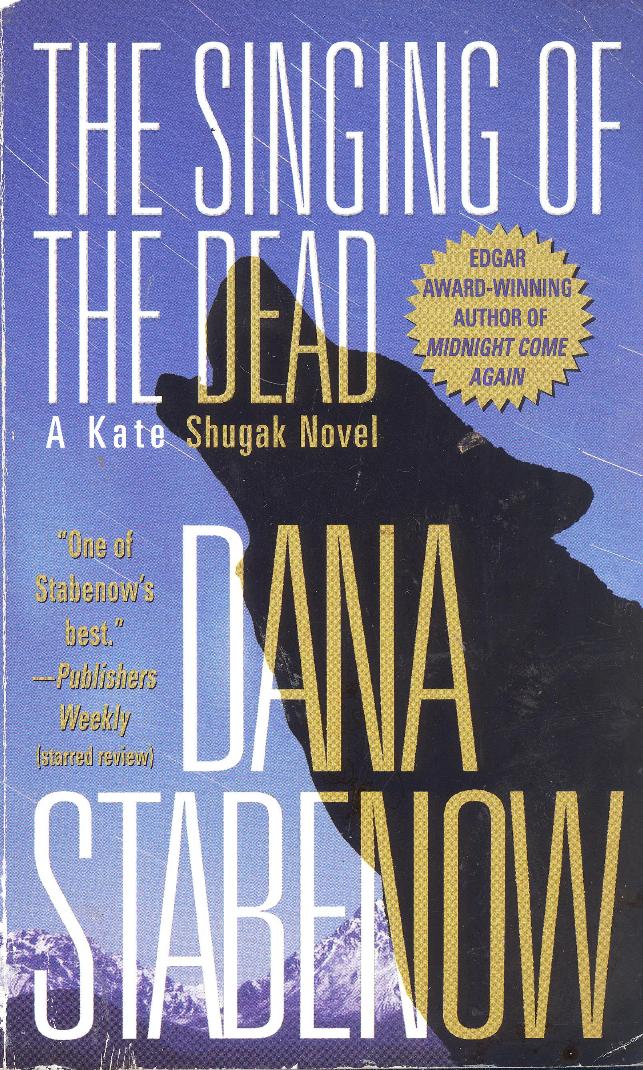 I read this book in November, 2019.
This is book 11 in a series that I really like, but it's very difficult to find copies in charity shops. I had to buy this book online, secondhand from Abebooks. It's a series set in Alaska featuring indiginous Aleuts in their settlement of Ninilta and follows the life and times of let's say sometime PI Kate Shugak, and her half wolf, half husky dog Mutt. They live in a remote cabin in the often snowy Alaskan wilderness. Two books ago the love of Kates life, Jack Morgan, was killed and Kate was all but destroyed by her grief. In the previous book she started to function again and it ended with Kate and Mutt returning home, and finding Johnny Morgan, Jack's 14 year old son, waiting for them. He wants to stay with Kate, but his mum Jane Morgan hates Kate, and is determined to get Johnny back - and the law is on her side.
There are lots of stories unfolding in this book, and lots and lots of characters - I must admit I sometimes struggled to remember who they all were. That is probably my fault, not the authors. We sort of open with Kate's fight to keep Johnny - she needs to generate some cash to hire a lawyer. This leads her to sign up to provide security to a native politician who is standing for the Alaskan senate. Anne Gordaoff had been getting threatening letters. She, and her agent Darlene, had sought help from the state trouper Jim Chopin, but he obviously could not provide 24 hour protection, and suggested they hire Kate. Everyone in the Ninilta settlement is either related or knows each other. Thus Kate and Darlene have history - they went to college together, Darlene slept with Kate's first "boyfriend" Ethan, and Kate caught Darlene rigging a student election. Kate doesn't like politics, but is impressed by some of Anne's speeches on native rights, and Kate does need money. Anne is determined to get elected, and campaigns with vigour. Darlene will stop at nothing to ensure victory. Anne is at every event, meeting and greeting, and Kate has to keep up -she bemoans all the quick junk food she has to eat on the campaign trail. But Anne's life really is in danger, and there are two murders. Anne's daughter's boyfriend is shot, and so is Darlene's researcher Paula Pawlowski. Paula had been digging for dirt on the rival and sitting senator Peter Heiman, and at the same time she was also looking for possible skeletons in Anne's cupboard. The Gordaoffs and Heimans are old established, respected families - reputation and family values are important in Ninilta. There are past secrets - and this is what the story is really about.
Unfolding past secrets explains another strand to this book - occasional chapters in italics tell a story from about 100 years ago, in the early days of the Alaskan gold rush. Men rushed there to make their fortunes, but, deprived of female company, readily turned to "good time girls" (i.e. prostitutes). We are being told the story of Angelique Beauchamp / Angel Beecham - the Dawson Darling. To survive she became a "good time girl", was very good at it, and, in Dawson City in 1897 allowed herself to be auctioned to the highest bidder. The prize - she was theirs was 6 months, to cook, to clean, and sleep with the winner. She eventually married the winner and they had a child, but she was lusted over by some of the failed bidders, and when her husband died of a septic wound, others moved in, some with her consent, some without. She was raped by the Greek bidder, and eventually murdered by Matt in 1915. These "good time girls" were usually pariah's, shunned by decent folk, but some married, lived respectable lives, and spawned the good families of the area. Why we are being told this back story is a puzzle for most of the book, but the researcher Paula Pawlowski uncovered the story without knowing why it was dynamite.
Although Kate knows life must go on, unwanted tears still fall when something happens to remind Kate of Jack. She knows that eventually there may be other lovers too, but not yet. However, we may be starting to see two possible future candidates - trouper Jim Chopin, and ex teenage "boyfriend" Ethan. Kate and Jim have already made love - a moment of regretted insanity. He tries to hide his feelings for Kate, but Jim is smitten. But it seems he has a serious rival in Ethan. It will be interesting to see what the future holds.
I liked the surprise in the Epitaph linking Kate to the 100 year old story. All in all, an interesting, worthy member of a great series.
Links to author index and home page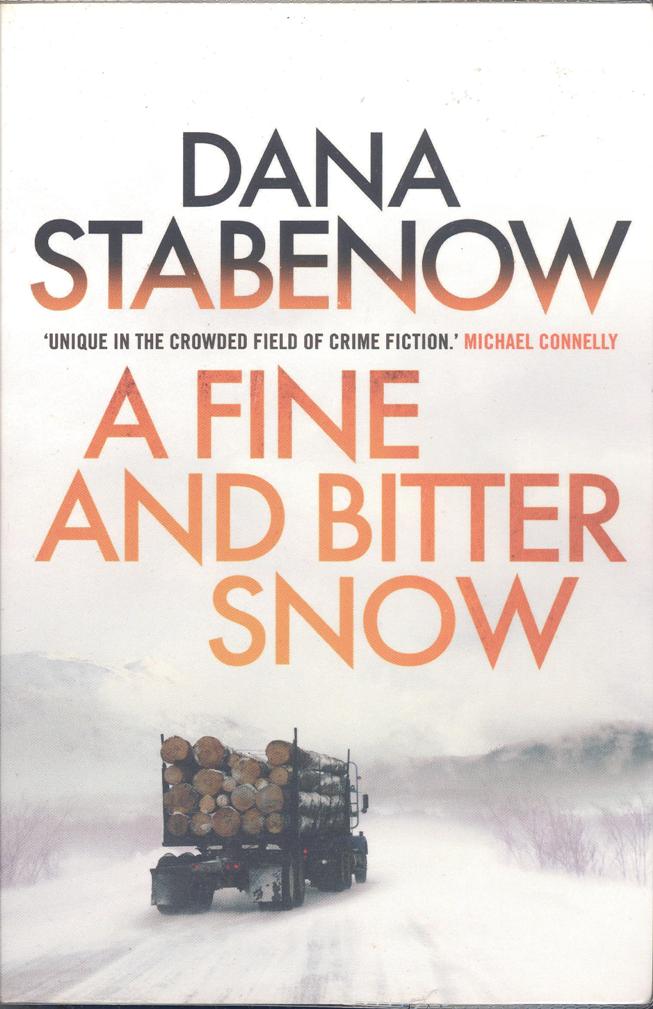 I read this book in January, 2020.
This is book 12 in the Aleut, Alaskan based Kate Shugak series by Dana Stabenow. It is set in and around Ninilta National Park. Kate's grandmother was the famous Emaa, leader of the tribe - and an accomplished politician. Part of this book is about politics. The first 100 pages describe the undamaged paradise that is the Alaskan wilderness. Big business wants to search for oil in this, the purest of habitats - unchanged for over 100 years, possibly the last place on earth unchanged for centuries. Dana Stabenow / Kate Shugak care passionately about the land. The powers that be want to replace the popular ranger Dan with someone whom they can bend to their will. "Fight them" says Kate, and starts a campaign. Two of those most into conservation are Dina Willner and Ruthe Bauman, contemporaries of Emaa. They are found shot, and Jim Chopin is very soon on the scene. Dina is dead, and Ruthe is barely alive. Ranger Dan is found dazed on the premises, and, on questioning, he is concealing something. However a poor Vietman veteran is found cowering under a bed , in a cabin behind Dina and Ruthe's property. He has a knife in his hand, and it is stained with the blood of Dina and Ruthe. He can't remember what happened. "I guess I killed them. But I can't remember." So one of the plots of this book is who did the killing ?
An equal plot in the book is the Kate Shugak / Jim Chopin "courtship". Kate still mourns Jack Morgan, but life must go on. Kate is stubborn as a mule. She practically forced herself on a reluctant Chopper Jim in an earlier book, but afterwards said he had taken advantage of her. Jim is a real ladies man, and Kate doesn't want to be just another notch on his bedpost. But they want and need each other. I guess this will run for quite a few books yet .
There is a new girl at Bernie's Roadhouse - Christie. She is young and attractive, but has made a beeline for ranger Dan, very much older than herself. Why ? And just who is Christie. We get the answer by the end of the book.
Jack Morgan's son Johnny is still around, and moving about to keep hidden from his mother's clutches. By the end of the book Kate tells him to come and live with her full time. "I guess you are big enough now that you can stick up for yourself."
Finally, Mutt is still around and once again she springs into action (half husky, half wolf) to save Kate's life in a showdown at the end of the book.
How many times has Chopper Jim saved Kate's life ? He has told her of his despair when he thought she was dead. It's time they got together. But Kate is tough, and too stubborn !
Links to author index and home page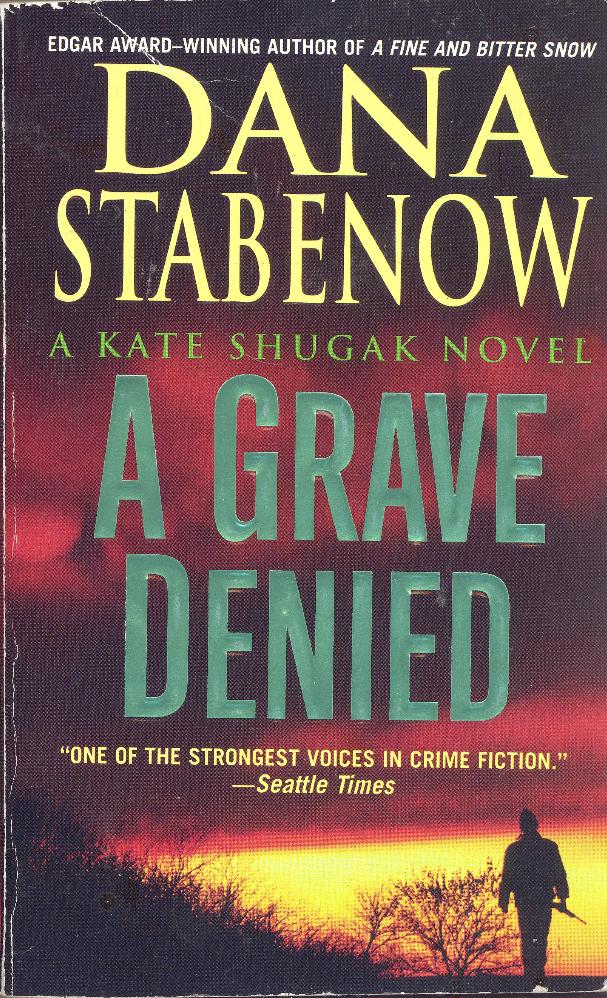 I read this book in April, 2020.
This is another fine book (book 13) in one of my favourite series. I like it so much because there is such a strong personal lives back story on top of the crimes Aleut detective Kate Shugak sets out to investigate. The setting is wilderness Alaska where Kate's tribe live in the Niniltna Native Settlement beside the Kanuyak river, beneath the Quilak monntains, and near the Grant Glacier. It's at the Grant Glacier that this story opens. Ms Doogan, the teacher, is leading a field trip and what she tells her pupils allows the author to give us an Alaskan wild life and history lesson. Here was where the Grant retreated to in 1788 when Captian Cook sailed to Alaska ; here it was in 1867 when the US bought Alaska from the Russians for $7.2mil ; here it reached in 1898 when the gold rush erupted; and here it was in 1914 when WW1 started. It's nature notes at their best. There is a handsome 14 year old lad amongst her pupils, surrounded by a group of 3 admiring girls. And so we meeet again Johnny Morgan. One of girls is quiet Vanessa Cox - the other girls have no chance, but tag along when Johnny and Vanessa go off (dangerously) to explore the mouth of the glacier. It's here that they discover the frozen body of the local handyman - Len Dreyer. Len had been shot. Trooper Jim Chopin is called, and he asks Kate to help him - at normal state rates. Kate needs the money for possible legal fees to fight a custody battle with Johnny's mum. Jack Morgan had asked Kate to look after the boy.
As Kate investigates, Len seems to be a man with no history, and is not on any government / social security files. He worked for just about everyone in the Park, did a good job for a good price, was paid cash each time, and could tackle and repair anything. It turns out Len Dreyer is really Leon Duffy, who served a jail sentence in Anchorage for child molesting, was released, and then disappeared - to turn up in the Park under another name. Sadly though, he hadn't changed his evil child molesting ways. There are lots of kids in the Park, with lots of protective relatives - in short, lots of people would have a good reason to kill a child molester. As Kate goes round the Park we meet many well known characters again - one of the strengths of this series. Bobby Clark runs the local radio station - Park Air. Bobby is in a wheel chair, and lives with Dinah, and their baby Katya. Bobby is a coloured man, and his brother Jeffrey is visiting to persuade him to return home to a dying father. This same father was the bigot preacher who publicly shamed Bobby's girlfriend as a sinner, and the poor girl committed suicide. Bobby joined the army to escape this family vile, and now his brother has visited the Park bringing such bigoted, anti white views with him. He ignores Dinah who is white, and calls Katya a mongrel ! This is good sub plot - read the book to see how it ends. Bernie Koslowski runs the roadhouse but has an eye for the ladies, and his wife Enid is revenge unfaithful with the visiting handyman. Bernie caught Enid and Len Dreyer in bed together. Did Bernie shoot Len ? That is the trouble for Kate - she knows / is related to most in the Park. She is investigating good friends - and we learn what good friends they are in a real feel good ending to the book arranged by Dinah. Billy is the tribal leader, and is married to Annie. They want their son Dandy Mike to be assistant to Jim Chopin when he opens his new police facility on the Park. Dandy is a real ladies man, second only to Trooper Jim, but is lazy and has no detecting skills. He only wants to be a trooper for the uniform and the hat - real pulling power. Old Sam Dementieff is still around. Bonnie Jeppsted runs the local post office. Auntie Vi runs an excellent B&B, and someone has opened a cafe in the Park which, as the only place, is very popular.
I liked the introduction to Virgil and Telma Hagberg. We get the family homestead history - parents coming for the gold rush, lots of children and daughters, a hard, hard life, mother running off, father coping, father dying, son staying on to marry off and so provide for his sisters, and mentally slow Telma marrying Virgil, a Norwegian settler. We wonder why their history is being told when after several pages we discover they have taken in / fostered the daughter of a cousin who died. This girl is Vanessa Cox ! Vanessa and Johnny are great friends, and Vanessa helps Johnny who is secretely trying to help Kate solve the Len Dreyer murder. Terribly there are other reasons for introducing us to Telma and Virgil. Dandy Mike has be warned off but is still also trying to solve the Len murder case too - to impress Jim Chopin into giving him a job.
All this investigation alarms the murderer who kills Dandy Mike, and sets fire to Kate Shugak's beloved cabin, beleiving wrongly Kate and Johnny to be inside. By good luck they were not there, but Kate is horrified to find her paradise retreat destroyed. The cabin was built by her father, and she was born here, and lived here after her father died rather than stay with her grandmother, the famous Emaa. In times of despair this was Kate's wilderness salvation, shared with Mutt. Now it is destroyed. Read the book for the wonderful ending that shows just how much Kate is loved by everyone in the Park.
Mutt is a constant presence in the story. I don't know how the murder jumps both Kate and Mutt and throws them unconscious into a grave. Read the book also for that story.
It is difficult to do proper justice to this story without writing a spoiler, so let me leave it at that. Just to add one thing, though. The Jim and Kate romance simmers away all through this story, and promises to carry on into the next book. What does Kate really want ?
Links to author index and home page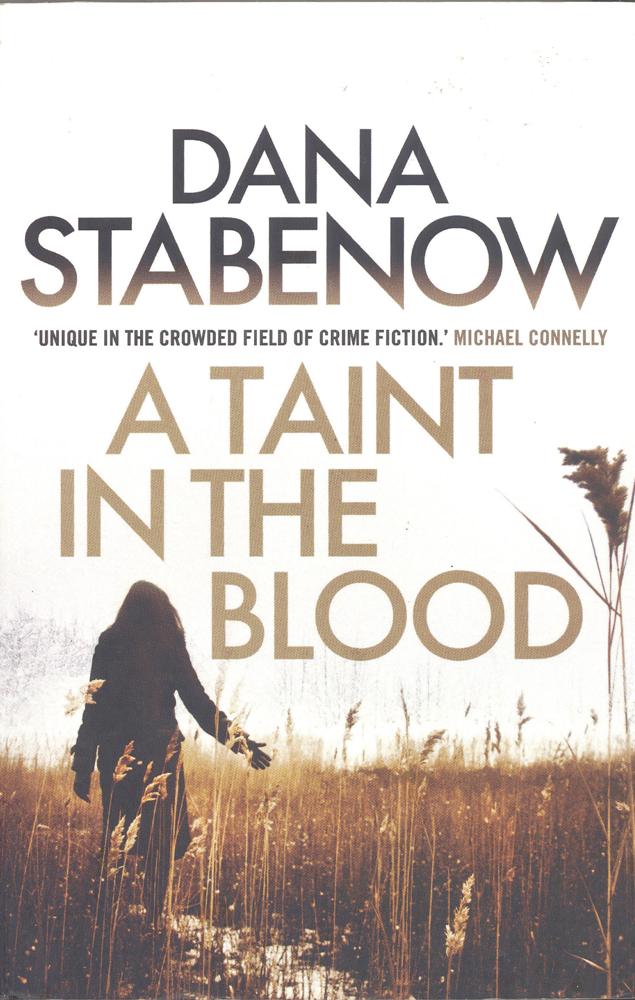 I read this book in May, 2020.
This is another outing for Kate Shugak and faithful Mutt. Sadly however it has almost been turned into a trashy novel with a sex scene between Kate and Jim Chopin every few pages. Jim is famous for "love them and leave them", and Kate is strictly monogomous, so what is going on here ? Is Kate trying to teach Jim a lesson - that she too can do sex with no committments, but is that what they both want ? There is no answer to the question in this book. There is no doubt that Jim is a good friend to Kate. He has saved her life, and in this book he stays on in Anchorage (where this story is set) to protect Kate's back. We will need to see how this all works out in future books.
The story opens in and around Niniltna native settlement, a beautiful Alaskan wilderness beside the Kanuyak river with the Quilak Mountains in the distance. It's 3 months after the previous book. Kate has been going round "helping" all those who contributed to the building of her new cabin. And so we get a roll call of Auntie Vi, old Sam Dementieff, Bobby Clark, Dinah, and little Katya, Bernie Koslowski at the Roadhouse, Billy Mike, tribal leader, and his wife Annie, etc, etc. Kate hates being beholding to anyone, but has been overdoing it with her gratitude, doing things her way, dispensing advice not really wanted, and generally interfering. Eventually she is told to desist. They built her a new house. End of story. Deal with it. Johnny Morgan is now adopted and secure. He still has a girlfriend in Vanessa Cox - at the start of the book Kate laments that Johnny's sex life is probably better than hers, but, as I have said, that soon changes. In this adventure Johnny stays with Auntie Vi, whilst Kate and Mutt go off to Anchorage. There are about 600,000 people in Alaska, and most live in Anchorage.
After her rounds of doing "good," Kate had eventually got back to her new house looking forward to some peace and quiet, but there was a woman waiting there to ask for help. "I want you to get my mother out of jail". The woman is Charlotte Bannister Muravieff, and her mother, Victoria Pilges Bannister Muravieff is now dying of cancer. The Bannisters are the aristrocracy of Alaska, with fingers in lots of pies, and exerting lots of influence. 31 years ago Victoria was living in Anchorage with her husband Eugene Muravieff, and their children, William (17), Oliver (16) and Charlotte (15). Their house was set on fire - arson - when Victoria and Charlotte were visiting Victoria's brother Erlund. William perished in the fire, Oliver escaped out of an upper window, breaking his leg, and Victoria, who had recently insured her children's lives for $1 mil, and petrol from whose car had been used as the fire accelerant, was convicted and sent to jail for the terrible crime of infanticide. Victoria never defended herself. Victoria became a model prisoner, getting degree qualifications and setting up a penal education facility that did untold good.
Charlotte gives Kate a huge up front cheque, and Kate and Mutt go to Anchorage, staying at Jack Morgan's old house - now Kate's. Kate visits Victoria in jail to be told "I don't want your help, and dismiss you", but it was Charlotte who hired Kate, not Victoria. The story now unfolds. Kate initially thinks that Victoria is probably guilty, but finds that everyone involved in the case has now disappeared or been killed. Thus the old attorney is missing / dead, and Eugene (living under the changed name of Gene Salamentieff) is murdered, Kate's temporary assistant Kurt Plentikoff is shot, and Kate, visiting the secluded cabin, only escapes being killed thanks to Mutt. Finally Charlotte is killed in a hit and run. Erlund Bannister tells Kate she can go home now, but Kate wants to see things through. Someone killed William, and is now covering his tracks. Kate has a good friend in the assistant DA Brendan McCord, in Max, a retired Anchorage policeman with a good memory, and Jim Chopin has stayed on in Anchorage to help too. It's a big story with lots of characters and possible suspects. Victoria, a member of a top Alaskan white society family, had married "beneath" herself to a non white, native Eugene Dementieff. Was Williams's death to punish Victoria. Victoria had taken the union side when the Bannister family business went non union. Was this the reason? Charlotte was gay, living with Emily, a lawyer and busines partner of fellow attorney Oliver Dementieff. William had had a beautiful girlfriend in Wanda who dumped him and went out with his dad Eugene. Eugene had been in bed with Wanda when the fire was set - and was divorced by Victoria. Behind it all lurked the powerful Erlund Bannister, kingmaker.
The story is well told and fleshed out with lots of side plots - e.g. Kate helps two brothers who live a chaotic life with their alcoholic mother. Kate is the grand daughter of the famous and revered Ekaterina Shugak, i.e. aristrocracy of the native kind. Kate visits her cousin Xenia in Anchorage but is met with politeness. Xenia had always resented her cousin's greater success and beauty.
Finally it is all sorted and Kate and Mutt can get back to Niniltna. I look forward to the next story, hopefully with fewer Jim and Kate bedroom scenes.
Links to author index and home page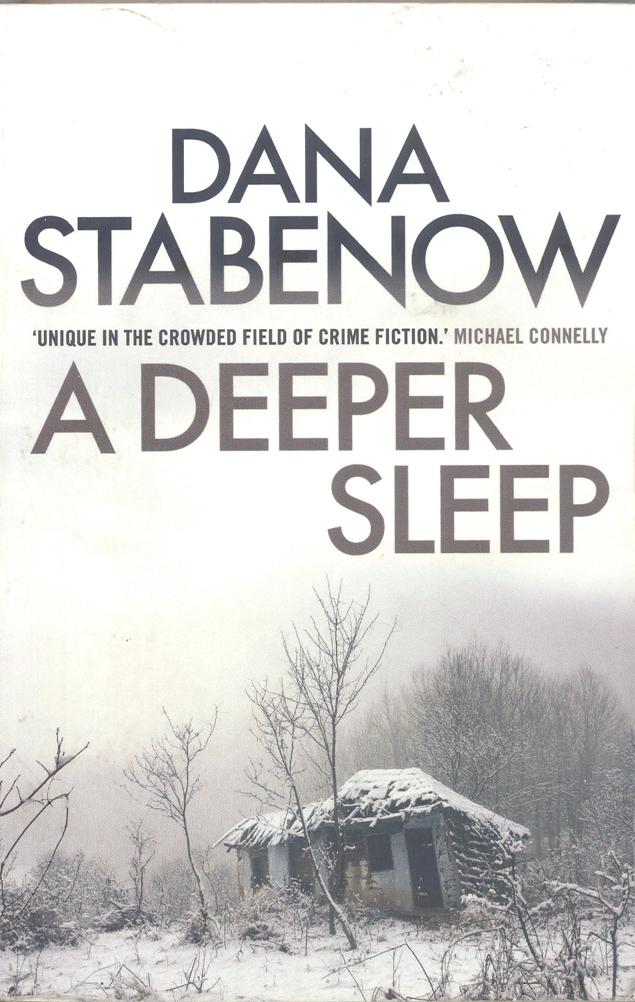 I read this book in August, 2020.
"Death is a deeper sleep, and I delight in sleep" - Roethke
This is book 15 in the terrific Alaska based, Aleut Kate Shugak and her dog Mutt series by Dana Stabenow. It is set in and around Niniltna, in the nature park where Kate's grandmother Ekaterina Shugak was the leader. Ekaterina died a few years ago, and everyone wants Kate to follow in her grandmother's footsteps. She comes under great pressure in this book from the four Aunties -Auntie Vi, Belasha, Edna, and Joy. Billy Mike is the current leader, and with his wife Annie they have adopted a Korean baby Suzie. Sadly, Billy dies in this book, and it is simply Kate's duty to take over. Kate hates politics, and politicians. "Oh dear, I have become an elder. " It's not all signed and sealed though - we will have to read the next book.
Johnny Morgan (14) is still living at Kate's, Vanessa is still his girlfriend, and Fritz Koslowski his best friend. Bernie and Enid Koslowski run the roadhouse, and they have two other children - Teddy and Kathleen.
The book opens slowly with Willard Shugak stealing fuel from Auntie Balasha's cabin, and Kate and Jim Chopin hiding nearby, ready to pounce. Willard is slow witted, to put it kindly, and is arrested. Mostly then we learn about day to day life and the Park - and that was fine, by me.
Next we met a horrible, evil piece of work, Luis Deem, who charms silly young girls, but who has raped and abused every woman who has fallen for his "charms," and killed four wives ! He is always found "not guilty" by a terrorised jury. Everyone in the Park knows and fears Deem. Something must be done - and it will be in this story. Luis Deem has two hangers on - Howie Katelnikof and Willard Shugak.
I thought the story was to be Kate rendering justice to Luis Deem, but the story took a very different turn. Enid and Fitz Koslowski interrupt an intruder, and are found dead, shot at close quarters. Luis Deem is blamed. Then there is a second shoting, Kate is shot at - Mutt is hit, seriously injured, and air lifted to the vet in neighbouring Ahtna. Poor Mutt. Does she survive ? Read the story. Kate knows Howie did the second shooting, but can't prove it. She will get her revenge, but in her own time. Johnny was a witness to Enid's and Fitz's shooting. He has identified Luis Deem as the murderer, and is to be called at the trial. In short, his life is now in great danger.
In yet another twist Luis Deem is found shot. Bernie is the obvious suspect, but has the perfect alibi - he was drinking coffee and being interviewed in public by Jim Chopin in the roadhouse. Kate suspects the perfect alibi is too much of a coincidence. There are lots of subtleties to this story that I won't betray. It's a fine story on lots of levels.
Finally, Kate and Jim Chopin's peculiar romance continues. It's been a game for both of them. Jim is a serial womaniser, and has slept with just about everyone in the park - always making it plain that it's just for fun, no one gets hurt, and they remain good friends afterwards. Kate believes in one man, one woman. Somehow Kate has bewitched Jim, but somehow back, Kate has fallen for Jim. The romance runs throughout this book, but how will it all end ? Definitely, we will need to read on.
Both Kate and Jim are sworn to uphold the law without fear or favour, but Luis Deem's death is celebrated throughout the park, especially by all who are parents of young girls.
And very finally, will there be more about the Smiths, who have bought land in the Park, and are developing it without respecting the environment? Abigail Smith, the eldest daughter, has had a lucky escape from Luis Deem, but her younger sisters have suffered. Luckily one of the young girls confided in one of the Aunties. There are all sorts of secrets being kept !
Links to author index and home page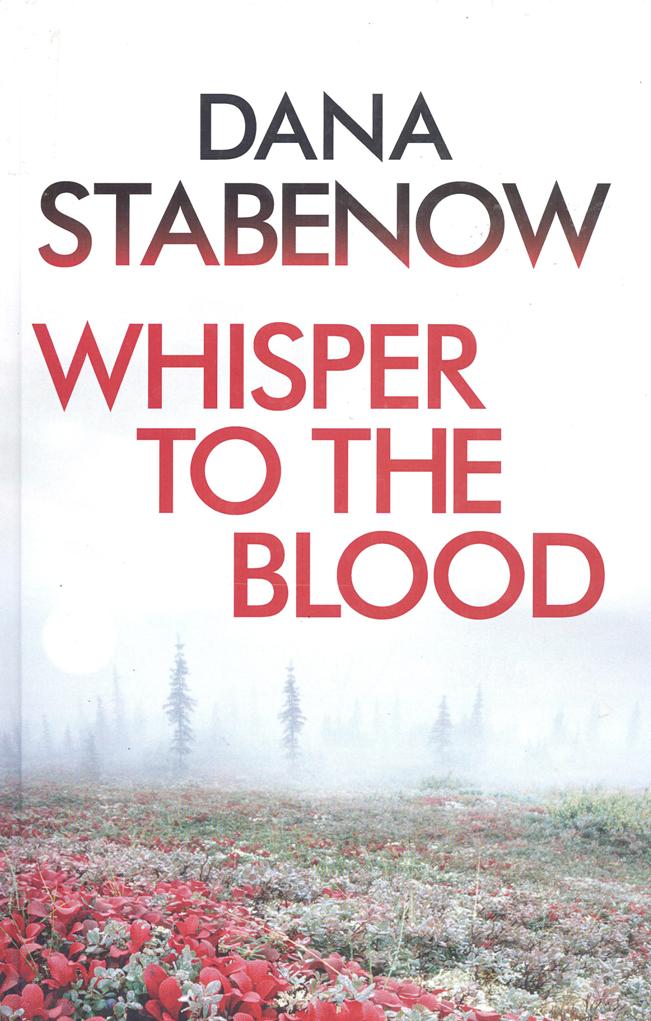 I read this book in April, 2021.
This is book 16 in the Alaskan set Kate Shugak series by Dana Stabenow. I like to read these books in the correct order, but went astray and read book 20 too soon. Now I am filling in the gap, and reading books 16 to 19. Book 15 ended with an unsolved murder - that of child molester, low life Louis Deem, and the death was celebrated throughout the Niniltna centred Native National Park. However the unsolved murder overlays a lot of this story. Trooper Jim Chopin thinks Willard Shugak did the deed, primed, loaded, and set off by his no good flatmate Howie Katelnikof. Willard is a 40 year old man / petty thief with the intelligence of a child, and has no memory of the event. Jim hasn't told Kate of his suspicions, and for the first time in his life Jim is not trying too hard to solve a murder. He relealises this is a mistake by the end of this story. I thought "Whisper to the Blood" was a great, long, eventful, story and sets up all sorts of future stories in what has turned out to be a really good series.
Once again we are back in the beautiful, icy cold wilderness / wild life refuge of the National Park in the foot of the Quilak mountains, beside the Kanuyak river and its tributaries. Kate's ancestors fled here when Japan invaded the Aleutian Islands, and Kate's grandmother was the famous Ekaterina (Emaa) Shugak, chairman of the Native Association Board - a gifted, feared, and respected politician and stout defender of native rights. Kate loathes politicians, and keeps clear, but somehow, following the death of Billy Mike, she had been persuaded to take over chairmanship of the Native Board on a temporaty basis - until someone new could be appointed. And so the seemingly impossible has happened, but throughout this book she declares "I am no Emaa !"
Trooper Jim Chopin is still living with Kate - and each is surprised that they are still together, and care for each other so deeply. Johnny Morgan is also still living with Kate and Jim, and still with his girlfriend Vanessa. We also say hello again to Anchorage based Kurt Plentikoff, Dan O'Brien, the chief ranger, Annie Mike, Billy Mike's widow and guardian of Vanessa, Bernie Koslowski at the roadhouse, and the four "aunties" / guardians of the Park - Vi, Joy, Balasha, and Edna. We also meet Cindy and Ben Bingley of Bingley Mercantile stores in Niniltna, Ruthe Bauman, the naturalist and Bobby, Dinah, and little Katya (3) of the illicit Park Radio, and Laurel Meganack of the local cafe. Laurel's dad is Harvey Meganack, one of the four Board members - the other three are old Sam Dementieff, Demetri Telemeff, and of course now Kate. As always, Mutt is there as the best friend Kate could ever have. Mutt is kept especially busy in this story and justifiably almost goes wild in capturing someone who shot at Kate - remember that Mutt is half wolf.
The story opens with Johnny turning 16, and getting his own transport - Kate has made sure the pickup truck is reliable, and has bought him a repair and maintenance manual. To celebrate acquiring wheels, Johnny and Van bunk off school, and drive into Ahtna - not strictly legal. There they meet Doyle Greenbaugh, someone who gave Johnny a lift when he fled his mum's clutches and hitch hiked back to the Park. Johnny had been extolling the benefits of park life, and apparently Doyle had come up to see for himself. He tells Johnny and Van that he now calls himself Dick Gallager - new life, new start, new name - and they agree to keep this a secret. Van doesn't warm to Doyle / Dick - she is a good judge of character.
The big news at the Park, is that a huge mining corporation, GHRI, Global Harvest Resources Inc has struck it really big at the mine they bought at a knock down price from a bankrupt Mac Devlin. They are calling the mine the Suulutaq Mine - Suulatuk is the Aleut name for gold. The gold, copper and molybdenum deposits are estimated to be worth $35 billion, and of course they (and the national government) want the mine developed. They have appointed Tania McLeod, a famous national athlete to do PR for them. Tania is fit, very good looking, and is soon anywhere and everywhere - flirting with all the men she meets, addressing meetings, buying drinks, handing out leaflets, etc. She has also been sleeping around. Her name gets linked to Jim Chopin - and when Kate finds out she will have a furious row with Jim, but more of this later. The mine will bring much needed employment, but there is justifiable opposition - new people moving to the area, not sympathetic to local ways, possibly new roads, noise, green issues, and pollution fears. If mine run off ever reaches the native rivers, the local salmon industry will be destroyed. This has sustained generations of locals, and attracted wealthy sportsmen to the area. Kate is a realist - the salmon industry is valued at about $ 110 million and the mineral reserves at $ 35 billion ! So Kate doesn't see any point in opposing certain development, but wants to ensure it is sympathetic development.
The first meeting of the Board that Kate chairs is on October 15th, and she is way out of her comfort zone. She hadn't realised some boxes sent to her contained an agenda, and backing papers, and had set the boxes aside and forgotten about them. She is lost, and knows nothing of Board procedures - when this gets out she will be a laughing stock through the Park. But Kate is a quick learner - Jim buys her a Board Procedures and Rules book which she memorises and the next meeting is the complete opposite, with Kate well in charge, organised, and even an inspiration. How could Emaa's granddaugher be otherwise ? Kate is voted in for two years - the original Billy Mike tenure - during which she will find a suitable successor. And she tells the aunties "be careful what you wish for, I will make changes."
All the above is mostly the private lives story. Lets now turn to the crime solving part. Tania hires Howie Katelnikof and Dick Gallager to work for her - two seriously bad choices. Firstly Mac Devlin is found murdered in the cabin on GHRI land which Howie should have been guarding. Mac had felt cheated at getting such a low price for the mine and had been bad mouthing GHRI and Tania. Howie is missing. Next and amazingly in these feezing conditions, Johnny, Van and Ruthe had been out on their snow cats returning from a camping trip when they were ambushed by three men and had their provisions stolen. Bobby and Jim went to rescue them with a frantic Kate waiting for news. This was the third such ambush - but surprisingly Kate knew nothing of the ambushes. She had been kept out of the loop for not caring enough to prepare for the first board meeting and not been willing to move into Niniltna. Finally Tania is murdered - beheaded by a hidden trip wire. Howie, for self preservation, turns himself in to Trooper Jim - and he tells Jim a shocking story, that he had been hired by the aunties to kill Louis Deem.
There is now a terific row between Jim and Kate - he thinks she has been withholding crime information from him, and she thinks he has been sleeping with Tania. Neither is true. It is settled with very physical sex, eventually consensual. Some of the victims of the sled bushwacks originally blamed the three Johansen brothers - Icarus, Daedalus, and Gus. Later they said, forget about it - had they arranged to take care of the matter themselves? Kate is hired to find and bring in the Johansens and visits the once thriving "Norwegian" village of Takina. Their 90 year old father Sidar is the only one left in now almost derelict, abandoned Takina, he hasn't seen his sons in months, and he has almost run out of provisions. He refuses to let Kate take him to Niniltna - and so she later returns with $300 of essential provisions and leaves them on his doorstep.
I think I have said enough without spoiling the story further. Eventually the Johansens are captured (well done Mutt), the Mac Devlin and Tania McLeod murders solved, and the motive for killing Mac Devlin leads Kate to Louis Deem's murderer.
All in all, a great, event laden story. How will Kate fare as Chair of the Native Board, what will happen if / when the Suulutaq mine is developed, will life in the Park have to change ? In short, we have to read on.
Links to author index and home page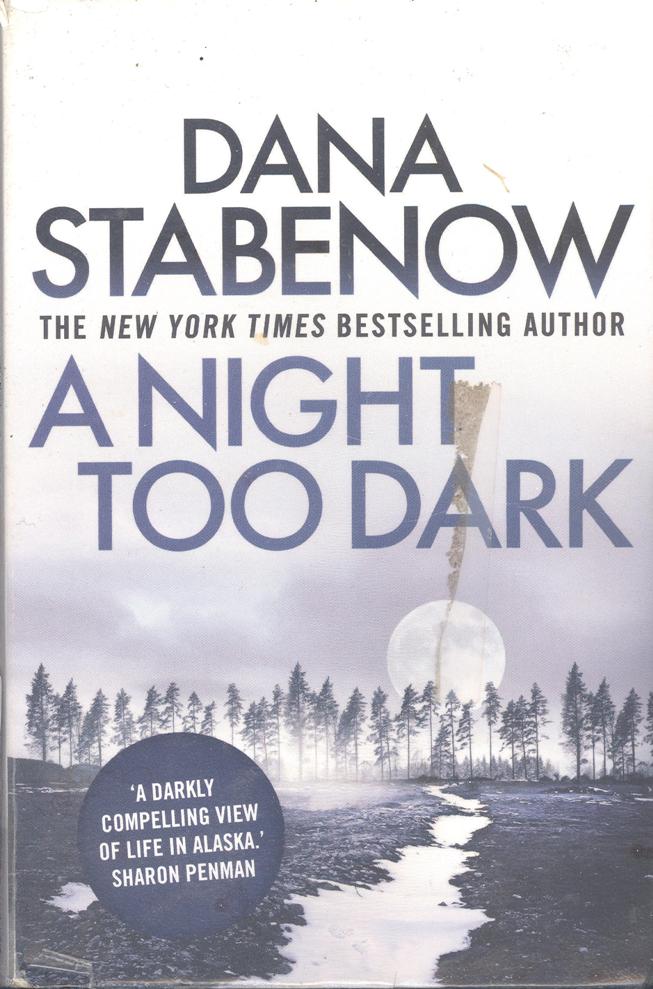 I read this book in August, 2021.
This is book 17 in such a good series about an Aleut PI, Kate Shugak who lives with her dog Mutt on her 140 acre homestead near Niniltna in part of the 20 mil. acre Native Park, by the mighty Kanuak river - all beside the massive Quilak mountains in Alaska. It's a wilderness paradise about which the author writes so lovingly and passionately. A theme throughout the series has been the contest between change and preservation. Park youngsters have been leaving to get employment and modern amenities eg in Anchorage. Local jobs are required, money too, or the Park will decline and die. Change is coming in the shape of open cast mining - the Suulutag mine owned by Global Harvest Resources Inc - but this presents dangers to nature and to a cherished way of life. A mineral spillage would kill all the salmon in the Kanuak and destroy many fishing communities. Green issues are always to the fore, and Kostas McKenzie, who heads up the Gaea environmental protection organisation, will campaign against the Suulutag mine by fair means and foul. No one loves her wild paradise more than Kate Shugak, but now, as chair of the Niniltna Native Association (NNA), she is torn - she knows the mine will bring badly needed employment and money.
As usual, we have a crime to solve, and private lives stories to follow. Let's touch on the private lives stories first, and do a few name checks. It's 4 years since Jack Morgan died, and his son Johnny, now 16, is still living with Kate. He is still seeing Vanessa, adopted daughter of Billy and Annie Mike. Billy was the former chair of the NNA, but Annie is still the clerk / treasurer and a great help to Kate. Kate and Trooper Jim Chopin are also still together. The four ancient aunties - Vi, Joy, Edna, and Balashna - still wield much influence, the Grosidier brothers - Matt, Mark, Pete and Luke - provide local first aid, Bobby Clarke (wife Dinah, daughter 4 year old Katya) still runs the illegal Park Radio, Maggie Montomery is Jim Chopin' clerk assistant, slow witted Willard Shugak still steals candies from Cindy's store and still has rogue Howie Katelnikof as a room mate - but to be fair, Howie looks after Willard well. Willard can repair any vehicle and anything mechanical. Dan O'Brian is still chief Ranger and Laurel Meganak still runs the Riverside Cafe. Laurel has a new assistant in Heather - both are very attractive. George Perry still runs the local air taxi / airline, and Bernie the local pub / roadhouse. And, old Sam Dementieff (89), still hunts and fishes, and knows the Parkland better than anyone. Kate is not crewing his boat for the coming fishing season, but has persuaded him to take on inexperienced Petey Jeppsen - it's a sort of Kate organised prisoner re-employment scheme.
Whilst we are doing name checks, lets mention those at the mine. Global Harvest Resources Inc is headed by CEO Bruce O'Malley, Mandy Baker does the PR, married man Vern Truax is the mine superintendent, Holly Haynes is more than just his geologist, and Lyda Blue is their super efficient clerk. The Board of the Native Association chaired by Kate, now has expanded from 5 to 9 - old Sam, aunty Joy, Marlene Colberg ( a commercial fisherman ), Harvey Meganack, Herbie Tiplock (garage and spare parts supplier), wealthy Demetri Totemoff (high end hunting and tourist lodge), hostile to Kate Ulanie Anahonak (how had she got elected ?), Einar Carlson (fishing and construction) and of course Kate herself.
There are lots of sub plots - is mighty R.Pet.Co (CEO Justin King whom we have met before) to take over Global Harvest, is True North to take over R.Pet.Co, is True North a front for dirty drug money (the FBI are interested), are they all spying on each other, etc, etc - but the main crime itself is quite a good story.
The book opens with a preface about gold, element 79 in the periodic table - it enthralls, enchants, and intoxicates. The Suulutaq mine may become the world's second largest - fabulous potential wealth, and no lack of investors. Father Smith, wife, 17 children, has won title to his land against claims from Howie Katel, Louis Deem's alleged heir, and against the Parklands association. Returning to his homestead, he finds an abandoned vehicle on the track, with a suicide note stuck to the steering wheel. The note is apparently from Dewayne Gammons, an employee at the mine. He reports the matter, and Jim asks Kate to organise a search party - i.e. the Grosidier brothers, and Dan O'Brian. They find only a pile of bear gnawed bones. Old Sam appears on the scene. Had he been using the bones as bait to hunt bear ? Jim is busy with all the extra work the mine has given him and Niniltna with drunken, cash rich mine employees. He asks Kate to handle the formalities of identifying the dead body (i.e. the pile of bones). George flies her out to the mine. She learns that people often simply leave the mine - they can't stand the hard life - that Gammons had been depressed, but now had a girlfriend - the clerk Lyda Blue. It's eventually declared a suicide, but Kate thinks it's not so simple. Much later, Holly Haynes visits Kate, promoting the mine , and Aunty Vi and old Sam also turn up. There is a crashing from the woods, and a man staggers into Kate's clearing. He is barely alive, dirt caked, wounded, and the wounds are festering. He is cleaned, bandaged by the Grosidier brothers, and taken to the air strip to be flown to Anchorage hospital. Lyda flies in from the mine, sees the wounded man, and faints. She says he is Dewayne Gammons - in which case, who was the pile of bones ? The story now takes off. Rick Allen went missing from the mine at the same time - but someone had switched medical records. Much, much later we find that Allen was a con man, spying not just for Justin King, but for True North too. Lyda Blue has been tracking suspicious data flow at the mine - i.e. she suspected espionage. She is discovered dead by Holly Haynes - she had a peanut allergy, so was it accidental, or deliberate poisoning ? Kate had got to know Lyda well, and knew her to be thorough and ultra efficient. Kate says she would not make a mistake with dates in her spy investigation notes - so was there a second spy at the mine? I won't say more - I don't write spoilers. But Kate has always been well ahead of Jim.
Before closing, just a little more from this big involved story. The mine is trying it's best to win Park approval. They are in all the local parades, throwing candies from a Suulutaq truck. They are spending big and have already brought money into the Parklands. The have bought Auntie Vi's B&B for a fortune, and asked her to stay on and run it for them. They are giving well paid holiday jobs and good training to the local youngsters (including Johnny and Van), employing locals, business is booming at the cafe, at the stores, at the road house, and everywhere. They have even loan financed George Perry's aircraft expansion. Of course the mine will go ahead. But secretly, wealthy Demetri Totemoff (on Kate's Board) is financing the green opposition to the mine. Also, horrible Ulanie wants the Grosidier brothers "health centre" audited. She is pro life, and they may be handing out the morning after pill. Could they also be doing abortions ?
Very finally, we come to such a sad part - the death of a well known main character, and this is handled perfectly by the author. The setting is Old Sam's annual moose roast - hunted by him and slow roasted to perfection. It's the best party and the best company ever, and every Park friend is there. There is food aplenty - seconds and thirds. There is a perfect sunset, and the Kanuak shimmers like moltern gold. Good company, enjoying banter and a way of life that may be changed forever. Someone falls asleep and is left nodding on the deck. Everyone helps to clear up, and departs. Jim is second last to go leaving Kate and Mutt - but Mutt is sitting very silently beside the beloved "sleeping" character. Whose howl is it that ends the story - Mutt, or Kate's ?
All in all, I think you will have gathered - I more than liked this story. Well done, Dana Stabenow !
Links to author index and home page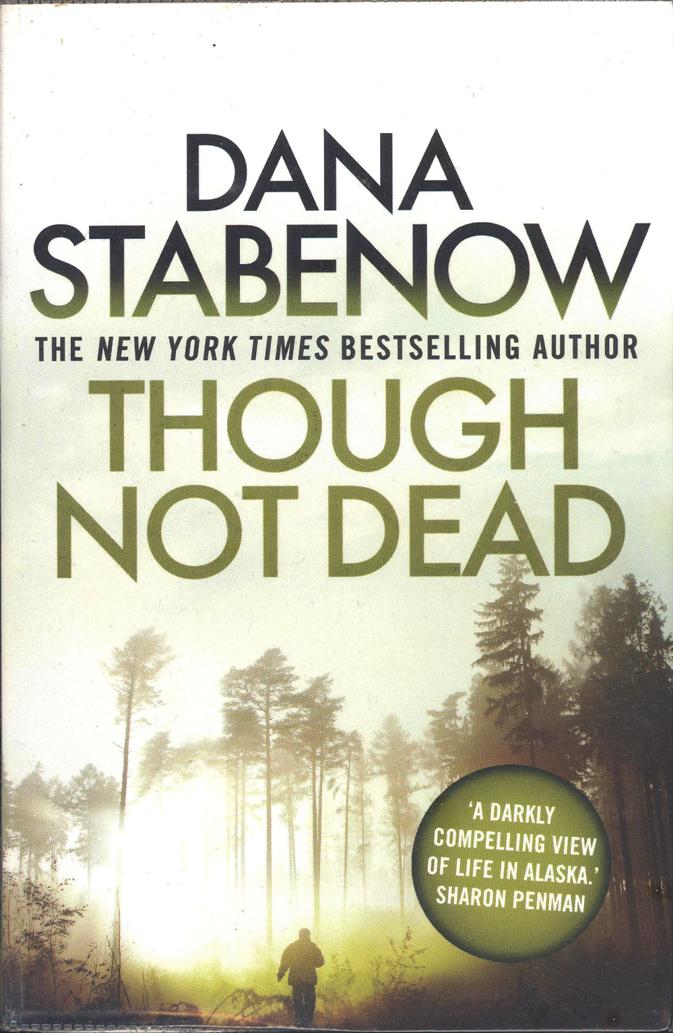 I read this book in March, 2022.
This is book 18 in the excellent Alaskan set, Kate Shugak tales and at 537 pages is the longest book in the series for good reason - it has such a big story to tell, of the life and times of Kate's uncle Old Sam Dementieff, of the history of Kate's Aleut tribe, and of the National Park where Kate chairs the Native Association in Niniltna.
At the start of the book there are two maps, and a Shugak family tree. The story opens with a history lesson. It is 1918, and the "Black Death" i.e.Spanish Flu has travelled throughout an unprotected 10,000 year old native community, spreading easily because of their communal living. People are dying in their beds, too ill to stoke the fire, or get food. Mac (one bucket) McCullogh is a miner, cheat, rogue and thief, seemingly immune to the disease, going from cabin to cabin, sometimes helping, often helping himself to anything of value. He enters the home of tribal Chief Lev, dead in bed with his wife, but finds their daughter Elizaveta barely alive and does all he can to help her. He nurses her back to good health. They become lovers. Elizaveta is shunned for having a non native boyfriend, but she organises a potlach fit for a Chief, and her token gifts are taken, but without thanks. A precious Russian icon takes pride of place at the potlach - it has been passed from chief to chief through the generations. After the potlach, the icon goes missing, as does Mac McCullogh. Elizaveta is blamed, and then Mac. He has disappeared leaving Elizaveta pregnant. Long ago, at school, Quinto Dementieff and Elizaveta had been best friends. Quinto asks Elizaveta to marry him, and she agrees. Soon we realise we are not just learning tribal history, we are reading Old Sam's life story, because Elizaveta is Sam's mum.
Mac had stolen the icon, and sold it to an antique dealer in Seatle - amazingly traced years later by Old Sam. Mac had signed up with Castner's Cutthroats as part of the Aleut troop to fight the Japanese invaders, and there he met Sgnt Dashiel Hammett, told him his life story, and agreed that Hammett could write it up. We have now met two things of great value with Mac (and later old Sam) conections - a Russian Icon, and a Hammett manuscript. Amazingly young Sam Dementieff also became part of Castner's Cutthroats, and met and became great friends with Mac. There he got the title "Old Sam" because of his youth. Mac saved Sam's life - but was he saving a friends life, or his son's life ? The relevence of all this emerges on Sam's death - Sam, son of Mac McCullogh had acquired desirable items coveted by others, and left everything to Kate.
It is two days after Old Sam's death, and Kate, Jim Chopin, and Mutt are starting to clear Sam's things. Sam had written a new will, telling Kate that he also had a homestead and land out in the wilds at Canyon Hot Springs. But Jim is given sad news - his father has died, and Jim has to leave immediately to fly to LA. This interesting sub plot tells us Jim's life story, but also removes him from the scene - he is not around to help when people come after Old Sam's treasures and Kate gets attacked and knocked out three times. Luckily Mutt is around. Jim's mother Beverley had never shown him any love and now we learn why. Jim's father had insisted that there be a formal reading of his will, and there Jim learns not only that he is now very wealthy, but that he has been left an antique ornate wooden box. This box has a secret compartment containing a picture of two young girls, one his mother, and another her sister he never knew existed. Jim tracks down and visits his mum's sister and learns that when Jim's father wanted an heir, and Beverley could not have children, they asked the sister to be a surrogate. The sister is Jim's real mother, and Jim even has a half brother and sister he never knew about.
The first time Kate is attacked she is alone at Sam's cabin (Mutt is out hunting) and she comes to with face sand paper treatment from Mutt's tongue. The place has been trashed - looking for something. Next Kate is run off the road, returning from Ahta in a snowstorm. Mutt has gone for help, and returns with Johnny Morgan in the morning. Kate went to Jane Silver at the land registry to check if the title to Canyon Hot Springs was registered, and next Jane is killed, and Kate arrives too late to catch the murderer. And once again, this time at Canyon Hot Springs cabin, Kate is knocked out and the place is trashed.
Kate does not know what is behind all this, but is determined to find out. Sub plots abound. Sam and Auntie Joy had been in love, but her parents insisted that she marry only a native, and Sam was apparently the son of the Filipino Quinto Dementieff. Sam had left Kate a final message which said only "Find my father". Kate knew of rumours that Quinto was not Sams real father - now she finds out about "One Bucket" McCullogh, stolen icons precious to her tribes history, but about which she knew nothing. How was this possible ? In another sub plot we find out that Mac McCullogh fathered another illegitimate child - part of a powerful local family. So Sam had a half brother.
I'll now have to leave you to read the story, and marvel at the succession of climaxes as Kate sets a trap, and captures all who come after her. Against all the odds Kate ends up with a huge gold nugget, a valuable manuscript, and very finally thanks to Jim the priceless Russian icon. To find what is to be done with the icon, we will need to read the next book.
It is a terrific long story - many parts only hinted at here. The author gives thanks to a plot consultant - I wonder how much of the plot is the author's and how much the consultant's ?
Links to author index and home page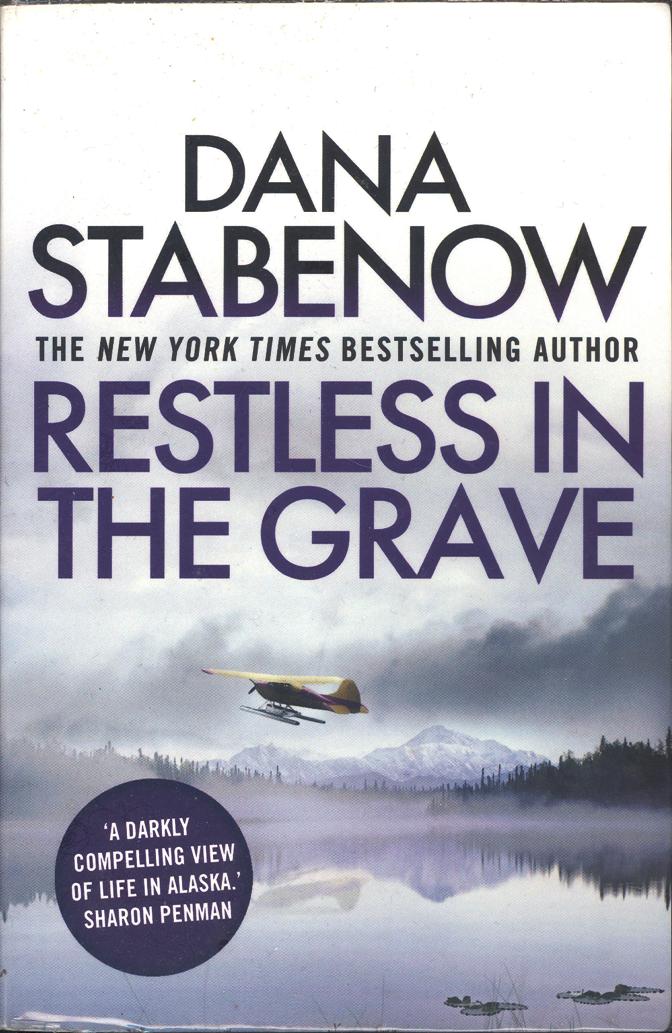 I read this book in May, 2022.
This is book 19 in the interesting, different Kate Shugak series set in Alaska. Kate is a native Aleuk, and lives in the Alaskan wilderness near Niniltna, with partner / boyfriend trooper Sgnt Jim Chopin, adopted son Johnny Morgan (still seeing girlfriend Van), and of course, Mutt, "only half wolf" / husky.
The book opens with a preface set in Afganistan. Someone has "agreed" to be a sniper (or lose his right hand), and brings down a US helicopter, causing multiple loss of life. The sniper is later shot by his "own" side.
The main story starts on Jan 14th. It's Old Sam's potlatch, and it's been a good send off. The 4 aunties - Vi, Balasha, Edna, and Joy - are tidying up in the school gym hall, and Annie Mike and Kate are washing dishes in the kitchen. Next day is the NNA anual shareholders' meeting, Kate being the Chair - it had been Kate's grandmother Emaa's, then Billy Mike's, then a reluctant Kate took over after Billy Mike's death, agreeing to see out Billy Mike's term. Kate and the aunties have done their homework. Kate's Anchorage based cousin Axenia is appointed to the position vacated on Old Sam's death, then Kate really does stand down, with Annie Mike the new Chair. Annie had kept the minutes for the last 15 years. Phyllis Lesnikoff is the new secretary. Kate is free at last and rushes home, has a tumble in the snow with Mutt, and bursts in full of joy. But Jim and Johnny are not alone - their visitor is Sgnt. Liam Campbell, a trooper colleague of Sgnt. Chopin, based in Newenham, the biggest town in NW Alaska, with a population of 2,500, about 7 times that of Niniltna. "I have a problem", says Liam. "I'm the only trooper, my assistant ran off with my father, and I think I may have discovered a murder. Only a possible murder. If I could justify spending time investigating, my wife Wyanet (Wky) Chouinard would be the chief suspect."
Kate longs to be working a case again, and wants to leave Annie Mike to find her own feet as Chair of the NNA. So she will work undercover as Kate Saracoff, for $1000. Kate flies in to Newenham, by chance as a paying passenger on Wy's mail run. She gets a job in town bartending in Bills Bar - Bill (female) is Bill Bannister, also the local magistrate.
The suspected murder is that of Dagfin (Finn) Grant, who owned and ran Eagle Air at a nearby ex US Air Force base that he purchased cheaply. He has expanded rapidly, ruthlessly taking over a series of local businesses, whether they wanted to sell or not. The only business he didn't succeed in grabbing was Wy's Nushanyak Air Taxi business. (Niniltna stands on the Kanuyak River, Newenham on the Nushanyak River ). Finn had threatened Wy in public, and she threatened him right back - and less that a day later Finn was dead. It appeared to be an accident caused by a loose bolt on the engine, but Finn maintained the plane himself, and was a good pilot and mechanic. Rumour has it that Wy did it - if Kate can't prove otherwise, Liam and Wy will probably have to leave Newenham.
Finn had married into serious old money - his wife Tina was Clementina Tannehill, a rich Alaskan founding family. But now Finn has been spending a lot of extra money - where is it coming from ? Kate rents a studio room over Tina Grant's garage for $500 a month, cash. Why does Tina, Finn's widow, want $500, and$100 for use of their 4 wheel drive. ?
The story now takes off. Jo Dunnaway, an Anchorage News reporter, turns up, and recognises Kate. Jo is Wy's best friend. Tina Grant has a brother Fred, a useless son Oren, a daughter Evelyn, and a dead daughter Irene, a pilot killed on active service in Afganistan (hence the book preface).
Kate breaks into the Grant residence and discovers a letter to Tina saying that Irene was killed with a US made smuggled gun - deliberately left at the scene to lower army morale - i.e. killed with a weapon made back home, two states over. Kate also breaks into Finn's office at Eagle Air, and finds a memory stick with detailed compromising files on about 11 people. Finn was obviously blackmailing people e.g. to get them to sell their businesses to him at below market value. So that is 11 extra suspects to be checked out - would one of them kill to recover their file? Finn was also running a lot of cargo trips to Adak Island - this is puzzling as there is almost nothing there to merit such trade.
I should have mentioned that back in Niniltna there is now a brand new 300 ft. communications tower by courtesy of Suulutag Mines - the tower is even bigger that Bobby's. Everyone now has working cell phones and internet access. The disadvantage is that trooper Jim is flooded with calls to sort out disputes, etc. - things previously handed privately. The advantage is that when Kate gets stuck in a life threatening situation, she can now call Jim.
Kate does indeed get stuck three times. Firstly she and Mutt are bundled into a chest freezer by two assailants. She phones Jim, then stands him down when she managees to escape. Secondly she gets thrown into a garbage bin, but is rescued by old Moses Alakuyak (more of him later). Thirdly, Kate and Mutt are locked into the hold of a Rusian trawler leaving port. A US Coast Guard boarding party rescues Kate before Jim has to do anything. Moses is Newenham's father figure - as old as the hills, but amazingly Bill's virile boy friend, and Wy's grandfather. Moses is a Shaman, a seer. After he rescues Kate she complains "if you have second sight, why didn't you get here earlier ?" Moses hears voices, and speaks them aloud . Whenever he meets Kate he says "you know he didn't do it." Only at the very end of the book do we and Kate find out what this means.
I'll just mention a few more things, and then let you read the book for yourselves. When Kate first flies into Newenham with Wy, a sleek Gulfstream jet lands next. It is owned by Gabe Maguire, a national film star idol who owns a local get away from it all lodge nearby. He is attracted to Kate, and Kate is horrified to find out it may be mutual. He reminds her of Jack Morgan. Kate makes a point of spurning all Gabe's friendly advances.
Kate hitches a lift to Adak Island with an Eagle Air pilot called Boyd - it's an 864 mile trip that takes 4 hours, but Gabe later gives everyone a lift back in his Gulfstream and it does the journey in 1 hour 40 minutes.
Kate had been rescued in Adak Island by the US Coast Guard, and an FBI agent James Mason is on board. Kate tells him the whole story, admitting to breaking and entry, but saying she is a PI who just follows her nose. But she has alerted the FBI to a major crime - so she will bill the FBI and not Liam Campbell.
Just when everything seems sorted and Wy is flying Kate out of Newenham, they suffer another sabotaged engine - but happily Wy gets them back to Newenham. Kate tells everyone that Finn really was murdered, and not only does she know why, but to know why is to know who. Kate quotes Morgan's first law of detection - "the nearest and the dearest got the the motive with the mostest."
I liked lots and lots of people, amazed at how much she knows (remember she was breaking and entering) asking Kate "just who are you?" Old Moses reminded Kate of Old Sam, and I thought Moses dying words poignant "at least I won't keep hearing these damm voices." We get a couple of pointers to future stories. Erland Bannister is back in Park life having bought into the Suulutag Mine, and he seems to have Kate's cousin Axenia in tow. Axenia doesn't seem to care that Erland tried to kill her cousin. To counter, Jim has got a copy of the old Emil Bannister (Erland's dad) murder file from Anchorage. Kate has returned to Niniltna, and as she and Jim study the file, Kate realises what "you know he didn't do it means."
All in all, it's a good story - and I have skipped quite a lot of it. A worthy member of a good series.
Links to author index and home page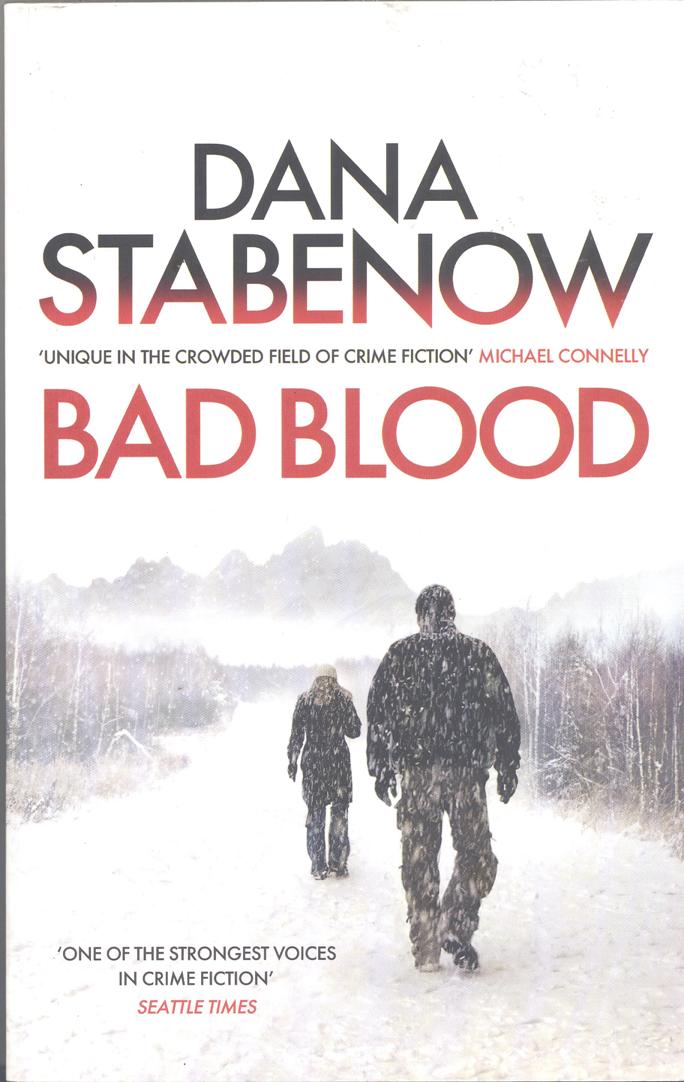 I read this book in December, 2020.
This is book 20 in the Alaska set, Aleut Kate Shugak series by Dana Stabenow. I made a bad mistake in reading this book out of sequence. The previous one I read was book 15, "A Deeper Sleep" - I have jumped five books. I am quite annoyed at myself, but it can't be helped. There is a surprise ending that I didn't see coming. Spoiler Alert : The book ends with both Kate and her half wolf / half husky dog Mutt being shot in the final paragraph. I guess Kate must recover as there are at least 2 more books in the series, but what about Mutt? Of course we must read on.
This book is Dana Stabenow's take on a classic theme of troubled romance between two members of opposing warring families - perhaps most famously depicted in Shakespeare's "Romeo and Juliet" tale of the Capulet and Montague families of Verona, and of course the later Bernstein update in his musical "West Side Story" where the Jets and the Sharks fight it out. The book opens with a Prologue telling the early Alaskan history of two villages on the opposite sides of the same river. The Mack family got there first, and set up the little village of Hushtaka. Some years later the Christianson family arrive to set up another village - Huskulana. The Christiansons cleared enough of their land to set up an air strip and this gives Huskulana a crucial advantage. The local post office needs air access, and so is set up in Huskulana, with at least one state employee providing valuable village income. Jump forward through the years and Hushtaka is dying, a collection of huts still in the dark ages with people leaving and insufficient children for a viable village school, but Huskulana has a big school, modern houses, hot and cold water, flushing toilets, cell phones, and big screen TV's. Through the years deep rivalries and resentments have festered, and tit for tat reprisal and counter reprisal have kept the pot simmering. And into this Dana sets Jennifer Mack, daughter of the Hushtaka leader Dale Mack, and Ryan Christianson, 18 year old son of Roger Christianson, the Huskulana leader. Jennifer is bright, independent, clever, and very beautiful - and apparently meant to marry fellow Hushtaka Rick Estes - but Jennifer and Ryan not only meet, and fall in love, but they persuade the new park flying pastor Ann Flannagan to marry them.
Before we get to the story proper, let's catch up with what has been happening in Kate's private life. Kate and Mutt have been together for 10 years, and been in their new house the Park built for them for 3 years. Kate and Jim Chopin have been living together for 2 years - he sort of moved in with Kate one shirt at a time. Sadly old Sam Dementieff (Kate's uncle) - older than god - died a year ago, apparently leaving his property and land to Kate. Now 18 year old, Johnny and Van are still together - they are currently away working at the Suulataq gold mine that has been mining in the Park for the last two years. Johnny and Van need money to finance their pending first year at UAA - The University of Alaska in Anchorage. (As and aside, the author went to UAA). They will live together in the house in Anchorage that was Jack Morgan's, Johnny's dad. Kate is not sure what she thinks of that. The new mine is not run by the most reputable of companies, and a shareholder is Erland Bannister whom Kate has had dealings with. She survived an attempt on her life, and got Erland convicted and jailed, but expensive, clever lawyers got him released after 2 years and he is out for revenge. However, the new mine has brought employment and money into the Native Park. Nearly everyone now has a working mobile phone, and there are cell phone masts everywhere. Unfortunately too, bootleg liquor and drugs are freely available, and with new people moving into the area and the drug problems, etc, Sgnt Jim Chopin is kept so busy that he is possibly to get two trooper assistants based under him in Ninilta. Laurel who runs the local cafe says her balance sheet has never been healthier, but with trouble with unruly customers (booze and drugs) she wonders if the money is worth it. Kate's finances too are healthy, and she currently has nothing to do - a rare period of leisure - so that when Jim soon gets three murders to solve, she is free to help him. Kate gets a letter from young Stephanie Chevak, now 15 - Kate is keeping a motherly eye on young Steph. She also gets a letter with a fat cheque from Kurt Pletnikof whose private investigator business that Kate bankrolled is now going from strength to strength. Kurt seems to have talents in investigating cyber crime and has government contracts. In Ninilta, Cindy and Ben Bingley have fallen out - but Auntie Vi has stepped in to keep the village store open. Bobby and Dinah Clarke are still together, and little Katya is now 5. Bobby still runs Park Radio, and still broadcasts local news and messages although everyone now keeps in touch by mobile phone.
The main plots concern a murder of a bootlegger Mitchell Halvorsen in Huskulana, and what seem to be two reprisal murders, part of the ongoing Hushtaka and Huskulana feud - where everyone clams up, and settles scores in the old way. The second murder is that of Tyler Mack in Hushtaka, and the third of Rick Estes (who had a crush on Jennifer Mack). But, as the story unfolds, we find inter family rivalries have erupted with the Jennifer and Ryan romance. Kate agrees to get Jennifer and Ryan out of the Park. If they stay, they will both be attacked, and possibly killed. If they run, though, they can never return. Jennifer and Ryan are impressive youngsters, and deeply in love. However they are also running from the law, and so Kate may have trouble explaining her actions to trooper Jim. It's a hard overland slog out of the Park - but Kate, a true Park rat, knows a way. Jim's boat is sabotaged and he needs all his strength to survive a river soaking and a treck for help. And then, finally, when Kate and Jim meet up again, and Kate is being questioned by Jim, Mitchell Halvorsen's cousin Kenny comes gunning for Kate. So much erupts in the final few pages of climax - gunfire, will Kate and Mutt survive? Yes we will have to read on.
All in all, I thought it was a good read. I was sad to see that Kate's beautiful wilderness in the Native Park is under threat. Change is afoot, and there is even talk of constructing an ashphalt road all the way to the mine. Families are split - the mine is a good thing bringing employment, v. green issues - if the mine dams break, pollution will kill every fish in the river! Such a lot of material for future stories - but first I must catch up with the 4 books I skipped.
Links to author index and home page