Visits to the West End Theatre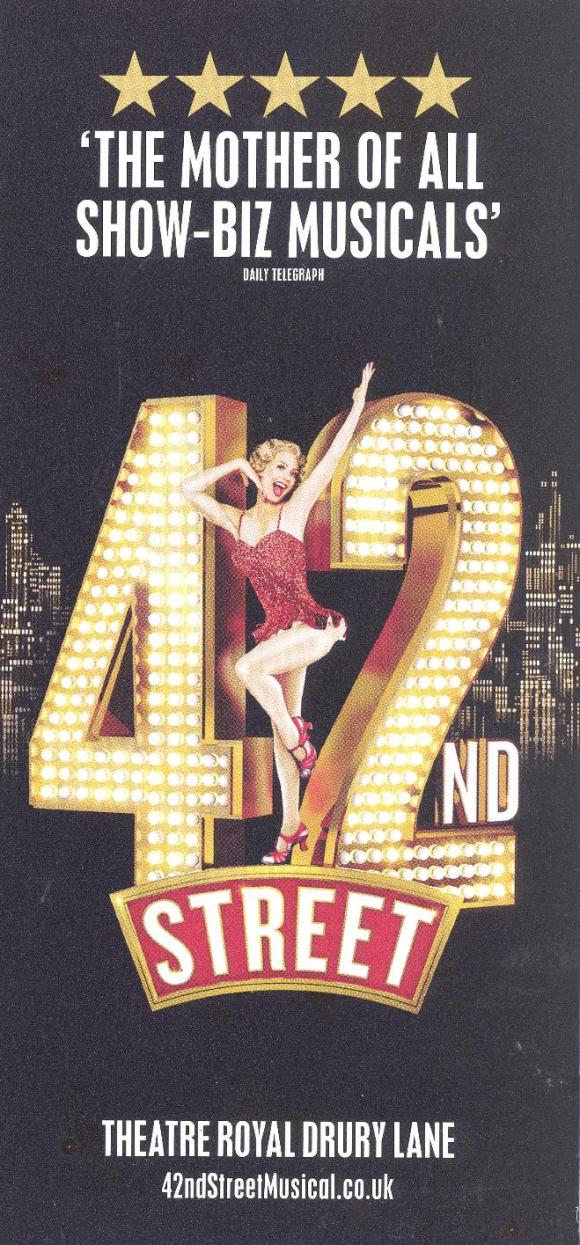 Usually we are abroad at this time of year, but 2018 saw us still in the UK, and at long last we had managed to get tickets to one of the "hottest" shows in the West End. "42nd Street" had received numerous 5 star rave reviews, and we had been trying to get seats for ages, but there were no suitable discounts that we could find. Sometimes we never get to see a show - but in this case the "Love Theatre" website had two single royal circle seats, near the front, but one behind the other. And so we were in seats D18 and E18, excellent seats bang in the centre, at the front of the royal circle. There was lots of leg room, and excellent views of the whole stage - all for £41.25 each.
Happily also we agreed with the 5 star reviews. A great orchestra, fine solo and ensemble singing, great tunes, lots of standards, spectacle, glitter - a true West End highly professional presentation. It had a huge cast, and lots and lots and lots of top rate, spot on tap dancing. The songs included "42nd Street" of course, and "We're in the Money", "Lullaby of Broadway", "Shuffle Off to Buffalo", "Dames" and "I Only Have Eyes For You." I was whistling "Lullaby of Broadway" for ages !
It's an old traditional US musical with corn at the heart of the story. Peggy Sawyer (played wonderfully by Clare Halse) is a young singer and tap dancer newly arrived in New York - straight off the bus from "Hicksville". She not only gets a part in the chorus line of one of the few new musicals about to be put on in depression era Broadway, but her talent is recognised, and when the big name star Dorothy Brock (played excellently by a name from the past - Sheena Easton) breaks a leg (genuinely), Peggy Sawyer steps into the role and stardom ! So it's a familiar well known story, but so what? Correctly the cast played it straight, and got everything spot on.
I thoroughly enjoyed the show. If I had to think of one small criticism it might be that in the curtain call the star performance, last bow was taken by Sheena Easton, and not Clare Halse. Both were excellent - Sheena was a star who had a fine voice, stage presence, and her character Dorothy even coached Clare's character Peggy - "don't over sell the song, let the audience come to you". But Clare Halse had the larger part, and the whole point of the story surely was that she was the new star and deserved equal billing in the final curtain call. All the cast were excellent, but there was one other actress who played a lesser role who also impressed. She was a mature older woman, sturdily built with red hair, but I couldn't pick out the actress from the list of cast members on their web site. She danced and sang well, and her smile lit up the stage. Sorry I can't add a name !
One last comment about the theatre - the Theatre Royal, Drury Lane (although strictly it's really on Katherine Street). I read somewhere that the theatre is up for sale. It's owner is in his 80's, feels the theatre is in need of some modernisation, and so thinks someone younger should take over. It's a big theatre - you need a big audience to pay a big cast and still make money - and I guess it must be listed. Like most old theatres it really does need more lady's toilets - but otherwise it seemed fine to me.
Links to West End Show index and home page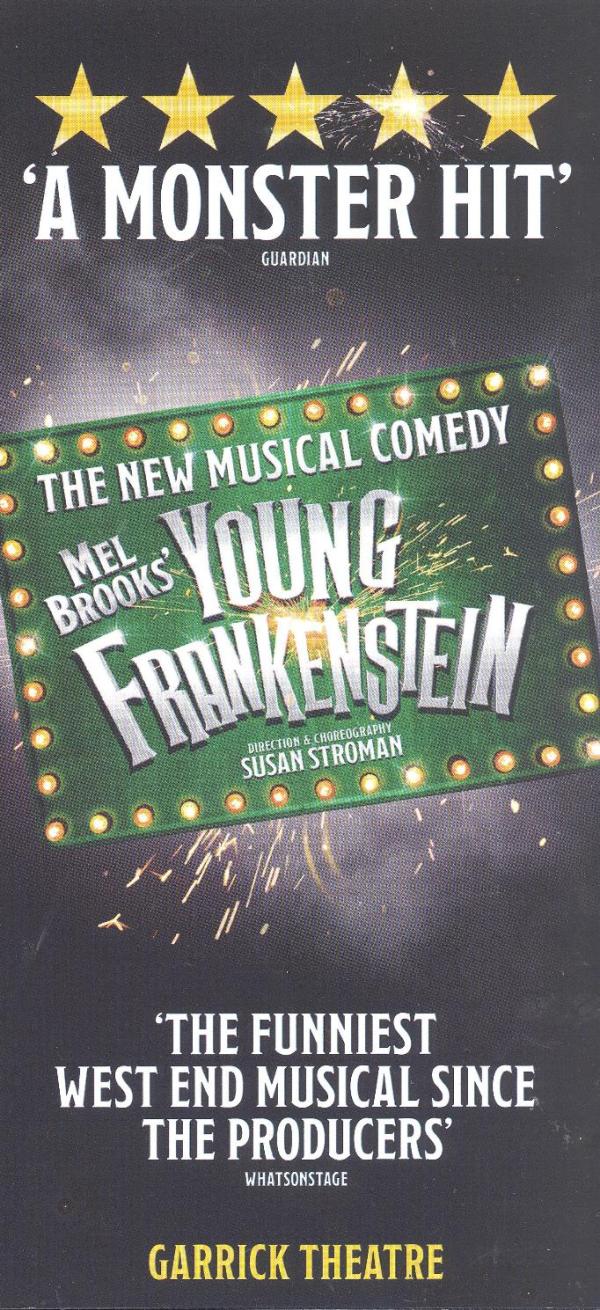 We usually only book theatre tickets a few days ahead, but we got an email from Amazon advising of deep discounts on the musical comedy Young Frankenstein and so we booked seats a week ahead. These were a stunning bargain - two seats B11 and B12 dead centre in the second row of the dress circle, for only £20 each - and the icing on the cake was that the seats immediateley in front of us were empty, and so we probably had the best seats in the house! We were in the Garrick Theatre, on Charring Cross Road - exit the tube at Leicester Square, cross Charring Cross Road, walk down towards Trafalgar Square, and the Garrick is on your left. (And as usual, having collected our tickets on the Wednesday morning, we carried on down the road to enjoy a cup of tea / coffee in the Crypt of St Martin's ). The Garrick is a lovely little theatre which we have visited several times before - our previous visit was to see Kenneth Branagh in The Entertainer, back in 2016.
Of course tickets are only a bargain if the show is worth seeing, and happily we did enjoy the performance. Overall I would give it 3.5 stars (out of 5). As is often the case the show started slowly, with a few actors on a low tech stage, with very silly "carry on" type humour. The story of Frankenstein bringing a body back to life with spare parts and a different brain during a lightening storm and in a remote castle surrounded by local village peasants is well known. The "Monster" created escapes, is hunted, and in this telling was rescued, saved, cured, married and presumably lived happily ever after. In this telling also it's the grandson of the original Frankenstein who creates the monster in his grandfather's old laboratory. The story was told well and correctly kept to low tech, in period special effects throughout. After about half an hour it all got much better, the songs got better, the sets got better, the humour improved, and all in all we ended up really enjoying ourselves.
The two stars that we recognised were Lesley Joseph who was excellent as old Frankenstein's housekeeper Frau Blucher, and Summer Strallen a particular favourite of ours, who sang and danced perfectly, with great energy, and played young Inga, Young Frankenstein's assistant. Although only 32, Summer Strallen has just about starred in everything that has been on the West End in recent years. She is part of a well known theatrical family - sister to Saskia, Zizi, and Scarlett, and the niece of Bonnie Langford. Summer lit up the stage. Young Frankenstein was played well by Hadley Fraser, and Ross Noble was a star turn as old Ignor. Patrick Clancy excelled as both Inspector Kemp and the blind hermit in the woods who befriended the escaped "Monster" but whose attempts to feed, nourish and entertain him were comic failures. This was a really funny scene. I was touched by the hermit's song bemoaning his lonliness and wanting "someone to love." Patrick has a good, powerful voice. (It would also be interesting to hear Summer sing this song ?). Patrick also did a splendid Al Jolson impersonation. The "Monster" was played by Nic Greenfields, and as the saying goes, he nailed the part - scary when required, funny at other times, actually dancing and sort of singing, but totally earning our sympathy. We were all on the "Monster's" side, and left the theatre cheered by the happy ending.
All in all, it was quite a good tweak to a strong story, played by a superb cast - stars and ensemble. Such a pity it started so slowly, but thereafter it was really good. It can't be easy to be both a comedy and a musical, but they more than managed it. In summary - totally recommeded. A final comment - they advertise that it's suitable for children ten and upwards. Perhaps so, but I thought many children would find the early "Monster" scenes too scrary.
Links to West End Show index and home page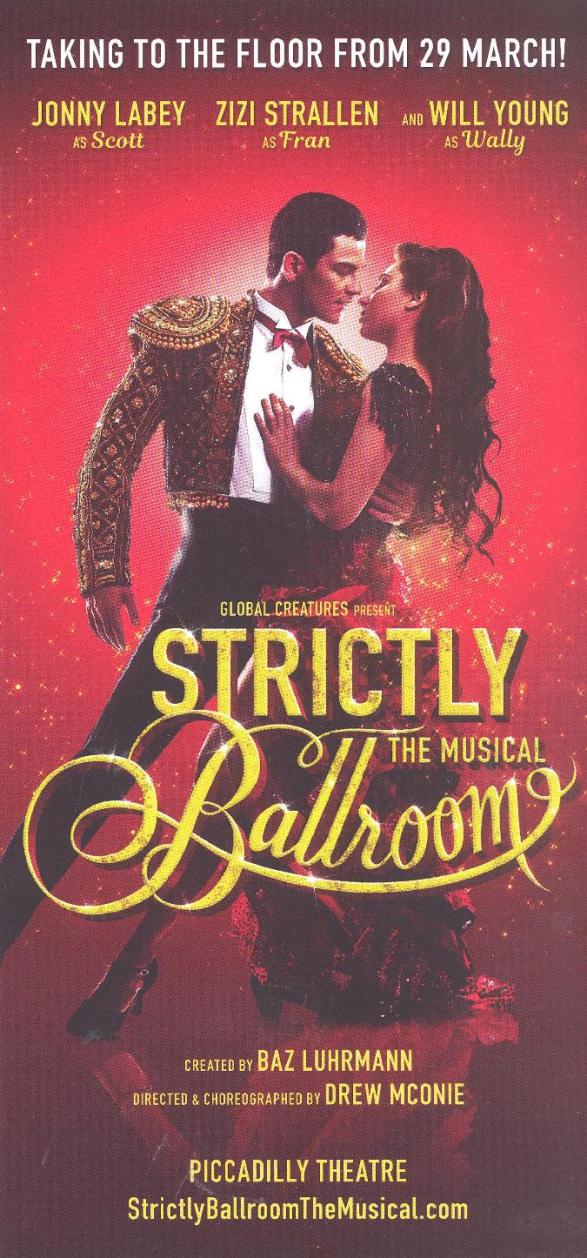 Although "Strictly Ballroom The Musical" got a mixed review in the Telegraph (only 2 stars), it was a long time since we had last visited the West End Theatre, and there were back row royal circle seats available at £39.50, so we thought we would give it a go. Happily I enjoyed it a lot more than I thought I would. Amazon.com no longer does discount theatre tickets, and other discounters hadn't come up with any good discounts for anything we wanted to see, so we just paid full price for these seats on the theatre website. We were in the very back row of the royal circle, seats L10 and L11, and the seats were OK - a bit narrow, a bit further back than we would prefer, but legroom was OK, and we had a good view of all of the stage. The Piccadilly Theatre is in Denman Street - get off the tube at Piccadilly Circus, walk a short way up Shaftesbury Avenue, and turn left into Denman Street. The Piccadilly is a nice old theatre - we were last here to see "Annie" in October, 2017.
The review I read hated the story line - derivative, corny, predictable, stereotypical, overly sentimental, and an insult to the audience's intelligence. I agreed, but the actors seemed to be enjoying themselves in an infectious sort of tongue in cheek way, so I just took the show as a comedy, a parody of all too familiar plot lines, and quite enjoyed it on that basis. Scott is a young gifted all Australia amateur ballroom dance champion who is fed up with the restrictions of strictly ballroom, and wants to express himself with his own (illegal) dance moves, but he will not win anything with this approach. His dance partner leaves him just 2 weeks before the Trans Pacific finals, and so he needs to find a new partner. His mother is very pushy, his father a stereo type of the hen pecked partner who wouldn't say boo to a goose. Scott meets shy, mousy, unatractive Fran, teaches her to dance in 2 weeks, and she likes unorthodox dance moves too. When they rehearse he persuades Fran to lose her shyness - she takes off her ribbon from her hair, stops frowning and smiles, looks up not down, and is beautiful after all. Of course they fall in love - I agreed it was hardly original. And at the end, the hen pecked husband finds some backbone, turns out to be a dance champion, and persuades Scott and Fran to do their stuff and go on to triumph, of course. Fran is Spanish and a gifted "Passo Doble" dancer, and her father teaches Scott these exotic rhythms - again in a couple of weeks. Corny - certainly. You can see the plot twists coming a mile off. But don't let this upset you, go with the flow, and you might end up enjoying the show.
What the poor review and I agreed on was in praise for the actors. Wally, the singing, joking compere was played by Will Young, and he was brilliant. I do like Will Young's voice - gentle, sweet, maybe a little old fashioned, but just perfect for some songs. I saw him previously in "Mrs Henderson Presents where he was just as good. Fran was played by one of the talented, theatre family, Strallen sisters - Zizi. She too was excellent. Apparently Jonny Labey who played Scott, won ITV's "Dance, Dance, Dance" competition - I hadn't watched it. Anyway, he too was very good. All the actors performed and sang well, the costumes were bright, there was a lot of sparkle, and the on stage, 5 piece orchestra was well up to the high standards we expect of the West End.
All in all, I enjoyed the show, and would give it 3 stars.
Links to West End Show index and home page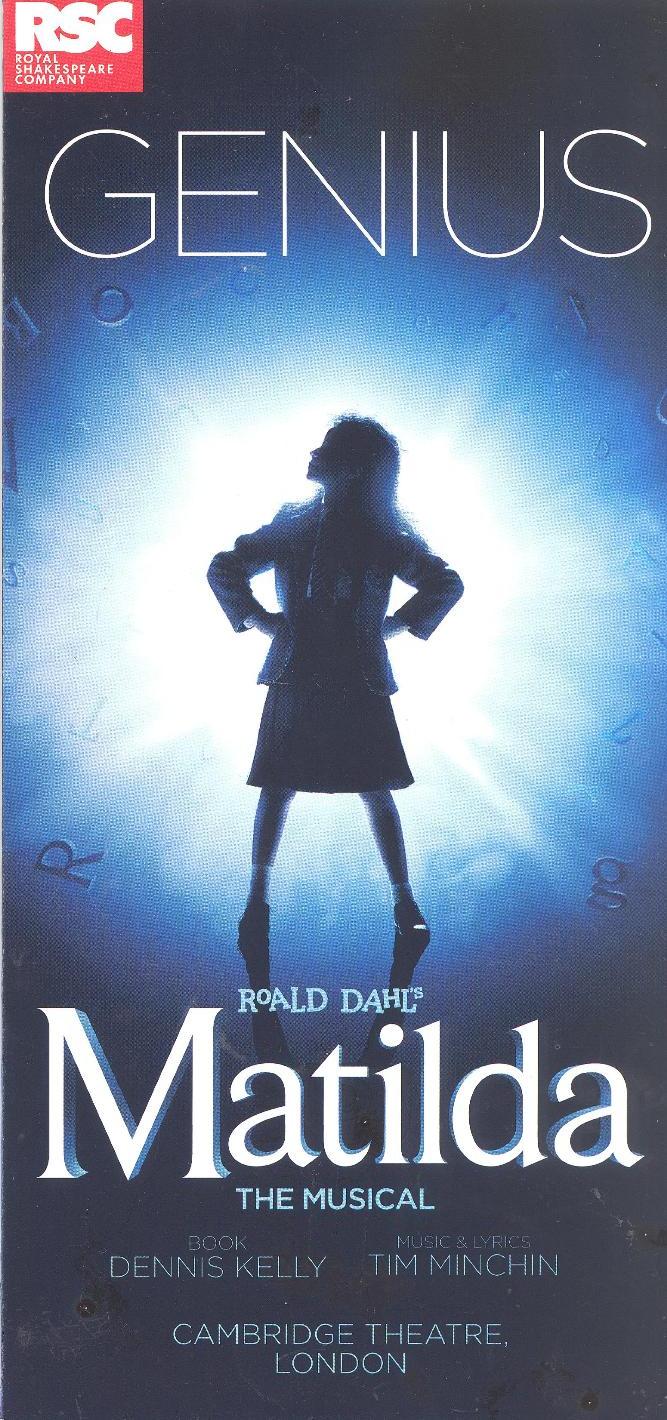 We had read that the best musical on in London was "Matilda, The Musical," a winner of many international awards, best musical awards, and 5 star reviews. Perhaps not suprisingly therefore, we could never find any discounted tickets. Thus we came to buy two full price back of the dress circle seats (G4, G5) for £54 each from the Cambridge Theatre website. They were good seats with plenty of leg room, and we had a perfect view of the stage, helped by the lucky chance that the seats in the immediate row in front of us were empty - these were the furthest back row of the £67 seats, and so would sell last. Apart from a very few odd empty seats, the theatre was packed. Most of the audience were young girls (not many boys at all) and their mums - it was a bank holiday, and also the first day of half term. The Cambridge Theatre's address is Earlham Street, but for us it was a case of getting off the tube at Leicester Square, turning left (right being towards Piccadilly), walk along Long Acre, turn left into Mercer Street, and the Cambridge is a short walk along on the left.
Although we read books to our two children when they were very young, by the time they got on to Roald Dahl, they were reading books by themselves. It was only when we got to the theatre that we realised that we did not really know the Matilda story. It is a children's story, and, being Roald Dahl, is dark, and wierd in places. Mr and Mrs Wormwood are not really fit to be parents, and both are very self centred. Apparently Mrs Wormwood doesn't even realise she is pregnant when she gives birth to a very gifted, rather special girl - Matilda. Mr Wormwood, a disreputable used car salesman, wanted a son, and addresses Matilda as "boy" to the constant immediate response from Matilda - "I'm a girl". Matilda finds refuge in books - she is a frequent visitor to the local library, and devours books, reading and absorbing books far beyond her age. Her parents are horrified that they have a child who likes books -"it's looks, not books" that matter says her excuse for a mum. Matlida eventually goes from the frying pan into the fire when she goes to school - it's a school run by the parody of all bad, child hating monsters, Miss Trunchball. Luckily though, Matilda's class teacher is a "goodie", Miss Honey. Pity she doesn't have much backbone. We now come to the wierd bit. Matilda is not only a book worm genius, but she can move things by the power of thought, and perhaps is even more powerful? On her regular library visits, she tells a made up serial story to the librarian, and this turns out to be Miss Honey's true life story. A really scary thought I had was that perhaps what Matilda made up controlled Miss Honey's life. I will need to read the book to see if that is a crazy idea or not**. And of course, there is a happy ending when Russsian speaking Matilda rescues her dad from the Russian mafia, her parents flee the country, and Matilda goes to live with Miss Honey.
** Footnote : Subsequently I did read the book, and there was nothing about Matilda making up stories in the Library which came to pass. So I was reading too much into the story, and overestimating Matilda's power.
I can see why the show got so many 5 star reviews. A lot of the cast are children, and they all sang and danced excellently. They were seriously good. There are 3 child actresses who play Matilda in rotation, and it was Sara Munday' turn at the performance we saw. Sara was terrific. All the adult actors and actresses were good too, the music was good, the scenery good, the production and choreography were good, the orchestra was excellent, and it was a strong story. But...... yes, there is a but. It's a children's story, and we felt we were not really they target audience. We saw and enjoyed Aladdin not that long ago, also a children's story, and didn't feel then that the show wasn't aimed at us. I don't know why this might be with Matilda. At the start of the show my ears had difficulty in tuning into the children's high pitched voices, and there was no stand out hit tune. Most of the songs were these high pitched children chorus pieces. In short, I would give it 4 stars I think for an adult audience - but for children, especially Roald Dahl reading youngs girls, it will be 5 stars.
Links to West End Show index and home page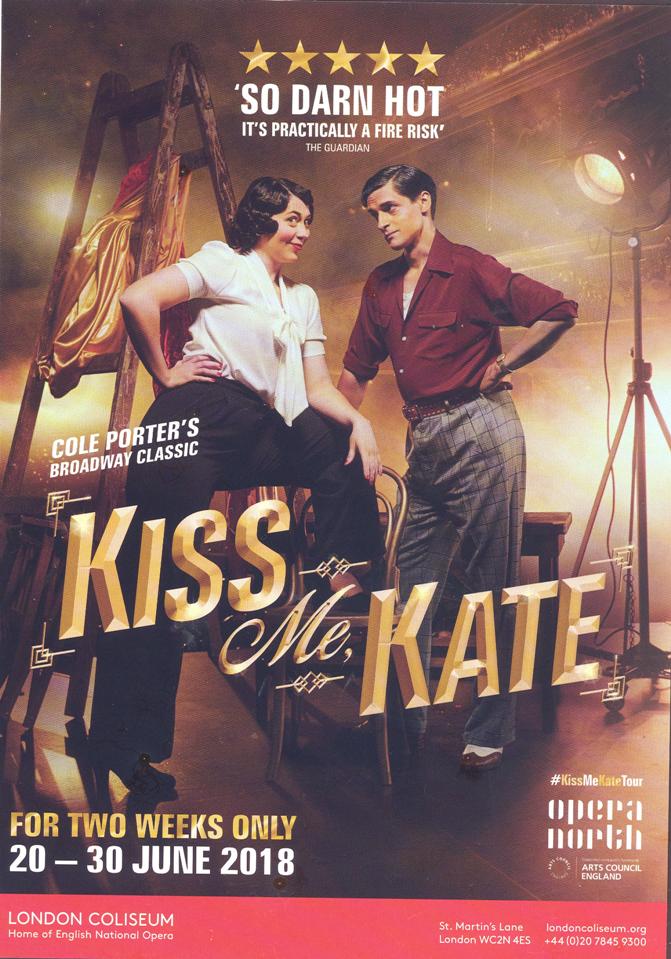 I saw "Kiss Me, Kate" advertised as a special West End limited run at the Coliseum of Opera North's highly acclaimed production. It was only on for 12 performances over two weeks, and we were lucky enough to get two discounted dress circle seats for £35 each. These were seats J12 and J13 and were excellent seats with lots of leg room - there were not many empty seats in the theatre, but by chance the seats in front of us were empty. We went to the matinee afternoon performance on Saturday 30th June, 2018 which was the last day of the run. I was looking forward to visiting the Coliseum as I knew it was a famous London Opera venue, and I wondered how it would compare to the Royal Opera House. In brief it was not nearly so opulent, but it was a lovely large theatre, and the air conditioning was most appreciated on a scorching 29 degrees C day. The theatre is very near St Martin's Church on Trafalgar Square - walk along St Martin's Lane away from the Church, and the Coliseum is a short walk up on the right hand side.
"Kiss Me, Kate" is a very famous 1949 Cole Porter adaption (and some would say improvement) of Shakepeare's "The Taming of the Shrew". The Shakespeare original is a bit out of touch in these "Me Too" liberated days. Katherine's younger sister cannot be married whilst her older sister is still unwed, and Katherine's father more or less pays a suitor to tame and wed the independent minded Katherine. The suitor starves Katherine, spanks her, denies her food, and deprives her of sleep, and Katherine submits, and accepts that woman's lot is to obey her husband. As I said what a terrible story, to modern ears. In the Cole Porter version, we see backstage, and front of stage. Front of stage is the "Taming of the Shrew", and back stage we have the actress character Lilli Vanessi quarelling with her co lead and former husband Fred Graham. Graham was still in love with Vanessi, but was wooing the second lead actress, whose gambler boy friend was also on the scene. Two hoodlums turn up to collect a gambling debt. The back stage quarels were reinacted in front of stage on stage adlibs, and this made a lot more sense and the actions palatable. It was a complicated story, but it made sense and after a slow start it worked well. Our view from the audience switched seemlessly from front of stage to back stage, and was done very well. The cast were a blend of Opera and West end musical talent, and were excellent.
I thought it started off as a 3 star show, but it got better and better as it proceeded, and ended up as a 5 star show - so I guess that makes it 4 star overall. The show had humour, great dance solos, a full orchestra, a powerful chorus, and above all a succession of well known and loved Cole Porter hits. I was bowled over by the wonderful music. The songs included "Another Opening, Another Show," "We Open in Venice," "Too Darn Hot," "So in Love," "Wunderbar," "Where is the Life that Late I Led," "Brush Up Your Shakespeare," "I Hate Men," and "Always True to You (in my fashion)." Some of the songs got three ovations - they ended, we applauded, then there was another verse, we applauded, and then there was yet another verse. It was so well done, and so well sung, I didn't mind this little trick.
I am surprised that the show was only on for two weeks, but I'm glad we manged to see it.
Links to West End Show index and home page


We came across two bargain, heavily discounted seats to see The Glen Miller Story at the London Coliseum. They were in the second row of the Dress Circle (B13, B14) and only cost £28 each - that is remarkable value for London's West End. The show starred Tommy Steele - incredibly fit and active at 81 years young! He had last appeared at the London Coliseum sixty (yes 60 ) years ago, and he jokingly thanked the management for having him back again so soon ! Apparently he goes for a run each morning and still plays tennis. He did remarkably well - he sort of soft shoe shuffled across the stage, sang in tune and OK (he held the note well), and had agreed to three matinee performances per week as well as the nightly shows. He was an inspiration to to us all and deserved and got a great reception. His cheery grin is still there - he reminded me of the great Norman Wisdom. Tommy played Glenn Miller, and Marti Webb played Helen, his wife. She was very good too, and still had a lovely voice.
The other star of the show was the on stage big swing orchestra, who recreated a lot of the Glenn Miller sound and songs. Glenn Miller won the first ever gold disc, and then went on the win 30 all told. Of course I came out whistling, medlies from "In the Mood", "Moonlight Serenade", "Little Brown Jug", "A String of Pearls", "American Patrol", "Fools Rush In ", "Pennsylnania 6-5000", and "Tuxedo Junction."
We were part of an older aged audience, and it was a very enjoyable, pleasant afternoon. In the first half Glenn had not discovered his sound yet, but still played some of the songs he was later to rearrange. It sounded OK, but we were aware that there was a larger orchestra off stage helping out occasionally. Then Glenn discovered his sound, the full stage opened and a complete Orchestra rolled forward and let rip. It was a true musical treat and won a great ovation.
However, and all in all, I think I must give the show 3.5 stars. Tommy, Marti, and the Orchestra were all very good, and who would want to miss an 81 year old pop idol still going strong. However, as a stage show, it was not nearly as good as the film which starred Jimmy Stewart and told the story so much better. In the film you could see why Helen would fall in love with the Jimmy Stewart character - in the stage show, as good as Tommy undoubtedly was, why would Marti Webb fall for an 81 year old Tommy ? To be realistic, of course, a younger modern day west end star would have sung, danced and played the part better. But I doubt if he would have endeared himself to the audience as much as Tommy Steele did. An afternoon of nostalgia. Well done, Tommy Steele. 5 stars for sentiment, 3.5 stars for realism.
Links to West End Show index and home page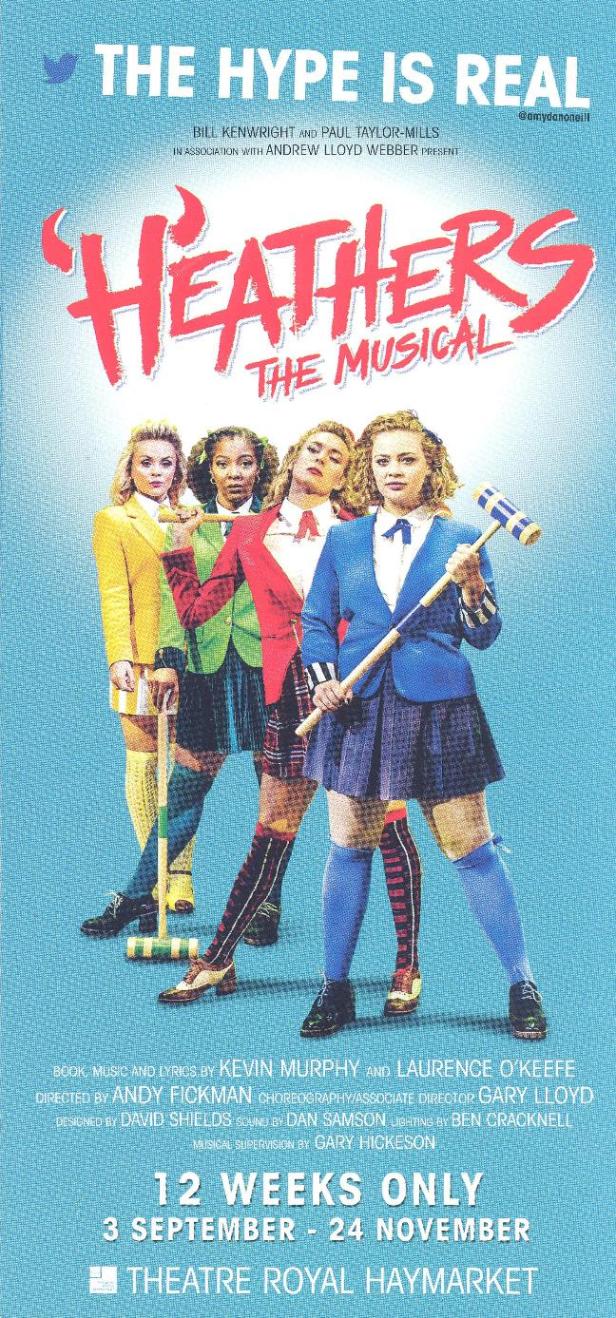 Let's start with the good news, although it didn't turn out to be all that good. Always on the look out for discount West End theatre tickets, we found two Royal Circle (D2, D3) tickets at only £25 each to see a musical at the Theatre Royal, Haymarket. Unusually for us we got to Picadilly by the Victoria Line to Oxford Circus, and then the Bakerloo line to Picadilly - it makes a change from the Picadilly line to Leicester Square. Walk down Haymarket towards Trafalgar Square, and the Theatre Royal is an imposing building behind huge pillars on the left hand side of the street. Surprisingly, in contrast to the imposing facade, the theatre inside is quite small, but very ornate. Our seats were too far to the side, really, but there was plenty of leg room, and we were in the fourth row of Royal Circle. There were lots of empty seats, though, and a sign said 150 day seats at £25 available every day - not a good sign.
Two days earlier, we had been to the cinema to see the 2018 remake of "A Star is Born," and didn't really enjoy the film - it had far too much swearing, and was too long. Obviously we were not it's target audience. Anyway, we hoped after this bit of bad luck, we might be compensated with a good theatre musical. Sadly, no. Again, we probably were not the target audience. For us it was a lot of rubbish, loud and shouty all the way through, very American, no light and shade, and frankly the actresses were too old to convincingly play 17 year old high school girls. I had half a thought that the cast were miming all the way through - but perhaps I was mistaken. In brief, we didn't like it. I would say perhaps two stars out of five. All that said, though, the cast danced and sang with energy, and had good voices. But I didn't leave the theatre whistling any catchy tunes.
The story was a bit silly, but that is not unusual for a musical. It is set in Westerberg High School - "Westerberg, the home of the rottweiler". Veronica is a new girl there, but finds everyone very, very antagonsitic. The Heathers are three glamorous girls (think of cheerleaders), who rule the roost. Veronica's forgery skill saves them from detention, and they take Veronica under their wing. Veronica quickly abandons her best friend to join the Heathers. Next we meet a teen rebel, psychopath really, J.D. who is badly mixed up - he saw his mum commit suicide when he was child. JD and Veronica fall in love, three people disrespect Veronica, and J.D. kills them - disguising their murders as suicides (Veronica's forgery skills, remember). The ghosts of the murdered continue undaunted, singing and dancing on stage. It almost ends with the mass destruction of the whole school, but does have a sort of happy ending when Veronica breaks away from J.D., and he suffers a just fate.
All in all, a bit of turkey, in our opinion. That said, most of the audience seemed to enjoy the show. I think that fellow actresses may visit each others' matinees on days when they are not performing, and whoop and holler loudly in encouragement, no matter what. "Darling, you were wonderful !" And why not ? Not for us.
Links to West End Show index and home page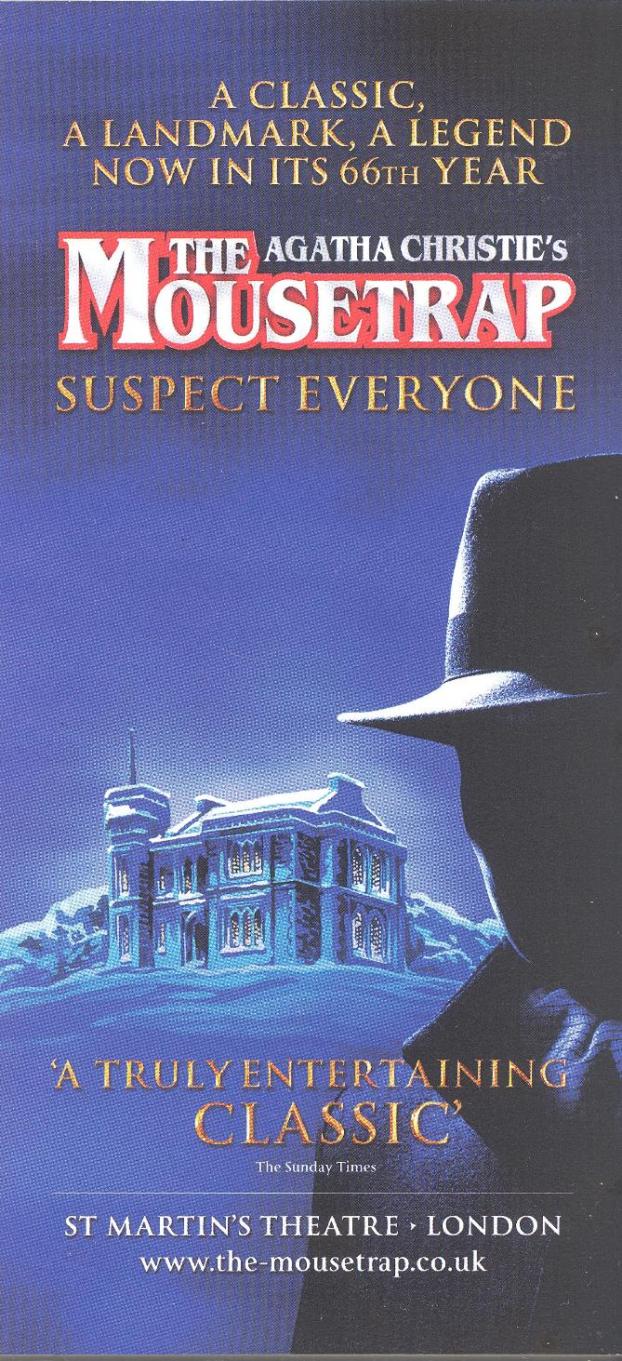 Agatha Christie's "The Mousetrap" is one of the most famous, longest running plays of all time - it has now been playing non stop in the West End since 1952, which is 66 years at the time of writing! Formerly it was at "The Ambassador's Theatre", but then it moved next door to the slightly larger "St Martins's Theatre" some 42 years ago. I am a great fan of detective fiction Iain's Leisure Reading , and have recently started reading Agatha Christie's Miss Marple books, but surprisingly I have never seen (nor read) "The Mousetrap". My wife Christine saw it almost 50 years ago, and said she could not remember the name of the murderer, but would know when she saw the play. It is a tradition that theatregoers do not disclose this secret. By chance, or perhaps because I read so many crime novels, at the interval I did guess "who done it " correctly, but even then Christine would not confirm if I was right or not. Quite right, of course. I am not going to reveal the secret either - but sadly, at home, after the show, it was quite easy to find the whole plot revealed on the internet. Sometimes there can be too much freedom of information, and I am glad I did not look it up before the show.
St Martin's Theatre is on West Street. For us, we got off the tube at Leicester Square, walked up Charring Cross Road towards Shaftebury Avenue, turned right into Litchfield Street, and saw St Martin's Theatre in front of us. We paid £71 in total, and got two dress circle seats (E11, E12) in the fifth of six rows. They were excellent seats with a perfect view of the stage. It was a cold November winter afternoon, and although there were lots of empty seats, there was still quite a good audience. It's a lovely little theatre.
Let me say a little about the plot without giving too much away. It's a typical Agatha Christie crime mystery, of it's time, and now just a bit dated, but it was well done and I enjoyed the show. I say typical of Agatha Christie - a lonely manor house ("Monkswell Manor Guest House") set in the winter countryside with a group of strange guests trapped there cut off by a blizzard, and with the phone lines down (or cut). Specifically Mollie and Giles Ralston have been married for a year, and this is the opening of their first venture into running a guest house. The set is a large reception room with a glowing fire and many doors off. Christopher Wren, a young, over excited alleged architect is the first to turn up. Mrs Boyle is an old crusty ex magistrate, slightly deaf, full of complaints, Miss Casewell wears trousers and could perhaps be a boy, and Major Metcalf is the typical ex army type. Creepy Mr Paravicini turns up without a booking saying his Rolls is stuck in a ditch, could they put him up. The radio seems to be tuned to the old Home service of the 1950's and gives news of a murder and the hunt for the murderer. Next there is a phone call from the police saying Sgnt Trotter is on his way, and it is imperative that he speaks to them. He arrives on skis, and explains that from clues at the scene of the recent murder, they suspect there will be 3 murders in total (the clue and tune is three blind mice ), and Monkswell Manor may be the setting for the next murder. Just before Trotter arrives they discover the phone line is down. Questioning suggests any one of the people at Monkswell Manor could be the murderer including the hosts Giles and Mollie. And that is all I will say !
It's old fashioned, has flickering lights, and no mobile phones of course, but it was well crafted, performed seriously, and was well worth the visit. I enjoyed it, and would give it three stars if that means anything. Quite a modest little treasure, I thought - long may it run !
Links to West End Show index and home page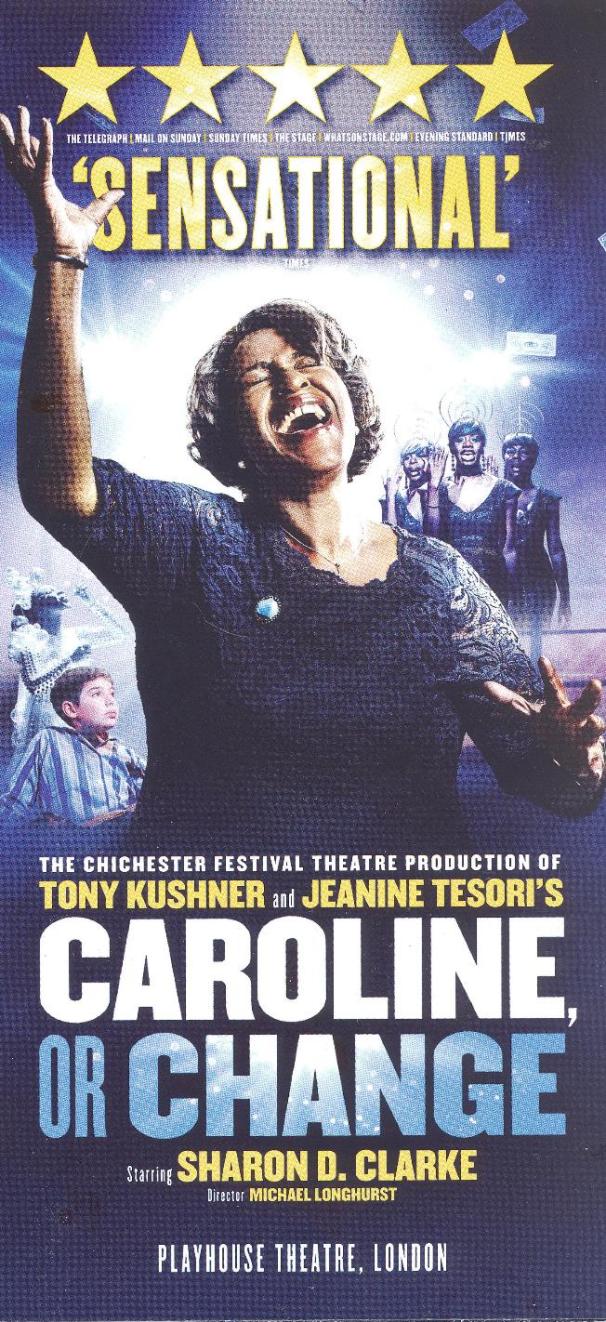 Sadly this might well be our last visit to the West End Theatre this year, and it would have been nice to finish the year on a high. However, as a pleasant afternoon of entertainment, this completely failed us. Yes it had had 5 star reviews at Chichester, it was well performed, yes Sharon D. Clarke was excellent as Caroline, and yes the singing and harmony were good. But we go to the theatre to be entertained , if a musical perhaps to leave whistling some catchy tune, certainly to leave the theatre cheered up. We thought the experience was almost dire - gloomy, soul dirges, sadness, oppression and depression in 1960s Louisiana only too well pervading the whole piece. I would give it, as an afternoon of entertainment, only 2 stars.
We knew nothing of the show other than it had been well reviewed at Chichester Arts Festival and had now transferred to the West End, and so we clicked on 2 dress circle seats to see this musical at the Playhouse Theatre on Northumberland Avenue. We got the tickets from the Love Theatre web site, paid 2 x £40 for seats F6 &F7, and they were good seats with a good view of the stage. We had never been to the Playhouse Theatre before, but had walked past many a time. Usually on our vists to the West End, we start with a cup of tea at the The Crypt at St Martins , walk down through Trafalgar Square, along Northumberland Avenue, and cross the Thames at the Jubilee Bridge to walk along the Southbank, etc. The Playhouse Theatre is on the left hand side, just before you get to the Thames.
The story is set in 1960s Louisiana, and centres on Caroline, a poor coloured downstairs maid for a well off upstairs white Jewish family. In flashback we learn that Caroline had married a sailor who abused her, and she now struggles to feed and bring up three deprived children. She seems to spend all her time doing laundry and ironing, with only a radio for company. But life upstairs is not a happy one - they have money, but the depressed father lost his first wife, hardly knows his almost abandoned son, and spends his time playing a clarinet. A second wife Rose tries her best to befriend the boy, but is turned away. Instead he thinks of Caroline as a friend, but she is not friendly, keeps telling him she is their employee / (almost slave) not a friend. Caroline and the boy do share a great sadness and despair though. The young lad often leaves change in his trouser pockets which Caroline removes before washing - placing the money in a pot on the washing machine. Rose tells Caroline to keep any money she finds - to teach the boy to be more careful with his money. Caroline says she doesn't want Rose's gifts of cabbage stew, and certainly doesn't want to keep child's pocket money, but Rose persists, and times for Caroline are very hard. Soon the boy is deliberately leaving a few cents in his pockets, but the amounts increase. Caroline returns a one dollar note, but puts a 20 dollar note in her pocket. This the boy had got a special award from his grandad, and he had not meant to leave the money. The boy and Caroline fight over the $20 - with $20 Caroline can take her children to the dentist. How sad is that! But Caroline leaves the $20, and sweeps out never to return. Its not a fairy tale, but true life. Pride does not feed three children, and 5 days later Caroline is back below stairs again. A depressing tale indeed.
As an Arts festival piece I completely get it - a seemingly trivial tale suffused with deeper undercurrents, toppled and beheaded statues, a fiery daughter arguing for revolution and change, etc. It was all portrayed only too well. I left the theatre saddened, and that is not what I wanted in the Festive Season. Probably there is nothing wrong with the show. I should never have gone, but gone elsewhere.
Links to West End Show index and home page