Visits to the West End Theatre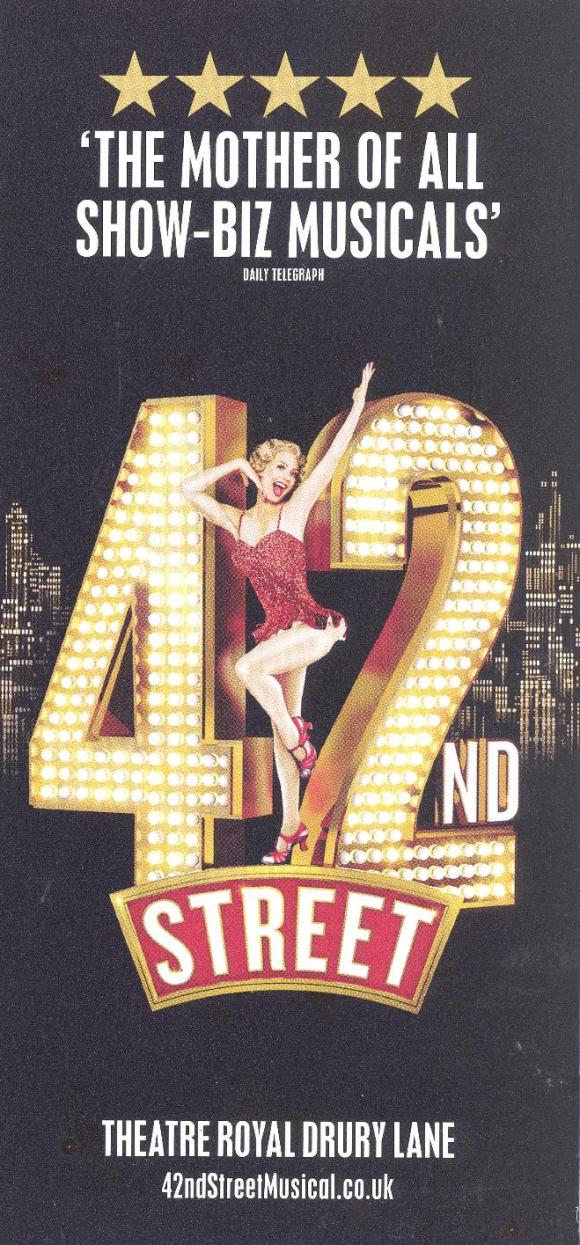 Usually we are abroad at this time of year, but 2018 saw us still in the UK, and at long last we had managed to get tickets to one of the "hottest" shows in the West End. "42nd Street" had received numerous 5 star rave reviews, and we had been trying to get seats for ages, but there were no suitable discounts that we could find. Sometimes we never get to see a show - but in this case the "Love Theatre" website had two single royal circle seats, near the front, but one behind the other. And so we were in seats D18 and E18, excellent seats bang in the centre, at the front of the royal circle. There was lots of leg room, and excellent views of the whole stage - all for £41.25 each.
Happily also we agreed with the 5 star reviews. A great orchestra, fine solo and ensemble singing, great tunes, lots of standards, spectacle, glitter - a true West End highly professional presentation. It had a huge cast, and lots and lots and lots of top rate, spot on tap dancing. The songs included "42nd Street" of course, and "We're in the Money", "Lullaby of Broadway", "Shuffle Off to Buffalo", "Dames" and "I Only Have Eyes For You." I was whistling "Lullaby of Broadway" for ages !
It's an old traditional US musical with corn at the heart of the story. Peggy Sawyer (played wonderfully by Clare Halse) is a young singer and tap dancer newly arrived in New York - straight off the bus from "Hicksville". She not only gets a part in the chorus line of one of the few new musicals about to be put on in depression era Broadway, but her talent is recognised, and when the big name star Dorothy Brock (played excellently by a name from the past - Sheena Easton) breaks a leg (genuinely), Peggy Sawyer steps into the role and stardom ! So it's a familiar well known story, but so what? Correctly the cast played it straight, and got everything spot on.
I thoroughly enjoyed the show. If I had to think of one small criticism it might be that in the curtain call the star performance, last bow was taken by Sheena Easton, and not Clare Halse. Both were excellent - Sheena was a star who had a fine voice, stage presence, and her character Dorothy even coached Clare's character Peggy - "don't over sell the song, let the audience come to you". But Clare Halse had the larger part, and the whole point of the story surely was that she was the new star and deserved equal billing in the final curtain call. All the cast were excellent, but there was one other actress who played a lesser role who also impressed. She was a mature older woman, sturdily built with red hair, but I couldn't pick out the actress from the list of cast members on their web site. She danced and sang well, and her smile lit up the stage. Sorry I can't add a name !
One last comment about the theatre - the Theatre Royal, Drury Lane (although strictly it's really on Katherine Street). I read somewhere that the theatre is up for sale. It's owner is in his 80's, feels the theatre is in need of some modernisation, and so thinks someone younger should take over. It's a big theatre - you need a big audience to pay a big cast and still make money - and I guess it must be listed. Like most old theatres it really does need more lady's toilets - but otherwise it seemed fine to me.
Links to West End Show index and home page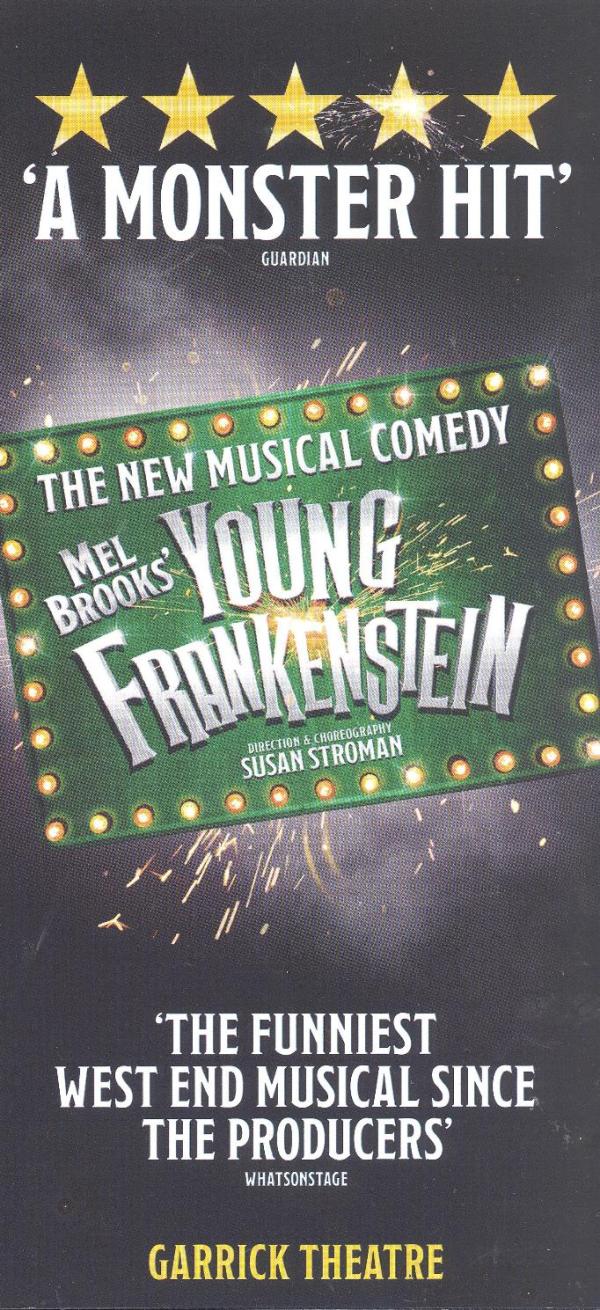 We usually only book theatre tickets a few days ahead, but we got an email from Amazon advising of deep discounts on the musical comedy Young Frankenstein and so we booked seats a week ahead. These were a stunning bargain - two seats B11 and B12 dead centre in the second row of the dress circle, for only £20 each - and the icing on the cake was that the seats immediateley in front of us were empty, and so we probably had the best seats in the house! We were in the Garrick Theatre, on Charring Cross Road - exit the tube at Leicester Square, cross Charring Cross Road, walk down towards Trafalgar Square, and the Garrick is on your left. (And as usual, having collected our tickets on the Wednesday morning, we carried on down the road to enjoy a cup of tea / coffee in the Crypt of St Martin's ). The Garrick is a lovely little theatre which we have visited several times before - our previous visit was to see Kenneth Branagh in The Entertainer, back in 2016.
Of course tickets are only a bargain if the show is worth seeing, and happily we did enjoy the performance. Overall I would give it 3.5 stars (out of 5). As is often the case the show started slowly, with a few actors on a low tech stage, with very silly "carry on" type humour. The story of Frankenstein bringing a body back to life with spare parts and a different brain during a lightening storm and in a remote castle surrounded by local village peasants is well known. The "Monster" created escapes, is hunted, and in this telling was rescued, saved, cured, married and presumably lived happily ever after. In this telling also it's the grandson of the original Frankenstein who creates the monster in his grandfather's old laboratory. The story was told well and correctly kept to low tech, in period special effects throughout. After about half an hour it all got much better, the songs got better, the sets got better, the humour improved, and all in all we ended up really enjoying ourselves.
The two stars that we recognised were Lesley Joseph who was excellent as old Frankenstein's housekeeper Frau Blucher, and Summer Strallen a particular favourite of ours, who sang and danced perfectly, with great energy, and played young Inga, Young Frankenstein's assistant. Although only 32, Summer Strallen has just about starred in everything that has been on the West End in recent years. She is part of a well known theatrical family - sister to Saskia, Zizi, and Scarlett, and the niece of Bonnie Langford. Summer lit up the stage. Young Frankenstein was played well by Hadley Fraser, and Ross Noble was a star turn as old Ignor. Patrick Clancy excelled as both Inspector Kemp and the blind hermit in the woods who befriended the escaped "Monster" but whose attempts to feed, nourish and entertain him were comic failures. This was a really funny scene. I was touched by the hermit's song bemoaning his lonliness and wanting "someone to love." Patrick has a good, powerful voice. (It would also be interesting to hear Summer sing this song ?). Patrick also did a splendid Al Jolson impersonation. The "Monster" was played by Nic Greenfields, and as the saying goes, he nailed the part - scary when required, funny at other times, actually dancing and sort of singing, but totally earning our sympathy. We were all on the "Monster's" side, and left the theatre cheered by the happy ending.
All in all, it was quite a good tweak to a strong story, played by a superb cast - stars and ensemble. Such a pity it started so slowly, but thereafter it was really good. It can't be easy to be both a comedy and a musical, but they more than managed it. In summary - totally recommeded. A final comment - they advertise that it's suitable for children ten and upwards. Perhaps so, but I thought many children would find the early "Monster" scenes too scrary.
Links to West End Show index and home page