Visits to the West End Theatre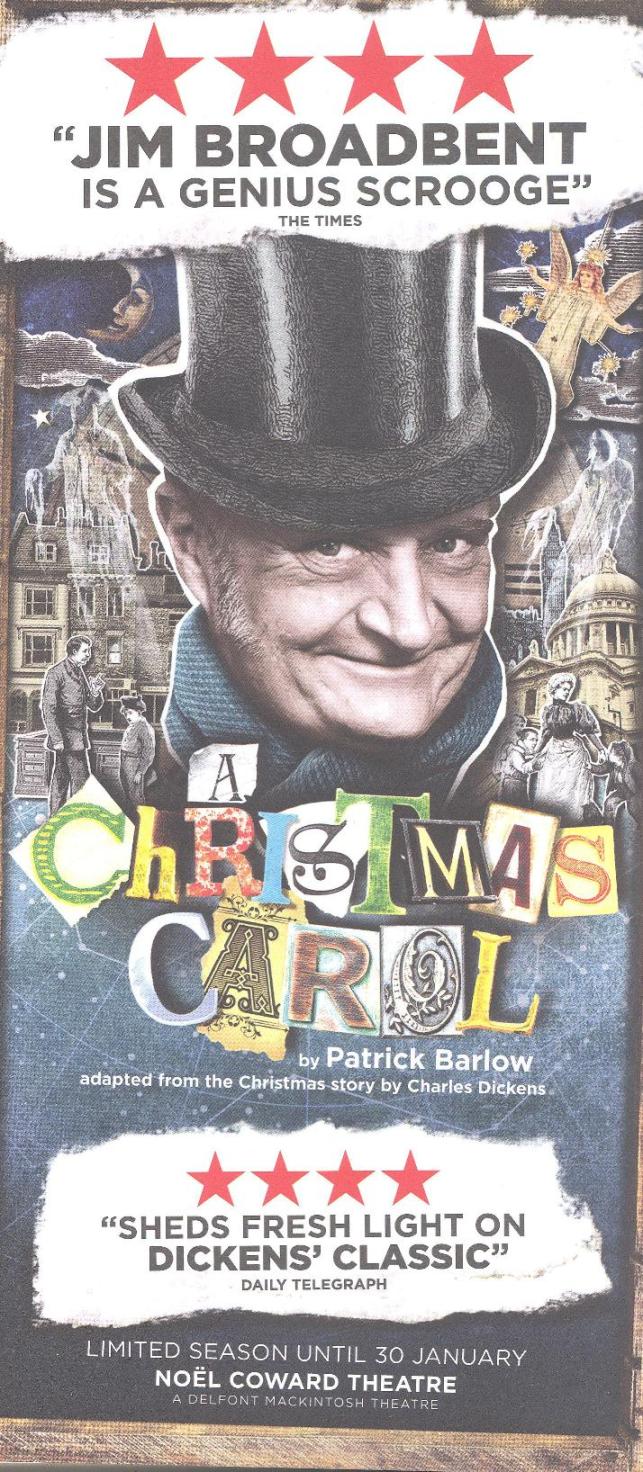 We usually have a pending list of West End Shows we would like to see - but we mostly wait until we get a good discount deal before booking tickets. A Christmas Carol was on the list because we wanted to see a favourite actor, Jim Broadbent, in the title role of Scrooge. ( We had also wanted to see Imelda Staunton in Gypsy, but that played to capacity audiences, and we never found good discounts). Happily we got two excellent Royal Circle seats to see A Christmas Carol discounted from £60 to £35 each. The play was on at the Noel Coward Theatre in St Martins Lane, and the seats, A14 and A15 were in the front row of the Royal Circle - there was no rail to block our view, and these were about the best seats we had ever got with a perfect and reasonably close centre stage view.
A Christmas Carol is of course a well known Christmas story by Charles Dickens, and I am sure I do not need to explain the story. This version more or less told the story as per the book, and Jim Broadbent was brilliant - as good a Scrooge possibly as Alastair Sim in the earlier film. Both actors sort of play themselves, but its certainly done with wit and style, and great, twinkling humour. I really liked the Victorian Theatre low tech setting. There was one use of strobe lighting in a chase sequence, but otherwise is was all very LO-FI as a poster explained. It was a small cast, augmented by two puppeteers who conjured up some spirits with swirling paper, and who worked the puppet very Tiny Tim. Ghosts were played by actors under sheets at first appearance, but the sheets were soon discarded. Scrooge's house and counting house were rooms on a revolving stage, but we saw the set and all the workings so that it was obvious that we were watching a play. Extra wooden scenery was carried on to the stage by actor / stage hands, or rolled into place on wheels. Snow was a handfull of white flakes thrown up into the air. It felt like a visit to the theatre of a hundred years ago, and it all worked perfectly.
Only one thing slightly spoiled the show for me, and this was a sort of Marxist, anti capitalism monologue delivered by the reformed Scrooge who was going to work to make a better world with no loans, and no interest, and no people getting rich at the expense of the poor. It was just a minutes worth of too blatant propaganda that I could have done without - equally I would object to a too blatant right wing version. It was just a little uncalled for. That tiny observation apart, it was a terrific show, with a good cast, and a brilliant lead actor. I would say easily four star out of five.
Links to West End Show index and home page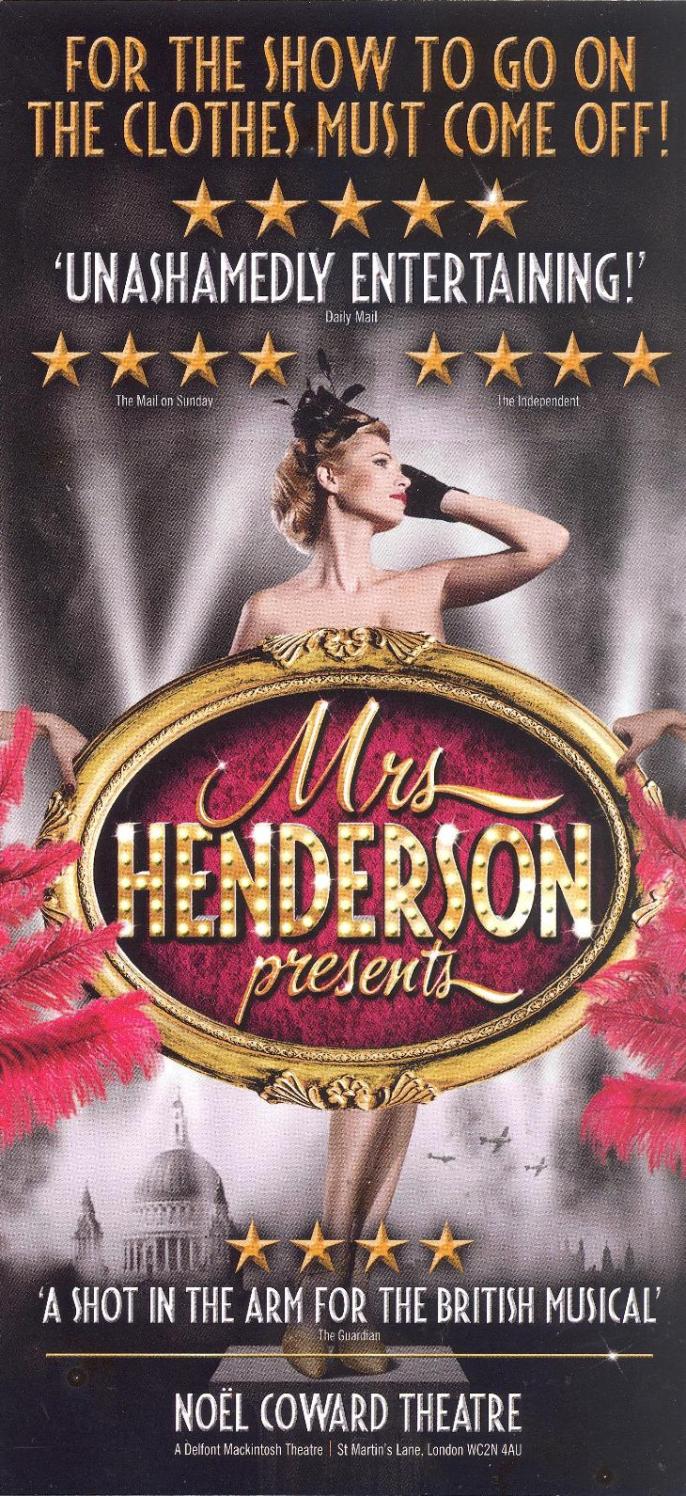 Our previous theatre visit was exactly a month ago, to The Noel Coward Theatre, in St Martin's Lane. Now we have returned to the same theatre, but of course to see something else. I don't think this double visit has happened before. There was something else unusual about our visit. We booked through Amazon Theatre and had found two heavily discounted Royal Circle seats (back row, seats H12 and H13, not much leg room, but we could see perfectly) for the bargain price of £28.50 each. I thought I had clicked on Saturday 6th Feb, but only after the transaction had been completed did I discover I had bought two matinee tickets for the following Saturday - Saturday 13th Feb. Luckily we were free on the 13th, but I'll need to watch not to make the same mistake again !
Saturday 13th was the last day of a preview week - hence the £28.50 bargain, I suppose. The theatre was packed, and it was a gem of a show, I would say a five star performance, and I thought it was all terrific. I had seen the film, starring Judi Dench, Bob Hoskins, and Will Young - all excellent - and this stage version told essentially the same story. Widowed Mrs Henderson has an inheritance to spend, and she wants to enjoy the experience. She takes on the Windmill theatre, renovates it, and employs impresario Vivian Van Damm to put on a show. The first offering is a variety that bombs (excuse the war time pun), but then Mrs Henderson has an idea - "lets have a nude review." It's 1937, and Mrs Henderson has to persuade the censor that nude tableaux that do not move is art, not smut. Mr Van Damm has to persuade his chorus girls to bare all in front of a full theatre - "don't worry girls, dim lighting will preserve your modesty" It's all a great success, and then war breaks out, but the Windmill never closes.
I guess there were two main parts - Ian Bartholomew played Vivian van Damm, and Tracie Bennett played Mrs Henderson. Both filled their roles to perfection - they sang well, danced well, and injected both humour and sadness into their performances. Emma Williams gave a great performance as Maureen, the stage assistant who was persuaded to perform as lead nude in the review. Emma sang, danced, and acted with great talent. Finally this staging was introduced and held together by a comedian Arthur, played by Jamie Forman. Arthur appeared as the Windmill stage comedian, and stepped out of the Windmill role to join us in 2016, and link the scenes. His jokes managed to be fresh somehow, although he was delivering an authentic war vintage style of commedy that died out years ago.
The music was terrific, played by a great orchestra and performed by all of the cast. I loved the clever lyrics by Don Black - I don't think I have ever said that before. The production just caught the spirit of the times, and sounded authentic and spot on. Solo voices were good, harmonies good, choreography excellent. And it was a strong story, well told, and with lots of laughs. Unusually the first half was about 1 hour 20 minutes before the interval break - I wonder why this was.
In short, though, I thought it was really excellent. I doubt that I will see a more enjoyable show this year.
Links to West End Show index and home page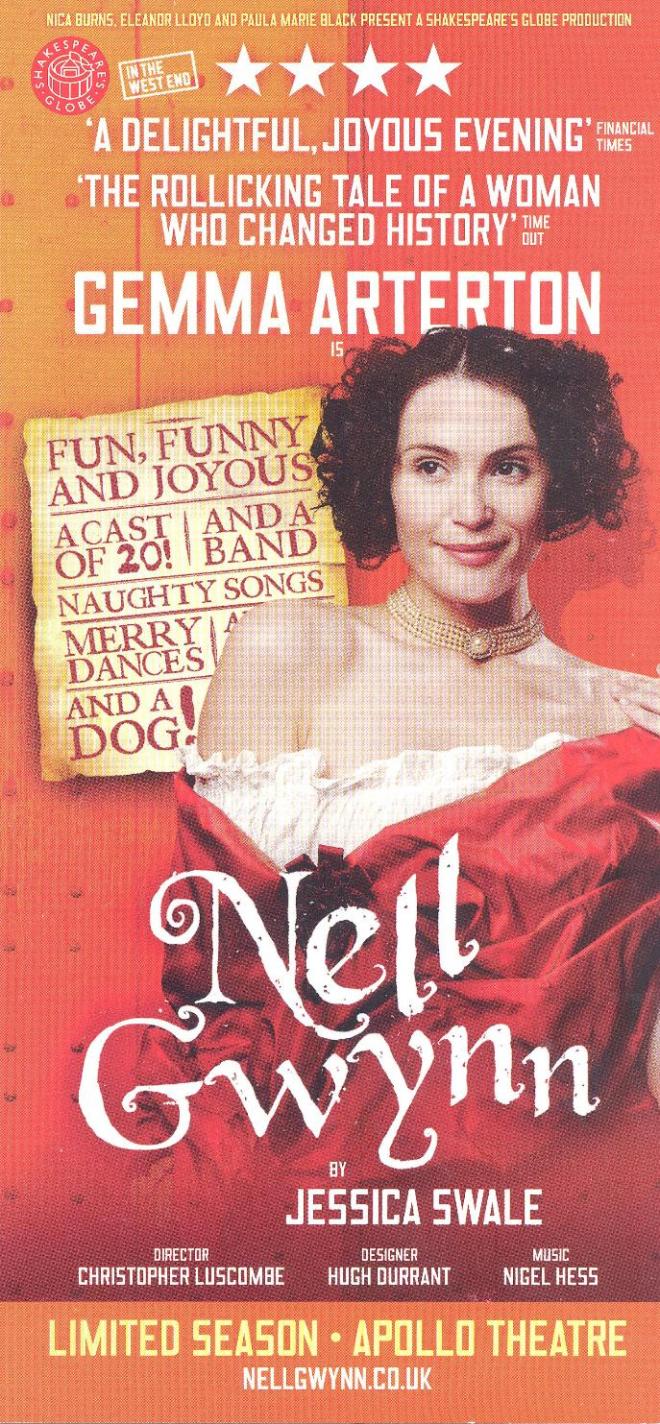 We enjoyed seeing Gemma Arterton in Made in Dagenham and so when we saw a discount offer to see her again we thought why not? We booked two dress circle seats (C6 and C7)to see Gemma in Nell Gwynn at the Apollo Theatre, paying £35 each for the seats. The Apollo Theatre is on Shaftesbury Avenue not far from Piccadilly Circus. The seats were OK, but rather too much to the side - not quite restricted view, but getting on for it. We would have been a lot better in the middle of the dress circle. The previous time we were in the Apollo (April 2014) we had started off in seats C10 and C11, but moved back a bit to get a better view.
We didn't really know what the story would be - other than it was billed as a sort of bawdy romp set in 1660, during the reign of Charles II, when Nell Gwynn sold her oranges in Drury Lane. I thought overall it was a rather light weight production - and there wasn't really all that much of a story. Apparently Nell was a prostitute who came from a very humble background, but we saw none of the poverty and squalor of life outside the theatre or outside the royal court. It could have made more of the social history of the time - but it didn't nor did it pretend to. There was almost a strong story line there - Nell appearing to be hard as nails and negotiating a high fee to become Charles II's mistress, but then falling in love with the king, and he with her. It could have been a powerful story of forbidden love, and of Nell coming from the gutter and then having to return there on the sudden death of the king - but no.

The cast performed well, sang well, and there were quite a few comedy sections. Everyone around me seemed to think it was done very well. I thought it was OK, that Gemma Arterton was very good as was the rest of the cast, but that it could have been a lot better. I thought it was almost not up to West End standards. I would say, 5 to 5.5 out of ten, perhaps.
Oh, and there was a King Charles spaniel briefly carried on stage a couple of times, and this went down well with the audience, and why wouldn't it.
Links to West End Show index and home page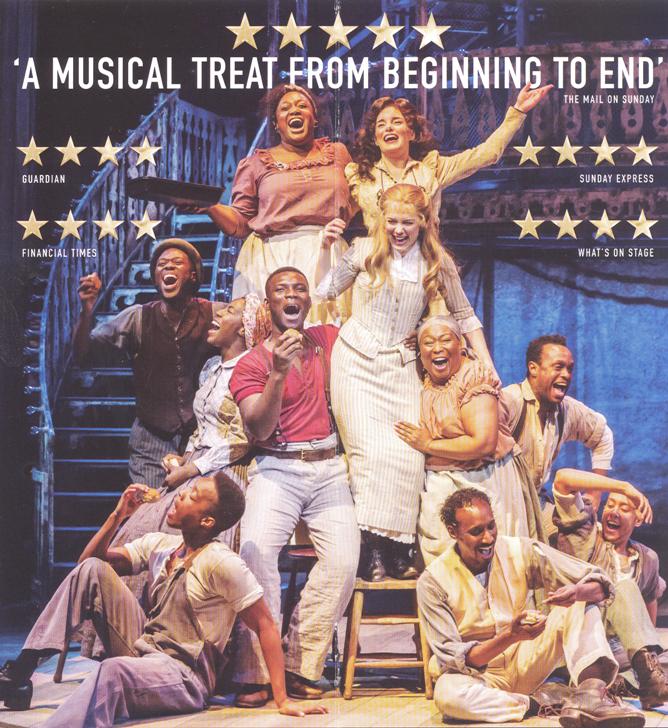 A couple of months ago we enjoyed seeing Mrs Henderson Presents . I thought it deserved better than the luke warm reviews it received, and commented that I doubted that I would see a better musical all year. I had not reckoned on seeing the grandfather of all musicals, premiered in 1927, Jerome Kern and Oscar Hammerstein's "Showboat", where every single song is a classic, and there are so many of them. I came out of the show whistling "Can't Help Lovin' Dat Man", but I could just as easily have been whistling "Ol' Man River", "Make Beleive", "Why Do I Love You", "Just My Bill", "After The Ball", "I Still Suits Me", etc, etc. In brief, I thought the show was better than very good, but not quite brilliant - say 4.5 stars out of 5. But that is still a very high score from me.
We managed to get two discounted tickets for the back row, seats E14 and E15, of the dress circle in the New London Theatre, paying £45 for the two, for Saturday afternoon on the 23rd April - the last day of the preview performances. We have been in this theatre (in Drury Lane) several times before. It is a modern theatre, build in 1973, and all the seats in the dress circle, and most in the stalls too, are steeply raked. So although we were very high up, we had a good view of all the action.
The production had come to the West End from a hugely successful and highly acclaimed run at Sheffield's Crucible Theatre. It was a large cast, everyone was in good voice, and the orchestra was in terrific form - you simply cannot beat live music of such standard! The performance more or less opened with Emmanuel Kojo as Joe singing "Ol Man River" with great power. He has a splendid voice, but inevitably I thought of Paul Robeson as Joe in the wonderful Showboat film, and it's no criticism if I say that only in the very lowest notes would I say that Emmanuel didn't quite match Paul - but who could ? Who could compete with Judy Garland say, in "Over the Rainbow", or Paul Robeson in "Ol Man River" ? The Showboat film was excellent, and I thought the "Ol Man River" version in the film was better. The film spent more time establishing the miserable hard life of the coloured folk on the Mississippi in the early 1900's and so Joe's "Ol Man River" protest song was a more powerful black anthem. In this stage version, the song came too soon. Also Julie La Verne, the lead singer on the Showboat, seemed more established in the film version, and her banishing because her mum was black was more a tragedy. But in both versions, Julie stepped out of the way for young Magnolia to take over as star, and all the time, Ol Man River was flowing along.
The first half of the show was very good, with lots of the classic standards performed and danced excellently. But possibly because it was a matinee performance and there were lots of spare seats beside me, and because the story was so well known, I thought the show fell just short of brilliant. However, I did like the second half of what happened next. I could not remember anything similar in the film, and here the show was a lot better. Magnolia's gambler husband abandoned her and their young daughter Kim saying he was no good for them - but 20 odd years later he returned to the Cotton Blossom showboat for a touching reunion, and not a dry eye in the place. This was done excellently, and far, far better than in the film.
All in all, a terrific show, with excellent music, and memorable songs that have and still stand the test of time. I think that it is only because it is so well known that I have not been blown away, but it is well, well worth seeing.
Links to West End Show index and home page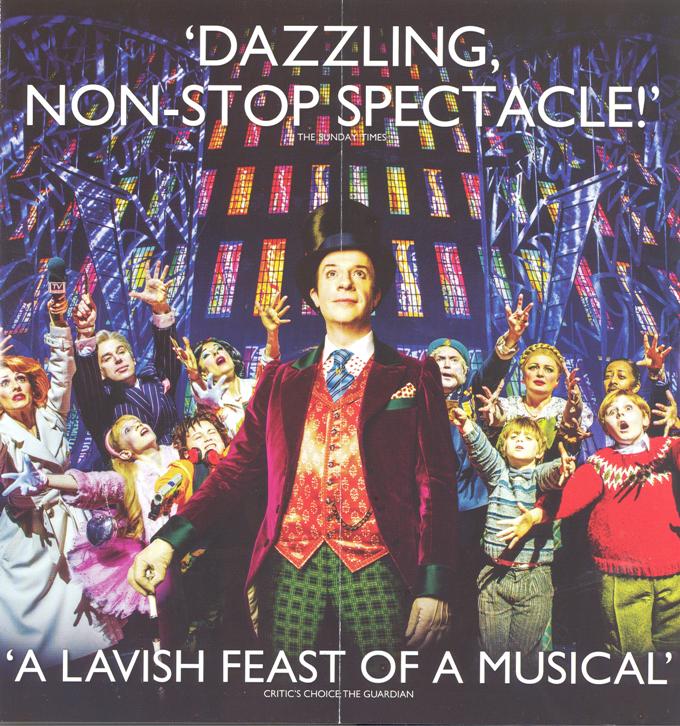 Charlie and the Chocolate Factory at the huge and beautiful Theatre Royal in Drury Lane is an award winning show directed by Sam Mendes. We had been trying to see it for ages, but could never find good discounted tickets. Eventually, however we got lucky, and booked two seats in the last row (L5,L6) of the Royal Circle for £69 in total, for the matinee performance on Wednesday, 4th May. We get even luckier as we went to take our seats when an usher said they had two cancellations in row C (C6, C7), would we like to be moved forward? Of course we would like .... And so, surrounded by a party of school children (from St Michael's School in Braintree), we had excellent seats with a perfect view of the stage. The school children all had ice creams at the interval, presumably as part of a package deal, and I was amused to see that they had all ordered different flavours.
It was a very polished presentation well worthy of the high standards of London's West End. A lot of thought and money had gone into the show. The scenery was terrific, the special effects very well done, the cast were enthusiastic, and all the lead performers excellent. I don't think I need to tell anyone the story - as per Roald Dahl book, and as per the films (and of course, I prefer the older Gene Wilder one). Charlie Bucket lives in a very poor family with his mum and dad, and two sets of grandparents who share a huge bed that they have not left for about 40 years. Dad has just lost his job, so money is very tight and so Charlie cannot buy a bar of Wonka chocolate and possibly win one of five golden tickets to visit Willy Wonka's chocolate factory - or can he?
I must give a special mention to the chocolate garden, the squirrels doing nut QC, the TVs that turned into mini stages, definitely the Oompa-Loompas, dwarf sized, but played by adult actors, and the lift / rocket near the end of the show. Willy Wonka was played by Jonathan Stringer, who captured the part very well. All the child actors were excellent, but especially the star of the show for me - Charlie Bucket. Charlie is played by one of 4 child actors, and I don't know who was in this performance - but he was excellent.
It's a musical, and the songs were good and relevent, and sung well, and backed by a good orchestra, but there were no hit songs - unlike the previous show we had seen "Showboat" , with its succession of hit song after hit song.
All in all though, a terrific show, well worth seeing. The last three shows we have seen have all been 4 / 5 star performances !
Links to West End Show index and home page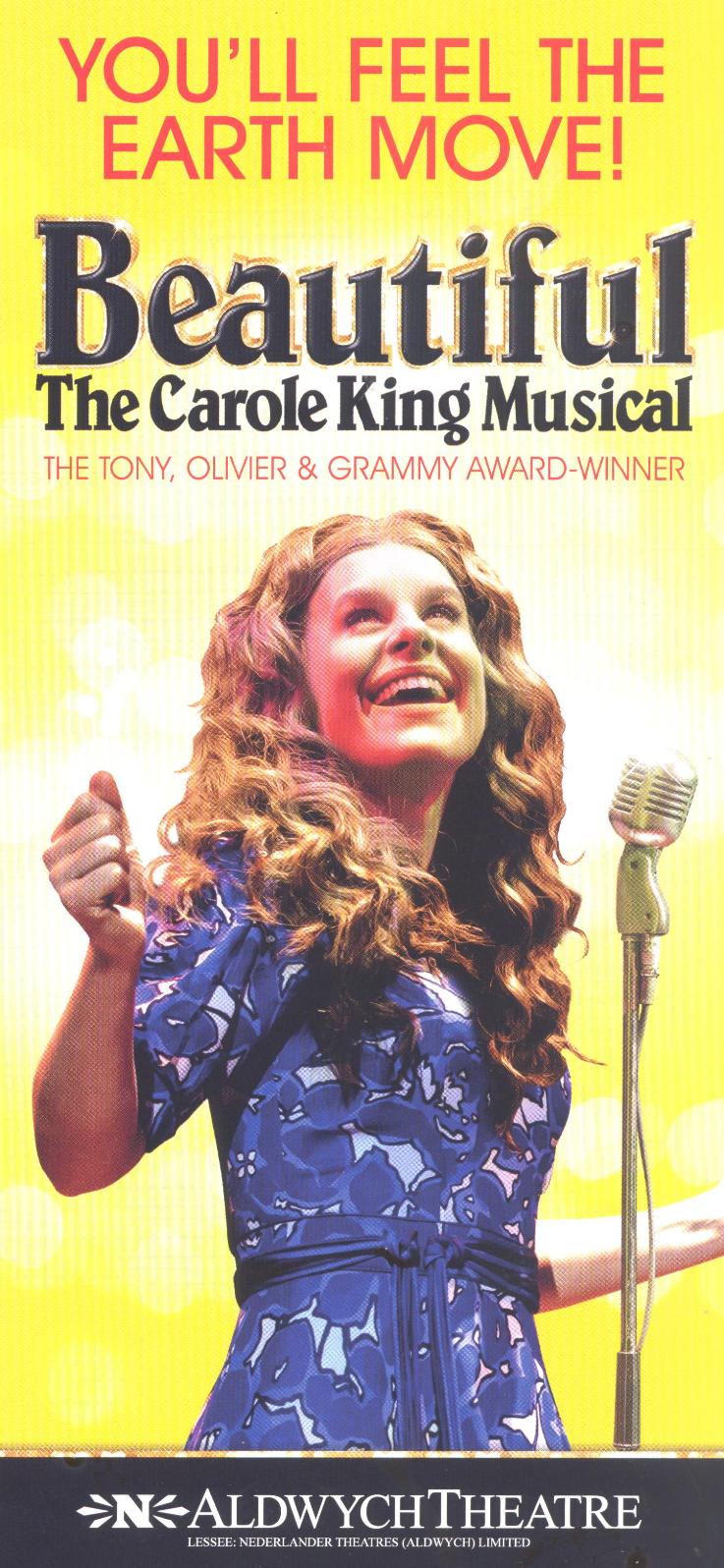 How often we get to the West End depends on how often we can find discounted tickets to the Dress Circle to see something we might like. We had been looking for ages without luck, but then got an offer from Love Theatre for two seats in the dress circle to see "Beautiful - the Carole King Musical". This was on at the Aldwych Theatre, which is at the foot of Drury Lane at the Strand / Drury Lane corner. The seats were J21 and J22, for Saturday the 25th of June at 2:30 pm, and were discounted from £72.50 to £39.50 each. They were good seats, and we had a good view.
We bought the seats knowing that this was a long running, award winning, successful musical, but we didn't know anything about the story, nor who Carole King was. We enjoyed the musical, recognised a lot of the pop songs that were performed, and thought that Cassidy Janson, who played Carole King was excellent, a real star. She had a great voice, and played the piano well. It was a very polished show, with an excellent orchestra, and strong cast. The cast morphed into the Shirelles, or the Drifters, or whoever, and performed and sang old 1960s American pop songs replicating the old dance routines. There were some brilliant parodies, and a lot of humour. Sometimes it seemed that costume changes were done by magic they happened so quickly, in front of our eyes. The set was perfect and constantly changing. In short it was a top class production.
The show opened with a bare set, and Cassidy Janson sitting at a grand piano. As Carole King, she gave a little speech saying how pleased she was to be appearing for the first time at the famous Carnegie Hall - and then we flashed back to her life story to tell how she came from being a musically gifted 16 teenager (as a music writer she she sold her first hit "Will You Love Me Tomorrow" at the age of 17) to meet and marry her husband Gerry Coffin. Carole wrote the music, and Gerry did the lyrics. Along the way they met musical rivals, but best friends Cynthia Wiel, and Barry Mann, and wrote hit song after hit song - including "You Make me Feel Like a Natural Woman", "Take Good Care of my Baby," "You Got a Friend", "One Fine Day", "I Feel the Earth Move", "Up on the Roof", "Locomotion", "So Far Away", "It's Too Late", Pleasant Valley Sunday", "Chains", "Beautiful", etc, etc. Gerry and Carole had two children (girls) but Gerry serially cheated on Carole, Carole was often heartbroken, and the marriage ended in tears. But Carole kept going, eventually performing her own compositions, and so we ended back at the Carnegie Hall. In short we have a good plot plus strong pop songs. I looked up Carole King's life story later, and found that the musical was reasonably accurate, that Carole King was born in 1942, and is still alive (and soon to make a guest appearance in London in July). Carole King wrote about 120 hit songs altogether ! If you like pop songs, this is definitely the show for you.
However, some of you may feel that there is a "but" coming. I didn't think an endless succession of pop songs strung together, however well it was done, and it was done well - I didn't think it made for the best musical of the year. There were no big set musical pieces that are the mark of a great theatrical West End musical production. At no stage did I think, "Wow, this is stunning!" So, all in all, a good enjoyable afternoon, one we could recommend to those who like pop, but just short of 4 star for us - say 3.8 out of 5. But that is only down to personal taste - the reviews don't agree with me, and I can see why not.
Links to West End Show index and home page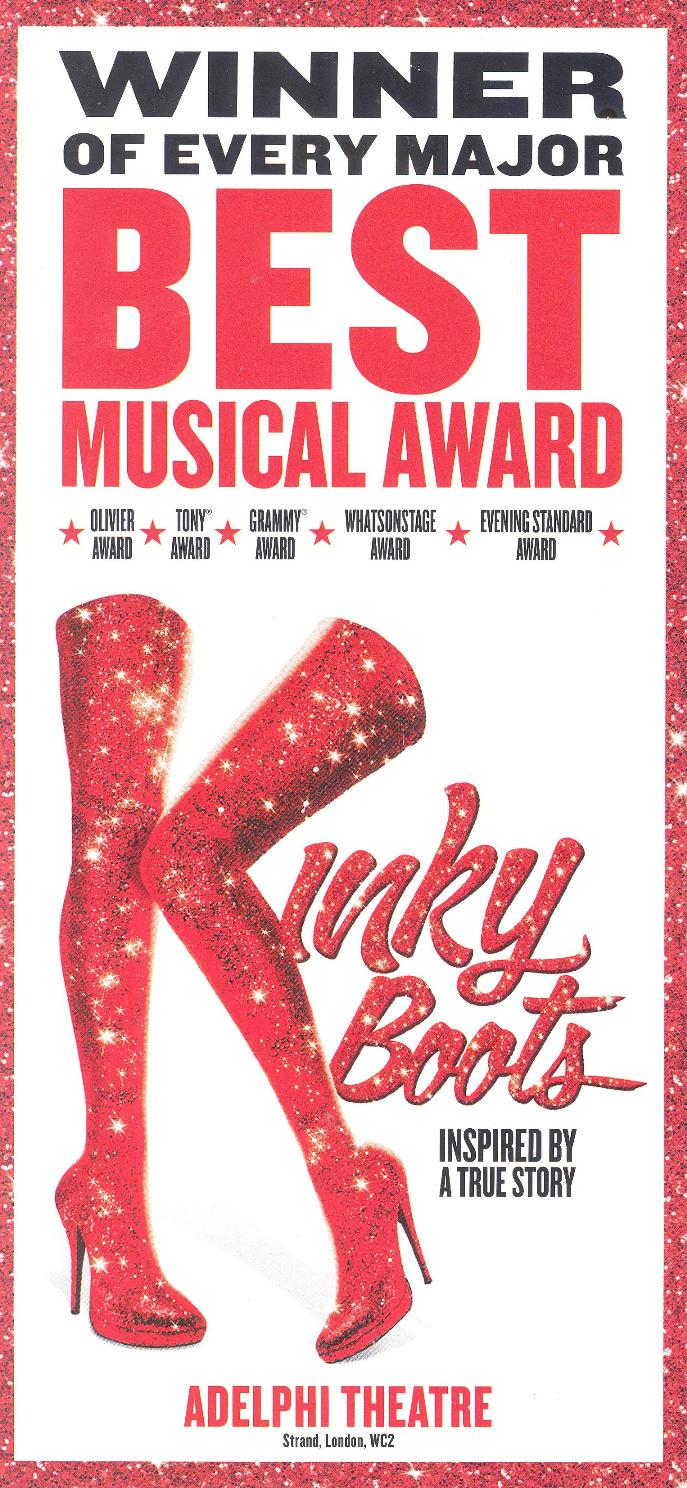 Normally we would definitely want to see a longish running, award winning West End musical, but we had rather let the title put us off seeing this show. However, my wife reported that a friend had seen the show, and had said that it was very good. Following this personal recommendation, we started looking for discount seats, and very soon managed to book two dress circle seats (M24, M25) for a matinee performance on the afternoon of Wednesday, 27th July, 2016. The seats cost us £79 for the two. Sadly, we were rather disappointed by the seats and the view they gave us of the stage. The seats were not sufficiently raked, and so we could not see over the heads of those in front of us. We could see what was happening most of the time, but only through the gaps between heads. We certainly did not have a clear view of the whole stage. The previous time we visited the Adelphi, two years ago, we were almost in the same seats in the dress circle (we also paid £79 for two tickets), in seats K21 and K22. I noted then that we had a good view of the stage, and so I am puzzled that this time was not the same. Strange ! Perhaps we just had taller people in front of us this time.
On the whole, it was a good show. There had been a film of the same name made about 2004. I was just a little disapointed in the story line. Based on a good original idea, the plot then had few surprises, and seemed a bit predictable. Charlie Price had been brought up by a dad who had dedicated his life running the family firm, Prices Shoe Factory, but the factory was up north, was stuck in the past, and was now struggling. Charlie and his fiancee escaped to the bright lights of London, but then Charlie's dad died, and Charlie had to return to run the family business, and hopefully save the jobs of all the workers. Charlie saw no solution to the problems. On a visit to London he went to the aid of a woman being attacked in the street outside a club. She was Lola / Simon, a transvestite who had been a boxer and didn't need rescuing - but thus Charlie met Lola, and so we come to the bright idea - save the workers jobs by making high fashion, sparkly, very high heeled, kinky boots strong enough / fit to wear by transvestites and drag queens. Lola is persuaded to become the factory's designer, but is very different and resented. "Why can't I be allowed to get on with my life, why am I seen as such a threat by so many men" complains Lola. All comes good in the end after a boxing match, and Charlie has swopped his posh fiancee for a local lass.
I sort of recognised only one of the songs, but the music was generally very good, the spectacle well done, and the dancing and choreography first class - I especially liked the dancing on three moving factory conveyer belts. All the cast were good, both as actors and singers, and some comic expressions spot on. There were two main leads. Killian Donnelly had a powerful voice, and gave an excellent performance as Charlie Price. But the star of the show was undoubtedly Matt Henry as Lola. Matt had stage presence, and as Lola, sang like a diva. This performance had won Matt the Olivier 2016 award for best actor in a musical.
I liked the show, but not as much as some in the audience who whooped and cheered throughout. This seems an American custom that has now spread to the West End - the world is becoming very homogenous. The lady sitting next to me had seen this same show before, but liked it so much she was seeing it again, this time with her husband. And of course there was a standing ovation at the end - all shows nowadays seem to get some sort of standing ovation. Strange ! Overall I would say 7 out of 10.
Links to West End Show index and home page


It was about about six weeks since we had last visited the London Theatre scene, but this was not for lack of trying - we just could not find decent discounts on any show we wanted to see. Usually we go for musicals, but finally we managed to get two seats to see "How the Other Half Loves", an Alan Ayckbourn classic comedy / farce. They were excellent seats (D3,D4) in the Royal Circle, and we only paid £25 for each seat. This was for the Saturday afternoon matinee on September, 12th. The Duke of York Theatre is a lovely little theatre on St Martin's Lane - get off the tube at Leicester Square, cross Charing Cross Road, go up a side lane, emerge on St Martin's Lane, turn right and head down towards St Martin's Church, and the theatre is on your right. After we picked up our tickets, we were only a couple of minutes away from a cup of tea in the crypt of St Martin's Church.
The play is set in the sixties, and tells of a series of misunderstandings between three couples - posh Frank and Fiona Foster in the middle of the picture, not so posh Bob and Theresa Phillips on the left of the picture, and hapless William and Mary Featherstone, on the right of the picture. The Featherstones get involved through no fault of their own, try to do good, and suffer for it. Bob is having an affair with Fiona, Frank and Teresa each suspect, the poor Featherstones are used as an alibi, and it all escalates nicely to confusion and misunderstanding. The stage was set as a large living room which functioned as both that of the Fosters and the Phillips. There were four doors off this room, the Fosters kitchen, the Phillips front door, the Foster's front door, and the Phillips kitchen. The Foster and Phillips actors were often in their own front rooms at the same time, i.e. on the same stage, moving around and relying on split second terrific timing not to bump into each other. It was very effective, and brilliantly done, and often very funny - e.g. when they shared the same table to entertain the Featherstones. All six actors played their parts to perfection. It was a typical sixties situation, but was not at all dated, and made for a most enjoyable theatre visit.
Overall I would say seven out of ten.
Links to West End Show index and home page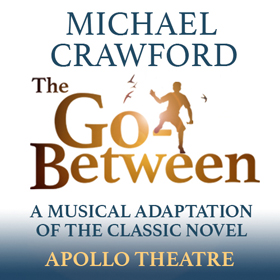 We had previously noticed discounted seats to see "The Go Between", starring the great Michael Crawford, but had been put off by rather mixed reviews, suggesting perhaps that Michael's voice was gone. However it was now the final week of the show's run, there were 50% discounts, and we opted for two Dress Circle seats (D11,D12) paying £32.50 for each. We have been in the Apollo Theatre before, earlier this year, and also a couple of years ago. On the previous visit I did not notice the false ceiling, but I did notice it this time. It was a canvas stretched across the entire width, painted with the moon, and a twilight scene. I thought that was the same ceiling that had been specially painted for "Let The Right One In," back in 2014. Perhaps I have got this wrong. Anyway, we had good seats, and it was a lovely little theatre.
We really went to see Michael Crawford. After the reviews, I didn't expect his singing voice to up to much - after all he is now 74 years old - but I assumed it would be a good story and a polished West End Performance, with perhaps a few catchy songs, maybe even something I would exit the theatre whistling. I think I got all of that quite wrong. Michael Crawford was in excellent shape, tall and with the huge barrel chest of a trained singer, and he commanded the stage with great presence. He was on stage for most of the show, either singing, or prowling about, or talking to his young self. He must have had a lot of lines to remember, but he neved faltered. Yes, his voice is not as powerful as it was, but he was playing the part of an old man, and sang appropriately, in tune, and he held a melodic note well. In brief, his voice was fine/ good, and I was pleasantly surprised. But sadly I expected more of the show. It was a light weight slow story, almost a Victorian melodrama, with no catchy tunes, and no big production dance routines.
The story was told in flashback. Michael Crawford plays Leo Colston, and enters the stage as an old man visiting a loft, opens an old chest, and has old memories revived. We then go back in time, and see the young Leo in the hot summer of 1900 away at boarding school and spending time at the Norfolk country house of his school friend Marcus. There he is a 13 year old young boy bewitched by Marcus's sister the beautiful Marian who is some 10 years older. Marian is to be maried to Viscount Trimingham, but is secretely meeting virile tenant farmer Ted in the potting sheds. Marian and Ted persuade Leo to be their postman, their go between, but he must promise never to give them away. Marian and Ted are "spooning" and there are comic scenes when Leo asks people what spooning means. "Do horses spoon, etc ?" It's all a bit predictable, everyone knows his or her place, but times are changing and two terrible wars will alter everything. So it's a poignant evocation of times lost, and perhaps Leo's coming of age. Not a terrible story when you read about it, but not much meat when you experience it. It needed a bit more sparkle, some changes of pace, a bit of life.
All in all I would say about 5 out of ten for the show, but add 1 for Michael's presence, so that makes it 6 out of ten. I should add my wife Christine liked it better than I did, so perhaps I was simply having a grumpy day.
Links to West End Show index and home page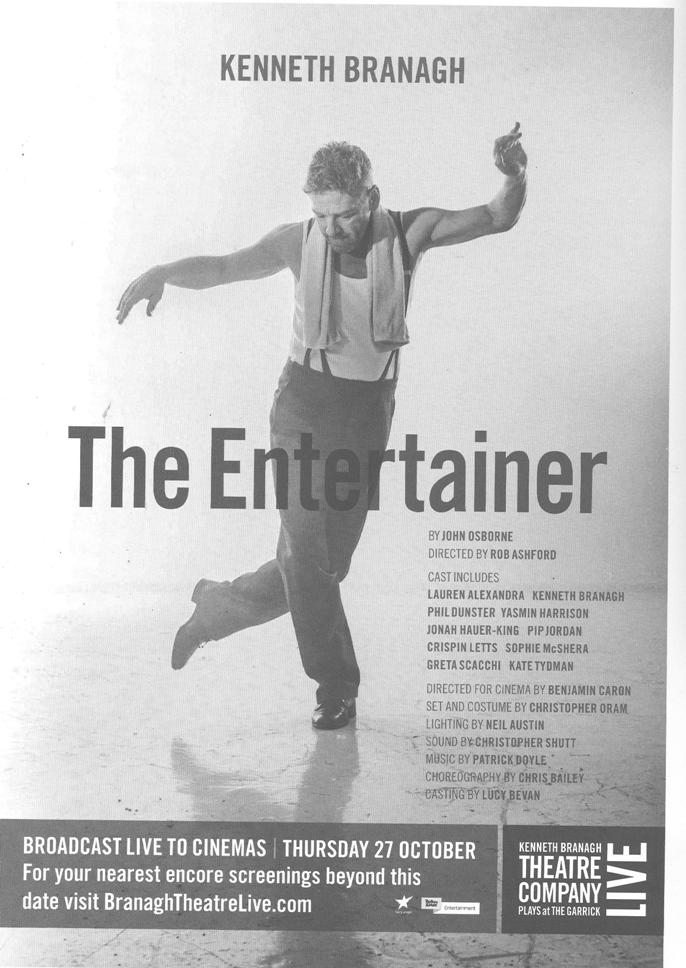 I think we have been in the Garrick Theatre before, but it must have been a long time ago, and before I started adding my Theatre comments to my web site. These comments started in 2012, but of course we have been visiting the West End theatre for over forty years, and other theatres for even longer. The Garrick is an old (c 1889 I think) theatre at 2, Charing Cross Road. We got off the tube at Leicester Square, walked down Charing Cross Road towards Trafalgar Square, and the Garrick was on the left hand side. John Osborne's "The Entertainer" was almost at the end of it's run - with the last performance on the 12th November, and so we had managed to get two discounted tickets to the Dress Circle for £35 each. The seats were E20, and E21, and these were good seats in the back row - it is a very small theatre. The theatre could do with better soundproofing as we could hear the rumble of underground trains - but of course fitting effective soundproofing is easier said than done, and it didn't really spoil the show for us.
"The Entertainer" with Kenneth Branagh starring as Archie Rice got a 4 star review in the Daily Telegraph, but the critic did caution that although it was all done very well, and perfectly captured the mood and decay of the period (set in a coastal UK town in post Suez 1950's when the "music hall" had had its day) it's not really a fun night at the theatre. And so it proved to be. I thought Kenneth Branagh captured the part perfectly, and the rest of the cast were very good, the set was drab and seedy ( this was what it was depicting after all), and the whole show was very slow, full of words but little action. The jokes were no longer funny, but they weren't meant to be. When we think of the Archie Rice character we think of Lawrence Olivier's tour de force in the 1960 film. Kenneth Branagh didn't quite match Olivier, but its an unfair comparison - a film performance with presumably lots of retakes and editing versus a live theatre afternoon matinee performance. The Archie character is a terrible man, a multiple bankrupt, in debt, but in denial that his type of show is no longer popular. But he is in denial about everything in his private life too. He has tried to incorporate a nude 4 girl chorus line to bring in the crowds, but all he manages to do is to add to the seediness. If the current production tried to pep up the show with a bit of colour, added a few topical jokes, and some pace, then we the modern audience might be better entertained, but the whole point of the show as a depiction of the period would be lost.
And so, I thought that it was all done very well, all the actors, and especially Kenneth Branagh were very good, and it was all quite interesting. I was educated, reminded of times gone by, but I wasn't entertained. So I guess,and absolutely no fault to the production, it was exactly as to be expected, and I would give it only 5 out of ten for enjoyment.
Our theatre year started out so well. The last couple of visits have been a bit of a disapointment, but we must expect highs and lows.
Links to West End Show index and home page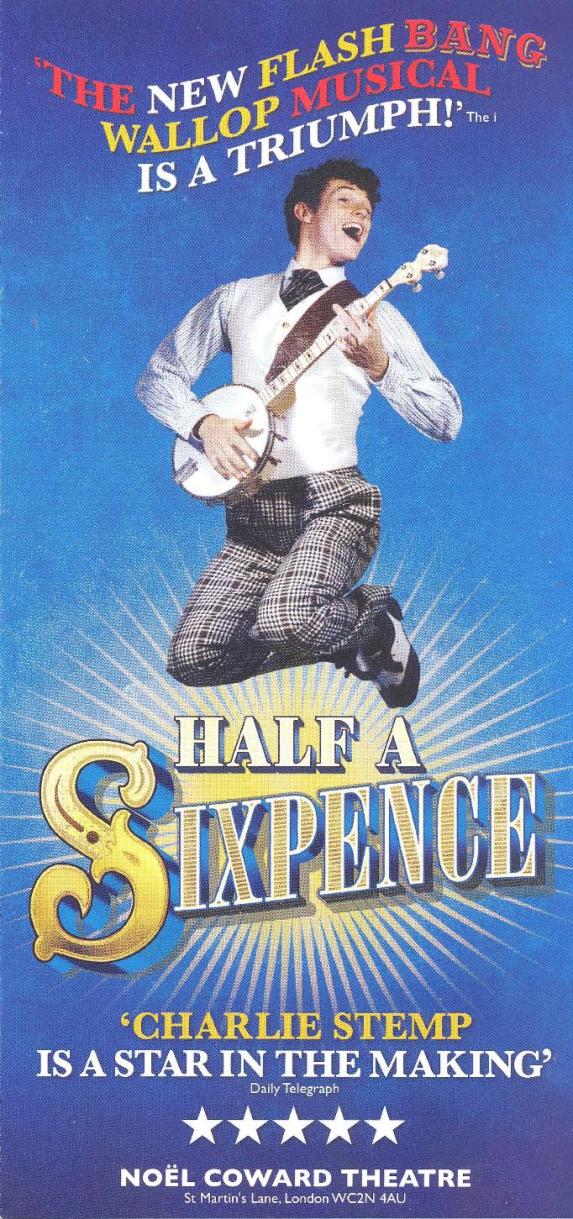 We started the year off seeing some excellent 4 to 5 star musicals. I commented at the time that I doubted that I would see a better musical all year. How perfect now to conclude this year's visits to the West End with a real 5 star delight - Charlie Stemp taking on a role made famous by Tommy Steele all those years ago, and playing Arthur Kipps in "Half A Sixpence."
We were anxious to squeeze in one more visit to the theatre in 2016, and also wanted to visit the West End at Christmas time to see the Regent Street Lights, the tree in Trafalgar Square, and enjoy the general Christmas buzz of old London Town. There had not been any suitable discounts for ages, and at the end of December, 2016 our choice was £44 for 2 tickets to see Ken Stott (he played Rebus) in "The Dresser", £85 for two tickets to see "Dead Funny", or £109 for 2 tickets to see "Half A Sixpence" - all refer to seats in the Dress/Royal Circle. It's ages since we had had last seen a good musical and "Half A Sixpence" had some excellent 5 star reviews, so, as it was Christmas, we payed the £109 for seats G17, G18 in the second from back row of the Royal Circle at the Noel Coward Theatre, in St Martins Lane. You get off the tube at Leicester Square, go up a little alley way (St Martin's Court ?) as a short cut to St Martin's Lane, and come out at the Noel Coward Theatre.
Happily it proved to be money well spent - I think it was the best musical we had seen all year. All the cast were excellent, the dancing and choreography were top class, singing in the chorus was outstanding, the swing orchestra was spot on, the scenery was great, it was a simple but engaging story, and all the leads were terrific. A real 5 star show. Charlie Stemp played the hero - plain working class Arthur Kipps - Devon-Elise Johnson played Ann Pornick, Charlie's childhood sweetheart - the girl to whom he gave half a sixpence as a token of his undying love - and Emma Williams played upper class Helen Walsingham, whom Charlie aspired to - but when Charlie came into money Helen Walsingham did all she could to change Charlie. In short she made his life miserable. Charlie was now engaged to Helen, and sinking when Ann returned her half a sixpence and Arthur Kipps came to his senses. A fortune gained, a fortune lost, another fortune won - and Arthur and Ann went off stage together towards a life of happiness and contentment.
The three leads and all the cast were very good, but I must make a special mention of the undoubted star of the show - Charlie Stemp. He sang tunefully, was a gifted dancer, and a great and very fit acrobat, and he had such a cheery grin. His energy was remarkable. A real tour de force. As the reviews said, a real star in the making. Of course, we will need to see him in something else first, but here he was outstanding.
All in all, a true 5 star show.
Links to West End Show index and home page


I have just lifted this photo off the Daily Telegraph website - hope they don't mind.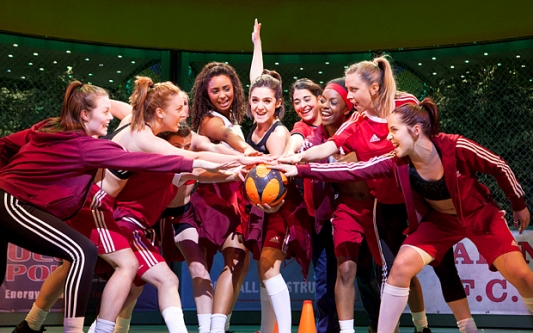 We are always on the look out for good discount deals, but had not had much luck of late. We do not really want to pay more than £40 each, and want a seat in the dress circle. The best we had been seeing had been £42.50 - perhaps we might just have to pay more. However one Tuesday we got a good offer from Love Theatre for 2 dress circle seats to see "Bend It Like Beckam" at £39.50 each - a discount of £30 per ticket - and so we found ourselves in London, the following day, Wednesday 9th September. Although it wasn't planned, that day was when when the queen became our longest reigning monarch, and by pure chance we were walking over the Jubilee Bridge when The Royal Barque came rowing under the bridge accompanied by a varied flotilla - orchestra, fire boats, etc. Very Historic !
Our seats were E18 and E19 and we had an excellent view of the stage. We had been in the Phoenix Theatre before, eg to see Once, The Musical a couple of years ago. It's a lovely little theatre on Charing Cross Road - on the right hand side as you walk away from Trafalgar Square.
The story is well known from the film, and is well told here with added music - a catchy mixture if western and Indian, Bhangra type music. Its set in 2001, in Southall, and is about the clash of two cultures, East meets West, and generational conflict. Young Jess is a member of a traditional Indian family, who wants to go her own way and become a footballer but her traditional family are against this, and family loyalty is very strong. Jules (Lauren Samuels), is a member of a ladies football team, who befriends Jess (Natalie Dew), gets her a trial, and encourages her to play with the lady football team. The coach is Joe, a professional footballer forced to retire early through injury, and as an added twist Jules is in love with Joe, but her new best friend Jess doesn't know this, and Jess and Joe also seem to be fallng in love. Its light hearted, party type fare,and it all works out in the end, with a happy ending.
I liked the show, a very professional, bright and sparkly West End production. The orchestra was terrific. The leads, Jess and Jules, manage to act well, dance well, and sing well - and I can't really ask for more can I ? They also managed to juggle a football to a certain degree - but sadly I never really thought they could be mistaken for gifted footballers. That I guess would be asking just a little too much. Some money had been spent on special football effects to overcome this - the real ball drops down a trap door, and a spotlight takes over to convey the curved football flight of the title "Bend It ...", but perhaps a little more money spent might have provided a better "coup de Theatre". But this is a very minor point. Overall I would say 3.5 stars out of 5.
Links to West End Show index and home page


I have just lifted this photo off the Daily Telegraph website - hope they don't mind. It shows con-artist Lawrence Jameson played by Robert Lindsay.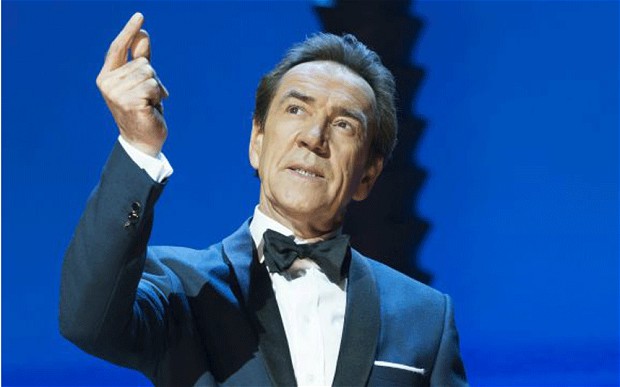 We booked two discounted tickets to see "Dirty Rotten Scoundrels" at the Savoy Theatre - a matinee performance at 3 pm on Wednesday, 24th September, 2014. We booked through the LoveTheatre web site, and paid £32.50 each for the two seats in the dress circle, seats M15 and M16. When we got there we were upgraded to seats B1 and B2 which proved to be excellent seats with a perfect view of the stage. This was the first time that our Love Theatre tickets had come with a free lunch or dinner offer. We got two meal vouchers with a list of participating restaurants - we liked the menu at the Covent Garden Grill, and had two excellent 2 course lunches there. We will certainly do this again, given the chance.
I misjudged the story as being OK, but predictable - and was caught out by a twist near the end that I certainly didn't see coming. The story opens on the French Riviera with suave sophisticated con-artist Lawrence Jameson (played by an excellent Robert Lindsay) and his trusty bodyguard Andre (Garry Wilmot). Lawrence is pretending to be royalty to swindle jewels from loaded American Muriel Eubanks (Bonnie Langford, perfectly cast). There is a reported rival swindler in the area and so the brash, uncultured Freddy Benson turns up. This character was played by an understudy Gavin Alex, I think - who was very good. Freddy asks Lawrence to give him some con-artist polish, and soon they are locked in a wager to see who can be the first to con £50,000 out of another, but younger wealthy American, Christine Colgate - played by another understudy, Alice Fearn, I think. Freddy and Christine fall in love - and so far so predictable. But the ending is not predictable.
The music was very good, as was the orchestra - but there was no show stopper number, and I didn't leave the theatre whistling any catchy tune. The dancers were young, good looking and very energetic, and the staging and whole production was slick, professional, and worthy of the West End. And there were lots of laughs ! Robert Lindsay's performance was the highlight.
All in all, an enjoyable afternoon's entertainment, after an enjoyable free lunch.
Links to West End Show index and home page


I have just lifted this photo off the Daily Telegraph website - hope they don't mind. It shows Gemma Arterton playing Rita O'Grady, a sewing machinist at Ford Dagenham in 1968, with Eddie, her stage husband played by Adrian Der Gregorian.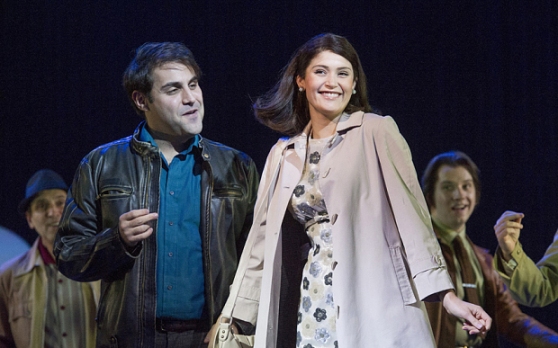 We booked two discounted tickets to see "Made in Dagenham" at the Adelphi Theatre in the Strand - a matinee performance at 3 pm on Wednesday, 26th September, 2014. We booked through the LoveTheatre web site, and paid £79 total for two seats in the dress circle, seats K21 and K22. They were good seats, perhaps a little further back that usual, but OK, and we had a good view of the stage. The £79 also included two vouchers for two 200 ml free bottles of Prosecco. We collected these from the Adelphi bar. Had we paid for these at the Adelphi it would have cost £18 - but obviously a lot less at Tesco.
Surprisingly for a musical, there was a very strong story line - the 1968 industrial dispute at Ford of Dagenham for equal pay for women who were being treated unfairly. The show is 100 percent on the side of the women, and I agree. I am sure there is a fair amount of poetic licence in the detail - Rita is a wife and mum of two who accompanies her union rep to a grievance dispute, and then takes on the fight all the way to the male dominated Trades Union Congress, and to parliament. There are no outstanding hit tunes (but I did leave the theatre whistling the chorus "Made in Dagenham"), but the music was perfectly engaging, played with great gusto by an on form orchestra. The singing and the harmony was excellent, and the lead actress Gemma has a fine voice. There were lots a of sly asides about the battle of the sexes - "if you want something done, then ask a busy woman," and a lot of humour. There were two terrific cameo roles - an all singing and dancing PM - the pipe smoking Harold Wilson - played by Mark Hadfield, and the formidable red headed Barbara Castle played by Sophie-Louise Dann, who had a powerful voice.
I don't know why, but I didn't think that the show would be as good as it was. I greatly enjoyed everything, scenery, slick scene and prop changes, the story, the music, the orchestra, the great cast, and a talented Gemma Arteton. It's well worth seeing. I would rate it 3.5 stars (out of 5).
Links to West End Show index and home page


We saw an advert for discounted seats to musicals in the West End, and so tried MayMusicals.com, a Delfont Mackintosh website, and got two seats for the Dress Circle at £35 each, to see Miss Saigon, at the The Prince Edward Theatre. It was a good website because it less us click on a seating plan to chose our seats. These seats were L11 and L12, and were a bit further back than I had imagined, but the seats were steeply raked, and we had a perfect view. It was the first time we had been in The Prince Edward Theatre, which is quite a large, modern theatre. It is in Old Crompton Street which is off Charring Cross Road.
In Iain's Leisure Reading, when I have read a book, I jot down some comments on my web site. There I have tried to stick to one golden rule - never give the plot away, and spoil things for others. I didn't think that this rule would apply so much for the plots of West End Musicals - usually the stories are weak and well known, and just an excuse around which to hang the songs and the music. But Miss Saigon is an exception - it has a powerful story, and some fine acting, and it builds to a powerful climax, so I can't really say too much without possibly spoiling it for others. It is set in Vietman. A young innocent girl has run away to the city from her home village following the death of her parents, and finds herself down on her luck and about to start life in a brothel. There she meets an american soldier - he is her first "customer", and they fall in love. The plot then jumps 3 years just like that, and the jump caught me unawares - I wondered if I had fallen asleep and missed something. Anyway the americans had quit Vietnam, and boy and girl were parted. They have gone their separate ways, the girl dreaming of her lover's return, the boy equally broken hearted, but eventually making a new life for himself in America. And then there is a flash back (so I hadn't fallen asleep after all) and then boy and girl meet again.....
Sometimes I don't expect much of a show, and am pleasantly surprised to find how good it is. Sometimes a show has had good reviews, but I am disappointed. This show was unusual in that it had had good reviews and won awards - for 2015 , best show, best muscial revival, best direction, best actor, best actress, best supporting actor, best supporting actress, best choreography, and best set design - and was just as good as I expected it to be. Well worth seeing. The orchestra was excellent, the singing and dancing excellent, and the music was generally very good - although I didn't come out whistling any showstopper number. Kim, Miss Saigon, was played by Eva Noblezada, her boyfriend Chris by Chris Peluso, and the vietnamese entrepreneur was played by Jon Jon Briones. All excellent, all award winners. What else can I say - perhaps pity it couldn't / didn't have a happier ending for everyone - but to give it 5 stars.
Links to West End Show index and home page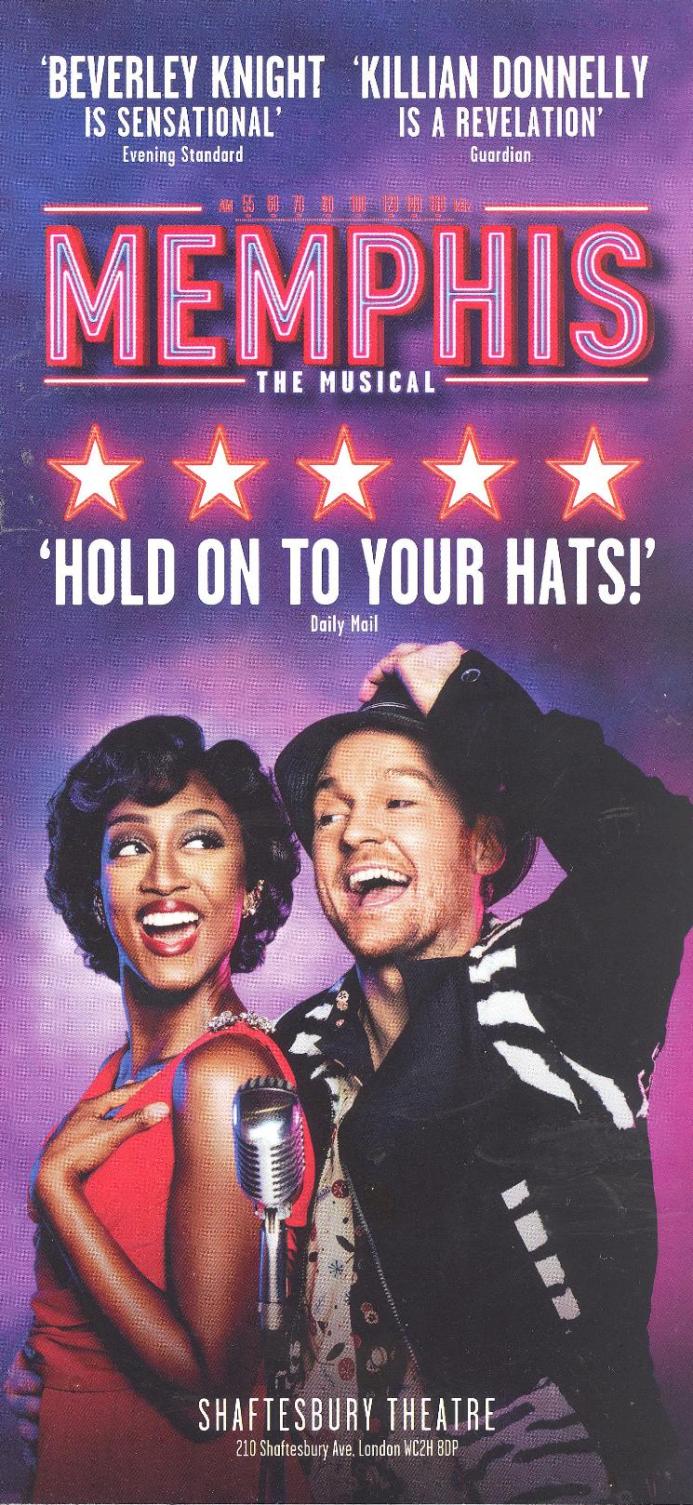 We got two bargain £20 seats for the last row of the Royal circle (M10, M11), but the seats and the view seemed OK. Then we were upgraded to seats H9 and H10, which were even better - so we were well pleased. We could have booked two £40 seats for the front row of the Royal circle, but the seats in row H seemed almost as good, and we had saved £40 in total.
We have been to the Shaftesbury theatre before (in fact twice in 2014). It's at the very top of Shaftesbury Avenue, almost at Holburn.
One of the problems of going to matinee performances is that sometimes the stars of the show can be rested - their places taken by understudies. In this case we already knew that the female lead, Beverley Knight, did not do Wednesday matinees, and her place was taken by another coloured artist - Rachel John. She was excellent. I have no way of knowing if Beverley might have been even better - we had seen her a couple of years ago in "The Bodyguard", and I commented then that I had never seen anyone perform pop songs better. However, we didn't feel short changed in any way. Rachel performed beautifully, acted well, danced well, and sang like a diva. We had actually read a review of Rachel's performance, and she had been rated very highly. I am not saying she was better than the star, but she was very good.
The play was a good, but simple story about the birth of soul and rock & roll in the 1950's. It was set in Memphis, Tennessee, when racial prejudice was rife. Killian Donnelly played the white rocker DJ who was out walking when he heard a glorious female voice, went to investigate, found himself in a coloured bar, and fell for blues type (coloured ) music, for the voice, and for the singer. But white men could not date coloured girls.
Both Rachel John and Killian Donnelly were terrific, with fine, powerful voices. Rachel had more songs to sing, and sang them excellently, but I thought the best song in the show was Killian's "I've got Memphis in Me" which he belts out in his despair. Rachel, the love of his life, is leaving to go North for stardom, but he refuses to be driven out of his home town. He opts to stay and to fight.
The supporting cast were excellent, the chorus terrific, and a full brass swing orchestra was on fire. The show won Best West End Musical in 2010 - and I could see why.
I enjoyed it greatly. I'd like to see it again, perhaps with Beverley Knight, curious to see what she could do. However, I would give the show 5 star out of 5.
Links to West End Show index and home page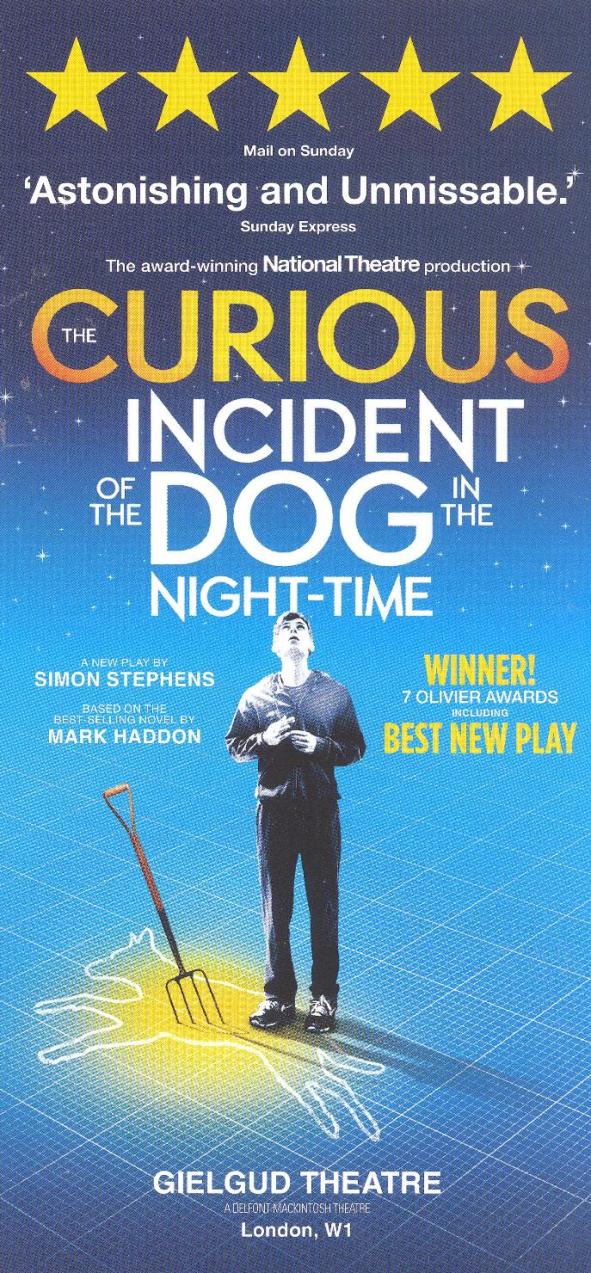 Unusually we booked our tickets through Amazon.co.uk, where we managed to find two discounted seats in the Dress Circle (H11, H12) for £25 each. They were good seats, slightly further back than we would prefer, but we had a perfect view of the stage. I think we had been in the Gielgud Theatre before, but not recently. It is on the left hand side of Shaftesbury Avenue, as you walk away from Piccadilly Circus. We got off the tube at Leicester Square as usual, walked along past Leicester Square, turned right into Wardour Street, and came out onto Shaftesbusy Avenue almost opposite the Gielgud Theatre.
I had enjoyed Mark Haddon's terrific book The Curious Incident of the Dog in the Night-Time which he wrote in 2003, had read excellent reviews of the multi award winning stage adaptation by The National Theatre, and was looking forward to the performance. Happily, I was not disappointed. The story is about a 15 year old boy Christopher Boone, who suffers from Aspergers Syndrome. He lives alone with his father, attends a special needs school, is very gifted mathematically, thinks logically, but lacks social skills, and cannot bear anyone to touch him, and never ventures out by himself ------ until he has an adventure. Out looking at the stars one night, he discovers a neighbour's dog has been killed, and he sets out to solve the mystery. Who killed the neighbour's dog, and why ? In solving this he does venture out into what he perceives as a very frightening world, suffers panic attacks, lashes out, is helped / almost befriended by the police, manages to get from home in Swindon to Willesden in London, and in short, solves the puzzle. More than this I should not say in case you do not know the story.
Christopher was played by Graham Butler, who captured the role perfectly. There was a cast of about ten, and all were very good - as you would expect of a West End production. It was a terrific set - what seemed to be a bare stage, and bare walls used hidden lights and trap doors, and wall projections to constantly change according to content. We were in Christopeher's house, then with him as he ventured down his street and knocked on his neighbours doors, and then in school, etc, etc. It was so clever !
We were caught out at the end. When Christopher was sitting his Maths A level (sadly he was the only pupil at his school ever to tackle an A level), he started to tell us how to solve one of the questions based on the Pythagarus theorem, but a joke was made that he did not have to tell us there and then, but perhaps could tell anyone interested in the audience should they care to stay behind after the performance. The play ended, the actors took their bows, the theatre lights came on, and we left, only to have to rush back when we heard Christopher back on stage, solving the maths problem. Most of the audience had remembered , and had stayed in their seats. Sadly we were about the only ones who had forgotten. Memo to self - must try harder !
We usually see musicals, but it was nice to see a play for a change - and this was a very good story, and production. I would say, 4 stars out of 5.
Links to West End Show index and home page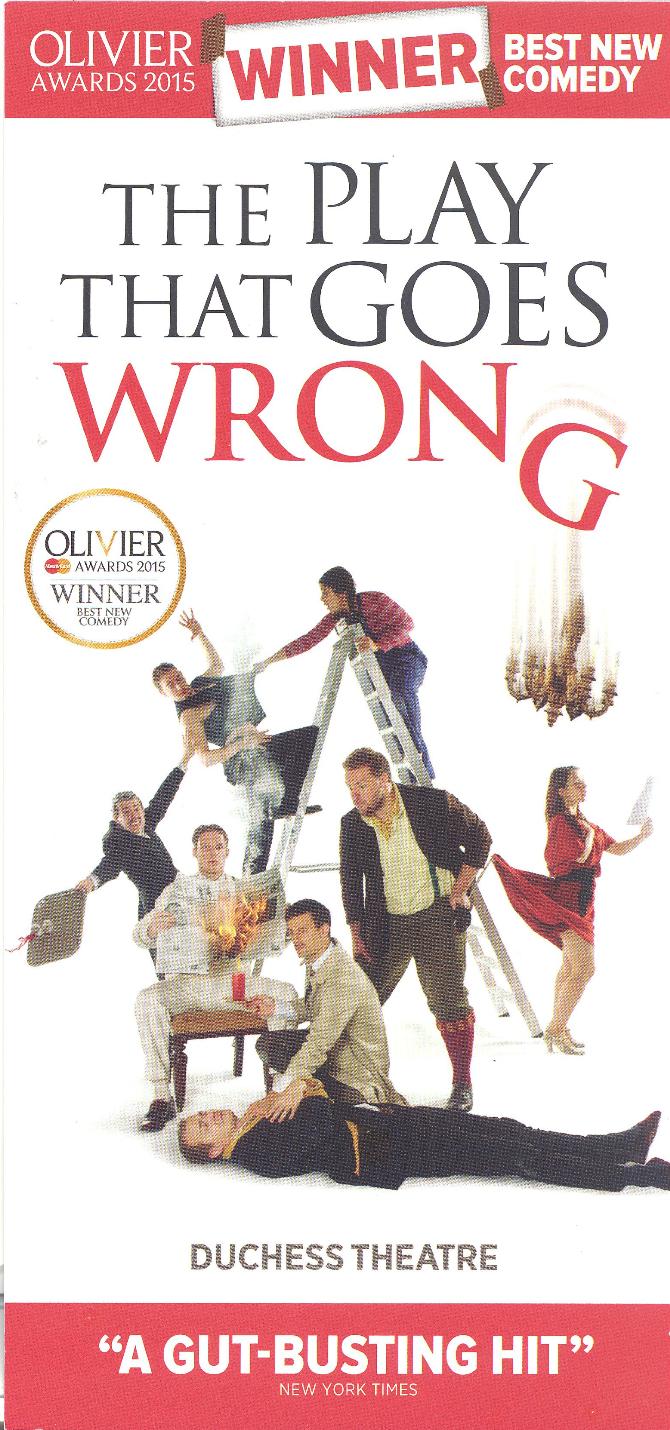 We overheard a conversation in our local one Sunday. A friend of ours was talking about a play that she had seen that afternoon in the West End, "The Play That Goes Wrong," that was really funny, so we took note, and thought we might give it a try some time. After a few weeks we noticed a discount deal on Amazon Theatre, and got two discounted seats in the Dress Circle (G15, G16) for £35 each. The play was on in the Duchess Theatre in Catherine Street - head along The Strand away from Trafalgar Square, and when it bends left into Aldwych, Catherine Street is first left. The Duchess Theatre is on the left hand side. This was our first visit to this smallish theatre. It only has one balcony, the Dress Circle, but that has a front Dress Circle and a rear Dress Circle, and we were in the rear dress circle. The seats were steeply raked , so we had a good view, but ideally we should have been further forward.
I now want to be careful what I say, to be fair to a talented and very hard working cast. Comedy is quite subjective - we all have different senses and degrees of humour. The play had won an award for the best new comedy of 2015, and had had good reviews in the press (and in my local). In the theatre, most people sitting around us, were killing themselves laughing. But neither of us thought it gut bustingly funny. I smiled in a few places, admired the energy and timing of the actors, and was impressed by just how many things they managed to get to go wrong. In fact, just about everything that could go wrong did go wrong. So I think my verdict is probably for you to go with the majority, and do go and see the play, and you will probably think it very funny. If you don't, then you will probably still enjoy the experience, only like me, not doubled up with laughter.
We had been warned to get there early, so we were in our seats about 25 minutes before curtain up. Stage hands who were really actors, were apparently still building the set, and wandering about the theatre. One told us they had lost their dog, "had we seen their dog?". We were then asked if anyone would like to play the dog, did anyone have a fur coat. It was performance improvisation - the stagehand / actor picked up what was said, and went with it. One man from the audience had to bark, and got a thumbs down from an usherette, but barked again more loudly, and got a thumbs up, and applause from the audience. Audience participation was the order of the day, and later in true panto mode, most of us chanted "Oh no it's not", "Oh yes it is", etc. The actors pretended to be hurt by this - "this is a serious performance, what is wrong with you people, they don't have this problen at The Mousetrap, etc".
The set had not been put together properly, and so started to fall apart throughout the performance. The professional actors were pretending to be amateur actors in a "Murder at the County Mansion" drama, and kept getting the lines wrong, bumping into things causing further damage to the set, getting knocked out, and having to be replaced by the same stagehands whom we had met earlier. The "replacement" actor then had no idea of their lines, read from a script which got dropped and re-assembled in the wrong order, but did get laughs from the audience, and hammed it up, and tried to milk the applause - much to the disgust of the "real" actors - warfare broke out. And still the set continued to fall apart - "this set is a death trap". Upstairs in the mansion was a wooden balcony supported by a wooden column that got knocked down, and the balcony tilted to an alarming slope, which got worse as the show continued, but they all acted on on as if nothing was wrong. It was a masterpiece of timing - you had to be standing on the correct spot when the set fell down around you. It was all very well done, but very, very silly. Maybe if it had been an evening performance, and I had had a few drinks beforehand, I might have joined in the raucous laughter.
So, although I personally didn't kill myself laughing, I could see why it had won comedy awards, and I don't want to put anyone off seeing it. A very professional performance done to a very high standard.
Links to West End Show index and home page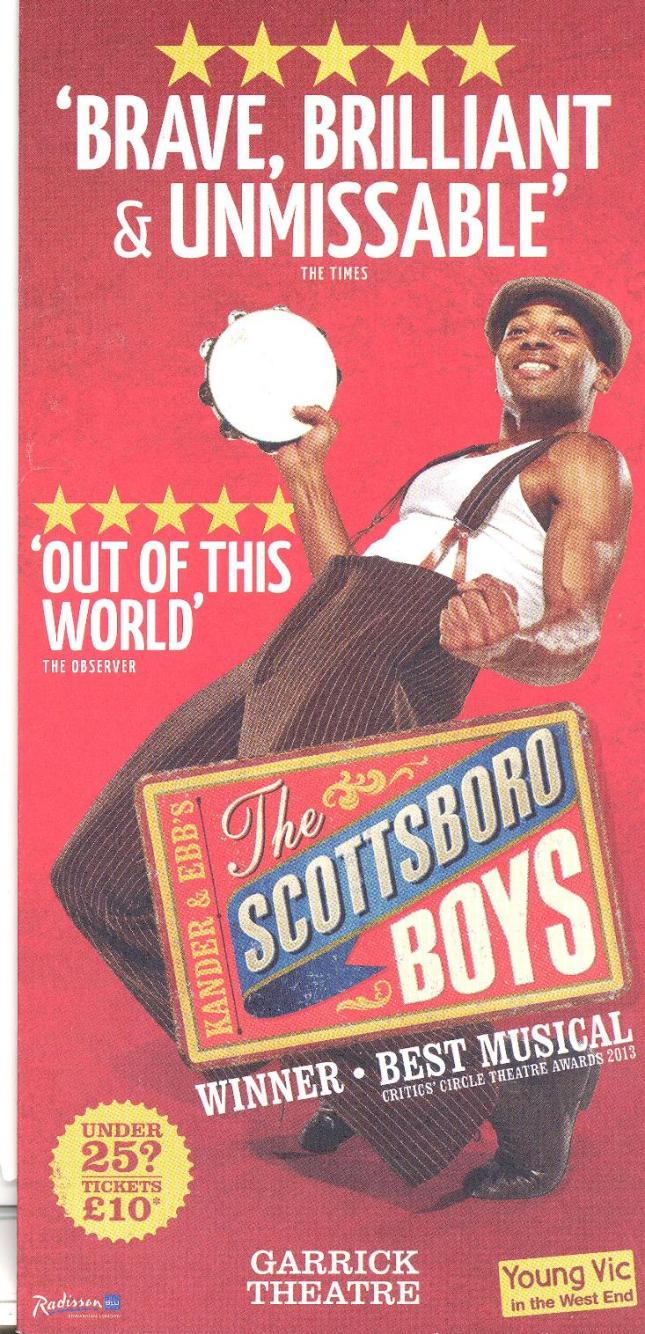 What with trips to Australia and Devon, we hadn't managed to get to a West End show since November, 2014 - almost three months ago, as I write this. We had been looking for a few weeks, but hadn't managed to find any reasonable discount deals. I thought this was strange as it should be a quiet time of year, and shows should be anxious to fill otherwise empty seats. We sort of have a price limit of about £40 for a good matinee seat. We finally got two dress circle seats from the Love Theatre website which were just within our range (they cost £39.50 each) to see the Scottsboro Boys, a musical at the Garrick Theatre in Charing Cross Road. We got off the tube at Leicester Square, walked down Charing Cross Road towards Trafalgar Square, and the Garrick Theatre was on the left, not quite as far down as St Martin's Church. We arrived about 10:15 am on Wednesday, 11th Feb, collected our tickets from the Garrick, and then repaired to the Crypt of St Martin's for a tea / coffee. They were good seats, D3 and D4 in the dress circle, and we had an excellent view of the stage.
The Scottsboro Boys had been getting excellent five star reviews from most of the critics, but all runs must come to an eventual end, and I think it is closing on the 28th February, 2015. However, I think the Daily Telegraph only gave the show four stars - deducting one because the critic felt his reaction to the treatment meted out to the Scottsboro Boys was being manipulated by theatrical stunts and gimmicks. I mention this because I sort of see what he was getting at. The story was a strong one, and not one usually told in musical format. The Scottsboro Boys were nine black youths in Alabama, USA in the days of segregation in 1931 who were falsely accused of raping a white woman, and sentenced to death by an all white jury in a rigged trial. There were appeals, but most of them languished in jail for over 10 years. I don't know how accurate to show was, but per the show, the final Scottsboro Boy died in jail rather than get his release by confessing to a crime he didn't do. According to the show, the Scottsboro Boys were finally given a pardon by the governor of Alabama in 2013.
Apart from one white actor, it was an all black cast, and they were excellent. They sang well and in excellent harmony, danced well, and the show was bright and packed full of energy and humour. There weren't any show stopper big hit tunes - I didn't come out whistlng anything - but I enjoyed all of the musical sets. And of course, it was based on a very strong story. It short it was all done to the highest of West End standards. Did you sense that there is a "But" coming. I too would not give it five stars and I guess I am being unfair to the production. The problem for me was the story, and I felt uneasy at laughing even in the bits where I was supposed to laugh. We are dealing with bigotry and racial prejudice, and the nine men on the stage had been treated very unfairly and denied justice. Invoking laughter to pour scorn on a terrible American injustice is a valid exercise, but I would have felt guilty laughing, even when I was suposed to. At heart, it was a bleak story given a jazzed up perky treatment, but there wasn't really a happy ending for the Scottsboro Boys in real life. I go to musicals to be cheered up, but I came out of this one not depressed, but not really cheered up either.
Perhaps there was a happy ending of sorts. The play opened with an old lady, a dignified, coloured lady, sitting on a park bench, apparently waiting to visit the boys in jail, to take them some chocolate cake. This lady stayed on stage throughout the play, mostly in the background, but sometimes being part of the action. It was only at the end of the play that we learned who the lady was, and the happy ending was what a profound effect she was to have with a little act of protest.
Don't let me put you off seing this show if you can. As the poster says, it is brave, brilliant, and unmissable. But if you want an afternoon of fun and to be cheered up, try some other musical that has a happy ending.
Links to West End Show index and home page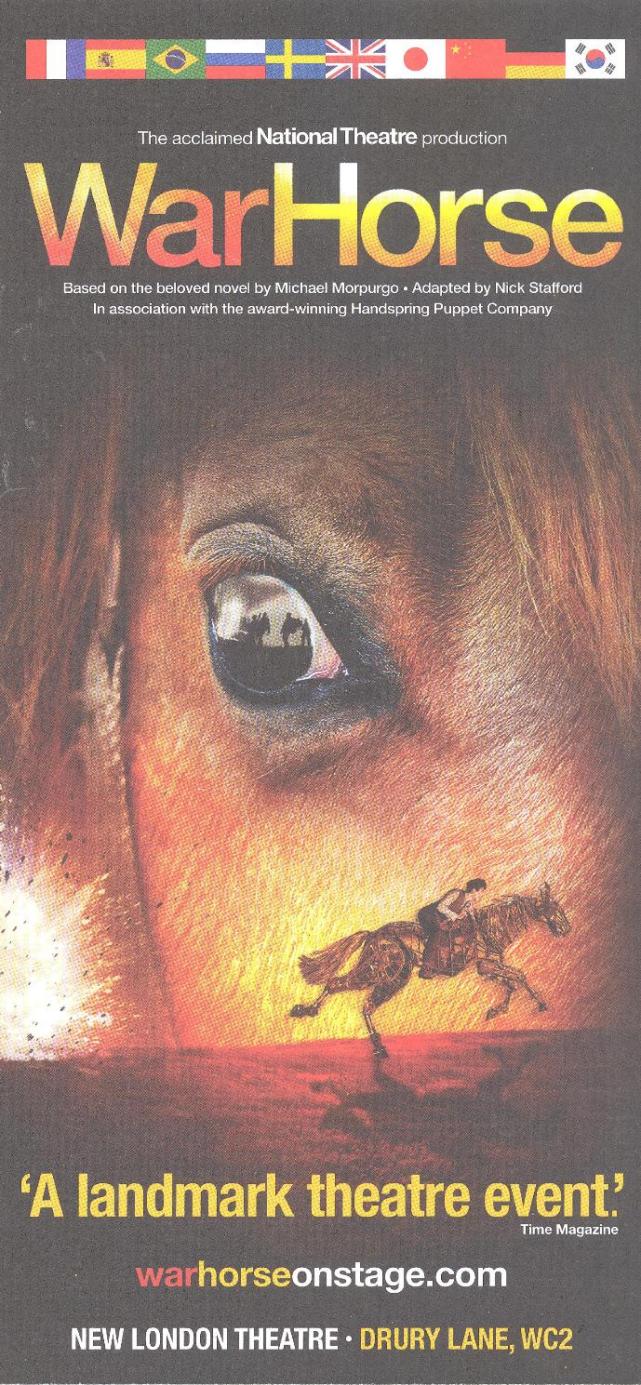 We got two tickets in the circle / dress circle (there is only one balcony) to see War Horse at the New London Theatre in Drury Lane. We paid £75 for the two to Amazon Theatre, but when we got the tickets they were only £35 ones, so we didn't manage to get a discount this time. We had been to this theatre before - to see Steven Gattly in Joseph and His Amazing Technicolour Dreamcoat, I think - but that was a long time ago, perhaps 2003. The New London Theatre is newish as the name implies - it was built in 1973. It is fine spacious modern building. Both the stalls and the one balcony are steeply raked, and I think everyone would have a good, uninterrupted view of the stage, wherever they sat. There are also plenty of toilets. We must try to remember this theatre for the future. We we in seats D38, and D39.
War Horse is a terrific story, and it was told very well in this excellent production. The Handspring Puppet Company(from South Africa) work astonishing, life sized puppets of the horses and other animals in this story - eg birds, and a quarelsome goose, and whilst you can see the puppeteers you concentrate on the puppets and are hardly aware of the puppeteers. That said, it was very evocative when one of the main horses gave up the struggle and died. We knew the horse was dead and not just collapsed when we saw the puppeteers crawl out from the horse puppet, and roll off the stage.
The story opens with a foal, played by a foal sized puppet, taking its first steps in a meadow, and then it is full sized horse. Next it is at auction, and is bought by one drunken brother/ farmer outbidding his rival brother/farmer, but paying too much. The winning brother has a son who looks after the new horse, names the horse Joey, and horse and son bond. I am sure the rest of Michel Morpurgo's War Horse story is well known, and all of it is here in this production. The play is billed as a drama, but I was surprised at how much music there was - poignant folk songs of the country, and war time songs. The brutality and horror of war are all here, but it is not black and white, one side good, one side bad, and we saw good and bad people caught up on both sides of a terrible war. There was also plenty of light and shade, lots of humour not just solid gloom. And of course there is a happy ending. To fit everything into the time available, some of the events had to be rushed over - at the end, boy and Joey are re-united in France, but two plods round the rovolving stage and they are back on the farm in Devon to an emotional homecomming. But this is not really a criticism - just the way things have to be.
I think the production, the large cast, the skillful puppeteers, the light and shade, the music, the terrific story telling were all excellent. Definitely a 5 star show ! But above all, what terrific puppets! Theatre at it's best.
Links to West End Show index and home page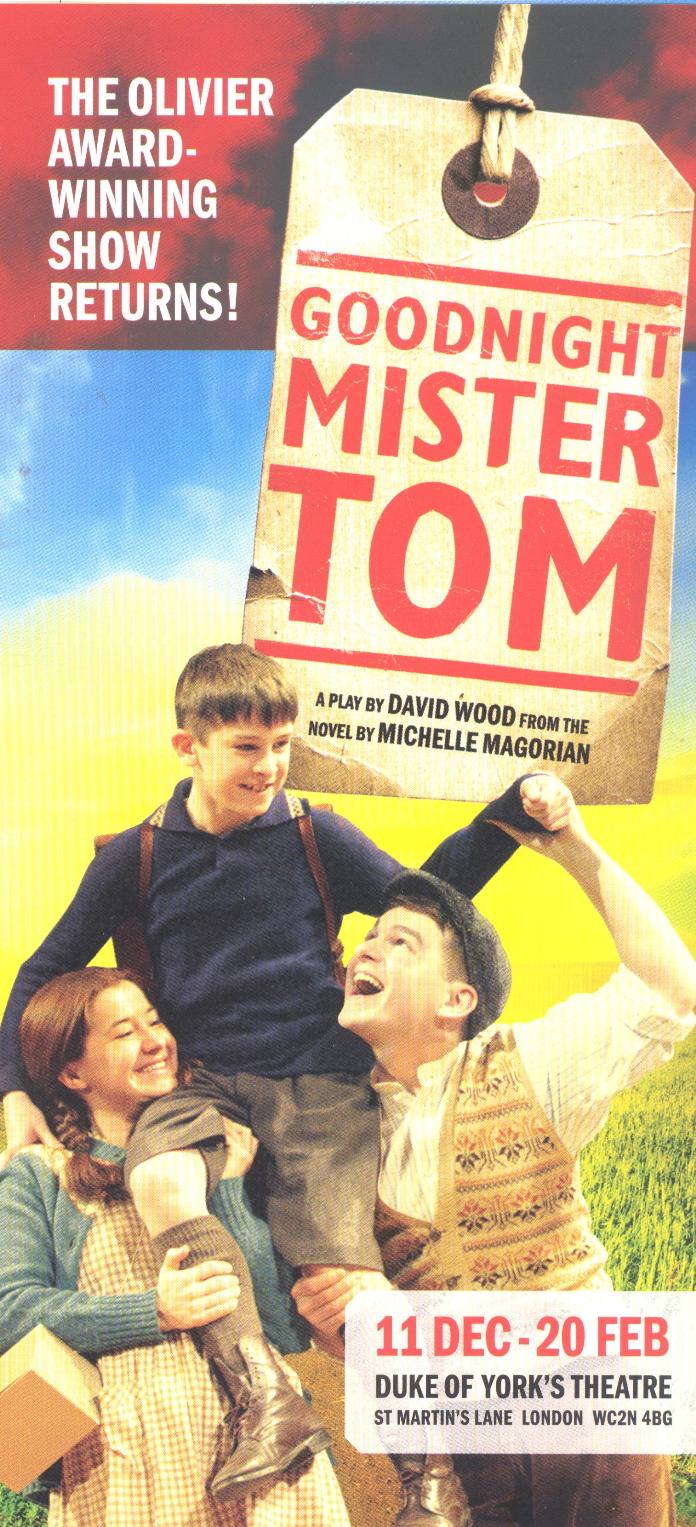 We booked two tickets to see Goodnight Mr Tom on the Love Theatre web site. They were doing twelve days of Christmas daily deals in the run up to Christmas, and we paid £42.50 each for two good seats (D7, D8) in the Royal Circle. We could have paid £32.50 for two seats a couple of rows back, but the £42.50 deal included two Love Theatre vouchers for a two course meal. We did have a good meal at Porcupine on Charring Cross Road. The play was at the Duke of York theatre in St Martin's Lane. It's a smallish theatre, built, I think I read, in 1892. It could do with more toilets, but you can say that of most old theatres. When we collected the tickets we were surprised to hear a very familiar tune - they were rehearsing for the Peppa Pig Show due to open in a couple of days time.
Most people know the Goodnight Mr Tom story from the excellent BBC TV film starring the incomparable John Thaw. Sadly this rather spoiled the theatre version - it was not nearly as good as the film. We were underwhelmed by the first half, but the second half was a lot better.
I started off being very disappointed by the production - a very plain set not worthy of a West End setting. But that said, it was simple, no gimmicks, probably appropriate, and it worked.
The actor playing the lead role of Tom Oakley, David Troughton, was very good, he got the pace just right, and he did a very convincing Dorset / country accent. The two main child actors playing, William, the evacuee, and Zac, his best chum, were also very good. There were a lot of children in the audience - including one party of 60 children who entered the theatre just after us. Their giggles when the stage children discussed where babies came from were delightful. There was also audience laughter at the flimsiness of a door on the stage - the actor pretending to batter it down had to hold on to it at the same time to prevent it falling down too soon.
Overall, it's a good story, and its well done - but it lacked the sparkle you would expect of a West End theatre production. Most of all, we had simply seen the John Thaw film too many times and that spoiled it for us. I think the fault was ours. I would give the production 6 out of 10.
Links to West End Show index and home page