Iain's Leisure Reading
I guess Sherlock Holmes might win the vote for the most famous detective in English Crime Fiction, but who would win the vote for the most famous writer ? Might it be Dame Agatha Christie, whose books have sold over 2 billion copies, reportedly only behind those of The Bible and Shakespeare ? In total Agatha Christie wrote over 75 novels, including 66 crime novels, and of these about 26 featured her famous Belgium detective Hercule Poirot, and 12 to 15 featured Miss Marple, an elderly, prim, genteel spinster who lived in the English village of St Mary Mead. Agatha also wrote romantic fiction under the pen name of Mary Westmacott, wrote lots of short stories, wrote poems, and is the author of the most famous of all plays - the extremely long running "The Mousetrap" which opened on the West End in 1952!
Agatha Christie was born in 1890 in a part of the English country that we often visit - Torquay in Devon. She was born into a wealthy middle class family. She met her future husband just before the first world war (Colonel Archibald Christie) and when he was sent to the Western Front, she worked with the Voluntary Aid Department in a dispensing chemists where reportedly she gained her knowledge of medicines and poisons. Her writing career began after the war in response to a challenge from her sister to write a detective story. Her first book "The Mysterious Affair at Styles" featured Hercule Poirot, and was published in 1920. 55 years later, she finished where she began. She published her last book in 1975 - "Curtain" where she killed off Poirot.
1926 was a terrible year for Agatha - her mother died, and her husband asked for a divorce. Agatha disappeared, but was eventually found living in a hotel where she had registered under the name of the woman Archibald Christie now wanted to marry. Agatha travelled extensively , and met and married her second husband, the famous archeologist Sir Max Mallowen. They met in Ur in Mesopotamia, and Agatha helped Max with his excavating. Her travels informed such novels as "Murder on the Orient Express", "Murder in Mesopotamia" amd "Murder on the Nile".
I think I read somewhere that Agatha Christie was not only a good writer but also a very successful and very wealthy business woman who held the rights to all her work in a company where she always maintained a majority and controlling interest, and this she bequeathed to her heirs when she died in January, 1976. We not only know the place where she was born, but we also know well the place where she died - Wallingford, in Oxfordshire.
The character of Miss Marple is based on Agatha's step grandmother / aunt - Margaret Miller - and her cronies. She was like so many old ladies whom she met in so many villages where she went to stay as a girl. The story goes that Christie wrote a Poirot novel "The Murder of Roger Ackroyd" (1926) which had an old lady character called Caroline Shepherd. Michael Moreton adapted the novel for the stage, but replaced the character of Caroline with a young girl. This change saddened Christie. She determined to give old maids a voice : hence Miss Jane Marple.
Just as Dexter made a false start to the Inspector Morse books (Lewis was older than Morse in book one, but younger thereafter), so Christie changed the character of Miss Marple from book one in 1930, to book two in 1942 and later books. In book one she was a not very nice, nasty old gossip, always thinking the worst of others, and avoided by her fellow citizens in St Mary Mead. She softened a lot in later books, and was now loved and respected in St Mary Mead. The crimes she solves remind her of parallel incidents that happened in St Mary Mead. She is able to latch on to a seemingly casual comment and connect it to the case at hand. In several books she uses her acquaintance with Sir Henry Clithering, a retired commissioner of the Metropolitan Police, to get access to official police information. Miss Marple never married, but had two younger sisters, one the mother of her nephew Raymond who occasionally lends a hand and gives some financial support. Miss Marple also employs a succession of young girls from a nearby orphanage and trains them for later service as general housemaids. Miss Marple is not an aristrocrat, but is at home in their company. She is a female version of that standard of crime fiction - the gentleman detective. Thus think of her contempory writer Dorothy L Sayers and her creation Sir Peter Whimsey. Miss Marple's other sister was the mother of Mabel Denham who was accused of poisoning her husband in "The Thumb Mark of St Peter."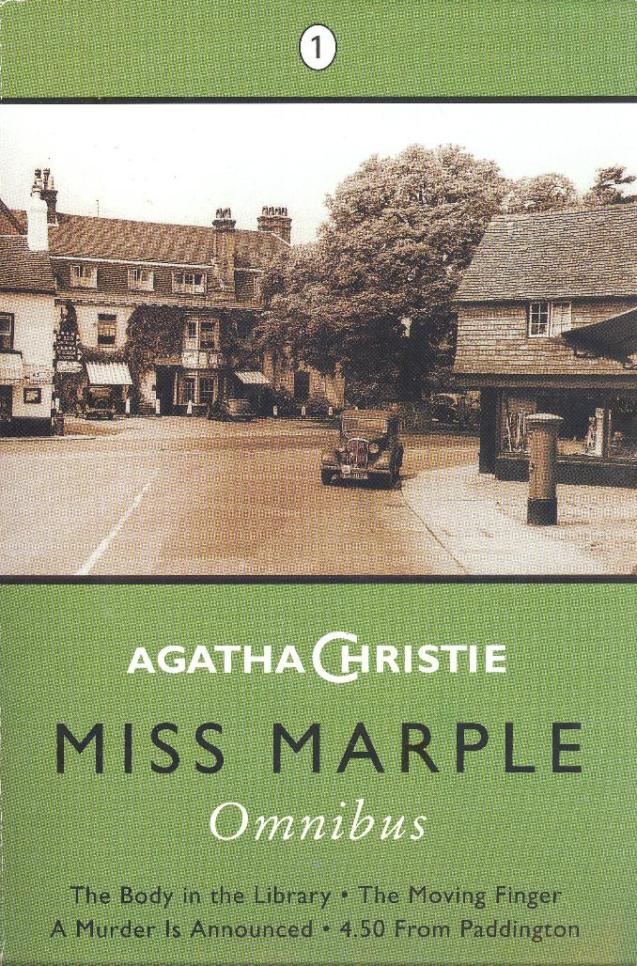 I read this book in Nov, 2018.
I have put off reading Agatha Christie up to now, because I thought it was all very old fashioned - an almost aristrocratic world of butlers, country houses, servants, and good manners. Miss Marple sits quietly in the background, but solves some baffling cases - there are clues, red herrings, but finally enlightenment when typically all meet in the drawing room to have the mystery explained. This then is my preconception. But I have decided to give the old girl a go - after all she outsold everyone, so she must have been been getting something right. I have started on book two of the 12 book series because Miss Marple's character changed after book one - i.e. I have opted for consistency. One further comment in this introduction. The date of the book is 1942 - you would think there would be some mention of that terrible war raging at the time, but no. Perhaps people wanted to escape in their reading to an idealised English country village - St Mary Mead.
The book I read had a preface by Agatha Christie saying she wanted to write a "body in the library" story, but one with a difference. This story opens with two friends of Miss Marple. Colonel and Mrs Bantry are wakened early in the morning by one of their maids who is somewhat hysterical. She tells them that there is a dead body in their library. They are not sure they have heard the girl correctly, but investigate, and sadly it's true. It's a beautiful young girl, later identified as the dancer / hostess Ruby Keene. The police are called in - Inspector Slack, Colonel Melchett, head of the county's police force, and Superintendent Harper of the neighbouring force. We also meet Sir Henry Clithering, a retired commissioner of the Met, who is well in with the local police, and a friend of Miss Marple. The cast expands. We meet Mr Conway Jefferson, a lonely, wealthy old chap whose wife and two children died in an aeroplane accident some 8 years ago. He now only has has his daughter in law, Adelaide (Addie) and son in law Mark for company, and they are now not unreasonably thinking of moving on, and starting new lives and possibly new loves. So Conway has had his head turned by a young gold digger, the dead Ruby Keene. Ruby had danced at the Majestic ballroom in nearby Danemouth. Also at the Majestic were Josephine, who danced and played bridge with the guests, and Raymond, a dancer and tennis coach. There is also a flash young man (allegedly a film producer) who has recently moved into St Mary Mead - Basil Blake. Finally Hugo is Adelaide Jefferson's friend to whom she turns in times of need. And I almost forgot, a young girl guide has gone missing and a charred female body has been found in the burned out remains of a car found in a quarry.
Mrs Bantry calls in her friend Jane Marple to get an explanation as to why there was a body in their library. St Mary Mead is a small village, and Colonel Bantry is now persona non grata. Rumours say the young girl was his illegitamate daughter, or he was having an affair, or worse. Col Bantry is completely innocent, but is shunned ! Can Miss Marple solve the murder(s) and restore the poor man's reputation ?
There is not much of Miss Marple at the start of the story. We follow the police investigations, and a well told story enfolds. Yes, they all speak a bit funny to modern ears, are all deferential, and yes Col Banbury has a butler called Edwards. But it's a good story that held my interest. As expected there are lots of clues given - some are red herrings, some are not, but which is which ? At the very end of the book Miss Marple has unmasked the murderer. I had no idea who did it - I don't think many would guess at how the murder was done, nor by whom. The murder plan was a bit contrived, and I thought in "true life " a lot could and would have gone wrong. But the plan worked, and they would have got away with it had it not been for Miss Marple's super sleuthing.
All in all, I liked the story, and wasn't bothered at all by it's antiquity. I am quite looking forward to the next story.
Links to author index and home page