Iain's Leisure Reading
I guess Sherlock Holmes might win the vote for the most famous detective in English Crime Fiction, but who would win the vote for the most famous writer ? Might it be Dame Agatha Christie, whose books have sold over 2 billion copies, reportedly only behind those of The Bible and Shakespeare ? In total Agatha Christie wrote over 75 novels, including 66 crime novels, and of these about 26 featured her famous Belgium detective Hercule Poirot, and 12 to 15 featured Miss Marple, an elderly, prim, genteel spinster who lived in the English village of St Mary Mead. Agatha also wrote romantic fiction under the pen name of Mary Westmacott, wrote lots of short stories, wrote poems, and is the author of the most famous of all plays - the extremely long running "The Mousetrap" which opened on the West End in 1952!
Agatha Christie was born in 1890 in a part of the English country that we often visit - Torquay in Devon. She was born into a wealthy middle class family. She met her future husband just before the first world war (Colonel Archibald Christie) and when he was sent to the Western Front, she worked with the Voluntary Aid Department in a dispensing chemists where reportedly she gained her knowledge of medicines and poisons. Her writing career began after the war in response to a challenge from her sister to write a detective story. Her first book "The Mysterious Affair at Styles" featured Hercule Poirot, and was published in 1920. 55 years later, she finished where she began. She published her last book in 1975 - "Curtain" where she killed off Poirot.
1926 was a terrible year for Agatha - her mother died, and her husband asked for a divorce. Agatha disappeared, but was eventually found living in a hotel where she had registered under the name of the woman Archibald Christie now wanted to marry. Agatha travelled extensively , and met and married her second husband, the famous archeologist Sir Max Mallowen. They met in Ur in Mesopotamia, and Agatha helped Max with his excavating. Her travels informed such novels as "Murder on the Orient Express", "Murder in Mesopotamia" amd "Murder on the Nile".
I think I read somewhere that Agatha Christie was not only a good writer but also a very successful and very wealthy business woman who held the rights to all her work in a company where she always maintained a majority and controlling interest, and this she bequeathed to her heirs when she died in January, 1976. We not only know the place where she was born, but we also know well the place where she died - Wallingford, in Oxfordshire.
The character of Miss Marple is based on Agatha's step grandmother / aunt - Margaret Miller - and her cronies. She was like so many old ladies whom she met in so many villages where she went to stay as a girl. The story goes that Christie wrote a Poirot novel "The Murder of Roger Ackroyd" (1926) which had an old lady character called Caroline Shepherd. Michael Moreton adapted the novel for the stage, but replaced the character of Caroline with a young girl. This change saddened Christie. She determined to give old maids a voice : hence Miss Jane Marple.
Just as Dexter made a false start to the Inspector Morse books (Lewis was older than Morse in book one, but younger thereafter), so Christie changed the character of Miss Marple from book one in 1930, to book two in 1942 and later books. In book one she was a not very nice, nasty old gossip, always thinking the worst of others, and avoided by her fellow citizens in St Mary Mead. She softened a lot in later books, and was now loved and respected in St Mary Mead. The crimes she solves remind her of parallel incidents that happened in St Mary Mead. She is able to latch on to a seemingly casual comment and connect it to the case at hand. In several books she uses her acquaintance with Sir Henry Clithering, a retired commissioner of the Metropolitan Police, to get access to official police information. Miss Marple never married, but had two younger sisters, one the mother of her nephew Raymond who occasionally lends a hand and gives some financial support. Miss Marple also employs a succession of young girls from a nearby orphanage and trains them for later service as general housemaids. Miss Marple is not an aristrocrat, but is at home in their company. She is a female version of that standard of crime fiction - the gentleman detective. Thus think of her contempory writer Dorothy L Sayers and her creation Sir Peter Whimsey. Miss Marple's other sister was the mother of Mabel Denham who was accused of poisoning her husband in "The Thumb Mark of St Peter."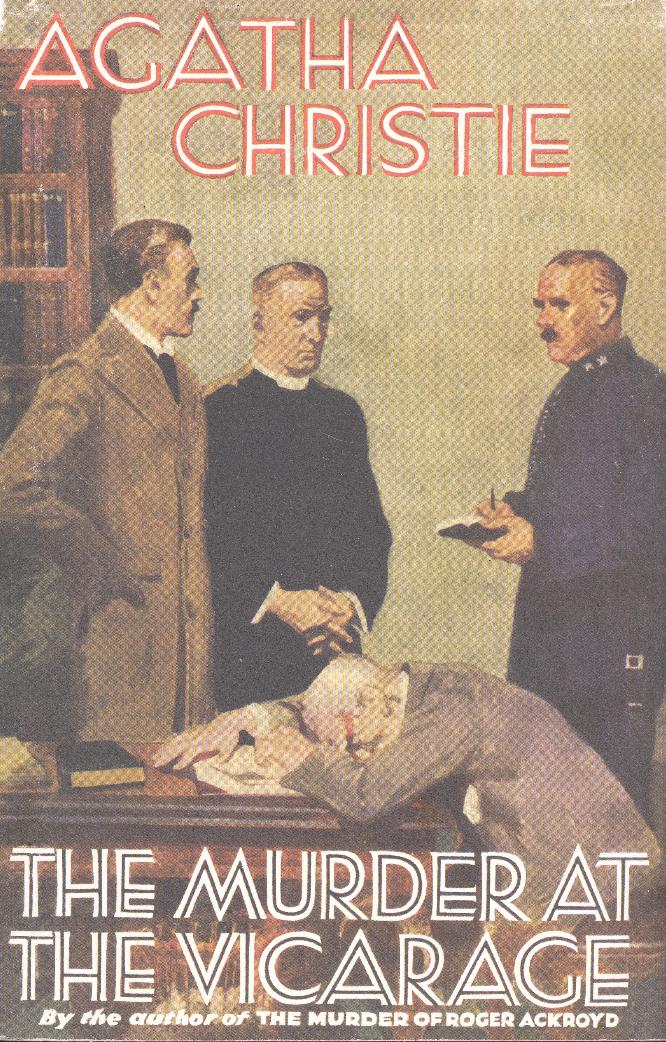 I read this book in Jun, 2020.
Usually I start reading a series at book one, but I had deliberately decided not to do that in this case. I had read that Agatha Christie had made a false start, and had got the Miss Marple character wrong. Supposedly the 1930 version was a vicious old lady gossip, spying on her neighbours, much detested in her local village, but the character softened in the rest of the series to a dear old lady much loved and respected. This view was overstated I think - the Miss Marple of book one is much the same, although I will concede she is softened later on. I should really have started at book one - it's a cracking story, a real puzzle, and completely and convincingly explained by Jane Marple at the end of the book.
The book is set in the little village of St Mary Mead, and we meet quite a list of characters who almost all seem to be possible suspects. The story is being told by the local vicar, Rev Len Clement, and he lives with his 20 years younger wife Griselda, and his 16 year old nephew Dennis. Griselda is not a very good housewife nor cook. They have a grumpy housemaid Mary, who cooks for them, but not very well. Hawes is the curate and he is not in the best of health - he was a victim of sleeping sickness which may have left a mental scar. Colonel Lucius Protheroe is the local "flog them and hang them" magistrate - somewhat deaf he seems to shout at everyone, and is much hated. As church warden he is about to investigate possible money going astray from the weekly church collection. He is rich, and lives in the Old Hall (butler and servants) with his second and younger wife Anne, and his daughter (from the first marriage) Lettice. Lettice and Anne do not get on well. Anne is having a secret affair with a handsome young artist Lawrence Redding. Dr Haydock is the local doctor. A famous archeologist Dr Stone is excavating a local site, and he has a young assistant Miss Gladys Cram. There is a mysterious stranger, Mrs Lestrange, who has just moved into the village. Not everyone is what they appear to be! As vicar's wife, Griselda is hosting an afternoon tea session with various old village "biddies" - Miss Price Ridley, Miss Wetherly, Miss Hartnell and "that terrible Miss Marple". Such is the introduction to one of the most famous detectives in crime fiction.
It is Colonel Protheroe who is murdered, sitting alone in the vicar's study awaiting Mr Clement's return. The vicar had been summoned to attend a poorly parishioner - but it proved to be a hoax. It did however get the vicar out of the vicarage. The colonel had been shot by a bullet fired from Redding's gun which is lying on the floor. The vicar returns to be met by an agitated Redding leaving the vicarage - the vicar enters his study and finds the body there. The police are called - Contable Hurst, the village bobby, Inspector Strange, and the chief constable Colonel Melchett. Strange does not welcome input "I'll get your information when I ask for it", and so when a time line is being constructed around when was the crime committed, and who was where, and when, the vicar cannot get him told that the vicarage clock is deliberately kept 15 minutes fast. A gun shot "in the woods" was heard by some, but not others. Redding soon confesses to the murder but it's only the start of the story - obviously a false confession, or is it? Anne Protheroe also confesses ! Colonel Melchett asks who next ?
And so, it's an old fashioned "who done it" with lots of red herrings. One suspect turns out to be a common thief, not a murderer. Lot's of people seem to have known each other long ago. Initially it seemed the amateur detective was to be the local vicar - a good choice I thought, as everyone trusts him, and tells him things in confidence. It's all done expertly. I was impressed, and didn't manage to work it out for myself before Miss Marple gave us and the police the solution with impressive logic. Miss Marple is a student of human nature - there is not much else to do in a place like St Mary Mead, she explains - and she analyses character by comparison with people and types she knows. She had solved petty village mysteries and now was testing herself on a a grander scale, an actual murder in the local vicarage.
I was surprised at how good the book was, and I can see where the "queen of crime writers" title came from.
Links to author index and home page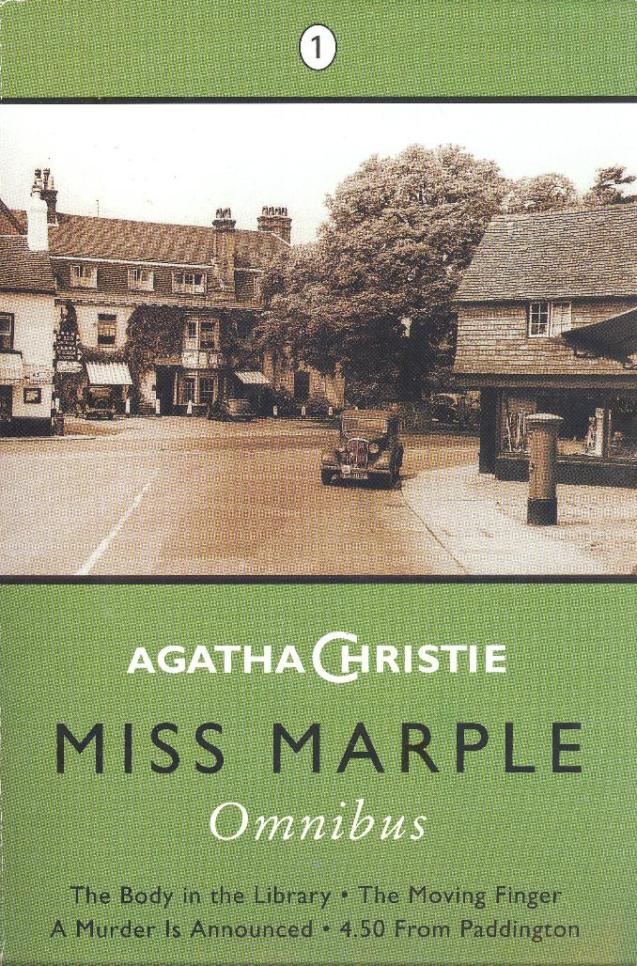 I read this book in Nov, 2018.
I have put off reading Agatha Christie up to now, because I thought it was all very old fashioned - an almost aristrocratic world of butlers, country houses, servants, and good manners. Miss Marple sits quietly in the background, but solves some baffling cases - there are clues, red herrings, but finally enlightenment when typically all meet in the drawing room to have the mystery explained. This then is my preconception. But I have decided to give the old girl a go - after all she outsold everyone, so she must have been been getting something right. I have started on book two of the 12 book series because Miss Marple's character changed after book one - i.e. I have opted for consistency. One further comment in this introduction. The date of the book is 1942 - you would think there would be some mention of that terrible war raging at the time, but no. Perhaps people wanted to escape in their reading to an idealised English country village - St Mary Mead.
The book I read had a preface by Agatha Christie saying she wanted to write a "body in the library" story, but one with a difference. This story opens with two friends of Miss Marple. Colonel and Mrs Bantry are wakened early in the morning by one of their maids who is somewhat hysterical. She tells them that there is a dead body in their library. They are not sure they have heard the girl correctly, but investigate, and sadly it's true. It's a beautiful young girl, later identified as the dancer / hostess Ruby Keene. The police are called in - Inspector Slack, Colonel Melchett, head of the county's police force, and Superintendent Harper of the neighbouring force. We also meet Sir Henry Clithering, a retired commissioner of the Met, who is well in with the local police, and a friend of Miss Marple. The cast expands. We meet Mr Conway Jefferson, a lonely, wealthy old chap whose wife and two children died in an aeroplane accident some 8 years ago. He now only has has his daughter in law, Adelaide (Addie) and son in law Mark for company, and they are now not unreasonably thinking of moving on, and starting new lives and possibly new loves. So Conway has had his head turned by a young gold digger, the dead Ruby Keene. Ruby had danced at the Majestic ballroom in nearby Danemouth. Also at the Majestic were Josephine, who danced and played bridge with the guests, and Raymond, a dancer and tennis coach. There is also a flash young man (allegedly a film producer) who has recently moved into St Mary Mead - Basil Blake. Finally Hugo is Adelaide Jefferson's friend to whom she turns in times of need. And I almost forgot, a young girl guide has gone missing and a charred female body has been found in the burned out remains of a car found in a quarry.
Mrs Bantry calls in her friend Jane Marple to get an explanation as to why there was a body in their library. St Mary Mead is a small village, and Colonel Bantry is now persona non grata. Rumours say the young girl was his illegitamate daughter, or he was having an affair, or worse. Col Bantry is completely innocent, but is shunned ! Can Miss Marple solve the murder(s) and restore the poor man's reputation ?
There is not much of Miss Marple at the start of the story. We follow the police investigations, and a well told story enfolds. Yes, they all speak a bit funny to modern ears, are all deferential, and yes Col Banbury has a butler called Edwards. But it's a good story that held my interest. As expected there are lots of clues given - some are red herrings, some are not, but which is which ? At the very end of the book Miss Marple has unmasked the murderer. I had no idea who did it - I don't think many would guess at how the murder was done, nor by whom. The murder plan was a bit contrived, and I thought in "true life " a lot could and would have gone wrong. But the plan worked, and they would have got away with it had it not been for Miss Marple's super sleuthing.
All in all, I liked the story, and wasn't bothered at all by it's antiquity. I am quite looking forward to the next story.
Links to author index and home page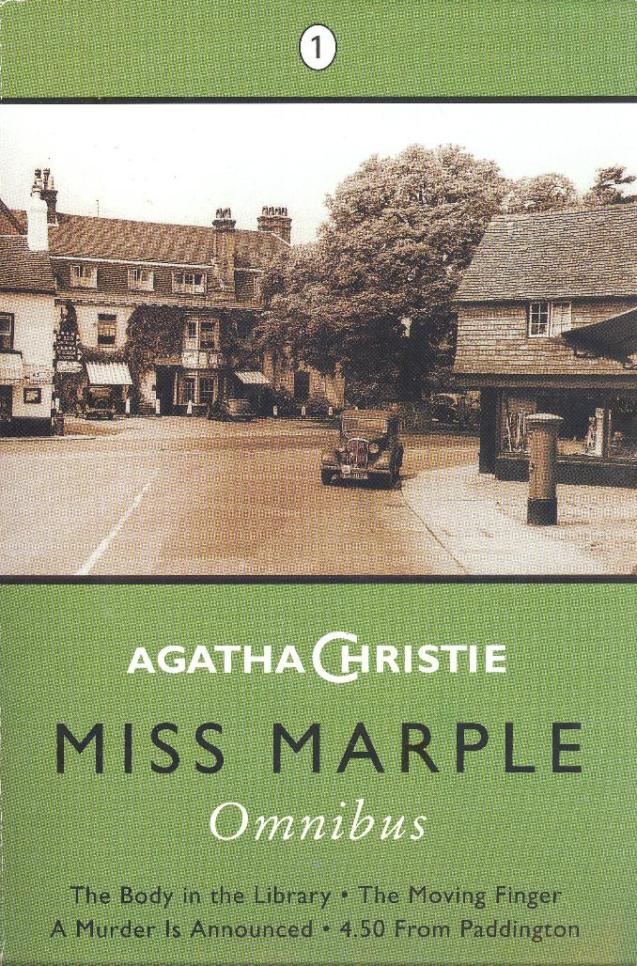 I read this book in Dec, 2018.
This is book three in Agatha Christie's Miss Marple series, the second that I have read, and it's also the second book of four in my Omnibus. I know that I am in safe hands with Agatha Christie - one of the giants of crime fiction. Yes, it is a bit old fashioned. It is set in a mythical English country village in the 1940's (but untouched by the terrible war raging at the time), where we are dealing with gentile people who have servants, take afternoon tea, enjoy social bridge parties, etc, etc. In short it is an historical setting but Agatha perfectly captures the time and place - a time now long gone.
The story is told by a young man, Jerry Burton, who has been injured in a flying accident, but against all the odds is learning to walk again, and hoping for a full recovery. On doctor's orders he moves to a "quiet country village" - Lymstock - where he has to avoid stress and excitement, and has been advised to immerse himself in the minutia of village life. His glamorous, man eater big city sister Joanna has recently split from another of a long string of unsuitable boyfriends, and she comes to Lymstock too, to look after her brother. The place seems very friendly, and we meet lots of the locals. What a surprise then, when Joanna gets a poison pen letter. Allegedly she is living not with a brother, but with a lover - how dreadful ! Soon Jerry and Joanna discover that lots of people in the village are fellow poison pen victims. It is generally agreed that not everyone will shrug off receipt of such a vile letter. If the accusation by coincidence just happens to be true, or the recipient is depressed, or mentally unstable then tragic things might happen. And so the local lawyer's wife Mrs Symmington is later found dead. Had she committed suicide, shamed on receipt of such a letter? The poison pen crank must be found before further mysery is caused, but sadly not in time to save poor Agnes - murdered and her body hidden in a cupboard under the stairs. The police have been called in - Superintendent Nash of the local police, and an expert from London. They are both very confident of always getting the culprit, but somehow we know that will not happen in this case - cue Miss Marple.
Amongst all the villagers (suspects) we also meet Megan, a strange tomboy / young woman. She behaves as if she were a child, is gauche, has no clothes sense, but she is a grown 20 year old adult. Megan is unloved at home - her mother married again and started a new family with whom Megan lives, but seems to be ignored by everyone - nobody cares/ notices where she goes, nor what she does. Jerry befriends this strange "child". She is seeing him off at the railway station when on impulse he hauls her into his carriage and takes her into the city for new clothes and what we would now call a makeover. The ugly duckling has been transformed, and predictably Jerry falls for Megan.
The search for the poison pen writer is getting nowhere, and we are about two thirds of the way through this tale, and so the vicar's wife calls in an expert of her own - a quiet unassuming old lady rejoicing under the name of Miss Marple.

Of course Miss Marple soon solves the case. Just about everyone in the village had been presented as the likely culprit, and I had my own suspect, but Agatha Christie outfoxed me, and I guess all her readers. The ending really was a surprise, which of course I won't spoil. Order is restored at the end, both Jerry and Joanna are soon to get married, and apparently everyone will live happily ever after.
I liked the story. It's not riveting, page turning, crime fiction, but it's good escapism, and a good read. What's wrong with that ?
Links to author index and home page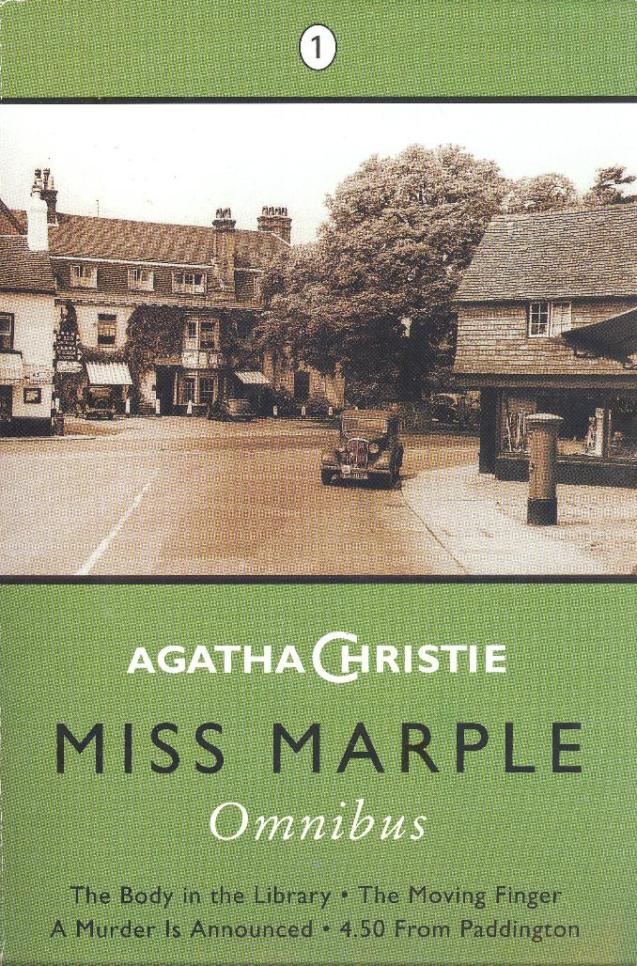 I read this book in Dec, 2018.
This is book four in Agatha Christie's Miss Marple series, and it's book three in the omnibus that I am reading and also the third Miss Marple book that I have read. Agatha Christie has a reputation as the queen of crime fiction and now that I am reading these stories I can see why she has earned this title. She wrote a lot more stories about Hercule Poirot, but I have concentrated on and am enjoying reading the Miss Marple ones. Yes the books are somewhat dated, and are about imaginary old ladies in idyllic English villages populated by the middle class. Her characters are retired colonels, vicars and their wives, and they live in big houses and have lots of servants. And yes again, at the end of the story, all gather together to have the plot in full explained to them, and to us. But it works because it's all done so well, and the plots are so fiendishly clever that it's almost addictive.
This story opens in a little village of Chipping Cleghorn, where we meet some of the worthies of the village - i.e. future suspects. Everyone of course knows everyone else. They are all reading the local newspaper, and are astonished to learn in the announcements section that a murder is to take place at one of the village houses (Little Paddocks) at 6:30 pm, and all friends are invited to attend. Is it a hoax, or a game - surely it cannot be a real murder? Anyway the time is noted, and lots of people turn up. Little Paddocks is the home of Miss Leticia Blacklock (Letty) who lives there with Mitzi, her maid, and several guests - Bunny, an old but now impoverished school chum, Patrick and Julia, two young distant cousins staying for a while, and Phillipa, paying for board and who works as gardener in a nearby posh house. Letty knows nothing of any murder (game or otherwise) but has opened a new bottle of sherry should guests turn up - and they do. At exactly 6:30 all the lights go out, the door opens, a man shouts "this is a hold up", flashes a torch in their faces so that they cannot see, there are two real gun shots, and then the man stumbles and there is third shot. When the lights go on there is a dead man in the hall, and Letty has blood pouring from an ear nick, but has otherwise apparently had a lucky escape. The police are called - the local Chief Constable again, the retired Scotland yard chief again, and DI Craddock and Sgnt Fletcher who are to be in charge. The dead man is a Swiss petty crook Rudi Scherz, who was working at the nearby Royal Spa hotel. It's a lot further into the story before Miss Marple turns up - she had been staying at the Royal Spa hotel and had noticed that Scherz had altered one of her cheques, and got in touch with the police when Scherz and details of the murder appeared in the the papers. Later Miss Marple relocates to Chipping Cleghorn - she is friend of the vicar's wife - to help solve the murder.
Of course the alleged hold up is not what it seems, nor are many of the people who they claim to be. Although Letty had no money as motive for theft, she had worked for and helped a very rich but childless financier - he had died and in his will had left his fortune to his wife, and on her death to his former assistant Letty. If Letty died before the wife who was old and in very poor health the money would go to his family relatives - two children of his estranged sister Sonia called Pip and Emma- and if the wife died before Letty, Letty got the money, and on her death, her heirs. So now we do have a possible motive for murder. Letty also had had a sister Charlotte who died a long time ago.
It all gets even more complicated, and there are more deaths. There are lots of red herrings - I fell for one for a while as I was intended to, but there were lots of other clues, and I did correctly identify the murderer at the second attempt - but couldn't see why. Hence of course, the long and necessary explanation at the end of the story.
I thought it was a very clever, ingenious story, and was impressed at Agatha Christie in firstly thinking up such a plot, and then in getting it down on paper in such a readable, tension building (Miss Marple even goes missing, fears for her safety) way. Well done, Miss Christie !
Links to author index and home page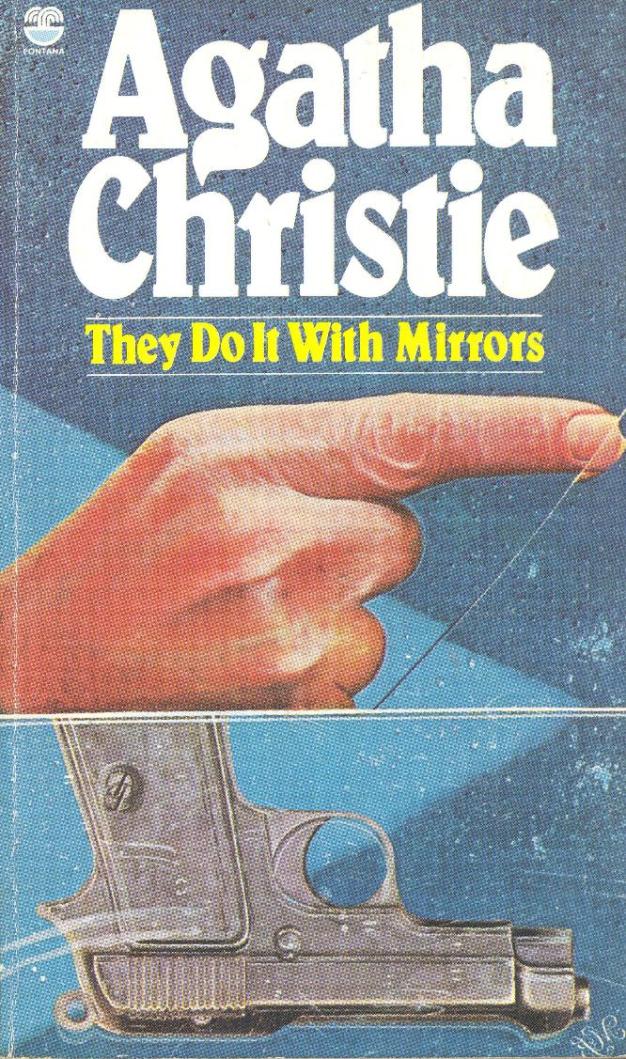 I read this book in Nov, 2019.
This is book 5 in Agatha Christie's Miss Marple series, and is a lovely, typical example of the genre full of all the author does so well - red herrings and misdirections galore. Eventually we end up in Stoneygates, a country house setting, with seven heirs to an old lady's fortune, one of whom is a master of deception and a murderer. The whole book is about misdirection techniques comparable to those used by a stage magician. Everyone now knows that the girl in the cabinet is really two girls, and what you see may be only a reflection - hence the title "They Do it With Mirrors". In the grounds of Stoneygates, and as an act of philanthropy, the current owners Carrie Louise and her third husband Lewis Serrocold have built a separate young juveniles detention and correction centre, and about 100 juvenile delinquents, their doctors and assorted psychiatrists live there.
Carrie Louise inherited her vast fortune when her first husband Eric Gulbrandsen died and a trust now finances Lewis's idealistic goals in life. He wants to reform the juveniles, get them to change their attitudes and give them a better start in life. Carrie Louise appears unwordly, but shares Lewis's passion for doing good. Lewis genuinely wants to reform his lads - indeed, had he more money, he would love to buy some remote island and build a reforming co-operative populated and owned by these "unfortunates." Lewis's ideals really are genuine - about the one thing that is genuine and not misdirection in this book.
Let's go back to the beginning. Miss Marple had been at school with two sisters Ruth, (Mrs Van Rydick) and Carrie Louise, (Mrs Serracold). Ruth now lives in America, but visits England often, and has kept in touch with her old friend Miss Marple. Carrie Louise never left England, but has not met Jane Marple in years - they exchange christmas cards, but never get round to meeting up. Ruth confides in Jane that she is very worried about Carrie Louise. She has returned from a visit to Stoneygates, and feels there is something dreadfully wrong there, but she doesn't know what it is. She asks Jane to investigate. She tells Carrie Louise that Jane has fallen on poor times and could do with "feeding up" and some TLC. Thus Jane Marple is invited to visit Stoneygates. All seems OK, but Jane soon comes to agree with Ruth. There is a strange collection of semi-related people living with Lewis and Carrie Louise - residuals from Carrie Louise's various marriages. Eric Gulbrandsen's son Christian runs the trust with Lewis, and visits Stoneygates twice a year. Alex and Stephen Restarick are two sons of Carrie Louise's second husband - he ran off with someone else, but the boys still live at Stoneygates. Carrie Louise and her first husband Gulbrandsen had had difficulty in conceiving, and so adopted Pippa, a beautiful girl. Then as often is the way, Carrie Louise did become pregnant, and had a baby girl, Mildred - alas rather a plain child. Mildred still lives at Stoneygates, but always seemed to be second best to the better looking Pippa. Pippa was sent to America to escape the war, married, had a daughter Gina, but died. Gina inherited Pippa's good looks, and married Walter (Wally). She dragged Wally to England to visit Stoneygates, but Wally hates it there where he a fish out of water. Gina is stunningly good looking, and Alex and Stephen Gulbrandsen are both in love with her, as is Edgar Lawson. Edgar is a permanent guest at Stoneygates, devoted to Lewis and Carrie Louise. He seems delusional. Apparently he never knew his father, and fantasises / claims that he is the son of someone famous, eg Winston Churchill, Montgomery, etc. Miss Marple sits quietly in the corner as an old dear friend of Carrie Louise.
So much for the setting. Christian Gulbrandsen makes an unexpected visit to Stoneygates. Lewis is away but Christian insists on waiting to see him - and on his return, Lewis and Christian and soon in deep and animated conversation. What were they talking about ? Apparently someone at Stoneygates is trying to poison dear, frail, Carrie Louise. Everyone is relaxing in the library when Edgar Lawson appears - he has had a mental relapse, declares that Lewis is his father, but is conspiring against him, threatens Lewis with a gun, and shouting, locks himself and Lewis in an office. Their argument can be heard plainly. Will Edgar shoot Lewis ? He does not, but someone else is killed. Carrie Louise's companion, and carer Miss Bellever (Jolly) discovers Christian Gulbrandsen's body in another office, calls the police, and Inspector Curry turns up. Everyone is a suspect, and must be interviewed. Curry does not know of Jane Marples' reputation, but his boss soon updates him, and so its Miss Marple and Inspector Curry with a mystery and a murder to solve. There are two other murders, lots of possible motives for murder, but of course it is Jane Marple that eventually reveals the elaborate misdirection and identifies "who done it."
In the end it all made sense if you can accept that someone would be clever enough to concoct such an elaborate murder. It's written well, and after a bit of a slow start - we didn't need to know of Ruth's various marriages - I hadn't a clue who the murderer might be and so had to read on. The back cover of the book said "a well written model for stories of this kind", and I agree.
Links to author index and home page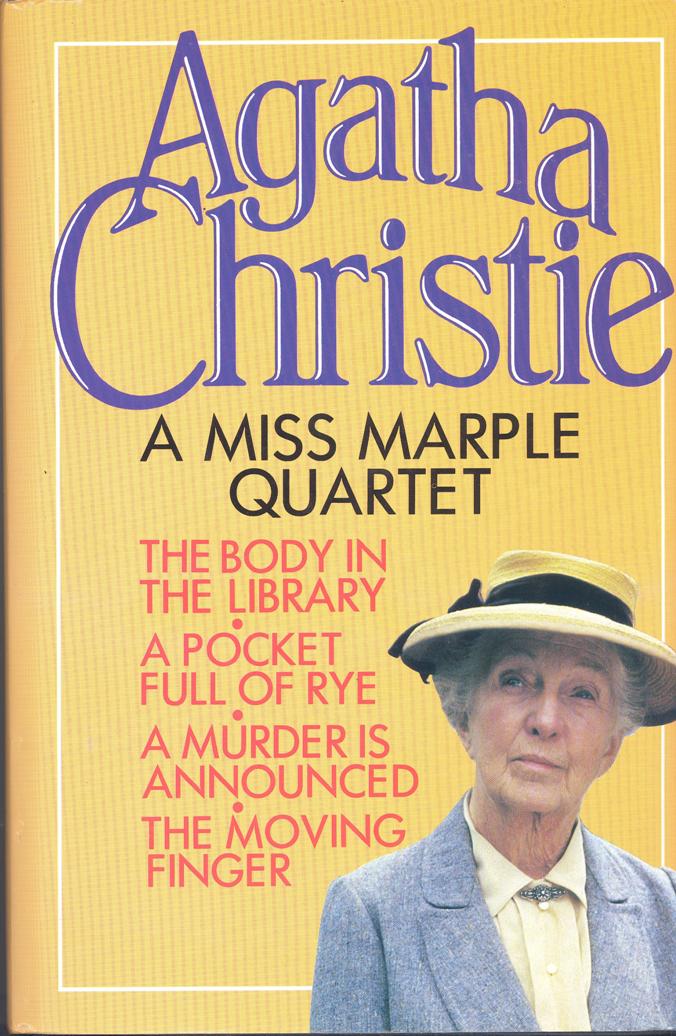 I read this book in Apr, 2019.
This is book six in the Miss Marple series by the renowned Agatha Christie. I usually try to read book series in the correct order, but I haven't been doing that with this series, and it doesn't really matter all that much here. Essentially Jane Marple is an old lady in all the books who gossips with people, observes, and uses her carefully hidden high intellect to help the police solve some baffling murders. This case is a clever story built around the nursery rhyme "Sing a Song of Sixpence, a Pocket Full of Rye" etc, and as per the nursery rhyme (the king, the queen, the maid), three people are killed.
The story starts quite slowly, and I was almost losing interest - Miss Marple doesn't appear until Chapter 11. It's funny how often the appearance of a strong main character rescues a tale. First we meet the Fortesque family. Rex Fortescue is a rather unscrupulous financier who swindles clients / treats them unfairly but apparently stays within the law. He lives in the country in Yewtree Lodge with his second wife Adele, glamorous and 30 years younger. Adele obviously only married Rex for his money. There are three children - prim Percival (or Val), rogue Lancelot and plain Elaine. Percival is married to a former nurse Jennifer, Elaine now has a boyfriend who is only interested in her money, and Lancelot, the black sheep of the family had to flea to Africa after some scandal. Rex - completely out of character - has been spending wildly, and has almost bankrupt his business, much to Percival's disgust. Rex is poisoned, and in his suit pocket the police find a handfull of grain - rye. The poison is Taxene, an extract of the Yew tree (remember Yewtree Lodge). Lancelot is now back in the country with his wife Pat. Inspector Neele from Scotland Yard is in charge, and Neele seems a clever man. It looks as if the obvious killer is the young unfaithful wife, Adele. She had been having a affair with a Mr Dubois - did he get her to murder Rex so that Adele would inherit £100,000 ? However Adele gets killed (poison too) and so it must be someone else. The third murder victim is the maid Gladys Martin - and this is how Miss Marple enters the story. Gladys was an orphan in St Mary Mead orphanage whom Jane Marple employed/ trained to be a house maid. Gladys left to work in a cafe, then ended up in service again with the Fortesques. Miss Marple turns up to tell of Gladys's background and stays on to help the police and seek retribution for the terrible killings at Yewtree Lodge. Neele and Miss Marple get along together - who will solve the murders first, we wonder? Of course, at the end, it was always Miss Marple who was to solve the mystery. There is quite a bitter sweet irony at the end, when Miss Marple returns home, and finds a letter (originally misdelivered ) from Gladys Martin. Had it turned up earlier, how different things might have been.
As with all Miss Marple stories it now all seems a bit dated - rich people in a country mansion with a butler, cook, maids and gardeners. But it was written in 1953, so of course it is of it's time. It's a clever story but in this case I thought just a little too contrived. However Agatha Christie tells a good story, and it's a good escapist read. I think I need a rest from Miss Marple now - but, at the time of writing this, there are still four books for me to read some time in the future.
Links to author index and home page



I read this book in Jan, 2019.
This is a Miss Marple story with a very famous opening. A Mrs McGillicuddy is travelling to visit her friend Miss Marple. She is sitting alone in a first class compartment on the 4:50 from Paddington, and another train is running alongside on a parallel track and at the same speed. A blind in the other train shoots up, and feet away, Mrs McGillicuddy witnesses a man throttling and murdering a woman. The man has his back to to Mrs McG, doesn't see her, and the trains part. Mrs McG. tells the conductor on her train, who doesn't believe her, and sends a message to a the station master at their next stop. Miss Marple knows her friend well, and believes her story. They expect the police to call, and the story to be in all the papers. No body is found, and so no story.
Miss Marple is well known by the police, and takes her friend to be interviewed. But with no body there is no crime to investigate ! Miss Marple decides to find the body herself - it has obviously been thrown from the train. From detailed maps, she decides the most likely spot is at a tight bend in the track as the line passes Rutherford Hall. As a woman no longer in her physical prime, Miss Marple needs someone to do the leg work for her, and so calls in a remarkable young lady, Lucy Eyelesbarrow. She is clever (1st class maths degree) and works as a domestic professional in a series of short term contracts. Typically she turns up, does everything, cooks, organises, cleans, makes herself indispensible, and then moves on. She has never before worked as an undercover detective, but it's a challenge. She goes to work at Rutherford Hall for the Cruckenthorpe family - an old man, living with his 4 sons and daughter Emma. Dr Quimper is their doctor, and he and Emma seem to be getting on well.
Lucy finds the body in a most unusual place, the police and Scotland Yard are called in, and happily Miss Marple's friend Inspector Craddock is in charge. It's a strage set up with the Crackenthorpes. Old man Crackenthorpe hates his sons because, through a complicated will, it is they who will inherit Rurtherford Hall - he only gets an income for life. Miss Marple muses about the meaning of a tontieme. Lucy Eyelesbarrow later looks it up.
There are more deaths (poison), and Dr Quimper is kept busy. And so the story unfolds. It's a good strong story, and I didn't get anywhere near spotting "who done it".
There are hints of a possible future romance for Lucy Eyelesbarrow - but with whom ? I think I have at least worked out that bit.

Definitely a good read.
Links to author index and home page



I read this book in Jan, 2019.
First of all, credit where credit is due. I like to play a game with crime mystery writers to see how soon I can spot "who done it". I got no where near this time, and the great reveal in the last chapter caught me by surprise.
This is book 9 in the Miss Marple series, and it's another little gem of a story. This one see Miss Marple in unfamiliar territory. Her nephew Raymond has bought her a holiday in the Caribbean - to recover from a bout of flu. It's wonderful weather, each day searingly hot, but there is nothing to do, and no one to gossip with - or so it seems.
We meet the hosts at the hotel where Miss Marple is staying - Tim and Molly Kendall have only recently bought "The Golden Palm" hotel. Fellow guests include a quartet of friends - the Hillingtons, and the Macys. There is also a clergyman, and his spinster sister, a Spanish countess, and a very rich but very old businessman, Mr Rafael, travelling with his manservant Jackson, and his nurse/ secretary Mrs Walters.
One of the other guests is a harmless old bore with a glass eye, Major Palgrave who starts to tell Miss Marple another of his stories - to which she only pays half attention. He says he has met a real life murderer. A woman died in strange unexplained circumstances on the island, with the husband possibly under suspicion, but with no evidence. A similar thing happened a few years later - different names but the same result. From a photo taken by chance the Major realised it was the same man in both cases. He was about to show Miss Marple the picture of the murderer when he looked up, stared at someone over Miss Marples' shoulder, turned red in the face, and rushed off. The Major died that night. Had he seen the murderer again, and if so whom of the guests was it ?
Miss Marple was uneasy at the high blood pressure explanation for the Major's death, and set out to find out what was going on. The strength of Miss Marples is also her weakness. As a harmless old biddy she sits in a corner, perhaps chatting away, but no one takes her seriously. But when she switches to crime solving, sadly she is still not taken seriously. In the UK she has a local reputation, and friends in high places in the police force. But here she has no such friends. Mr Rafiel is almost bedridden, but he still has a sharp mind, and as he is a man, and a rich man, he is taken very seriously. So Jane enlists his help. She is aged, he is unfirm, what can they do ? There are more deaths before Miss Marple finally solves the case.
There are quite a few references to the old being overlooked. As they depart the island, Mr Rafael,who has been expected to die any day now, - for the past few years - says farewell to Miss Marple as follows :
"Ave Caesar, nos morituri te salutamus" Fortunately my schoolboy latin is not all forgotten - its something like "Farewell Caesar, we who are about to die, greet/ honour you".
A gem of a story by a good writer - yes a bit dated, but that doesn't matter.
Links to author index and home page



I read this book in Jan, 2019.
This is another outing for Miss Marple. This time it is Miss Marple's niece who is paying for a trip for her aunt. The niece thought Jane might like two weeks in Bournemouth, but Miss Marple wanted to revisit London, to see how the place had changed, and specifically to stay again at Bertram's Hotel. Everywhere in London had indeed changed, but amazingly not Bertram's Hotel - still understated luxury in a West End side street, coal fires, home baking, and rich Amercan tourists. It seems the rich Americans paid a higher price, and the eccentric English guests (bishops, army types, etc) paid a lot less - but provided the character.
Bertram's Hotel seems too good to be true - and after a while Miss Marple has her misgivings. Crumpets by the fire, whatever you want. It's not real. It's a mixture of the real and the fake (actresses working as waitresses and puting on an act), and how can you tell which is which ?
The background to this story is that some gang is very successfully committing major robberies, and getting away with it. DCI Davy is trying to crack the gang. We now meet Canon Pennyfather, a very forgetful cleric. He is booked in at Bertram's, but disappears. His disappearance is reported to the police, and DCI Davy tags along, and starts to investigate Bertrams. We also meet a dare devil adventuress who abandoned her baby daughter some 15 years ago. By coincidence, mother an daughter bump into each other at Bertrams.
All this time, Miss Marple is sitting knitting in quiet corners, and observing. The police interview her reference Canon Pennyfather's disappearance, and Davy is astonished at how much help Jane is able to give them - in this disappearance, and in a later murder at Bertrams.
The question is, who did the murder, and how are the crime gang operating - and is there some possible connection with Bertrams ?
Once again I didn't guess who the murderer was . With Agatha Christie I think you have to ignore all the likely suspects as red herrings, and think of someone that would never occur to anyone. Perhaps that might work.
I thought it was a good story with a strong opening, which then slowed a bit, and then was a terrific story all the way to the end. I really liked the DCI Davy Character. Perhaps we might meet him again in a later story ?
Links to author index and home page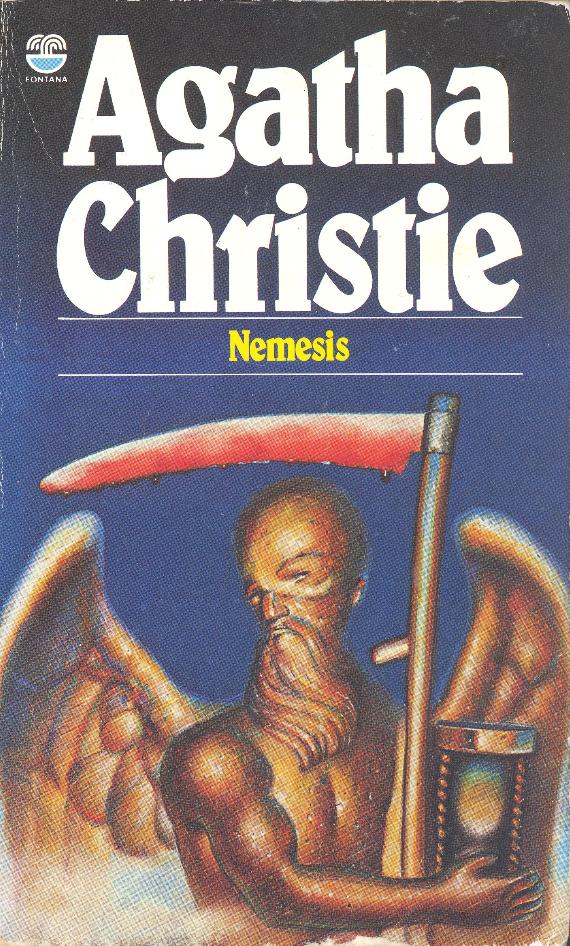 I read this book in January, 2020.
Whilst on holiday in Australia, I bought this Miss Marple book in an "Op shop" (charity shop) in Culburra Beach, NSW. It cost $1 (c 50p) - a bargain!
It's a delightful, very slow paced story told perfectly by a master story teller. It opens with a very old Jane Marple (she has a live in helper in her house in St Mary Mead) reading the obituaries in the Times. She notices the name of a man from her past - Mr Rafiel, the rich financier, who was her partner in crime in her West Indies adventure.
A week later she gets a letter from Mr Rafiel's staid London solicitors. "Could she come and meet them"? Mr Rafiel's wants her to undertake a job for him - "to avenge evil, right a wrong, and provide Nemesis" ! But there is no further information about what he wants her to do - no clues. What is required of her ? If she accepts the job , £20k is hers in a year's time, or earlier if she succeeds.
Next she is booked on to an all expenses paid, 10 day exclusive tour of stately homes and gardens. Will there be a murderer amongst her fellow tour members, or a victim ? Jane Marple is still puzzling what it is all about, but goes on the tour. On the tour bus she meets an allie in Professor Wansted - a consultant pathologist to the home office. He says he is a friend of Mr Rafiel - there to keep an eye on Miss Marple. A few days into the tour, Jane is met by three sisters who had received a letter from Mr Rafiel, an old friend of theirs. They invite her to skip a tiring part of the tour itinery, and to come and stay with them. It's at their run down Manor House, a place in some disrepair. Jane senses great unhappiness here. One of the sisters, Clotilde, had looked after the orphan daughter of her dearest friend, Verity Hunt. When she grew up, Verity had been swept off her feet by a rogue and delinquent, Michael Rafiel, Mr Rafiel's no good son. Verity had been murdered and her face bashed in with stones - clue, when a body in crime fiction is set fire to, or a face is mutilated sufficiently to make identification difficult, what does that often mean?
And so the story unfolds, slowly but surely. Along the way there were enough clues for me to work out the likely murderer - but not to work out the full story, which still contained enough surprises for a good ending.
At the very end of the book we have the usual gathering together of relevant parties. This time, it's in a room in an official government building in London, where Jane Marple takes everyone through her reasonings and provides explanations. Miss Marple - so gentle, but so ruthless ! She did bring Nemesis, and avenge a wrong. Dated, yes, but still a terrific story.
Links to author index and home page



I read this book in Feb, 2019.
This is an interesting book that was written in 1940, but not published until 1976, and so going by 1976 that makes it number twelve in the series. It's the same Miss Marples in 1940 as in later books, and it's interesting to see how she works. On the hunt for clues, she moves from shop to shop, being served only by older assistants who knew the place well, and leads her friendly gossip with them round to getting answers to the questions she really wants to ask.
I thought the book had an excellent beginning. Gwenda Reed is from New Zealand, and recently married to Giles. She is alone in England house hunting - Giles is to follow in a few months. The liner docks at Plymouth, but rather than going on to London, Gwenda books into a local hotel, hires a car and driver in the morning, and a week later chances upon a house in Dillmouth that just feels right. She buys it, moves in, and then strange things start to happen. She keeps going to a wall thinking there should be a door there - gets workmen to put a door there, and they find that there had indeed once been a door there, but plastered over. She thinks a room should make a fine nursery, and imagines the perfect wallpaper for it - but when the same workmen unlock a jammed cupboard they find it lined with exactly the same wallpaper as Gwenda had imagined. Worst of all, she thinks the place to be haunted. Did someone die there? She flees to friends in London - Joan and Raymond West - yes, Miss Marple's niece and nephew. And so Gwenda meets Jane Marple. Giles comes over to England, and is upset to find his wife in such a state. Does she need psychiatric help ? Miss Marple suggests there may be a far simpler explanation - could Gwenda have stayed in the house before, as a young child ? When Gwenda's mother had died when she was young, her father, who had married again, had sent young Gwenda to relatives of his first wife in New Zealand. The father had then also died.
And so it proves to be. Gwenda (Gwennie) did stay there as a 3 year old. She had imagined a body in the hall, and later said the body was of someone called Helen, without knowing who Helen was.
Giles and Gwenda decide to delve into Gwenda's past, and do some detective work. Miss Marple advises them to let the past sleep on - but they can't. Miss Marples is so worried for them that she then decides to have an immediate holiday in Dillmouth to be on hand. She will stay in a B&B owned by friends of friends.
And so a good murder mystery unfolds. Who murdered Helen 18 years ago - if she was murdered ? Was it Gwenda's father, or Helen's secret lover ?
Eventually there is another murder. It seems Giles and Gwenda have stirred up a hornet's nest. The rest of the story was OK, and clever in a typical Agatha Christie way.
All in all, a pleasant, slow moving, enjoyable read - slightly dated of course, but still a good read.
Links to author index and home page