Visits to the West End Theatre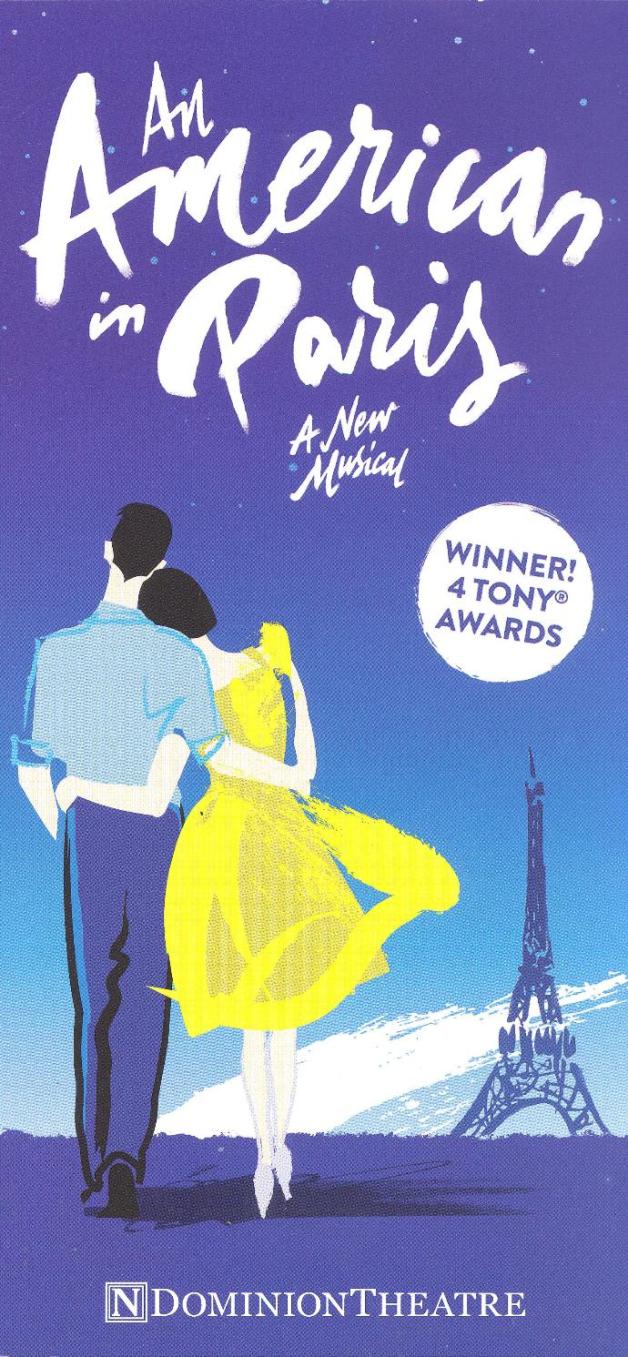 Usually when we go to the West End theatre on a day when we are unlikely to get parked at Walthamstow Central, we park at Harlow Town, take the train to Tottenham Hale, then the Victoria Line to Finsbury Park, change to the Piccadilly Line and get off at Leicester Square. Most theatres are within walking distance of Leicester Square. However, today we were off to the Dominion Theatre - at the junction of Oxford Street, and Charing Cross Road - and the nearest tube station was Tottenham Court Road, so it was as before, but change at Warren Street from the Victoria line to the Northern Line, and get off at Tottenham Court Road. The Dominion Theatre is literally 20 yards from the tube exit.
The Dominion Theatre is a big well designed theatre with good modern toilets which makes a change. I don't recall visiting this theatre before. There is only one balcony called the Circle, but within the circle there is a front part and a rear part. An American in Paris had been getting very good reviews, and seats in the front circle were still too expensive, so we moved two rows back into the rear circle - seats J42 and J43 - and only paid £62 for the two. All that was wrong with the seats was that the stage was further away than we would have preferred, but otherwise they were good seats, well raked, lots of legroom, and we could see all the action on the stage without difficulty. So I think it was value for money.
I liked the show, and thought it was worth 4 stars - in fact, the only small fault was that I wasn't quite 100% blown away. But there was so much that was good about the show. The music was by George and Ira Gershwin, and was sublime. There were lots and lots and lots of songs we now recognise as classics - "I Got Rhythm", "I'll Build a Stairway to Paradise", "The Man I Love", "Lisa, Lisa", "They Can't Take That Away From Me, " and "S'Wonderful" - and the singing and orchestra were top notch. The dancing was excellent, but not always to my taste - it was stylish, graceful, with lots of ballet sequences, but I am not really a great dance fan. I could have done with less wistful dance and more oomph - and this is why I have given it 4 and not 5 stars. But, if you like dance, it was very well done, and it will be a 5 star show for you.
Unusually for a musical I thought it had quite a good plot. It tells of a young American soldier, Gerry Mulligan, staying on in Paris after the war hoping to make it as a painter, and meeting a talented young dancer Lisa. The American also meets to other young men in Paris, and they all become good friends - the three musketeers. All three meet Lisa, and all fall in love with her. One of the three is the son of parents who hid Lisa (she is a Jew) from the Nazis in the war - and so Lisa feels duty bound to repay this kindness. So will it be duty, or love that wins out in the end - of course , it's love !
All in all, a good visit to the theatre - to a show that's well worth seeing.
Links to West End Show index and home page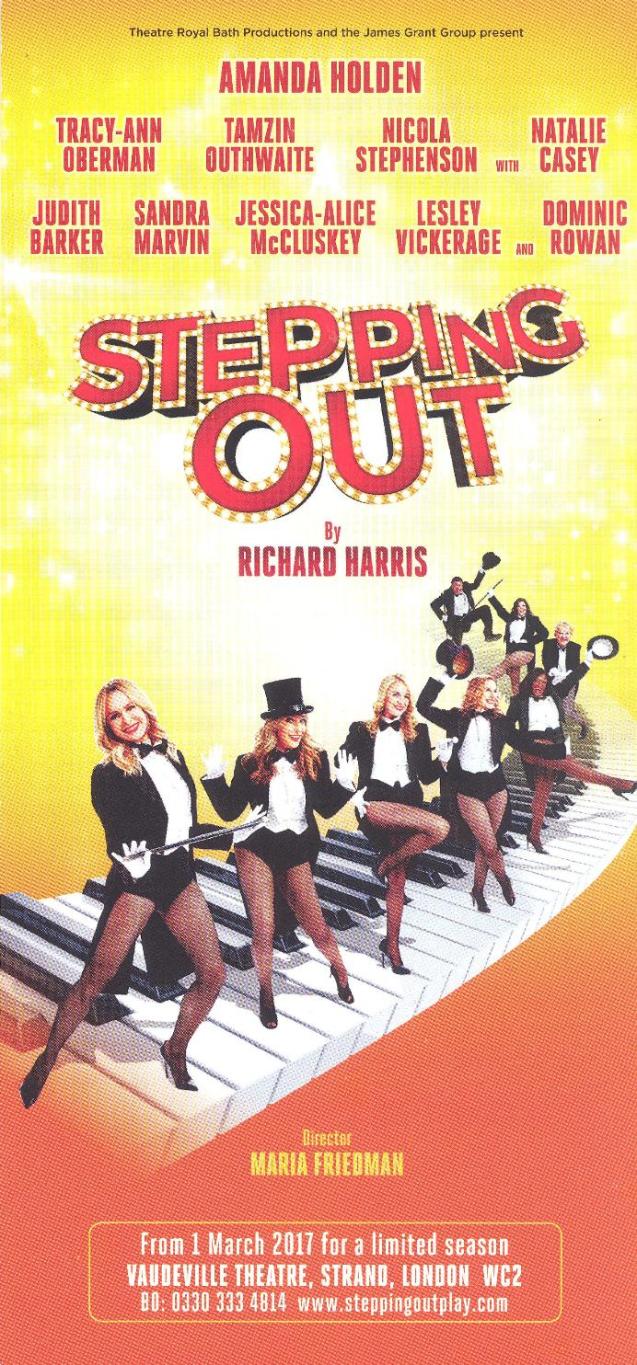 We hadn't been to the West End theatre for ages. There simply hadn't been any good discount tickets available anywhere. Our usual target is somewhere in the Dress Circle at less than £40 a ticket. We thought that perhaps the weakness of sterling might be encouraging theatre going foreign visitors to visit London, and buy full price tickets - thus removing the need to discount. Or perhaps it was simply inflation. For whatever reason, this was 30th March, and our first visit to the West End this year. We did get two discounted seats, C10 and C11, to the Dress circle in the Vaudeville Theatre on the Strand, but had to pay £42.50 each. They were labelled as slightly restricted leg room, but we are not long legged, and this was not a problem. We had an excellent view of the stage. The Vaudeville Theatre is a lovely old theatre which was built in 1870. I don't recall visiting this theatre before.
"Stepping Out" was labelled as a West End musical, and it got an enthusiastic 4 star review in the Daily Telegraph, but it was a musical with a difference, with no singing and no orchestra, and whilst it was all well done, I was a bit underwhelmed and disappointed. Yes there was dancing, but it was mostly that of non dancing actors - any West End chorus line in a normal musical would have had better dancers. But that was the point of it. The story involved a collection of mostly married women meeting in a church hall every week for their day off / day out, and learning to tap dance. There was one very shy man also learning to tap - and he got teased by the ladies. Amanda Holden played posh Vera, and she and all of the cast were very good as actors. It was a sort of feel good show where slowly we got to know each woman - one who was being beaten by an unfeeling husband, one whose husband was paying more attention to his beautiful 17 year old step daughter, one who worked for social security, one whose son was defrauding social services, etc, etc. But there was no great drama, no great confrontations, no erring husbands were tackled, but just their imperfections were alluded to. The class were to appear in an end of term charity show which gave a theme to the show, and yes they did improve and dance well on the evening - and we had a postscript return performance one year later. If I hadn't expected something else I would not have been disappointed. It was reasonably engaging, quite funny in places. I think I would give it 3.5 stars. But it wasn't really what you would expect of a substantial West End musical.
Links to West End Show index and home page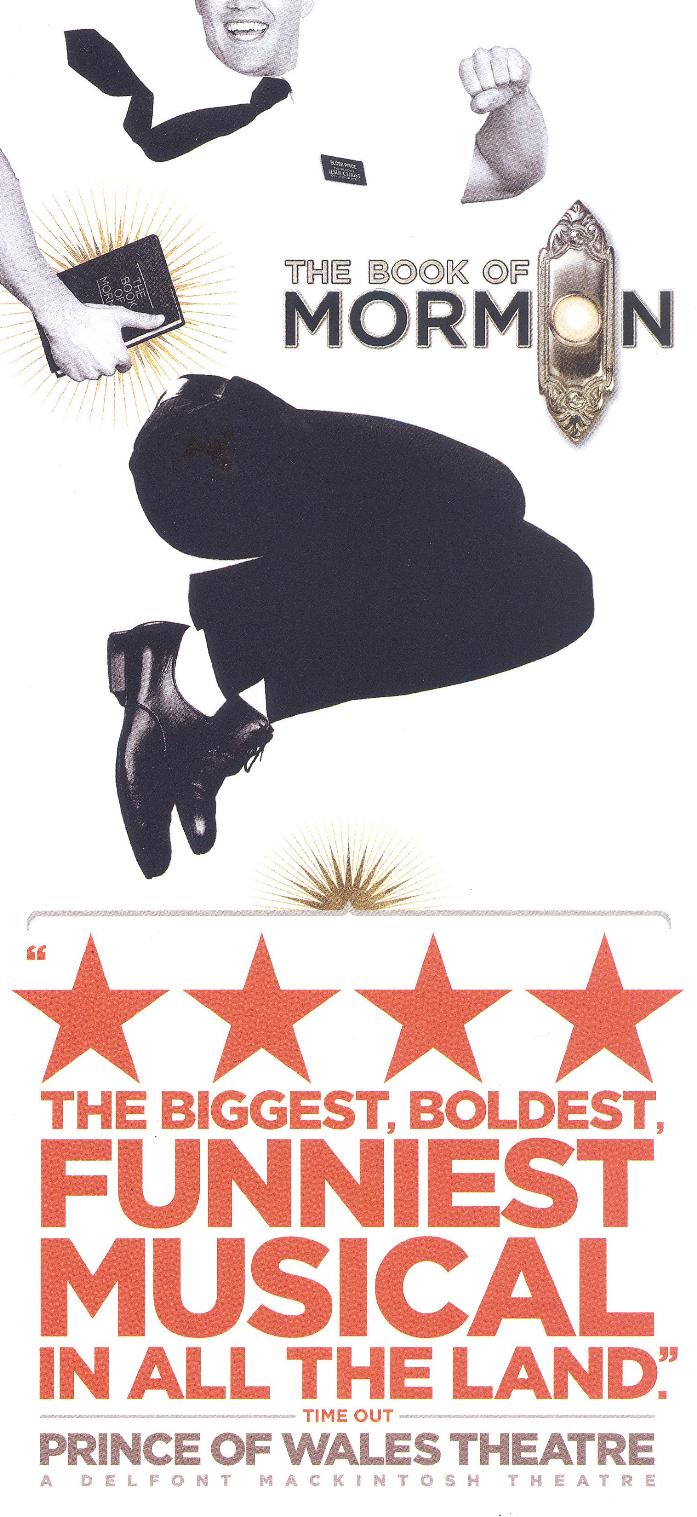 This was a starnge visit to the theatre because i wasn't quite sure what I thought of the show. I guess it was 5 stars for the performance, but only 1 star for the smutty content, so about 3 star overall.
We managed to get two discounted tickets for the show paying £79.50 for the two for the circle / dress circle (there is only one circle) and had a good view of the stage from our seats - G24 and G25. We did seem quite far back, but the circle was very steeply raked and so we had a good view of the stage. I can't remember visiting the Prince of Wales theatre before. It is in Coventry Street with Piccadilly Circus the nearest tube station, but we got off at Leicester Square as usual, and walked to Piccadilly Circus, and the theatre was a short distance away on the left hand size. Its a smallish attractive theatre with a statue of Pan ? or some classic muse which was lit with a spotlight, and rotated as the overture played. I don't know if they do this before each performance.
Wednesday, 24th May was the day after a dreadful terrorist attack in Manchester, and security had been hightened in London. We saw armed police but no one from the army. We had been advised to arrive early at the theatre to allow for extra bag searches - in an email that arrived too late for us to see before we left the house. We turned up at the theatre about 10 minutes before the start and found a huge queue snaking down the street. We did get in on time, but the performance started 10 minutes late to allow everyone to get seated.
We had been warned of adult content and humour in the show. I didn't really care for it - I thought it was puerile, smutty, and the excessive use of F words not really funny. But most in the audience seemed to find it hilarious. The story was about two Mormon missionaries - a star pupil and a not so bright one - who were sent to Africa to convert the locals. All the Africans were ignorant superstitious natives who had aids. A local war lord / general was going to kill all the villagers unless all the women in the village were circumscised / mutilated - so the villagers turned to the missionaries and the not so bright one saved the day preaching his own version of the Book of Morman - he hadn't got round to reading it. I guess it was all a gigantic send up. I didn't care for the story but I thought the cast performed brilliantly. They were enthusiastic, sang well, danced well and the leads were excellent. About half the audience gave the show a standing ovation - so perhaps I am in a minority. Leaving the theatre after the show, an American lady in front of me praised the girl lead and said she hoped she got the chance to sing better things in the future. I agree.
Overall I'd have preferred to see something better - perhaps the same cast in a different musical.
Links to West End Show index and home page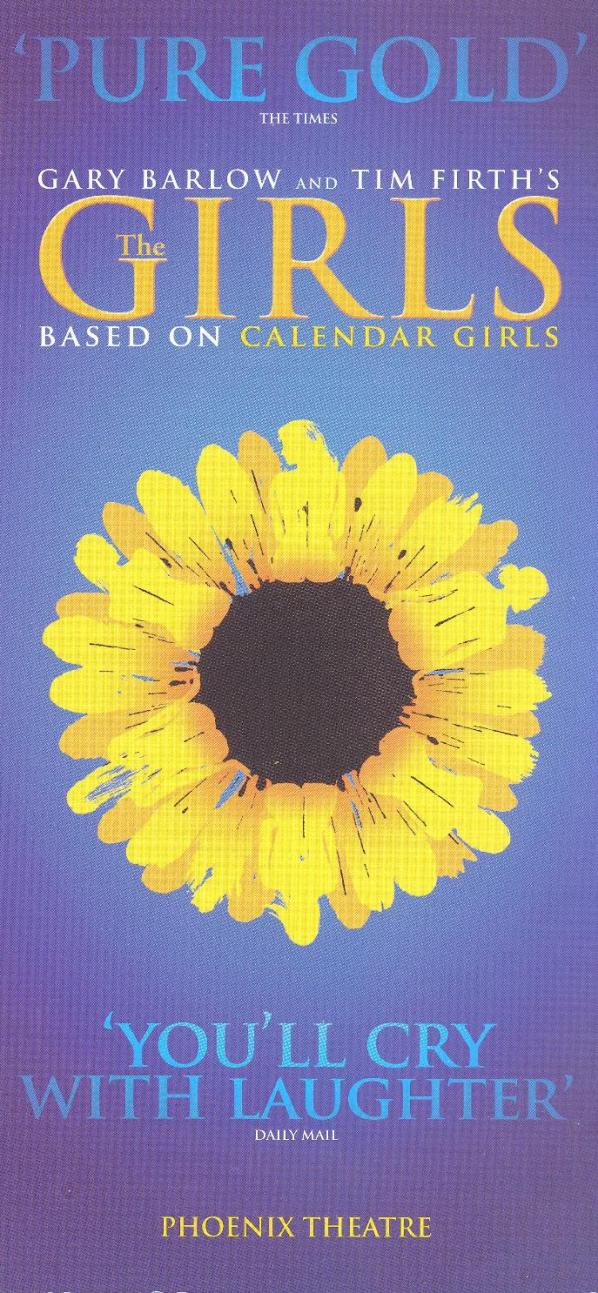 How often we visit the West End theatre scene depends on several factors - but one of the main ones is the availability of good discount tickets. And so, a week after our previous visit (The Book of Mormon ), we found ourselves at the theatre once again, this time to see the musical "The Girls," at the Phoenix Theatre on Charring Cross Road. To get to the Phoenix we got off the tube at Leicester Square as usual, and walked up Charring Cross Road, away from Trafalgar Square. The Phoenix is opposite Foyles book shop. We paid £79.50 for the two dress circle seats (C1, C2) and had an excellent view of the stage. To be fair we could not fully see a tiny rear right part of the stage, but no action took part there and we had no complaints. We would happily sit in C1 and C2 again if we had to.
The play was based on the well known true story as per the film of "The Calendar Girls" - ladies of a Yorkshire branch of the WI one of whose husband died of cancer, and the ladies thought of a novel way to raise funds in his memory. This was to do a nude calendar where different ladies became Miss January, Miss February, etc, depicting typical WI activities (jam making, baking etc) and where the ladies' modesty was protected by strategically placed teapots, iced buns, watering cans etc. This West End musical version had music and words by Garry Barlow and Tim Firth, and told the story reasonably and tunefully well. I don't think I was the target audience - there were a lot more ladies in the theatre than men - and my wife thought it was a better show than I did. We both agreed that it was a lot better than The Book of Mormon . It was quite a bitter sweet tale / production, and the husband's death was understated and well handled. The wife's grief was touching and well acted. In short the story was well told with just the right balance of touches of sadness and scenes of humour.
The first act covered the husband's death, and set the scene for the calendar production in act 2. I thought the first act was a bit slow and disappointing, but act 2 redeemed the production with the persuasion of the reluctant ladies to agree to be photographed in the nude, and the actual shoot was definitely funny and well done. One lady was particularly well endowed, and there was a good line once she had disrobed behind a table of home bakes - "Oh dear we are going to need larger iced buns !" Modesty was mostly observed throughout, perhaps not 100% but it was all in good taste and done with humour. All the cast were excellent. The music was tunefull and well performed and sung. The cast had good voices and blended together well. There was no stand out hit song, no chorus line sychronised tap dancing, but it was all OK.
The critics gave the show 5 stars. I thought it was OK / good and would give it say six out of 10. There was absolutely nothing wrong, but I wasn't blown away.
Finally there was a good touch at the very end as we left the theatre. It was announced that there would be a collection on behalf of a cancer charity - how appropriate - and some of the cast, still in costume, were standing there holding buckets and chatting to us. There are often collections but this is the first one where the actual cast had been the collectors - it was a nice genuine gesture, and we happily contributed.
Links to West End Show index and home page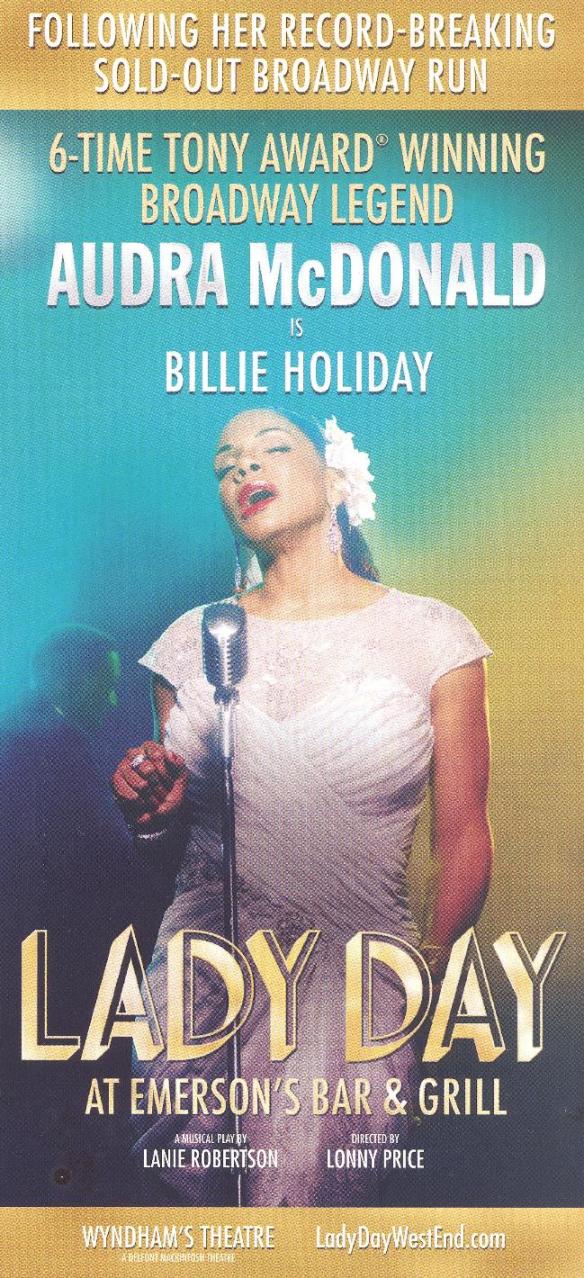 I think it's four years since we last visited Wyndham's Theatre. It is a lovely little theatre on Charing Cross Road, absolutely next door to Leicester Square tube station. We had managed to get two discounted tickets to see the American Broadway star Audra McDonald do a one woman masterclass of a show as that jazz legend Billie Holiday. We paid £79 in total, and had good seats, E12 and E13, in the dress circle with an excellent view. The stage was set up as a mini stage in Emerson's bar in Philadelphia, and some of the real audience were sitting on the theatre stage at tables to add to the nightclub atmosphere. The front rows of the theatre were similarly transformed.
The show should have opened about October 2016, but the opening was postponed as Audra was having a baby. I hadn't heard of Audra McDonald before, but she is a six times Tony Award winner and she got the Tony best actress award for this show on Broadway. She owned the stage, absolutely nailed Billy Holiday and sang and acted excellently. Definitely a 5 star performance. There was a three piece jazz outfit on stage as Billy / Audra's backing group, and they played for the audience before the show. Billy Holiday tragic life story is well known - a coloured girl singer who was raped when she was 10, and married a waster who introduced her to the heroin habit which ruined her life. At the height of her career she sold out big venues like Carnegie Hall etc, but was imprisoned for drug abuse, and so lost her Cabaret card without which coloured artists were unable to play the NY clubs. Eventually, sodded by drug abuse, she was reduced to singing in front of an audience of seven at an unknown bar in Philadephia. It was this performance that was recreated here - I hope everyone knew Audra was acting, it was so realistic. Sometimes her speech was slurred, her temperament was volatile, she drank and smoked, and almost fell off stage. But she 100% performed such Billy Holiday classics as "God Bless the Child", "What a Little Moonlight Can Do", my favourite, the hauntingly sad "Strange Fruit", "Crazy He Calls Me" and "Nobody's Business" - all almost to perfection. I loved it. Between songs she told her life story as she reminisced with her audience but it wasn't just her story it also told of life as a coloured person in the 1930's. No white doctor would treat her dad when he fell ill, there were no coloured doctors, and it was too late by the time they got him to a veteran's hospital - as a war veteran they had to treat him there. When not performing Billy had to sit outside the white restaurants, and was forbidden to use their toilets. Usually I go on about needing excellent dancing and songs and chorus lines to warrant 5 stars, but not today. No dancing. No chorus lines. Just Billy / Audra. The show lasted 90 minutes without an interval - for us it started about five minutes late at 2:50 pm and we were out at 4:25 pm.
A 5 star show from an singer /actress who must be a favourite for the next West End stage awards. Well done, Audra McDonald !
Links to West End Show index and home page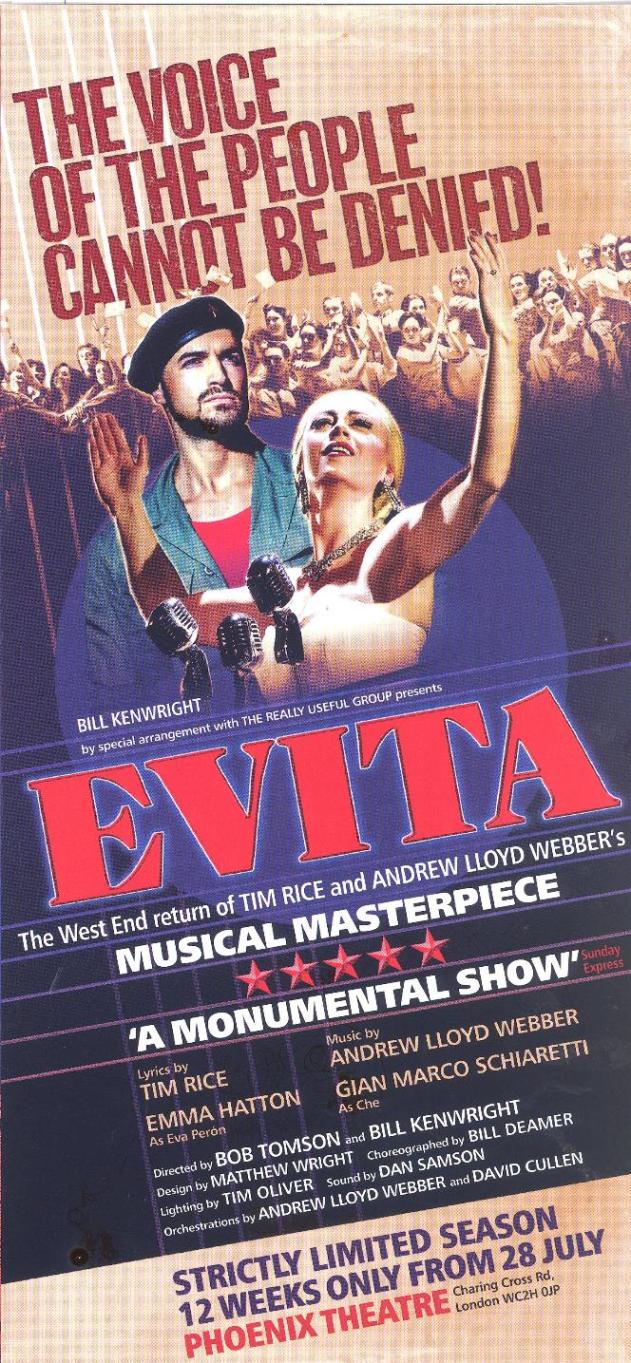 We last saw Evita, Andrew Lloyd Webber and Tim Rice's famous, terrific musical about the life of Eva Peron many years ago - possibly about 1979 or thereabouts. There are lots of shows we haven't seen, so usually we would avoid seeing the same one twice, but the LoveTheatre website offered two very good dress circle seats (C6 and C7) for only £32.50 each, and we hadn't seen any better recent offers so we thought why not. The show was at the Phoenix theatre - we were last there a couple of months ago. As before we got the tube to Leicester Square, walked up Charing Cross Road away from Trafalgar Square, and came to the Phoenix Theatre on the right hand side opposite Foyles bookshop. The matinee started at 3:00 pm, and we got out about 5:30, and so caught up in rush hour. But the tubes were not too busy - holiday time I guess.
I thought the show was very good but not outstanding - 3 and half to four stars. The two main cast members each had big roles (and big shoes to fill) and did very well. Emma Hatton was a good Evita, acted well and sang well, but I thought the sound engineer hadn't quite got the settings right for her powerful voice - when she belted out a high note it sounded a little harsh, a sort of buzz. Maybe it was just me. At lower volumes the voice sounded just fine. Gian Marco Schiaretti played Che, was a constant presence on stage, sang well, and generally performed very well. I thought the best voice on the day was that of Sarah O'Connor who played Peron's mistress when she sang "Another Suitcase, Another Hall" perfectly. Highlights of the day were that one song, the fine orchestra, Emma and Gian's overall performances, a top West End cast, and the little girl child actress with pigtails who sang so sweetly on a big stage with no nerves - sorry I don't know your name. ".
It's a good show full of great songs - especially "Don't Cry for Me Argentina" - and yes I came out whistling. A good afternoon well up to West End standards. Why only about 4 stars. I guess I was missing Elaine Paige's magic, or Barbara Dickenson's fine voice. Also I wanted to disagree with a Sunday Telegraph quote reproduced on the theatre handout - "A classic is reborn ! All of the Evitas I have seen over the years seem like dress rehearsals for this one." It was good / very good, but, come on, it wasn't that good. Over enthusiastic reviews do the shows no favours. The first half was the better half I thought. The second half had a somewhat down key sombre ending with the death of Eva. Yes it has to be covered but I could have done with a more upbeat rousing ending to send us on our way. Overall though, I thoroughly enjoyed it.
Links to West End Show index and home page