Iain's Leisure Reading
I came across the first six books in Frances Evesham's Exham-on-Sea Murder Mystery series - three double books, six stories altogether - in the 3 for a £5 section of "The Works" Bookshop. These were set in Somerset which is next door to Devon, a county we know well, so I thought why not give them a go ?
I usually try to write a little about the authors of the book series that I read, but I have not been able to find out much about Frances Evesham. She is one of the West Country writers, and I think her book genre is Cosy Crime. The author says she has been compared with Agatha Christie - another, and very famous West Country writer - and M. C. Beaton e.g. the Hamish MacBeth series, cosy crime, similarly short books written in a condensed, summarised form.
I think Frances was born about 1955, but I have no idea where, nor where she was educated. She is married, and now lives in Burnham on Sea, Somerset - like so many others she has wisely renamed it - Exham on Sea - rather than write about a real place where real people can so easily take offence. The lighthouse in Burnham on Sea is the setting for her first book - "Murder at the Lighthouse." She worked as a speech therapist for 30 years, retired at 60, and then started a second career as a novelist.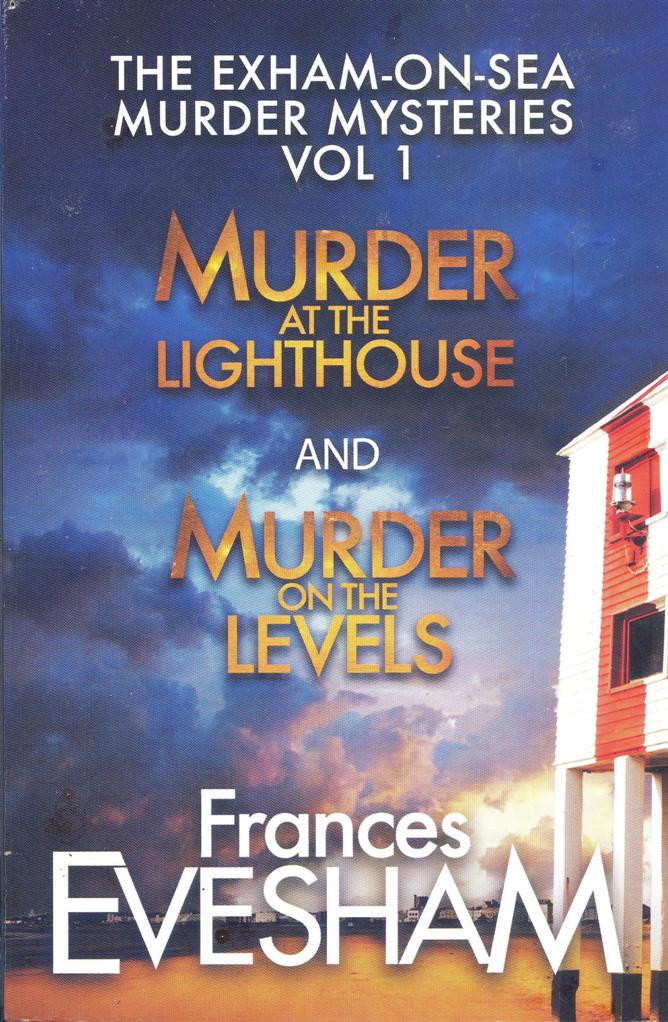 I read this book in July, 2021.
"Murder at the Lighthouse" is the first book in Frances Evesham's Exham-on-Sea Murder Mystery series. At only 161 pages I would call it a novella rather than a novel, and I have gone from one extreme to the other - the previous book that I read was Robert Galbraith's Troubled Blood , too long at 927 pages ! This appears to be a light, cosy crime, series written in a sort of journalistic style. I thought the story was a bit old fashioned, all a bit too familiar - but there is room for all styles in crime fiction, and this was OK, not gripping, but perfectly acceptable.
Being the first book in a series, we are introduced to a lot of new characters. The main character is Libby Forest, whose husband Trevor has just died, and whose two children, Robert and daughter Ali, have both left home. Libby has sold the family home in London, and bought Hope Cottage in Exham-on-Sea on the Somerset coast. Libby also sold Trevor's large model railway set (a full room size) and used the money to install a state of the art kitchen in Hope Cottage. She is a professional cook, preparing and then writing about fancy celebration cakes. She lives alone with her cat Fuzzy.
To meet the locals and make new friends, Libby works part time in Frank Brown's local bakery, and she has joined Marina's historical society where she also meets Angela Miles, and Samantha Watson, a solicitor. Samantha is married to Ned, but seems very friendly with local DCI Arnold. Exercising Marina's dog Shipley along the sea shore, Libby finds a dead body, washed up beside an old lighthouse. We later learn that the body is Susie Bennett, a famous folk singer and rock star who went to school locally. She was very pretty, and the local lads took advantage of her, and then cruelly trashed her reputation. She sang at Glastonbury, and was whisked off to the States with her band, by an American producer called Mickey Grayson. He later married her. They had a daughter Annie Rose, who drowned in a swimming pool - whilst Mickey was supposedly looking after her. So what was Susie doing back in Exham-on-Sea ? The police are called and DS Joe Ramshore attends. They say it's obviously suicide, and propose to leave it there. Libby feels she has responsibilities to the body she found, disagrees that it's suicide, and decides to investigate.
We now meet the second main character. Libby reverses her small, ancient Citroen car out of her drive, is startled by the barking of a large dog, and hits a lampost. The dog is called Bear, a Carpathian Sheepdog, being walked by a handsome, tall man with blue eyes. Bear was barking at Fuzzy - but they later become good friends. Next day, the tall man walks into the bakery. He is Max Ramshore, father of policeman Joe. Max, like most people in the story, went to school with Susie. Max doesn't think it's suicide either, and soon Libby and Max are a team. Max invites Libby for a coffee, and then dinner. Gossip travels at lightening speed, and soon everyone wants to meet Max's new friend, Libby. Max is wealthy , is an ex banker, and is now a professional freelance consultant investigating and tracing international cashflows - think crooks, drug money, money laundering, etc.
Libby feels like a teenager again. She doesn't mourn Trevor who was controlling bully. So are Max and Libby going to have a running romance ? We will have to read on to find out.
The main crime of course is who killed Susie, and why. Bear is owned by a frail widow, Mrs Thomson, Max's neighbour. Mrs Thomson is lovely old lady with old fashioned ideas about what is proper, etc. She is also the local busybody. She too gets killed.
As subplots, we meet a teenage Goth Mandy Parsons, who also works at the bakery. She tells Libby her father, Bert hits her mother Elaine, but she won't complain to the police. Libby tells Mandy to get out, and offers her a bed if required. Sure enough, Mandy turns up at Libby's door - and is not turned away. Libby looks after Bear when Max goes off to the States, and Max comes to Libby's aid when Libby too puts herself in danger.
It's not a great mystery, nor does it really build to a great climax, but it's easy reading, competent story telling, and I'll happily read on to book two - also a meagre 161 pages.
As an aside, Trevor died apparently broke and with debts which Libby feels she should pay. Libby has to change her plans (no new bathroom), work full time at the bakery, and go flat out to meet an offered book deal - a cookery book comprising recipies, pictures, and mini stories, all about celebration cakes.
Links to author index and home page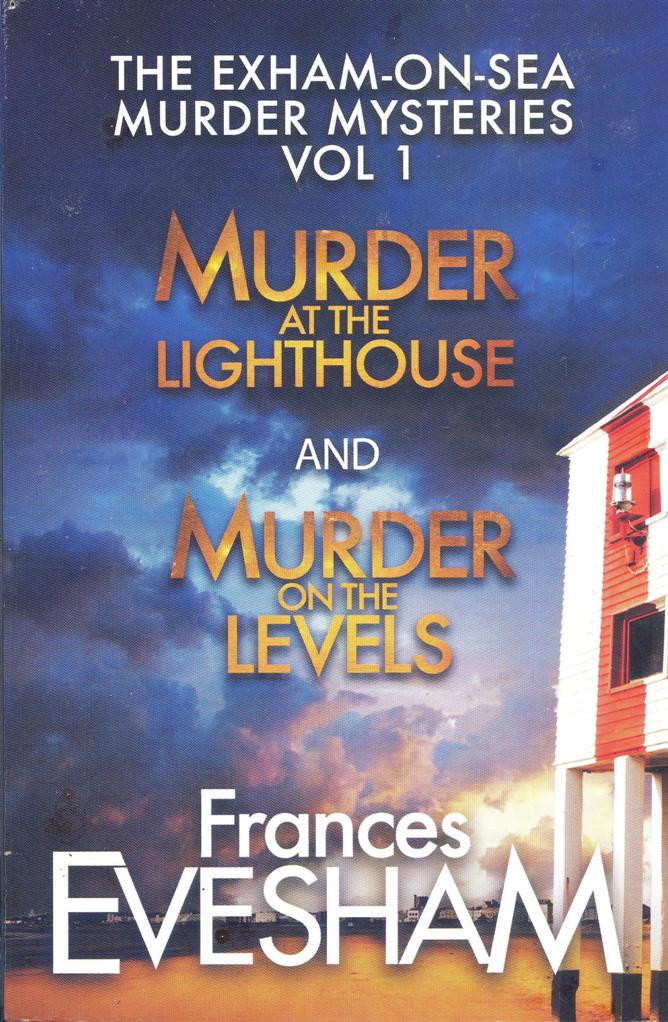 I read this book in July, 2021.
This is book two in the Exham-on-Sea Murder Mysteries, 161 pages only like book one, and written in the same journalistic summary form. It's as if Frances Evesham first writes a normal length story, and then truncates it to allow publication in a two story per book format. There is a lot of content, but it rushes at you.
Libby Forest has now been in Exham-on-Sea for a year, and her teenage Goth lodger Mandy is still with her. Max is sort of still on the scene, on and off, and of course Bear the huge dog. But Max disappeared soon after Susie's funeral (book one) without telling Libby and leaving Bear with a farming friend who had more room than Libby. All through the book, Max and Libby seem to be quarrelling. As a money laundering consultant, Max learns much that is confidential - and so he does have to conceal some things from his amateur investigating partner - which, of course, really annoys Libby. But together they are a good team and their help is often desperately needed. Mandy tells Libby to forget about Max, and switch to handsome, rich, Simon Logan.
Libby and Mandy both work at Frank Brown's bakery, where Libby is to launch a new venture - Forest Chocolates. The local cyclist club buy some bakery sandwiches, but go off without them. Libby jumps into her trusty Citroen, chases after them, and Simon Logan is there to help unload. The cyclists are grateful, and Libby joins them for an eccles cake picnic. Soon however, there is carnage - the cyclist have been poisoned. The poison is later identified as digitoxin (perhaps foxglove leaves ). Two cycists are dead - Kevin Batty and Vince Lane - and and others are being loaded into ambulances. One of the victims is Max's son Joe, the police sergeant. DCI Arnold is in charge. A little later Libby too is taken ill, and has to be rescued by Max, newly back on the scene, and Joe's wife Claire.
The Bakery is closed, no Forest Chocolates launch, and also no job for Libby and Mandy. This then is the main mystery for Max and Libby to solve - who poisoned the cyclists, were Kevin and Vince specially targeted, , etc, etc ? Next, Frank Brown is arrested - he needs help. Joe doesn't think Frank is a murderer, but he is not in charge.
There are several subplots that weave their way into the tale. Angela Miles tells Libby she has inspired her to get a life. She has been vegetating since the death of her husband Geof, a composer of international fame. Geof drove too fast, crashed and died - but another subplot asks was this really an accident.
Ali, Libby's daughter, is in Exham-on-Sea, to care for her poisoned mother. Libby never liked John, Ali's boyfriend who was some 20 years older, but he is now old news. Ali announces she is off to build schools in the rain forest in South America with Andy. Libby meets Andy for all of a minute, then Ali and Andy are off. Will Libby ever see Ali again ?
Angela Miles is to give a charity concert performing her husband's music with her quintet. One of the members is Steve - a very talented student soon to study at the Royal College of Music. Steve is also Mandy's boyfriend. Steve is the victim of a hit and run incident, but Max thinks it's deliberate. Steve lies unconscious in hospital. Who did it, and why ? This is more work for Libby and Max, if they can stop quarrelling.
Libby's friend Marina seems to be seeing lot of Chesterton Wemberley. Are they having an affair ? Is Chesterton all he seems to be, or is he tryiung to kill Libby too. He almost ran into Libby, but Bear knocked her out of the way just in time. Kevin and Vince are dead, Steve is in hospital, is Libby next ?
In yet another subplot, tidying up in Ali's room, Libby finds deeds to a Leeds property in her husband Trevor's name. Did he invest in property that might help Libby financially ? Did he have a secret mistress ? Or, was he up to no good ? This leads to a tie in with a Max investigation, not shared with Libby, and another quarrel.
It's all explained in the end, and everything ties in , and all the separate plots make sense.
Resolving to be more open with each other, Libby tells Max a personal story, and so Max has to recriprocate. Max was married to Stella, and there was a daughter Debbie, some 10 years younger than Joe. Career driven, Max made lots of money for his family, but gave them little of his time. Stella took to drink. There were complaints that Debbie's pony was being neglected, and Max sent Debbie to her bedroom, saying that the pony would have to go. Debbie sneaked out and went for a ride on her pony, but without her helmet, fell off, hit her head, and died. Max took to drink, and divorced Stella. Joe stayed with his mum. Eventually, Max sorted himself out, with help from Joe.
Libby and Max are friends again, Libby will look after Bear when Max goes off (Bear and Fuzzy the cat have become good friends), and Libby will settle for a working relationship and friendship with Max, just now. And so, we will have to read on.
If the author is happy to publish her work as novellas, who am I to object. Frances Evesham has been described as a West country M. C. Beaton, and I used to complain about the length and writing style in her early Hamish MacBeth stories too, so I am being consistent.
Links to author index and home page