Iain's Leisure Reading
I tend to read series of mostly crime books featuring the on going adventures of some main character. Most of the authors of these books also write other series based on other characters, but so far I have ignored these. Thus I have read the Ann Cleeves Jimmy Perez books, but not her more popular Vera Stanhope series. I did read a couple of Inspector Malcolm Fox books by Ian Rankin , but that was to know who Malcolm Fox was - I had heard that he was to appear in the long awaited book featuring the return of John Rebus.
In 2014 I got a present of J K Rowling's "The Silkworm" from my son Jamie, and so I decided to break my self imposed mini rule. I had avidly followed J K Rowling's Harry Potter series , so why not read her other series - those where she writes as Robert Galbraith a series featuring the private investigator Cormoron Strike. The first book in this series was "The Cuckoo's Calling" by "Robert Galbraith", and when this was published no one knew that Galbraith was really J K Rowling. J. K. genuinely wanted to see if she had the ability to succeed in another book genre, but her lawyer, I think, let the secret slip - and rightly became her ex lawyer !
J K Rowling is fabulously wealthy from the proceeds of the Harry Potter books, films, and spin offs. But what else is a good writer to do, other than write books. I am really pleased for J. K. that so far the Cormoran Strike books have been so well received, and won so many favourable reviews. Lots of critics were "sniffy" about the Harry Potter books, and then forecast that J. K. would be a "one trick monkey" who would never succeed again. It must be great to prove them wrong !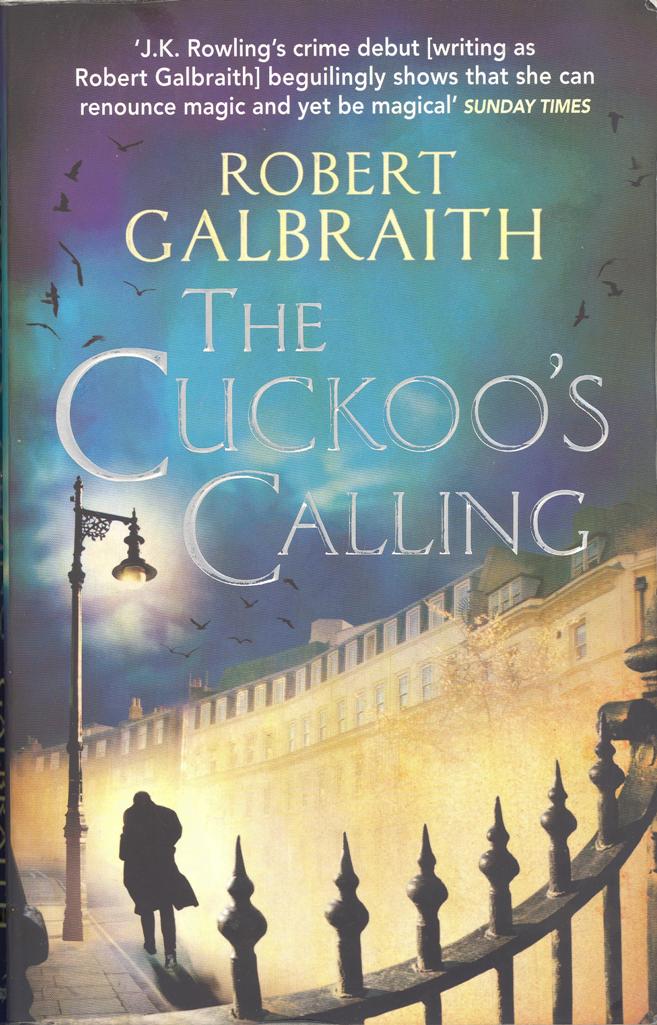 I read this book in October, 2014.
This is book one in the detective series written by J.K. Rowling featuring Cormoran Strike, an ex soldier, ex SIB, one legged private investigator. It's quite a change from Harry Potter, but the good news is that J.K. has lost none of her writing skills. It's a terrific debut novel in a different genre. I liked the main character Cormoran Strike, his secretary / assistant Robin Ellacot, I liked the story, I failed to work out "who done it", and I thought it was well paced and built to a suitable climax. Initially I thought the book could have done with some editing - too many words in some places. But, as the book went on, it all settled down nicely to an excellent read.
In Cormoran and Robin we have a great partnership - with perhaps the hint of future romance. But equally, this could just remain a possibility - a tease - in the next few books. We meet Robin first - a 25 year old temping secretary who is elated because she has just got engaged to her boyfriend, Mathew. She is looking for the office of her next temporary employer, finds it eventually, and is amazed but delighted to find that she will be working for a private investigator. Robin's secret ambition had always been to be a P.I. Now we meet her employer, Cormoran. His last temp had been dismissed, and he didn't expect the agency to send him another temp. He is skint, cannot really afford a secretary, but decides to give Robin a go for a week. He thinks he can just about afford to pay her. Bit by bit, as the story progresses we find out more about Cormoran - little clues here and there. He is mentally as well as physically damaged - he was blown up in Afghanistan and lost his leg. He has now left the army. But his leg stump and prosthesis still give him a lot of pain. Initially Robin doesn't know that Cormoran has only one leg. Slowly they get to know more about each other. Cormoran is a very private person - and Robin senses that she must keep a respectful distance. But she is good at her job - and Cormoran finds that fate has sent him a treasure of an assistant / secretary. The Cormoran / Robin relationship is perfectly paced and beautifully judged - well done, J.K. A Google search reveals that Cormoran has a famous pop star father who had a one night stand with Cormoran's groupie mother - but father and son have never had anything to do with each other. This may change as the series progresses - I see lots of scope there.
What is the story ? Lula Landry is a very famous, very beautiful top model who falls to her death from her penthouse apartment in London. The police think that it is suicide, but her brother, John Bristow can't accept this, and so he asks Cormoran to try to find out what really happened. Why did he pick Cormoran ? John's young brother fell to his death in a quarry when he was a child of 10 - and Cormoran and the dead youngster were best pals.
J.K. paints a very convincing picture of life in the fast lane as a top model - famous people, conspicuous wealth, very glamorous, but at the cost of empty, shallow lives, being shaddowed by paparazzi and the gutter press. Is she possibly writing from bitter personal experience ?
It's all solved by the end, and the Cormoran / Robin team are still intact, and ready to take on future cases.
I thought it was a terrific crime novel debut - if J.K. can run with this, perhaps improve a little with time, it has all the promise of a great crime series. It's not faultness, but nevertheless I was pleased that it was as good as it was. It looks as if the old J.K. magic is still there. How can you follow the phenomenon of Harry Potter - J.K. seems to have found an answer. I look forward to reading the next in the series - there are so many different ways that I can see this developing.
Links to author index and home page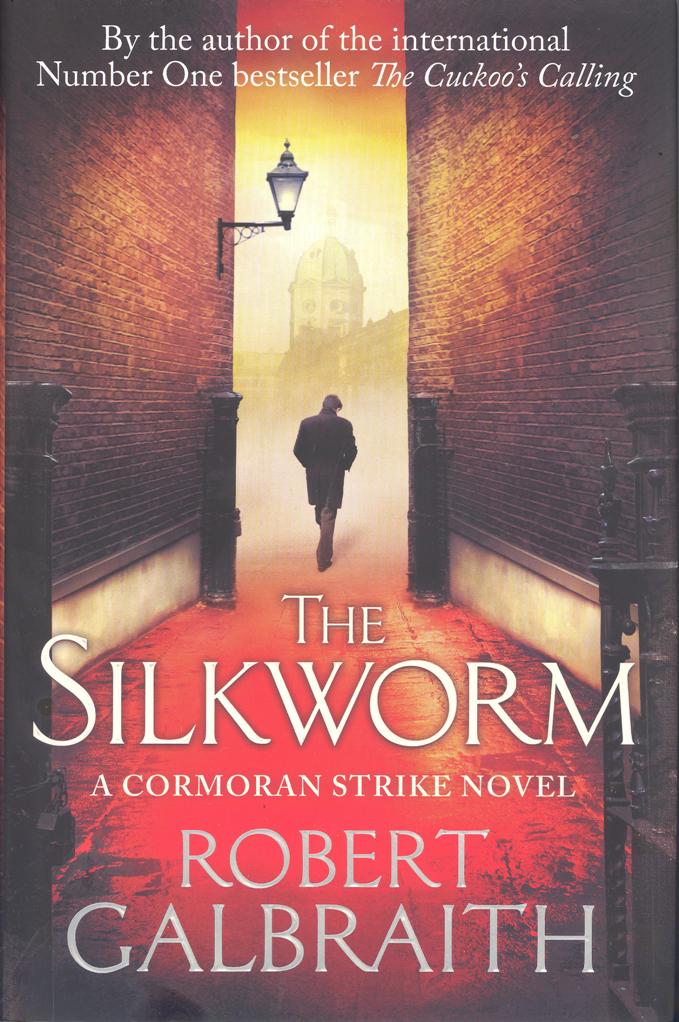 I read this book in October, 2014.
This is the second book in J.K. Rowling (writing as Robert Galbraith)'s crime fiction series featuring Cormoran Strike, and his assistant Robin Ellacot. Whilst I greatly enjoyed reading it, I thought it was only a good book rather than a very good one. That said, though, I am looking forward to reading the next in the series.
It started off very well, set a few months after the first book. Cormoran and Robin are terrific characters, and their professional relationship / potential personal relationship is handled perfectly, and expertly paced. Robin has taken a massive cut in salary to work as Cormoran's secretary because all her life she has had a secret desire to be a private investigator. But now Cormoran seems to have forgotten this - he treats her as a typist, and talks of getting in someone to help with the investigative side. The problem is Robin's fiance Mathew, who is deeply suspicious of Robin's working for Cormoran. Why is she always so full of what Cormoran says and does ? But Cormoran thinks that Robin will never be able to commit to work the long, irregular hours that the job entails. It's simply not a 9 to 5 job. Also it can be dangerous. There is also another deeper reason - Cormoran is well aware of Robin's beauty. He could so easily find himself attracted to her - so he tries to keep a respectful distance between them. Eventually the situation is resolved - and it seems in the next book we may find Robin more active as an investigator / professional partner. This part of the story is handled excellently. Cormoran is also such an interesting character - the son of a pop idol father he has never met, ex army, ex SIB, and Cormoran is disabled - part of his leg was blown off in Afghanistan.
So why do I have reservations about the book ? I am afraid, it is the story or rather the story within the story. I started off thinking it was a terrific, original read. Owen Quine is a writer who goes missing, and his wife Leonora turns up in Cormoran's office asking him to find her missing husband. Leonora also has a mentally handicapped young daughter Olivia. Cormoran does find Owen Quine, or rather, his remains. He has been butchered after being tortured, and burned with acid. Soon Leonora is charged with her husband's murder - so Cormoran and Robin must find out who the real killer is, to save their client (and Olivia). Now comes a tedious part of the story - a story within a story. Owen's murder is as per set out in his last, unpublished book - a wierd, "Pilgrim's Progress" sort of tale about a hermathrodite creature. I know this story was meant to be deliberately awful, but I was not impressed. The unpublished book also slandered lots of people - did one of them kill Owen to prevent publication ?
The book is also a bit slow in places, and there is not a terrific amount of action. But there is a good, suprise ending to the book that I did not see coming - perhaps I should have been more tolerant of the story within the story !
So it's 80% very good, 20% only fair, say good overall. But for all that, I still think J K Rowling is a terrific writer, and I really do look forward to the next book in the series. Robin and Cormoran are such interesting characters - I want to know what happens to them next.
Links to author index and home page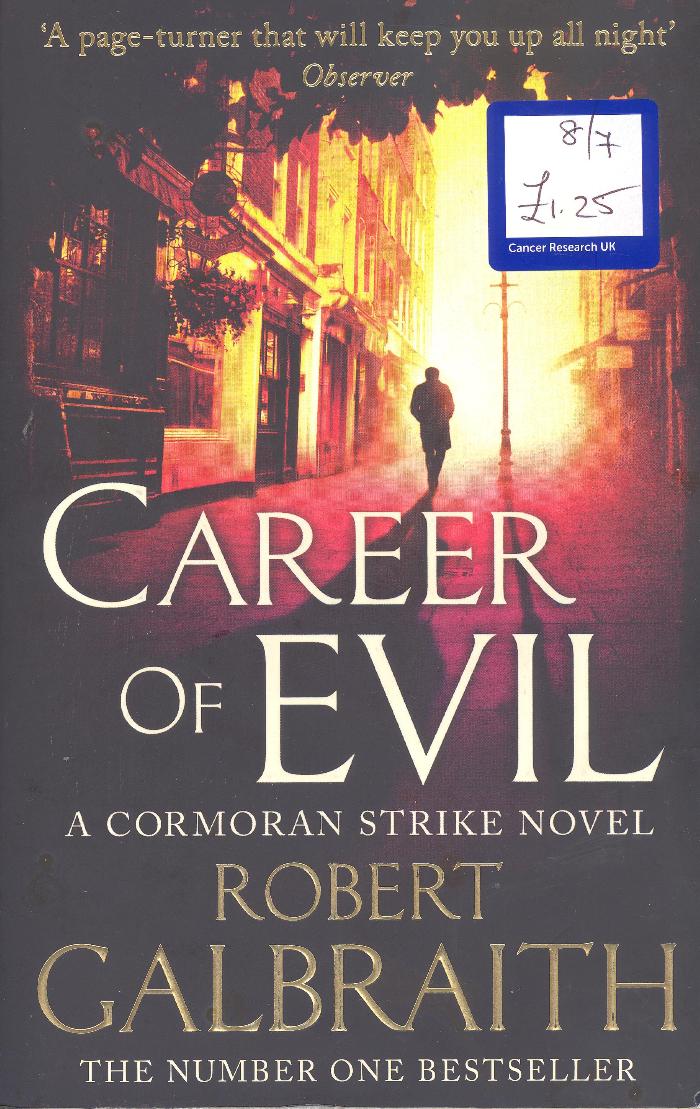 I read this book in July, 2016.
This is the third book in the Cormoran Strike crime fiction series written by Robert Galbraith (J.K. Rowling). Cormoran and his assistant / partner Robin Ellacot are great creations, and above all this book is about the ongoing Cormoran / Robin relationship. Cormoran has a girlfriend, Elin, rich, beautiful, successful, and an announcer on BBC radio - the third programme. Robin is engaged to Matthew - their wedding had to be postponed when his mother died, but it is has been rescheduled, and is to take place in a few weeks' time. So Robin and Cormoran's relationship can only be professional, can't it? And yet there is a terrific sexual chemistry there that neither dare acknowledge. This is definitely out of bounds. But neither has ever had a better friend, they just get on so well, and they care for each other more than can ever be admitted. Mathew is head over heels in love with Robin, but how can Mathew compete with Cormoran - no wonder he feels so insecure?
The book opens with a parcel addressed to and delivered to Robin Ellacot. She opens it and her screams bring Cormoran running. Someone has sent Robin a girl's severed leg. It soon becomes clear that someone from Cormoran's past is trying to get at him through Robin, and Robin's life is in great danger. Cormoran can think of 4 people who hate him enough to be doing this. They are Malley, Whittaker (Cormoran's mum's boyfriend), Laing, and Brockbank. All are rogues and brutes from Cormoran's SIB army days. The police know Malley well, and so concentrate on him. Cormoran thinks it is more likely to be one of the other three, but the police won't listen. With Robin's life in danger, and the bad publicity destroying his detective agency business, Cormoran and Robin have to solve the mystery of who is behind all this by themselves. But now there are two complications. Robin and Mathew's engagement is off - he had been unfaithful to Robin with a friend of theirs - and Robin is in a bad state. Back in the same pub where Cormoran cried on Robin's shoulder when he split with his long term girlfriend, now Robin needs a shoulder to cry on. Drinking more than usual, Robin lets slip why she quit Uni. One night, a rapist in a gorilla suit, attacked Robin, and left her for dead. She lost all her self confidence, fled home, became agaraphobic, and it took a couple of years for Robin to get her life back. Robin never wants ever again for a man to dictate what sort of life she can lead. On the other hand Robin is now terrified that Cormoran will want rid of her. How can someone with her past who could not save herself work as a private detective and protect others. Dare Cormoran risk Robin's life / put her through all that again.
And so the story proceeds, and tension builds. Can Cormoran keep Robin safe without sending her home ? Can Robin forgive a truly repentent Mathew ?
J. K. Rowling is not a concise writer, and so this is a long novel - but I don't mind that. Cormoran still manages to drink Doom Bar beer in London - I don't mind that either, I doubt that J.K is a beer drinker herself. By the end of the book Cormoran has done the police's work for them, but the real climax of the book is Robin's on / off wedding. Will she go through with it, and will Cormoran be there. What happens next demands another book in the series. I look forward to it with relish.
Links to author index and home page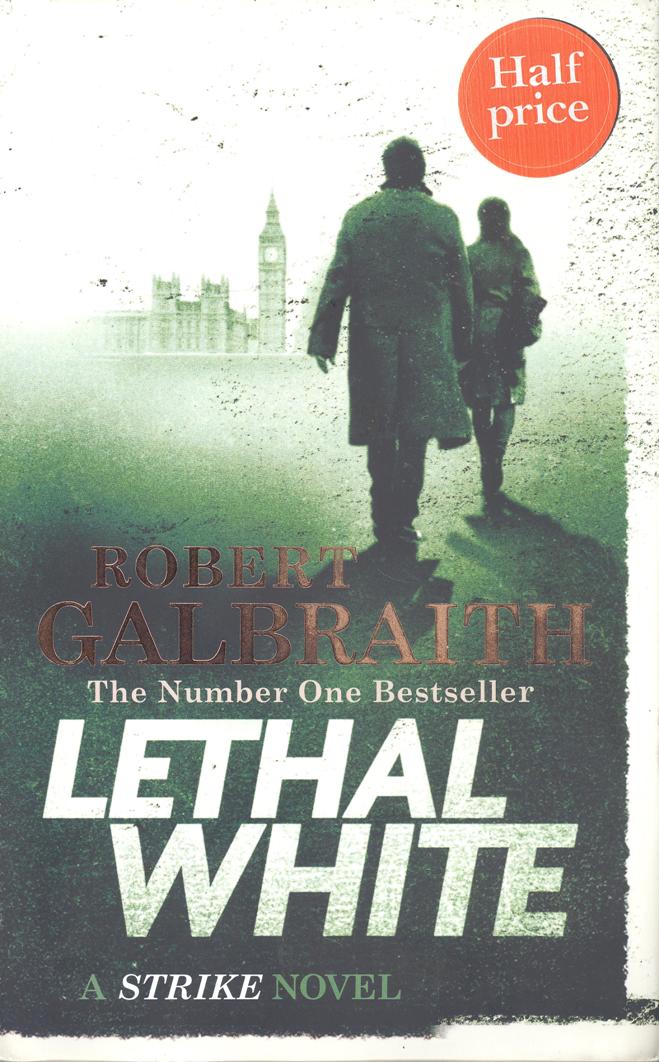 I read this book in April, 2018.

Usually I get all my books second hand in some charity shop, but I got some book tokens for Christmas, 2018 and so bought the very latest Cormoran Strike and Robin Ellacot book new, as a hardback, but managed to get a copy half price in the January 2019 sales. It's a big book even by J.K.Rowling standards (650 pages) - J.K. now seems unable to write at normal length, or is it just that she is too important an author that an editor can cut where appropriate. Any way, also being a hardback, it's a heavy book and not one I could take on holiday abroad - in short, having bought it "just out", I have only now got round to reading it at a time when it is now out in paperback. Ah well !

Let me start by saying that I loved this book, even though it is too long. I think the author has created two very strong characters in private detective Cormoran Strike, and his assistant and now business partner Robin Ellacot. Pairs of detectives working on a case always offer more possibilities for private life dramas. They can interact with each other, quarrel, make up, rush to save each other, etc. And in some cases, they can even fall in love. That is what has happened here, but neither Cormoran nor Robin will admit it, or even talk to each other about it. So the author plays with the theme "will they / won't they " from book to book - it's a compelling tease that keeps us turning pages and eagerly buying the next instalment. J.K. did it perfectly in the Harry Potter series, and here she is doing it again. She is so good at it, that we all excuse the long books.

In all these series there are two main stories - story one is the case/cases under investigation, and story two is the private lives one. Let me start with the cases to be solved - and then get on to the more interesting Cormoran / Robin one. Two thing happen at the start of the book. Jasper Chiswell is not a nice character, but is a conservative government cabinet minister who is being blackmailed. Apparently he did something which was legal a few years ago, but is now illegal. He won't say what it was, but he calls in Cormoran Strike to help. Cormoran has just caught the Shackelwell Ripper, and is now very famous. Also he was in the army SIB when Jasper's son Freddie was killed. Chiswell is married for the second time to Kinvara but it is now a loveless marriage. Kinvara lives at Chiswell's county house and is devoted to her five or six horses. Chiswell was poorly advised financially, and is now almost broke. Cormoran finds that two people are connected to the blackmail, Winn, the husband of an opposition minister, and Jimmy Knight, a socialist rabble rouser intent on bringing down the conservatives. Chiswell wants Cormoran and his team to find things to discredit the blackmailers - and neutralise them by counter blackmail. The other thing that happened at the start was a mentally unstable young man who was not taking his medication, Billy, called at Cormoran's offices, and told Cormoran that he had witnessed the murder of a young child, and the burial of the body. Everyone thinks he is dillusional, but is he ? There is something about Billy's story that nags at Cormoran, and he decides to investigate. Apparently two separate stories - we know enough about detective fiction to suspect that they are connected.

It turns out that Billy is Jimmy Knight's younger brother, and the Knight family were sort of country peasants who lived near, and did occasional work for the Jasper Chiswell estate. We also meet Raphael, Chiswell's son from his first marriage. Drunk at the wheel Raphael killed a young child, and went to prison. On release his father Jasper took him in - a big mistake as it was to turn out. Raphael has charisma of sorts, especially with the ladies, but really is a nasty piece of work. The story is proceeding nicely when Jasper is found (by Robin) dead in a chair at home - poisoned and suffocated with a plastic bag over his head. Was he murdered or was it suicide ? His daughter Flick thinks he was murdered, and re-engages Cormoran to find out. The police are also doing a full investigation - it's the death of cabinet minister.

It's a really complicated story that J.K has hatched up and one that takes a lot of unravelling. Tension builds brilliantly - a real page turner. It's so complicated that it takes several chapters of explanation at the end of the book - but it all makes sense, eventually.

Now we come to the more interesting Cormoran / Robin story. In the hunt for the serial rapist Robin went against Cormoran's instructions, and almost got herself killed - she has a very bad knife injury/ scar down one arm. Robin now has regular panic attacks that she is getting treatment for, but is keeping secret. Cormoran had dismissd Robin on the spot, but regretted it, and was trying to get in touch with Robin again by text. Robin for some obscure reason went ahead with her on / off marriage to her childhood sweatheart Mathew - she is now Robin Cunliffe. When Cormoran turns up at Robin and Mathew's wedding Robin discovers she has made a terrible mistake. Mathew had been reading Robins text messages and deleting Cormoran's texts. Robin is furious, and collapses into Cormoran's arms. If only Cormoran and Robin would communicate ! Cormoran leaves the wedding, and has a one night stand - Coco answer's Robin's phone call to Cormoran. He has jumped into bed with someone else. Pressurised on all sides, Robin goes on honeymoon with Mathew - separate beds - to escape the press. And now a year has gone by, Robin and Mathew are in a loveless marriage, Cormoran is seeing Lorelei without commitment, and both Robin and Cormoran are dancing around each other. Are they even friends, Cormoran wonders ?.

What a tangled, but fascinating web for Robin and Cormoran. The Robin / Mathew story is almost completed by the end of the book - but not fully - so we have to read on. And of course, Robin and Cormoran are still in love, but not admitting it. Robin is in grave danger, alone with a killer. Will Cormoran get there in time ? So again we have to read on. It's all a brilliant tease - well done Robert Galbraith / J.K.

Two last thoughts. Cormoran really must get a better false leg - he is in constant pain. And now Cormoran drinks a variety of beers, but is delighted to sometimes find his favourite DoomBar.








Links to author index and home page