Iain's Leisure Reading
I usually like to say a little about the various authors that I read, but I have been able to discover remarkably little about Frances McNeil, who writes under the pseudonym Frances Brody. I know that Frances was born in Leeds but not when - but she grew up in Leeds, and still lives there. I know nothing of her early schooling, but she worked in New York at the age of 19 before returning to study at Ruskin College, Oxford, and then reading English Literature and History at York University.
Frances McNeil is an English novelist and playwright, and has written extensively for BBC radio. As Frances Brody she writes a series of 1920s crime novels featuring her heroine Kate Shackleton. They are Yorkshire based. Kate is aided and assisted by Jim Sykes, an ex CID policeman, and Mrs Sugden, her housekeeper.
I got the first book in the series by chance in The Works bookshop in Bury St Edmunds. I had intended to read another book but I left home without it, and saw that Dying in the Wool was on offer for only £1, and so just bought it, knowing nothing about the author, nor the Kate Shackleton character.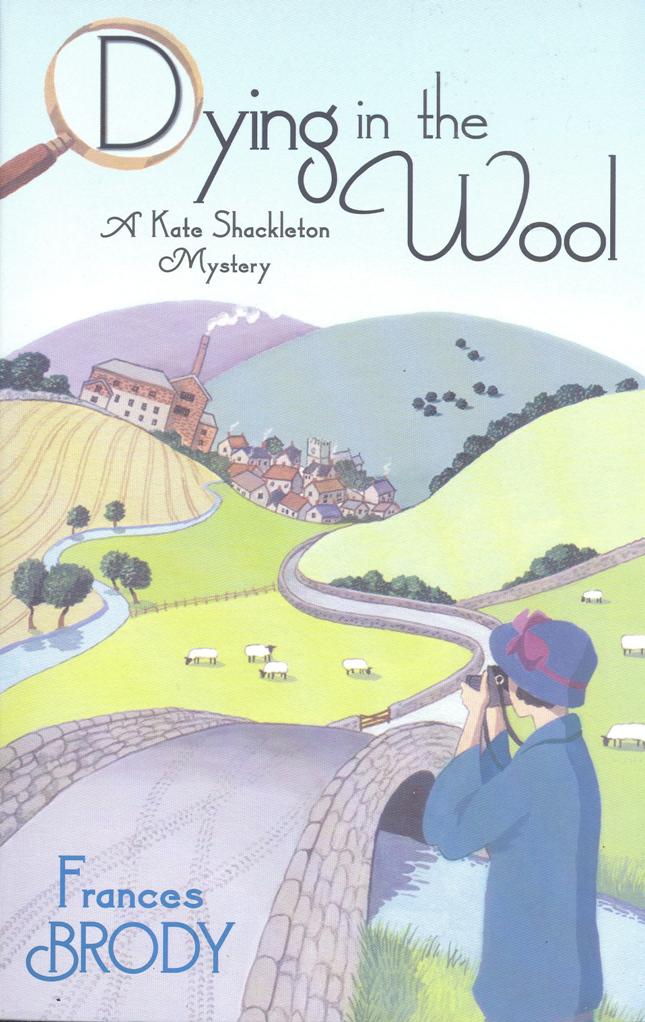 I read this book in July, 2019.
It is always interesting to begin reading a new series, especially one chosen by chance. I was struck by a very familiar opening sequence "My name's Kate Shackleton. I am thirty one years old, and hanging on the freedom by the skin of my teeth. Because I'm a widow ........." That was exactly how Sue Grafton opened the Kinsey Millhone "Alphabet" books. Kinsey aged very slowly as the series progressed. I wonder what Kate Shackleton will do ?
This is book one, it's about 1922, and we are introduced to Kate Shackleton. Kate is a widow as are so many in the post war years. Kate's husband was an army surgeon. Captain Gerald Shackleton was posted officially missing and was last seen in 1918 in France just before a series of heavy barages. Although she had been told "missing in action" was a gentle way of saying "blown to smithereens," Kate still half hopes / hoped he would turn up one day - perhaps suffering from amnesia. However she was persuaded to have him declared dead, and Kate inherited sufficient to live reasonably. Kate's father is a superintendent in Yorkshire police, Superintendent Hood, and her mother is Mrs Hood in Yorkshire, but, on trips to London, reverts to her maiden name of Lady Virginia (she is the daughter of the late Lord and Lady Rodpen). Kate was adopted, and then seven years later her mum and dad had twin boys. They loved Kate all the more - she had brought them luck ! As something to do, Kate has been helping war "widows" or mothers find missing loved ones, and has been remarkably successful. Because of this she is approached by an old war time chum - Tabatha Braithwaite. Tabatha is about to get married, but her father Joshua Braithwaite went missing some 6 years ago. Is he still alive or dead ? If alive, could he attend his daughter's wedding. Tabatha asks Kate to help, and says she will pay. This is Kate's first commission for money, and she can now describe herself as a private investigator. Kate's dad suggests Jim Sykes as a possible assistant - Jim is out of work and the £2 a week will be a godsend for his family. Jim was a good detective, but upset his superiors when he refused to overlook a police injustice. Kate lives in Bridgestead in the Yorkshire countryside, and is looked after by her housekeeper Mrs Sugden.
Kate and Mr Sykes get to work, and the story of the mising Joshua Braithwaite unfolds. Joshua was not faithful to his wife Evelyn, nor she to him. He was a millionaire mill owner and we get a good evocation of mill work in the 1920s - dirty, dangerous, noisy, smelly, etc. We meet the mill workers, and as Kate digs deeper and deeper we get two more suspicious deaths - the Kellets. Did Joshua run off with a mistress, or did some enemy kill him ? I thought it was all well written, and I kept turning the page to see if Joshua might be alive, and to see how the Kate and Mr Sykes partnership would develop, remembering of course that Jim Sykes is married. Kate is bound by the conventions of the time, but is an independent soul - what we would now call a feminist. Jim Sykes is very uncomfortable to be seen as a passenger in Kate's car. As the man, he should be driving, but (a) it's Kate's car, and (b) Jim can't drive ! I liked the bit when Kate was at her Aunt Berta' party in London, and met Sir Arthur and Lady Jean Conon-Doyle. New to the private investigator business, Kate asked for advice - was she trying to consult the great Sherlock Holmes ?
It all build to a series of climaxes, and even when it all seems settled there is a final surprise - but I have no intention of spoiling things. All in all, a very interesting, well written story. Not a classic, but good, interesting historically too and very readable.
Links to author index and home page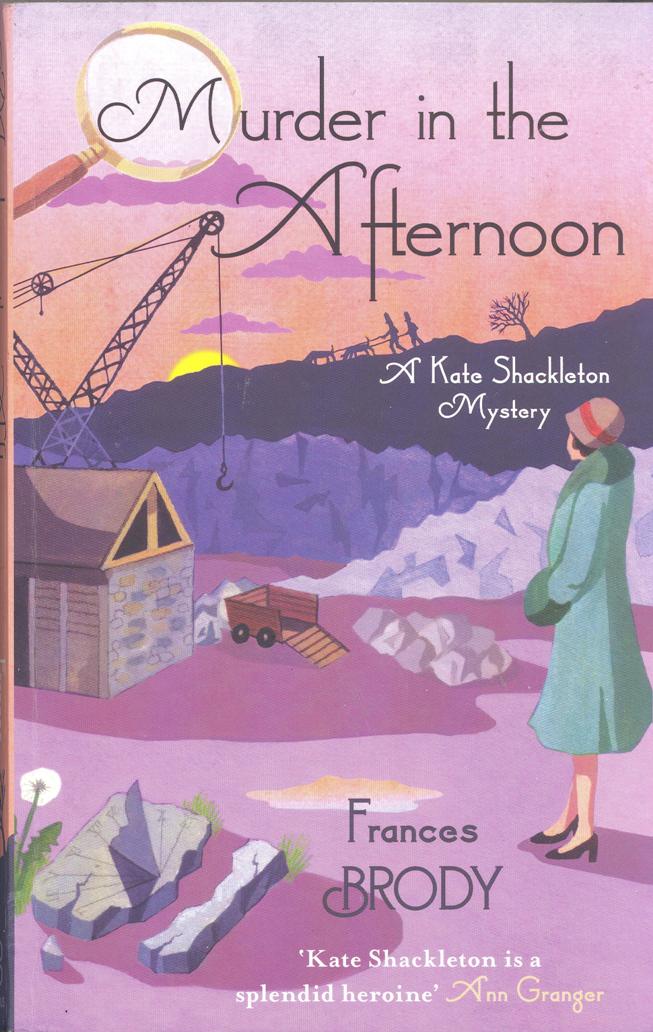 I read this book in October, 2019.
I started with book one in the Kate Shackleton series, liked it, but since I don't have book two yet, I have had to jump to book three. Unfortunately I seem to have missed quite a bit in Kate's personal life story. Apparently, in book two, she met, fell for, and was let down by a practising psychiatrist, but happily, she also met a more genuine man in DI Marcus Charles of Scotland Yard. Things must have moved fast, because she has spent the night with him - remember this is the 1920s. In this book, Marcus is still around, but he is now a DCI, and he seems about to propose marriage to Kate. I don't think she will say yes - at least not yet. Marcus is a bit old fashioned in his views about a woman's place in society There is only one female detective in the whole of Scotland Yard. Kate is thoroughly modern in her ways. She won't allow herself to play second fiddle. As an aside, in the Railway Detective books from a little further back still, Robert Colbeck has to use his wife Maddy as a female detective - there being no female detectives at all in Scotland Yard.
Ex policeman Jim Sykes is still Kate's detective assistant, and her housekeeper Mrs Sugden also wants to help.
The story opens with a bang - or several bangs. In the middle of the night, a woman is hammering on Kate's door, and introduces herself as Mary Jane Armstrong. Her husband Ethan has gone missing. Worse, her daughter Harriet took her dad - a stonemason working alone on a Saturday afternoon in a local quarry - his teatime meal, and found his body lying cold on the floor of a shed. Harriet was a country girl, and recognised death. She held her brother Austin back outside the shed, so he did not see his dead father, but they both ran to the nearest farm for help. Bob Conroy, their "uncle" rushed to the quarry, but the body had vanished. Ethan was never seen again. Mary Jane believed her daughter - the police did not - and ran to consult Kate Shackleton. But there was something familiar about Mary Jane - where had Kate met her before ? Kate rushes to help, but then stops and refuses to go on until Mary Jane says how they have met before. "Kate" says Mary Jane, "I am your birth sister. I was there when your new dad called at our mum's house and took you away. She had to give you up, and you were adopted." Kate knew she was adopted , but nothing else of her origins. Now she learns she has a sister, and a niece and nephew, and her birth mother is still alive.
The actual murder of Ethan Armstrong is a good, solid story . The police think Mary Jane did it. Mary Jane could indeed be the killer - what does Kate think ? The police - her dad Superintendent Hood, and her lover DCI Marcus of Scotland Yard - both tell her to leave well alone, as Ethan was a communist revolutionery known to the authorities. To Mary Jane he was just a husband and dad for Harriet and Austin.
Eventually Kate believes Mary Jane, and gets to know Harriet and Austin. She also meets Mrs Whitaker, her birth mother.
There was quite a bit more to the story - it held my interest and I kept page turning. At the climax, it is obvious that the police have just been humouring Kate, but it is she who solves it all.
It's an interesting series and it's lovely to read another take on 1920s England. Historical fiction is getting to be quite a crowded field.
Links to author index and home page