Iain's Leisure Reading
I usually like to say a little about the various authors that I read, but I have been able to discover remarkably little about Frances McNeil, who writes under the pseudonym Frances Brody. I know that Frances was born in Leeds but not when - but she grew up in Leeds, and still lives there. I know nothing of her early schooling, but she worked in New York at the age of 19 before returning to study at Ruskin College, Oxford, and then reading English Literature and History at York University.
Frances McNeil is an English novelist and playwright, and has written extensively for BBC radio. As Frances Brody she writes a series of 1920s crime novels featuring her heroine Kate Shackleton. They are Yorkshire based. Kate is aided and assisted by Jim Sykes, an ex CID policeman, and Mrs Sugden, her housekeeper.
I got the first book in the series by chance in The Works bookshop in Bury St Edmunds. I had intended to read another book but I left home without it, and saw that Dying in the Wool was on offer for only £1, and so just bought it, knowing nothing about the author, nor the Kate Shackleton character.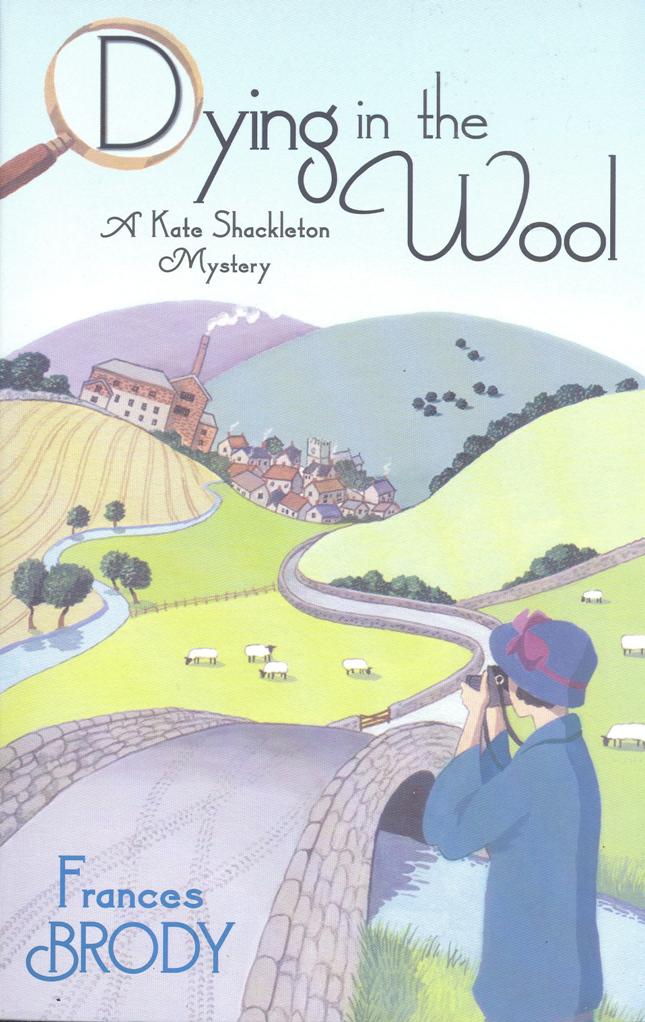 I read this book in July, 2019.
It is always interesting to begin reading a new series, especially one chosen by chance. I was struck by a very familiar opening sequence "My name's Kate Shackleton. I am thirty one years old, and hanging on the freedom by the skin of my teeth. Because I'm a widow ........." That was exactly how Sue Grafton opened the Kinsey Millhone "Alphabet" books. Kinsey aged very slowly as the series progressed. I wonder what Kate Shackleton will do ?
This is book one, it's about 1922, and we are introduced to Kate Shackleton. Kate is a widow as are so many in the post war years. Kate's husband was an army surgeon. Captain Gerald Shackleton was posted officially missing and was last seen in 1918 in France just before a series of heavy barages. Although she had been told "missing in action" was a gentle way of saying "blown to smithereens," Kate still half hopes / hoped he would turn up one day - perhaps suffering from amnesia. However she was persuaded to have him declared dead, and Kate inherited sufficient to live reasonably. Kate's father is a superintendent in Yorkshire police, Superintendent Hood, and her mother is Mrs Hood in Yorkshire, but, on trips to London, reverts to her maiden name of Lady Virginia (she is the daughter of the late Lord and Lady Rodpen). Kate was adopted, and then seven years later her mum and dad had twin boys. They loved Kate all the more - she had brought them luck ! As something to do, Kate has been helping war "widows" or mothers find missing loved ones, and has been remarkably successful. Because of this she is approached by an old war time chum - Tabatha Braithwaite. Tabatha is about to get married, but her father Joshua Braithwaite went missing some 6 years ago. Is he still alive or dead ? If alive, could he attend his daughter's wedding. Tabatha asks Kate to help, and says she will pay. This is Kate's first commission for money, and she can now describe herself as a private investigator. Kate's dad suggests Jim Sykes as a possible assistant - Jim is out of work and the £2 a week will be a godsend for his family. Jim was a good detective, but upset his superiors when he refused to overlook a police injustice. Kate lives in Bridgestead in the Yorkshire countryside, and is looked after by her housekeeper Mrs Sugden.
Kate and Mr Sykes get to work, and the story of the mising Joshua Braithwaite unfolds. Joshua was not faithful to his wife Evelyn, nor she to him. He was a millionaire mill owner and we get a good evocation of mill work in the 1920s - dirty, dangerous, noisy, smelly, etc. We meet the mill workers, and as Kate digs deeper and deeper we get two more suspicious deaths - the Kellets. Did Joshua run off with a mistress, or did some enemy kill him ? I thought it was all well written, and I kept turning the page to see if Joshua might be alive, and to see how the Kate and Mr Sykes partnership would develop, remembering of course that Jim Sykes is married. Kate is bound by the conventions of the time, but is an independent soul - what we would now call a feminist. Jim Sykes is very uncomfortable to be seen as a passenger in Kate's car. As the man, he should be driving, but (a) it's Kate's car, and (b) Jim can't drive ! I liked the bit when Kate was at her Aunt Berta' party in London, and met Sir Arthur and Lady Jean Conon-Doyle. New to the private investigator business, Kate asked for advice - was she trying to consult the great Sherlock Holmes ?
It all build to a series of climaxes, and even when it all seems settled there is a final surprise - but I have no intention of spoiling things. All in all, a very interesting, well written story. Not a classic, but good, interesting historically too and very readable.
Links to author index and home page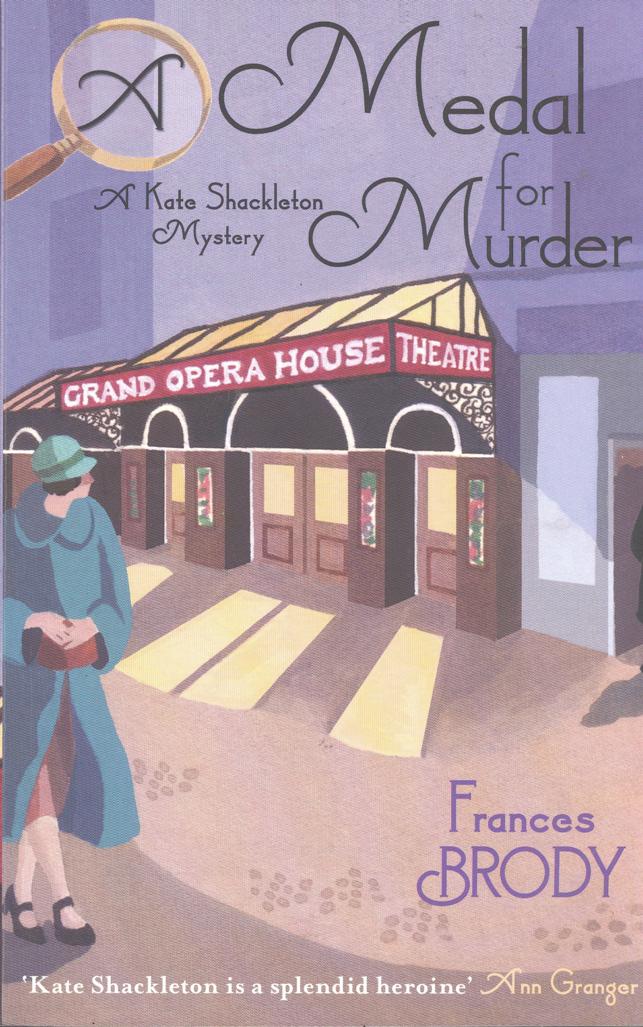 I read this book in January, 2021.
Although this is book two in Frances Brody's 1920s set Kate Shackleton series, I had read five other books in the series before I managed to get a copy. In my book three write up I complained about missing so much that apparently happened in book two. In this book we do have Kate and DI Marcus Charles not only falling for each other, but sleeping together on their first date - in England in 1922! Apart from private investigator Kate Shackleton, we also meet Jim Sykes, her ex policeman assistant, Mrs Sugden, her housekeeper, and Sookie, the rescue cat. Kate's mother Lady Virginia appears, but her father D. Superintendent Hood is only mentioned, as is Kate's missing / presumed dead huband Gerald. The story is set in Harrogate in August, 1922, but there are flashbacks to events in the South African Boer War (1899 to 1902).
There are four main and eventually related plots - a theft of pawned items, a "kidnapping" of Lucy Wolfendale, a murder of Lawrence Milner, and a flashback South Africa story linking captain Wolfendale, his orderly Sgn Lampton, and Corp Milner.
Mr Mooney is a Harrogate pawnbroker from whom pawned items have been stolen. The police are getting nowhere, and Mooney asks Kate to help. He wants her to try to recover the stolen items if possible, but first, to break the news to the people whose perhaps precious pawned items were stolen. Jim and Kate swing into action, but first Kate has a theatre date with a recent friend, Muriel Jamieson, the director of the play. Kate is staying with Muriel in the room she has rented in a large house owned by retired captain Wolfendale. Lucy Wolfendale is the star of Meriel's play. She is apparently the captain's grandaughter. Years ago he told her she would come into an inheritance on her 21st birthday, but now that has arrived and there is no sign of any money. Lucy is ambitous, anxious to escape her grandfather, and has been offered an audition at RADA. She stages her kidnapping but when the captain gets a ransom note he asks for Kate's help - and events do not go as per Lucy's plan.
Four young friends had major parts in Meriel's play - they were Alison Hart and Rodney Milner, a car salesman, Lucy Wolfendale and Dylan Ashton, an assistant estate agent. Alison and Rodney are in love, and pregnant Alison has turned to Mrs Geerts for an abortion, but is saved by Kate. Dylan dotes on self centred Lucy, and is hiding Lucy in a lonely property with an old tower. Lucy loses the key and Dylan is hospitalised following a hit and run accident - leaving Lucy trapped and with no food and water. Eventually Lucy is rescued by another inhabitant of captain Wolvendale's house - Dan Root, a watch repairer of apparent South African origin - but Kate is not far behind. The fourth inhabitant at Wolvendale's is a Miss Fell who has been with the captain for years. It turns out Miss Fell is the Mrs De Vries whose pawned ring was stolen from Mooney's, but Kate notices she seems to be wearing a "similar" ring !
As Kate and Meriel leave the theatre, late after the play's final performance, they stumble on a dead body in a near by doorway. The body has a knife in the chest, and is that of Lawrence Milner, Rodney's disagreeable and universally disliked father. DI Marcus Charles of Scotland Yard, whom Kate met in book one, is still in Yorkshire, and is given the Milner case. Kate gets more than involved in the case, and with Marcus. There are so many suspects - captain Wolvendale, Lucy Wolvendale, Dan Root, Meriel Jamieson, Rodney Milner, etc, etc - that it is difficult to keep track. All seemed linked, and Kate only finds the real murderer at the very, very end of the book. Kate had identified the pawned items thief, but decided not to tell the police. Keeping quiet really distressed ex policeman Jim Sykes - would he leave Kate over this ? Worse, but unknown to Mr Sykes, Kate was also going to keep quiet about the identity of the murderer. I'm not sure if I agree with Kate.
Finally, let's mention the flashback Boer War story. It's was a dirty war, some civilians who had been helping Brother Boer had their houses destroyed, and some were killed - leaving relatives seeking revenge. Captain Wolvendale, a womaniser, was involved in all this. He was seriously injured, but had his life saved by his orderly Sgnt Lampton. Corporal Milner was a witness. Wolvendale claimed credit for Lampton's heroics, got the VC, and Lampton kept quiet out of loyalty to his captain. Wolvendale met a schoolteacher, Miss Marshall and got her pregnant. Her child was born secretly, and shipped off to England for adoption. Miss Marshall married a cleric, and adopted another child, a boy. Later, in 1903 Wolvendale and the still loyal Lampton were in London, proposing to buy and run a tobacconist's shop, when Wolvendale inherited some property in Harrogate, and planned to ditch Lampton, the man who had saved his life. Read the book to find out what happened next.
All in all, the book is a really complicated linking of numerous related sub plots. It's also an update on Kate Shackleton's private life ( we learn that Kate herself had an early miscarriage, but didn't tell Gerald). It's all well handled by Frances Brody - not a must read, but it's a good enough story that kept me guessing.
Links to author index and home page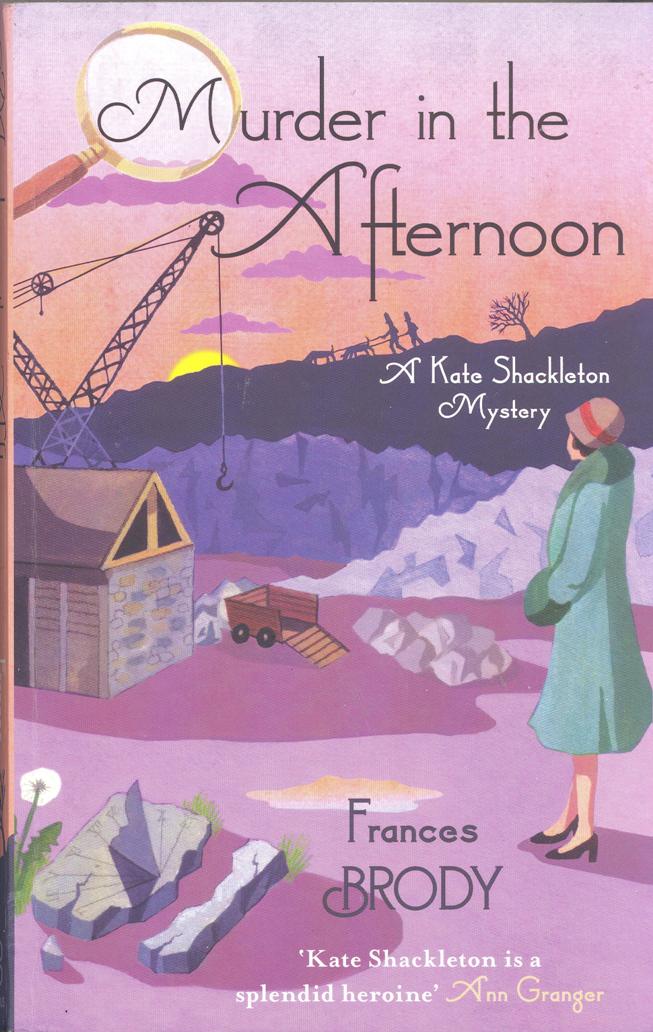 I read this book in October, 2019.
I started with book one in the Kate Shackleton series, liked it, but since I don't have book two yet, I have had to jump to book three. Unfortunately I seem to have missed quite a bit in Kate's personal life story. Apparently, in book two, she met, fell for, and was let down by a practising psychiatrist, but happily, she also met a more genuine man in DI Marcus Charles of Scotland Yard. Things must have moved fast, because she has spent the night with him - remember this is the 1920s. In this book, Marcus is still around, but he is now a DCI, and he seems about to propose marriage to Kate. I don't think she will say yes - at least not yet. Marcus is a bit old fashioned in his views about a woman's place in society There is only one female detective in the whole of Scotland Yard. Kate is thoroughly modern in her ways. She won't allow herself to play second fiddle. As an aside, in the Railway Detective books from a little further back still, Robert Colbeck has to use his wife Maddy as a female detective - there being no female detectives at all in Scotland Yard.
Ex policeman Jim Sykes is still Kate's detective assistant, and her housekeeper Mrs Sugden also wants to help.
The story opens with a bang - or several bangs. In the middle of the night, a woman is hammering on Kate's door, and introduces herself as Mary Jane Armstrong. Her husband Ethan has gone missing. Worse, her daughter Harriet took her dad - a stonemason working alone on a Saturday afternoon in a local quarry - his teatime meal, and found his body lying cold on the floor of a shed. Harriet was a country girl, and recognised death. She held her brother Austin back outside the shed, so he did not see his dead father, but they both ran to the nearest farm for help. Bob Conroy, their "uncle" rushed to the quarry, but the body had vanished. Ethan was never seen again. Mary Jane believed her daughter - the police did not - and ran to consult Kate Shackleton. But there was something familiar about Mary Jane - where had Kate met her before ? Kate rushes to help, but then stops and refuses to go on until Mary Jane says how they have met before. "Kate" says Mary Jane, "I am your birth sister. I was there when your new dad called at our mum's house and took you away. She had to give you up, and you were adopted." Kate knew she was adopted , but nothing else of her origins. Now she learns she has a sister, and a niece and nephew, and her birth mother is still alive.
The actual murder of Ethan Armstrong is a good, solid story . The police think Mary Jane did it. Mary Jane could indeed be the killer - what does Kate think ? The police - her dad Superintendent Hood, and her lover DCI Marcus of Scotland Yard - both tell her to leave well alone, as Ethan was a communist revolutionery known to the authorities. To Mary Jane he was just a husband and dad for Harriet and Austin.
Eventually Kate believes Mary Jane, and gets to know Harriet and Austin. She also meets Mrs Whitaker, her birth mother.
There was quite a bit more to the story - it held my interest and I kept page turning. At the climax, it is obvious that the police have just been humouring Kate, but it is she who solves it all.
It's an interesting series and it's lovely to read another take on 1920s England. Historical fiction is getting to be quite a crowded field.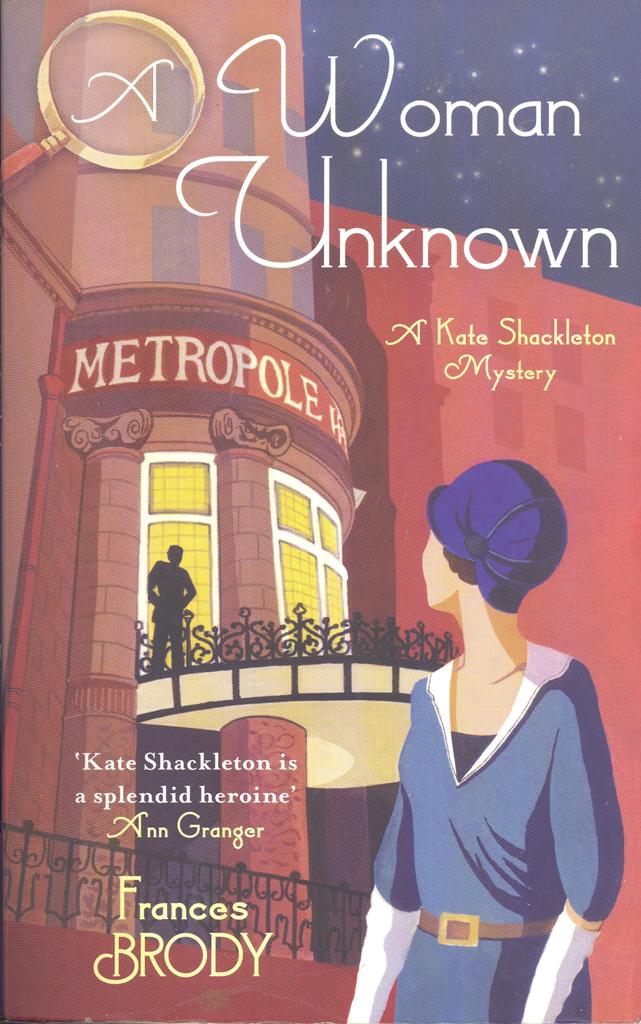 I read this book in April, 2020.
This is a little gem of a book, which ticks lots of boxes for me. It's historical fiction done well set in the 1920's in Leeds, London, etc, it's a good murder mystery with the murderer only revealed towards the end of the book, and it has a strong personal lives back story. So it's another outing for Kate Shackleton, Mr Sykes her ex police assistant, Mrs Sugden her housekeeper and much more, and Sookie the cat. We also meet DCI Marcus Charles of Scotland Yard once again. He had asked Kate to marry him, but quite correctly she said no. Marcus uses Kate to help in his investigation once again, but it's clear he doesn't fully trust Kate, and certainly under values and under estimates her abilities. Kate is a "modern woman", and no man's inferior. A marriage would have been a disaster, but Kate and Marcus can still be friends. Kate still hasn't fully accepted that Gerald, her doctor husband missing presumed dead in the last war, really is dead, and won't return. But she gets news of Gerald's definite death from a most unlikely source at the very end of the book - now she can move on.
It's a good and very interesting crime story with lots of strong characters. It starts with two separate investigations, but as is often the case, they are connected, and become one story. Diedre Fitspatrick is known to Mr Sykes. Working part time in department store security, he caught Diedre shoplifting, but persuaded the store management that hers was an honest mistake. And so Sykes persuades Kate to take on a case when Mr Cyril Fitspatrick wants someone to solve a mystery for him. His wife Diedre is going off by herself a lot, allegedly to visit her sick mother, but is she really? Cyril wants Diedre followed. Normally Kate never touches matrimonials, but agrees this once. Diedre is visiting her mother but not all the time. Diedre is trying to get some money to pay for better care for her mum, but doing so in a most unusual way. It's now possible for married people to get a divorce if there is evidence of unfaithfulness. Diedre sleeps with some husband seeking a divorce (no sex, with a pillow down the middle of the bed) in some hotel - the hotel Metropole here - the chambermaid discovers them in the morning, and so grounds for divorce are established. It's sleazy, but it pays well.
The other story is about Everett Runcie, an impoverished member of British aristrocy. He has married a rich American Philippa but blatently and publicly continues to see his mistress Catherine Windham. Philippa has paid out to maintain the Runcie country seat, but is being treated shabily, and has had enough. She wants a divorce, is returning to America, and Everett is to provide her with grounds. Yes, the person he meets is none other that Diedre Fitspatrick - but Diedre wakes in the morning to find a dead Everett lying beside her. She flees the scene. Everett had been murdered, and Marcus Charles of Scotland Yard is given the case. He asks Kate to interview the distraught chamber maid. Marcus is in town following an American gangster Anthony Hartigan who is bulk buying Scotch to later sell on the blackmarket in prohibition locked America. A harassed Marcus gets ex policeman Mr Sykes sworn in a special constable to follow Hartigan.
The story now takes off. A lot of the characters are known to Mrs Shackleton - eg Philippa is a friend. Kate Shackleton's mum is of course part of the same aristrocy. Hartigan turns out to be Diedre's brother, Philippa has a trusted and devoted manservant Gideon King, Rupert Cromer is a gifted sculptor, and Diamond is a society and news photographer whose trick camera allows him to take candid photos. Kate's reputation means her services are are highly sought after. Philippa asks Kate to find out who killed Everett - and so Kate and Marcus are working on the same case, but mostly separately. At the very end it's Kate who identifies the murderer and earns a generous cheque - sufficient to buy a new Jowett motor car, and give the old Jowett to Mr Sykes who also gets a pay rise.
I really like it that the story continues after the murderer is caught. Mary Anne is Kate's blood sister and she is to be a house guest of Kate's. Mary Anne is getting married again, only 5 months after her first husband's death. Kate is devoted to little Harriet, Mary Anne's daughter. Mary Anne has moved on, and it's time for Kate to move on too. It's a bit like the ending of a Maisie Dobbs story in that Kate revisits all the main characters, helping where she can. Thus she suggests that Caroline Windham starts afresh in Paris, and even suggests a business partner for her.
All in all, a lovely little story full of period detail.
Links to author index and home page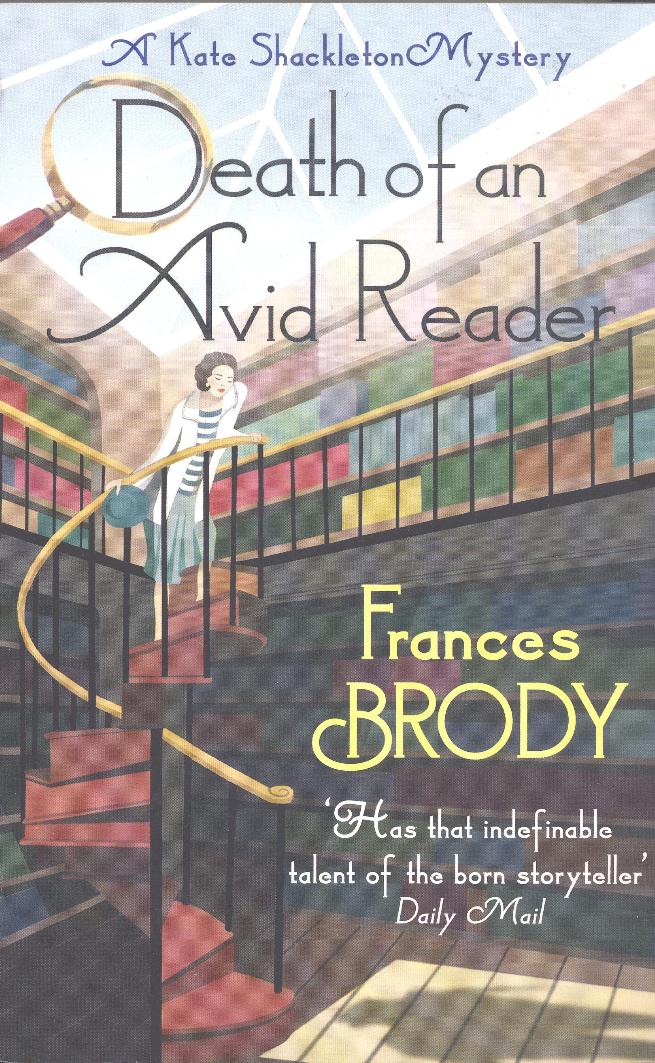 I read this book in January, 2020.
These are the on going adventures of Kate Shackleton, a highly connected lady private detective, set in 1925 Leeds, in this case. Kate has a team of one - Jim Sykes - and a faithful housekeeper Mrs Sugden. The previous book that I read "Chronicles of the Dead" was a bit too clever by half, and I wanted a simple crime story. More of less, this is what this book is.
The book started ever so well - I thought it might turn out to be special - but sadly it sort of faltered half way through. Nevertheless, I enjoyed the story.
The book opens with Lady Coulton summonsing Kate to get her to trace a secret love child she had when she was young - a girl given up for adoption. It later turns out that Lady Coulton is dying - hence her desire to find her long lost daughter. The missing girl is very, very difficult to find, and Kate thinks this may be her first failure. But Lady Coulton tells Kate she has only days left to live, and Kate decides she must do all she can to find the girl.
There is another story running through the book. Kate is a patron of Leeds public library, and her friend there tells her a strange story about the place being haunted. A catholic priest has agreed to exorcise the ghost, and reluctantly Kate is persuaded to be one of two lay persons assisting the priest. Of course there is no ghost, but other explanations for the strange noises from the basement. The priest, Kate, and Mr Lennox find the murdered body of Dr Potter in the basement. The local police are called, and Inspector Wallis is in charge. Kate doesn't think much of Wallis - and when a vagrant is found in the same basement , Wallis immediately charges the vagrant with murder. The vagrant is dseperately ill, and very weak. It's obvious to Kate that Wallis has acted too quickly, and she decides she will have to solve the murder and a save the vagrant - remember hanging had not yet been abolished.
There is also a well behaved monkey called Percy in this book - (the vagrant was an Italian organ grinder) - that Mrs Sugden has to care for.
Of course it all works out in the end. Perhaps Kate has even misjudged Inspector Wallis.
It's a competent story that doesn't live up to it's initial promise, but still it's an OK read. I prefer the Maisie Dobbs series also set in the 1920s, and later.
Links to author index and home page


I read this book in February, 2020.
One of the delights of reading a series is that we meet again not just the main characters - 1920s lady PI Kate Shackleton, her ex policeman assistant Jim Sykes, and housekeeper Mrs Sugden - but also people we have met earlier in the series. The book opens with Kate's young niece Harriet - Kate had not known she had a sister, nor a niece - in a quarantine hospital with diphtheria, and her mum and aunt are standing in a muddy flower bed peering through through a closed window.
Next Kate takes Harriet away with her for a holiday in the Yorkshire Dales to recuperate. I have jumped several books in reading this series, and didn't know that Kate and Dr Lucian Simonson were "romantically involved." How did it happen, and when ? Lucian's aunt Freda had brought him up in Langcliffe, but has now died, and left him her house. So Kate and Harriet are giving the house a trial run. There is currently no doctor in Langcliffe. Kate is to live there on holiday to see how she likes the place, and advise Lucian if he could open a surgery there. Would she and Lucian settle there ? Lucian is a nice person - and so one of the questions of the book is will he and Kate get married, settle down, and Kate no longer be a PI.
Freda had witnessed the murder of Mr Holroyd, a local publican. After he threw a drunk Irishman out of his pub, a dark stranger appeared out of the shadows and stabbed Holroyd. The Irishman rushed to help, pulled the knife out of the body, and so was found holding the blood stained murder weapon. It didn't help that there was anti Irish feeling in 1926 (Easter Riots, etc). The poor Irishman was tried and hanged. Freda was a witness for the defence, but was not beleived. She always remembered the innocent Irishman, and vowed somehow to clear his name. Then she learned that Lucian was seeing the now famous Kate Shackleton. Freda thought she could get Kate to help her, but Freda died before they could meet. However her case papers were presented to Kate by Freda's friend "Wiggy", and so Freda speaks to Kate from the grave.
Although supposedly on holiday, Kate has to help, but Lucian doesn't approve. Kate sends for Jim Sykes. There is another murder there, to solve first, but Kate eventually solves both.
Harriet has made two chums in the village, Beth Young, a 15 year old mill worker, and Susannah Trevelyan, daughter of the local squire, but rather a lonely girl. Beth's mother had died recently. Beth and her younger brother Martin had been sent to Langcliffe, where Martin had been sent out to labour as a farmers boy on a local farm, but unfortunately for a farmer who was a beast. Now Martin is missing. Can Harriet help Beth find Martin ? Harriet wants to be a PI like her aunt. Susannah says she will join the hunt.
There are all sorts of extra threads to the story. Mrs Trevelyan is being blackmailed, and seeks Kate's help. A local farm worker Gabriel keeps appearing on the scene and proves to be a great help. Later, one question posed is just who is Susannah Trevelyan's actual father.
There is a national strike, and petrol is in short supply. It's historical fiction at it's best . I still prefer the Maisie Dobbs series, but this is of similar quality and interest. It's well written, and the stories flow beautifully to make this an easy book to read. And what's wrong with that ?
I'll need to go back in the series to see how Lucian and Kate met, and who was the Indian princess who gave Kate a Rolls Royce car, (not much good when there is a petrol shortage).
The book concludes with two weddings, and no loose ends. Read the book to see if Kate married Lucian.
Links to author index and home page


I read this book in June, 2020.
This book opens with Kate Shackleton and crew off on holiday. Kate is visiting Whitby and her old school friend Alma Turner, her assistant Jim Sykes with his wife Rosie, and family are on holiday not far away up the coast at Robin Hood's Bay, and housekeeper Mrs Sugden is not much further away in Scarborough. Kate was matron of honour when Alma married Walter Turner, and Kate is looking forward to seeing her goddaughter and their daughter Felicity. Sadly Walter was a bit of a rogue (and a bigamist) and he took off allegedly for warmer climes, but kept in touch with Felicity with a series of postcards, usually accompanied by a white fiver. Walter didn't pay maintenance for Felicity, but bought a house in Whitby for them to stay in. When the house slid into the sea Walter bought Alma half a share in an old Tudor Mansion (Blagdale Hall). The other half of the house is owned by a business partner of sorts of Walters - Mr Percival Cricklethorpe (Crickly). Alma has one floor, Crickly, an artist, panto dame, and whisky smuggler has another, and they share the kitchen etc on the ground floor. Again sadly the house is almost uninhabitable as there is no money for upkeep, nor even cleaning. Knock on doors before entering and wait for the vermin to scamper away. Luckily, Kate is staying at the Royal Hotel.
Alma is a fortune teller with a little kiosk on the pier, but seems to go through life in a trance not noticing people nor being aware of things. Kate knows Whitby well, and she chances upon Philips, the same jewellers where she and her husband bought their engagement ring (Gerand went missing in the war). There is a nice jade bracelet in the window and Kate decides to get it for Felicity. The shop is deserted, no one comes to serve her, and, calling out, she enters the back room to find Jack Philips murdered on the floor. She goes for help to phone for the police at the newsagents next door. The shop is owned by Dora Margaret Dowzell, but it is her pompous brother Timothy who is less than helpful. Kate goes to the police station and meets Sgnt Rodney Garvin who takes her statement and follows her to the jewellers. Garvin is a nice enough chap, but out of his depth in a murder enquiry. He twice suspects Kate of being a criminal - firstly of being in league with smugglers, and secondly of murdering Jack Philips. Kate even spends a night in the cells !
The mystery is who killed Jack Philips, and why. And so the cast widens as we meet possible suspects. We meet the Webb family, mother, son Brendan, and daughter Hilda. The father was a sea captain who lost his ship, took to drink, and died. Brendan gets on well with Jack Philips, and is mending his boat the "Doram". Brendan is also Felicity's boyfriend. Hilda works as chambermaid at the Royal where Kate is staying. Now to a sub plot. Felicity has gone missing - and it turns out she and Brendan have "borrowed" the Doram, and are off to Elgin, in northern Scotland, looking for Felicity's dad. They hit stormy seas - will they survive, and will Felicity meet her dad (who has not got long to live)? In another subplot, Alma and Jack Philips were good friends - but was it just Alma's wishful thinking ? Jack always had a way with the ladies.
Scotland Yard are called in ,and Chief Inspector Marcus Charles is in charge. Marcus and Kate are old friends - but Kate turned down his marriage proposal. Jim Sykes does not like DCI Charles, and the feeling is mutual. However in a surprise at the end of the book Kate and Marcus seem to be rekindling their friendship. Let's hope not.
The suspects are Kate herself, Alma, a spurned lover, Crickly (protecting Alma), and Miss Dowzell, the next door newsagent and a lot more to Jack. Kate calls in Jim Sykes, and Rosie comes along too, and Mrs Sugden who happened to be visiting Jim and Rosie.
It is a well written story, and I kept page turning to see who had killed Jack Philips. There are surprises galore - e.g. who were Brendan's real parents ? I didn't work out who did it before being told.
There is not much history in this historical fiction book, but we are reminded of the poverty of the time, and the social taboos - e.g. Brendan and Felicy running off together.
It's a good series, and this is a worthy member.
Links to author index and home page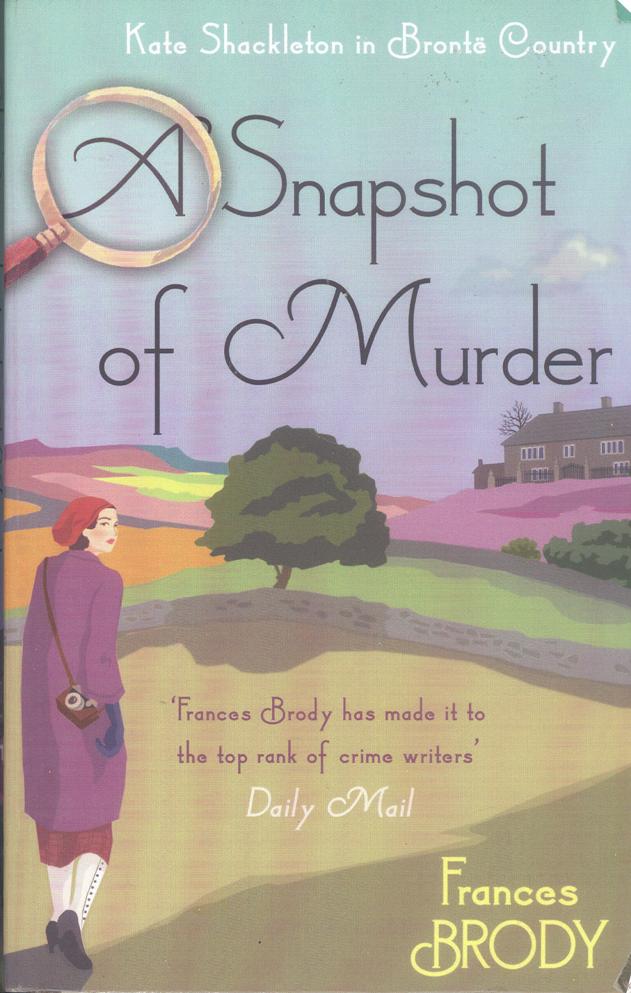 I read this book in June, 2020.
This is an interesting story set in 1928. Yes, it is crime fiction, in that there is a murder - one that we are warned about - but mostly it's a tragic story within a story about Kate's friend Carine Murchison who has had misfortune befall her many times, and the point of the story is that she has never really recovered. It is of course, another outing for Kate, her assistant Jim Sykes, her housekeeper Mrs Sugden, and let's also name check Sookie, the cat, now very old. Kate's young niece Harriet Armstrong has been living with Kate for several months. We are reminded that Kate is adopted, but discovered she had a real sister Mary Anne several books ago when Harriet's dad Ethan was murdered. Harriet has a brother Austin. Kate was adopted by Mr and Mrs Hood, and has twin brothers Simon and Mathew, seven years younger than her, and now in Canada. Mrs Hood is aristrocracy, Mr Hood is Police Superintendent Hood of a Yorkshire Police Division. He is now 66 and his wife wants him to retire, but he tells Kate he cannot. The war has robbed the Force of a whole generation of officers, and there is no one with sufficient experience to replace him. Mr and Mrs Hood's dog Constable died some while ago. It was an ex police dog, and they want another. The replacement appears in the shape of Sergeant Dog, a failed police bloodhound. The dog takes a liking to Kate and Harriet, and it's not clear at the end of the book where the dog will end up.
We have always known of Kate's interest in photography, and it is through the Headingley (suburb of Leeds) Photographic Society that we meet Kate's dear friend, the beautiful Carine. Graduately Carine's story unfolds as the plot progresses. Carine was left devastated at the age of five, when her mother "ran off" - away from Kate's terrible father. Carine never stopped looking for her mother to return. Carine's dad took her out of school when she was eleven, and set her to work in the family photographic shop / studio - the little girl did all the work for a lazy dad. Eventually Carine met Edmund Chester (who wrote fine poetry) - they were the love of each other's lives. Edward marched off to war with his best friend Tobias Murchison. Only Tobias returned telling Carine that Edward was dead. Resonance with Kate whose husband Gerald also marched off to war, and never returned. Gerald did die. Edward survived, but was so badly disfigured that he felt he could not inflict himself on Carine. She would marry him only out of duty ! How wrong he was. Tobias wooed Carine, was a clone of Carine's terrible dad, and married Carine to "look after her" and manage the business affairs of the studio. Why did Carine go along with all of this - the puppet of two abusing men ? Carine did have her admirers in an eccentric mystic Rita who confessed to Kate that she really, really loved Carine. A young man Derek Blondell who worked in a newspaper's library also worshiped Carine, and it seems Carine more than encouraged his infatuation.
Matters come to a head when Edward turns up again, and everyone goes off on a Photographic Society outing to Haworth - home to an about to be opened Bronte Centre / Museum. Harriet goes along too - she knows Derek Blondell who usually walks her home late at night when she finishes her shift as a cinema usherette. Mr and Mrs Hood are in Haworth too, Kate's mum is house hunting for the hoped for retirement. Kate and the others are staying at Pondon Hall which is run by Mrs Varey and her daughter Elisa who does all the work. To say that Pondon Hall has fallen on bad times is to be charitable. You can see the stars through holes in Kate's bedroom - and of course it rains when Kate is there. As an aside Elisa Varey is the real person whose charitable donation got a character named after her.
Meanwhile, as the saying goes, Mrs Sugden is asked to look after the shop when Tobias and Carine go off on the outing, and Tobias offers Mrs S a bonus if she will tidy up the old junk laden cellar. Jim Sykes agrees to help Mrs S. How fortuitous that we now have an ex police bloodhound on the scene to help Jim solve the mystery of Carine's runaway mother.
I will let you read the story to see who is murdered. Who did it is not too much of a surprise. It is hinted at lots of times, although there are lots of possible suspects. Of course when Scotland Yard are called in who else would it be than DCI Marcus Charles, on / mostly off love interest for Kate.
It's a good enough story really, but most of the time I felt I had been tricked into reading a woman's "feel good ending" magazine romance, rather than predominately a crime mystery. I still prefer Jacqueline Winspear's Maisie Dobbs series also set in the 1920s, and later.
As a surprise, the copy of this book that I bought also contained a 73 page short story extra : "Kate Shackleton's First Case" - see below.
Links to author index and home page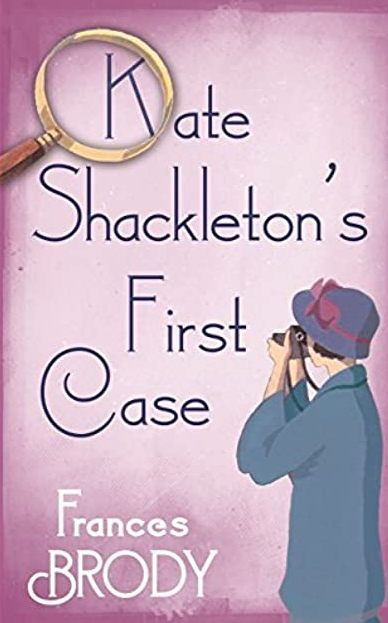 I read this book in June, 2020.
Although this is only a 71 page short story, it is a gem of the art of short story writing. It has a beginning, a middle and a great climax at the end - and there is even room for plenty back private lives tales. I got this story "free" at the end of my copy of "A Snapshot of Murder" - see immediately above.
It is March, 1921 and Kate is 30, wondering what to do with her life. She had been volunteering as a war time nurse, but to continue in nursing she would need to study for formal qualifications at the same Leeds hospital where her missing, presumed dead ( but not by Kate) husband Gerald was a consultant. She could not bear to see his ghost walking the corridors. She is with a good chum Doris Butler, a 23 year old, very attractive aspiring actress and RADA student. They are celebrating Doris's birthday at the famous Betty's tearooms in Harrogate. A pianist is playing in the corner. Presently he plays "Happy Birthday" to Doris. How did he know asks Doris ? Doris is horrified to learn Kate did not do the requesting. Doris has a stalker who has followed her to Harrogate. He is Adam Kitchen, a fellow RADA student. Doris was scatty in having a string of marriage engagements, all broken off - only this time Kitchen did not take no for an answer, and said if he could not have Doris, no one else would. He would kill Doris ! There is no sign of Kitchen, but when an upset Doris goes to the toilet, Kate notices she is followed, and rushes in pursuit, just in time to save Doris's life. They scream, help arrives, and Adam Kitchen is arrested and charged with attempted murder, but Adam has the services of a clever defence lawyer who proposes to discredit Doris and Kate. Kitchen may get off and come after Doris again. Kate must help her friend - and so the story unfolds.
Kate is living by herself in the house she and Gerald bought. She wants to stay there, independent, but her mum and dad want her to live with them. Kate has two younger twin brothers, Mathew and Simon. Mathew is doing his best to help his sister. "You looked after us when we were younger, it's our turn to look after you". Mathew suggests Kate has a self contained annexe built, and that Kate employ a housekeeper to live there. As Kate would no longer be living alone, she would not be pressed to return home. This is agreed, and at the very end of the short story we even hear of a Mrs Sugden, whom we know did turn out to be Kate's excellent housekeeper.
Kate's mum's "Sunday" name is Lady Virginia Rodpen when not Mrs Hood. Simon is a solicitor. Kate's brothers are keen to help Kate when they can - before their proposed emigration to new lives in Canada.
Kate does help her friend, and as news of her success spreads, is approached by someone else's mum who wants Kate to find her missing "conscious objector" son. Kate agrees, and so takes on her first case.
It's quite a big story fitted into only 71 pages, and there is plenty of 1921 atmosphere - historical fiction at it's best. I liked the bit about Doris visiting her mum, finding her dead dad's matchstick model of York Minster smashed by neighbour Phil (an accident), but noticing how at home Phil seemed in her mum's house. With a small holding to run, and no husband, what choice did Doris's mum have ? I guess that was the position for lot of war widows. Where else does the climax take place than York Minster, but only Doris sees the ghost of her father, or does she ?
Links to author index and home page