Iain's Leisure Reading
I came across Jacqueline Winspear's book "Maisie Dobbs" by chance in a charity book shop, noticed it was book one in a series that I had never heard of, but that the books were award winning and highly praised. I am always on the look out for new series to try, and so I thought I would give it a go.
I haven't really been able to find out all that much about the author Jacqueline Winspear. I wonder when, but she was born in Kent, educated at the University of London's Institute of Education, and then worked in academic publishing, higher education, and marketing communications. She emigrated to the United States in 1990, now lives with her husband in the San Francisco area, but returns regularly to the UK possibly for background studies. She was drawn to write about the World War I era by the strong impression she retained of her grandfather's suffering. He suffered shell shock at the Battle of the Somme (1916) - and she watched him pull immaginary shrapnel from his leg most days thereafter until he died. Billy Beale, Maisie Dobbs's assistant walks with a limp caused by shrapnel in his leg - a leg Maisie Dobbs helped to save when she was working as a field nurse in wartime France.
Maisie Dobbs is the heroine of these books - a working class girl who works hard to improve herself, becomes well educated by happy perchance and a benevolent patron, and eventually works as a private investigator in London, 1929 onwards. She insists on an ethical approach, looks for healing as well as answers, has a rare empathy, relies strongly on intuition, and is always quoting phrases and advice given by Dr Maurice Blanche, a polymath, her tutor and life long friend, who taught her all she knows, with whom she worked for several years, and whose practice she eventually took over / inherited on his semi retirement. The series has been compared to The Lady Detective novels because Maisie seems to quote Maurice Blanche as often as Precious Ramotswe quotes Clovis Anderson.
In this series we have a female author writing about a female private investigator. It will be interesting to compare Jacqueline Winspear's Maisie Dobbs with Sue Grafton's Kinsey Millhone series or Dana Stabenow's Kate Shulag Novels or Rebecca Tope's Thea Osborne series.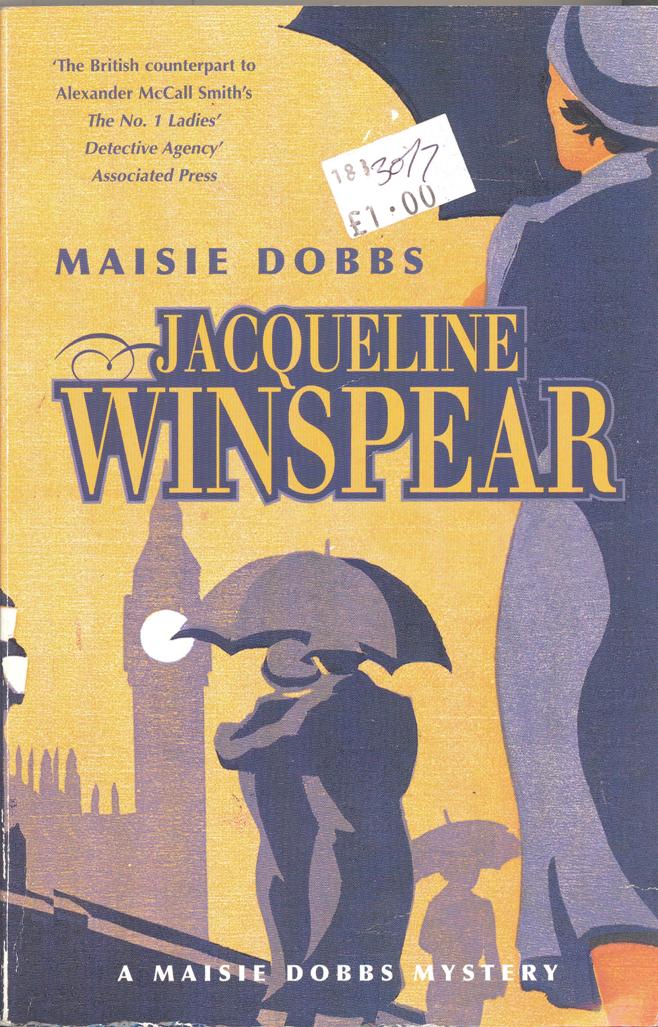 I read this book in January, 2016.
"Maisie Dobbs" is the first book in the Maisie Dobbs series by Jacqueline Winspear, and set in the post World War I era. The book opens with Maisie setting up her private investigator with a difference business in 1929 London. We meet Billy Beale, a young caretaker at her office building who remembers Daisie as the angel nurse who helped Dr Simon Lynch save his mutilated leg in war torn France, and who is anxious to help Maisie is any way he can. Eventually he is to become Maisie's assistant.
Maisie is blessed with a patron, Lady Rowan Compton, whose solicitor sends some clients in Maisie's direction. Although she has taken over the private investigator practice of Dr Maurice Blanche this is late the 1920's, gas lamps, chaperones and women's lib decades away, and some of his clients are wary of a lady investigator. Maisie gets her first case - Christopher Davenham suspects that his wife is having an affair. Maisie accepts the case on the understanding that she will always do more than just supply hard fact answers, but be equally concerned with both Mr and Mrs Davenhams eventual happiness. It is counselling as well as investigation. Daisie discovers there is no "other man" in this case, Mrs Davenham is visiting the grave of a mysterious Vincent. Why has Vincent, a war victim, no surname, and why are there others in the same graveyard buried also with only one name on the gravestone ? Daisie solves Christopher Davenham's problem - but goes on to find out more about the single name graves, and in so doing enlists Billy Beale's help, getting him to go underground at the "Retreat" in Kent. And so we go full circle, and Lady Rowan's help to the young Maisie Dobbs is more than repaid when Daisie saves Rowan's son James Compton from fraud, and probably saves his life.
For the first 70 odd pages I thought this was going to be just an average series, of some interest for its social history of post World War I Britain, and with perhaps an interesting main character who seems to not only to be guided by intuition and meditation, but perhaps by some form of second sight. But then, in chapter eight, we come to a section headed "Spring 1910 to 1917" and for me the book stepped up a gear and became a lot more interesting. This is the section where we learn of Maisie Dobbs' background - of the death of her mother, of her father Frankie who sells vegetables round the doors from a horse and cart, and how Maisie, a very bright child, is sent into service in a big house - that of Lord Julian and Lady Rowan Compton. We learn of the hardship of service, of the long working hours, of life below stairs. There is a library in the grand house and Maisie gets up at 3:30 am every morning to study and introduce herself to a fascinating new world of academia. Maisie is engrossed in a book, trying to teach herself latin, when she is discovered by Lady Rowan. Rowan had been impressed by Dr Maurice Blanche, had visited the east end of London and been appalled by the conditions there, and so decided to help Maisie better herself - employing Maurice to work as tutor to Maisie. There is a lot more to the story, of class divisions, of the terrible war, of life as a nurse almost on the front line, etc, etc. I will say no more to spoil the story - but it is fascinating, and well told.
Maisie solves the case of what is happening at the Retreat in Kent - but I thought the way she saved Billy Beale with a song was a bit corny. There was a surprise almost at the very end of the book that I had not expected - well done Jacqueline Winspear. Lady and Lord Rowan go into semi retirement and go to live in the country, keeping on their London mansion for occasional visits, and persuade Maisie to move there and run her business from there - rather than have the place remain empty.
I had ended up really liking this book - but what I liked was Maisie Dobbs' story, not the private invetigator part. Will I like the other books in the series, I wonder ? I will need to read on to find out.
Links to author index and home page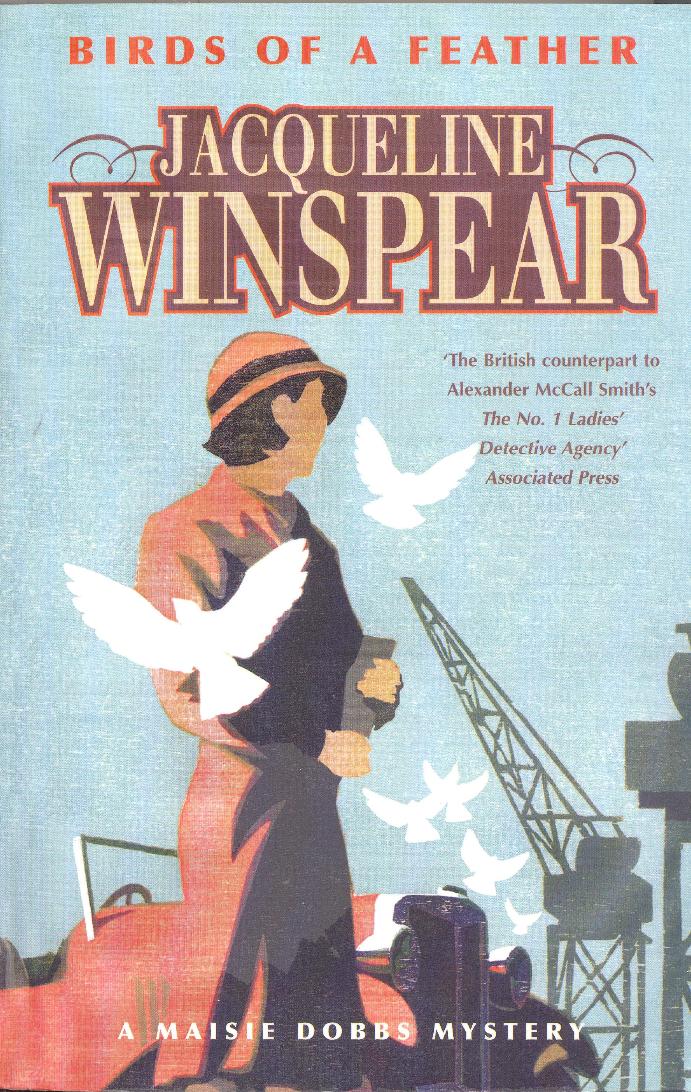 I read this book in March, 2016.
"Birds of a Feather" is the second book in the Maisie Dobbs series by Jacqueline Winspear, and set in the early 1930s when World War I memories are still raw. The war has cast a terrible shadow. The book opens where book one closed. Maisie is living rather a solitary life in rooms in her patron Lady Rowan house - a house where she used to work as a servant. She is running her private investigator with a difference business with Billy Beale as her assistant. All the old characters are still there - Lady Rowan, Maurice Blanche her mentor, and Maisie's dad, now working as groom for Lady Rowan. Maisie still visits Simon, her old but badly war damaged sweetheart in a care home. Sadly Simon is not aware of Maisie's visits.
With one slight reservation I liked the book. It was a strong story with a powerful ending that took me mostly by surprise, and I liked the characters and the depiction of London in the early 1930s. The reservation is when Maisie almost goes into a trance to commune with her surroundings and gain extra insight and help. It's a little bit more than intuition and observational skills, and the book doesn't need this. That said, it was not overdone.
The story opens with Maisie and Billy summoned to attend Joseph Waite, a very rich, forceful, self made successful business man. They are shown in by Mrs Willis, Mr Waite's housekeeper, and Maisie notices that most of the staff seem terrified of Joseph Waite. His 32 year old daughter Charlotte has run away, and he wants Maisie to find her and bring her home. Why is a 32 year old daughter still living at home, under her father's control ? Maisie accepts the job, so long as she is allowed to later provide counselling to Mr Waite and Charlotte. But then there is a twist. Maisie discovers that Charlotte has but three real friends, and one by one, these friends are discovered murdered. Who is doing it, and why ? Soon Maisie finds that she has a series of murders to solve - and with no help from DI Stratton. By the end of the book, Maisie herself is under great danger, and it all builds a good well written climax.
We learn more about Maisie's private life. It is commendable that she is still visiting Simon, but perhaps and sadly it's time to move on. Maisie discovers that she is lonely. But by the end of the book, there are two possible suitors - DI Stratton whose wife died in childbirth leaving him a child to bring up alone, and a Dr Dene whom Maisie meets through Maurice Blanche. Which if either, will prevail - we will need to read book three to find out? There is also a bit of tension between Maisie and her father that will have to be resolved. And finally Billy Beale's wartime injuries are now causing him extreme pain. He seems to be suffering mood swings - one day the old Billy, all bright and cheery, the next day withdrawn and dejected. What is wrong, and can Maisie help ?
I won't give away the ending, but the murderer almost deserves our sympathy. Another casualty of that terrible war. The depiction of place and time is very convincing, and I thought it was a book well written, and well worth reading. I look forward to book three.
Links to author index and home page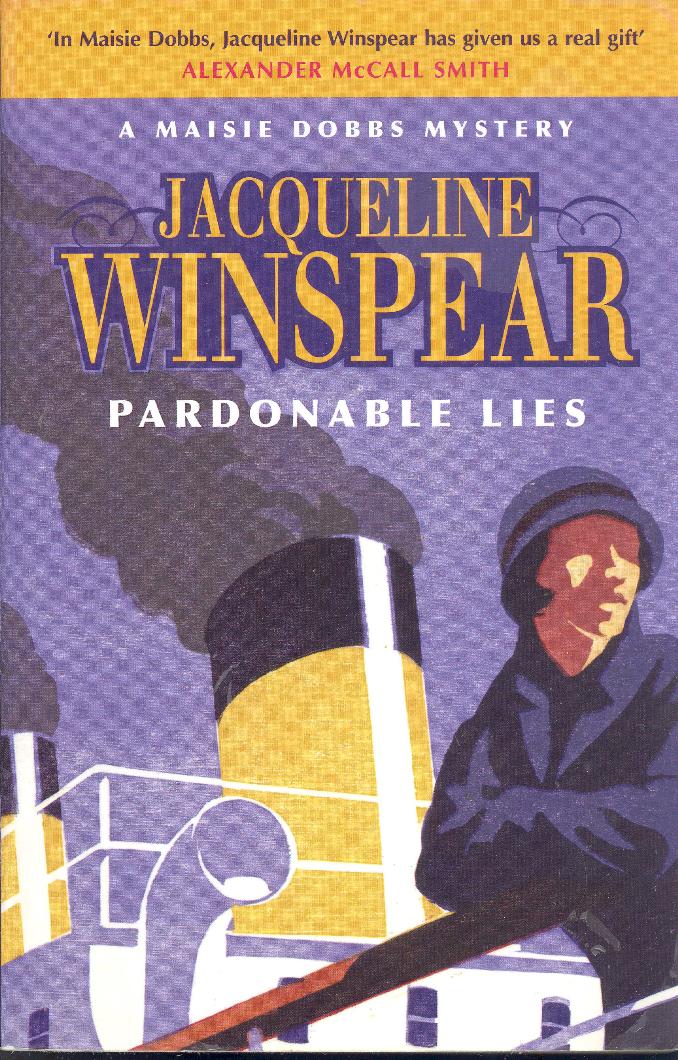 I read this book in April, 2016.
Do read the two poems in the preface to this book. The first, by Sophacles, explains the title of the book - when "to speak dishonourably is pardonable". The second poem is from Carl Sandberg's "Grass" growing over the graves of men. Maisie Dobbs is looking for the last resting place of Peter Elverden - and in a corner of a field in France a spot is pointed out to her "There it is, the place where your flying man came down ... See how the grass grows. You would never know. You would never know."
"Pardonable Lies" is book three in the story of Maisie Dobbs, psychiatrist and investigator - a PI with a difference. The story is set in 1930, and the wounds of war are not healed - too many tormented souls. This is a terrific book in an excellent series. The books do all the usual things of such series - we share the solving of a mystery / whodunnit, and we follow the private life of the main character(s). But here there is an underlying extra depth to these stories that is handled with great compassion and great sensitivity.
We suspected it in books one and two, but now it is confirmed that Maisie Dobbs does have the gift of second sight, but its lying latent. She studies body language, and tries to tune into the feelings of the time and place, so we do not need to accept that any second sight is involved. But Maisie's grandmother had the gift, and she warned young Maisie never to go near the spirit world - "if you do, the spirit world will never leave you in peace" So Maisie meditates, and touches things, and is still, and gets a feel of the place. Maisie is also protected by two "spirits" / memories - that of her mother and that of Simon. Simon is barely still alive, shell shocked in mind and body. It is all understated and handled perfectly - if it were not I would not like it.
Maisie has four tasks in this book. Task one is to prove that Sir Cecil Lawton's son Ralph, missing in service, is dead. Sir Cecil promised his wife on her death bed that he would do this. Secondly, she has to find where her best friend Priscilla's brother died. This is so that Priscilla can go there, and pay honour to the dead. Thirdly, Maisie has come across a young version of herself in 14 year old Avril Jarvis - falsely accused of murder. Avril needs rescuing. And fourthly, Maisie has to return to France to confront some dragons from her own past. Maisie needs rescuing and healing too.
It is a powerful story, well told. In Maisie's private life, Inspector Stratton is still there, and Dr Andrew Dene. Dene will propose marriage to Maisie, but only when he knows that the answer will be yes, and he knows that it is not yet time.
Maisie's dad Frankie is still there, and Billy Beale is still Maisie's assistant. And Dr Maurice Blanche, Maisie's mentor, turns up again, but is he still on her side? Finally, Maisie is buying a place of her own near the river.
It's a lovely series
Links to author index and home page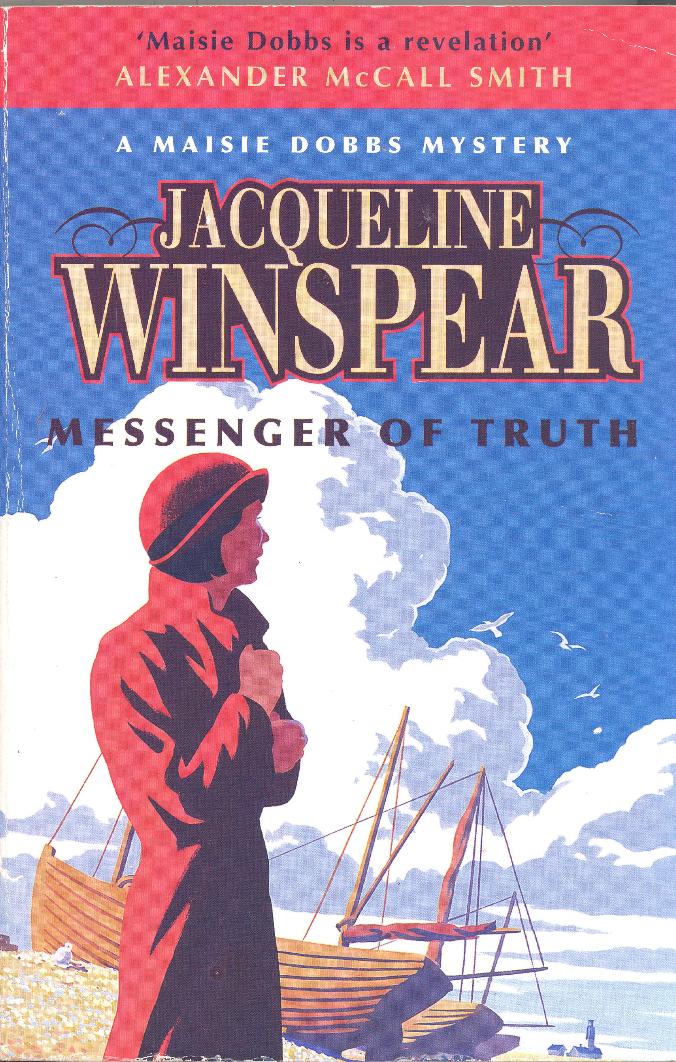 I read this book in June, 2016.
This is book four in Jacqueline Winspear's evocative Maisie Dobbs series, set in and around a 1930s London when thoughts of the terrible war are still uppermost. Many of the heros of the war have returned badly damaged to poverty and deprivation - many unemployed, and homeless. There was no national health service for them nor their families. This series works on lots of levels. We have an unusual female, 1930s detective taking on interesting cases, we follow Masie's personal story, and we delve into a very readable social history of post WW1 England.
Having read a book I like to give a little comment, but always try not to say too much, and not to spoil it for anyone else. Firstly the plot. We meet the Bassington-Hope family, mother Emma and father Piers, eldest sister Nolly, married to Godfrey who was killed in the war, twins Nick and Georgina, and the youngest - the prodigal Harry. Emma and Piers are artists, Nick an especially gifted war artist, Georgina is a journalist, and Harry a musician who plays the trumpet. Nick falls to his death when setting up for his latest exhibition. The police investigate - Inspector Stratton was the one who was on call at the time - but decide it was just an accident. Georgina has her doubts, and calls in Maisie Dobbs who has by now built quite a reputation. Georgina wants to know, one way or the other, but perhaps she will come to regret calling in Maisie Dobbs. It's then time for Maisie and her assistant Billy Beale to get on the case - ask questions, get clues, and gradually work out what happened and why.
On the personal side, perhaps Maisie has returned to work too soon - just four months after what was really a breakdown that she suffered at the end of book three. Her mentor Maurice Blanche advised a longer recuperation - but somehow Maisie is still trying to cut her ties with Maurice, who barely features in this story. Maisie's dad Frankie is still here, still groom to Lady Compton. Maisie starts the book as sort of girlfriend to Dr Andrew Dene, but there is a problem - she also loves her independence, and the work and career she is building. She knows she and Andrew must speak. Andrew beats her to it, and the situation is resolved by the end of the story. Billy Beale's story is also to the fore. Sadly it's not a happy story for Billy and his family - it's a time of great sadness and even though Jacqueline Winspear writes with great sensitivity, it makes for some very difficult reading. Be prepared to shed a tear or two. Billy is greatly indebted to Maisie, but he resolves to work all out to get his family away to hopefully better opportunities and prospects in Canada. So perhaps we will see the end of the Maisie / Billy partnership in the next book, or soon after.
There is quite a lot to pick up on the social history side. It's a country of extremes of povery and wealth. Children die for lack of money to pay for a visit to a doctor, but others think nothing of gambling or spending fortunes on art work - i.e. such as that produced by Nick Bassington- Hope. The wealth of others disgusts Billy, but Maisie points out that their wealth pays Billy and Maisie's wages. Oswald Mosley appears in the book.
I am a fan of the Maisie Dobbs series. She handles this artist related story so much better than Alan Hunter handled his "Gently with the Painters" story. I thought books one to three were slightly better in that they started off interesting, and then had a gear change, and really took off. This book didn't really have that gear change. But the book covers difficult subjects, is thought provoking, and altogether a good read. Roll on book five. I'm tempted to say, "let's have a little more happiness, please", but I'm not sure Maisie will have too many happy endings. I may be wrong, and we shall see.
Links to author index and home page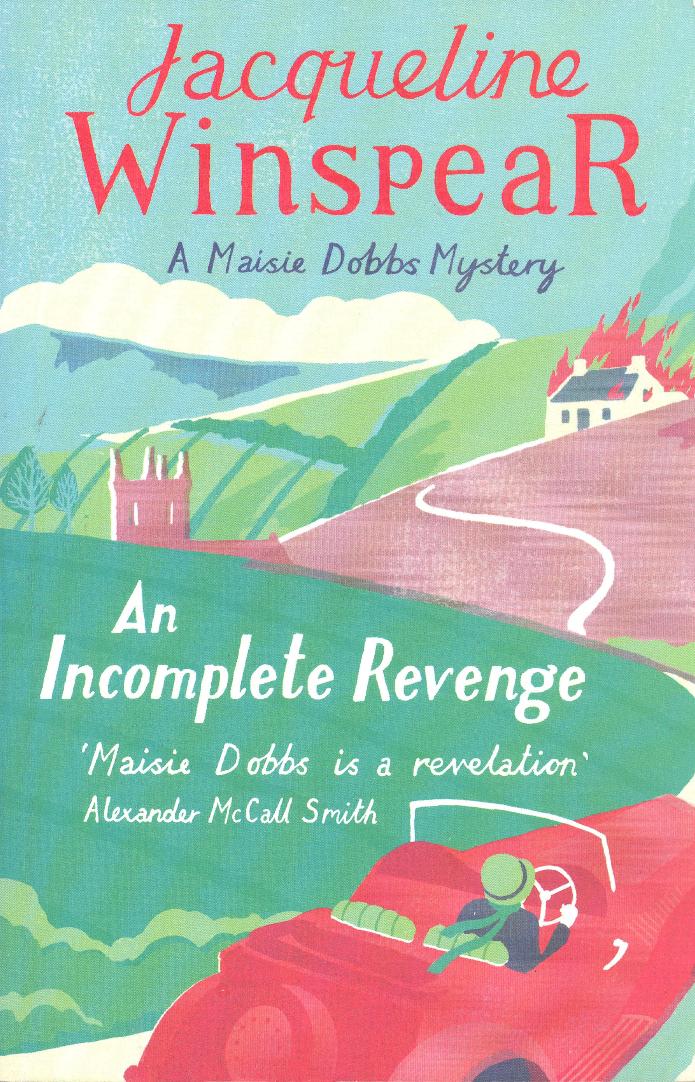 I read this book in August, 2016.
This is book five in a lovely little series set in the 1930s, and featuring the extraordinary Maisie Dobbs. Maisie had been tutored by Dr Maurice Blanche to be observant, to read body language and to trust her intuition, but we have long suspected that Maisie's intuition is really the gift of second sight. Here, we learn a bit more about Maisie's family background, and where her second sight came from.
The book opens in Heronsdene in Kent, and it's hop picking time. The place is swollen with an influx of Londoners and gypsies. Billy Beale, Maisie's assistant, is also in Kent for the hop picking with his family, and we meet Aunt Beulah Webb, the very old leader of a group of gypsies. Aunt Beulah has the gift of second sight. She senses that a time of great troubles is almost upon her, and that a woman approaches whose gift is no less powerful then hers, although this woman is only part gypsy. Death comes with this woman, but also the hope of redemption.
The woman Aunt Beulah sees is Maisie Dobbs - and we learn that Maisie's mother's mother was a water gypsy, and that Maisie was her grandmother's favourite. Jacqueline Winspear seems very knowledgeable about gypsy lingo and ways. She has done her research well.
Heronsdene is not a happy place - it is a place of bad vibes. There had been a Zeplin raid in the war, and the local artisan baker and his family perished. A lot of the young men in the village also died about the same time. James Compton's company wants to buy the local brick works as a good investment in reconstructing post war England. This is part of a local estate , but James is put off by reports of a string of local thefts and petty fires in Heronsdene dating back a good few years. What is going on ? James asks his friend Maisie to investigate and report.
And so, as old Aunt Beulah foresaw, Maisie arrives in Heronsdene. She is accepted into the gypsy camp, and is counselled by Aunt Beulah - "throw away the watch you wear next your heart, it has seen too much suffering". Aunt Beulah's son Webb is wary of Maisie, but it is Webb that Maisie is to help.
Beatrice Drummond is a local journalist who helps Maisie in return for a scoop. At the end of the book, when she has the story, Beatrice thinks that it is best told not in a newspaper, but published in book form. She even has a title for the book, but Maisie cannot catch what she says - its a "Something" Revenge. Is Beatrice really Jacqueline Winspear.
Sadly Aunt Beulah dies, as does Maisie's first love, Simon. It is a blessed relief for Simon, existing in a persistent vegetative state for years. It is time for Maisie to move on too.
All the usual characters are here, but are getting older and perhaps frailer. Both Frankie Dobbs and Maurice Blanche are showing their age. As the author expresses it, Maisie is gradually calling "fey-nites" with Maurice. And Maisie sets in motion a future possibility that Billy Beale may be considered for a job in Canada with James Comption's company. This is the fresh start Billy and his family need - still grief stricken at the loss of their young daughter.
It's a good story, and good social history of the 1930s - depression, joblessness, social unrest. It's well written, and fits neatly into the series - a story about a terrible collective madness that inflicted Heronsdene all these years ago. Many can now move on, and hopefully Maisie too, and perhaps find some hapiness.
Links to author index and home page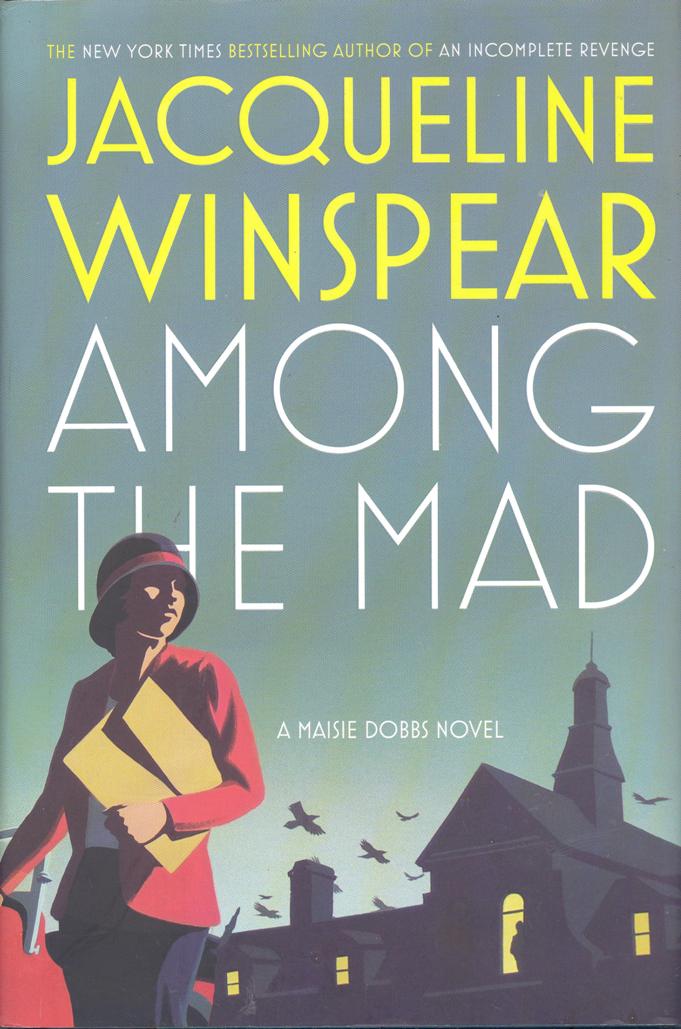 I read this book in October, 2016.
This is book six in a quirky little series set in the post great war 1930s, and featuring the remarkable Maisie Dobbs, who rose from very humble circumstances, mentored by Dr Maurice Blanchard, to have her own business as private investigator and psychologist. Above all, the series is about place and time. It paints I think, a very compelling, and probably realistic picture of the times - and of who we were. It's a time of great change. London is full of the unseen casualties of a terrible war, perhaps the human fodder of an uncaring upper class ? Many were wounded, mentally as well as physically, but the state could not afford to pay them all the pensions they deserved. It seemed their sacrifices were not appreciated by a society that looked the other way as they hobbled down the street, or cowered if startled by a sudden noise. Victims of Shell Shock !
This story is about one such former soldier who has been driven to madness by shell shock. He lives on charity, but hates the uncaring society in which he exists, and initially he vows to do something to get the unseen noticed, and their voice heard, but loses reason and justification and succombs to madness. He had been a gifted / genius chemist, and somehow has developed formidable nerve gases. Maisie sees the despair in the eyes of a poor man in the street, and goes to help him, but he blows himself up before she can reach him. Her name is mentioned in a letter sent to Scotland Yard, and soon Maisie is questioned and then is part of a team headed by Detective Chief Super Robbie MacFarlane of Special Branch, but including Maisie's friend Inspector Stratton. Also on the scene is Urquart of Special Branch's rival MI5. It makes a change for Maisie to work as part of a team, but she thinks differently from the policemen, and is allowed to follow her instincts. Robbie MacFarlane's wife has left him, and he seems to take a shine to Maisie, but of course always remains a perfect gentlemen. He is invited into Maisie's kitchen to share a simple meal of soup, bread and cheese, and later Maisie realises that perhaps she should not be alone so much. That way madness lies. Of course, Maisie and her friend Priscilla are both as much casualties of the war as anyone, but perhaps this book plots a sort of course of healing for both of them.
Also on the theme of madness, Billy Beale's wife cannot accept the death of their young daughter Lizzie, and sinks lower and lower into the abyss of abject melancholia. She is committed to an asylum where it seems her "treatment" is something from the dark ages. Maisie eventually gets her transferred to a more enlightened establishment, but what of all the hundreds, thousands that Maisie cannot rescue ?
The mad man with his nerve gas is getting more and more dangerous. Can he be caught before he mass slaughters hundreds of the public.
There is light and shade, and a happy visit for Maisie to enjoy what is left of Christmas 1931 with her dad Frankie in the country. But tension builds and builds into a real page turner as Maisie has to take a desparate risk to avert catastrophe. Are MacFarlane and Urquart really on the same side, but of course we have met the problem before. The end justifies the means ?
Once the climax has been reached, that is not the end of the story, and I liked that. Perhaps Maisie and Priscilla are healing, and perhaps there is a future for Billy Beale and his family. Maisie goes to a party, and Robbie takes all his team, including Maisie, to a West End Show (The Crazy Gang at the London Palladium), and a Burns supper, afterwards. In short, its not just doom and gloom. Life goes on.
One complaint, however. Jacqueline Winspear, originally from the UK, now lives in California, and thinks that Scotsman Robbie MacFarlane celebrates New Year and Burns Night with the finest Malt Whiskey ! One Americanism too many ! We drink Malt Whisky.
All in all though, though, a great little series. Let's hope Maisie can find some happiness soon.
Links to author index and home page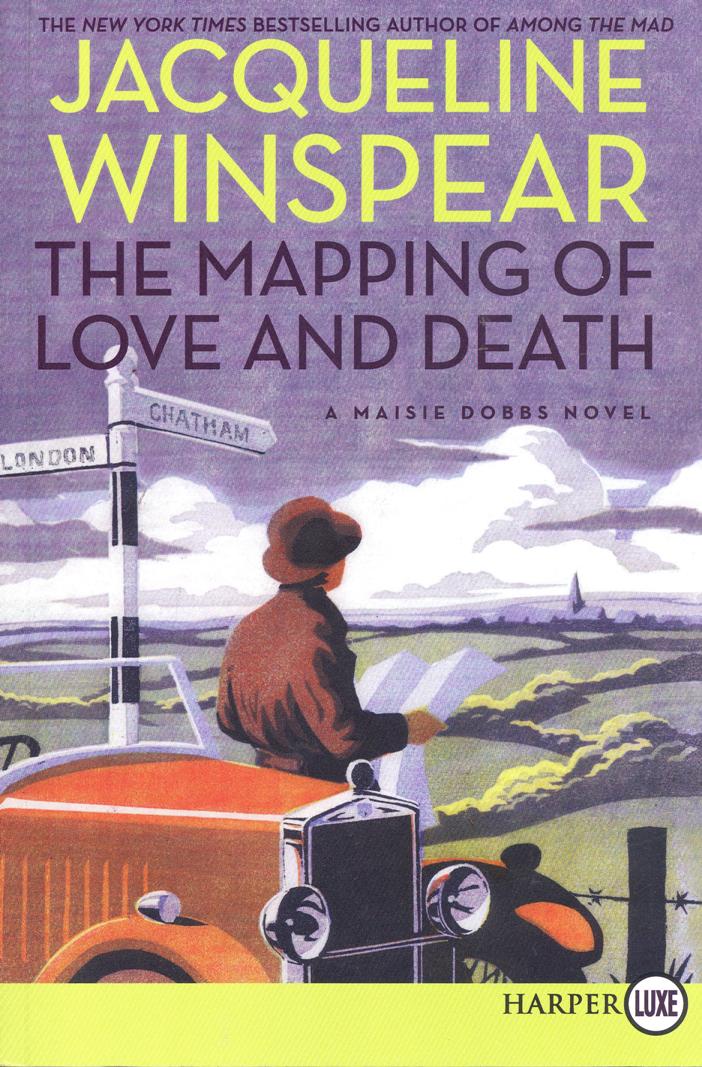 I read this book in November, 2016.
This is book seven in this slightly different series about the psychiatrist and private investigator Maisie Dobbs. Maisie learned all she knows from her mentor Dr Maurice Blanche, who is now getting on in years, and unfortunately there is both sad news and good news related to Maurice towards the end of the book. Maurice always looked on Maisie as a daughter and was always there for her. Maisie and Maurice were slightly estranged some while ago, as Maisie searched for independence but luckily all of that is behind us now. For some while also Maisie has come across as a somewhat lonely person. She brings healing to others, but still needs healing herself. Yes she still visits her dad Frankie, and her best friend Priscilla is back in London, but she has no love interest, sits alone in her house at night, and regrets the odd occasion when she does have a visitor as the place seems so empty when they go. In the background has been James Compton, her benefactor Lady Compton's son. James and Edith, Maisie's best friend when they were in service together, had been seeing each other, but the son and heir could not mix with a servant, and James was packed off to Canada, and Edith abandoned. Maisie cooled towards James, and this persisted for years. But that was a long time ago, James is back, and Maisie and James become friends - a friendship encouraged by Dr Blanche, who tells Maisie that James is a lonely man at the end of his tether, and perhaps Maisie might have misjudged him ?
From the above you will appreciate that for me a lot of the attraction of this series is the back story of the life and times of Maisie in 1930s London. Its a very evocative picture of the times, and the hardship endured by so many, especially those crushed by poverty. Billy, Maisie's assistant lost a precious daughter Lizzie as they could not afford to call a doctor until it was too late, and Billy's wife later suffered a mental breakdown, unable to cope with the grief. Luckily she is now back home, and Billy and his wife even have some good news towards the end of the book. Billy is anxious to get his family away from all this, and out to Canada when they could start a new life, and is saving as best he can towards this goal. Perhaps with her good news at the end of the book, Maisie may be able to help more financially. And so we have a pointer to a future development. Also we have a question - and one anticipated by Lady Compton. Will James and Maisie settle down, or will self made Maisie find it too difficult to give up her independence.
And now to the plot of this book. Michael Clifton was a Canadian cartographer with British parents, who returned to the UK in 1914 to do his bit. He was killed in the war, but his body has just been discovered and it seems he might already have been dead when the enemy shell apparently killed him, and his team. Michael's parents are in London, and ask Maisie to help. Maisie helps a lot more than they could have imagined, but as pleased as they are with Maisie's services, Maisie has kept back something crucial from them, something she learned in confidence - and righly she respects this confidence as over ruling her duty to her client. Someone else must tell when she feels able but there is a lot more at stake.

I liked the reappearance of quite a few characters from previous books. Khan, another of Maisie's mentors is visited by Maisie, where she is surprised to also meet James Compton. Dr Andrew Dene is around to help Maurice. With Stratton now working for Special branch, his assistant Caldwell has been promoted to DI, and this seems to have helped his character - Maisie and Caldwell even manage to work together. And last, but by no means least, Jook, the gypsy dog from "An Incomplete Revenge," is now living happily with Maisie's dad.
All in all, a lovely story that kept me page turning right to the end. I must read on .... Well done, Jacqueline Winspear. Will Maisie now take on some of Maurice's roles with national security, or give it all up for love ?
Links to author index and home page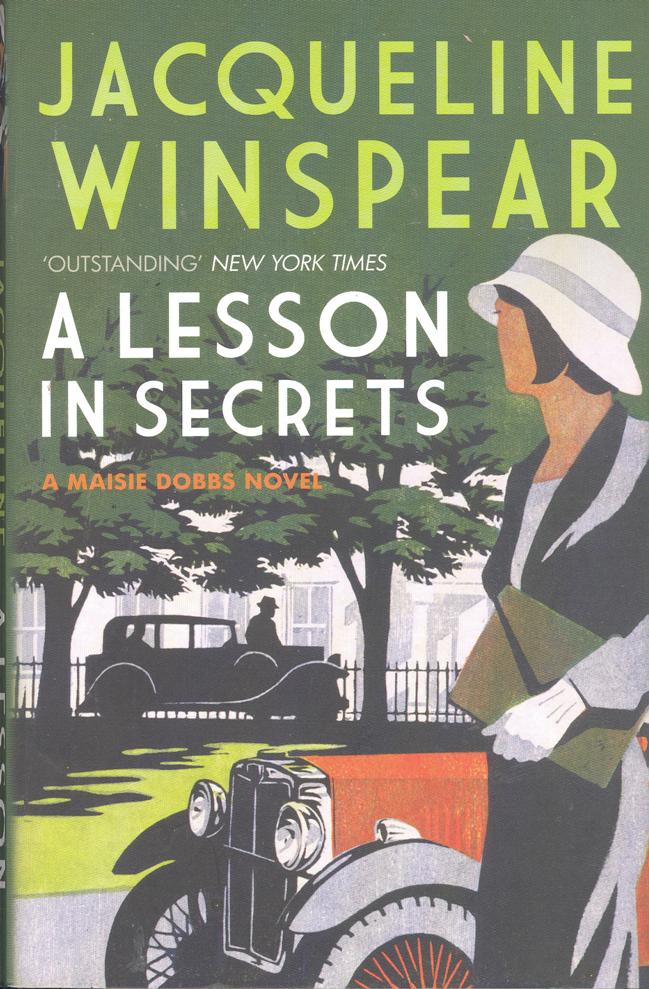 I read this book in December, 2016.
This is book 8 in the continuing story of Maisie Dobbs, psychiatrist and private investigator. Her teacher, and one of her mentors, Maurice Blanche, died in the previous book, leaving his considerable fortune and house to Maisie. Maurice was often consulted by MI5/MI6, and he has left all his files to Maisie - a resource for her to consult when he has gone. He had told her that she has untapped talents, and was not stretching herself - and so in this book, Maisie feels almost bound agree to undertake a secret project. She is to work undercover in a Cambridge Peace College, looking for communist influences. It's 1932, the real enemy is the German Nazi Party and their followers, but MI6 discounts the threat. Maisie is reporting to a man called Huntley
The head of Maisie's college is a Grenville Liddicote, and he is murdered. Special Branch appear to investigate the murder, and once again Maisie meets and is working with Robbie McFarlane and DCI Stratton. It's a very full story, and of course Maisie solves the murder, but there is a lot more to the story than just solving a murder.
In Maisie's private life, Maisie and James Compton are still going strong. The husband of an old friend of Maisie's is killed in an accident - only it is not an accident. This is more work for Maisie. Maisie buys a new build house as an investment and rents it to Billy Beale and his family. Billy is a good, loyal employee, and Maisie is always keen to help in any way she can - so what better use for a small part of her new fortune. Similarly, Maisie wants her dad to retire, and live in the lovely house Maurice Blanche's left her, but he is having none of it. He prefers his own house and his own surroundings - and Mr Dobbs is courting !
I thought the story went off the boil in places, but mostly it's a good strong story.
At the end of the book, DCI Stratton resigns from the police to spend more time with his young son. Stratton's wife, the young lad's mum died a few years ago. Maisie and Stratton were good friends in the past - perhaps they may meet again in the future ? Maisie is gifted with what is obviously second sight, although there is little of this in this story. Unfortunately, Maisie cannot picture herself and James Compton in the future as an old happily married couple. Has Maisie's second sight deserted her, or does it mean they have no future together, even though they are very much in love in the present ? We will need to read on to find out.
Links to author index and home page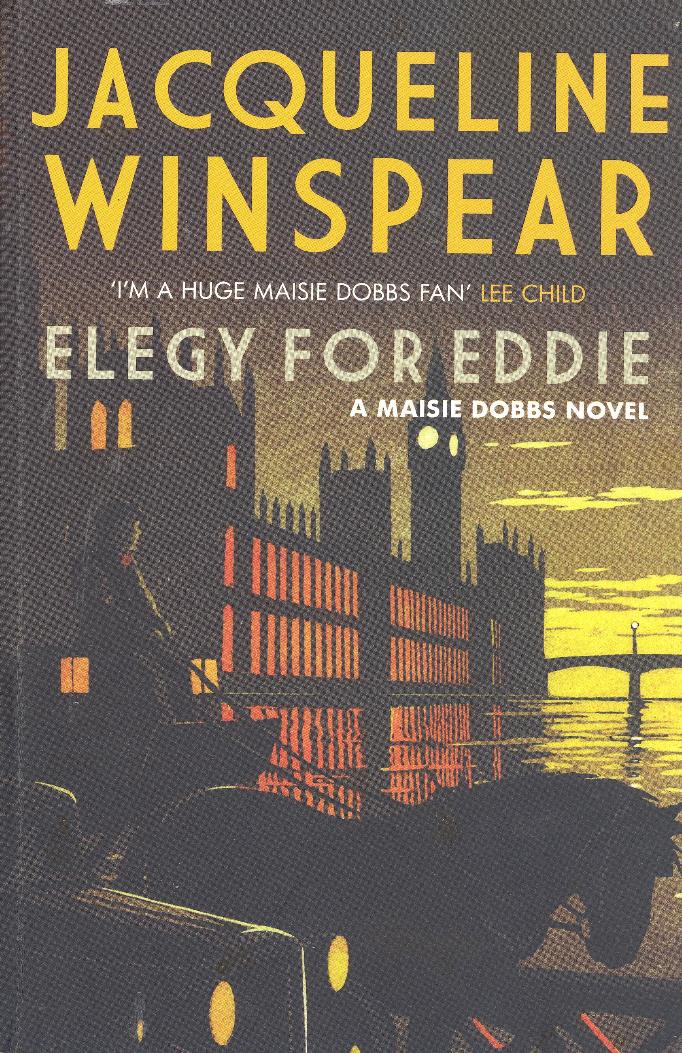 I read this book in January, 2017.
This is book 9 in this enjoyable series, but for most of the book, Maisie has more or less lost her way in her private life. She is not having a breakdown, but she is stuck, thinking too much about life's big questions - just who am I, what sort of life do I want, who do I want to become, and do I want a life with James Compton, or by myself ?
It seems that Maisie and James are about to split up, all the way through the book, but somehow it doesn't quite happen - yet. The problem is not really settled by the end of the book - which of course is quite true of life.
With Maisie's inheritance and extra wealth has come the responsibility to use it wisely. Maisie tries to help eveyone she knows - but she is organising them, and it is being resented and resisted. Billy Beale's wife Doreen has been helped more than most, but she flies at Maisie, and warns Maisie to keep her distance. Maisie meant well, of course, but should she have held back until help was requested ? The book is more complicated that that, but its a story that held my interest throughout.
The case Maisie has to solve involves Eddie Pettit, a gentle giant, but "slow" mentally. Everyone looks out for Eddie who has two gifts. He was born in a stable, and somehow has an almost magical way with horses. They sense a shared affinity. We are not told about the other gift until the end of the book, but it is this gift that has caused Eddie to be taken advantage of. He is warned off, but doesn't understand - and ends up dead. Other people end up dead too. Are they all sacrifices for a greater good? Maisie, of course, can see the greater good, and can't really agree that this is the only way, although she accepts that it might be.
We are in 1933. In Germany, the Nazi party and Hitler are strengthen their fighting resources. Will Britain, a country tired of war, have to fight another great war ?
It all makes for a very interesting book, and one I enjoyed reading. Sometimes I wished Maisie could be more decisive in her private life, but she has genuine doubts, and we share these with her. All in all, a worthy member of a good series.
Links to author index and home page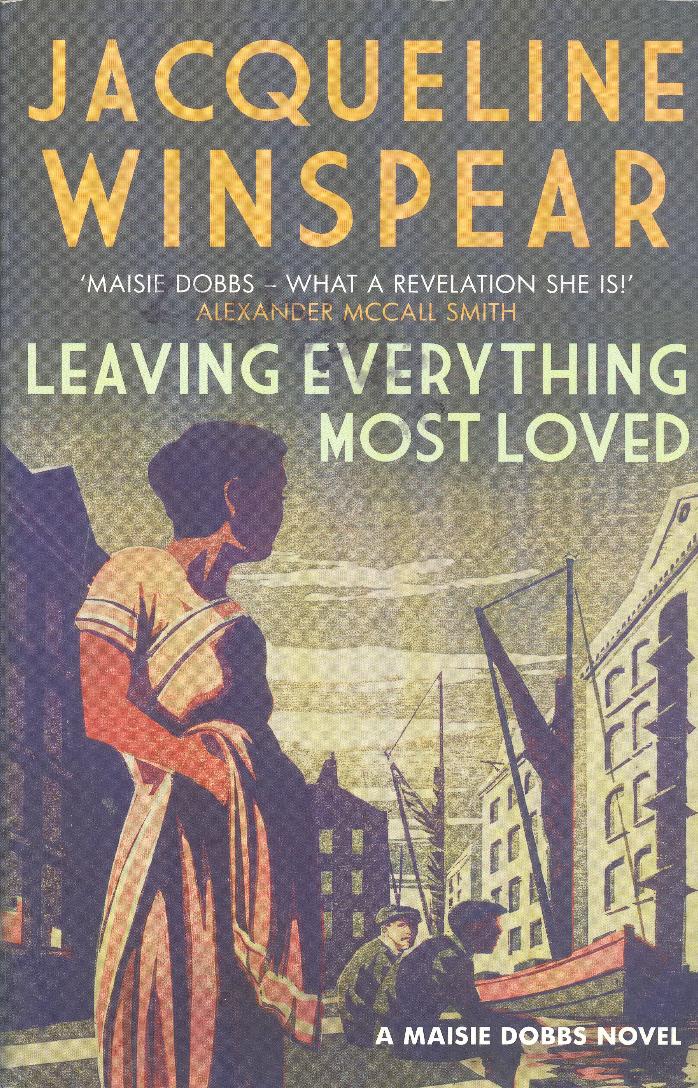 I read this book in February, 2017.
This is book 10 in the Maisie Dobbs series, and it's mostly about another stage in Maisie's private life. She has been very unsettled in the last few books, and now she thinks that a change of scene might be just what she needs - in her journey to slay the old dragon of war damage, and try to find out who she really is, or could be. As one of her "mentors" says, you have to break the egg before the bird can hatch. It will break Maisie's heart to "Leave Everything Most Loved", but apparently it must be done. And Maisie has finally agreed to give her lover James Compton a simple Yes / No answer to his proposal of marriage. She has six months to decide. I can't think why she needs so long. It's really no, but I'll keep you dangling just in case. On the other hand, Maisie really is mixed up, and is a prize worth waiting for.
The crime story concerns an Indian lady who came to England with an English family as governess to their children, but was apparently dismissed and left destitute. Her name was Usha Pramal, and she is later found shot dead. The police do not do a very thorough job of investigating her death, and 6 weeks later Usha's brother arrives from India, and asks Maisie to help. Maisie had been recommended by DI Caldwell, who is also keen to make amends and give as much help as he can. Another young Indian girl is similarly murdered. Who is doing it, and why ? Usha had been a remarkable young lady, an angel of mercy with healing powers, and loved by all. Who would want to destroy such goodness ?
Maisie's team are also working on the case of a missing boy - and of course both cases prove to be linked.
Sadly, Billy Beale has not recovered from being beaten up - and he is no longer capable of working as Maisie's assistant. Maisie manages to get him an offer of a new job, with regular hours, and Billy accepts. Billy and Maisie have been good friends, and Billy's loyalty was never in question. At the end of the book Billy is able to serve Maisie one last time. Maisie will miss Billy. Sandra, Maisie's other assistant, also finds another job, and so 4 years after opening, Maisie's Psychiatrist and Investigator Business is closed - and Maisie is free to depart London, and head to India, having solved the Usha Pramal murder.
What of leaving Frankie Dobbs, Maisie's dad ? There is good news there too, not unexpected, and so Frankie will not be left alone.
Priscilla, Maisie's best friend is there to wave her off.
I didn't think this was the best book in the series - Maisie was a bit slow in solving the murder, and her leaving England was a bit drawn out, or rather her indicision before deciding to leave was a bit too drawn out. But I'll read on, of course, to see what happens to Maisie next - on her journey of self discovery.
Links to author index and home page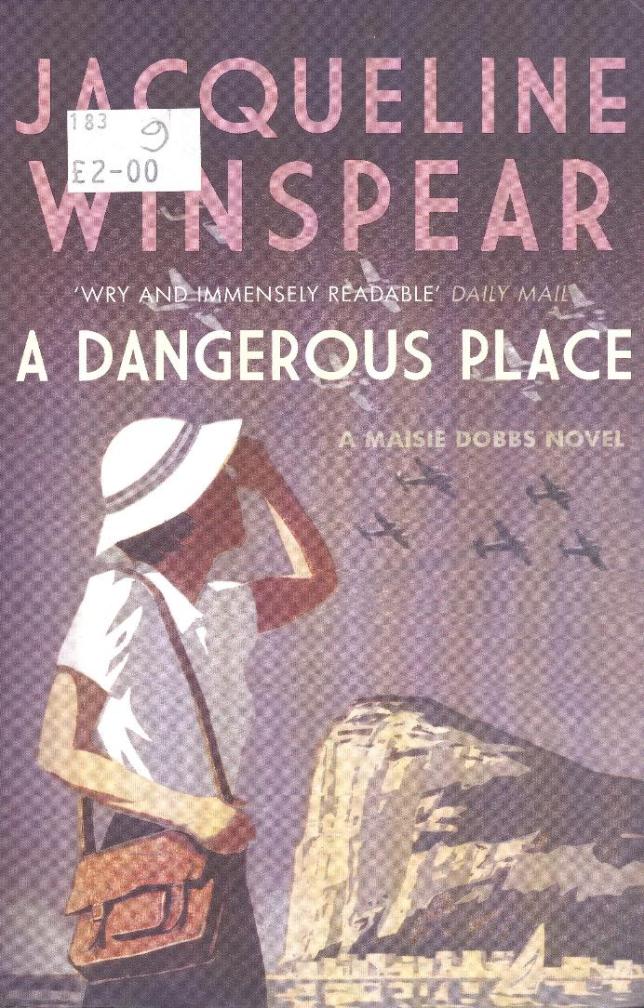 I read this book in April, 2017.
This is book 11 in the excellent series by Jaqueline Winspear about Maisie Dobbs, and her life mostly in London, in the 1930s. Maisie has had an extraordinary life - a real rags to riches story, but tinged with sadness and blighted by the Great War where she served as a nurse in France, and met the first love of her life, but it was not meant to be. This book is another sad chapter in Maisie's life, and once again the personal story is a lot more important than the crime to be solved. And this time, the setting is Gibraltar in 1937.
We left the previous story with Maisie going off to India to find herself, but promising to let her fiance James Compton know if she would marry him or not by March 1934. It really is 3 years later, and so much has happened, and Maisie is once again devasted, barely functioning, bursting into tears that she cannot control, smoking and taking Morphia tablets to dull her physical and mental pain and help her sleep. But sleep is tormented by terrible nightmares. We find out what has happened by reading several letters that Maisie has written or received 1934 to 1937. Firstly she did say yes to James, married him, and Maisie became Lady Margaret Compton. Their life together in Canada was the happiest, but far too short days of her life, and that happiness was compounded when Maisie became pregnant. But then disaster struck. James should not have been flying, but took over at the last minute to complete a test flight. The plane crashed killing James. Maisie saw it happen, was left shell shocked, and lost the baby - a little girl. She fled back to India, and hid away in a peaceful, secret rural spot. Only Frankie, her dad and Brenda his new wife knew how to contact Maisie. It is Brenda who has now written to Maisie saying her dad is getting very old, and Maisie really should return soon. Maisie leaves straight away, but the nearer she gets to the UK the more painful the thought of returning alone to familiar places becomes, and Maisie jumps ship in Gibraltar. But her arrival there has not gone undetected - the British Secret Service eg Robbie MacFarlane have been looking for Maisie at the request of Lord and Lady Compton (Seniors), and also MI5 have plans for Maisie. But Maisie is barely functioning. And to cap it all Maisie stumbles on the dead body of war photographer Sebastion Babayoff - newly murdered. It's a suspicious death, but the police refuse to investigate, and Maisie feels compelled by a sense of justice to look into the matter herself - but her investigation days were long ago, can she still think straight - and she has no Billy Beale nor Sandra to help her?
On top of all of this, a civil war is raging just a few miles away in Spain - a terrible mix of Communists, Nationalists, Fascists and Republicans - ie it's the time of General Franco, and soon to be another terrible European war. Unbelievably Maisie goes to Spain to find herself back in the danger of war - strangely in a search for herself. Its so sad when throughout the book Maisie peers at her distraught face in a mirror, looking for a sign of the old Maisie. And there I think, I will leave it..........
It's a must read for those who are following Maisie's fortunes. There is a next book, and hopefully and eventually Maisie will make it back to London. But what will she find there ? Will Frankie still be alive to see his beloved daughter ?
Links to author index and home page


Journey to Munich, &nbsp (2016)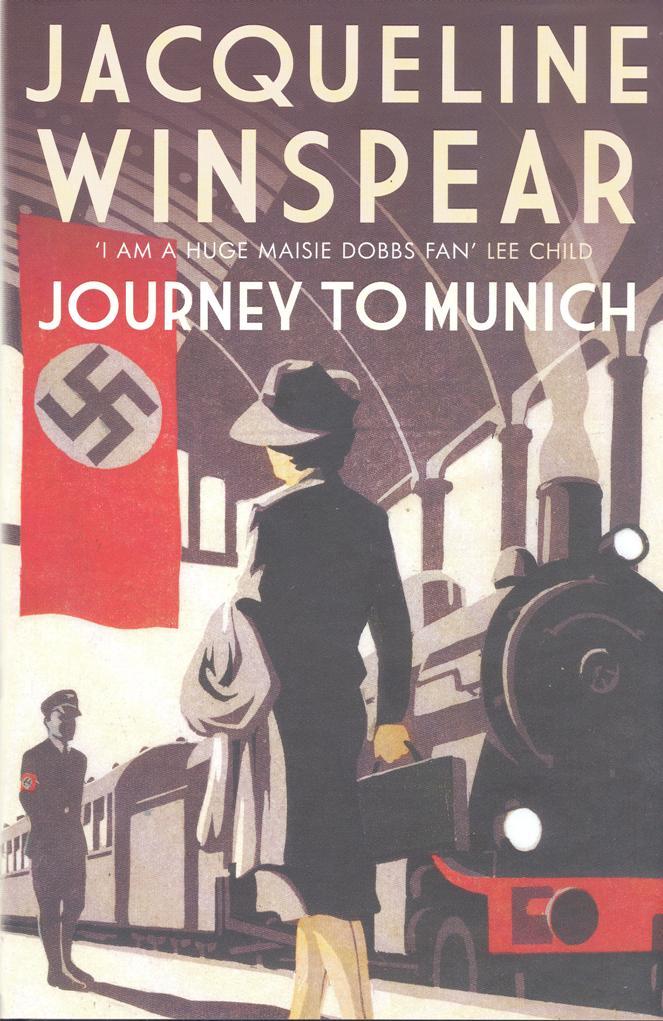 I read this book in May, 2017.
This is book 12 in a terrific series that seems to take off into new directions and gets better and better. It's now high quality historical fiction - it is 1938 and the dark terrible clouds of war are gathering again. We have followed the trauma of Maisie's life, her service as a nurse in WW1, her loss of a boyfriend, her loss of a mentor, and then the loss of a husband James in Canada when he took over as test pilot when the terrible Elaine Otterburn apparently partied too well as usual, and failed to turn up. There was also a loss of a baby. Maisie had been badly damaged, had given up her psychologist and investigator business, said goodbye to Sandra and Billy, and fled abroad to India, and then Gibralter. And now she has been rescued by her friend Priscilla, and finally dragged back to London to stay with Priscilla and Douglas, and try to sort out what she wants to do with her life. What direction will she take ?
The secret service once more call on Maisie to "serve her country", but is she too fragile to cope? Maisie agrees to see if she still has the old talents and skills - if she survives what is obviously going to be a more dangerous mission than the secret service admit, then perhaps that might point to a way forward. The mission is to pretend to be the daughter of an engineer / inventor Leon Donat, and collect and escort him back to the UK from Munich. Donat had been incarcerated in Dachau. The task is dangerous enough - a visit to Germany on the eve of war - but is complicated when the Otterburns get in touch to explain the daughter Elaine has gone missing in Germany - could Maisie find her and persuade her to return to take care of her young son? Priscilla had earlier explained that Elaine had not had a hangover when she failed to turn up for the test flight that killed James - Elaine had a profound crush on James,and could not bear to turn up and see Maisie and James together and so happy. Maisie has no reason to like Elaine, but mindful of the young motherless son, she agrees to do what she can.
We now have a graphic picture of Munich under Hitler, and the brown shirts, and fear, and the nazi salutes and crushing of dissent. Maisie meets two young girls playing together in a derelict warehouse out of sight of their mothers - one of the girls is Jewish, and the parents don't want them to play together. Its not a simple task, and it all goes wrong, and instead of returning immediately to the UK Maisie stays on to find / retrieve Mr Donat (and Elaine). There was a strange bit at the very end of the book when Maisie, for a second time, refused to escape and stayed on in Munich, but why, and what this achieved is not very clear. We also have an American Secret Service agent Mark Scott watching Maisie's back ( acting as her six) throughout the book - I wonder if this is added for the American market ?
At the start of the book we had lots of reminders of the characters who have appeared previously in the story - of Maisie's dad Frankie and his second wife Brenda, both still alive and well - and Maisie has a cup of tea with Sandra, her former employee. But strangely there is no mention of old, faithful Billy Beale until the very end of the book when the old restored Maisie has reappeared, has rented a two bedroom garden flat near Priscilla, and is about to resurrect the "psychologist and investigtor" business in the same premises as before. " Will there be two of us", asks Sandra. "No", says Maisie as a familiar figure comes limping across Fitzroy Square. It's a terrific story / series.
Almost as an epilogue we have Sunday lunches / gatherings where Maisie and friends, old and young, meet and socialize. Maisie knows that whilst she was abroad, too grief strick to help herself let alone others, nevertheless James had grief stricken parents whom she had not been able to help. There are youngsters to play with, life goes on.
Links to author index and home page


In This Grave Hour, &nbsp (2017)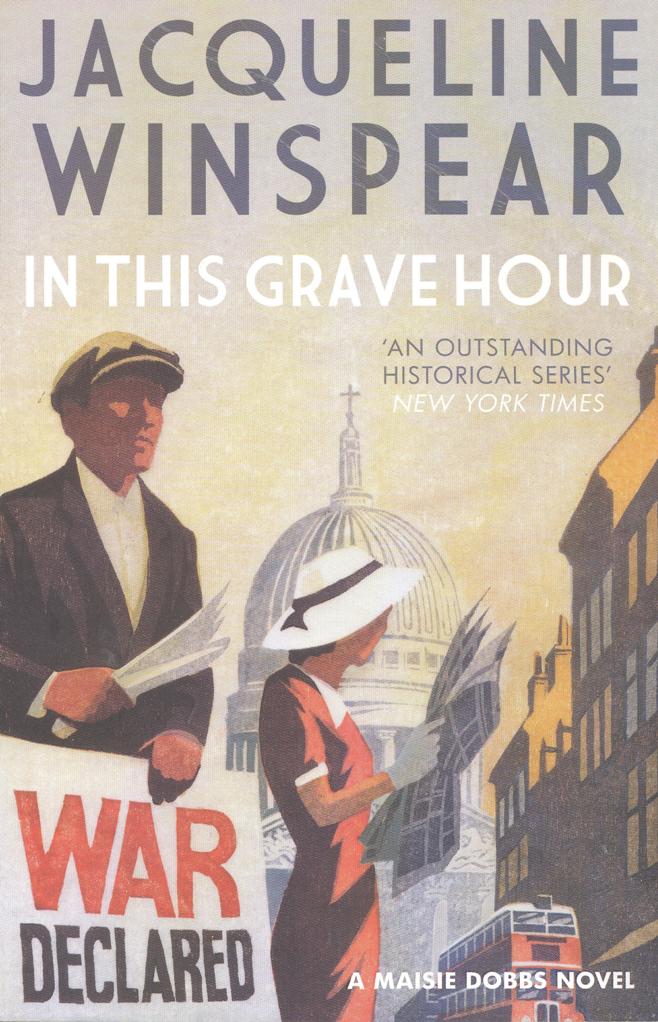 I read this book in December, 2017.
On the cover of this book it says "An Outstanding Historical Series", and for once I agree. The Maisie Dobbs series delivers on so many fronts. Here we are transported back to September, 1939 - on the outbreak of the Second World War. We see things from the viewpoint of someone living in these times - the author captures time and place perfectly. A lot of research must have gone into these books - but it's all seamless. Billy Beale talks about what is in the morning's newspapers - and we are given a disguised history lesson in the background.
We have strong characters in Maisie, her assistants Billy and Sandra, Frankie and Brenda (Maisie's dad and stepmum), Inspector Caldwell and sergeant Able, and an old friend, MacFarlane of the secret service. Inspector Stratton also reappears on the London scene. He meets Maisie for builder's tea in some cafe - is there to be some future rekindling of their friendship, and perhaps even some happiness for Maisie ? She has suffered so terribly in these books.
We also have a very strong new character in young Anna - apparently a 5 year old misplaced evacuee, rescued by Maisie. Could Maisie be treating (and overtreating) Anna as a substitute for the child she lost. Once again Maisie splashes out money in the way of generous gifts. Frankie cautions Maisie to go steady. Anna will have to return to her proper home, and Maisie is spoiling Anna only for it all to be taken away. Frankie says its almost cruel. In this case, however, perhaps Maisie has got it right. I have no idea how the Maisie / Anna relationship will develop - but I'll definitely read on to find out.
What of the main story ? Another old name from the past reappears - Dr Francesca Thomas of the Belgium Embassy. Dr Thomas breaks into Maisie's flat to await her return. Francesca wants Maisie to investigate the murder / execution of a man who escaped Belgium as a boy, but was shot years later in London. Dr Thomas fears the police are not / do not have the resources to take the murder seriously. Maisie takes on the case. Soon another Belgium man - a banker this time - is murdered. What have these men got in common that lead to their deaths ? Maisie eventually has to call in a favour from MacFarlane and fly to occupied Belgium in this time of war.
It's a good strong story with lots of suspense and false trails. At the end of the day, when it's all sorted, it has turned out to be quite a tricky case.
At the start of the book Maisie is back in business with the old set up restored - Billy and Sandra. But Sandra is pregnant, and Billy's wife Brenda is unwell again. The old set up will have to change - a strong theme of the book.
Maisie's best friend Priscilla is worried sick as her eldest son signs up to be a cadet pilot / airman, and do his bit. Similarly Billy and Doreen are worried about their eldest - full of idealism and signing up to "do their bit". "It will all be over by Christmas" they say. But there are many, many survivors of the first world war who knew it wouldn't be over by Christmas last time, and it won't be over this time. It's not just the youngsters signing up. Priscilla and Maisie want to do their bit too. As it said on the cover, "An Outstanding Historical Series."
Links to author index and home page


To Die But Once, &nbsp (2018)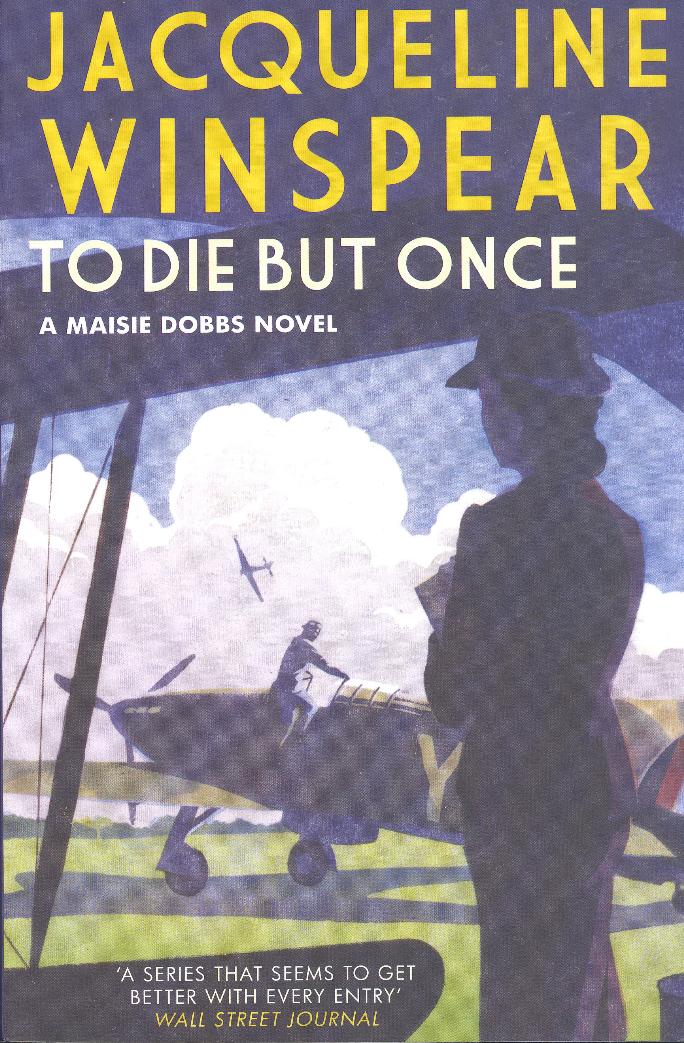 I read this book in April, 2019.
This is book fourteen in an excellent historical mystery series that I cannot praise enough. This particular story is just spot on. It is set in 1940 and the country is at war once again. As before we have Maisie Dobbs helping people in despair. Jacqueline Wilson is a really good writer who must do a lot of research because she just captures the period perfectly. In the acknowledgements at the end of the book Jacqueline tells of her family connection to this story - of her dad painting RAF buildings with unhealthy fire retardant paint, of her childhood in Kent where much of the story is set, and of her uncles stranded in France on a beach for four days waiting to be rescued - by the famous fleets of small craft that answered the call, and more ! In each book there is always a case for Maisie to solve, and these are good little stories. But mostly the book is the back story of Maisie and her friends and the times. Once again we meet Maisie's assistants faithful Billy Beale and his family, and Sandra, and Maisie's best friend Priscilla and her husband Douglas Partridge, and their family. I like it that lots of old names keep reappearing. Thus we have Maisie's dad Frankie Dobbs, and his companion Brenda, Lord and Lady Compton, DCI Cadwell of Scotland Yard, and Robbie MacFarlane of the Secret Service. Former inspector but now a teacher Stratton visits Maisie and takes her out for a meal, and when a tricky medical operation has do be done, Maisie phones her former boyfriend Andrew Dene who drops everything to help.
Mostly the back story is about little Anna, the evacuee Maisie has taken in. Anna stays at Maisie's country house with Frankie and Brenda, and Maisie gets down as often as she can, and every weekend. Maisie promised Anna's gipsy grandmother that she would find a good family to care for Anna, but Maisie and Anna have bonded, and Maisie wants to legally adopt Anna, but this is proving difficult. Maisie is a widow. The authorities would prefer a husband and wife to adopt. Maisie has the best of character references from her father and mother in law , Lord and Lady Compton who look on Anna as the grand daughter they never had. But times are changing and aristocratic connections often are resented by chip on the shoulder beurocrats. It has never made clear if Maisie has second sight, or if she just registers details and lets her subconsious mind solve problems. Anna however does seem to have second sight, and Maisie must protect her as this gift would be misunderstood. Will Maisie succeed in adopting Anna - we will need to wait for book fifteen.
The mystery that Maisie and Billy have to solve is the disappearance of young Joe Coombs. His mum and dad asked Maisie to help, and sadly Joe's body is found. He had been painting buildings with toxic fire retardant paint, and had been suffering from terrible headaches. Did he commit suicide, or was he murdered, and if so who did it and why ? In a time of war there is always a black market and villians out to make quick fortunes. And so we meet Jimmy Robertson, a known criminal, but so far too clever for the authorities. Well he is not too clever for Maisie - but she steers well clear of taking any credit. Why asks Billy. Maisie has a very good reason.
We read of life in London in 1940. The British army on the continent is in retreat, and in Spring will be rescued by the little boats. Billy Beale's son Billy is in the army - will he be rescued or die with many of his comrades. There are three boys in the Partridge family. Tom is the oldest - he is training as an RAF pilot in Northumberland, but at the end of the book is transferred to Kent to counter a possible invasion. Tom's younger brother is Tim - he and his best friend Gordon steal Gordon's dad's boat, and set sail for the french beaches to take part in the great rescue, but they are only boys. Soon they are missing and their mums and dads, and Maisie are frantic with worry. Petrol is rationed and Maisie's car is to be left off road. And who is the quiet man living in a flat below Maisie's offices. Is he an admirer, or not whom he seems ?
In short, there is such an interesting and gripping, incident packed back story that we are kept page turning until all too soon the book is finished, and we look forward to the next instalment. A really good book, and an excellent read.
Links to author index and home page


The American Agent, &nbsp (2019)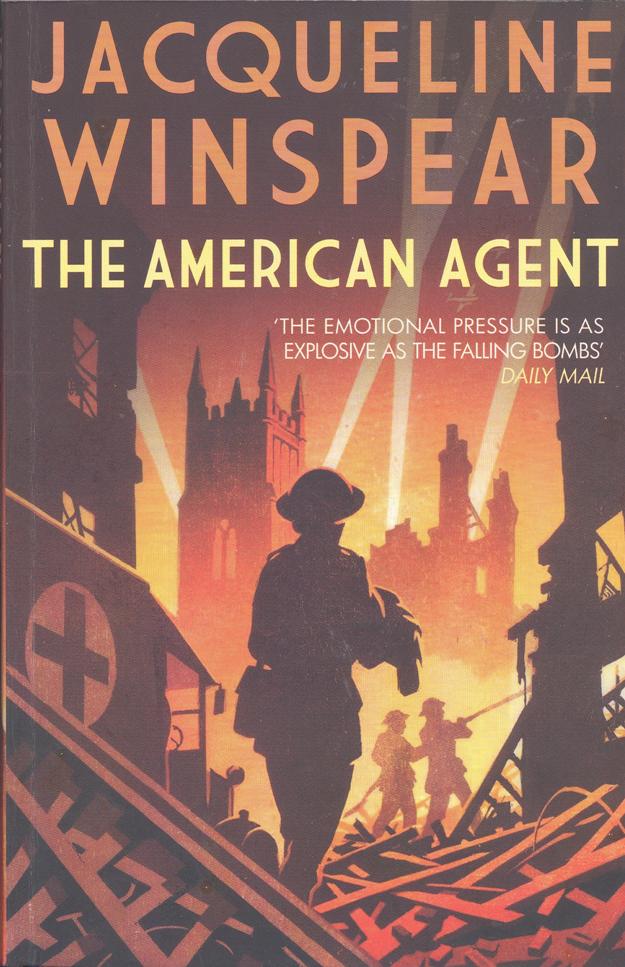 I read this book in December, 2019.
We first met Mark Scott, the American Agent of the title, in book 12 of this very interesting series, and now he reappears apparently to help Maisie in her latest case - but he has no knowledge of murder investigations, and Maisie is left to get on with things herself. However Mark is back as a potential love interest for Maisie. It's a possibility at the beginning of the book, and still just a possibility at the end, so we will have to read on.
I thought this was a beautiful slow story, perfectly paced, and a wonderful evocation of WW2 London, the Blitz, the suffering, the heroic spirit of the country - and all captured perfectly by an accomplished writer. The series gets better as it unfolds - you really are missing something if you don't read this series in the correct book sequence !
The book opens in 1940 London. Maisie and Priscilla have volunteered as auxiliary emergency ambulance workers. They are a team and as the bombs fall, they arrive to administer emergency first aid, and rush any survivors to the nearest hospital. We meet an American female reporter, Catherine Saxon, daughter of an American senator. She wants to make a name for herself like the famous Ed Morrow (oft quoted here). She joins Maisie and Priscilla one evening, and they become friends.
Next, Roddy McFarlane of the British Secret Service, contacts Maisie to assign her a new job. Catherine has been murdered, and he wants Maisie and her team ( Billy Beale, and Sandra) to take on the case, and find out who did it. Catherine is a well connected American citizen, and so the American Embassy are also involved - i.e. enter Mark Scott. But is Mark to be trusted - he seems to be elsewhere all the time. Did he know Catherine? Maisie and Mark are wary of each other, but slowly Maisie is surprised to find she has feelings for Mark. He will be off back to America soon - is any potential romance doomed ? Will it be a brief war time fling - or something deeper ?
At the same time as Maisie investigates this murder, her home life continues. Priscilla and Douglas are worried about their three boys. Tom is a Hurricane pilot - a hero who risks his life every day. Tim lost an arm in the navy - he rescued many, but now is sorely troubled. Young Tarquin wants to be an engineer on a bomber. All in all, Priscilla has a lot to worry about. Out on a sortie with Maisie, Priscilla rushes off into a burning building to rescue two trapped young children. She throws them down to the fireman's blanket, but is too scared to jump herself, and tries to come back out through the flames and down the stairs, but gets trapped by a falling beam, and is rescued by brave Maisie. Priscilla snd Maisie are both badly burned, Priscilla very badly, Maisie as walking wounded.
Maisie's dad Frankie is still well, and living with his second wife Brenda in the property Maisie inherited from her mentor Maurice Blanchard. Young Anna, rescued by Maisie, is staying with Frankie and Brenda, and Maisie visits at weekends. Maisie loves Anna above anything else in life. She is trying to adopt Anna, but the hearing has been postponed, and the waiting is agony.
We get a very realistic picture of what life was like in war time London - historical fiction at it's best. The story has a good ending. Maisie not only solves the murder, but follows through to try to bring relief and do her best by those caught up in the story. Like in a previous story two women grieving at the loss of a daughter or son discover a grandchild on whom to lavish their love.
I liked the America / Britain story. Apparently, the US president wanted to help Britain, but many in the US said it was a war far away, and none of America's business. Indeed, many Americans even sympathised with the Nazis. But yet, young American pilots had come to the UK unofficiallly. They too risked their lives as fighter pilots, and in a foreign country.
What will the future hold for Maisie and Anna ? Will Maisie work on with Billy and Sandra as her helpers, or will she "retire" to be full time with Anna. And will Mark Scott fit into Maisie's future ? It's such a good series, and such an interesting setting !
Links to author index and home page