Iain's Leisure Reading
I really like Hitchcock's famous 1935 film "The Thirty-Nine Steps" starring Robert Donat as Richard Hannay. There have been later film versions versions too. I have also enjoyed stage plays of "The Thirty-Nine Steps". All in all, its a good story. By chance, browsing in a charirty shop, I came upon an onmibus book of all John Buchan's Richard Hannay novels, and thought I would give it a go. Why not ?
In the 1950s, when we lived in Aberdeen, a friend of my parents worked as lady's companion to Lady Tweedsmuir - and when the family were away, we visited their grand house and grounds - Potterton House, near Balmedie in Aberdeenshire. So I guess that is a sort of connection to the author - I have visited one of his son's houses near Aberdeen.
The author of these Richard Hannay books is John Buchan, 1st Baron Tweedsmuir, 1875 to 1940. He was a most distinguished politician, historian, and career diplomat who served as Governor General of Canada. He was born in Perth, in Scotland, the first child of a minister of the Free Church of Scotland, and was brought up in Kircaldy, Fife, but spent many summer holidays with his grandparents in the Scottish Borders. There he developed a love of walking and of local wildlife. He entered Glasgow University with a scholarship, studied classics, wrote poetry, and became a published author. In 1895 he moved on to Brasenose College, Oxford, won prizes for his poetry, and was elected president of the Oxford Union. After a brief legal career, Buchan simultaneously began his writing and diplomatic careers, and served as colonial administrator in various colonies in South Africa. He had a hugely varied, brilliant life - he worked as a correspondent for "The Times", wrote political speeches for politicians, was president of the Scottish Historical Society, was a friend of the rich and famous, and was honoured by his country many times. And of course, all of this rich very full life informed his writing.
Buchan's most famous creation was the adventurer, soldier, and spy, Richard Hannay - or rather Major-General Sir Richard Hannay, KCB, OBE, DSO, Legion of Honour to give him his full title. Richard Hannay was born about 1877, his father was Scottish who had German partners, and he spoke German fluently from the age of 6. He became a mining engineer, lived in South Africa, and served in the Imperial Light Horse in the Matabele wars, and served as an intelligence officer in the Boer wars. He served in WWI, and is injured, and so on, and so on. In short, Richard Hannay is a creation of his times, and must be seen and judged in that light. Perhaps a lot of the books are a bit dated now, which is a great pity, because they are great tales of adventure from the days of colonies and empire. We should know our history.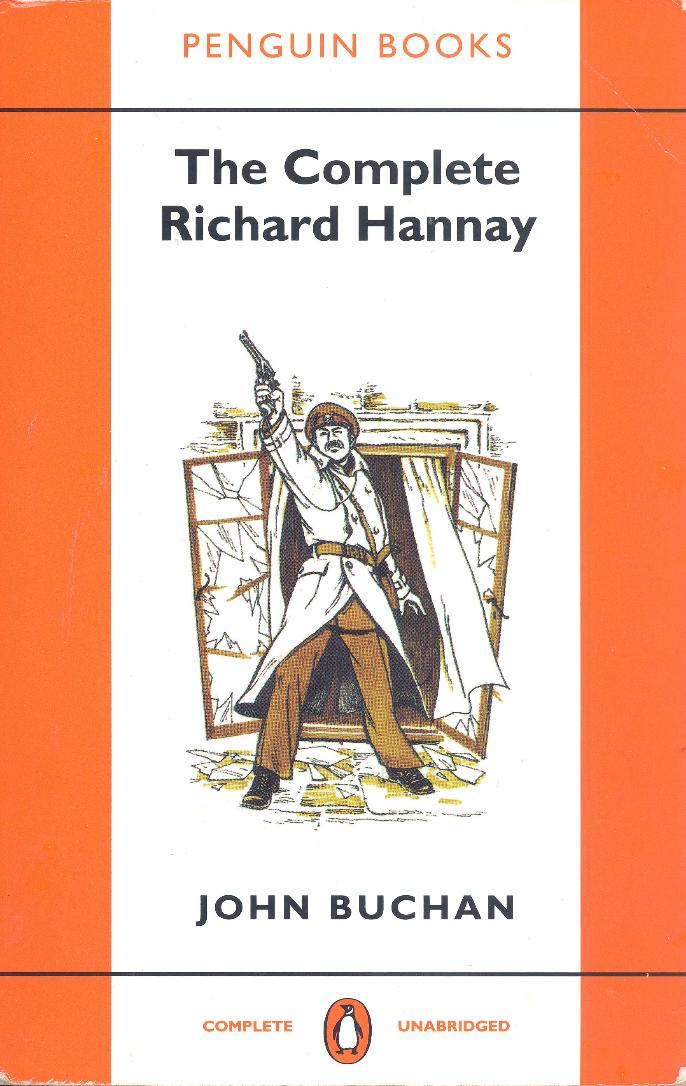 I read this book in Jan, 2017.
This is the first of five stories featuring our own boys hero Richard Hannay . It is dated, set in a period of Empire, with toffs and servants, and opens with Richard Hannay, a clever ex colonial chap back in London, but finding his life a bit dull, and he wants an adventure to cheer himself up.
It's 1915, the great war is about to break out, and so begins a very famous adventure, retold in film and on the stage. In the book, unlike the film, there is no love interest. The "Thirty Nine Steps" also has a completeely different meaning, book v film. In the film the villian had a missing finger. In the book, all the fingers are there, but the eyes are hooded.
Richard mixes with high company here - eg the head of the admiralty, but is never out of place. By reason, logic, and a cool head under pressure, Hannay takes command of the situation, and saves the nation.
It is easy scoff at such antics in these sceptical jaundiced times. But if we set the piece in its time, it all works well, and I thought it was a terrific story.
Links to author index and home page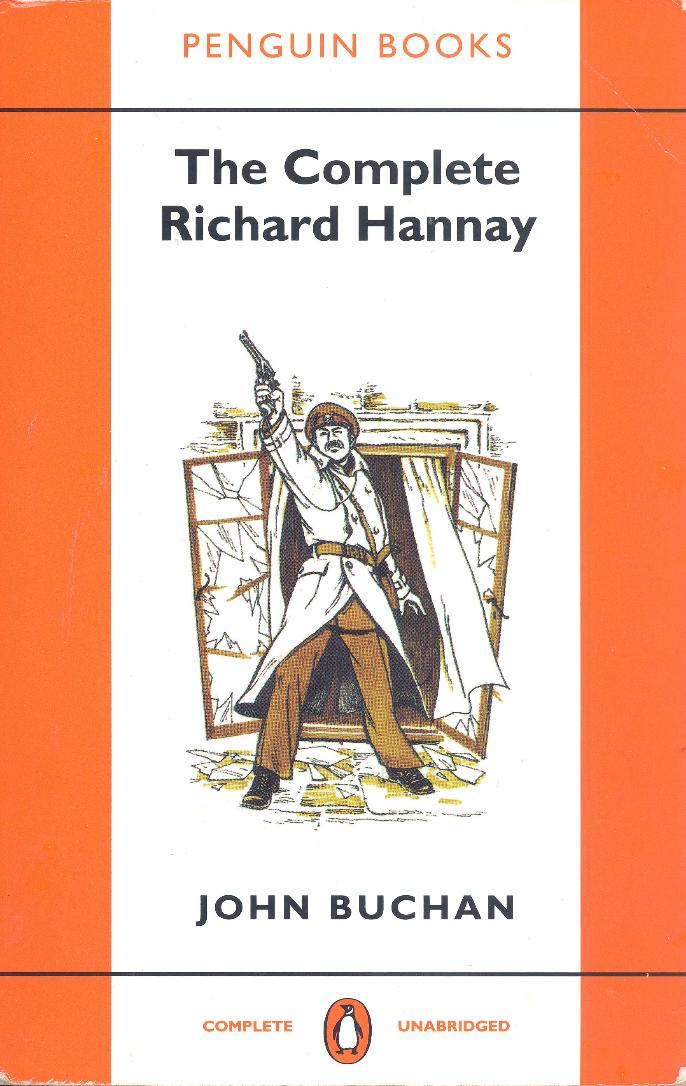 I read this book in Jan, 2017.
Some books I read quicky, turning pages to see what happens next. Sadly, this was not one of these books. Greenmantle is a lovely adventure story full of strong characters, written at a time of war when the enemy was clear. But the story and the writing are now dated. Lots of place names were quite unknown to me, and John Buchan includes lots of foreign words to add authenticity, but it doesn't help.
The "n" word is used here, but I am not going to use 21st century sensitivities to criticise an author writing in his time. He lived when he did, spoke as he did.
Richard (Dick) Hannay is called in to help Sir Walter to tackle a mission that claimed the life of Sir Walter's son. Hannay has to go to the East, and find out what is afoot - there are reports of some German / Turkish plot to unite Islam and have the Muslims fight against Britain, and it's ally Russia. Dick Hannay is helped by two chums - Sandy and the American Blenkiron. Along the way, Dick's old colonial chum Peter Piennar joins the crew. Its a true, old fashioned, adventure yarn, full of patriotism, love of country, and self sacrifice.
Its danger upon danger, lucky escape after lucky escape , bravado bluff , and a mysterious female siren Von Einen who casts a hypnotic spell on most men she meets. Sandy falls under her spell, but Dick is immune. Greenmantle is the new prophet to unite Islam - but events conspire differently.
Against all the odds, our heroes happily prepare to die for king and country - but somehow win through. In spite of everything, I ended up thinking it was a terrific yarn. It's a pity it is not read more often - but perhaps updated by a sympathetic editor.
Links to author index and home page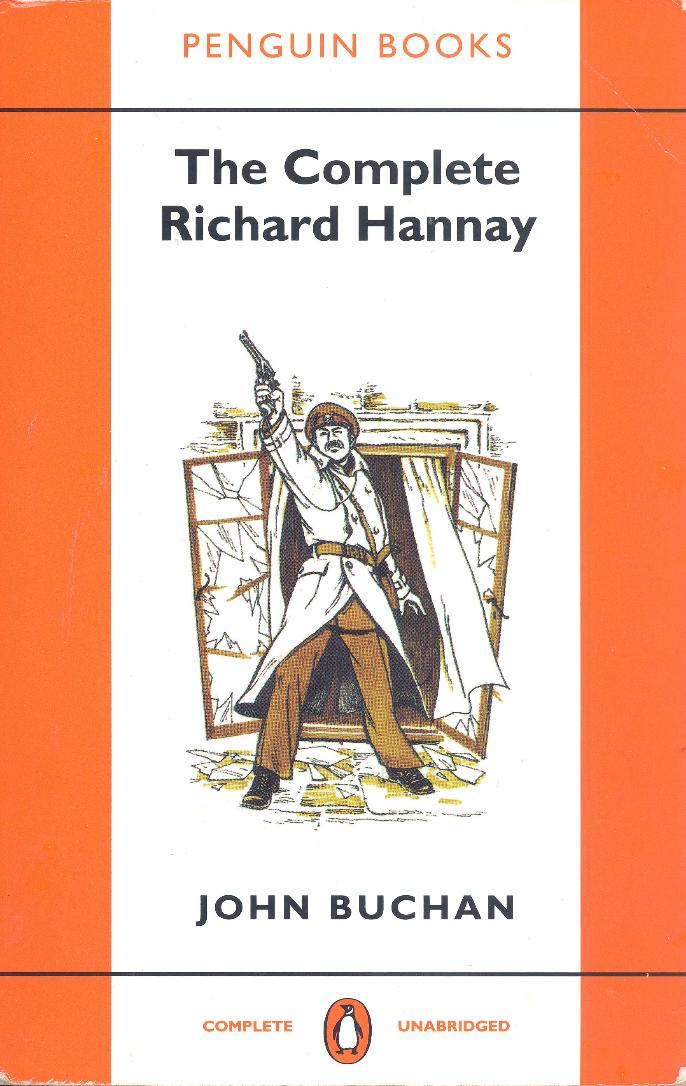 I read this book in Aug, 2018.
This is book three in the Richard Hannay adventure stories by John Buchan. They are good stories, full of danger and narrow escapes, and packed with action, but they are of their time. I guess they are not read much anymore, but I think if you meet the stories half way, and try to adjust to the period and language, you open a window to times gone by. It's interesting to read how we used to be, how things used to be. This book was published in 1919 just after the first world war, and a lot of the action takes place in the desparate fight as the country battles to survive, and countless patriots die for king and country. It's a period of great bravery and heroic sacrifice, and John Buchan sets the scene very well. We open with Hannay now a brigadier general leading his men, the salt of the earth and heroes every one, on the Western Front in France as Germany threatens to sweep them aside. Hannay is called back to help smash a fiendish spy chain that is causing terrible damage, and this is the main part of the story. But when eventually the spies are caught there is still quite a bit of the story left. I liked it that Buchan returned Hannay to the terrible war - the spy story was not allowed to diminish the overall fight of the terrible 1914-1918 all out war.
Up to now there has been little love interest in Richard Hannay's life, but here he meets and falls in love with Mary Lamington, a clever 19 year old heroine. Hannay is about 39 I think, so there is quite an age gap. Mary is a real heroine, a female John Hannay. We meet once again Hannay's dearest chum, a comrade of many a skirmish, Peter Pienarr. Peter has been having his war adventures too - he has taken to the air, become a famous pilot with many dog fight kills to his name, but at the start of the book he had been shot down, and taken prisoner. He has a shattered useless leg, and is captive in some German war hospital. However his letters get through, and Hannay longs to meet Peter again. Buchan writes movingly about war time comradeship - of a bond that is so real, and can never be broken. Love is the wrong word, but the good company of a true comrade beats all. Of course Peter does turn up to play an important part in this story, even with his smashed leg. The American Blenkiron is also back on the scene, health very much improved, and leading the hunt against the German master spy. This spy is suspected to be a Mr Ivery, and Hannay opens the story with a Scottish adventure where he is in disguise hunting and being hunted - and pulling off a succession of marvellous escapes, always finding help when needed. Sometimes the help comes from an old chum of Hannay's - he has lead a full life and has a network of old friends who turn up to save the day, time after time.
Mary had had a premonition that not all of our heroes will make it to the end of the story. She predicts "the best of the best" will be sacrificed. Hannay tells himself he cannot be the "best of the best", and so he carries on regardless. The action switches to France, Italy, and Switzerland - and treks up dangerous mountain passes in blizzard conditions. Always though, we wonder who is not going to make it. Might it be Mary, or Blenkiron, or perhaps Peter ? The book ends touchingly with the "best of the best" laid to rest in an orchard in Britain by the survivors of our gang. Throughout there had been many references to the book "Pilgrim's Progress" - an allegory as well known and as well read at the time as the bible. On the run, Hannay could use quotes from the "Pilgrims Progress" to identify himself as one of the spy hunters, and to send messages in code. Hence the title of the book - "Mr Standfast." The book ends at the fresh grave with another quote from Pilgrims Progress. I have changed the quote slightly so as not to spoil the story for anyone : -

"So the "best of the best" passed over, and all the trumpets sounded for the best of the "best of the best" on the other side"
Yes the book is dated, yes it was a book I read slowly (not a good sign), but gosh what a great yarn, and what a great evocation of terrible times and a terrible war that was suposed to end all wars, but didn't. Let's have a toast to heros and heroines who sacrificed so much. Of course, we must read these books.
Links to author index and home page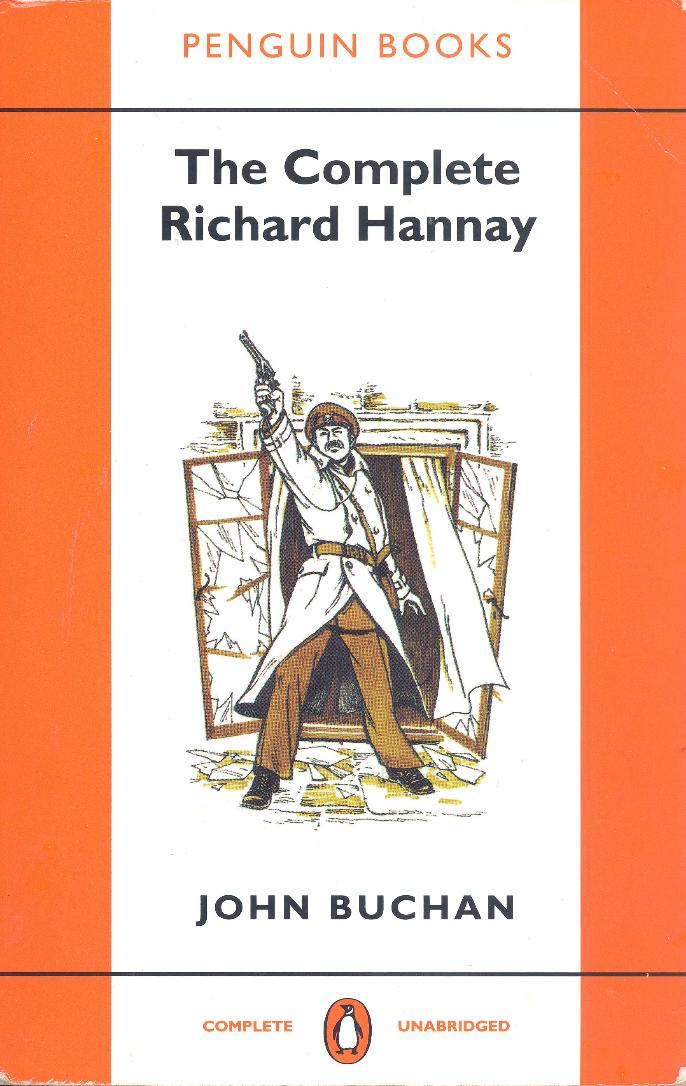 I read this book in April, 2020.
It's almost two years since I read the previous book in this series, where we met Mary Lamington, 20 years younger than him, but every bit as much a hero as Hannay. This book opens with the the terrible war now behind everyone, and General Sir Richard Hannay sort of retired to a vast country estate in the Cotswolds where he and his beloved wife Mary live in a grand mansion. He had bought Fosse Manor as a wedding present for Mary. They live a quiet contented life, and are blessed with a 15 month old son, Peter John, a great little chap. It's a rural idyll, Hannay is at peace, quite contented with country pursuits, he has served his country well on many, many occasions, and now he deserves a peaceful life. He has a good friend in the local doctor, Dr Tom Greensdale. The way this happy scene is pictured, almost too good to be true, lets us know that all is about to be changed. Hannay gets a letter from Lord Atinswell (Sir Walter Bullivant ex FO) giving him advance warning that, although it is not his idea, someone is going to visit Hannay asking for help in a great adventure. Hannay wants none of it. He has a wife and son to care for, and more than done his bit. The caller is Sir Arthur Warcliff, and he tells a terrible story about evil stalking the land, some diabolic gang led by an unknown genius, and that they have taken three hostages.
The three hostages are 19 year old Adela Victor, daughter of a rich banker Julius Victor, Lord Mercot, not much older than Adela, and last, but not least, little 10 year old David Warcliff, Sir Arthur's beloved son. Little David is a great little chap, a lover of nature. Sir Arthur is heartbroken. The police are clueless, and Hannay is their last hope. Richard is sorely tempted, but says he is sorry, but he is too old now, and he sends Sir Arthur Warcliff away. But he is troubled, can't sleep, and curses Sir Arthur. Why couldn't he be left in peace. He confides in Mary who tells Hannay he must help. Little David Warcliff could be their beloved son Peter John. And so Sir Richard Hannay begins a new adventure. Macgillivray from Scotland Yard briefs Hannay, and lots of old chums turn up to help, or hinder. Colonel Sandy Arbuthnot helps Hannay a lot. The kidnap gang have taunted the police with a six line poem / three part coded clue, that of course is no help to anyone, but there is something familar in it. Back at Fosse Manor Tom Greenslade had been telling Hannay how easy it would be to write an adventure story. He had said think of three strange unrelated settings, and then link them in a story. The three settings seem to mirror the three clue poem. From where had Tom Greenslade got his ideas. And so Hannay chances upon Dominick Medina - a charismatic, brilliant, junior MP, but sadly also an evil, corrupt devil into Eastern mysticism, and able through hypnotic powers to bend people to his will.
And so that is the story - Richard Hannay v Medina, western civilisation versus eastern devilry. Will Hannay manage to rescue the three hostages in time, especially little David Warcliff. ? Hannay is not quite alone. Surprisingly formidable help is at hand - Mary ! I can't say more to spoil the story, but when the story has been told it's not quite the end of the book. Someone is after vengeance. True 1920's adventure hero that he is, Hannay even tries to save his enemy's life.
The story is somewhat dated, and there are lots of long paragraphs that would be split by a modern editor. Again and again we are told what a devil Medina really is - perhaps a little too much repetition. But it's a great old fashioned yarn.
Links to author index and home page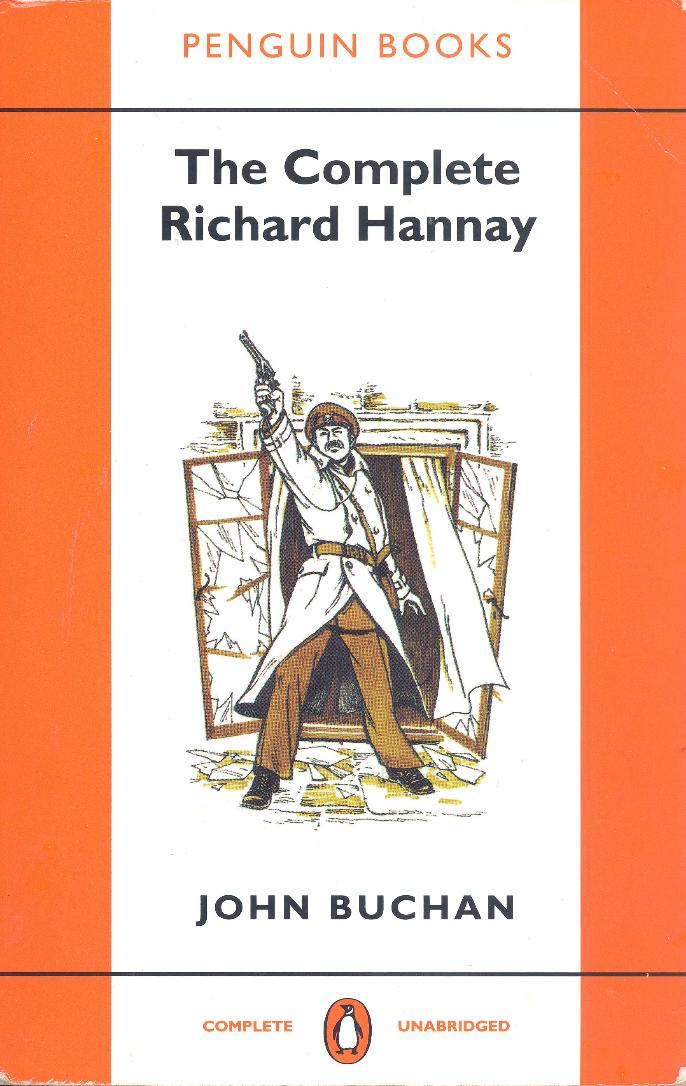 I read this book in January, 2021.

Since 2017, I have been working my way through a 5 book omnibus of John Buchan's adventure yarns featuring our hero General Sir Richard Hannay. Sadly, this the last book in the omnibus, and it's a recognition that times change, middle age creeps up, and maybe it's time to dream no more of great adventures. But perhaps, just not quite yet. I read somewhere that some critic said that "The Island of Sheep" was his favourite Hannay adventure. I thought it was a great and appropriate conclusion.

The book is only some 200 pages long, but nothing is rushed. We open with an update on our hero's life. He is still happily married to Mary, is mostly retired, and their son Peter John is now 14 years old, a delight - not a clone of his father, not a scholar nor athlete, but a kindly person, and a great naturalist. Hannay lives a happy and peaceful life on his country estate at Fosse. He goes fishing and hunting on his own grounds, entertains his many friends, and he should be contented. But the author gradually paints a picture - Hannay has become unsettled. With a wife and child to consider, he should decline adventures, but a series of events ever so gradually conspires to change things. He goes to the Commons to hear a speech being given by an orator friend, but Membury, the Colonial secretary, recalls in his speech some advice once given to him by a Mr Lombard. That name is known to Hannay from days gone by and their times in East Africa. On his return journey, there is a group of business men sharing Hannay's railway carriage, chatting about golf, with one chap in the corner especially vocal. Most get off leaving this chap and Hannay, and amazingly Hannay realises this fat, unfit person is none other that Lombard himself. He used to be a young idealist of great spirit, but now he has lost his fire, and grown middle aged. Hannay and Lombard now have nothing in common. Back at Fosse, old chums Lord Sandy Clanroyden and his wife Barbara are visiting, and Sandy and Richard talking through old adventures, recall the old Dane, Marius Haraldsen. Lombard and Hannay, then in Rhodesia, learned that Haraldsen was to be ambushed by three rogues. After much danger and a famous adventure Haraldsen, Lombard and Hannay prevail over our villains, Mr Troth, Erick Albinus, and Joseph Barralty. Haraldsen fears his enemies may return, and so Haraldsen, Lombard, and Hannay make a solemn pledge of mutual asistance, and this pledge also to applies to their sons. All that is background, but it has a unsettled Hannay, and made him willing to tackle a future challenge.

Many months later, Lombard contacts Hannay - the old Dane's son Valdemar Haraldsen has turned up, but white, quaking and in a fearful state. His father's old enemies are threatening him, and Darius has fled. He is keeping on the move, is now calling himself Mr Smith, and has sent his daughter Anna away to the safety of an English boarding school. Hannay tells Lombard that he will help, and that Lombard should forget about it, but Lombard is furious at being dismissed - he gave a pledge too, and his word is his bond. Although obviously Hannay has discounted him, Lombard will help too. Worryingly, the enemies now have a new recruit - a true villain, D'Ingraville, and his two bodyguards Martel and Carrerus. But Sandy Clanroyden has long been on D'Ingraville's trail, and so he too will join the adventure.

The story unfolds further. Hannay had met a timid Mr Smith (Haraldsen) whilst on holiday in Norfolk. Realising that Smith faces real and genuine danger, Hannay moves him to Fosse. There young Peter John befriends Valdemar Haraldsen - they both share a love of nature and go hunting with Peter John's hawk Morag, a present from Archie Reylance. Albinus, Troth, Barraltry and D'Ingraville discover Fosse, and so our heros retreat to Sandy Clanroyden's Scottish base at Laverlaw. At at a shepherd's wedding in the glen, Valdemar Haraldsen receives a mesasage from his Norse ancestry gods. An old lone sheepdog Yarrow is under attack from a young pack, but suddenly goes on the offensive, launces an assault, and amazingly prevails against all the odds. Lombard too has an adventure when he collects Anna from her boarding school. He had arrived after their enemies, but he persuaded Anna he was the genuine rescuer, and they made it to Laverlaw, pursued all the way by the kidnappers. At Laverlaw Peter John and Anna seemingly have little in common, but events are about to change that. Haraldsen decides he will no longer skulk away, but return with Anna to make his stand on his Norwegian island home, on the Island of Sheep. Hannay, Lombard, and Clanroyden are in too. But they are outnumbered by a ruthless, younger, fitter, and murderous enemy.

Peter John had been left behind when the men departed for Norway, but his mother saw how upset he was, and sent him after them - they met up in Orkney. Sandy Clanroyden was to follow on. Anna and Peter John kept each other company on the Island of Sheep, foolishly blundered into their enemies hands after a kayak trip to the mainland, but escaped with help from a surprising source. Apparently there are no young men on the island - they have all gone off to sea to catch the fish. And so, begins the climax to end all climaxes. Anna becomes the true, inspiring Norwegian princess, summoning viking reinforcements - "your home is being attacked again by pirates, HELP !" It's an ancient blood call that will not be denied.

Yes, it's all very old fashioned, and dated. Hannay uses many references to colonies and empire that we do not recognise nor understand. But my goodness, it's a cracking story with a beginning, a middle, and a satisfying ending where order is restored and happiness and contentment return. And they could all do it again, if called upon. What better ending could there be. Let's remember and honour the old tales of once famous writers.








Links to author index and home page