Iain's Leisure Reading
She started "Thrones, Denominations" which Jill Paton Walsh completed in 1998, and J P Walsh went on to write three further Lord Peter Wimsey books
I recently started reading Agatha Christie and was struck by how often her name was bracketed with that of Dorothy L Sayers - they were the two pillars of a Literary Movement known as the Golden Age of Detective fiction. This refers to crime fiction of the 1920s and 1930s. I am not sure that I agree that the 1920s and 1930s were a Golden Age, but I had heard of Dorothy Sayers (and her famous creation Lord Peter Wimsey), and decided to investigate further.
Dorothy Sayers, an only child, was born in Oxford in 1893. At six, her father, a headmaster and clergyman started to teach her Latin, and aged 13, she went to Godolphin boarding school in Salisbury. Three years later she won a scholarship to Sommerville College, Oxford, where she later gained first class honours in 1915. Women were not awarded degrees in those days, but she was amongst the first to finally be allowed to graduate as MA in 1920. She was almost a polymath, and led a full and eventful life. She was a published poet, a playwright, a teacher, including working in France, and she worked very successfully writing advertising copy. There she coined the phrase "it pays to advertise", and was responsible for the famous Guinness Toucan advert (Guinness is good for you, How grand to be a Toucan, Think what Toucan do). She tried her hand at crime fiction, and in eleven novels featured Lord Peter Whimsey whom she described as a mixture of Fred Astaire and Bertie Wooster. Her novels were not just crime fiction stories - she also explored and commented on the social problems of her day. These included the difficulties of WW1 veterans, the ethics of advertising, womens' education and rights, and the evils of Nazi doctrine. She had deep Christian and academic interests, and translated Dante's Divine Comedy from Italian, providing copious and learned notes. She wrote religious books on Creation and Incarnation, and did so well in presenting orthodox Aglican doctrine that the Archbishop of Canterbury offered her a Lambeth doctorate in divinity, which she declined, but she later accepted an honorory doctorate from Durham.
In 1920 she had an unhappy affair with a Russian emigre, and in 1922 entered another with a bounder Bill White, who moved into her London apartment in St James Street. Sayers became pregnant, and later at the age of 30, had an illegimate and secret son John Anthony (later Fleming) who was given to the care of her aunt and cousin Amy and Ivy Shrimpton. He was later sent to a good school, and after Sayers met and married her husband "Mac" Flemming, John Anthony was legally adopted by Mac and Dorothy - but Sayers never let on that she was John's birth mother. Mac probably knew, but never spoke of it. Anthony later went on to win a scholorship for Oxford, and entered Baliol College. Sayers chose Baliol as the Alma Mater of her character Lord Peter Whimsey. Sayers and Mac lived in Great James street, both working - Mac as an author and journalist, and Sayers in advertising and also an author. Fleming's health was poor - WW1 damage - and he died at their cottage in Witham in Essex in 1950. Sayers later died there in 1957 - there is a statue in the street outside where she lived. After her death it was revealed that John Anthony was her son, and sole beneficiary. John later died in 1984 in America.
Lord Peter Wimsey is the product of Eton and Baliol and the archtype for the British gentleman detective, who pretends to be a "dont you know" Bertie Wooster scatterbrain, and solves crimes for his own amusement with help from his butler Melvyn Bunter, DI Charles Parker his Scotland Yard chum, and later brother in law, and also later by Harriet Vane - who would become his wife. Wimsey is an expert on food and wine, male fashion and classical music. He is a gifted pianist, and he loves fast cars. He served in WW1, (where he met Bunter) and rose to the rank of major, also working in Intelligence. He was wounded and suffered post traumatic stress disorder. On the surface he comes across as a most annoying light weight character, but this is a deliberate facade behind which hides a complex but good man.
In October 2020 in the Daily Telegraph, I came across an obituary for Jill Paton Walsh - 1937 to 2020 - who finished a Peter Wimsey story that Dorothy Sayers had started but not completed. J P Walsh was a great admirer of Dorothy Sayers - she said that reading "Gaudy Night" persuaded her to go to Oxford University. Walsh did such a good job with Sayer's unfinished work, that P.D James said she could not see the join. Walsh claimed to be surrounded by happy, successful marriages, but all she read about in fiction were failed ones. And so, she determined to give Peter Wimsey and Harriet Vane a long and happy marriage in three further Peter Wimsey books. Spoiler Alert Not only that, she married off Bunter, killed both Peter's nephew and brother, and Peter Wimsey inherited the Dukedom of Denver.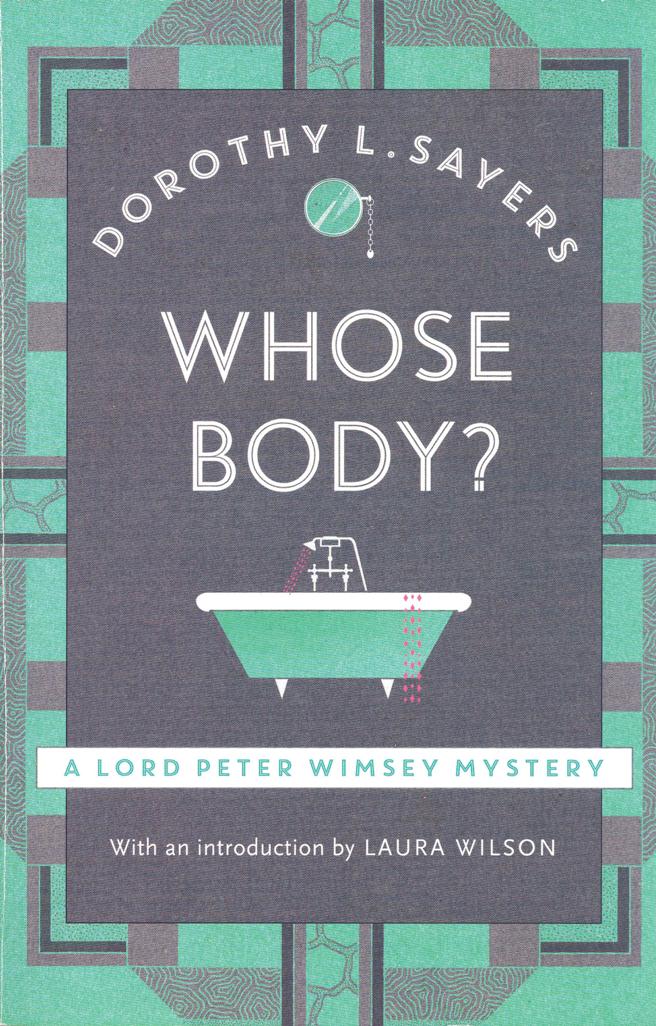 I read this book in May, 2019.
I started reading Dorothy Sayer's Lord Peter Wimsey series because of the author's reputation. I had read that there were three queens of the golden age of British crime fiction - Margery Allingham whose sleuth is Albert Campion, Agatha Christie whose sleuths are Miss Marple and Hercule Poirot, and Dorothy Sayers. I started with book three in the series - "Unnatural Death", and was somewhat underwhelmed. I thought it was a good story, but I couldn't stand the main character, Lord Peter Wimsey. He seems to be pretending to be a silly ass, Bertie Wooster, "don't you know", "what", "rather" etc character. When Wimsey is not speaking it's OK, but when he speaks it gets very wearing.
"Whose Body" is book one in the series, and it's the second that I have read. Sadly, my impressions from book three are confirmed here. The story is OK, but we have to read it again in a final chapter when the whole plot is explained to us. I guess the plot is quite novel. A murderer kills his/ her intended victim, and then kills a second time, and switches bodies to confuse everyone. The false body is discovered in the bath of poor innocent Mr Tibbs, an architect. An idiot policeman, Inspector Suggs, arrests Tibbs and family. A proper policeman, DI Parker of Scotland Yard is looking into the disappearance of a very rich , Jewish financier, Mr Levy, and he calls on the Tibbs household to check if the body in the bath might be the missing Mr Levvy. It is not. Lord Peter Wimsey, amateur sleuth, asks to sit in on the case , and of course it's Wimsey who solves the puzzle, and identifies the murderer.
Wimsey is the second son of a duke, his brother is Lord Denver. Wimsey has rooms in Piccadilly where his man Melvyn Bunter looks after him. Dorothy Sayers paints a good picture of 1923 London - class, defference, households with about six servants, butlers, etc. Parker is a bachelor, and pays £1 a week to rent his flat. Wimsey is a decent enough chap, Eton and a first at Balliol. He decided not to marry his sweatheart before going off to war in case he got disfigured, and she might then feel obliged to stick with him. But in Wimsey's absence she married a bounder, and broke Wimsey's heart. Wimsey was a good, brave soldier, rising to the rank of major. His dug out was hit, and Wimsey was buried alive, and so suffered a nervous breakdown. He still suffers from "shell shock" - what we now call PTSD. Perhaps I should try harder to like the chap !
I read that Dorothy Sayers is a bit like marmite - 50% like it, 50% can't stand it. I am trying to give it a fair go. We just need Wimsey to calm down a bit, and be less frantic.
Links to author index and home page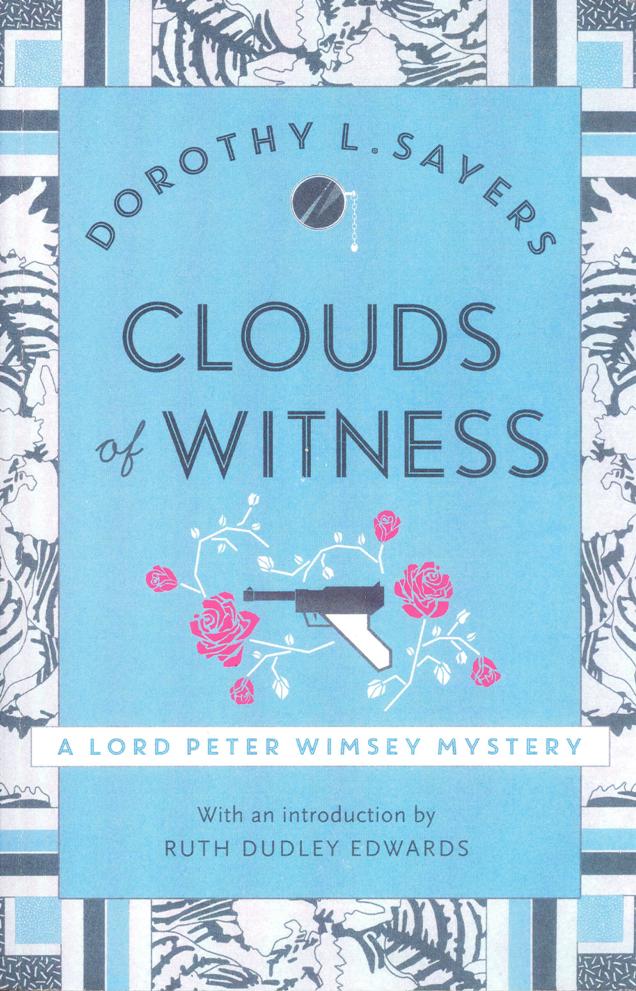 I read this book in July, 2019.
This is book two in Dorothy Sayers' Lord Peter Wimsey series. I read book three first, and then book one, and now that I have read book two I can continue my reading in the correct sequence - so important in book series where characters develop, and we follow their private lives. I am reading Dorothy Sayers because of her reputation as one of the three queens of the Golden Age of Crime Fiction - the other two are Agatha Christie (Poirot and Miss Marple) and Marjorie Allingham (Albert Campion). I liked books one and three, but was annoyed at the adopted, foppish behaviour of the hero, Lord Peter Wimsey. This is the first book that has really impressed me - a great crime mystery not solved until the very end climax, lots of adventure and dangerous scrapes, and a good personal life story too. As always Wimsey is aided and assisted / rescued by his ex army days servant Bunter, and his police friend DI Charles Parker. Inspector Suggs makes another appearance too. We also meet some of Wimsey's aristrocratic family - Lord Denver, Gerald Wimsey, Peter Wimsey's brother, and Lady Mary Wimsey, Peter's sister.
Usually in these little write ups, I do a couple of paragraphs about the main story - i.e. the crime / murder - and another paragraph or two about developments in the ongoing main character's private life. Here, however, the crime and the personal story are intertwined. It's 1923. The body of Mary Wimsey's boyfriend / fiancee Captain Denis Cathcart is found in the conservatory of Lord Denver's shooting Lodge at Riddesdale. It's death by a shot through the heart, and Denver's pistol is found nearby. It's 3 am, and Lady Mary finds her brother Lord Denver leaning over the body. "You have killed him" she exclaims, then rushes upstairs and locks herself in her bedroom. Denver had quarrelled with Cathcart the previous evening - calling him a card cheating conman, and ordering him never to set foot in the house again, nor see Mary again. What was Denver doing up at that time of night, and why was he in the conservatory? He says he had gone for a walk, but would not say where, etc. His poor alibi, and refusal to say more goes against him, and with all the circumstantial evidence, Denver is accused of murder, arrested, committed, and thrown in jail, awaiting full trial. As a senior Peer of the Realm, Denver is to be tried by his fellow peers at a special sitting of the House of Lords.
Peter Wimsey is abroad whilst all this is going on, but he discovers about the forthcoming House of Lords trial by chance, drops everything, and rushes home. He will employ his criminology / detective skills to prove his brother's innocence. DI Parker of Scotland Yard is called in to take over from the local police. Sir Impey Biggs, the country's best defence lawyer, is hired to defend Lord Denver - who still refuses to co-operate. Why ? Is he covering for someone ? Peter Wimsey and DI Parker set to work. Obviously Denver did not do it - do they work to prove he has an alibi, or do they try to find the real murderer? If Denver did not do it, what was Mary Wimsey doing, also in the conservatory at 3 am. Will Wimsey get his brother freed, but only to get his sister arrested ? Mary too will not say what she was doing - she is too ill, and has taken to her bed.
It's a long story, with a succession of suspects. Wimsey and Parker's investigations take them to Paris, over the moors in the fog where Wimsey falls into a bog and is being sucked under, and to America, where vital evidence is found, but can Wimsey get it back to the UK before the end of the trial ? He is risking all in a biplane over the atlantic, and a storm is lashing the small plane ! In short, it's an exciting adventure story and what the defence is, is only revealed in the final climax.
When things were looking bad for Mary Wimsey she had an unexpected champion in DI Parker. It's obvious he has fallen in love with his friend's sister - but she is titled lady leading a shallow life of privelege, and he is a lowly detective. Obviously a sub plot, perhaps to be developed in later books.
Almost by way of an addendum, when the story has come to a climax, and been told, Parker, Wimsey, and Wimsey's friend Freddy, are found drunk out of their skulls in London ( a celebratory drink or two, or more) - found by Inspector Suggs, and packed off home in separate taxis.
In short, a really good story in lots of ways - and lots of historical interest thrown in too. There is quite a bit of french too, to test my schoolboy language skill / or lack of. Anyway, this is the best of the three books I have read so far. I can see where Dorothy Sayers reputation has come from.
Links to author index and home page


I read this book in Jan, 2019.
This is book three in Dorothy L Sayers' Lord Peter Wimsey series, but it's the first in the series that I have read. I spotted a Dorothy Sayers book in "The Works" bookshop, knew that Dorothy Sayers was a highly regarded contemporary of Agatha Christie, and thought "why not, let's give the series a try." The book I bought had an introduction by the writer Minette Walters, who went to the same school as Dorothy - Godolphin - (but much later of course). There were also a couple of extra chapters at the end giving more of Peter Wimsey's background.
The book was published in 1927, and it was interesting to read of life of that period. Thus one of the characters in the book was delighted that she could have as many baths as she wanted in her new digs - you "just put tuppence in the geyser." Sayers would today be described as something of a feminist. So many young men have died in the great war, and there are lots of unmarried able young ladies, but they are expected to play second fiddle to men, and often end up in dull, unrewarding, poorly paid jobs. Peter Wimsey is a lord, and has lots of money, but he makes a point of employing Miss Climpson as his enquiry agent. She does the running around, and Wimsey does the thinking. Also Wimsey has a Scotland Yard DI at his beck and call - DI Parker. Parker also has become something of a close friend of Wimsey. Finally we also meet Bunter - Wimsey's butler / man servant. Bunter was Wimsey's sergeant in the army - Wimsey rose to the rank of Major. So the team seems to be Wimsey, Parker, and Miss Climpson.
I found the book heavy going in places, partly caused by the Wimsey character. It seems he has adopted a foppish, rambling, "silly ass" persona, apparently to put people at their ease, and get people to underestimate him, in short to put them off their guard. But I found his manner of speech and circumlocution very tiring. I wished he would just say what he meant, and get to the point. He is the English amateur detective who solves crimes as a hobby, but he realises it's not the done thing to catch criminals and murders and get them sent to the gallows for sport.
The story itself was OK, albeit told in a very rambling style. Wimsey is dining with a friend, discussing a case in the newspapers, and wondering why the doctors in the case did not intevene more. A doctor (Dr Carr) at the neighbouring table joins the conversation and says he did do just that, but ended up losing all his patients, and his private practice. This is course is before the days of the NHS. Dr Carr thought the sudden death of one of his patients, an old lady who admittedly did have heart problems and was expected to die eventually - he thought this death suspicious, and insisted on autopsies. Nothing susicious was found, and his other patients, not liking the idea of having their bodies messed around with after their death, voted with their feet and went elsewhere for their medical needs. Wimsey was intrigued with the story. He had always been fascinated with the possibility of a perfect murder, one so perfect that no one suspected it was a murder, and he resolved to look into the case. Miss Climpson was despatched, and Parker, and a couple of Chief Constables were later drawn into the case. The old lady was Miss Agatha Dawson, and she had lived with her niece Mary Whittaker. Mary was a trained nurse. Mary was due to inherit Miss Dawson's estate - so she stood to gain, but she was going to get the estate anyway. Why on earth should she kill her aunt - what motive could there be ? Also she had an alibi. Mary had a close (suggestions of very close) friendship with Miss Findlater who gave her an alibi. So was there a crime, how was it done, and was there a motive ?
Wimsey sticks to his investigation although everyone says he is wasting his time, and so the story unfolds. There are other deaths, and strange happenings. The method of death was indeed undetectable, and there was a motive - but to explain the motive Sayers had to investigate some obscure legal issues which possibly might arise on the passing of a new inheritance law the following year. Eventually we do get to the point, and there is a climax when Miss Climpson seems to be the next victim.
All in all, I thought the story ended up OK really, and I'll read some more in the series to see what I think. It sometimes takes me a while to warm to a series.
Links to author index and home page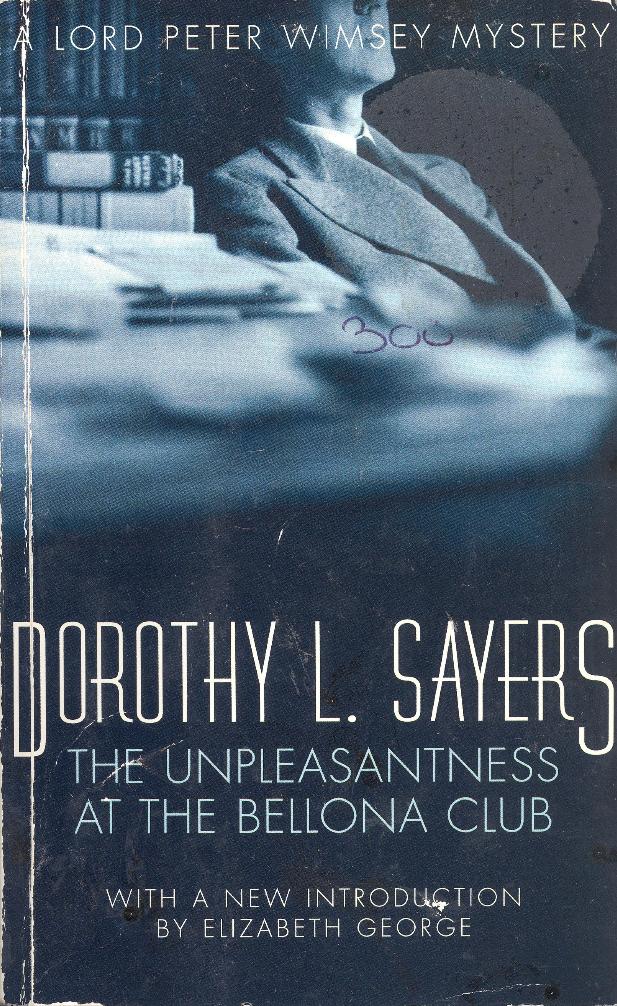 I read this book in October, 2019.
This is the fourth book in Dorothy Sayer's Lord Peter Wimsey series, and it's also the fourth book that I have read. I sort of tolerate this series, but up to now have found the false foppish manner of Lord Peter very annoying. However I didn't find it quite so annoying in this story, so perhaps Dorothy has toned it down a little, or perhaps I am just getting used to it. Anyway, I thought it was the best book so far.
It's quite a nice, clever story. The Bellona Club is a Gentleman's club in London, where old professional men moan about what is wrong with the world, pass the time with a snooze in a favourite armchair, and perhaps have a bite to eat washed down with an agreeable wine. General Fentiman is such an ancient gentleman - he is in his nineties, and not expected to last to Christmas - who goes to the club as regular as clockwork, and snoozes in his favourite chair by the fireside. He has two sons and heirs, Robert, who is a bit of a lad, and George who is down on his luck, was gassed in the war, is unemployed and is living in penury on his wife's meagre earnings. George is barely mentally stable, has a real chip on his shoulder, and feels the world is against him. It is George who is there in the club when General Fentiman is found not to be asleep in his usual armchair, but dead. This is the "unpleasantness" of the title. His doctor Penberthy, a Harley street man, is also in the club, confirms death, and writes the death certificate. Heart failure - all quite straight forward, and as expected.
We now go back a bit to learn that General Fentiman had recently been reconciled with a sister he had disowned years ago. The sister married well and inherited a vast fortune when her husband died. She has left a complicated will where the money goes to her brother if she dies first (and so to his sons on his eventual death), or to her lady's companion Ann Dorland if the general dies first. Both have now died within hours of each other, but it is very difficult to put an exact time to General Fentiman's death - so who died first? A lot of money is at stake, and Fentiman's lawyer, old Murbles, calls in Wimsey to sort out a time of death. Wimsey cautions that if he starts digging, who knows what he may uncover. Do they really want him to investigate. Wimsey is right, it is a great puzzle, and in short the general may have died earlier than thought.
The story and the puzzle now unfold and there is a big surprise - Fentiman was poisoned ! When did Fentiman die, who concealed his death at the time, and indeed who is the murderer. It need not be the same person. Sayers tells the story with great skill. Wimsey seems to have solved one part, only for complications to throw everything up in the air again. Since there is a murder the police become involve - i.e. Wimsey's friend DI Parker. At one time their friendship is sorely tested. Poor Ann Dorland becomes a co-suspect along with her "boyfriend." She is an honourable girl too eager to fall in love with the wrong sort. Surprisingly Wimsey gives her advice about whom to fall in love with.
I didn't like the ending, nothing going to court, but a gentleman having to do the right thing. I suppose one's honour and reputation is paramount for members of the Bellona Club.
It's a complicated story with layer upon layer. It is certainly of it's time. I liked it that after everything was solved, life and the story continued for several more chapters before the book ended.
Links to author index and home page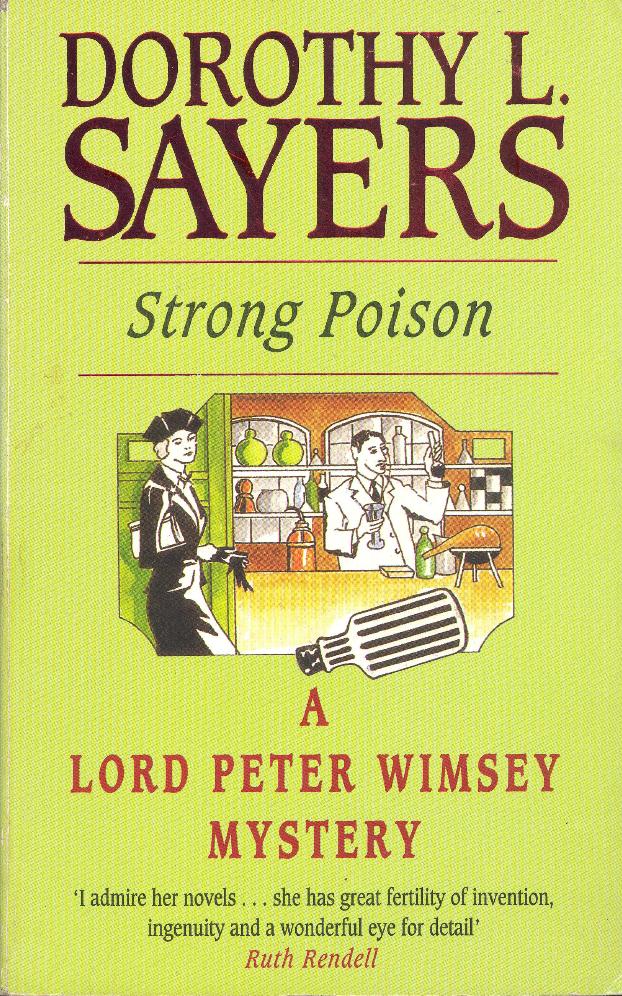 I read this book in December, 2019.
This is book five in the Lord Peter Wimsey series by Dorothy Sayers. I must be getting acclimatised. This is the first book where I wasn't annoyed by the Wimsey "silly ass" character. It's a good story, and there are real developments in the parallel "private lives" story.
The strong poison of the title is arsenic. We open the story with Lord Peter, a spectator at a famous trial - that of the crime author Harriet Vane. She is accused of poisoning and killing her partner and lover Philip Boyes - they never married, but "lived in sin". We get details of Philip's last meal with his cousin, the solicitor Mr Norman Urquart. All the food was eaten by someone else apart from Boyes, but only Boyes was poisoned and died. Harriet had been purchasing arsenic regularly - she claimed researching a plot for a new crime novel. After each purchase Boyes seemed to be ill. In fact he only felt better when he went away from Harriet on a holiday in Wales. DI Parker, as the investigating officer, is convinced that Harriet is the poisoner. "I am afraid she didn't do it", declares Lord Peter, "and I will prove it."
The jury had been expected to return a quick guilty verdict, but there was an old "biddy" on the jury who was not convinced, and would not agree to a guilty verdict. The old biddy was Lord Peter's friend and crime investigating resource, Miss Climpson. The jury was discharged, a new retrial ordered, and Lord Peter had about 5 weeks to find who did it, and so save Harriet Vane. Peter gets himself attached to the defence team lawyers, and visits Harriet in prison. And now we get a huge surprise. Peter has fallen in love at first sight with Harriet Vane. He proposes marriage, but she thinks it's a cruel joke. However, Peter really has fallen in love ! Harriet has turned him down, but if Peter saves her life he will buy time and who knows what might then happen. Only then of course, he wouldn't want Harriet saying yes only out of gratitude - it's quite a nice theme for the future.
Romance truly is in the air. DI Parker had always had a thing about his best friend Peter's sister - Lady Mary. Although she is way out of his league, they have been meeting quietly for the odd evening meal. But things are going really slowly, and Mary doesn't know where she stands. Peter takes his friend Parker aside for a man to man chat. DI Parker thinks he is to be warned off and sent packing, but Peter surprises him, and says the opposite. "Go for it, suggest the old matrimonial thing" advises Lord Peter. And so now Parker and Lady Mary are as happy as can be, but things are not going well for Peter in his efforts to save Harriet from the hangman.
Of course Harriet didn't do it - but the solution is so ingenious, and very clever. Does Peter poison the poisoner, or doesn't he ? Read the book to find out.
I thought it was a good story, and liked Miss Climpson, an innocuous, respectable old woman, as Lord Peter's assistant. I also liked Bunter quietly asking if there are to be changes to Lord Peter's home arrangements. "Of course not", says Lord Peter. If Peter and Harriet ever do get married in some future book, surely Bunter is right to enquire about home arrangements ? We will need to read on to see.
Links to author index and home page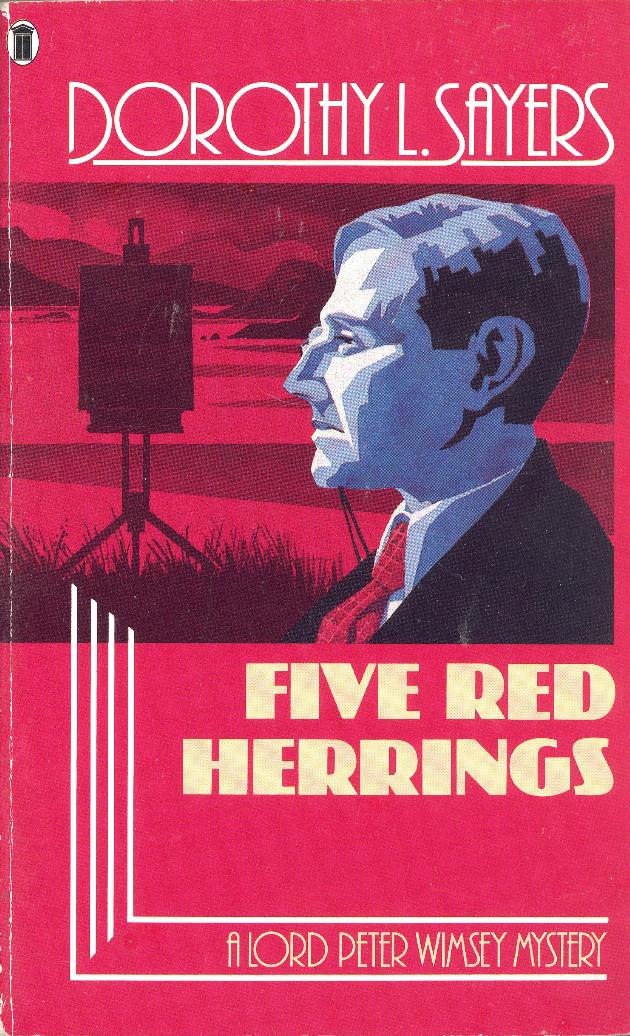 I read this book in March, 2020.
This is book 6 in Dorothy Sayers series about Lord Peter Wimsey, and sadly I am not getting much pleasure from having to plough through all the excessive detail that the author inflicts on us. It's a pity because I like the characters, the stories are very clever, and Sayers is mostly a good writer. Sayers seems obsessed with posing a good mystery, but then creating multiple solutions only to deflate them, and in this book we almost have to memorise the local train timetable - e.g "did painter X get to station Y at 9:35 say in order to get to station Z at 10:32?" Then we have the question did the train run on time ? Everyone seems to "borrow" whatever bicycle they come across. The book is populated with bicycles because apparently the murdered victim's corpse was moved on one of the many stolen bicycles that plague the local police.
The book is set in Galloway in Scotland - mostly in Kirkudbright. Apparently Lord Peter often stays here in a modest terraced house with his servant Bunter - so much so that he seems to know most of the locals and be accepted by them. There is nothing about Lord Peter's personal life, but his friend Chief Inspector Parker does make a brief appearance about half way through the story - one of the missing bicycles has turned up in Euston station.
There is a large local artist community, and the story opens by introducing us to one of these artists - Sandy Campbell. He is a quarrelsome thug, a womaniser, a drunkard who crashes into a neighbour's wall but refuses to pay for the repairs. He is too ready with his fists - just a horrible man who has been in fights with his fellow artists. It is his body that is found in the bottom of a gully half submerged in a burn. It appears that he had been painting on a ridge at the very edge of the gully, and had perhaps stepped back and fallen to his death. His easel and half completed canvas are found nearby. The police think it is obviously accidental death but Lord Peter comes along, has his suspicions aroused, and convinces everyone that it's really a cleverly planned, elaborate murder. The murder seems to have been done on the Monday night before it was discovered the next day. If Mr Campbell was already dead on Tuesday morning, who painted the view on the canvas on his easel ? The answer is obvious - one of the many fellow artists he has been baiting.
In total there are six local artists who have all been in fights with Campbell - Michael Waters, Hugh Farren, Matthew Gowan, Jock Graham, Henry Strachan, and John Ferguson. One of these is a clever murderer, the other five are the "red herrings" of the title. Those trying to solve the crime are a police detective constable, a detective sergeant, a detective inspector, and Sir Maxwell, the local Chief Constable. Peter's reputation means he is instantly one of the team - almost running the enquiry. None of the artists can be eliminated as none has a good alibi. Each could have done it and each had a strong motive - eg Campbell had been pestering Hugh Farren's wife, etc. And so this is the story as cases are built against each artist, or possible combinations of artists working in concert. Each of the detectives has a different chief suspect, and each puts forward convincing but differing theories as to who did it, and how. The final theory of course is that of Lord Peter Wimsey, and no prizes for guessing whose theory is the right one.
So once again I conclude that it's a good story, with a very clever plot and final revelation, but ruined by so much detail that we can't begin to see the wood for the trees, and cease to care.
One final comment. In Scotland the national drink is whisky not whiskey !
Links to author index and home page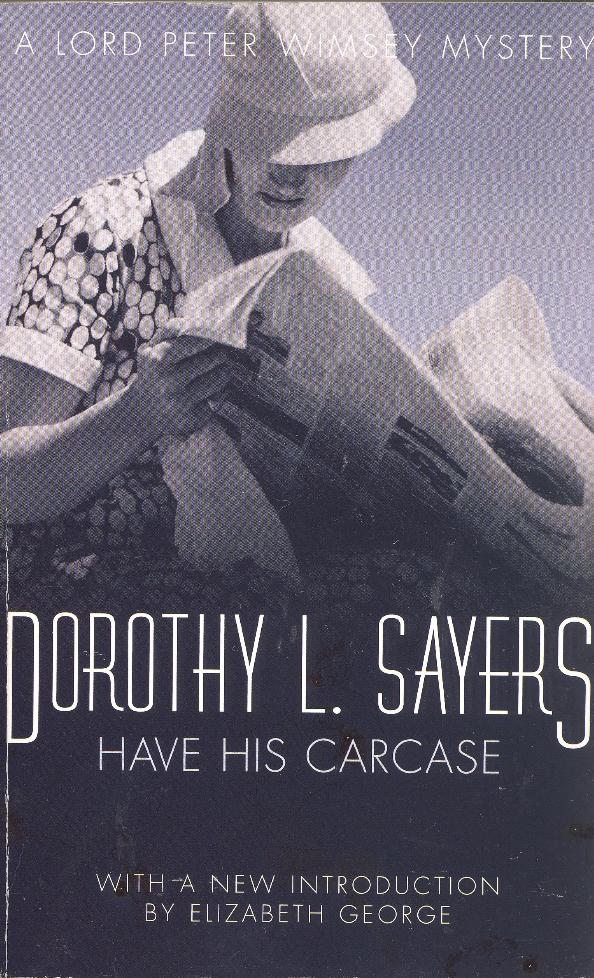 I read this book in February, 2020.
This is book 7 in Dorothy Sayer's Lord Peter Wimsey series. I liked the first 1/8th of this book, and the final 1/8th for the ingenious ending - but disliked most of the book.
Having ploughed through books 19 and 20 in the Dalziel and Pascoe series I had had more than enough of Thomas Lovell Beddoes obsessing about death. And now, in the next book I have read, I find the introduction to each chapter is a T.L.Beddoes quote !
In the introduction we find that DCI Charles Parker of Scotland Yard is now Wimsey's brother-in-law - he has married Lady Mary, Wimsey's sister. Lord Peter himself is still proposing marriage to the now succesful crime writer Harriet Vane. She is sort of in awe of Wimsey, and very grateful to him for saving her from a poisoning charge, but she is proud, and wants her independence. His wealth and title do not appeal - perhaps they are even a hindrance ? Wimsey almost finishes each conversation with Harriet with a proposal of marriage. I guess she'll say yes eventually, but not yet. It will be interesting to see just what happens to persuade her to say yes. In this book, thankfully, Wimsey is more or less speaking normally - his previous foppish affectations were artificial and a definite distraction.
The actual story itself is soundly based :- Harriet Vane is on holiday at the seaside, and finds a suicide / newly murdered corpse on the top of a slab of rock. It's 2 pm by her watch (which was set at the correct time), and the blood on the corpse has not yet clotted - hence it's a recent death. The rock is just about to be covered by water - there is no one in sight (but there is a boat out at sea), and no footprints on the sand apart from Harriet's. The body's throat had been cut, and Harriet finds an unusual razor buried in the sand beside the rock. She can't move the body, so she takes lots of photos, and then sets off to tell the police. However it's a long way to the nearest place where they have a telephone. She meets two people en route - and wonders later if either , or both , were the murderer(s). The tide comes in and washes the body away.
Harriet is the obvious police suspect - she was there, and apparently no one else. Wimsy hears of the dead body, and Harriet's involvement and rushes to help her. He knows she would have been too proud to call for his asistance herself.
Unfortunately, the main part of the story is the repeated construction, destruction and reconstruction of several possible scenarios for the murder. Thus : how fast can a man walk over sand, could X, or Y have done it ? Supose he was on a horse ? Even worse the victim is a Russian exile , Alexis, a dance floor gigalo with sore knees - two and half old pence per dance with a rich widow. Alexis claimed to be an illegitimate heir of the Russian Czar, and that he was about to come into good luck. There are letters in code, and pages and pages devoted to solving cipher codes, and wackier and wackier explanations for how the murder might have been done. All "What ifs ?" The inquest jury had said it was suicide .
It goes on, and on, and on, but it failed to hold my attention.
However I will say full marks for a very clever twist at the end that took me by surprise. I knew about it, but it simply hadn't occured to me in this context !
I don't expect all the books I read to be gems - some you win, some you lose.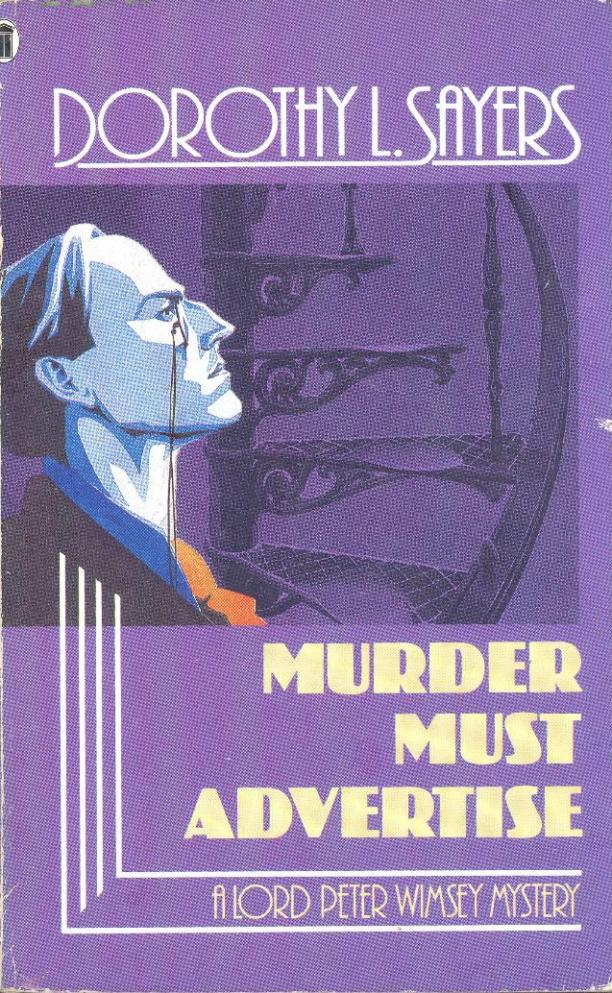 I read this book in August, 2021.
This is book 8 in Dorothy Sayers series about amateur detective Lord Peter Wimsey. It took me ages to get a copy, and I had read all of the later books before I came to read this. I didn't really like most of the story, and had to plough my way through a lot of dated narrative and what I thought was excessive office gossip and advertising industry background / jargon, but the author redeemed herself in the last quarter of the story, and some of the supposedly unwarranted detail turned out to contain hidden clues. Most of the usual characters are here - Lord Peter of course, Bunter, his servant (but only a brief mention in the penultimate chapter), Peter's sister Lady Mary , and her husband DCI Parker of Scotland Yard. They have two children - Charles Peter, and Mary Lacasta.
Lets mention Peter's full name "Lord Peter Death Bredon Wimsey," and remind ourselves that Dorothy Sayers used to work in the advertising industry. The book opens with a mysterious, inquisitive, well spoken, well dressed Mr Bredon working as a copy writer for Pym's Advertising Agency. Mr Bredon is ex Balliol, has never worked in advertising before, and was taken on by Mr Pym himself. There was a vacancy because a Mr Dean had fallen down stairs at Pym's and died. Of course, Mr Death Bredon is Lord Peter incognito. Dean had written but not posted a note to Mr Pym saying that something funny was going on at the agency. His sister Pamela found the note, gave it to Pym, who told a friend, who recommened Mr Bredon as a private investigator. Bredon / Wimsey discovers that Dean's death was no accident - he thinks he had been slugged by a pebble fired by someone at Pym's - possibly using a catapult confiscated from a message boy Ginger Joe. Bredon later uses Joe to check out the 100 plus staff at Pym's - who was where at the time of the death. Young Joe is brilliant at this.
Dean had got in with a bad crowd - the Dian de Momerie bright lights set - and so Peter as Bredon goes out of his way to make himself attractive to Dian. He does this at a fancy dress party disguised as a masked Harlequin, whistling a signature tune. Without spoiling too much of the story, we are dealing with a dangerous drug pedalling gang that DCI Parker knows about, but can't catch. He is determined to get the top man, not just the drug runners, and yes, someone at Pym's is very much involved, but whom. A lot is done to pretend that Death Bredon and Peter Wimsey are different people - Lord Wimsey says Bredon is a known, semi related nuisance who often pretends to be Wimsey. There are all sorts of subplots - Mr Willis at the agency has feelings for Pamela Dean, and is upset to see her with Bredon. Mr Bredon turns out to be rather good at writing advertising copy and comes up with a real winner to promote Whifflets cigarettes. The drug connection at Pym's is really complicated involving letters written to a Mr Smith who doesn't exist, telephone directories, and the first letter of specific Agency advert copy. Several people are killed including Dian de Momerie, and soon Bredon / Wimsey is in danger. Poor Parker is coshed in mistake for Bredon, and later Parker arrests Bredon for Dian's murder - a ploy to get Bredon into a safe prison cell. He is then smuggled out, dressed as a policeman, and back in Lord Wimsey dress he later turns up at a press conference to defend Bredon - all this as part of the pretence that Bredon and Wimsey are separate people.
There is a brilliant cricket match sub plot where Bredon is picked to play for Pyms in their annual match against their trade union. Lord Wimsey of Balliol is still the stuff of legends on the cricket field, but as Bredon he pretends to be average / merely competent. However a fast bowler hits Bredon on the elbow, and makes him really angry. We now get a dazzling display of cricket star quality, Bredon scores at will, and, running out of partners, wins an exciting match with a six over the pavillion. However a cricket buff at the match recalls seeing Wimsey of Balliol play - Bredon's cover is almost blown. But someone else at Pym's has got a run out hitting the stumps with deadly accuracy from far away. Might such a person also fire a catapult with deadly effect ?
All is solved in the end, and at Pyms, Bredon reveals himself as Lord Wimsey, but diverts bad publicity away from Pym's by saying he did it for a bet - could Wimsey earn a living if he didn't inherit wealth ? Finally, Wimsey gives the murderer, a family man with children, an honourable exit.
All in all, Dorothy Sayers has quite a lot of fun exposing the lies, deceit, and weasel words of her former advertising career where opposites are quite happily promoted, and catchy slogans abound. As I said, I struggled with the first three quarters of this story, but liked the ending.
Links to author index and home page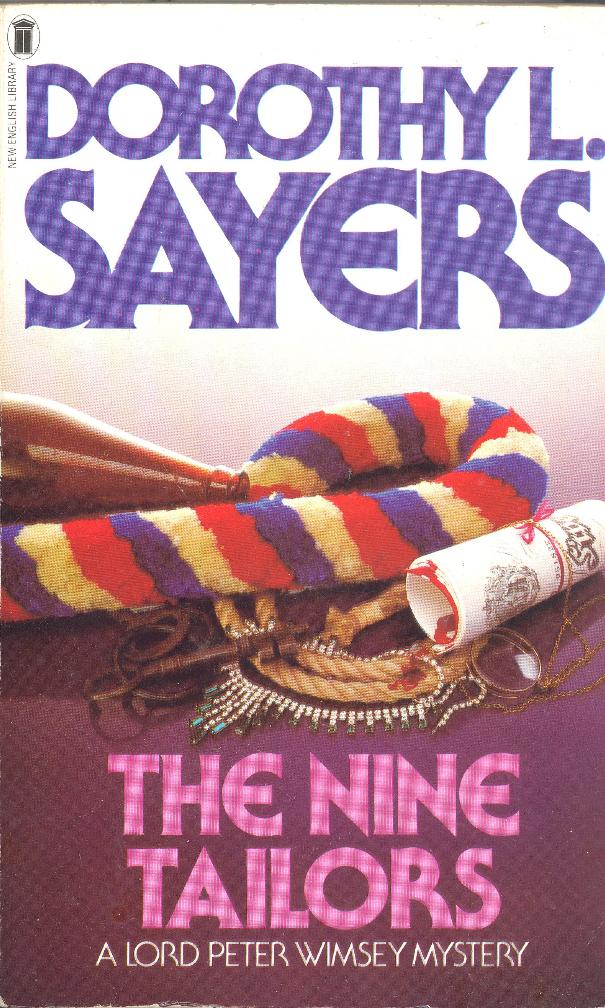 I read this book in May, 2020.
This is book nine in Dorothey Sayers series about Lord Peter Wimsey and his faithful manservant Bunter. It is set in the small village of Fenchurch St Paul in the Fens. The church has a particularly fine set of ancient bells, all with their own names and history. The local priest, the Rev Theodore Venables is a campinology fanatic - is the author one too? The book is stuffed full of ancient rules for ringing bell changes which initially I found interesting but soon found overbearing. Still, Dorothy had done her research well, and we must allow her to tell the story in her own way. I did find it slow going, though. Being set in the Fens there is a lot about land drainage - again evidence of more thorough research by the author. Near the end of the book we get an excellent description of a flood of almost biblical proportions - and this was very well told.
The Nine Tailors of the title is rung on the death of someone, a peal of bells on the great bell (called Tailor Paul) - Bong, Bong, Bong, pause, Bong, Bong, Bong, pause, Bong, Bong, Bong. By local custom, this is then followed by as many tolls as the age of the deceased. If it is woman who has died, the toll is of 6 bells, and then the age. At the end of the year, it is nine bells folowed by a toll of 12, one for each month.
The book opens on a wild New Years's Eve. Wimsey and Bunter are in the Fens to stay with friends of Wimsey's. The snow is whirling about, Wimsey drives the Bently into a ditch, and he and Bunter trudge though the storm to the nearest village to get help. They find one of the two local pubs closed, but Mr Venables is there visiting his flock, and he invites Wimsey and Bunter to stay at the rectory. The local bell ringers are to tackle a 9 hour long intricate change to see in the New Year, but Will Thoday, one of the bell ringers has the flu, and Wimsey steps in to save the day. Thus begins a friendship with the locals, and interest in all the local minutiae. The local gentry are Sir Henry and Lady Thorpe who have a very intelligent daughter calles Hilary whom Wimsey befriends. Sadly Lady Thorpe dies, and then Sir Henry himself. When they dig up the Thorpe plot they find an unknown corpse there - a man whose face has been beaten beyond recognition, and whose hands have been cut off (no fingerprints, either). So the main story is who is the corpse, who killed him, and why. The Rev Venables writes to Wimsey to tell him of the corpse violating one of his burial plots, and asking Wimsey to help. The local police - Super Blundell - eagerly accept Wimsey's help. Later we also meet Chief Inspector Parker of Scotland Yard, and there is also a visit to France.
The background to the story is the theft of the Wakeham Emeralds at a Thorpe house party. The butler Jeff Deacons was involved, and so Sir Henry felt honour bound to reimburse Mrs Wakeham at a cost of many hundreds of thousands of pounds, but almost bankrupting the Thorpe Estate. Poor Hilary ! Jeff Deacons had a partner in the known London jewel thief Cranston. Deacons escaped jail, but his body was soon found drowned in a ditch. His wife Mary remarried - the new husband was none other than Will Thoday. Will had a brother James - a merchant seaman, also home for New Year. The missing Emeralds were never found. The story then gets complicated with various suspects appearing under a variety of aliases. Thus was Stephen Driver, a stranger whom Wimsey and Bunter met, Cranston in disguise ? And was the French farmer Jean Legros really Paul Tailor (the Bell was Tailor Paul) and indeed really also Arthur Cobbleigh ? But perhaps I suggest too much.
The story involves solving a complicated cipher - Sayers loves such things - based on bell ringing changes. The cipher may say where the Emeralds are hidden. No real crooks would write complicated cipher clues ! Eventually Wimsey explains it all - all that is except who did the actual murder. That is the mystery left to the final post flood chapter. I worked it out just before reading this final chapter, but I wrongly thought it was reference back to Wimseys shell shock war breakdown.
It's a very clever story - too clever, really. As historical fiction it is a great picture of 1930's England village life, and the stigma attached to children born out of wedlock. I plough my way through these books impressed by the author's skill, but find it hard going.
Links to author index and home page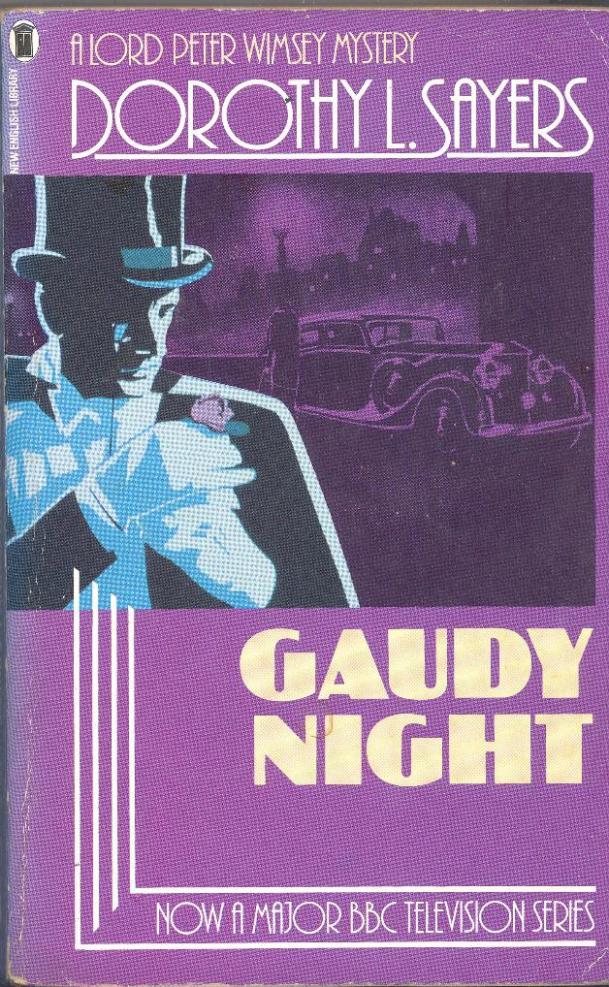 I read this book in October, 2020.
A "Gaudy Night" is an Oxford University graduates reunion. This is book ten in Dorothy Sayer's Lord Peter Wimsey series - and so only one more book to read written by Dorothy Sayers, but four more if we count the Jill Paton Walsh ones. Incidently, J P Walsh said it was reading "Gaudy Night" that persuaded her to go to Oxford University - Oxford certainly has a starring role in this boook, the city, the colleges, their towers in the night sky, the classics, the learning, and perhaps the privilege. As with a lot of Dorothy Sayers books, I found this one very heavy going in places, stumbling over the frequent Latin, Greek and French quotations, and a lot of the classical references. There are pages and pages of scholarly discussions amongst the dons that set the scene for academic Oxford life, but slow the story telling. However, fictional Harriet Vane is probably real life Dorothy Sayers and we must allow the author to tell her story her way. It's still a difficult read, though.
The book opens with us meeting once again the now successful and reasonably well off crime fiction author Harriet Vane. Years ago she had been living with a man who was not her husband (remember it's 1935), was wrongly accused of and tried for his murder, but rescued when Lord Peter Wimsey took an interest in her case. He more than took an interest, he proposed marriage, was politely refused, but accepted friendship and permission to "pop the question" again occasionally, but regularly. This was some five years ago - and this book is notable in that it is here that Wimsey proposes for the last time. It's a notable proposal on a bridge in Oxford over the Isis after attending a moving concert for two violins. The proposal is fittingly in latin, as is the reply. Google "Placetne, Magistra. Placet. " after you have read the book if you want a translation, but the final paragraph makes Harriet's answer clear.
It's now 16 years after leaving Oxford, and Harriet who has never attended a reunion / Gaudy Night is now persuaded to go by a girl who was then her best friend, but they had never seen each other since. Sadly Harriet and the friend now have nothing in common, but Harriet falls under Oxford's spell once again, renews friendships with old and new lady dons at the all female Shrewsbury College, and wonders if she should return to a life of academic study. Harriet and Peter both got firsts at Oxford. Shrewsbury College has of late been plagued by a series of pranks, grafitti, and nasty poison pen letters, and the college want it stopped, but without involving the police. They turn to Harriet as a famous crime fiction writer for help. She is the one person now amongst them who cannot be the poison pen writer - the dons cannot trust each other and need outside help. Harriet agrees. The writer must be an insider, so a student, or a scout (servant) or worringly a don. The mischief continued through the college vacation, when only some of the students were in hall. Also it's unlikely to be a scout as some of the horrible letters have classical quotes, and so apparently that leaves only the dons. These are Dr Baring, the warden, Mrs Martin, the dean, and Miss Stevens, the bursar. Other dons are Miss Allison, Miss Hollroyd, Mrs Godwin, Miss Lydgate, Miss Barton, Miss Chilperic, Miss de Vine, Mrs Edwards, Miss Burrows, Miss Shaw, and a few others whose names I forget. Harriet also makes friends with Annie, one of the scouts. Sadly Annie's husband died several years ago, and her two children are in lodgings as Annie has to live at college. Harriet also finds admirers amongst the young male students, and has a surprising encounter with one who turns out to be Lord Peter Wimsey's nephew - Lord Saint George Wimsey - who is a young version of Peter.
And so, two stories unfold - who is the poison pen writer, and the unfolding strange Harriet / Wimsey "courtship." Harriet knows Wimsy loves her deeply, and he in all ways a good prospect. But she treasures her independence. Peter's greater abilities, 600 year old title, and wealth would swamp her. She is a true feminist and wants a marriage of equals, but she could never be Peter's equal. Can you lead two independent lives within one marriage - remember this is 1935 ?
Harriet does all the right things to eliminate as many of the dons as she can, and try to identify the poison pen writer, but all to no avail. Finally she gets the dons' permission to bring in her friend Peter Wimsey who enters the lions den at a dinner at college with the dons, more than holds his own, and charms them. Peter soon works out a chief suspect but has no proof. He is surprised that Harriet has not yet worked it out for herself, and leaves her to do so. The poison pen writer is now involved in violence - on Miss de Vine, and on Harriet herself.
After so, after some very good writing, and many asides, learned discussions and debates, we come to the conclusion when Wimsey sets out with logic the case against the suspect, the suspect makes a passioned and surprisingly eloquent verbal attack on all present, and Miss de Vine offers advice to Harriet. And Lord Peter Wimsey makes what he declares is his final proposal to Harriet.
A difficult read of it's time, aimed at 1930's educated readers but one I struggled over. Again I come away impressed by Dorothy Sayers learning and writing skills - but it's not an easy read. I don't regret reading this story, though.
Links to author index and home page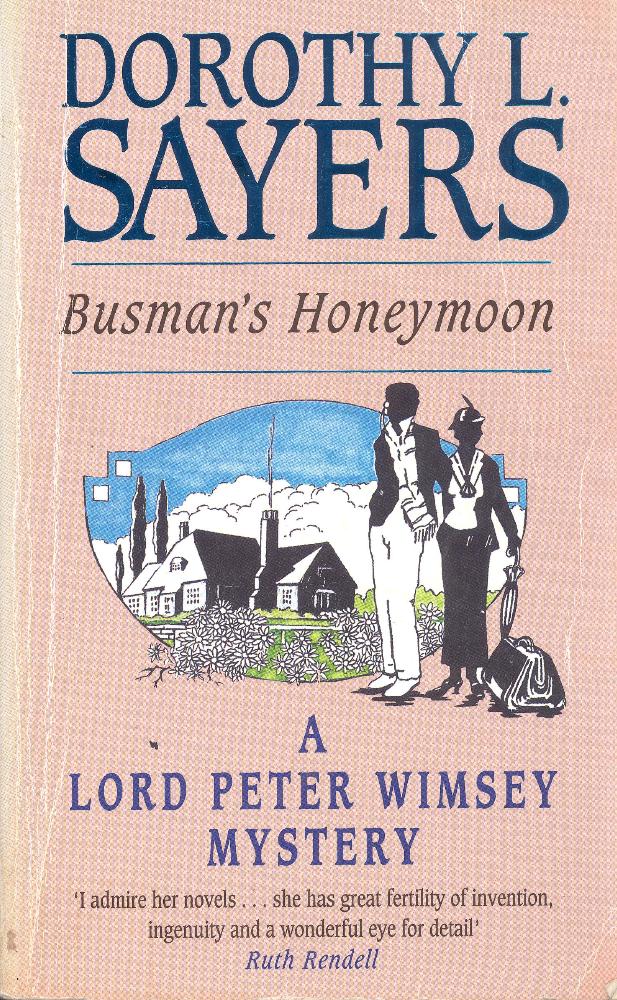 I read this book in February, 2021.
This is book eleven and sadly the last in Dorothy Sayers' crime series featuring Lord Peter Wimsey, his faithful servant Bunter, and now Harriet Vane, the love of his life. It's always sad when you come to the end of a series, but I have two consolations - I have still to read book eight, and I might read the four more Lord Peter Wimsey books written by Jill Paton Walsh (1998 to c 2014). I am amazed that Dorothy Sayers did not write more books in the series having just created a new sleuthing partnership in Peter Wimsey and his wife Harriet Vane. This book was written in 1937, and Sayers lived on for another twenty years. She did start "Thrones, Demoninations" but didn't finish it - Jill Paton Walsh did. Perhaps, for Dorothey Sayers, the war years changed Lord Peter Wimsey's world of privilege out of all recognition. Who knows ? I have added a footnote at the end of this write up saying what happened to Peter and Harriet per Jill Paton Walsh.
It's not been an easy series to read - there are so many, now obscure, classical quotations and references, and too many passages in French. I am not asking for a dumbing down - just commenting that it's sometimes hard going. There is also an interesting question in the preface - is this story a love interest intruding on a detective story, or a detective story intruding on a love story? The obvious answer is that it is both, and also laugh out loud, funny farce in places. I think it's my favourite in the series.
Lets start with what is happening in the private lives story. The previous book ended with Peter proposing marriage to Harriet for what he said would be the final time - and she accepted. They are both Oxford firsts, it's the 1930s, and that section is in latin ! This book opens with about 33 pages giving extracts from a series of friends and relatives' correspondence / gossip about the marriage. Lord Peter Wimsey is a celebrity, the most eligible bachelor in town, and he has now married Harriet Vane, an Oxford blue stocking. We learn that Peter's sister-in-law Helen really doesn't approve, nor like Harriet, but then tries to take charge and organise everything without consulting Peter and Harriet. They are having none of that, and make their own last minute private arrangements - they are married simply in Harriet's old college chapel, with all the female dons there, and many friends - Miss Climpsen, Peter's sister Mary and her husband Charles, and brother Gerald, the Duke of Denver, and his wife Helen are invited the day before the ceremony. The Head of College gives Harriet away, and nephew, Jerry Saint George Wimsey, is Peter's best man. The Press are kept back, there is a splendid, no expense spared meal, and then Harriet and Peter sneak off on honeymoon to no one knows where. Of course Bunter knows - he has always been much more that a servant to both Peter and Harriet - they rely on him for so much, and he never lets them down.
Harriet's childhood home had been in Hertfordshire, near Gt Pagford, where her father had been the local doctor. As a child, she had dreamed of one day buying a local Elizabethan farm / manor house called Talboys. Peter learns of this, and buys Talboys, sight unseen, from its hard up owner, Mr Noakes - it's worth £800, and Peter gets it for £650 cash. Noakes agrees to move out immediately, but first arrange everything, get in supplies, etc so that Peter can surprise Harriet with a Talboys stay for their honeymoon. But when they arrive there, late at night, the place is in darkness, locked and bolted, no sign of Mr Noakes, and no one knows of any sale of Talboys. Mrs Ruddles, the cleaner, who lives in an adjacent cottage, comes round to see what is happening, and tries to chase Peter and Harriet away. Harriet remembers Ruddles, says she is old doctor Vanes' daughter and Mrs Ruddles now can't stop apologising. Mr Noakes often went away to Broxsted without telling anyone, Mrs R. had not been trusted with a key, but they soon got one from Miss Twitterton, Noakes' old maid aunt who lived in the village. Everything had been locked and secured, and Noakes has vanished, leaving his dirty supper things still in the kitchen. Mrs Ruddles makes beds, etc, but the place is cold and damp, has no electricity, and trying to light fires fills the place with dense, choking smoke. The chimneys have not been swept for years - Mr Buffet, a local builder who doubles as a sweep is sent for in the morning, and the vicar Simon Goodacre calls. The chimney pot is blocked solid, and Buffet prepares to get the ladders out, but Mr Goodacre knows of a better cure. He sends for an old loaded firearm, and fires it up the chimney. Bang, the place is filled with soot, an old length of brass chain falls down - this turns out to be a vital clue later on - but happily the chimney is now clear. This is the farce section with all the country bumkins calling and doing strange deeds. Wimsey enters into the spirit, but also wonders what will Harriet think of him for taking her to such a strange, unprepared place. A lot of the book, later on, is taken up with thoughts on marriage, love, the nature of mutual attraction, marriage changing people, etc, but it can be condensed into one sentence. Peter and Harriet are in love, they adore each other, are desperate to please each other, and each has found their soul mate. Harriet gladly takes advice from Bunter and Peter's mum. She discovers she has great power over Peter - he will do the wrong thing to please her if she asks him, but wisely she realises "what sort of marriage would it be if Peter had to change to fit it".
Let's deal now with the detective story intruding on this love story - and it's quite an ingenious story. The reason Mr Noakes hasn't prepared for Peter and Harriet's arrival is that he is lying dead at the foot of the stairs to their cellar. It's a closed room / house mystery. Apparently somebody left handed got in, somebody tall or was Noakes sitting down, knocked him unconscious with a blow to the back of the head, and then left, locking the door behind. Apparently Noakes recovered with no memory of the blow, wandered about, perhaps locked up, then collapsed falling down stairs. Who had a key ? Miss Twitterton said she never lent out her key, and there were no copies. Bunter discovers the body, Joe Sellon, the local bobby, gossiping outside, is fetched, and soon Doc Craven, Superintendent Kirk, and Sergeant Blakes arrive. Kirk gets on well with Wimsey - he is well read and he and Wimsey play spot and name the others' quotations. Noakes was a rogue about to abscond, still with £650 in his back pocket. He owed £40 to his gardiner - David Crutchley - and over £50 to his aunt, her life savings. Crutchley was very bitter - the £40 was to help him set up his own garage business. He was presently seeing Polly Mason, a beautiful young local lass, but also stringing along foolish old Miss Twitterton, with kisses and cuddles in the churchyard. Miss Twitterton was to invest in his garage. Miss Twitteron was the only heir - did she kill Noakes to get an inheritance and get Crutchley to marry her ? Did Crutchley do the deed? Was Mrs Ruddles hiding something ? There are lots of suspects, and surprisingly, PC Joe Sellon is top of the list. He keeps quiet when Kirk is trying to establish an exact time of death, but it was Joe who last saw Noakes alive. This was revealed by Mrs Ruddles, who saw him arguing with Noakes about 9 pm last Wednesday. Sellon said he was outside, and saw the time of 9:05 on the mantelpiece clock through the window. But Wimsey told Kirk that the clock could not be see from the window, hidden as it was by a big catus plant. Worse, Sellon later confessed he kept / stole a wallet Noakes dropped in the garden two years ago. The wallet contained £10, and Sellon was desperately in need of money to feed a newborn baby. Noakes was then blackmailing Sellon - and who else ?
Wimsey suspects Crutchley, but how to prove it. It looks as if Wimsey and Harriet will have to depart the scene leaving the crime unsolved. Noakes had been a man of precise routine - supper at 6:30 pm, reading in the kitchen until 9:30, then into the front room to listen to the 9:30 pm news on the radio. Wimsey's title to Talboys is valid, but two creditors arrive with writs to claim the furniture, and removal men are carrying everything away. The vicar has bought the cactus but compains it has been twice watered by experienced gardiner Crutchley and has mildrew. It's also been rehung by a new chain. Wimsey puts it all together, re-enacts the crime, the murderer is arrested and charged. Surprisingly Wimsey hires at his own expense Sir Impey Biggs for the defence. Sir Impey had got Harriet off from her murder charge. Wimsey feels uneasy about his sleuthing - there the murderer is, going about his business, when a rich, interfering toff turns up, solves the case, and gets him hanged !
The affair has not put Peter off Talboys - he and Harriet are delayed making statements but leave for Denver at the Dowager's invitation - Harriet meets the family and the family ghosts - and manage to complete their honeymoon in Spain before returning to a renovated, redecorated, and refurnished Talboys. There is then a strange downbeat ending to the story when Peter visits the condemned and to be hanged murderer, and is struck down again by recurring, war stress induced depression. Will he go to Harriet for help ?
Spoiler alert - what happened next per Jill Paton Walsh
Peter and Harriet stayed in love, happily married, and had two children. Harriet stayed at Talboys with the children when Wimsey and Bunter went off on a war time secret mission. Heir Jerry Wimsey fought with the RAF in the battle of Britain, but died in an accident, and brother Gerald later died of a heart attack. Thus Peter became Lord Wimsey and inherited Denver.
Links to author index and home page