Visits to the West End Theatre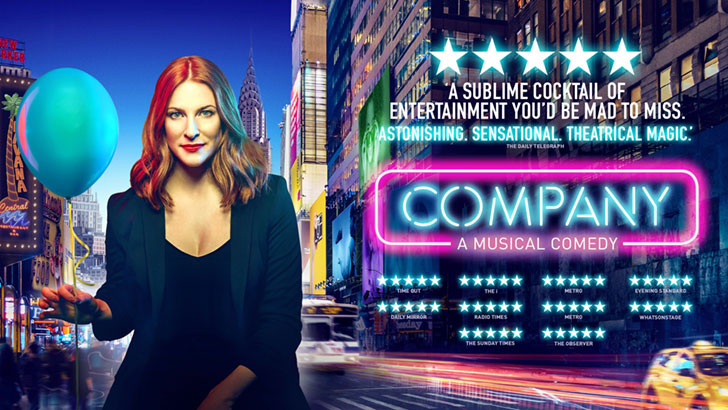 We don't usually book our theatre tickets more than a few days in advance, but in mid December, 2018 we noticed that there a special West End Theatre New Year sale, and so we booked two discounted matinee dress circle tickets (£40 each) to see Company, a Stephen Sondheim musical on Thursday, 3rd January, 2019. This was on at the Guilguid Theatre on Shaftesbury Avenue - for us, exit the tube at Leicester Square, walk towards Piccadilly Circus, turn right up Rupert Street, and the Guilguid Theatre faces you on Shaftesbury Avenue. The theatre was absolutely packed but we had good seats (F15, F16) and had a perfect view of the stage.
Company is set in New York, and tells the story of Bobbi, an articulate, good looking, feisty lass. It is her 35th birthday, and all Bobbi's friends seem to be married, but Bobbi is still single, and this seems to be a problem causing everyone, Bobbi included much anguish, and soul searching. Bobbi maybe thinks too much, and asks herself profound questions - should I be married, am I happy, am I better off single, have I met the right one, and let him go, etc, etc, etc. It is as if she is on an analyst's couch and sharing her thoughts with us. Apparently Stephen Sondheim wrote the musical originally for a male Bobby, and now it has been redone from a female left on the shelf / racked with self doubt point of view. I thought it worked very well. I don't think Sondheim could write a duff musical if he tried. It was witty, snappy, smart and was very well staged. We had a series of scenes set within boxes that moved left to right or down into the floor. You go out of the door at the side of a box depicting Bobbi's main room, into the neighbouring room, a bedroom, or into a space which turns into park, and so on. I thought it was very cleverly staged. All the characters had masses of lines to learn, and some of the songs were very fast almost tongue twisters. Bobbi was on the stage most of the time, and was played excellently by Rosalie Craig, but all the cast were very good. However in spite of all the words and introspection the story did not really advance much, and at the end we still had the same Bobbi in the same place, and still wondering about marriage.
In short, it's well staged, and excellently performed, but it's not much of a story. No beginning, middle, and an end. I liked the music, but didn't exit the theatre whistling anything. So to be fair to the presentation and cast, I would give it 4 stars, if I were a journalist writing a published review, but if you asked me how much I enjoyed it personally, I am afraid I would only give it 3 stars.
Links to West End Show index and home page