Visits to the West End Theatre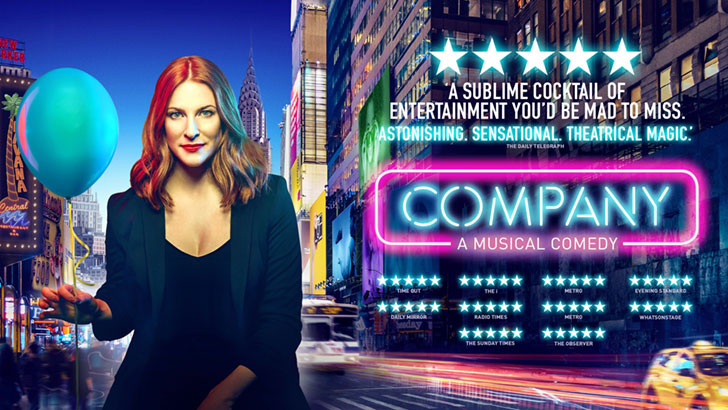 We don't usually book our theatre tickets more than a few days in advance, but in mid December, 2018 we noticed that there a special West End Theatre New Year sale, and so we booked two discounted matinee dress circle tickets (£40 each) to see Company, a Stephen Sondheim musical on Thursday, 3rd January, 2019. This was on at the Guilguid Theatre on Shaftesbury Avenue - for us, exit the tube at Leicester Square, walk towards Piccadilly Circus, turn right up Rupert Street, and the Guilguid Theatre faces you on Shaftesbury Avenue. The theatre was absolutely packed but we had good seats (F15, F16) and had a perfect view of the stage.
Company is set in New York, and tells the story of Bobbi, an articulate, good looking, feisty lass. It is her 35th birthday, and all Bobbi's friends seem to be married, but Bobbi is still single, and this seems to be a problem causing everyone, Bobbi included much anguish, and soul searching. Bobbi maybe thinks too much, and asks herself profound questions - should I be married, am I happy, am I better off single, have I met the right one, and let him go, etc, etc, etc. It is as if she is on an analyst's couch and sharing her thoughts with us. Apparently Stephen Sondheim wrote the musical originally for a male Bobby, and now it has been redone from a female left on the shelf / racked with self doubt point of view. I thought it worked very well. I don't think Sondheim could write a duff musical if he tried. It was witty, snappy, smart and was very well staged. We had a series of scenes set within boxes that moved left to right or down into the floor. You go out of the door at the side of a box depicting Bobbi's main room, into the neighbouring room, a bedroom, or into a space which turns into park, and so on. I thought it was very cleverly staged. All the characters had masses of lines to learn, and some of the songs were very fast almost tongue twisters. Bobbi was on the stage most of the time, and was played excellently by Rosalie Craig, but all the cast were very good. However in spite of all the words and introspection the story did not really advance much, and at the end we still had the same Bobbi in the same place, and still wondering about marriage.
In short, it's well staged, and excellently performed, but it's not much of a story. No beginning, middle, and an end. I liked the music, but didn't exit the theatre whistling anything. So to be fair to the presentation and cast, I would give it 4 stars, if I were a journalist writing a published review, but if you asked me how much I enjoyed it personally, I am afraid I would only give it 3 stars.
Links to West End Show index and home page


Financially the day did not start very well, and we had to pay £9 instead of the usual £4.90 to park in the Harlow Town Station car park. Normally we get there about 9:25 am, park, but wait until 09:30 before inserting our money into one of the many car park ticket machines for an off peak charge. Now they had installed number plate recognition and all the old ticket machines were covered over. We had been logged as entering before 09:30, and so we were charged peak rate. Even if we had entered after 09:30 the fee would still be a hefty £7. Worse was to come. We had bought two theatre tickets on the "Official London Theatre Tickets" website, but when we got to the theatre we found we had been overcharged. We paid £48 for each ticket but the face value was only £39.50. I had thought I had first checked the prices on the direct Adelphi Theatre website, but obviously not.
The Adelphi Theatre is about two thirds of the way along The Strand, on the left hand side as you walk away from Trafalgar Square. We had two seats, N24 and N25, in the second last row of the Dress Circle. Luckily, although the theatre was busy, there were empty seats in the row directly in front of us, otherwise I don't think we would have had a very good view. We were just too far back.
"Waitress" is a story about Jenna, a waitress and expert pie maker who dreams of a way to escape her small town and her rocky marriage. If she wins a pie making contest in the neighbouring county, she will get enough money to flee, and perhaps start her own pie shop. She pours her heart into her pies, and gives them strange names. I thought the show started a bit slowly with a strange song about pie making, and I hoped there was going to be more to the show than a few songs about pies. Happily the story did improve when we met some more of the cast, and learned that Jenna was married to an abusive husband who took and drank all her wages. Worse, Jenna was pregnant. Whilst not overjoyed at this, she did not want an abortion. As an American, she went to her gynaecologist for a check up, to find that she had retired, and had been replaced by an attractive man - Dr Pomatter. Instantly Jenna and Dr Pomatter start an intense love affair, although both are married, and both know it is wrong. But their feelings for each other are intense, and genuine. So I was caught up in the story, and very interested to see how it would end, and somehow we did get a happy ending, although not the obvious one of boy meets girl and they live happily ever after.
There were some great characters in the story, and a lot of really good humour. Jenna was one of three waitresses at Joe's Pie Diner" - the others were her best friends Becky and Dawn. Dawn was shy and had never had a steady boy friend, but somehow she meets Ogie, a real backwoods yokel who fancied himself as a poet. Ever smiling Ogie was played brilliantly by Jack MacBrayer, and was very, very funny. David Hunter was very good as Dr Pomatter, but the star of the show was undoubtedly Katharine MacPhee as Jenna. She had first come to fame in American Idol - series 5, and played Jenna on Broadway . She was a good actress blessed with an excellent voice - with all the power of a diva when required. I was very impressed. The show made much of the fact that it was a ground breaking, all female creative team, and promoted "sisterhood". Most of the audience were women, and there were expected cheers when Jenna triumphed over her abusive husband and got success without the need for any man.
I guess I was not the target audience for this show, but the music was great, the singing and dancing great, the production fast and slick and bright and well choreographed. In short it was a very good show that I really enjoyed. I would probably give it four stars.
Links to West End Show index and home page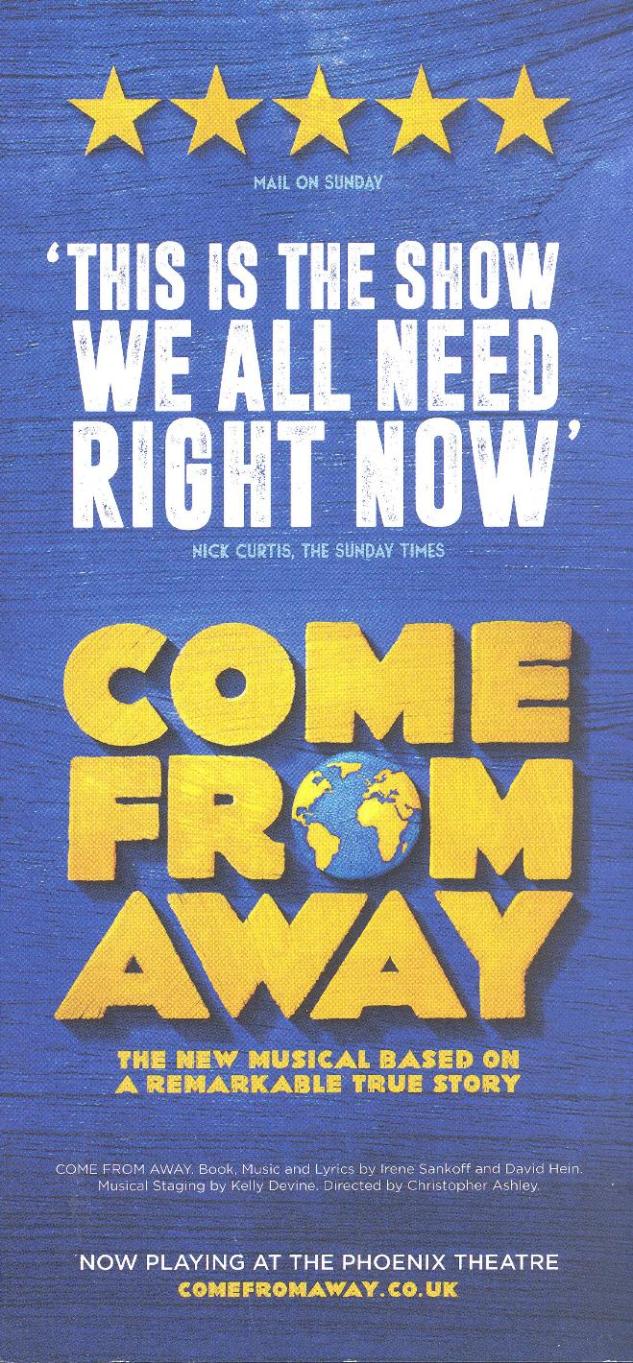 After our previous experience when last we visited the West End theatre in March, 2019 - we bought discounted tickets that were no such thing - this time we went straight to the theatre website, and bought two £40 tickets at face value for a total cost of £83.65. I thought extra charges for paying by credit card were outlawed, but apparently not. We had decided to try "Come From Away", knowing just a little about the story, and perhaps not really fancying it as a suitable subject for a fun musical. The show was on at The Phoenix Theatre - get off the tube at Leicester Square, walk up Charing Cross Road away from Trafalgar Square, and the theatre is on the right, opposite Foyles and just after Cambridge Circus. We have been to this theatre a few times before, and were in quite good seats G19 and G20 in the Dress Circle. When we booked a few days in advance, there were plenty of available seats, but then it was announced that "Come From Away" had won several Olivier Awards, including best new musical, and so on the day the theatre was packed, and there was even standing at the back of the dress circle.
Write ups had described the play as a "joyous new musical telling the incredible real life story of 7,000 air passengers from all over the world who were grounded in Canada during the wake of 9/11, and the small Newfoundland community that dropped everything and invited these "come from aways" into their lives". I was not sure that what happened just after 9/11 was a suitable subject for a fun West End musical, but happily all was OK. The subject was handled well, and it really was an inspiring story of a rural community on a small island rising to the occasion, wanting to help in every way after the terrible 9/11 attack. American air space was shut down, and a lot of mid atlantic flights were forced to land at Gander airport in Newfoundland. This was a large airport built when translantic flights had to land there to refuel. Nowadays planes can fly a lot further, and mid flight refueling is not required. In short, Newfoundland was now a sleepy airport with only a few flights a day. Now there were about 40 planes coming in fast - all to be parked somewhere, and eventually passengers, including pregnant ladies, babies - people of all creeds, nationalities and religions - all had to be watered, and fed and taken care of. The population of Newfoundland more than doubled in a few hours.
There was very little in the way of scenery or bright costumes. The stage was mostly bare, with tables set up as if in a cafe. A small orchestra was split in two, and on stage at the back left and the back right. I was impressed when the lady violinist left the orchestra to join the actors on stage to dance and play a jig, and then melt back into the orchestra. Mostly the cafe chairs were moved into various groupings - so when placed in two's in a long line, we were inside an aircraft - everyone facing forwards, but a female captain facing backwards and making an announcement. All in all it was done very cleverly. The local Gander mayor was star organiser - when he articulated what was needed, the locals just donated free of charge - mobile phones, use of the internet, school halls, showers, recreation, etc, etc, etc. We met several of the stranded passengers - a lonely man and a lonely women thrown together, a mother worried that she could not contact her firefighter son in New York, some muslim passengers now regarded with suspicion, some Jewish passengers unable to eat non Kohsher food, etc. The music was good, the singing was good, there was a lot of humour that was not in any way out of place, but respect was paid when not all was joy and happiness for everyone.
I thought the subject was handled very well, and that it was a good show, well worth seeing. Although I would give it only 3.5 stars, the audience there gave it a standing ovation, and it was Olivier award winning. I guess I am in the minority - most reviews will give it five stars. The shows I give 5 stars are usually big West End productions with brilliant dancing, choreography, hit songs, and star diva voices. Here that was not appropriate - I think they got it just right, and it will be a great hit.
Links to West End Show index and home page