Visits to the West End Theatre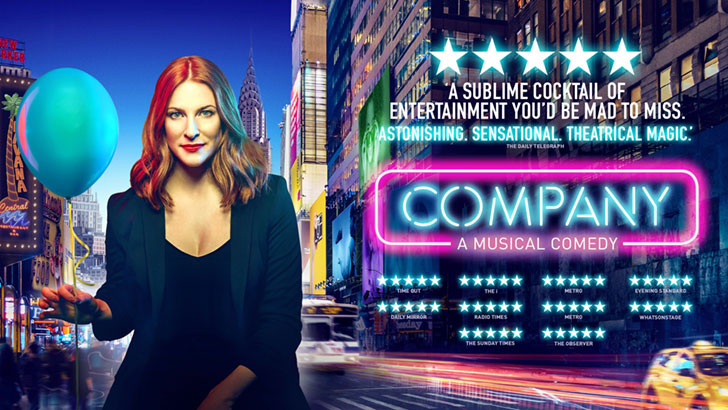 We don't usually book our theatre tickets more than a few days in advance, but in mid December, 2018 we noticed that there a special West End Theatre New Year sale, and so we booked two discounted matinee dress circle tickets (£40 each) to see Company, a Stephen Sondheim musical on Thursday, 3rd January, 2019. This was on at the Guilguid Theatre on Shaftesbury Avenue - for us, exit the tube at Leicester Square, walk towards Piccadilly Circus, turn right up Rupert Street, and the Guilguid Theatre faces you on Shaftesbury Avenue. The theatre was absolutely packed but we had good seats (F15, F16) and had a perfect view of the stage.
Company is set in New York, and tells the story of Bobbi, an articulate, good looking, feisty lass. It is her 35th birthday, and all Bobbi's friends seem to be married, but Bobbi is still single, and this seems to be a problem causing everyone, Bobbi included much anguish, and soul searching. Bobbi maybe thinks too much, and asks herself profound questions - should I be married, am I happy, am I better off single, have I met the right one, and let him go, etc, etc, etc. It is as if she is on an analyst's couch and sharing her thoughts with us. Apparently Stephen Sondheim wrote the musical originally for a male Bobby, and now it has been redone from a female left on the shelf / racked with self doubt point of view. I thought it worked very well. I don't think Sondheim could write a duff musical if he tried. It was witty, snappy, smart and was very well staged. We had a series of scenes set within boxes that moved left to right or down into the floor. You go out of the door at the side of a box depicting Bobbi's main room, into the neighbouring room, a bedroom, or into a space which turns into park, and so on. I thought it was very cleverly staged. All the characters had masses of lines to learn, and some of the songs were very fast almost tongue twisters. Bobbi was on the stage most of the time, and was played excellently by Rosalie Craig, but all the cast were very good. However in spite of all the words and introspection the story did not really advance much, and at the end we still had the same Bobbi in the same place, and still wondering about marriage.
In short, it's well staged, and excellently performed, but it's not much of a story. No beginning, middle, and an end. I liked the music, but didn't exit the theatre whistling anything. So to be fair to the presentation and cast, I would give it 4 stars, if I were a journalist writing a published review, but if you asked me how much I enjoyed it personally, I am afraid I would only give it 3 stars.
Links to West End Show index and home page


Financially the day did not start very well, and we had to pay £9 instead of the usual £4.90 to park in the Harlow Town Station car park. Normally we get there about 9:25 am, park, but wait until 09:30 before inserting our money into one of the many car park ticket machines for an off peak charge. Now they had installed number plate recognition and all the old ticket machines were covered over. We had been logged as entering before 09:30, and so we were charged peak rate. Even if we had entered after 09:30 the fee would still be a hefty £7. Worse was to come. We had bought two theatre tickets on the "Official London Theatre Tickets" website, but when we got to the theatre we found we had been overcharged. We paid £48 for each ticket but the face value was only £39.50. I had thought I had first checked the prices on the direct Adelphi Theatre website, but obviously not.
The Adelphi Theatre is about two thirds of the way along The Strand, on the left hand side as you walk away from Trafalgar Square. We had two seats, N24 and N25, in the second last row of the Dress Circle. Luckily, although the theatre was busy, there were empty seats in the row directly in front of us, otherwise I don't think we would have had a very good view. We were just too far back.
"Waitress" is a story about Jenna, a waitress and expert pie maker who dreams of a way to escape her small town and her rocky marriage. If she wins a pie making contest in the neighbouring county, she will get enough money to flee, and perhaps start her own pie shop. She pours her heart into her pies, and gives them strange names. I thought the show started a bit slowly with a strange song about pie making, and I hoped there was going to be more to the show than a few songs about pies. Happily the story did improve when we met some more of the cast, and learned that Jenna was married to an abusive husband who took and drank all her wages. Worse, Jenna was pregnant. Whilst not overjoyed at this, she did not want an abortion. As an American, she went to her gynaecologist for a check up, to find that she had retired, and had been replaced by an attractive man - Dr Pomatter. Instantly Jenna and Dr Pomatter start an intense love affair, although both are married, and both know it is wrong. But their feelings for each other are intense, and genuine. So I was caught up in the story, and very interested to see how it would end, and somehow we did get a happy ending, although not the obvious one of boy meets girl and they live happily ever after.
There were some great characters in the story, and a lot of really good humour. Jenna was one of three waitresses at Joe's Pie Diner" - the others were her best friends Becky and Dawn. Dawn was shy and had never had a steady boy friend, but somehow she meets Ogie, a real backwoods yokel who fancied himself as a poet. Ever smiling Ogie was played brilliantly by Jack MacBrayer, and was very, very funny. David Hunter was very good as Dr Pomatter, but the star of the show was undoubtedly Katharine MacPhee as Jenna. She had first come to fame in American Idol - series 5, and played Jenna on Broadway . She was a good actress blessed with an excellent voice - with all the power of a diva when required. I was very impressed. The show made much of the fact that it was a ground breaking, all female creative team, and promoted "sisterhood". Most of the audience were women, and there were expected cheers when Jenna triumphed over her abusive husband and got success without the need for any man.
I guess I was not the target audience for this show, but the music was great, the singing and dancing great, the production fast and slick and bright and well choreographed. In short it was a very good show that I really enjoyed. I would probably give it four stars.
Links to West End Show index and home page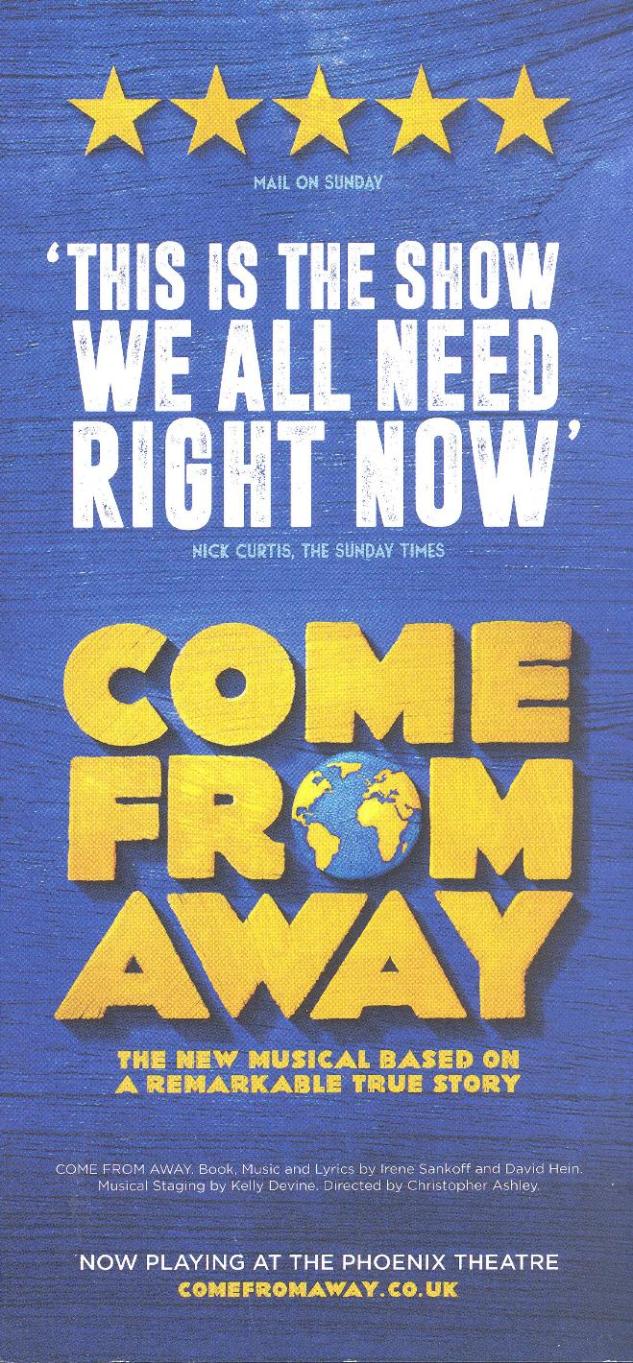 After our previous experience when last we visited the West End theatre in March, 2019 - we bought discounted tickets that were no such thing - this time we went straight to the theatre website, and bought two £40 tickets at face value for a total cost of £83.65. I thought extra charges for paying by credit card were outlawed, but apparently not. We had decided to try "Come From Away", knowing just a little about the story, and perhaps not really fancying it as a suitable subject for a fun musical. The show was on at The Phoenix Theatre - get off the tube at Leicester Square, walk up Charing Cross Road away from Trafalgar Square, and the theatre is on the right, opposite Foyles and just after Cambridge Circus. We have been to this theatre a few times before, and were in quite good seats G19 and G20 in the Dress Circle. When we booked a few days in advance, there were plenty of available seats, but then it was announced that "Come From Away" had won several Olivier Awards, including best new musical, and so on the day the theatre was packed, and there was even standing at the back of the dress circle.
Write ups had described the play as a "joyous new musical telling the incredible real life story of 7,000 air passengers from all over the world who were grounded in Canada during the wake of 9/11, and the small Newfoundland community that dropped everything and invited these "come from aways" into their lives". I was not sure that what happened just after 9/11 was a suitable subject for a fun West End musical, but happily all was OK. The subject was handled well, and it really was an inspiring story of a rural community on a small island rising to the occasion, wanting to help in every way after the terrible 9/11 attack. American air space was shut down, and a lot of mid atlantic flights were forced to land at Gander airport in Newfoundland. This was a large airport built when translantic flights had to land there to refuel. Nowadays planes can fly a lot further, and mid flight refueling is not required. In short, Newfoundland was now a sleepy airport with only a few flights a day. Now there were about 40 planes coming in fast - all to be parked somewhere, and eventually passengers, including pregnant ladies, babies - people of all creeds, nationalities and religions - all had to be watered, and fed and taken care of. The population of Newfoundland more than doubled in a few hours.
There was very little in the way of scenery or bright costumes. The stage was mostly bare, with tables set up as if in a cafe. A small orchestra was split in two, and on stage at the back left and the back right. I was impressed when the lady violinist left the orchestra to join the actors on stage to dance and play a jig, and then melt back into the orchestra. Mostly the cafe chairs were moved into various groupings - so when placed in two's in a long line, we were inside an aircraft - everyone facing forwards, but a female captain facing backwards and making an announcement. All in all it was done very cleverly. The local Gander mayor was star organiser - when he articulated what was needed, the locals just donated free of charge - mobile phones, use of the internet, school halls, showers, recreation, etc, etc, etc. We met several of the stranded passengers - a lonely man and a lonely women thrown together, a mother worried that she could not contact her firefighter son in New York, some muslim passengers now regarded with suspicion, some Jewish passengers unable to eat non Kohsher food, etc. The music was good, the singing was good, there was a lot of humour that was not in any way out of place, but respect was paid when not all was joy and happiness for everyone.
I thought the subject was handled very well, and that it was a good show, well worth seeing. Although I would give it only 3.5 stars, the audience there gave it a standing ovation, and it was Olivier award winning. I guess I am in the minority - most reviews will give it five stars. The shows I give 5 stars are usually big West End productions with brilliant dancing, choreography, hit songs, and star diva voices. Here that was not appropriate - I think they got it just right, and it will be a great hit.
Links to West End Show index and home page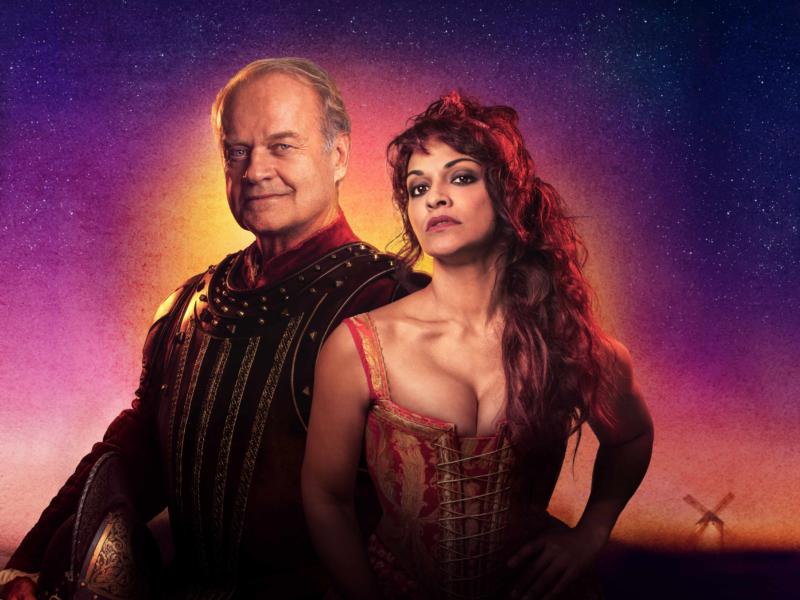 It's about a couple of months since we were last at the theatre, and, anxious to go again, we clicked a little too quickly on a discount deal to see Man of La Mancha at the Coliseum Theatre. We had checked that it was a musical, noticed it's cast included Nicholas Lindhurst, and plunged in. Only later did I start to half remember that I had might have read some bad reviews about this show. The critics didn't like the show, and gave it only 2 stars. Anyway, we had paid so we had to go. Sadly the critics were right.
The Coliseum Theatre is at the very end of St Martin's Lane, near Trafalgar Square. We got a good deal on the seats from the Love Theatre web site - and two good dress circle seats (E12, E13) at £32.50 each. We had a perfect view of the stage. There was a big and good orchestra, and the cast were more than OK. The two leads were Kelsey Grammer and Danielle De Niese who both acted and sang well. Nicholas Lindhurst didn't have a lot to do, but did it well enough. But the story of a play within a play was absolute rubbish, the first half especially was very slow, with the second half not much better, there were too many words, and not enough songs and action. It all needed livening up. The cast did their best.
The scene was a prison somewhere in Spain allegedly at the time of the inquisition, and a poet (the man from La Mancha) and his man servant were imprisoned. There seemed to be a communal play area for the prisoners where all the action took place, and to save a fellow inmate destroying his manuscripts the poet pleaded his case by puting on a show - the play within a play. In this the poet took the part of a noble knight - Don Quixote - on a mission to do good and acts of bravery. But the question was, was it an act, or was the poet a madman who really believed he was an ancient Spanish knight. And the deeper question was if the world and life itself is futile and mad is it not better to be mad in a mad world ? Danielle De Niese, a prisoner too, was part time a prostitute, part time a cleaner, but to the mad Quixote she was the embodiment of perfect womanhood - all he wanted to do was to serve and honour her. He adored her, told her she was noble in spirit and sadly she started to believe him only to be brought back to reality with a bump. However I can't say I really cared. There was one good song - "I dreamed a dream" sung well by Kelsey Grammer at the end of act 1. I thought Danielle was to sing it again at the end of act 2, but she only under performed a bit of it, and then the chorus came in. A glorious voice with great song would have been worth hearing, but it didn't happen and I was disappointed. It was all a bit of a mess and a confusion, and a disappointment.
Bits of the show were OK, and there were touches of humour, but overall I guess I agree with the critics - 2 stars.
Links to West End Show index and home page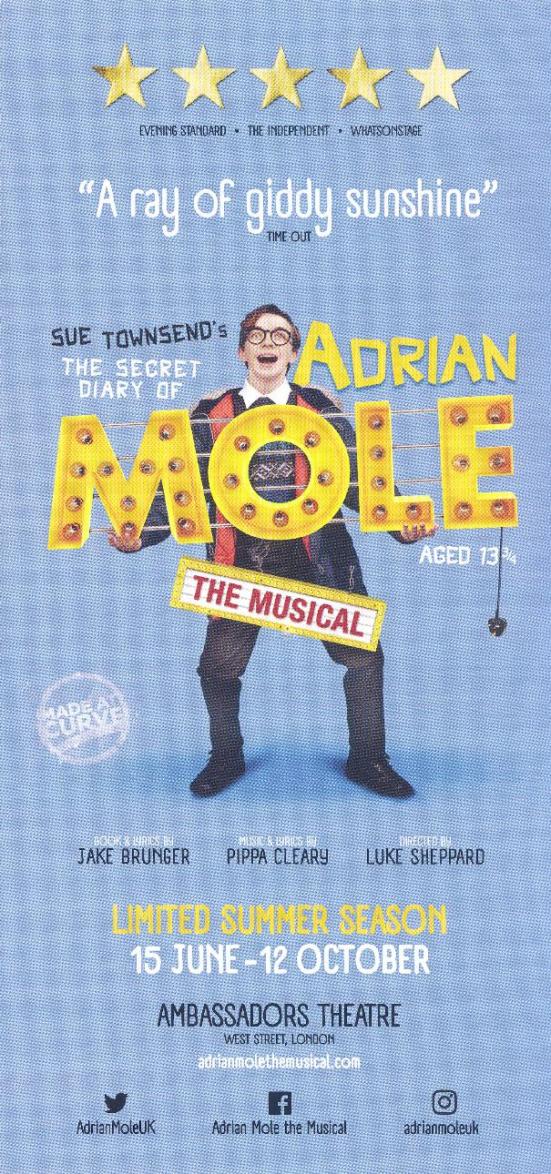 We saw a good review in the Daily Telegraph of "The Secret Diary of Adrian Mole, aged 13 3/4," a new musical that had just opened in the West End at the tiny Ambassador's Theatre, went onto the theatre web site, and booked two matinee seats (J7, J8) for the following Saturday, 7th July 2019. The seats were at the back of the circle at the full price of £35 each. We got there reasonably early at 2:00 pm for the 2:30 pm show, and were awarded with upgrade seats to the third row of the circle, seats C19 and C20. They were excellent seats and we had a perfect view of the stage. To get to the Ambassadors we got off the tube at Leicester Square, walked up Charing Cross Road on the right hand side with Trafalgar Square behind us, saw St Martin's Theatre on a side street and found the Ambassadors Theatre next door on West Street. The Ambassadors theatre is the small theatre with just stalls and a circle. It was here that we saw " The Mousetrap" which ran for years and years before transferring to St Martin's theatre. Saturday 7th July was the day of a huge Gay Pride parade in London, and Trafalgar Square and the surrounding closed off streets were teeming with people - but away from the area things were reasonably quiet.
The show was based on Sue Townsend's 1982 book of the same name. It's 1st January 1981, and the stage setting is Adrian's bedroom. As he counts down eight New Year Resolutions, and writes up his diary, the cast of about 6 adults and four children erupt on to stage out of doors and cupboards. It's a sort of steady rock type music throughout from a good mini band very high up at the back of the stage. I thought the music was good, the lyrics very clever, and it was all done with great energy by an excellent cast. I sort of remembered the story from reading the book many, many years ago. Adrian is a clueless teenage boy in the 1980s - aged 13 and 3/4. His parents Pauline and George are pretty feckless, and Pauline is easy prey to neighbour Mr Lucas's amorous advances, and so she leaves George and runs off with Mr Lucas leaving Adrian to stay with his dad. His dad's mum, his gran, come round to tidy up, and change the bed sheets, and eventually George picks up "Dirty Doreen" from the chip shop. All of this is background to Adrian's growing pains adolescence. Stage scenery is very cleverly wheeled on, and off into fake cupboards, and the set changes to a classroom where Adrian meets a new girl Pandora, the love of his life, and then we are in the kitchen, etc, etc. It was all done with verve and polish.
In spite of the excellent cast, and the good music and witty lyrics and general humour, and going against all the 5 star reviews, I was not 100% won over by the first half of the show. It all seemed a bit childish. I would give the first half 3 stars. Happily, I thought the second half was much better, more grown up. There were several excellent scenes. Pauline had returned to see Adrian at a TV party as the nation watched the wedding of Charles and Diana, but foolishly she took Mr Lucas with her. There was a powerful singing dual between Adrian's Gran and his mum, the Gran criticising Pauline for leaving Adrian, and Pauline singing what is the point in staying in a broken marriage. Adrian read some of his non rhyming poems, and they performed a sort of alternative nativity play that Adrian had written, where Mary died in childbirth but was resurrected, and then the headmaster appeared on the circle stairs to berate the Adrian script.
In the stage play Adrian succeeded in getting Pandora to be his girlfriend - I thought in the books this was what he could only aspire to. Also Adrian's mum returned to her husband. Did that happen in the book ? The play ended a year after the opening scene with Adrian, now 14 and 3/4 being given a new diary for a new year, and Adrian made a joke about how this could be serial that could run and run.
All in all, and because of the much better second half, I ended up agreeing with the Telegraph's 4 star review.
Links to West End Show index and home page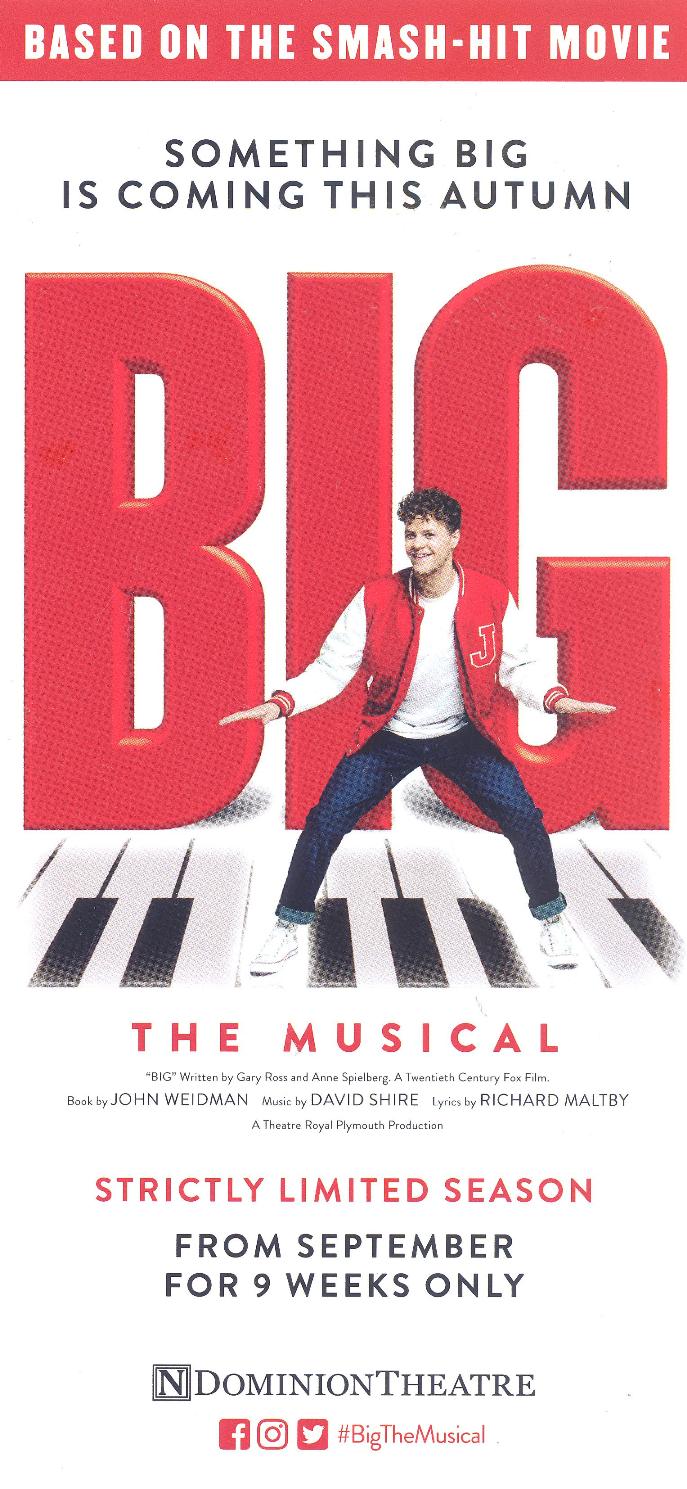 Big is a famous Tom Hanks film I have watched and enjoyed many times on TV through the years, and so I jumped at the chance to get two tickets to see it as a muscical - "Big, The Musical" - on the West End stage. I thought it was an excellent show ! We paid full price of £45 each, for two seats in the Dress Circle - F7, and F8. They were very good seats and we had perfect views. We were last in the Dominion Theatre in April 2017. It's a lovely big theatre at the junction of Tottenham Court Road with Charing Cross Road, so this time our journey was Victoria line to Oxford Circus, and then a short, say 15 min walk along Oxford Street and then Tottenham Court Road. The theatre is on the left hand side walking away from Oxford Street.
I thought I could just say that the story was as per the film, but I was surprised at how many friends I spoke to had not seen the film. A young 12 year old lad in America, Josh Baskin, visits the last night in town of a travelling fun fair with his best friend and finds a strange "speak your fortune" arcade machine that grants him his wish to be "big". He goes to bed as normal, but wakes up in a man's body. He convinces his best friend it is he, Josh and the best friend says Josh must run away, get a job, and survive as a grown up, and the best friend will try to find where the arcade machine has gone. Josh doesn't like it as a lonely 12 year old in a man's body, but eventually he gets a job in a big Toy Store - impressing the owner George MacMillan with his obvious knowledge of what children like. He is rapidly promoted, meets Susan Lawrence. a fellow director, but makes an enemy in the boy friend she dumps in his favour. Susan falls in love with Josh - he is very different - and towards the end after a "sleep over" Josh sort of "falls in love" with Susan, and doesn't want to go back when his friend does find the arcade machine. In the end, he knows he has to go back, and his bitter sweet parting with Susan is a highlight.
I thought the film was a better more rounded telling of the story, but the musical play was a brilliant update and told of the Josh's mother and Susan's feelings better. The famous duet on a giant floor piano was brilliantly done, and two more body changes man to boy were true "coup de theatre" highlights obviously set up by some member of the magic circle.
The cast were excellent, the old Josh played by Jay McGuinness did look like a grown up version of the young lad, Wendi Peters (Cilla in "Corrie" ) was excellent as Josh's broked hearted mum, Kimberley Walsh of "Girls Aloud" was very good as Susan Lawrence, and as a bonus we found the famous Mathew Kelly (Stars in Their Eyes) playing the old toy shop owner George Macmillan. All sang and danced to true West End standards of excellence. All the child actors were perfect - where do they find them all ? All had put on American accents and whilst I sometimes found it difficult to follow what was being said in the children's rap numbers, the adult's slow wistful tunes were just right. When he switched to wearing a suit, and discovered coffee, so good was Jay McGuinness that I thought a youthful Tom Hanks had reappeared.
Sadly there wasn't a smash hit, big ballad, diva number for me to whistle as I left the theatre, so I thought perhaps 4 and a half stars, but add in the slick scenery changes on a revolving stage, the curved back projections, the on form orchestra, etc, etc - all first class. Let's not be mean, and just give it a richly deserved 5 stars.
Links to West End Show index and home page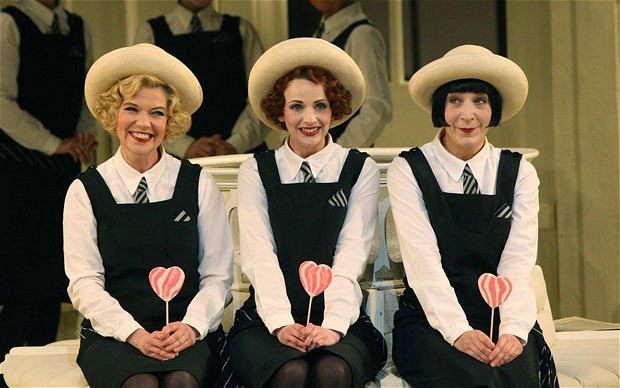 I have just copied this picture ("three little girls") from the Telegraph, hope this is OK.
Usually we go out for the day on Wednesdays and Saturdays, but Saturday, 2nd November was forecast to be wet and wild everywhere that we go, and so we had decided just to stay in. However we had a last minute thought to go to the London theatre - where it would be dry inside - and so opted for an unusual choice for us. The English National Opera were performing Gilbert and Sullivan's "The Mikado" at the Coliseum and, on the official web site, two seats were available on the front row of the dress circle for £40 each (£42.50 including booking fees). We were in seats A5 and A6, and although they were at the side, we had a good view of the whole stage. The adjacent seat to my left, nearer to the centre, would have cost twice as much at £80 ! Several of these were empty and so we moved along. The Coliseum web site very helpfully showed a thumbnail view of the stage from each seat - so we chose front row left rather that way back, centre. We have been to the Coliseum earlier this year - for us, get off the tube at Leicester Square, cut through a lane from Charring Cross Road to St Martin's Lane, walk down towards Trafalgar Square, and the theatre is opposite. It's a lovely old theatre, reportedly the biggest in London.
Gilbert and Sullivan is as it is. If you know and like G & S, you would love this show, if you don't, don't bother. I was surprised to see quite a few children in the audience - what they made of it, I don't know. I would take children to lots of other shows before this one. It's abundant years since I last saw G & S, but like everyone I recognised a lot of the tunes (Three Little Girls from School, I Have a Little List, On a Tree by a River, A Wandering Minstrel I, Here's a How de Do, Willow, Tit-Willow, etc). It's the national opera company performing on their home stage, so of course, every thing was done to the highest of standards. So it's good singing, especially the chorus, good scenery (although mostly a fixed set), excellent costumes, and surprisingly good dancing by the chorus boys and girls. It was a huge cast which I guessed about 50, and a large orchestra, perhaps 25 to 30 strong. The conductor took a bow on entering the orchestra pit, at the interval, and for the first time I had seen this, someone else conducted the last minute of the performance, so that the conductor could get round and appear on the stage for a curtain bow.
Let's summarise a story so silly, complicated, and farcical as be be brilliant. Nanki-Poo and Yum-Yum want to get married, but events conspire against them. Nanki-Poo, son of the Mikado, had fled from a proposed arranged marriage to an older woman Katisha. Now, disguised as a wandering minstrel, he meets Yum-Yum and they fall in love. Sadly she is betrothed to her guardian Ko-Ko, and so Nanki-Poo takes off again, but returns when Ko-Ko is condemed to death for flirting. However Ko-Ko has been promoted to Lord High Executioner by townsfolk wanting to avoid any more executions. Ko-Ko is next on the list, but won't execute himself. Yum-Yum is delighted to see Nanki-Poo, but Ko-Ko won't let her marry anyone else, so Nanki-Poo decides to commit suicide. Next, Ko-Ko is in trouble for not executing anyone, so he decides to find a substitute - the about to commit suicide Nanki-Poo. It is agreed Nanki-Poo and Yum-Yum can marry, for a month, before Nanki-Poo's execution. Katisha arrives to expose Nanki-Poo as the Mikado's son, and Yum-Yum can't marry Nanki-Poo when she discovers a beheaded man's wife must be buried alive. Ko-Ko pretends to have executioned Nanki-Poo, and bribes the town dignatory Pooh-Bah to sign the death certificate. The Mikado visits, is pleased that executions have resumed, but is less pleased that Ko-Ko has apparently executed his son. Whilst generously accepting it's a genuine mistake, the Mikado decrees that Ko-Ko must nevertheless be killed as a punishment. If Nanki-Poo resurfaced, Ko-Ko would be saved, but the marriage to Yum-Yum would be off again, and to Katisha on again. Quite a conundrum ! The ingenious solution - Ko-Ko is "persuaded" to marry Katisha, leaving the field clear for Nanki-Poo and Yum-Yum to get married, and live happily ever after. What a plot !
And now to the crucial question - did I enjoy the show, was I entertained ? Although the cast was singing in English, I thought it was difficult to make out all the words - you would be lost if you didn't know the story. On the other hand, I liked the professional presentation, the staging, the singing, the dancing, and the energy. I'll settle for it's pure G & S, it is as it is, and give it 2.5 stars (out of 5).
Links to West End Show index and home page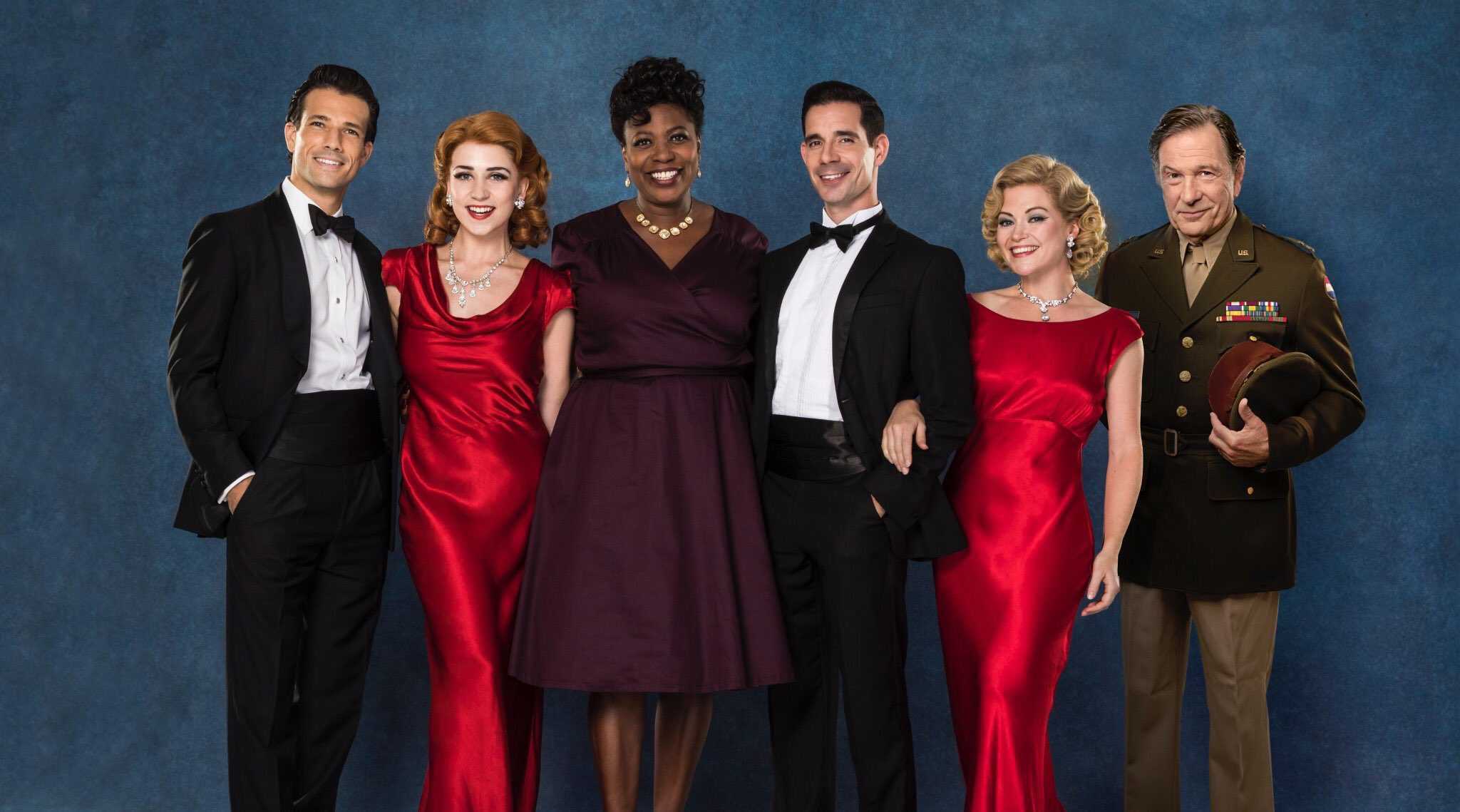 I have just copied this picture from the Internet, hope this is OK. Left to right, the characters are Bob Wallace, Judy Haynes, Martha Watson, Phil Davis, Betty Haynes and General Waverly.
I usually agonise over what sort of star rating to give on my West End visits. There is no doubt here, however - absolutely and definitely 5 stars - for cast, dancing, singing, hit songs, orchestra, snow effect, everything. In short, thoroughly recommended !
We are always on the look out for good deals on the West End, and spotted that a new production of Irving Berlin's famous "White Christmas" musical was opening in November, 2019 at the Dominion Theatre. And so we grabbed two £39.50 seats (G19,G20 ) in the back row of the the front section of the circle. These were for a Saturday afternoon matinee performance on 16th November. The Dominion is a large theatre with stalls and only one circle. Our seats were excellent and we had a perfect view of the large stage. Unusually for us we travelled by overground railway to Liverpool Street station, and then the circle underground line to Tottenham Court Road. The Dominion is about 50 yards from the tube exit.
I had only hazy recollections of White Christmas as the famous Bing Crosby ("I'm Dreaming a White Christmas) and Danny Kaye film, but didn't remember much of the story. It's quite a good plot, really - yes, pure American corn, but so what - and of course it has a happy ending. We open with an American troup of soldiers on active service under the command of General Waverly. It's a war time 1944 Christmas, and two of the troup, Colonel Bob Wallace and Private Phil Davis are doing an excellent song and dance show for their buddies. The General makes a speech wondering what the future might hold, and what life would be like in ten years time. Instantly we jump to present time 1954. Bob and Phil are still a song and dance partnership, now very famous, and appearing on the Ed Sullivan TV show. They are taking a break over Christmas, but are casting a new show and are looking for a good sister act. Thus they and we meet the Haynes sisters, Betty and Judy, still unknown but looking for their big break. Phil and Betty are extroverts, hit it off immedietly, quickly fall in love, and soon become engaged. Bob and Judy are the opposite, lovely people but shy with the opposite sex. Bob and Judy dislike each other to start with, but Judy catches Bob singing a very tender lullaby to the General's young grandaughter (Count Your Blessings) and softens. They kiss, but there is a misunderstanding, and part, but all is sorted in the end, and they too get engaged. The Haynes sisters had been booked to entertain at a snow lodge in Vermont, so Phil tricks Bob into going there. By chance the lodge is owned by their old commander General Waverly who is there with an efficient receptionist Martha Watson, and his grand daughter on her Christmas holidays. But there is no snow, cancelled bookings, times are hard, and there are bills to pay. So it's Bob and Phil, and the Haynes sisters to the rescue. At the very end it does snow - with the famous song "White Christmas", snow flakes not only fall on stage, but fill the auditorium - a lovely effect I thought. Had it been nearer Christmas, and not mid November, it would have been perfect !
The cast were excellent with the five main leads in terrific form. They danced like the West End professionals they are, and all had terrific voices. Danny Mac, a "Strictly Come Dancing" finalist played the Bing Crosby, Bob Wallace part, and Dan Buxton was a fine Phil Davis. Danielle Hope, who won the "Over The Rainbow" LLoyd-Webber TV competition nailed it playing Judy Haynes, and Clare Halse was excellent as Betty Haynes. The most powerful voice was that of Brenda Edwards playing the recepionist Martha Watson, and Michael Brandon was very good too as the General. All the rest of the cast were excellent, the orchestra was in top form, and it all combined into a performance to remember.
Finally special mention and thanks for songs and lyrics by the incomparable Irving Berlin. We had classic standard after classic standard - "How Deep is the Ocean", "I've Got My Love to Keep Me Warm", "Blue Skies", "Sisters", "I Love a Piano", "Count Your Blessings", "Let Me Sing a Happy Song", "Love, You Didn't Do Right By Me" and of course, "White Christmas." All were a joy, but special mention for Danny Mac's crooning and dancing, Danielle Hope's evocative "Love, You Didn't Do Good By Me," and Brenda Edwards belting out "Let Me Sing a Happy Song" - it was this last one that I left the theatre whistling.
This is the West End theatre at it's very best !
Links to West End Show index and home page