Days Out / Day Trips with Iain
Now that we are retired, we find ourselves with time to enjoy lots of holidays and days out. We usually break the week up by going somewhere in the car on Wednesdays, and if on holiday we then have a new base from which we can again go on lots of days out / day trips. I am usually scratching my head for ideas about what I might add to my web site, so I thought, why not add a section on day trips.
We live on the Herts / Essex border near the M11 motorway, and about 10 miles from Stansted airport. Day trips in the car have taken us as far away as Norwich, Great Yarmouth and Southwold, which are all over two hours away, but the more usual trips involve shorter car journeys of about an hour each way - e.g. to Bury St Edmunds, Clacton on Sea, Herne Bay, or into London.

Holidays are usually week long self catering ones based at some UK seaside resort. Places that we visit and revisit include Aberdeen (of course), St Andrews, Scarborough, Skegness, Great Yarmouth, Shanklin, and Teignmouth. There are lots of others. Nowadays, with daughter, son-in law, and two grandchildren in Devon, Teignmouth gets by far and away the most visits. Under short haul foreign holidays, there are really too many places to list, but they include all of the Canaries, Madeira, mainland Spain especially Fuengirola, and most of the popular Mediterranean and Greek Isles. Again, there are lots and lots of other places. Under long haul holidays we have Australia, with a son, daughter-in-law and a grandson in Sydney, and family in Brisbane.
So all in all, there are plenty of places that I can write about under the Days Out / Day Trips heading. However, there is a problem, in that in the past I haven't usually had a camera with me. I don't want to add lots of words with no pictures. So now, I'll need to start taking the digital camera with me. I can however get the ball rolling by starting with Bury St Edmunds, and Clacton on Sea, and then adding others as I go along.
A List of Places - Iain's Days Out / Day Trips
Most days when you visit, there is a nice hops aroma from the local Greene King Brewery. Bury St Edmunds is an ancient, historical market town in the county of Suffolk, with a population of about 35,000. The town, perhaps best known for the ruined abbey of St Edmundsbury near it's centre, has Saxon origins - a monastery was built in the 7th century and this later (903 BC) became the burial place of King Edmund who was slain by the Danes in 869 BC. The site became a place of pilgrimage, and the town was renamed St Edmunds Bury. A Benedictine abbey was built on the site of the old manastery in 1020 BC.
The town is associated with Magna Carta, the barons of England meeting there in 1214 and forcing King John to sign the famous charter of liberties. In 1235 Henry II granted the abbey two annuals fairs, one of which - the Christmas Fair - still exists. We have visited this - it's well worth seeing, the whole of the town centre, the Abbey gardens and lots of buildings are taken over by a huge, varied range of stalls. The abbey itself was destroyed in the 16th century and is now in ruins, but entry to the ruins is free and you can wander about amongst the ancient stones. On the site now are also a very imposing St Edmundsbury Cathedral, and St Mary's church next door, the third largest parish church in England.
The Theatre Royal was built in 1819 - it is the sole surviving Regency theatre in the country. Parts of Moyse Hall Museum date from 1180 BC. A nearby British Sugar beet factory was built in 1925 - in support we buy their Silver Spoon sugar ( rival Tate and Lyle sugar uses imported cane). During the second world war the USAAF used RAF Station Rougham outside the town, and with Mildenhall near, there are still lots of American accents around.
But enough of the history - it's a jolly good, interesting place to visit.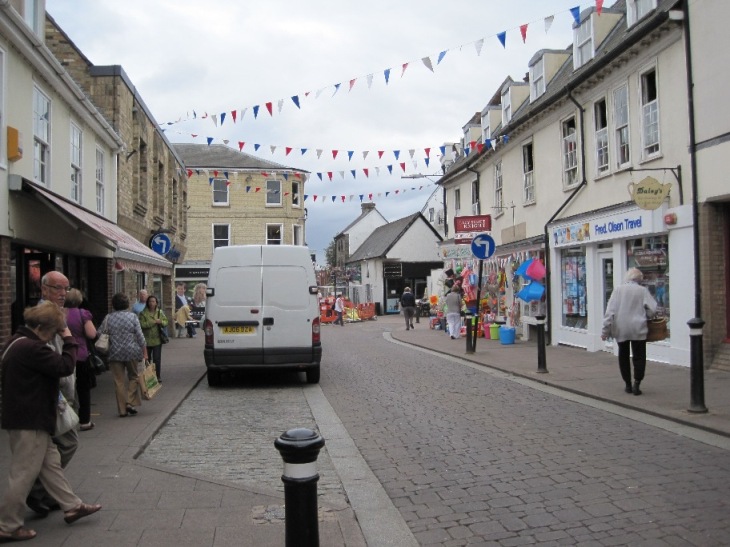 For us, Bury St Edmunds is about 52 miles away - just about an hour's drive up the M11, A11, and A14. We enter Bury St Edmunds along the A1302, past a Shell petrol station with good prices. The road becomes Risbygate Street as you near the town centre. We usually have no difficulty in finding free street parking off to the left on or near Challice Road.
The picture is of the top of Risbygate street just after we have walked past Lloyds bank on the right of the street - I usually use it's cash point to print out a mini cash statement. There is also a new Wilkinsons store on the left, and a good Salvation Army charity shop further up where I look for some book in a series I am reading.
We have just passed St Andrws Street North on the left - down which on left is the bus station, next to which is St Andrews cafe where we usually go for a fairly priced lunch time snack / light meal. If we have guests we usually go to the Angel Hotel - see later.
At the end of the road in the picture is St John's street off to the left, and the market square (with an excellent market on Wednesdays and Saturdays) off to the right.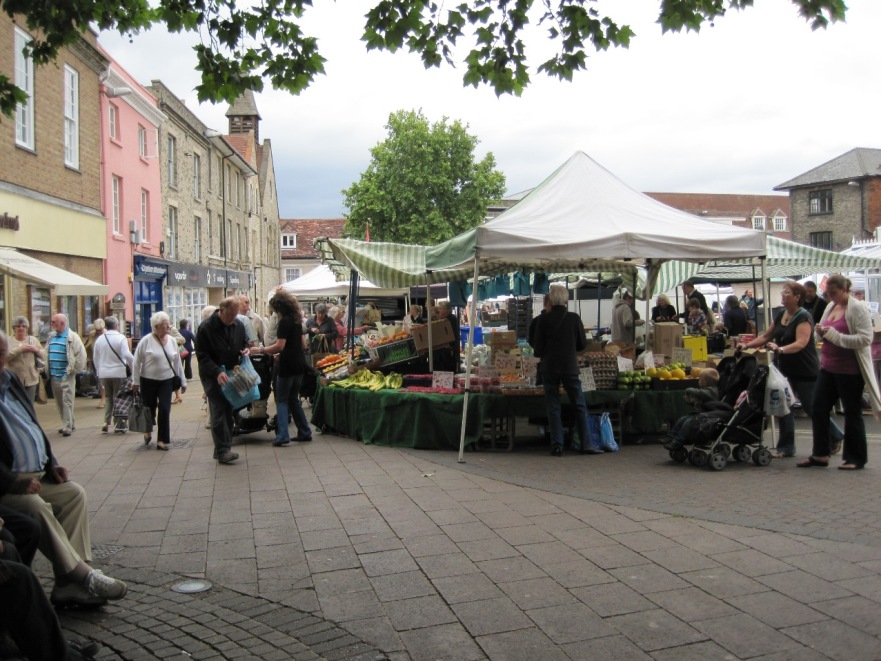 Usually we get to the town about 10:30 am on a Wednesday , walk up Risbygate street, turn right towards the market and head down to get a newspaper from WH Smiths on the right. There is a post office next door. We need to get a paper first before getting a cup of tea.
The picture is of part of the town market. There are about 3 rows of stalls on the town square, and further stalls along the roads that come off to the right. There are all sorts of stalls - vegetables, fabric, fish, cheese, coffee, tools, garden plants, animal foods, books, etc, etc. Quality is usually very good, and prices are very fair. It's a competitive market which keeps the prices low.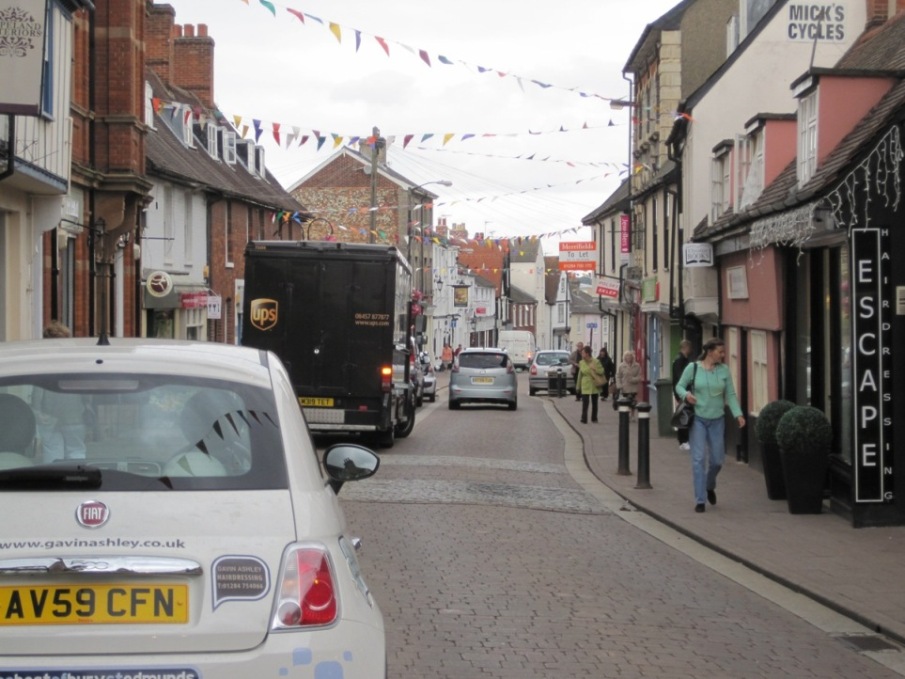 Having got a paper (The Daily Telegraph) we usually head back the way we have come, and head down St John's Street to get a cup of tea at the Just Traid, Fair Trade Cafe which is one of my recommended tearooms - qv for details.
The picture is of St John's street in summer when the bunting is out. There are lots of good charity shops here - we usually walk down the left hand side of the street, cross to the St John's Centre and the Fair Trade Cafe for our tea, and then walk back up the right hand side of the street. This way we don't miss any of the charity shops - there are other shops too, of course. In 2011 with difficult trading conditions, there are also too many empty shops with their leases up for sale.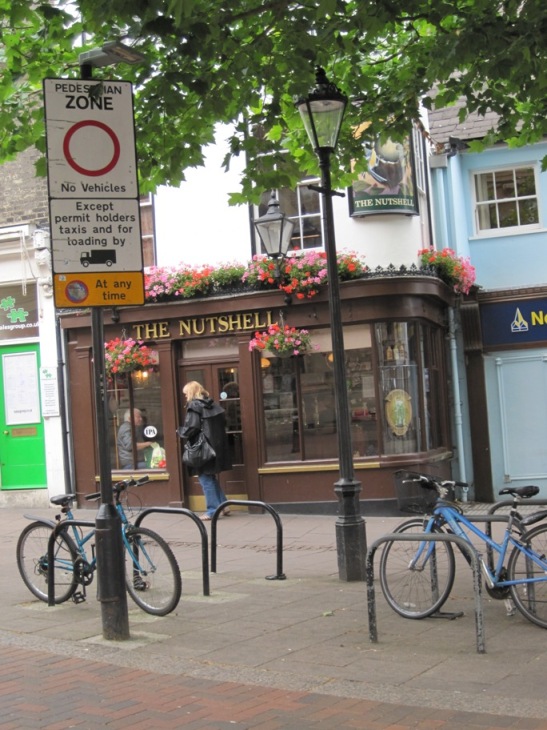 Having had a cup of tea in St John's street we then head back to look round the market - usually just looking at this stage as we will return later to buy anything heavy rather than carrying it around all day. We then head off to the right off the market place along the Traverse heading towards Abbeygate Street, passing the Nutshell pub as we go - see picture. This is allegedly the smallest pub in Britain, and it is also beleived to be haunted.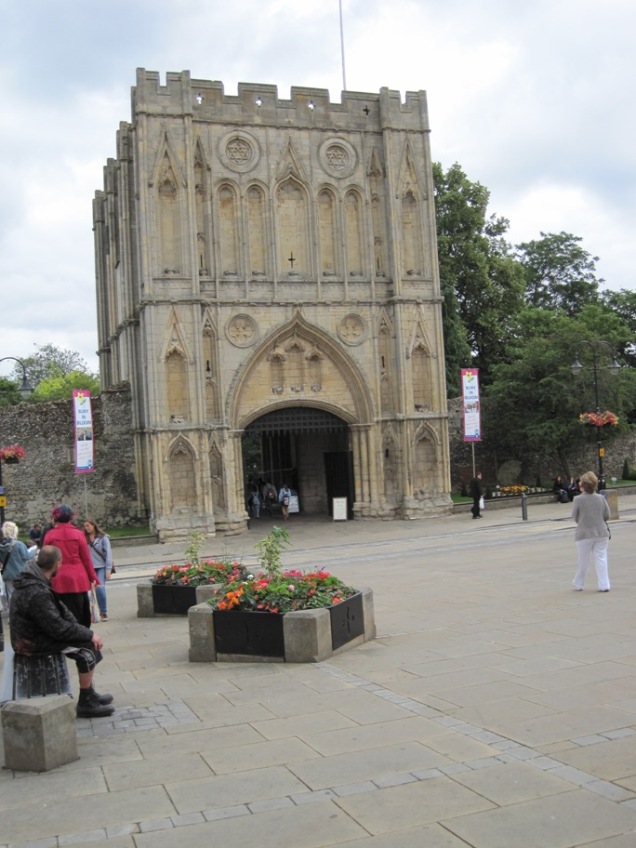 At the end of the Traverse, we turn left down Abbeygate Street towards Abbey park gardens and the abbey ruins. Abbeygate Street is a nice broad walkway with lots of shops, and yes some more charity shops for us to visit. If we are feeling lucky (or not), we might invest in a Lottery ticket from Abbeygate newsagents at the bottom right of Abbeygate Street. We like to support small businesses where we can.
The picture is of Abbey Gate itself - now the entrance to a park and some nice gardens. From where we are standing the local Tourist Office is off to the left - always a good source of local and UK holiday brochures, and a good place to find out what is on locally. The Angel hotel is just off to the right.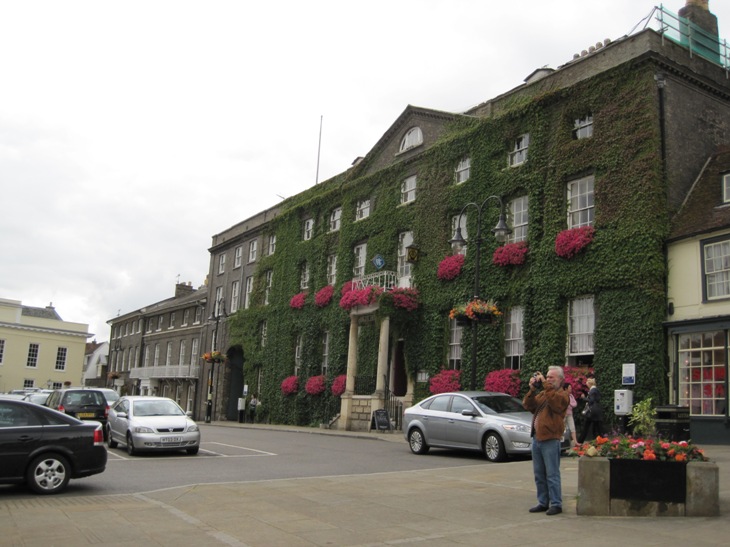 This picture is of the Angel Hotel which faces the Abbey Gate of the previous picture. This is a nice place to take guests for a posher lunch than our usual snack at St Andrews Cafe. It is a lovely looking place, and well appointed inside. You can opt for a 2 course set lunch for a reasonable £12.95 approx. with linen table cloth and silver service. Its a good setting opposite the Cathedral.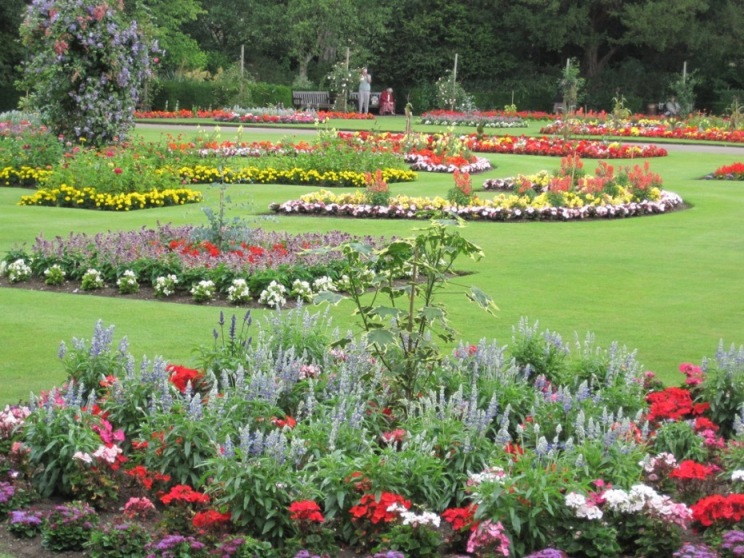 In this picture we have entered the Abbey park gardens, and have paused to look at one of the excellent floral displays. There is nearly always a good display here - Bury St Edmunds is a well known contestant in the Britain in Bloom annual competitions. But they cheat slightly, and get the good displays by planting out almost mature pot plants that they have raised elsewhere. That said, the end result is usually stunning, so why complain.
We usually head down through the park to see the ducks in the river - there a lots and lots of them, usually fighting for the bread thrown to them. There is a good children's playground just before the river which was extended and updated in 2011.
If you look back to where you have come from, you will see the old abbey ruins in front of you. There are lots of signs to advise on what you are looking at.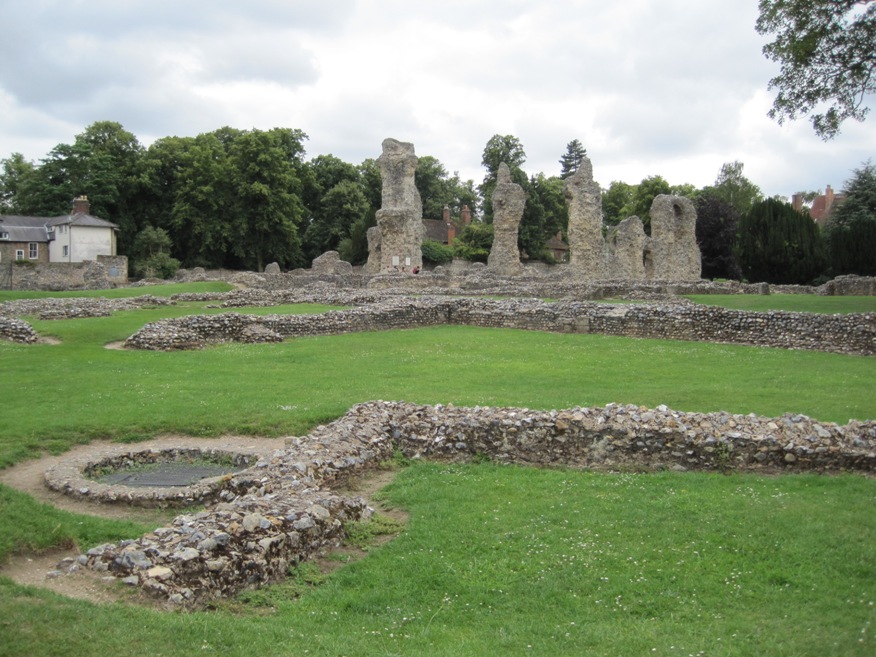 Here we see only part of the extensive old abbey ruins. There are lots of very interesting and informative plaques advising of the history of the place, and depicting what the place would have looked like hundreds of years ago. This is a country full of history - sadly a history of which lots of its inhabitants are completely ignorant. If we don't study history we are complelled to repeat our mistakes. Our politicians, who have mismanaged education just as they have mismanaged so much else they touch, have a lot to answer for !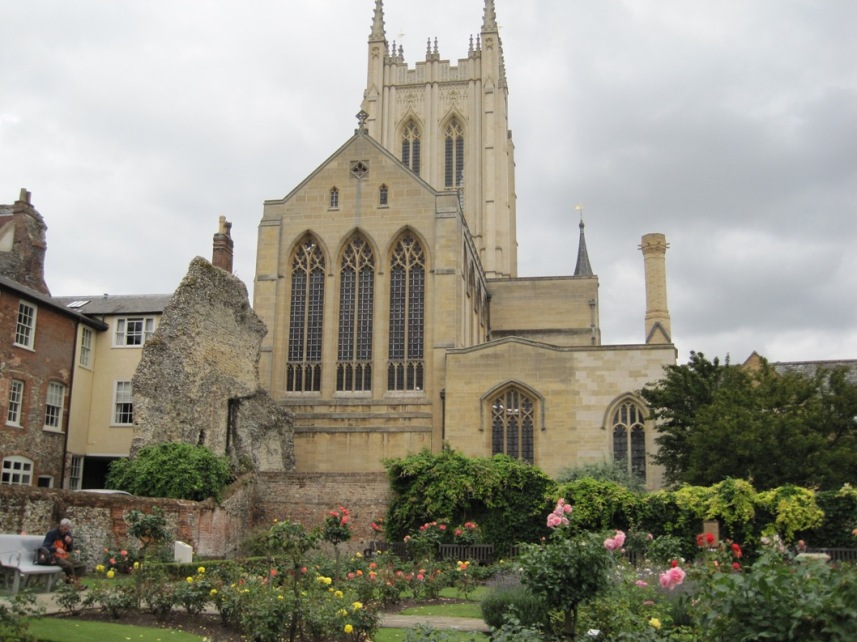 This is the final picture of our mini tour / day out in Bury St Edmunds. It is of the rear of St Edmundsbury Cathedral taken from amongst the old abbey ruins in the Abbey gardens. If you visit, there is a lot more of the town for you to explore. Enjoy !
Links to Days Out / Day trips index and home page