Days Out / Day Trips with Iain
Clacton on Sea is a traditional English sea side resort on the Essex coast with a population of about 53,000. Like many other such resorts it went into gentle decline when everyone started going abroad for holidays with guaranteed sunshine. It has an excellent pier, arcades, a golf course, caravan parks and yes, fish and chip shops - but to be fair, there is not an all pervasive smell of stale fat that you find in some resorts. Jaywich is to the south, and more up market Frinton is to the north.
The name Clacton dates from about 500 BC when the area was settled by Saxons, but essentially Clacton as we know it today was built in 1871. The pier was built the same year and steamships docked there. There was a Butlins holiday camp from c 1937 to 1983. A 48 turbine wind farm is being built off the coast.
For us Clacton on Sea is a 58 mile, 2 hours 20 minutes drive away along the A120, and then the A133. We drive straight to the sea front, turn right, and drive along the sea front for a few hundred yards past the pier to where the street parking is free, either on the sea front on on the side streets near Nelson Road.
The picture opposite is what greets you after parking the car when you walk back across a wide strip of grass to the cliff top path. You can see the mini fun fair on the pier, and at the end of the large building at the end of the pier there is a large cafe. Strangely, although we have been to Clacton many, many times, we have never been into this cafe. I think this is because we usually get there just on arriving in Clacton, and have not yet bought the morning newspaper that we like to read over our "cuppa".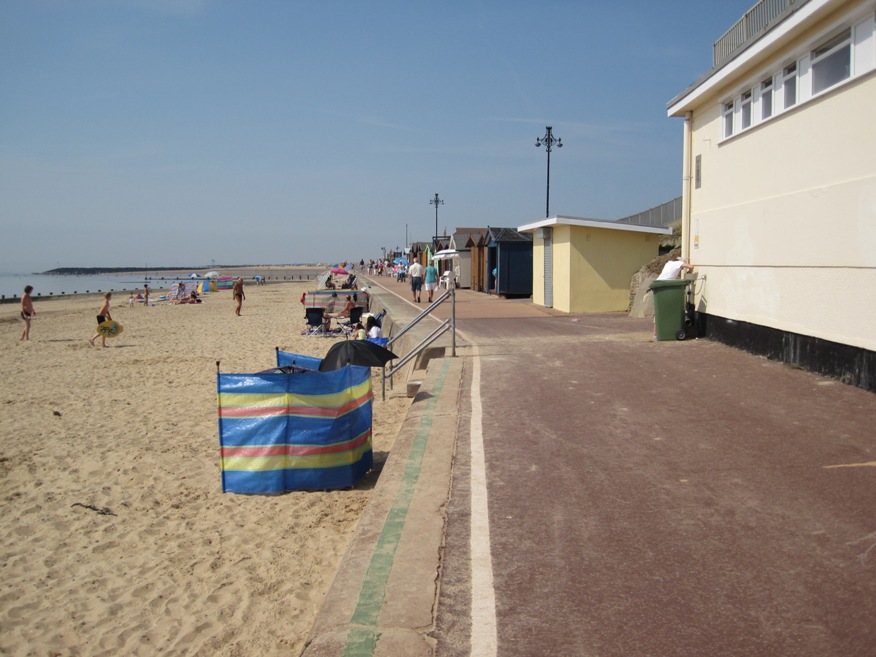 In this picture, we have gone down to the lower promenade, and are looking backwards away from the pier. Jaywick is a moderate walk away - about 1.5 miles. Its a very pleasant walk that we sometimes take in the afternoon of a visit to Clacton - after visiting the pier, and seeing the town. You come to a lifeboat station, then walk past an attractive golf course with a lake. There is a small airfield behind the golf course, and often small pleasure flights take off and head out to sea just over your head. There is not much in Jaywick, really - but you can get a snack or an ice cream there. It is very run down. House prices are incredibly low - but the area is prone to flooding, so I wouldn't risk it, even a house built on stilts.
In this picture we are standing in the same spot as in the above, but are now looking towards the pier. You can walk towards the pier either along this lower promenade, or along to walkway on the cliff top. The top walk can take you through some very pleasant well set out gardens.
The nearer you walk towards the pier, the more stalls and places to get a cup of tea you come across.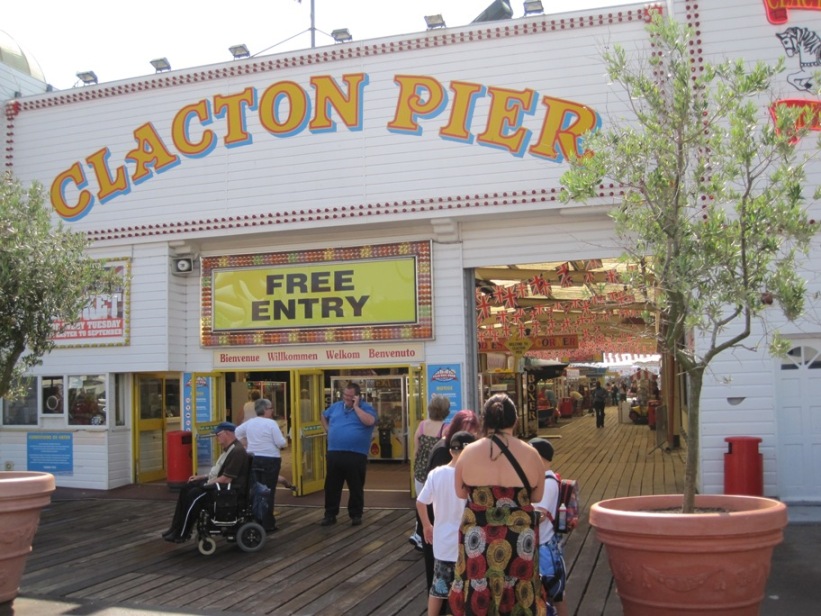 We have now arrived at the pier, and, as it says, it is free entry. The pier was owned by the Kingsman family from 1922 to 1971. It was very recently purchased by the Noble family, and there is a lot of money being spent on sprucing it up, and adding more attractions. There is quite a buzz to the place in summer. I would say its a successful sign of the English sea side re-inventing itself, and fighting back. I like piers, and wish them well.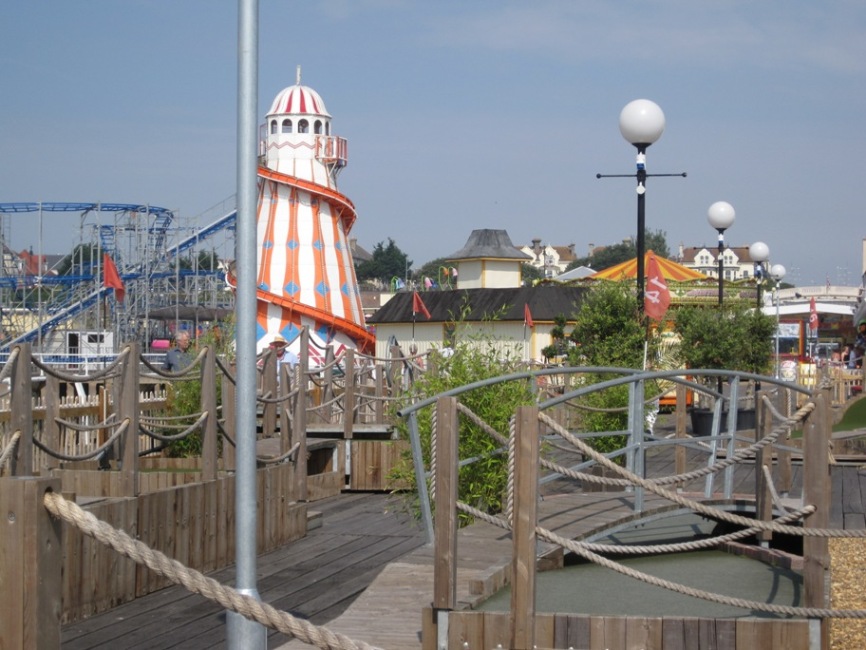 This is a picture taken from about three quarters way out the pier, looking back towards the town. There is a mini crazy golf course in the front of the picture, and the helter skelter of the fair behind. There are usually folk fishing from off the end of the pier, and you can gaze out at the wind farm.
Its a modernised, traditional wooden walk way pier.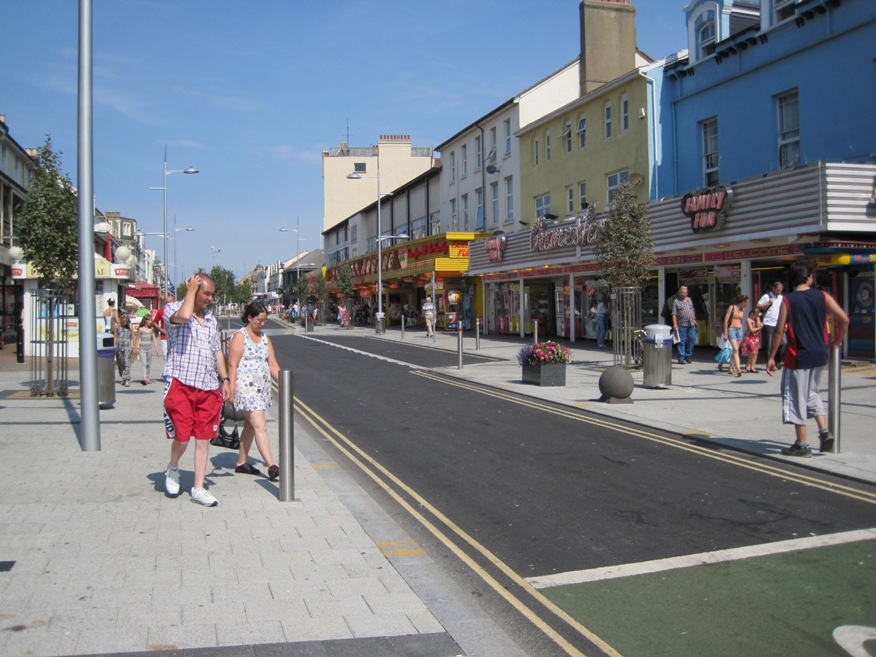 In this picture, we have come up the slight hill opposite the pier, gone under quite an elegant bridge, and crossed the esplanade to what I think is Pier Avenue. This is a short walk to a roundabout - its all restaurants and arcades. There is a large Wetherspoons pub on the corner of Pier Avenue, and the Esplanade which has a funny name - the "Moon and Fishes" I think. Its an attractive looking place on a good site.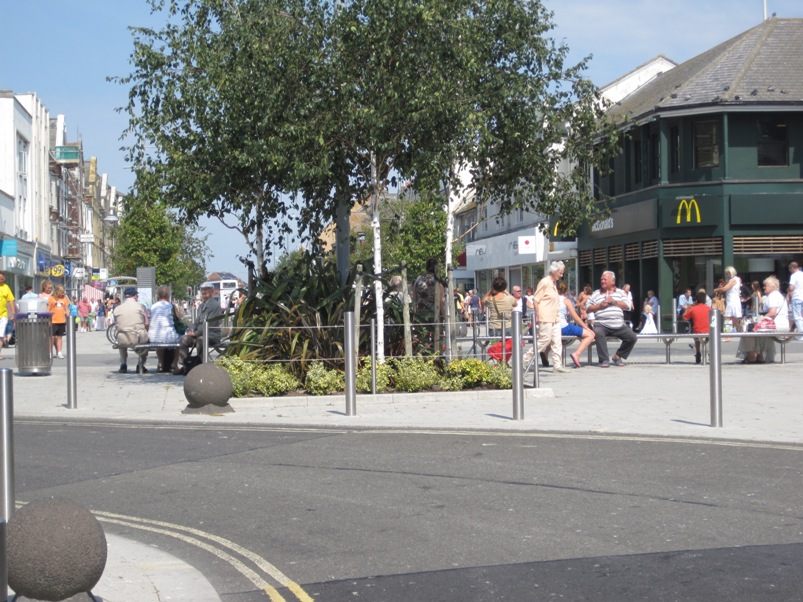 This picture is of the roundabout at the end of Pier Avenue. Straight ahead in the main street with M&S, WH Smith (where we get our newspaper), Boots, a large 99p store, etc.
There is a modern multi jet fountain set into the mini square just in front of where people are sitting. The jets of water come on and off in a semi random pattern, sometimes a small stream of water, sometimes a tall column. These are a delight for most children who love to get soaked. Our grand daughter Chloe is fascinated by these - luckily her mum usually has a change of clothes with her.
We usually wander up to WH Smiths to get our paper, and carry on and get a cup of tea at a cafe at the end of the main street - it is diagonally across another roundabout. We used to walk further on and go into a very cheap cafe that I considered recommending, but they served me a very stale tea cake, and we haven't been back since. Opposite this is a church hall where they sometimes serve tea and biscuits, etc. There are lots of cafes, and tearooms in Clacton. Probably the one that is as good as any is The Cup of Coffee - see under the link
Clacton Recommended Tea Room We usually have a lunch time snack in "The Pantry", 58c Rosemary Road. Quality is high, and prices not too bad. If you do go there, try upstairs where there is more comfort and lots of room.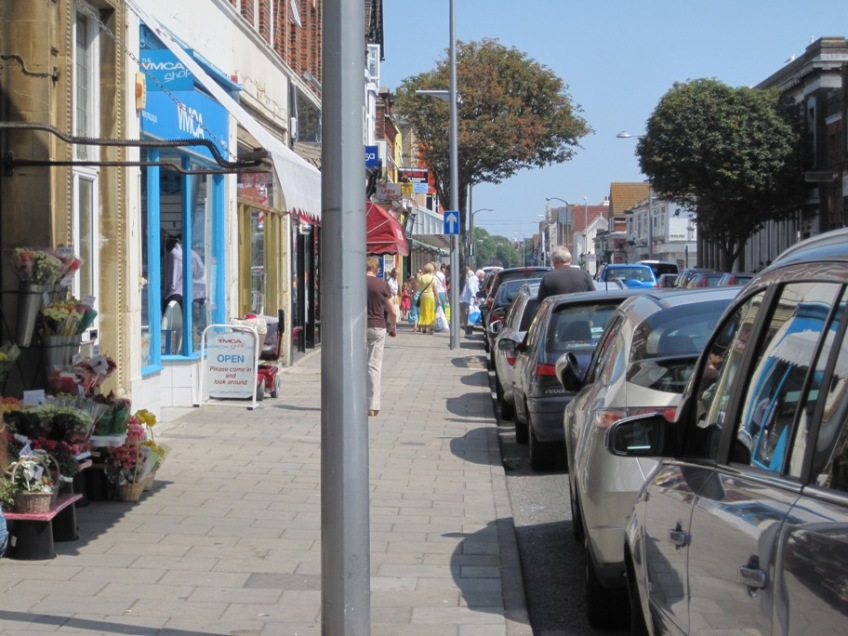 The town centre of Clacton is reasonably compact, with lots of roads radiating off mini roundabouts. There are lots of charity shops that we love to visit - I always have a list of books with me that I need to get to complete some series that I am reading. At the time of writing this (August 2011) I have read the first book of the Shetland Quartet by Ann Cleeves featuring DI Jimmy Perez, and have bought book four, but I need to get and read books two and three first. Happily most charity shops now have their books arranged alphabetically, and so it doesn't take too long to look for what I am after as I go from one shop to the next.
There is a small covered market up one of the side streets, and generally a good collection of varied shops. There are some empty shops, but not as many as in some places. Clacton is in a bit of a economically depressed area, so prices are keen.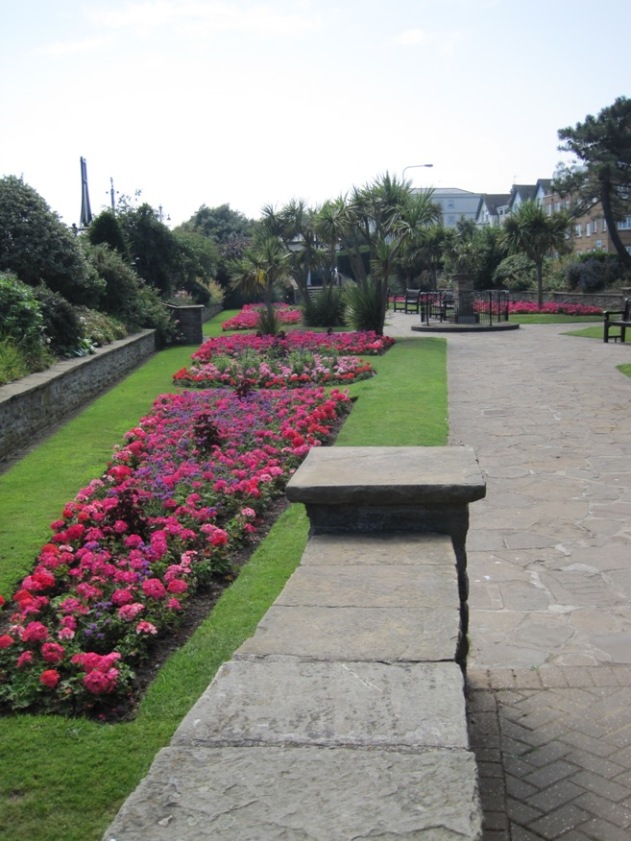 Having "done" the pier and the town centre, we have now crossed the esplanade again and are walking back towards the car through one of a series of landscaped cliff top gardens. These are usually quiet and sheltered.
If its not too hot, if there is time, and and we are feeling energetic we will probably dump any shopping (in trusty bag) in the car, and walk along the lower esplanade to Jaywick where the award of a well earned ice cream awaits.
Clacton is not as nice as Southwold which is further up the coast and into Suffolk, but Southwold is just a little too far for a day trip other than on special occasions. Clacton is as it is, and we like it - both in summer and in winter.
Links to Days Out / Day trips index and home page